These strawberry muffins have the unmistakable burst of juicy strawberry flavor and warm, sweet vanilla and butter. Fresh strawberries and freeze dried strawberries max out the flavor of these super moist, tender muffins. They're the best way to start a summer morning!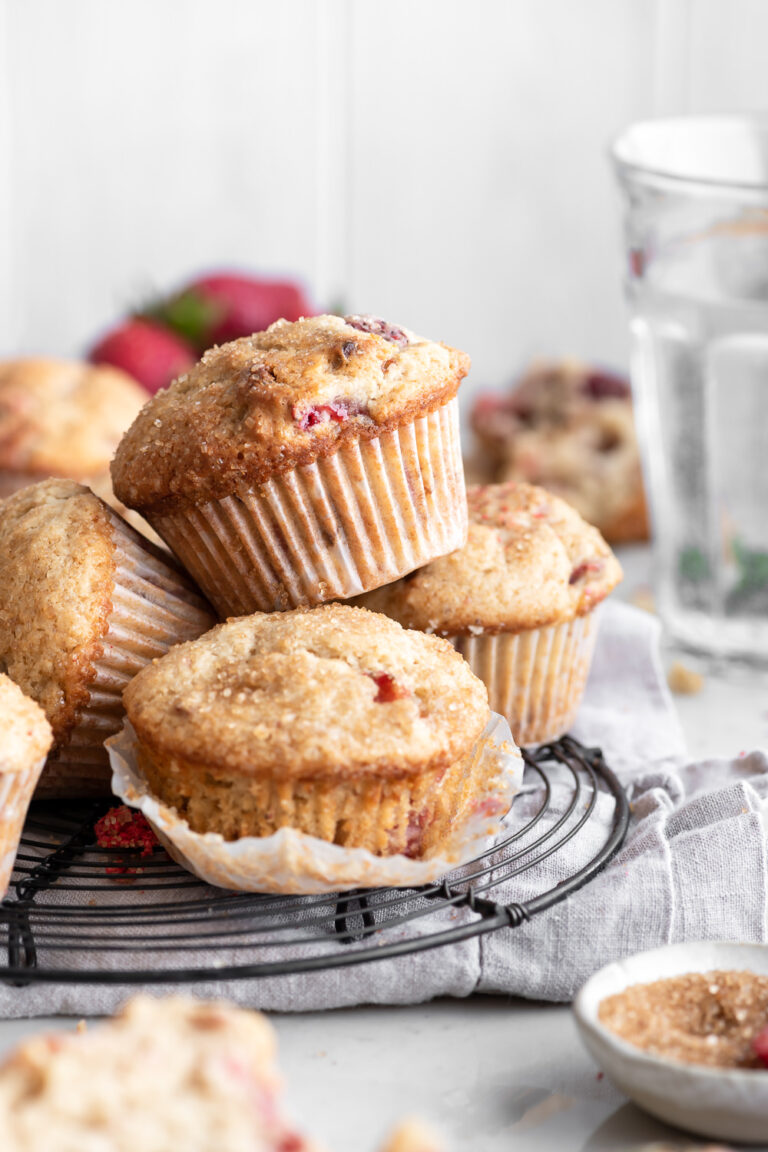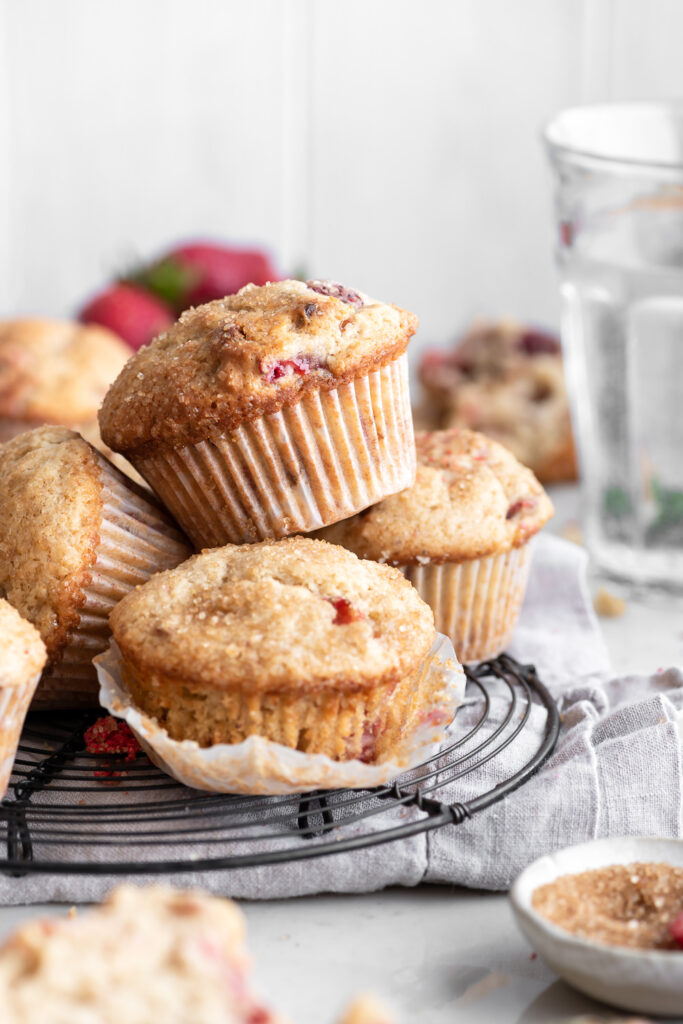 Our homemade strawberry muffins are unmistakably strawberry! I pack them to the brim with fresh strawberry flavor which, as it so happens, is pretty hard to do.
Strawberries have a high water content relative to other berries, so they don't work quite as well in baked goods. When you mix fresh strawberries into a muffin, cake or quick bread batter, the result is always wet pockets of fruit pulp and very little strawberry flavor. It's just the nature of the beast.
To fix that, we roast the strawberries. This cooks off the extra water and concentrates the fruity juices. And not only do I fold in a pound of strawberries this way, but I also double down on strawberry flavor with freeze dried strawberries.
These add a pop of tart strawberry flavor, and their crunchy texture melts into the moist and fluffy background. Then I round out the sweet tart strawberry muffins with a hearty splash of vanilla and the buttery tang of buttermilk.
Combined, these homemade strawberry muffins are packed with juicy bits of strawberries and warm, sweet vanilla and butter. They're so flavorful and so good!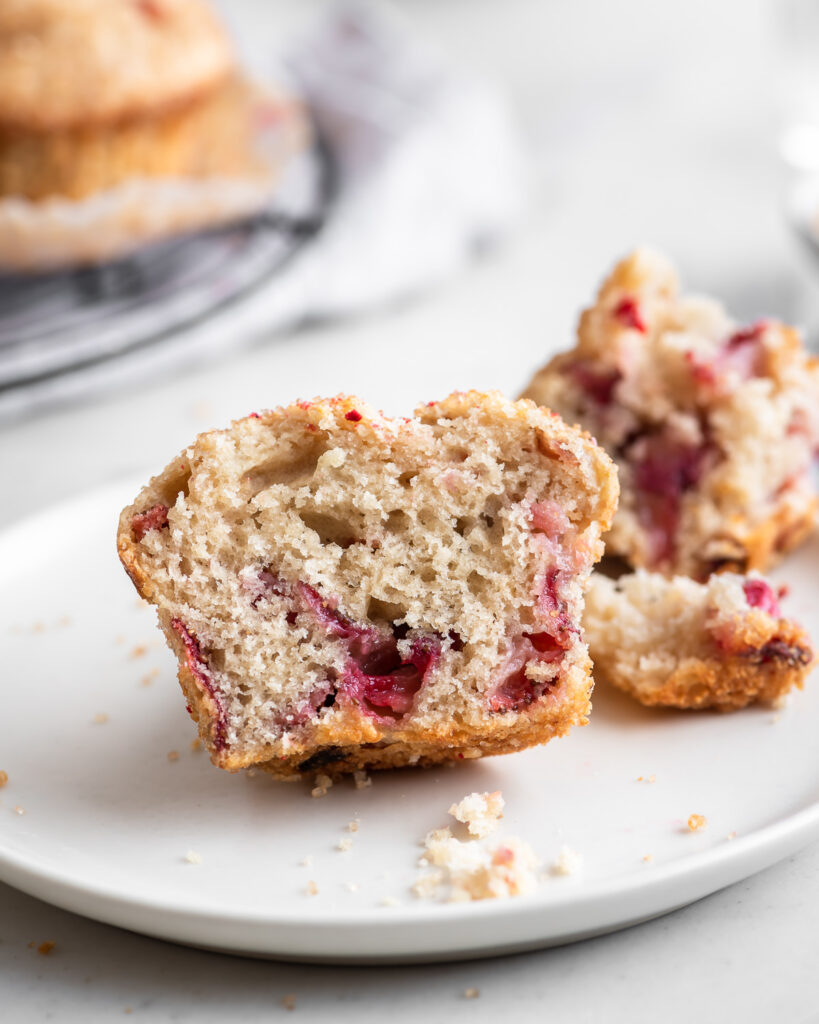 why these are the best strawberry muffins:
There's so much competition out there for the best strawberry muffin recipe, but let's be honest here. A lot of them are sub-par. Unfortunately for most, it's hard to tell they're even supposed to be strawberry.
The fruit disappears into the muffin and leaves a watery, bland hole where the burst of flavor should be. The fault is the strawberry, really. It just has too much water and can't be used like a raspberry or blueberry-- at least, not with the same impact.
So I dreamt up the perfect strawberry muffin, deconstructed the most important parts, and rebuilt it to solve all of those flavorless and watery problems.
Fresh strawberries: The perfect strawberry muffin has to have fresh strawberries in it. There's just no replacing the complexity of flavor and texture that comes from real fruit. To distill the strawberry flavor and bypass the issues of too much water, I roast the strawberries with a fair amount of sugar. This method cooks off the excess water, concentrates the fruit and creates a thick, sweet syrup that helps the flavor pop. It's also hands off, mostly preserves the structure of the fruit (compared to, say, a jam) and it can be done several days ahead. Roast the strawberries whenever you get them and then make the muffins in the next few days!
Freeze dried strawberries: I fold a handful of these into the batter at the very end. Freeze dried strawberries are a genius way to add real strawberry flavor to baked goods without the water. They tend to be fairly tart, so I prefer to balance that fresh flavor with the roasted strawberries-- this gives our strawberry muffins the full spectrum of flavor!
Butter and oil: The great debate with muffins and cakes is whether to use butter or oil. Butter gives great flavor, but can cause baked goods to be on the dry side. Oil creates a wonderfully moist crumb, but no extra flavor. Why not do both? Our strawberry muffin recipe has undertones of delicious buttery flavor and a moist texture.
Buttermilk: I really love the buttery flavor and delicate, yogurt tang that buttermilk gives to baked goods. It also reacts with the baking soda to give fluffy lift to these strawberry muffins. I don't always have buttermilk in the fridge, though. For a quick substitute, stir 1 tablespoon vinegar or lemon juice into 1 cup whole milk. Let sit 10- 15 minutes until thickened and slightly curdled. Measure out the desired amount and use it in the recipe!
No power tools: All you need is a whisk, sheet pan and two bowls to make these strawberry muffins. While I don't mind using power tools in the kitchen (and I own basically all of them), it is definitely a special treat to not need them! Especially if you want these to be strawberry breakfast muffins! Roast the strawberries the day before so all you have to do is whisk together dry and wet ingredients, scoop the batter into the muffin tin and bake!
Turbinado sugar topping: This adds a faint caramelized flavor and delicate crunch to the tops of these strawberry muffins! I especially love how the crunch mirrors the crunch of the strawberry seeds, but doesn't overcomplicate the muffin. Read on below for a streusel topping variation you can add that will transform these to big, beautiful bakery style strawberry muffins.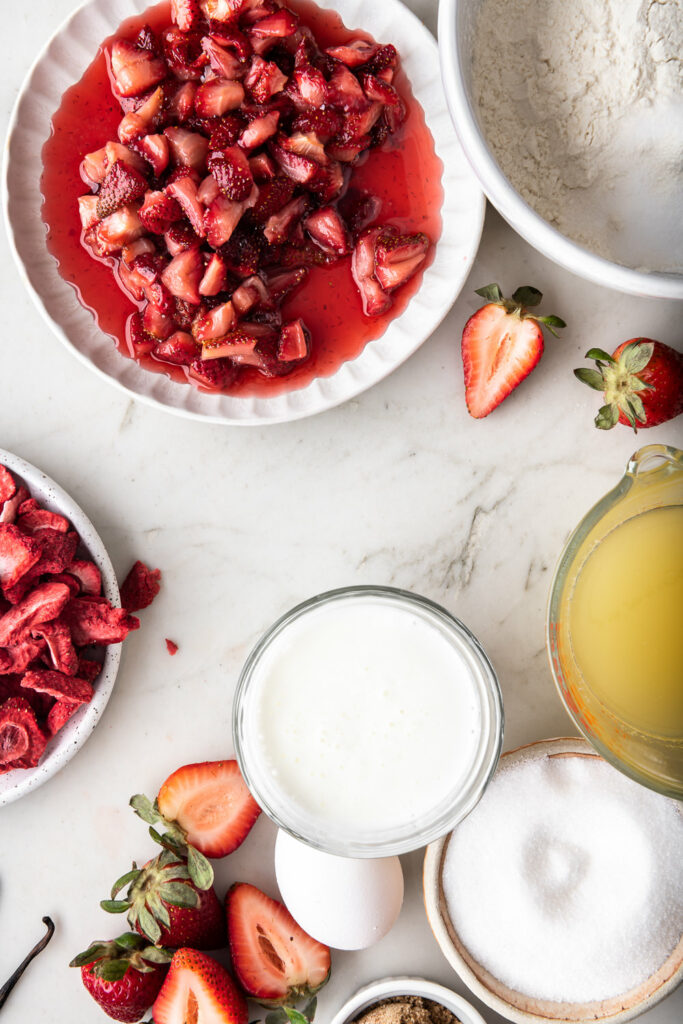 what you need for strawberry muffins:
fresh strawberries
freeze dried strawberries
eggs
butter
buttermilk
flour
granulated sugar
brown sugar
vegetable oil
vanilla extract
baking powder
baking soda
salt
how to make strawberry muffins:
Roast the strawberries (can be done a few days ahead of time)
Whisk together dry ingredients
Whisk together wet ingredients
Stir roasted strawberries into wet ingredients, then combine with the dry
Stir until mostly combined
Fold in freeze dried strawberries
Divide batter into a 12-well muffin tin
Sprinkle tops with turbinado sugar
Bake muffins until cooked through and golden brown on the tops
Enjoy!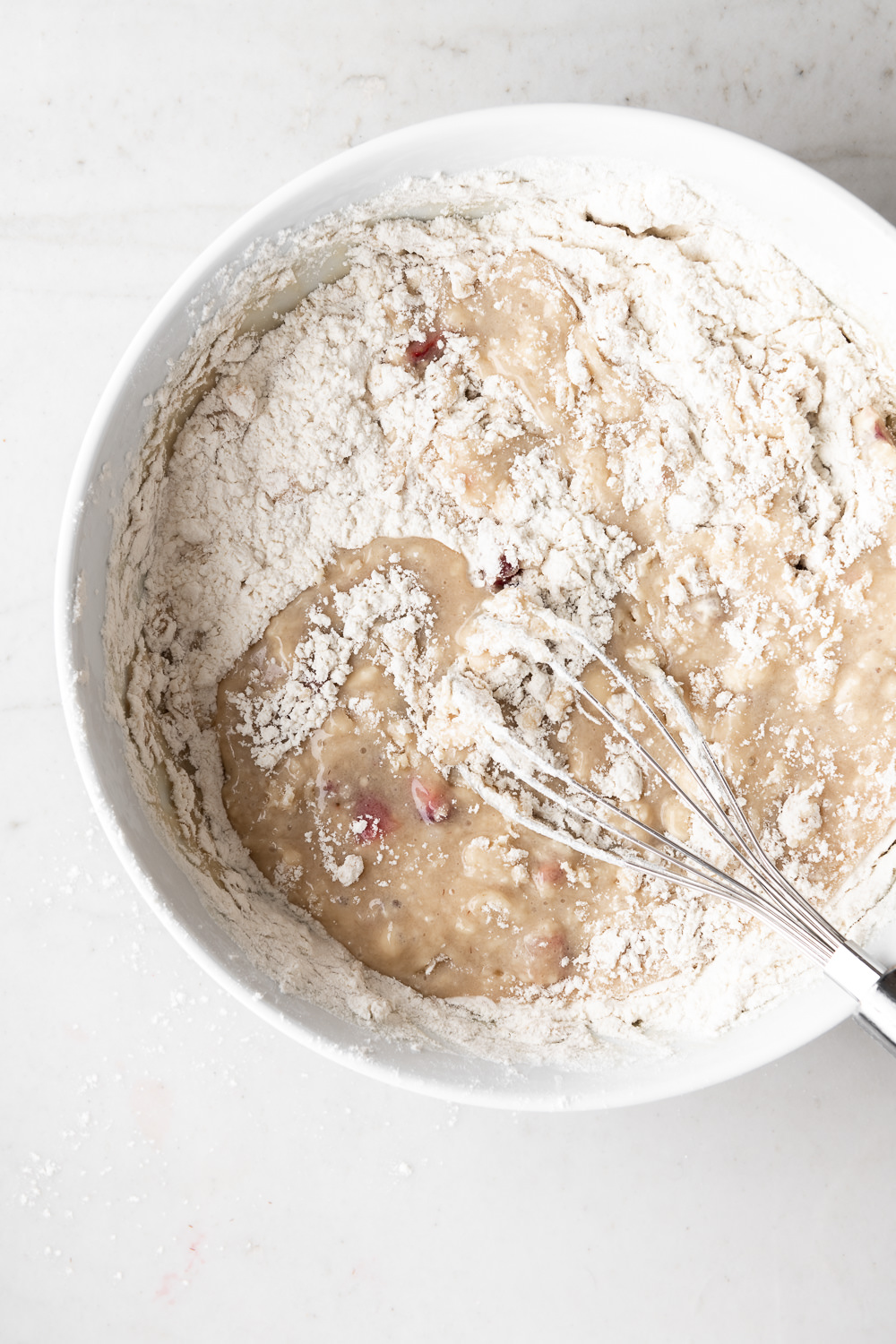 tips on the roasted strawberries:
Roast the strawberries ahead of time and store them in the fridge for a day or two
The best pan to use for roasting 1 pound of strawberries is half sheet pan or glass 9x13. If the pan is too big, the syrup can burn. If it's too small, the berries will be crowded and there won't be enough evaporation to concentrate the juice and the strawberry flavor. Finally, glass is also much easier to clean than a metal pan in case the syrup does start to burn!
When measuring the roasted strawberries, use a slotted spoon to remove berries from extra syrup. A little syrup is fine and brings a lot of flavor with it, so there's no need to strain it off and press the liquid out. But we don't want to introduce too much liquid, either.
Save the syrup! The amount you have will vary based on the size, ripeness and water content of the strawberries. It's so full of delicious strawberry flavor. We love to use it in cocktails (sub in place of simple syrup), mocktails, on oatmeal, pancakes, waffles. You get the idea!
You can roast frozen strawberries, too! Increase the oven temperature to 425°F and break up the berries as much as you can, so they are arranged in an even layer on the sheet pan. Toss with sugar and roast, straight from the freezer. Let them cool when they're done, then transfer off the syrup and roughly chop.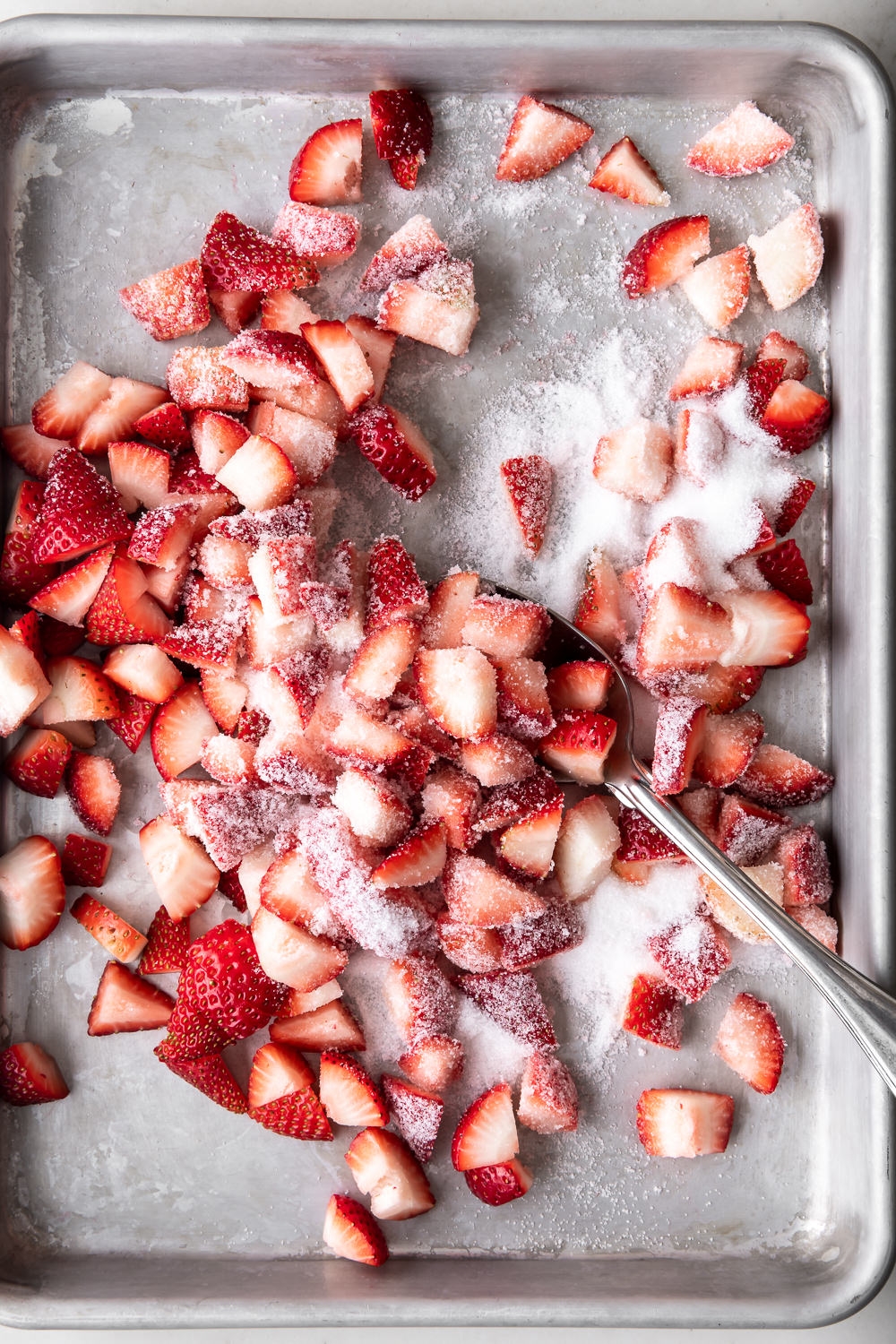 Fun variations on our standard strawberry muffin recipe:
strawberry chocolate chip muffins: Fold in 1 cup mini chocolate chips along with the freeze dried strawberries. Proceed as written!
strawberry and cinnamon muffins: Mix ½ tsp ground cinnamon into the dry ingredients. Also, mix ½ cup turbinado sugar with ⅛ teaspoon ground cinnamon before sprinkling on top of the unbaked muffins. Then proceed as written.
strawberry white chocolate muffins: Fold in 1 cup white chocolate chips or chopped chunks along with the freeze dried strawberries. Proceed as written. Tip: this is the best white chocolate of all time!
mini strawberry muffins: Line a mini muffin pan with liners and scoop the batter to just below the top edge. You should get about 36 mini muffins. Sprinkle with turbinado sugar and bake for 10- 13 minutes, until golden brown on top and a toothpick inserted into the center comes out clean.
frozen strawberry muffins: You can roast frozen strawberries just as easily as fresh strawberries. In our case, break up the frozen strawberries and toss with sugar. Roast at 425°F rather than 375°F. When done, scoop off of extra syrup and let cool, then roughly chop for the muffins.
strawberry banana muffins: Halve the roasted strawberry recipe and only mix in ½ cup roasted strawberries in the batter. Add ½ cup of mashed banana to the wet ingredients. If desired, use a mix of freeze dried bananas and strawberries instead of just strawberries! Just make sure to crumble them into ¼-inch to ½-inch chunks before using.
bakery style strawberry muffins: Top with a sweet, buttery streusel. Combine 4 tablespoons softened butter, ¼ cup granulated sugar, ½ cup all-purpose flour and ½ teaspoon cinnamon and blend with your fingers until combined. Cover and chill while you make the muffin batter. Break into pea-sized crumbles and sprinkle on top of unbaked muffins. Bake as written.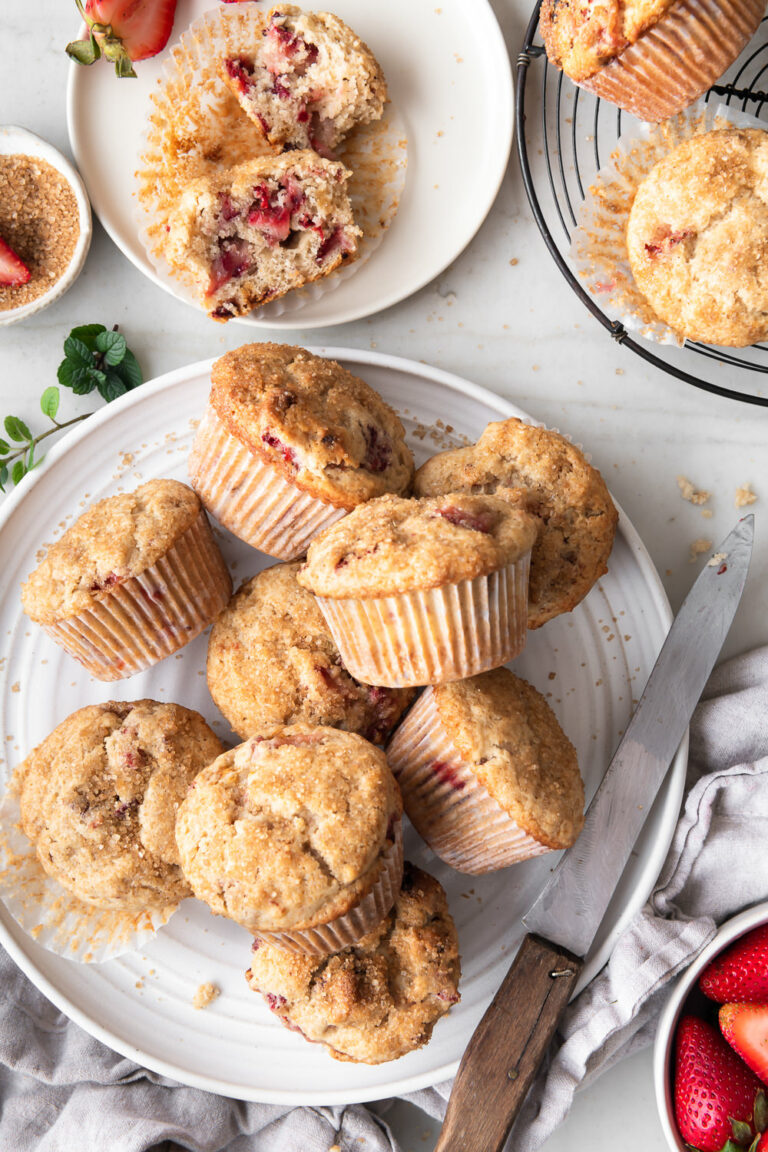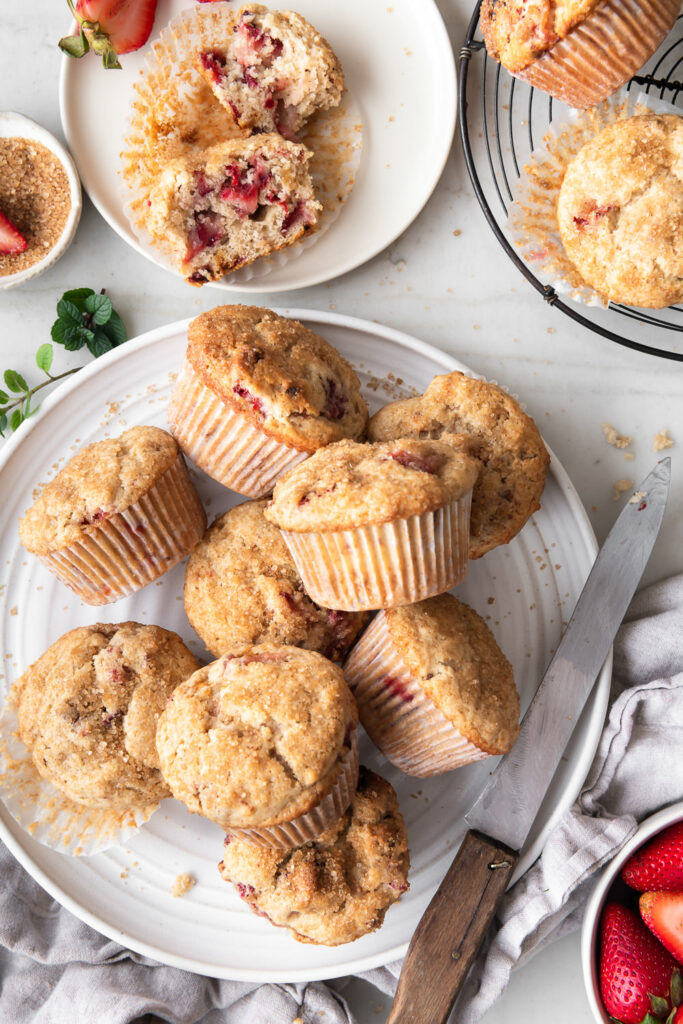 what to serve with strawberry muffins for brunch:
Homemade srawberry muffins are a delicious baked good to serve for brunch!
Here are more of my favorite brunch baked goods:
Some of our favorite classic breakfast recipes:
For spreads, try our homemade lemon curd, along with your favorite butter and jams.
For more savory brunch food, try these favorites:
And here are some of our favorite breakfast and brunch cocktails: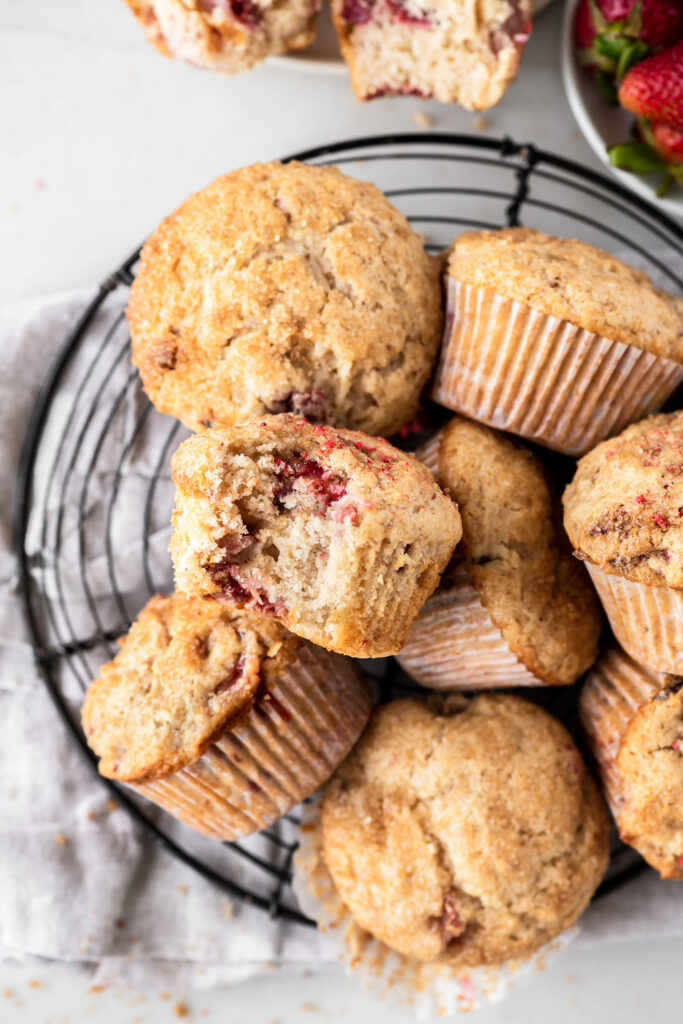 more muffin recipes to try!
cappuccino muffins with caramelized white chocolate
cinnamon muffins with oat pecan streusel and a gooey filling
Looking for more strawberry recipes? Try this strawberry crisp (crumble) with oats by Paula at Call me PMC!
Print
strawberry muffins
These strawberry muffins have the unmistakable burst of juicy strawberry flavor and warm, sweet vanilla and butter. Fresh strawberries and freeze dried strawberries max out the flavor of these super moist, tender muffins.
Author:
Prep Time:

1 hour

Cook Time:

20 minutes

Total Time:

1 hour 20 minutes

Yield:

12

Category:

Muffins

Method:

Stirred

Cuisine:

American
Ingredients
Roasted strawberries
1

lb strawberries, hulled and chopped into

½

-inch chunks

½ cup

granulated sugar
Strawberry muffins
2 cups

all-purpose flour

¾ tsp

baking powder

½ tsp

baking soda

¾ tsp

fine salt

5 tbsp

butter, melted and cooled

¼ cup

vegetable oil

¾ cup

buttermilk

2 tsp

vanilla extract

½ cup

granulated sugar

2 tbsp

brown sugar

1

large egg

1 cup

roasted strawberries (all of recipe above, scooped off of excess syrup)

¾ cup

freeze dried strawberries, crushed up with your hand into

½

-inch pieces
Instructions
Roasted strawberries
Preheat oven to 375°F. Place strawberries in a quarter sheet pan or 9-inch x 13-inch baking dish and toss to coat with sugar. Roast, stirring once or twice, until berries are very soft and juice is thick and syrupy, 45- 50 minutes.
Let cool 10 minutes. Use a slotted spoon to scoop berries off of excess syrup. Use in muffins or refrigerate, covered and refrigerated, for up to 3 days.
Strawberry muffins 
Preheat oven to 375°F. Place liners in the cups of a 12-cup muffin tin and set aside.
In a large bowl, whisk together flour, baking powder, baking soda and salt. 
In a medium bowl, whisk together butter, vegetable oil, buttermilk, vanilla, sugar, brown sugar and egg. Stir in roasted strawberries.
Pour wet ingredients into dry and stir until mostly combined. Fold in freeze dried strawberries (don't over mix).
Divide batter into prepared muffin tins and sprinkle surface with turbinado sugar. Bake 18- 22 minutes, or until golden brown on top and a toothpick inserted into the center comes out clean.
Let cool 5 minutes in pan, then transfer to a cooling rack to cool completely.
Notes
Nutritional information is only an estimate. The accuracy of the nutritional information for any recipe on this site is not guaranteed.
Nutrition
Serving Size:

1

Calories:

220

Sugar:

12g

Sodium:

303mg

Fat:

10g

Saturated Fat:

2.6g

Unsaturated Fat:

5.8g

Trans Fat:

0.3g

Carbohydrates:

29g

Fiber:

1.1g

Protein:

3.4g

Cholesterol:

29mg
Keywords: strawberry muffins