Chorizo hash is the ultimate breakfast. It's loaded with spicy crumbles of chorizo, sweet onions, poblano peppers, and crispy cubes of Yukon Gold potatoes. Top with a crispy fried egg, avocado, and charred jalapeño hollandaise, and you've got yourself the brunch of dreams.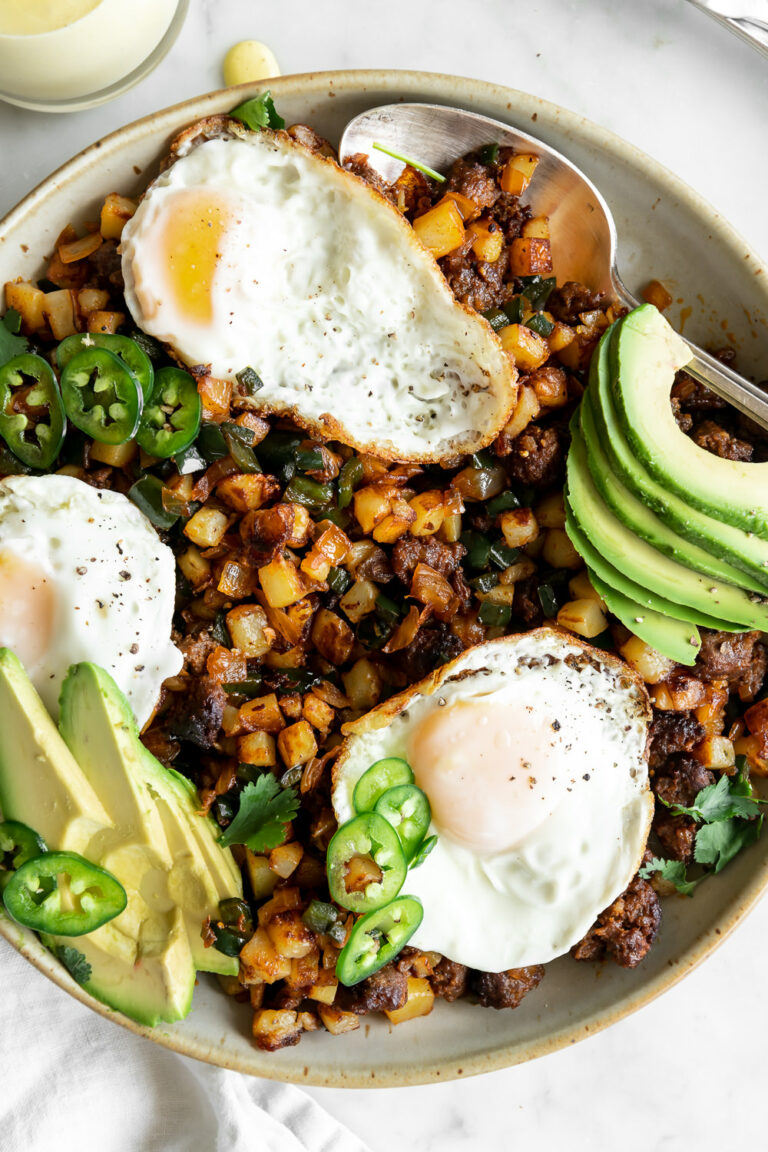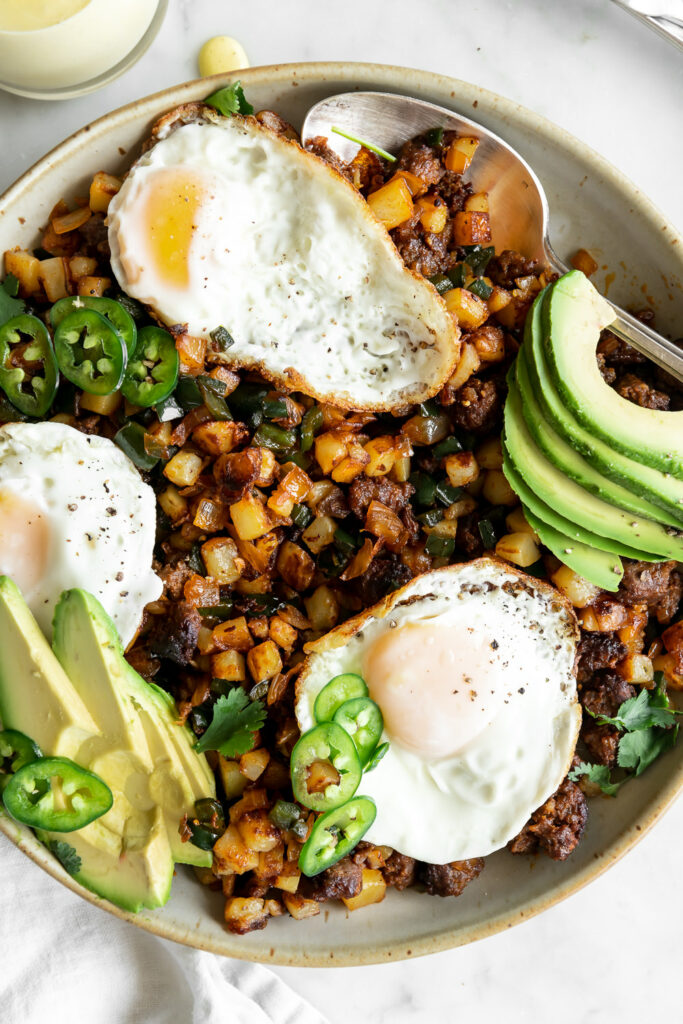 Potato hash started as a simple way to use up leftovers, like cooked potatoes, steak and lingering vegetables. Chop it all up, toss it in a frying pan, and voila-- a hearty weekend breakfast is born. While there will always be a place for this sort of impromptu and resourceful cooking, there are a lot of ways to improve the standard breakfast hash and make it perfectly cooked, crispy, and flavorful.
what makes this chorizo breakfast hash so great?
The process: Raw chorizo, onions and poblanos, and potatoes all cook at different times. To make the best potato hash, I cook them separately and toss them all together at the end. This prevents overcooking the chorizo, burning the onions, and steaming the potatoes. Wins all around!
Non-stick pan: Always use a non-stick pan with potatoes. It's the easiest way to guarantee crisp edges that don't stick to the pan. And make sure to use the biggest skillet you have. The larger surface area will give the potatoes room to crisp and brown without crowding and steaming.
Potato choice: I go into more detail below, but I prefer the structure and creamy texture that peeled Yukon Gold potatoes provide. If you want to go for extra crispy, opt for the starchier Russet potatoes. And if you want more texture, leave the peel.
Low and slow cooking: Be patient and don't rush the potatoes. Keep the heat low and slow and give them plenty of time to cook through and develop a golden brown crust. If the heat is too high, you're more likely to have issues with sticking and burning without fully cooking the potatoes. It also gives you time to season the potatoes well-- taste and add more salt, if needed, as the potatoes cook so they don't wind up too salty or too bland.
Simplicity: I love the rich, spicy flavor of Mexican chorizo and this hash lets those flavors shine. You could add a dash of cumin, coriander, some garlic, or even smoked paprika, if you'd like, to bump up the flavors. But I like to keep this chorizo hash simple so I can douse it with lemony, charred jalapeño hollandaise for the perfect contrast of flavors.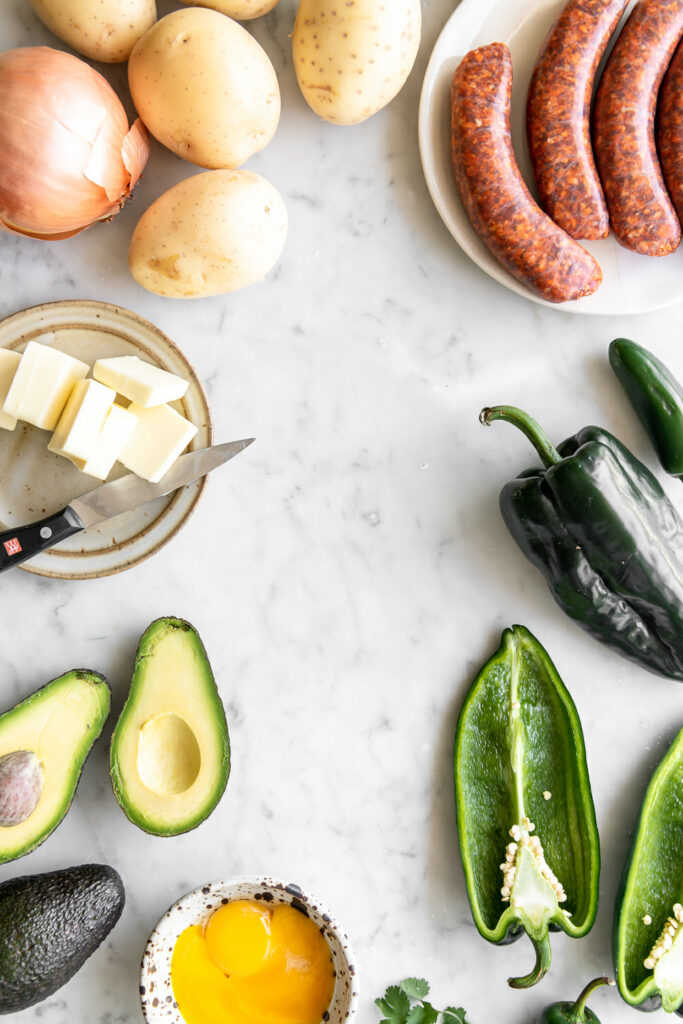 what is chorizo, anyways?
Chorizo is ground pork sausage that is seasoned primarily with chili peppers and paprika. There are a ton of different styles, spice ranges, and even meat blends within the chorizo category. In general, though, there are two main styles: fresh and raw (Mexican chorizo) or cured and dried (Spanish).
Spanish chorizo uses smoked paprika as the base of it's seasoning, while Mexican chorizo is dominated by ground chilis and other herbs and spices (cumin, coriander, cloves, oregano, etc). Mexican chorizo is typically found in the meat department, near raw sausages, while Spanish chorizo is usually stored with the charcuterie.
In this chorizo hash recipe, we use fresh chorizo and break it up into crispy crumbles as it cooks. If all you can find is cured chorizo, don't worry. Slice it into half-moons or small cubes and saute in olive oil to crisp up the edges. Continue on with the recipe, and enjoy an extra smoky chorizo potato hash!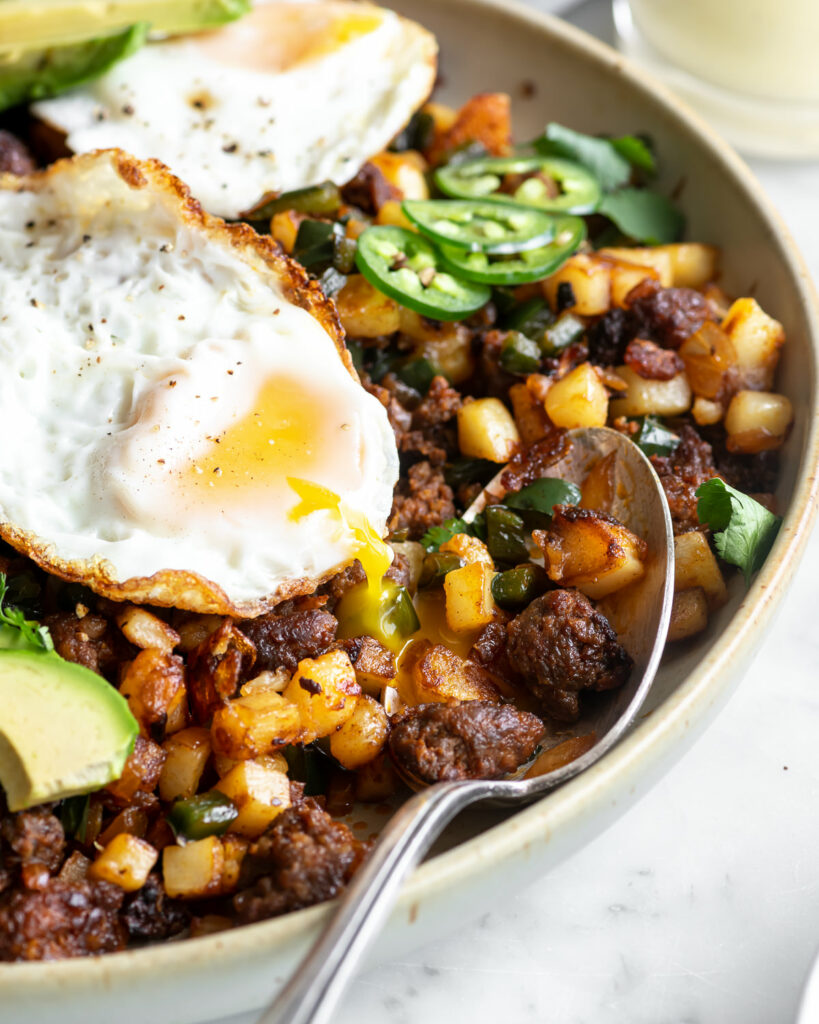 what potatoes should I use for breakfast hash?
Any potatoes will work just fine in breakfast hash. The choice comes down to personal preference. I prefer to use waxy potatoes (like Yukon Gold) because I love their creamy smooth texture and the way they hold their shape, even after a lot of frying, stirring and flipping. Starchy potatoes (like Russets) will get extra crispy, though they might break down a bit.
If you'd like to use Russet potatoes, 2 pounds equals about 3 medium Russet potatoes (versus 5 medium Yukon Golds).
how do you make chorizo hash from scratch?
Cook and brown the chorizo, breaking it up as it cooks
Saute onions and poblano peppers
Cook potatoes until brown and crispy
Stir in chorizo, onions and poblanos and cook to meld flavors
Serve with a fried egg, sliced avocado, and roasted jalapeño hollandaise
For extra kick, top with crunchy quick pickled jalapeños!
how to reheat chorizo hash
The best way to reheat this chorizo breakfast hash is in a skillet on the stove. This helps re-crisp the potatoes while everything gets heated through. Add a small amount of olive oil to the skillet and cook over medium-high heat, stirring occasionally, until hot and crispy.
can I make the chorizo potato hash ahead of time?
You can make this chorizo hash up to 2 days in advance.
You can either make the full recipe and re-heat it in a skillet as described above, or you can prep individual parts ahead to save time in the morning.
here are some ways you could prep the chorizo hash the day before:
Chop the onion, peppers, potatoes.

Note, you could refrigerate the cut potatoes in a bowl of water with a splash of acid (lemon juice or vinegar) to minimize oxidative browning, then drain them and pat dry before frying. But in this case, I never really worry about the potatoes browning since our end goal is a crispy, golden brown hash.

Roast, peel and chop the jalapeño for the hollandaise
Cook the chorizo and sauté the onions and peppers, then combine and refrigerate. The morning of, fry the potatoes then stir in chorizo pepper mixture and cook until heated through.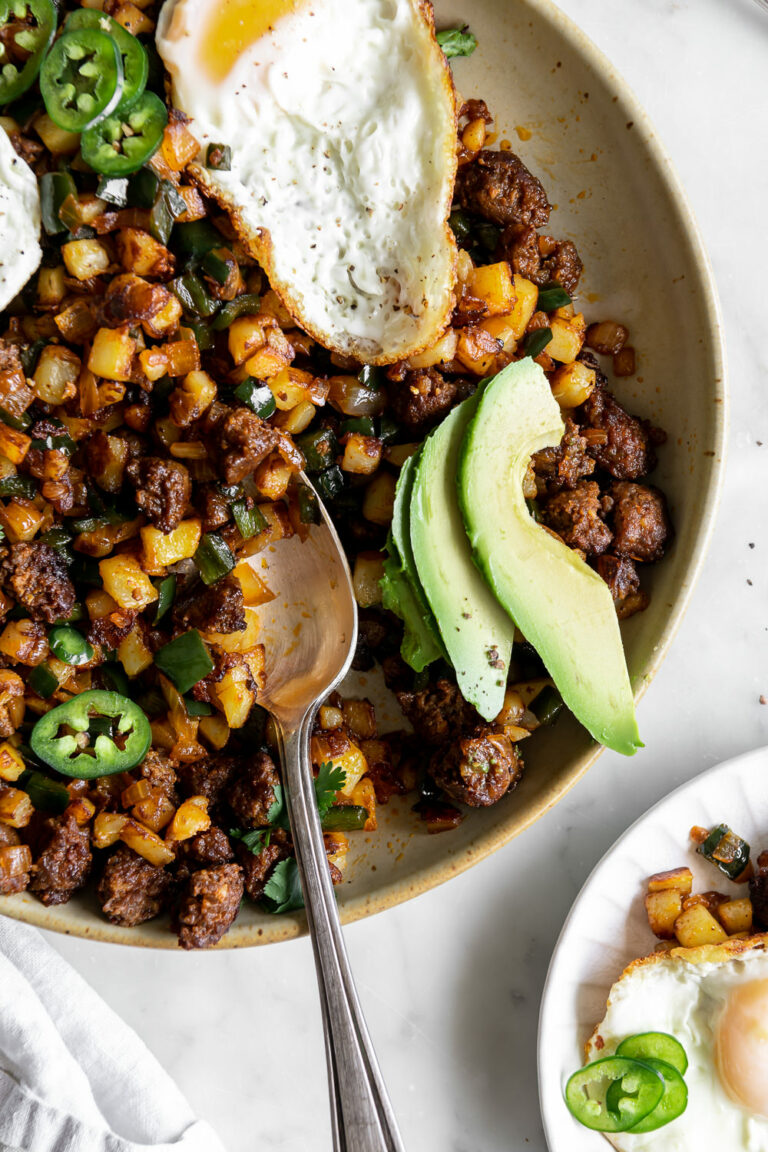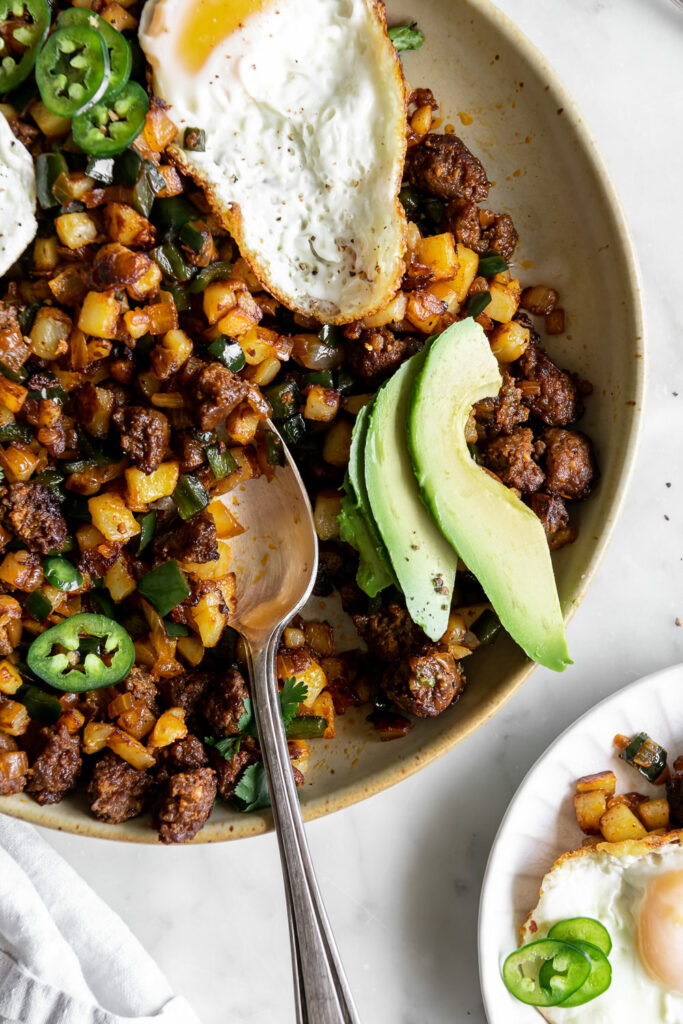 related recipes
root vegetable hash with apples and pancetta
breakfast strata with apples, sausage and fennel
homemade bloody mary mix: hot and spicy
Print
chorizo hash with charred jalapeño hollandaise
Chorizo potato hash is the ultimate breakfast. It's loaded with spicy crumbles of chorizo, sweet onions, poblano peppers, and crispy cubes of yukon gold potatoes. Top with a runny fried egg, a ton of avocado, and of course, the charred jalapeño hollandaise.
Author:
Prep Time:

10 minutes

Cook Time:

45 minutes

Total Time:

55 minutes

Yield:

4- 6

Category:

Breakfast

Method:

Stovetop

Cuisine:

American
Ingredients
chorizo hash
3 tbsp

extra virgin olive oil, divided

1

lb fresh chorizo, casings removed

1

small onion, diced

2

poblano peppers, diced
kosher salt
freshly ground black pepper

2

lbs Yukon Gold potatoes (about 5), peeled and diced

2

avocados, sliced
fried eggs, for serving
roasted jalapeño hollandaise
1

jalapeño, halved lengthwise and seeded

3

egg yolks

1 ½ tbsp

fresh squeezed lemon juice
kosher salt
freshly ground black pepper

½ cup

(

8 tbsp

, 1 stick) unsalted butter, melted and hot
Instructions
chorizo hash
Heat 1 tablespoon olive oil in a large non-stick skillet over medium-high heat. Cook chorizo, breaking it up into small pieces with a wooden spoon, until browned and cooked through, about 10 minutes. Transfer to a plate to drain. 

Pour off all but 1 tablespoon of grease, reduce heat to medium and add onions and peppers, season with salt and pepper, and cook, stirring occasionally, until softened and beginning to brown on the edges, 5- 7 minutes. Transfer to plate with sausage.

Reduce heat to medium-low and add remaining 2 tablespoons olive oil. Add potatoes, season with salt and pepper, and toss to coat in oil. Cook, stirring every 5- 10 minutes, until crispy on all sides and cooked through, 25- 30 minutes. Stir in chorizo and peppers and cook a few minutes for flavors to meld. Serve with sliced avocado, fried eggs and a drizzle of roasted jalapeño hollandaise.
roasted jalapeño hollandaise
Arrange oven rack 4 to 6 inches away from heating element and preheat broiler. Line a small sheet pan with foil and place pepper halves skin side up. Broil 5- 7 minutes, watching closely, or until skin is blackened. Remove from heat and cover with foil to sweat. Let cool, then peel off and discard blackened skin. Dice roasted pepper and side aside.

In a glass measuring cup or wide mouthed jar, blend yolks, lemon juice, ⅛ tsp kosher salt and black pepper with an immersion blender until thick and frothy. Alternatively, combine in a stand blender. 

Make sure butter is very hot, then slowly pour into egg yolk mixture while blender is running. Blend until very thick. Add diced pepper and blend until smooth. Taste, add more salt or pepper if desired. Serve with chorizo hash. 
Notes
Nutritional information is only an estimate. The accuracy of the nutritional information for any recipe on this site is not guaranteed.
Nutrition
Serving Size:

1

Calories:

660

Sugar:

3.2g

Sodium:

955mg

Fat:

46g

Saturated Fat:

13g

Unsaturated Fat:

29.6g

Trans Fat:

0g

Carbohydrates:

41g

Fiber:

8.3g

Protein:

24g

Cholesterol:

67mg