If you like coffee cocktails, you'll love this Spanish coffee recipe. We're extra biased towards any drinks with aged rum, but you can't go wrong with the caramelized, cocoa-scented flavors here. It's complex, rounded, smooth and rich. So delicious on a cold day!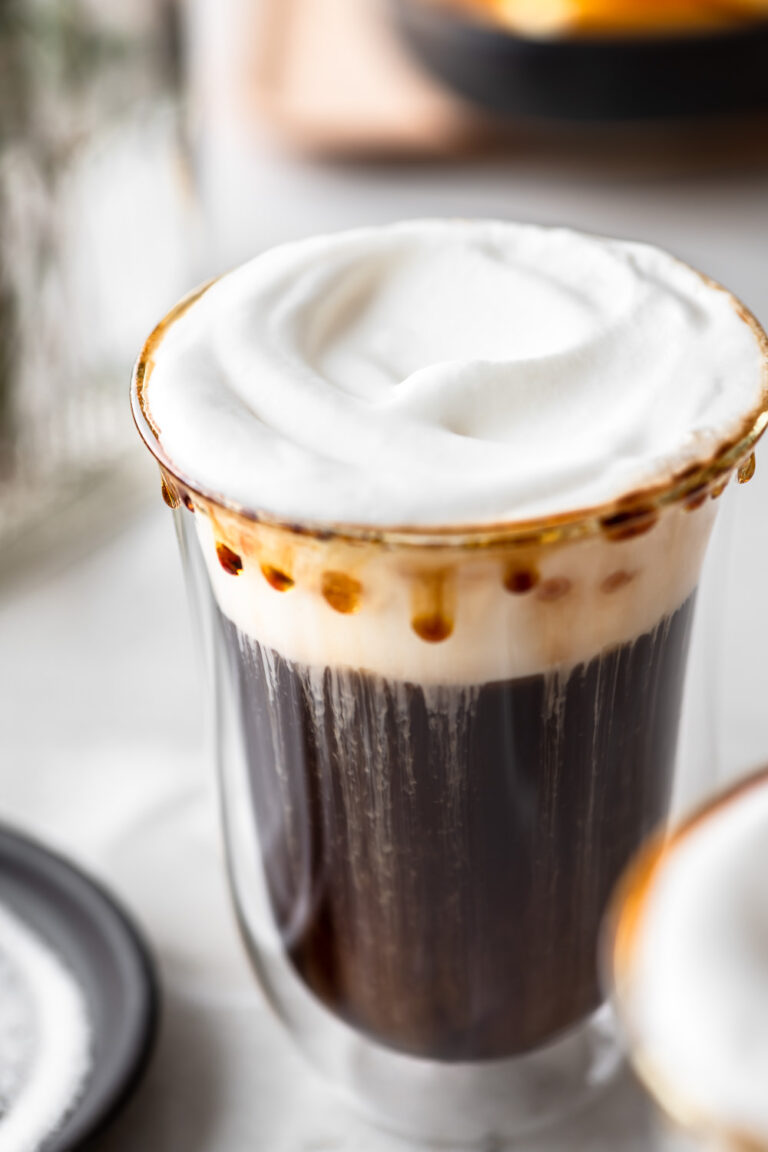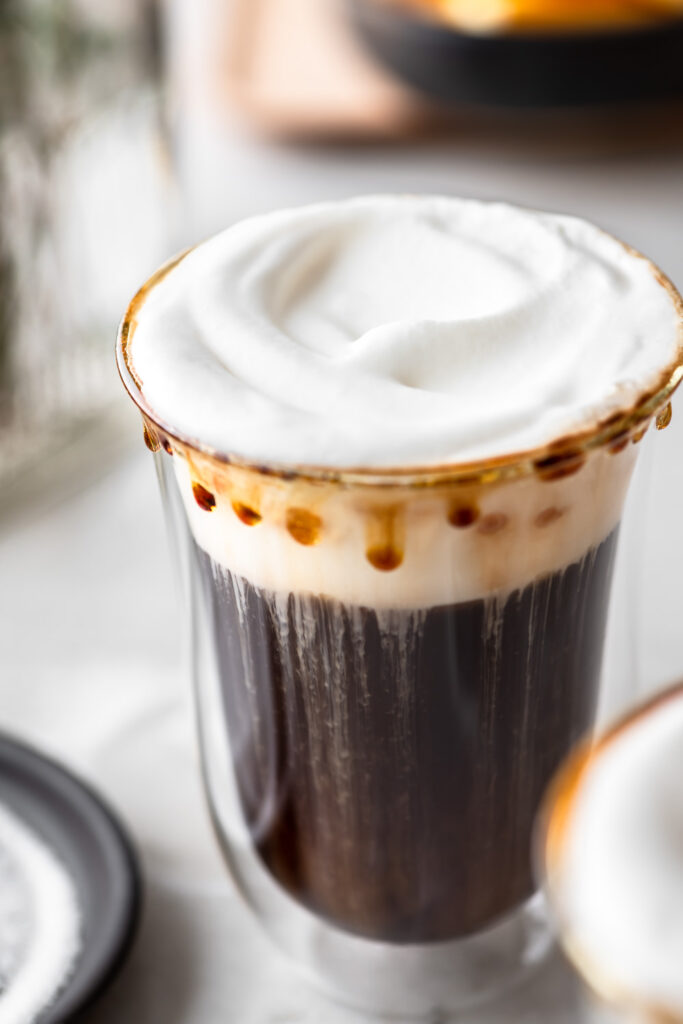 Spanish coffee is a smooth, strong, rum-spiked coffee cocktail that you will absolutely love. It starts with your favorite strong coffee, is flavored with dark rum, Grand Marnier and Kalhua, and it's rounded out by a pillowy layer of lightly whipped cream.
The burnt sugar rim is a stunning garnish-- and the burnt sugar flavor is so good here. But feel free to keep it simple with a dollop of soft whipped cream and spritz of orange zest.
Ever since exploring high end dark rums, my husband and I have become raving fans of rum (big surprise). The good stuff is so smooth and richly flavored, you'll be hard pressed to go back to the lower tier stuff.
Aged rum is the defining ingredient in this recipe that can make or break your Spanish coffee. The potential pitfall here is harshness, which will only be exaggerated by the heat and bitterness of coffee. Invest in a high-quality dark rum and we'll be sure to help you find delicious ways to use it!
And obviously, use good coffee too. Cheap coffee will make a cheap tasting Spanish coffee!
what is Spanish coffee?
Believe it or not, the Spanish coffee cocktail as we know it is not actually Spanish. It's just a coffee drink with rum that was created in Portland, Oregon. The original version starts with a sugar-rimmed glass. You add 151-proof rum and Triple sec and ignite it, which melts and caramelizes the sugar. Kahlua and strong coffee are poured on top, and the drink is finished with a layer of soft whipped cream.
In our version, we use a kitchen torch to caramelize the sugar rim for all the beauty without the hassle. And since we aren't igniting the alcohol, we can use the good stuff: say good-bye to the 151-proof rum and hello to a rich, dark rum and all the caramelized flavors that come along with it.
We also upgrade to Grand Marnier for added notes of vanilla bean and burnt orange. Finally, drop the nutmeg in favor of simplicity, but grate some overtop if you like!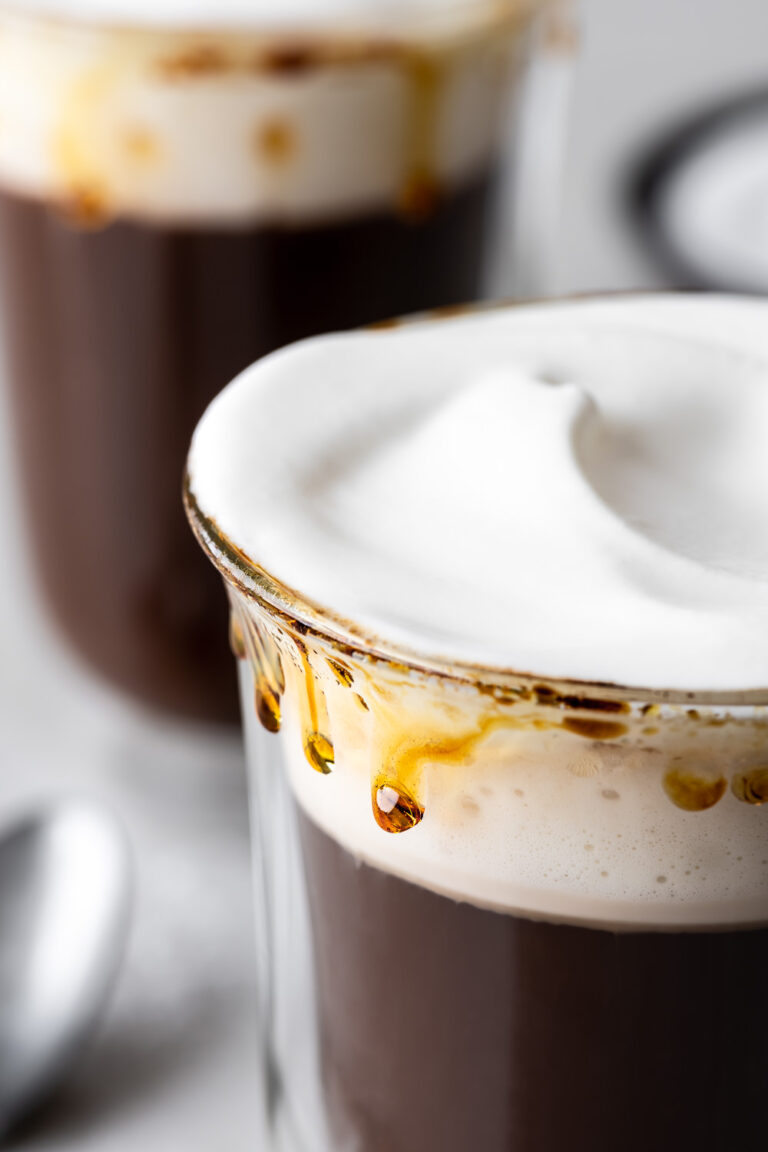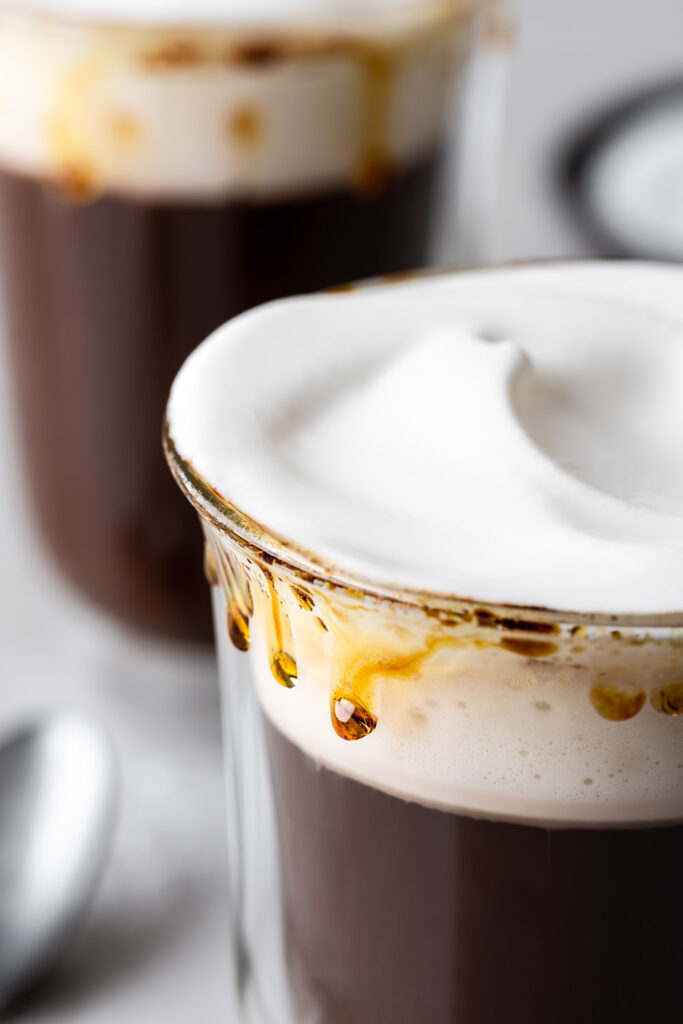 what you need for Spanish coffee:
Aged rum
Grand Marnier
Kahlua
Strong coffee
Heavy cream
Sugar
Kitchen torch
how to make Spanish coffee:
Traditionally, Spanish cocktail is made with a high proof rum so it can be flamed. This is part show (who doesn't love flaming drinks?!) and part practicality-- the fire caramelizes and melts the sugar rim for a gorgeous presentation and burnt sugar flavor. But I vastly prefer the flavor and texture of good dark rum and over 151-proof rum. And caramelizing the sugar on the rim of a glass is really simple with a kitchen torch-- so I'm happy to cut to the chase.
Rim glass in sugar and caramelize with a kitchen torch
Combine rum, Grand Marnier, Kahlua and coffee in the glass. Stir to mix.
Top with lightly whipped cream
Enjoy!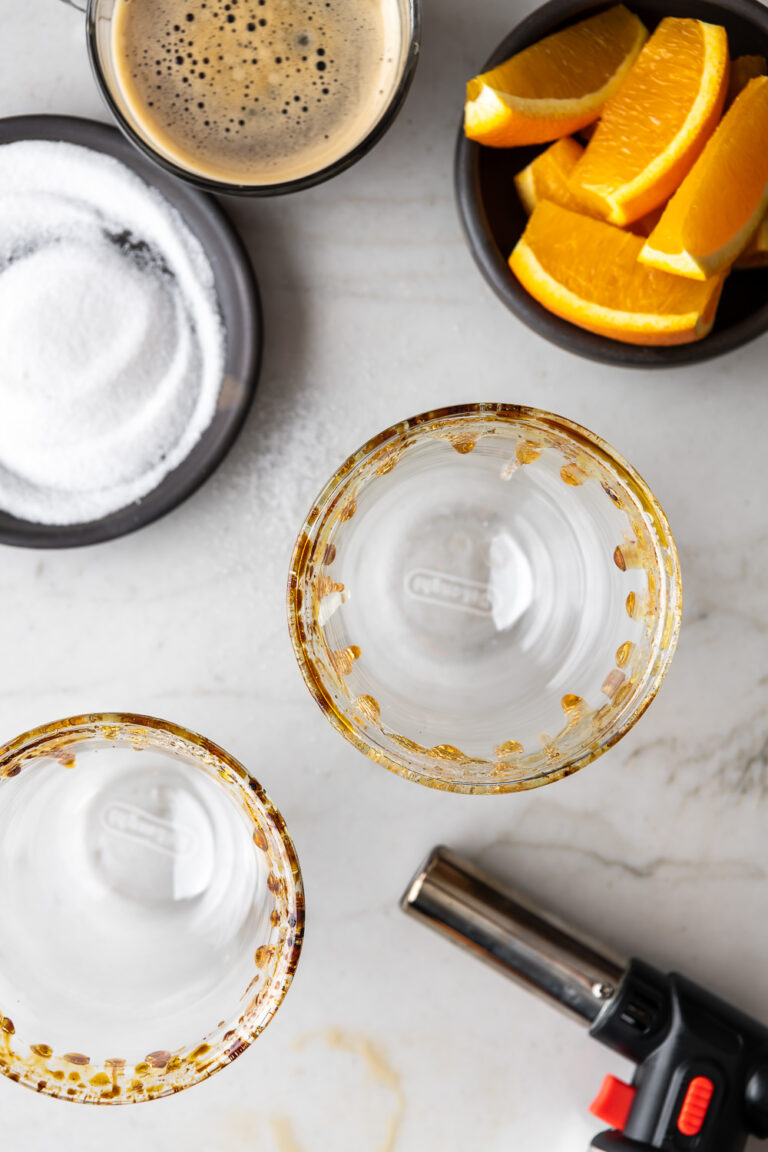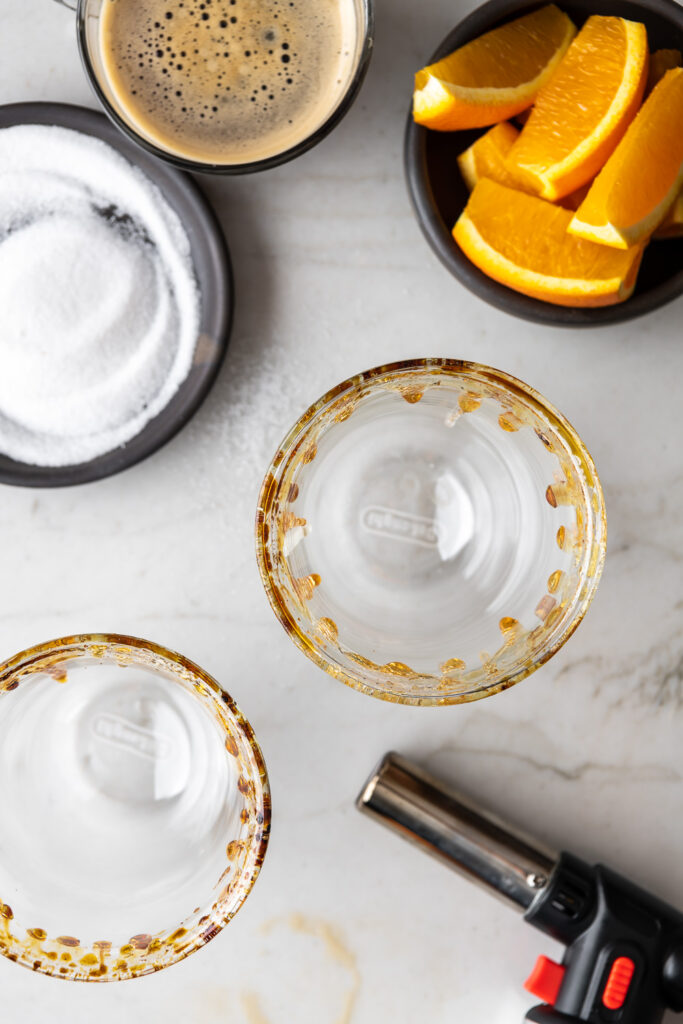 how to make a caramelized sugar rim:
Cut a notch in the center of an orange wedge and run it around the rim of your glass.
Roll the edge in sugar to evenly coat
Turn on your kitchen torch and place it 2- 3 inches away from the surface of the sugar
Move it over the surface to heat, melt and caramelize the sugar without burning any one spot. Move the flame further away if the sugar is burning, and closer if it isn't melting. Always keep the torch moving to prevent hot spots.
Let cool and mix your drink!
how to make soft whipped cream for coffee cocktails:
This might feel knit-picky, but the stiffness of your whipped cream makes a huge difference in coffee cocktails, like this Spanish coffee. The whipped cream should be a soft, billowy layer that you spoon/ pour on top. It mixes seamlessly into the coffee and gives the drink a thick luxurious texture.
You don't need to whip it by hand, but pay careful attention to the consistency and if you are using a hand mixer, stop before you think necessary.
It should be thickened, but not so thick that it holds a peak. Stop when you see a thick trace of whipped cream left on the surface-- much further and it will be too stiff.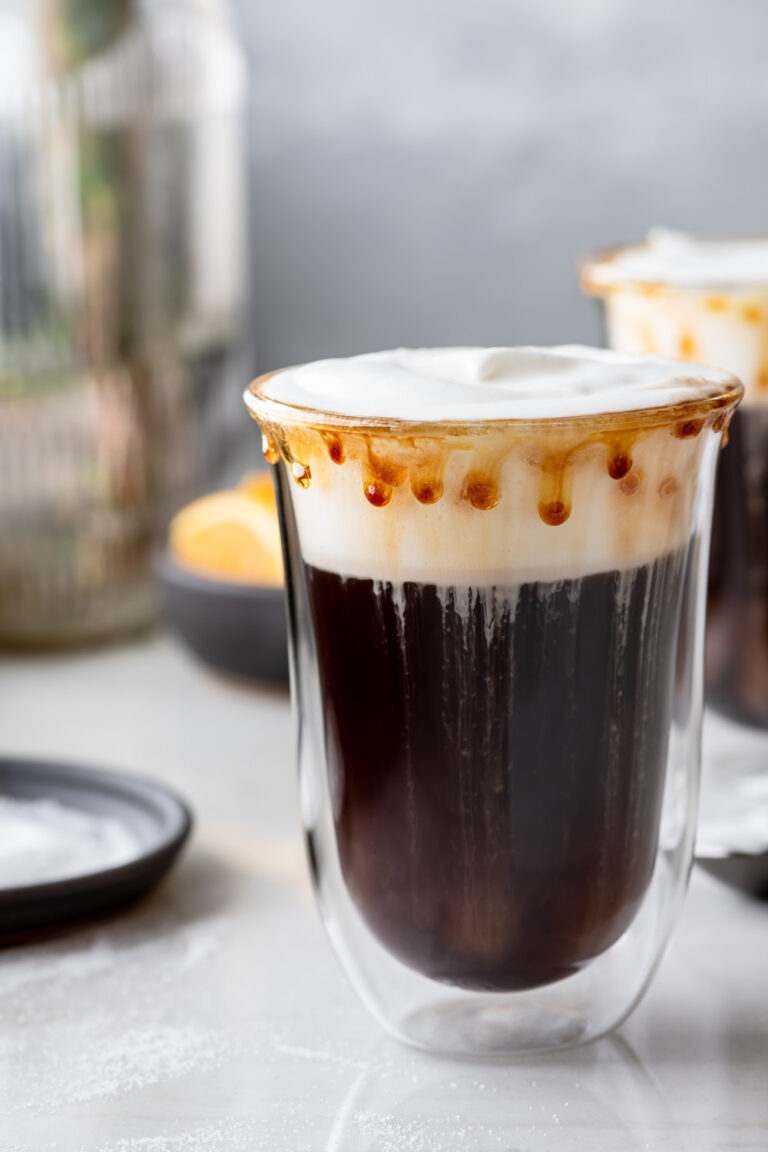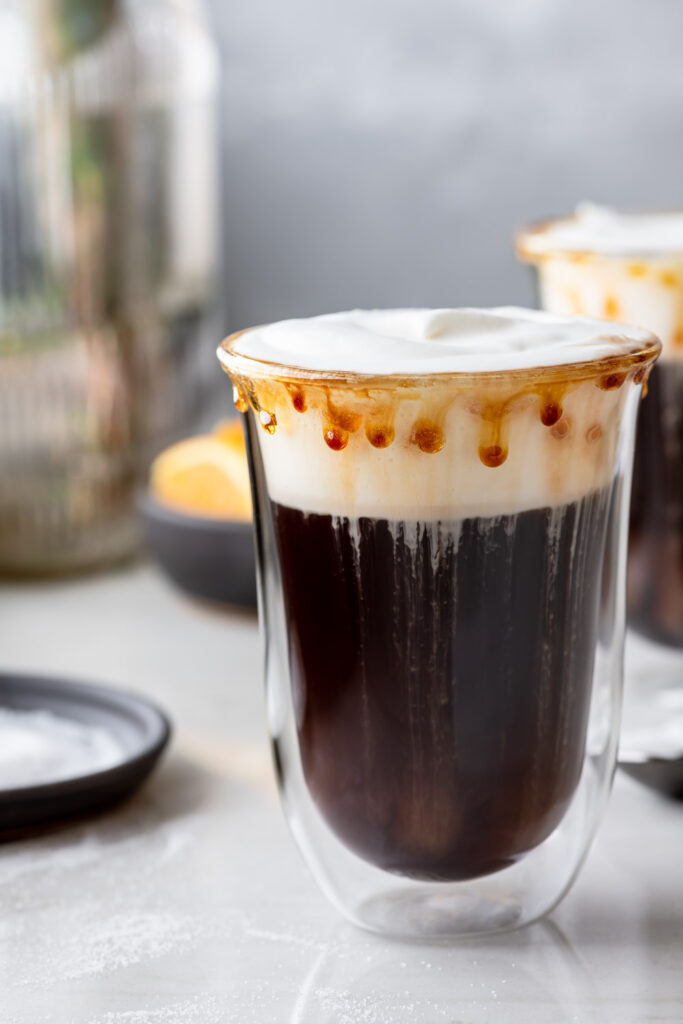 more warm cocktail drinks and spiked coffee to warm up with!
ginger hot toddy with applejack
vin chaud (mulled wine) with cognac
hot mulled cider with pear, ginger and whiskey
rich and boozy hot chocolate with coconut milk
Watch our warm winter cocktails web story here!
Print
spanish coffee recipe
If you like coffee cocktails, you'll love this Spanish coffee recipe. Complete with a burnt sugar rim, aged rum and pillowy whipped cream!
Author:
Prep Time:

5 minutes

Total Time:

5 minutes

Yield:

1

Category:

Drinks

Method:

Stirred

Cuisine:

American

Diet:

Gluten Free
Ingredients
1

orange wedge, notch cut in center, for sugar rim
granulated sugar

¾ oz

dark rum

¾ oz

Kahlua

¾ oz

Grand Marnier

3 oz

strong coffee
soft whipped cream (or ¾ oz heavy cream)
Instructions
Run notched orange wedge over the rim of a stemmed glass mug (6 oz to 8 oz in volume). Roll the edge in sugar to evenly coat. Caramelize the sugar with a kitchen torch, moving it back and forth to prevent hot spots. Set aside to cool.
Pour rum, Kahlua, Grand Marnier and hot coffee in the glass. Stir to combine.
Top with a thick layer of soft whipped cream. Alternatively, stir in ¾ oz heavy cream. Enjoy immediately!
Notes
Nutritional information is only an estimate. The accuracy of the nutritional information for any recipe on this site is not guaranteed.
Nutrition
Serving Size:

1

Calories:

202

Sugar:

11g

Sodium:

6.3mg

Fat:

6.4g

Saturated Fat:

4g

Unsaturated Fat:

2.1g

Trans Fat:

0g

Carbohydrates:

12g

Fiber:

0g

Protein:

1g

Cholesterol:

22mg