I think it's safe to say that eggs benedict is my family's strongest tradition. We usually have cheese fondue sometime around Christmas or New Years, my mom almost always makes her mom's 24-hour fruit salad for Thanksgiving, we generally had a ham for Easter, but whenever we're together and it's a weekend-- you better believe eggs benedict is what's for breakfast.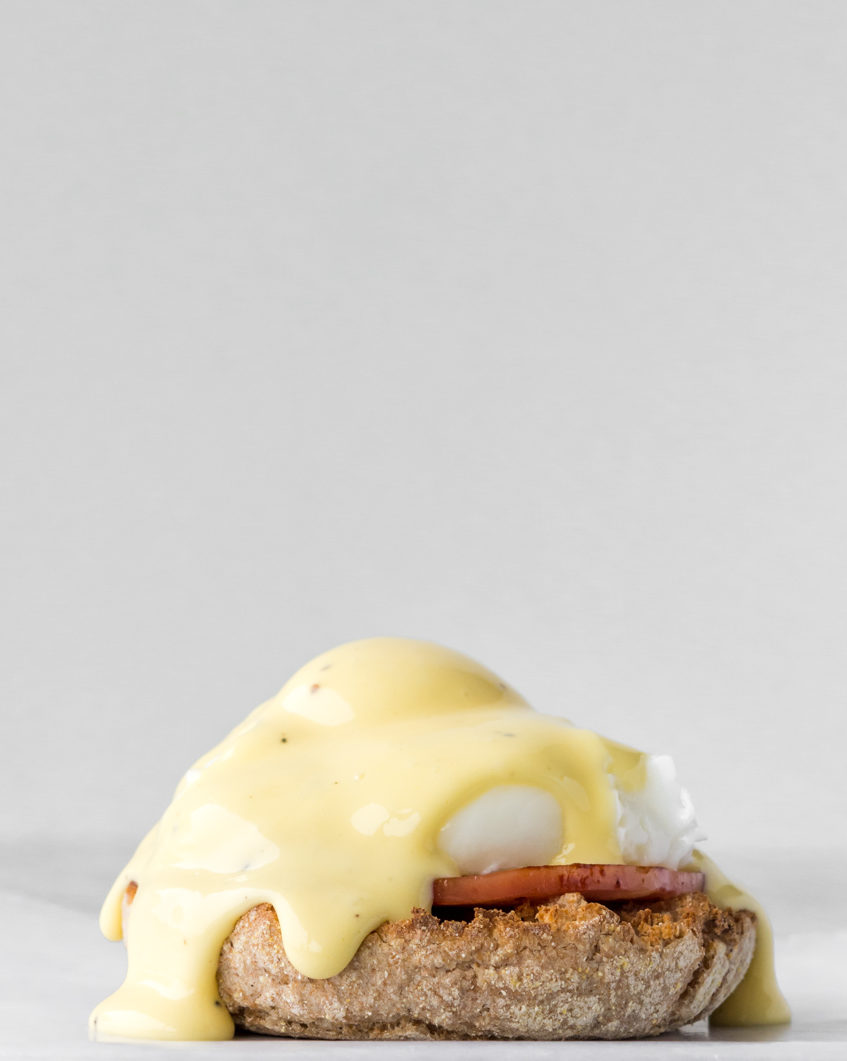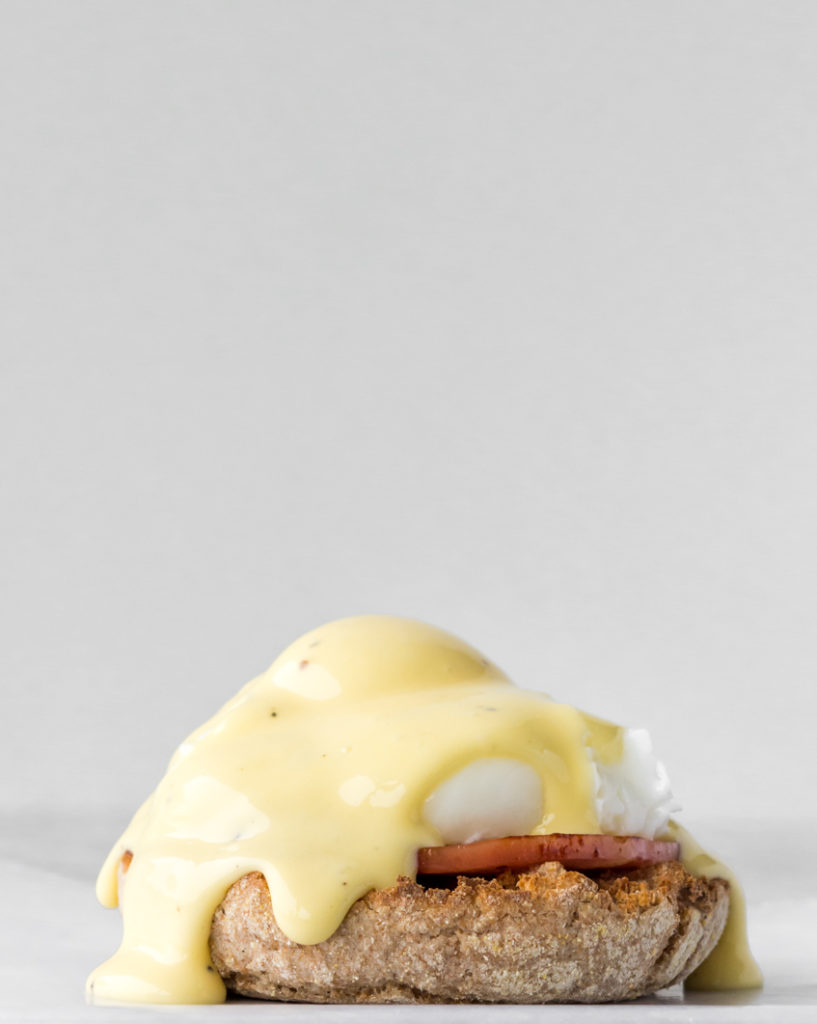 I grew up learning how to cook alongside my mom, who taught me everything from rolling out fresh pasta dough and mixing up banana bread, to toasting huge batches of spicy coconut chutney for my dad.
When I was around 12, we tackled eggs benedict together. She handled basically everything, but I was proudly in charge of the sauce, which quickly became known for its refreshing lemony flair. She and I had a system down. We effortlessly juggled poaching eggs, browning Canadian bacon, and toasting english muffins for our large family of 8 (but it was usually more, once word got out this was a Sunday morning tradition).
The process was so streamlined, we could do it in our sleep. After a few years, we thought we had really improved the process by using a blender to make the sauce (rather than the ominous double boiler), but I still remember the mess of hot butter splattering around the blender as I streamed it into the yolks.
Then last year at Christmas we were whipping up a quick batch of "Idaho Benedict" (substituting smoked trout for Canadian bacon, which you should definitely try) and on a whim, I decided to use an immersion blender and a glass measuring cup. Low and behold, we had finally maxed out on efficiency.
this was the easiest eggs benedict we had ever made.
By blending the yolks and lemon juice in the measuring cup with an immersion blender, then slowly drizzling in the hot butter, nothing splatters and the clean up couldn't be easier. In all honesty, I think poaching the eggs is more complicated than making hollandaise sauce. Don't let old rumors scare you away from one of the most delicious breakfasts out there.
Yes, we have a few reps under our belt, but it's so much easier to make eggs benedict than people would have you believe. Get out your immersion blender and give this recipe a try. Who knows— you may even have a new Sunday tradition on your hands. Enjoy!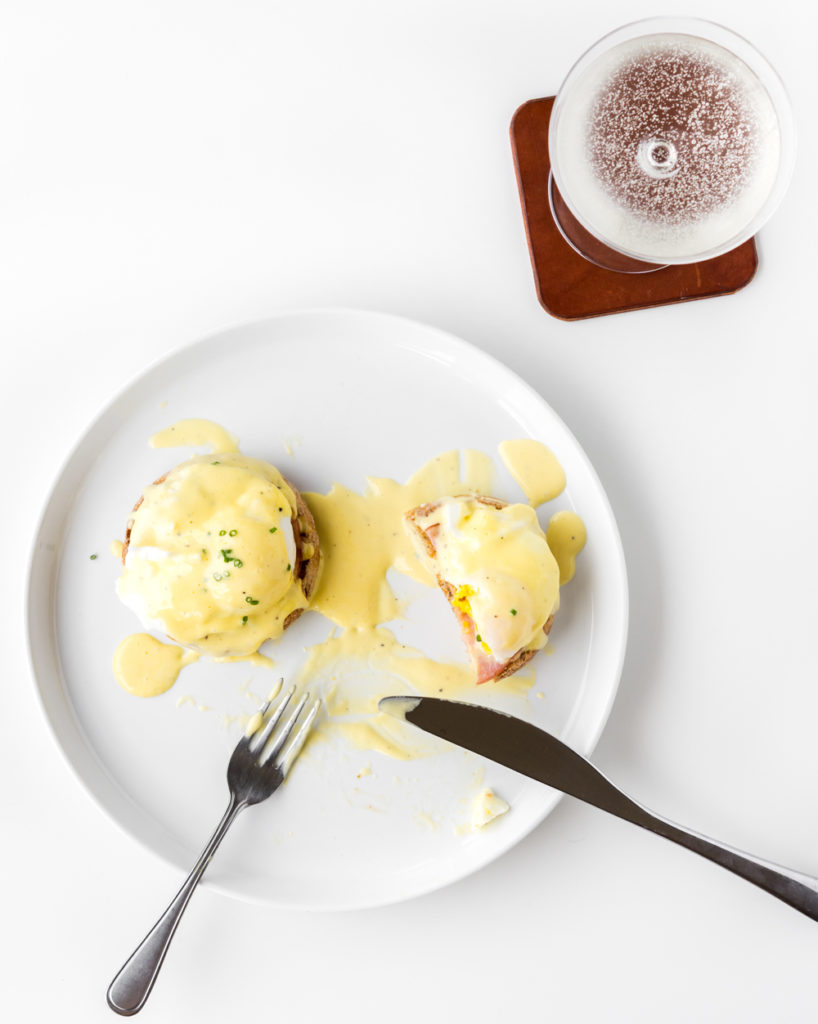 related recipes
wild mushroom leek frittata with truffles and gruyere
chorizo hash with poblanos and charred jalapeño hollandaise
breakfast strata with apples, sausage and fennel
extra-thick cinnamon brioche french toast
homemade bloody mary mix: hot and spicy
Print
easy eggs benedict
Eggs benedict is one the best breakfasts out there! This is a recipe for a classic eggs benedict, with toasted english muffins, browned canadian bacon, poached eggs and an extra lemony (very easy) hollandaise sauce.
Author:
Prep Time:

0:05

Cook Time:

0:25

Total Time:

30 minutes

Yield:

3

Category:

Breakfast

Cuisine:

American
Ingredients
1 tbsp

mild vinegar (such as rice wine vinegar)

6

eggs plus 3 egg yolks, divided

3

english muffins, split

1 tsp

olive oil

6

slices of Canadian bacon

2 tbsp

lemon juice

¼ tsp

salt, plus more to taste
freshly ground pepper

1

stick butter, unsalted
chives, parsley, or other fresh herbs, for garnish (optional)
Instructions
poach eggs
Fill a large saucepan with 3 inches of water, bring to a bare simmer and add vinegar (helps keep the eggs compact).
Crack an egg into a small bowl. Slowly stir the simmering water to create a gentle whirlpool (this will help wrap the white around the egg yolk) and gently slip the egg into the center of the whirlpool. Cook for 4 minutes for a firm white and runny yolk, or longer for a more firm yolk. Keep on eye on the temperature to maintain a bare simmer, too many bubbles will disrupt the shape of the egg.
Use a slotted spoon to remove the egg from the water, and place in a shallow dish filled with warm water. This will keep the eggs warm while you prepare the rest of the benedict, without overcooking them. Repeat with remaining 5 eggs.
prep english muffins and canadian bacon
While eggs are poaching, toast the english muffins. Set aside.
Heat a large skillet on medium low heat. Add the olive oil and Canadian bacon and cook until browned and crisp on both sides, about 5 minutes each. Transfer to a paper towel- lined plate to drain.
make hollandaise sauce
In a 2-cup glass measuring cup, combine the 3 egg yolks, lemon juice, salt and pepper and blend with an immersion blender until thick, frothy and lightened in color, about 30 seconds. Alternatively, use a blender.
Melt the butter (covered!) in a microwave until very hot. With the immersion blender (or regular blender) running, slowly stream the hot butter into the egg yolks until it's fully combined. Blend a few extra seconds to make sure the sauce is thick and the butter is fully blended in. Taste and adjust seasoning if needed.
assemble
Place two halves of a toasted english muffin on a plate. Top each with a piece of canadian bacon. Drain eggs on paper towel lined plate, gently pat dry and place one egg on each slice of canadian bacon. Pour a third of the hollandaise sauce over the poached eggs, garnish with fresh herbs if desired, and serve immediately.
Notes
Eggs benedict is best consumed right after making it-- the hollandaise sauce does not reheat well.
Nutrition
Serving Size:

1

Calories:

658

Sugar:

1g

Sodium:

890mg

Fat:

48g

Saturated Fat:

24g

Unsaturated Fat:

20.6g

Trans Fat:

0g

Carbohydrates:

29g

Fiber:

1.6g

Protein:

28g

Cholesterol:

656mg
Keywords: easy eggs benedict