This isn't like any cinnamon French toast you've had before. Skip the thin, soggy, eggy slices of French toast— no one has time for those. This extra thick brioche French toast is the answer to all of your breakfast prayers. I soak the rich brioche in a vanilla-bean custard for a souffléd texture. Then I coat it in a thick layer of cinnamon and sugar and fry it in butter to create the most deliciously caramelized crust.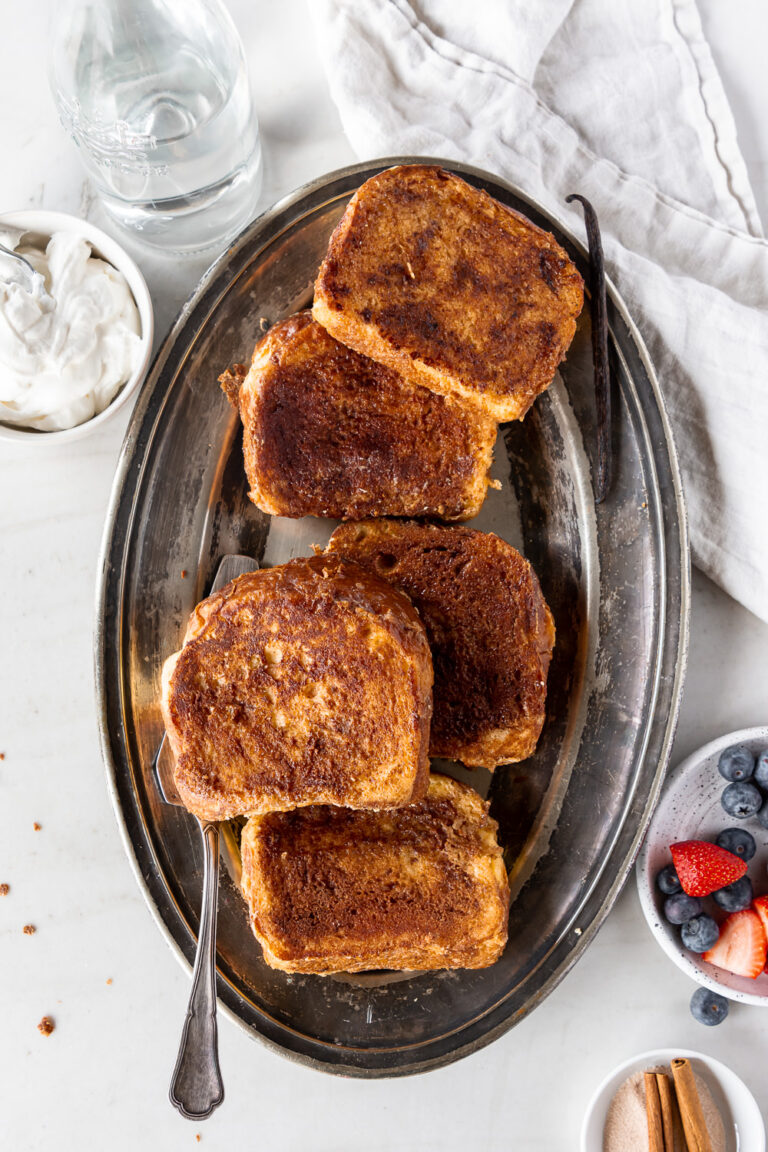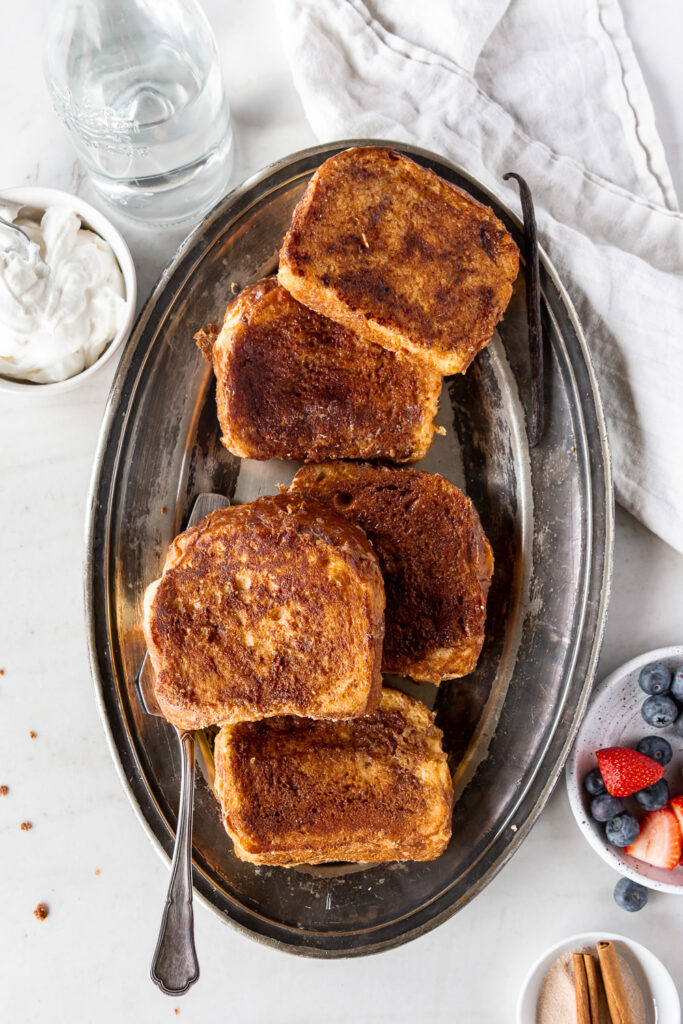 The smell of butter, cinnamon, vanilla and caramelizing sugar is just the beginning. When you cut into the cinnamon French toast, you'll love the crunchy top and creamy center. I prefer to skip the maple syrup here, too— the cinnamon-sugar crust and lightly sweetened custard is enough. You will want to drag this cinnamon French toast through a dollop of whipped cream, though. Make sure to whip it fresh— this thick French toast deserves it!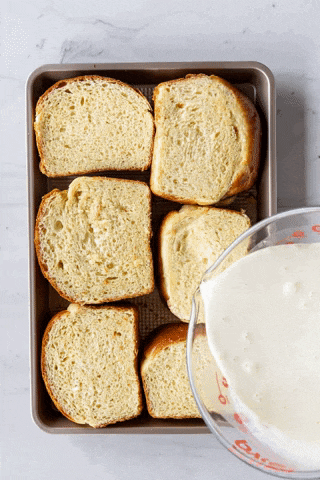 how do you make cinnamon french toast from scratch?
Slice the brioche into 1 ½-inch thick slices
Find a pan that the slices fit most snugly in, and lay them out flat (a jelly roll or 9"x13" work best, depending on the dimensions of your loaf)
Make a custard with heavy cream, eggs, sugar and vanilla bean seeds
Pour the custard over the sliced brioche and let it sit for 15 minutes
Flip the slices and soak them another 15 minutes
Coat with cinnamon sugar, and fry in butter until crunchy
Finish cinnamon French toast in the oven until cooked through
what can I use instead of brioche?
Brioche is a buttery egg bread that is soft and rich— it makes a tender, flavorful base for this cinnamon French toast. But if you can't find an unsliced loaf, don't worry! You have a few options.
Option 1: Challah. It's a little less rich than brioche, but it's still enriched with butter and eggs. It's the best substitute.
Option 2: Make your own brioche! A 9-inch x 5-inch loaf pan will give you six perfect 1 ½-inch thick slices. If you have a stand mixer, brioche is shockingly easy to make. But it's shockingly messy and traumatic if you try to make it by hand. I don't recommend it.
Option 3: French bread. An unsliced loaf of French bread will give you the flexibility to get the extra thick slices. The French toast just won't be quite as decadent.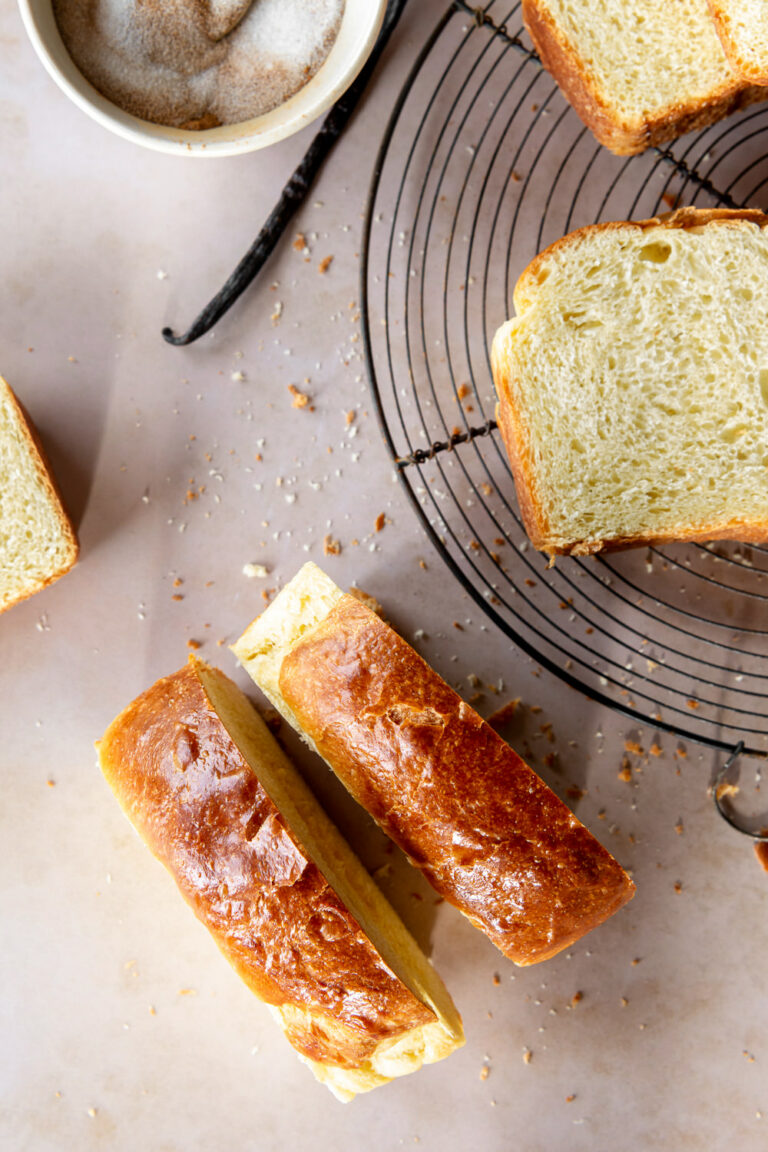 can you make this cinnamon brioche french toast ahead of time?
While this cinnamon french toast is fairly quick to whip up on it's own, there are a few steps you can take to streamline the process and make it even faster.
You can pre-slice your bread up to 2 days ahead of time.
Soak the brioche slices overnight in the refrigerator (no need to flip them). Let sit at room temperature for 30 minutes before frying.
You can keep the french toast warm in a 200°F oven for up to 30 minutes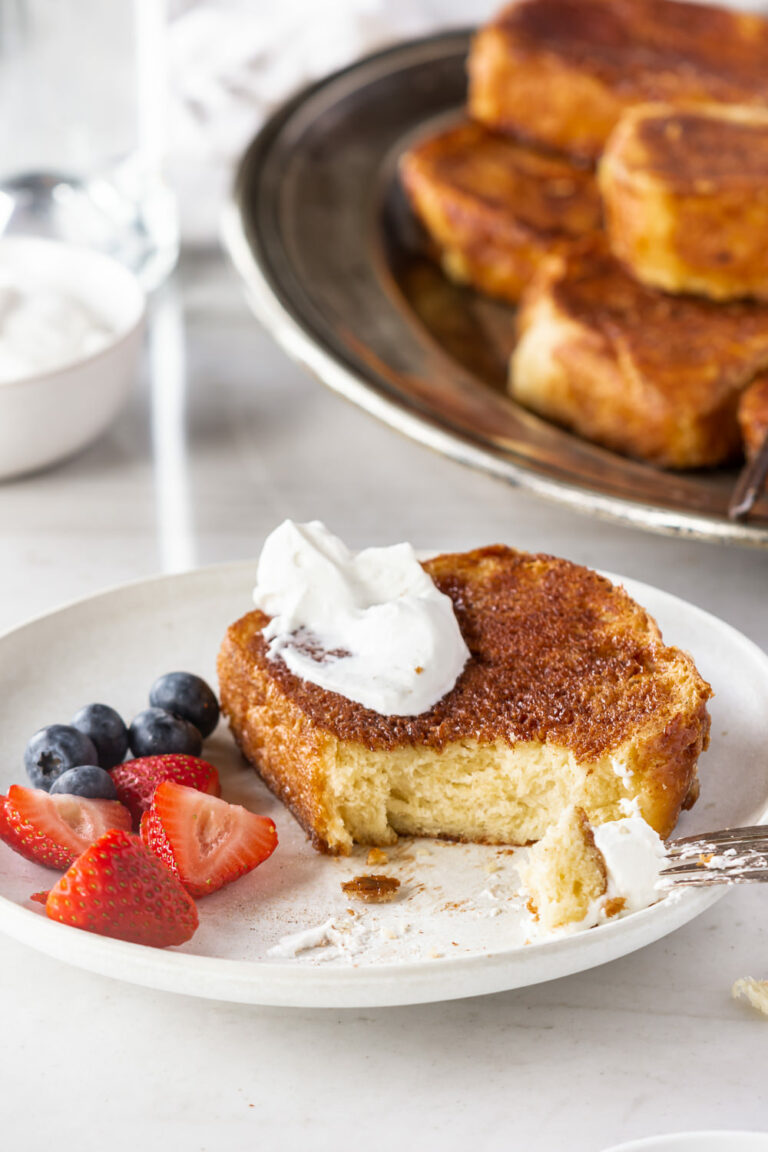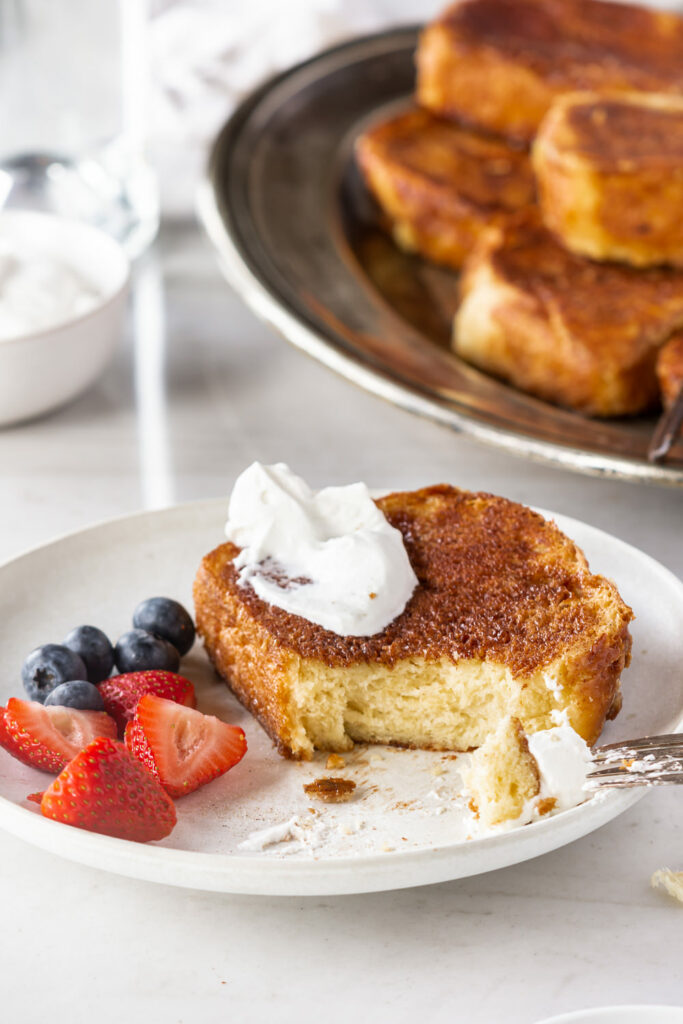 related recipes
yeasted waffles with whipped maple mascarpone
sourdough french toast with brown sugar and vanilla bean
buckwheat crepes (sweet or savory)
basic sourdough crepes with pistachio cinnamon sugar
breakfast strata with apples, sausage and fennel
Print
extra-thick cinnamon brioche french toast
Soak thick slices of brioche in a rich vanilla bean custard, then coat them in cinnamon-sugar and fry for a crunchy crust. This cinnamon French toast has a caramelized surface and souffle-like center.
Author:
Prep Time:

50 minutes

Cook Time:

30 minutes

Total Time:

1 hour 20 minutes

Yield:

6

Category:

Breakfast

Method:

Fry

Cuisine:

American
Ingredients
5

large eggs

3 cups

heavy cream

1

vanilla bean, seeds scraped (or

1 tbsp

vanilla extract)

½ tsp

kosher salt

½ cup

granulated sugar, divided
six

1 ½

-inch thick slices of brioche

1 tsp

ground cinnamon

2 tbsp

unsalted butter, divided

whipped cream, for serving
Instructions
In a large bowl, whisk to combine eggs, heavy cream, vanilla bean seeds (or extract, if using), salt and ¼ cup sugar. Arrange brioche slices in a 9-inch x 13-inch baking dish (or whatever pan all of the slices fit most snuggly in). Pour custard over top and let sit 20 minutes. Carefully flip slices and let them sit another 20 minutes to fully soak up custard.

Meanwhile, preheat oven to 325°F. Line a baking sheet with parchment paper.

In a small bowl, mix remaining ¼ cup sugar with cinnamon. After the brioche slices have soaked, sprinkle half of the cinnamon sugar mixture evenly over their surface.

Melt 1 tablespoon butter in a large skillet over medium-low heat. Fry three brioche slices, sugar side down, until browned and caramelized, 3- 5 minutes. Sprinkle bare surface with cinnamon sugar mixture, flip the toast and cook another 3- 5 minutes. Transfer to prepared baking sheet. Wipe out skillet (or rinse, if needed, to remove burnt sugar), then melt remaining tablespoon of butter and repeat frying the last three slices of brioche. Bake for 12- 15 minutes, or until fully cooked when a knife is inserted into the center of the bread.

Serve warm with freshly whipped cream.
Nutrition
Serving Size:

1

Calories:

577

Sugar:

20g

Sodium:

527mg

Fat:

40g

Saturated Fat:

24g

Unsaturated Fat:

13.5g

Trans Fat:

1.2g

Carbohydrates:

44g

Fiber:

1.3g

Protein:

11g

Cholesterol:

272mg
Keywords: cinnamon french toast