These cruffins have the most insane flakes. Instead of the usual croissant dough, I use a buttery brioche for the most tender crumb. Then I laminate it with more butter. What does all this butter do? It gives you super tender, flavorful, and flaky cruffins.
Once the brioche croissant dough is made, I roll it up with a chai spiced sugar (just like a cinnamon roll), slice it and pop it in a muffin tin. When they rise and bake, these cruffins puff up and out of the tin to reveal their gorgeous layers. Then I toss them in more spiced sugar while they're still warm.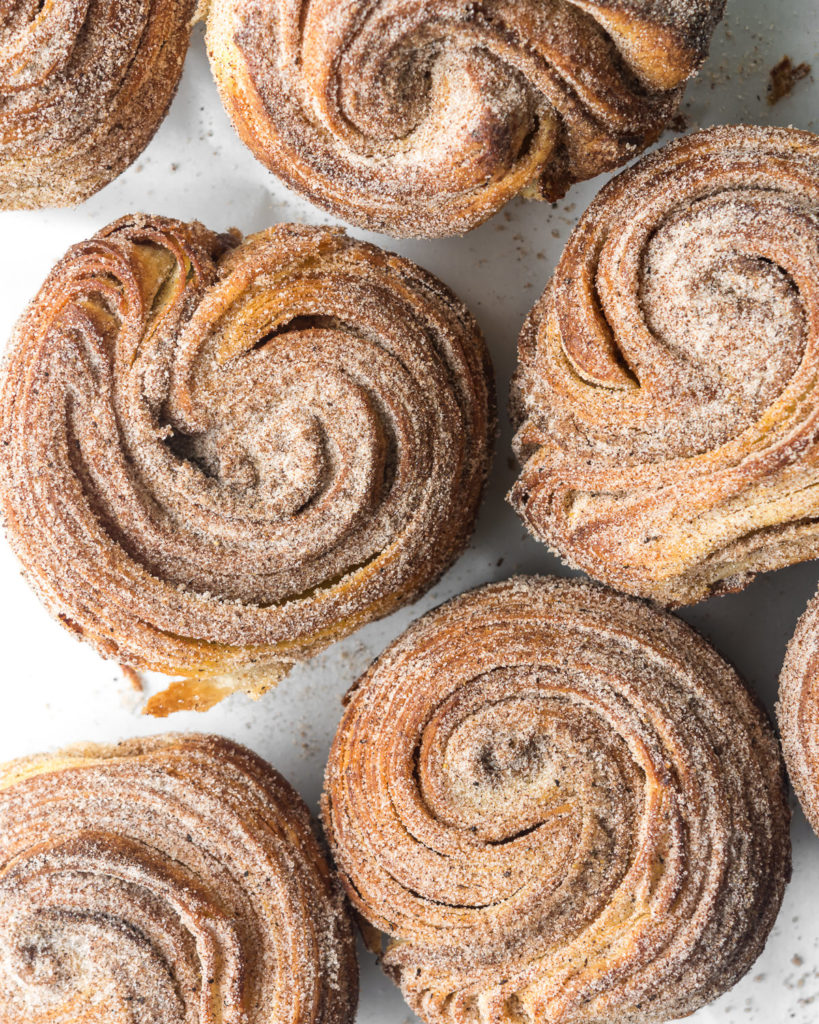 With the amount of butter in these breakfast buns, you'd think they would be ridiculously decadent and over the top. But you'd be surprised how light and fluffy they are. The dough is so tender and soft, it's a dream to tear off layer by layer. Plus, there's just enough sugar to make them feel like a treat. No tooth aching sweetness here, just the delicious crunch of chai spiced sugar. Be careful-- it's all too easy to toss back a few of these cruffins with your morning coffee.
can you make these cruffins ahead?
Absolutely. Laminating dough is a process. I get it. So I've done several rounds of testing with these cruffins to give you a few different prep options.
Ideally, all you have to do is pop them in the oven the morning of-- no dough laminating is allowed on holiday mornings! See the notes below for a timeline overview and possible stopping points.
There's also a visual guide for the entire process at the bottom, just before the recipe!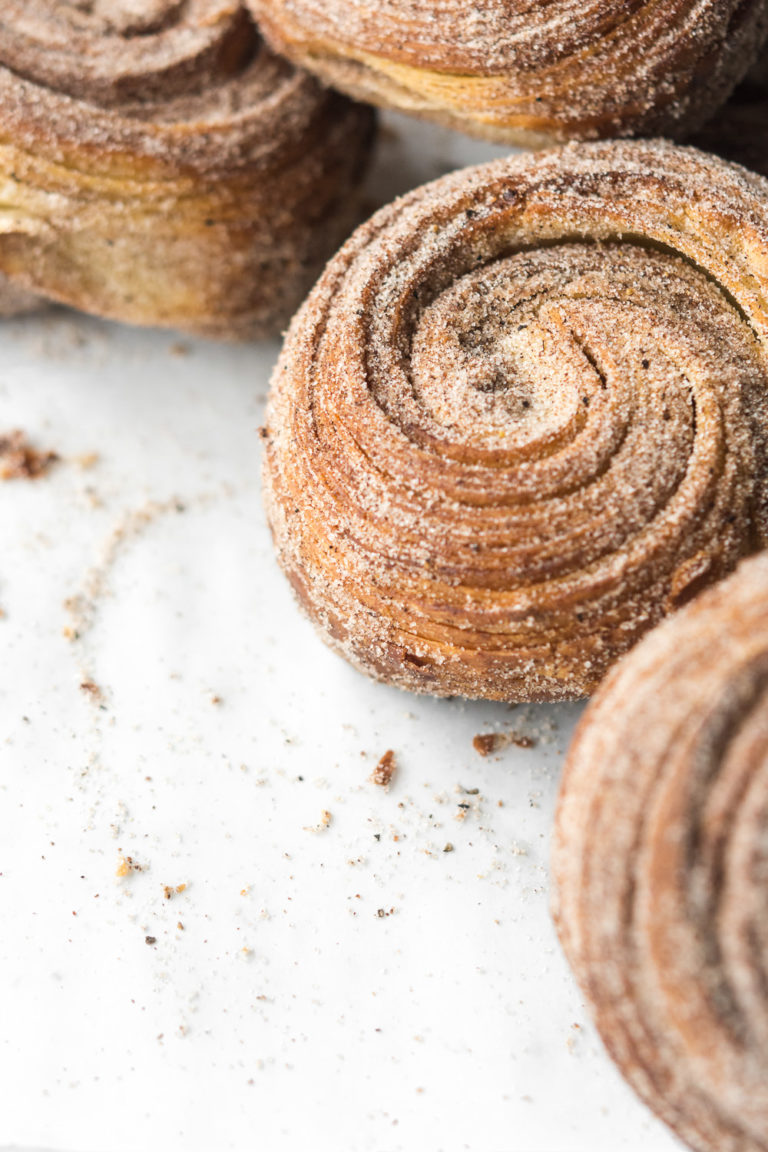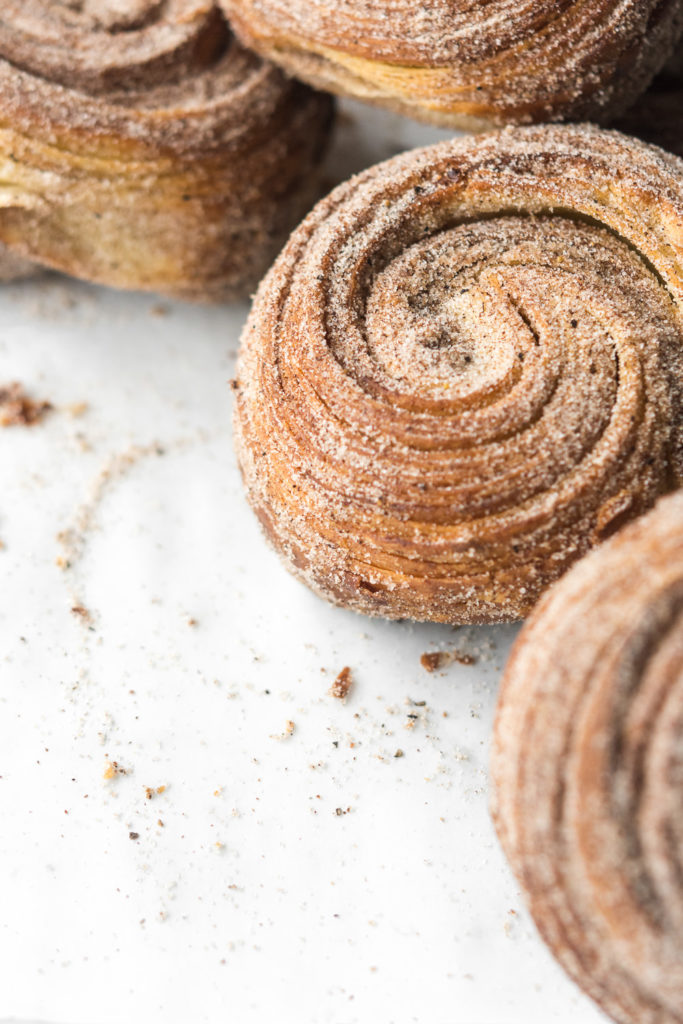 cruffin timeline overview:
Day 1: make dough and butter block, chill in refrigerator
Day 2: laminate dough, then you have 3 options:

shape, proof and bake
shape, refrigerate overnight and bake the next morning
shape and freeze (and when you want to eat them, thaw overnight and bake the next morning)
stopping points and storage for cruffins:
laminated dough

wrap in plastic and refrigerate overnight
wrap in plastic and freeze for up to 1 month

to use, thaw in the refrigerator overnight then proceed with shaping, proofing and baking

unbaked cruffins

refrigerate overnight, proof the next morning for about 1 hour, then bake
freeze for up to 1 month. Place unbaked cruffins on a parchment paper lined baking sheet and cover loosely with plastic wrap. Transfer to a ziplock bag when frozen and remove as much air as possible.

option 1: transfer frozen cruffins to a muffin tin*, cover loosely and thaw overnight in the refrigerator. Proof for about 1 hour, then bake. (my favorite option!)
option 2: transfer frozen cruffins to a muffin tin*, cover loosely to thaw and proof at room temperature for a few hours, then bake.
*sometimes it can be a tight fit for the frozen cruffins in the muffin pan. If this is the case for you, just thaw them on a sheet pan and gently squeeze them into the muffin pan when they're softer.
baked cruffins

store in a ziplock for 2- 3 days. If desired, refresh in the oven at 350°F for about 5 minutes or until warm.
freeze for up to 2 months. Thaw at room temperature for several hours then refresh in the oven at 350°F for about 5 minutes, or until warm.
Reheating baked cruffins isn't my favorite thing to do. They tend to be a little more dense and not as tender as the freshly baked version, but it's definitely an option if you're in a pinch.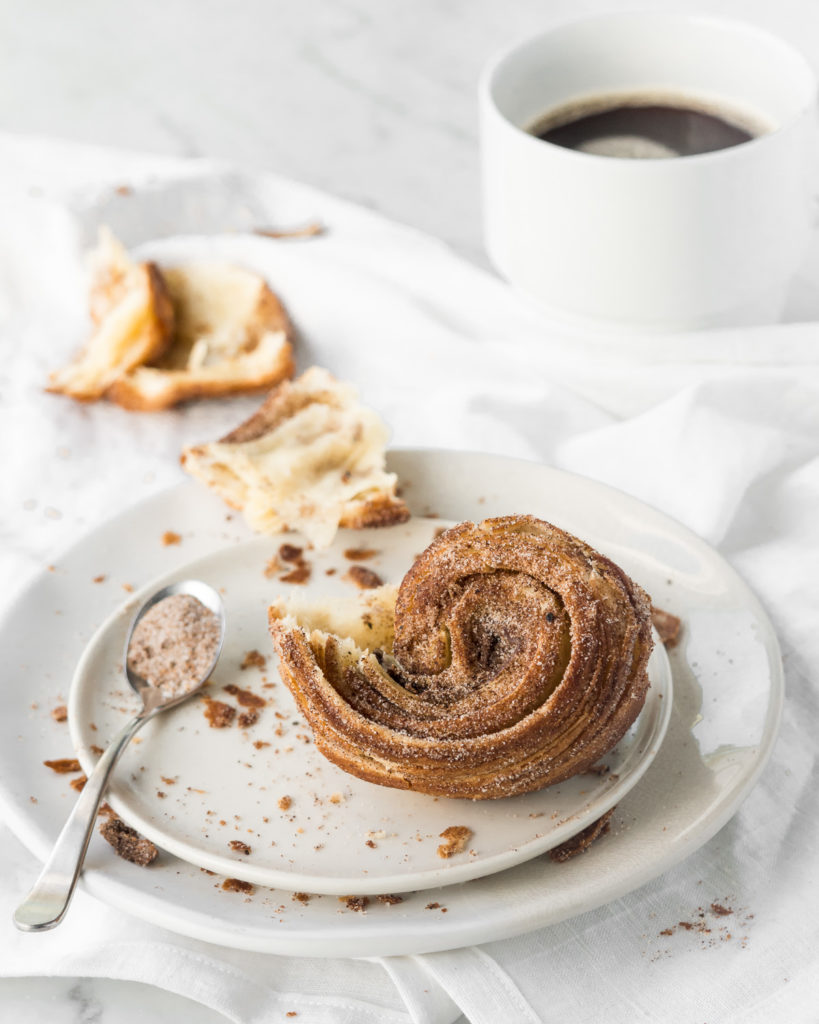 a few more notes on the cruffins:
I've locked butter into dough a bunch of different ways, but this parchment paper packet technique is the absolute best way. It's so clean, simple and precise. Once you figure out the origami, you'll never go back!
When softening the butter for the butter block, don't over beat it. We don't want it to cream it so that it lightens in color. This step is just to soften it up so we can form it into our square parchment paper packet.
The temperature of the butter block is important when locking it into the dough. You want it cold, but soft enough that it doesn't crack when rolled on the edge of the counter. If it's too warm, on the other hand, it'll seep out of the dough when you roll it.
It's easy to tear a layer of dough when doing the folds, which can lead to sticking, more tearing, and butter leaks. To patch the tear, sprinkle flour over it, brush it off, and repeat a few times. Be gentle with the patch, but keep going!
If you're struggling with laminating dough and really want to master it, I highly recommend the online class "Classic Croissants at Home" by Colette Christian. I incorporated many of her techniques in this recipe, but she's a fantastic teacher and has so many tips to help you succeed!
how to make cruffins, a visual guide: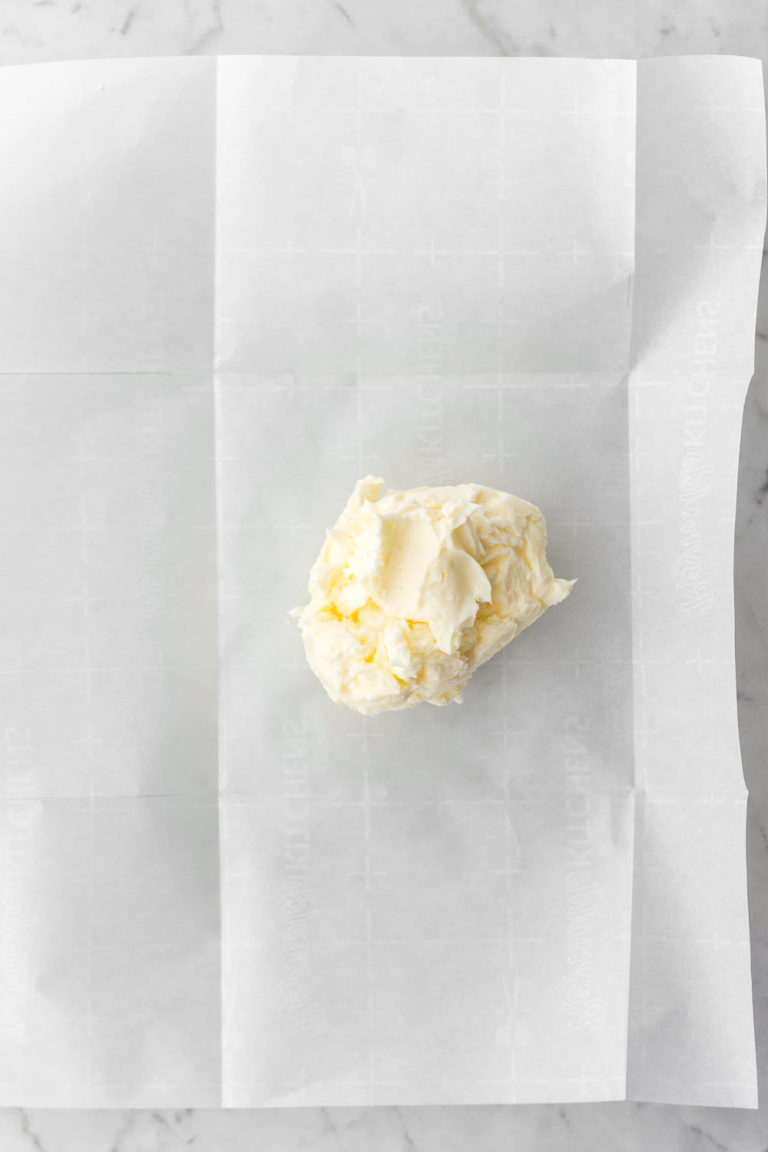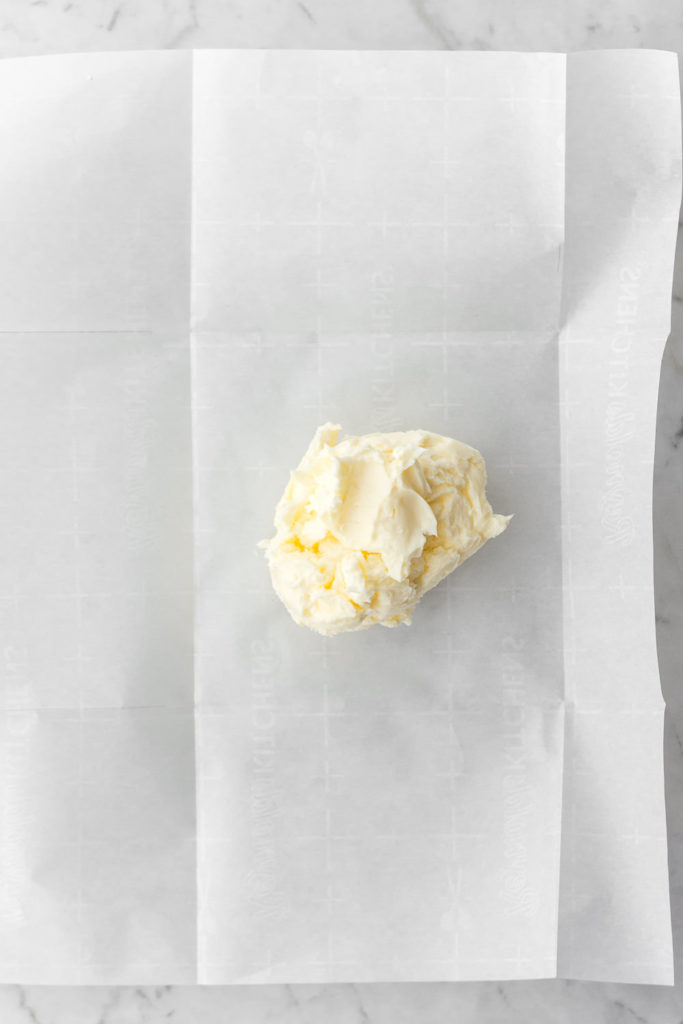 here are some more swirly breads and cookies to make!
marbled chocolate peppermint icebox cookies
hungarian bejgli by Greta from One Sweet Harmony
cinnamon pinwheels by Lynn's Way of Life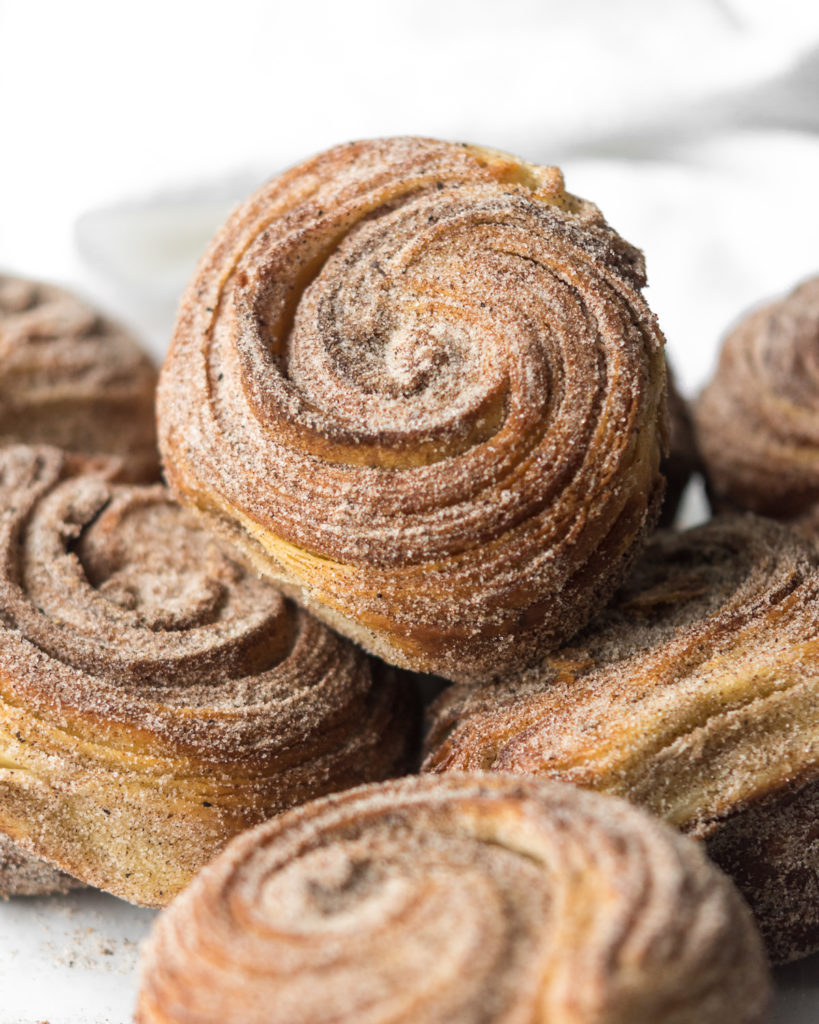 Print
chai spiced cruffins
These flaky cruffins (croissant muffins) are made out of a buttery brioche dough and rolled up with chai spiced sugar. Then they're tossed in even more spiced sugar when hot!
Author:
Prep Time:

1 hour 5 minutes

Cook Time:

20 minutes

Total Time:

17 hours

Yield:

8

Category:

Breakfast

Method:

Baking

Cuisine:

American
Ingredients
butter block
2

sticks cold, unsalted butter, cubed
brioche dough
2 ¾ cups

all-purpose flour

3 tbsp

sugar

1 ½ tsp

kosher salt

1 tbsp

instant yeast

3

large eggs, beaten

¼ cup

milk, room temperature

10 tbsp

butter, sliced into

10

pieces, room temperature
chai spiced sugar
1 cup

sugar

1 tbsp

ground cinnamon

1 tbsp

ground ginger

1 tbsp

ground cardamom

1 tsp

ground cloves

1 tsp

ground nutmeg

1 tsp

ground allspice

1 tsp

ground black pepper

1

egg, beaten with 1 tsp water, for egg wash
Instructions
make the butter block
Pull the butter out of the refrigerator and let sit at room temperature for about 5 minutes. 

Meanwhile, prepare a parchment paper packet to shape the butter block. Cut off a 15" x 18" piece of parchment paper and fold in half to 15" x 9". Measure 4" from the top and bottom edge (or what were the long edges) and fold along the mark to make a 7" x 9" packet. Finally, measure 2" from the open edge and fold along the mark to make a 7" x 7" packet. Set aside while you prepare the butter.

In the bowl of a stand mixer fitted with a paddle attachment, beat the butter on low speed until it is soft, malleable and smooth (we're not trying to beat air into it), 1- 2 minutes.

Unfold the parchment paper packet and scoop the butter onto one of the 7" x 7" squares. Fold the parchment back along the original creases to enclose the butter in the packet. Use your fingers or a rolling pin to smoosh the butter evenly into the packet so the corners and edges are filled and the butter is a perfect 7" x 7" square. Place in the refrigerator while you make the dough.
make the brioche dough
In the bowl of a stand mixer fitted with a dough hook, add the dry ingredients and whisk by hand to briefly mix. Pour in the eggs, milk and butter and mix on low speed for about 1 minute until dry ingredients are moistened. Increase speed to medium and knead until the dough cleans up the bowl and is smooth and shiny, 20- 25 minutes.

Form the dough into a ball (it'll be very soft), place it in a lightly greased bowl, cover and let rise for 1 hour. Refrigerate for several hours, or overnight, until well chilled.
laminate the dough
Remove the butter block from the refrigerator to soften slightly. When it's cold but malleable, begin to roll out the dough. 

On a lightly floured surface, roll the dough out to a 7 ½" x 14 ½" rectangle then use a pastry brush to brush off any extra flour. Place the butter block on the left half of the dough, leaving a ½" border on the top, left side and bottom. Use your fingers to smoosh the butter to within ½" of the edges, if needed. Fold the right side of the dough over the butter block and firmly pinch the three edges to seal. 

Lightly flour the surface, then rotate the dough so the folded edge is on the top of the rectangle, furthest away from you. Roll the dough out to an 8" x 16" rectangle so the long edges are parallel with the countertop edge. 

Use a pastry brush to dust off flour from the surface, then fold the dough in thirds, starting with the right side. Dust flour off the surface of the folded right side, then fold the left side over top. Make sure all of the edges line up and the corners are directly on top of each other. This is one turn. Cover with plastic wrap and refrigerate the dough for 30 minutes.

Remove the dough from the refrigerator and place it on a lightly floured surface with the long folded edge furthest away from you. Repeat the rolling and folding to complete a second turn. Refrigerate for another 30 minutes, then repeat the third and final fold. Refrigerate dough for at least 1 hour. 
At this point, the dough can be refrigerated overnight or frozen for up to 3 months. 
shape and bake
To make the spiced sugar mixture, combine sugar, cinnamon, ginger, cardamom, cloves, nutmeg, allspice and black pepper in a small bowl. Set aside ½ cup of spiced sugar for topping. 

Roll out the laminated dough to an 8" x 18" rectangle. Brush egg wash over the entire surface, then sprinkle spiced sugar mixture over all but ½" along one long edge. Start with the long edge that's covered with sugar and roll up the dough into tight log. Let it rest on the seam to prevent it from unrolling. 

Use a sharp knife to trim an inch off each end of the roll and discard. Then slice the roll into eight 2" pieces. Place the buns in a muffin pan, loosely cover and let proof 1- 1 ½ hours, until very puffy but not double in size. Towards the end of the rising, preheat the oven to 400°F. 

Gently brush tops and exposed sides with egg wash and bake for 18- 20 minutes, or until golden brown and the internal temperature at the center  is 190°F.

Let cool for a few minutes, then carefully remove from the pan and toss in reserved spiced sugar mixture. The warmer they are when you toss them, the better the sugar will stick (but don't burn yourself!). Set aside on a rack to cool.
Notes
Cruffins are best enjoyed the day they're baked, but can be stored at room temperature for up to 3 days.

See notes above for all of the storing and freezing options!
Nutrition
Serving Size:

1

Calories:

665

Sugar:

30g

Sodium:

605mg

Fat:

41g

Saturated Fat:

25g

Unsaturated Fat:

14.2g

Trans Fat:

0.6g

Carbohydrates:

66g

Fiber:

2.7g

Protein:

9.9g

Cholesterol:

216mg