This sparkling shrub cocktail is made with a sweet-tart raspberry syrup that is balanced with bubbles, fragrant basil and a touch of white balsamic vinegar.
As I sit here writing this, it's a week before my very first Mother's Day. We don't have any big plans, other than basking in the sun on our patio and maybe taking the babe for his second ever swim at the community pool. Before I was a mom, I always thought elaborate breakfasts in bed or fancy dinners were the key to celebrating and pampering mothers.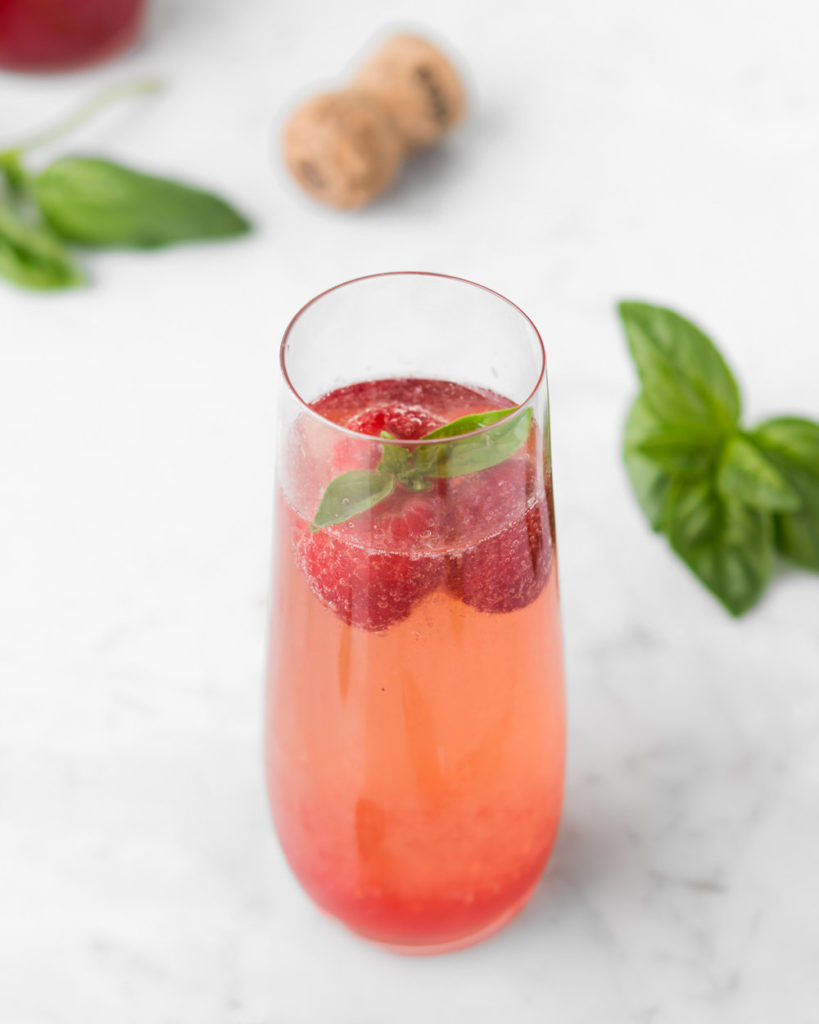 Now that I'm on the other side, though, I've really come to appreciate simplicity. Figuring out what to do with my hair, digging out a decent outfit, and sacrificing Wade's bedtime routine for an expensive restaurant dinner just doesn't light me up. I'd so much rather enjoy time together as a family, with something small, easy and special to mark the day.
So in the search of simple but elevated, I came up with a pretty, flavorful, unique drink that we can sip while we show Wade the sunflowers in our backyard and watch him wobble around, giggle, and discover the joys of sucking on his big toe. That is my ideal Mother's day.
And this sparkling shrub cocktail fits the bill. It's made with a sweet-tart raspberry syrup that is balanced with bubbles and fragrant basil. There's a touch of white balsamic that gives a delicious complexity and freshness to the drink.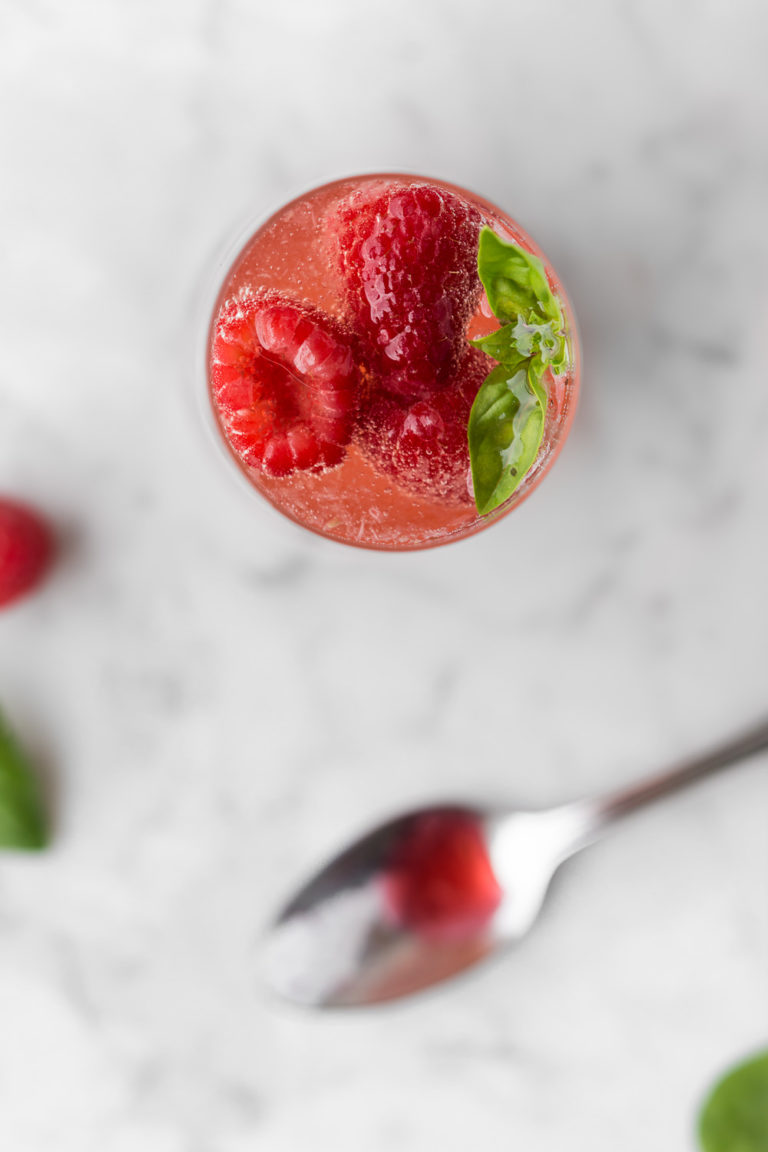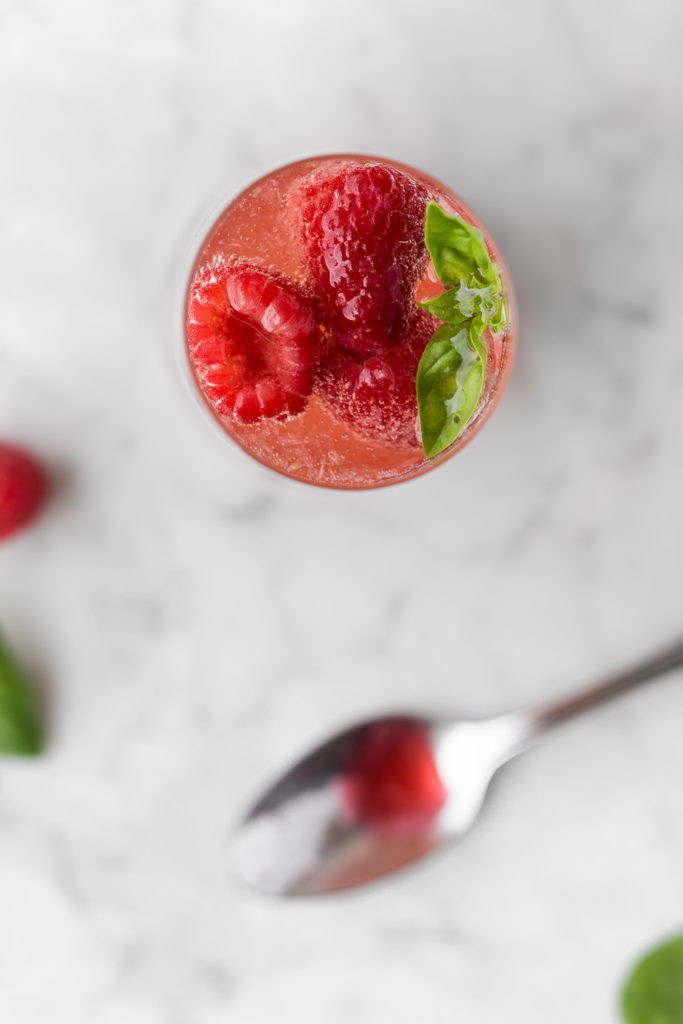 This sparkling shrub cocktail is exactly what I want to be sipping as we celebrate the joy our little 6 month-er has brought us.
Motherhood is such a fun, amazing, exciting gift. It can also be tiring. I have to consciously focus on simplifying my life so I don't get carried away with big, exhausting plans. I want to savor every precious second of this season, not resent it. So do yourself a favor and keep it simple. Celebrate all you do with a beautiful, delicate spring drink.
a note about shrub cocktails:
If you've never had a shrub before, it's time to change that. Shrubs are essentially a sweet-tart fruit (or anything, really) syrup that historically was a way to preserve fruit before refrigeration. The fruit is macerated with sugar and the resulting syrup is mixed with vinegar.
The sky is the limit when it comes to shrubs-- you can experiment with the main ingredient (berries, stone fruit, vegetables, herbs), the amount and type of sugar, the type of vinegar, and even if you want to add a splash of alcohol or not.
They are a great way to add complexity and depth to cocktails-- and to clear out the odds and ends in your produce drawer. Here, I use fresh raspberries, basils and white balsamic vinegar for a delicious, refreshing spring shrub.
related recipes:
grand marnier grapefruit mimosa
sparkling elderflower gin cocktail
pineapple rum fizz with rosemary and lime
homemade bloody mary mix: hot and spicy
Print
sparkling raspberry basil shrub cocktail
This sparkling shrub cocktail is made with a sweet-tart raspberry syrup that is balanced with bubbles and fragrant basil. There's a touch of white balsamic for complexity and freshness.
Author:
Prep Time:

15 minutes

Total Time:

12 hours 15 minutes

Yield:

8

Category:

Drinks

Cuisine:

American
Ingredients
raspberry basil shrub
6 oz

(about

1 ¼ cups

) fresh raspberries

1 cup

basil leaves

½ cup

granulated sugar
white balsamic vinegar (about ¼ cup)
shrub cocktail
raspberry basil shrub (see above)
sparkling wine, chilled
Instructions
raspberry basil shrub
Place the raspberries and basil in a glass pint jar and cover them with sugar. Shake the jar vigorously to break up the berries (you may need to stir it a few times with a spoon to help it out), then store in the refrigerator overnight.
Shake the jar again to help dissolve the sugar, then strain the mixture through a fine mesh strainer, pressing on the solids to extract as much syrup as you can. Discard the solids.
Transfer the syrup to a glass measuring jar and note the volume. Add ⅓ of that volume of white balsamic vinegar and stir to combine (for example, if you have ¾ cup of raspberry syrup, add ¼ cup of vinegar). Shrub will last several months in the refrigerator.
shrub cocktail
Pour 1 oz of shrub in the bottom of a champagne flute. Top with 4 oz sparkling wine, garnish with fresh raspberries and a basil leaf. Enjoy!
Notes
makes about 1 cup of shrub (enough for 8 cocktails)