These light and delicate buttermilk donuts are quick to make and hard to forget. Finish them in a sweet-tart raspberry glaze, or keep it old-fashioned with powdered sugar.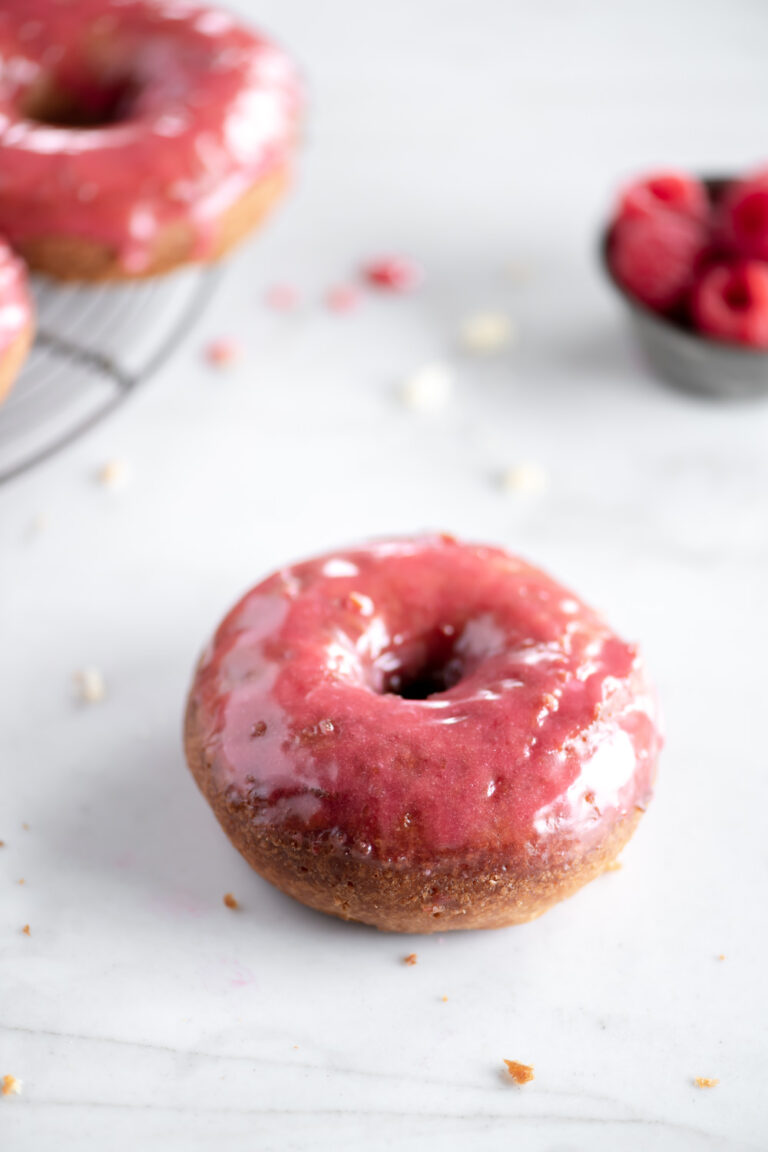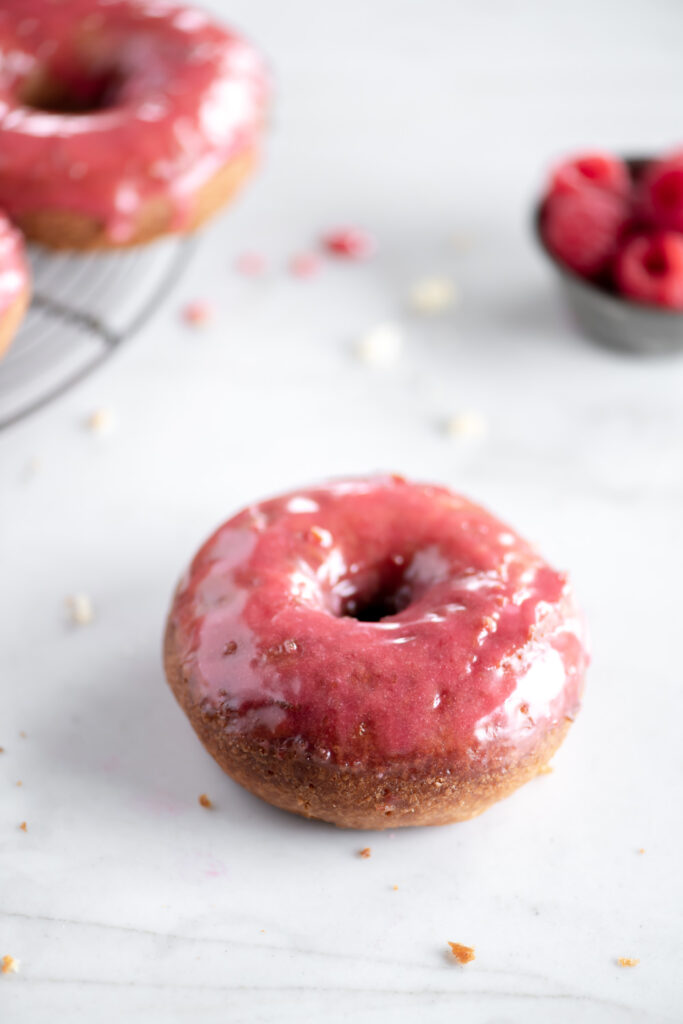 These buttermilk donuts aren't your average cake donut. In fact, they've converted this cake donut skeptic into a loyal fan. The dough is so delicate, it's almost airy. The edges are crispy and dry (especially if you fry the donuts in coconut oil). The texture is fluffy and tender. Once you make your own buttermilk donuts, you'll be hard pressed to go back to those dry, heavy, crumbly store-bought ones.
The great news is buttermilk cake donuts are shockingly quick to make. The dough comes together in about 5 minutes, it needs an hour to chill, and takes less than 20 minutes to fry. And I bet you have everything you need in your fridge to make these donuts on a whim. Do you have friends or family stopping by at the last minute? I can't imagine a better way to welcome them in than with a hot, freshly fried buttermilk donut.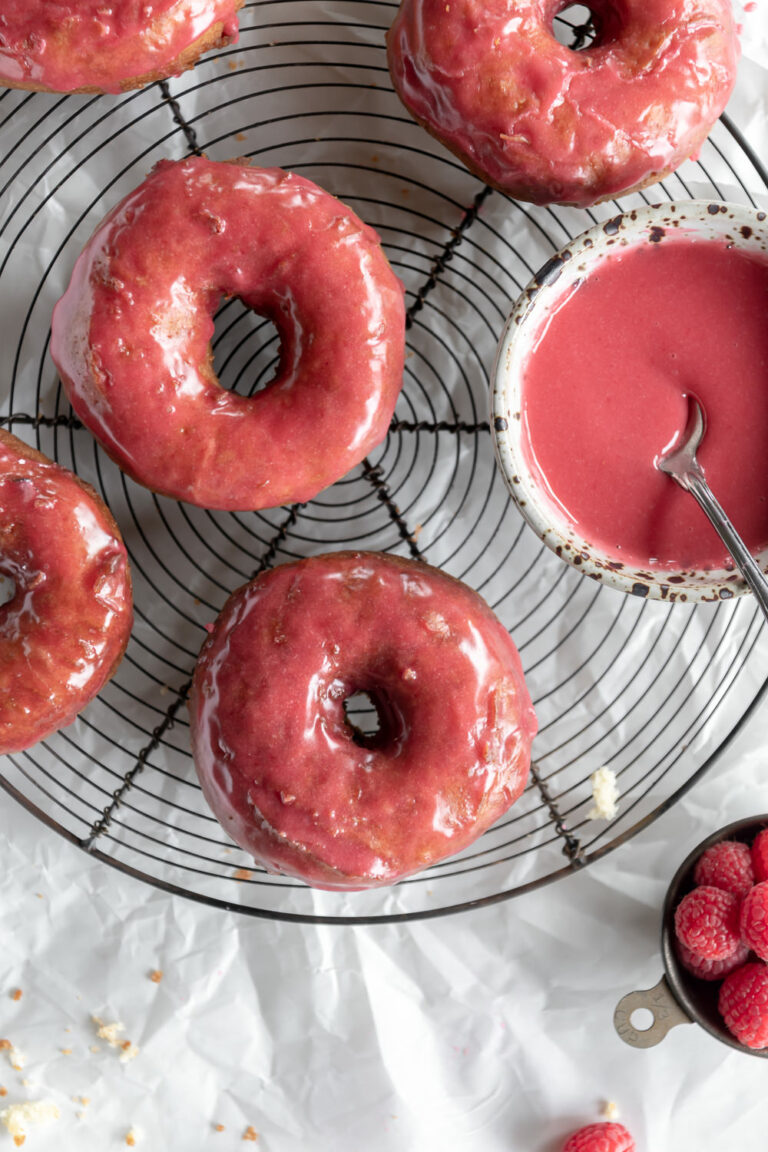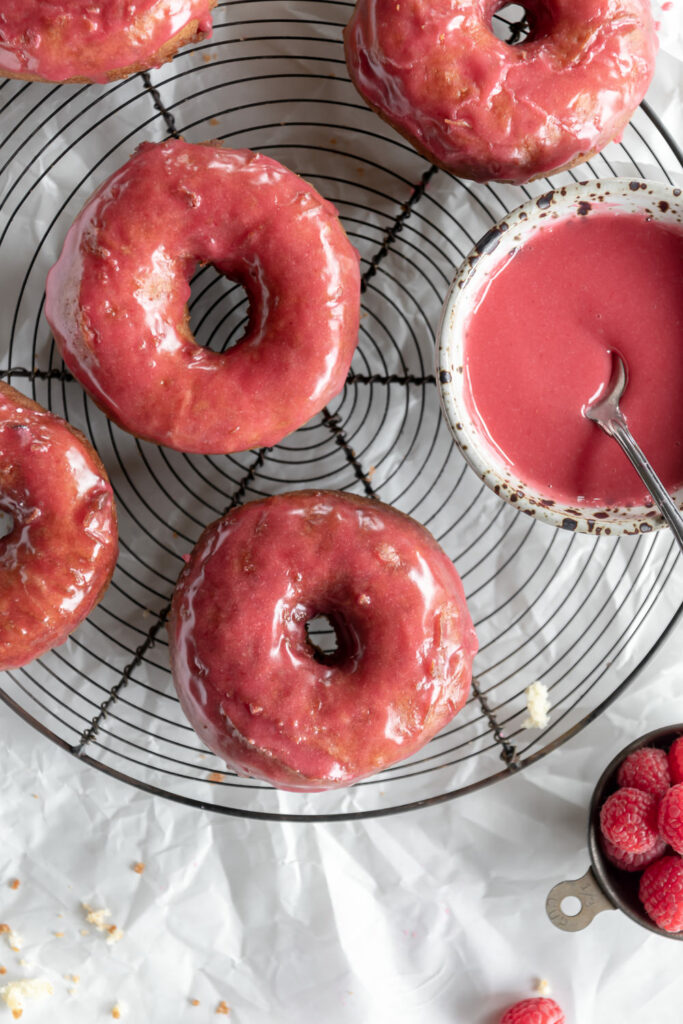 what makes these buttermilk donuts so good?
Buttermilk: This is the most important ingredient here, and it has several effects. First, the weak acids react with baking soda to produce carbon dioxide and leaven the dough. It helps make these cake donuts super light. Second, the acids break down long gluten strands to tenderize the dough. Finally, the buttermilk adds a delicious, tangy flavor to the donuts.
Baking powder and baking soda: For extra lift and lightness, I use both leaveners here. The baking soda neutralizes the acids in the buttermilk and gives some lift, but the baking powder ensures we have enough rise for a light donut. Also, baking soda reacts immediately with the acids. Since we rest the dough for an hour, it needs a little extra boost from the double acting power of baking powder (first with liquid, then with heat).
Wet dough: I'll be honest, this dough is weird and tricky to work with. Use a lot of flour on any surface it touches and don't be discouraged. Heavily flour the work surface, pat the top with flour, dip the donut cutter in flour… you get the point. It's annoying, but the wet dough is the key to making tender, light donuts. Don't overwork it. And if your donuts start to stick or become a little misshapen on the way to the oil, it's okay. Their taste and texture will make up for whatever they've lost in looks!
Rest period: Refrigerating the dough for an hour lets it relax, so the donuts are soft and tender. It also makes the dough easier to work with, so don't skip it.
tips for frying donuts:
Use coconut oil: For the crispiest, non-greasy crust, use refined coconut oil. The flavor has been removed, so your donuts won't have any coconut flavor. The oil is almost fully saturated and the smoke point is 400°F-- it's an ideal choice for deep frying.
Monitor the oil temperature: This is a wet dough, so it's important to carefully watch and adjust your oil temperature as you go. You want to make sure the donuts cook through but don't burn. Start with the oil at 360°F and fry for about 1 minute and 15 seconds per side. Drain and check the donut. If it's not cooked all the way through, cook it for a little longer and/ or reduce the oil temperature to 350°F next time.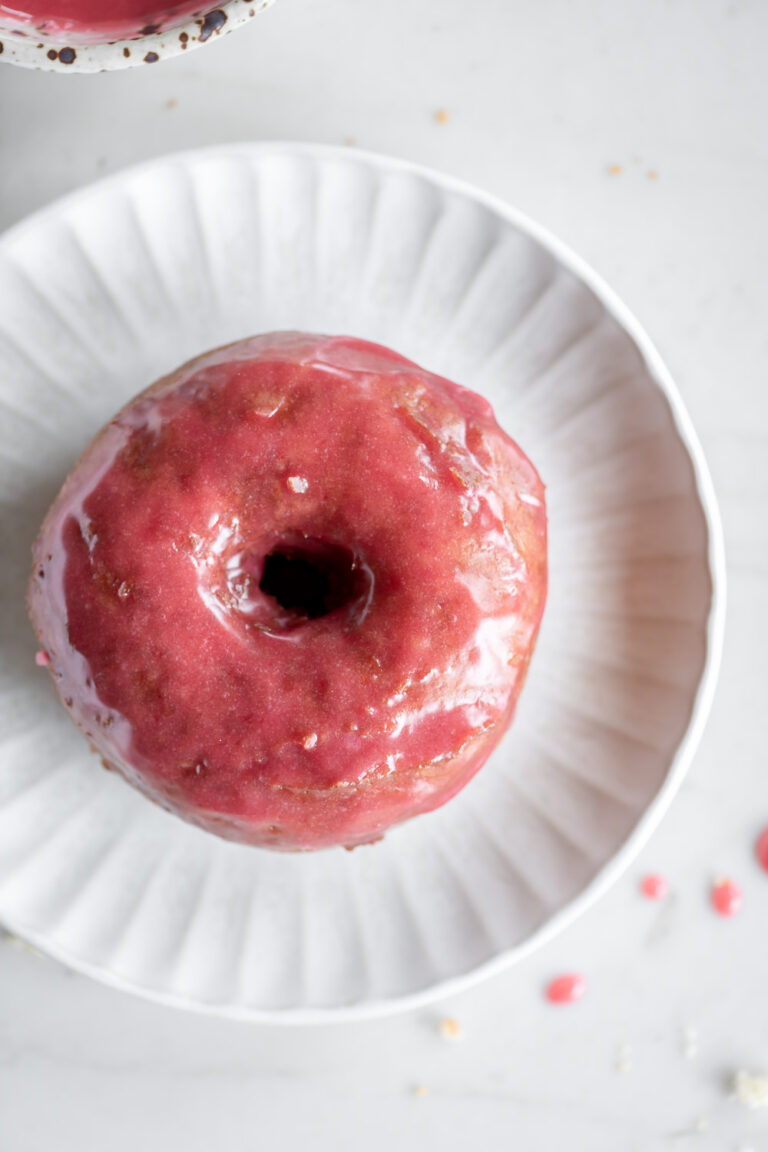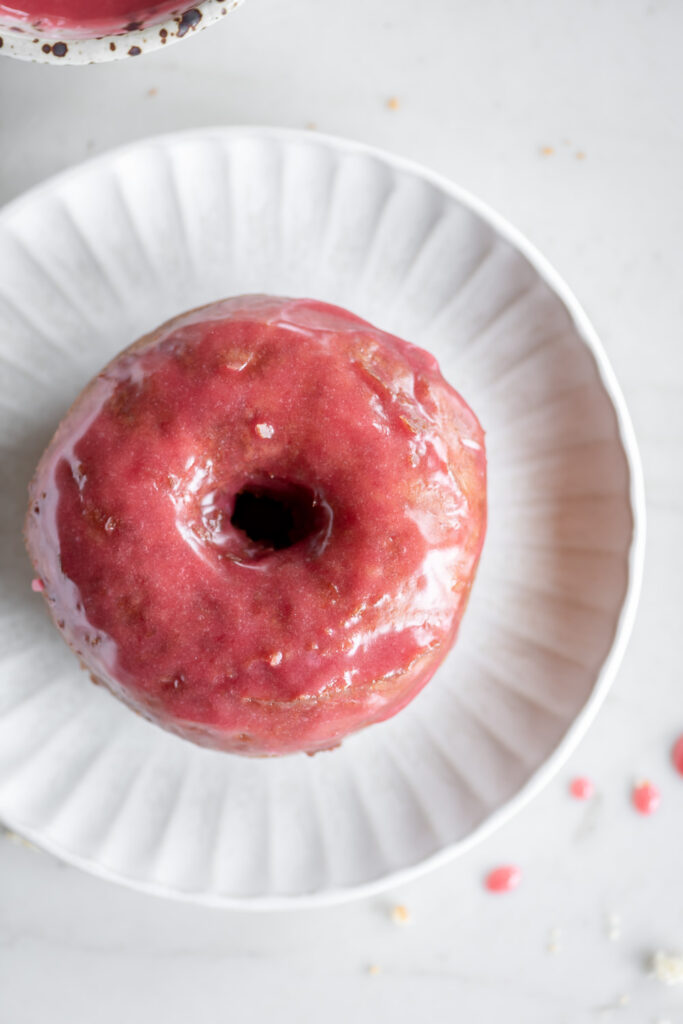 more topping ideas for buttermilk donuts:
Powdered sugar
Cinnamon sugar
Cardamom sugar
Chocolate glaze
Nutella glaze
Nut butter glaze
Maple glaze
Almond glaze
Citrus glaze
Berry glaze
Vanilla bean glaze
how to make buttermilk cake donuts:
Whisk together flour, baking powder and baking soda
Beat sugar, butter, eggs, buttermilk, vanilla and salt together
Mix in dry ingredients
Chill for 1 hour
Roll out to ½-inch thickness
Cut donuts, only re-roll scraps once
Fry for a little over 1 minute per side
Drain, glaze and eat!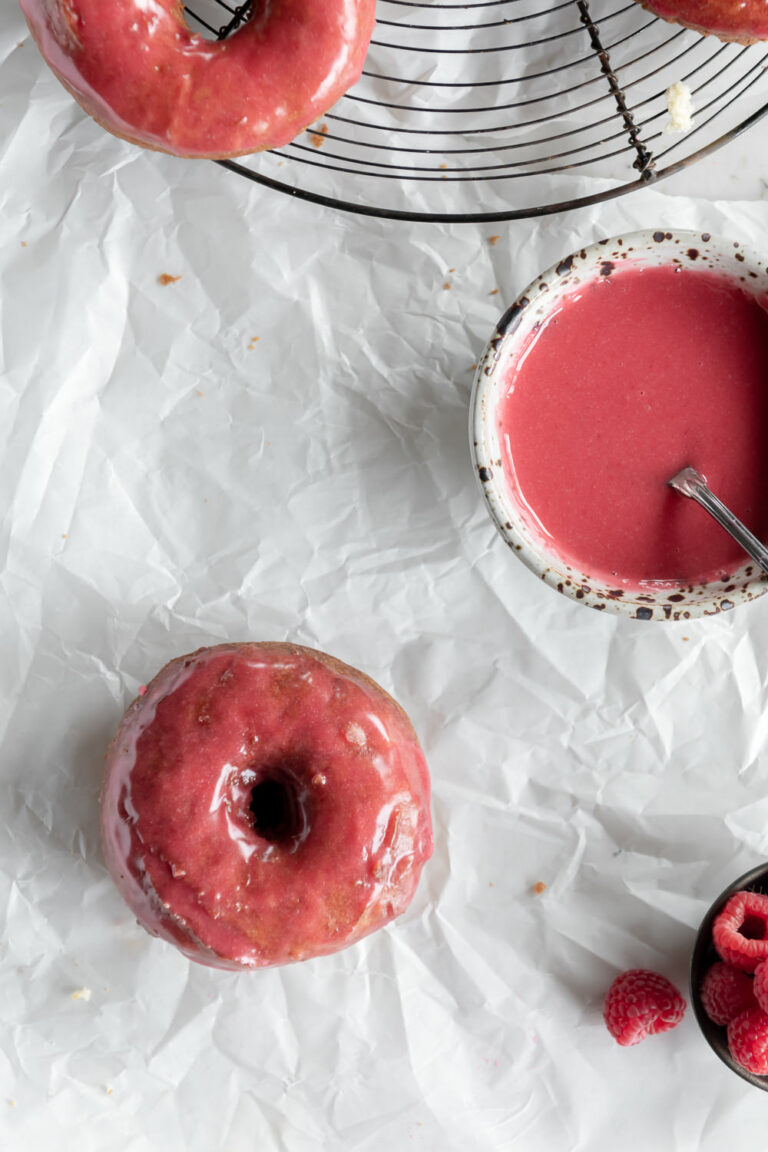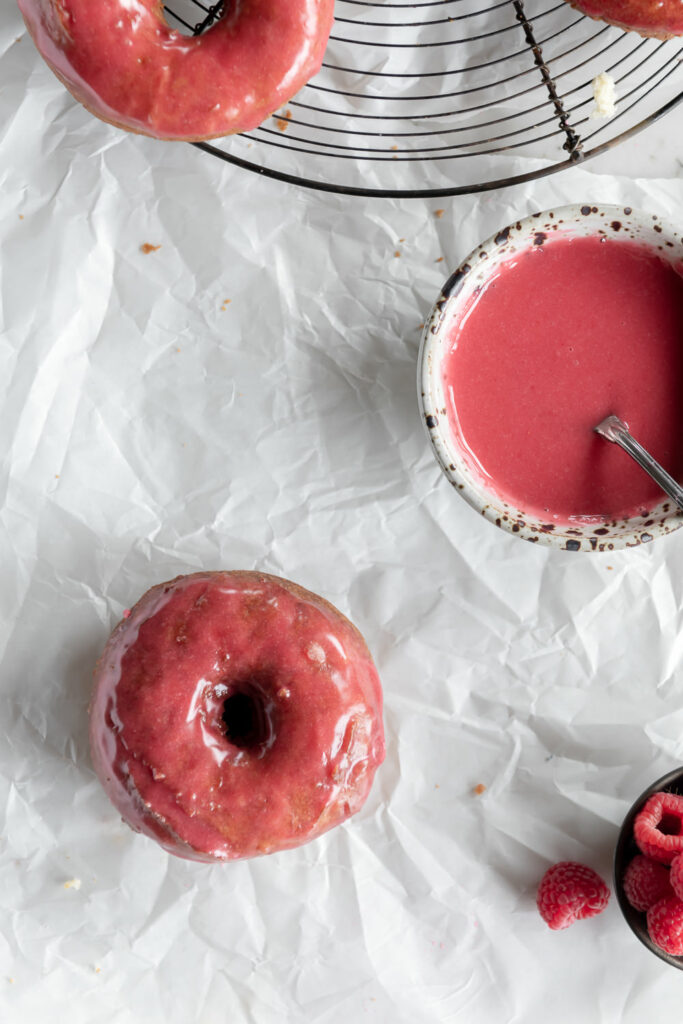 related recipes
chai spiced breakfast buns (cruffins)
extra-thick cinnamon brioche french toast
Print
buttermilk donuts with raspberry glaze
These light and delicate buttermilk donuts are quick to make and hard to forget. Finish them in a sweet-tart raspberry glaze, or keep it old-fashioned with powdered sugar.
Author:
Prep Time:

20 minutes

Cook Time:

20 minutes

Total Time:

40 minutes

Yield:

8

Category:

Donuts

Method:

Deep fry

Cuisine:

American

Diet:

Vegetarian
Ingredients
buttermilk donuts
3 ½ cups

plus 2 tbsp all-purpose flour

2 tsp

baking powder

1 tsp

baking soda

1 cup

granulated sugar

3 tbsp

melted butter

2

large eggs

1 cup

buttermilk

1 tsp

vanilla extract

½ tsp

kosher salt
raspberry lemon glaze
¼ cup

raspberry puree, seeds strained (from about

1 ½ cups

raspberries)

1 tbsp

raspberry liqueur (such as Chambord)

1 tbsp

fresh squeezed lemon juice

2 cups

powdered sugar

pinch of salt
Instructions
buttermilk donuts
In a large bowl, whisk to combine flour, baking powder and baking soda. Set aside.

Add sugar, melted butter, eggs, buttermilk, vanilla and salt to the bowl of a stand mixer fitted with a paddle attachment. Beat until combined. Add dry ingredients and mix on low speed until just combined. Mixture will resemble a thick, sticky batter. Cover with plastic wrap and refrigerate for an hour.

When ready, heat the oil. Attach a candy thermometer to the side of a large, heavy bottomed pot. Heat 2-inches of coconut oil over medium-high heat to 360°F. While oil heats, cut out the donuts.

Line a baking sheet with parchment paper and set aside.

Place dough onto a heavily floured surface. Generously flour the top and, using a rolling pin, roll the dough out to ½ inch thickness. Cut out rings with a 3-inch donut cutter and transfer to prepared baking sheet. Combine scraps, re-roll once, and cut out more rounds.

Place a cooling rack over another baking sheet and set aside. Fry 2- 3 donuts at time, cooking for about 1 minute 15 seconds per side, or until golden brown and cooked through. Use a metal slotted spoon to transfer donuts to prepared cooling rack to drain. Return oil to 360°F and continue frying remaining donuts.

Dip the top of a donut into the raspberry glaze, let the excess drip off, and return to wire rack to set. Repeat with remaining donuts. Glaze will harden after 20-30 minutes.
raspberry lemon glaze
In a large bowl, combine strained raspberry puree, raspberry liqueur, lemon juice, powdered sugar and a pinch of salt. Whisk until smooth.
Notes
Nutritional information is only an estimate. The accuracy of the nutritional information for any recipe on this site is not guaranteed.
Nutrition
Serving Size:

1 unglazed donut

Calories:

356

Sugar:

27g

Sodium:

535mg

Fat:

26g

Saturated Fat:

20g

Unsaturated Fat:

3.7g

Trans Fat:

0.2g

Carbohydrates:

28g

Fiber:

0.1g

Protein:

2.8g

Cholesterol:

59mg
Keywords: buttermilk donuts