The champagne cocktail is a simple and flavorful way to elevate your standard glass of bubbly. Spiced bitters, touch of sweetness and fragrant lemon zest will keep you coming back for more!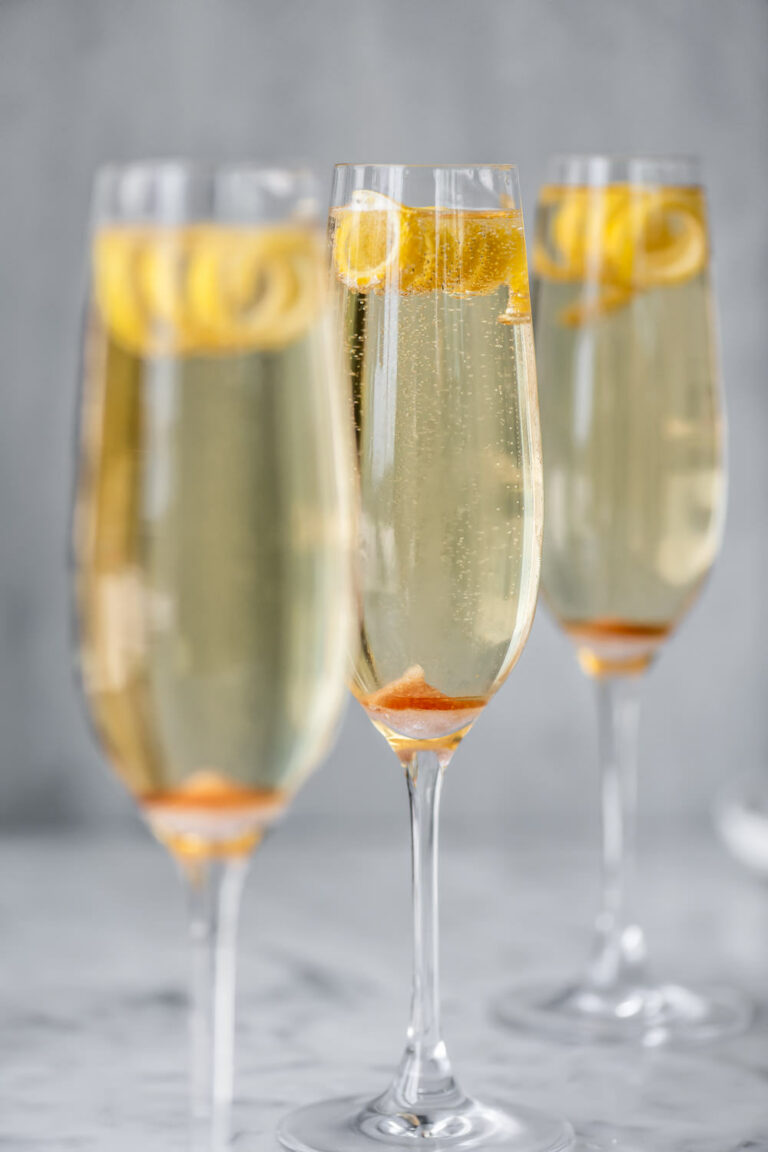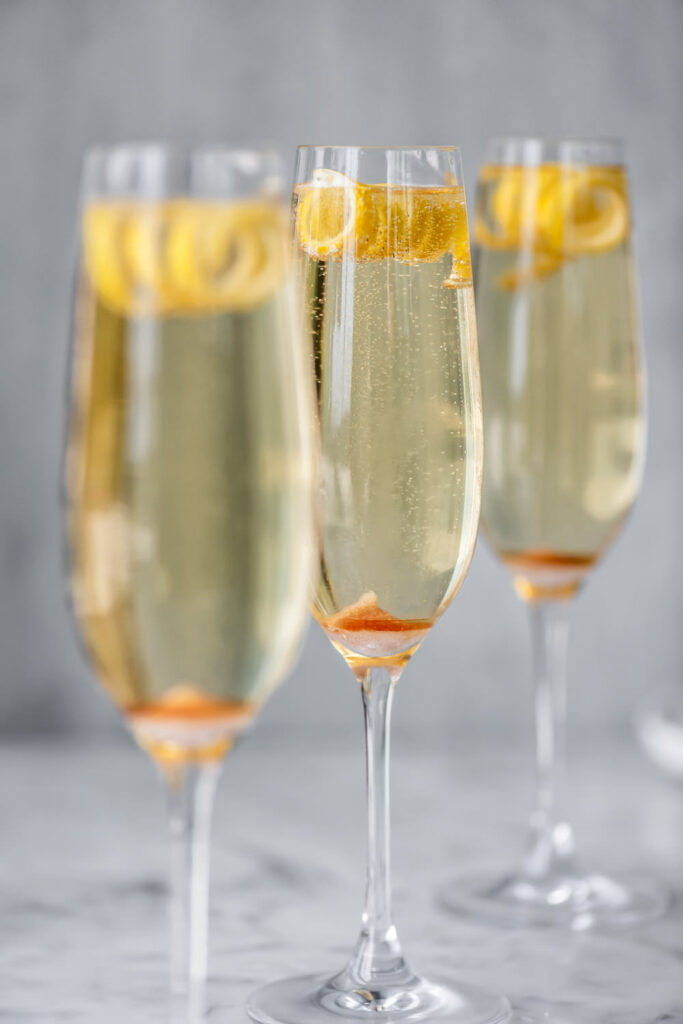 It doesn't get more elegant than the classic champagne cocktail. We love to enjoy these cocktails for the holidays (especially New Year's Eve) because they're so easy to make for a crowd and are always delicious. It's the bubbly version of an old fashioned cocktail, after all— a light, spritzy, extra festive version!
But they're also the ideal summer afternoon cocktail— low alcohol, bubbly, and lemony fresh. I'm a longtime lover of sparkling wines (we could all work harder on drinking more Champagne), so pop the bottle and get to it with this classic Champagne cocktail!
Read on for recommendations and substitutions!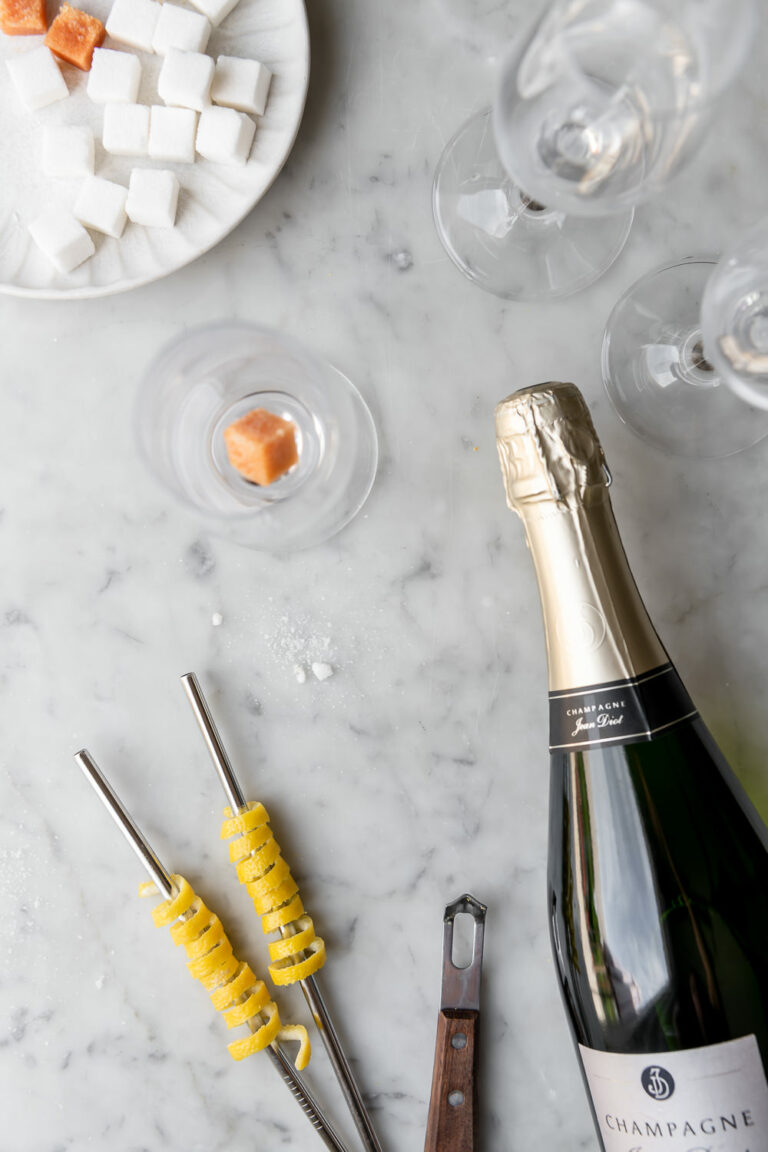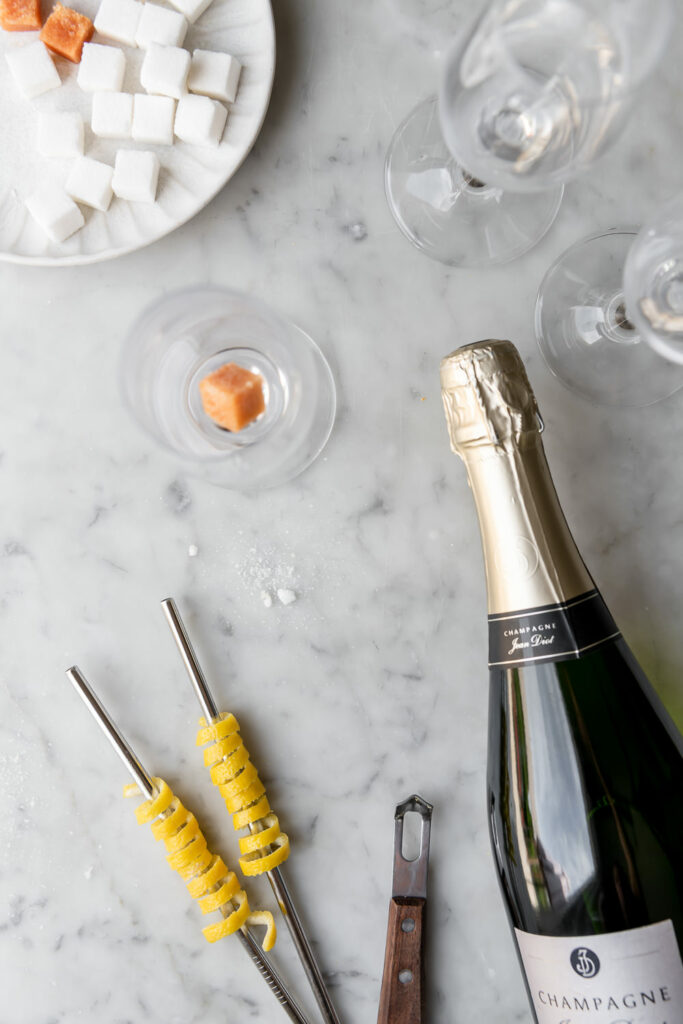 what is a Champagne cocktail?
A Champagne cocktail is a very simple cocktail that uses a sugar cube, Angostura bitters, and a twist of lemon.
Essentially, it's a sparkling wine version of an old fashioned cocktail. It's refreshing and light, yet the Champagne adds toasty complexity and richness to the drink.

While the name of this cocktail is the Champagne cocktail, you don't actually need to use Champagne. It's totally up to you, your budget and your regard for real Champagne. A great traditional method sparkling wine will shine in this champagne cocktail recipe for a fraction of the price.
Read on for other sparkling wine suggestions!
how to make a Champagne cocktail:
Coat a sugar cube in bitters
Place it in a flute
Fill glass with Champagne (or choice of sparkling wine)
Garnish with a lemon twist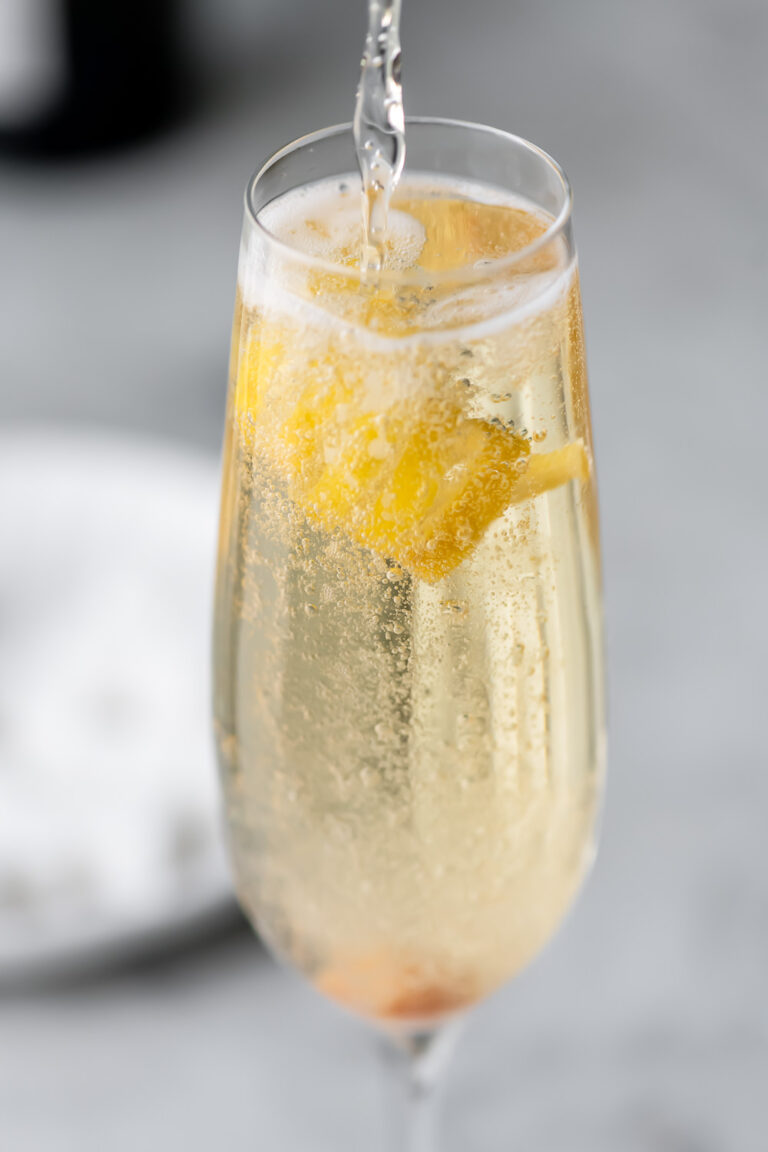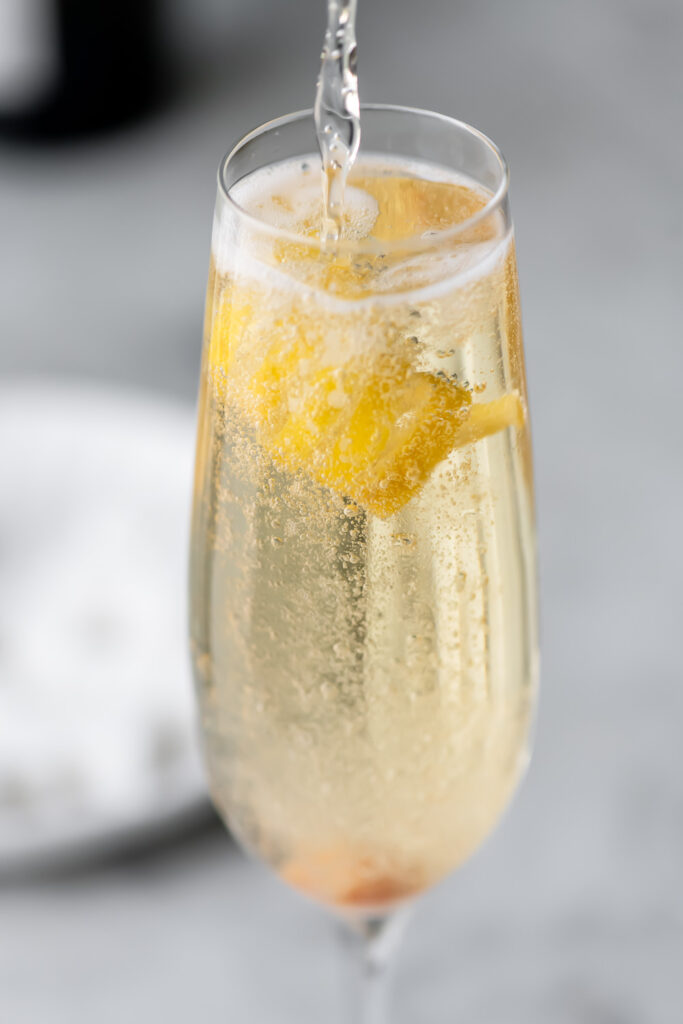 best champagne for a champagne cocktail:
Entry-level, non-vintage Champagne from a classic house is the best option for this Champagne cocktail recipe. The wines are high quality, aromatic, and flavorful on their own— and they'll be extra delicious with the lemon twist and bitters.
There's no reason to use vintage Champagne in a cocktail, let alone any of the prestigious cuvées. Those wines are meant to be sipped, savored and fully enjoyed on their own.
Look for one of the bigger houses (Moët and Chandon, Veuve Cliquot, or Perrier-Jouët) for an affordable option.
can I use another sparkling wine, instead of Champagne?
Yes! I love the complexity, nuance, and balance of great Champagne, so I understand if you cringe when you think about mixing in extra flavors and sugar. Especially at the price point of Champagne.
So here's the great news— you can still get the toasty, biscuity, yeasty flavors from a traditional method sparkling wine, without having to crack into your special bottle of Champagne.
They key to these flavors lies in how the sparkling wine is produced. Sparkling wines that have the second fermentation in the bottle, and are then aged for a period of time on the dead yeast (lees), will have that lovely Champagne bouquet we're after.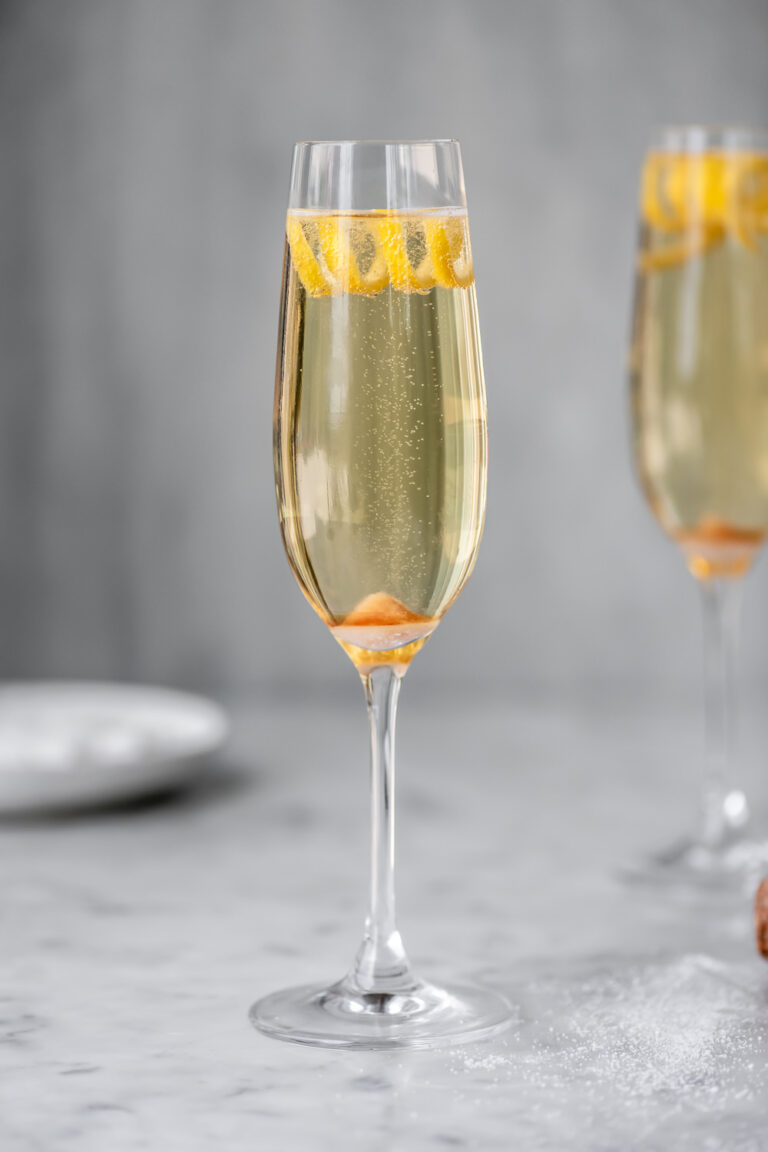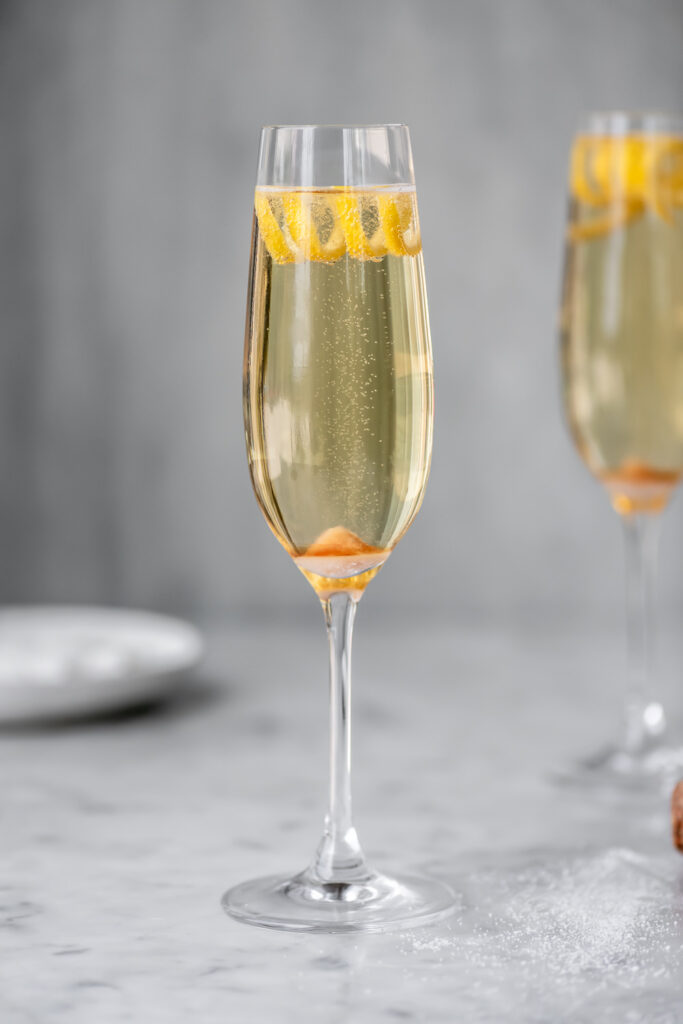 Great traditional method sparkling wines for Champagne cocktails:
Cava DO, Spain
The wines bring tremendous value and are easy to find. These wines will have delicate bubbles and toasty, yeasty aromas that are beautifully complemented by the fresh lemon and aromatic bitters.
There are three quality levels of Cava: Cava, Reserva Cava, and Gran Reserva Cava. For Champagne cocktails, the entry-level Cava and Cava Reserve are both great options, the latter will have more pronounced nuttiness from longer aging on the lees.
France, outside of Champagne
These are called Crémants. They are made in a variety of wine producing regions, such as Bordeaux, Loire and Alsace.
While any of these are great options, Crémant de Bourgogne is made from Chardonnay and Pinot Noir and thus will be the closest match to Champagne.
California, USA
There are plenty of California estates that produce wonderful traditional method sparkling wines and are easy to find (though they may not be cheaper than Champagne).
Roederer Estate, Scharfenberger, Domaine Carnerros and Schramsberg are all fantastic options.
Franciacorta DOCG from Lombardy, Italy and Trento DOC from Trentino-Alto Adige, Italy
These regions offers wonderful sparkling wines made with the same method as Champagne (the second fermentation in the bottle), but they are more difficult to find and aren't necessarily cheaper than Champagne.
England
The south-east region of England is also producing world class Champagne-style wines, but they face similar hurdles of availability and price.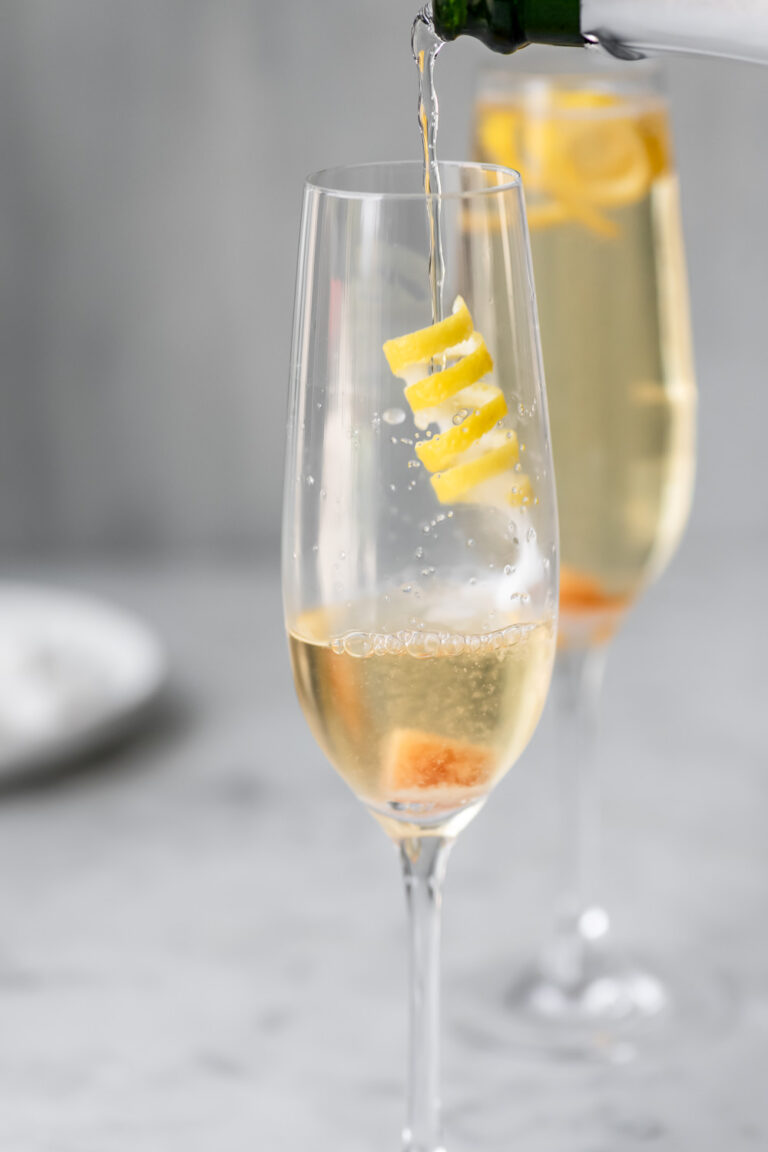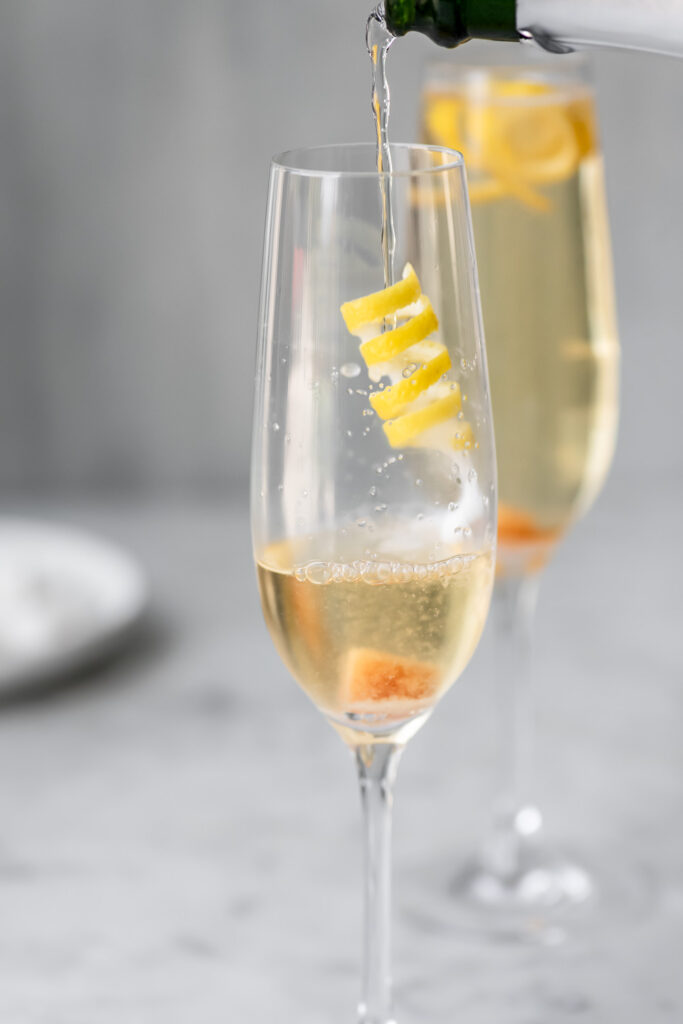 What are bitters?
As a whole, bitters are a strongly flavored alcohol that add depth and complexity to cocktails. In essence, they're a tincture: an extract of high-proof alcohol and a variety of botanicals (herbs, spices, bark, roots, citrus peel).
It only takes a few drops to make an impact. Bitters enhance all of the flavors in the drink and add an extra layer of flavor, and often times a touch of color.
Historically, bitters were used medicinally to aid digestion and nausea. They have since evolved to play a vital role in mixology and your home bar!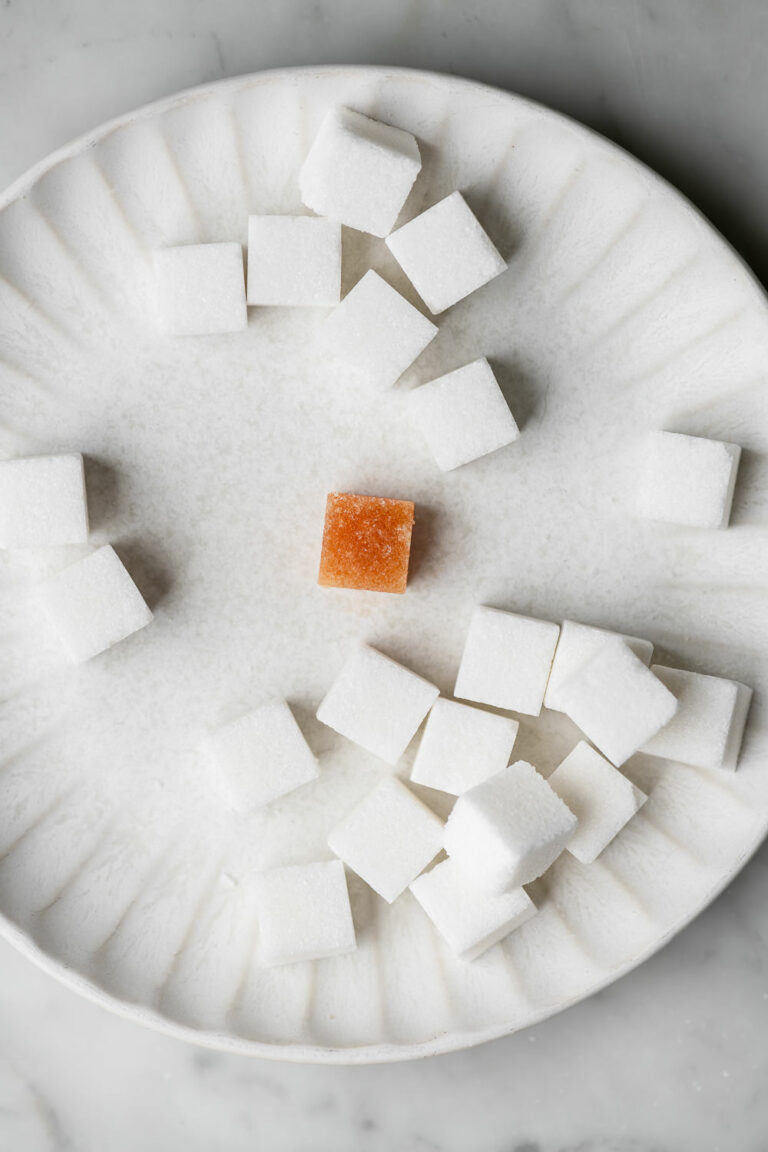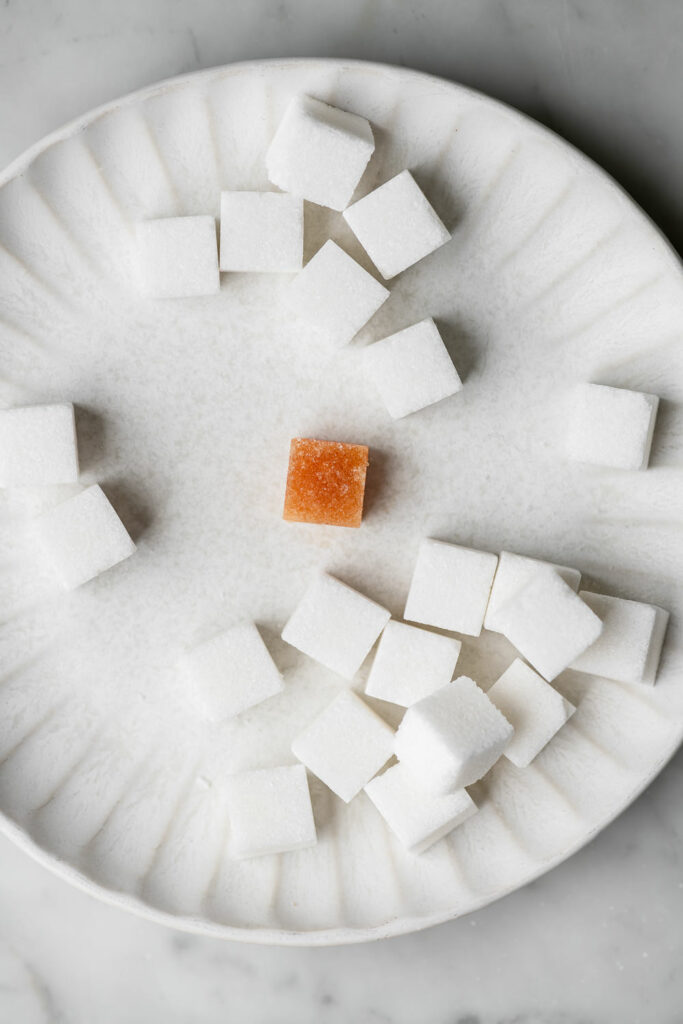 What is Angostura bitters?
Angostura bitters is the most common cocktail bitters. It adds spicy herbal aromas (clove, cinnamon) and a reddish brown tint. Just a dash or two adds flavor and dimension to so many cocktails— it's a key ingredient if you want to make quality cocktails at home.
how to make lemon twists for cocktails:
Lemon twists are an easy way to add flair to your drinks. There are a few tricks to make sure the twist stays in tact.
Run a sharp channel knife around a lemon until you get a long strip of zest. Apply even pressure to the knife, so the thickness of the zest is uniform and won't break. Aim for at least 6 inches-- I always go as long as I can. It's easier to cut the twist to your desired length at the end!
Wrap the strip tightly around a metal straw (you can also use a pencil or chopstick).
Wrap the whole coil in a damp paper towel. Let sit at least 20 minutes (or up to several hours). This secures the zest, so it won't unravel, and prevents the zest from drying out. The longer it sits, the stronger the shape will be.
Note: a riper lemon (or one the oldest one in your fridge) will have a more flexible peel that is best for making twists. The softer and less brittle the peel, the easier it will be to cut and twist long strips without risk of breakage.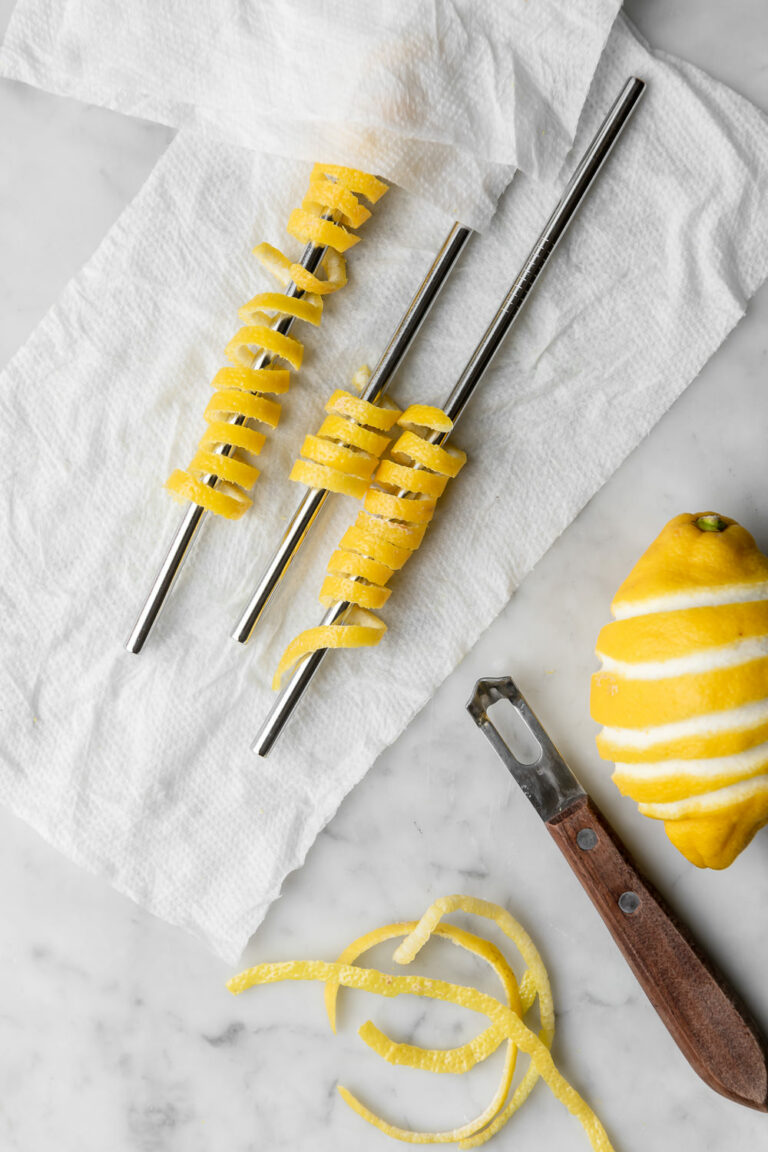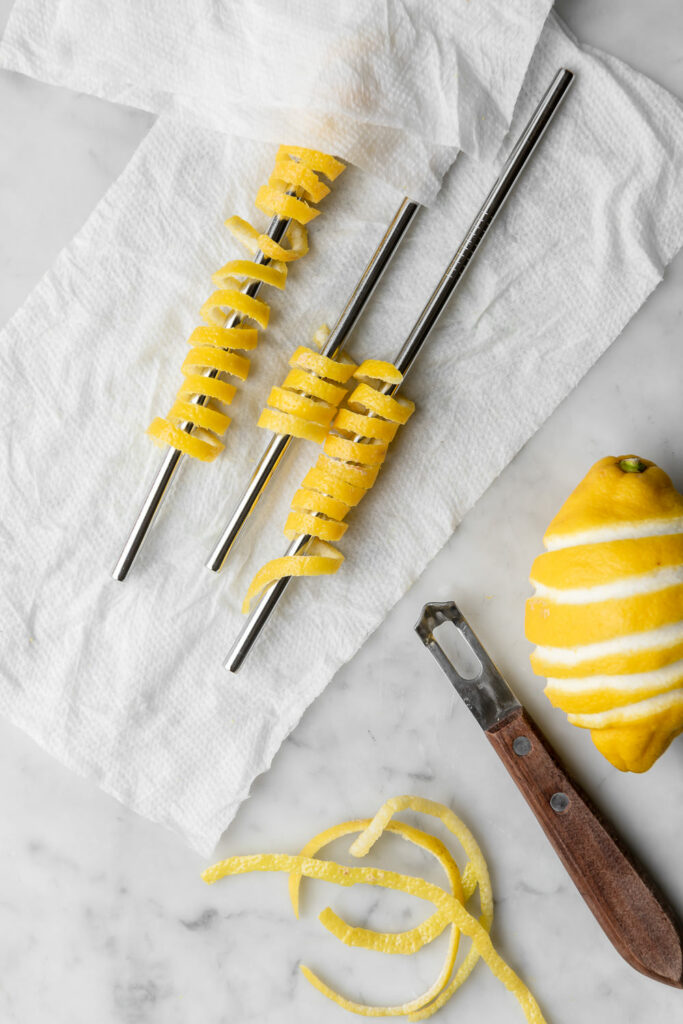 Other champagne cocktail recipes you'll love:
holiday whiskey punch with cherries and champagne
vodka cranberry martini (perfect holiday cocktail!)
grand marnier grapefruit mimosa
honey pear bellini with candied sage leaves
sparkling elderflower gin cocktail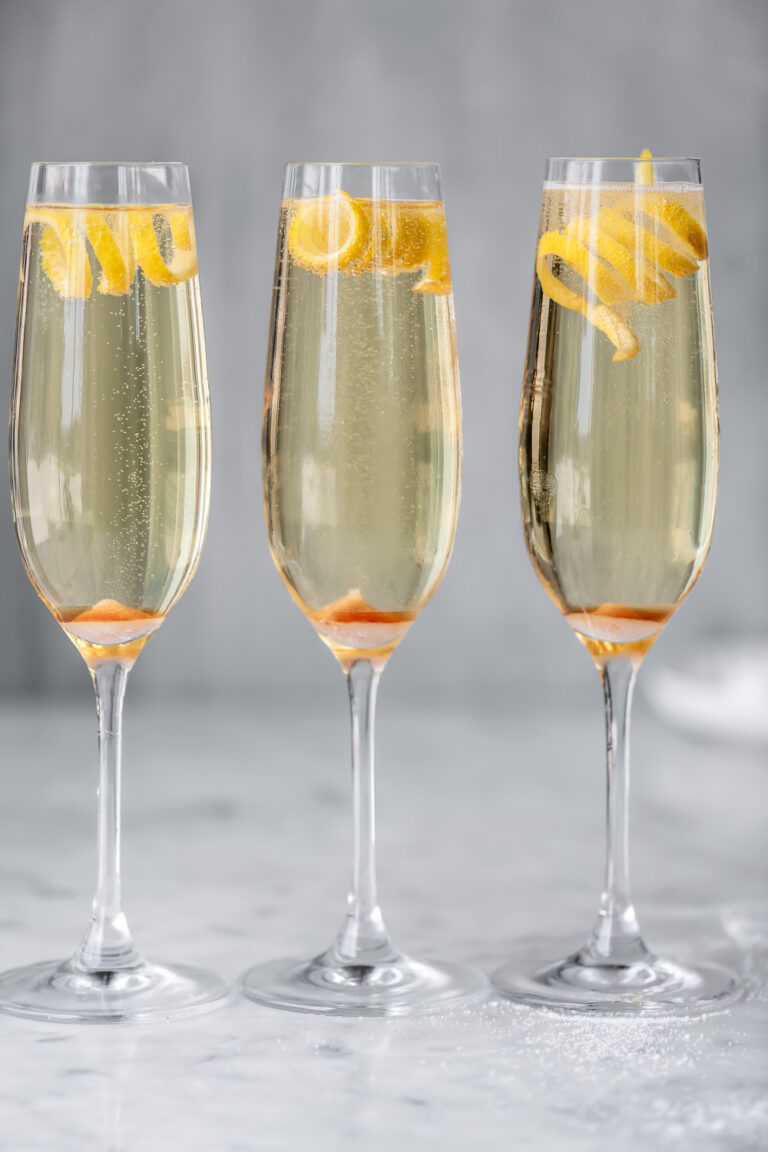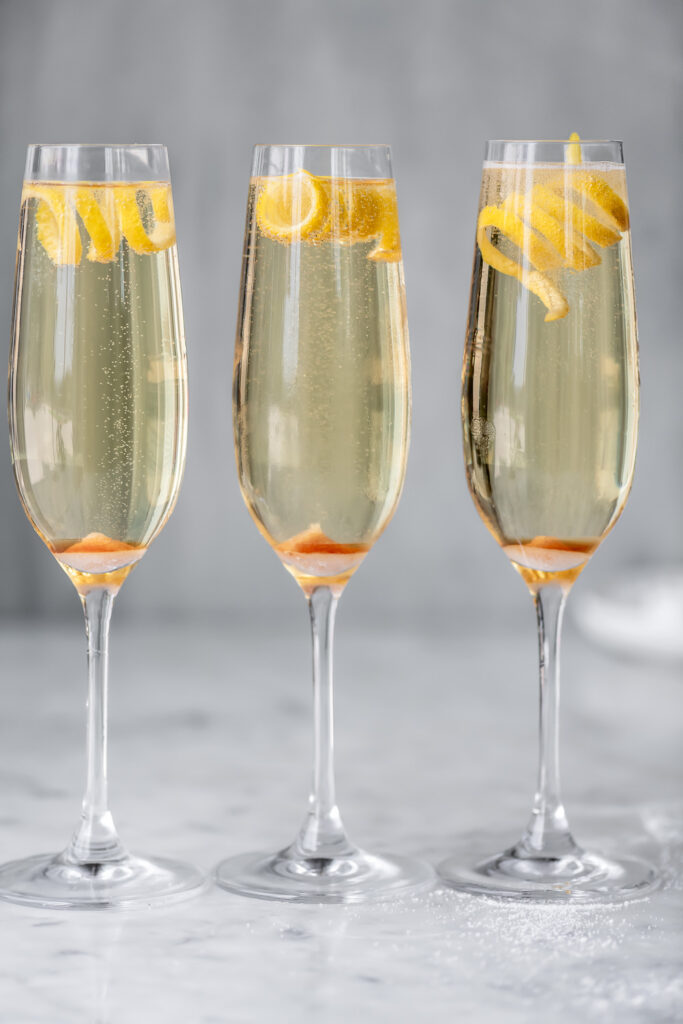 Print
classic champagne cocktail
The spiced bitters, touch of sweetness and fragrant lemon zest elevate your standard glass of bubbly and make the night extra special.
Author:
Prep Time:

5 minutes

Total Time:

5 minutes

Yield:

4

Category:

Drinks

Method:

Poured

Cuisine:

American
Ingredients
4

sugar cubes
Angostura bitters

1

bottle Champagne, cold (or traditional method sparkling wine)

4

lemon twists (read above for details)
Instructions
Coat sugar cubes with bitters on all sides and place each in a Champagne flute.
Fill each glass with sparkling wine and garnish with a lemon twist.
Enjoy immediately!
Nutrition
Serving Size:

1

Calories:

162

Sugar:

4.1g

Sodium:

9.4mg

Fat:

0g

Saturated Fat:

0g

Unsaturated Fat:

0g

Trans Fat:

0g

Carbohydrates:

7.2g

Fiber:

0g

Protein:

0.1g

Cholesterol:

0mg
Keywords: champagne cocktail