Buckwheat crepes are tender, delicate, full of nutty flavor and lacy crisp edges. They are a quick and easy breakfast that can be made with sweet or savory fillings— or just a thick spread of really good butter.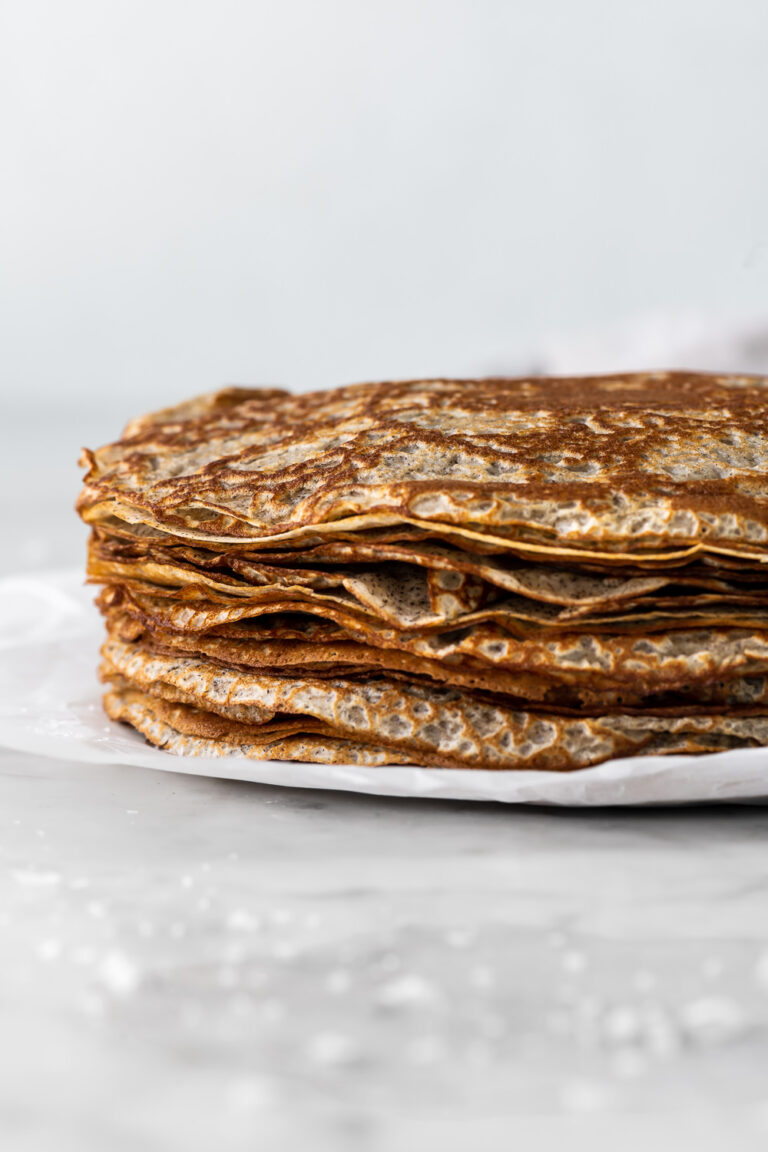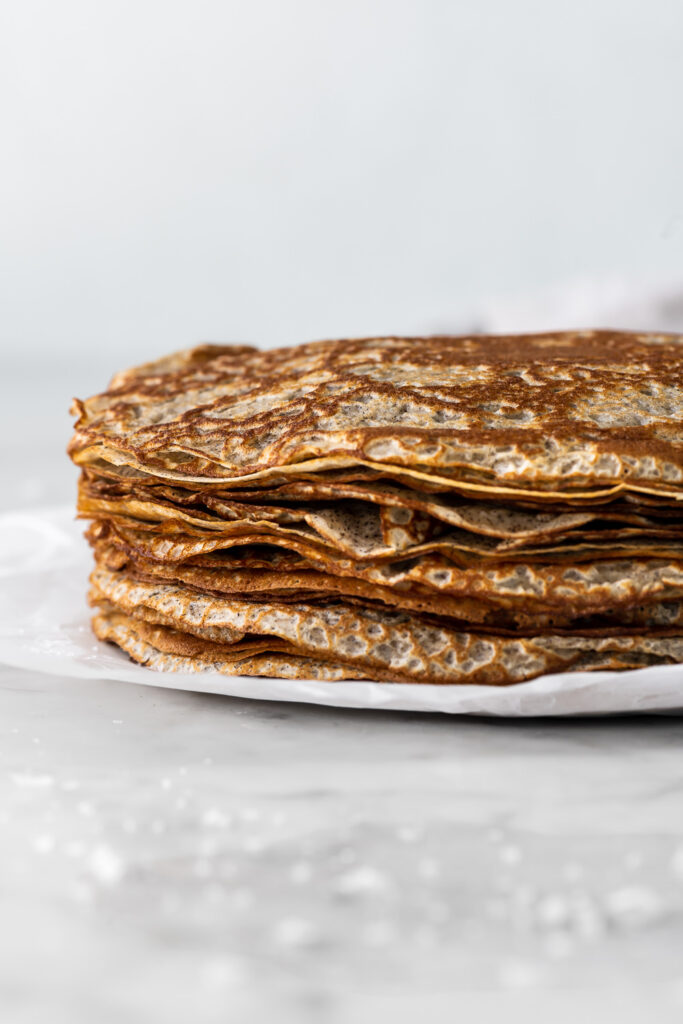 In general, crepes have a reputation for being a hassle. For being a cumbersome, fancy, extra special sort of breakfast. But I'm here to show you otherwise. This buckwheat crepe recipe is so flexible and simple.
I love to keep a big batch of crepes in the fridge for several days, and pull them out throughout the day for different snacks and meals. You can also store the buckwheat crepe batter for several days and make them to order.
Fill the crepes with whatever you heart desires— crispy mushrooms, gooey cheese, smoky ham, a fried egg, sweet buttery apples, a sautéed hodgepodge of whatever is in your fridge. You'll be hard pressed to find a filling that isn't delicious when wrapped up in a tender, nutty buckwheat crepe.
Read on for more tips on how to make the best buckwheat crepes and a huge list of what to fill them with!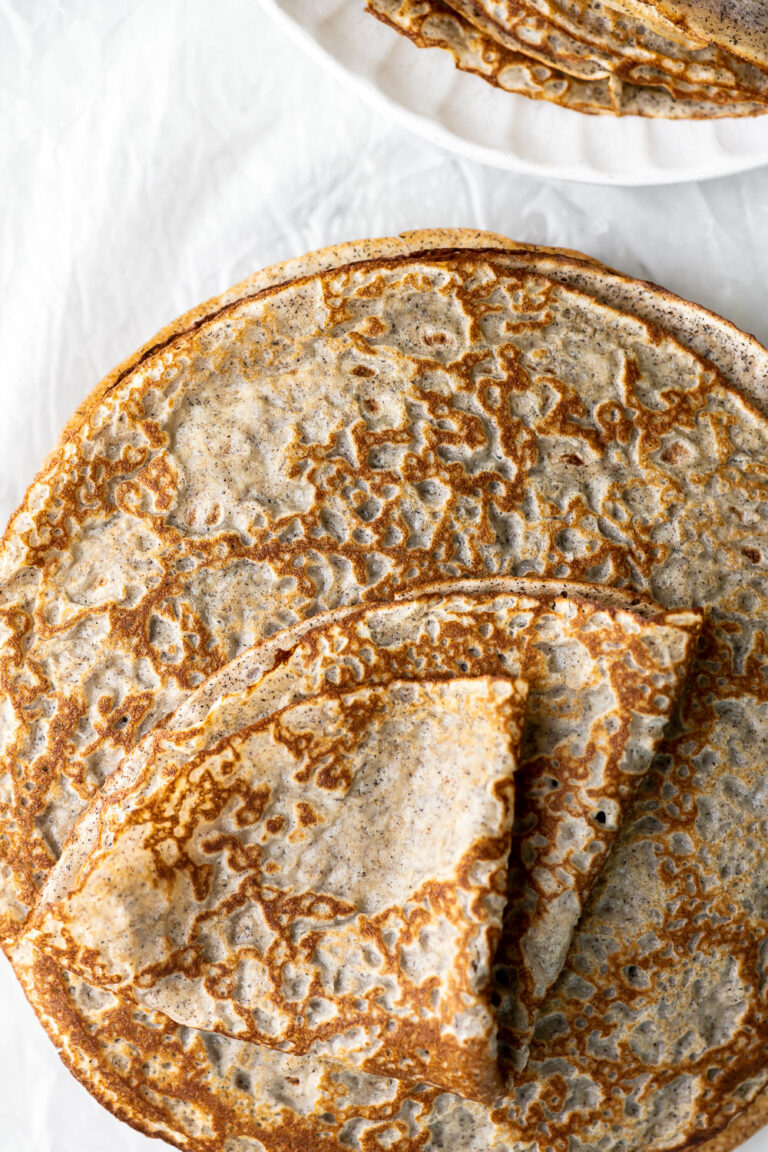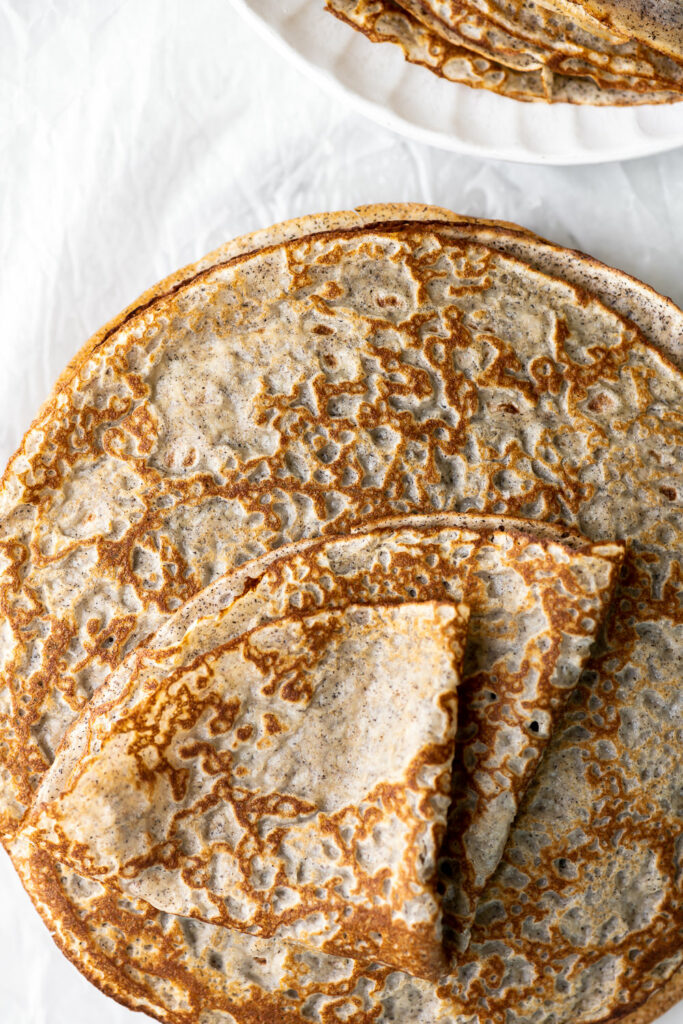 What you need to make buckwheat crepes:
Buckwheat flour
All-purpose flour
Eggs
Milk
Butter
Sugar
Salt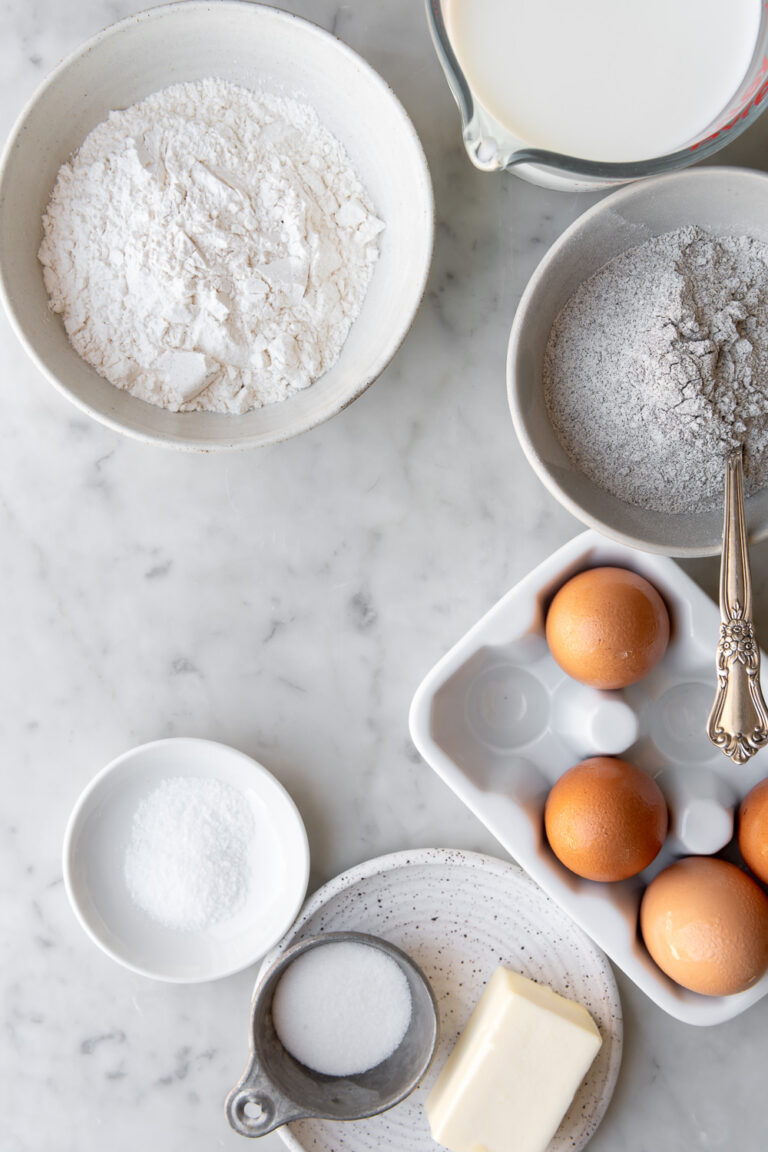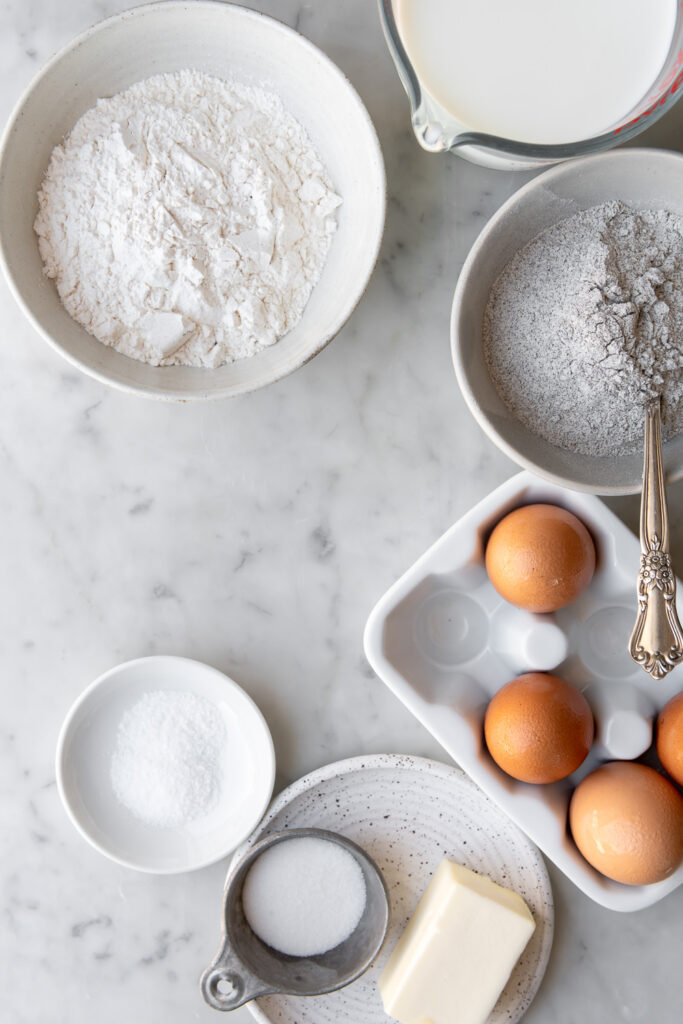 What makes these the best buckwheat crepes?
Extra tender texture: buckwheat flour contributes a delicious nutty flavor and an extra delicate texture to crepes, thanks to it's gluten-free nature. Pair that with full-fat milk and a quick blitz in the blender, and you have the perfect recipe for tender crepes.
The flour blend: I love buckwheat flour, but 100% buckwheat crepes have a few drawbacks. The flavor can be a little too intense for some (and less versatile for, say, desserts) and the texture can veer towards gritty. It also makes crepes that are almost too tender and much more difficult to work with. In this buckwheat crepe recipe, I use half all-purpose flour to add some gluten and the necessary structure and flex to the crepe batter. Lower ratios of all-purpose flour will produce crepes that are more brittle and prone to breakage.
Rest period: The question of whether to rest crepe batter or not is hotly debated. For some crepe batters, I don't find the resting necessary. But with buckwheat crepes, I do notice a significant difference and prefer the consistency and flavor of crepes that have been rested for at least 1 hour, but preferably overnight. The batter will thicken as the flours fully hydrate, and it will develop a more complex flavor. I also find the crepes are easier to work with. But don't let the timing be deal breaker. Not resting the batter is totally an option— any resting is better than none, and no resting will still produce stellar buckwheat crepes.
Sweet or savory: A small amount of sugar and a good pinch of salt balances the strong buckwheat flavor and makes this crepe batter suitable for sweet or savory fillings. The crepes are so flavorful, we love to enjoy them with a swipe of good butter or a drizzle of maple syrup. But if that bores you, read on for more exciting sweet and savory crepe filling ideas!
Flexible: The batter can be made several days ahead of time and be stored in the fridge for on-demand crepes. The crepes can also be made all at once and stored at room temperature for several hours, or covered with plastic wrap and stored in the fridge for several days. They're so much more flexible than pancakes!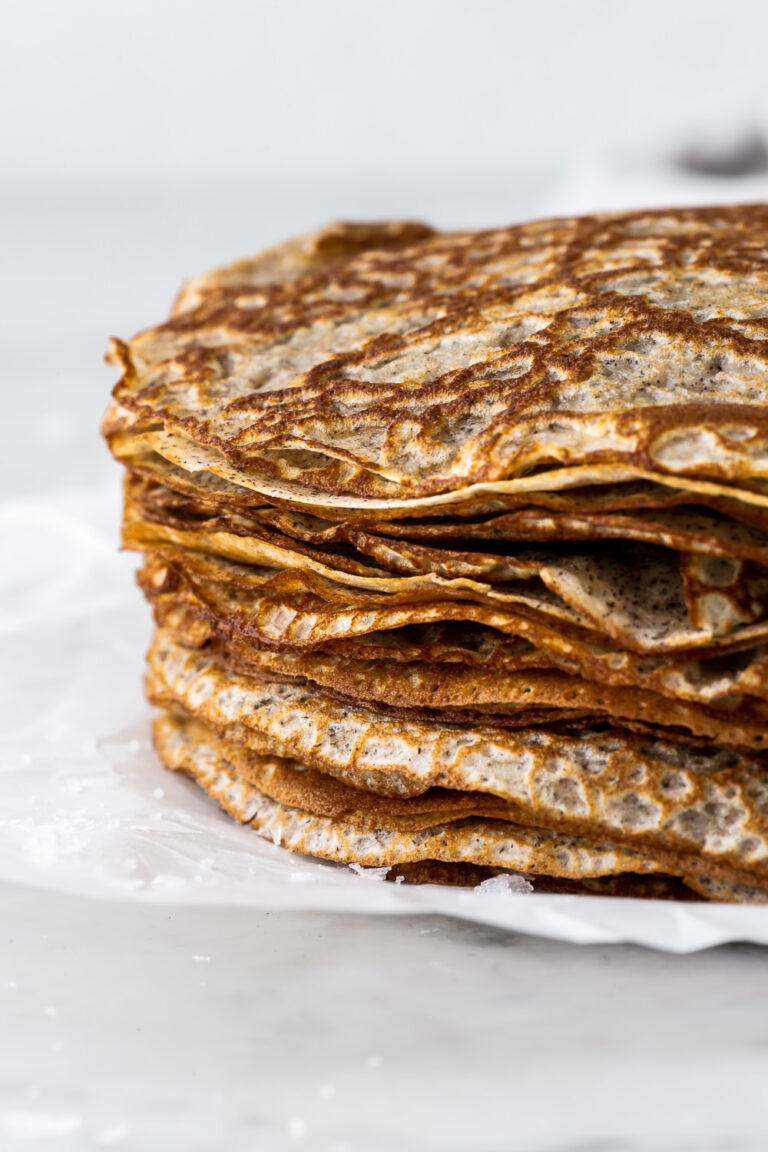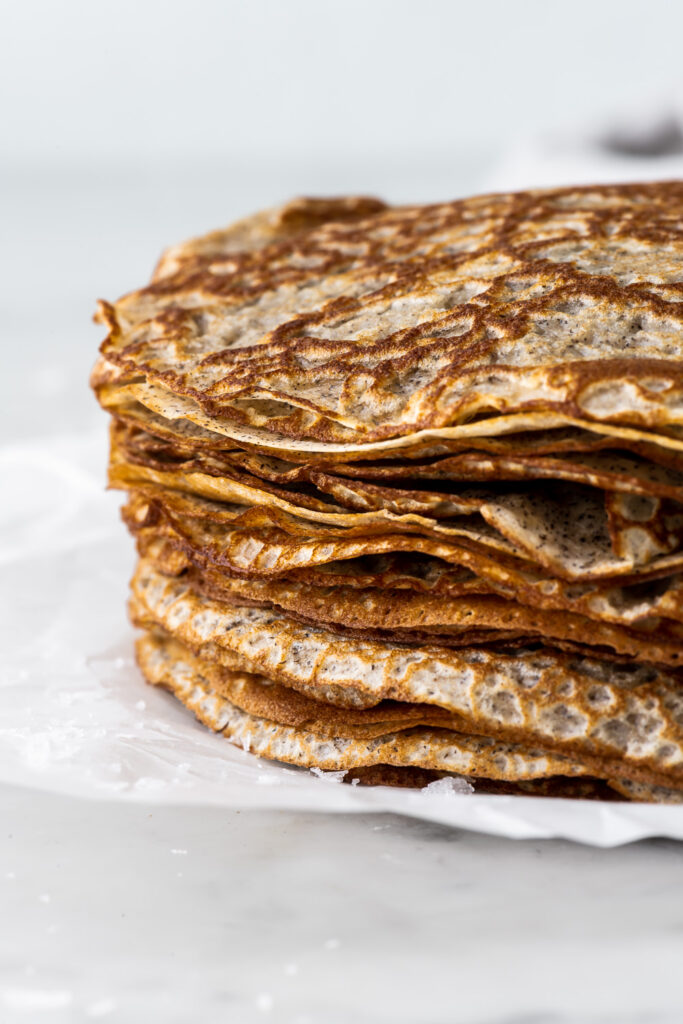 tips for the best crepes:
I've made a lot of crepes lately. In the past two months, I've made 5 crepe cakes, several big batches 1for clients, and then all my buckwheat crepe tests. So believe me, I have some thoughts on crepe techniques! In all of that swirling and flipping, I've found some great techniques and gained a lot of insight on the best and easiest way to make crepes. Here are my main pointers!
If possible, let the crepe batter rest at least 1 hour to let the flours hydrate. The batter will thicken, deepen in flavor and become easier to work with.
Set up your "crepe station" before you begin. You'll need: a small non-stick pan, small plate with butter and a paper towel (or melted butter and a heatproof brush), the crepe batter, a plate with a ¼ cup measuring cup, a rubber spatula and a plate for the finished crepes.
For greasing the pan, I prefer softened butter and a paper towel over melted butter and a brush. The former allows you to add the tiniest coat of butter, which is all you need with a good non-stick pan. A basting brush with melted butter has a tendency to add too much butter— this will cause the crepe batter to "slip" as you swirl the pan, rather than set into an even layer as you swirl.
Pay attention to the first few crepes and how the batter flows in the pan. You want it to be thin enough to flow easily as you swirl the pan, but not so thin that it immediately floods the whole surface. It should resemble thick heavy cream. If it feels too thick, stir in a spoonful of water at a time to get to the right consistency. This will ensure your buckwheat crepes are delicate and pliable.
Constantly monitor your temperature. I always start at about medium heat and continuously tweak the temperature as I go (usually lower). The pan should be hot enough that the crepe begins to cook as it hits the pan, but not so hot that it's sizzling and smoking. When you get into a rhythm of making the crepes, you'll begin to notice when the pan is getting too hot or cold.
The best way to flip: use a rubber spatula to pull up an edge of the crepe, then use your fingers to gently lift it all the way up and flip it. It will be sort of hot, but you'll be fine. This is especially helpful with buckwheat crepes, which are extra delicate. Using a spatula or any sort of tool will probably tear the crepe. Your hands are the best tools when it comes to making buckwheat crepes.
The good news with these buckwheat crepes is you have a lot of opportunities to improve your technique with one batch of batter. The first few are always tricky as you wait for the pan to balance out to the right temperature and you get your system figured out. But you have plenty of batter to botch, so don't stress.
You can halve this batter for a "small" batch of about 12 crepes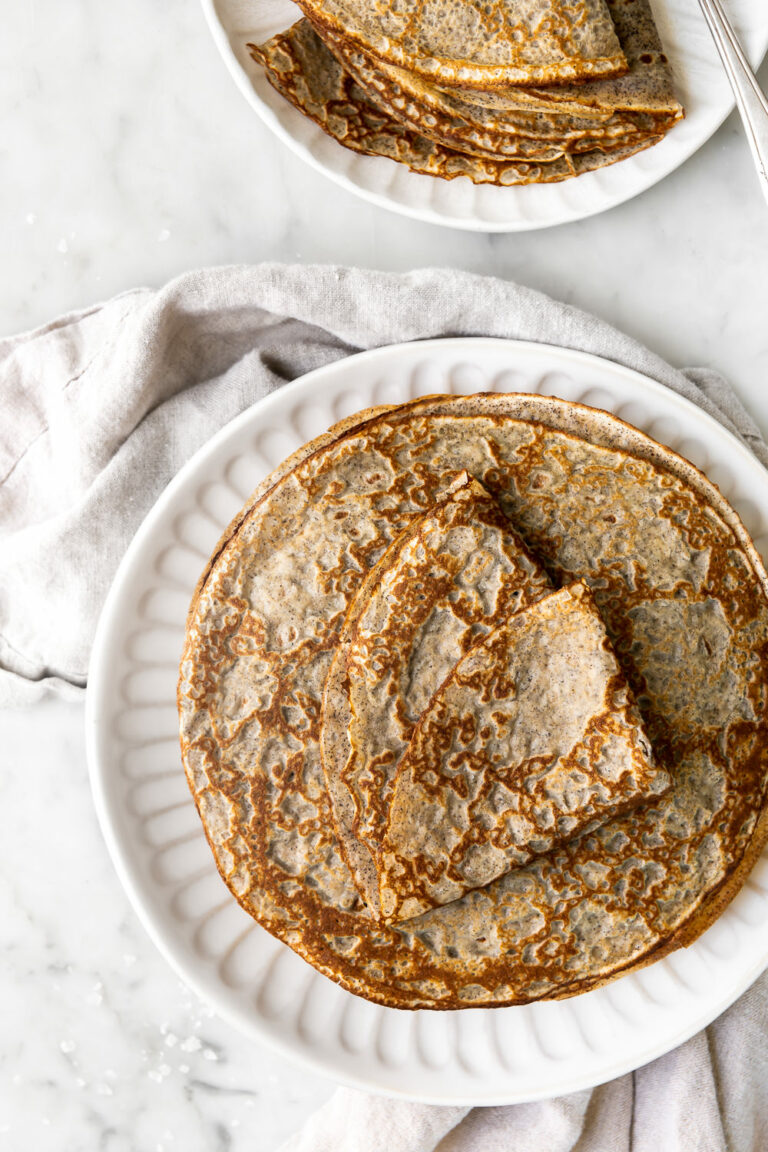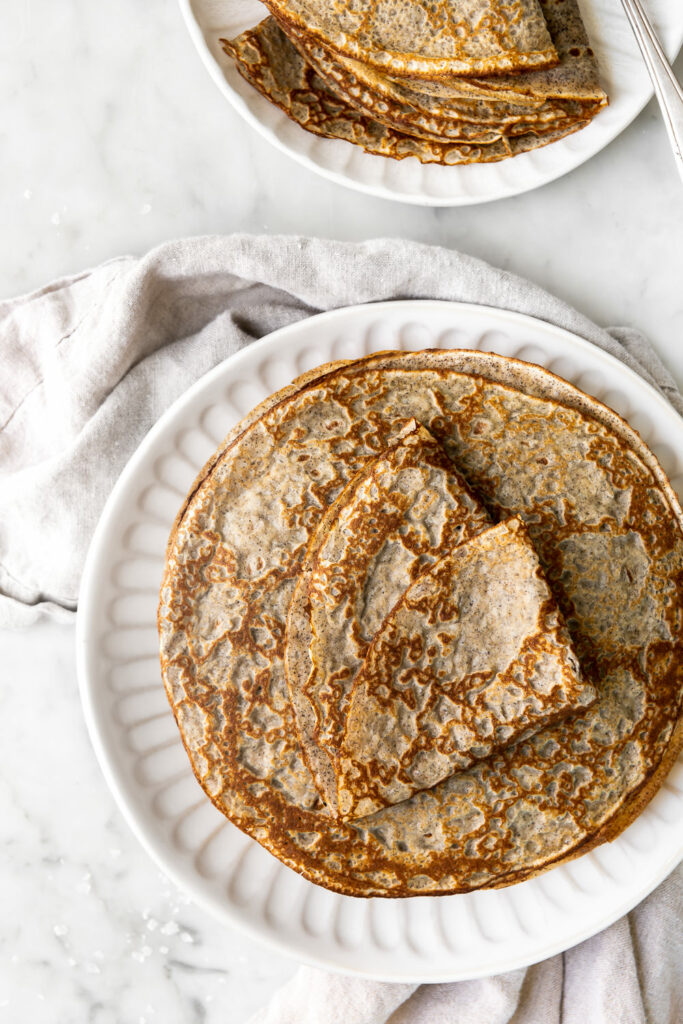 How to make buckwheat crepes:
Heat an 8-inch non-stick pan
Measure out 3 tbsp of batter (I fill a ¼ cup measuring cup 75% full of batter. Don't go nuts here, just eyeball it.)
Wipe paper towel over softened butter and coat the pan
Pour batter into the center of the pan and swirl down and around to let the batter cover the whole surface. Cook until edges begin to turn golden brown.
While the crepe cooks, refill the measuring cup
Flip the crepe
Cook about 20 seconds and invert onto a plate
Butter the pan and repeat about 23 times!
I find it's easiest to make all of the batter in one go when everything is set up, you've gotten into the flow and the pan temperature has balanced out. Plus, the crepes store and reheat so well!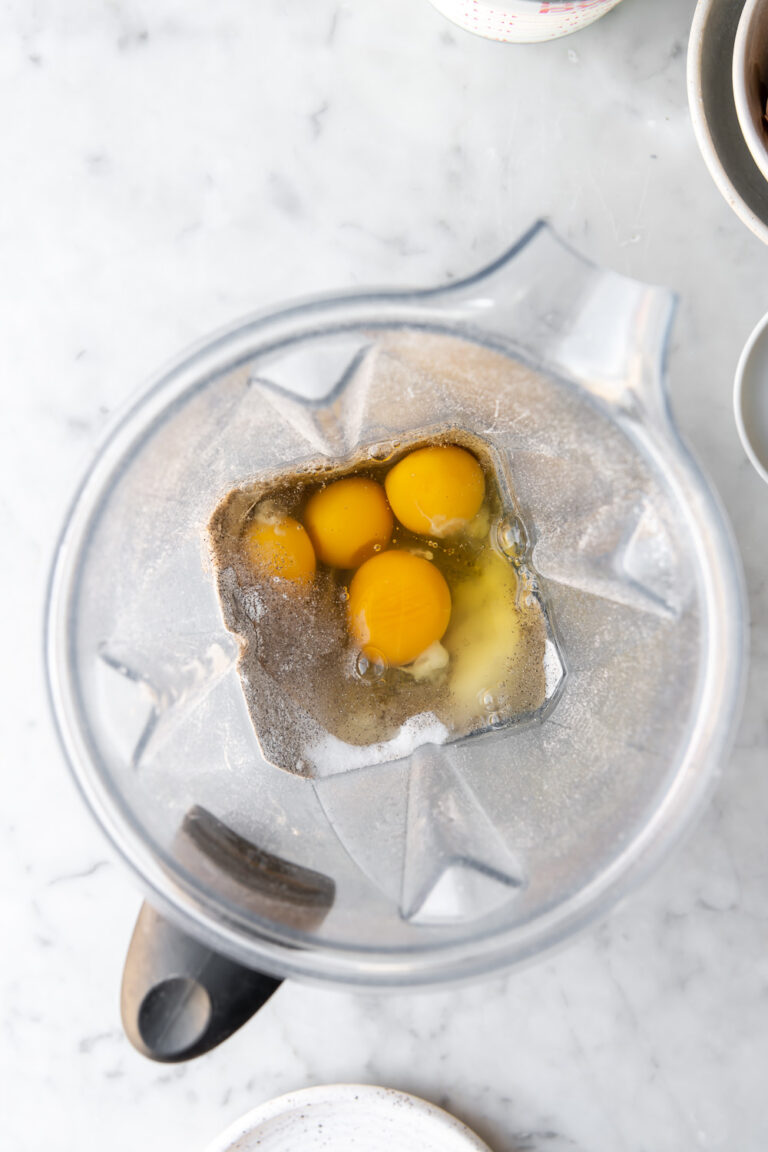 Buckwheat crepe fillings:
Sautéed mushrooms and cheese
Ham and gruyere
Fried egg and cheddar
Shredded roasted chicken, asparagus and a creamy sauce
Sautéed kale and brie
Buttery cinnamon sugar apples
Macerated strawberries and pistachios
Sliced bananas and nutella
Fresh berries, honey and whipped cream
Sliced pears and salted caramel
Fresh stone fruit (peaches, plums, nectarines), creme fraiche and maple syrup
Orange-scented ricotta and fresh mint
Spread with granola butter
Crepes can be folded around the filling in quarters, or rolled up like a cigar. To heat through, fill and fold the crepes and place them on a foil-lined sheet pan. Heat in a 300°F oven for 10- 15 minutes, or until cheese is melted and gooey.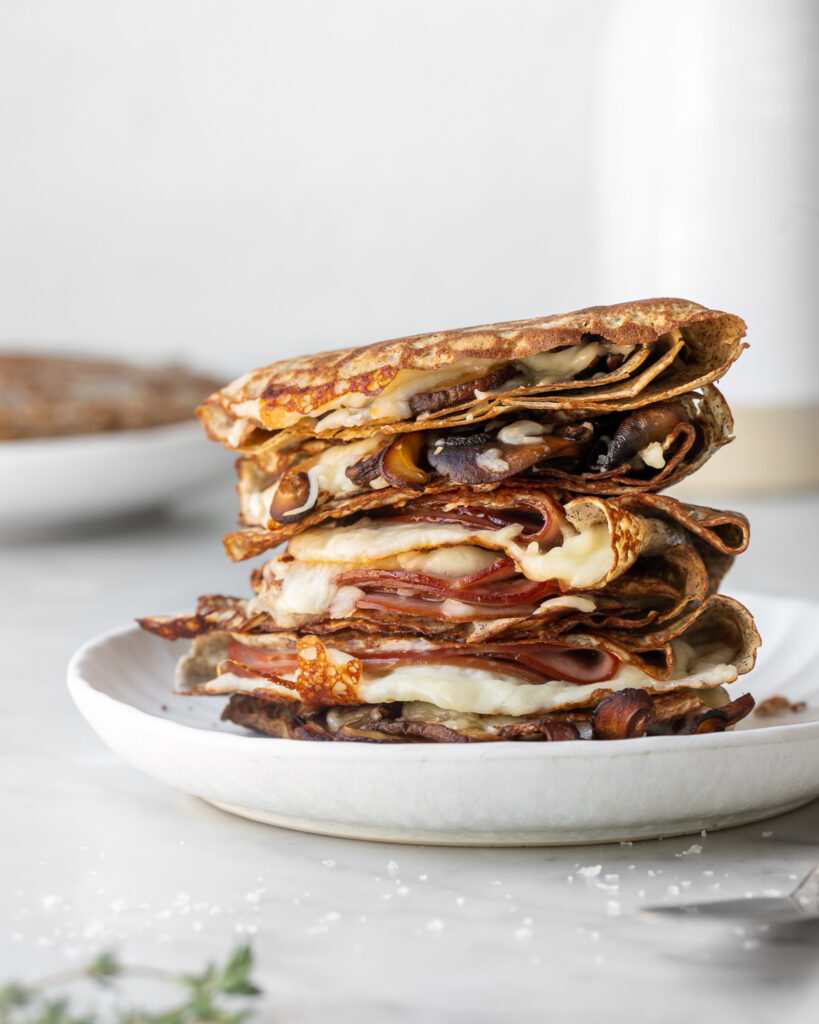 more crepe and breakfast recipes to try!
basic sourdough crepes with pistachio cinnamon sugar
yeasted waffles with whipped maple mascarpone
extra-thick cinnamon brioche french toast
Print
buckwheat crepes
Buckwheat crepes are delicate, full of nutty flavor and lacy crisp edges. They are a quick and easy breakfast that can be sweet or savory!
Author:
Prep Time:

10 minutes

Cook Time:

1 hour

Total Time:

1 hour 10 minutes

Yield:

about 24 crepes

Category:

Breakfast

Method:

Stove

Cuisine:

American

Diet:

Vegetarian
Ingredients
½ cup

buckwheat flour

½ cup

all-purpose flour

¾ tsp

kosher salt

1 tbsp

granulated sugar

4

eggs

2 cups

whole milk

6 tbsp

unsalted butter, melted, plus more for the pan
Instructions
Combine buckwheat flour, all-purpose flour, salt, sugar, eggs and milk in a blender. Blend on medium-high speed until smooth. With the blender running, pour in butter and blend another 30 seconds. Transfer to the refrigerator to rest for at least 1 hour, or overnight.

Heat an 8-inch nonstick pan over medium heat. Use a pastry brush or paper towel to coat the pan with a thin layer of melted butter. Pour in 3 tablespoons of batter and quickly swirl the pan to cover the bottom with an even layer of batter. Cook for about 1 minute, or until the edges crisp and turn golden brown. Carefully flip the crepe and cook for another 15- 20 seconds, or until the bottom is browned in spots. Transfer to a plate to cool. 

Repeat buttering, swirling and flipping crepes, adjusting heat as necessary (see notes above for tips). Crepes can be stacked on top of each other and stored at room temperature for a few hours, or refrigerated for up to 4 days.
Notes
Nutritional information is only an estimate. The accuracy of the nutritional information for any recipe on this site is not guaranteed.
Nutrition
Serving Size:

1 crepe

Calories:

70

Sugar:

1.7g

Sodium:

61mg

Fat:

4.4g

Saturated Fat:

2.5g

Unsaturated Fat:

1.6g

Trans Fat:

0g

Carbohydrates:

5.3g

Fiber:

0.3g

Protein:

2.3g

Cholesterol:

41mg
Keywords: buckwheat crepes