Cappuccino muffins radiate notes of espresso, toasted pecans, vanilla and rich caramelized white chocolate. The moist crumb delivers the crunchy, creamy, tender morsels in one perfect bite. Serve with your favorite coffee!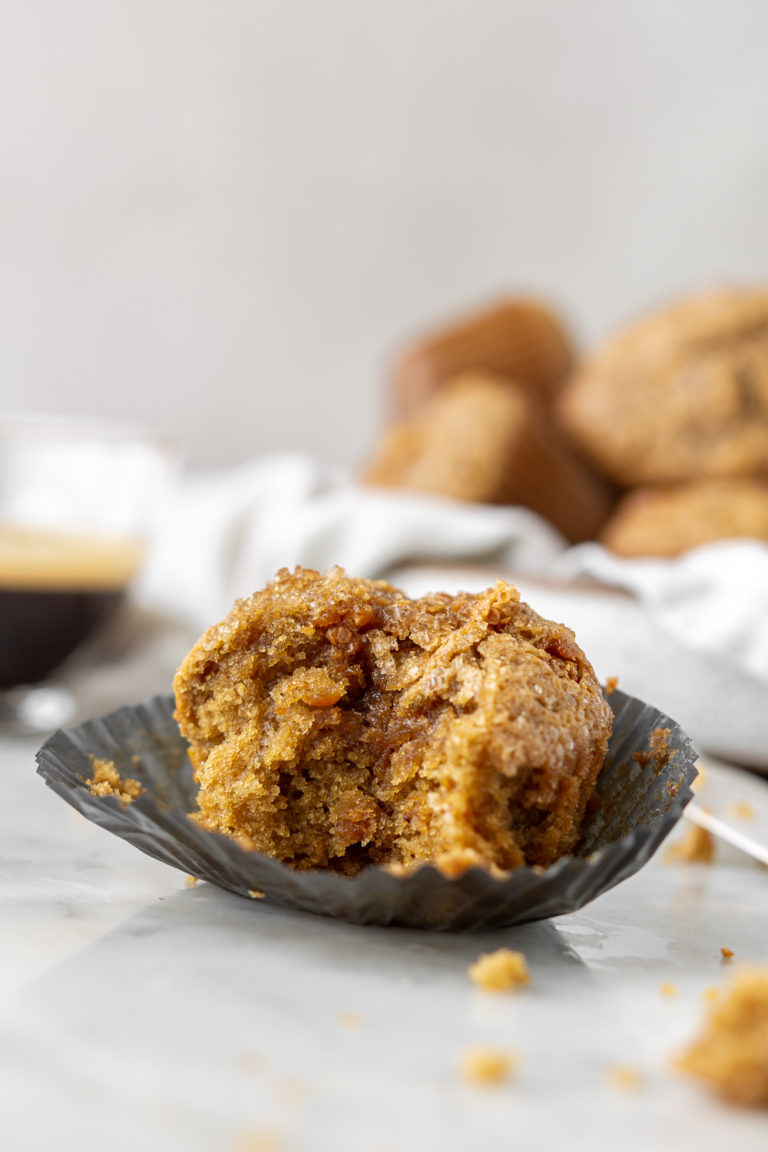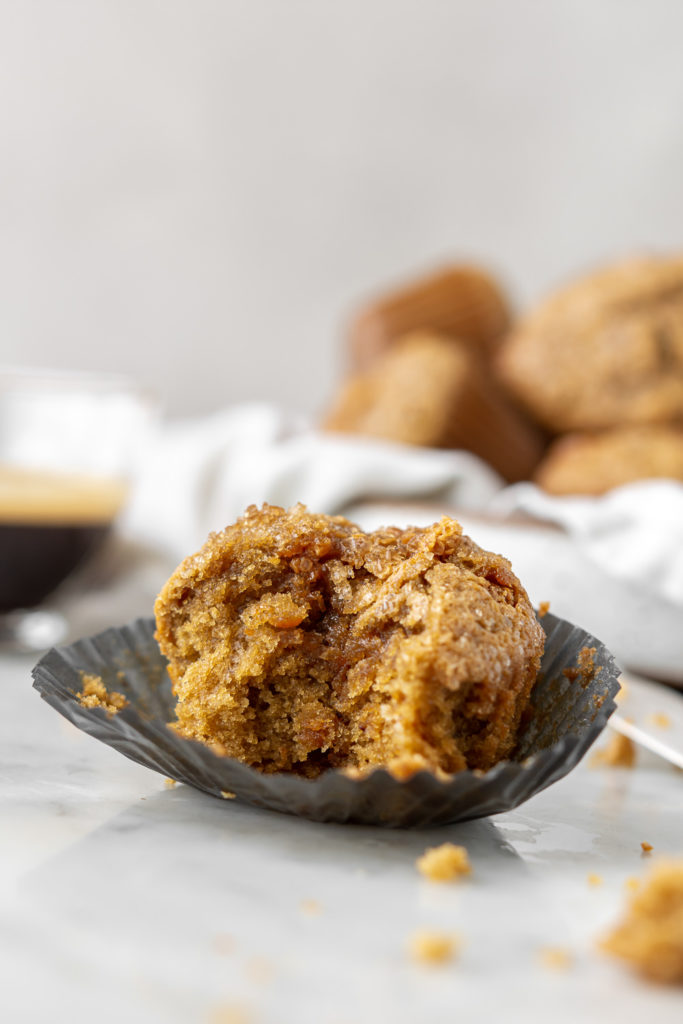 What, exactly, are cappuccino muffins? In essence, they're a delicately flavored espresso muffin. Don't worry-- there's no milk frothing or latte art involved here. Just a lot of coffee. I fill them with deeply caramelized white chocolate and toasted pecans to highlight the roasted espresso notes. They're tender, moist, and topped off the best possible way: with crunchy turbinado sprinkles. I double down on the coffee flavor with both brewed espresso and instant espresso powder, and you won't want to skip either.
In all, these sweet, caramelized muffins taste like your favorite coffee drink. They also happen to be the best companion to your morning coffee. Because, friendly reminder, chocolate doesn't disqualify food from the breakfast table.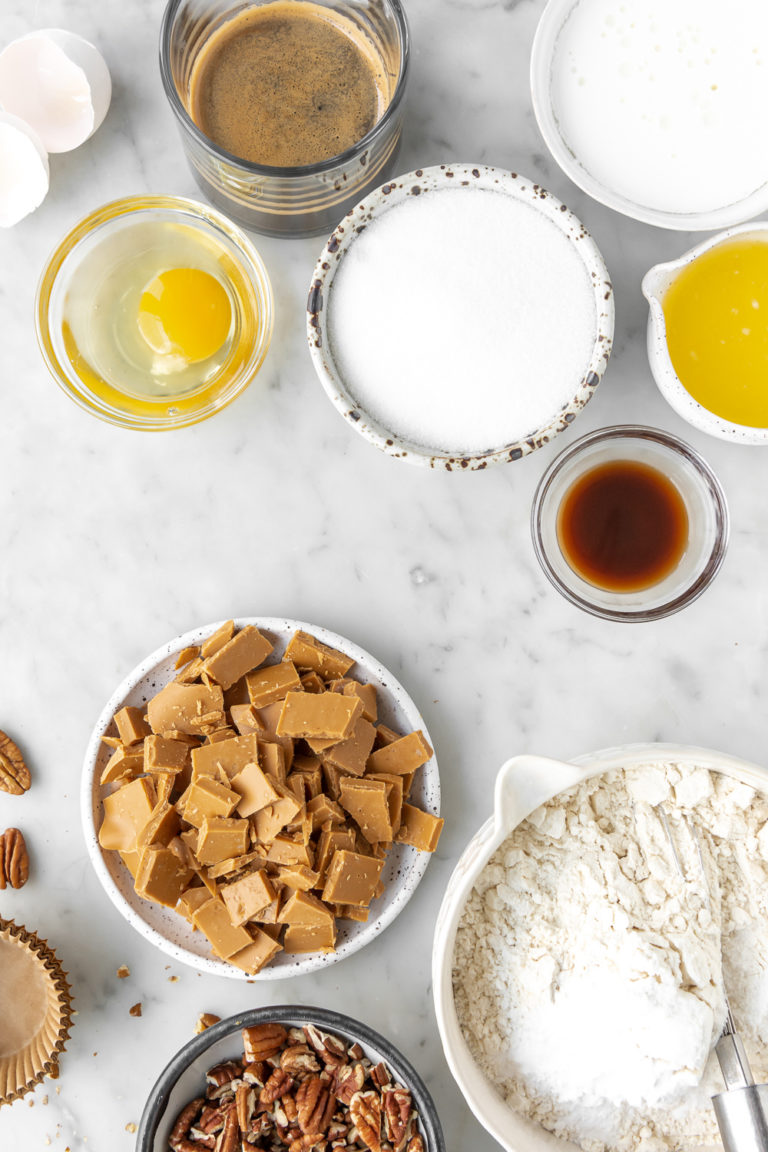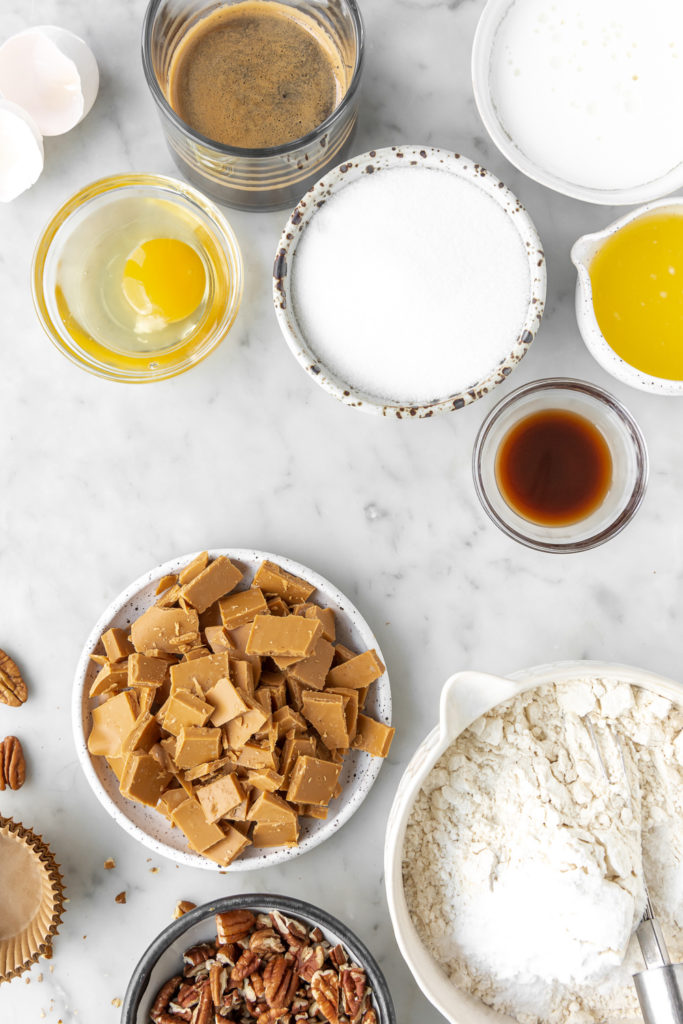 tips for caramelizing your own white chocolate:
Caramelized white chocolate is surprisingly easy to make, as long as you use high quality chocolate. Valrhona developed a great oven roasting technique, shared here via David Lebovitz, that transforms bland white chocolate into something else entirely. It's nutty, complex, and completely addicting.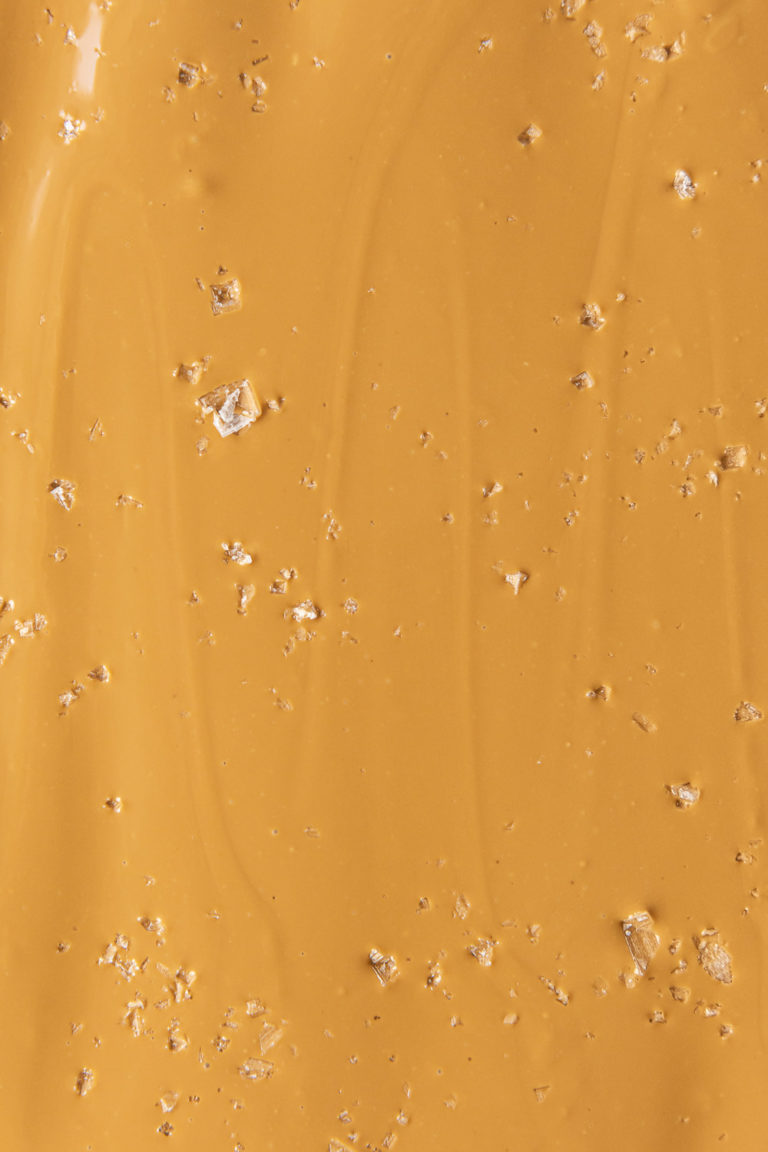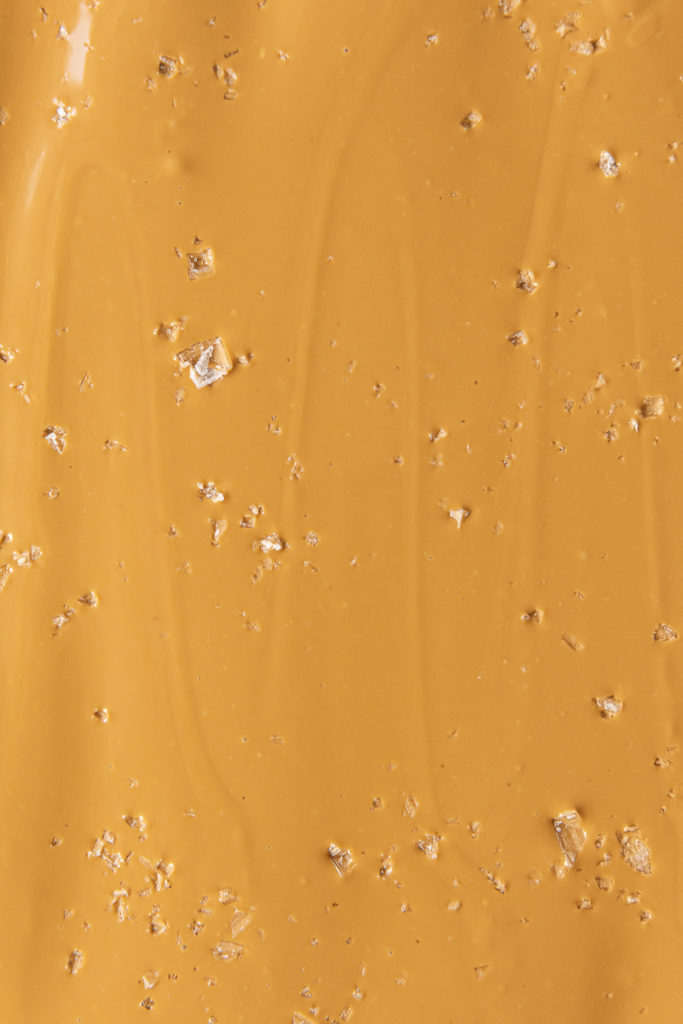 Here are some tips to make your chocolate roasting as simple as possible:
Use high quality white chocolate, which will have a cocoa butter content of at least 30%. Anything else is a waste of your time— it will seize and make a mess, rather than roast into a gorgeous pool of caramelized heaven.
Stir at least every 10 minutes. Oftentimes, it won't look like anything has changed, but the very bottom layer of chocolate will be caramelizing and hidden from view until you stir it.
Don't panic when it looks crumbly or dry. Just keep stirring and kneading with your spatula until it comes together.
Watch the chocolate closely at the end. When it's ready, the color should resemble the orange-brown hue of peanut brittle. All that's left is some aggressive stirring and mixing to pull the chocolate together into a luscious, smooth consistency.
Sprinkle the surface with flaky salt when finished (never optional), and refrigerate until firm.
Work with chilled chocolate. The caramelized white chocolate won't be in temper, so it's likely to be soft and melty at room temperature (or it may have dull, white streaks). This doesn't matter for us since we're tossing it into muffins, but it's a cleaner process when cold.
If you don't want to experiment with caramelizing your own white chocolate, you can buy it directly from Valrhona (it's called Dulcey).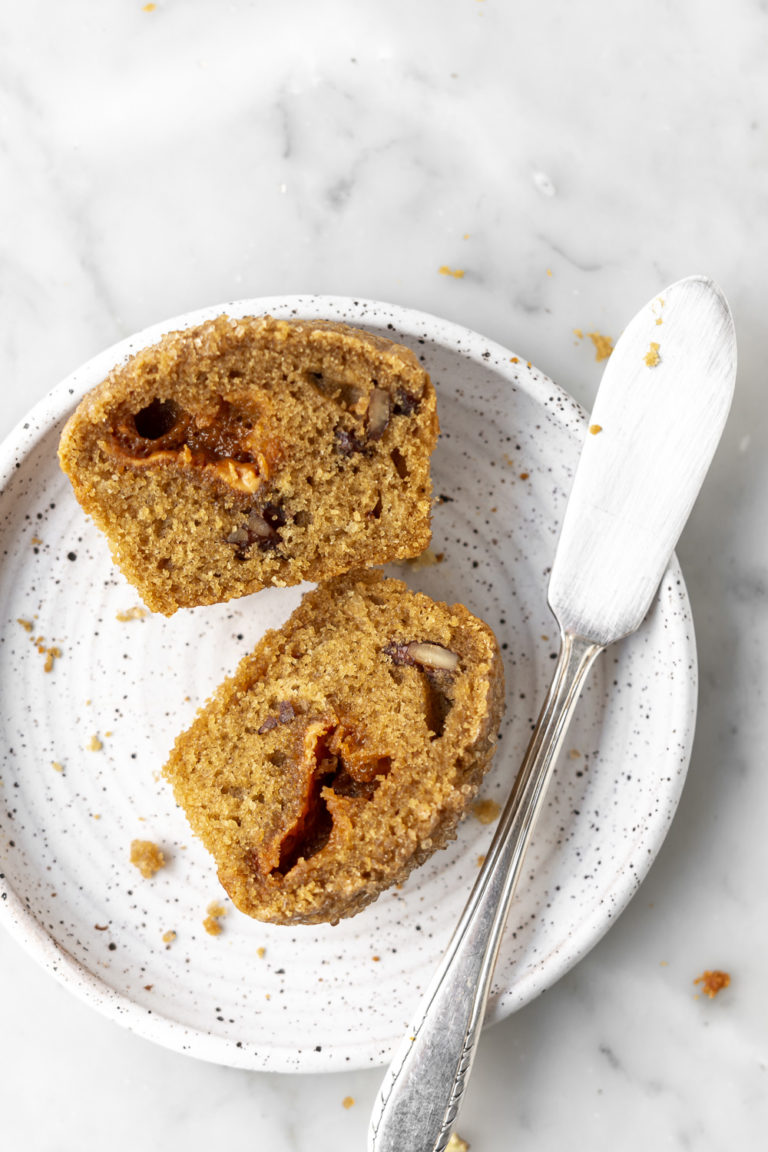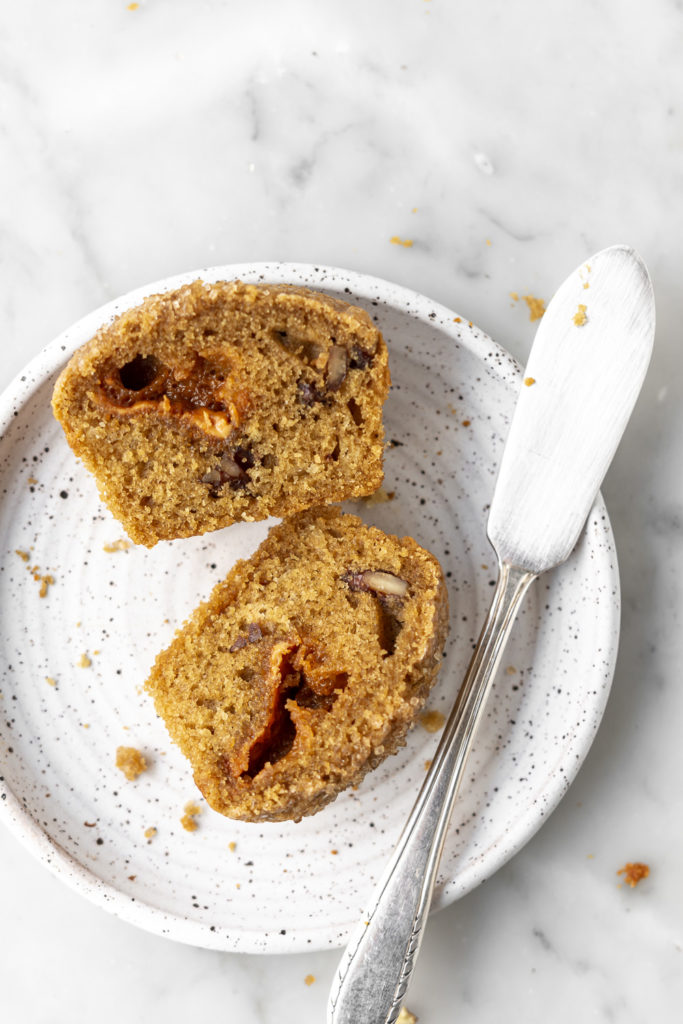 what are the key ingredients in these cappuccino muffins?
Buttermilk: The mild acids in buttermilk react with baking soda to create carbon dioxide. This produces a light and airy texture in the final muffin. The acids also break down some of the gluten for a tender, delicate crumb.

If you don't have buttermilk, make your own by combining 1 cup whole milk with 1 tbsp lemon juice or white vinegar. Stir and let sit until mixture thickens, about 5 minutes, then measure out the necessary ¾ cup for the recipe.

Half butter, half oil: Butter undeniably gives the best flavor to baked goods, so I never want to skip it. But when you replace half with vegetable oil, you also get the benefits of a moist and light crumb. All-butter muffins can be dense and dry, and all-oil muffins lack the rich butter flavor.
Espresso and instant espresso powder: Use both forms of coffee to get the deepest, richest flavor. You'll get delicate coffee notes with strong brewed espresso alone, but an extra teaspoon of instant espresso powder intensifies the flavor.
Caramelized white chocolate: These morsels radiate notes of butterscotch, caramel and toffee. They add a ton of flavor and a sweet, creamy richness to the muffins— don't skip them!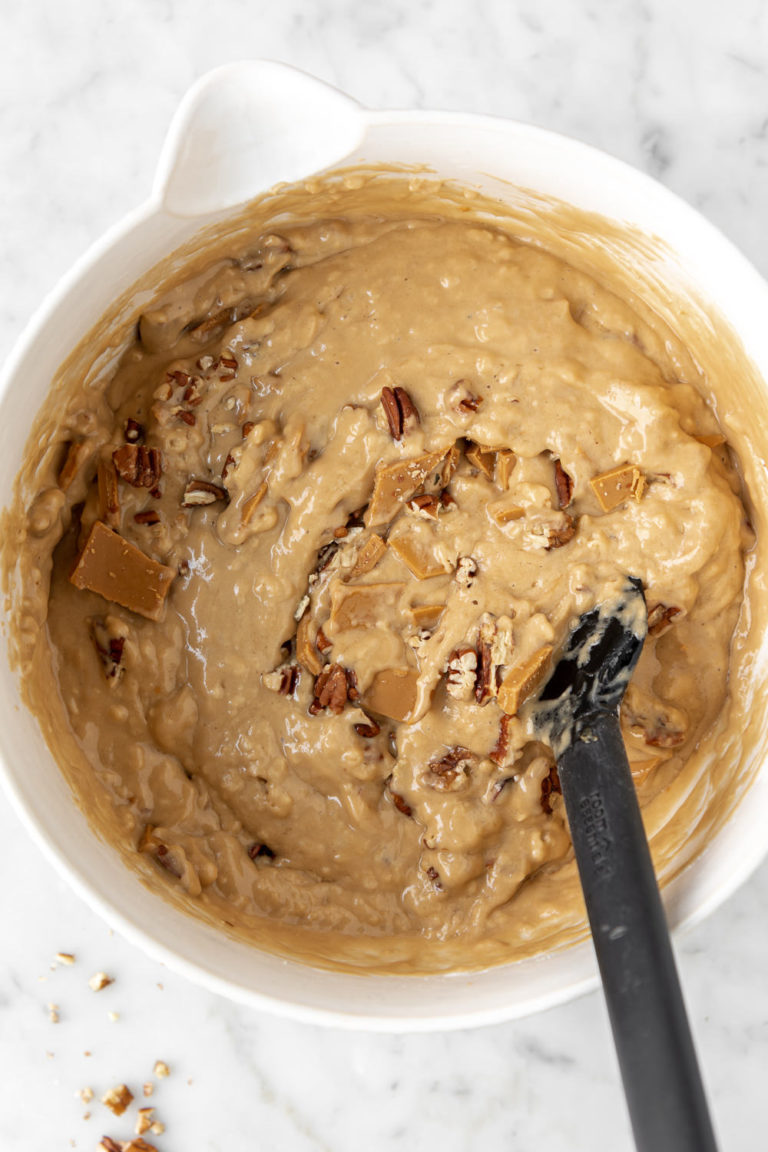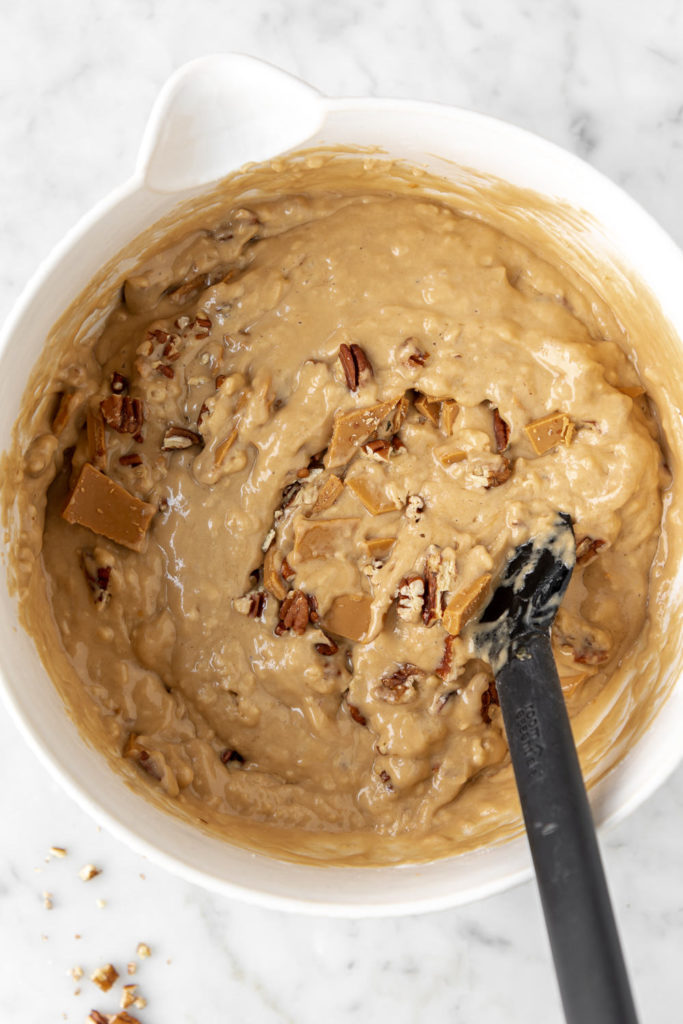 more muffin recipes and baked goods to try!
caramelized white chocolate cherry bread
cinnamon muffins with oat pecan streusel and a gooey filling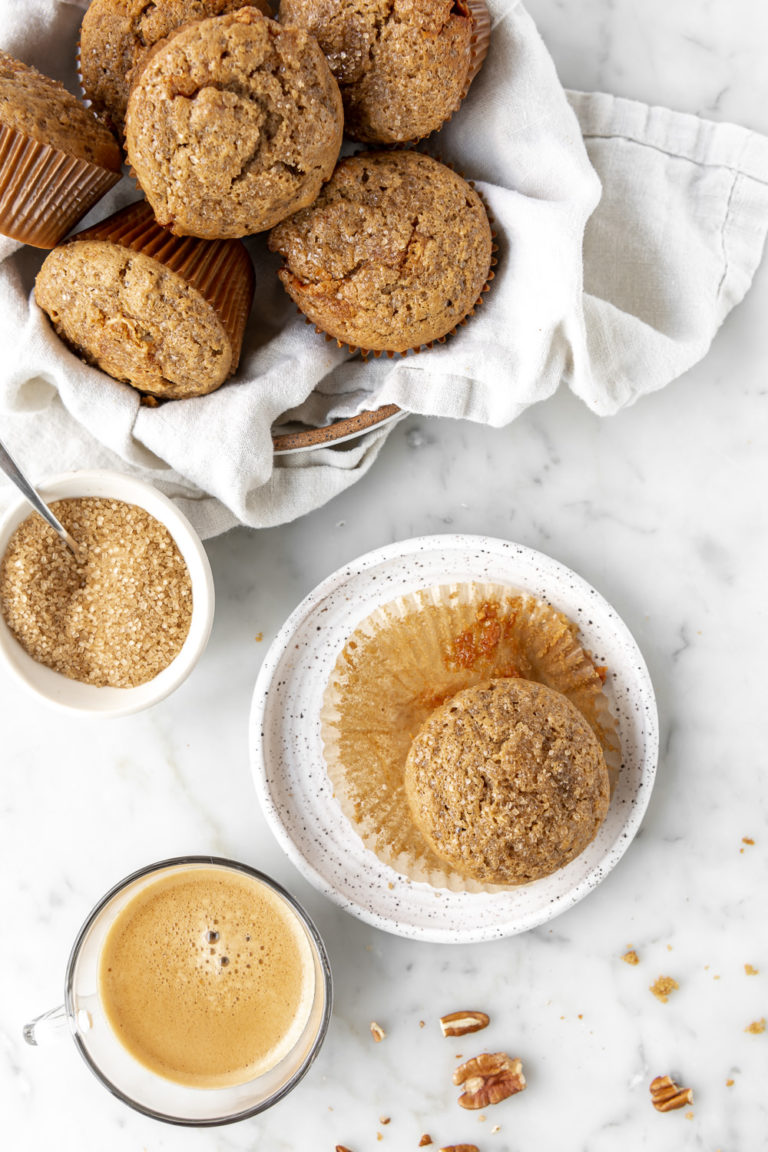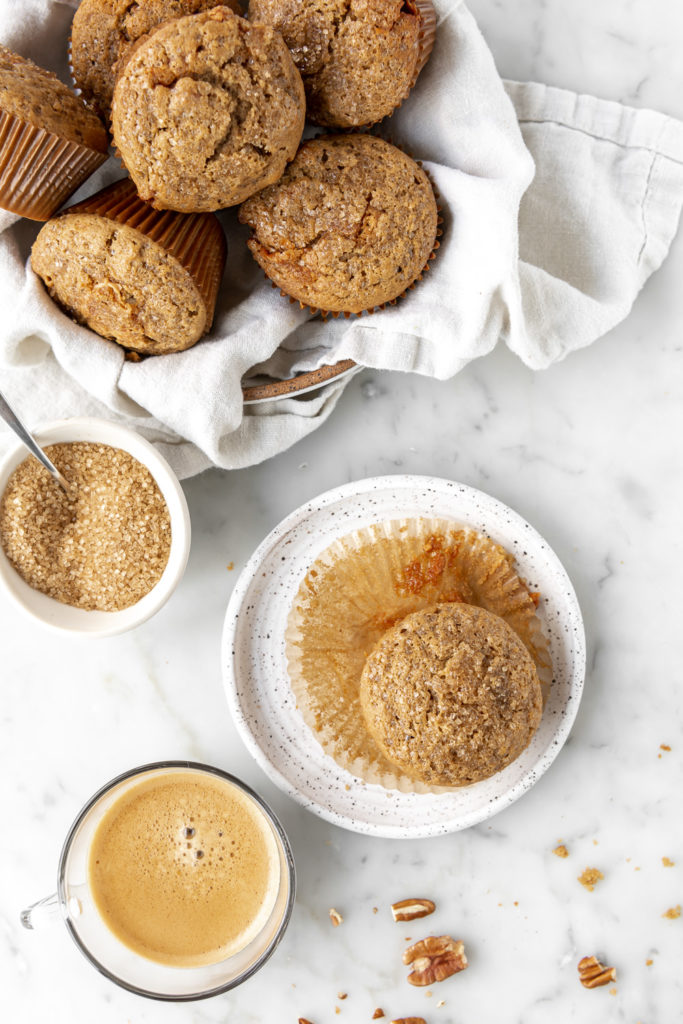 Print
cappuccino muffins with caramelized white chocolate
Cappuccino muffins radiate notes of espresso, toasted pecans, vanilla and rich caramelized white chocolate. The moist crumb delivers the crunchy, creamy, tender morsels in one perfect bite. Serve with your favorite coffee!
Author:
Prep Time:

15 minutes

Cook Time:

20 minutes

Total Time:

35 minutes

Yield:

18

Category:

Muffins

Method:

Baked

Cuisine:

American
Ingredients
2 ½ cups

all-purpose flour

1 tsp

baking powder

1 tsp

baking soda

½ tsp

table salt

4 tbsp

unsalted butter, melted and slightly cooled

½ cup

canola oil

½ cup

strong espresso, cooled

1 tsp

instant espresso powder

¾ cup

buttermilk

2 tsp

vanilla extract

¾ cup

granulated sugar

1

large egg

1 ½ cups

caramelized white chocolate (see note), coarsely chopped

½ cup

roasted salted pecans, coarsely chopped

turbinado sugar, for sprinkling
Instructions
Preheat oven to 375°F. Divide 18 liners across two 12-cup muffin tins and set aside (you may not need all of them).

Add flour, baking powder, baking soda and salt to a large bowl and whisk to combine. In a small bowl, combine butter, canola oil, espresso, espresso powder, buttermilk, vanilla, sugar and egg. Whisk until well mixed, then pour over dry ingredients. Use a rubber spatula to mix until almost combined. Fold in chocolate and pecans.

Scoop batter into prepared muffin cups, filling each about ⅔ full. Sprinkle top with turbinado sugar and bake for 18- 22 minutes, or until puffed and golden on the top and toothpick inserted into the center of the muffin comes out clean.

Let sit in the pan for a few minutes, then transfer to a cooling rack to cool completely.
Nutrition
Serving Size:

1

Calories:

277

Sugar:

22g

Sodium:

200mg

Fat:

14g

Saturated Fat:

5g

Unsaturated Fat:

8.1g

Trans Fat:

0g

Carbohydrates:

35g

Fiber:

0.5g

Protein:

3.4g

Cholesterol:

21mg
Keywords: cappuccino muffins