This is some of the best sour cream and onion dip we've eaten. It has a creamy, scoopable consistency and is filled with a fresh sour cream tang and layers of onion flavor. It's crazy simple to make from scratch-- the recipe only uses onions, shallots, butter, herbs and sour cream. The ingredient list is short and simple, but the combination is gold.
You'll love bringing this sour cream and onion dip to parties or throwing together for last minute guests. I bet you have everything you need in your fridge, it's quick to make and everyone loves it!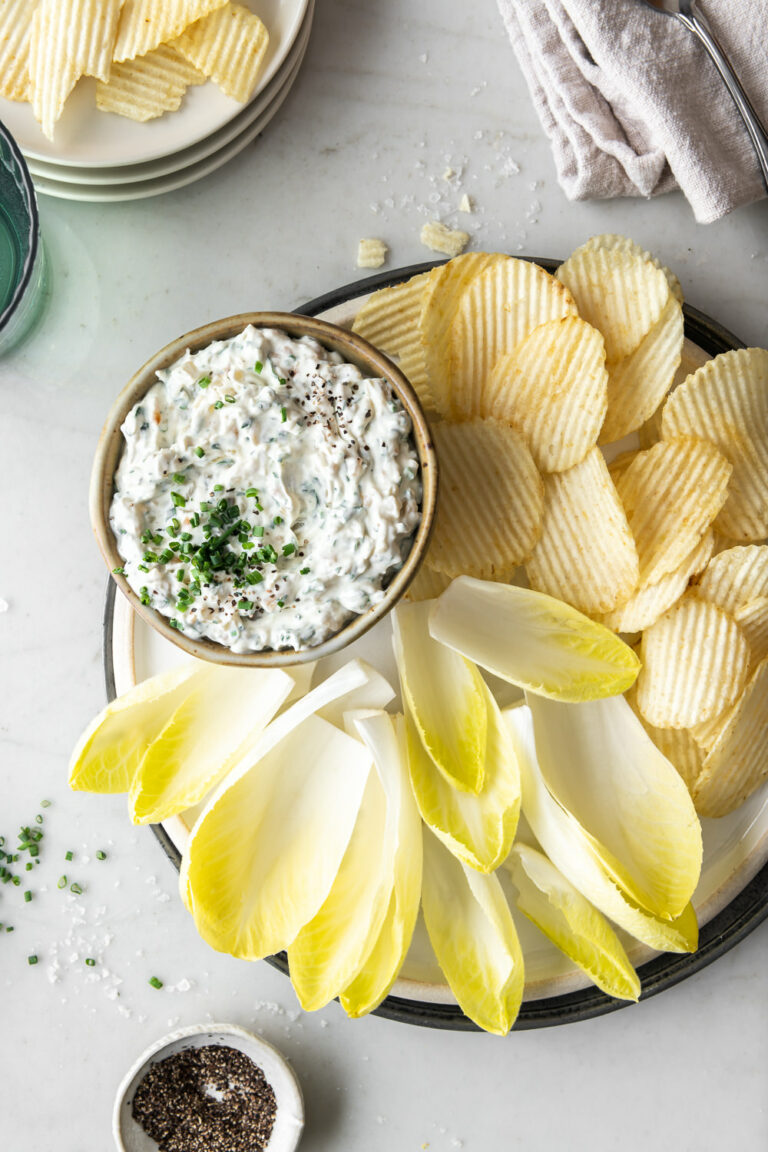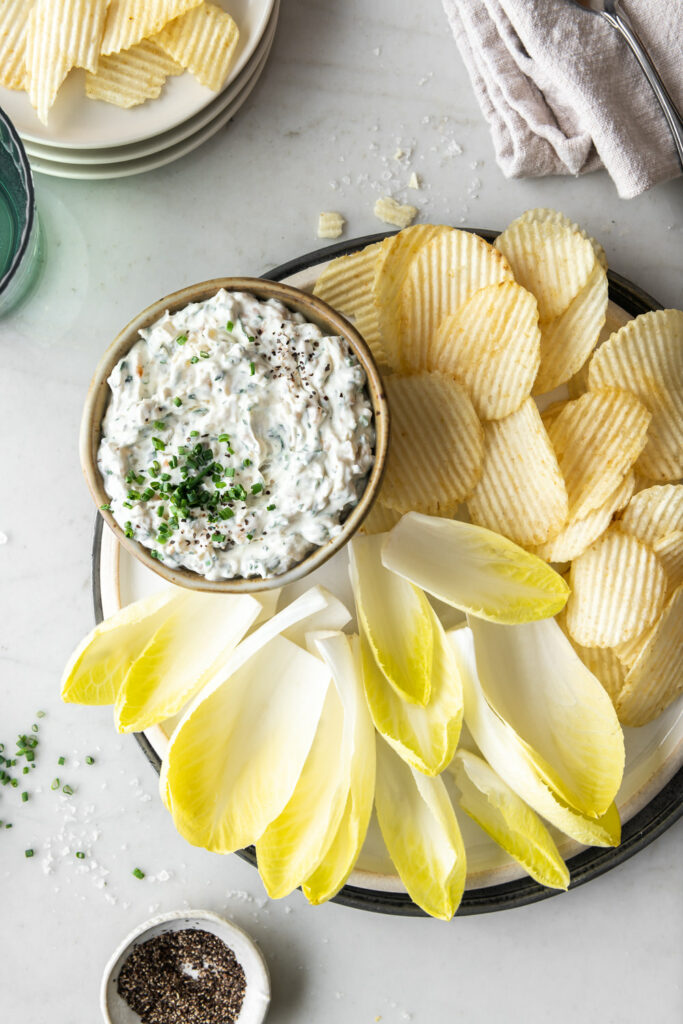 the problem with most onion dips:
Let's be honest here. Not all onion dip recipes are created equal. Often times I find them to be too thick and firm, overly packed with cream cheese, and impossible to scoop with salty ruffled chips. If you can't use potato chips with sour cream dip, it's basically a fail.
They also tend to include so many extra spices and flavors (worcestershire sauce, garlic powder, cayenne, mayo, beef broth, vinegar), that the onion and the sour cream get completely drowned out. The dips are good, but they lose focus.
In this onion dip recipe, I prefer to highlight the light, tangy flavor of the sour cream and I worked really hard to keep the flavors focused there. There are no extra add-ins to detract from the purity of sour cream and sweet, fragrant onion.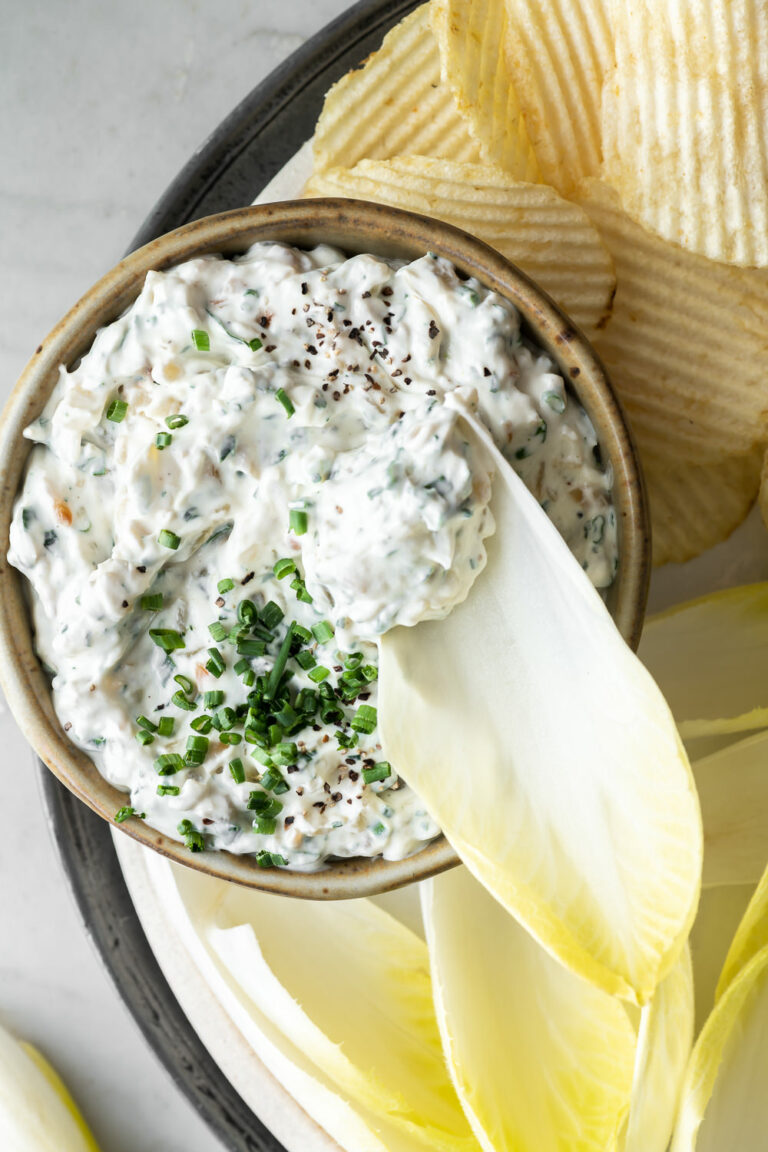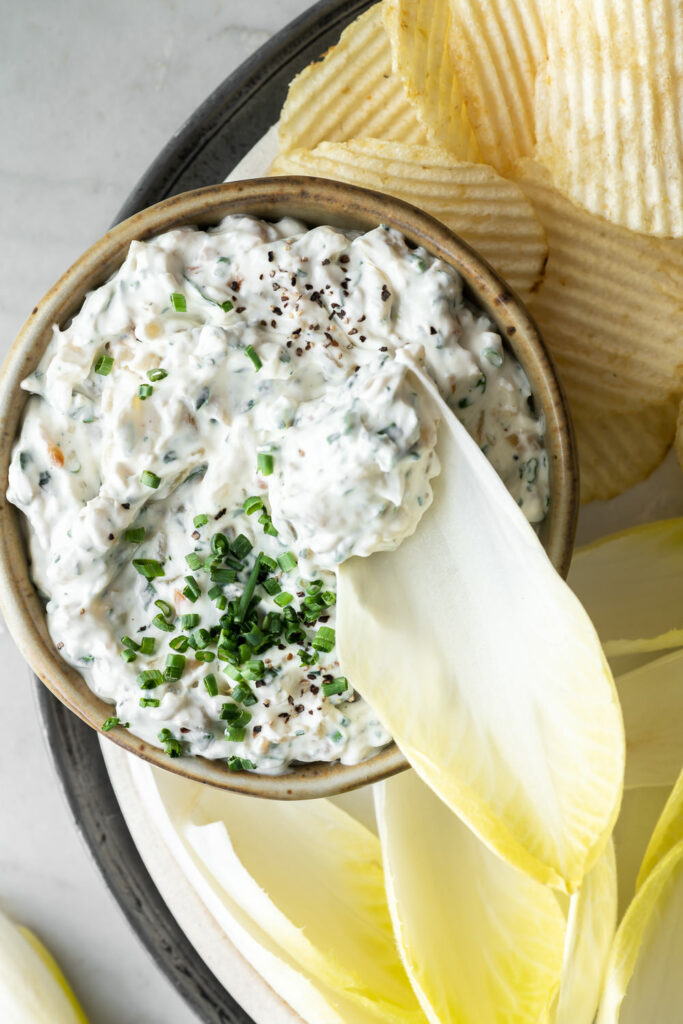 why this is the best sour cream and onion dip:
Sour cream base: I keep this sour cream and onion dip extra simple and fresh by using only sour cream in the base. There's a tendency to mix in cream cheese or mayonnaise for more richness, but too often it adds an unnecessary heaviness to the onion dip. Cream cheese also makes it really hard to scoop with ruffled potato chips, which, let's be honest, is the whole point of sour cream and onion dip!
Several layers of onions: I incorporate three forms of onion flavor in this onion dip recipe. It starts with onions and shallots, which are slowly cooked in butter until very soft, sweet and just lightly browned. I intentionally don't go full caramelized to prevent overshadowing the tangy sour cream notes. Minced chives add the final layer of onion flavor and ramp up the fresh factor.
Fresh herbs: You could stick with just chives here, if you'd like, but I really love to mix in a scattering of parsley and tarragon for complexity. The tarragon, specifically, adds a very subtle anise note that goes so well with the sour cream and sweet onions!
Texture: Make sure to mince the onion and shallot! The goal is to infuse the sour cream base with as much onion flavor as possible, so the smaller and more dispersed the onions, the better.
Quick and easy: This dip comes together in about 15 minutes. All you need is a saute pan to cook the onions and shallots until very soft (about 12 minutes), then you mix it all up in a bowl. You can absolutely chill the dip to let the flavors meld and intensify, but you can also enjoy it right away!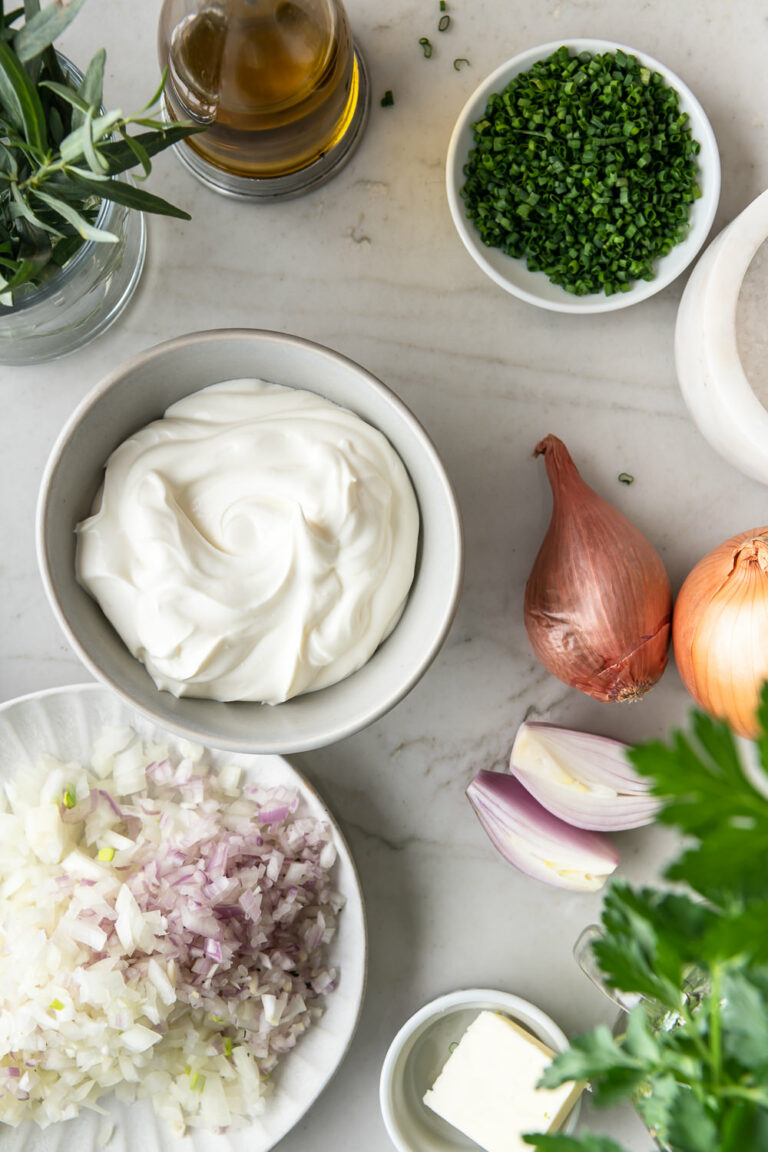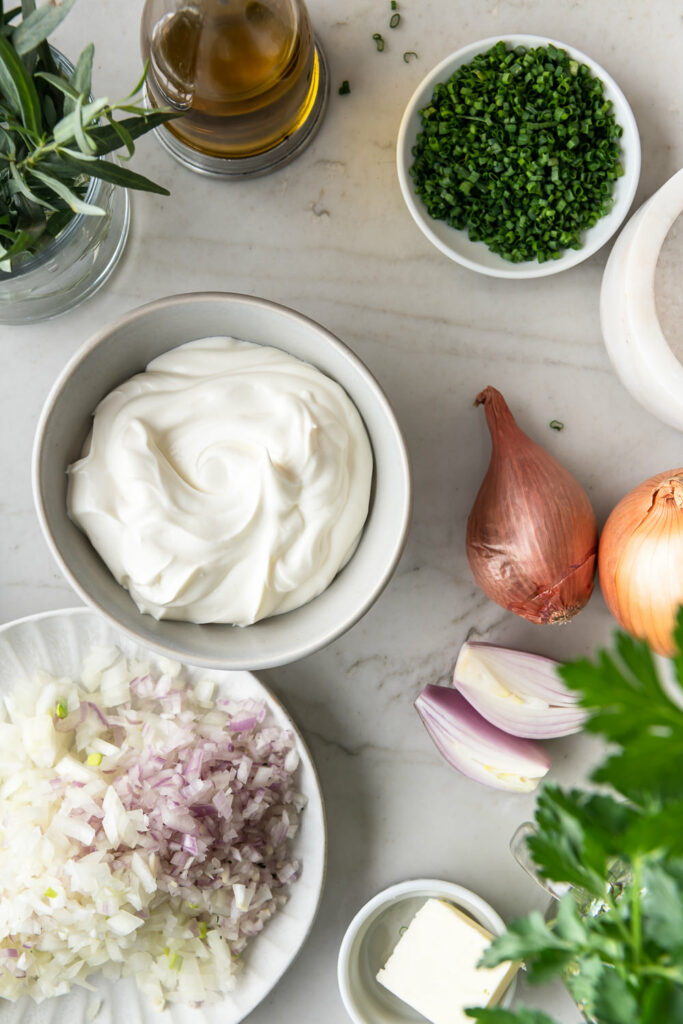 what you need for this onion dip recipe:
butter
onion
shallot
sour cream
chives
mixed herbs (I love the combination of parsley and tarragon)
salt and pepper
how to make sour cream and onion dip
Slowly sauté onion and shallot until very soft and sweet, but not fully caramelized
Combine cooked onions with sour cream, chives and mixed herbs
Season with salt and pepper to taste
Serve with chips, crackers and crudites!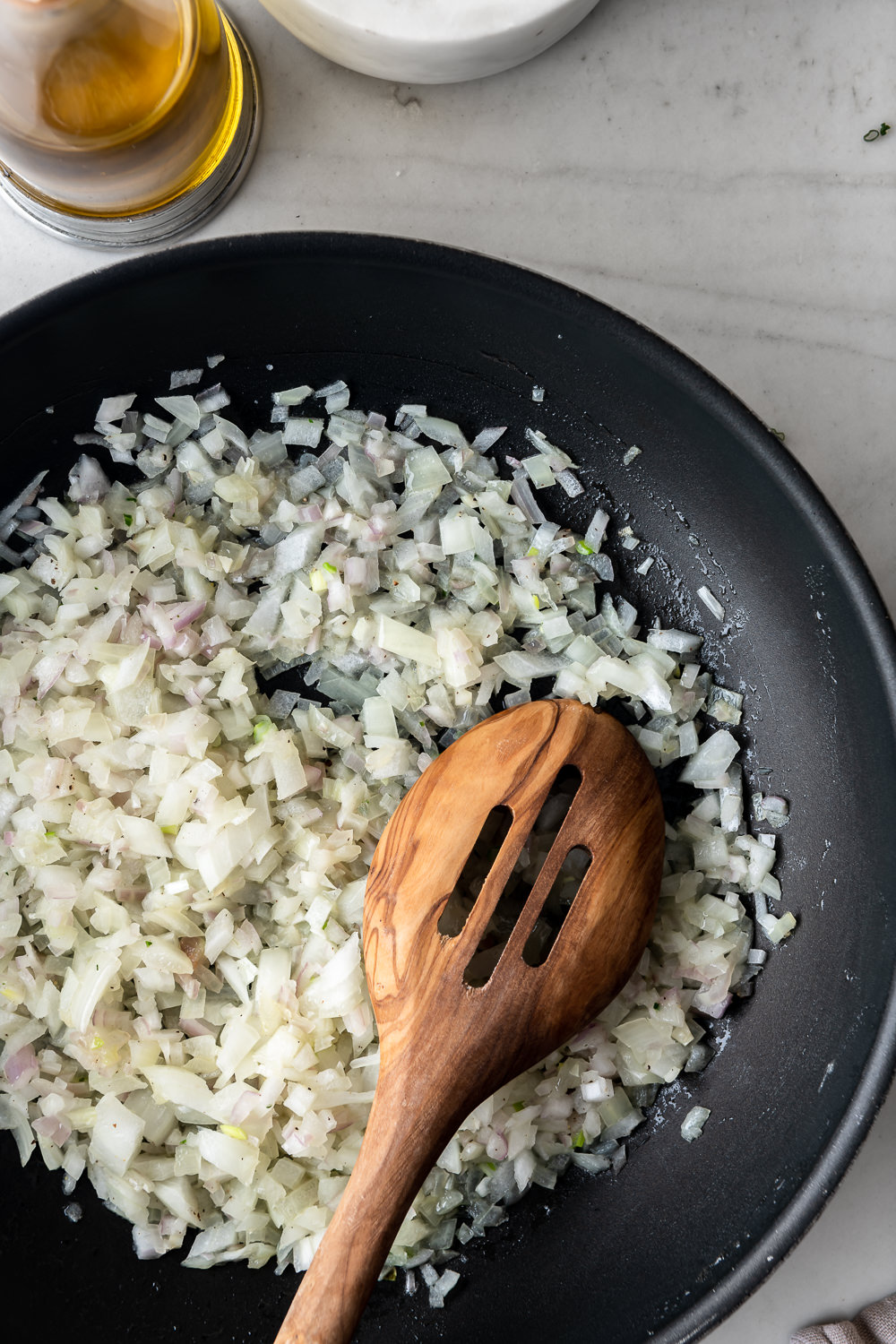 what to eat with sour cream and onion dip:
I don't think there's a better pairing in the world than ruffled potato chips with sour cream and onion dip. There's something so indulgent and delicious about slathering the dip on a crunchy potato chip. It's got all of the textures, flavors and contrasts you could ever want: rich, fresh, cool, creamy, crunchy, salty, and sweet.
But I also like to serve the onion dip with some crisp vegetables, as a lightened up option for those who want to feel a little more "balanced". And if you eat the dip with celery, you can just eat more dip right?
Any fresh, crunchy vegetable will do, but I especially love vegetables that have a natural curve or scooping ability built in to their shape (like endive leaves).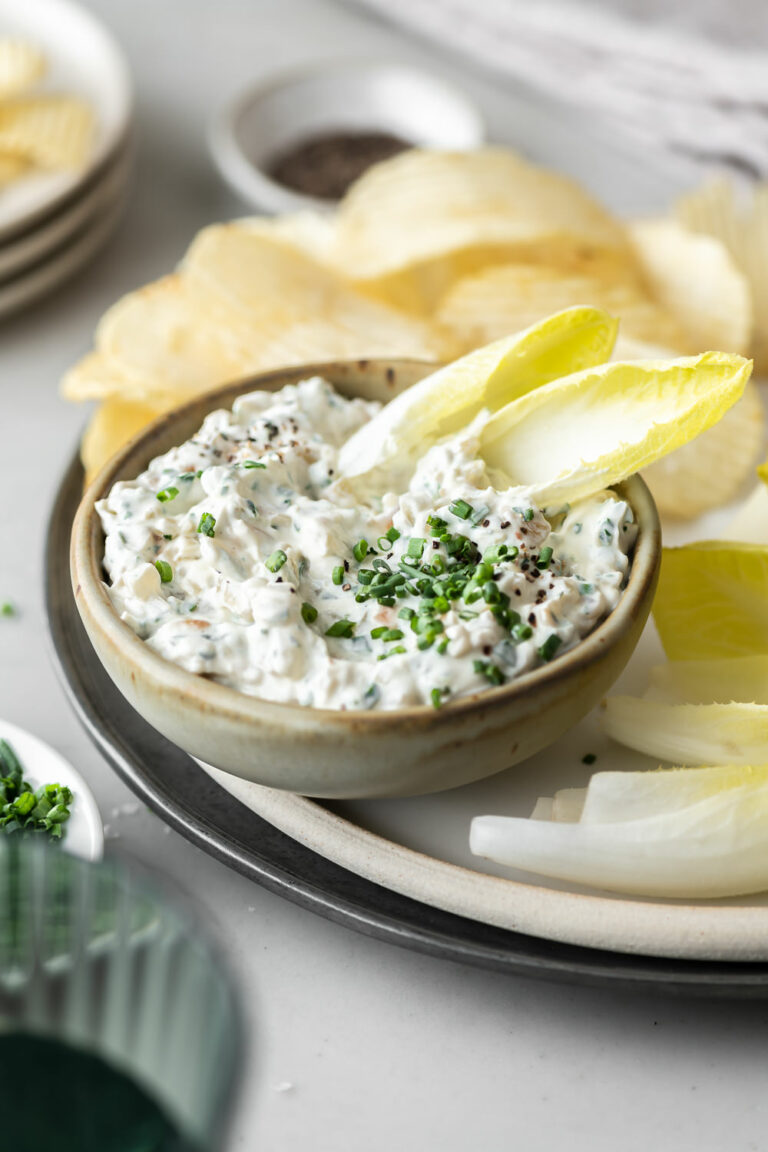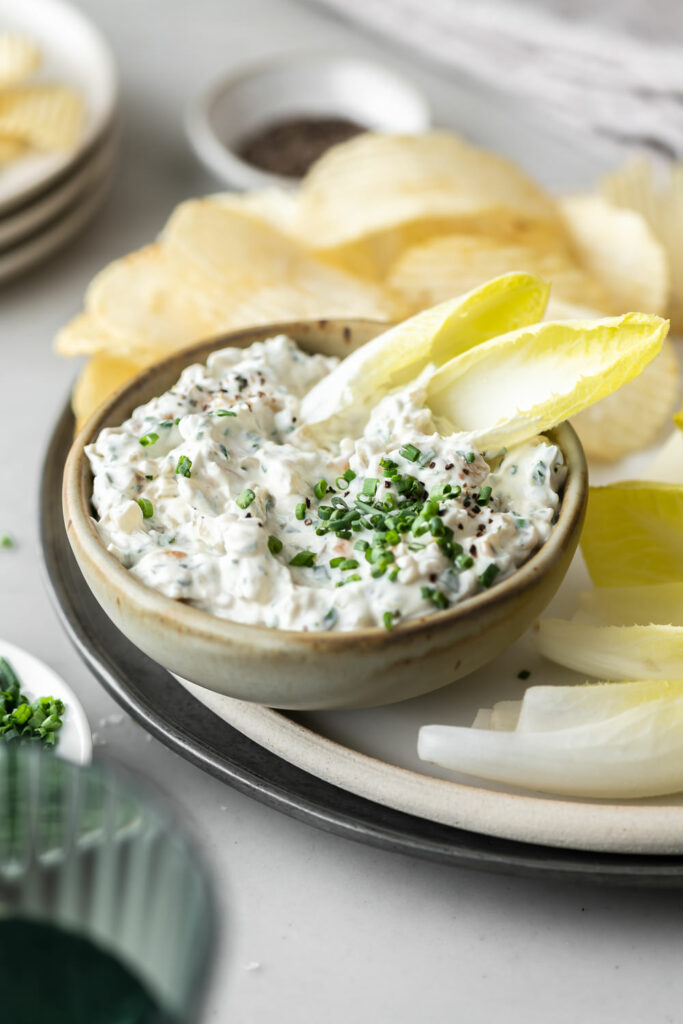 here's a list of crudités to get you started!
Endive leaves
Celery
Baby carrots
Sliced cucumber
Celery sticks
Cauliflower florets
Snap peas
Fennel wedges
Halved radishes
Sliced bell peppers
Steamed artichokes
Blanched green beans
Blanched broccolini
Potato chips
Sliced and toasted baguette
Crackers
Pretzels
Pita chips
how long does onion dip last in fridge?
This onion dip is best eaten within 3 days. Store it in a covered container in the refrigerator. For the best taste and texture, let the dip sit out at room temperature for 10- 15 minutes before serving.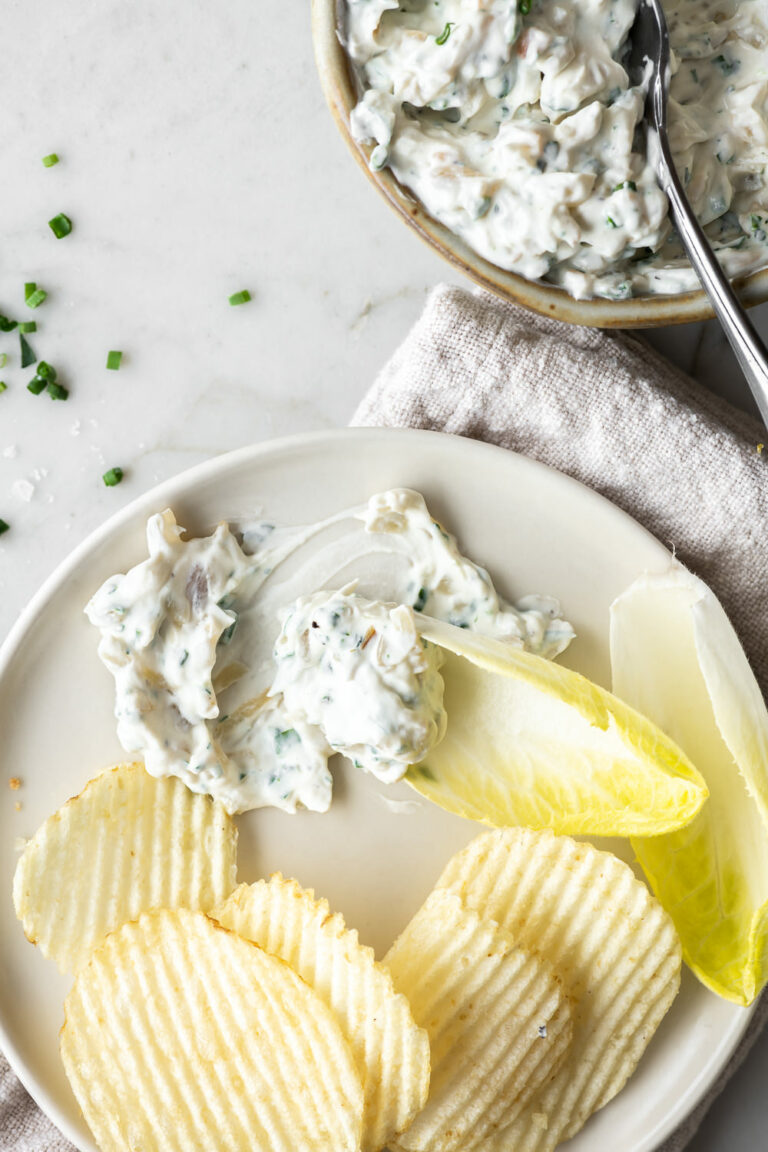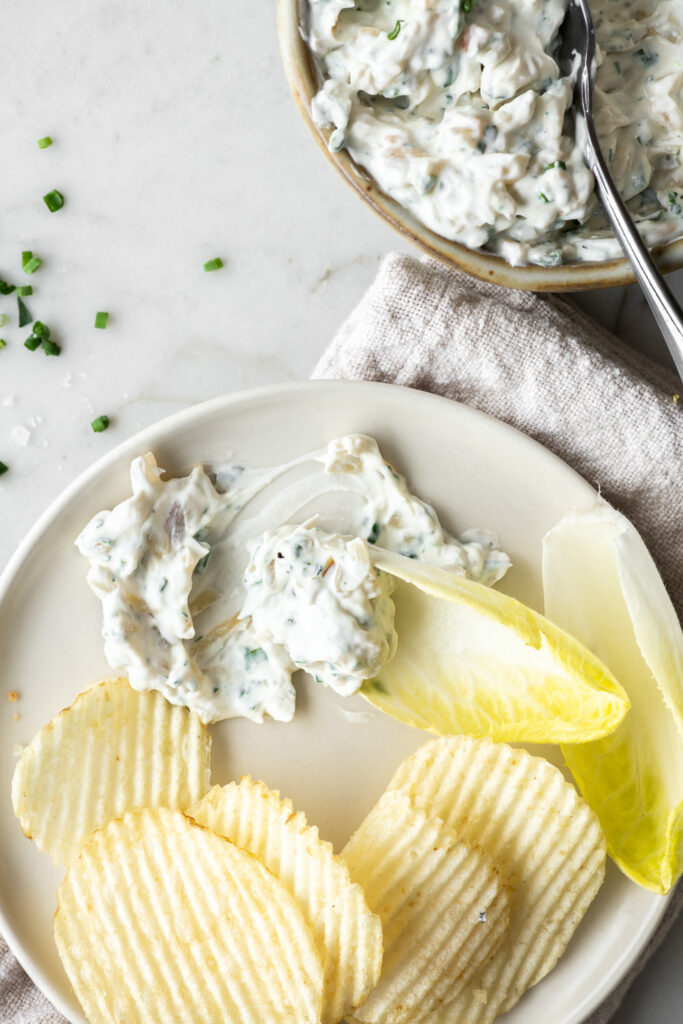 more dip recipes to try!
smoked trout dip with dill and sour cream
salmon rillettes (salmon spread) with fresh herbs and lemon
whipped feta dip with herby cucumber salad
white bean hummus with spicy seed oil
saffron aioli (and how to make a grand aioli platter)
Watch our holiday party appetizer web story here!
Print
sour cream and onion dip
This sour cream and onion dip is creamy, scoopable and packed with a fresh sour cream tang and layers of onion flavor. It's quick and easy to throw together and everyone loves it!
Author:
Prep Time:

5 minutes

Cook Time:

15 minutes

Total Time:

20 minutes

Yield:

1 ½ cups

Category:

Dips

Method:

Stirred

Cuisine:

American

Diet:

Gluten Free
Ingredients
2 tbsp

butter

1

small onion, minced

1

shallot, minced
kosher salt
kreshly ground black pepper

1 ½ cups

full-fat sour cream

2 tbsp

fresh chives, minced, plus more for garnish

2 tbsp

mixed fresh herbs, minced (such as parsley and tarragon)
Potato chips and crudités, for serving
Instructions
Heat butter in a medium skillet over medium-low heat until melted. Add onion and shallot, season with salt and pepper, and cook until very soft and light golden but not yet caramelized, 12- 15 minutes. Transfer to a bowl to cool.
Stir in sour cream, chives and mixed herbs; season with salt and black pepper.
Chill 20- 30 minutes, to let flavors meld. Garnish with fresh chives and serve with potato chips and crudités.
Notes
Nutritional information is only an estimate. The accuracy of the nutritional information for any recipe on this site is not guaranteed.
Nutrition
Serving Size:

2 tbsp

Calories:

79

Sugar:

1.5g

Sodium:

51mg

Fat:

7.5g

Saturated Fat:

4.1g

Unsaturated Fat:

2.1g

Trans Fat:

0.3g

Carbohydrates:

2.5g

Fiber:

0.2g

Protein:

0.9g

Cholesterol:

22mg
Keywords: sour cream and onion dip