This luscious homemade lemon curd is an addicting balance of sweet, tart and rich. Enjoy this silky spread on baked goods, fruit desserts, or straight from the jar.
There's nothing better than a spoonful of homemade lemon curd. It's the absolute best balance of sweet, tart and rich-- and so much more flavorful than anything you can buy. There are thousands of recipes for lemon curd, so what makes this one better? Read on for all the ways this lemon curd recipe rises above the rest! It's a thick, silky, bracingly tart spread you'll want to make every time life sends you lemons.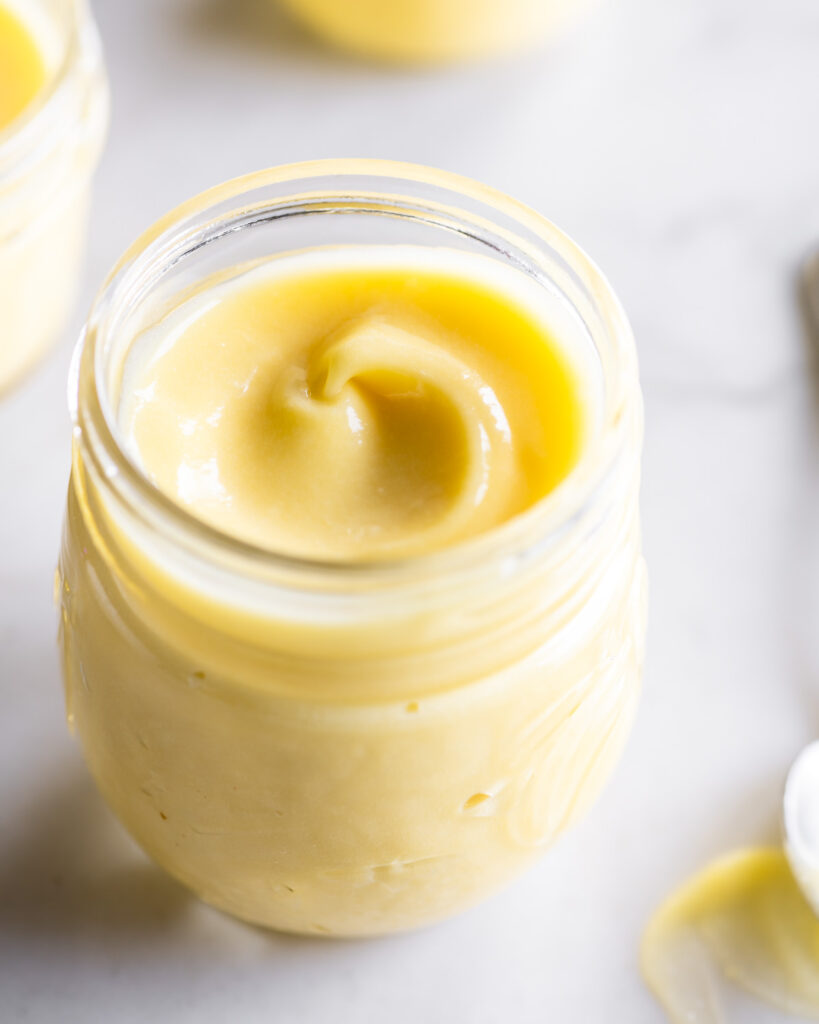 what makes this the best lemon curd recipe?
Whole eggs and egg yolks: I use whole eggs in the lemon curd to give a plush, custardy consistency. For more richness and a deeper color, I also use a few yolks. This mix gives the best of both worlds: intense color, flavor and a pudding-like texture.
Big strips of lemon zest: I like the silky smooth texture of lemon curd without small pieces of zest interrupting it. You could grate zest and strain it out, but it's more of a hassle to strain. Instead, I use strips of lemon zest that add depth of flavor and are easy to remove.
Never grainy: Use a double boiler for gentle heat, whisk constantly, and monitor the temperature while you cook the curd (don't let it exceed 185°F). Follow these steps and you don't have to worry about your lemon curd secretly turning grainy in the fridge!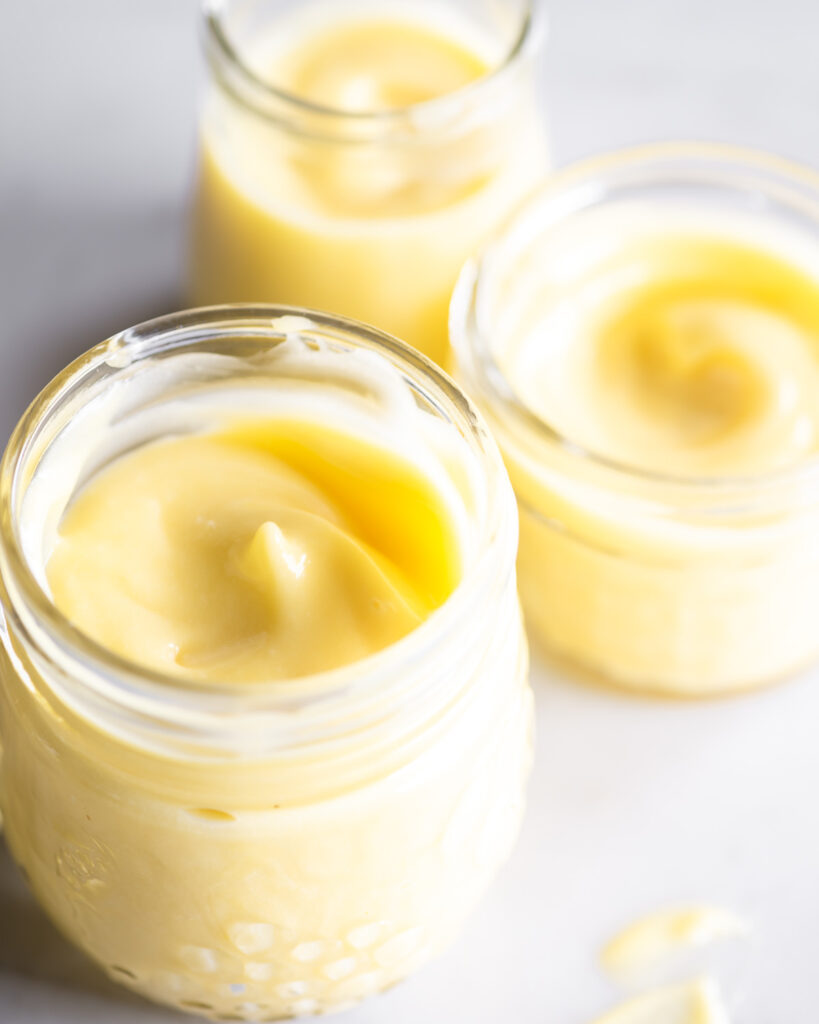 Butter is added at the end: Butter is an emulsion of water and fat, which can break by melting and overheating. Too much heat will also degrade its delicate flavors. For an ultra-creamy lemon curd, I blend cool butter into the warm curd so it stays emulsified and non-greasy. The velvety sheen and luscious mouthfeel are due, in large part, to whisking in the cool butter. The curd has the added benefit of complex buttery flavors.
Ultra-smooth texture: This is because I always strain my lemon curd. It's totally optional, but even if the lemon curd looks smooth and perfect, chances are good you'll find small bits of egg in the strainer. It's a quick and easy step that makes a big difference in the quality of your lemon curd.
Non-reactive bowl: The acids in the lemon juice will react with copper or aluminum, discoloring the lemon curd and giving it a metallic taste. Use a glass, ceramic or stainless steel bowl when you cook the eggs, sugar and lemon juice to avoid this problem!
Quick and easy: This is an easy lemon curd recipe that can be made, start to finish, in 15 minutes. Simply whisk the ingredients, gently cook, strain and blend in the butter. The hardest part is waiting for it to chill (and fully thicken)-- but it's delicious warm, too!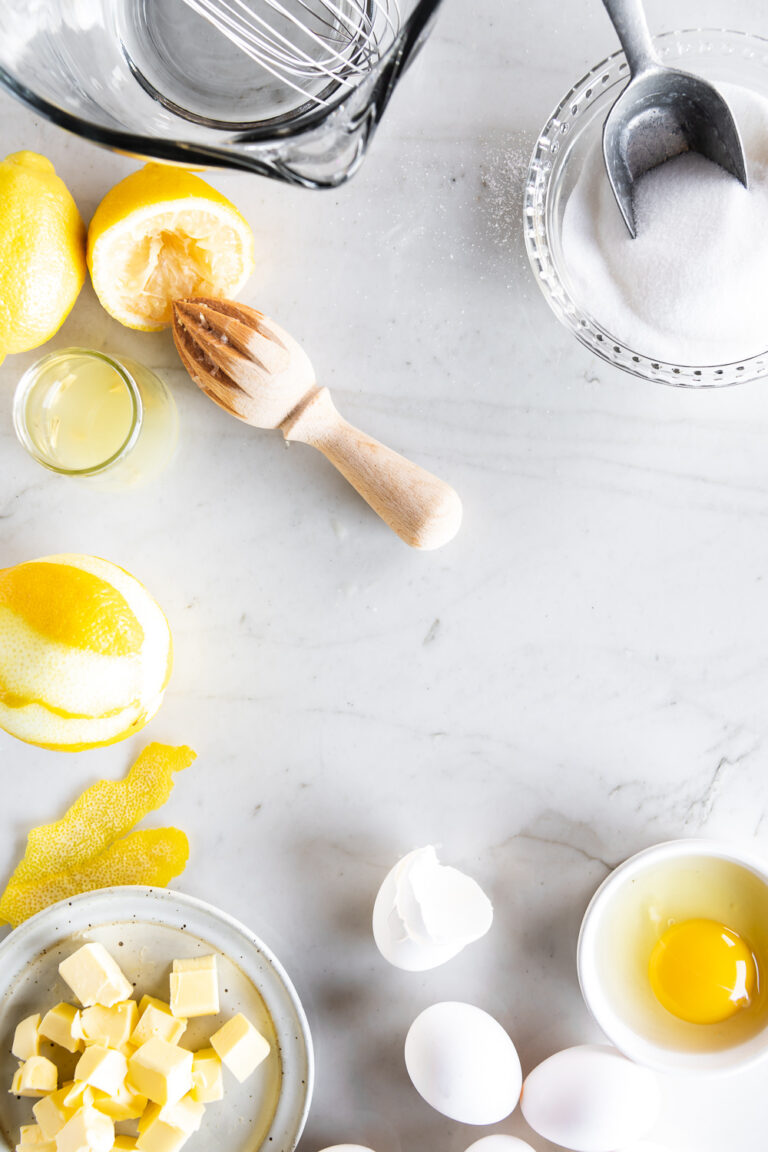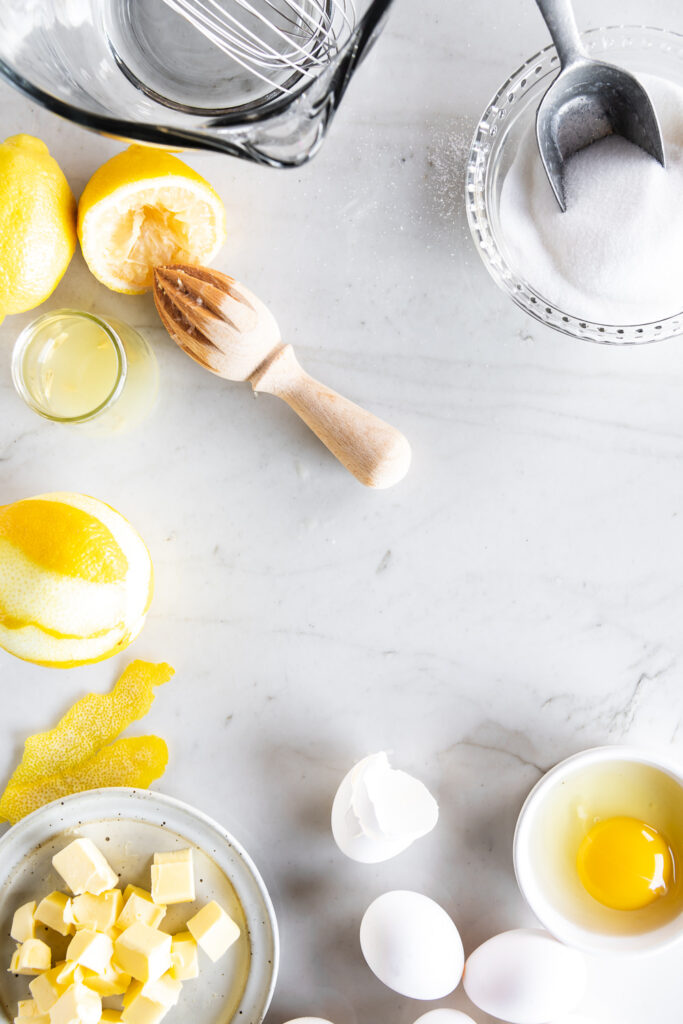 how to make lemon curd:
Combine eggs, egg yolks, sugar, salt, lemon juice and lemon zest in a non-reactive bowl.
Gently cook over a double boiler, whisking often, until mixture thickens and reaches 170°F.
Strain into a blender and, with the blender on low, slowly add a cube of butter at a time until well mixed and smooth.
Chill in the refrigerator for at least 2 hours, but preferably overnight. Lemon curd will thicken considerably as it chills.
how to make meyer lemon curd:
Meyer lemons are slightly less acidic than regular lemons, and are a little more aromatic and floral. In this lemon curd recipe, you can substitute Meyer lemons in place of regular lemons without changing a thing. The Meyer lemon curd will be a little softer and less bracingly tart-- but still well balanced, super fragrant and delicious!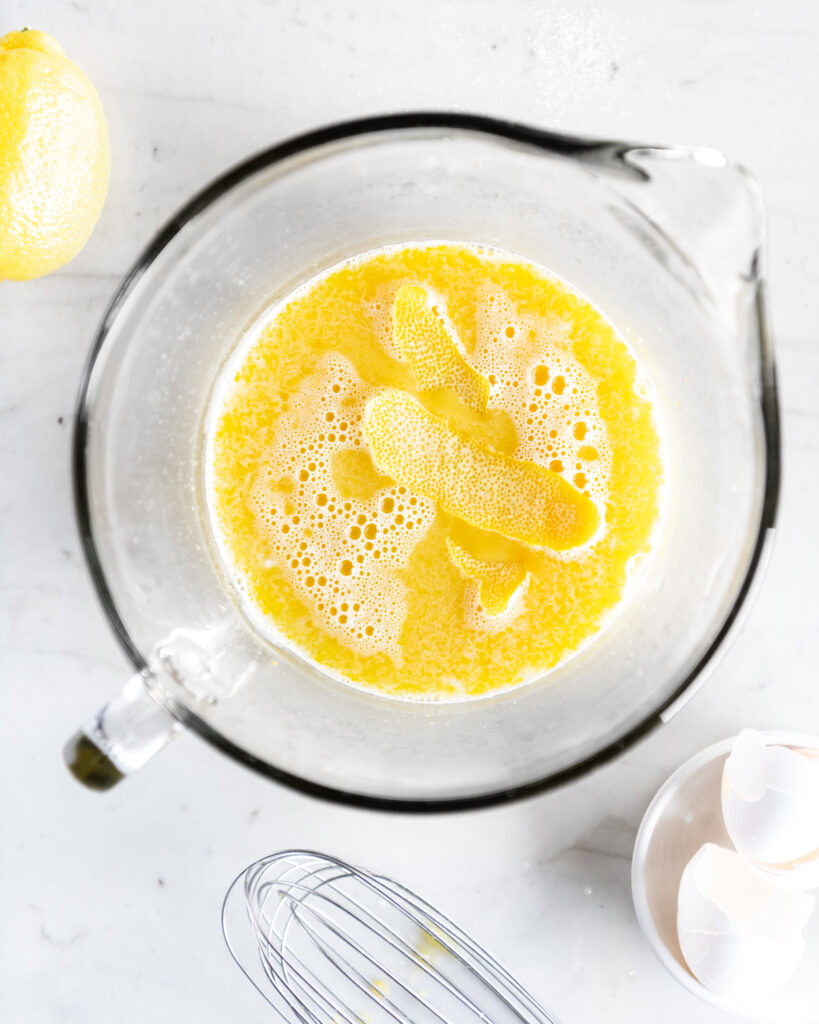 watch the video to learn how to make lemon curd:
how to use homemade lemon curd:
As a dip for fresh berries
Spread on scones, pound cake, shortcakes and toast
Swirled into yogurt or cottage cheese
Used in a tart filling
Poured on top of your favorite cheesecake
Layered in a trifle
As a dip for buttery shortbread cookies
Spooned into thumbprint cookies
Layered in a granola berry parfait
Dolloped on a Dutch baby
Piped into the center of cupcakes
Spooned on top of a pavlova
Drizzled on top of ice cream
Mixed into whipped cream or frosting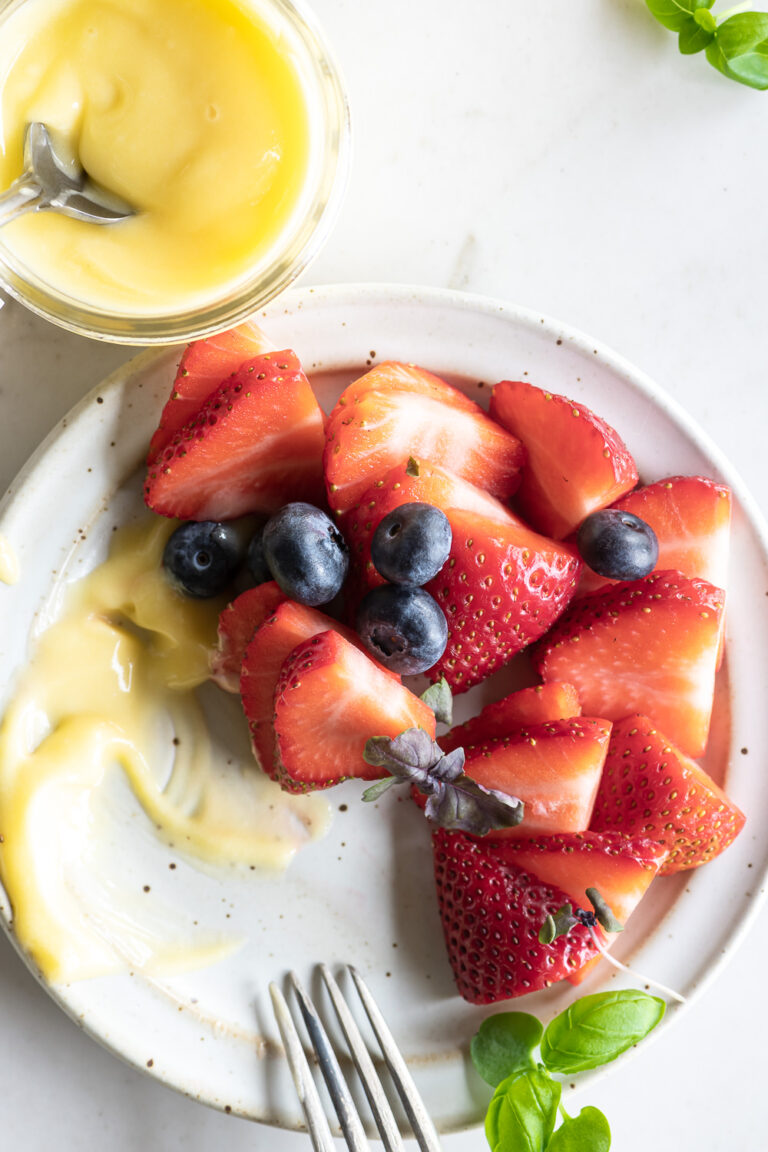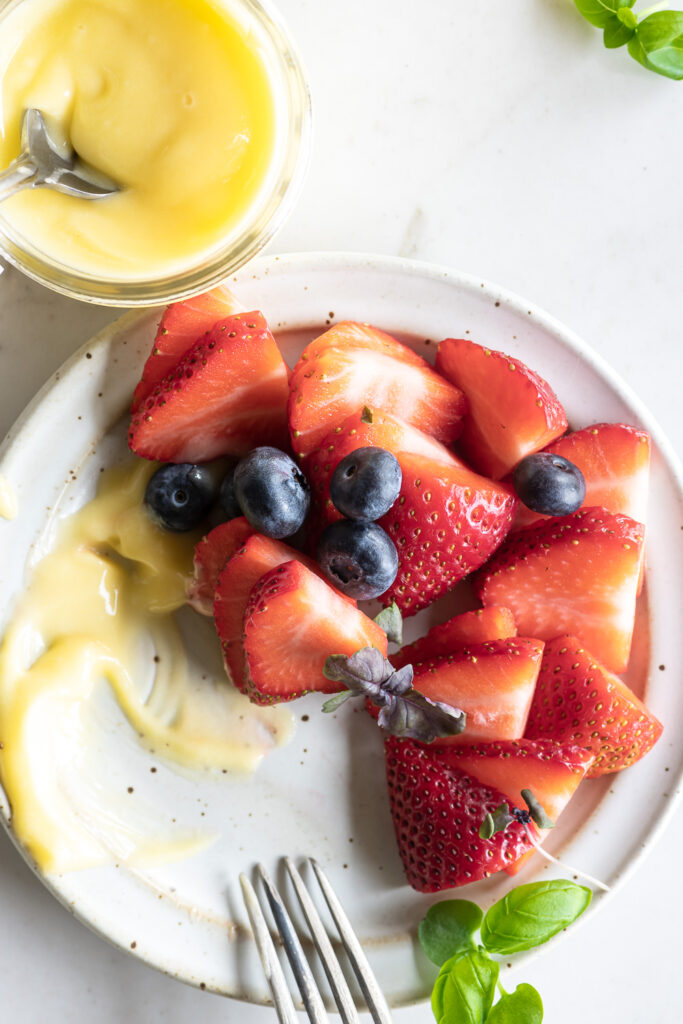 how to store lemon curd
Lemon curd will keep, refrigerated, for up to 1 week. Lemon curd freezes beautifully and can be frozen for up to 3 months. Thaw it overnight in the refrigerator.
why is my lemon curd grainy?
Grainy or gritty lemon curd comes from curdled (over-coagulated) eggs, as a result of overcooking. The easiest way to prevent curdling is to use a double boiler to slow the rate of cooking-- and to monitor the temperature with a thermometer. With direct heat, the curd can simply get too hot, too fast and by the time you notice it has thickened, the temperature has already gone too high.
For this lemon curd, the critical temperature is around 185°F. The egg proteins will curdle and, even if the lemon curd looks smooth when it's hot, it will be grainy once chilled. Use slow and gentle heat, stir constantly, and monitor the temperature and you'll have lusciously smooth lemon curd, every time.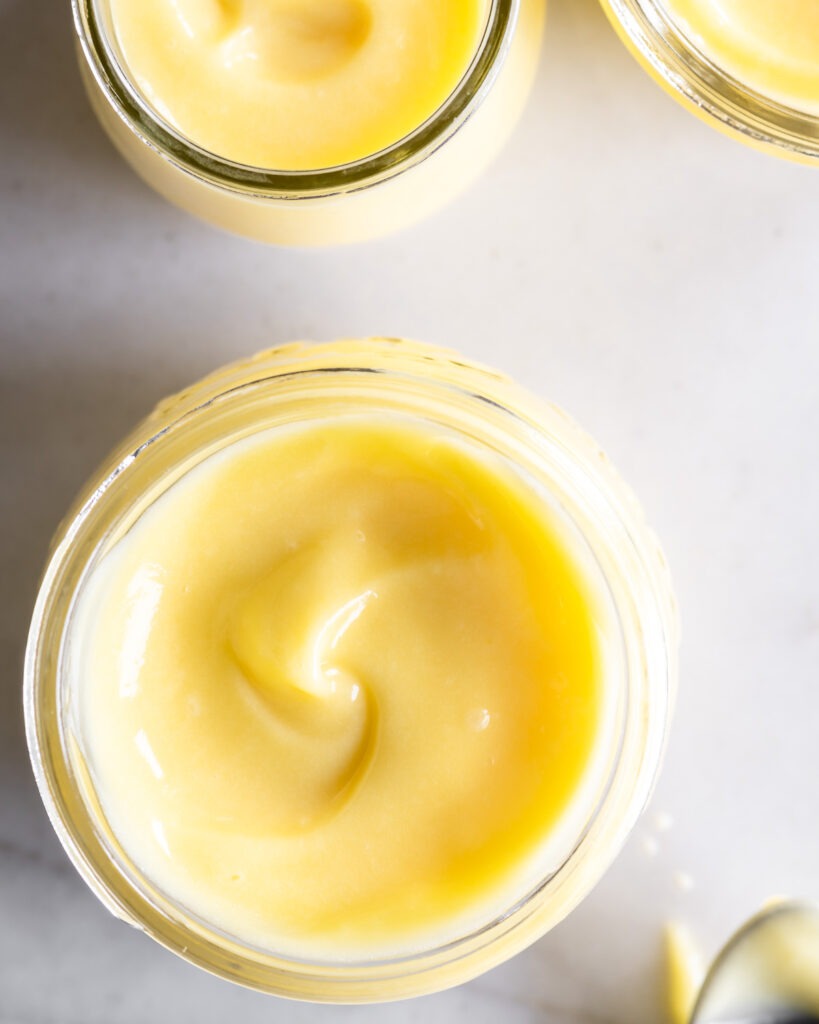 more tips for homemade lemon curd:
Glass and ceramic bowls will take much longer to heat up and cook the curd compared to stainless steel. Don't be surprised if the cook time is more like 15 minutes to reach 170°F. On the bright side, it's harder to overcook and you're less likely to accidentally curdle the eggs.
Make sure the strips of lemon zest don't have any white pith attached to them, or your lemon curd will be bitter. For the best results, use a sharp vegetable peeler to remove thin strips of zest.
It's totally optional to use a blender. I find the texture is silkier when I incorporate the butter via blender. But if you don't have one or you'd rather not get it out, simply whisk in the butter cubes by hand.
fresh summer desserts to try!
cheesecake parfait with berries and crumbled gingersnaps
Print
how to make lemon curd
This luscious homemade lemon curd is an addicting balance of sweet, tart and rich. Enjoy this silky spread on baked goods, fruit desserts, or straight from the jar.
Author:
Prep Time:

5 minutes

Cook Time:

7 minutes

Total Time:

12 minutes

Yield:

1 ¾ cup

Category:

Dessert

Method:

Stovetop

Cuisine:

American

Diet:

Gluten Free
Ingredients
3

large eggs plus 2 yolks

¾ cup granulated sugar

¼ tsp kosher salt

2 two-inch strips of lemon zest

¾ cup freshly squeezed lemon juice

6 tbsp cold unsalted butter, cubed
Instructions
Place eggs, yolks, sugar and salt in a medium stainless steel, glass or ceramic bowl and whisk to combine. Whisk in zest and lemon juice.

Fill a small saucepan with an inch of water and bring to a gentle simmer. Place the bowl over top, making sure the bottom of the bowl doesn't touch the water. Cook mixture for 5- 6 minutes (see note*), or until thickened, whisking constantly. When ready, the curd will register 170°F on an instant read thermometer (don't exceed 185°F), it will coat the back of a spoon and your finger will leave a clear path through the curd.

Strain into a blender. Turn blender to low speed and add one piece of butter at a time, waiting until the butter is fully incorporated before adding the next one. Alternatively, strain into a bowl and whisk butter in by hand. Transfer lemon curd to a clean jar. Chill in the refrigerator for at least 2 hours to set and fully thicken.
Notes
*It will take more like 15 minutes if using a glass or ceramic bowl. Be patient and don't crank the heat-- slow and gentle heat is the key to preventing curdling.
Keywords: homemade lemon curd