Sourdough french toast is my favorite everyday french toast recipe. The nooks and crannies of the sourdough soak up the rich custard, giving you soft, sweet, buttery bites of french toast. The edges fry up crispy, the center stays soft and rich.
The best part though? That sourdough tang. It balances the decadent custard and adds so much great flavor. This is the absolute best way to use up leftover sourdough bread. The custard recipe can easily be halved (see below) if you just have a few slices to fry up.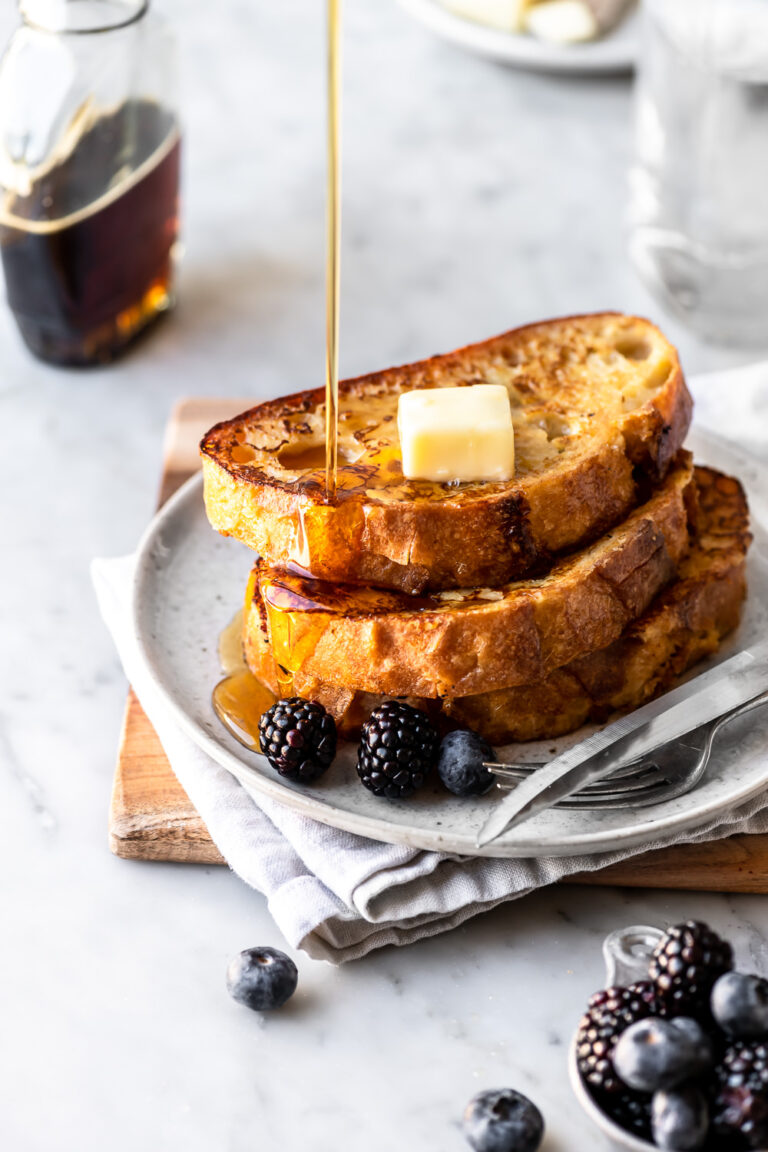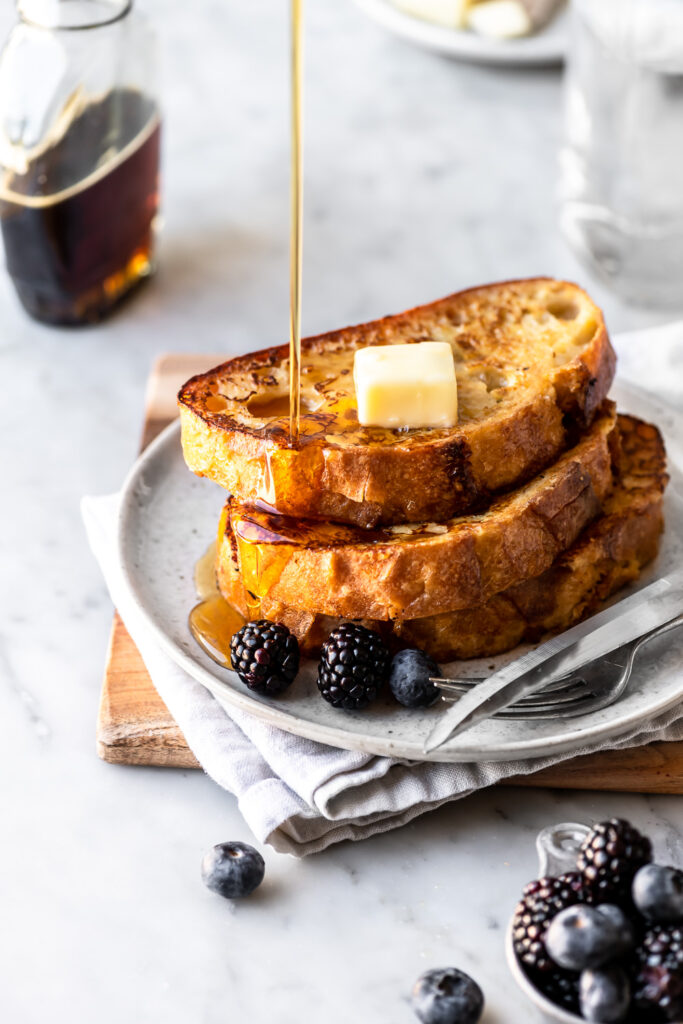 I've made this french toast custard with no flavoring and the fried toast is buttery, tangy and delightful-- but the vanilla bean seeds, extract and pinch of cinnamon really make it decadent. That and the maple syrup, of course.
I love to make my french toast with brown sugar-- why not add caramel-y rich flavors wherever possible? But feel free to use granulated sugar if that's all you have on hand.
how to make sourdough french toast
Slice french toast into 1-inch thick slices
Make the custard: Combine eggs, milk, cream, brown sugar, vanilla, cinnamon and salt
Soak the sourdough slices until fully saturated
Fry in butter, about 4 minutes per side
Keep warm in the oven at 250°F
Serve with butter, maple syrup and all the toppings!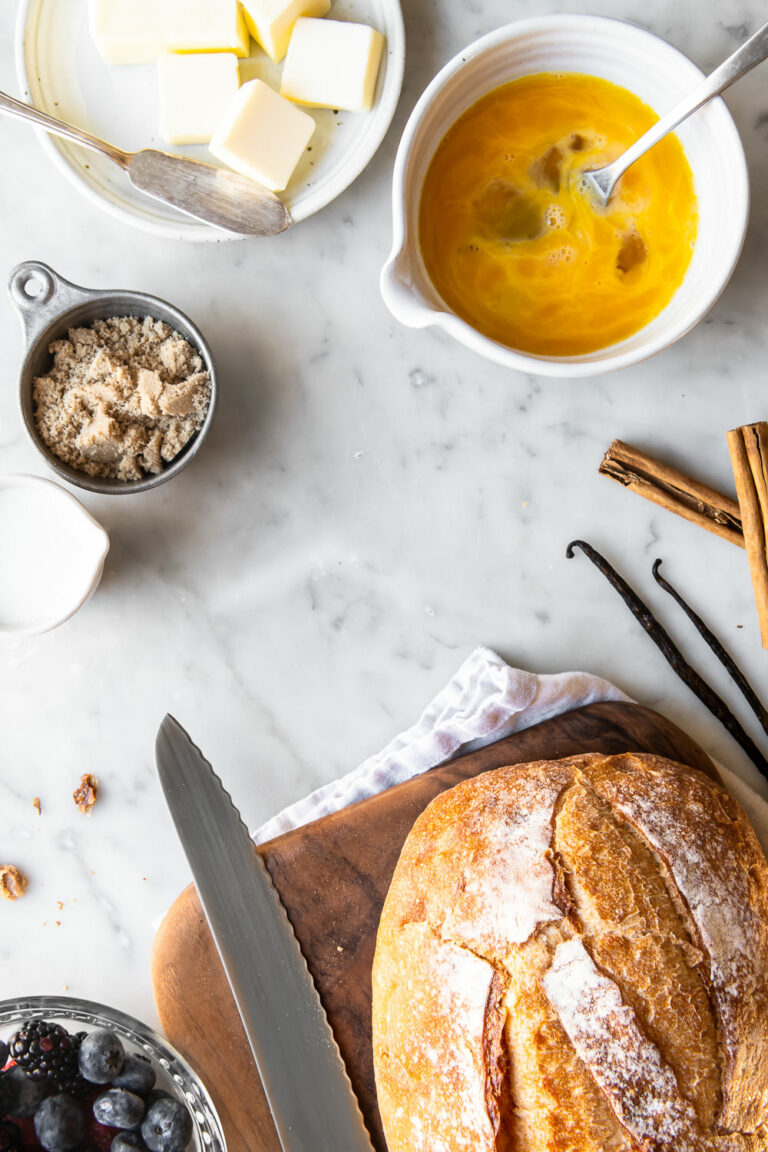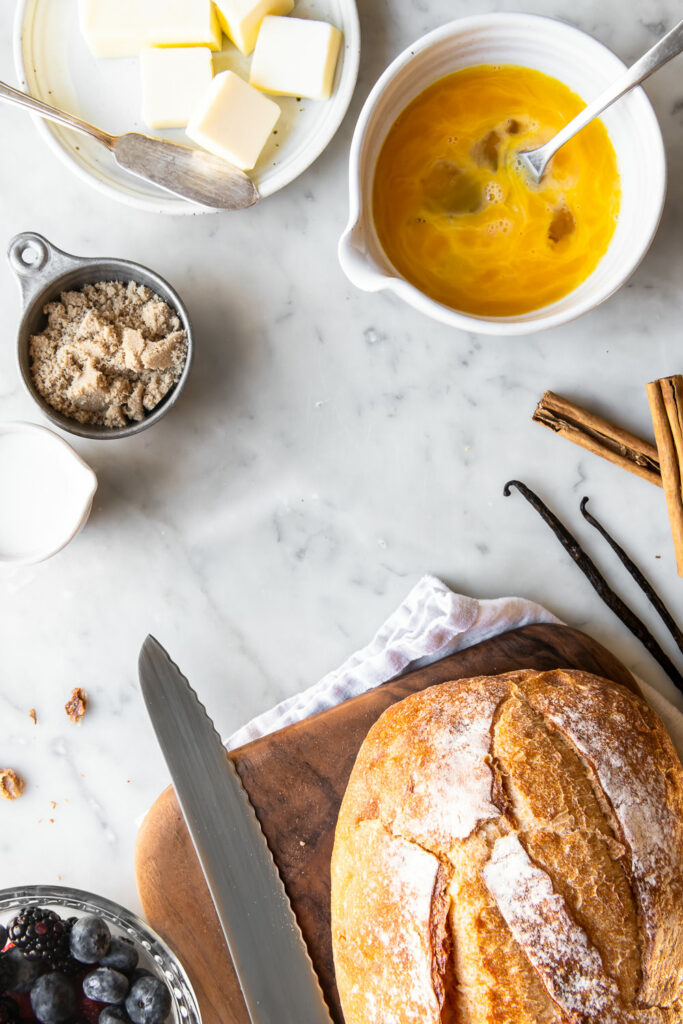 what you need for sourdough french toast
Sourdough bread
Milk
Cream
Eggs
Brown sugar
Vanilla beans
vanilla extract
Cinnamon
Salt
why this is the best sourdough french toast:
Artisan sourdough bread: Use a loaf of good sourdough bread here, not pre-sliced sandwich bread! We want thick slices and the craggily texture from artisan bread. Don't worry about the crust, it will soften with the soak and be delightfully chewy once fried.
Flavorful, rich custard: We flavor the french toast custard with brown sugar, cinnamon and real vanilla bean seeds, and use a solid dose of heavy cream. The flavorings are simple, but impactful. Feel free to add orange zest or a splash of Bourbon for more complexity! The heavy cream is key to richness and is so important in producing a tender, fluffy, incredibly soft french toast. We need the fat, so whatever you do, don't count the calories and opt for skim milk.
The soak: Let the slices soak for at least 45 seconds per side. We want the bread to become fully saturated in the custard. They're fairly thick slices and the last thing you want is a dry, bready center. The sourdough bread is pretty resilient, so I don't worry too much about it falling apart-- it's more important to get it really soaked. And then make sure to let the excess custard drip off. No one wants eggy edges!
Butter: Fry the bread in real butter! It adds so much flavor, which is key in a recipe with so few ingredients. Keep the temperature on medium and lower as you go to avoid burning the toast and the butter. If you find the butter is burning after a while, just wipe out all of the old bits of bread and residue from the pan and start fresh. Tip: If you have clarified butter on hand, that's the best option of all!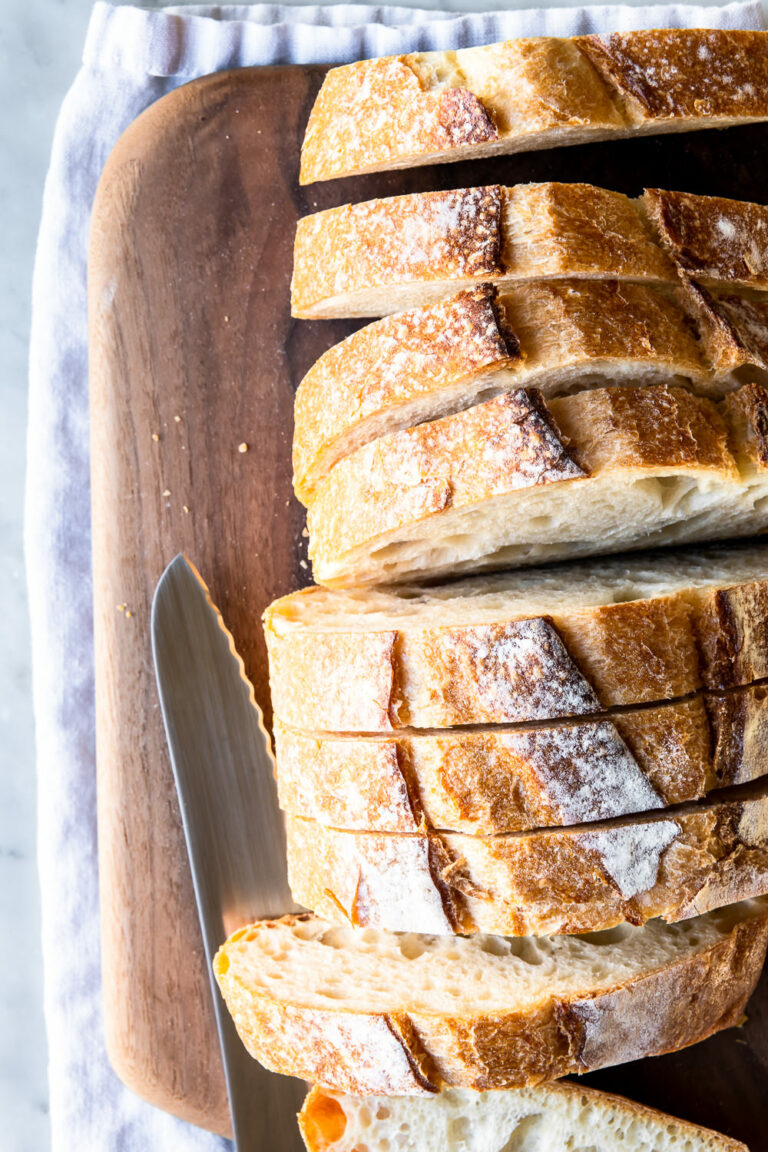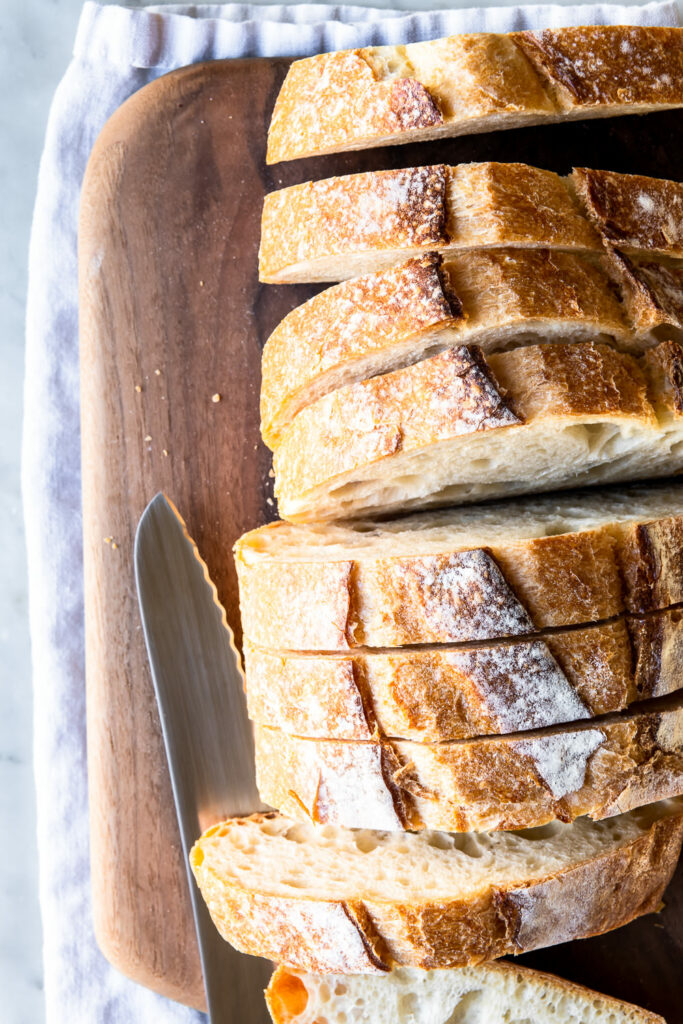 make a small batch of french toast!
This french toast custard can easily be halved so you can just soak half a loaf of sourdough bread, or about 4 slices. Honestly, you could also quarter it, but if you're going through the motions you might as well soak and fry up whatever random bread you have. The leftovers are delicious and someone will love it!
halved french toast custard recipe:
½ cup whole milk
¼ cup heavy cream
2 eggs
2 tbsp brown sugar
1 tsp vanilla extract
½ vanilla bean, split and seeds scraped (optional)
⅛ tsp ground cinnamon
¼ tsp kosher salt
french toast toppings:
Fresh berries
Sliced bananas
Sliced stone fruit (peach, apricot, plums)
Roasted fruit (try these roasted strawberries and peaches!)
Apples or pears sautéed in butter, cinnamon and sugar
Whipped cream or whipped maple mascarpone
Drizzle of Maple syrup
Powdered sugar
Dollop of lemon curd
Spoonful of jam or quick homemade compote
Pat of salted butter
Smear of peanut butter or your favorite nut butter
Candied nuts (walnuts, pecans)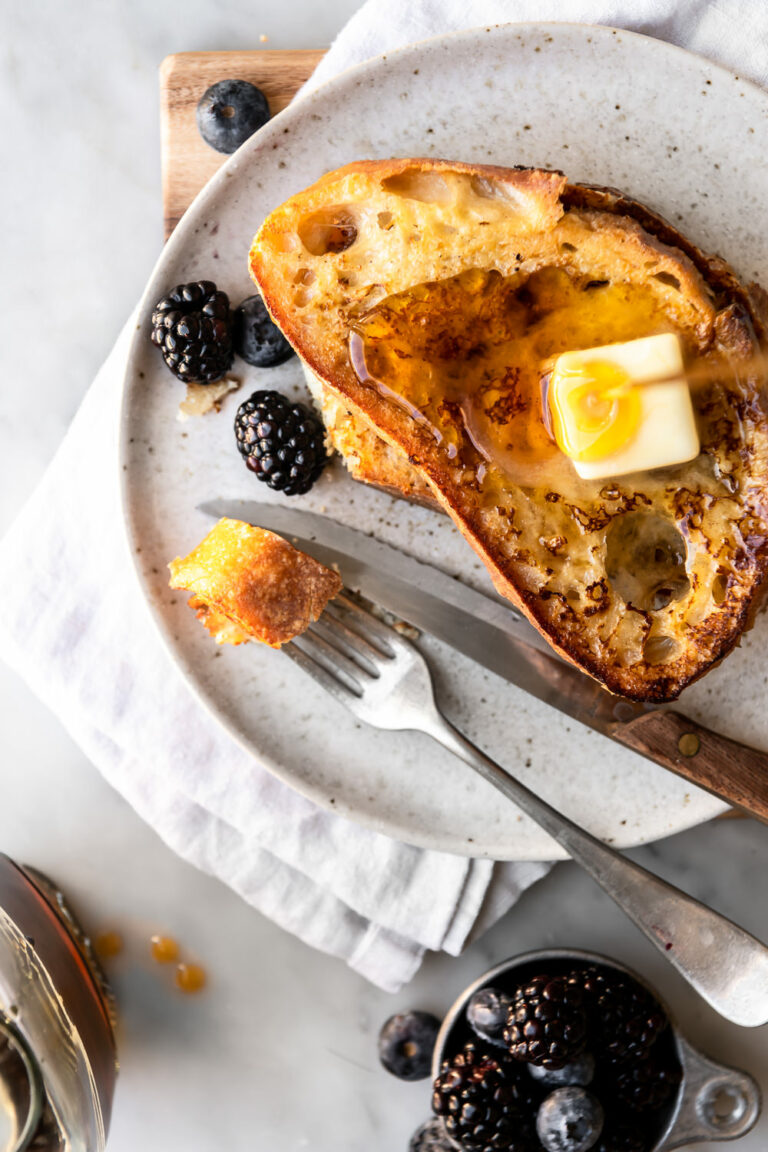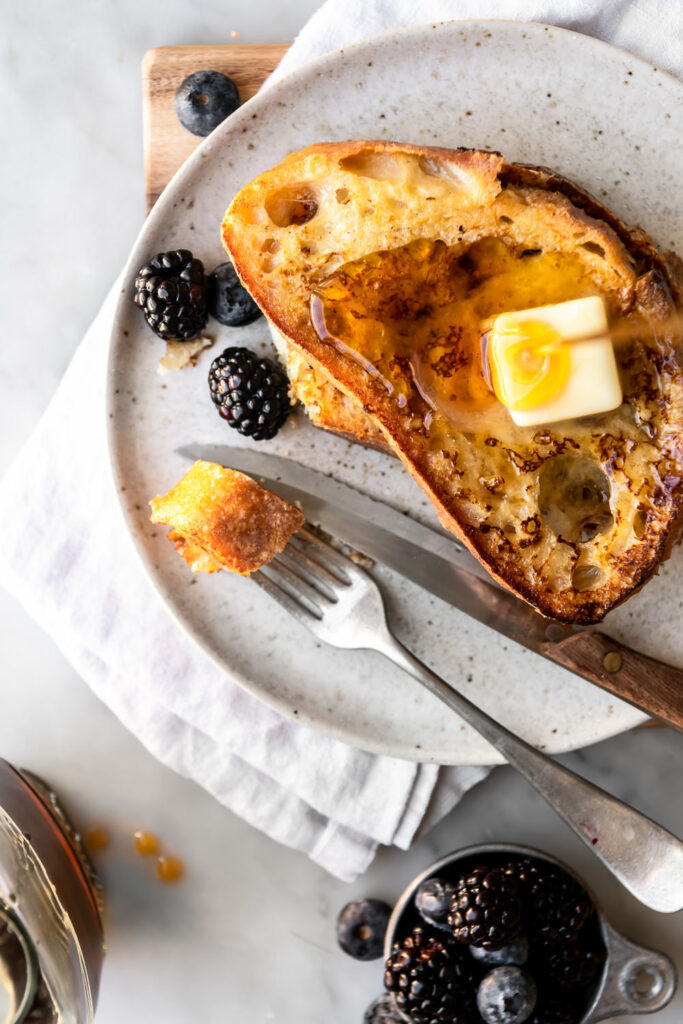 how to keep french toast warm:
I always preheat my oven to 250°F and keep the just-fried french toast slices in there while I finish frying the remaining batch. Place the slices on a cooling rack placed over a sheet pan so the edges stay crispy and not soggy. They'll keep for up to an hour.
more breakfast and brunch recipes to try!
basic sourdough crepes with pistachio cinnamon sugar
yeasted waffles with whipped maple mascarpone
smoked salmon toast with avocado and pickled fennel
buckwheat crepes (sweet or savory)
buttermilk donuts with raspberry glaze
homemade bloody mary mix: hot and spicy
Print
sourdough french toast
This sourdough french toast is decadent, buttery and full of sourdough tang. Flavored with vanilla beans and cinnamon, you can't go wrong!
Author:
Prep Time:

10 minutes

Cook Time:

30 minutes

Total Time:

40 minutes

Yield:

8 slices

Category:

Breakfast

Method:

Stovetop

Cuisine:

American

Diet:

Vegetarian
Ingredients
1 cup

whole milk

½ cup

heavy cream

4

eggs

¼ cup

brown sugar

2 tsp

vanilla extract

1

vanilla bean, split and seeds scraped (optional)

¼ tsp

ground cinnamon

½ tsp

kosher salt

1

lb loaf crusty sourdough bread, sliced into

eight

1-inch thick slices
butter, for cooking (clarified is ideal)
maple syrup, for serving
fresh fruit and berries, for serving
Instructions
Preheat oven to 250°F. Place a wire rack on a baking sheet and set aside.
Combine milk, cream, eggs, brown sugar, vanilla, vanilla bean seeds (if using), cinnamon and salt in a wide, shallow container like a baking dish. Whisk until well blended.
Place bread slices in egg mixture for about 45 seconds per side, until soaked but not falling apart. Use a slotted spatula or your fingers to carefully pick them up, let excess egg mixture drip off, and transfer to another baking sheet. Repeat with remaining bread slices.
Melt a small pat of butter in a large skillet over medium heat. Fry slices, working two at a time, until golden brown, about 3- 4 minutes. Flip and cook another 3- 4 minutes, lowering heat as needed to prevent burning. Transfer to wire rack and keep warm in the oven.
Repeat frying the bread, adding more butter to the pan and adjusting the heat with each batch. Serve warm with maple syrup and fruit.
Notes
Nutritional information is only an estimate. The accuracy of the nutritional information for any recipe on this site is not guaranteed.
Nutrition
Serving Size:

1 slice

Calories:

310

Sugar:

10g

Sodium:

497mg

Fat:

13g

Saturated Fat:

6.9g

Unsaturated Fat:

4.9g

Trans Fat:

0.3g

Carbohydrates:

37g

Fiber:

1.3g

Protein:

11g

Cholesterol:

120mg
Keywords: sourdough french toast