This wild mushroom pizza recipe is all about really great, crispy mushrooms and the perfect pizza crust. Combine that with a smattering of fresh herbs, garlic, and a handful of sharp cheese and you have the ultimate mushroom pizza!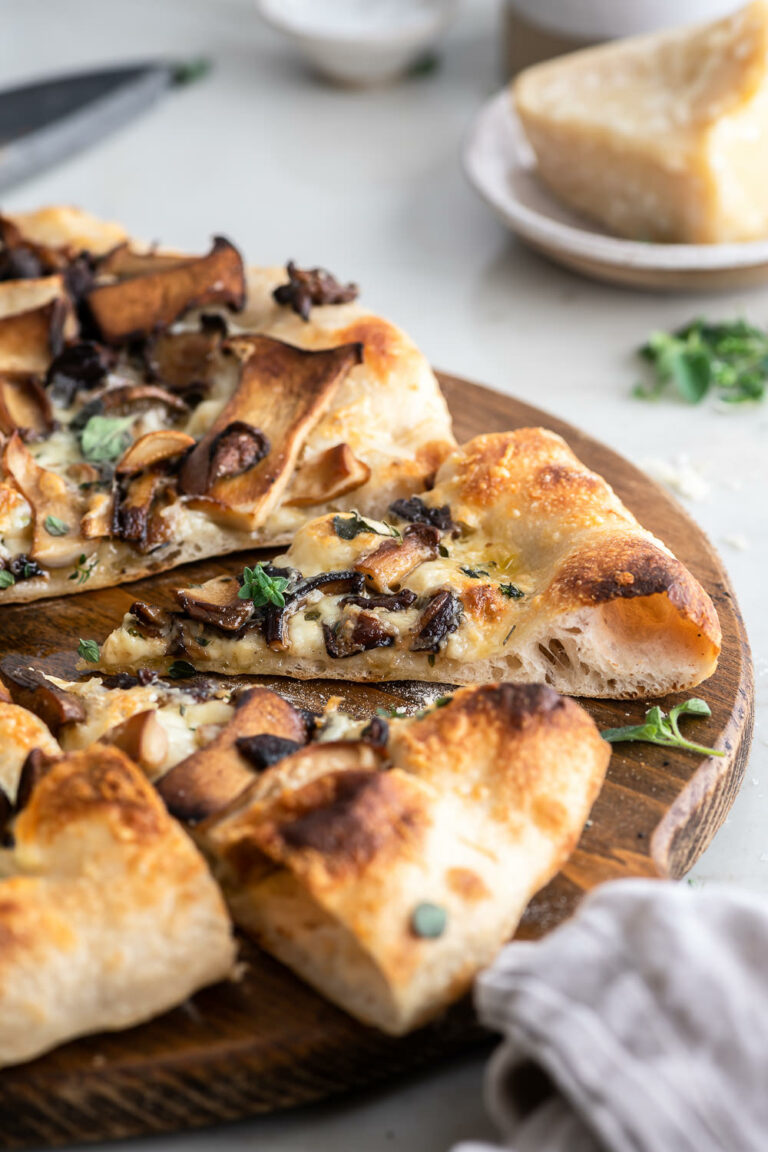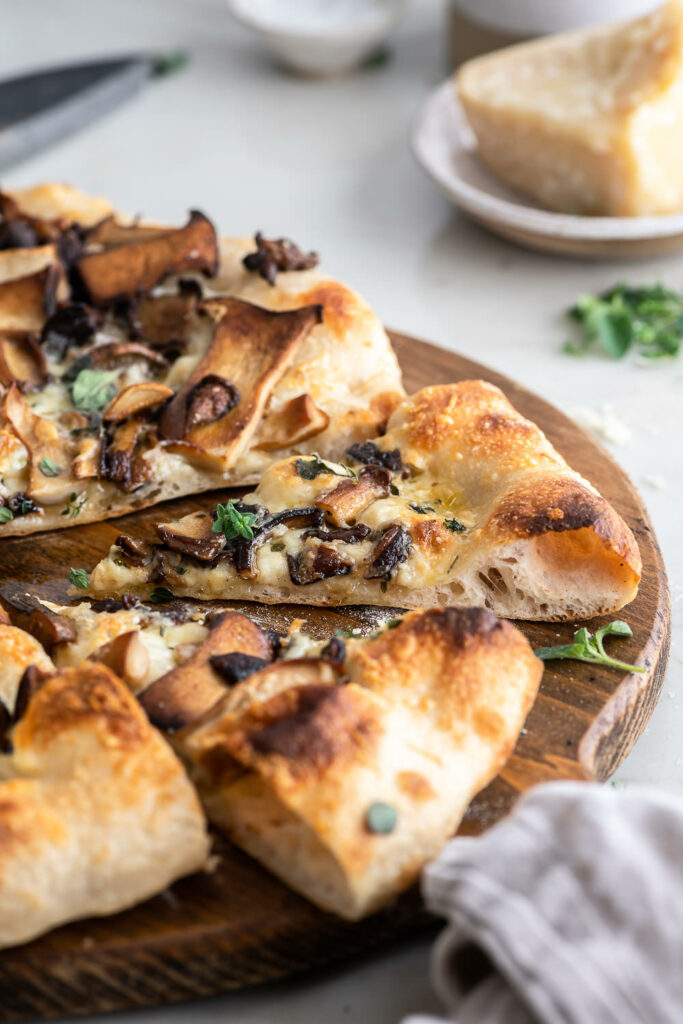 Growing up, I used to think of mushrooms as the spongy bland things that were meant to be avoided, at all costs, at the salad bar. Who wanted to eat those thick, raw things on their salad? They were definitely a no-fly zone, and it took a while for me to settle down and realize that mushrooms are actually amazing. They have an incredible ability to soak up flavor and transform into crispy, caramelized, meaty bites of goodness.
And the variety of mushrooms that have become readily available to us is all the more exciting. I encourage you to seek out really great mushrooms for this mushroom pizza, and then cook them well (translation: high heat and walk away).
The contrast of earthy, meaty, caramelized mushrooms and my favorite pizza crust recipe is out of this world. The textures, flavors, and beautiful simplicity of great ingredients come together to the best mushroom pizza you'll ever make!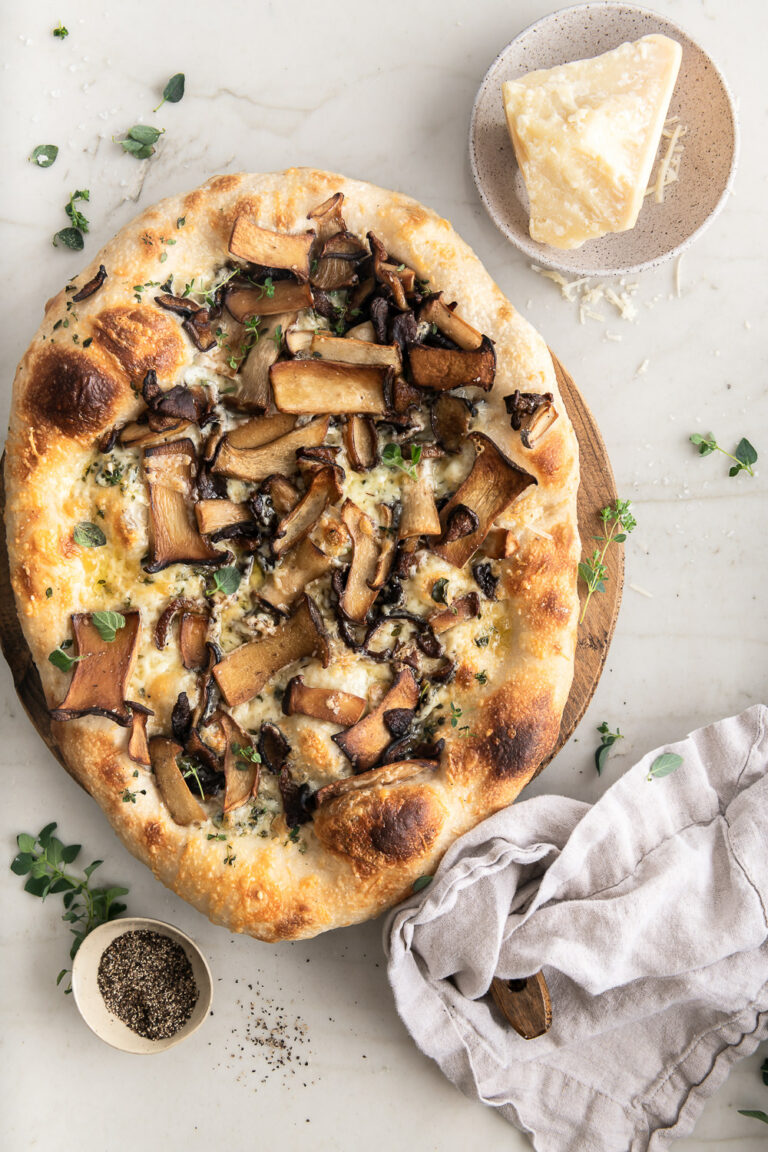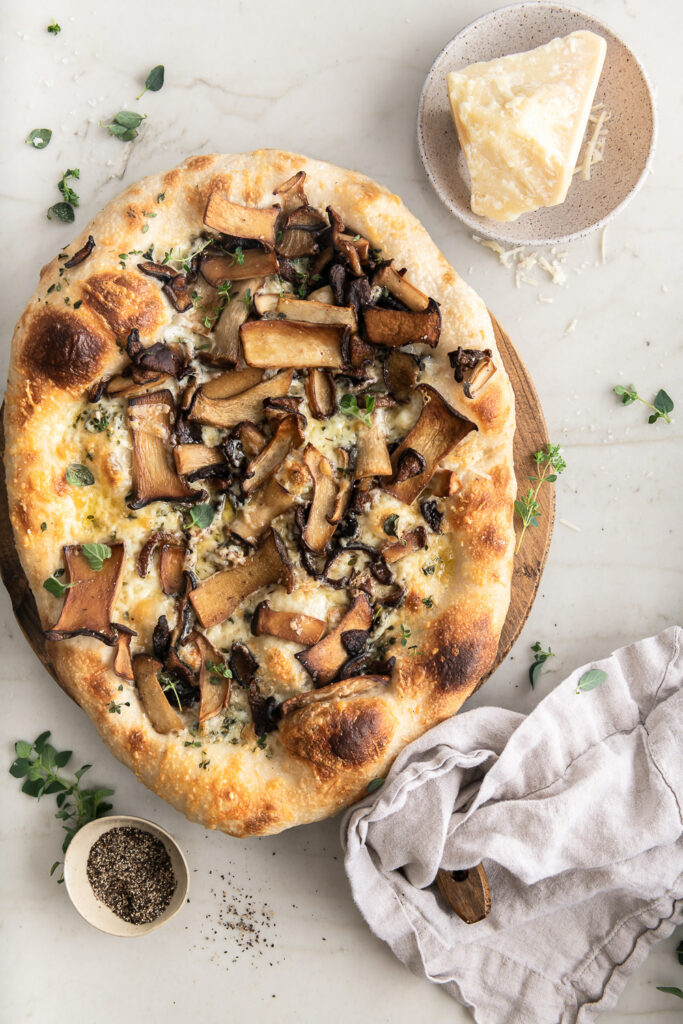 why is this the best mushroom pizza recipe?
Crispy mushrooms: Use the best mushrooms you can find. I love to use a variety of whatever I can find at the farmer's market, but portobellos, cremini and shiitake will all be great too. Just avoid white button mushrooms, which are bland and won't give you the fantastic earthy flavor and crispy, chewy texture we want. And take the time to cook the mushrooms in batches so they get crispy, browned and super flavorful. Don't rush this step! It's key to building flavor and texture for the wild mushroom pizza.
No tomato sauce: I think a white mushroom pizza is the best way to go if you're looking to really highlight the great flavor of mushrooms. The acidity of tomatoes detracts from the earthy depth and you lose a lot of the impact of wild mushrooms. Keep it simple with good olive oil and fresh herbs!
Garlic: Garlic and mushrooms and pizza are so perfect together. I prefer to keep the garlic subtle, rather than in big raw bites on the pizza, so it enhances the flavors but is pleasant for everyone. We cook the mushrooms with a whole garlic clove to add complexity without overpowering the flavors. If you love garlic, go ahead and add some thin slices to the pizza. You could also microplane a clove of garlic, mix it with the olive oil and brush it on the dough.
Sharp cheese: The combination of parmesan and fontina gives sharp, salty flavor and melty cheese to the mushroom pizza. Fresh mozzarella is creamy and great, but it can sometimes be bland. We've found that we prefer a stronger cheese to complement intense wild mushrooms.
Best pizza dough: This is KEY to making a great mushroom pizza. Use a great pizza dough. Ours is bubbly, chewy, crispy and full of yeasty flavors. If you've never worked with a high hydration dough, it takes a little getting used to but I promise the results are worth pushing yourself out of your comfort zone and trying something new!
what you need for this mushroom pizza recipe:
mushrooms (wild, if possible)
fontina
parmesan
garlic
fresh oregano
fresh thyme
olive oil
butter
kosher salt
black pepper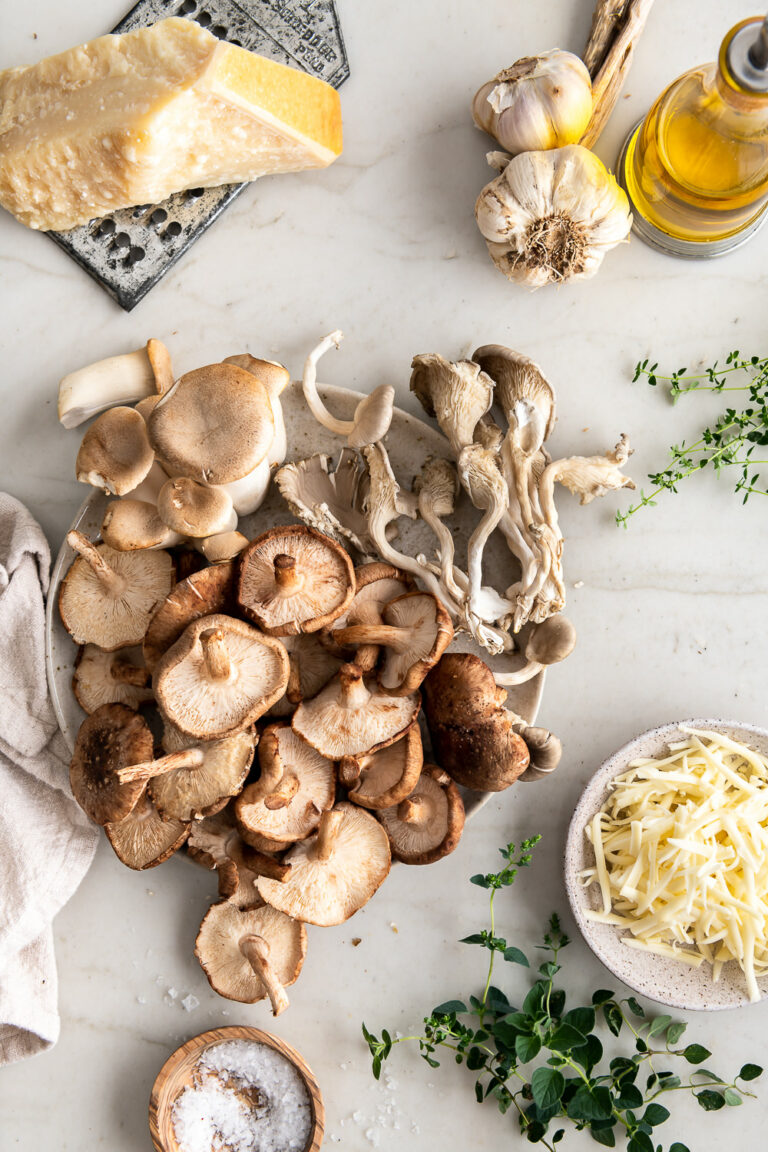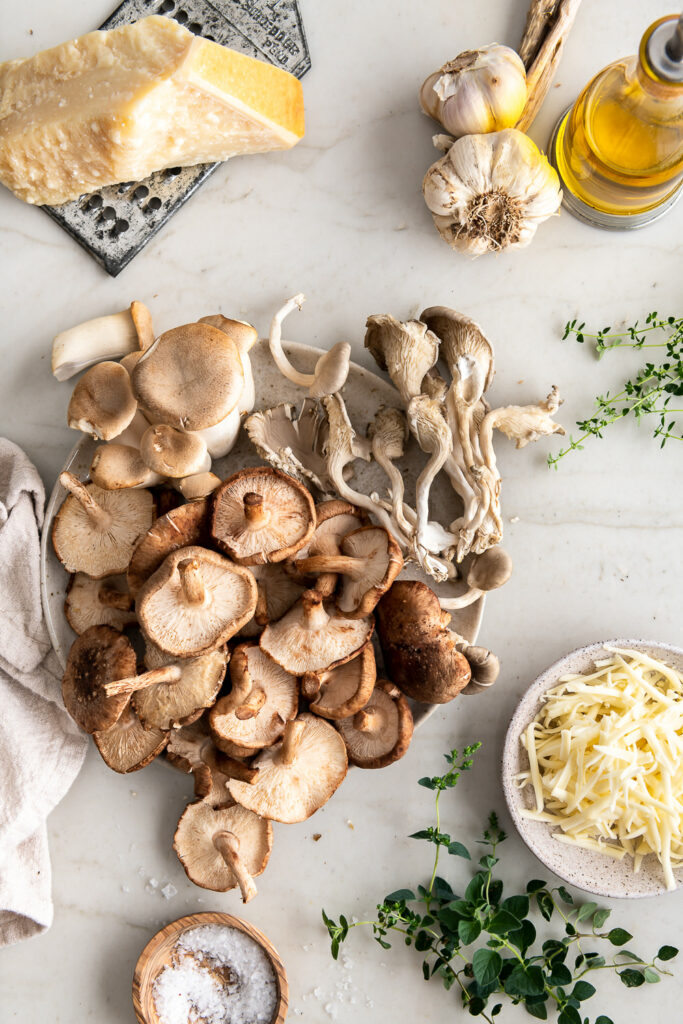 how to make mushroom pizza:
Preheat oven to 500°F for 45 minutes.
Shred the cheese.
Cook mushrooms, in 2 batches, until crispy and caramelized.
Shape dough into a 12-inch circle and brush with olive oil.
Sprinkle herbs, fontina, parmesan and mushrooms on top (jiggle peel often to prevent sticking and add more flour if needed).
Transfer to oven and bake for 5 minutes. Broil for 2- 4 minutes, until crust is charred in spots.
Let cool slightly, slice and enjoy!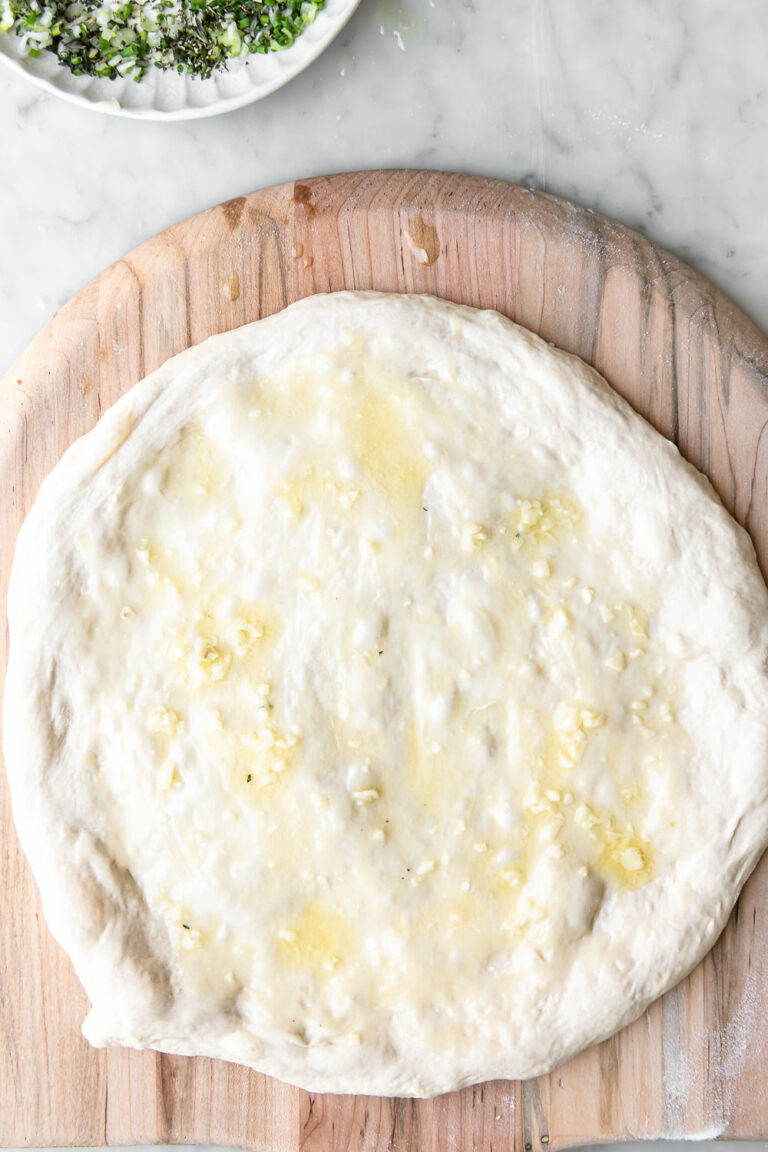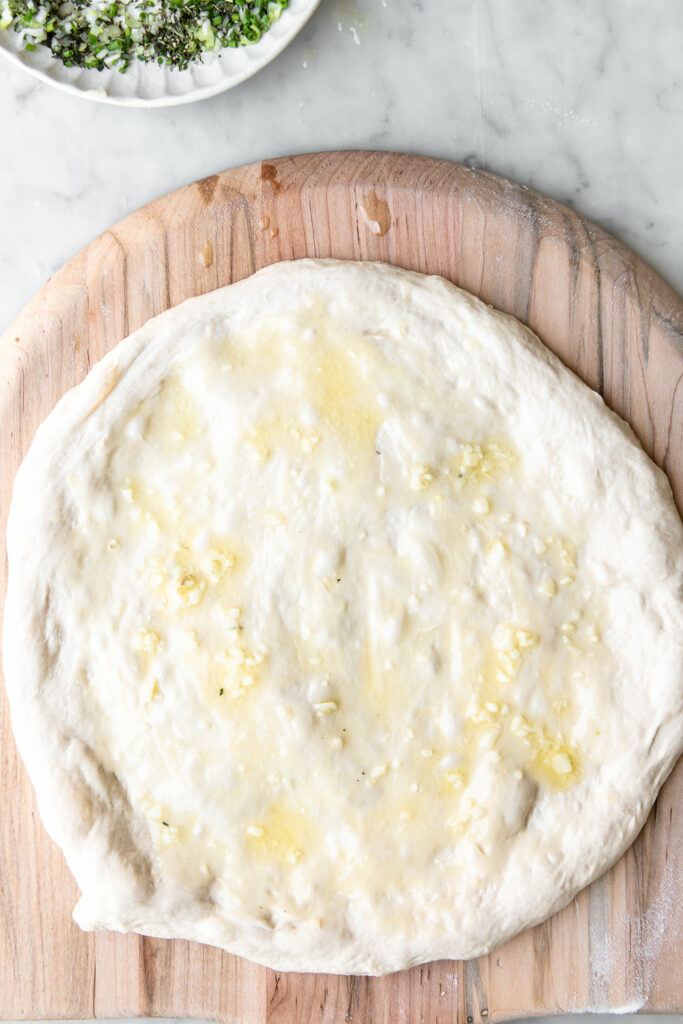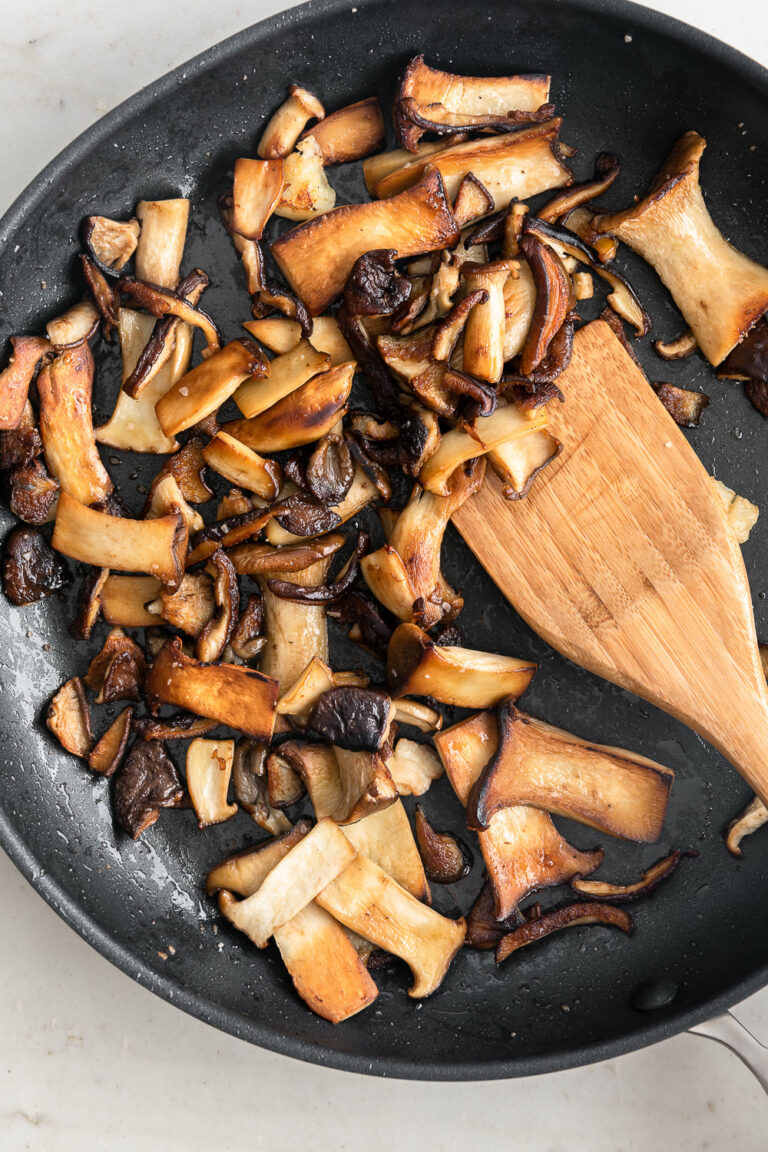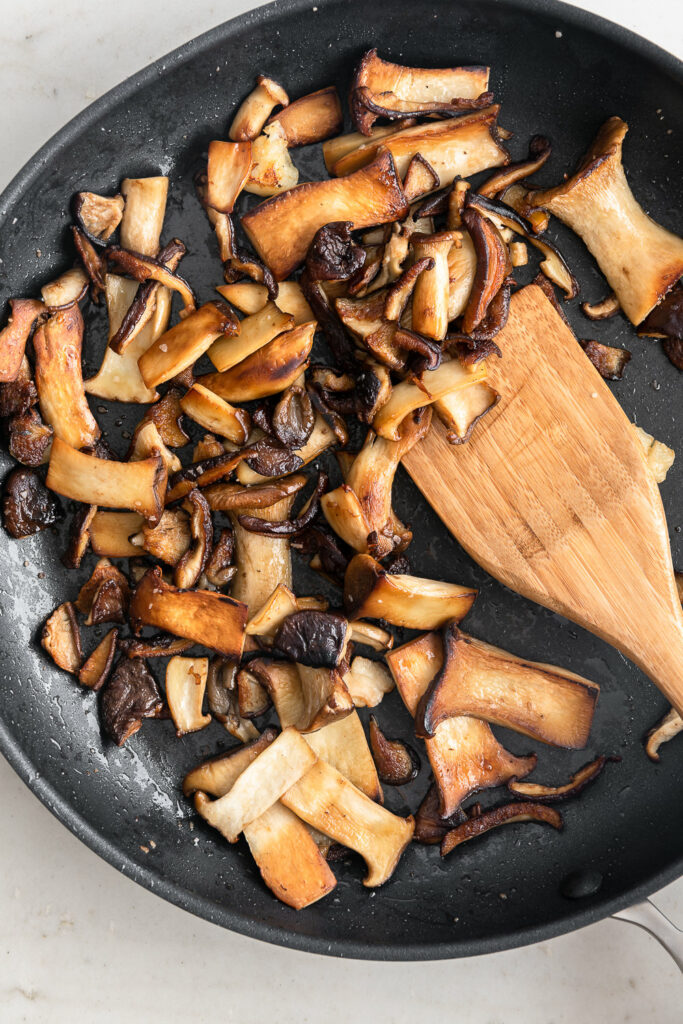 what kind of mushrooms go on pizza?
I love to use an assortment of wild mushrooms on this pizza. They add variety in texture, color, shape and flavor. Obviously, depending on where you live and the time of year, you can't always get your hands on wild mushrooms. Don't worry-- this pizza is delicious with mushrooms that are available year-round.
Here's a list of my favorite wild and cultivated mushrooms for pizza:
chanterlle
morel
oyster
black trumpet
lobster
king oyster
white beech
shiitake
portobello
cremini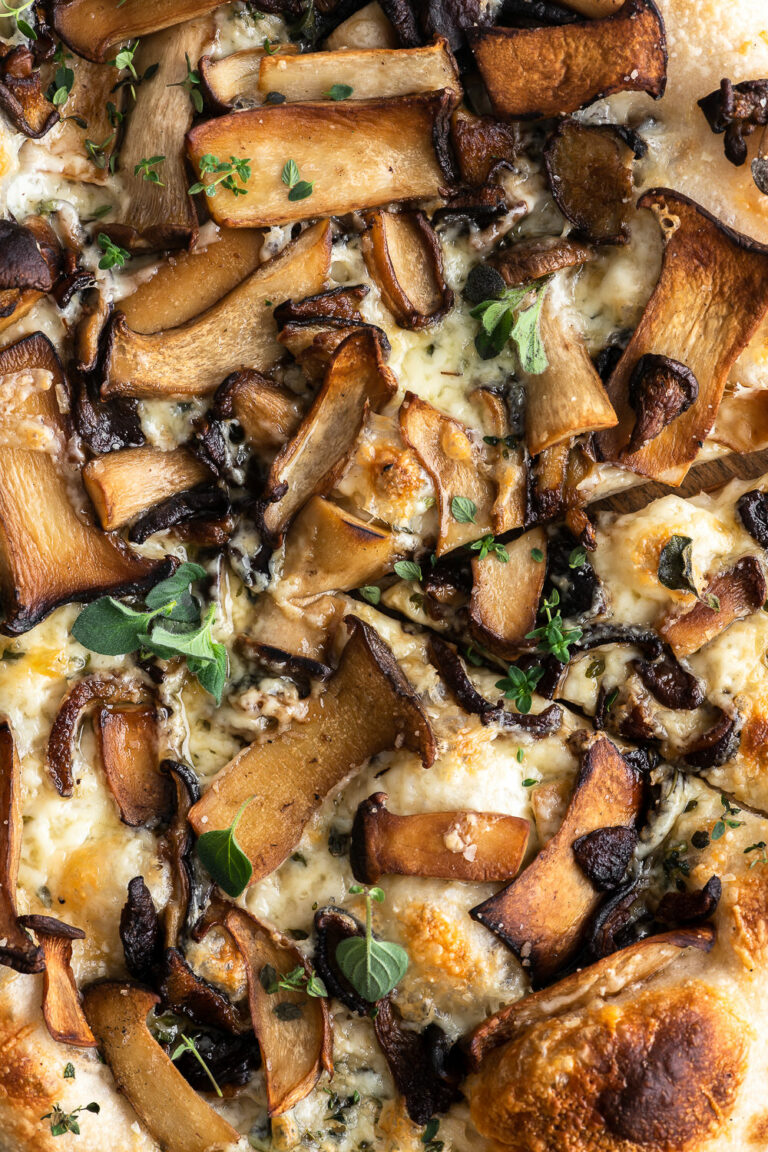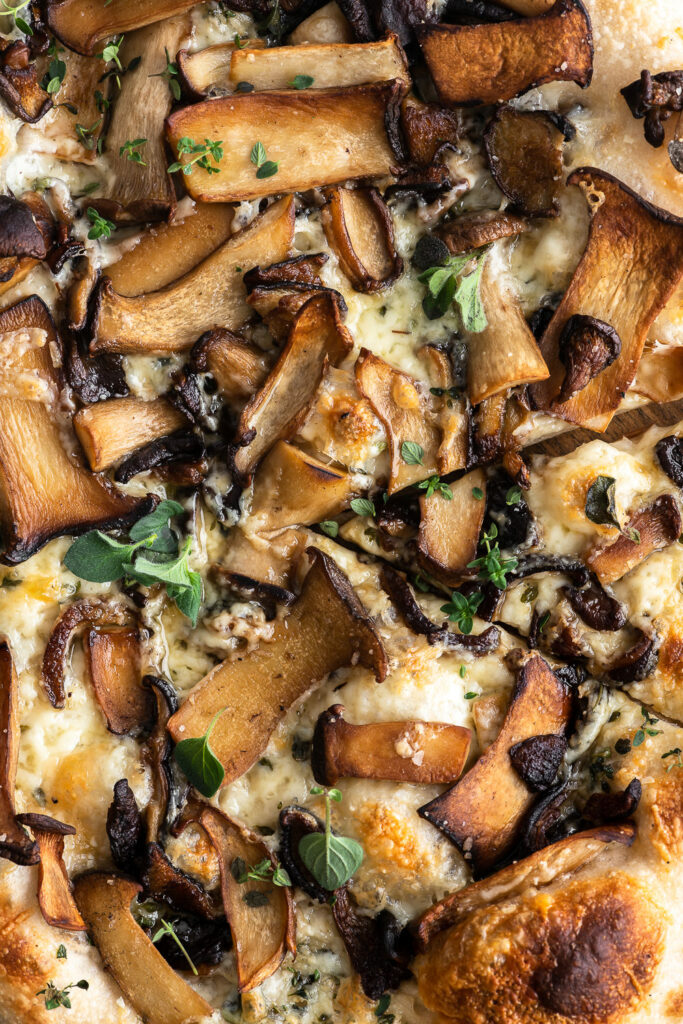 other toppings for mushroom pizza:
We love to keep this pizza simple and focused on great mushrooms. But if you want to add some protein, more vegetables, or a different cheese-- here are some toppings to go well with the white mushroom pizza!
sausage crumbles
chopped chicken
prosciutto
bacon bits
caramelized onions
sautéed spinach
fresh arugula
caramelized onions
goat cheese crumbles
dollops of ricotta
extra garlic
spoonfuls of pesto
how to reheat mushroom pizza:
My favorite way to reheat mushroom pizza is in the toaster oven. The oven works great too, but why preheat the whole thing for just a few minutes?
Slide the pizza slices on a piece of foil and reheat them for 5- 8 minutes at 350°F, or until the cheese is melted and the bottom is crisp.
You can also reheat the pizza in the air fryer!
mushroom pizza calories:
1 slice of this mushroom pizza (⅛th of the recipe) is 286 calories. Balance it out with a fresh salad and enjoy yourself!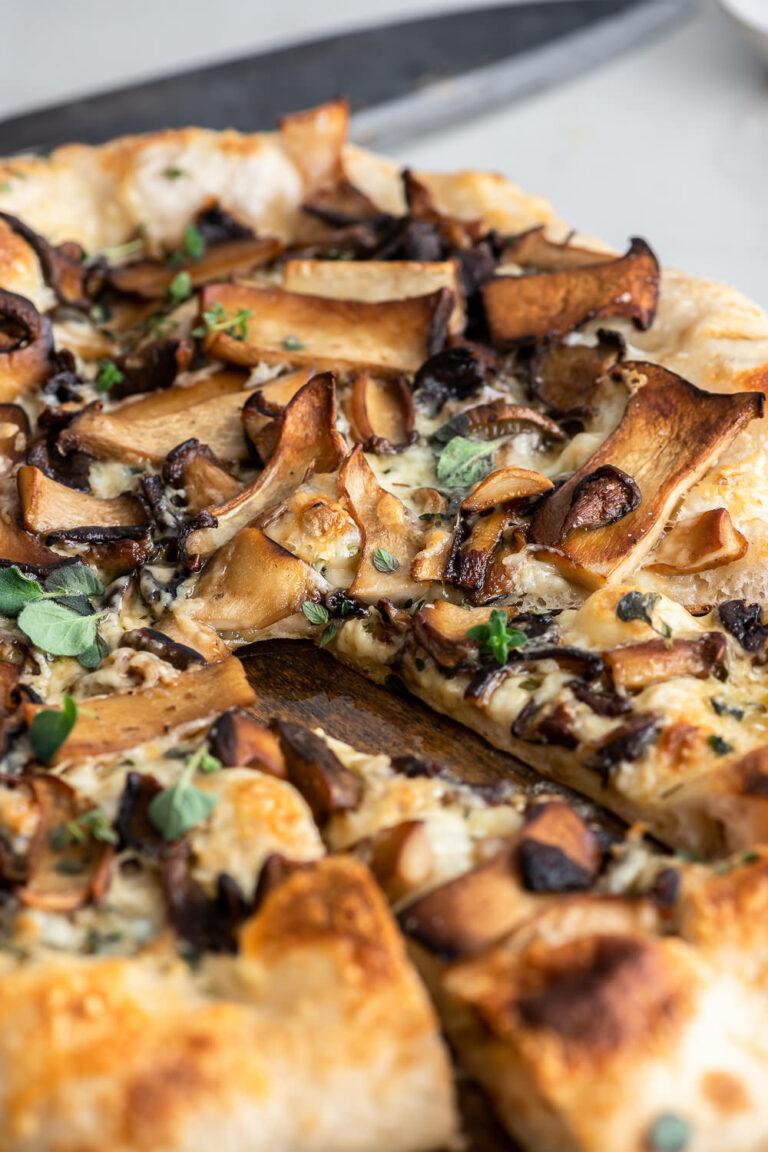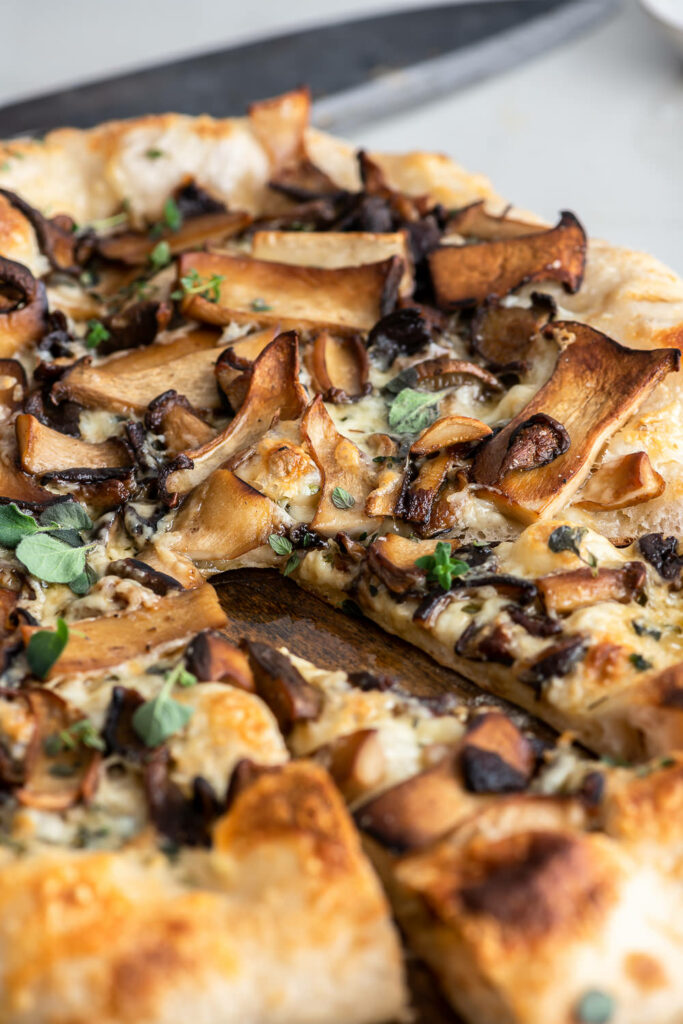 got wild mushrooms? try these tasty mushroom recipes:
more artisan pizza recipes to try!
artichoke pizza with spinach parmesan cream sauce
calabrese pizza with salami and rosemary
hawaiian pizza with caramelized pineapple
caramelized fennel sausage pizza
morel pizza with crispy shallots
white sauce pizza with mozzarella, parmesan and ricotta
stuffed focaccia with mozzarella and pistachio pesto
Print
wild mushroom pizza
Chewy pizza dough, caramelized mushrooms, a smattering of fresh herbs and garlic, and a handful of sharp cheese come together to make the ultimate mushroom pizza!
Author:
Prep Time:

15 minutes

Cook Time:

35 minutes

Total Time:

50 minutes

Yield:

1 12-inch pizza

Category:

Pizza

Method:

Baked

Cuisine:

American

Diet:

Vegetarian
Ingredients
4 tbsp

olive oil, divided

10 oz

mixed mushrooms (wild if possible), torn or sliced
kosher salt
freshly ground black pepper

2 tbsp

unsalted butter

2

garlic cloves, smashed and peeled

½

recipe artisan pizza dough (one

15 oz

dough ball)

1 tablespoon

fresh oregano leaves, plus more for garnish

1 tablespoon

fresh thyme leaves, plus more for garnish

3 oz

shredded fontina

1 oz

shredded parmesan
Instructions
Place pizza steel or stone in the oven and preheat to 500°F. Let steel heat up for a full 45 minutes.
In a large skillet, heat 1 tablespoon olive oil until shimmering. Add half of mushrooms and cook over high heat without stirring for about 3 minutes, until bottoms have caramelized. Season with salt and pepper; stir in 1 tablespoon butter and a garlic clove.
Reduce heat to medium and cook, stirring occasionally, until mushrooms are crispy and browned, 10- 12 minutes. Discard garlic clove and transfer to a plate. Repeat process with remaining mushrooms, butter and garlic.
When oven is ready, generously flour a pizza peel and set aside.
On a floured surface, flatten the middle of the dough ball into a large disk, leaving a thick 1-inch lip. Pick up the disk, and holding the thick edge, use gravity to shape the dough into a 12-inch circle. Lay on prepared pizza peel and adjust shape into a circle. Jiggle the peel to make sure the dough isn't sticking; add more flour if it is.
Brush remaining 2 tablespoons olive oil all over the surface of the dough, leaving a ½-inch border. Sprinkle with oregano, thyme, fontina and parmesan. Spread mushrooms on top.
Jiggle the peel to make sure nothing is sticking, then slide pizza onto steel and bake for 5 minutes. Broil for 2- 4 minutes, watching pizza closely, until cheese is bubbly and crust is charred in spots.
Let pizza cool slightly. Sprinkle with more thyme and oregano, then slice and serve.
Notes
Nutritional information is only an estimate. The accuracy of the nutritional information for any recipe on this site is not guaranteed.
Nutrition
Serving Size:

⅛th of pizza

Calories:

286

Sugar:

2.1g

Sodium:

337mg

Fat:

17g

Saturated Fat:

5.6g

Unsaturated Fat:

10.1g

Trans Fat:

0.1g

Carbohydrates:

26g

Fiber:

1.8g

Protein:

8.2g

Cholesterol:

23mg