This stuffed focaccia is the best bread you'll make this summer! It's filled with mozzarella and a sweet, spicy, herby pistachio pesto.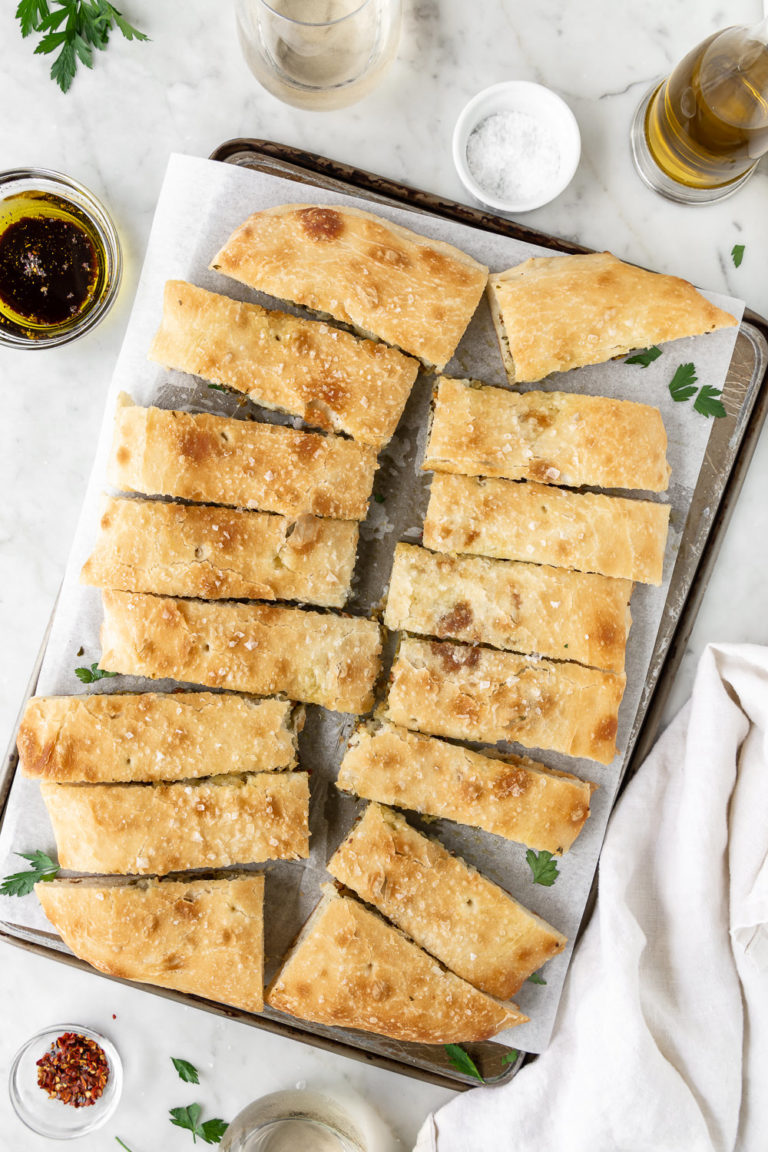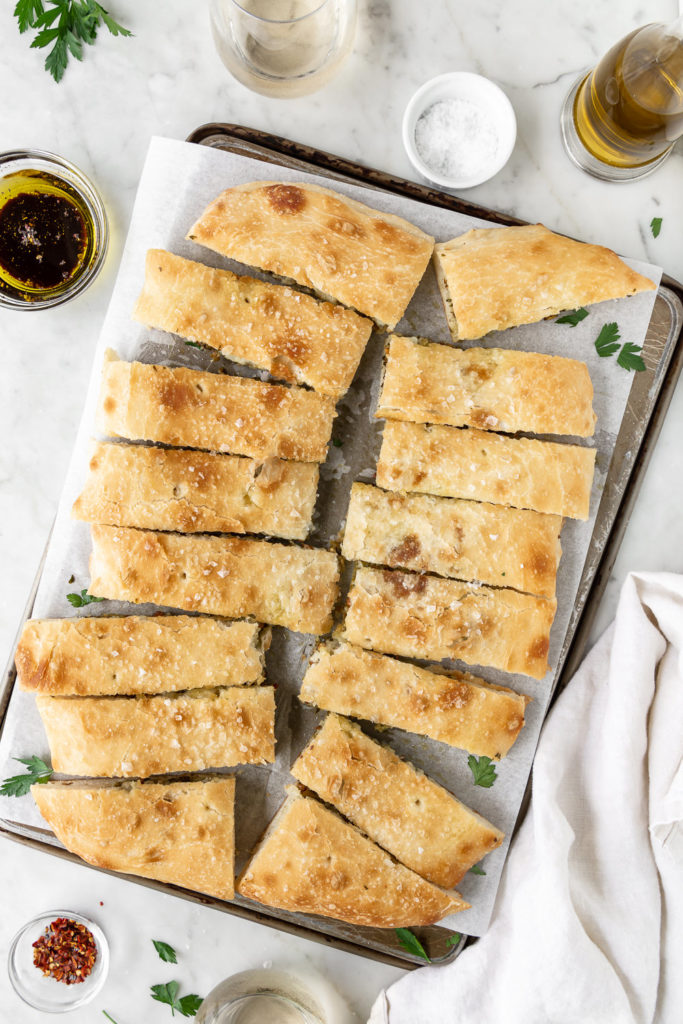 The bread itself uses a combination of my favorite techniques, developed by Ken Forkish (author of Flour Water Salt Yeast), which include a wet dough, no traditional kneading, and a long rise time. This produces a focaccia with a chewy, airy crumb and a wonderful depth of flavor (it's the best if you let it rest overnight in the fridge).
It's sandwiched around the pesto and cheese and then baked, drizzled with olive oil, for a crunchy-crispy-insanely-good crust.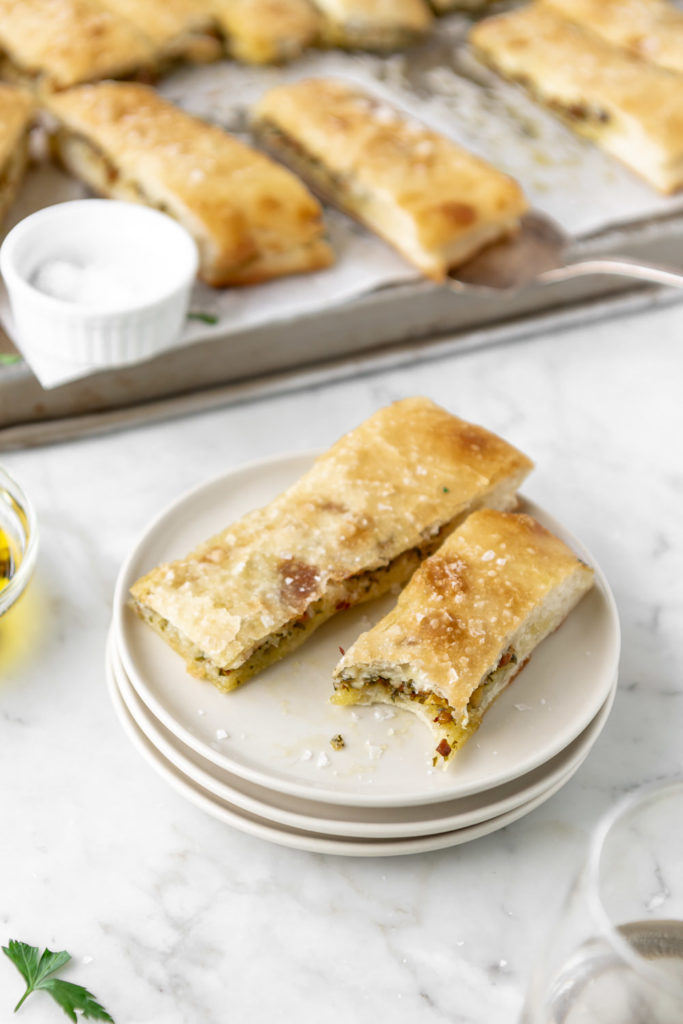 To inspire endless fun with this stuffed focaccia recipe, I've included a list of alternative filling ideas at the bottom of the post. But I really think you should give this pesto a try, if you can. It's made with parsley, pistachios, vinegar-plumped golden raisins, chile flakes, a touch of garlic and a big glug of olive oil. You'll love it. The nutty texture and intense pesto flavors take this cheese focaccia to the next level.
so how and when do you eat this cheese focaccia, anyways?
I love to eat this cheese stuffed focaccia with a big salad, or as a tomato soup dipper on steroids. But it's also delicious for lunch, as a sort of all-in-one panini for a crowd (make the dough the night before and refrigerate it until you're ready) or as a big appetizer for the best happy hour ever.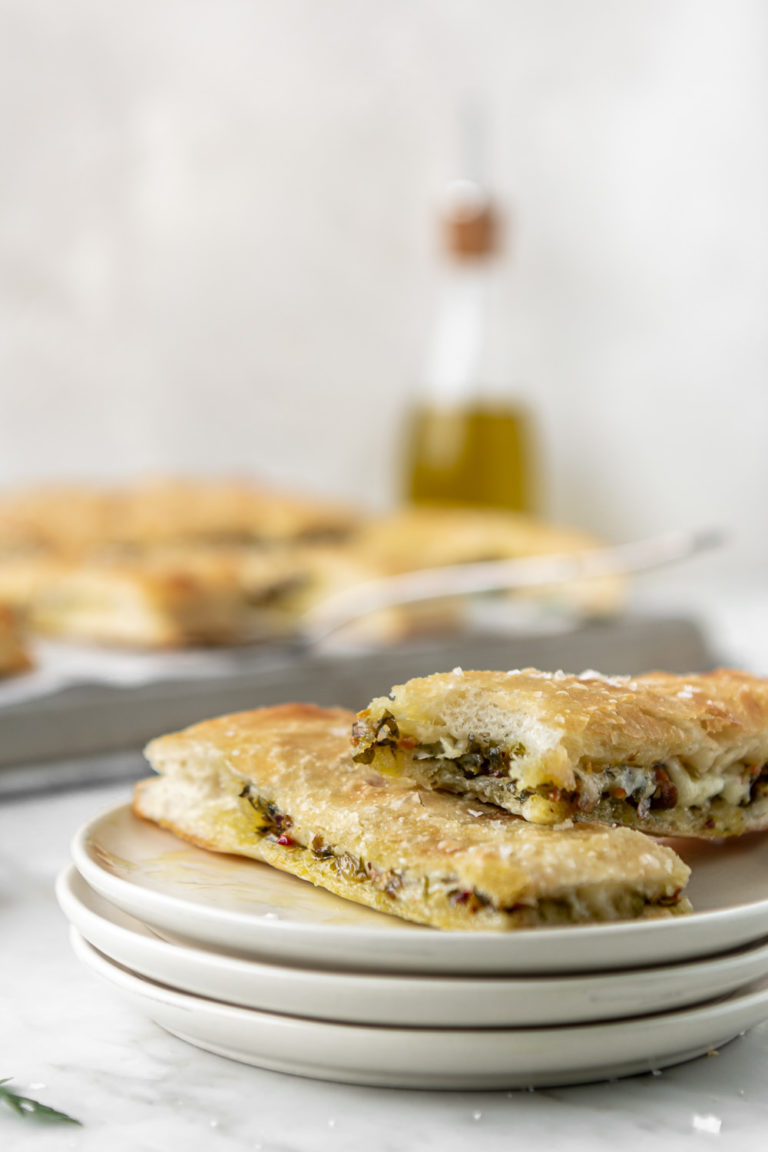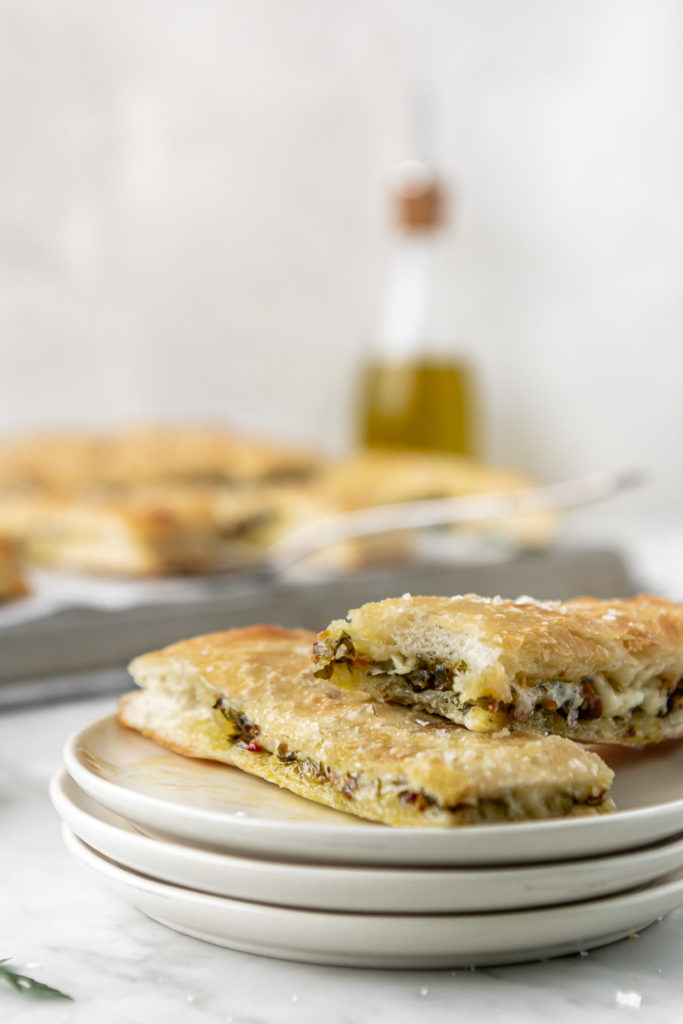 However you plan to eat it, make sure to read the example timelines below to help you navigate the dough schedule and work out the easiest way to make this cheese and pesto focaccia.
how do you make cheese stuffed focaccia?
Hydrate the flour and yeast for 20 minutes, then mix the dough
Do one fold of the dough after an 1 hour
Let dough rise another 4- 5 hours, or until doubled
Make pistachio parsley pesto, cover and refrigerate until ready
Cut dough in half, shape into balls and let rest 1 hour (or refrigerate overnight)
Stretch and pull dough halves into rectangles
Place one layer on a greased baking sheet, top with pesto and cheese, brush edge with egg wash
Top with remaining dough rectangle, press edges to seal and cut slits in the top layer
Drizzle with olive oil, sprinkle with salt and bake for 20- 25 minutes at 425°F
example timeline for stuffed focaccia:
9:00 am: hydrate flour and yeast
9:20 am: mix dough and let rise
10:00 am: fold dough once and let rise
3:30 pm: shape into balls, let rest 1 hour OR refrigerate overnight (or up to 2 days)
4:30 pm: shape and stuff focaccia
4:45 pm: bake for 20 minutes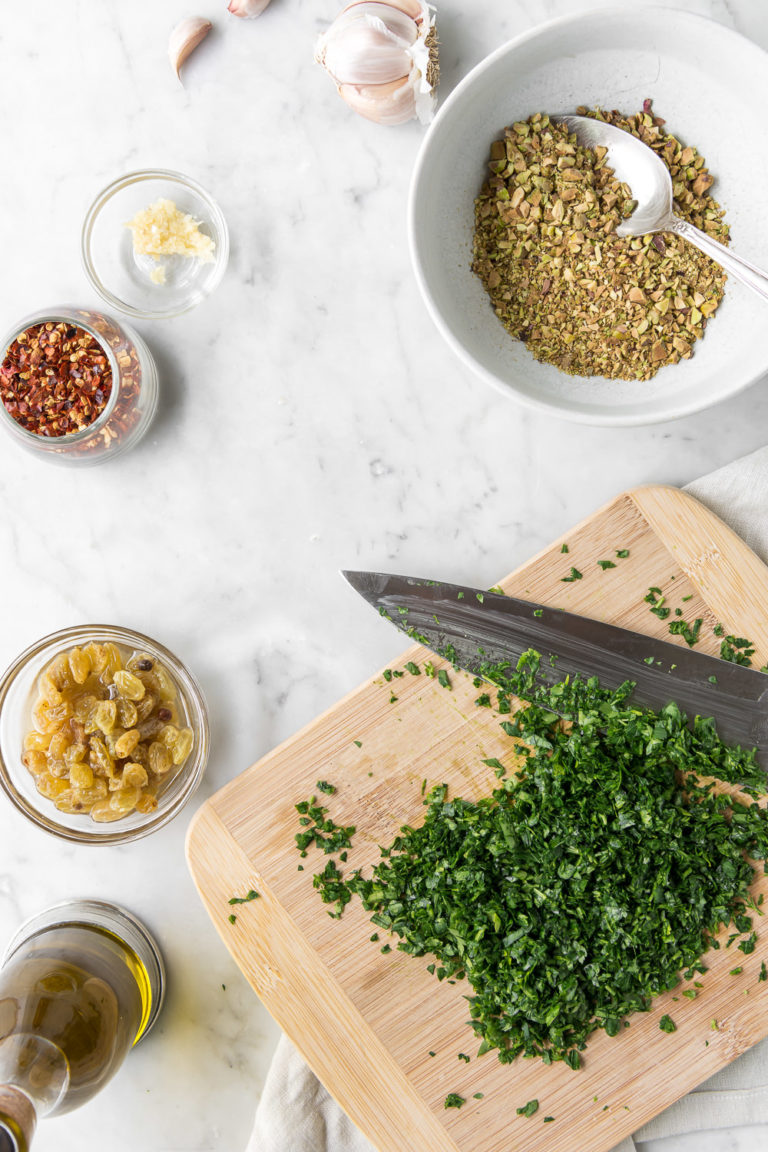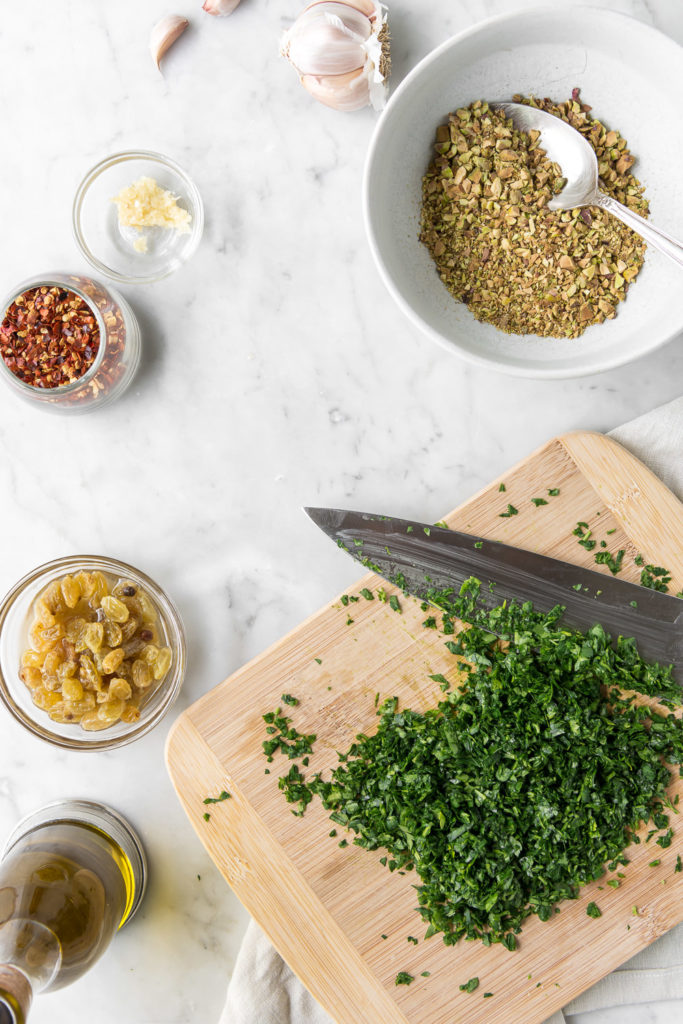 how to make stuffed focaccia from refrigerated dough:
If you refrigerate the dough overnight, you can bring it out and shape it while it's still cold. I actually find it easier to work with when it's cold. When the dough springs back, just set it aside for a few minutes to relax then continue pulling and stretching to get the desired dimensions. Layer the dough with the pesto and cheese, top it with the second dough layer, drizzle with olive oil and bake. There's no need to let it warm up or rise more before baking.
other focaccia filling ideas:
olive tapenade and goat cheese
sun dried tomatoes, feta and basil
romesco sauce
basil pesto and mozzarella
caramelized onions and olives
roasted butternut squash, pancetta cubes and sage
sliced apples or pears, walnuts, butter, cinnamon and sugar
sausage, garlicky kale and ricotta
crispy mushrooms and fontina
oil cured olives, red onions and provolone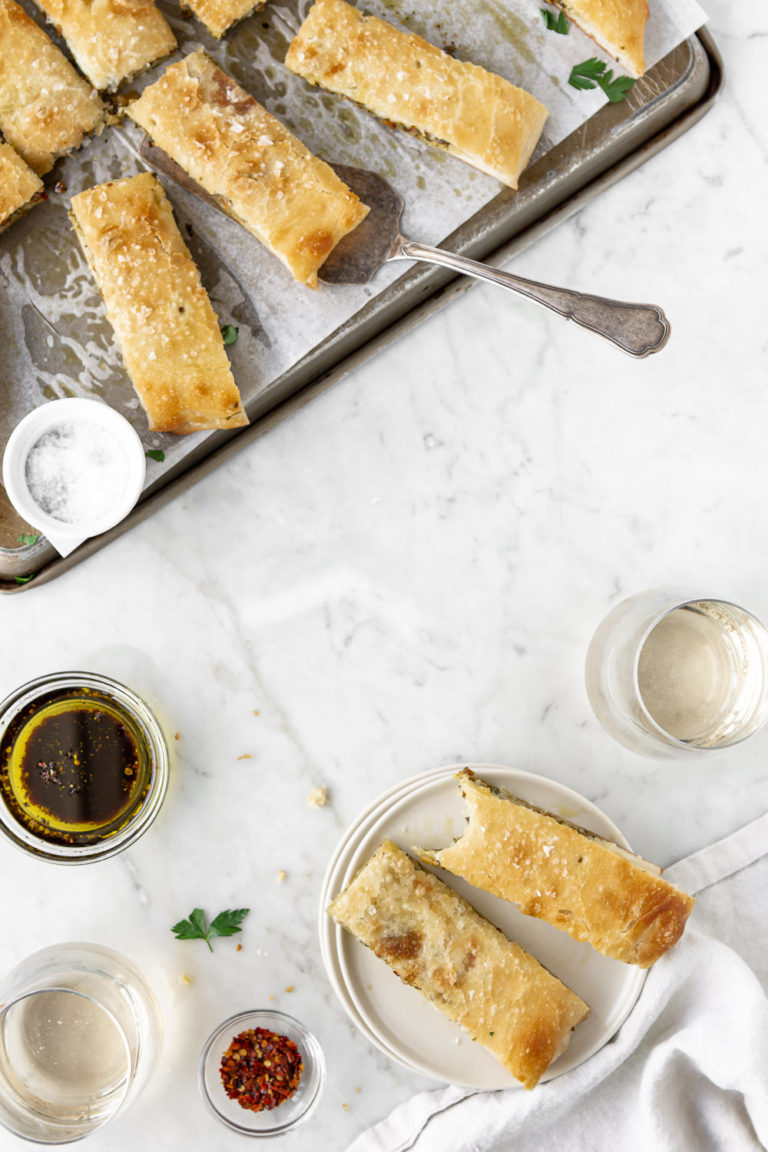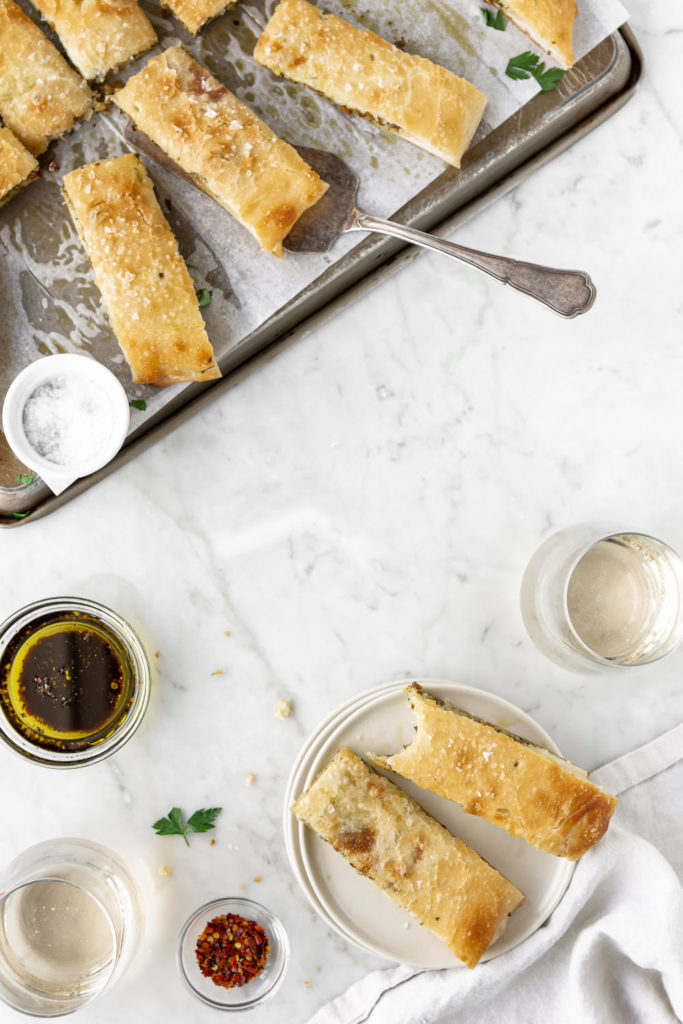 related recipes
morel pizza with fontina and crispy shallots
white sauce pizza with mozzarella, parmesan and ricotta
caramelized fennel sausage pizza with garlic oil
wild mushroom toast with brown butter, ricotta and parsley
Print
stuffed focaccia with mozzarella and pistachio pesto
This cheese focaccia with pistachio parsley pesto might become your new obsession. It's chewy, crispy, and filled with the nutty, herby, olive oil rich flavors of pesto and creamy mozzarella. It's everything you want in a breadstick!
Author:
Prep Time:

1 hour (not including rise time)

Cook Time:

25 minutes

Total Time:

1 hour 25 minutes

Yield:

16 strips

Category:

Bread

Method:

Baked

Cuisine:

American
Ingredients
pistachio parsley pesto
¼ cup

white balsamic vinegar

¼ cup

golden raisins

½ cup

roasted shelled pistachios, roughly chopped

1

garlic clove, minced and mashed with a pinch of salt into a paste

1

bunch flat leaf parsley, finely chopped

½ tsp

red chile flakes

½ cup

extra virgin olive oil

kosher salt

black pepper
stuffed focaccia
500 g

(3 ¾ cup +

2 tbsp

) all-purpose flour

375 g

(1 ½ cups warm water), divided

¼ tsp

instant yeast

1 ½ tsp

fine salt

8 oz

shredded, low-moisture mozzarella

1

egg white beaten with 1 tbsp water, for egg wash

pistachio parsley pesto (all of recipe above)

olive oil, for topping

flaky salt, for topping
Instructions
pistachio parsley pesto
In a small saucepan, bring vinegar and raisins to a simmer and cook until plumed and soft, 3- 5 minutes. Set aside to cool in liquid.

When cool, drain raisins (discard liquid) and combine with pistachios, garlic, parsley, chile flakes and olive oil in a small mixing bowl. Season to taste with salt and black pepper and stir until well mixed. Cover the surface with plastic wrap and refrigerate until ready to use.
stuffed focaccia
Mix flour and all but a tablespoon of water in a large bowl until just combined, then cover and set aside for 20 minutes to rest. Sprinkle yeast over remaining warm water and set aside to dissolve. 

Sprinkle salt over the surface of the dough. Stir yeast mixture and pour over dough.  Lightly wet your hand, reach under the dough, and pull about a fourth of it over the top. Repeat until the center of the dough is enclosed. Then, using your thumb and forefinger

 as pincers, squeeze and pinch off big chunks of dough. It's okay to wet your hand a few times to prevent sticking. Pinch through the dough five to six times, rotating the bowl as needed, then fold the dough over itself a few times. Repeat pinching and folding until the yeast and salt are fully incorporated. Cover the bowl and lest rest about an hour. 

Fold the dough one time to develop the gluten. Lightly wet your hand, reach underneath the dough and pull about a quarter of the dough up just until you feel resistance, then fold it over the top. Rotate the bowl and repeat this folding four to five times, or until the dough has tightened into a ball. Take the entire ball of dough and invert it into a clean, lightly greased bowl, so the seams are now face down and the top is smooth. Cover and let rise until doubled in volume, 5- 6 hours.

Turn the dough out onto a lightly floured work surface and cut in half. Gently shape each half into a ball (see note below) 

and transfer to a greased plate. Lightly oil the tops, cover and let rest for about an hour

. 

Alternatively, cover tightly with plastic wrap and refrigerate for up to 2 days.

Preheat the oven to 425°F.

Lightly oil a baking sheet and set aside. Transfer a dough ball to a lightly floured surface and press into a rectangle shape. Carefully pick up and stretch dough into a freeform rectangle, roughly 9-inches by 13 inches. Try to get the dough as thin as you can without tearing it. Carefully place the sheet of dough on the prepared pan. Spread parsley pistachio pesto evenly over the surface of the dough (you may not need all of it), leaving about a 1-inch perimeter empty. Scatter mozzarella on top of the pesto, then brush the empty edge with egg wash.

Stretch and pull the remaining ball of dough into a matching rectangular shape and carefully drape it on top of the stuffed focaccia layer. Gently press on the top layer of dough to smooth the surface and remove air pockets. Line up edges and firmly press together to seal. Drizzle top with olive oil and sprinkle with flaky salt. Use a sharp knife to cut a few slits in the top for steam to escape (I find that jiggling the tip of the knife in the dough helps make a hole that stays open).

Bake for 20- 25 minutes, or until focaccia is golden and crispy on top and firm to the touch. Let cool slightly, then cut into strips to serve. If desired, serve

 with olive oil and balsamic vinegar for dipping.
Notes
Nutritional information is only an estimate. The accuracy of the nutritional information for any recipe on this site is not guaranteed.
Dough can be refrigerated for up to 2 days before baking.
Stuffed focaccia will keep, covered and refrigerated, for up to 4 days. Reheat at 350°F for 5- 10 minutes, or until heated through.
Learn how to shape the dough into a boule here: https://www.weekendbakery.com/posts/video-shaping-a-boule/
Nutrition
Serving Size:

1/16 of bread

Calories:

234

Sugar:

2.3g

Sodium:

352mg

Fat:

12g

Saturated Fat:

3.1g

Unsaturated Fat:

8.2g

Trans Fat:

0g

Carbohydrates:

25g

Fiber:

1g

Protein:

6.6g

Cholesterol:

11mg
Keywords: stuffed focaccia