This hawaiian pizza recipe is the best of the best! Juicy caramelized pineapple, salty prosciutto, bacon, pickled jalapeños and a ton of gooey melted cheese. Impress your friends and family with this homemade artisan pizza!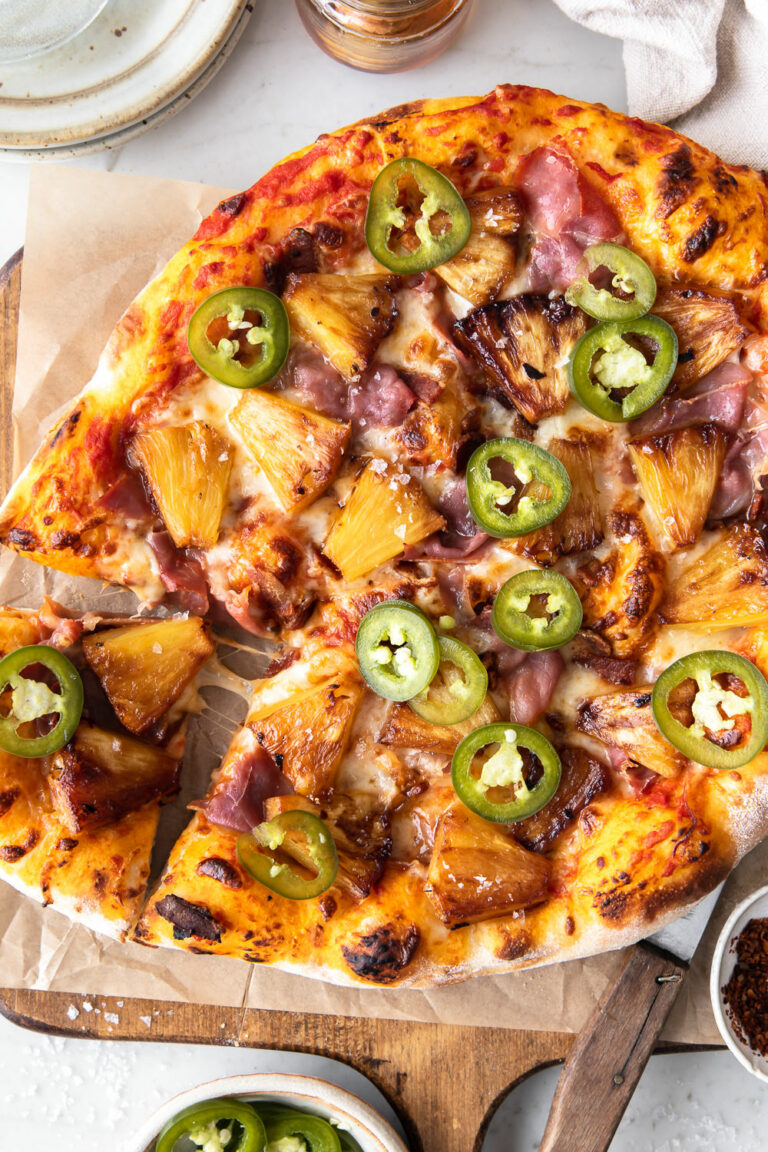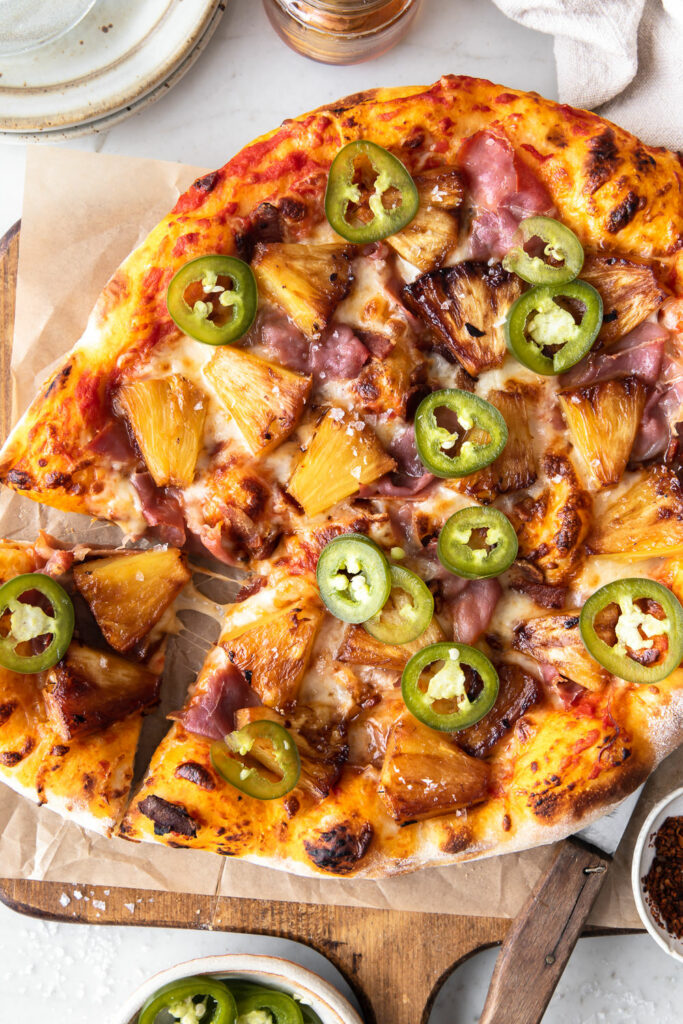 Hawaiian pizza is polarizing. You love it or you don't, and I'm not here to convince the pineapple on pizza haters why pineapple belongs on pizza. I'm here to embrace all that is good about hawaiian pizza and crank it up even more.
I've always loved the contrast of sweet, hot, juicy pineapple with salty ham and melted cheese. To me, it's just so delicious-- especially if you top it with something spicy, like pickled jalapeños.
So I wanted to pour gas on that fire and make a hawaiian pizza that's even more perfect. Here's where I landed: caramelized chunks of fresh pineapple, salty shards of prosciutto, crispy bacon, extra cheesy layer of mozzarella, homemade pickled jalapeños, and of course, the best pizza dough you'll ever make.
Follow my guide and you'll be making ultimate pineapple pizza at home!
what is on a hawaiian pizza?
Classic hawaiian pizza starts with a red sauce, then it's topped with mozzarella, pineapple and canadian bacon. Simple variations include added jalapenos, sliced chicken, caramelized onions or mushrooms. Some make hawaiian pizza with BBQ sauce for an extra layer of sweet and spicy, though I feel those versions can be a little over the top!
Our recipe has a few modifications (described in detail below) that make this pizza extra perfect.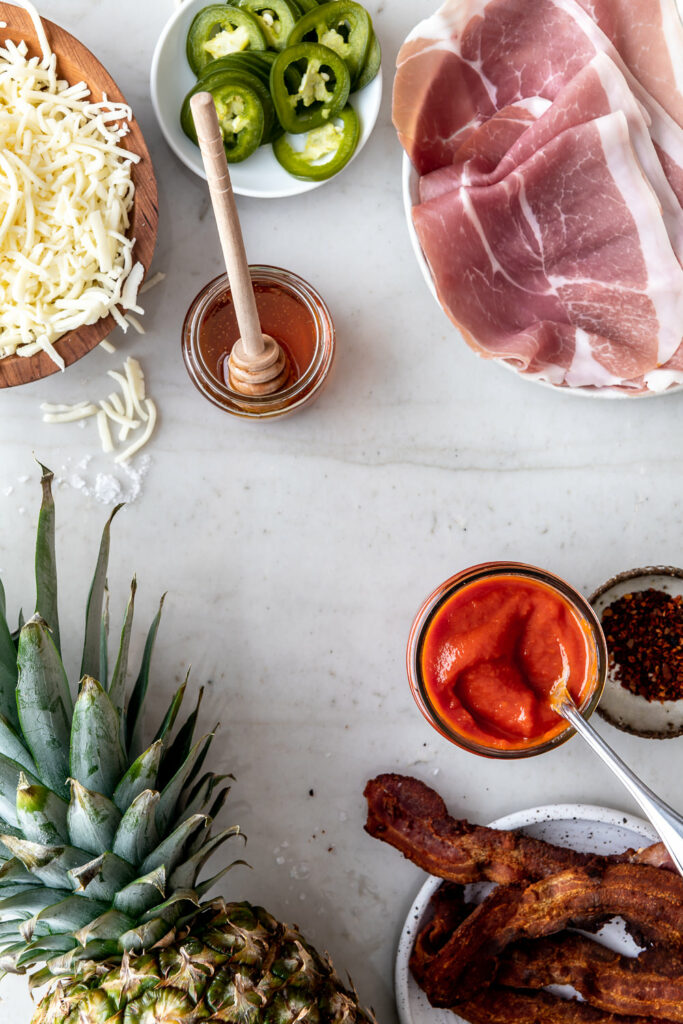 why is this hawaiian pizza recipe the best?
There are a million hawaiian pizza recipes in the google world, so this is an important question to ask. Why waste your time and ingredients here? I'll share with you (in painstaking detail) every step I took to deconstruct the classic hawaiian pizza and re-build it into something absolutely delicious!
Here's what you get:
Pineapple: We use fresh pineapple and caramelize it in the pan with a touch of honey, butter, and leftover bacon grease. Fresh pineapple is so much more flavorful than canned. And when you caramelize it, the pineapple flavor gets concentrated, the fruit develops a delicious crust, and the extra juice cooks off so you don't have a watery pizza. It's smoky, sweet, tart and ready for the pizza!
Ham: I go big with the ham component here. I use bacon to add a little bit of smoky flavor and crunchy bits to the pizza. And that added flavor of the bacon fat with the caramelized pineapple? It's a double win. Then I upgrade the classic canadian bacon to prosciutto. Yes it's a little fancy, but there's more to it than that. Prosciutto is sliced paper thin, so it bakes up to crispy, buttery, intense pops of salty meat. And the flavor is so rich, it doesn't take much on a pizza to make an impact.
Pizza sauce: You could technically use any pizza sauce here, but this homemade pizza sauce works so well. It has a deep, intense tomato flavor and is blended smooth-- the perfect consistency and bright flavor for all types of pizza!
Pizza dough: This is the absolute best pizza crust recipe you'll ever make. It's a high-hydration dough that's chewy, crispy, bubbly and full of complex yeasty flavor. Good pizza dough is one of the most important parts of a good pizza-- don't breeze past it!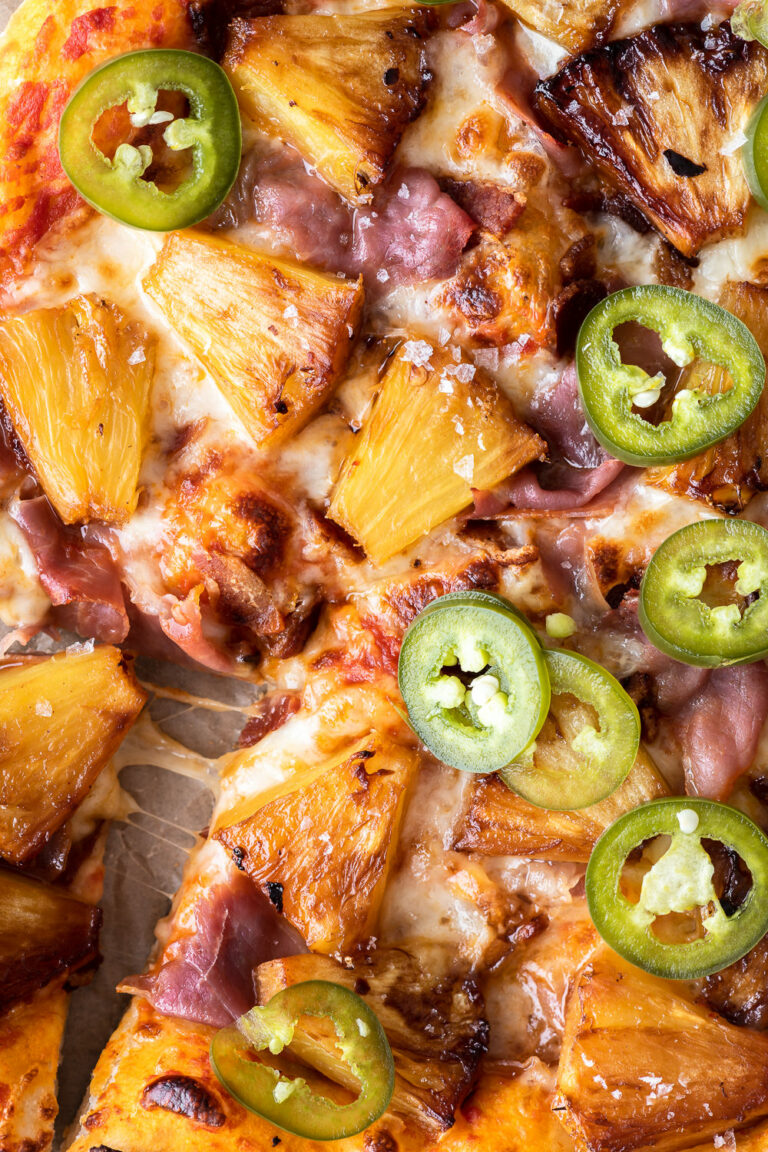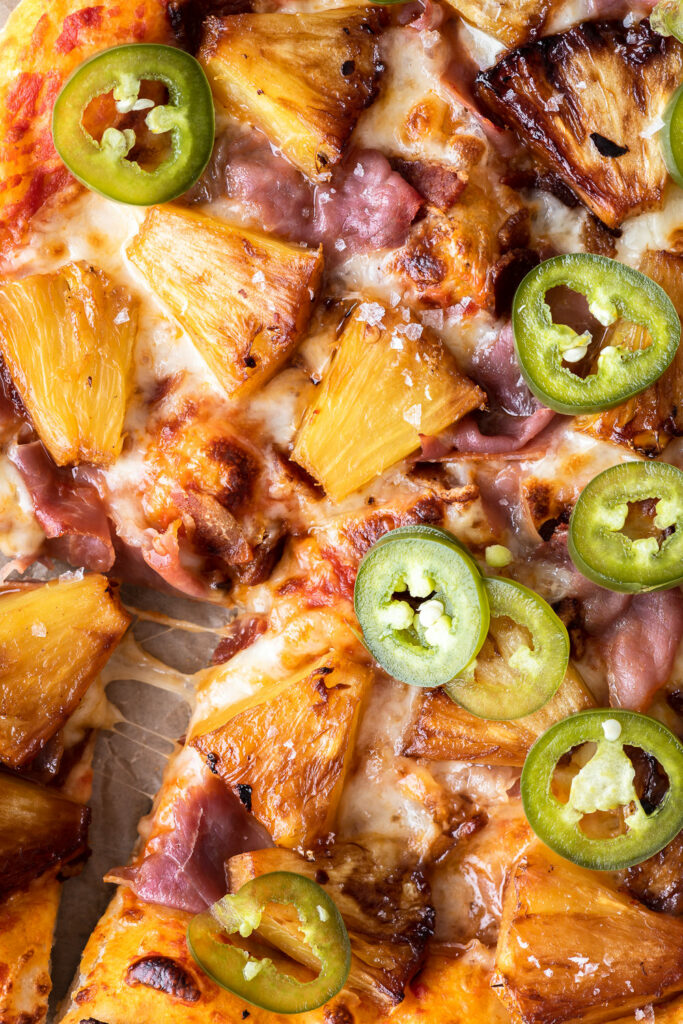 what you need for this hawaiian pizza recipe:
mozzarella
fresh pineapple
thick-cut bacon
prosciutto
butter
honey
chile flakes
how to make hawaiian pizza at home
Make the pizza crust (start in the morning to have pizza for dinner)
If desired, make homemade pizza sauce. Otherwise use your favorite pre-made sauce!
Cook the bacon, let cool and chop.
Caramelize pineapple with butter, honey and a smidge of bacon grease.
Preheat oven and pizza stone to 500°F for at least 45 minutes.
Shape the dough into a 12-inch round.
Spread with pizza sauce, top with cheese, pineapple, bacon and prosciutto.
Bake until cheese is melted and crust is charred in spots.
Sprinkle with pickled jalapeños, slice and serve.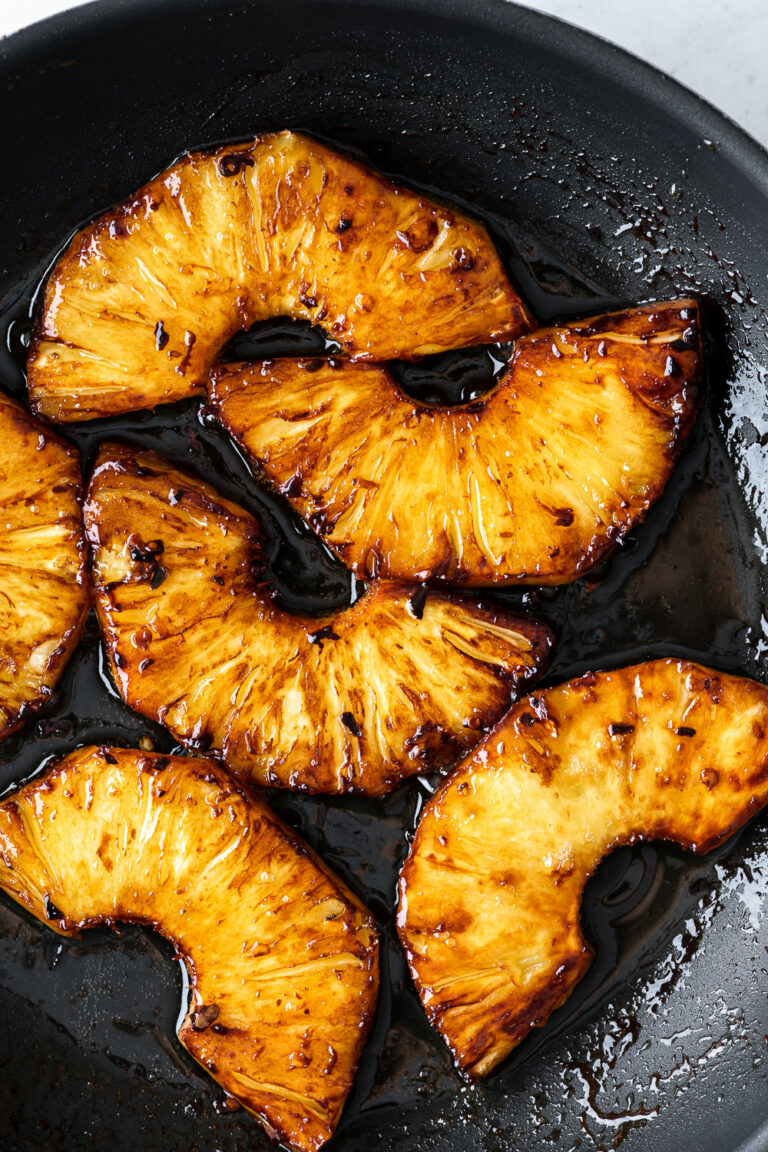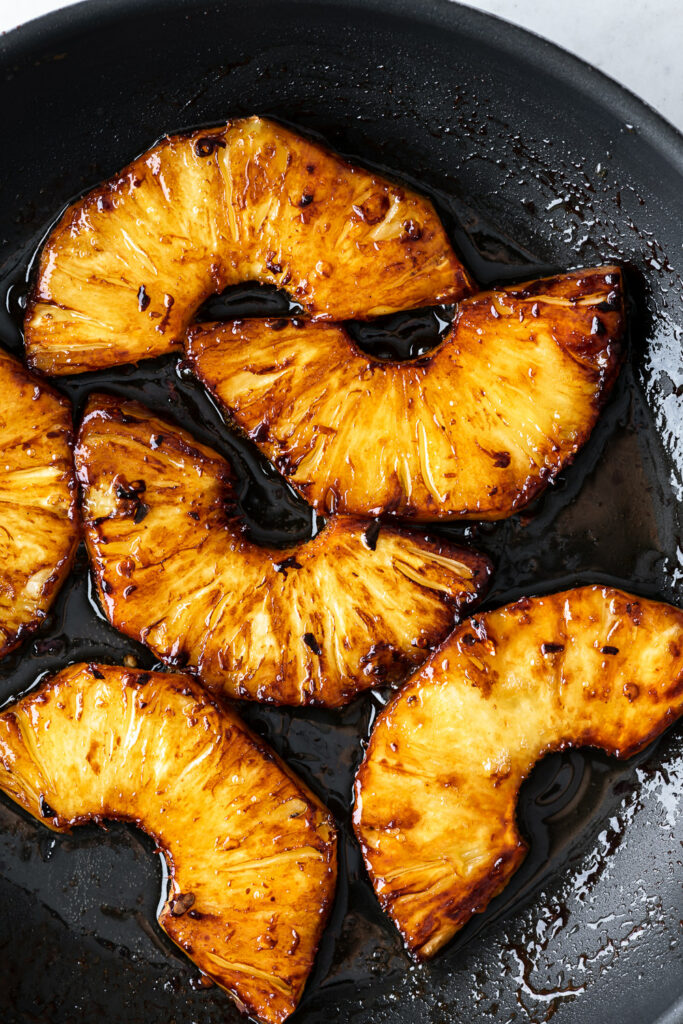 why pineapple belongs on pizza:
In simple terms of balance, chunks of pineapple on pizza is a no-brainer.
It's all about the contrast. Sweet pineapple and salty cheese, juicy pineapple and chewy crust, ripe tropical pineapple flavor and savory ham. The beauty is the give and take. Without the salt, the sweet would be cloying. Both play off of each other and round out the taste experience.
Some of the best pairings and food combinations around the world follow this rule: salted caramel, fries and ketchup, pecorino and honey, blue cheese and port, peanut butter and jelly. If you've never tried pineapple on pizza, what have you got to lose? It might even become your new favorite combo.
can you reheat hawaiian pizza?
Yes, you absolutely can reheat hawaiian pizza! But whatever you do, don't use the microwave. No one wants soggy leftover pizza.
My favorite way to reheat pizza is in the oven at 375°F for 5- 8 minutes, until cheese is melted and sauce is heated through. For the crispiest crust, preheat a sheet pan or pizza stone in the oven and place the slices on top. Otherwise, simply place your leftover hawaiian pizza slices on a piece of foil and toss it in the hot oven.
A toaster oven is an even faster way to reheat the pizza-- you don't have to heat up your whole oven.
Did you know you can reheat your leftover pizza in an air fryer? It's quick and gives a super crispy crust! Set your air fryer to 350°F, place a few slices in the basket (don't overlap any slices!), and cook for about 5 minutes until melted.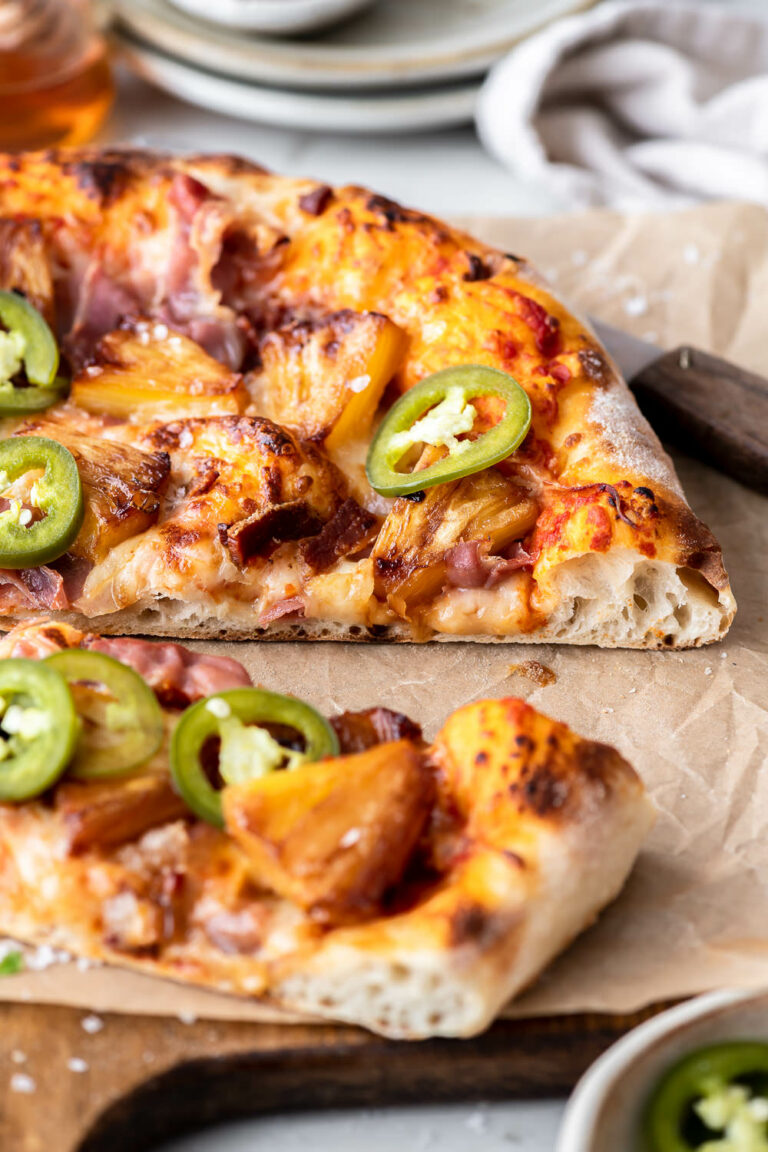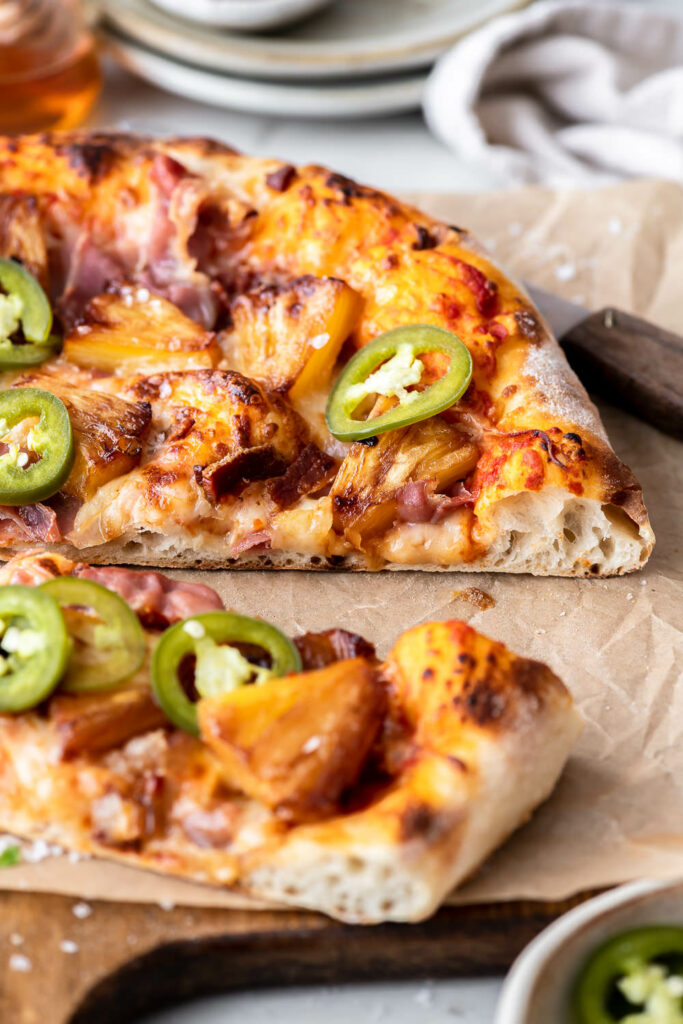 more pizza recipes to try!
Read here to learn more details on how to make the best homemade pizza dough. Then make my favorite pizza sauce recipe and you're all set for the best homemade hawaiian pizza pizza!
artichoke pizza with spinach parmesan cream sauce
buttery garlic pizza with fresh herbs
caramelized fennel sausage pizza with garlic oil
morel pizza with fontina and crispy shallots
white sauce pizza with mozzarella, parmesan and ricotta
Print
hawaiian pizza recipe
This hawaiian pizza recipe is the best of the best! Juicy caramelized pineapple, salty prosciutto, bacon, pickled jalapeños and a ton of gooey melted cheese. Impress your friends and family with this homemade artisan pizza!
Author:
Prep Time:

30 minutes

Cook Time:

7 minutes

Total Time:

37 minutes

Yield:

1 12-inch pizza

Category:

Pizza

Method:

Baked

Cuisine:

American
Ingredients
4

slices thick-cut bacon

1 tbsp

butter

1 tbsp

honey

¼ tsp

chile flakes

3 ½

-inch thick slices fresh pineapple, cored and cut into half-moons

½

recipe artisan pizza dough (one

15 oz

dough ball)

⅓ cup

pizza sauce

4 oz

shredded low-moisture mozzarella (whole milk, if possible)

2 oz

prosciutto, torn into bite sized pieces

¼ cup

pickled jalapeños
Instructions
Place pizza steel or stone in the middle of your oven and preheat to 500°F. Let stone heat up for a full 45 minutes. Generously flour a pizza peel and set aside.
Place bacon slices in a large cast iron skillet. Turn on heat to medium and cook, flipping once, until the fat has rendered and the bacon is crispy and browned, about 15 minutes. Transfer to a paper towel-lined plate to cool.
Pour off all but 1 tablespoon bacon grease. Add butter, honey and chile flakes and stir until melted. Increase heat to medium-high and add pineapple slices. Cook, shaking and swirling pan, until golden brown, 4- 5 minutes.
Flip pineapple and cook another 5 minutes until tender and caramelized. Transfer to a cutting board to cool slightly. Roughly chop pineapple and bacon and set aside.
On a floured surface, flatten the middle of the dough ball into a large disk, leaving a thick 1-inch lip. Pick up the disk, and holding the thick edge, use gravity to shape the dough into a 12-inch circle. Lay on prepared pizza peel and adjust shape into a circle. Jiggle the peel to make sure the dough isn't sticking (add more flour if it is).
Spread pizza dough with sauce, leaving ½-inch border. Sprinkle surface with mozzarella. Scatter caramelized pineapple, bacon and torn prosciutto over top.
Slide pizza onto steel and bake for 5 minutes. Turn on the broiler and broil for 2- 4 minutes, until cheese is melted and crust is charred in spots.
Let pizza cool slightly. Top with pickled jalapeños, slice and serve.
Notes
Nutritional information is only an estimate. The accuracy of the nutritional information for any recipe on this site is not guaranteed.
Nutrition
Serving Size:

⅛th of pizza

Calories:

251

Sugar:

5.1g

Sodium:

677mg

Fat:

9.9g

Saturated Fat:

3.9g

Unsaturated Fat:

5.3g

Trans Fat:

0.1g

Carbohydrates:

29g

Fiber:

1.4g

Protein:

11g

Cholesterol:

26mg