Make the absolute best pesto pizza recipe at home with a fresh and vibrant green pesto, 3-cheeses, and a bubbly artisan pizza crust.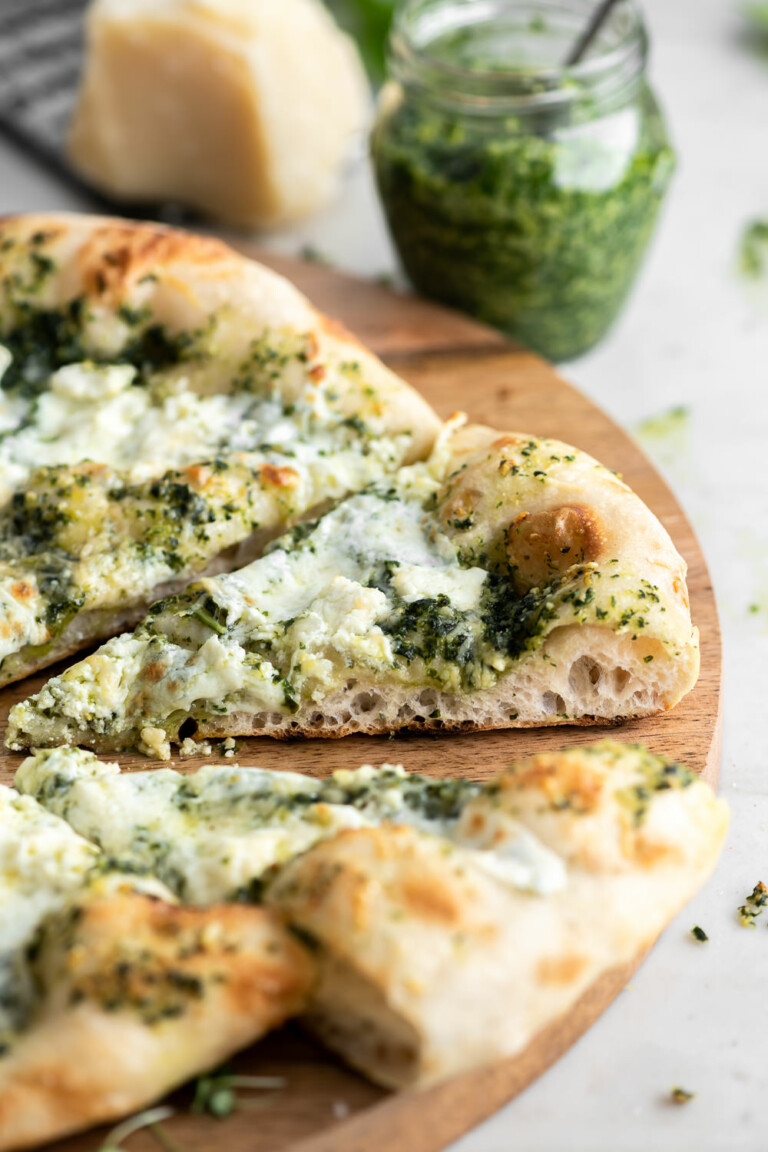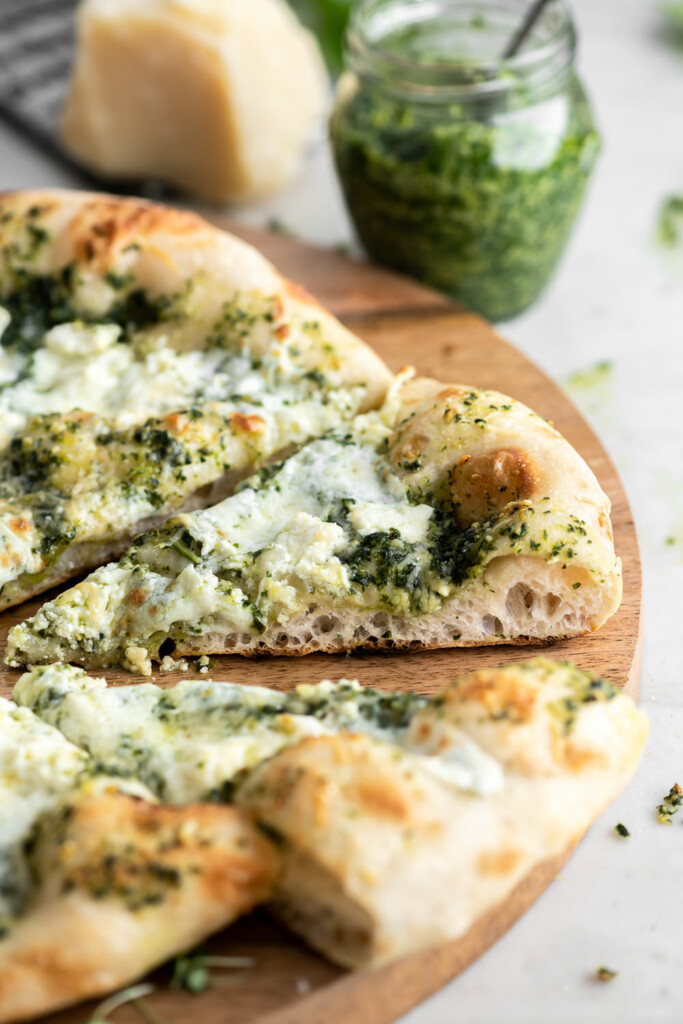 At first glance, you'd think pesto pizza would be really straightforward. And it is, to an extent. If you want a basic pesto pizza, just buy a jar of pesto, spread it on a pizza crust or pre-made flatbread, top it with shredded cheese, and bake.
But you're not searching the internet to learn how to do that. You want more! You're looking for the BEST pesto pizza recipe, and I'm not going to disappoint you.
I've started from scratch here and made every part of the pizza perfect, from the bubbly crispy crust to a special basil pesto that is extra thick and vibrant green, to the perfect blend of cheese that complements the pesto.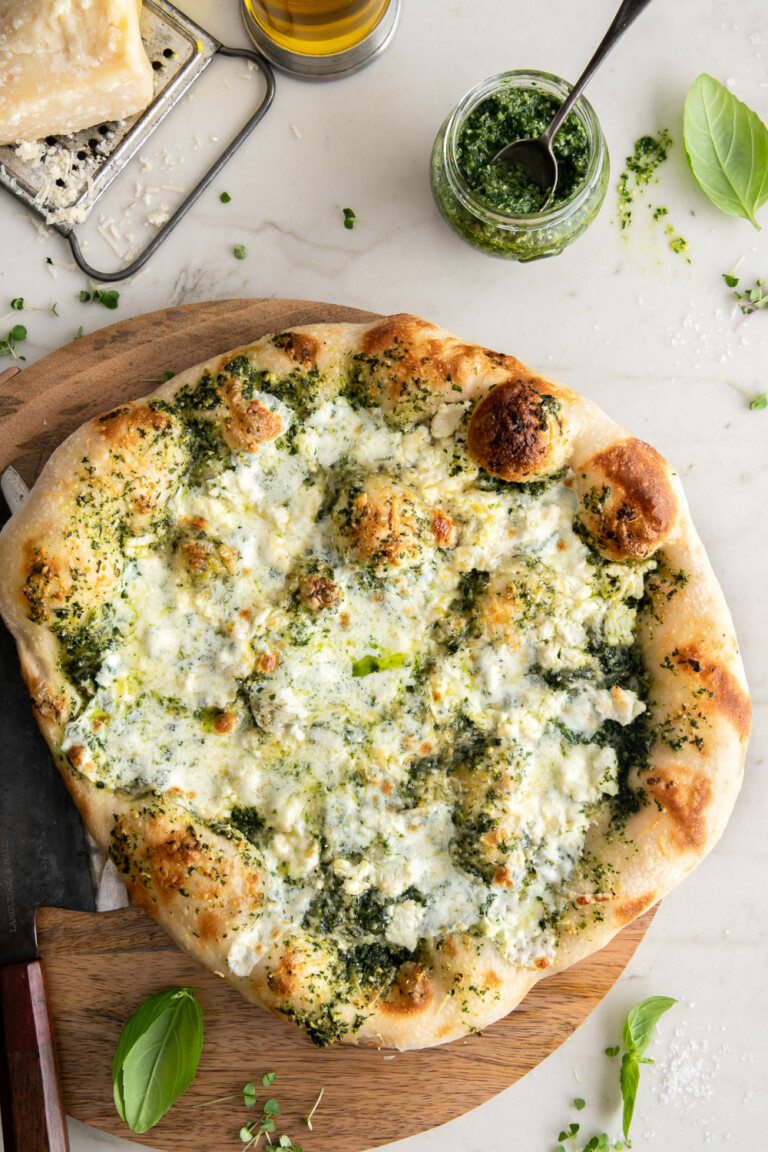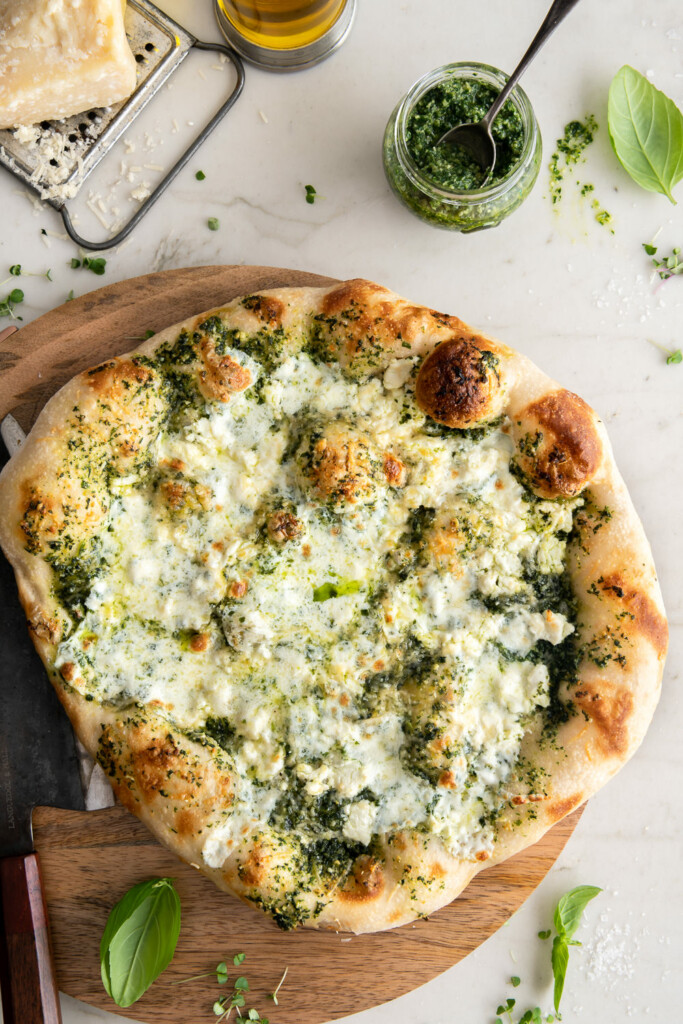 This is one of my simpler pizza recipes, but it's the one I always come back to. The hot pesto seeps into the bubbly crust and pools in the melted cheese. The garlic, basil and rich olive oil is the most delicious contrast to milky fresh mozzarella, salty shreds of parmesan and fresh goat cheese.
It's the type of pizza you grab on the street corner of NYC and it haunts you for years because it's so simple and so, so good. Of course, if you want more toppings, I've included a list of pesto pizza toppings further down in the post.
Get to work on your artisan pizza dough and make a homemade pesto pizza that you'll dream of for years to come!
This post may contain affiliate links. As an Amazon Associate, I earn from qualifying purchases.
what makes this the best pesto pizza:
Thick pesto: I designed the pesto sauce to be used specifically for pizza. It's thicker so our pizza has flavor and color without being an oil slick.
Vibrant green color: If you've ever made pesto at home, you'll know basil oxidizes almost instantly. Your delicious pesto will turn an unappetizing greenish-brown color if you don't work extra hard to protect it from air. The taste won't change much, but we all eat with our eyes and looks matter. We take one extra step and blanch the basil first to lock in the gorgeous green color.
Garlic: I love the flavor of garlic, but raw garlic can be hot and pungent. I toss the garlic cloves in with the basil to blanch it and soften the bite. We get the complexity of garlic without the intensity!
3-cheese blend: We tear fresh mozzarella into tiny pieces for pops of creamy, milky flavor. Shredded parmesan adds a salty bite, and crumbles of goat cheese give the pizza a fresh, tangy flavor that goes so well with pesto.
Pizza crust: The perfect pizza crust is so important for making good homemade pizza. I have the best recipe for bubbly, crispy, chewy artisan pizza dough.
what you need for pesto pizza:
basil
garlic
olive oil
pine nuts
parmesan
goat cheese
fresh mozzarella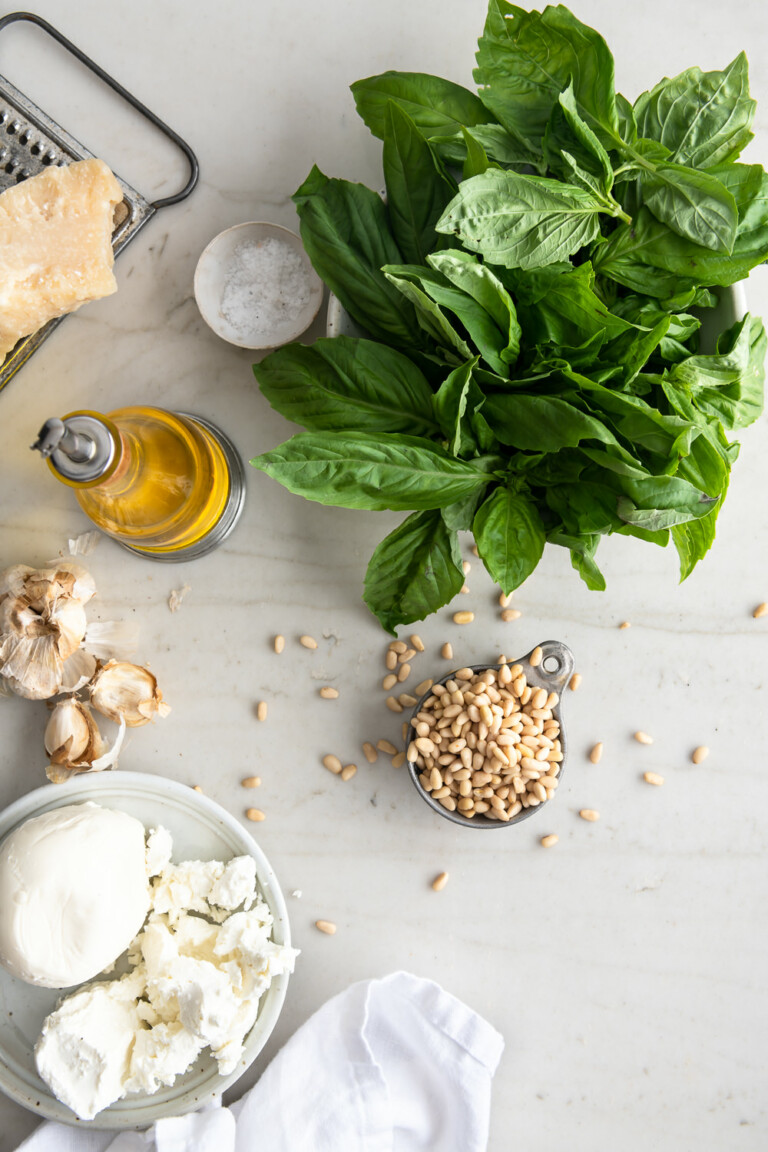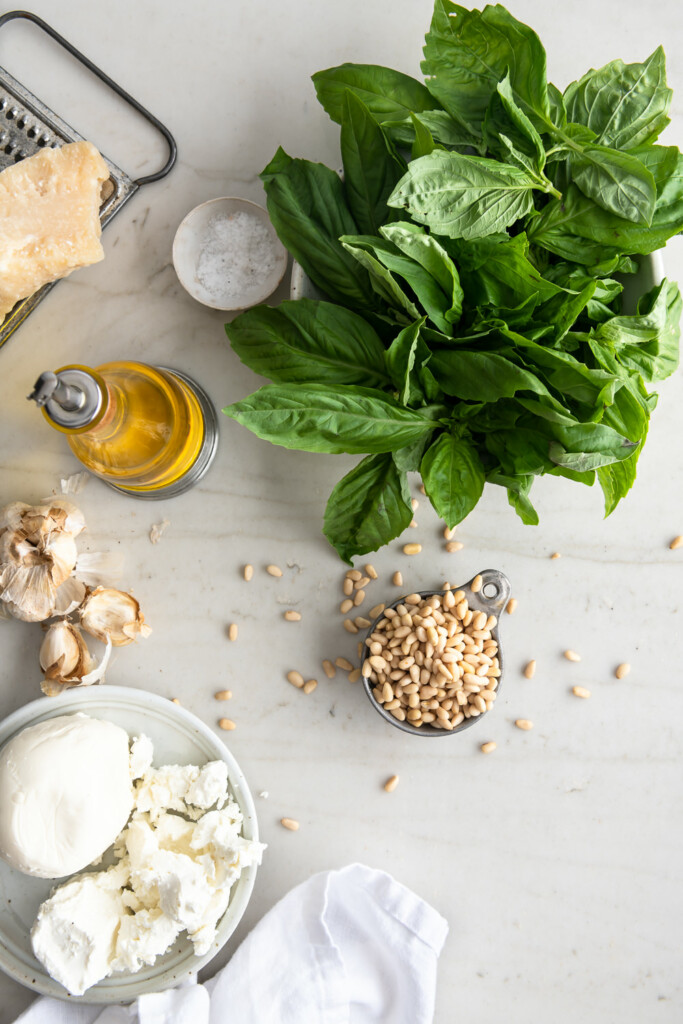 how to make pesto pizza:
Make pizza dough (at least 6 hours ahead).
Preheat oven to 500°F.
Blanch basil and garlic; squeeze out water.
Blend with pine nuts, olive oil, salt and pepper until smooth
Stir in parmesan.
Shape pizza dough into 12-inch circle.
Spread surface with pesto pizza sauce.
Top with parmesan, mozzarella and goat cheese.
Transfer to oven and bake for 5 minutes. Broil for 2- 4 minutes, until crust is charred in spots.
Let cool slightly, slice and enjoy!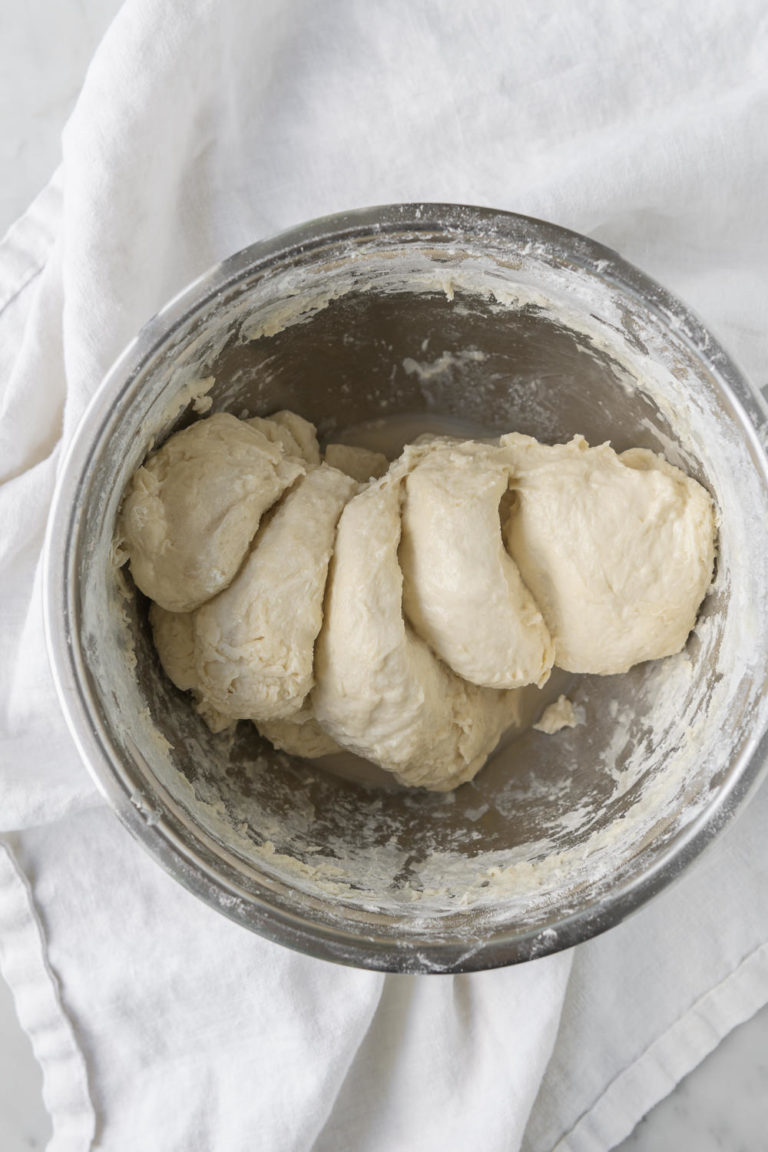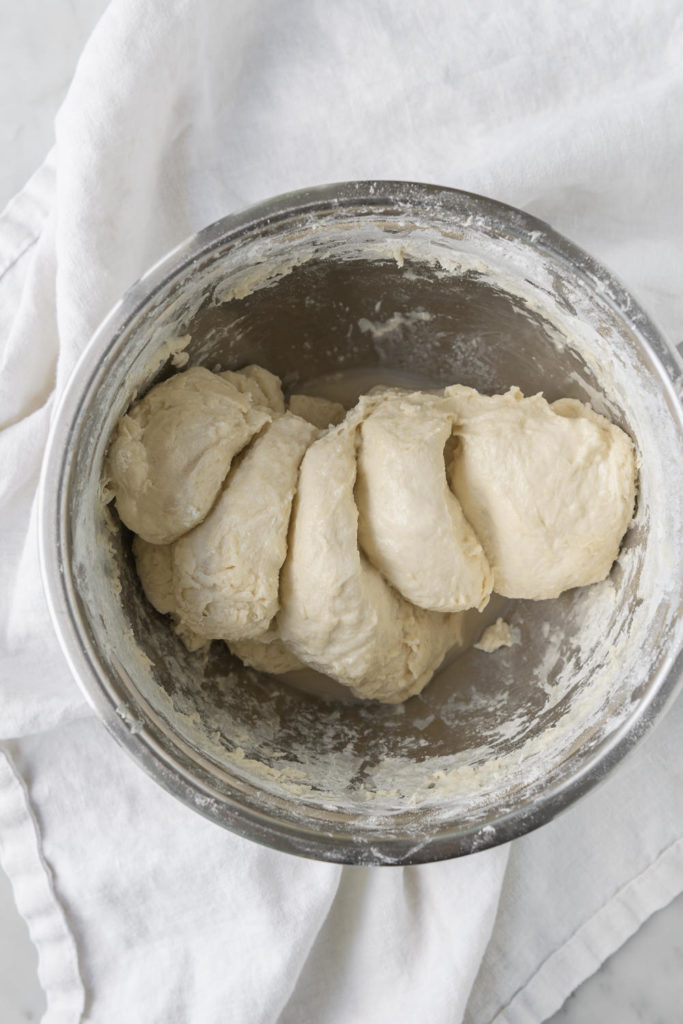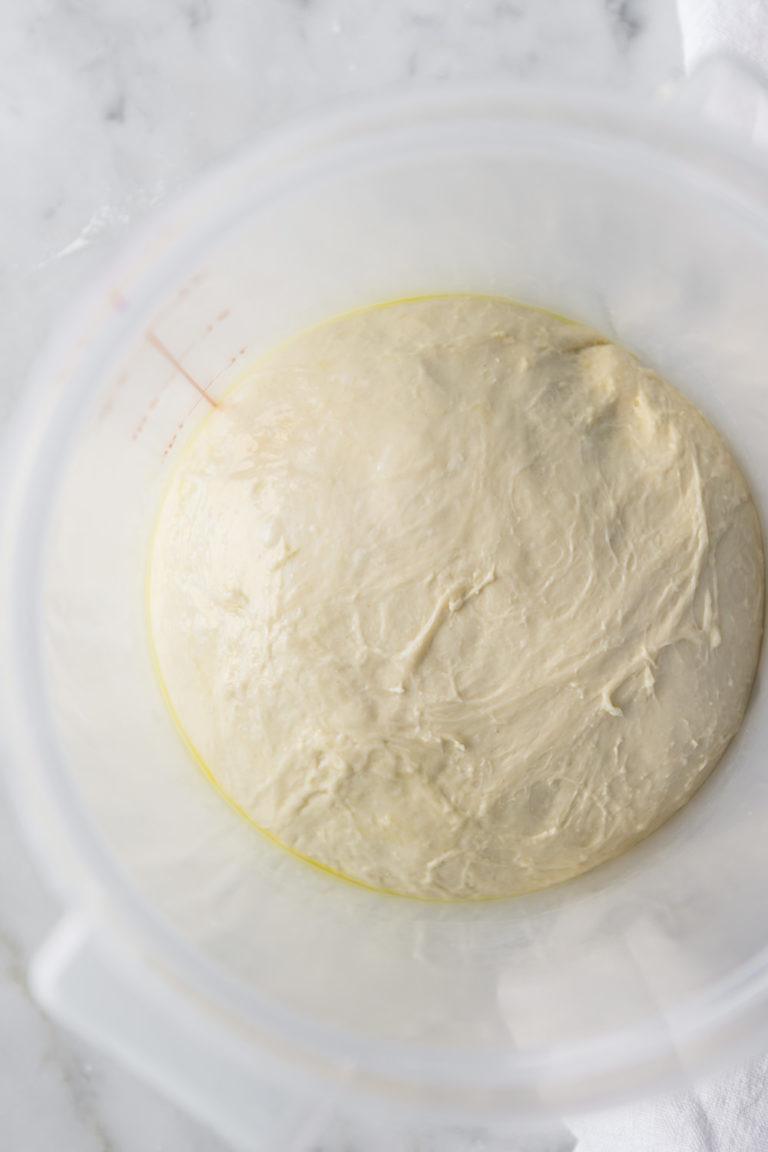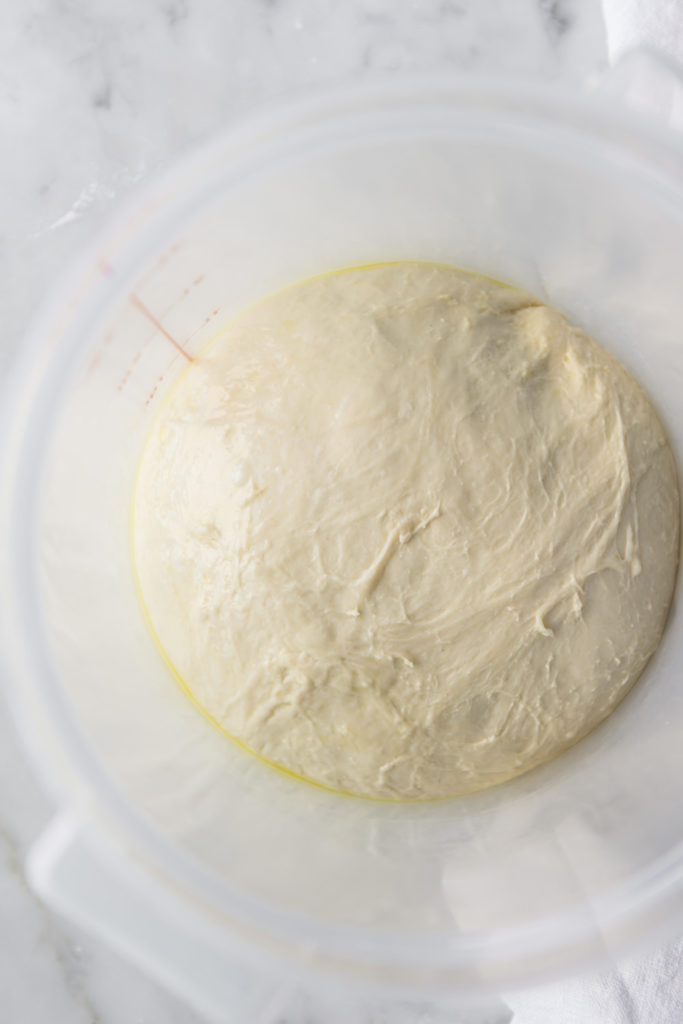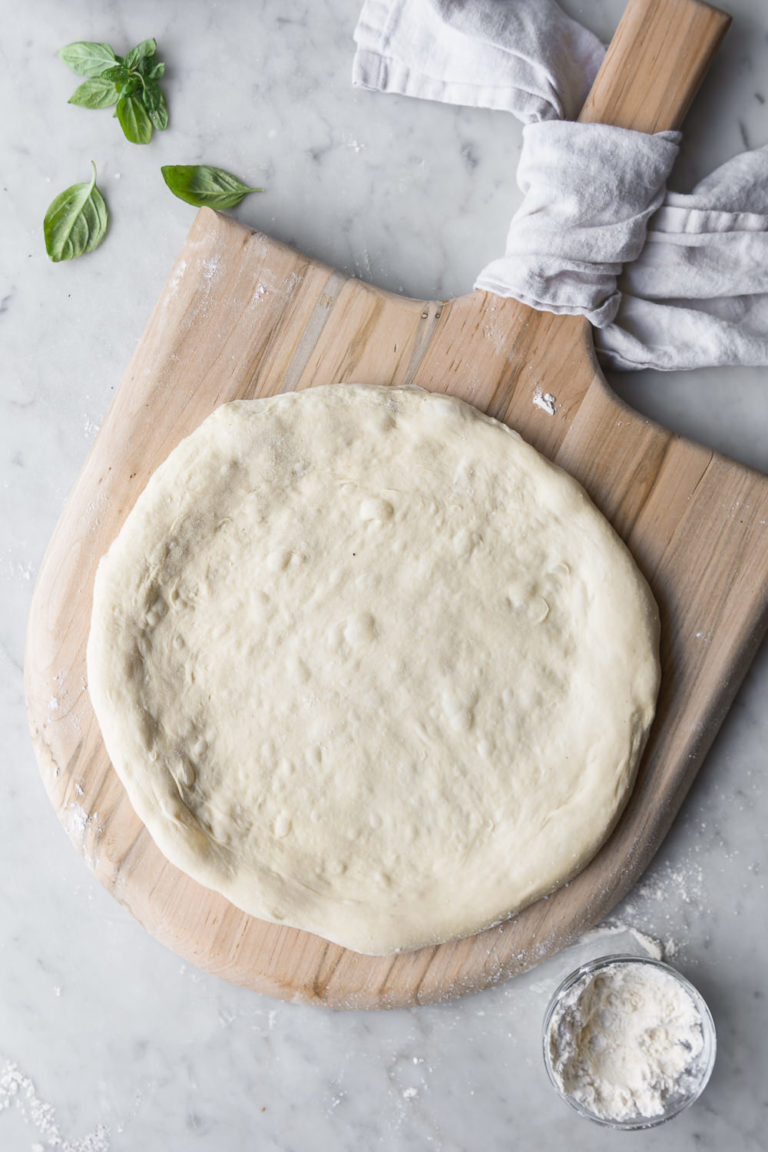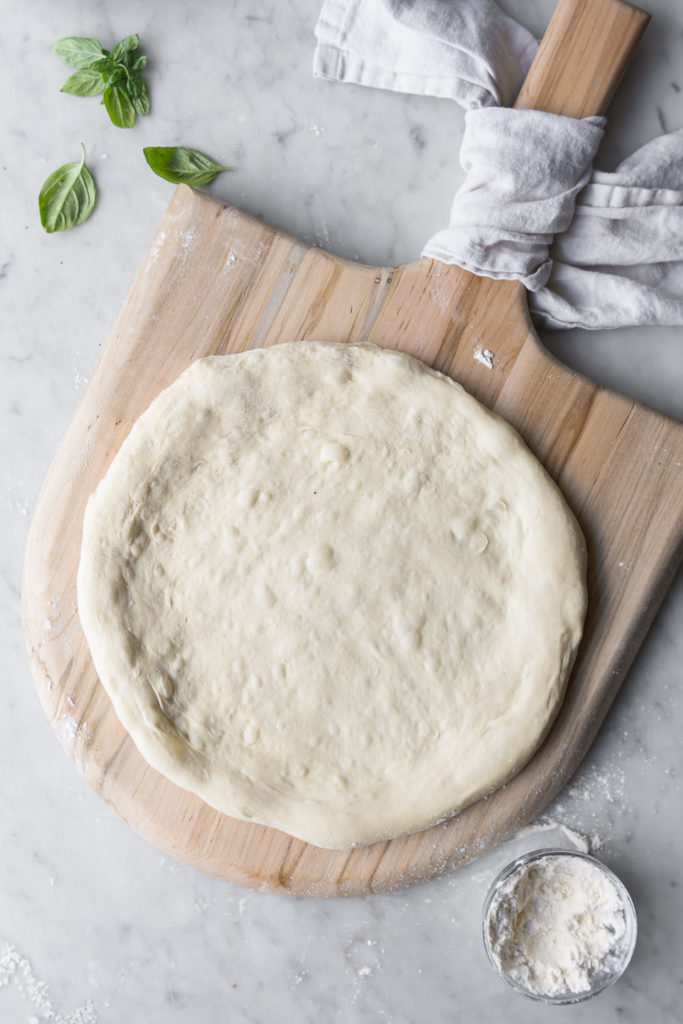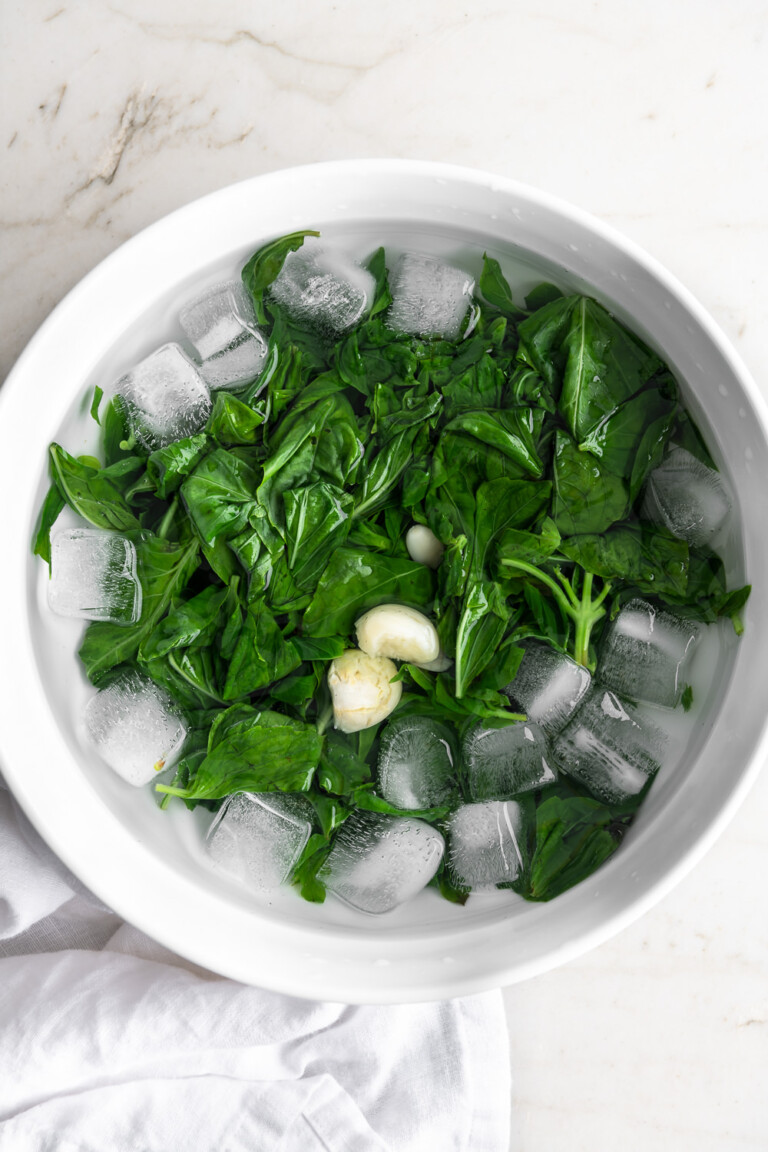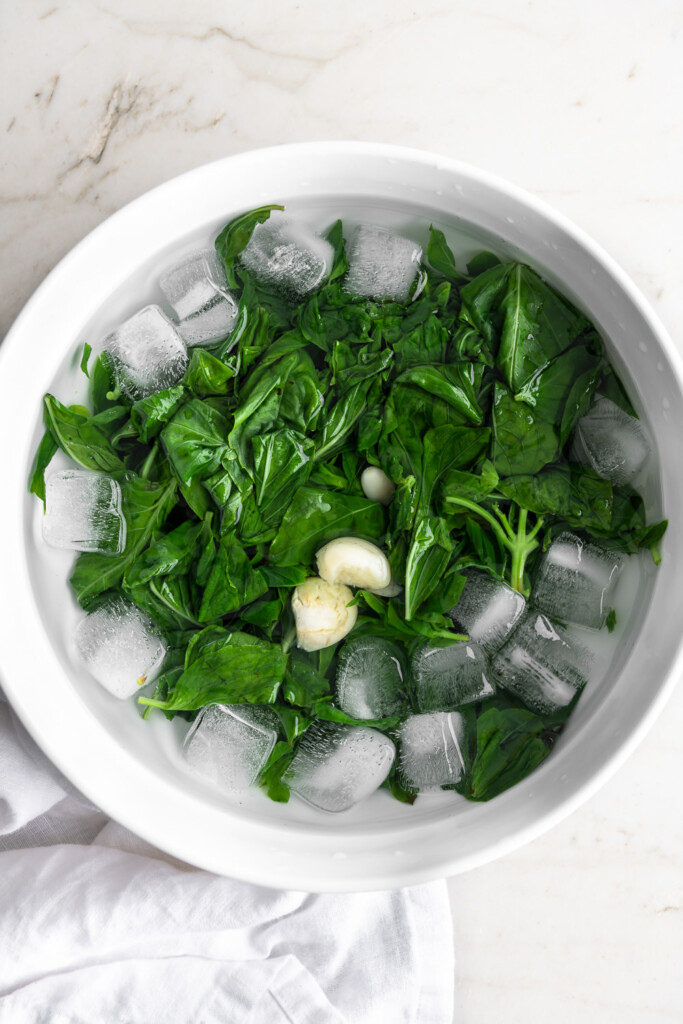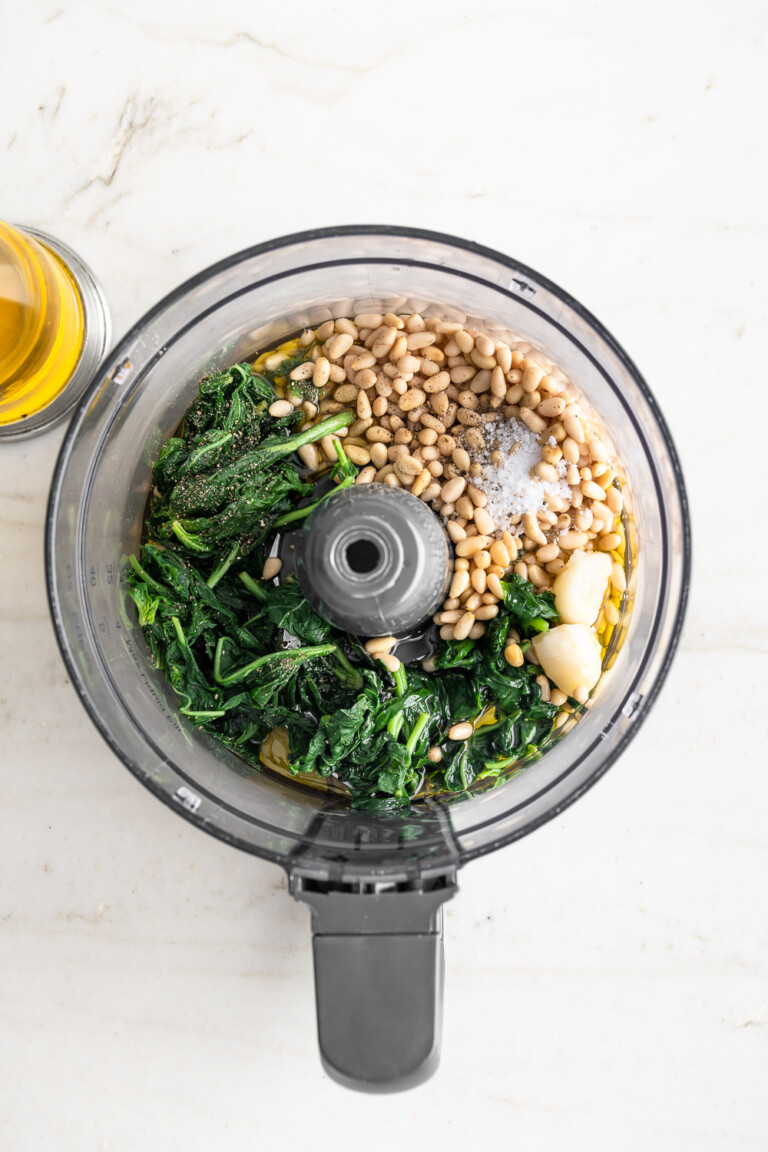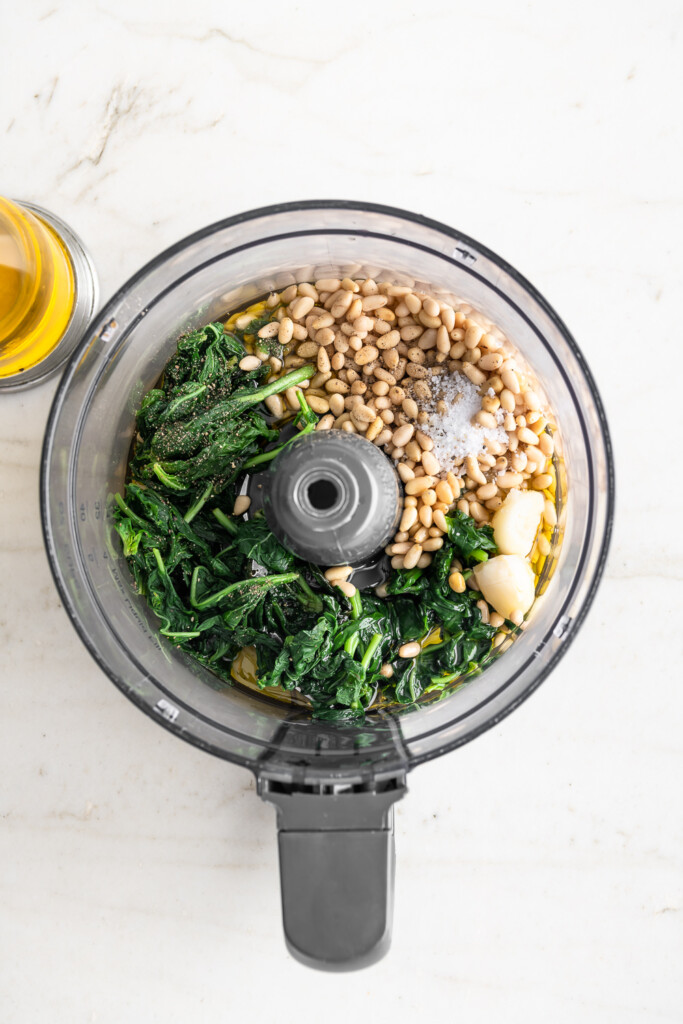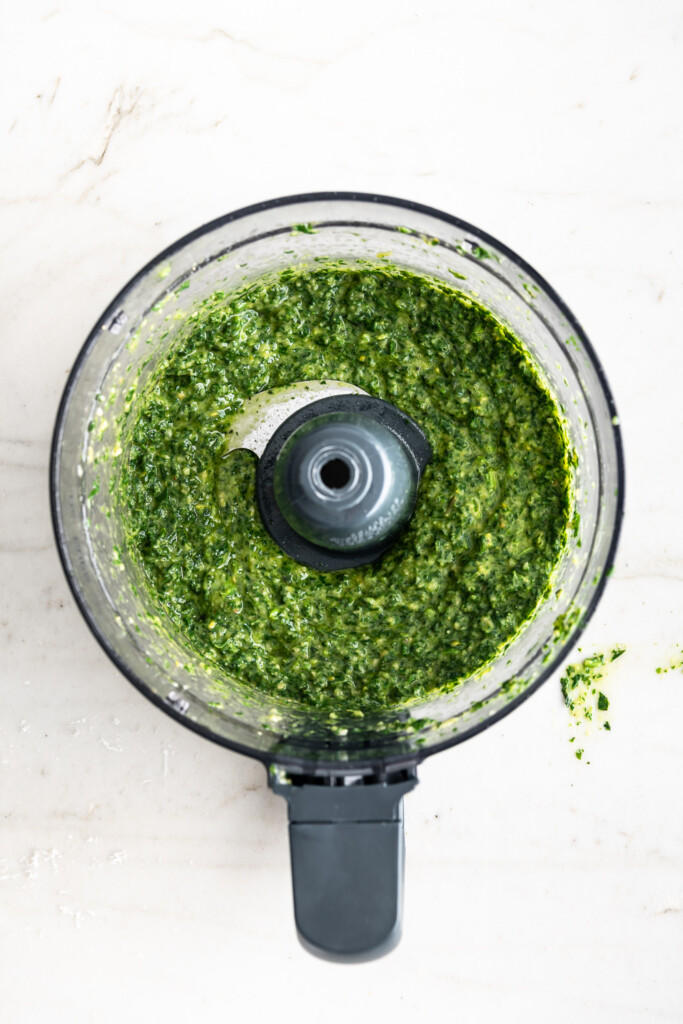 what to put on pesto pizza:
I love simple pizza with a few great ingredients and not much else. It keeps the focus on that great pizza crust and deliciously fresh pesto. But there's always a place for more toppings, textures, and flavors on pizza, especially if you're hosting a make-your-own pizza party!
So here's a fun list of what toppings go with pesto pizza:
Sliced grilled chicken
Garlicky sautéed shrimp
Sausage crumbles
Thinly sliced steak
Crispy prosciutto
Sliced salami
Dollops of ricotta
Torn burrata (after cooking)
Sautéed spinach
Fresh arugula (after cooking)
Sautéed kale
Steamed chopped broccoli
Steamed or roast cauliflower
Thinly sliced zucchini
Marinated artichokes
Sautéed mushrooms
Sliced heirloom tomatoes
Roasted cherry tomatoes
Sun-dried tomatoes
Roasted garlic
Spoonfuls of calabrian chile paste (this one is my favorite!)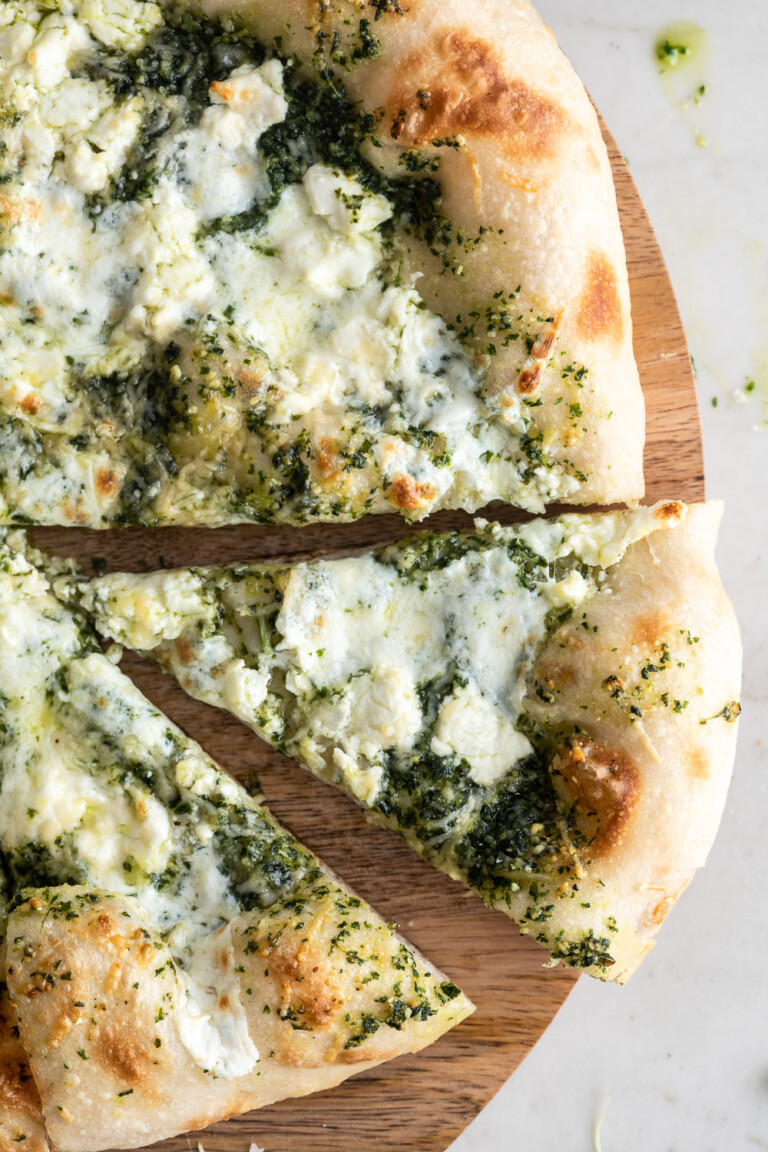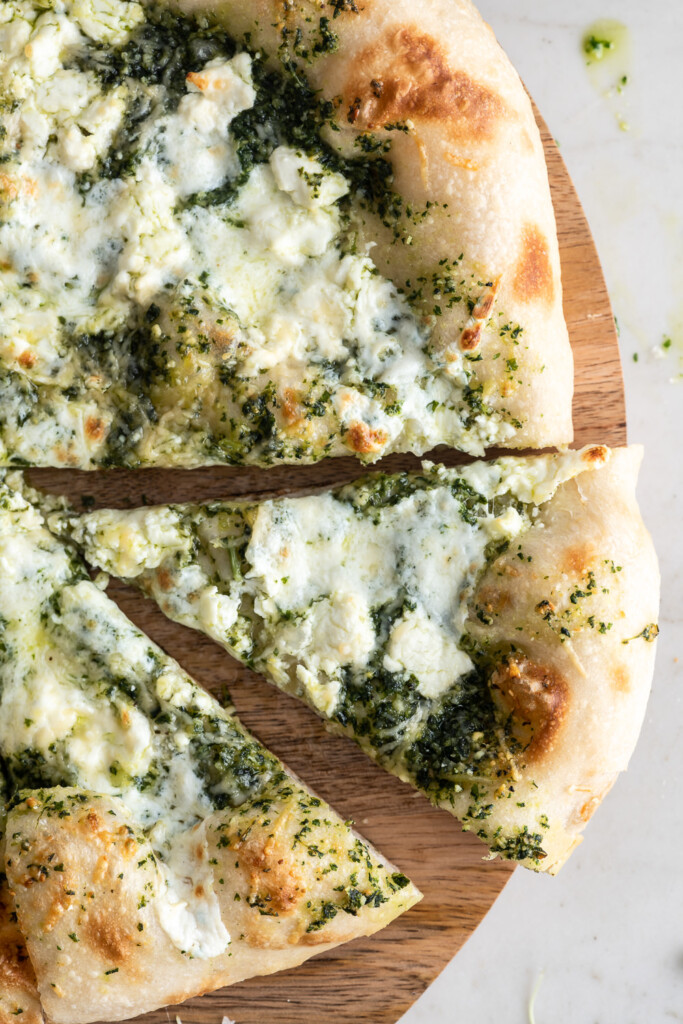 tips:
Double the pesto recipe! When you blanch the basil, it cooks down so much that it can be hard to blend in a standard-sized food processor (though totally fine with a smaller one or blender). But pesto freezes so well. You might as well make extra!
Feel free to substitute your favorite nut in the pesto. I love to play with walnuts and almonds in place of the pine nuts.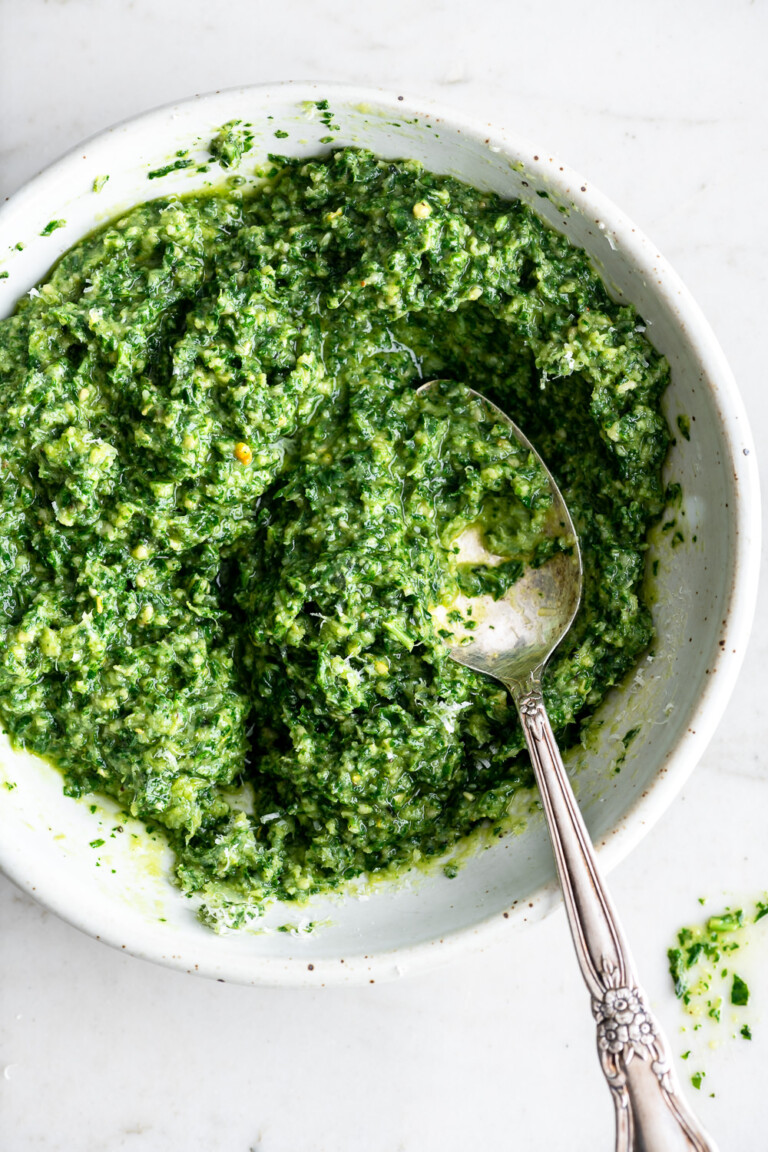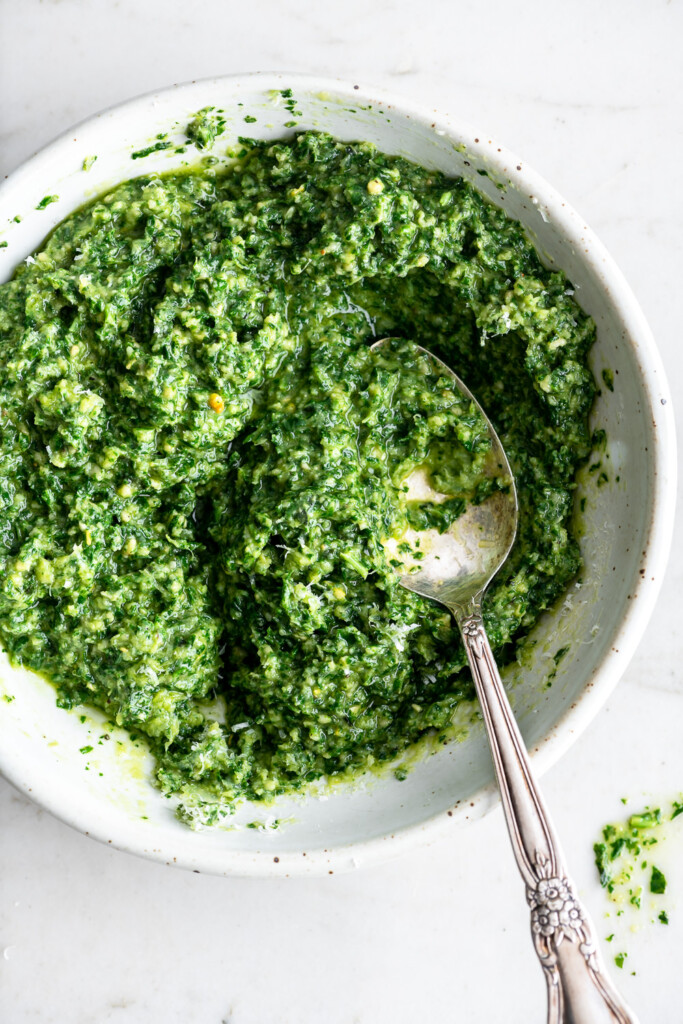 more pizza recipes to try:
artichoke pizza with spinach parmesan cream sauce
calabrese pizza with salami and rosemary
hawaiian pizza with caramelized pineapple
caramelized fennel sausage pizza
morel pizza with crispy shallots
white sauce pizza with mozzarella, parmesan and ricotta
stuffed focaccia with mozzarella and pistachio pesto
Print
pesto pizza recipe
Make absolute best pesto pizza recipe at home with a fresh and vibrant green pesto, 3-cheeses, and a bubbly artisan pizza crust.
Author:
Prep Time:

15 minutes

Cook Time:

7 minutes

Total Time:

22 minutes

Yield:

1 12-inch pizza

Category:

Pizza

Method:

Oven

Cuisine:

American

Diet:

Vegetarian
Ingredients
pesto
Kosher salt

1

garlic clove

2 cups

tightly packed basil leaves (from

3 oz

package)

¼ cup

toasted pine nuts

¼ cup

olive oil
Freshly ground black pepper

1 oz

grated parmesan (about

¼ cup

)
pesto pizza
½

recipe artisan pizza dough (one

15 oz

dough ball)

¼ cup

pesto (recipe above)

1 ½ oz

shredded parmesan

3 oz

fresh mozzarella, torn into small pieces

2 oz

fresh goat cheese
Instructions
pesto
Bring a medium saucepan of salted water to a boil and set aside a bowl of ice water. When water boils, add garlic and cook 20 seconds. Then add basil and cook for another 10 seconds. Transfer to ice water. Drain and squeeze out as much water as possible.
Place garlic, basil, pine nuts, olive oil, ¼ teaspoon salt, and a few cranks of pepper in the bowl of a food processor. Blend, scraping bowl down as needed, until smooth. Transfer to a bowl, stir in the parmesan and add more salt or pepper if needed. Set aside until ready.
pesto pizza
Place pizza steel or stone in the oven and preheat to 500°F. Let steel heat up for a full 45 minutes.
When oven is ready, generously flour a pizza peel and set aside.
On a floured surface, flatten the middle of the dough ball into a large disk, leaving a thick 1-inch lip. Pick up the disk, and holding the thick edge, use gravity to shape the dough into a 12-inch circle. Lay on prepared pizza peel and adjust shape into a circle. Jiggle the peel to make sure the dough isn't sticking; add more flour if it is.
Spread ¼ cup pesto all over the surface of the dough, leaving a ¼-inch border. Top with shredded parmesan, torn mozzarella and crumbled goat cheese.
Jiggle the peel to make sure nothing is sticking, then slide pizza onto steel and bake for 5 minutes. Broil for 2- 4 minutes, watching pizza closely, until cheese is bubbly and crust is charred in spots.
Remove pizza from oven and transfer to a cutting board. Slice and serve.
Notes
Nutritional information is only an estimate. The accuracy of the nutritional information for any recipe on this site is not guaranteed.
Nutrition
Serving Size:

⅛th of pizza

Calories:

241

Sugar:

1.3g

Sodium:

407mg

Fat:

11g

Saturated Fat:

4g

Unsaturated Fat:

6.6g

Trans Fat:

0.1g

Carbohydrates:

25g

Fiber:

1g

Protein:

9.4g

Cholesterol:

16mg