Truffle risotto is a luxurious way to use a fresh black truffle. The silky, saucy rice is filled with the earthy flavor of truffles and parmesan. You can also use truffle oil, truffle butter, or preserved truffles if you don't have a black fresh truffle!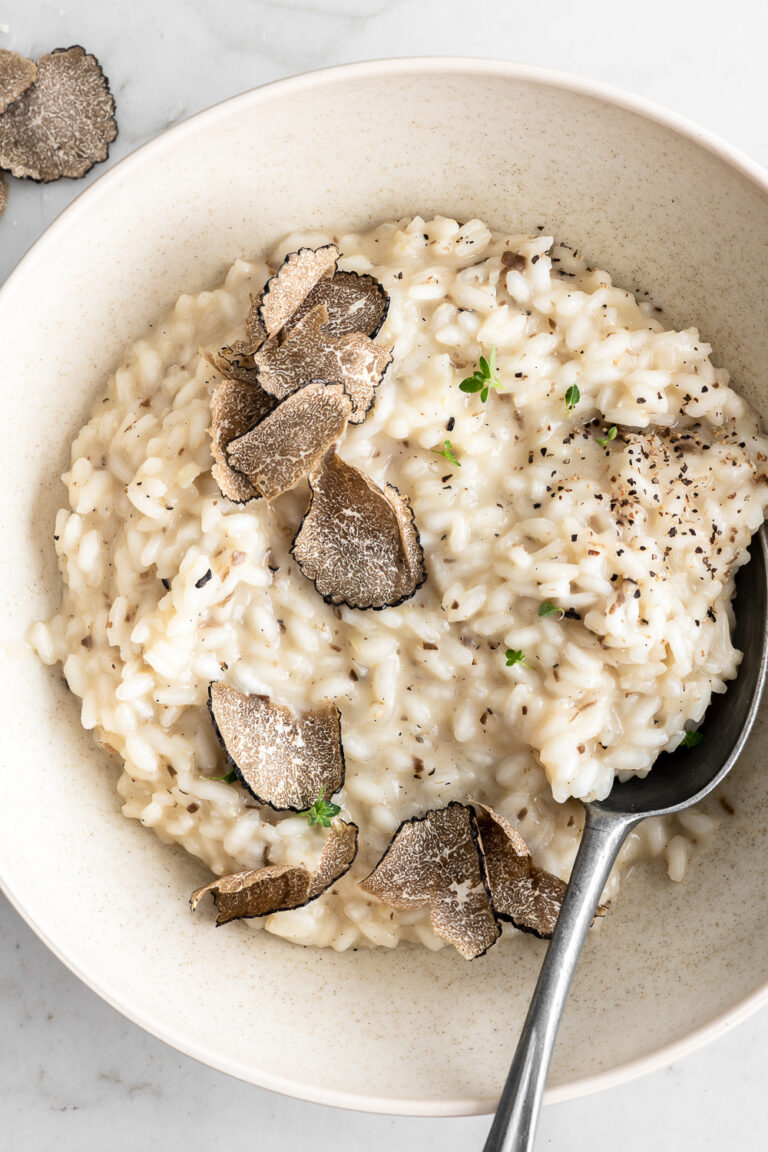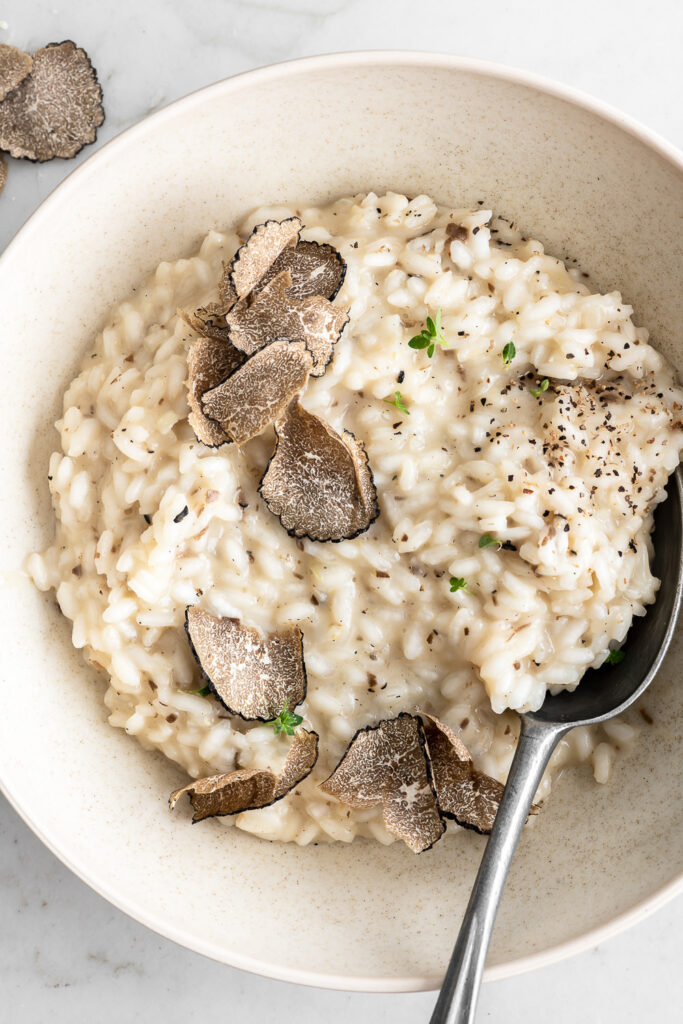 This post may contain affiliate links. As an Amazon Associate, I earn from qualifying purchases.
The smell of this truffle risotto is out of this world. The rich, earthy perfume of fresh black truffles, sharp parmesan, soft sweet onions, and a touch of garlic will make your kitchen feel like the coziest Italian enoteca.
Fresh black truffles are a different ball game from anything made with synthetic truffle oil-- they're savory, earthy, garlicky and wonderfully complex.
I've used summer truffles here, which are more subtle and delicate than the classic winter truffle, but still much more alluring than anything made with truffle oil. If you can get your hands on any type of fresh truffle, just do it and make this black truffle risotto recipe for the heck of it!
I waited way too long before buying my first black truffle. If you love food, why wait? Give it a shot and invite over all of your food-loving friends. Then use the leftover bits on scrambled eggs, in truffle butter, tossed in a truffle frittata, on a mushroom pizza, or in a truffle cream sauce. I have plenty of ways you can make this truffle work for you!
what is truffle risotto?
Truffle risotto is a creamy rice dish that is flavored with fresh black truffles. It's a silky, buttery, saucy rice that is cooked with minced black truffles, garlic and sweet onions and then finished with thin shavings of black truffle and parmesan. Read on for variations and fresh truffle substitutions!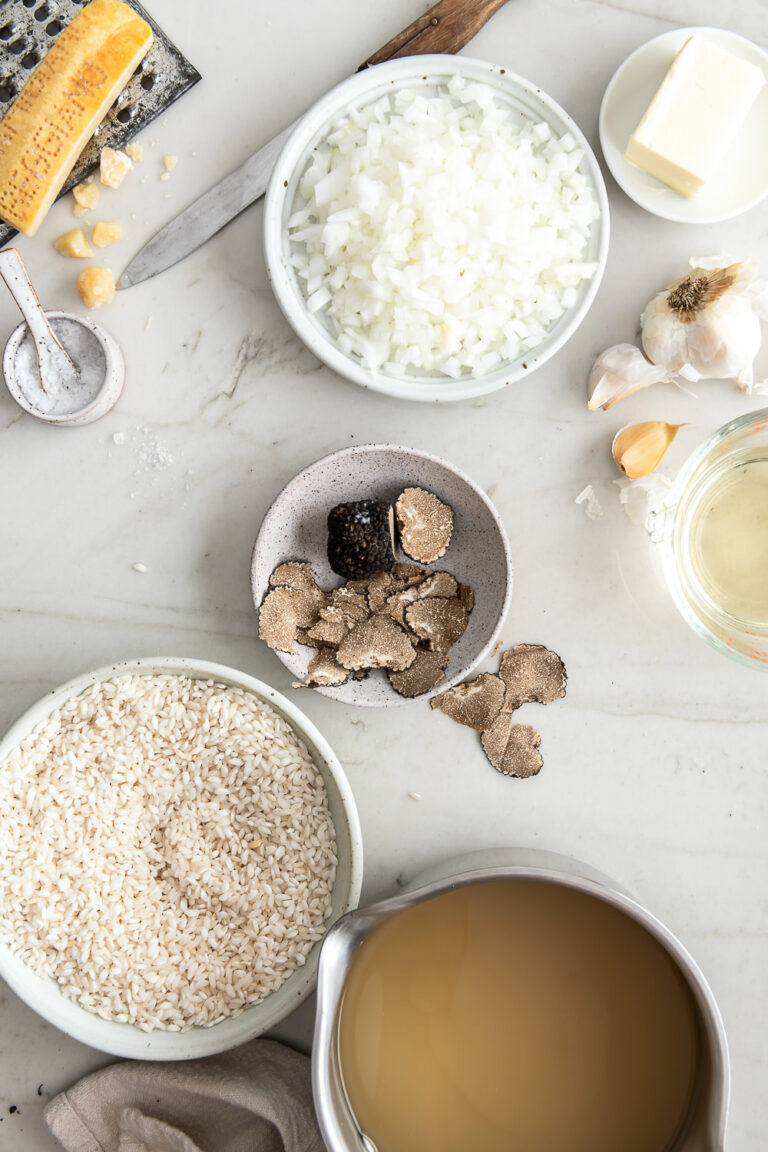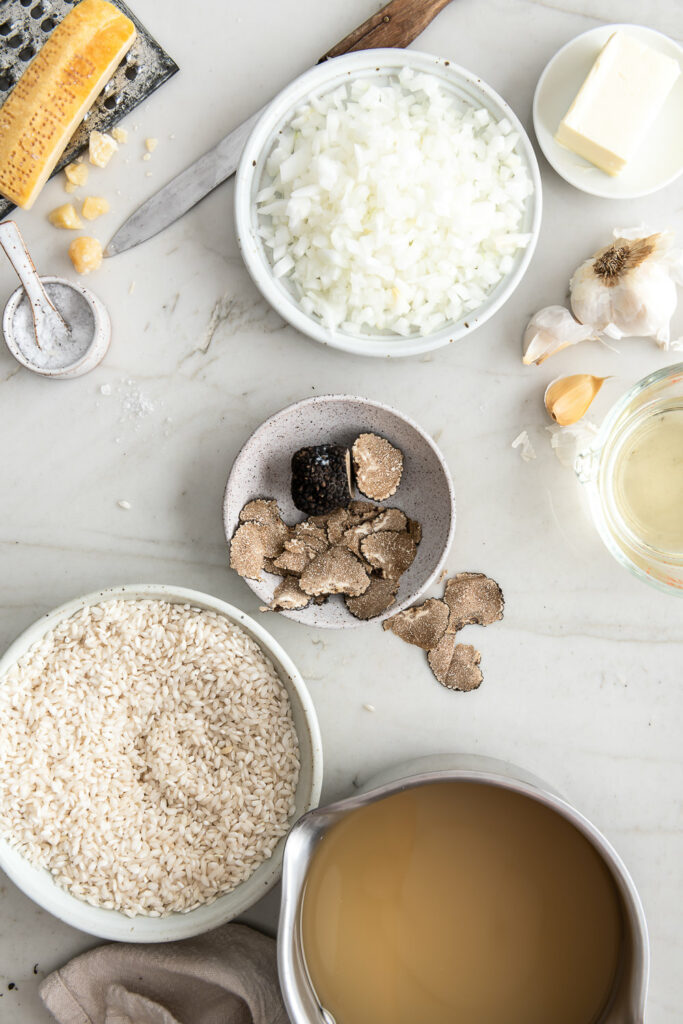 what you need for this truffle risotto recipe:
fresh black truffle (see below for substitutes)
onion
garlic
risotto rice (carnaroli, arborio, vialone nano)
dry white wine
chicken stock
parmesan
butter
kosher salt and pepper
how to make truffle risotto:
Heat chicken stock in a small saucepan and keep warm.
Gently sauté onion until soft.
Add garlic and minced black truffle, cook until fragrant.
Add a splash of water; cook onion until very soft but not browned.
Stir in rice, cook until just translucent on the edges.
Add wine and cook until evaporated.
Add hot stock, a cup at a time, until absorbed and evaporated. Stir often and add stock until rice is tender, toothsome and saucy, about 20 minutes.
Stir in a chunk of butter abd grated parmesan.
Top with shaved black truffle.
Enjoy!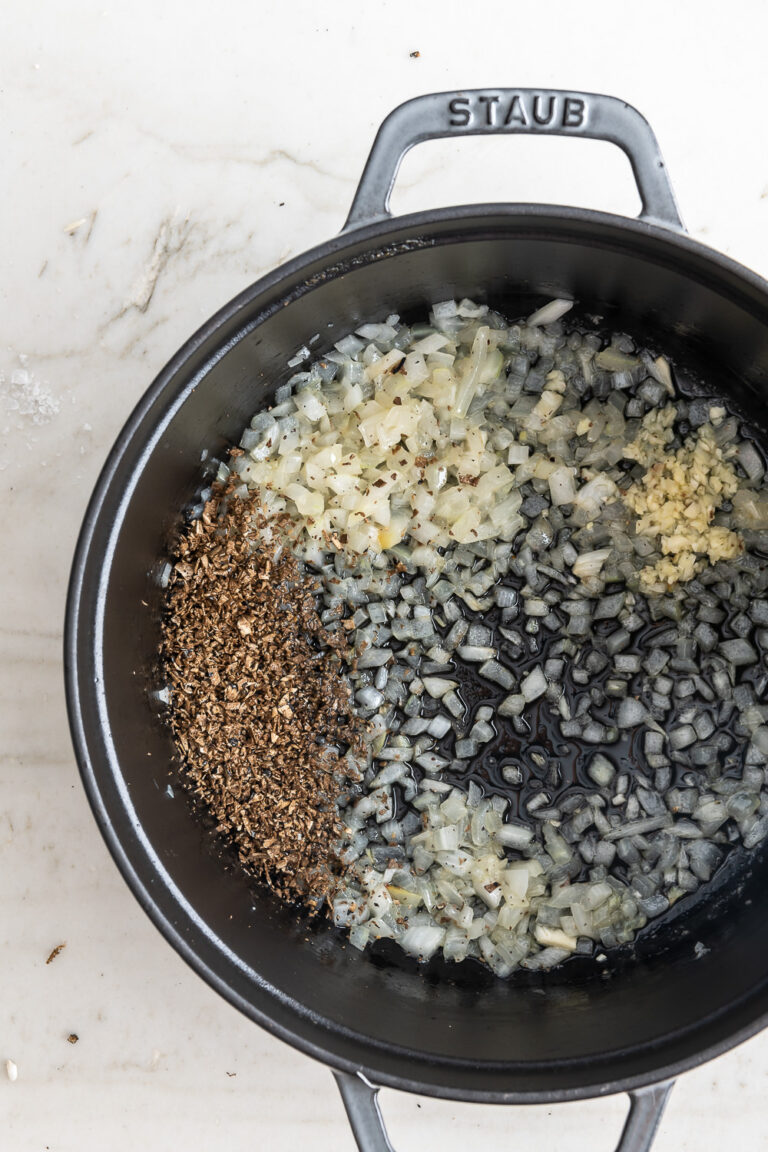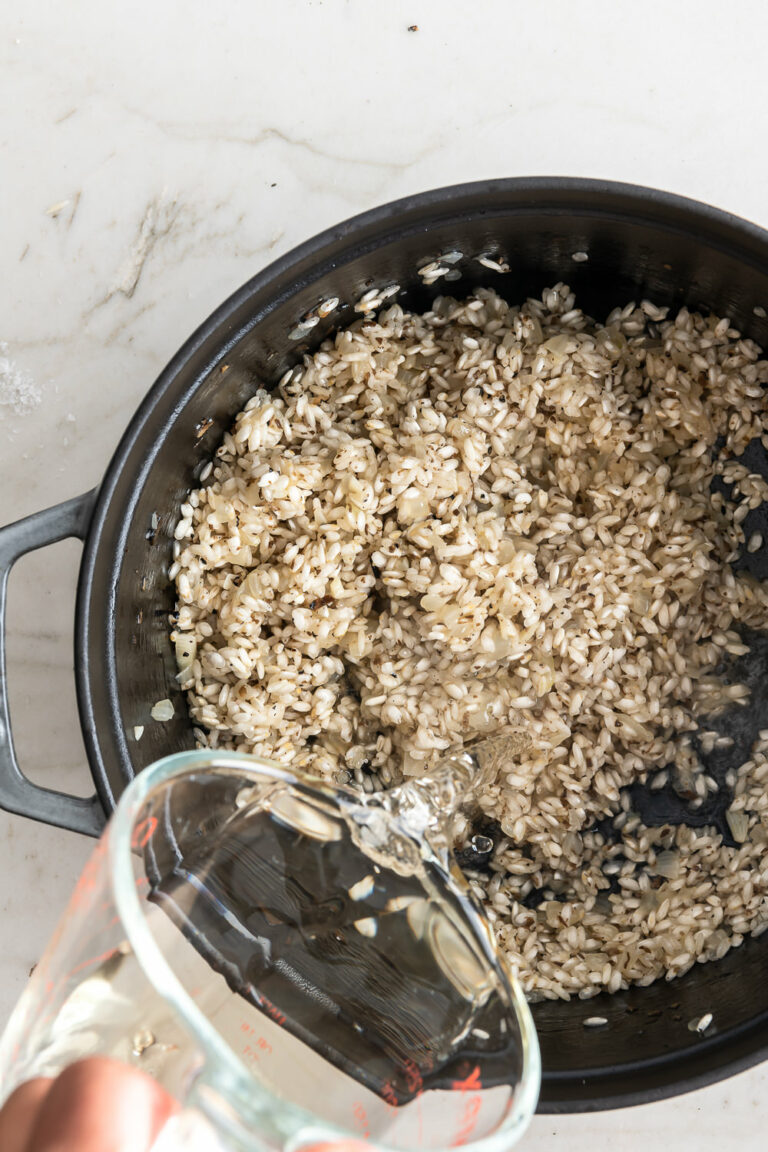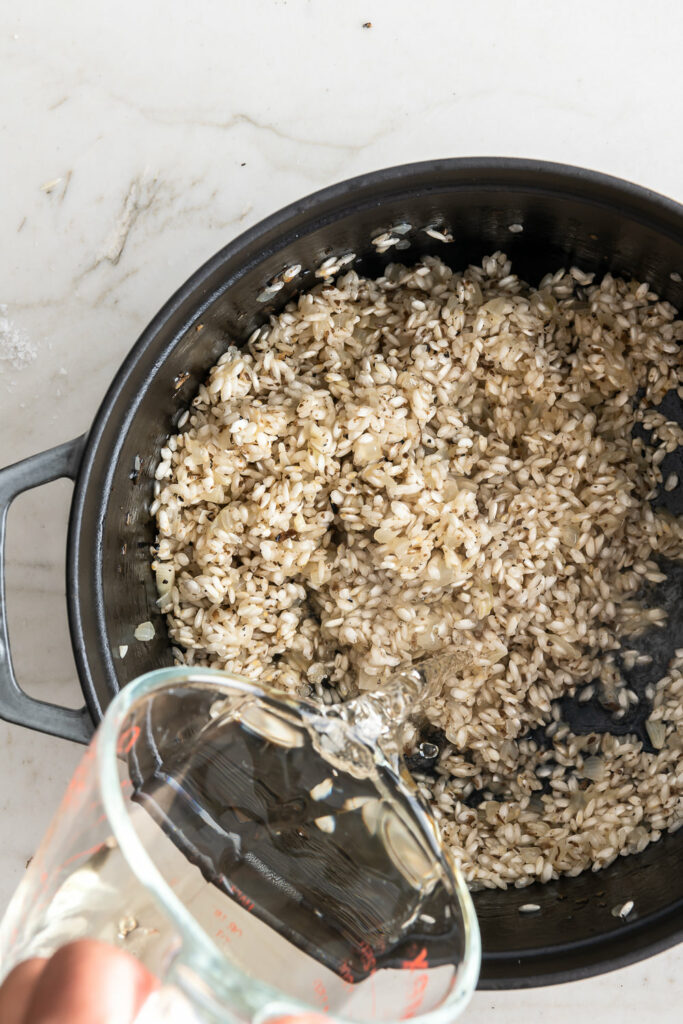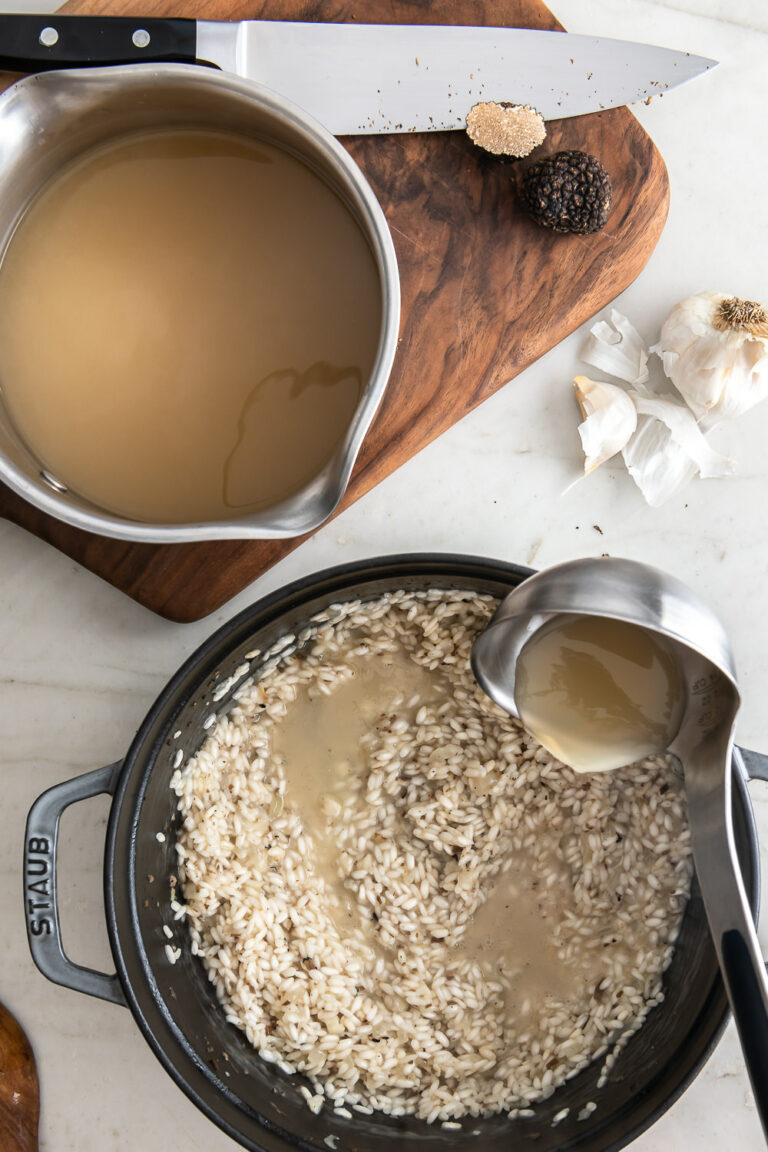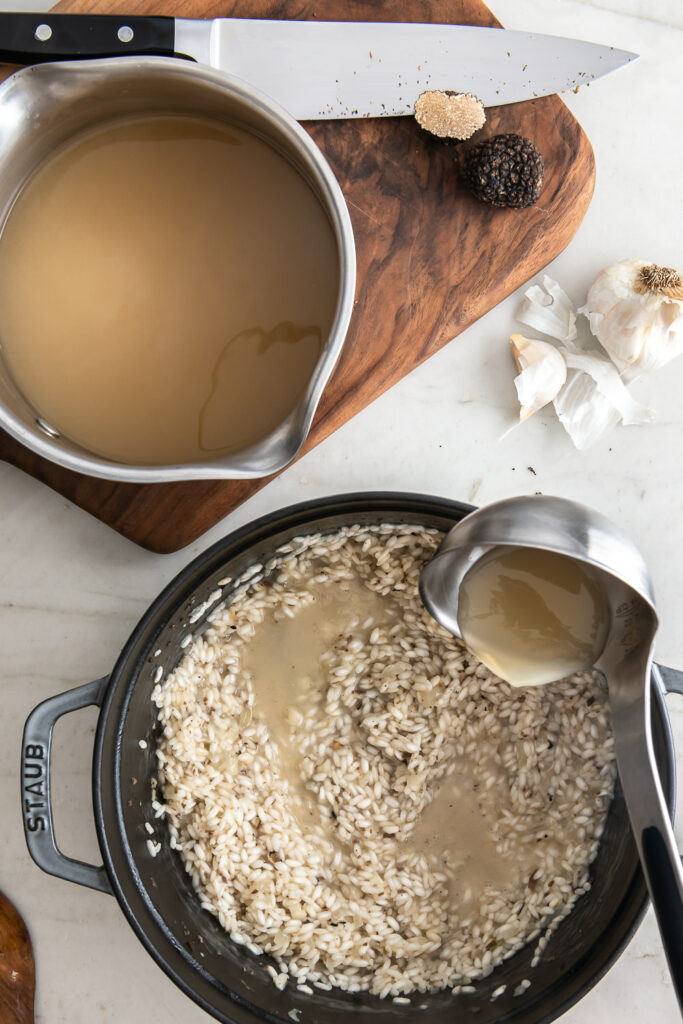 truffle oil versus fresh truffles:
Truffles are incredibly complex and full of a huge array of flavors. The intensity and flavor profile of a truffle can change based on where it's grown, the climate, the microbial ecosystem in the soil, and the time of year. They're a lot like wine, in that sense.
The downside of fresh truffles is they only last about a week, they're tricky to grow, and they're very seasonal-- which means when they are available, they cost a lot of money.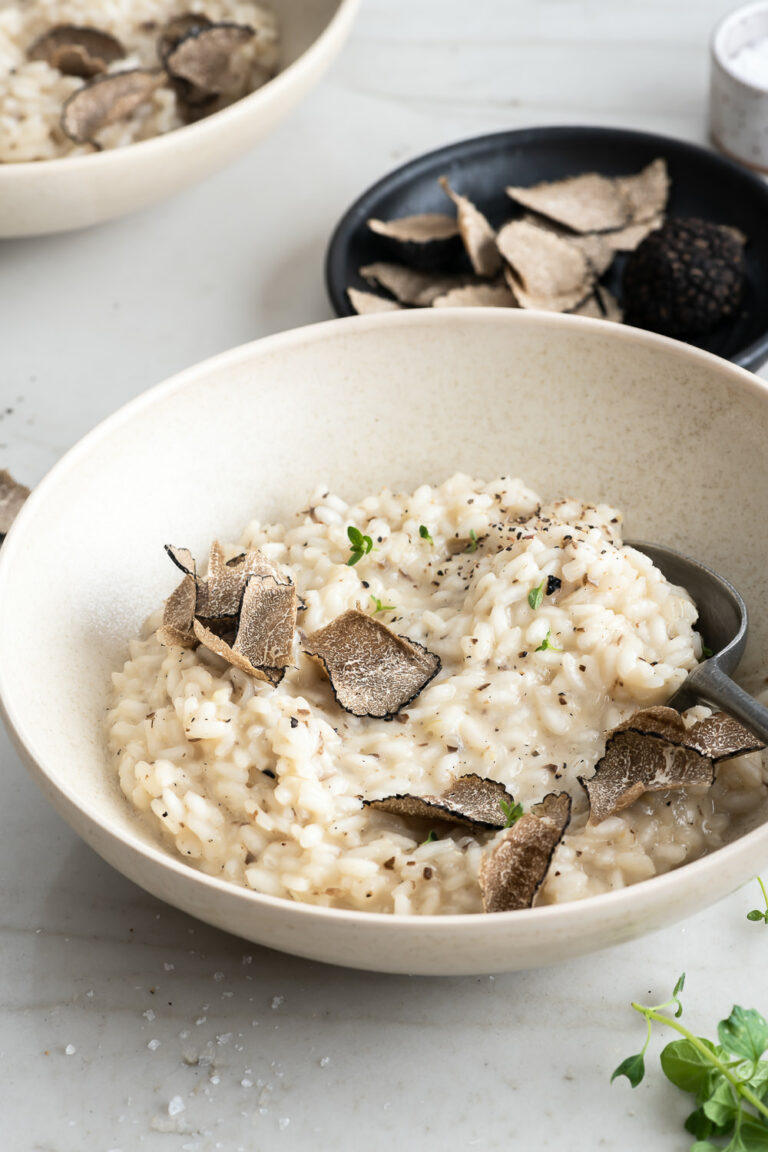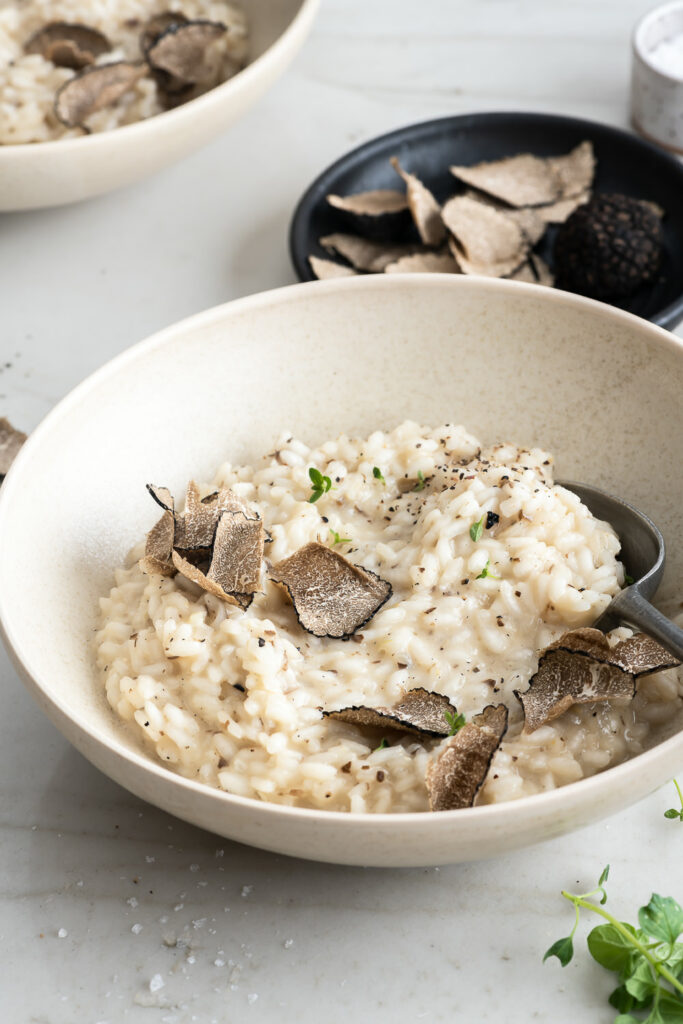 That's where truffle oil comes in. It's shelf stable, and in theory, it captures the truffle flavor at a fraction of the cost. Unfortunately, most truffle oils are made from one or two of the chemical compounds that are most prevalent in fresh truffles. But the delicate, beautiful, intricate flavor of real truffles is from a combination of as many as 200 volatile compounds. The oils inevitably fall flat. To me, a lot of them honestly smell like canned corn. They're pungent, really intense, and not necessarily representative of the true flavor of truffles. Or to be completely honest, even pleasant.
If you can get your hands on real black truffles, you'll experience something completely different (and much more enjoyable!) than what any synthetic truffle oil can provide.
more fresh truffle substitutions:
Aside from truffle oil, the following are all made from real truffles and better capture the full array of flavor:
preserved truffles
dried truffles
truffle salt
how much truffle oil to use in risotto:
If you don't have fresh truffles or truffle pate, high-quality truffle oil is still a great way to add complexity. Use truffle oil as a finishing oil in this risotto recipe.
Start with about 1 teaspoon of oil per serving and drizzle on more as needed.
how to store a fresh truffle:
Wrap the truffle in paper towels and store in an airtight container in the refrigerator. Use the truffle as soon as you can-- they will go bad after about a week.
The flavor also rapidly dissipates, so the sooner you eat it the better!
Tip: I love to make truffle butter with any scraps. The butter absorbs the fragrance, extends the shelf life, and makes it super easy to add truffle flavor to all kinds of dishes.
do I need a truffle shaver?
No! If you have a sharp mandoline that can be adjusted to a very thin setting, it'll work just as well as a gimmicky single-use kitchen tool like a truffle shaver.
You can also use a vegetable peeler, though it is harder to get perfectly round shavings.
If you're not that worried about the iconic look of fresh truffle shavings, a microplane is a fantastic tool for truffles. The tiny shavings maximize the surface area exposed to air so you get the most flavor released onto your food. No special truffle tool is necessary!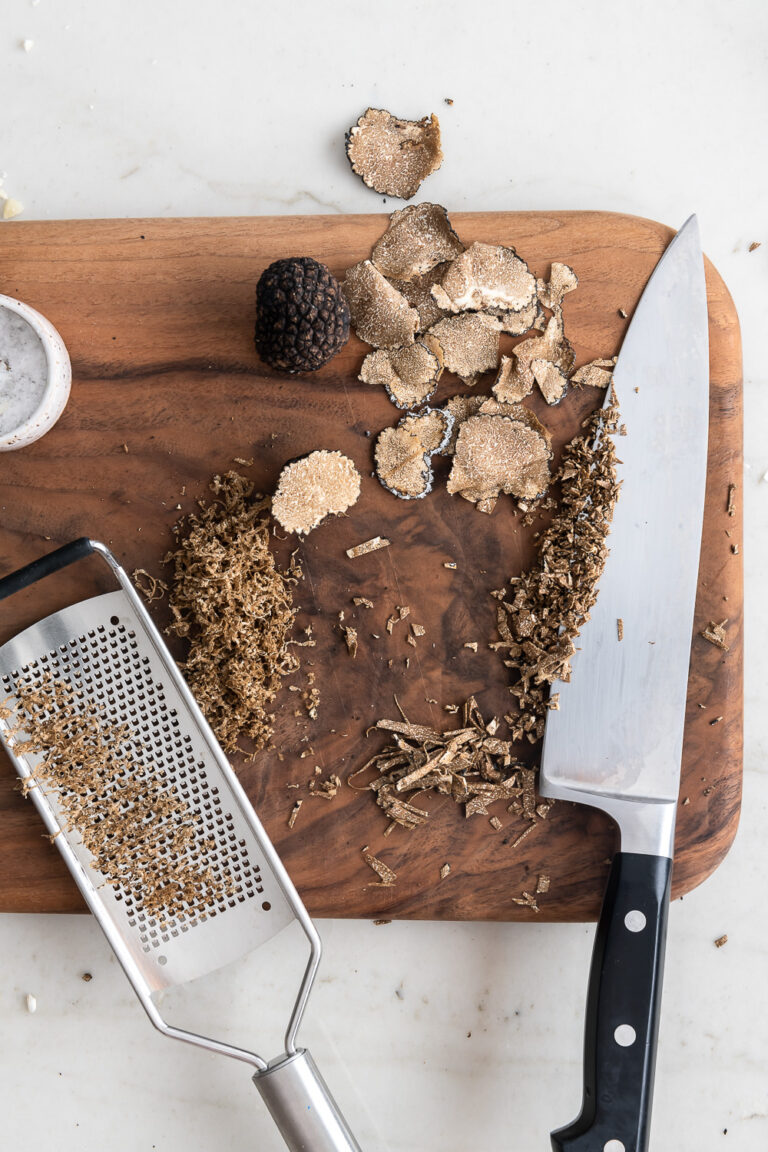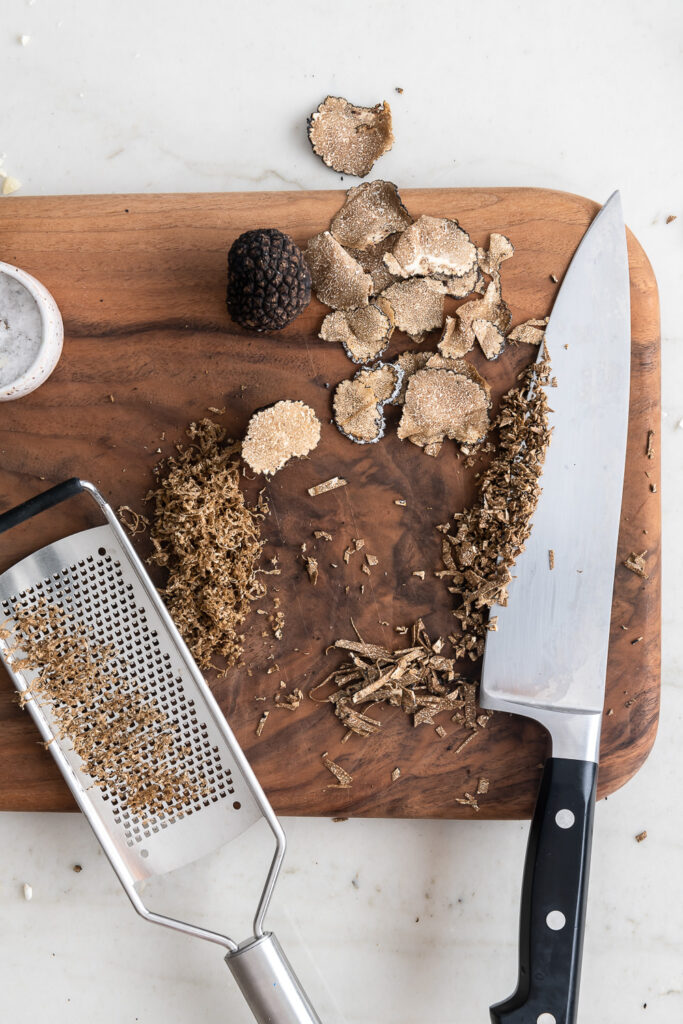 what to serve with truffle risotto:
I love to serve this truffle risotto recipe with a big, fresh salad and call it a meal. But my husband needs meat.
To round out the meal, a rich roasted chicken is fantastic with the earthy truffles. Crispy halibut or seared scallops are also a delicious complement to the flavorful risotto. A juicy, crusty seared steak goes well with creamy truffle risotto, too!
what wine to serve with truffle risotto:
Aged pinot noir is a classic wine pairing with anything black truffle. As wines age, especially those from Burgundy, they take on an earthy, mushroomy profile that is often described as "truffled". The wines also become silky smooth and rich, which is a delicious accent to the luxurious truffle risotto.
Obviously, Burgundy wines are expensive. But you've spent a lot of money on the truffle; don't go cheap with the wine.
Wines from the Cotes de Nuits (northern part of Burgundy's Cote d'Or) are the most expensive, and arguably the best, Pinot noirs in the world. But there are also a fair amount of affordable and very good options, meaning you don't need to go all in with DRC! Just pick a delicious $40- $60 wine to go with this elegant meal.
Look for wines from Cotes de Nuits Villages and Marsannay for reds that are lush, silky, floral, elegant.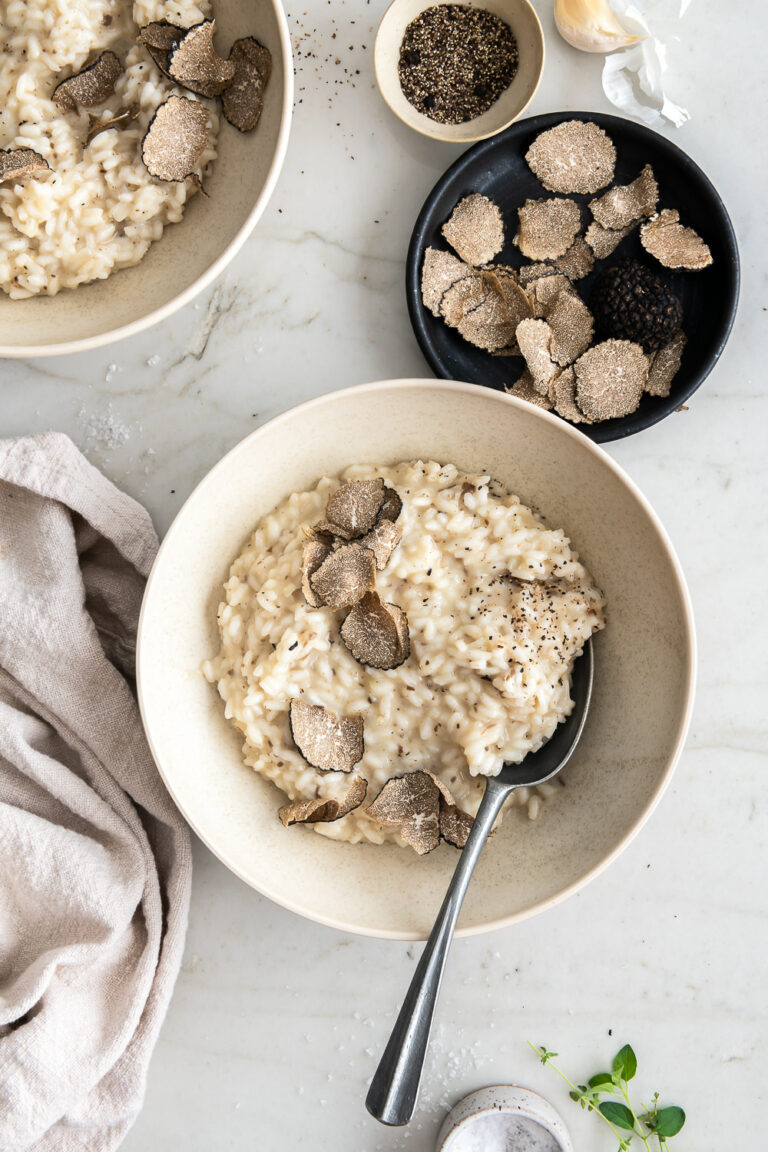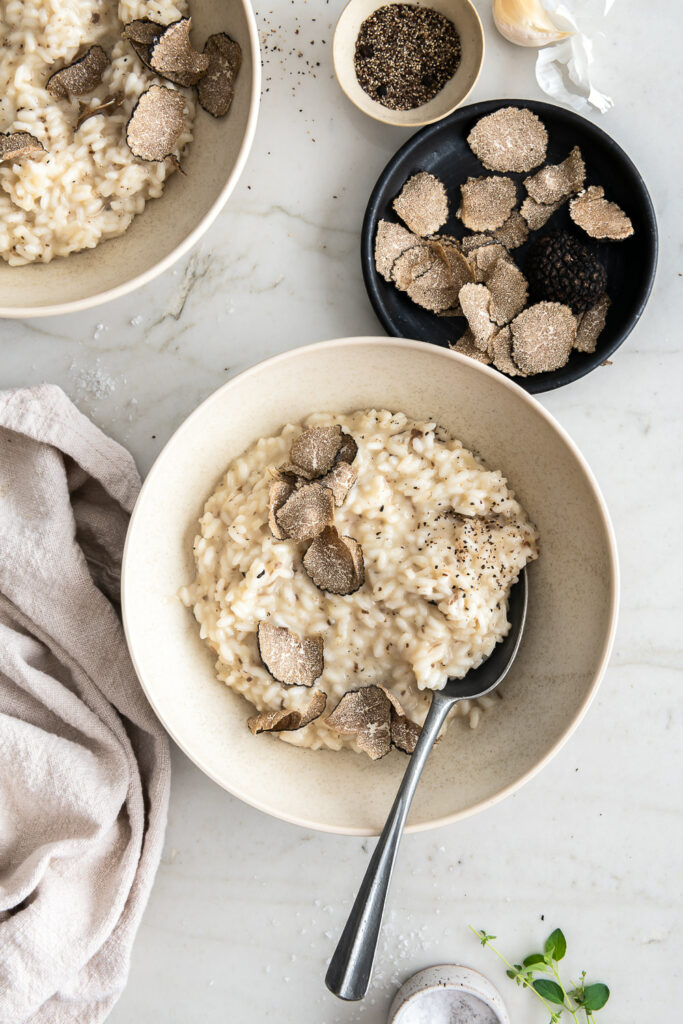 recipe variations to try:
I get it, fresh black truffles are a super rare ingredient to have in your kitchen. If you do have them, make this recipe as is: the truffle flavor is complex and earthy and so savory. But if you don't have these little nuggets of black gold at the moment or you want to add some flair, here are a few delicious variations on the black truffle risotto recipe!
risotto with truffle oil: Skip the fresh truffle entirely and drizzle the finished risotto with a tablespoon of oil. Taste and add more, if desired.
truffle butter risotto: Finish the truffle risotto with 2 tablespoons of cold truffle butter, instead of regular butter. The flavor will bloom as it hits the hot risotto, and it will add a silky finish to the rice.
mushroom truffle risotto: Cook the onion in Step 2 for about 3 minutes until softened, then add 12 oz fresh mushrooms (chopped or torn into bite-sized pieces). Cook until browned and softened, about 10 minutes. Add garlic and black truffle, skip the ¼ cup water, and cook until fragrant. Add rice and continue with Step 3.
white truffle risotto: Use white truffles instead of black. It's best to serve white truffles raw, so finish the risotto with fresh shavings but skip the 2 tablespoons of minced truffle that is sautéed with the garlic.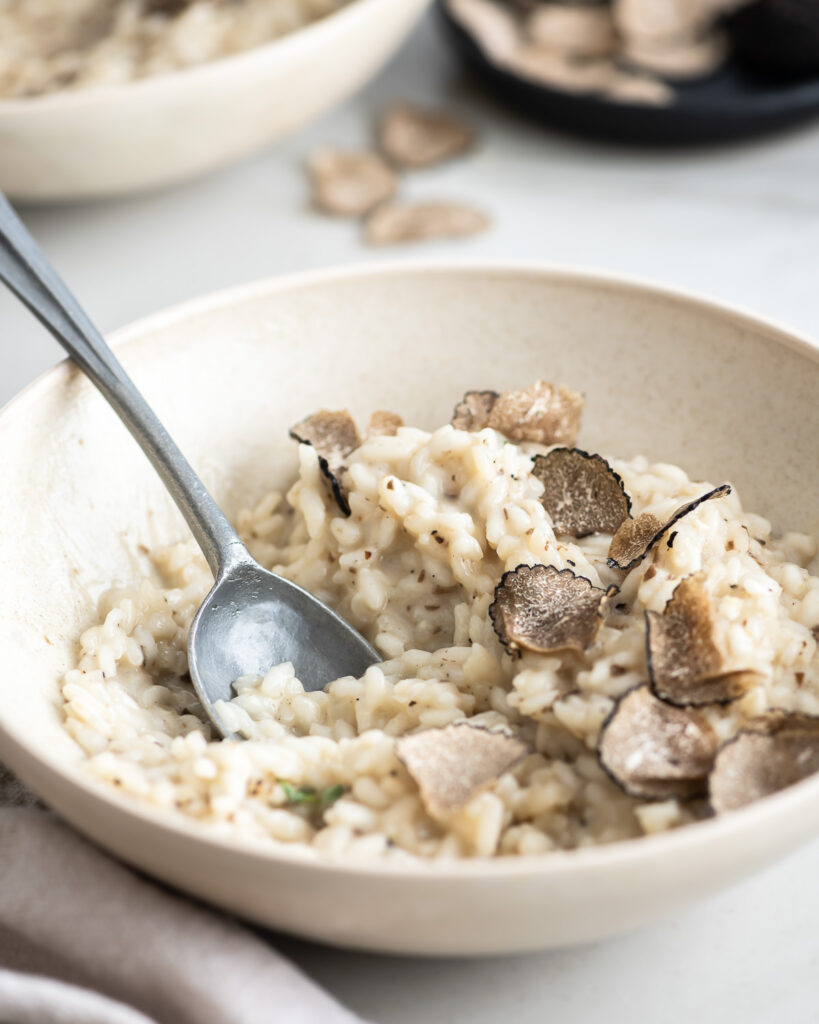 more truffle recipes to try:
truffle mashed potatoes (buttery and creamy!)
mushroom frittata with truffles
more risotto recipes to try:
Print
black truffle risotto
Truffle risotto is a luxurious way to use a fresh black truffle. The silky, saucy rice is filled with earthy truffles and parmesan. You can also use truffle oil, truffle butter, or preserved truffles if you don't have a fresh black truffle!
Author:
Prep Time:

5 minutes

Cook Time:

40 minutes

Total Time:

45 minutes

Yield:

4

Category:

Rice

Method:

Stirred

Cuisine:

Italian

Diet:

Vegetarian
Ingredients
6 cups

low-sodium chicken stock

1 oz

fresh black truffle (

1

small truffle), divided

6 tbsp

cold butter, divided

1

small onion, finely diced
kosher salt
freshly ground black pepper

1

garlic clove, minced

1 ½ cup

risotto rice (arborio, carnaroli, vial

one

nano)

1 cup

dry white wine

¾ cup

finely grated parmesan
Instructions
Heat chicken stock in a small saucepan over medium-low heat; keep it hot but not simmering.
Use a mandoline to thinly shave ½ oz of black truffle, then mince the shavings. You should have 2 tablespoons. Alternatively, use a microplane to grate ½ oz and set aside.
Melt 4 tablespoons butter in a large pot over medium heat. Add onion, season with salt and pepper, and cook until soft and translucent, 8- 10 minutes. Add garlic and minced truffle and cook for about 30 seconds, then add ¼ cup water. Continue to cook until water has evaporated and onion is very soft, but not browned, about 5 more minutes.
Add rice and stir to coat in butter. Cook until rice turns slightly translucent but not toasted, 2- 3 minutes. Add wine and stir until liquid is fully absorbed and the rice is mostly dry.
Add a ladleful of hot stock and a big pinch of salt and black pepper. Reduce heat to a gentle simmer and stir every so often to incorporate the liquid and keep the rice from scorching (over stirring can make it gluey). When the rice looks almost dry, add another cup of hot stock. Repeat the process, stirring often and maintaining a gentle simmer, until rice is tender but al dente and liquid is mostly absorbed (you may not need all of the stock), about 20 minutes.
Stir in remaining 2 tbsp cold butter and parmesan; season to taste with salt and black pepper.
Divide risotto into serving bowls. Shave the remaining ½ oz of black truffle over the top of the risotto and serve immediately.
Notes
Nutritional information is only an estimate. The accuracy of the nutritional information for any recipe on this site is not guaranteed.
Nutrition
Serving Size:

1

Calories:

380

Sugar:

1.3g

Sodium:

637mg

Fat:

23g

Saturated Fat:

14g

Unsaturated Fat:

6.9g

Trans Fat:

0.9g

Carbohydrates:

26g

Fiber:

0.4g

Protein:

7.7g

Cholesterol:

62mg
Keywords: truffle risotto