This sausage breakfast pizza combines all the flavors and ingredients of breakfast on a cheesy, bubbly pizza! It makes the ultimate breakfast for dinner, or really, a fantastic breakfast or brunch option.
Crispy sausage crumbles, drippy egg yolks and deeply caramelized onions are my favorite toppings for homemade breakfast pizza-- they're easy to prep in advance and they pack in all of the breakfast-y flavor.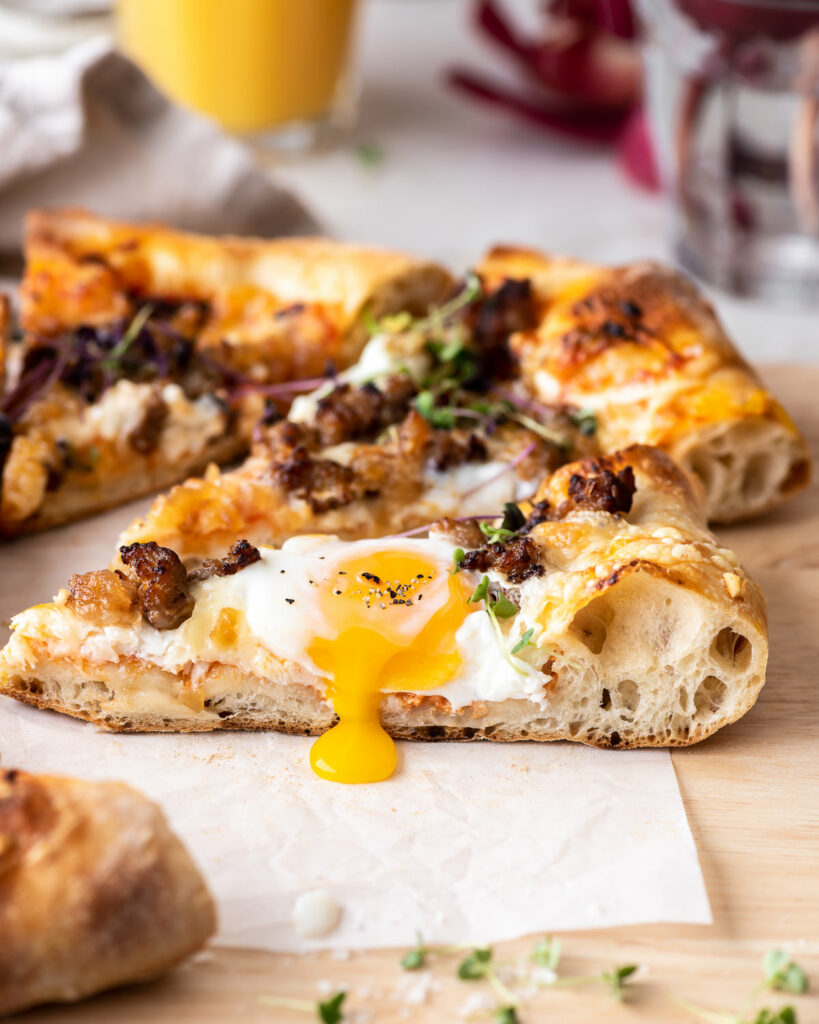 I also use a blend of shredded cheese (fontina and pecorino romano) to give a combination of creamy, melty texture and punchy sharpness. Feel free to use mozzarella (with a handful of parmesan!) if that's all you've got. Of course, for me, it's not really breakfast without some spice. So douse that melty egg in your favorite hot sauce and dig in!
Read on to learn how to make breakfast pizza, what you'll need, and a few links to my favorite pizza sauce and, most importantly, the best homemade pizza dough.
You could totally use your own favorite pizza dough, or even a store bought dough ball (Trader Joe's has some great options in the refrigerated section). But if you really want the ultimate homemade breakfast pizza experience, just go all in and try the artisan pizza dough. It's so bubbly, chewy, crispy, charred-- like the best artisan pizzeria you've eaten at-- and it's a pretty simple recipe, to boot.
what you need for sausage breakfast pizza:
raw sausage
eggs
onions
fontina
pecorino romano
butter
olive oil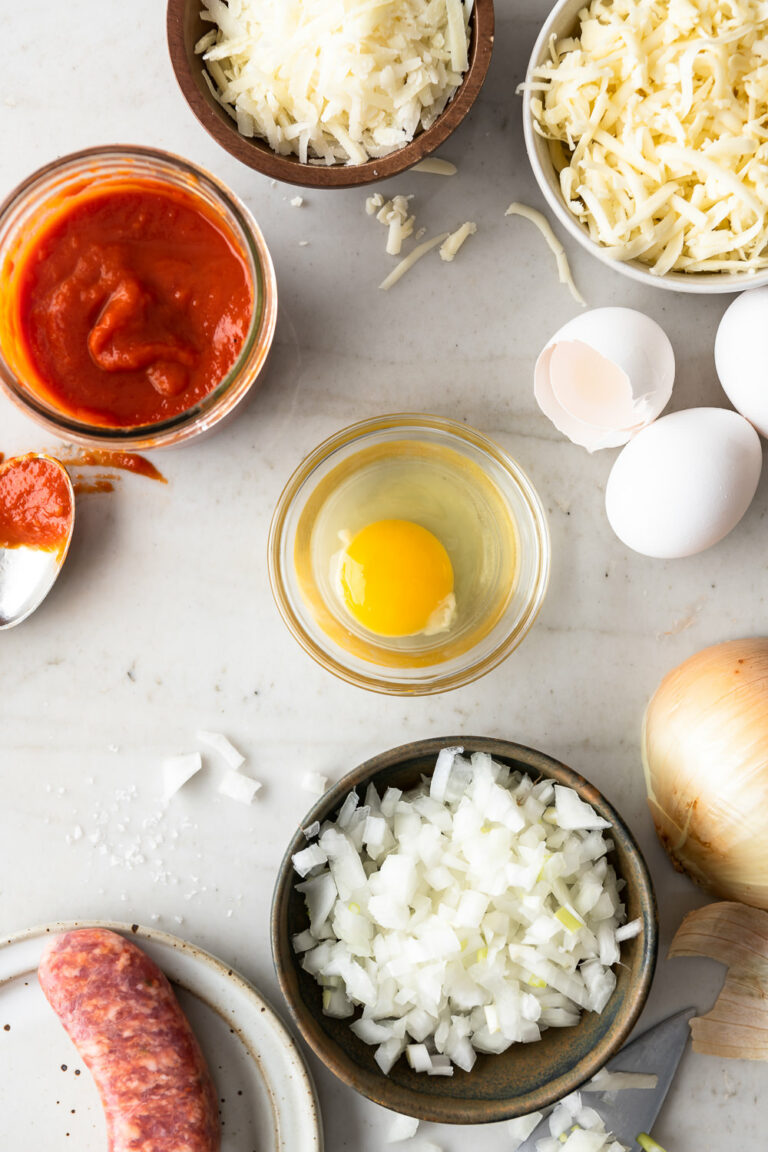 how to make a breakfast pizza:
Place pizza stone in oven and preheat it to 500°F for at least 45 minutes.
Make toppings: crumble the sausage, caramelize the onions, shred the cheese.
Crack eggs into small bowls.
Shape the dough into a 12-inch circle and spread with pizza sauce.
Sprinkle cheese, sausage and caramelized onions on top.
Transfer to oven, make wells in the surface of the toppings and slide eggs into the wells.
Bake for 8- 10 minutes.
Enjoy!
breakfast pizza prep:
I've found that prepping ingredients in advance makes a pizza night so much easier and less complicated. All of the components below can be made the day ahead, if desired, so all you need to do is fire up the oven and stretch some dough.
Making sausage breakfast pizza (any time of day, but especially in the morning) couldn't be easier if you plan ahead!
make the pizza dough:
My favorite homemade pizza dough takes about 8 hours to ferment before it's ready. Don't worry--there's very little involvement required during that time. But it does take a little bit of planning. If I want to make pizza for dinner, I start it around 9 AM. By 4 pm, the dough balls can be shaped and stored in the refrigerator until we're ready to make pizza. You could also hold the dough balls in the refrigerator for about 2 more days and make pizza to order!
Make the pizza sauce:
Simple, flavorful, smooth and intensely tomato! Make it on the stove in about 30 minutes and keep it in the fridge for up to 1 week.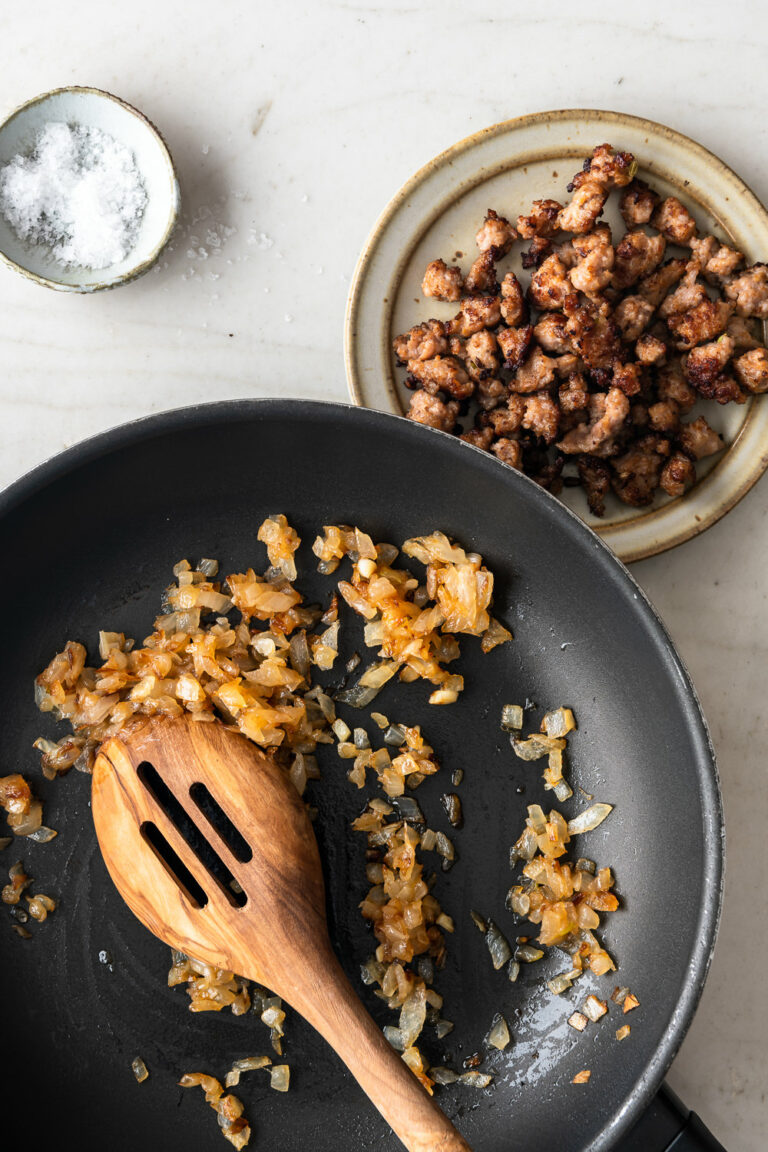 Brown the sausage:
It's important to cook the Italian sausage before putting it on the pizza. Not only do we want to make sure it's fully cooked, but we also want crispy edges and bite sized crumbles. Those qualities only come from cooking the sausage in a skillet and breaking it up while it browns. In 10- 12 minutes, you'll have sausage crumbles you can store for a few days in the fridge.
Caramelize the onions:
These sweet, soft onions take about 20 minutes to cook down and develop a light caramelized flavor. We don't take the onions to full caramelization here-- just enough to add rich flavor and a golden color.
Shred the cheese:
While you're cooking the other ingredients, you might as well make all of the messes at once-- so shred the cheese while the cutting board is out. This takes about a minute with a box grater, but it's so nice to have it done and cleaned up before you start making pizza! Store the shredded cheese in the fridge for a few weeks.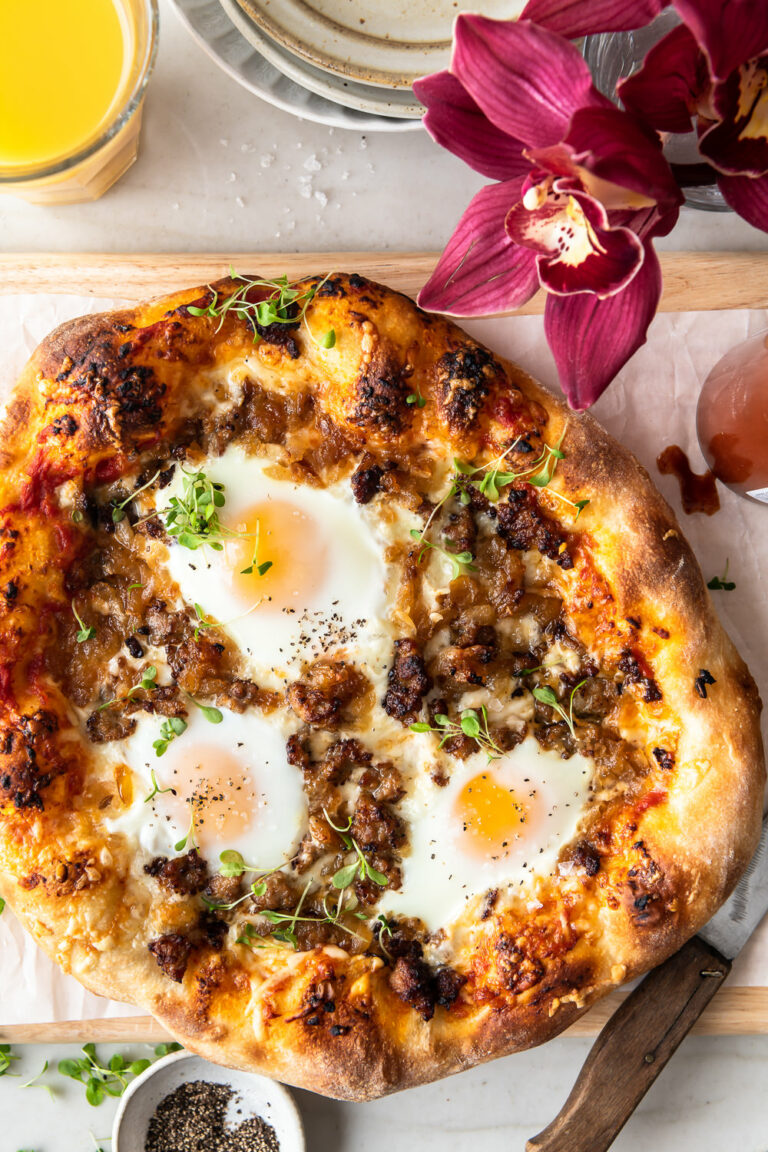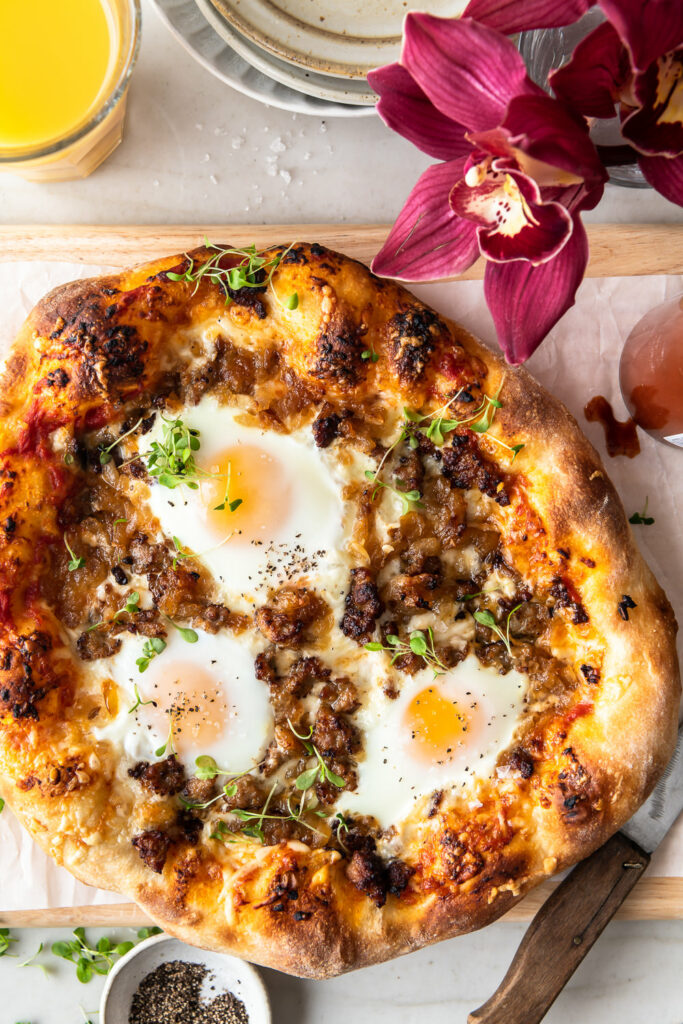 more toppings for sausage breakfast pizza:
Why stop with sausage, eggs and onions? Here are more toppings you can play with on your homemade breakfast pizza!
Shredded, fried hash browns
Fried, cubed potatoes
Leftover hash
Cooked and chopped bacon
Chopped Canadian bacon
Smoked salmon
Sautéed asparagus
Sautéed mushrooms
Sautéed spinach
Sliced avocado (when out of the oven)
how to cook eggs on pizza:
Cooking eggs on pizza can be a little tricky, especially with an artisan pizza dough.
There are two main ways to do this.
The first way is the safest and most common: crack an egg into a small bowl, make a well in the toppings and pour the egg in the hole. Repeat with remaining eggs, then transfer pizza dough into the oven.
The problem I often come across is jiggling the raw egg out of the well while I'm trying to slide the dough into the oven. If you have even the slightest bit of dough sticking on the paddle, which can usually be resolved by an aggressive shake, you'll lose your egg! It's kind of stressful.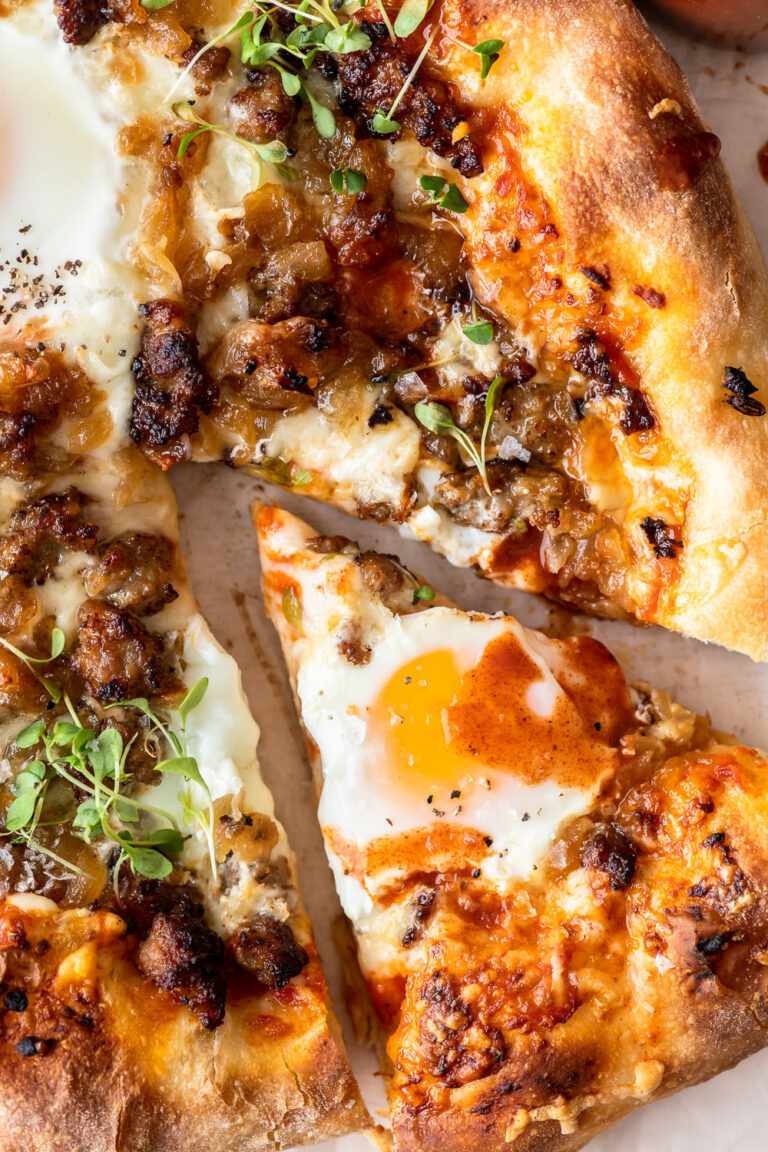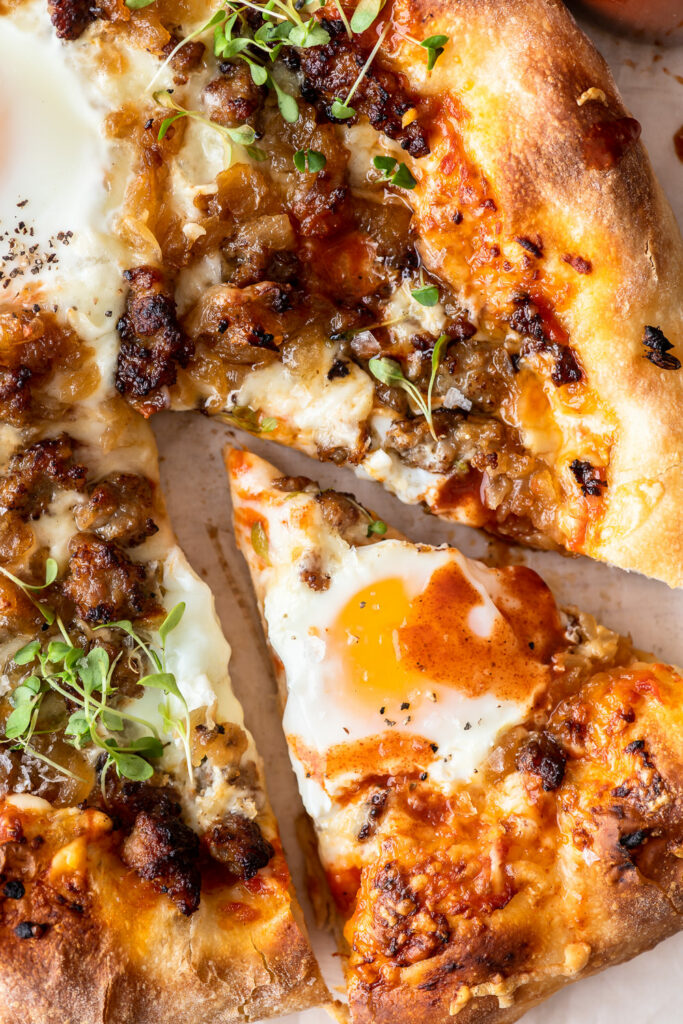 The second way is easier, but considered more dangerous: add the eggs in the oven.
First, crack the eggs into little bowls-- several individual bowls is ideal so you can move quickly while the oven is open. Make the pizza with all the toppings except the eggs. Slide the pizza into the oven, then use a spoon to make wells in the toppings. Plop the eggs into each well and you're done. You want to keep as much heat in the oven as possible, so work quickly and close it up. Obviously, the oven is 500°F, so be very careful as you fiddle in there.
Here's a third option if neither of these sound fun to you: make the pizza and plop on a perfectly fried, sunny side egg at the end.
It's safe, low stress and you're guaranteed to have a perfectly cooked pizza and perfectly cooked egg!
more pizza recipes to try!
artichoke pizza with spinach parmesan cream sauce
spicy calabrese pizza with salami and rosemary
hawaiian pizza with caramelized pineapple and prosciutto
buttery garlic pizza with fresh herbs
caramelized fennel sausage pizza with garlic oil
morel pizza with fontina and crispy shallots
white sauce pizza with mozzarella, parmesan and ricotta
stuffed focaccia with mozzarella and pistachio pesto
Print
sausage breakfast pizza
This sausage breakfast pizza combines all the goodness of breakfast in a cheesy, bubbly pizza! Crispy sausage crumbles, drippy egg yolks and deeply caramelized onions are the ultimate breakfast for dinner.
Author:
Prep Time:

10 minutes

Cook Time:

45 minutes

Total Time:

55 minutes

Yield:

1 12-inch pizza

Category:

Pizza

Method:

Oven

Cuisine:

American
Ingredients
1 tbsp

extra virgin olive oil

4 oz

(

1

link) sweet Italian sausage 

1 tbsp

unsalted butter

½

onion, finely diced

⅓ cup

pizza sauce

3 oz

shredded fontina

2 oz

shredded pecorino romano

3

eggs

½

recipe artisan pizza dough (one

15 oz

dough ball)
Instructions
Place pizza steel or stone, if using, in the oven and preheat to 500°F. Let stone heat up for a full 45 minutes. Generously flour a pizza peel and set aside.
Meanwhile, make toppings. Heat olive oil in a large skillet over medium-high heat. Add sausage and cook, breaking up, until cooked through and crispy, 10- 12 minutes. Transfer to a paper-towel lined plate to drain.
Reduce heat to medium and melt butter in same pan. Add onion, season with salt and pepper, and cook until softened, about 10 minutes. Reduce heat to medium-low and cook, stirring occasionally, until golden brown and very soft, about 10 more minutes. Transfer to a bowl to cool.
When ready to make pizza, prep the eggs. Crack each egg into a small bowl and sprinkle with salt and pepper.
Flour a work surface. Flatten the middle of a dough ball into a large disk, leaving a thick 1-inch lip. Pick up the disk, and holding the thick edge, use gravity to shape the dough into a 12-inch circle. Lay on prepared pizza peel and adjust shape into a circle. Jiggle the peel to make sure the dough isn't sticking (add more flour if it is). 
Spread dough with tomato sauce, leaving ½-inch border. Top with fontina and pecorino cheese. Sprinkle with the cooked sausage and caramelized onions. Jiggle the pizza to make sure it isn't sticking. 
Carefully slide pizza onto steel and, very carefully, use a large spoon to make three small wells in the toppings. Pour an egg into each well and close the oven. Bake for 8- 10 minutes, until cheese is melted and egg whites are cooked. Let pizza cool slightly, then cut and enjoy.
Notes
Nutritional information is only an estimate. The accuracy of the nutritional information for any recipe on this site is not guaranteed.
Nutrition
Serving Size:

⅛th of pizza

Calories:

314

Sugar:

2.3g

Sodium:

546mg

Fat:

17g

Saturated Fat:

6.7g

Unsaturated Fat:

9.7g

Trans Fat:

0.1g

Carbohydrates:

27g

Fiber:

1.2g

Protein:

14g

Cholesterol:

101mg
Keywords: sausage breakfast pizza