This recipe has everything you want in a garlic pizza! Rich pools of garlic butter, a scattering of fresh herbs, and a crispy chewy crust to soak it all up.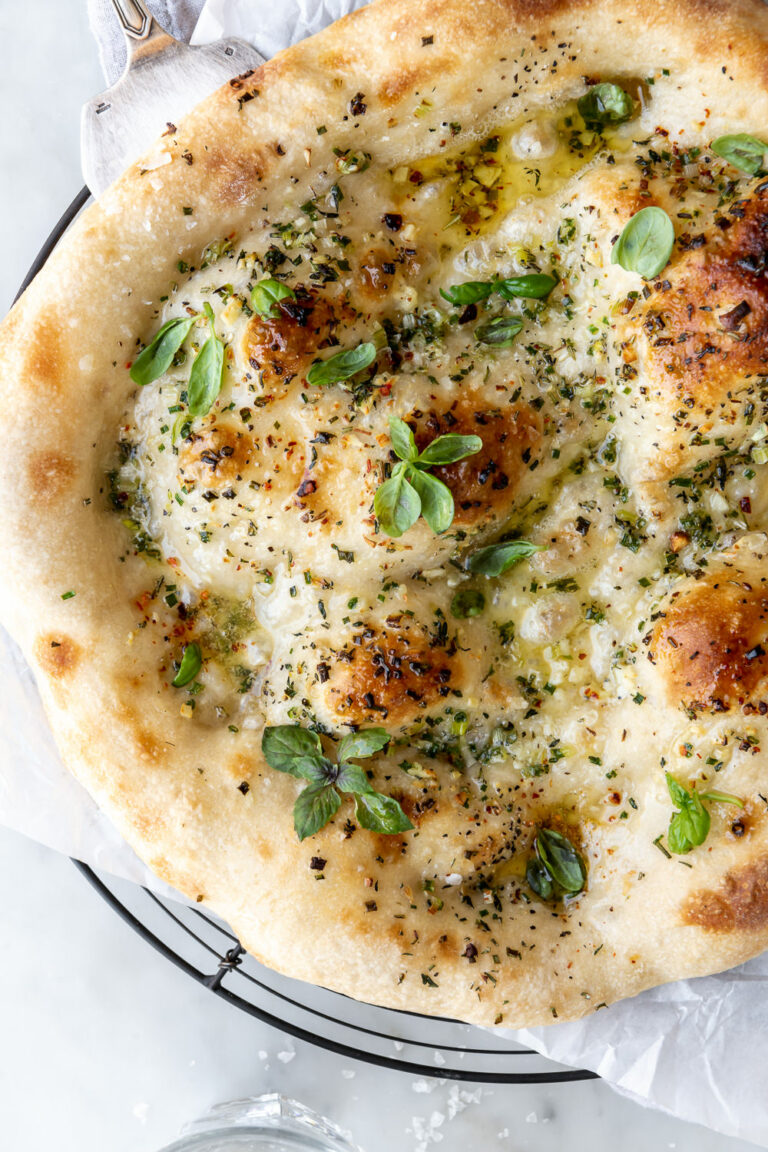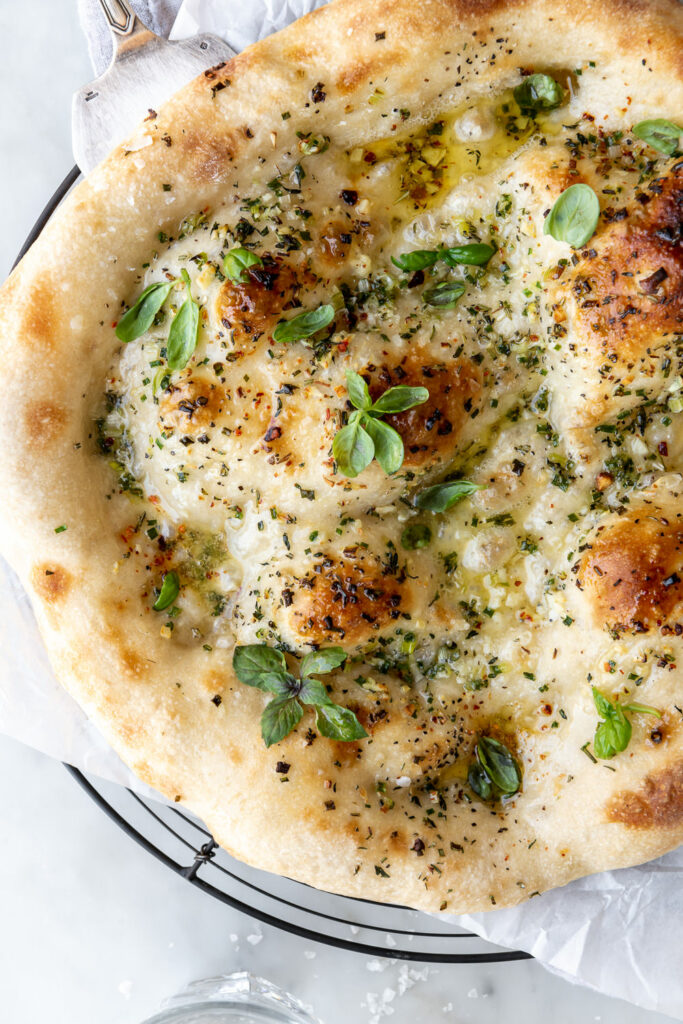 You could add cheese— sometimes I love it with a few thick shavings of parmesan— but this pizza really doesn't need it. The combination of butter, garlic, chives and green onions is just so flavorful and perfect together. The crunchy flakes of salt make the flavors pop, and a good pinch of red chile flakes adds complexity. It's absolutely delicious.
This might sound weird as the author of a garlic pizza recipe, but I'm not the biggest garlic lover. I cook with it every day and I value its role in food, but I always use much less than what recipes call for. I prefer it be subtle.
But surprisingly, this pizza isn't too garlicky for me. It could be all the butter. Or the fantastic pizza dough. But I think it mainly has to do with letting the garlic cook in the butter to soften the flavor. And the herbs (specifically the green onion and chives) echo some of the flavors of garlic, but they also bring depth with their herby freshness. It's so flavorful and rich— garlic butter truly is one of life's greatest pleasures. So take it to the next level and slather it on pizza!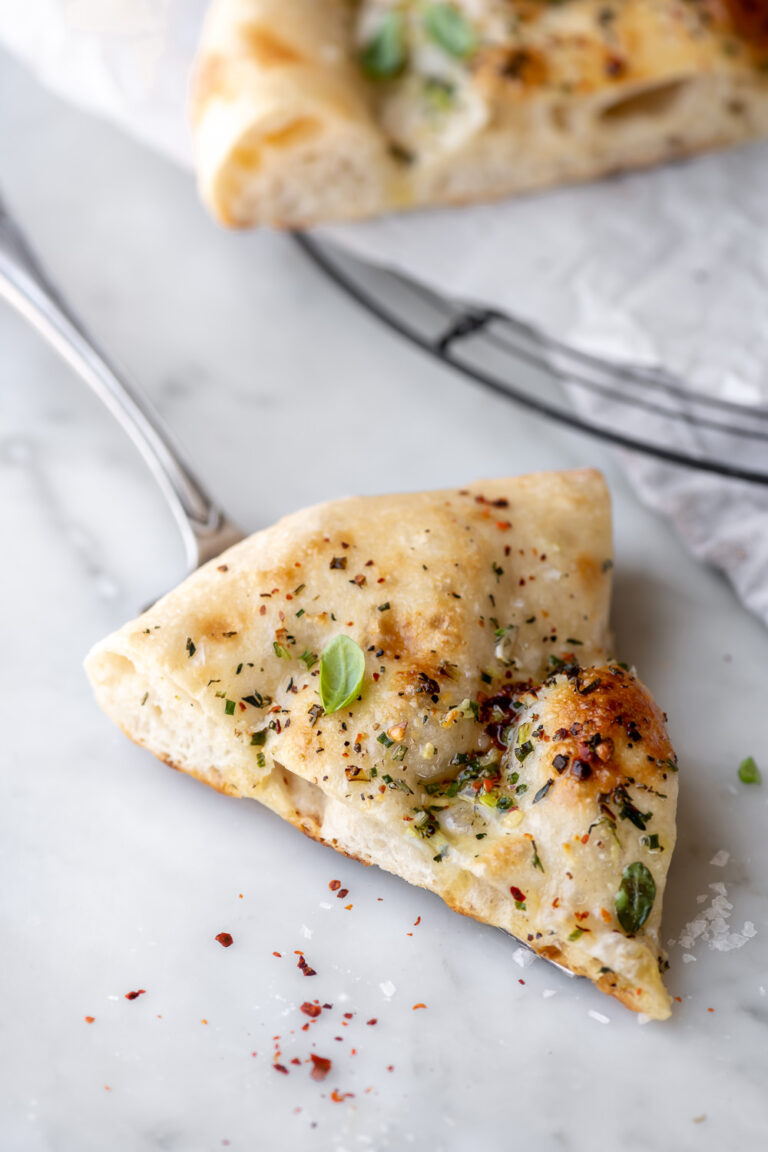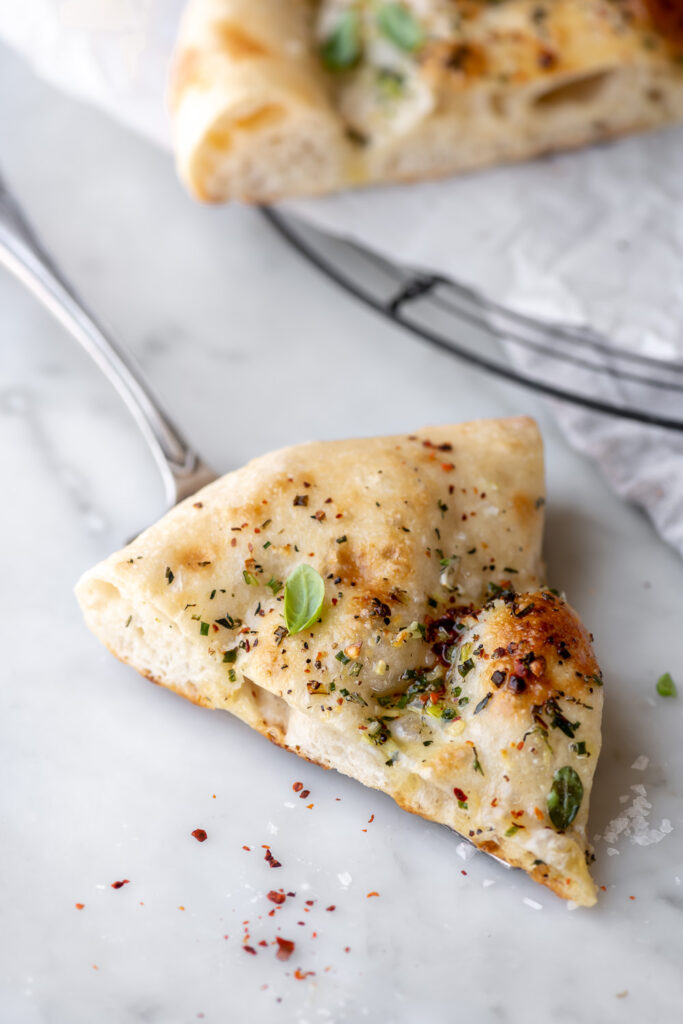 By the way— if you have extra garlic butter, don't toss it! Save it for dipping the crust. It's a thousand times better than Papa John's garlic butter dip, and so easy to make.
what you need to make garlic pizza
butter
garlic
green onion
thyme
rosemary
flaky salt
black pepper
red pepper flakes
chives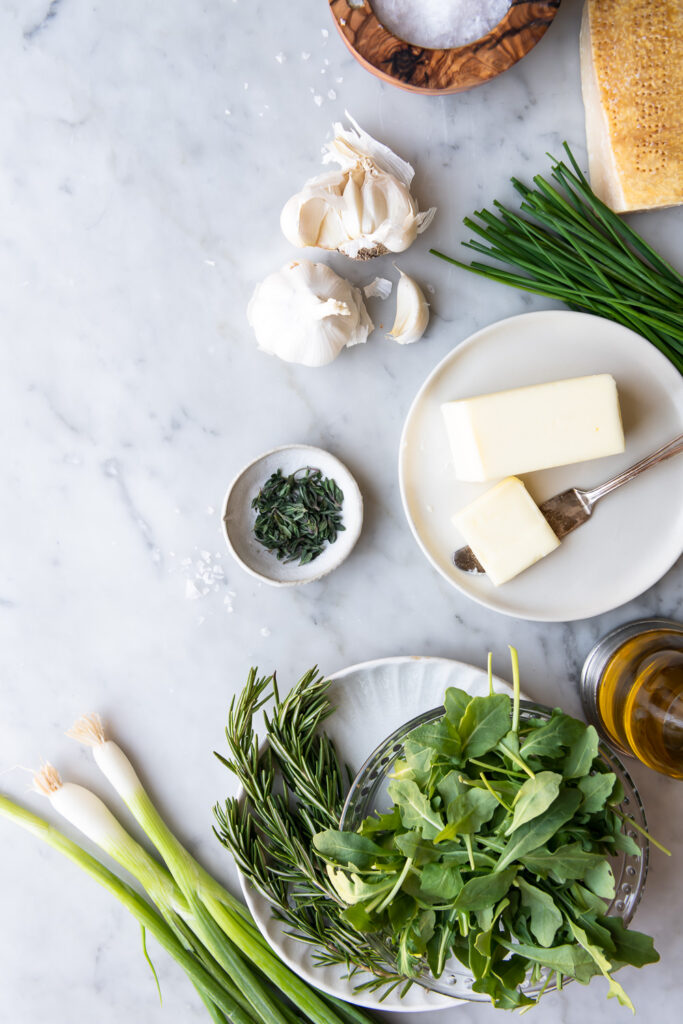 How to make garlic pizza
Make pizza dough
Make garlic butter
Brush garlic butter on dough
Sprinkle with minced herbs, flaky salt and pepper
Bake on pizza steel or stone
Sprinkle with fresh chivies
Serve with extra garlic butter sauce and red pepper flakes!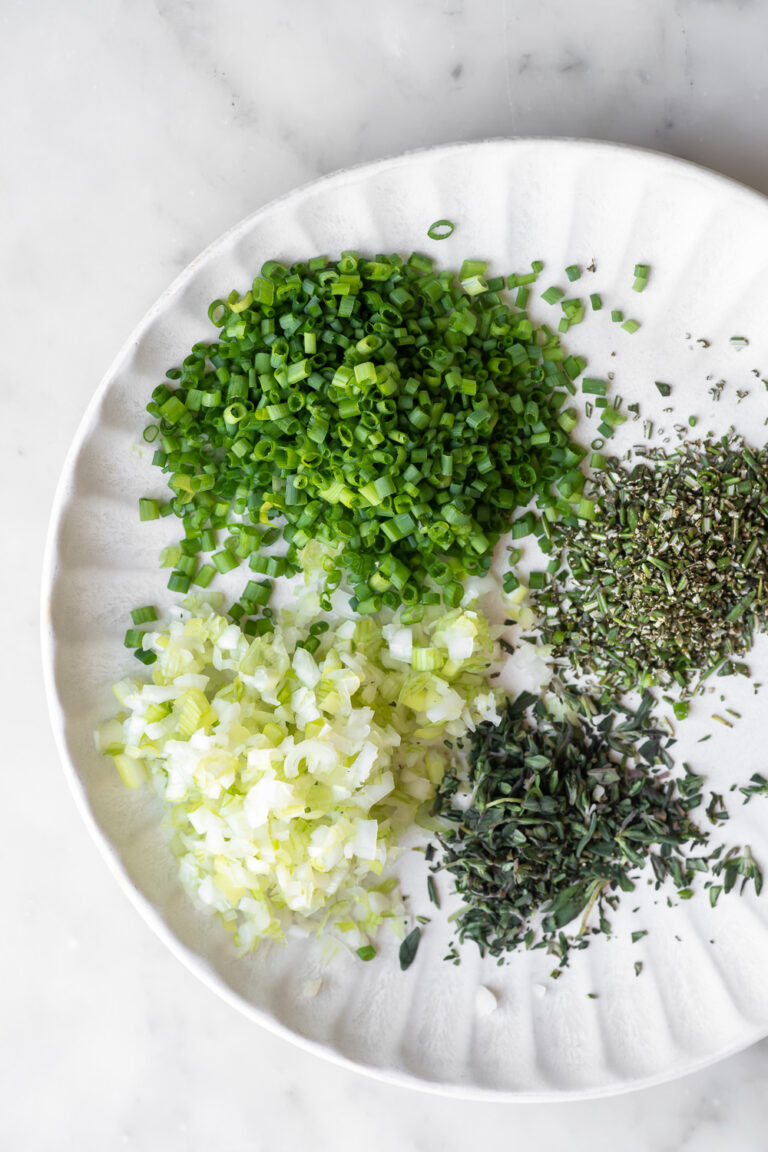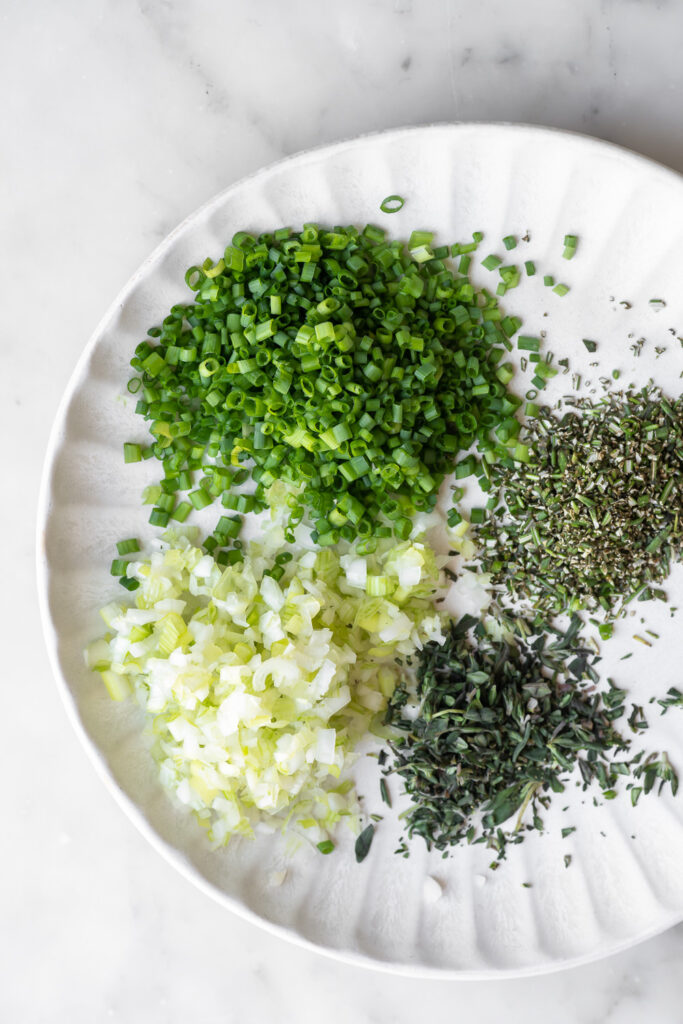 How to make garlic butter sauce for pizza:
Melt salted butter in a saucepan over low heat.
Add chopped garlic.
Cook for a few minutes, until very fragrant.
Remove from heat.
Spoon on pizza before baking, use as a dip for crust, or read below for more uses!
If you want to make sure you have enough of this garlic butter sauce for two garlic pizzas and extra for the crusts, use 1 ½ sticks of butter and 4 cloves of chopped garlic!
Tip: Salted butter is key for the best flavor! The salt is fully dissolved and dispersed, giving the garlic butter sauce has the richest flavor. It's difficult fully dissolve salt in melted unsalted butter (since we aren't adding any liquid), so avoid the hassle and use a salted stick.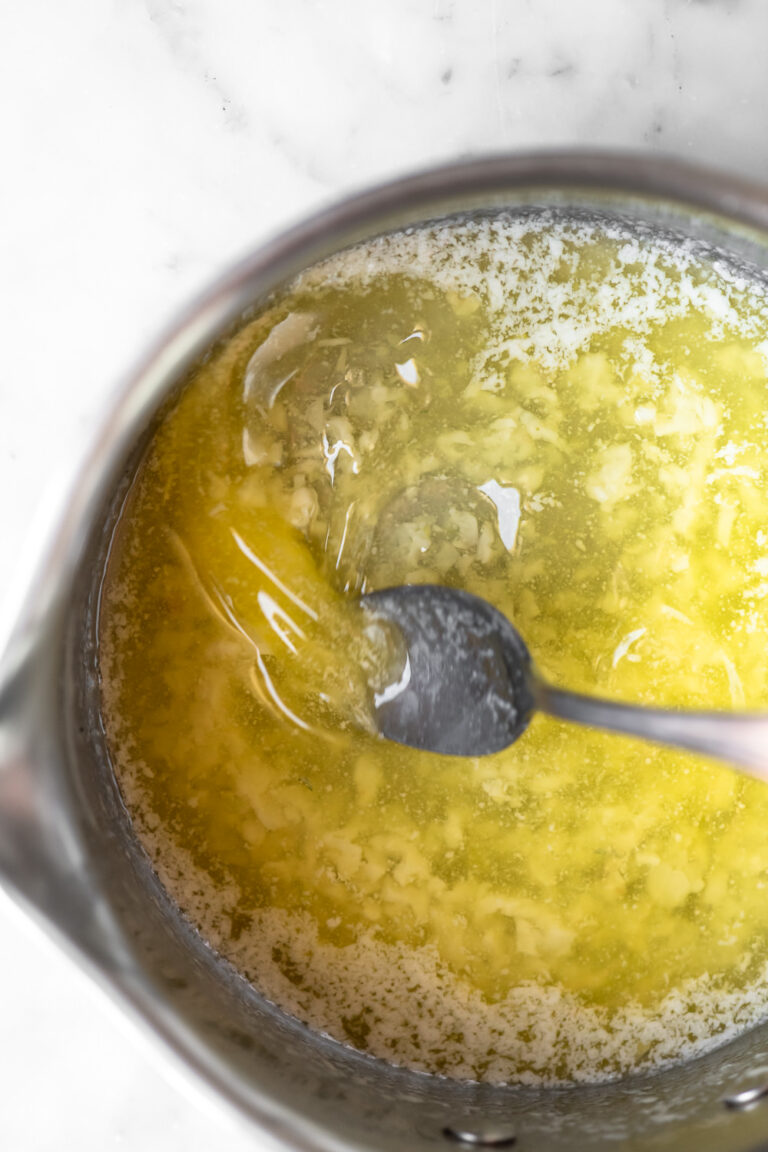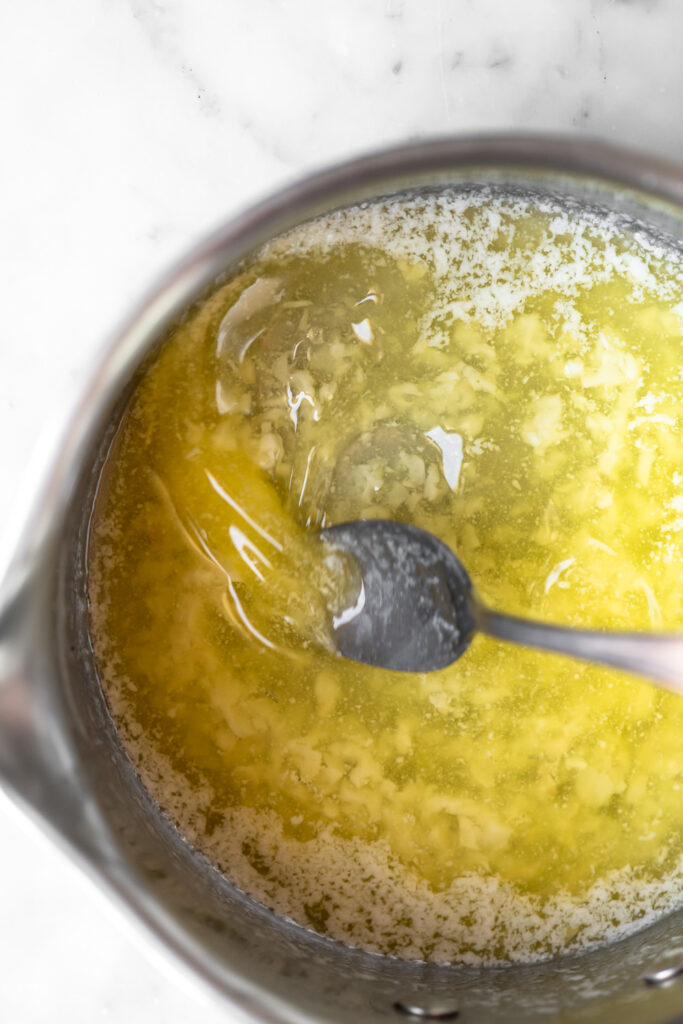 More uses for garlic butter:
Dipping sauce for pizza crust or breadsticks
Brush on focaccia
Drizzle on vegetables before roasting
Dip for artichoke leaves
Sauté mushrooms in it
Spoon on mashed or baked potatoes
Drizzle over seared steak
A dip for seafood (shrimp, crab, lobster)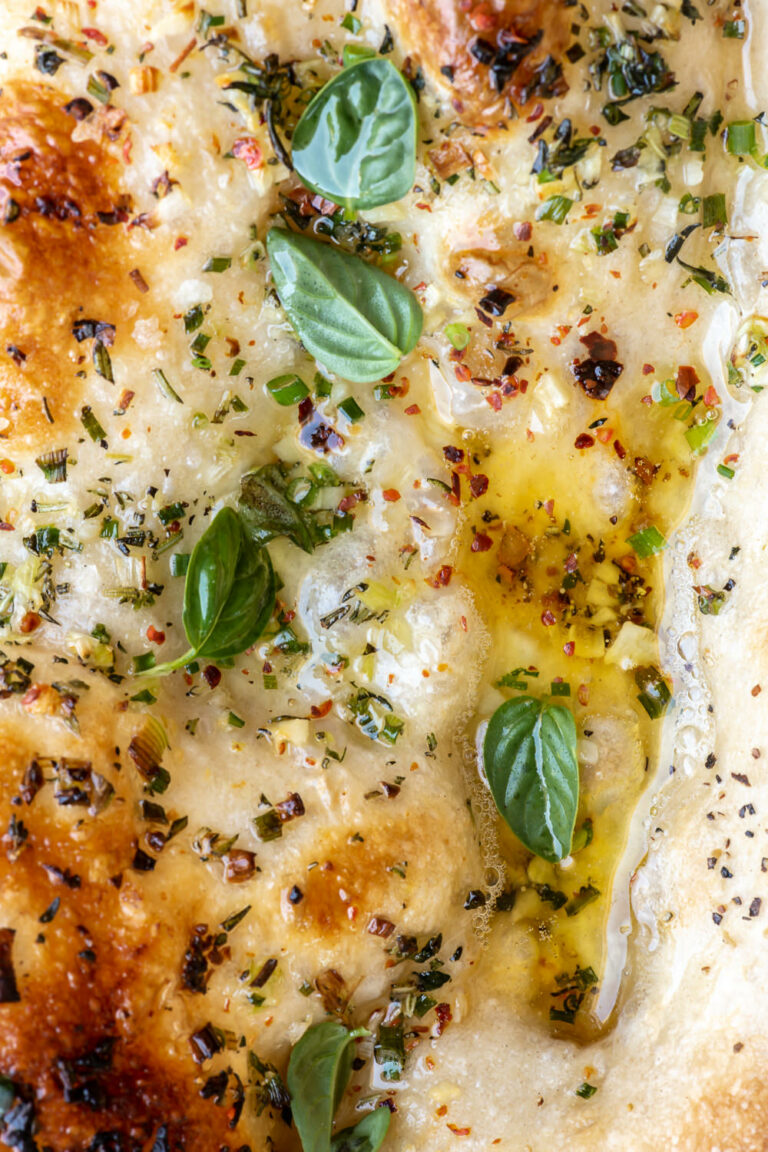 Answers to common questions about garlic and pizza:
Can you put raw garlic on pizza?
You can put raw garlic on pizza, but I prefer to cook it a bit to soften the sharp bite. Heating the garlic for just a few minutes in the butter is all you need!
Is roasted garlic good on pizza?
Yes! Roasted garlic is delicious on pizza! And if you really want to ramp up the garlic, it would be a great addition to this garlic pizza recipe. I would mash up a few cloves of roasted garlic and stir them into the butter, then spoon that onto the pizza.
Should I saute garlic before putting it on pizza?
Yes, most people prefer the pungency and bite of raw garlic to be softened by cooking. With pizza, the best way to do that is sauté the garlic before hand or, as is the case here, gently cook it in butter.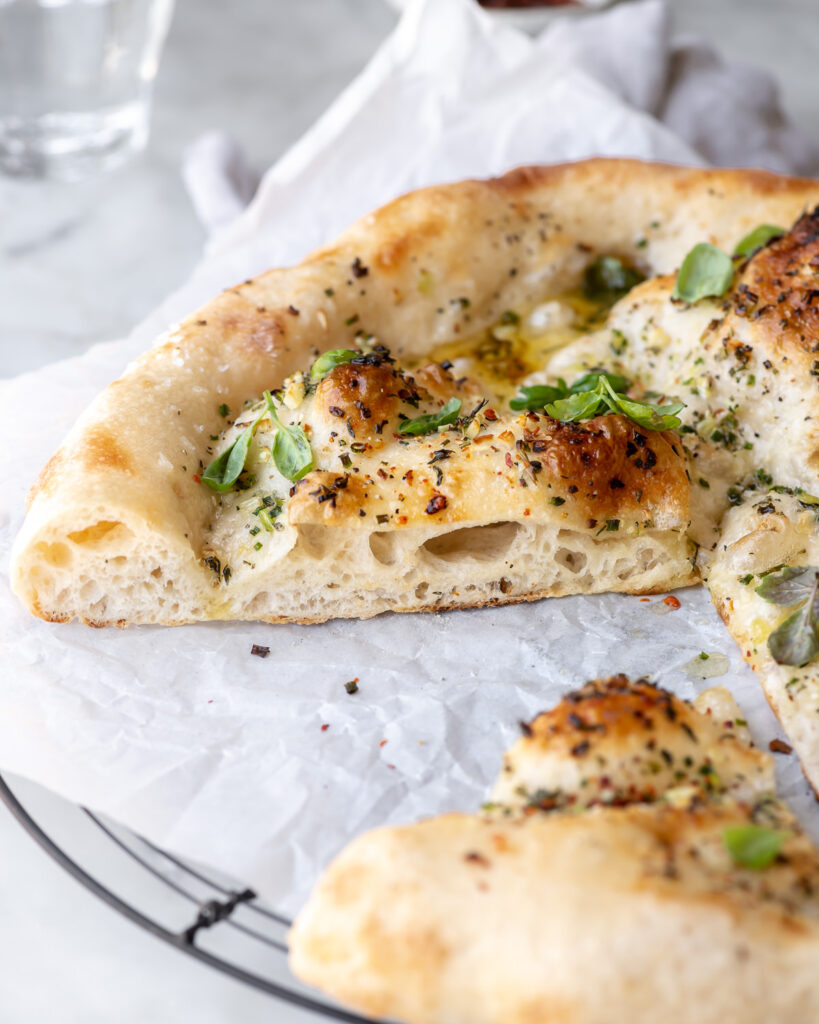 more homemade pizza recipes to try!
morel pizza with fontina and crispy shallots
spicy calabrese pizza with salami and rosemary
artichoke pizza with spinach parmesan cream sauce
caramelized fennel sausage pizza with garlic oil
white sauce pizza with mozzarella, parmesan and ricotta
hawaiian pizza with caramelized pineapple and prosciutto
stuffed focaccia with mozzarella and pistachio pesto
Watch our web story to see how to make this garlic pizza!
To make it a meal, serve this garlic pizza with deliciously creamy pasta al forno by Mandy at Splash of Taste!
Print
buttery garlic pizza
This is the garlic pizza dreams are made of: pools of garlic butter, a handful of fresh herbs (chives!), and a fluffy crust to soak it all up.
Author:
Prep Time:

10 minutes

Cook Time:

15 minutes

Total Time:

25 minutes

Yield:

2 12-inch pizzas

Category:

Pizza

Method:

Baked

Cuisine:

American

Diet:

Vegetarian
Ingredients
1

recipe artisan pizza dough (

2

dough balls)

1

stick salted butter

3

garlic cloves, chopped

2 tbsp

minced green onion

1 tbsp

minced rosemary

1 tbsp

fresh thyme
flaky salt
freshly ground black pepper
red pepper flakes, to taste

2 tbsp

minced chives
Instructions
Place pizza steel or stone in the oven and preheat to 500°F. Let stone heat up for a full 45 minutes. Generously flour a pizza peel and set aside.

Combine butter and garlic in a small saucepan over medium-low heat. Cook, stirring occasionally, until butter is melted and mixture is fragrant, about 5 minutes. Place green onion, rosemary and thyme in a small bowl and stir to combine.

On a floured surface, flatten the middle of the dough ball into a large disk, leaving a 1-inch lip. Pick up the disk, and holding the thick edge, use gravity to carefully shape the dough into a 12-inch circle. Lay on prepared pizza peel and adjust shape into a circle. Jiggle the peel to make sure the dough isn't sticking; add more flour if it is. 

Spoon garlic butter over the surface of the dough and scatter half the herb mixture over top. Sprinkle with flaky salt, black pepper and red pepper flakes. Slide pizza onto steel (or stone) and bake for 5 minutes. Turn on the broiler and broil for 2- 4 minutes, or until crust is golden brown and blistered in spots. Remove from the oven, sprinkle with half the chives. Serve immediately. 

Repeat with remaining dough ball, garlic butter and herbs.
Notes
Nutritional information is only an estimate. The accuracy of the nutritional information for any recipe on this site is not guaranteed.
Nutrition
Serving Size:

½ 12" pizza

Calories:

666

Sugar:

0.5g

Sodium:

976mg

Fat:

24g

Saturated Fat:

15g

Unsaturated Fat:

8.2g

Trans Fat:

0g

Carbohydrates:

97g

Fiber:

4g

Protein:

14g

Cholesterol:

61mg