This wild mushroom leek frittata is filled with shavings of earthy truffles and a handful of nutty gruyere. It's an elevated twist on a simple egg dish.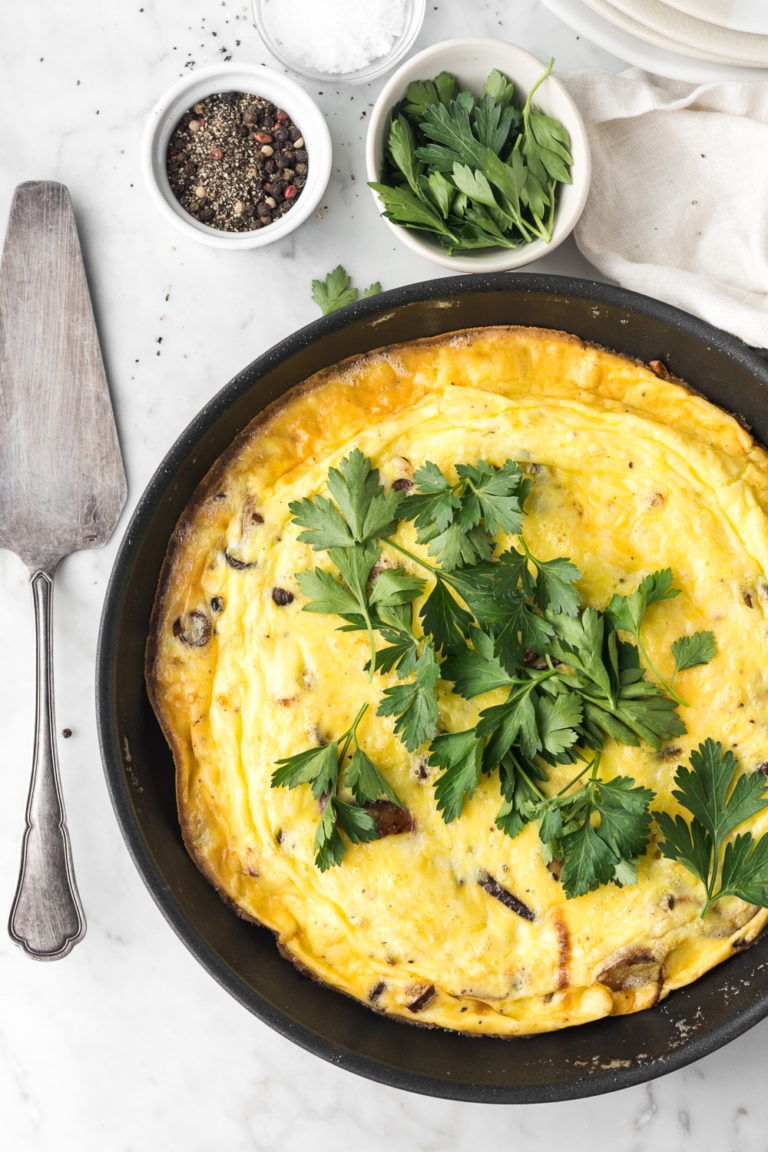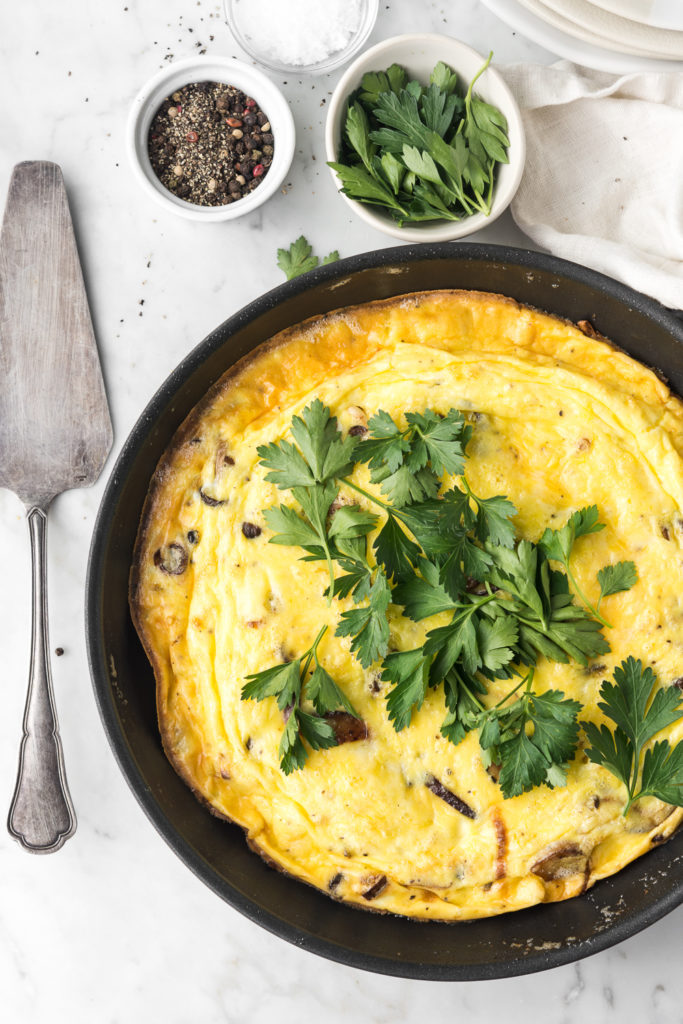 I love making frittatas for dinner. Mainly because they're a scrappy, easy way to throw together a quick dinner.
I lean on them a lot when I'm trying to clean out the fridge. Or when it's 5 o'clock and I've finally acknowledged dinner won't make itself. I can use up spare vegetables and cheese, finish off the carton of eggs, toss in the last few sprigs of herbs on the counter, and serve up a meal with enough protein to keep my husband happy.
Oh yeah, and it takes one pan.
But this mushroom frittata isn't one of those fridge scouring frittatas. This one is fancy. I took a simple, every day meal and elevated it with a few seasonal twists.
Here, I use the best wild mushrooms I can find and cook them until caramelized and super crispy. Then I add a handful of fragrant leeks, nutty gruyere and paper thin slices of fresh black truffles. Pair this mushroom frittata with a light salad and an old Pinot Noir for an elegant and simple winter dinner.
how do I know when my mushroom frittata is done?
Your frittata is done when the middle is just barely set. It will still have a slight jiggle, but the frittata shouldn't be runny or loose when you cut into it with a knife. The edges will have pulled away from the sides of the pan and will be puffed and firm. The surface won't necessarily be golden brown, however, so don't use that as your cue!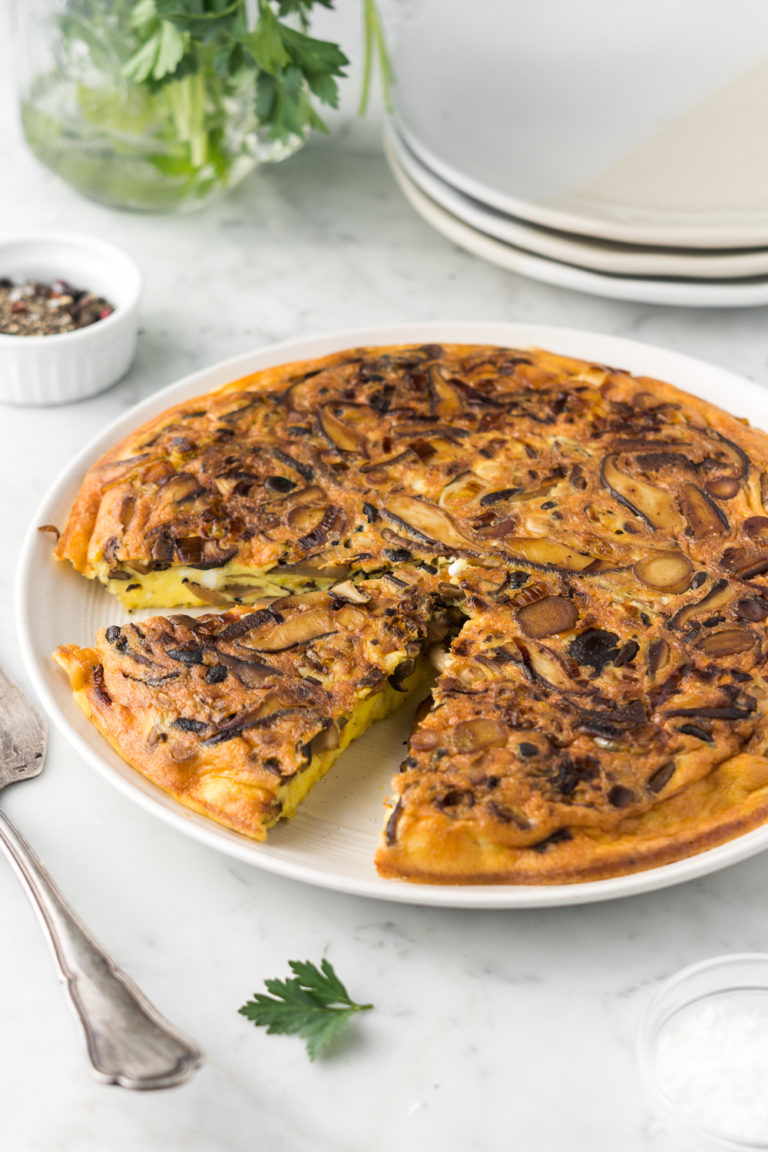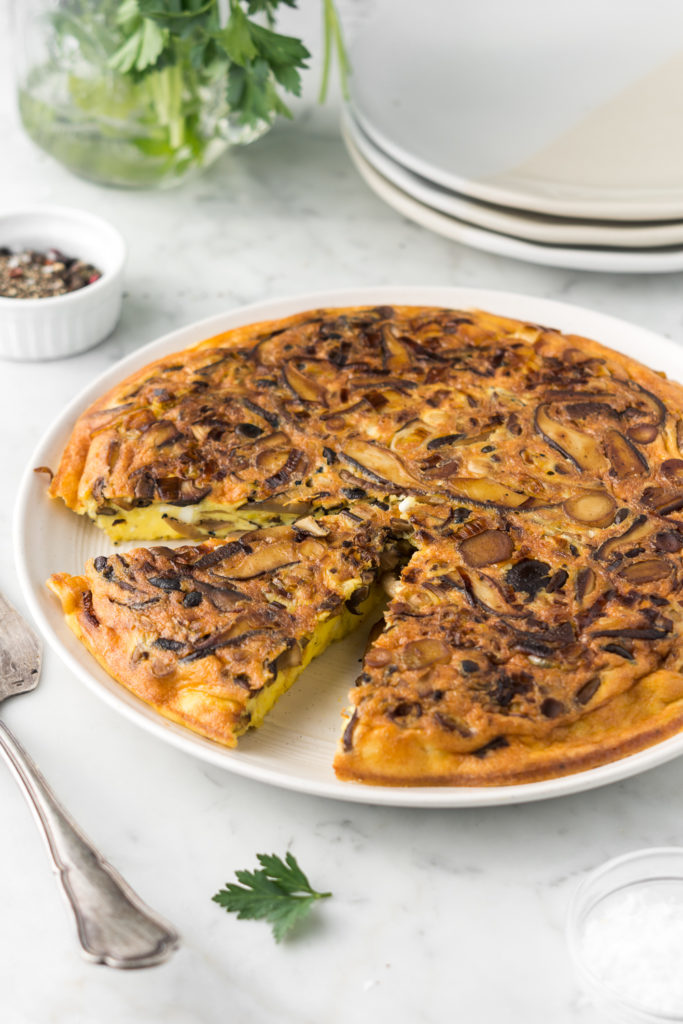 You can also insert an instant read thermometer into the egg portion of the frittata. It will measure 160°F when the eggs are fully cooked.
If you're using a cast iron pan, the frittata will continue to cook when you pull it out of the oven. In this case, it's best to err on the side of caution and get it out a few minutes early.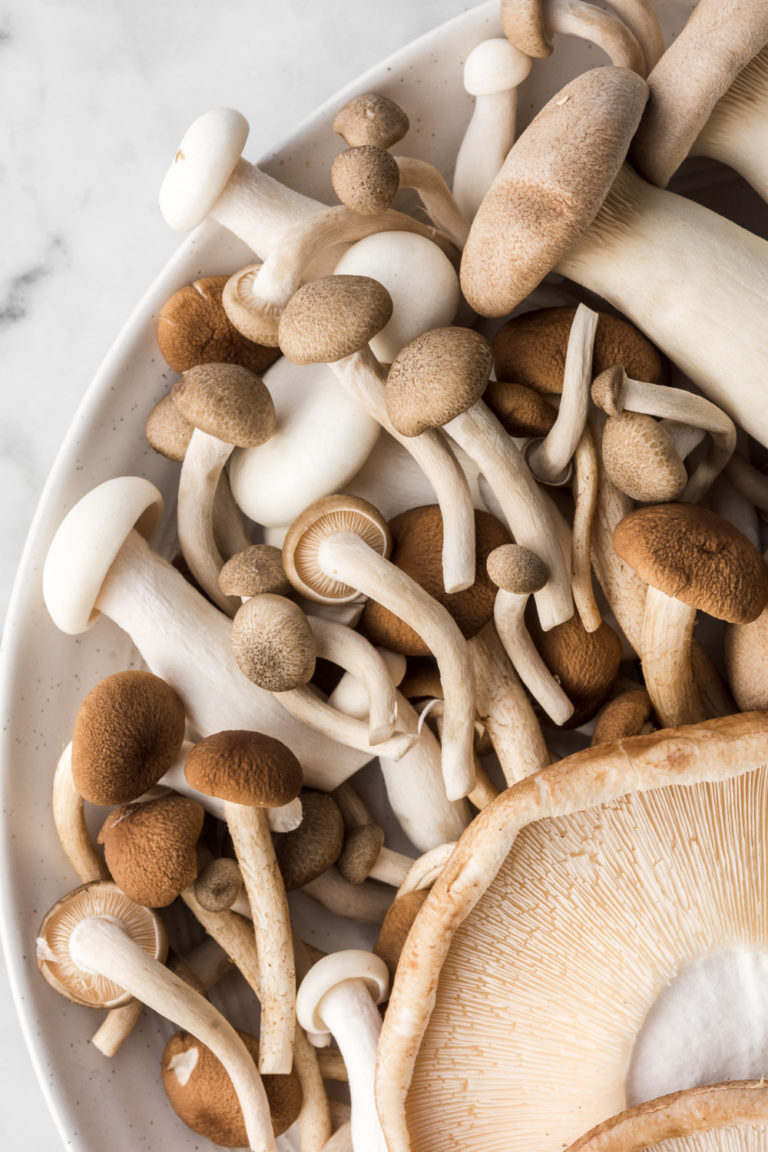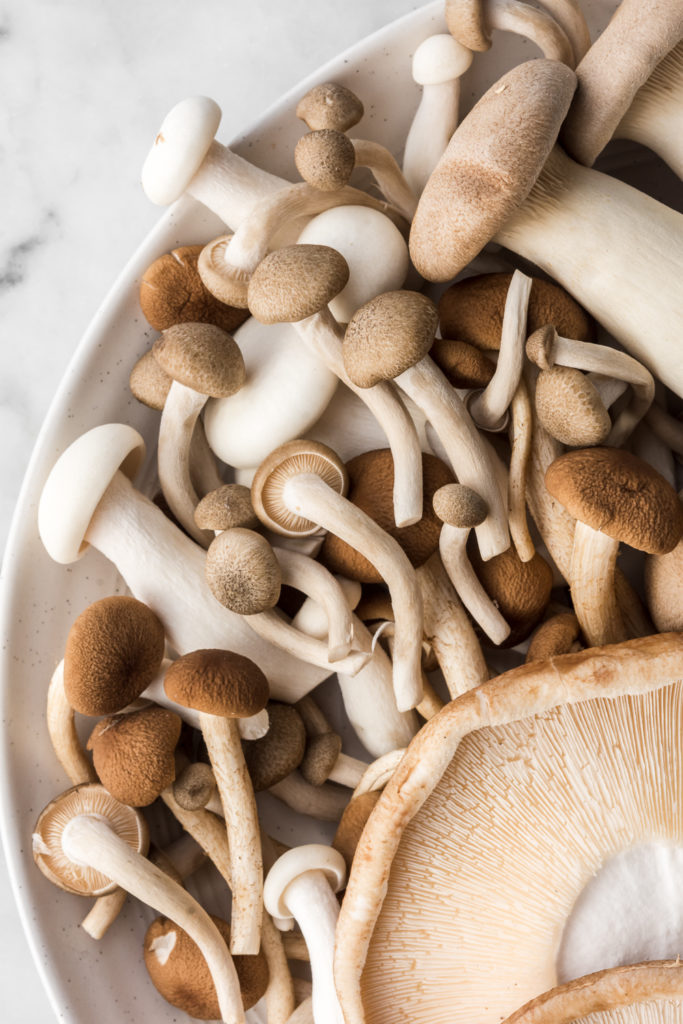 what kind of pan do I need to make a frittata?
You need an oven-proof, non-stick skillet to make a frittata.
Since this frittata is finished in the oven, you need to make sure your skillet is oven-safe. This isn't necessary for frittatas that are made only on the stove.
I always use nonstick pans with eggs, and frittatas are no exception. This is the only guaranteed way to get the frittata out of the pan. If you have a well seasoned cast iron skillet, that will work too.
For this frittata volume, I suggest a 10-inch skillet. Larger pans will work just fine, but the frittata will be thinner and it will cook faster. Watch it closely in the oven to prevent over-cooking it.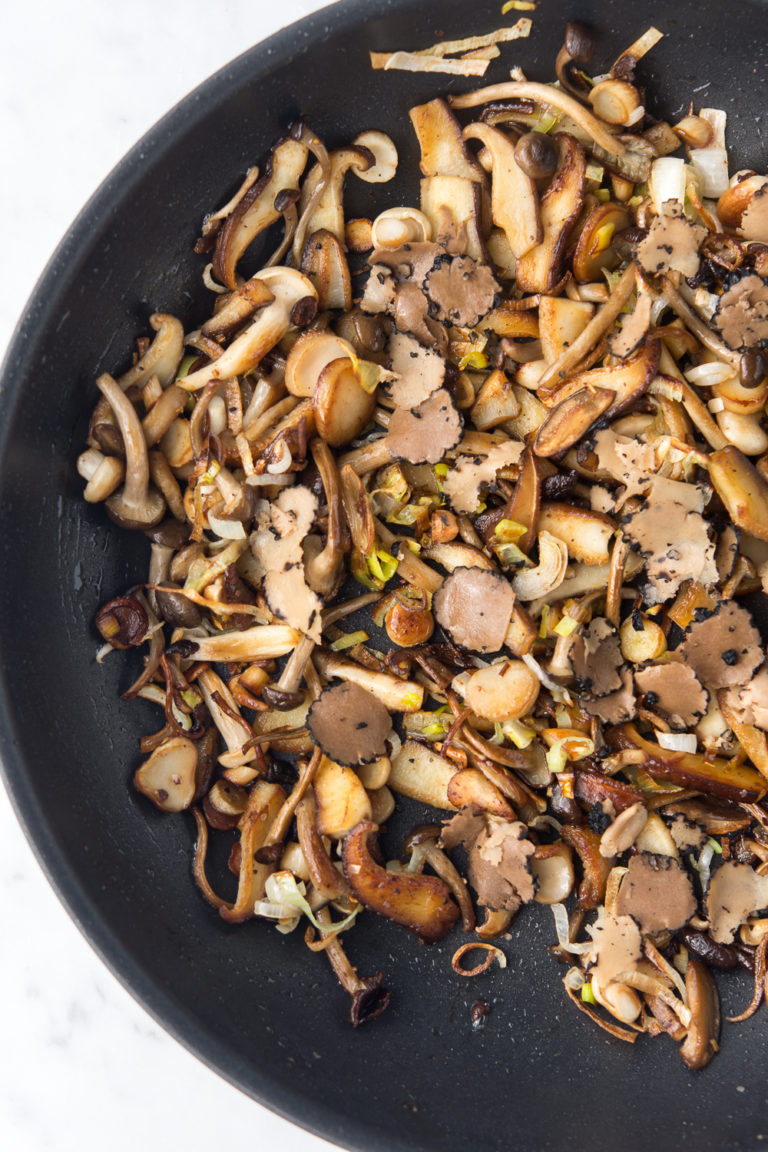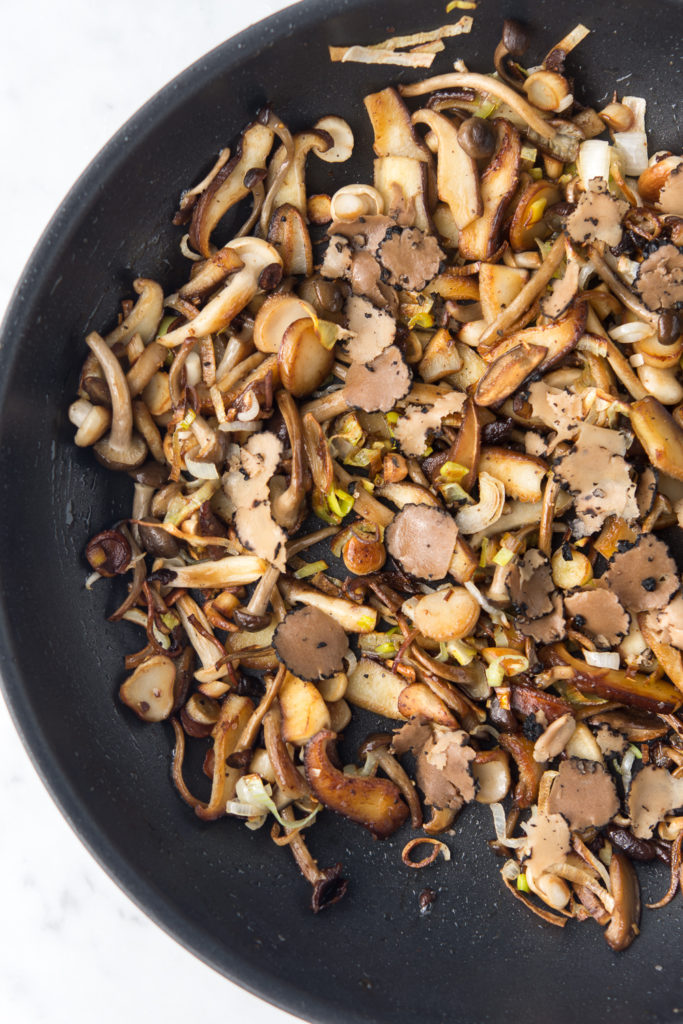 do you add milk to a frittata?
While it's not necessary, I always add some sort of dairy to my frittatas. Whisking in the extra fat, in the form of heavy cream, whole milk, sour cream or creme fraiche (just to name a few!) helps break up the egg protein which will keep the frittata tender and fluffy.
Without a dairy addition, the frittata can get dense and a little tough.
how long does a frittata last?
A frittata will last for up to 4 days in an airtight container in the refrigerator. They don't freeze well, so it's best to make and eat them as needed. Frittatas are a very versatile food and can be enjoyed hot, warm or at room temperature.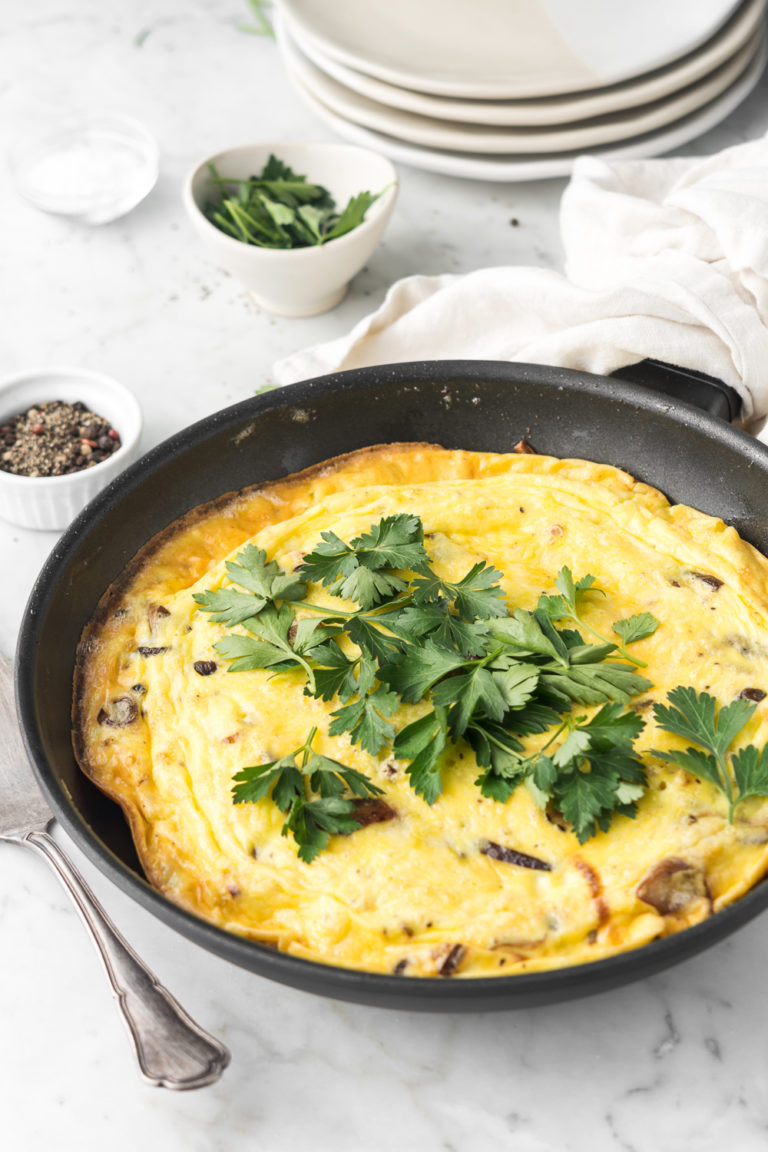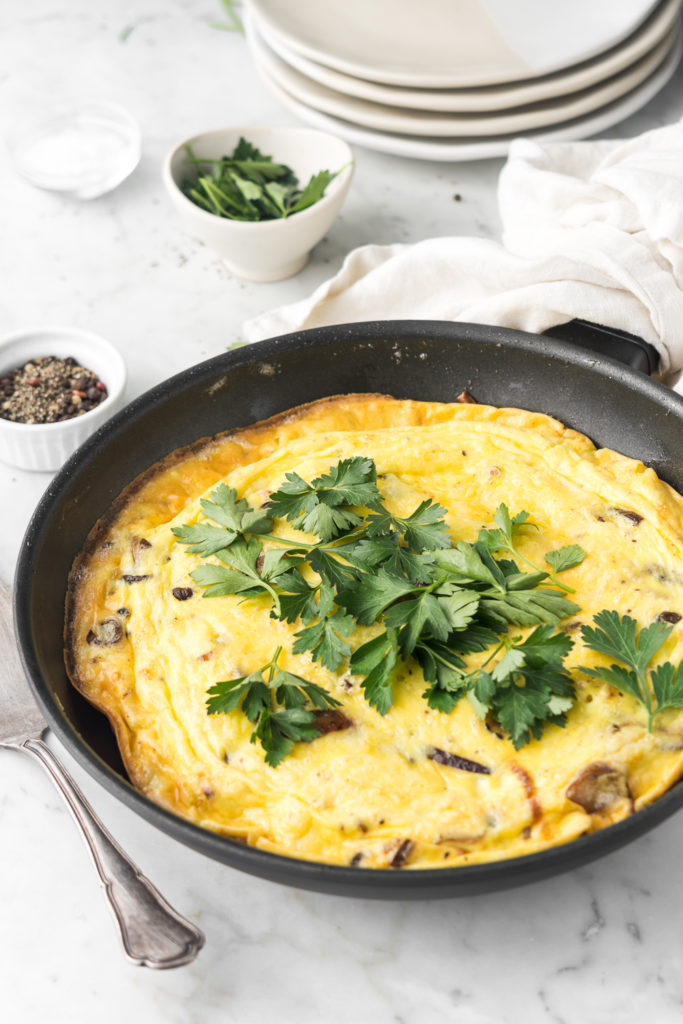 notes on how to make this mushroom leek frittata
Only whisk the eggs until they're just combined. Over-beating eggs will cause the frittata to rise and puff up a lot in the oven and fall when it comes out, giving you a dense texture.
If you don't have wild mushrooms, you can use cremini or shiitake mushrooms as a flavorful and readily available substitute.
The earthy truffle flavor goes so well with mushrooms and aromatic leeks. If you don't have truffles (or don't feel like splurging), you can totally leave them out and still have a delicious frittata! You could also try a drizzle of truffle oil or a sprinkle of truffle salt instead.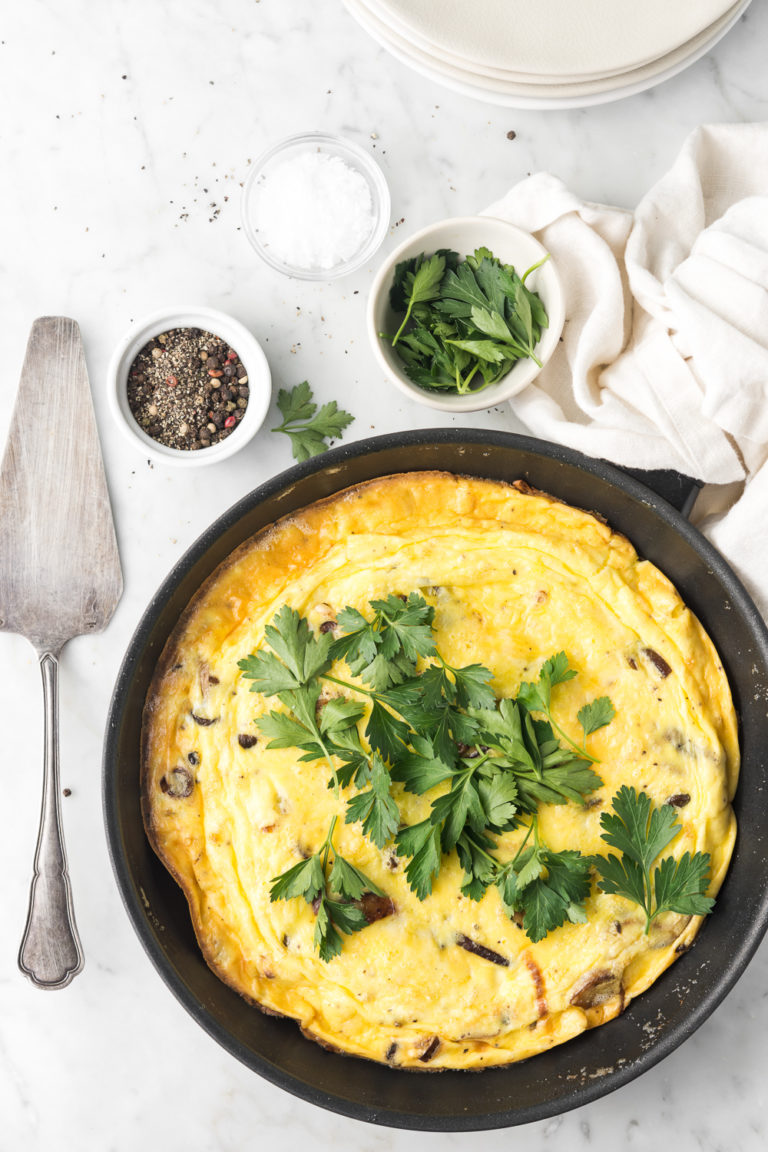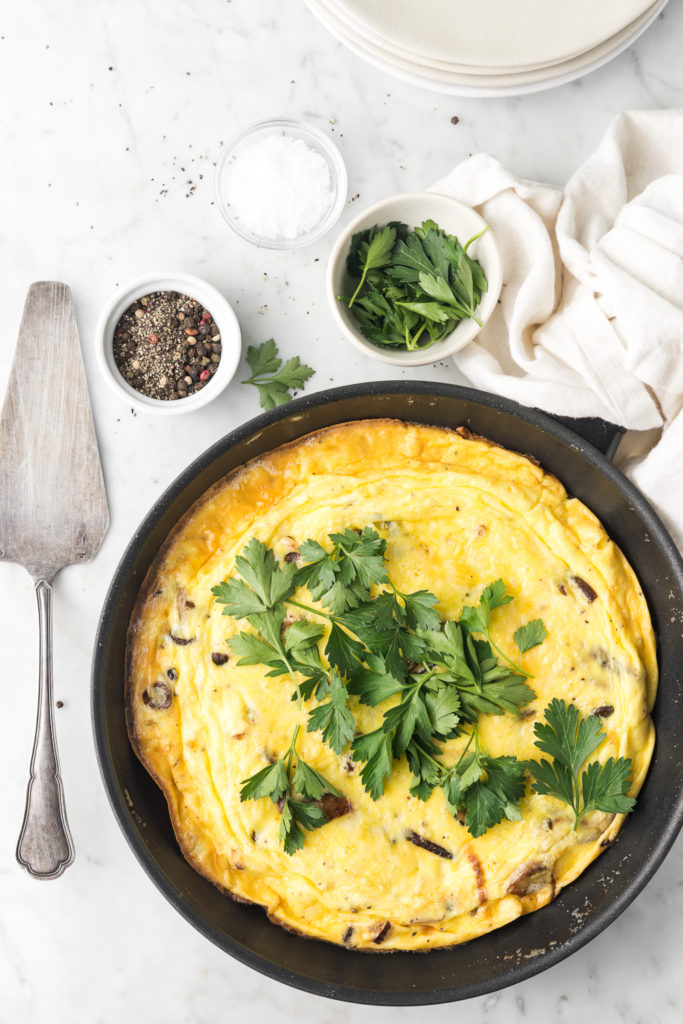 related recipes:
wild mushroom toast with brown butter, ricotta and parsley
farro risotto (farrotto) with wild mushrooms
Print
wild mushroom leek frittata with truffles and gruyere
This wild mushroom leek frittata is filled with shavings of earthy truffles and a handful of nutty gruyere. It's an elevated twist on a simple egg dish.
Author:
Prep Time:

5 minutes

Cook Time:

25 minutes

Total Time:

30 minutes

Yield:

8

Category:

Entree

Cuisine:

American
Ingredients
10

large eggs

¼ cup

plus 2 tbsp heavy cream (can substitute whole milk)

kosher salt

freshly ground black pepper

½ cup

grated Gruyere

3 tbsp

butter, divided

2 tbsp

olive oil

10 oz

mixed wild mushrooms, sliced

1

leek, well rinsed, white and pale green parts only, thinly sliced into half moons

½ oz

fresh black truffle, very thinly sliced

fresh parsley, for garnish
Instructions
Preheat oven to 400°F.

Lightly beat eggs in a large bowl with heavy cream, salt and freshly ground black pepper until just mixed. Stir in cheese and set aside.

Melt 1 tbsp butter with 1 tbsp olive oil in a medium (10-inch) nonstick, ovenproof skillet over medium high heat. Add half of mushrooms and cook undisturbed until browned on one side, 3- 4 minutes. Season with salt and pepper, toss, and cook another 5 minutes until browned and crispy, stirring occasionally. Transfer mushrooms to a bowl and repeat process with remaining mushrooms. 

Melt 1 tbsp butter to the empty saute pan over medium low heat then add leeks. Cook, stirring occasionally, until leeks are soft, about 5 minutes. Stir in mushrooms and reduce heat to low.

Scatter truffle shavings over the mushroom mixture, then pour eggs over top. Gently shake the skillet so the eggs run to the bottom. Cook until the edges are set, about 2 minutes.

Bake the frittata for 10- 12 minutes, until the center is just set but the frittata still has a slight jiggle to it. Remove from the oven and let cool slightly. Run a knife around the edge of the pan to loosen the frittata, then carefully invert it onto a large plate. Garnish with fresh parsley, cut into wedges and serve.
Notes
Frittata can be enjoyed hot, warm or at room temperature. It will keep, covered in the refrigerator, for up to 4 days.
Nutrition
Serving Size:

⅛ of frittata

Calories:

216

Sugar:

1.4g

Sodium:

322mg

Fat:

17g

Saturated Fat:

7.4g

Unsaturated Fat:

8.8g

Trans Fat:

0.2g

Carbohydrates:

4.3g

Fiber:

1.2g

Protein:

11g

Cholesterol:

256mg
Keywords: mushroom frittata