Spicy calabrese pizza is everything you've ever wanted in a spicy pizza. The calabrian chile paste, gooey mozzarella and provolone, spicy salami, and charred bubbly crust will take your homemade pizza game to the next level.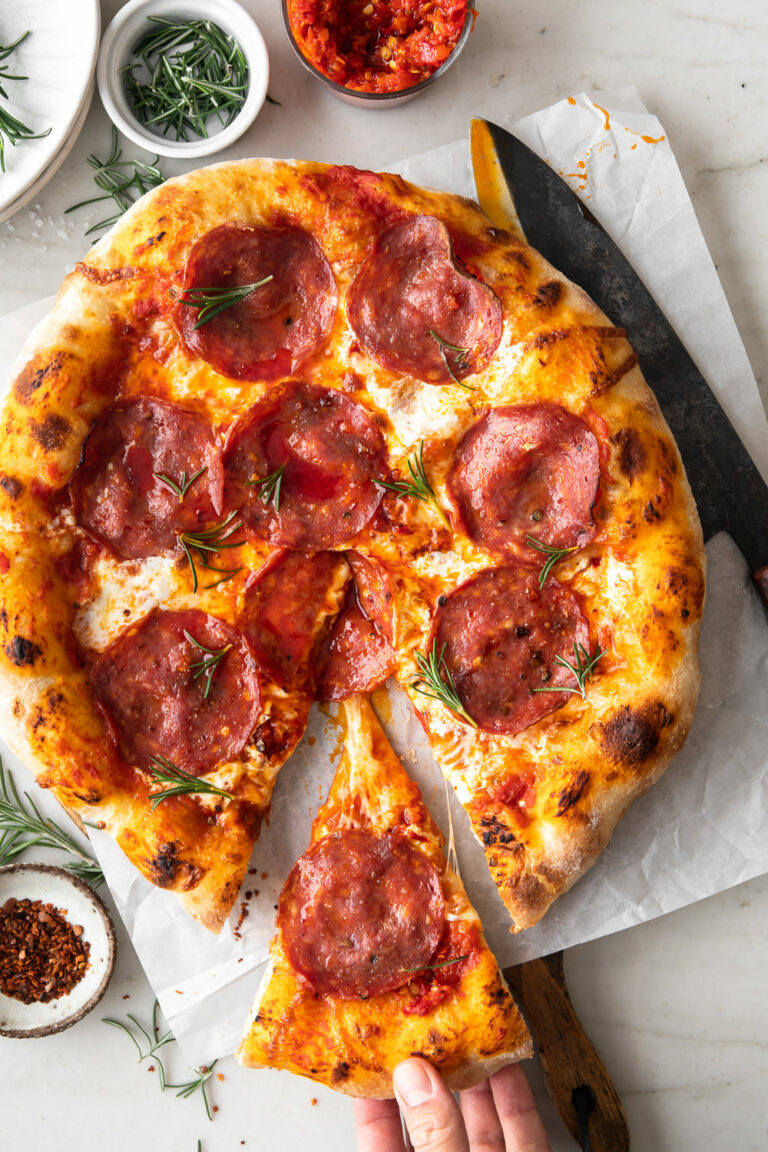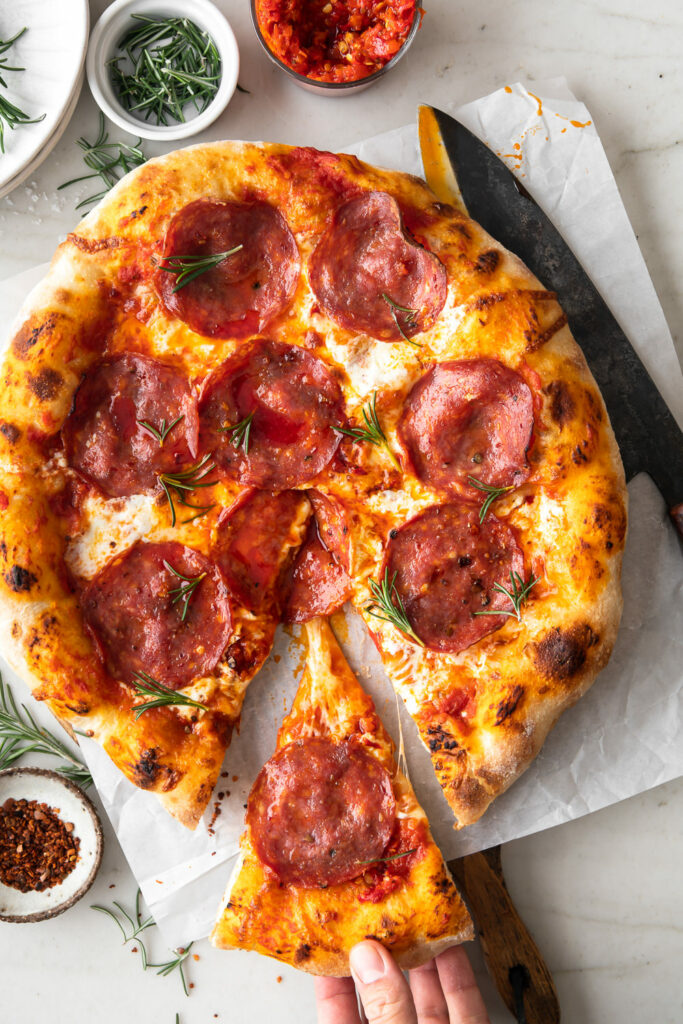 This post may contain affiliate links. As an Amazon Associate, I earn from qualifying purchases.
Calabrese pizza is the pizza for heat lovers. If you've never had calabrian chile paste and you like spice, you're in for such a treat. I discuss them in more detail further in the post, but just know they've got a great kick and the chili paste is smoky, a little fruity and balanced with the tiniest touch of vinegar to get all of the flavors to pop.
What I love most about it, though, is that's it. Most chile pastes add in other flavors (like a lot much garlic) that I don't necessarily want. This paste is just really great spicy chiles.
In this calabrese pizza recipe, I scatter the pizza sauce with mozzarella and provolone then dollop the chile paste all over. I top it with spicy calabrese salami and bake until melted, gooey and just starting to char. It's a little deceiving when you look at it-- the pizza looks like a simple pepperoni pizza. So warn anyone who doesn't like spice to stay back, because hidden under all of that crispy salami is the real treat.
Use your favorite pizza sauce or make a batch of homemade pizza sauce and you're all set to have the most delicious spicy pizza night!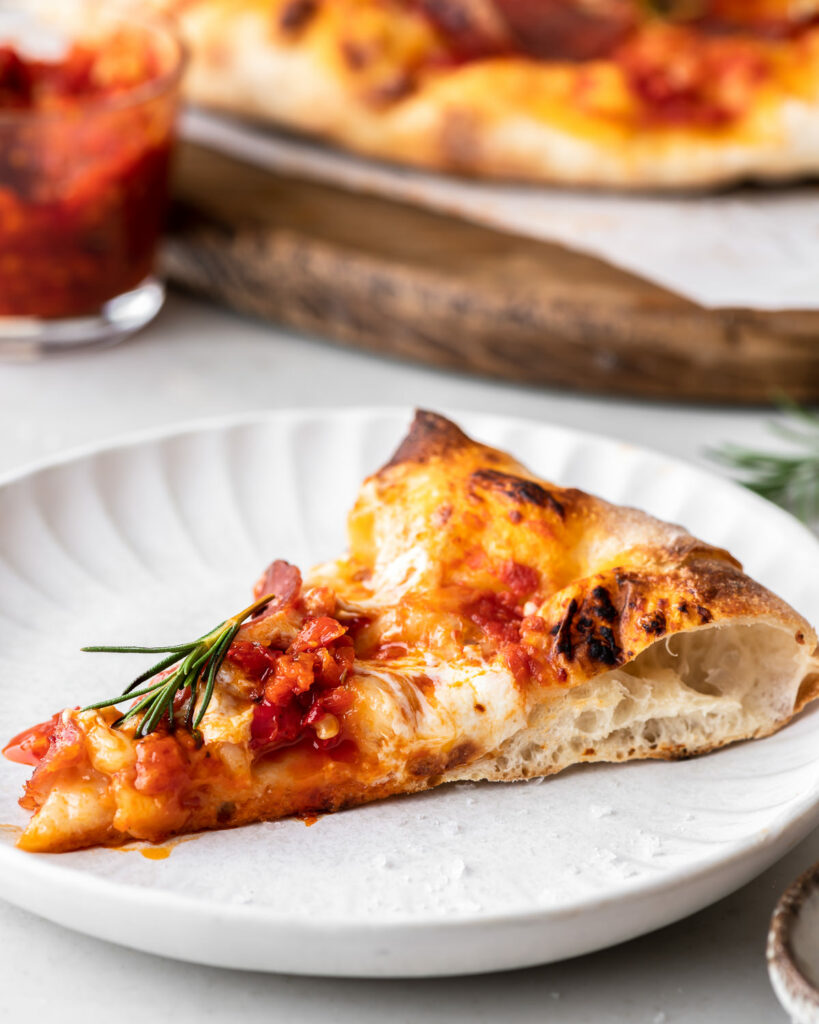 what you need for calabrese pizza:
fresh mozzarella
provolone cheese
calabrese salami
rosemary
how to make calabrese pizza:
Shape pizza dough into a 12-inch round
Spread with pizza sauce
Sprinkle with shredded provolone and torn mozzarella
Dollop with calabrian chile paste
Top with calabrese salami
Bake on a pizza steel or pizza stone at 500°F until bubbly and charred in spots
Sprinkle with rosemary leaves, slice and enjoy!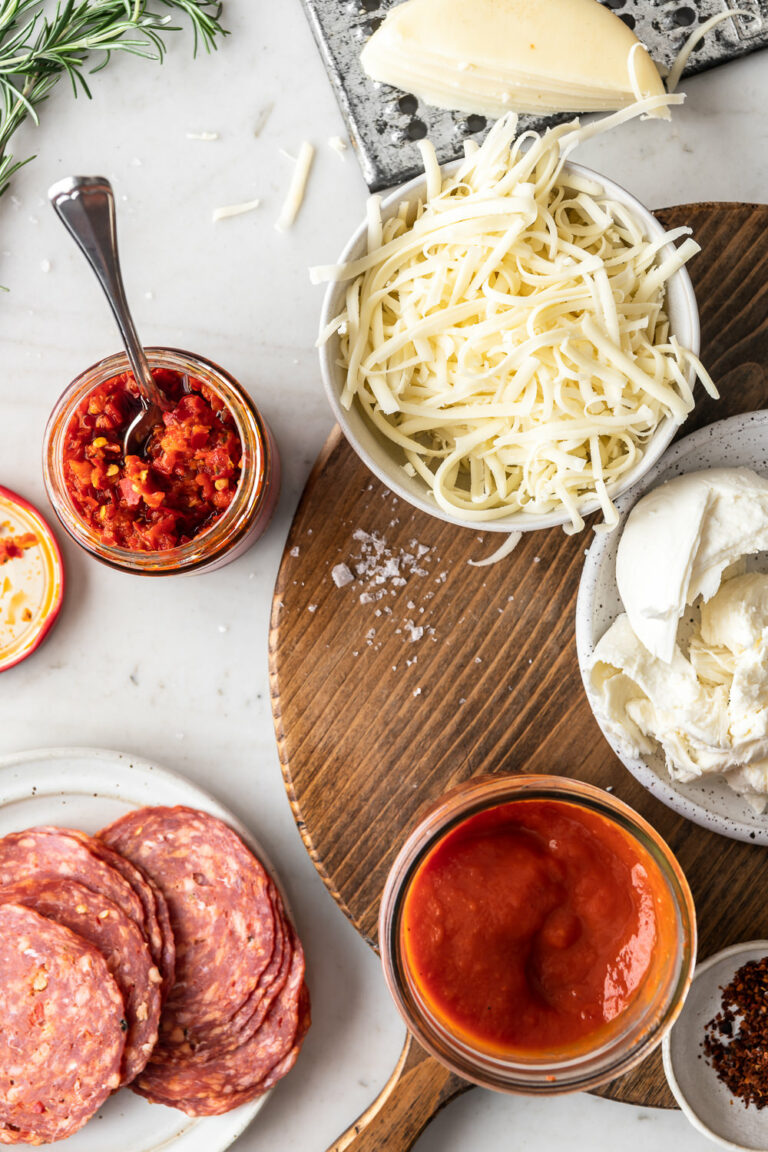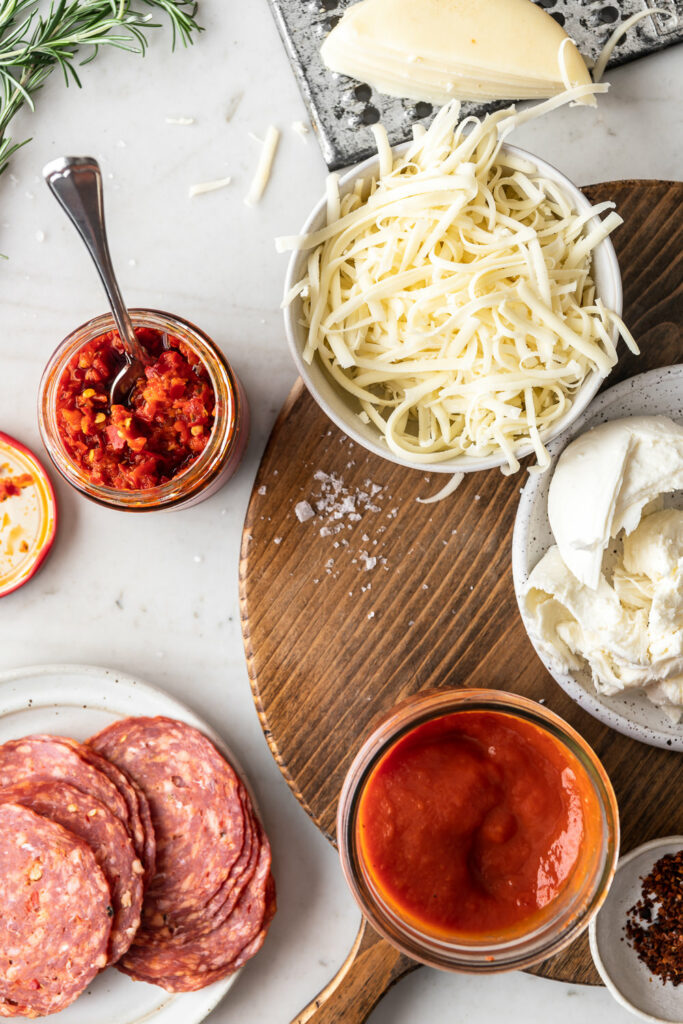 what are calabrian chiles?
Calabrian chiles are a staple of southern Italy, grown and produced in the region of Calabria-- the "toe" of the boot of Italy. There are several varieties that vary in heat, but in general the peppers have a smoky, fruity, spicy flavor profile. We find them to have a wonderful balance of heat, with a warm burn that is present but not overpowering.
Because calabrian chiles are grown in Italy, they are mostly available in a preserved form rather than fresh. The most common ways to purchase the chiles are whole and packed in oil or vinegar, dried, or crushed into a paste. And these are all great options, because then you have access to their delicious spicy flavor from the convenience of your pantry!
where can I buy calabrian chile paste?
You can find calabrian chile paste very easily online, right here.
But they're also at most specialty food stores in person. That being said, it probably won't be carried at your local grocery store. I tend to opt for online shopping whenever possible (hello, 3 kids under 3 ½), and they've been easy to find. I do know Williams-Sonoma makes their own, Sur La Table does not currently carry any, and Delallo Foods makes a chopped and whole pepper option.
Personally though, I love the Tutto Calabria brand, which has an amazing variety of options when it comes to calabrian chiles. They offer the chiles whole, sliced, crushed and as a calabrian chile paste (my favorite).
They even offer dried options from ground powder, flakes, spice blends, infused chili oil and a hot honey! I'm not sponsored by them (I wish!) but I do just love their focus and commitment to quality. And with all of bizarre products and carriers on Amazon, it's always helpful to know about a reliable brand you can count on.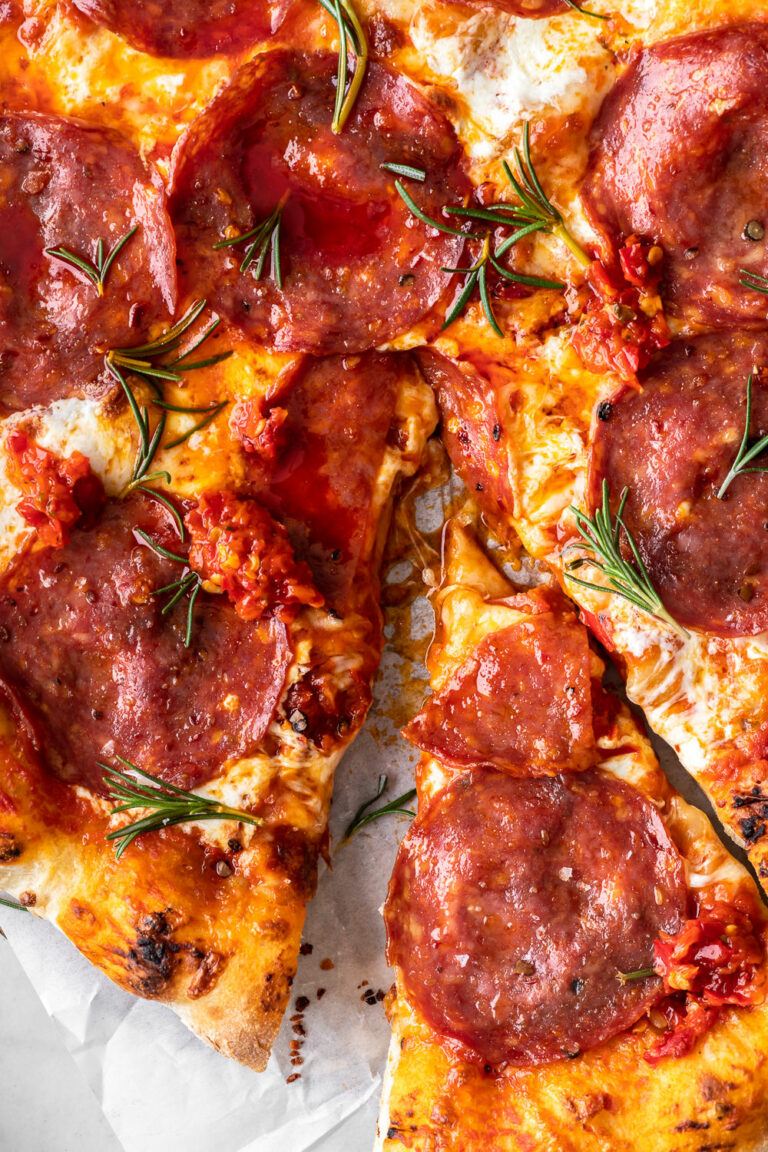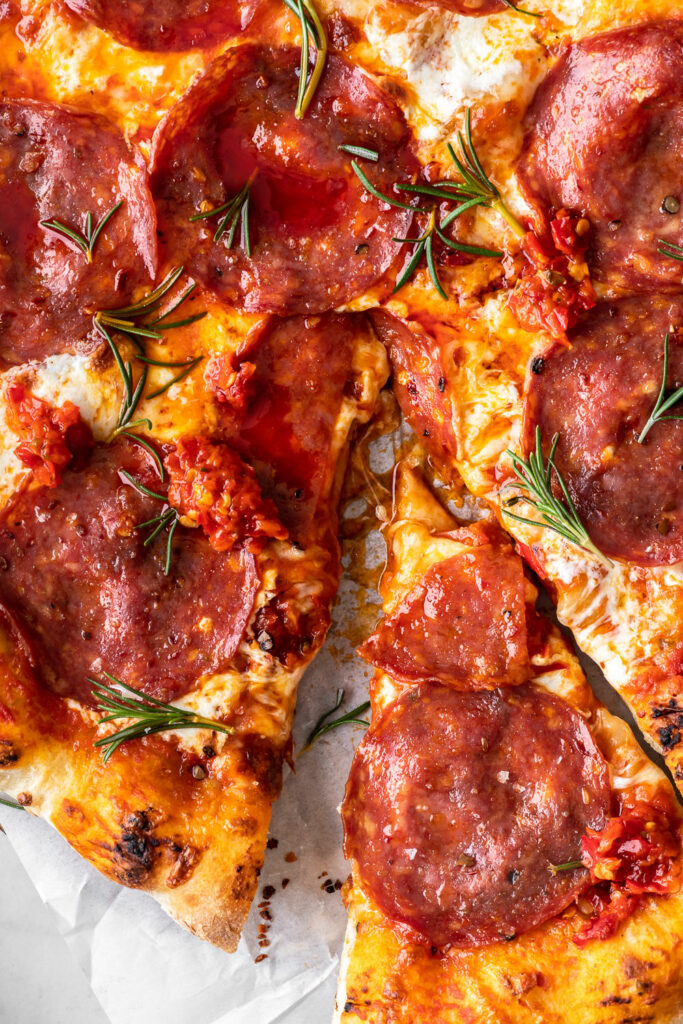 what can I substitute for calabrian chile paste in this calabrese pizza recipe?
If you can't get your hands on calabrian chile paste, you can substitute your favorite chile paste on this pizza.
Sambal oelek comes to mind as the best consistency for dolloping, but it will add a lot more garlic to the mix.
If you can get your hands on some oil packed chile peppers, just pull off the stems and toss them in a food processor to chop them up into a chunky paste. Dollop that under the salami on the unbaked pizza and you're all set. This would be the best option in terms of flavor and texture!
Worse case scenario you can't find crushed chiles, chile paste or oil packed chiles: you can use chile flakes or sriracha. Obviously, this is the least desirable option. With chile flakes, you get the clean heat but miss out on the fruity chile flavor and chunky texture. With the sriracha, you're adding a pungent garlic note and sweetness that isn't ideal either.
what is calabrese salami?
Calabrese salami is a large, dry-cured pork sausage that is seasoned with spicy chiles. Smoked paprika is sometimes included in the flavoring, so the salami is a delicious blend of sweet, spicy and porky.
Get the pre-sliced kind if you can-- not only does it make life easier, but the extra thin consistency (which is virtually impossible to achieve at home) gets perfectly crisp edges on top of the calabrese pizza.
What can I substitute for calabrese salami?
Any spicy salami will work great here in place of the calabrese salami. You can even use pepperoni in a pinch.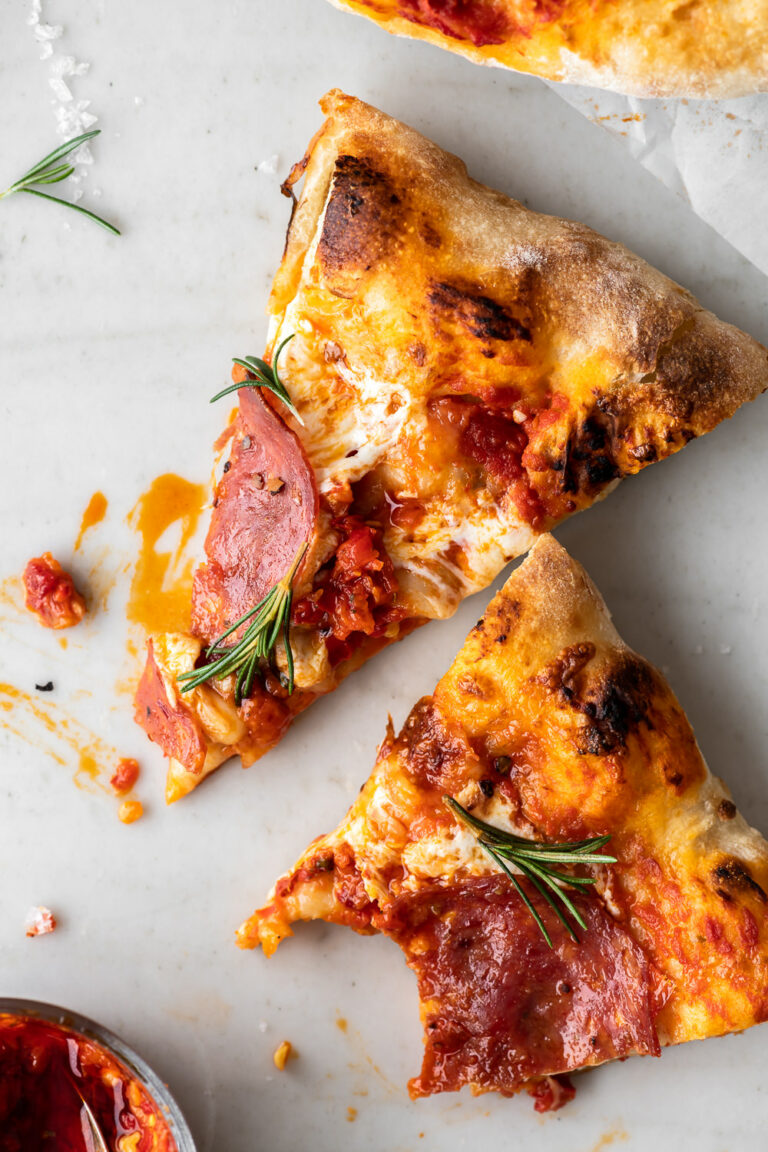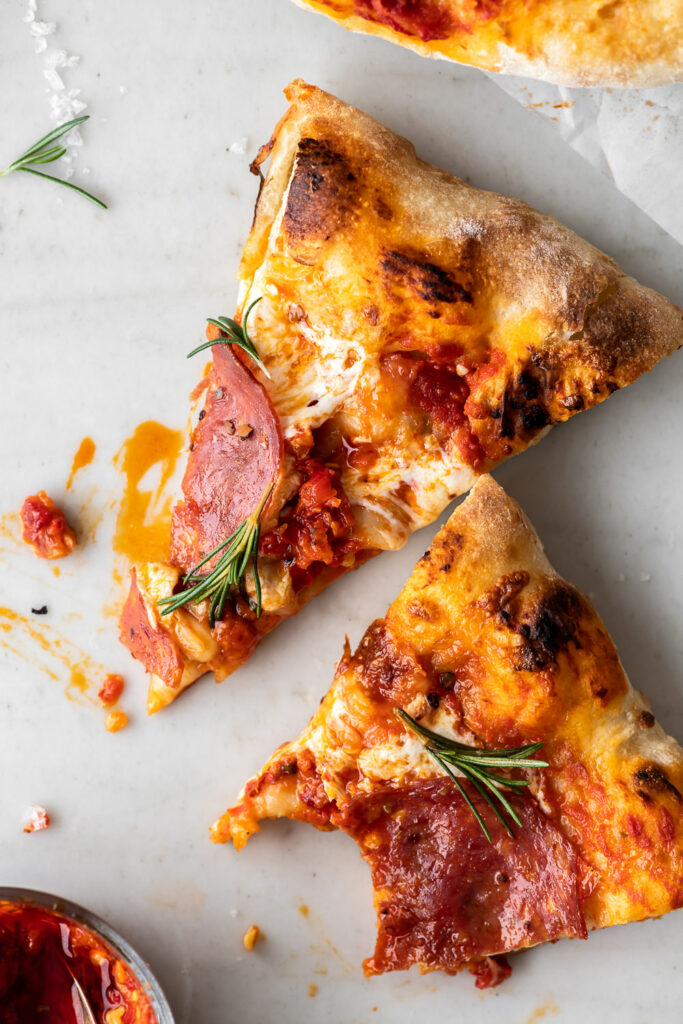 more pizza recipes to try!
Read here to learn more details on how to make the best homemade pizza dough. Then make my favorite pizza sauce recipe and you're all set for the best spicy calabrese pizza!
artichoke pizza with spinach parmesan cream sauce
buttery garlic pizza with fresh herbs
caramelized fennel sausage pizza with garlic oil
hawaiian pizza with caramelized pineapple and prosciutto
morel pizza with fontina and crispy shallots
white sauce pizza with mozzarella, parmesan and ricotta
Print
calabrese pizza
Calabrese pizza is everything you've ever wanted in a spicy pizza. Complete with calabrian chile paste, spicy salami, and a charred crust!
Author:
Prep Time:

10 minutes

Cook Time:

10 minutes

Total Time:

20 minutes

Yield:

1 12-inch pizza

Category:

Pizza

Method:

Baked

Cuisine:

Italian
Ingredients
½

recipe artisan pizza dough (one

15 oz

dough ball)

⅓ cup

pizza sauce

3 ½ oz

fresh mozzarella, torn into pieces

2 oz

shredded provolone cheese

2 tbsp

calabrian chile paste, plus more for serving

2 oz

sliced calabrese salami (can substitute any spicy salami)

1

fresh rosemary sprig, leaves picked off and woody stem discarded
Instructions
Place pizza steel or stone in the oven and preheat to 500°F. Let steel heat up for a full 45 minutes. Generously flour a pizza peel and set aside.
On a floured surface, flatten the middle of the dough ball into a large disk, leaving a thick 1-inch lip. Pick up the disk, and holding the thick edge, use gravity to shape the dough into a 12-inch circle. Lay on prepared pizza peel and adjust shape into a circle. Jiggle the peel to make sure the dough isn't sticking (add more flour if it is).
Spread pizza sauce over the surface of the dough, leaving ¼-inch border. Sprinkle with torn mozzarella and provolone. Spoon dollops of the calabrian chile paste around the pizza, then top with the salami.
Slide pizza onto steel and bake for 5 minutes. Broil for 2- 4 minutes, watching pizza closely, until cheese is bubbly and crust is charred in spots.

Scatter with rosemary leaves. Let pizza cool slightly. Slice and serve with more calabrian chile paste on the side.
Notes
Nutritional information is only an estimate. The accuracy of the nutritional information for any recipe on this site is not guaranteed.
Nutrition
Serving Size:

⅛th of pizza

Calories:

222

Sugar:

1.8g

Sodium:

475mg

Fat:

9g

Saturated Fat:

3.6g

Unsaturated Fat:

4.8g

Trans Fat:

0.1g

Carbohydrates:

26g

Fiber:

1.2g

Protein:

9.1g

Cholesterol:

20mg
Keywords: calabrese pizza