This homemade pizza sauce recipe is simple, brightly flavored and super easy to make from scratch. It has a deep, intense tomato flavor that's the perfect backdrop to your favorite pizza dough!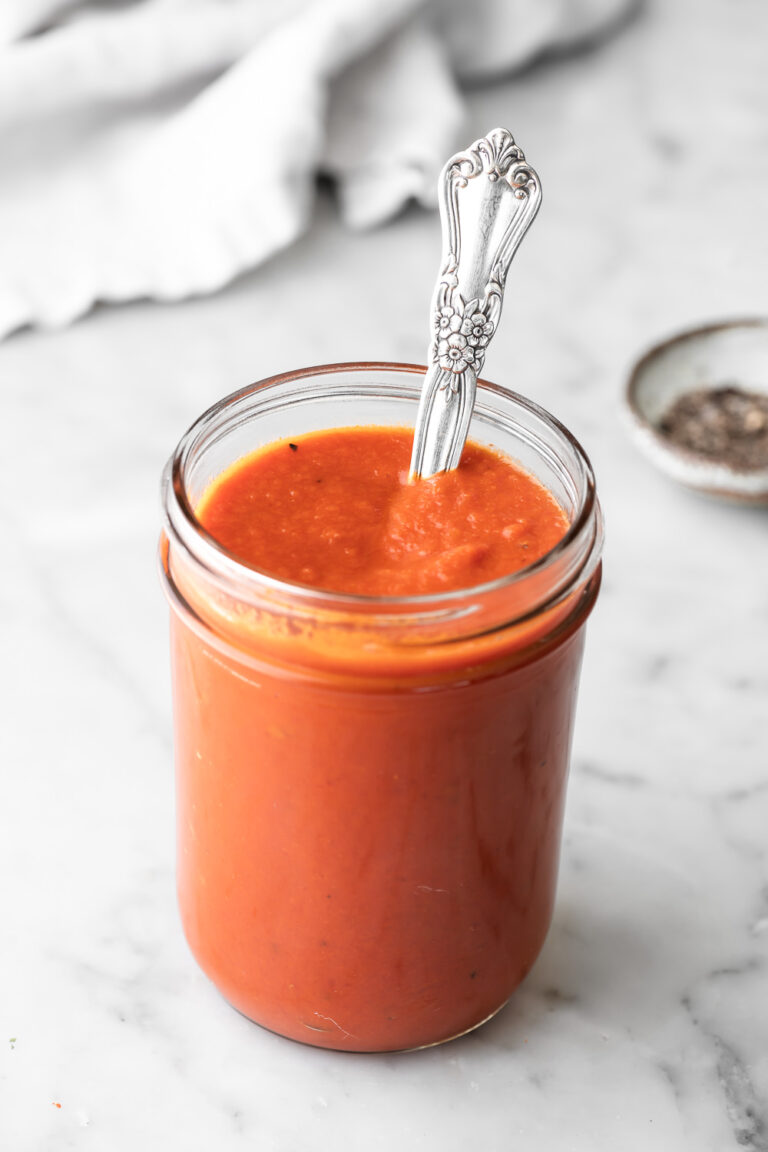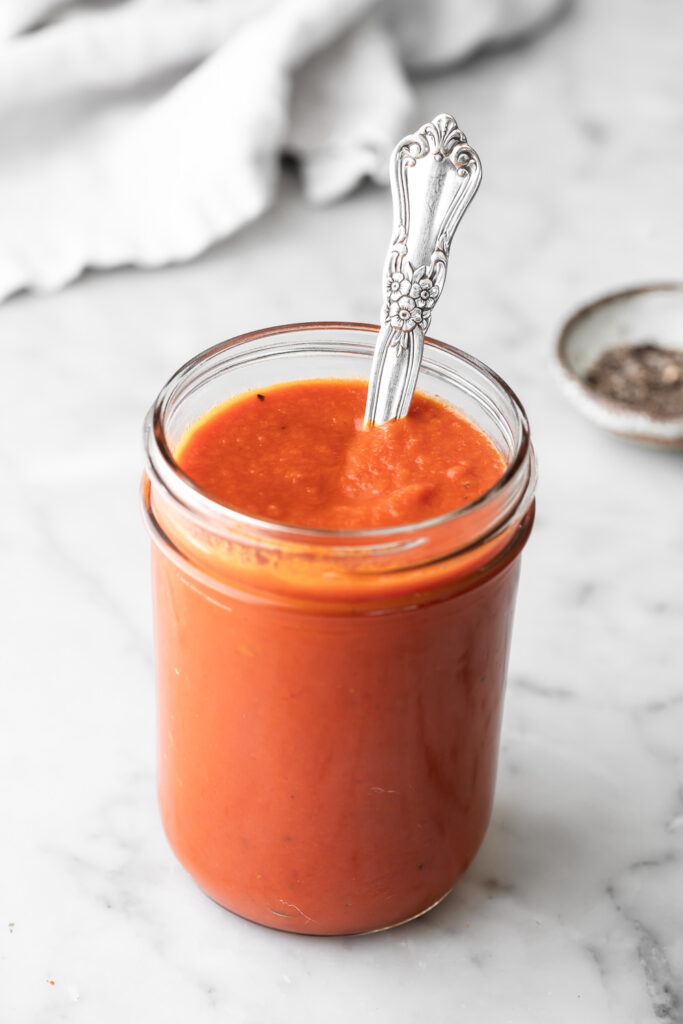 I love a simple pizza sauce. More often than not, homemade pizza sauce recipes are too sweet and too packed with ingredients. They detract from the flavor of really great tomatoes and, of course, your homemade pizza dough and the toppings.
So I like to keep the flavor really simple, but rich and intensely tomato. How do we do this?
First, you have to use really great canned tomatoes in this homemade pizza sauce.
Use more olive oil than you probably think is necessary— it gives richness, adds body and amplifies the flavor.
Then we add toasty garlic notes by caramelizing a few whole garlic cloves in the olive oil. The garlic is subtle, but just enough for a layer of sweet, roasty flavor.
Finally, we use a good amount of tomato paste in the pizza sauce to deepen the tomato flavor. Then we let it simmer to thicken (there's nothing more annoying than a watery pizza sauce). This also gives the flavors a chance to come together and deepen.
In the end, we have the absolute best pizza sauce.
It's bright, simple and fresh. It's smooth from blending, but thick enough to spread. Everything you need is already in your pantry. It's easy to make. If you want to spice it up with fresh herbs, spices, or sub in some fresh tomatoes, read on for ideas and instructions.
But I love to keep my pizza sauce with a firm focus on the tomato, with supporting help from a peppery olive oil and a few cloves of garlic. It is, quite simply, the best homemade pizza sauce I've found. It also makes a great pasta sauce and marinara dipping sauce. You can't go wrong!
pizza sauce ingredients:
Canned whole peeled tomatoes— use the best canned tomatoes you can find. This is a simple recipe that hinges on great ingredients!
Tomato paste- use the best tomato paste, too. It deepens the tomato flavor and helps thicken the sauce
Garlic- fresh, whole cloves are used to flavor the oil and then they're discarded. This will add a toasty layer of caramelized garlic without overpowering the tomatoes.
Olive oil- a great, peppery olive oil adds richness and body to this simple tomato sauce.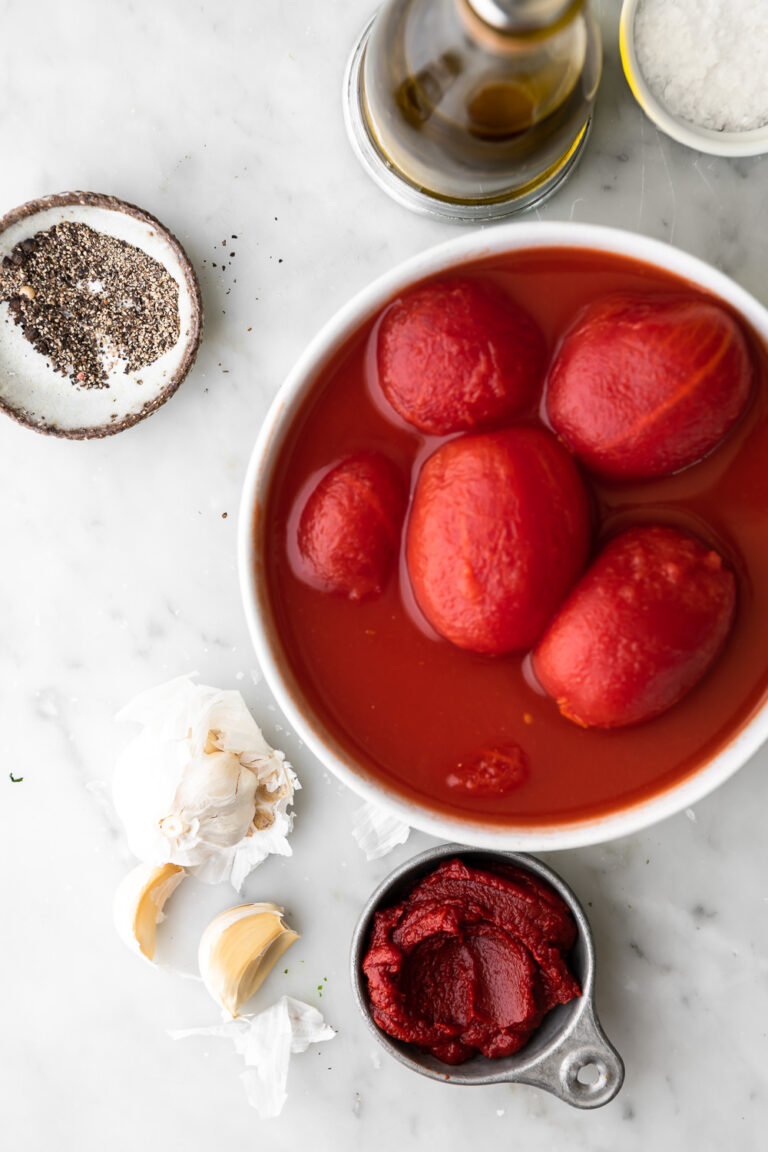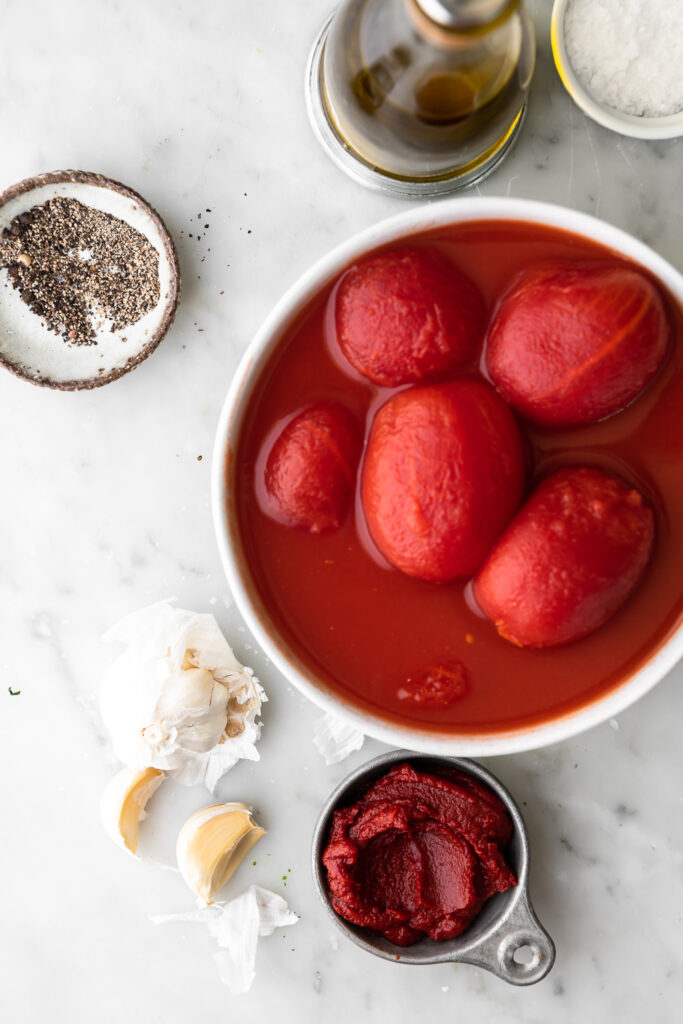 how to make pizza sauce:
Slowly cook garlic cloves in olive oil until golden brown and fragrant; discard cloves.
Fry tomato paste until deep red in color.
Break up whole peeled tomatoes and add to pot; season with salt and pepper.
Gently simmer until thickened, about 30 minutes.
Blend until smooth.
Spread on pizza dough, bake and enjoy!
watch the video to see how to make this pizza sauce
Located at the bottom of the recipe card!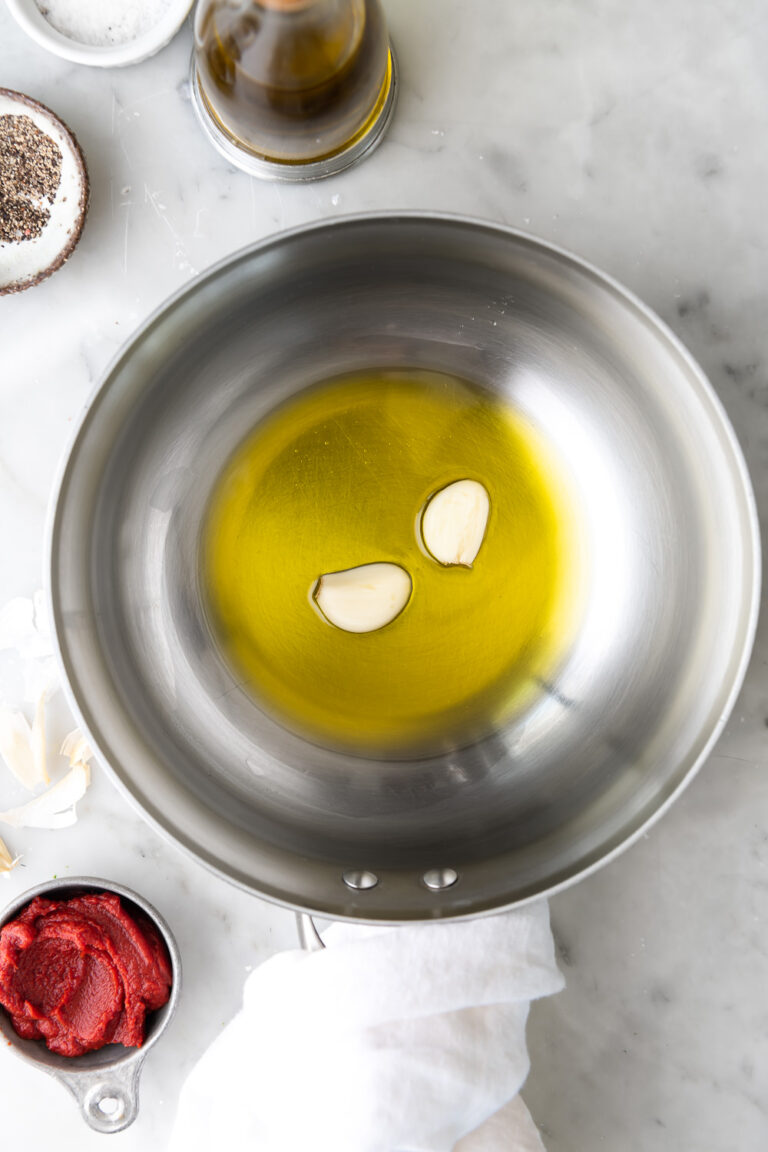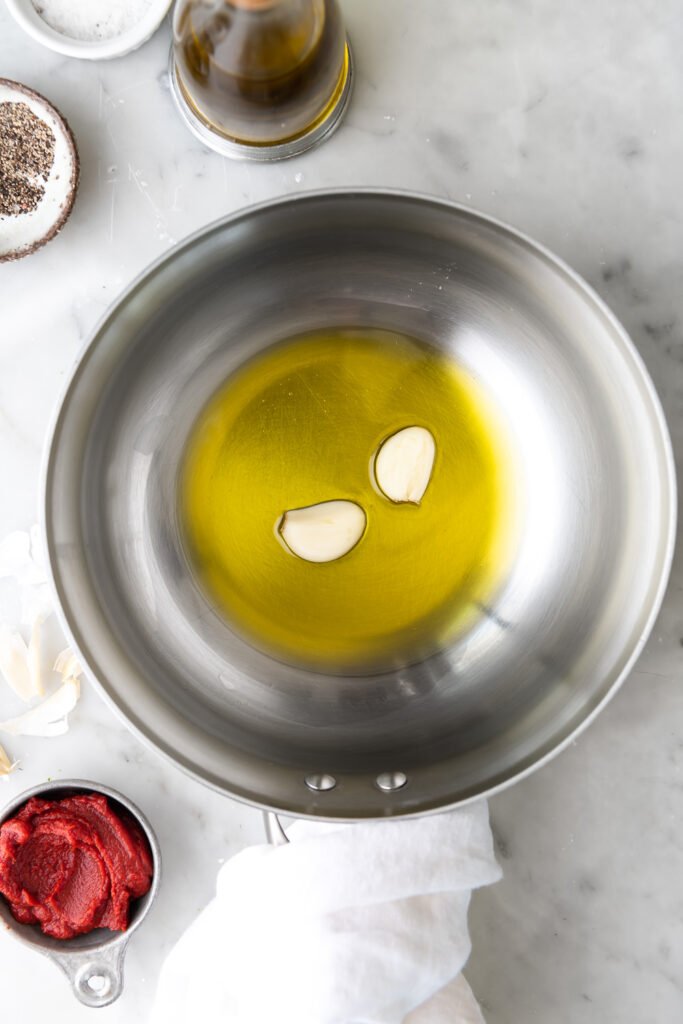 how to use fresh tomatoes in this homemade pizza sauce recipe:
You'll need about 2 pounds of ripe tomatoes
Bring a pot of water to a boil.
Score an "X" on the bottom of each tomato with a paring knife.
Blanch for about 30 seconds, or until the skin begins to curl away from the "X".
Shock in a bowl of ice water.
Peel tomatoes and discard the skin.
Halve the tomatoes, scoop out and discard the seeds and stem.
Finely chop the flesh.
Use in place of the canned tomatoes.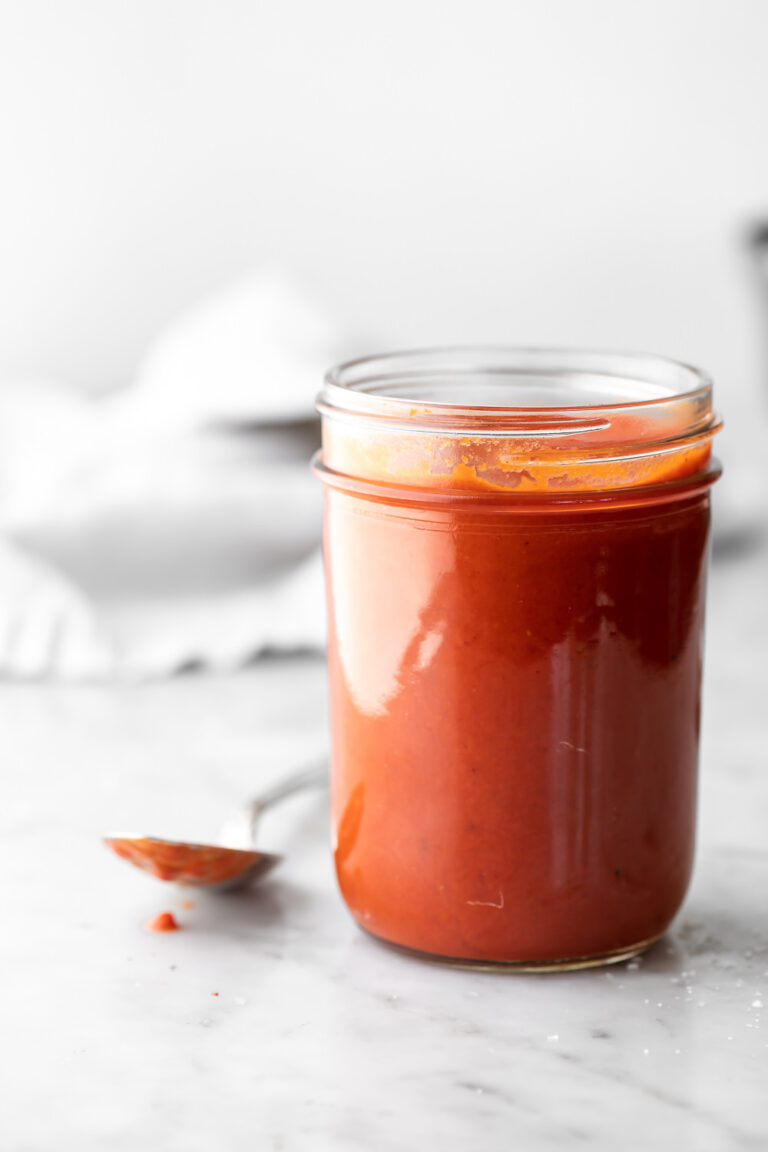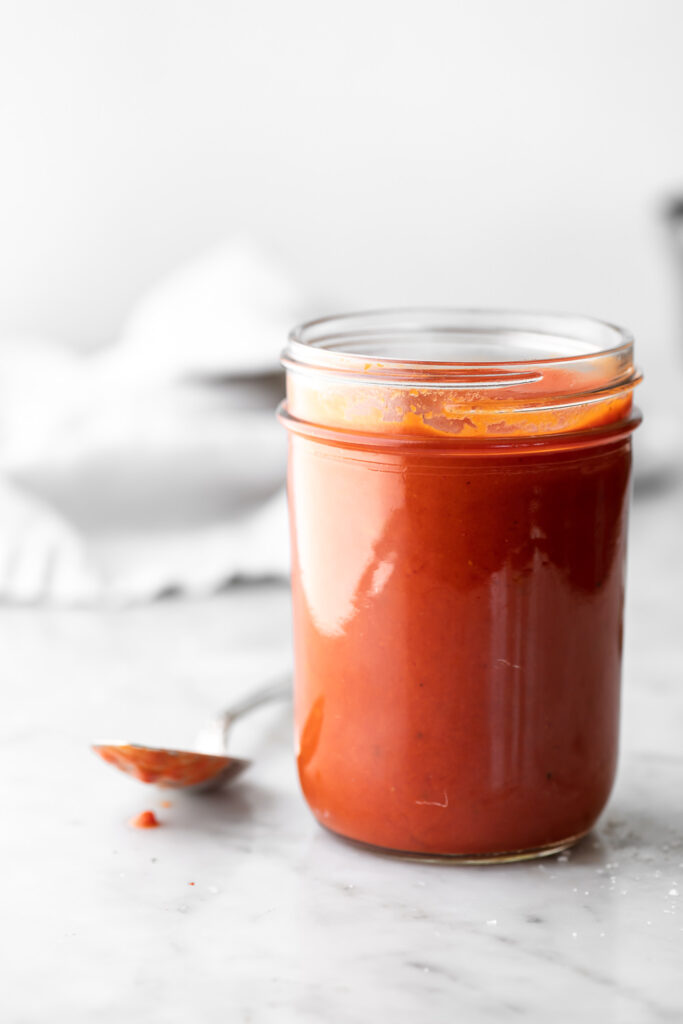 what are San Marzano tomatoes?
I'm sure you've heard the name San Marzano tomatoes-- but what makes them so special, and are they truly the best canned tomato on the market?
To start, San Marzano tomatoes are a variety of sweet plum tomato grown in a specific region of Campania, Italy. Just like wine, all of the production steps of San Marzano tomatoes are tightly regulated by the Italian government— from the volcanic soil, to how they're farmed, harvested and processed. They're prized for their pure tomato flavor, minimal seeds and meaty texture. In theory, the regulation and DOP stamp keep the quality high and protect the reputation.
Unfortunately, the market is saturated with counterfeit San Marzano tomatoes that are a far cry from the sweet Italian tomatoes. If you can find true San Marzano tomatoes, they're perfectly suited to homemade pizza sauce.
But if you don't want to pay a premium for possible fake San Marzano tomatoes, no worries. You can find San Marzano-style tomatoes grown in California, or other really great canned plum tomatoes that are just as delicious. Bottom line: use canned tomatoes you love, and this will be the best homemade pizza sauce.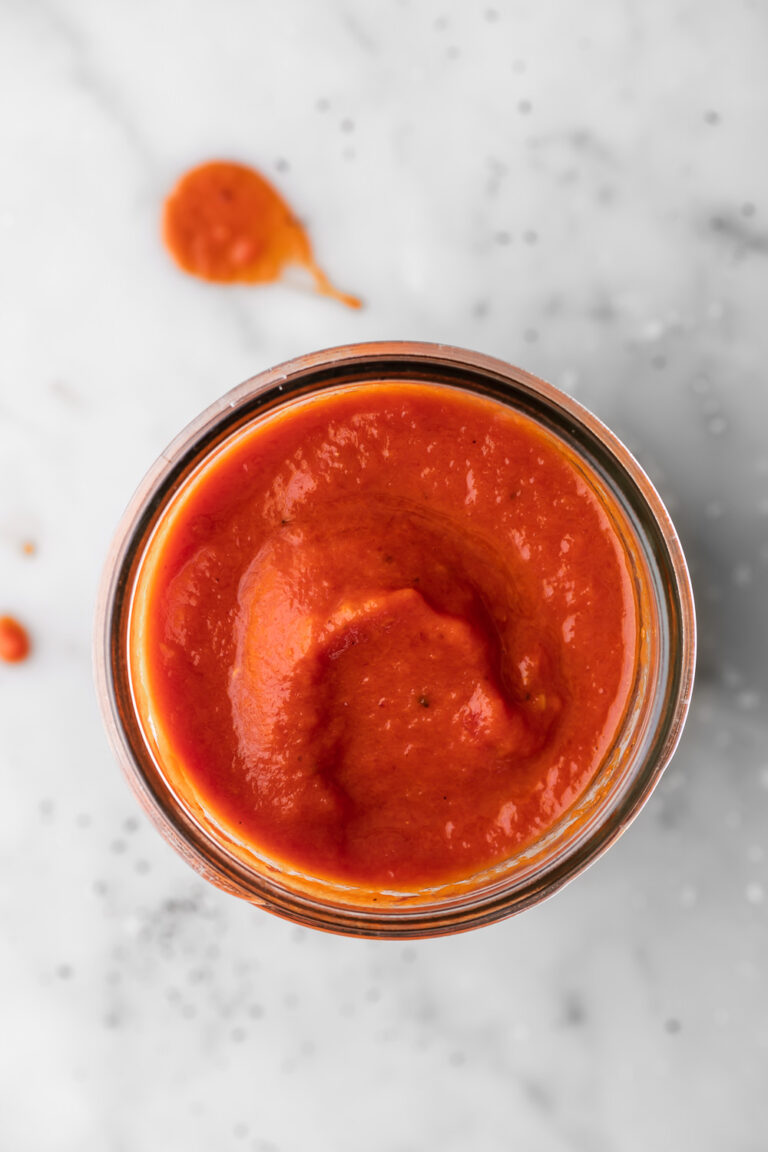 pizza sauce seasonings:
If you want to add a little more complexity to your pizza sauce, here are some seasoning ideas:
to add herbal notes, stir in 1 tsp of dried oregano, basil or thyme
for spice, add a pinch of dried chile flakes
to give a touch of sweetness, saute half of a diced onion after the garlic and before the tomato paste
for smoky spice, simmer the pizza sauce with a dried chipotle chile then fish it out before blending
for added richness, finish with a pat of butter or splash of heavy cream
how long does this pizza sauce last?
This homemade pizza sauce will keep, covered and refrigerated, for up 1 week. It can be frozen for up to 6 months.
It can be thawed overnight in the refrigerator or gently in the microwave.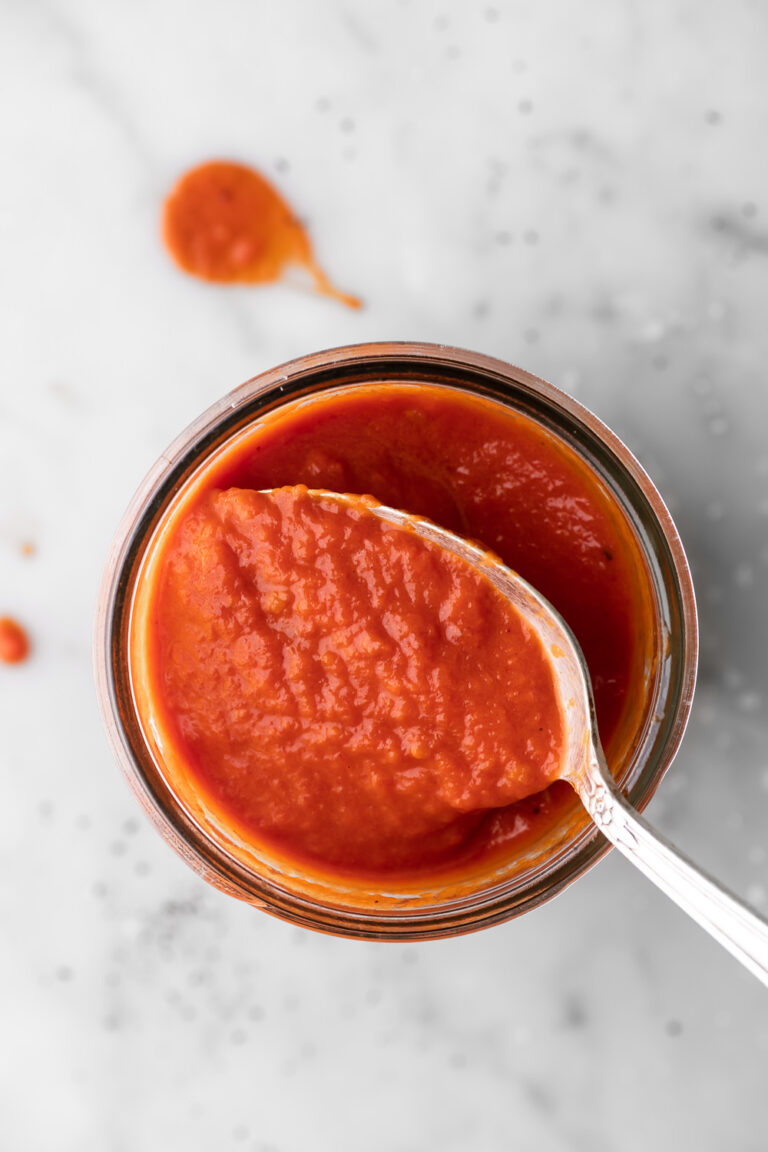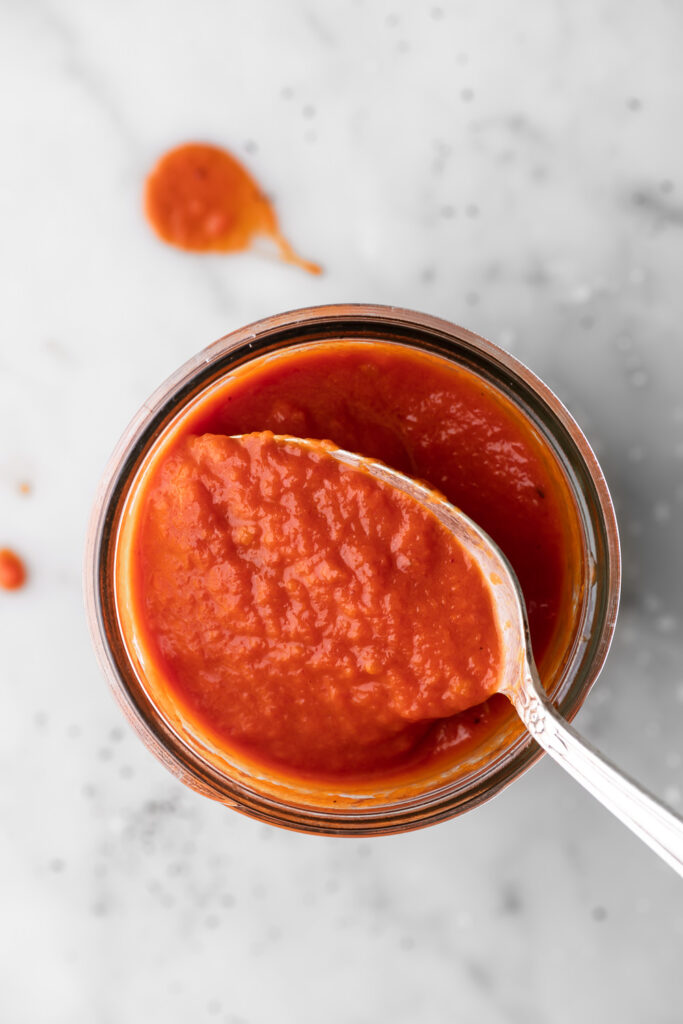 tips and substitutions for this pizza sauce:
You can can use canned crushed tomatoes, if you'd like
Click here to learn how to use fresh tomatoes
I prefer to use my hands to quickly break up the whole peeled tomatoes, but it can be messy. If you prefer, you can roughly chop tomatoes with a knife or use kitchen shears to chop them up in the can. The goal is to break them up a bit so they cook down more quickly. We're going to blend it smooth in the end.
If you don't have an immersion blender, you can use a stand blender or food processor instead
You can leave the sauce chunky, if you prefer! I like smooth pizza without pieces of tomatoes, but it's totally your call.
Be cautious with the salt! Start with just ¼ teaspoon kosher salt and let it cook down. Add more after blending, if you feel the pizza sauce needs more. Keep in mind that with salty cheese and toppings (like pepperoni, sausage, olives, sauteed vegetables), the pizza can quickly get too salty. Err on the side of less.
more pizza recipes you'll love!
Start with the best homemade pizza dough, then try some of our favorite homemade pizzas:
caramelized fennel sausage pizza with garlic oil
spicy calabrese pizza with salami and rosemary
artichoke pizza with spinach parmesan cream sauce
buttery garlic pizza with fresh herbs
hawaiian pizza with caramelized pineapple and prosciutto
white sauce pizza with mozzarella, parmesan and ricotta
morel pizza with fontina and crispy shallots
stuffed focaccia with mozzarella and pistachio pesto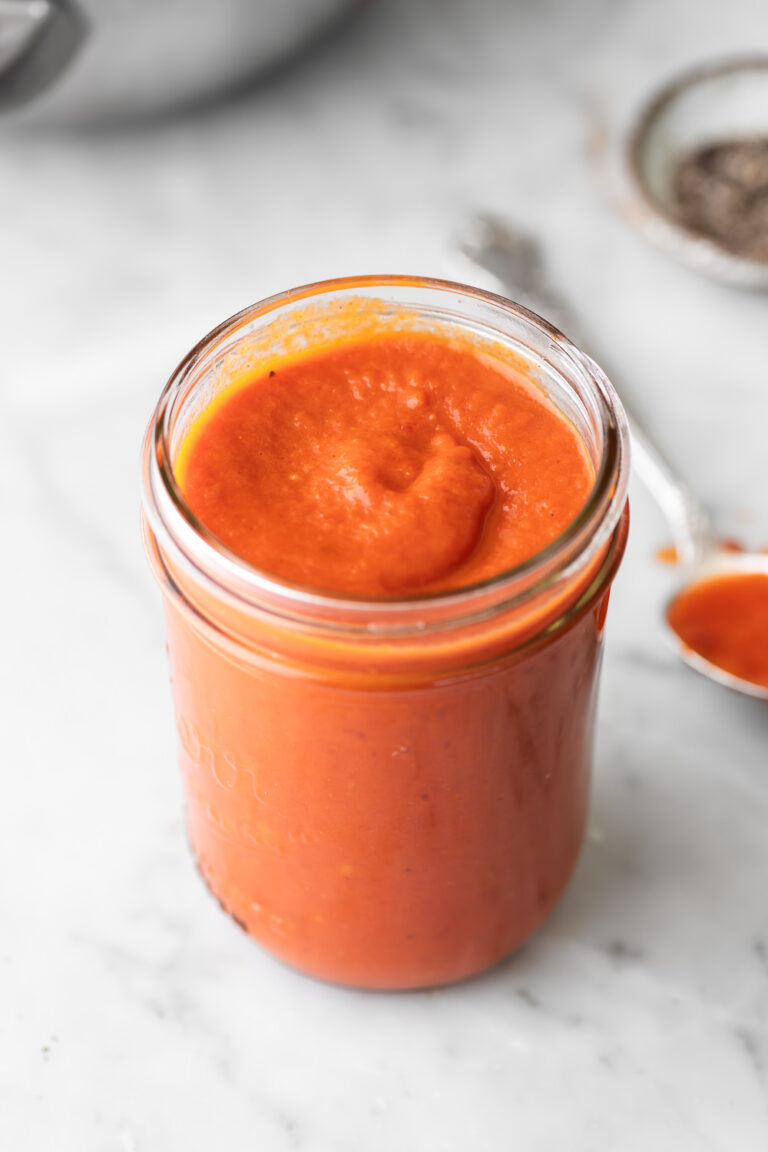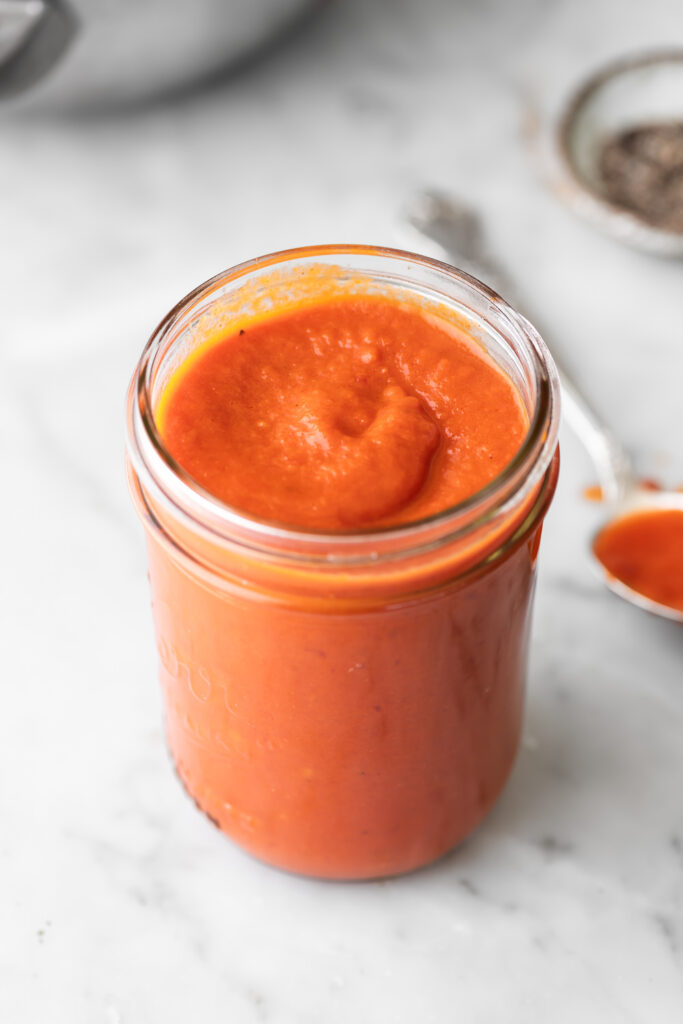 Print
homemade pizza sauce
This homemade pizza sauce recipe is simple, brightly flavored and super easy to make from scratch. It has a deep, intense tomato flavor that's the perfect backdrop to your favorite pizza dough!
Author:
Cook Time:

30 minutes

Total Time:

30 minutes

Yield:

2 ½ cups

Category:

Pizza

Method:

Stovetop

Cuisine:

American

Diet:

Vegan
Ingredients
3 tbsp

olive oil

2

garlic cloves, smashed and peeled

3 tbsp

tomato paste
kosher salt
freshly ground black pepper

1

28-oz can whole peeled tomatoes
Instructions
Place olive oil and garlic cloves in a medium saucepan over medium-low heat. Cook, occasionally pressing down on the garlic to release oils, until lightly browned. Discard garlic cloves and stir in tomato paste. Fry for about 5 minutes, stirring often, until tomato paste is deep red.

Crush the tomatoes by hand and add the pulp and the juices to the pot. Season with ¼ teaspoon salt and pepper. Bring to a gentle simmer and cook, uncovered, until thickened and flavorful, about 30 minutes. Taste and adjust with more salt and pepper as needed.

Use an immersion blender to blend until smooth. Transfer to a glass jar and let cool.
Notes
Store in the refrigerator for up to 1 week, or freeze for up to 6 months.
Nutritional information is only an estimate. The accuracy of the nutritional information for any recipe on this site is not guaranteed.
Nutrition
Serving Size:

¼ cup

Calories:

54

Sugar:

2.7g

Sodium:

6.9mg

Fat:

4.2g

Saturated Fat:

0.6g

Unsaturated Fat:

3.5g

Trans Fat:

0g

Carbohydrates:

4g

Fiber:

1.1g

Protein:

0.9g

Cholesterol:

0mg
Keywords: homemade pizza sauce