These lemon shortbread cookies are the perfect trifecta of lemon, vanilla bean and butter. They're crispy, tender, buttery and packed with the zest of 4 whole lemons for the most vibrant lemon flavor.
We bake them in a muffin tin for perfectly round circles and coat the tops with sanding sugar for a shimmery crunch. The smell of these cookies in the oven is out of this world-- I find myself wanting to make them every Saturday morning just to perfume the house with buttery, lemony, vanilla bean goodness!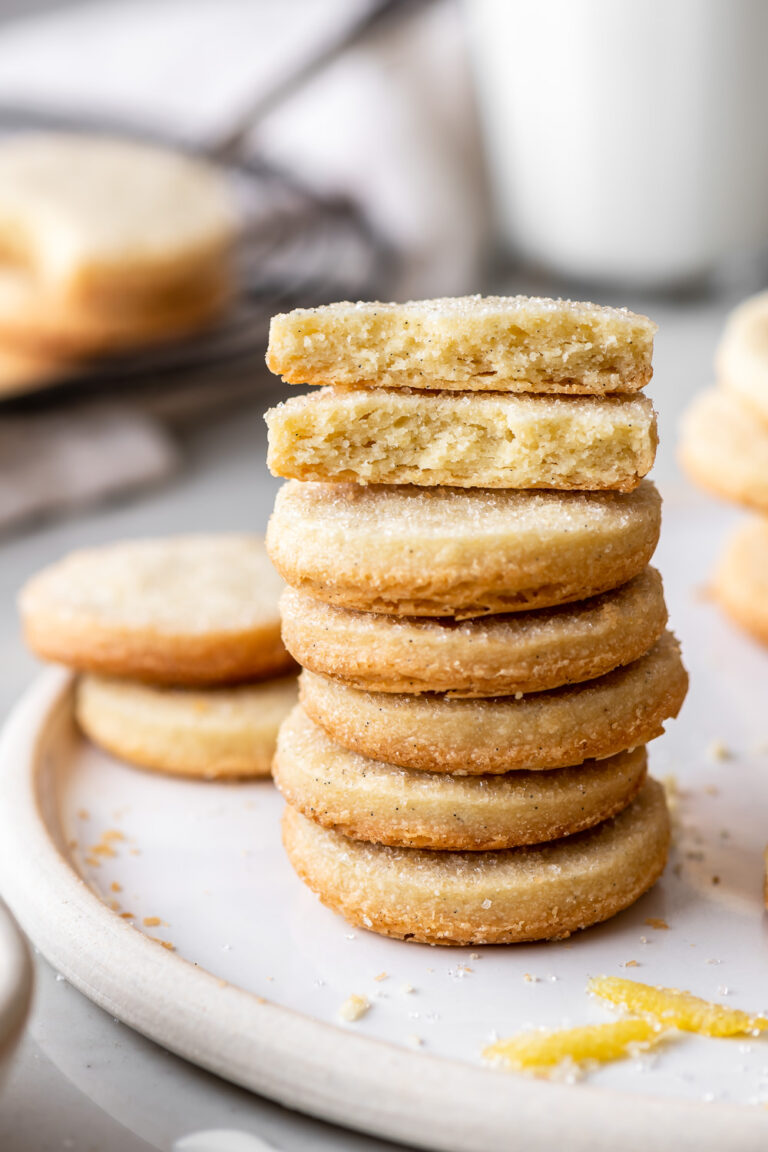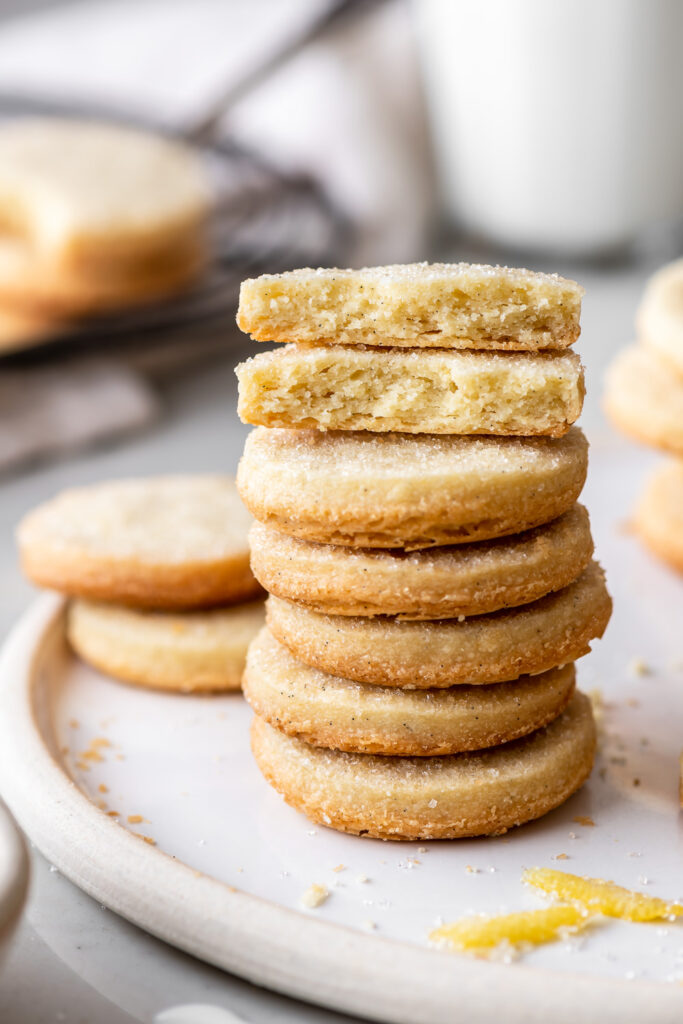 why these are the best lemon shortbread cookies:
Lemon zest: I use the zest of 4 whole lemons in this lemon shortbread cookie and it's so worth it. But we don't just mix in grated zest because that could get… stringy. We blend it up with a small amount of granulated sugar until a super concentrated lemony paste emerges. The citrus oils are fully released from the zest, worked into the sugar, and ready to spread their flavor throughout the entire cookie. If you're concerned about potentially wasting the juice, just squeeze the lemons and freeze the juice in an ice cube tray. It'll last for months and be ready to use in easy to access portions!
Powdered sugar: I love the delicate texture and crumbly, melt-in-your-mouth consistency of shortbread made with powdered sugar. So aside from the small amount of granulated sugar we use to make the lemon paste, the rest of the sugar in this recipe is powdered. The result is super tender, buttery cookies!
Vanilla bean: Vanilla bean seeds infuse the dough with potent vanilla flavor without introducing liquid. We get depth of flavor and sweet warm notes without compromising the tender crumb we all crave in shortbread cookies!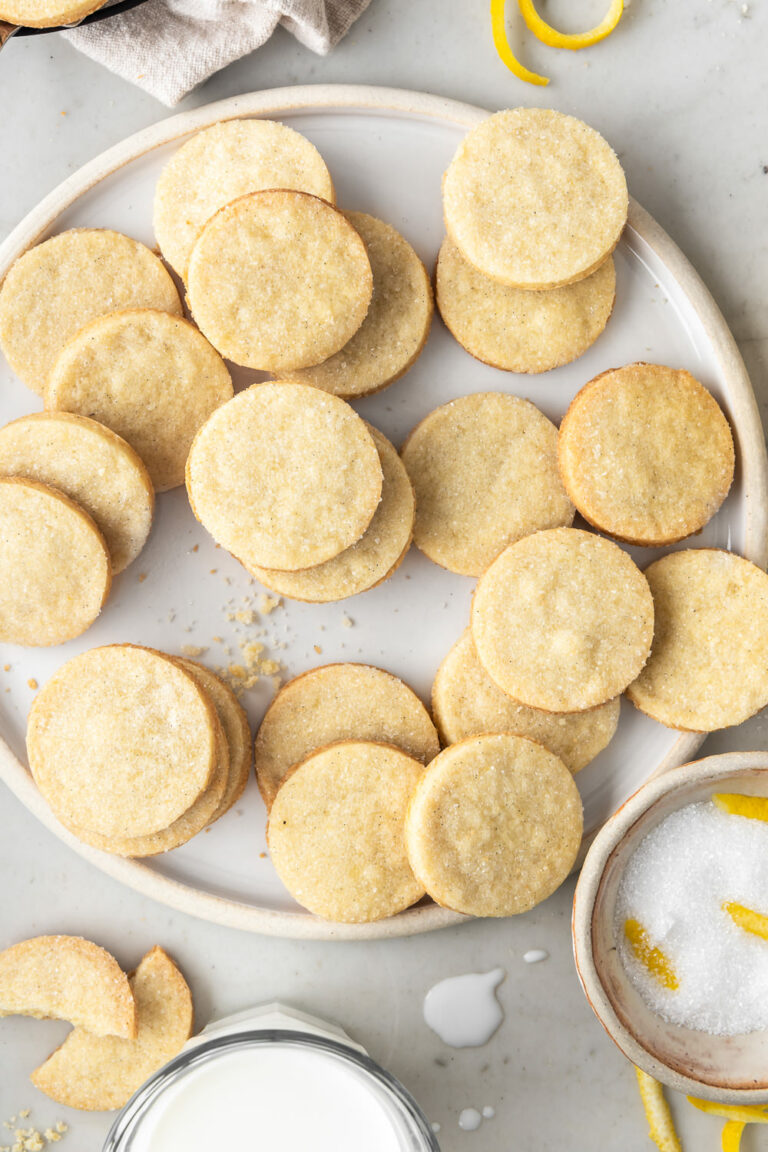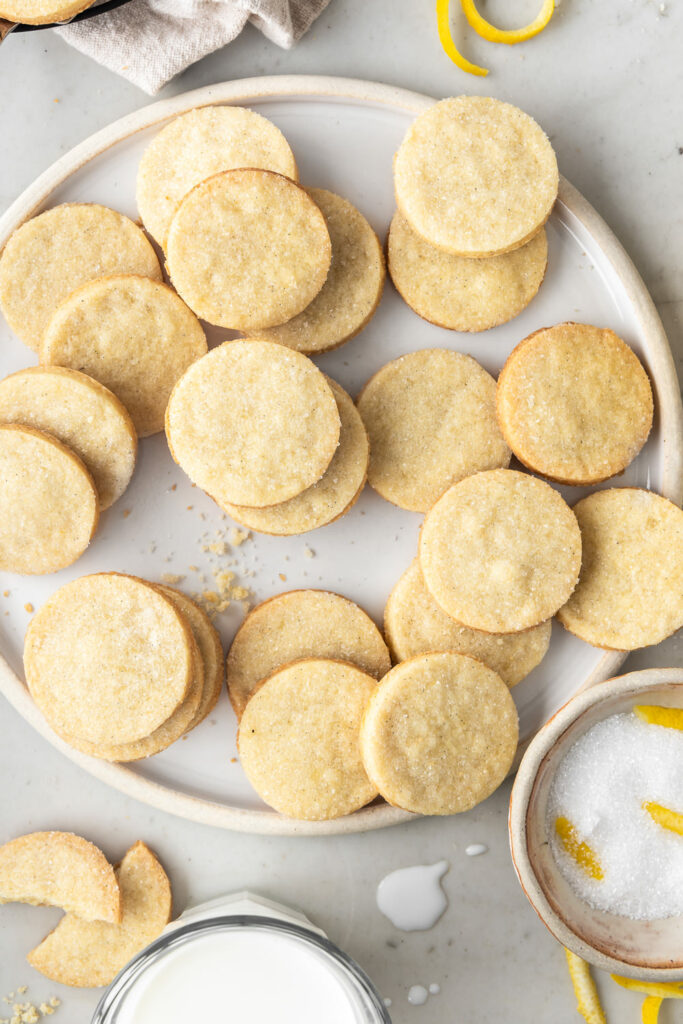 Muffin tin technique: I learned this technique from Dorie Greenspan, and it's my go-to way of making perfectly round shortbread cookies. Roll the dough into a slab, then chill until firm. Use a 2-inch round cookie cutter to cut out the cookies and bake them in the wells of a muffin tin. The edges prevent the cookies from spreading, so they all turn out uniformly round and perfectly stackable. I only own one muffin tin, so I just cut out all of the rounds and store them in the fridge until the pan is open for more dough. You could also simply shape the dough into a log, chill it, then slice and bake.
Sanding sugar: Real, high-quality sanding sugar is a beautiful thing. This might sound knit-picky and a little weird, but it's super important to get the right stuff. Sanding sugar is finer than turbinado crystals (and purified, so it's colorless and free of molasses/caramel notes) and it's coarser than granulated sugar. It looks like clear sprinkles, but finer than any I have come across. I know this is revealing a lot about my personality here (Enneagram 1, anyone?), but there's a significant difference between all of these sugars and sanding sugar is the perfect one to coat these shortbread cookies. It gives a beautifully shimmery top and a crunch that accents the buttery crisp cookies. Note: It's kind of annoying to track down good sanding sugar-- a lot of vendors on Amazon seem to actually be selling straight granulated sugar. I found a great product on Nuts.com! ​​
Egg yolk: Classic shortbread cookies are just butter, sugar and flour. Modern variations, however, can throw an egg yolk into the mix. The yolk binds the dough so it's less crumbly and a little easier to work with. When it bakes, this binding property also minimizes the spread and gives our shortbread cookies crisp edges. The yolk also tenderizes the texture of the dough, making shortbread cookies with a fine crumb and rich flavor. Why not?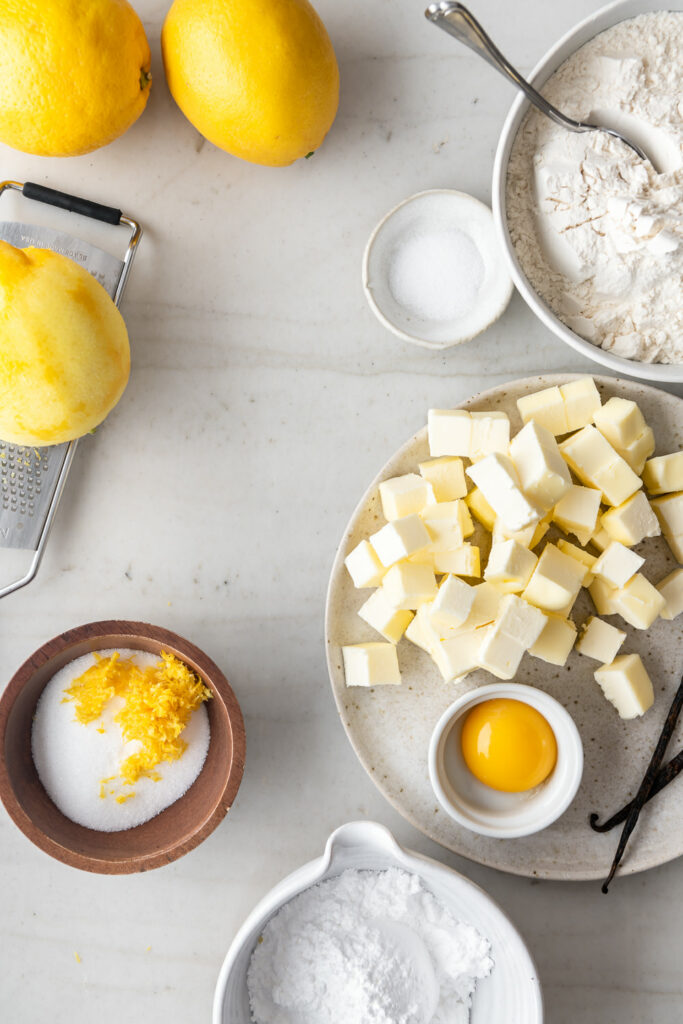 what you need for lemon shortbread cookies:
lemons
vanilla bean
butter
egg yolk
granulated sugar
powdered sugar
flour
salt
sanding sugar
how to make lemon shortbread cookies:
Grind lemon zest and sugar into a thick paste
Gently mix butter in a food processor until smooth (don't cream until fluffy)
Mix in lemon paste, powdered sugar, and vanilla bean seeds until smooth
Mix in egg yolk, then flour until just combined
Roll out dough into a ¼-inch thick slab and chill until firm
Cut out into 2-inch circles and coat tops with sanding sugar
Bake dough circles in a muffin tin at 325°F for 12- 14 minutes
Let cool a few minutes, remove from muffin tin then cool completely for best consistency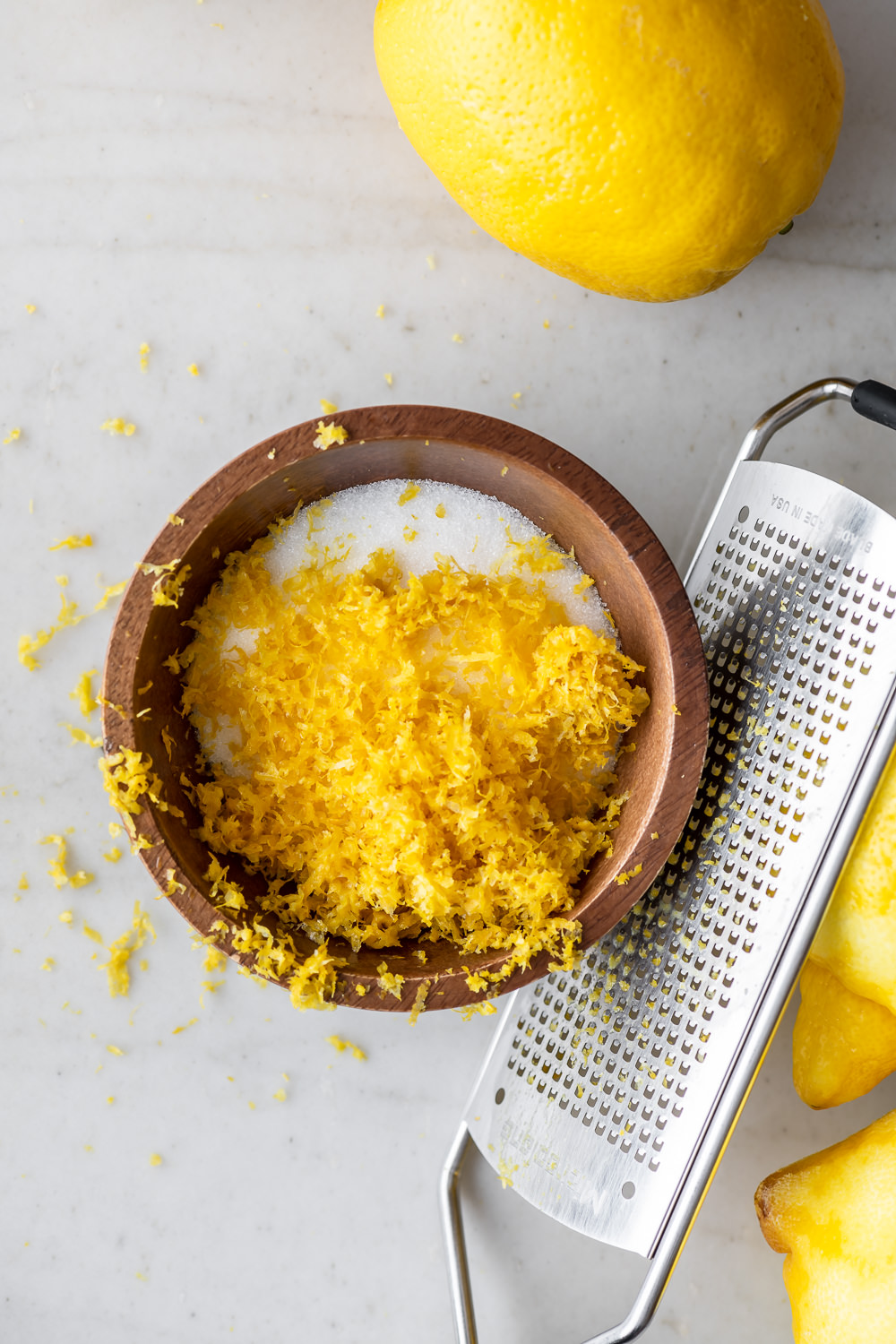 lemon shortbread cookie variations:
I love these lemon vanilla shortbread cookies so much-- to me, there's nothing better than vanilla bean and lemon zest in a thick, buttery, tender-crisp cookie. It's so fragrant and warm and cozy.
That being said, this lemon shortbread cookie recipe is also a great canvas for more fun flavor combinations. Here are a few ways to add your own special twist:
Lemon lavender shortbread cookies: Add 2 teaspoons dried culinary lavender to spice grinder, along with lemon zest and sugar. Grind up until smooth and proceed with the recipe, omitting vanilla bean if desired.
Lemon rosemary shortbread cookies: Mince 2 tablespoons of fresh rosemary and add to the mixer when creaming the butter and sugar in Step 2. Omit the vanilla bean and proceed with the recipe.
Lemon lime shortbread cookies: Zest 2 lemons and 3 limes, then combine zest with granulated sugar and grind up to a paste. Proceed with the recipe as written.
Lemon thyme shortbread cookies: Mince 2 tablespoons of fresh thyme and add to the mixer when creaming the butter and sugar in Step 2. Omit the vanilla bean and proceed with the recipe.
Lemon curd shortbread cookies: Make these a lemon curd cookie sandwich! Before baking the cookies, cut a small ¾-inch circle out of the center of half of the cookies. These will be the tops. Once cool, spoon a teaspoon of lemon curd onto a full cookie. Top with a "donut" shaped top cookie. Repeat making sandwiches with remaining cookies.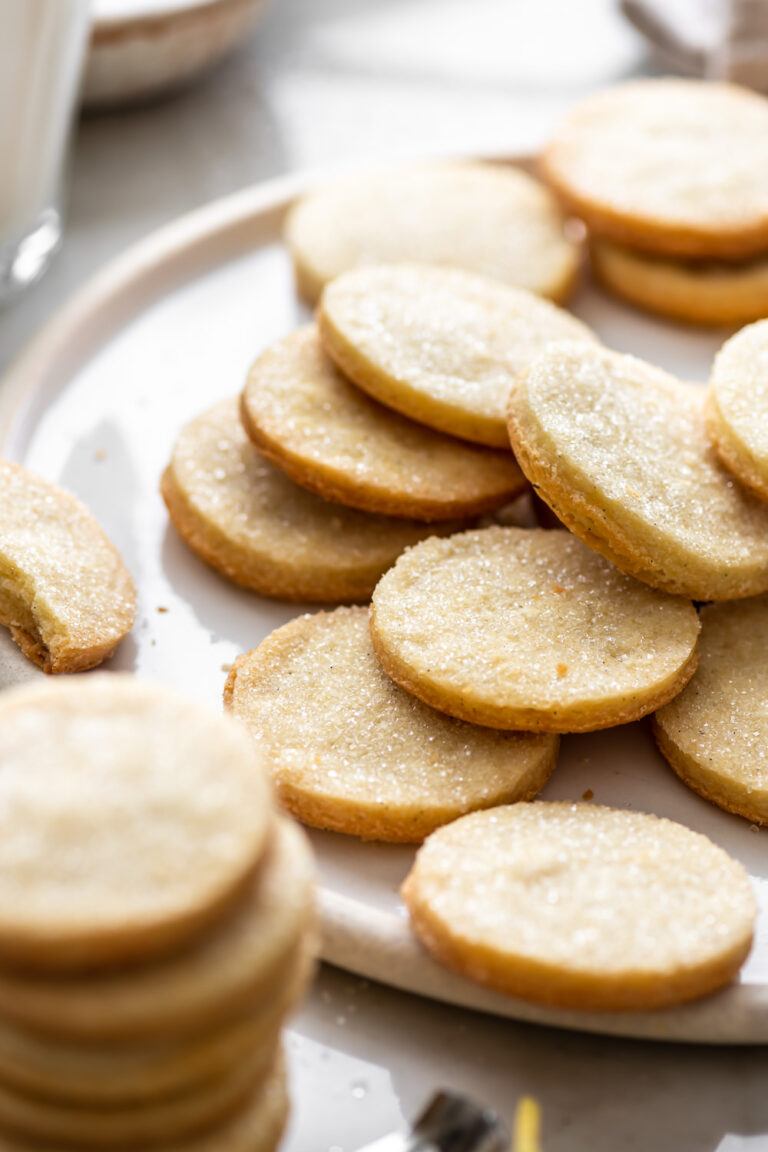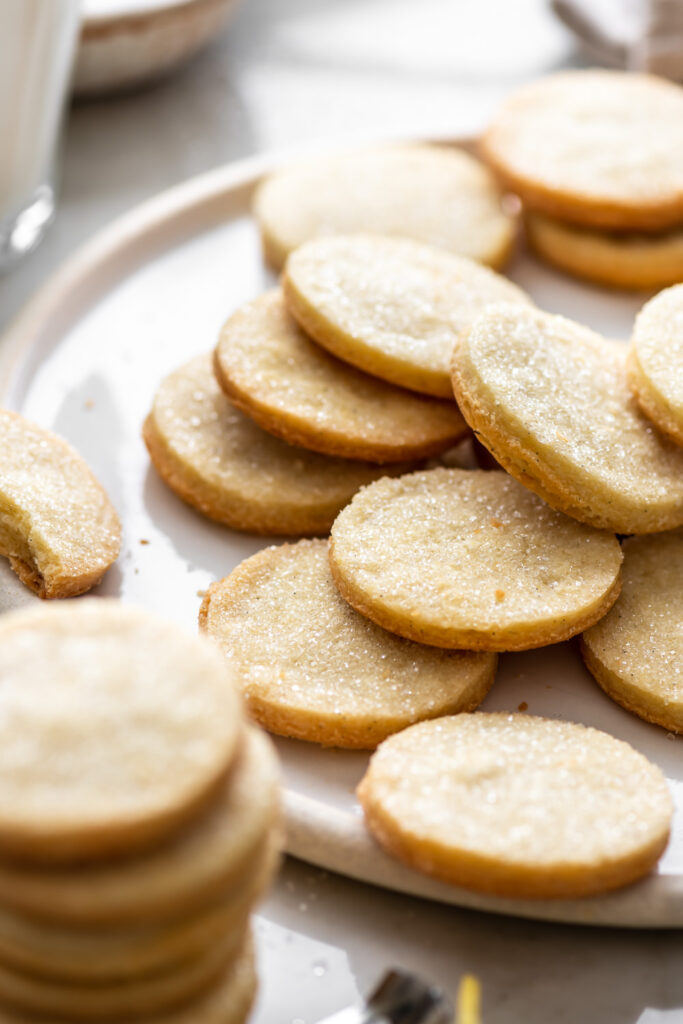 more butter cookies and shortbread cookie recipes to try!
walnut shortbread cookies with mocha drizzle
pecan shortbread cookies (perfectly buttery and crisp)
butter cookie sandwich with chocolate hazelnut ganache
marbled chocolate peppermint icebox cookies
Print
lemon shortbread cookies with vanilla bean
These lemon shortbread cookies are the perfect trifecta of lemon, vanilla bean and butter. They're crispy, tender and packed vibrant lemon.
Author:
Prep Time:

15 minutes

Cook Time:

15 minutes

Total Time:

30 minutes

Yield:

about 30 cookies

Category:

Cookies

Method:

Baked

Cuisine:

American
Ingredients
zest of

4

lemons, grated

¼ cup

granulated sugar

½ tsp

fine salt

2

sticks (1 cup) salted butter, cool room temperature

¾ cup

powdered sugar

1

vanilla bean, seeds scraped

1

egg yolk

2 cups

all-purpose flour
sanding sugar
Instructions
Combine lemon zest, sugar and salt in a spice grinder or small food processor and process until a smooth, thick paste is formed.
Place butter in the bowl of a mixer fitted with a paddle attachment. Mix on low speed until butter is softened and broken up, about 20 seconds. Add lemon paste, powdered sugar and vanilla bean seeds. Mix until smooth, about 1 minute, scraping down bowl as needed. Mix in yolk until just combined. Add flour and slowly mix until dough just comes together. 
Scoop dough onto a piece of parchment paper. Cover with another sheet of parchment and roll out to ¼-inch thick. Refrigerate for at least 1 hour, or until very firm.
Preheat oven to 325°F.
Fill a shallow bowl or plate with sanding sugar. Use a 2-inch cookie cutter to cut out rounds from the cookie dough slab, re-rolling scraps as needed. Return dough to the refrigerator to chill if it gets too soft. Store unbaked cookies on a parchment paper-lined sheet pan in the refrigerator. 
Dip one side of a cookie round in sanding sugar, pressing down gently to adhere, then transfer to a muffin tin sugared side up. Repeat with remaining cookies.
Bake for 12- 14 minutes, or until cookies are just firm to the touch and edges are a light golden brown. 
Let cool in the muffin tin for a few minutes, then use a knife or small offset spatula to carefully loosen them from the pan. Transfer to a rack to cool completely. Repeat baking remaining cookies.
Notes
Store cookies in an airtight container for up to 1 week.
Nutritional information is only an estimate. The accuracy of the nutritional information for any recipe on this site is not guaranteed.
Nutrition
Serving Size:

1 2-inch cookie

Calories:

104

Sugar:

4.4g

Sodium:

88mg

Fat:

6.4g

Saturated Fat:

4g

Unsaturated Fat:

2g

Trans Fat:

0.3g

Carbohydrates:

11g

Fiber:

0.2g

Protein:

1g

Cholesterol:

22mg
Keywords: lemon shortbread cookies