Spicy tuna tartare is one of the most delicious, crowd pleasing appetizers you can make. The recipe is simple, flexible and so flavorful. It all hinges on fresh, melt-in-your-mouth Ahi tuna and a great sauce!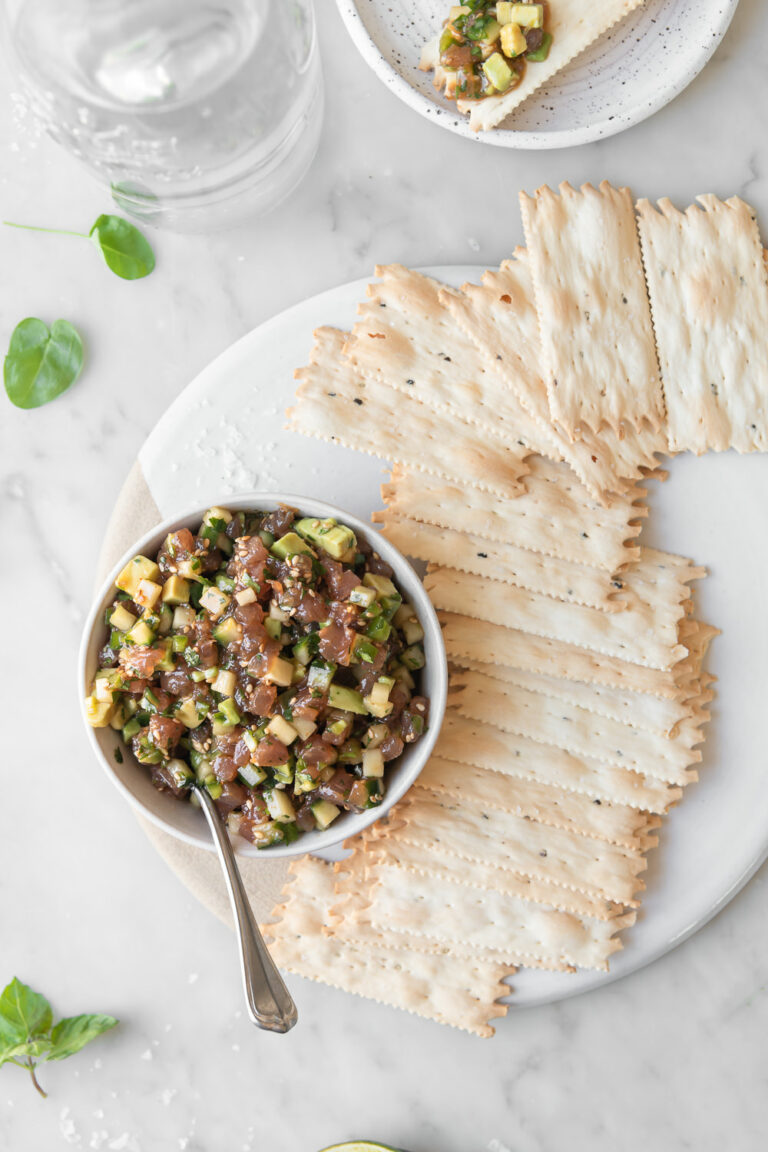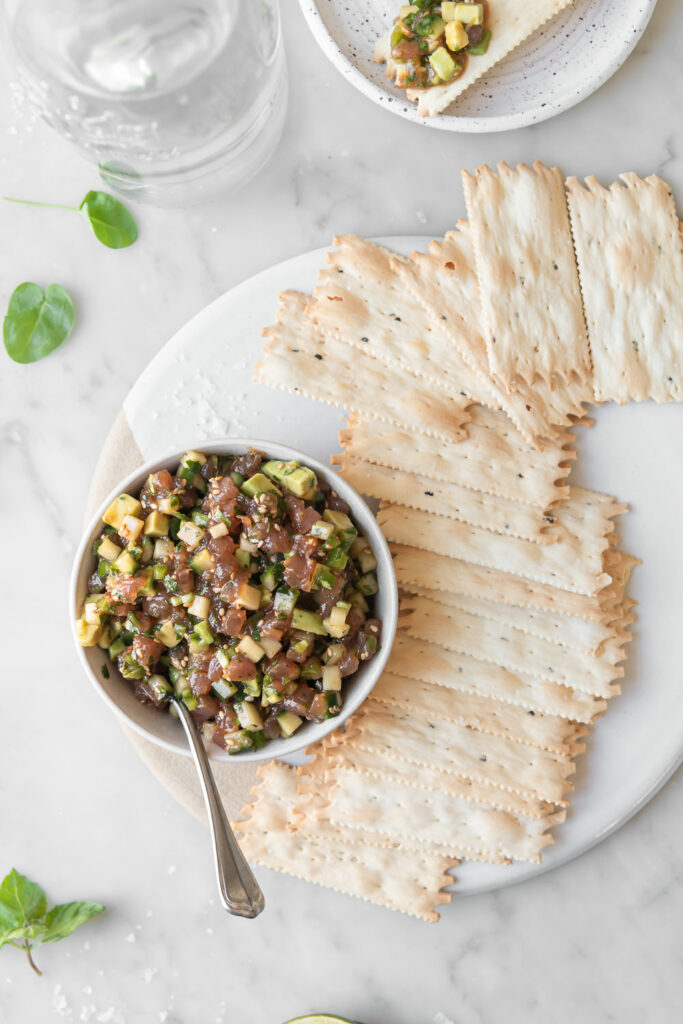 In this spicy tuna tartare recipe, I mix in diced avocado, cucumber, jalapeño and cilantro for crunch and extra freshness. It's silky, spicy, and packed with addicting umami flavors we just can't get enough of. If you've never made tuna tartare at home, you'll be amazed at how simple and how fresh it is-- so much better than anything you can buy!
what is tuna tartare made of?
Tuna tartare is raw ahi tuna (also known yellowfin tuna) that's diced up and often mixed with a soy sauce-based sauce and possibly some crunchy vegetables. It's generally served as an appetizer with crackers.
In this spicy tuna tartare recipe, we make a spicy Sriracha sauce with toasted sesame oil, soy sauce and a tiny splash of fresh lime juice. I stir in fresh cilantro, cucumber and avocado for texture and spoon it onto crackers. It's an elegant, flavorful appetizer recipe that people love!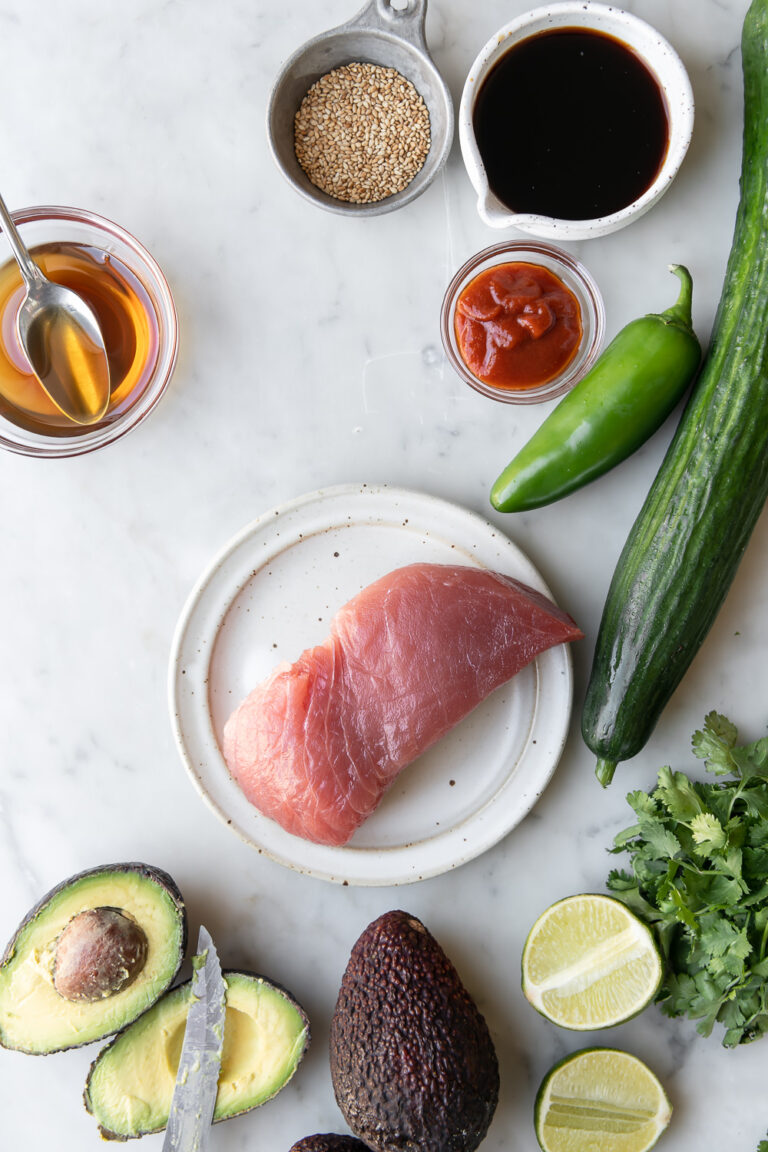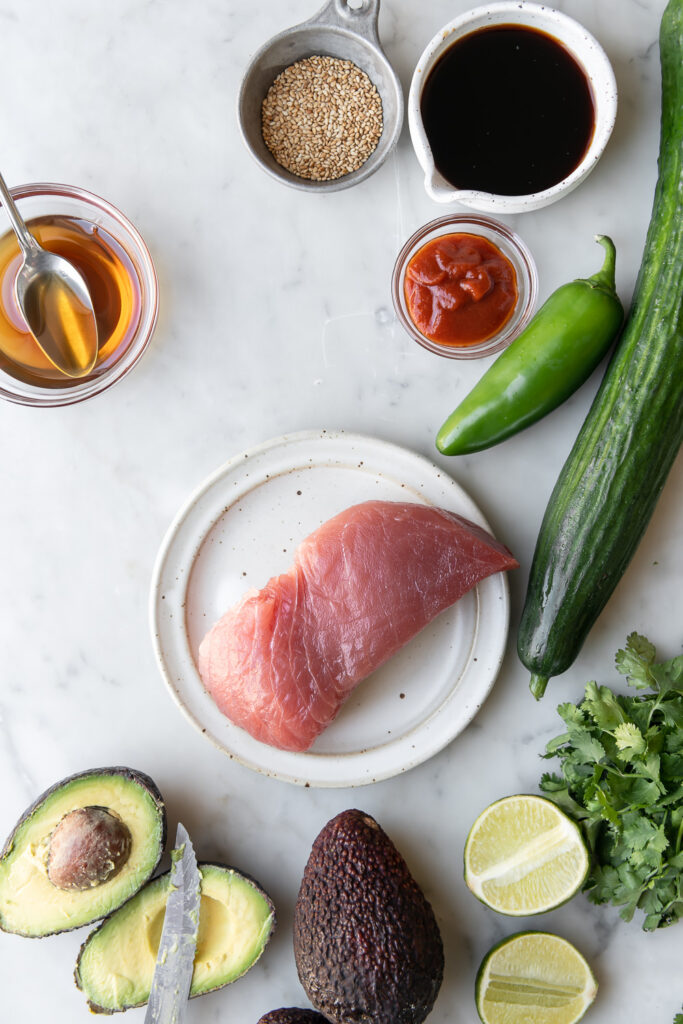 where to find the best fresh ahi tuna?
The most important part of tuna tartare is, obviously, the tuna. It's important to find the highest quality fish you can— it will be raw, after all.
To get the freshest and safest ahi tuna, it's best to evaluate the quality and a cleanliness of the fish market itself. Look for a fish market that is open, clean, and has a knowledgeable staff. It shouldn't smell off or fishy. The markets will always smell like fish and seawater— but fishiness is different, it's the smell of spoilage.
I go to a local seafood market that does a lot of wholesale business with restaurants. It's a great indicator of quality and high turnover. The last thing you want is a fish market that isn't able to sell much fish!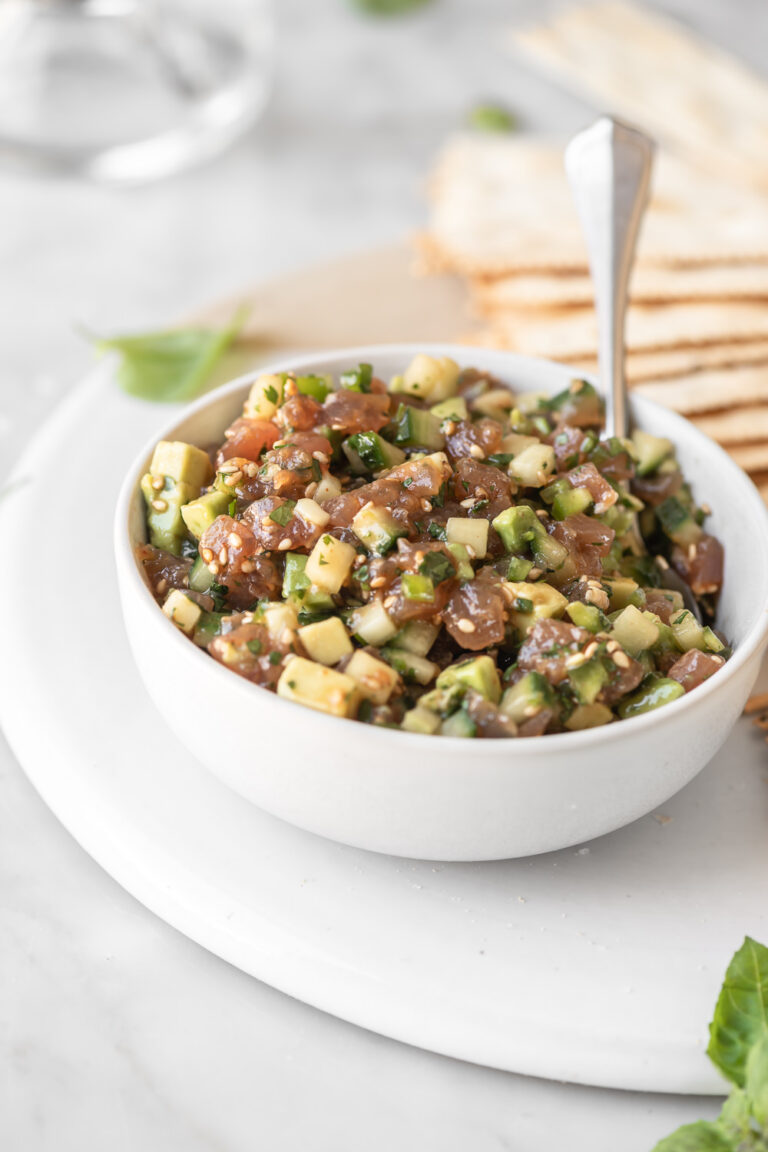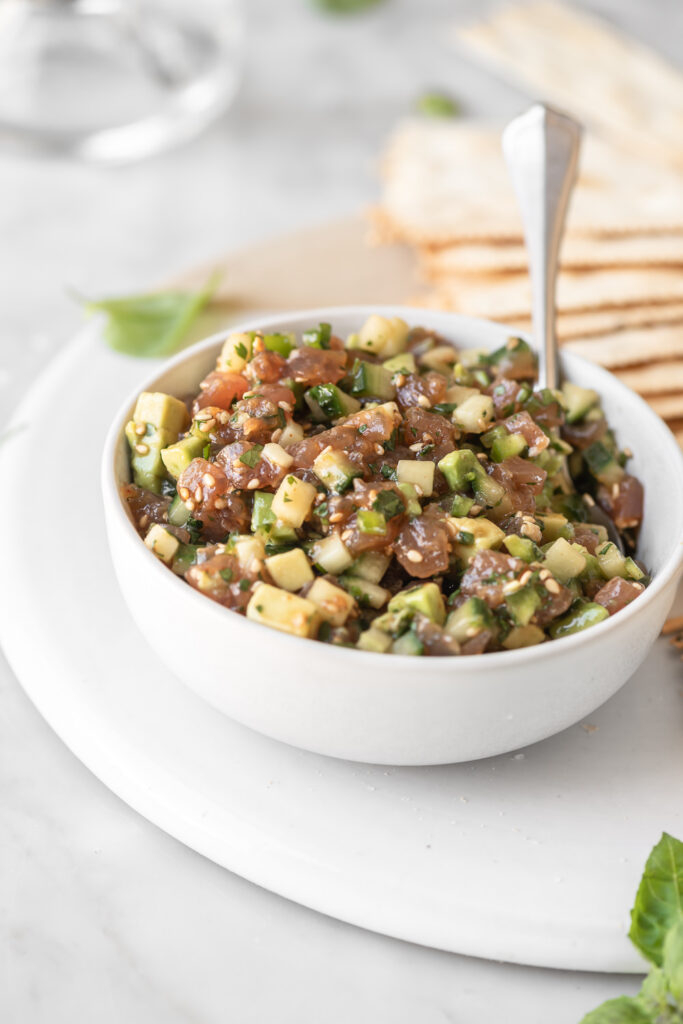 what is sushi-grade ahi tuna, anyways?
Legally, the term "sushi-grade" is meaningless. There's no governing body that defines, regulates or enforces the use of the term. It's mostly just marketing. If the ahi tuna you're looking at is labeled "sushi-grade" or "sashimi-grade", the fish will be the highest tier the store has to sell. But that hinges on the quality of the store. Each fishmonger or fish market may have an internal definition of sushi-grade, so it is worth asking what it means to them.
While the term "sushi-grade" isn't legally enforced, fishmongers do grade their fish. In the case of tuna, the highest grade fish will have the highest fat content and the most marbling. This is the best quality for raw consumption because it will have a silky, melt in your mouth texture.
is tuna tartare safe to eat?
Tuna tartare is generally considered safe, as long as you're smart about it. Here are tips to ensure the best possible experience:
Buy high quality, fresh fish from a reputable fish market.
Transport the ahi tuna on ice, then refrigerate or freeze it right when you get home.
Use your tuna the day you buy it, or wrap it tightly in plastic wrap and freeze it until you have plans to use it.
Keep the fish cold while you dice it. This is as simple as placing the tuna steak and bowl of diced tuna on ice.
Keep your cutting board and knife clean.
Eat tuna tartare the day you make it!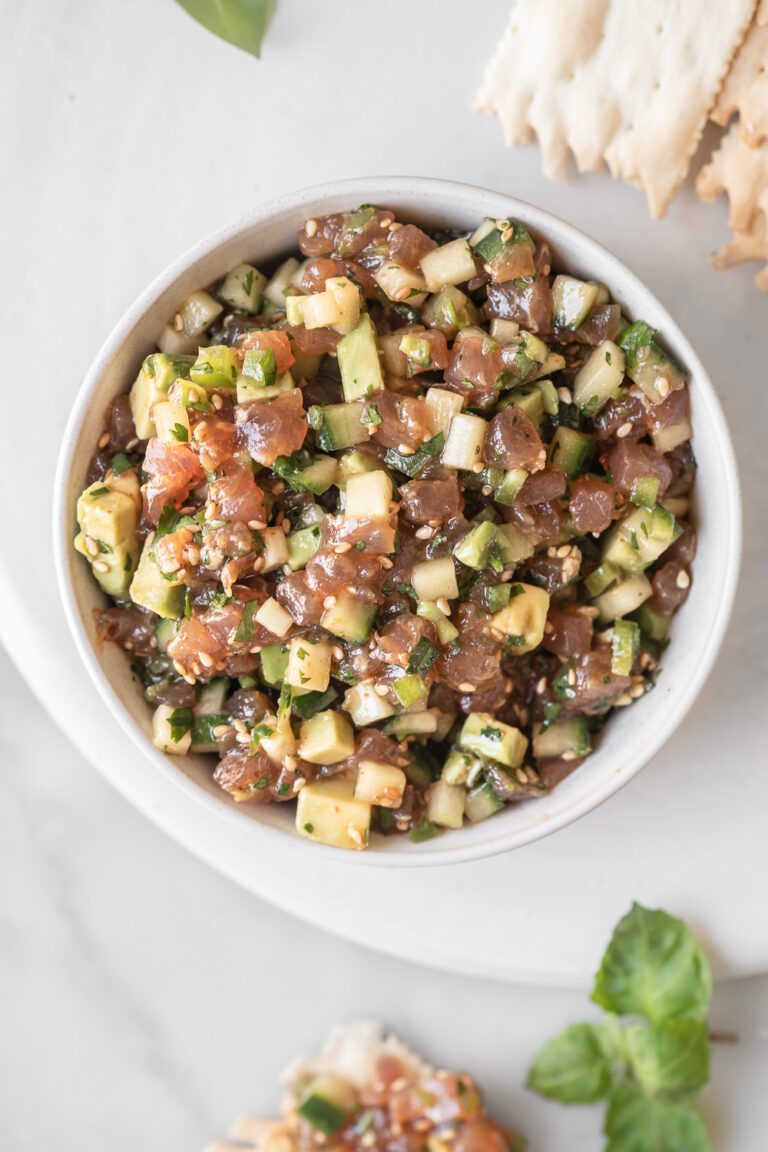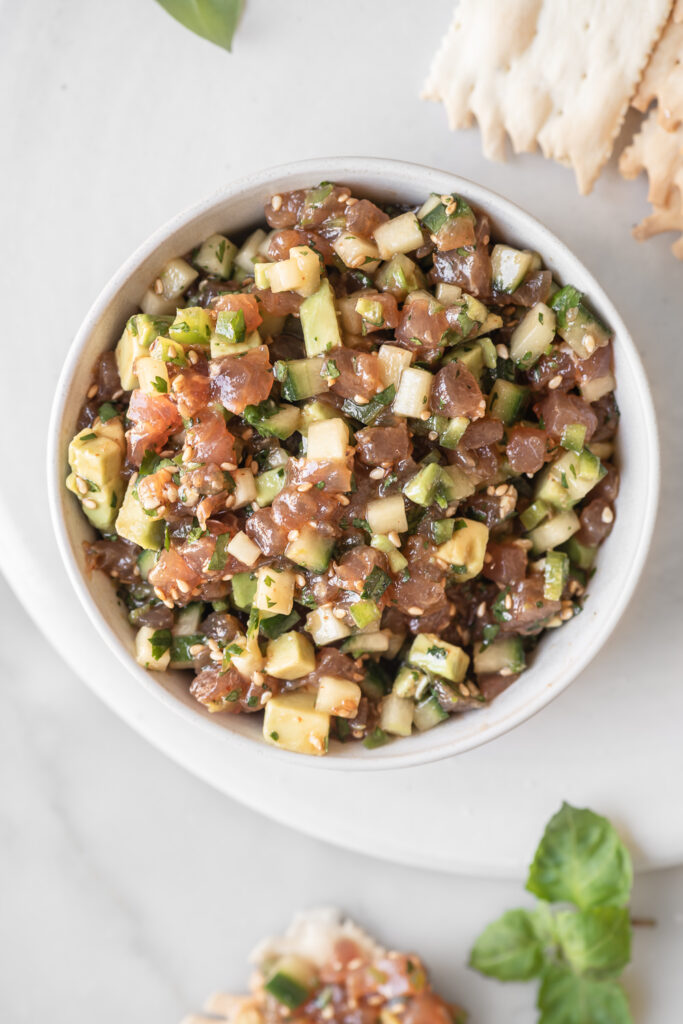 what you need to make spicy tuna tartare:
Ahi tuna (also known as yellowfin tuna)
Cucumber
Jalapeño
Cilantro
Sesame seeds
Soy sauce
Sriracha
Toasted sesame oil
Lime juice
Avocado
Salt
Crackers
watch the video to see how to make tuna tartare
Located at the bottom of the recipe card!
how to dice ahi tuna for perfect tuna tartare:
Aside from the quality of the fish, the most important part of tuna tartare is how you chop the fish. I prefer a tiny ¼-inch dice of the ahi tuna and the cucumber and avocado. When everything is the same size, you get a perfect blend of textures and flavors in each bite. Here's the easiest way to dice raw tuna into ¼-inch cubes:
Slice the tuna (against grain) into ¼-inch thick slabs
Cut each slab into ¼-inch strips
Dice the strips into ¼-inch cubes
This is easiest when your knife is really sharp!
If you plan on using frozen ahi tuna, let it thaw about half way in the refrigerator and then dice it. The half-frozen fish is extra firm, but not rock hard— it's the perfect consistency for finely dicing! Once you've chopped it, return the tuna to the fridge to finish thawing.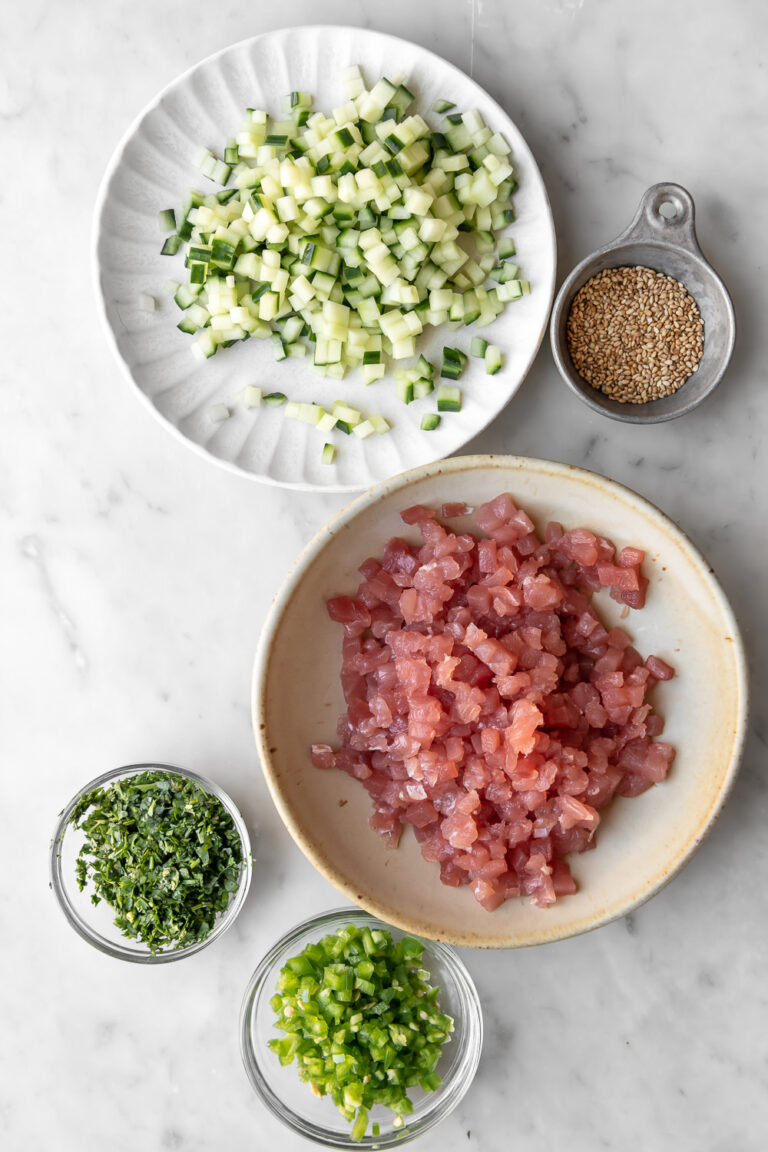 how to make spicy tuna tartare:
Combine diced ahi tuna, cucumber, jalapeño, cilantro and sesame seeds
Combine soy sauce, sriracha, sesame oil, lime juice and salt
Pour dressing onto tuna mixture, gently mix
Fold in avocado
Serve immediately with crackers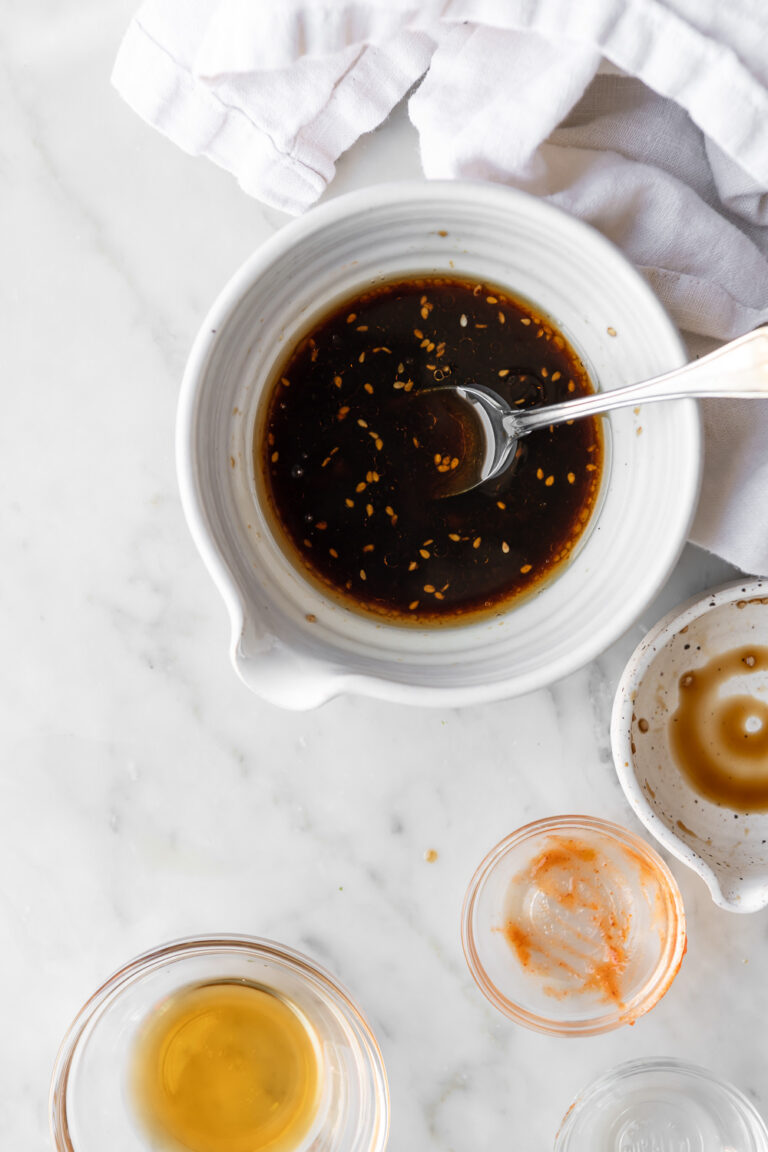 can you make this spicy tuna tartare ahead of time?
Yes! You can absolutely prep this ahi tuna tartare recipe in advance. You don't want to keep the raw tuna hanging around in your fridge for too long, but if you buy fresh tuna in the morning with plans to eat it in the evening, here's how you can work ahead:
Chop the tuna, cucumber, jalapeño and cilantro; store in the refrigerator.
Make the sriracha soy sauce; store in the refrigerator.
When you're ready to eat, toss the tuna tartare in the sauce and fold in diced avocado.
how long can you keep tuna tartare in the fridge?
Tuna tartare is best eaten right after it's made. For one, the longer the raw fish sits around, the greater your risk of a food borne illness. And for two, the firm and silky texture of raw ahi is a big part of great tuna tartare. As it sits in the spicy sauce and marinates, the texture will change and breakdown. It will be softer and mushier and it will also begin to "cook" with the lime juice (the acid will denature it, like ceviche). None of this is ideal. Eat it right away!
what to serve with tuna tartare:
I love to serve this spicy tuna tartare as an appetizer at a party, with a variety of other dips and spreads. This is my ideal holiday party!
It's a delicious complement to these appetizers: tuna crudo (sweet and spicy!), salmon crudo, whipped feta dip, honey baked camembert, wild mushroom toast, hamachi crudo, smoked trout dip, smoked salmon crostini and salmon rillettes
Serve it with a bubbly cocktail for the best party: champagne cocktail, sparkling elderflower gin cocktail, grand marnier grapefruit mimosa
If you'd like it to be an appetizer for dinner, it goes really well with these spicy sesame peanut noodles!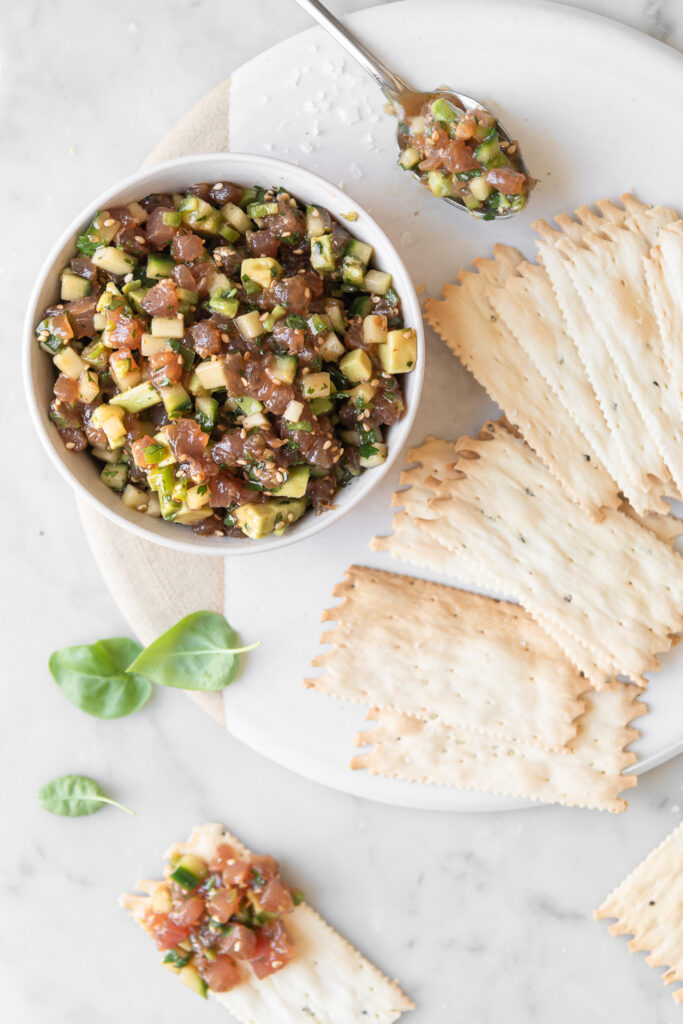 Print
tuna tartare recipe (spicy!)
Spicy tuna tartare is diced up with avocado, cucumber and jalapeños and doused in a spicy sriracha sauce. Spoon it onto crackers and dig in!
Author:
Prep Time:

15 minutes

Total Time:

15 minutes

Yield:

about 2 ½ cups

Category:

Appetizer

Method:

Tartare

Cuisine:

American

Diet:

Gluten Free
Ingredients
8 oz

fresh ahi tuna

½

hothouse cucumber, peeled and cut into

¼

" dice

1

jalapeño, minced (seeded if desired)

2 tbsp

minced cilantro

1 tbsp

toasted sesame seeds

3 tbsp

low-sodium soy sauce

1 tbsp

Sriracha

3 tbsp

toasted sesame oil

1 ½ tsp

fresh squeezed lime juice
kosher salt

1

avocado, cut into

¼

" dice
Crackers, for serving
Instructions
Use a sharp knife to cut tuna into ¼-inch dice and place in a large bowl. Add cucumber, jalapeño, cilantro and sesame seeds.

In a small bowl, whisk together soy sauce, sriracha, sesame oil, lime juice and ⅛ tsp kosher salt. Taste and adjust seasoning. Pour on top of the tuna mixture and toss to combine. Gently mix in avocado. Serve with crackers.
Notes
Nutritional information is only an estimate. The accuracy of the nutritional information for any recipe on this site is not guaranteed.
Nutrition
Serving Size:

¼ cup tuna tartare

Calories:

109

Sugar:

0.7g

Sodium:

224mg

Fat:

7.6g

Saturated Fat:

1.1g

Unsaturated Fat:

6.1g

Trans Fat:

0g

Carbohydrates:

3.1g

Fiber:

1.6g

Protein:

7.7g

Cholesterol:

11mg
Keywords: spicy tuna tartare