Is there anything better than melted cheese? What about buttery Camembert drizzled with honey, rosemary and a pinch of chili flakes, then baked until molten? It's an out-of-body experience.
And even though technically this honey baked Camembert serves four, you probably won't want to share it. Don't feel bad-- it's a perfectly normal and human reaction to something as visceral as a molten, dripping hunk of stinky cheese bathed in honey. Thankfully, it's super easy to make so once you eat a whole wheel you can pop another in the oven for your family.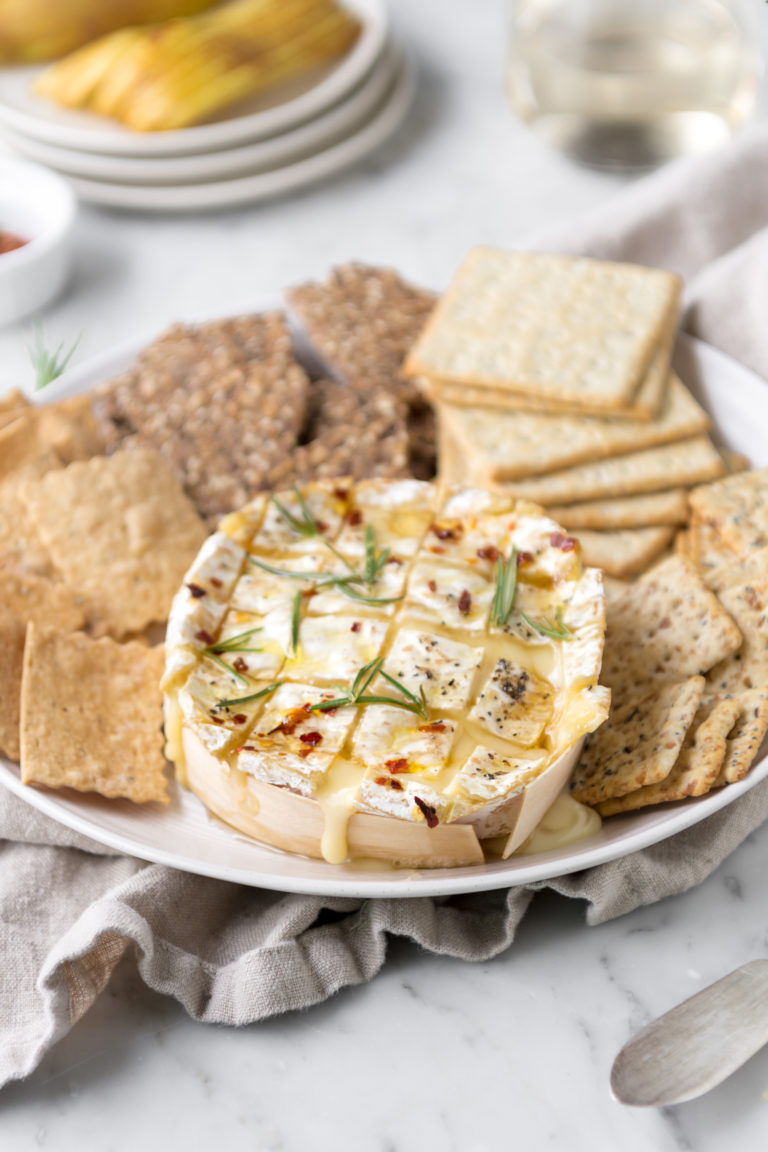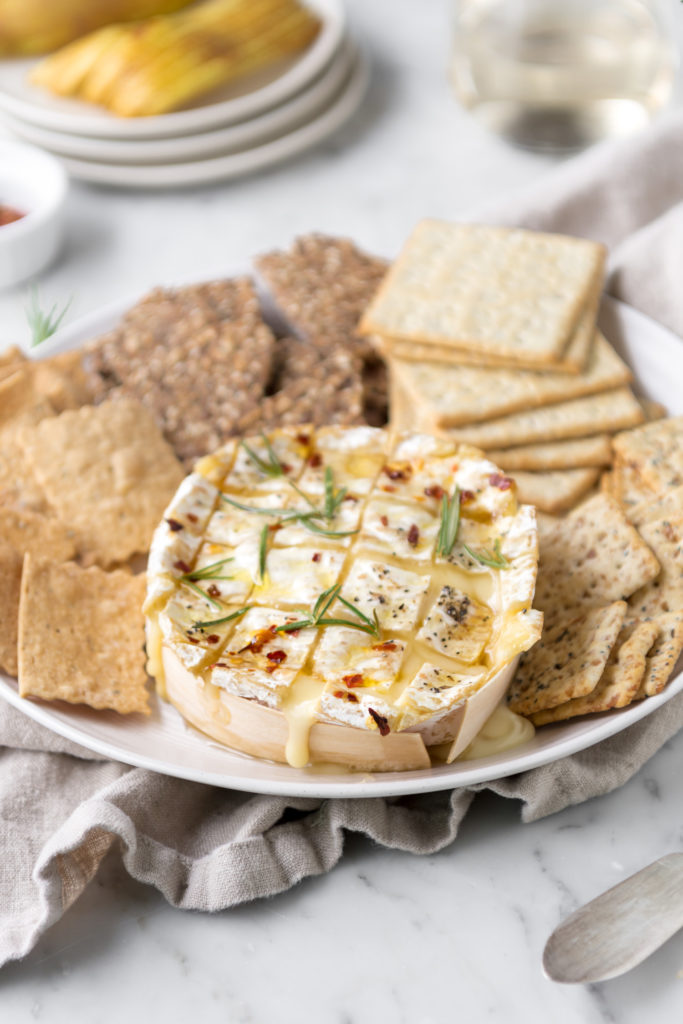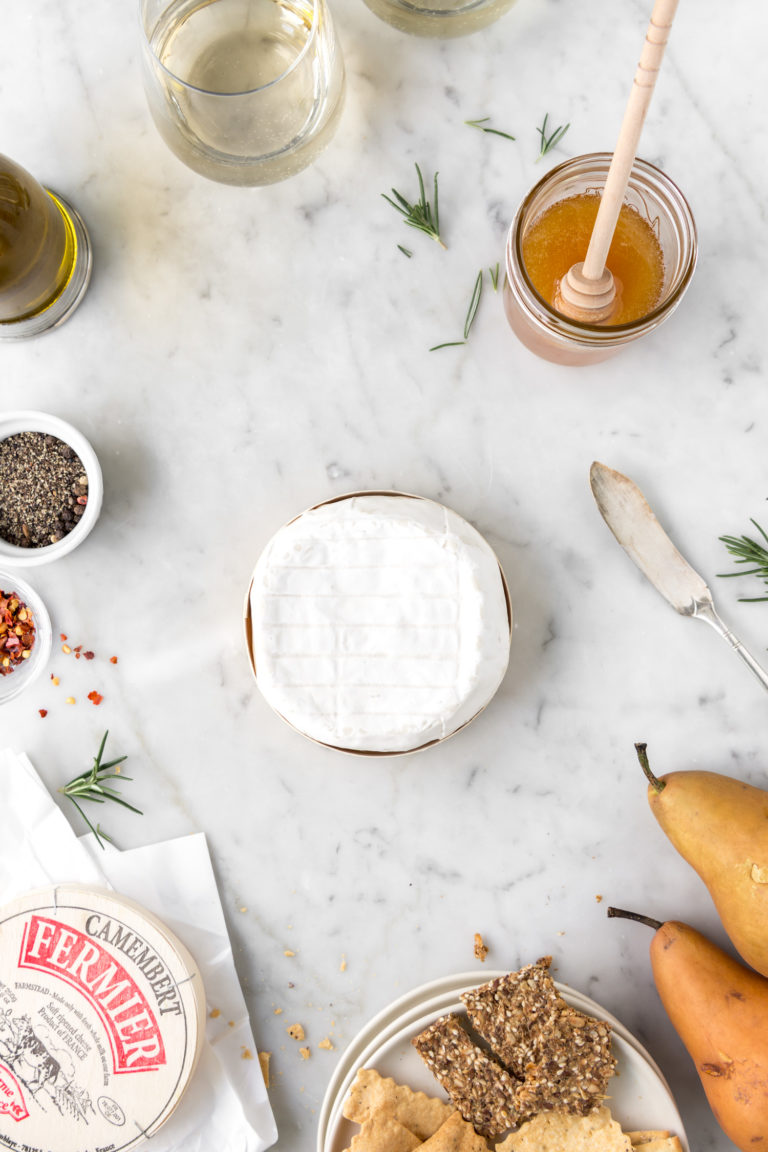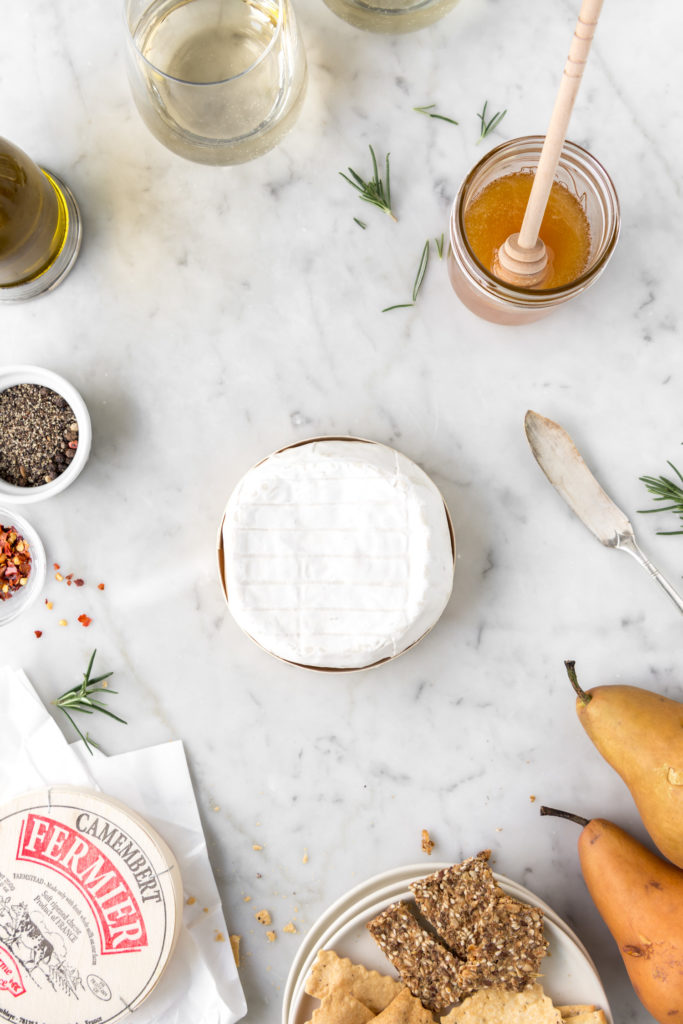 This is an incredibly simple and hands off recipe for what is essentially fondue-- Camembert fondue! You can add more herbs, less chili flakes, even swap the honey for maple syrup. Have fun with it. As long as you watch the bake time (don't over-bake!), this baked Camembert is foolproof.
how to make baked Camembert:
Score a crosshatch into the surface of the cheese (or remove top rind if you prefer)
Return cheese to wooden box or small ramekin
Brush surface with olive oil
Sprinkle with flaky salt, black pepper, chili flakes and rosemary
Drizzle with warm honey
Bake for 12- 15 minutes at 350°F
Eat all the melty cheese!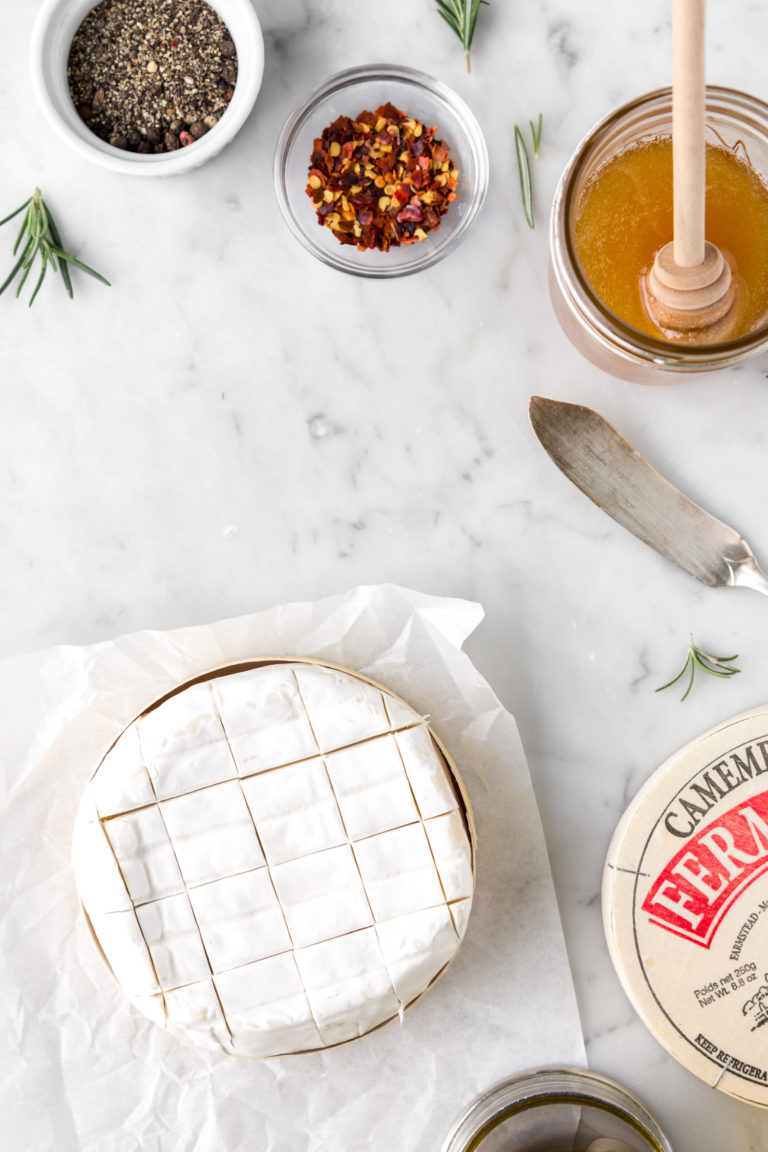 what is Camembert?
Camembert is a small soft ripened cheese from the Normandy region of France. It's a soft, creamy cheese that's made with cow's milk and is aged with a white mold called penicillium candidum.
The mold is responsible for the gooey, wonderful texture of the cheese as it breaks down fats and proteins, and also creates new flavors. Since the mold ripens the cheese from the outside and works its way towards the center, the texture of the cheese is a gradient of extra gooey at the rind and progressively more firm towards the center. Camembert is past its prime if it smells strongly of ammonia.
The white, bloomy rind is completely edible, though some people don't like the texture or flavor. For this honey baked Camembert, you can opt to slice off the top rind if you prefer. This will remove the stronger flavored rind and make it easier to scoop the melted cheese out when it's finished.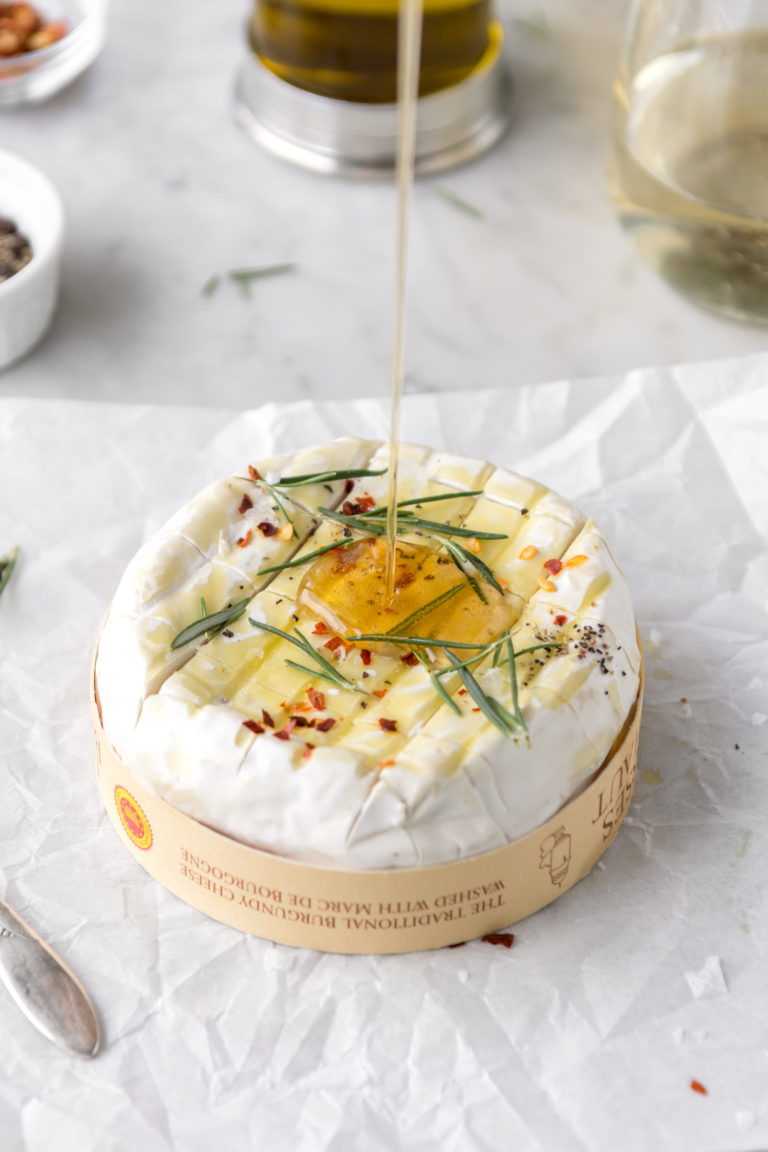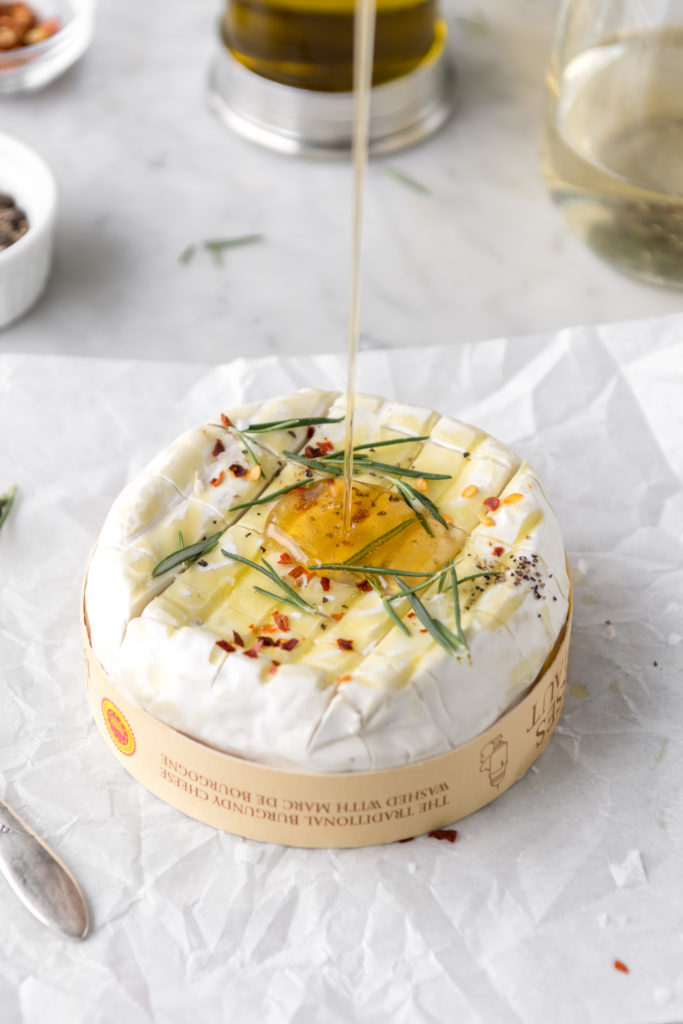 what's the difference between Brie and Camembert?
Traditional Brie and Camembert are French cheeses, made in different sizes, from different regions, and with different production and aging requirements. The biggest difference is Brie is made in large wheels that can weigh up to 6 pounds, while Camembert is made in much smaller wheels that weigh about 8 ounces. Camembert also has a more distinct mushroom flavor than most Bries.
For this baked Camembert recipe, we want to make sure we have a small wheel of soft ripened cheese. The rind keeps the melting cheese contained, so it oozes when you cut into it, but not in the oven!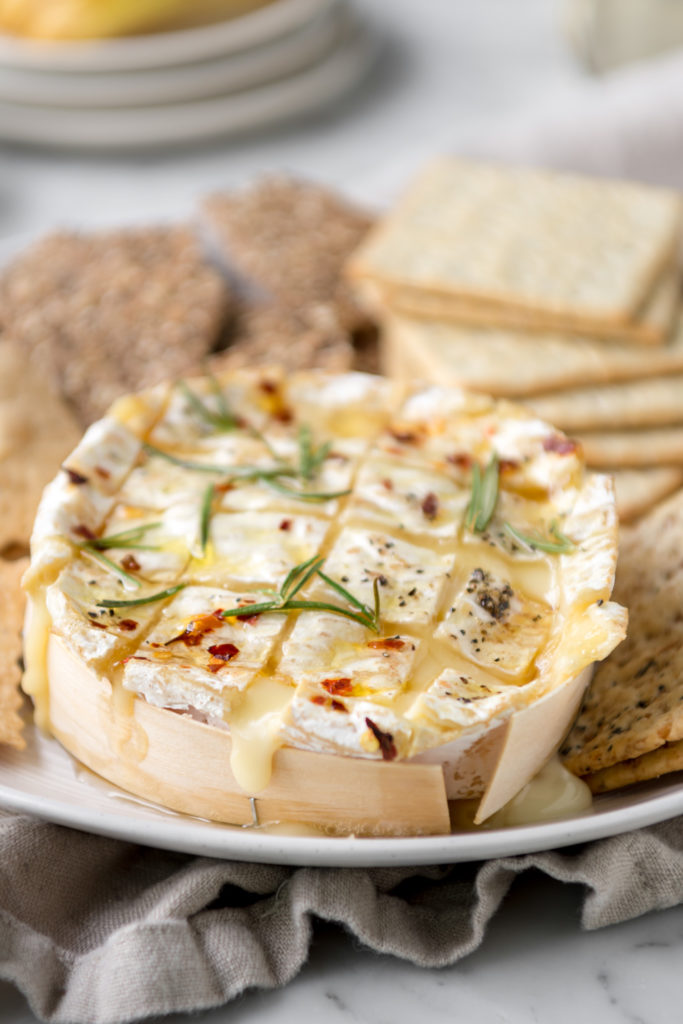 what temperature should I bake Camembert at?
It's important to bake the Camembert at 350°F (no more than 400°F) and to watch the time closely. Contrary to what you may think, you can over-bake this cheese and it will turn hard.
There's no going back if you've overcooked it, so watch the clock and definitely don't bake for longer than 20 minutes. The cheese should be soft, oozy and runny within 12- 15 minutes.
can you reheat baked Camembert?
Yes you can! If you've already cut into the Camembert wheel, it will be messy to reheat but it won't damage the taste or texture (as long as you keep the oven time short).
Place the cheese in a small ramekin to contain the cheese that will ooze out when melted. Reheat at 350°F until soft and melty, about 10 minutes. Don't overcook it or it will become irreversibly hard.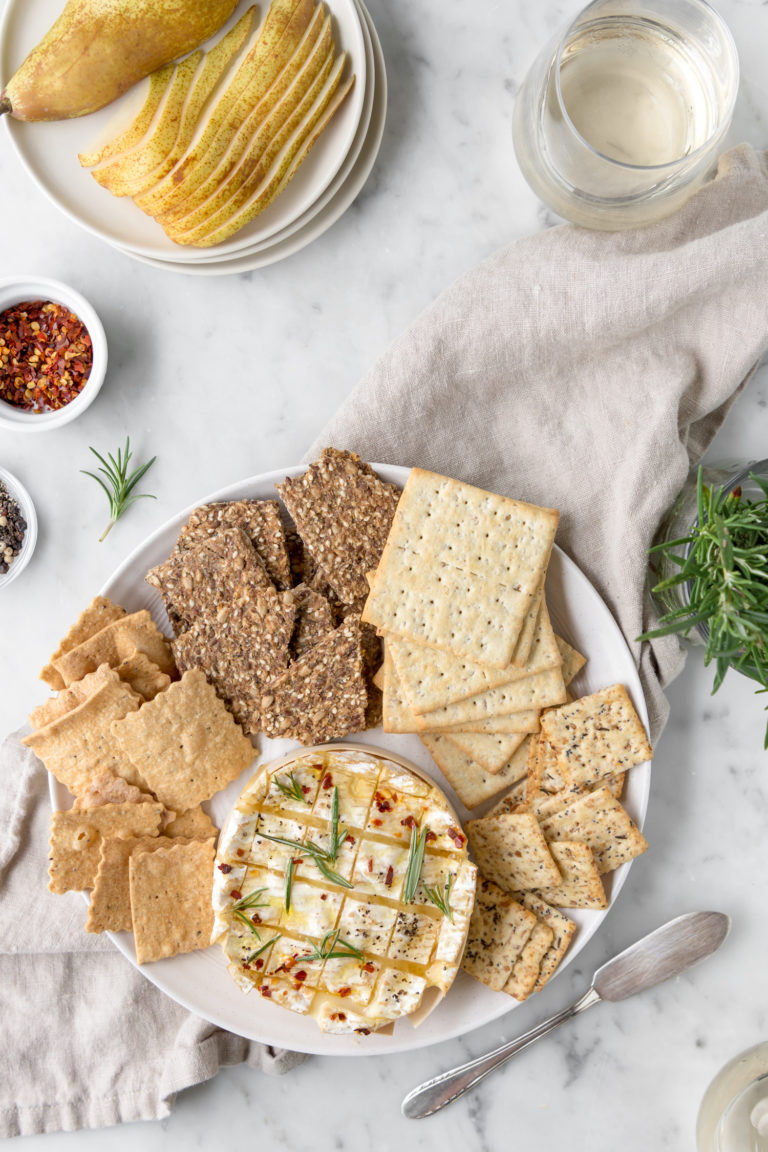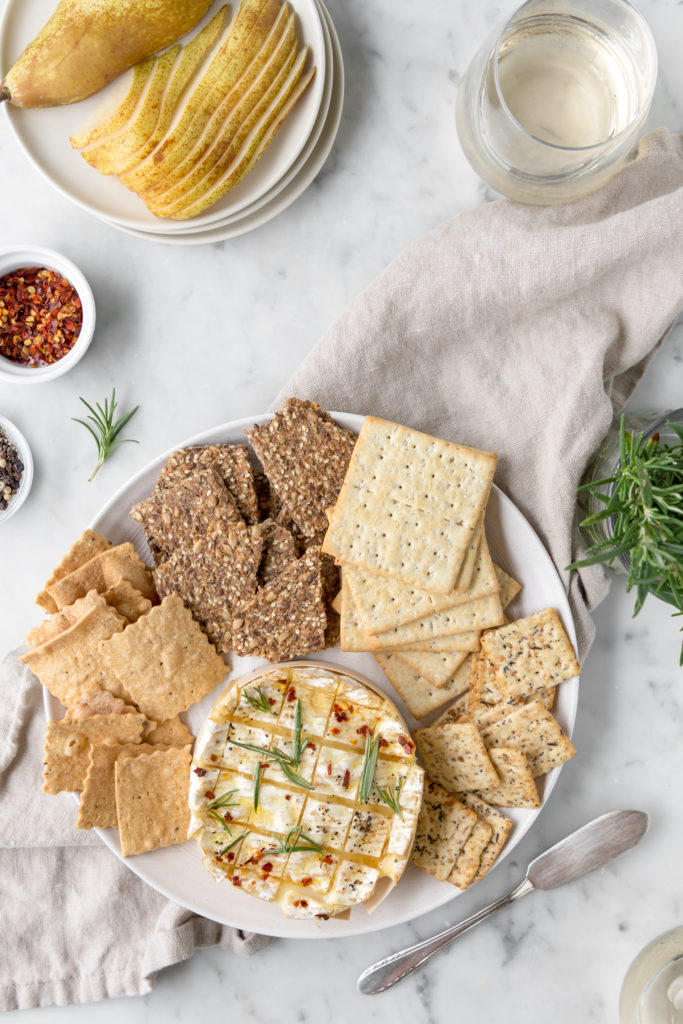 what should I drink with honey baked camembert?
It's pretty hard to go wrong with wine and cheese. To help you narrow down which wines, exactly, would go best with this camembert fondue, read on below! In general, I tend to veer towards high acid white wines for freshness and I avoid high tannic red wines, which can taste metallic and bitter with soft-ripened cheeses. Here are a few broad categories to get you started:
High acid, lightly oaked white wines, such as a white Burgundy, other cool-climate Chardonnays (made in Oregon, southern Chile, or New Zealand for example) or Chenin blanc. These will mimic the buttery flavor of the Camembert without overpowering it. The high acid will refresh your palate and balance the melted cheese.
Dry rose is refreshing and the fruit-forward nature will balance the earthiness of Camembert.
Dry sparkling wines play off the rich, gooey texture of the cheese with acid and bubbles. The toasty notes of Champagne and Cava will go especially well with this honey baked camembert.
Dry apple cider. What grows together, goes together after all! Normandy is home to fantastic apple and pear ciders, in addition to Camembert. I love the combination of light apple flavor and delicate spritz with the notes of honey and rosemary.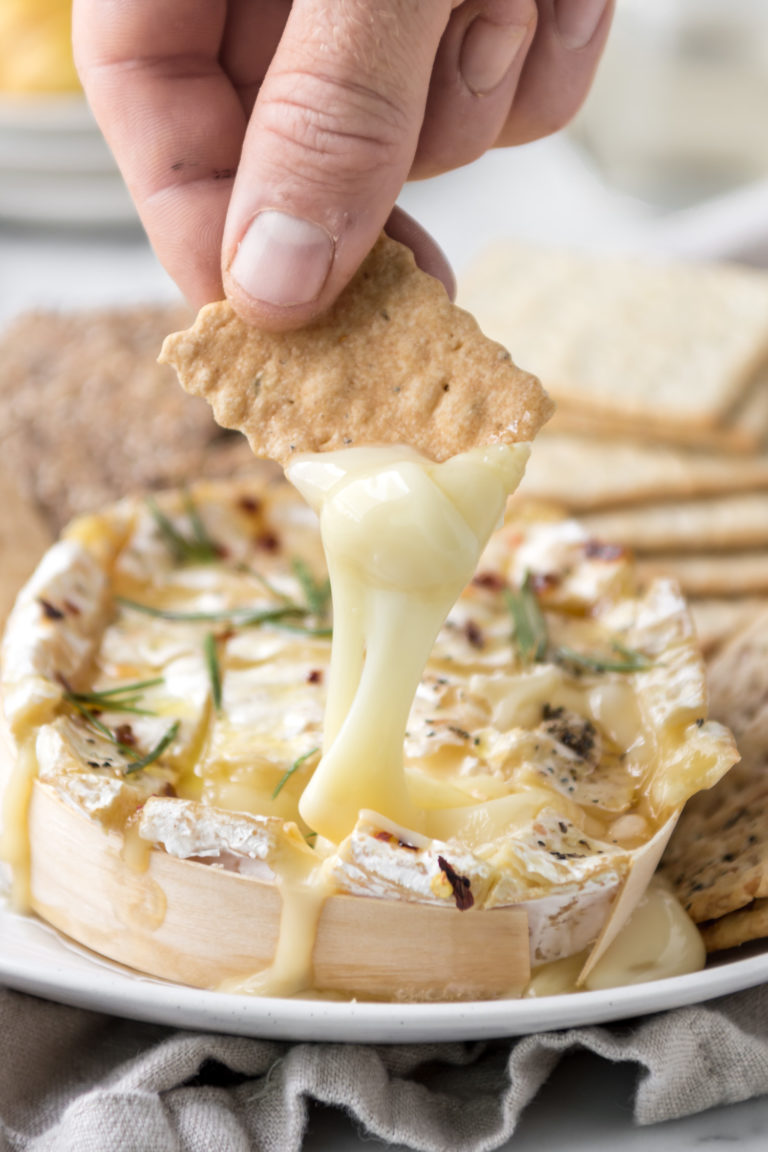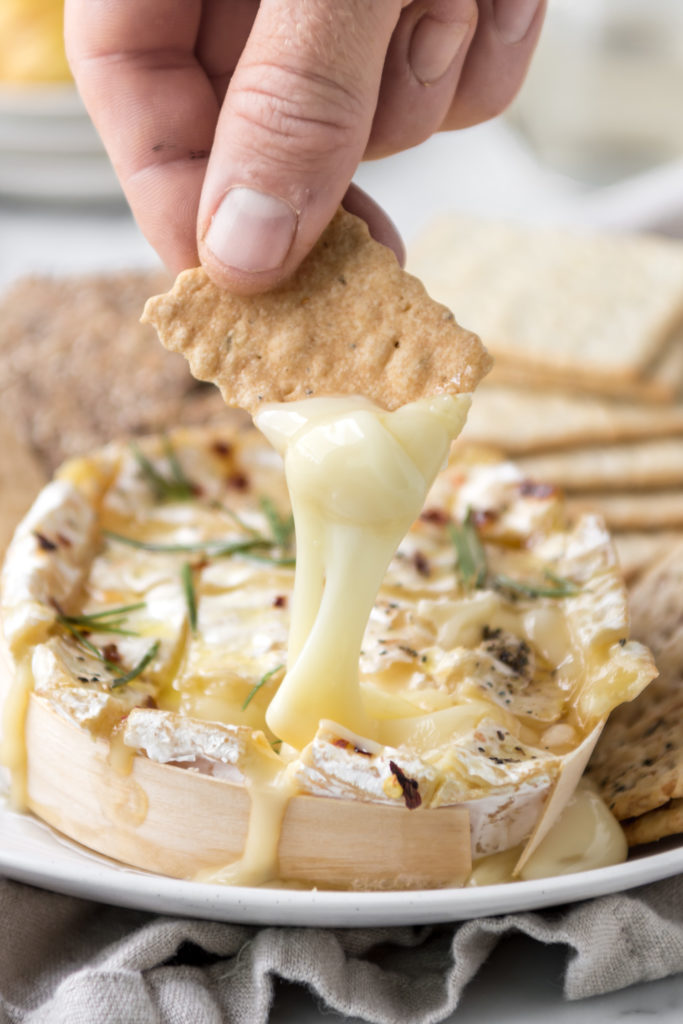 related recipes
cheese soufflé with soubise sauce
burrata crostini with blackberries, prosciutto and sage
Watch our holiday party appetizer web story here!
Print
honey baked camembert
There is no better food than honey baked camembert. Take a round of cheese, sprinkle with rosemary and chili flakes, drizzle with honey and bake until molten and oozing.
Author:
Prep Time:

5 minutes

Cook Time:

15 minutes

Total Time:

20 minutes

Yield:

1

Category:

Appetizer

Method:

Baked

Cuisine:

American

Diet:

Gluten Free
Ingredients
1

round of Camembert cheese

1 tbsp

olive oil

⅛ tsp

flaky salt

⅛ tsp

freshly ground black pepper

¼ tsp

red pepper flakes

1 tbsp

fresh rosemary

2 tbsp

warm honey
sliced apples and pears, for dipping
crusty bread and assorted crackers, for dipping
Instructions
Preheat oven to 350°F. 
Remove Camembert from its paper wrapping. Use a sharp knife to score a ¼-inch crosshatch into the top of the rind. Return the cheese to its wooden box or a small round baking dish. Place box or dish on a foil-lined sheet pan, in case the cheese oozes out of the container.
Brush with olive oil and sprinkle with flaky salt, black pepper, red pepper flakes and rosemary. Drizzle honey over top.
Bake for 12- 15 minutes, or until cheese is soft, oozing and edges are golden. Serve immediately.
Notes
Nutritional information is only an estimate. The accuracy of the nutritional information for any recipe on this site is not guaranteed.
Nutrition
Serving Size:

¼ of camembert

Calories:

233

Sugar:

8.9g

Sodium:

548mg

Fat:

17g

Saturated Fat:

9.1g

Unsaturated Fat:

7.3g

Trans Fat:

0g

Carbohydrates:

9.1g

Fiber:

0.1g

Protein:

11g

Cholesterol:

41mg
Keywords: honey baked camembert