Salmon rillettes is about to be your new favorite salmon spread. It's rich, smooth and so flavorful. It combines fresh and smoked salmon for depth of flavor, and whole grain mustard, lemon juice and parsley for a pop of freshness.
It's the most flavorful salmon dip out there—perfect when slathered on crackers, crusty artisan bread, vegetables, or honestly, just by the spoonful.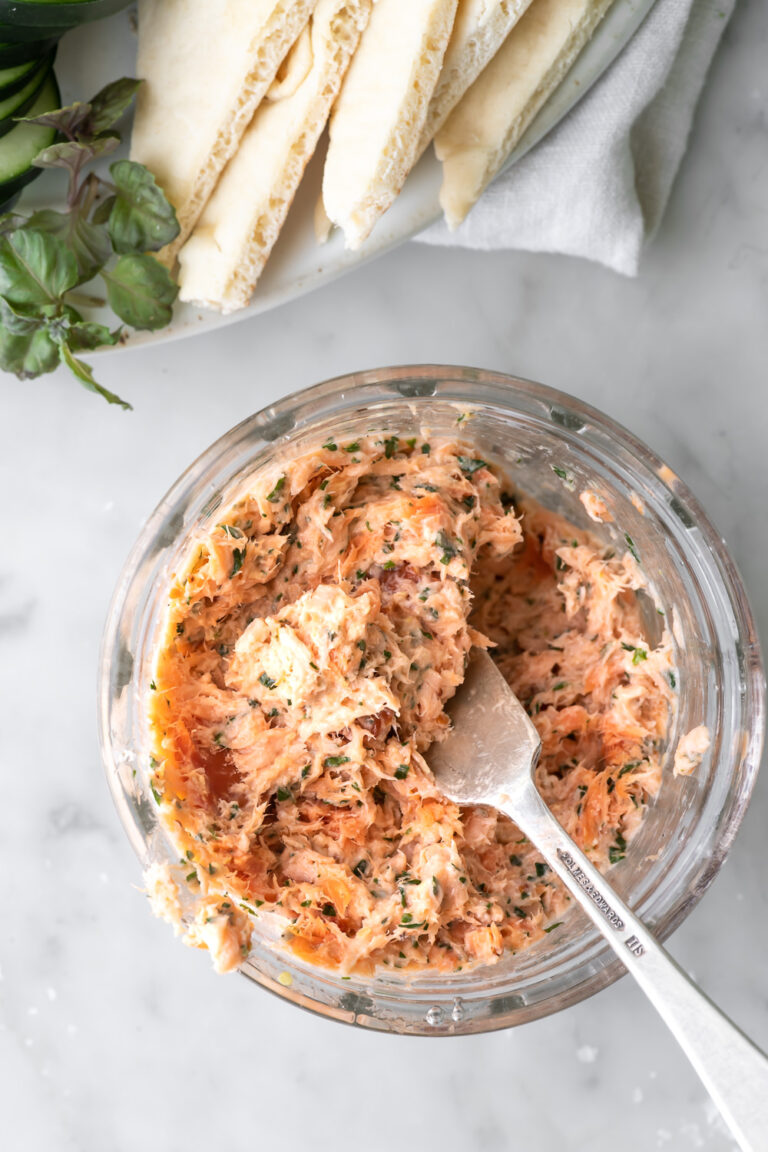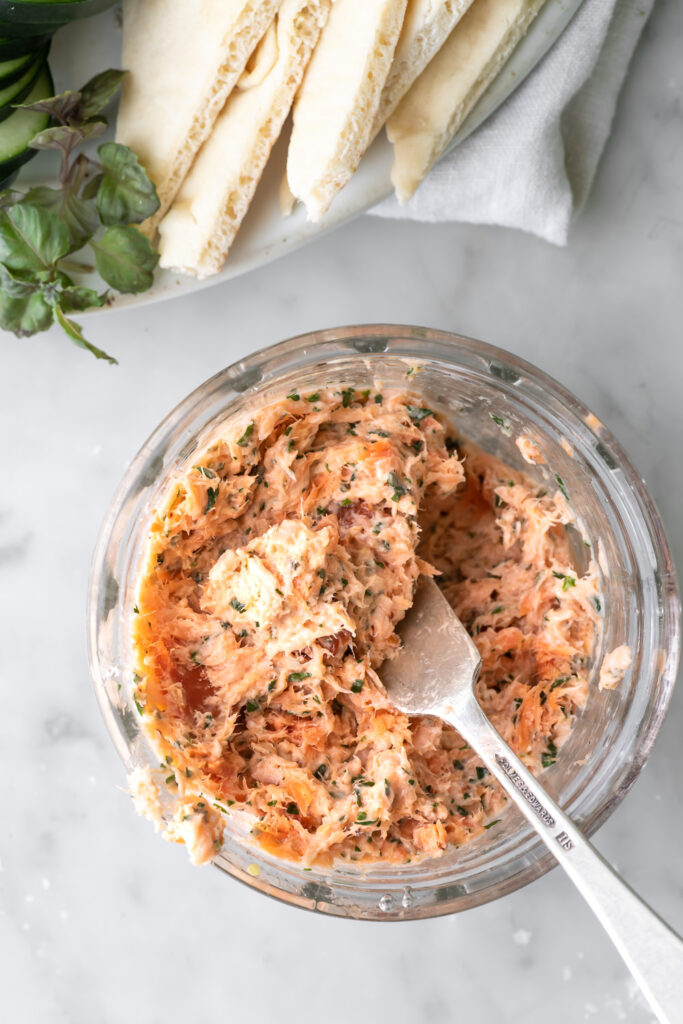 This salmon rillettes is deceptively quick to make (unlike traditional pork rillettes). Steam and shred the salmon, fold it into the buttery base and voila! A crazy delicious salmon dip with smoky, herby, lemony flair.
I love to bring this smoked salmon spread to parties, especially for the holidays. It's a great make-ahead appetizer (only gets better in the fridge), it travels like a dream, and it's always the first dip to go. I can't think of a better pairing for your glass of Champagne!
And if you've been looking for something different, this is a great salmon spread without cream cheese. While those dips can be delicious, often times there's so much cream cheese in the recipe that the texture and flavor of the salmon is lost. In this salmon spread, we use butter and olive oil to add richness and to pull together the spread without losing the star ingredient: the salmon.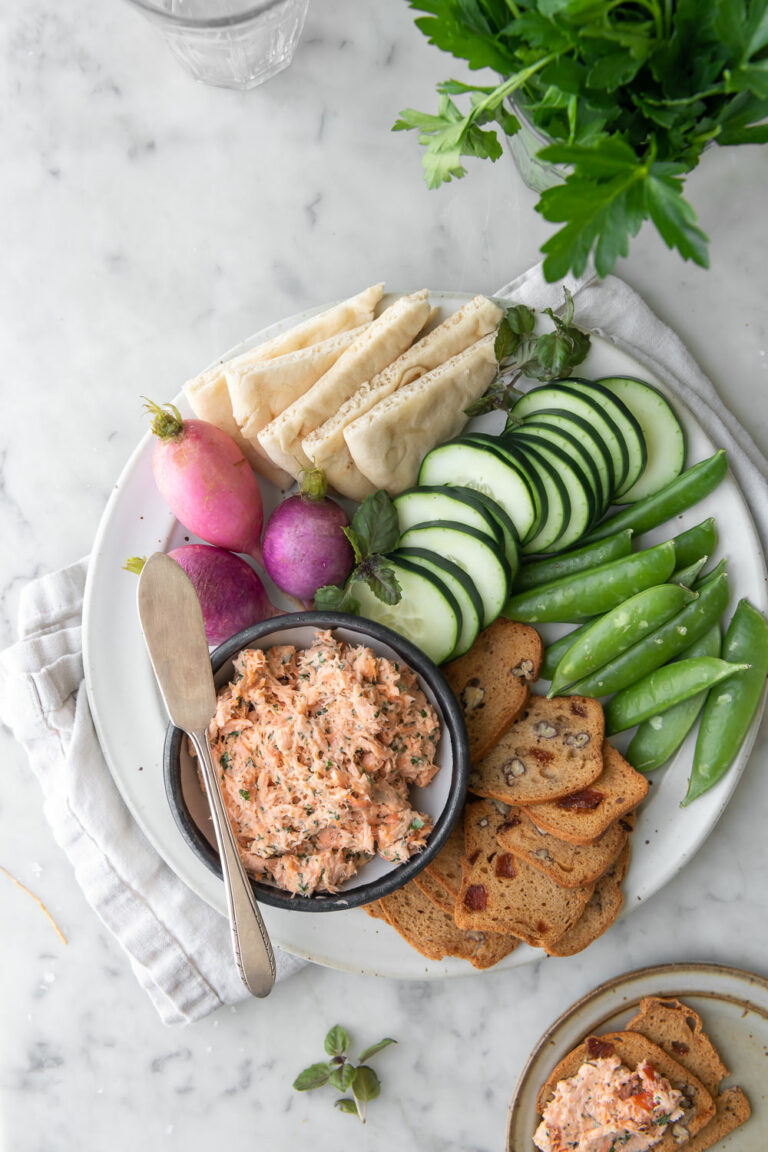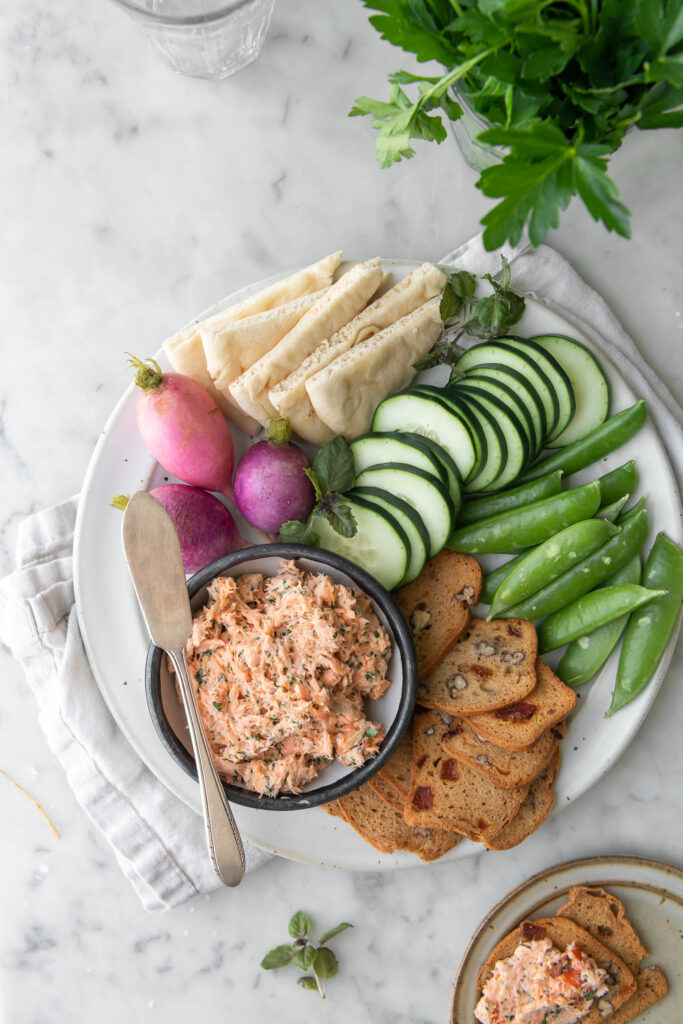 What are rillettes?
Traditionally, rillettes was a method of preserving pork and other meat. The meat is slowly cooked in fat, then it's shredded, packed in a jar, and topped up with the strained fat. The result is tender, flavorful meat that will keep, refrigerated, for up to 2 months.
It's a great way to use leftover bits of meat— and you always have a rich, flavorful spread in the fridge.
Rilletes can be made with any kind of meat, and is commonly applied to duck, goose, chicken and fish. In the case of salmon rillettes, we simply mix the cooked fish in olive oil and butter. No slow cooking required!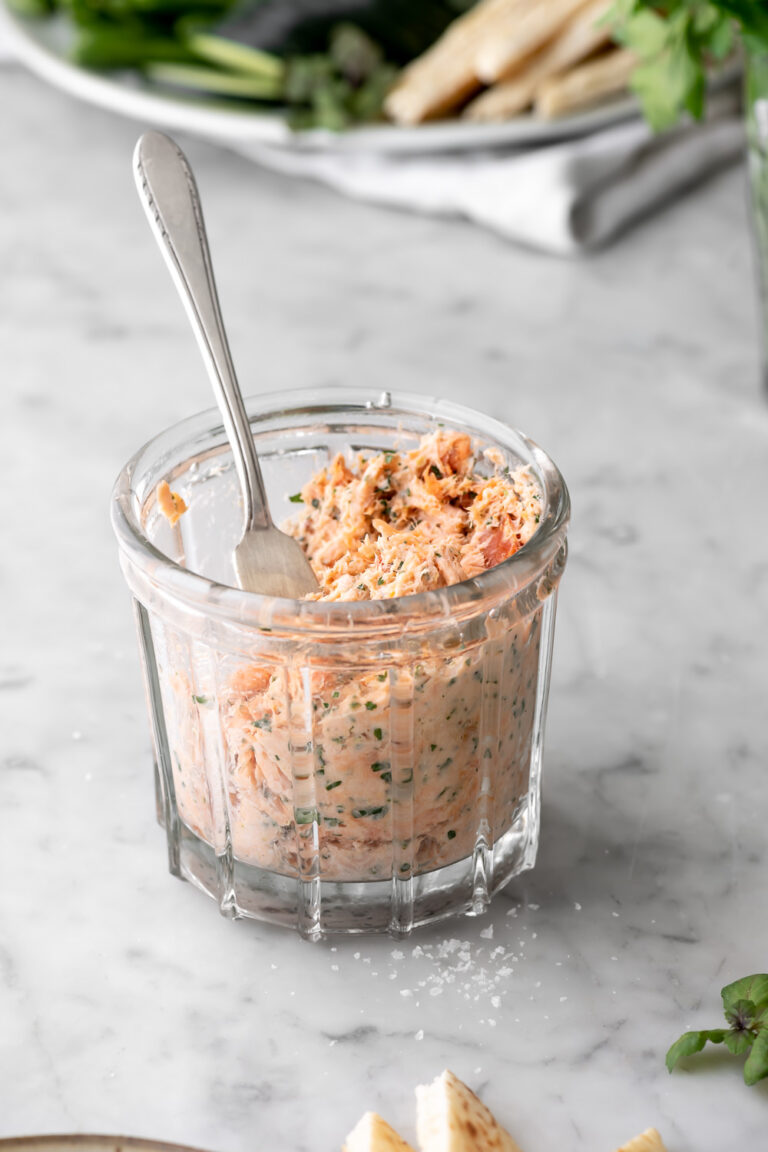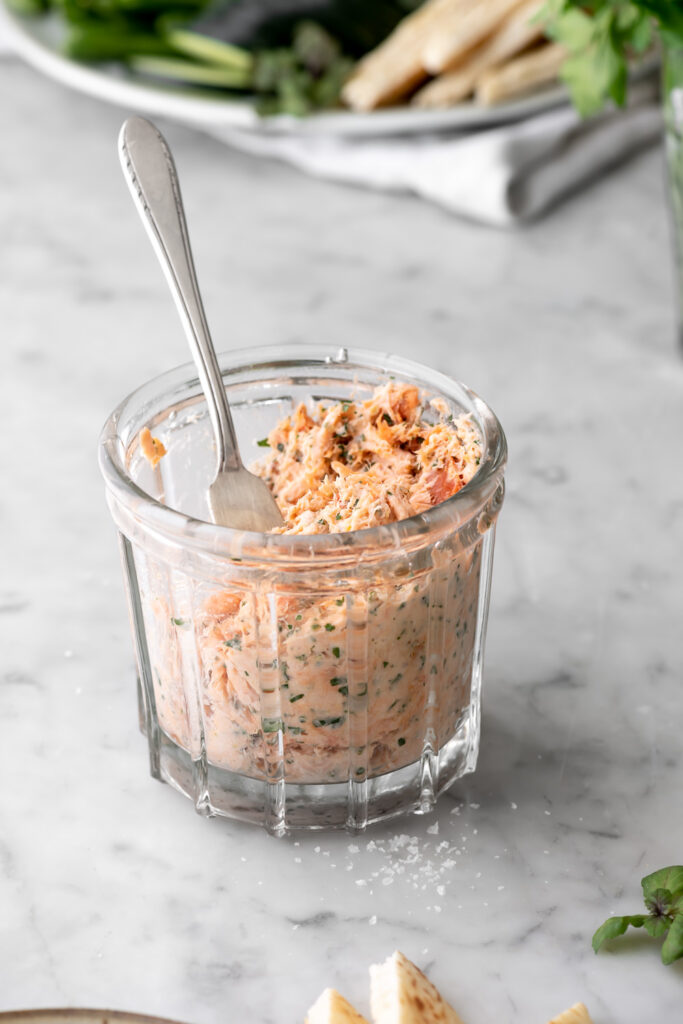 why these salmon rillettes are the best
Two forms of salmon: the combination of fresh and smoked salmon is the best way to get rich flavor without too much smokiness. I love smoked salmon, but I don't want it the smoke to overpower the rest of the fresh lemony, herby flavors. This combination is the ideal compromise!
Steamed fresh salmon: At face value, steamed fish sounds terribly bland. But it's actually one of the best ways to keep the salmon moist and concentrate its flavor. It's also really simple to do and doesn't require splattering oil or turning on the oven.
Olive oil and butter: A splash of olive oil adds grassy, peppery notes to this spread, while the spreadable consistency of butter transforms it into a perfect salmon dip. Butter also adds that sweet creamy flavor!
Fresh flavors: Let's be straight here: salmon rillettes are rich. To balance the buttery salmon spread, we need to add some acid and freshness. Lemon juice, fresh parsley and whole grain mustard offset the richness and keep you coming back for more!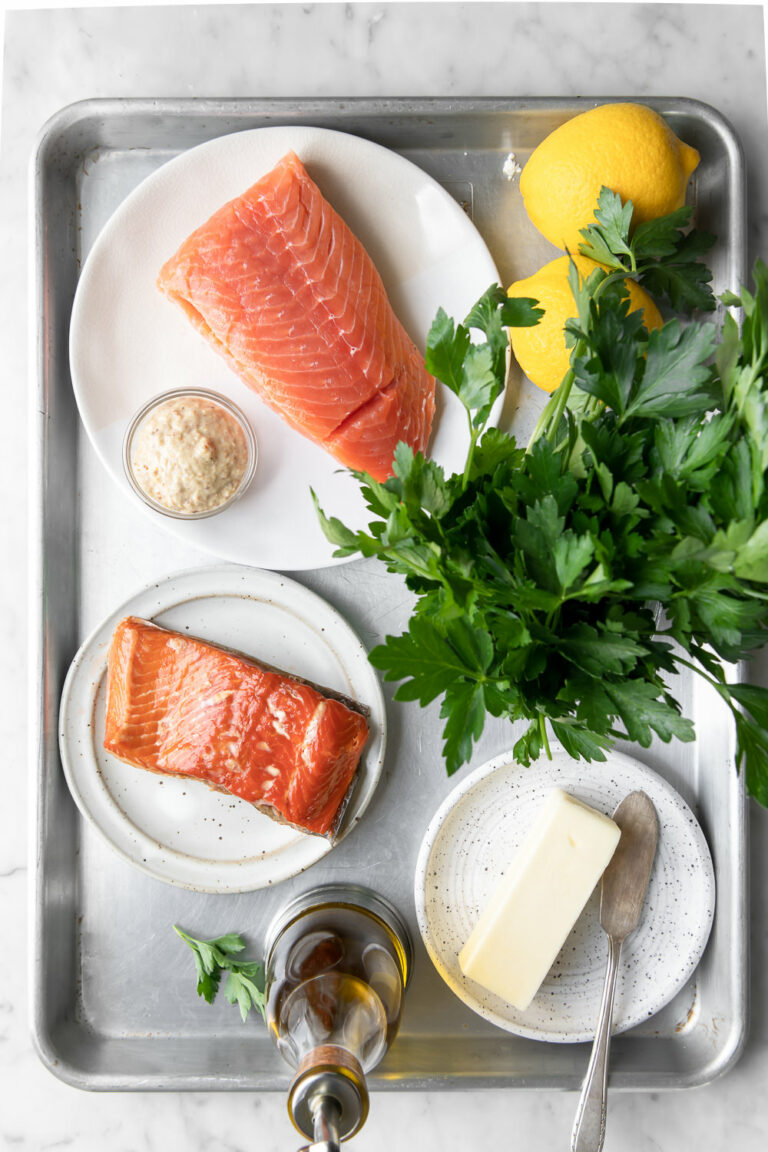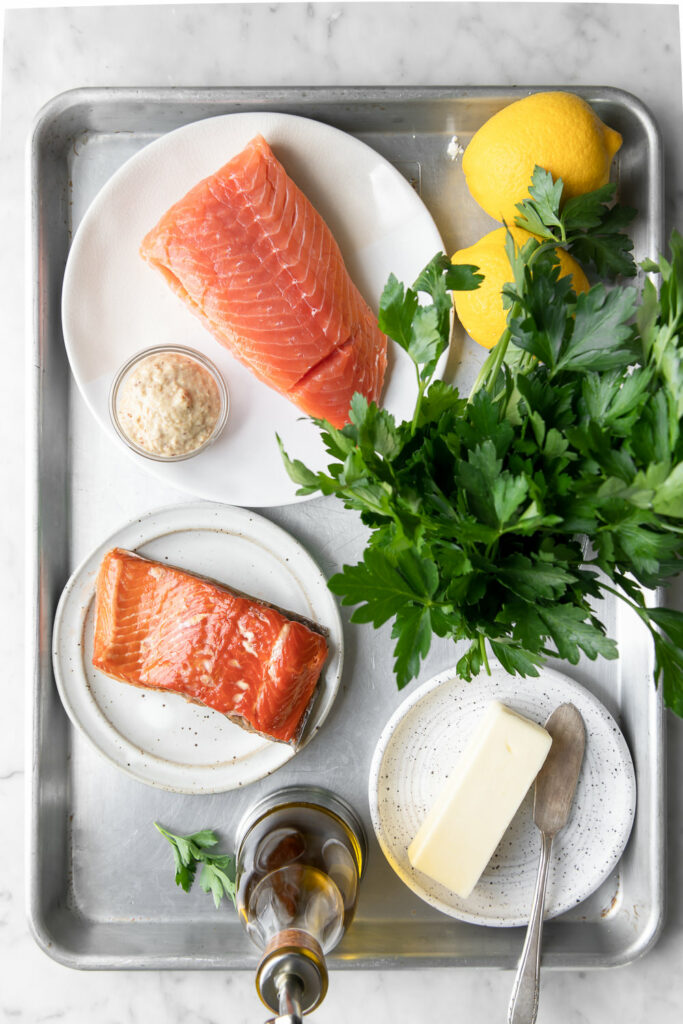 What you need to make this salmon spread:
Fresh salmon
Smoked salmon
Lemons
Butter
Olive oil
Whole grain mustard
Parsley
Salt and black pepper
How do you make salmon rillettes?
Steam the salmon, let cool and shred
Shred the smoked salmon
Mix butter and olive oil until smooth
Stir in mustard, lemon juice, salt, pepper and parsley
Fold in steamed and smoked salmon
Transfer to a bowl and chill at least 1 hour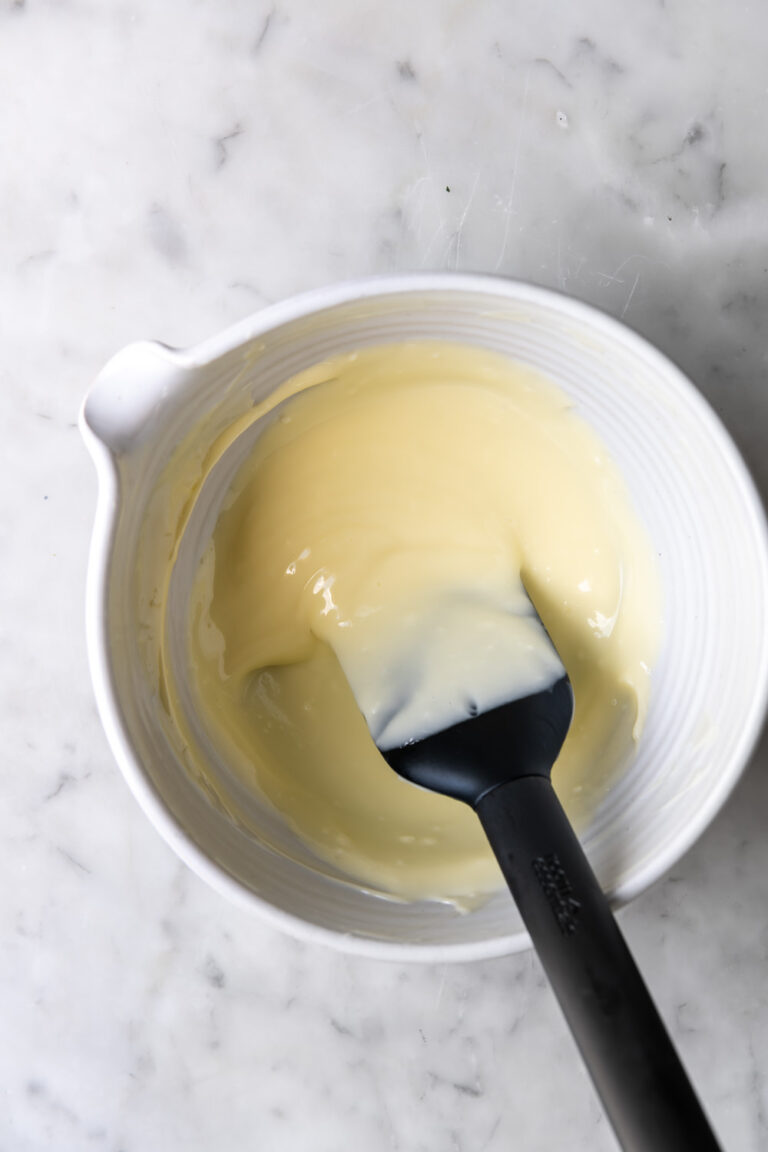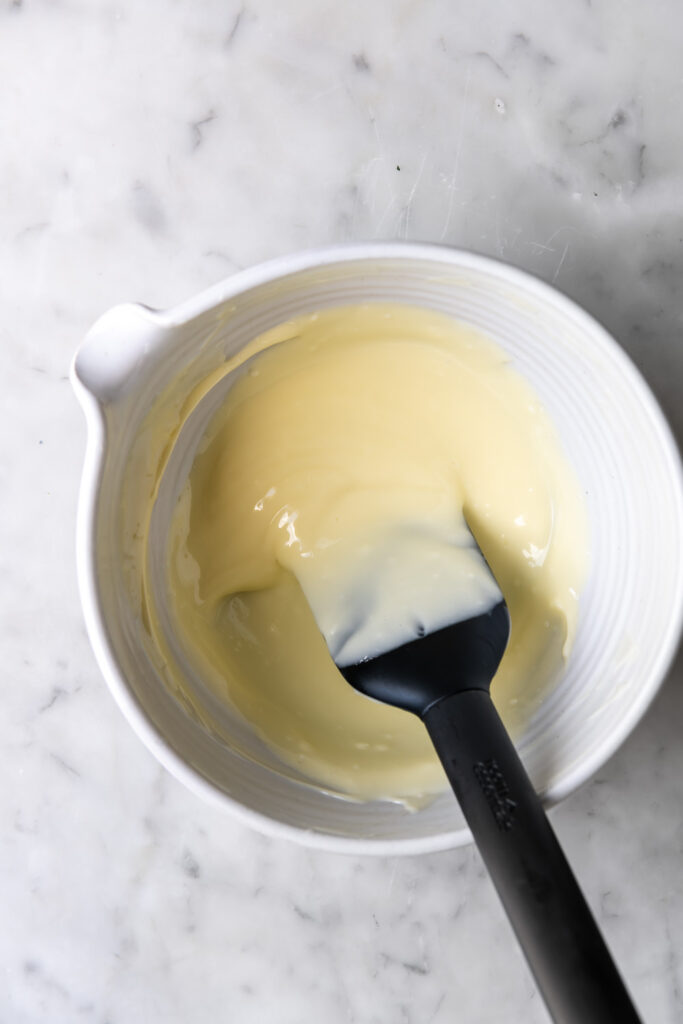 How do you eat salmon rillettes?
Spread on crackers or crostini
On crunchy vegetables
Slathered on crusty artisan bread
Smeared on a bagel
Spread in sandwiches and wraps
Stuffed into jumbo pasta shells
With Champagne!
How to serve salmon rillettes
This salmon spread is one of the best party appetizers! Round out your spread with herbed ricotta cheese dip, spicy tuna tartare and porcini arancini.
Serve the smoked salmon spread with bubbly drinks to balance the richness and make your party extra festive. We love it alongside a champagne cocktail, sparkling elderflower gin cocktail, and grand mariner mimosa!
How to steam without a steamer basket:
You don't need a steamer basket to steam fish! Here's a simple way to set up a "steamer":
Fill a large pot with about 1-inch of water.
Roll up 3 to 4 equal-sized balls of aluminum foil and place them in the water.
Bring the water a simmer
Place the salmon on a small, heat-proof plate and carefully set the plate on the foil balls
Cover and steam!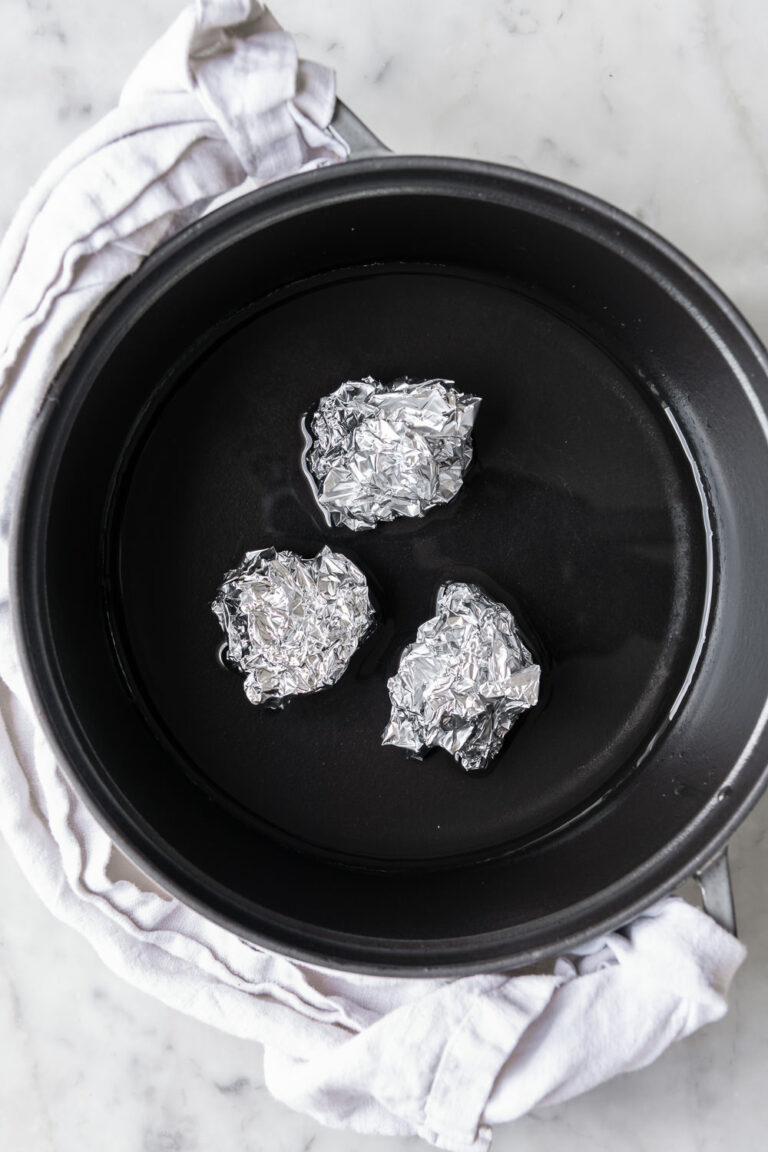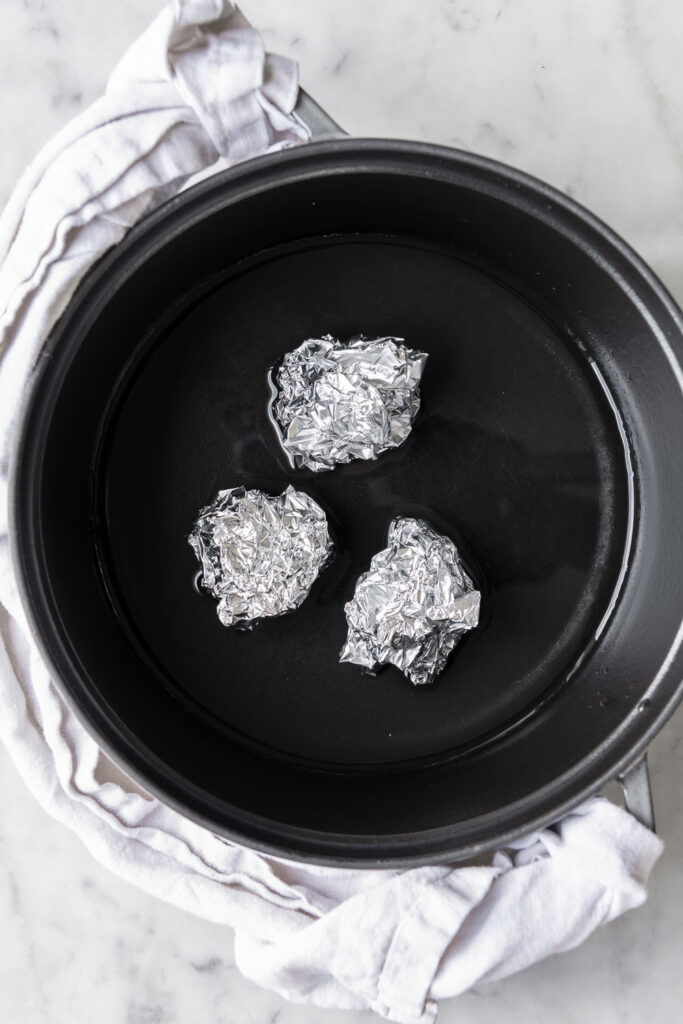 Answers to common questions about making salmon spread:
Can I use leftover salmon?
Yes, you can use leftover salmon in this recipe! Simply shred up your cooked, leftover salmon and use it in place of the steamed salmon. Easy and delicious.
What if I don't own a steamer basket?
You can also pan fry, grill or bake the salmon if you prefer! Though see notes above on how to set up a make-shift steamer if you don't own one.
How long can you keep this salmon spread?
Salmon dip will keep, covered and refrigerated, for up to 5 days.
If cold, bring to room temperature before serving to let the butter soften for a spreadable consistency.
Can you freeze salmon spread?
While it is safe to freeze this salmon spread, it's best to just enjoy it within 5 days. Freezing and thawing will give this salmon spread a mushy, not great texture.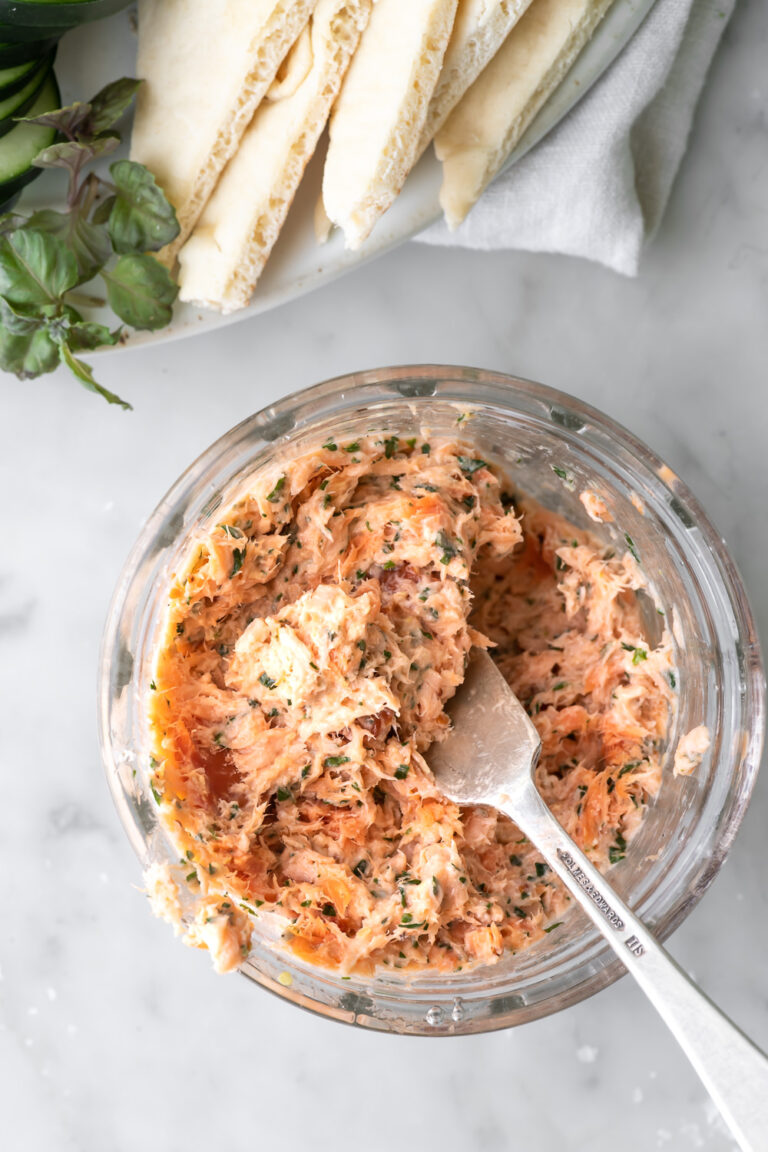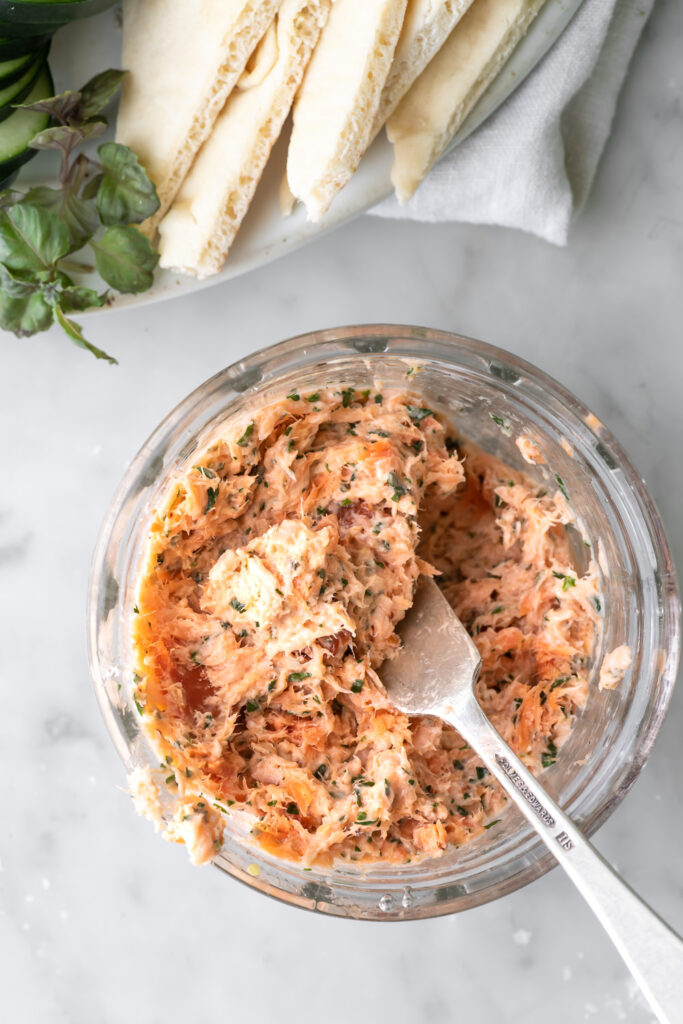 more salmon and trout recipes to try!
smoked salmon toast with avocado and pickled fennel
smoked salmon crostini with creme fraiche
smoked trout dip with dill and sour cream
salmon wellington (salmon en croute)
more delicious spreads and dips:
white bean hummus with spicy seed oil
the best sour cream and onion dip
whipped feta dip with herby cucumber salad
saffron aioli (and how to make a grand aioli platter)
Watch our holiday party appetizer web story here!
Print
salmon rillettes (buttery salmon spread)
Salmon rillettes is a crazy delicious and rich salmon spread. It combines fresh and smoked salmon, mustard, lemon juice and parsley for a pop of freshness. Slather on crackers and crusty bread!
Author:
Prep Time:

10 minutes

Cook Time:

10 minutes

Total Time:

20 minutes

Yield:

2 cups

Category:

Appetizer

Method:

Mixed

Cuisine:

French

Diet:

Gluten Free
Ingredients
8 oz

fresh salmon fillets
kosher salt
freshly ground black pepper

½

lemon, sliced

6 tbsp

unsalted butter, softened

2 tbsp

olive oil

1 tbsp

whole grain mustard

1 tbsp

fresh squeezed lemon juice

¼ cup

minced fresh parsley

4 oz

hot smoked salmon
crackers and crudités, for serving
Instructions
Place a steamer basket or tray in a large pot. Fill with a few inches of water and bring to a boil. Season the salmon with salt and pepper, and top with lemon slices. Transfer to the steamer tray and cover. Steam fish until cooked through, about 10 minutes. Transfer to a plate to cool completely.

Use a fork to mash together butter and olive oil in a medium bowl until smooth and no lumps of butter remain. Whisk in mustard and lemon juice. Add ½ tsp kosher salt, black pepper and parsley and stir until combined. Discard skin from cooked salmon, then use a fork or your fingers to break the meat into small pieces. Repeat with the smoked salmon. Add all the salmon to the butter mixture and fold in until well combined and the fish is more finely shredded.

Transfer to a glass jar or serving bowl. Cover and chill at least 1 hour and up to 5 days. Bring to room temperature before serving. Serve with crackers and crudités.
Keywords: salmon rillettes