Hamachi crudo is topped with toasted pine nuts, bits of orange, olives and fresh mint, then drizzled with a fragrant orange olive oil. You'll love the tiny sprinkling of salt-cured olives and buttery pine nuts contrasted with smooth raw hamachi and juicy oranges. It's so fresh and full of flavor. It only takes a small amount of mint, orange and olives to add complexity and interest to this crudo recipe-- don't go overboard with them. Keep it light so the fish can shine.
This hamachi crudo is all about quality ingredients. Bust out your favorite cold-pressed extra virgin olive oil, splurge on the pine nuts. We love the intense flavor of salt-cured olives here, but Castelvetrano are a more mild and buttery alternative. And of course, use the freshest yellowtail you can find for a clean and delicious fish crudo!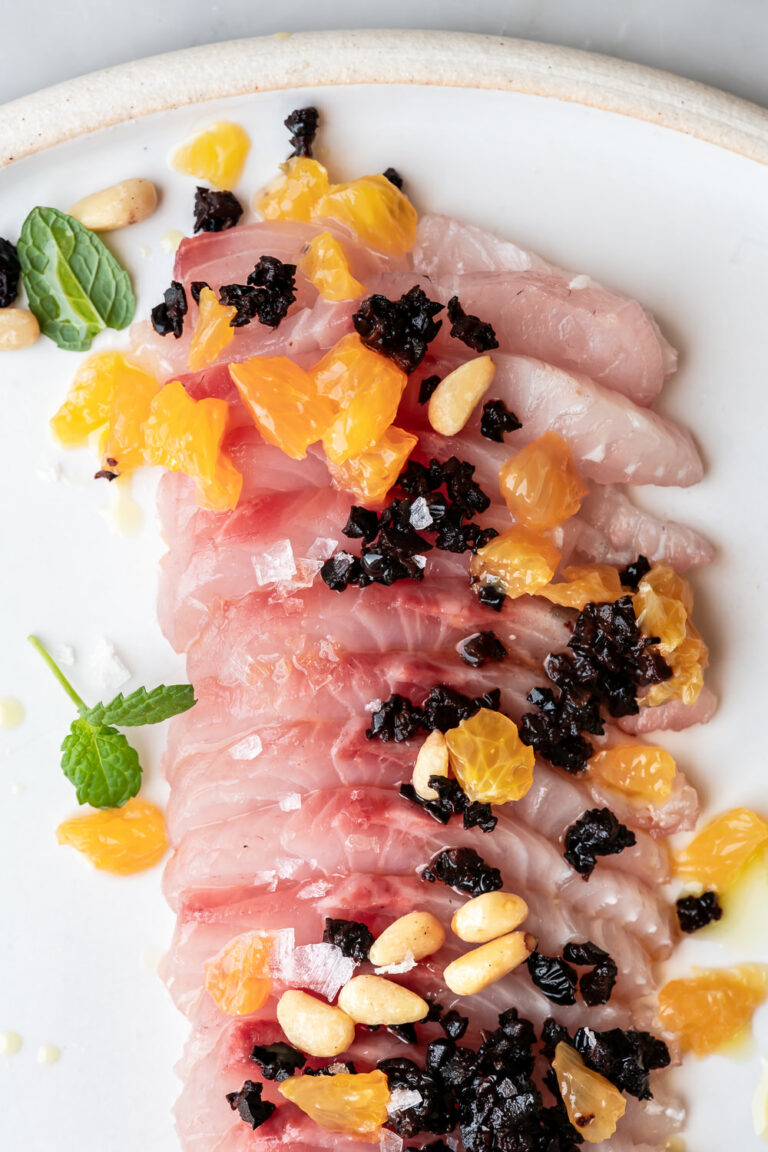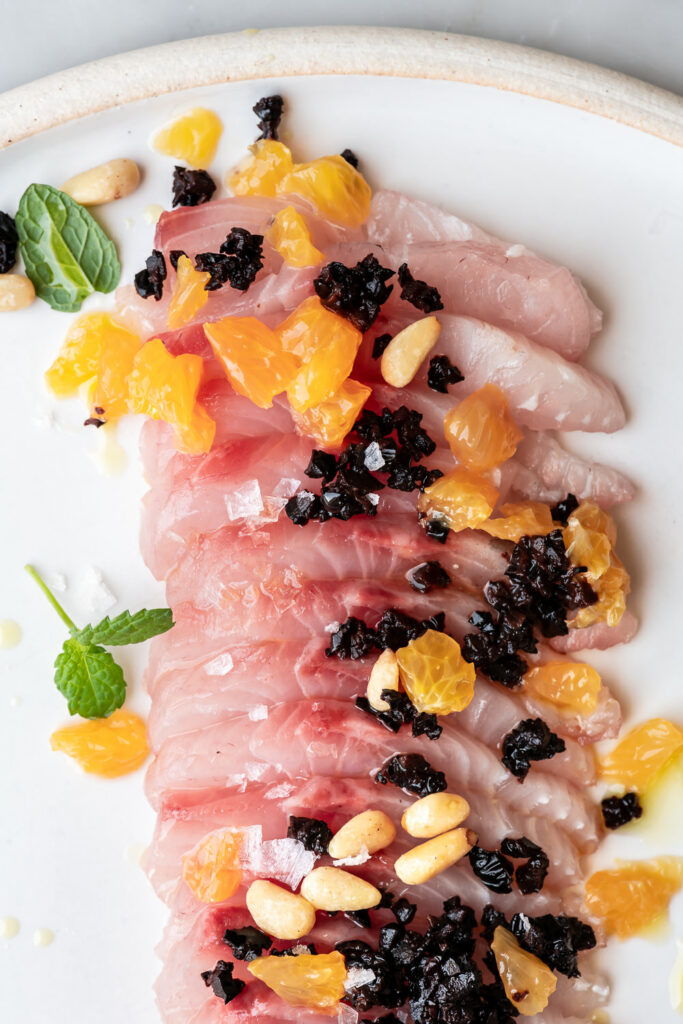 What is hamachi?
Hamachi is farmed Japanese Yellowtail, which is a member of the Jackfish family. It's a mild, oily, buttery soft fish that's the perfect canvas for crudo.
If you see the name "buri", it's the largest wild version of hamachi and is exported from Japan in fall and winter. It's harder to come across than hamachi, but is prized for having the highest oil content of the Jackfish.
Hamachi substitutions
Here are two other members of the Jackfish family that provide great substitutions for hamachi:
Hiramasa (Pacific Yellowtail, Flat Amberjack, Summer Amberjack): More mild and firm than hamachi, and slightly less fatty. It's local to the West Coast of the United States and is typically farmed in Australia, where it's called Kingfish.
Kampachi (Amberjack): We love the firm texture, sweet clean taste and lower fat content of kampachi. We actually prefer it over hamachi and I used it in the photos. If you can get your hands on it, buy it!
Below is a photo comparing hamachi (left) with kampachi (right):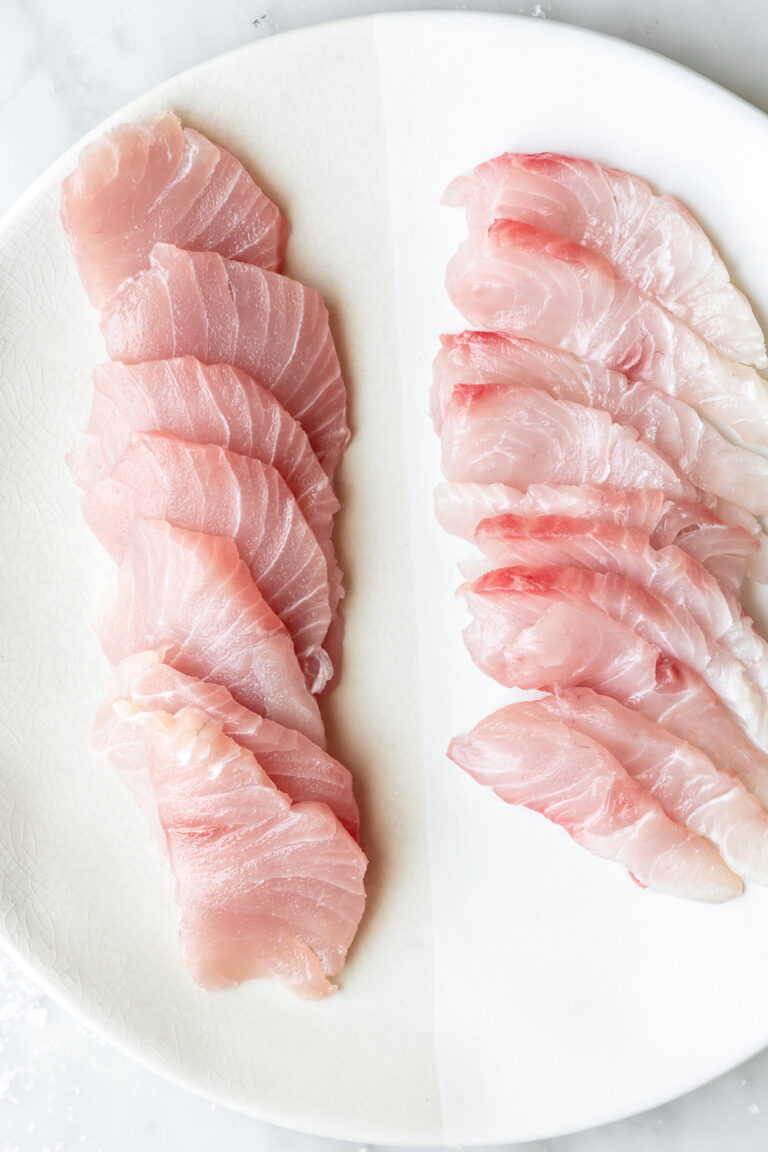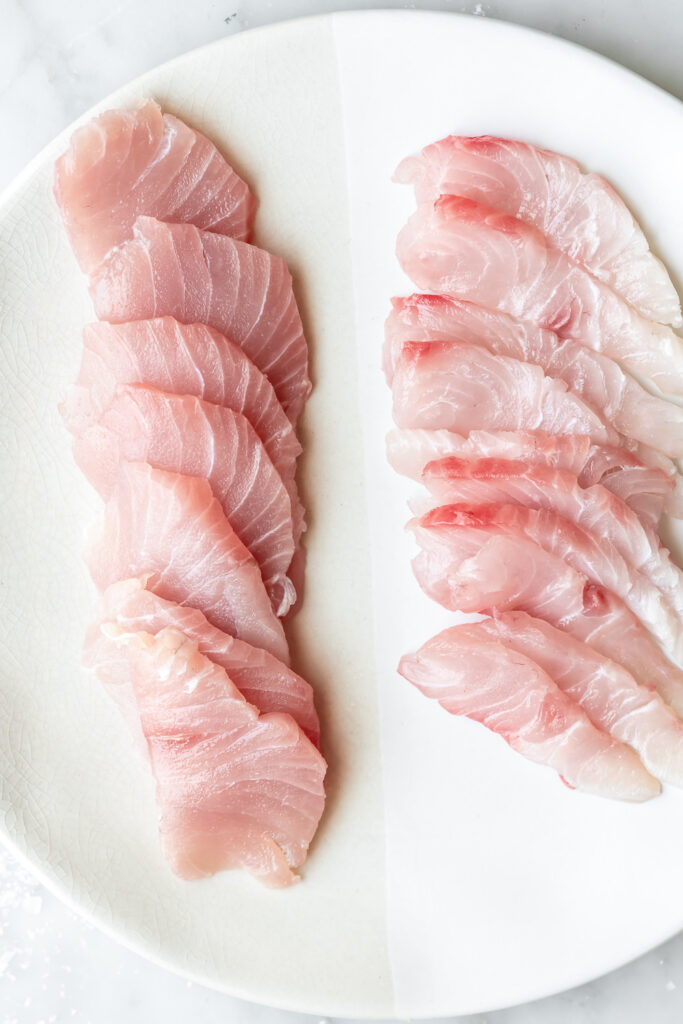 Difference between crudo and sashimi?
Sashimi, at its core, is sliced raw fish. It's about using the highest quality, freshest fish and savoring the pure flavor and texture. It can be served with garnishes, such as shredded daikon or wasabi, but not much else.
Crudo, on the other hand, is more than just raw fish. It's typically dressed with citrus juice and olive oil, and possibly sprinkled with crunchy things like nuts or chile peppers. It's a fun way to play with flavors, textures and seasonal ingredients.
What you need to make hamachi crudo:
Sushi-grade hamachi
Orange
Salt-cured olives
Pine nuts
Extra-virgin olive oil
Mint
Flaky salt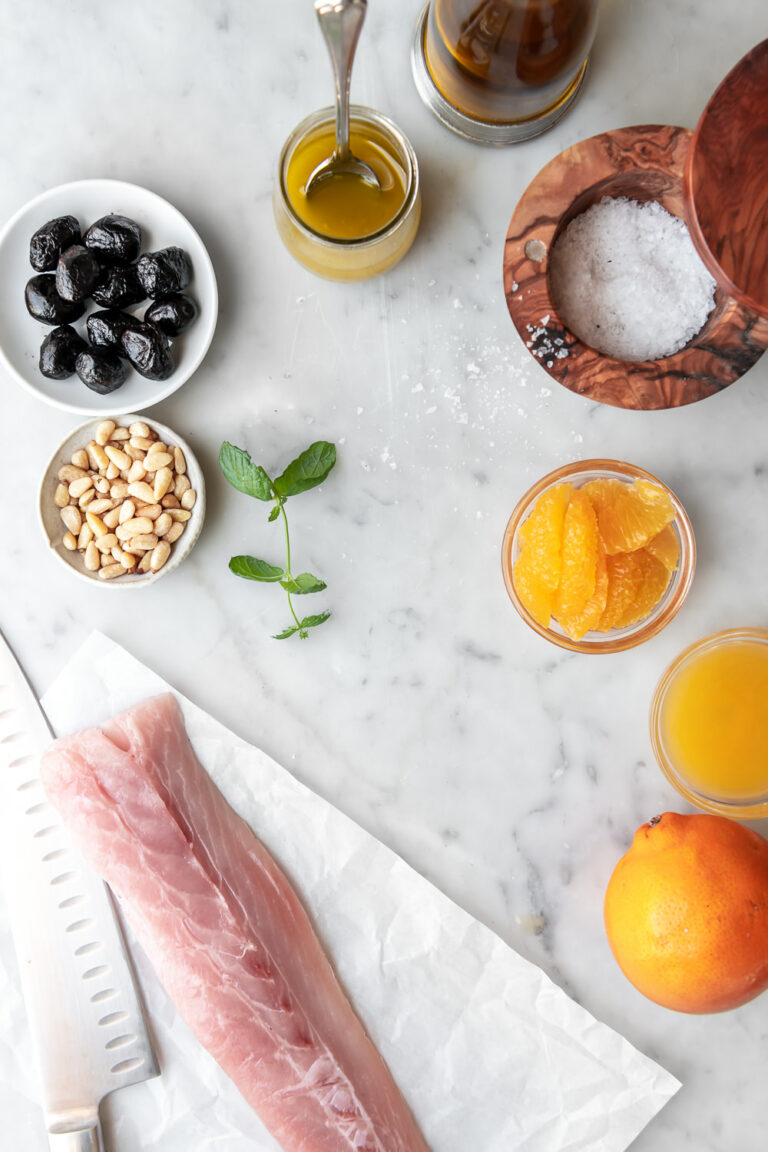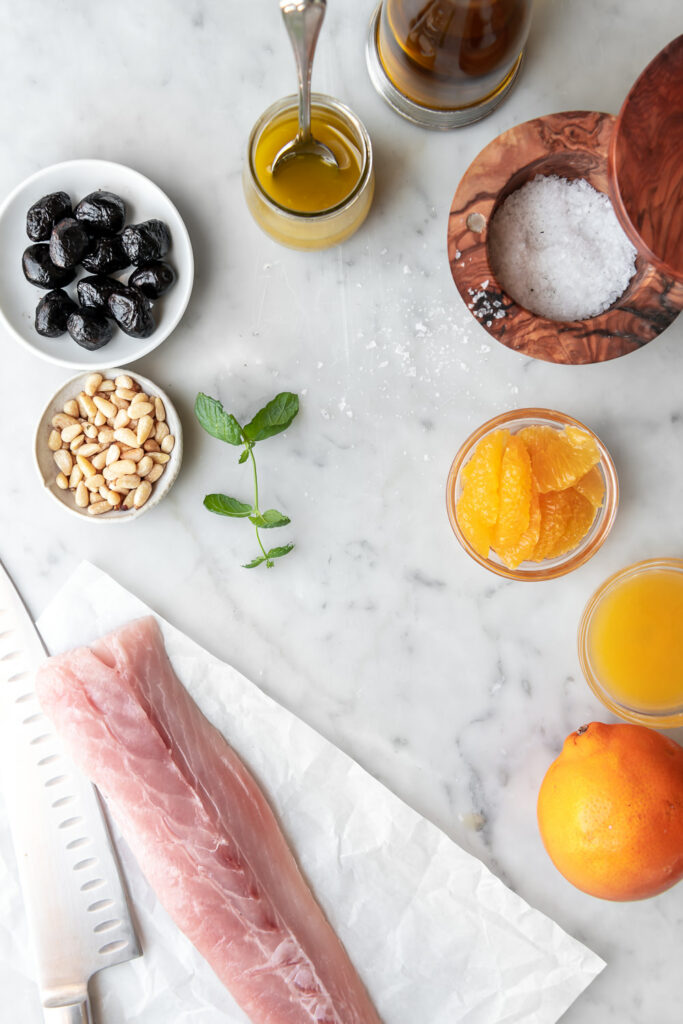 How to make hamachi crudo
Prepare orange segments, save extra juice
Mince olives
Toast pine nuts
Slice hamachi and arrange on a platter
Top with orange pieces, olives, pine nuts and mint
Drizzle with reserved orange juice and olive oil
Sprinkle with flaky salt
How to make orange oil
Zest 1 orange
Combine zest and ½ cup olive oil in a blender
Blend on high until smooth
Strain through a fine mesh sieve discard solids
Store in the refrigerator for up to 2 weeks
Use the extra orange oil in salad dressings or as a finishing oil for grilled seafood and vegetables!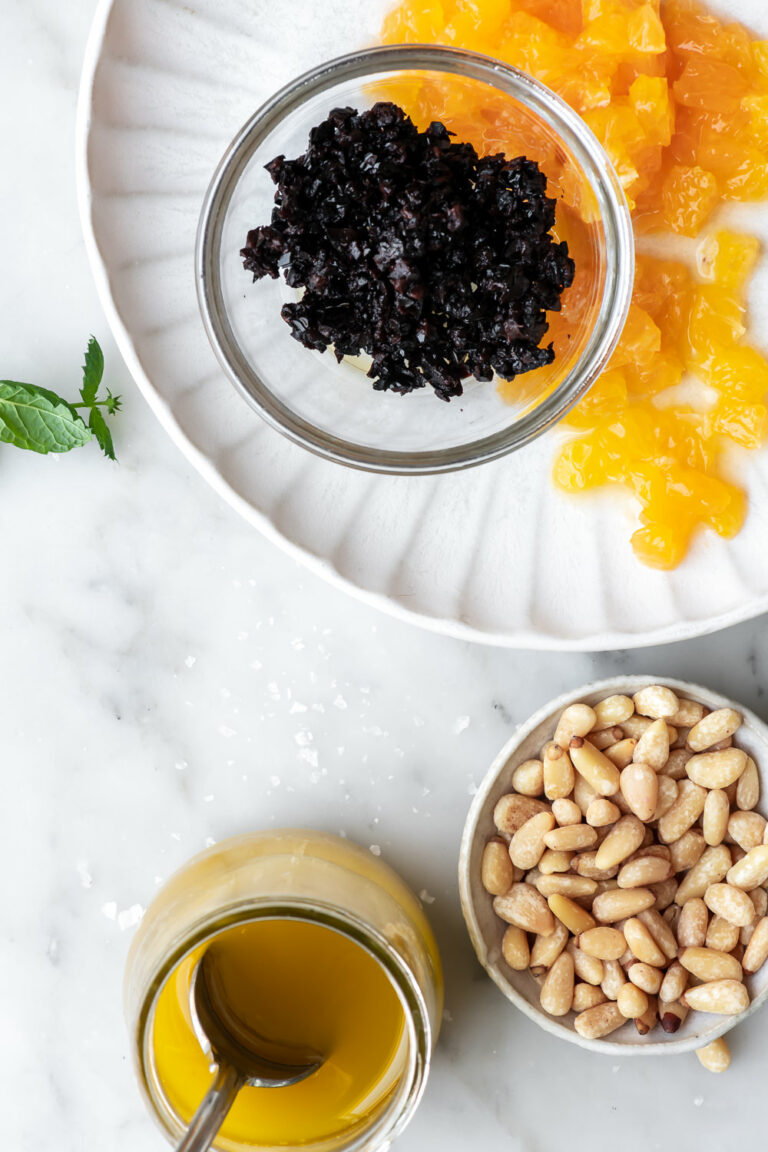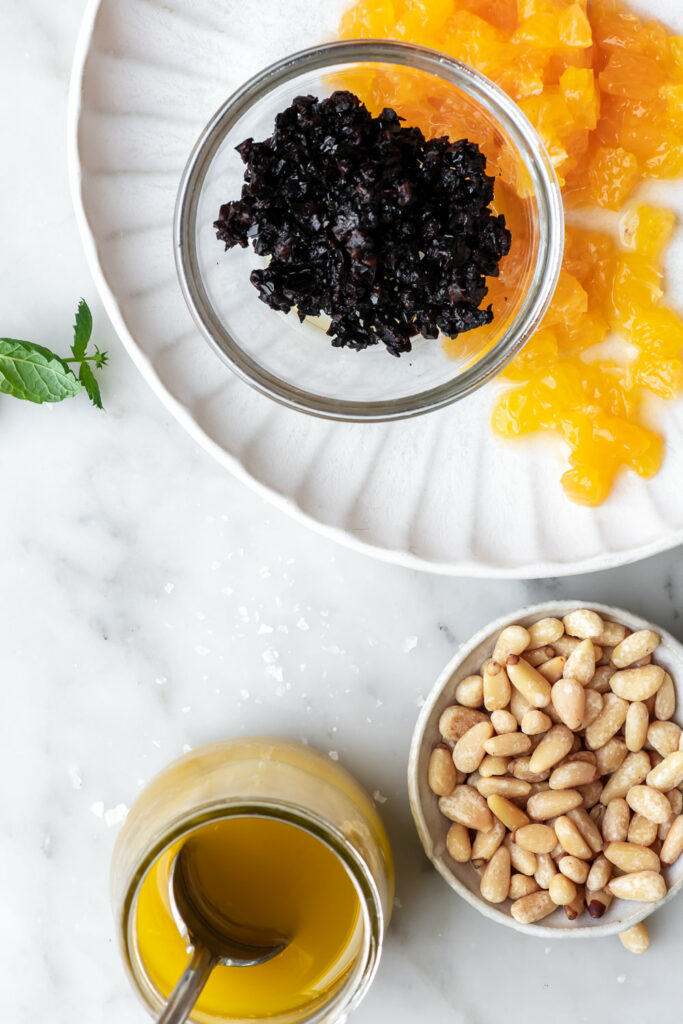 How to slice hamachi for crudo
Always slice the hamachi against the grain to get pieces of fish with the best texture.
For this hamachi crudo, we prefer slices that are about ¼-inch thick. Cut it straight down, pulling the knife towards you (avoid a sawing motion). Let the whole blade of the knife do the work and avoid pressing down too hard.
For the cleanest slices, wipe your knife clean every few cuts to prevent it from getting sticky.
If you're struggling to get thin and even slices, it can be helpful to place the hamachi in the freezer for 10 minutes to firm up. Sharpen your knife while you're waiting.
Raw fish is fragile, so handle it as little as possible. Slice and transfer directly to the serving plate.
Hamachi is a softer fish, so it may be difficult to slice it much thinner than ⅛-inch thick. But because it is so tender, you don't need to go thinner for a delicious crudo.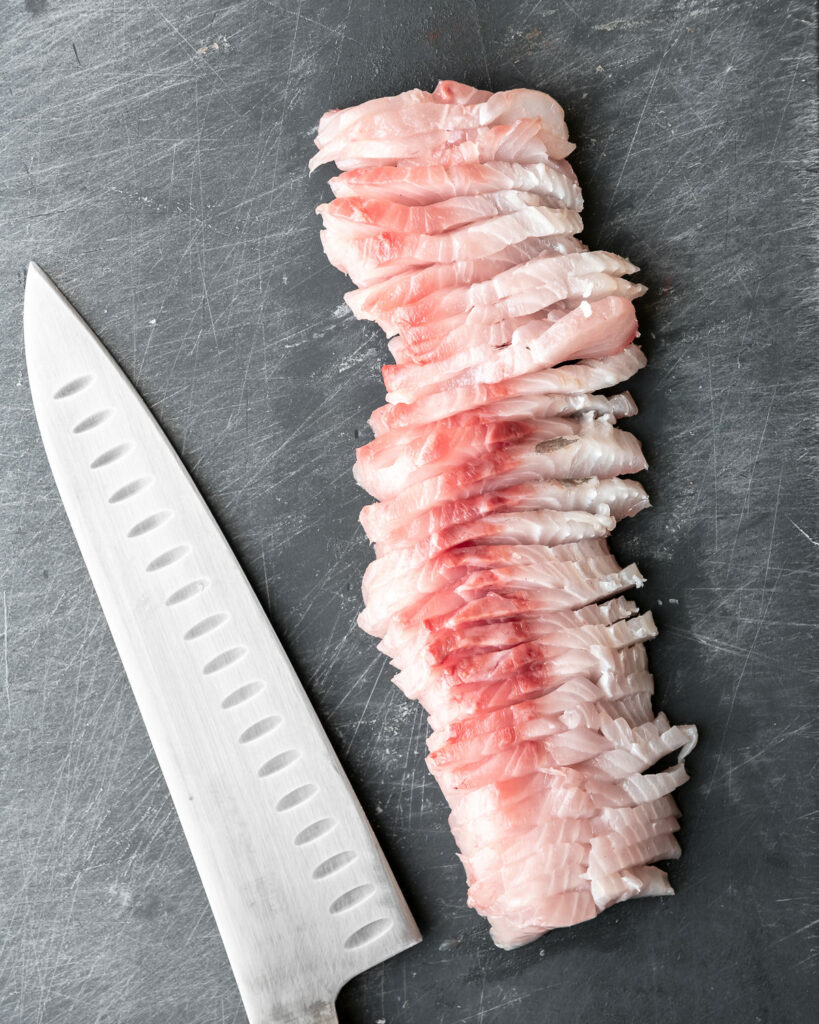 Fresh or frozen hamachi for crudo?
Despite what you might think, frozen fish can be a great option to consider when looking for raw fish for crudo.
Look for terms "blast frozen", "flash frozen", or "super frozen", which mean the fish was rapidly frozen below -60°C right after being caught. It's extra fresh and has the benefit of killing off any potential parasites.
If you can't find a reputable fish market with high turnover, chances are the raw fish you're buying will be older than the super frozen fish you can get. Blast frozen fish is also a great way to enjoy a variety of raw fish any time of the year.
Thaw overnight in the refrigerator and enjoy.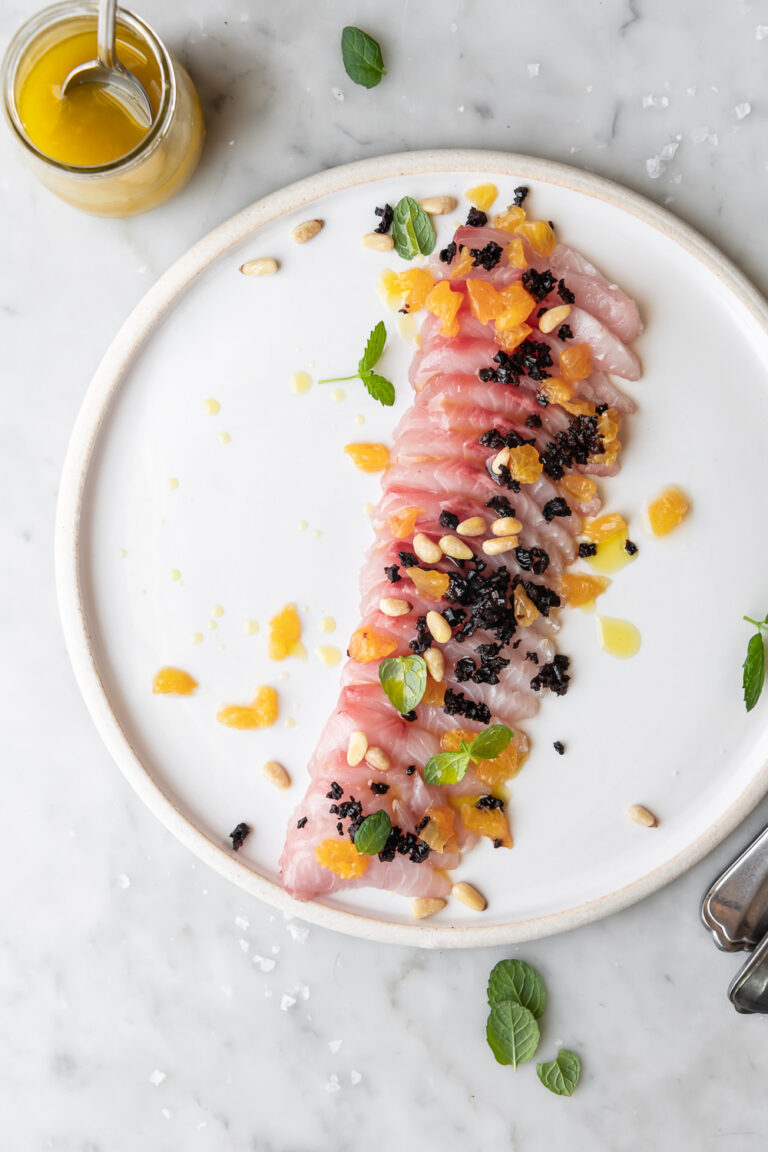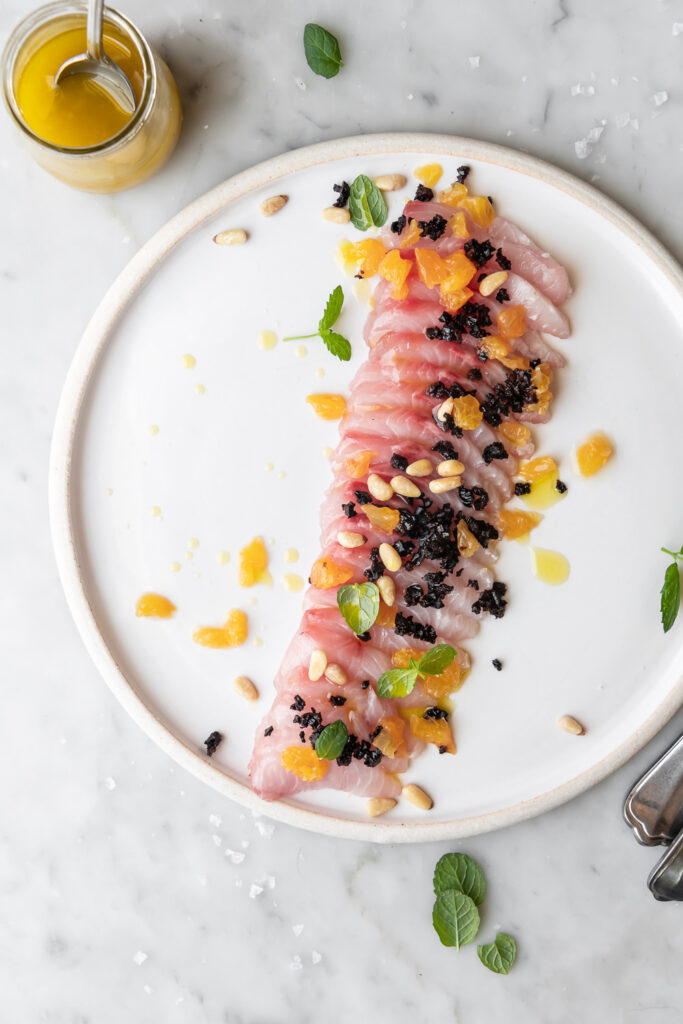 Safety tips for consuming raw fish:
Source your hamachi from a reputable fish market with high turnover. Make sure to ask the fishmonger if their hamachi is considered sushi-grade. The term legally means nothing, but it will be the highest quality fish they have to offer. It means they consider the fish safe for raw consumption based on when it was caught and how it's been handled. That's why reputable and trustworthy is key here.
Transport it on ice, store in the refrigerator— basically, keep it as cold as possible for as long as possible. This will slow bacterial growth and keep it safe to eat.
Plan to eat it the day you bring it home from the fish market. If you're using frozen fish and thawing overnight, use it the next day.
Use a clean knife and cutting board.
Obviously, if you have a compromised immune system (sick, pregnant, young or old), it's recommended to avoid consuming raw fish.
What wine to pair with hamachi crudo?
Hamachi is a buttery soft, oily fish with a mild flavor. The crudo recipe also includes fresh orange, briny olives and mint— which all add bright, intense flavors.
For a balanced wine pairing, we'll look for something that's delicate and unobtrusive. The crudo has it's own graceful balance— the wine should complement the flavors and cleanse your palate, but its shouldn't be overpower the dish.
Light, crisp, fresh white wines or rosés are my go-to pairings for hamachi crudo.
Here are some great options!
Gruner Veltliner (Austria)- light bodied and crisp, subtle aromatics
Vinho Verde (Portugal)- zesty, simple and spritzy
Picpoul de pinet (France)- soft, fresh, floral
Hunter Valley Semillon (Australia)- green, crunchy and light
Pinot Noir rosés (specifically German ones)- bright flavors, fresh acidity
more seafood recipes to try!
spicy tuna tartare with cucumber, avocado and cilantro
salmon rillettes (salmon spread) with fresh herbs and lemon
smoked salmon crostini with creme fraiche
roast lobster tail with brown butter hollandaise
Print
hamachi crudo recipe
Fresh hamachi crudo is topped with pine nuts, orange, olives and fresh mint, then drizzled with a fragrant orange olive oil. So flavorful!
Author:
Prep Time:

10 minutes

Total Time:

10 minutes

Yield:

8 oz

Category:

Appetizer

Method:

Crudo

Cuisine:

American

Diet:

Gluten Free
Ingredients
orange oil:
½ cup

olive oil
zest of

1

orange
hamachi crudo:
1

small orange

8 oz

sushi-grade skinless, boneless hamachi (yellowtail)

3

salt-cured olives, pitted and minced

1 tsp

toasted pine nuts

2

-

3

sprigs fresh mint

2 tbsp

orange oil (can substitute your best olive oil)
flaky salt
Instructions
orange oil:
Combine olive oil and orange zest in a blender. Blend on medium high speed for about 30 seconds, or until mostly smooth.

Strain through a fine mesh sieve; discard solids. Store, refrigerated, for up to 2 weeks.
hamachi crudo:
Carefully cut away the peel and pith from the orange. Hold the fruit over a small bowl to catch the juice, then use a paring knife to cut out the orange segments. Finely dice the orange segments and set aside. Squeeze the extra juice out of the membranes and set aside.

Slice hamachi against the grain into ¼-inch thick slices. Arrange on a platter in a decorative fashion.

Top with olives, pine nuts and mint. Drizzle with 1 tablespoon of reserved orange juice and orange oil. Sprinkle with flaky salt and serve immediately.
Notes
Nutritional information is only an estimate. The accuracy of the nutritional information for any recipe on this site is not guaranteed.
Nutrition
Serving Size:

4 oz

Calories:

320

Sugar:

4.1g

Sodium:

226mg

Fat:

21g

Saturated Fat:

3.5g

Unsaturated Fat:

16.6g

Trans Fat:

0g

Carbohydrates:

6.6g

Fiber:

1.3g

Protein:

27g

Cholesterol:

62mg