These spicy sesame noodles won't last long. They're creamy, crunchy, chewy and deliciously spicy. They're cold sesame noodles and the flavors intensify and meld in the refrigerator. But believe me, it's hard to stop eating them and they don't often get a chance to "rest".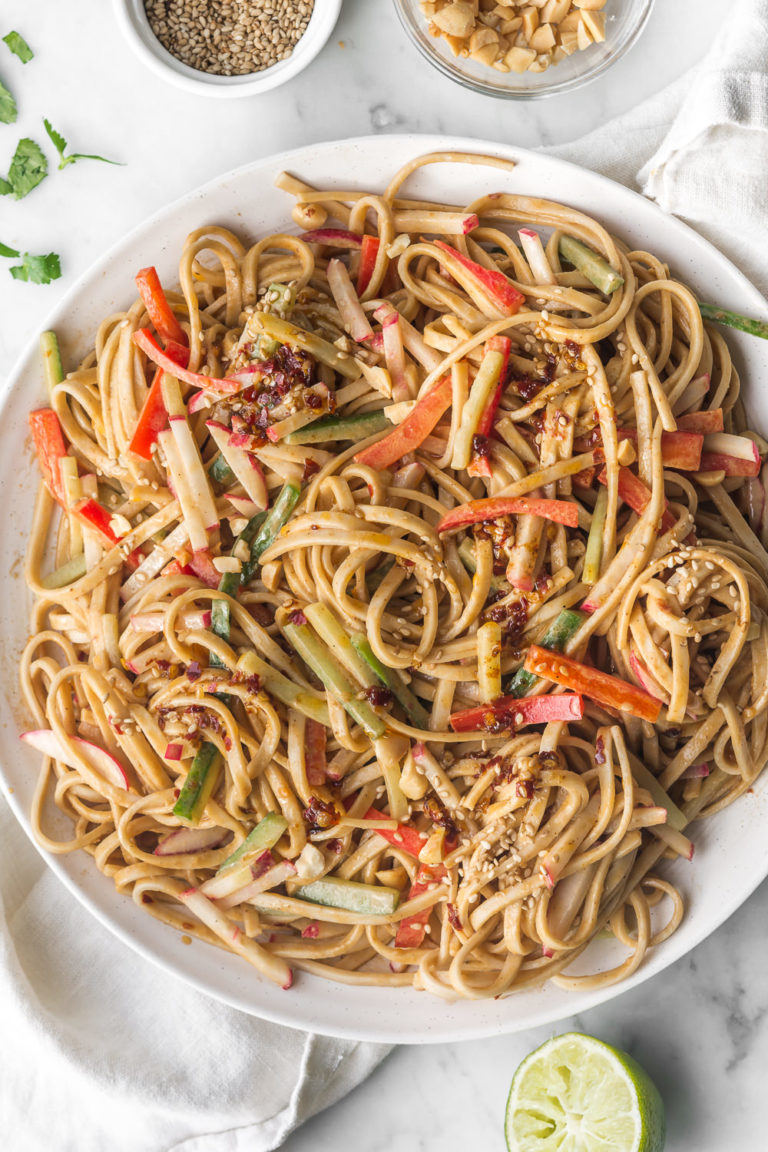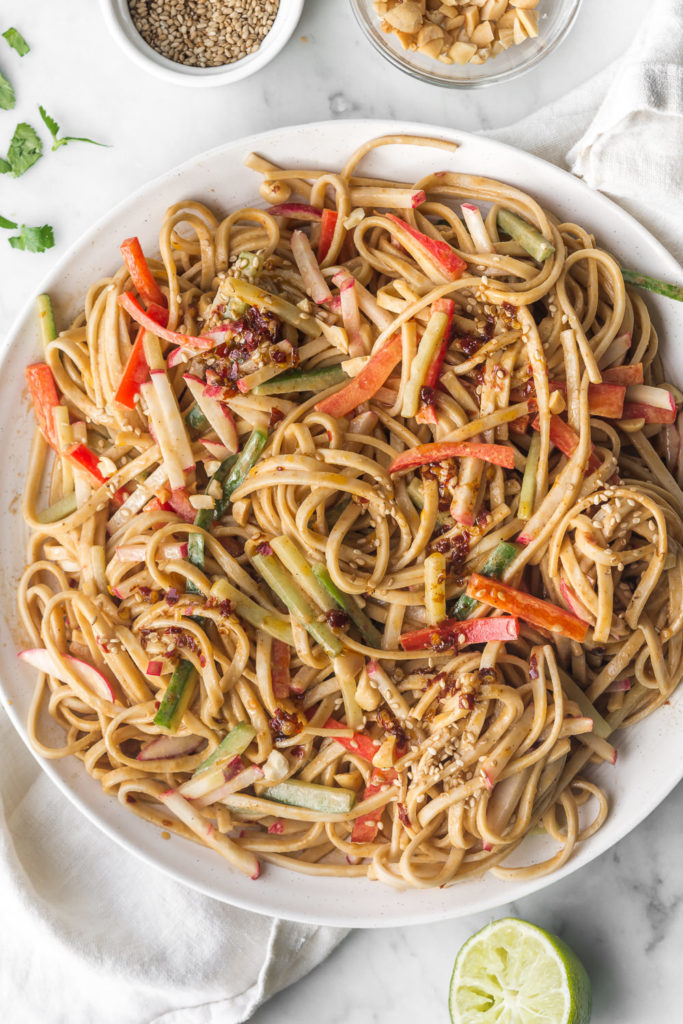 If you do have leftovers, they make an addictive fridge snack for up to 4 days. Serve these spicy sesame noodles with chicken satay (it goes so well with the peanut sauce!), crispy pork pot stickers, or my favorite: these five spice grilled shrimp.
The most important part of these sesame peanut noodles is the sichuan chili oil.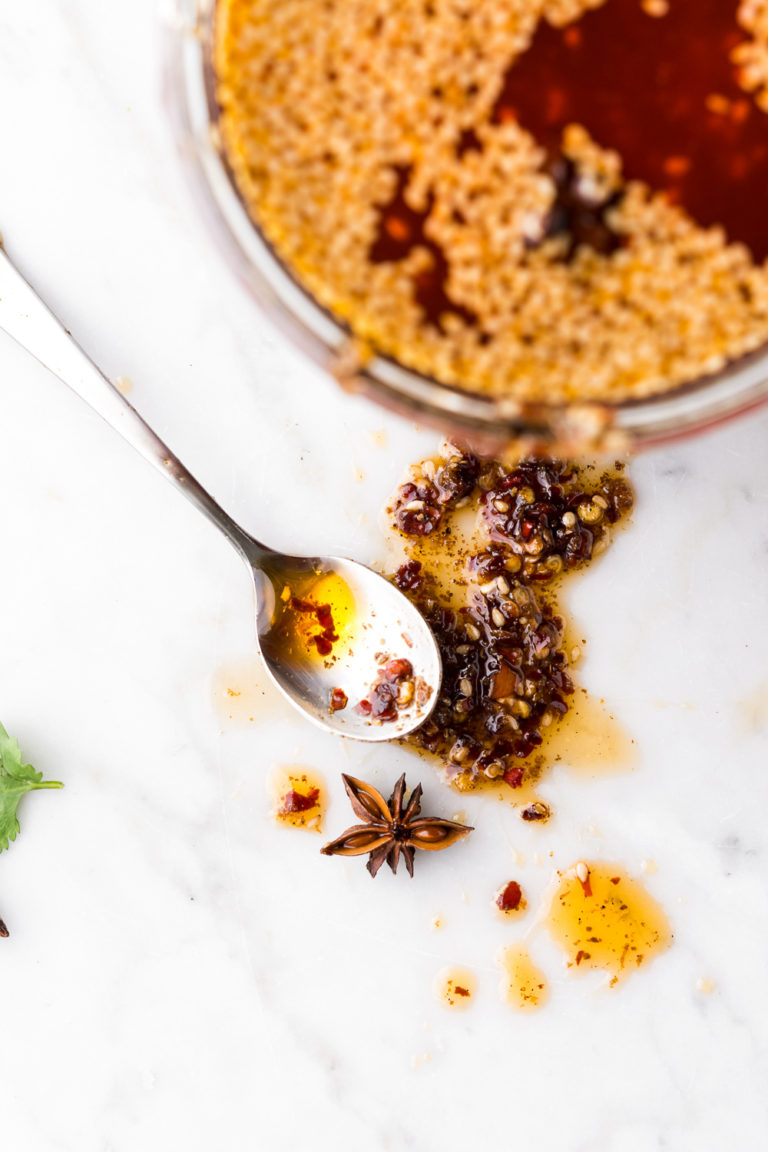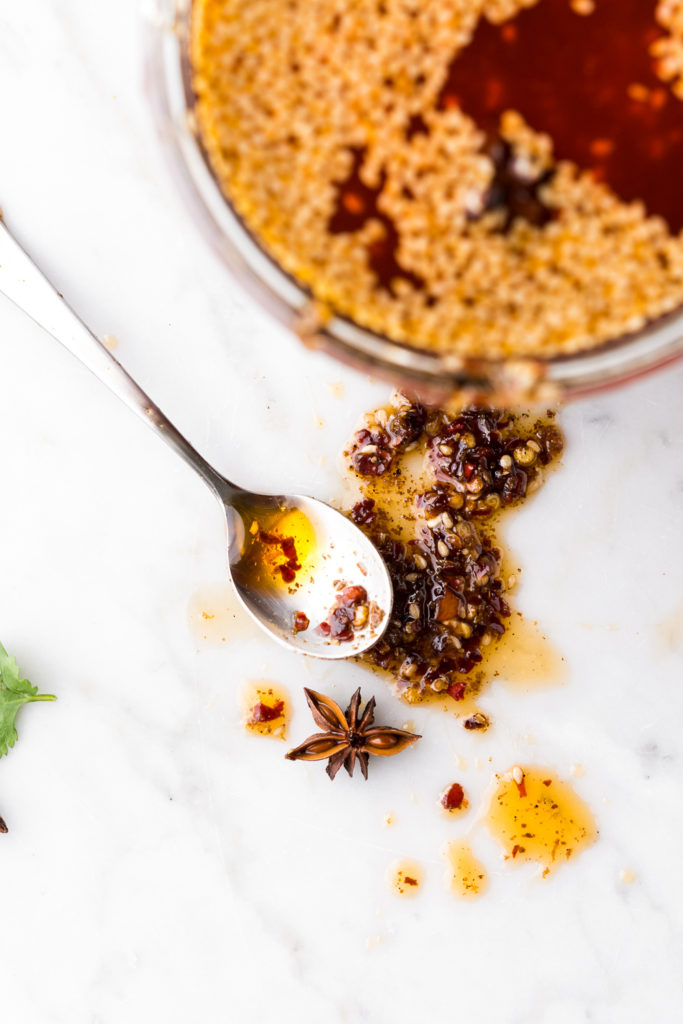 While you can substitute whatever chili oil you have on hand, you'll miss out on the numbing complexity you get from the sichuan peppercorns. The chilli oil is easy to make, it lasts forever, and we use it on everything. So whip it up before you make these peanut sesame noodles! No excuses! Here's the recipe.
The sichuan chili oil makes these cold sesame noodles super spicy. If you're not a huge fan of heat, feel free to substitute toasted sesame oil or a neutral oil (like canola oil) in place of the chili oil.
But we love the heat so much, we usually add extra chili oil. And I literally want to drink the spicy sesame sauce every time I make it.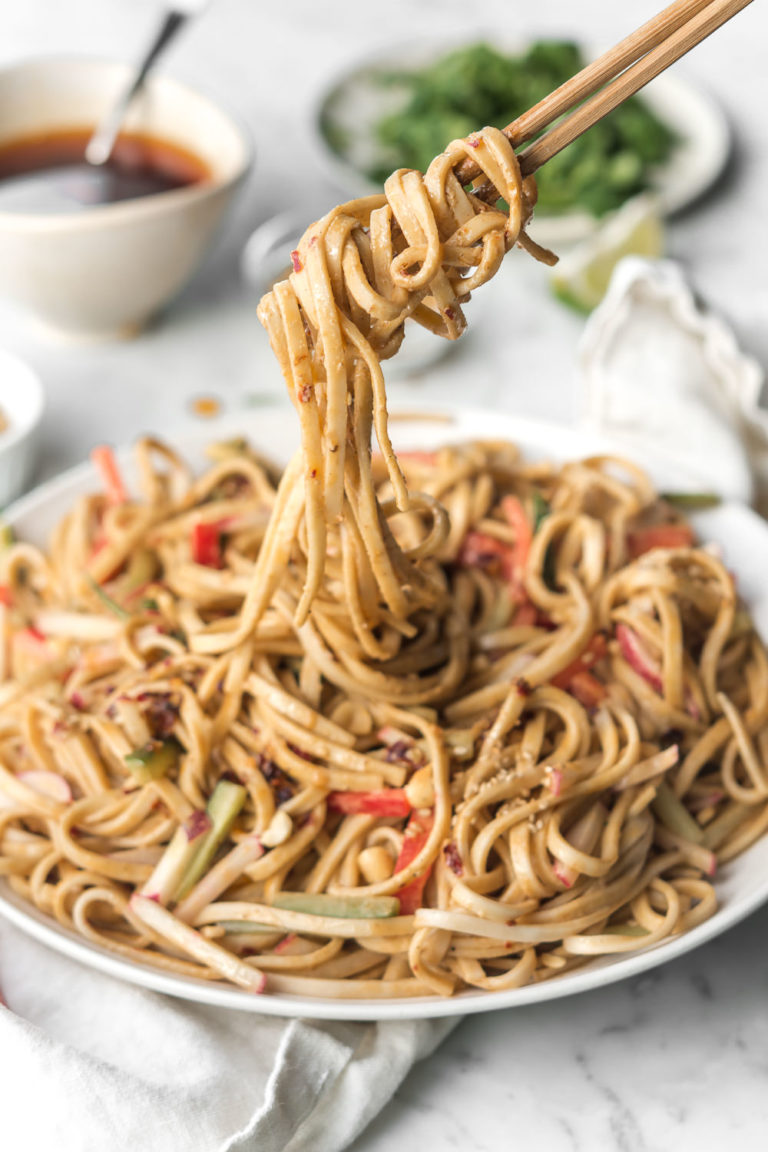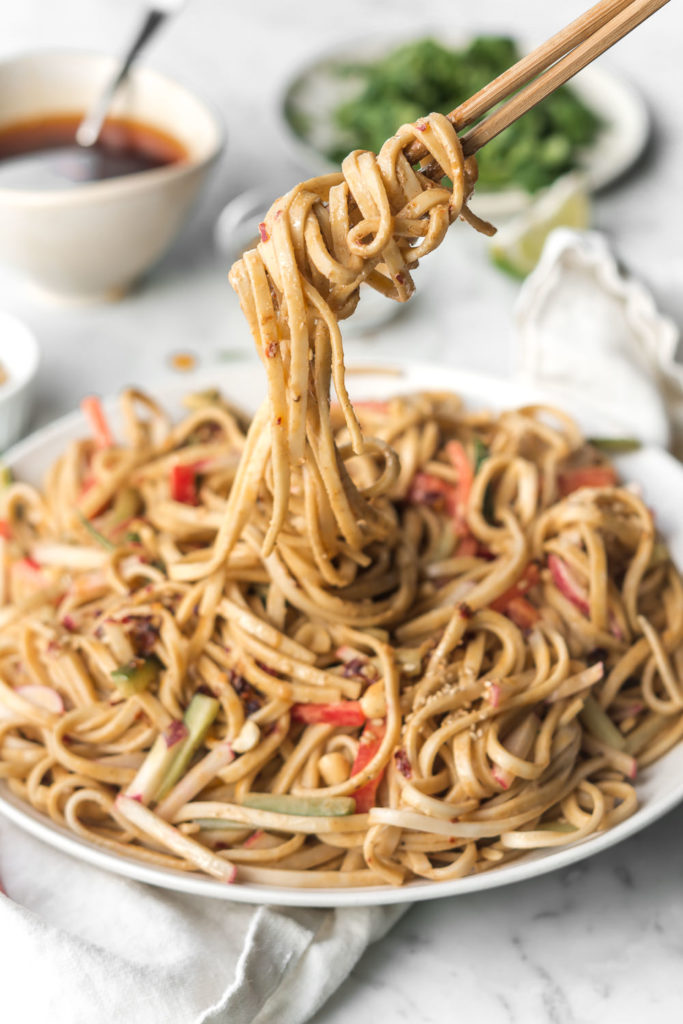 how do you make sesame peanut noodles?
Cook the noodles (udon or ramen) according the package directions
Drain and rinse under cold water, toss with 1 tsp toasted sesame oil
Combine Chinese sesame paste, peanut butter, chili oil, toasted sesame oil, sugar, salt, soy sauce, and lime juice
Combine noodles, cucumber, red bell pepper, radishes and sesame peanut sauce. Toss to combine.
Garnish with sesame seeds, crushed peanuts and more chili oil.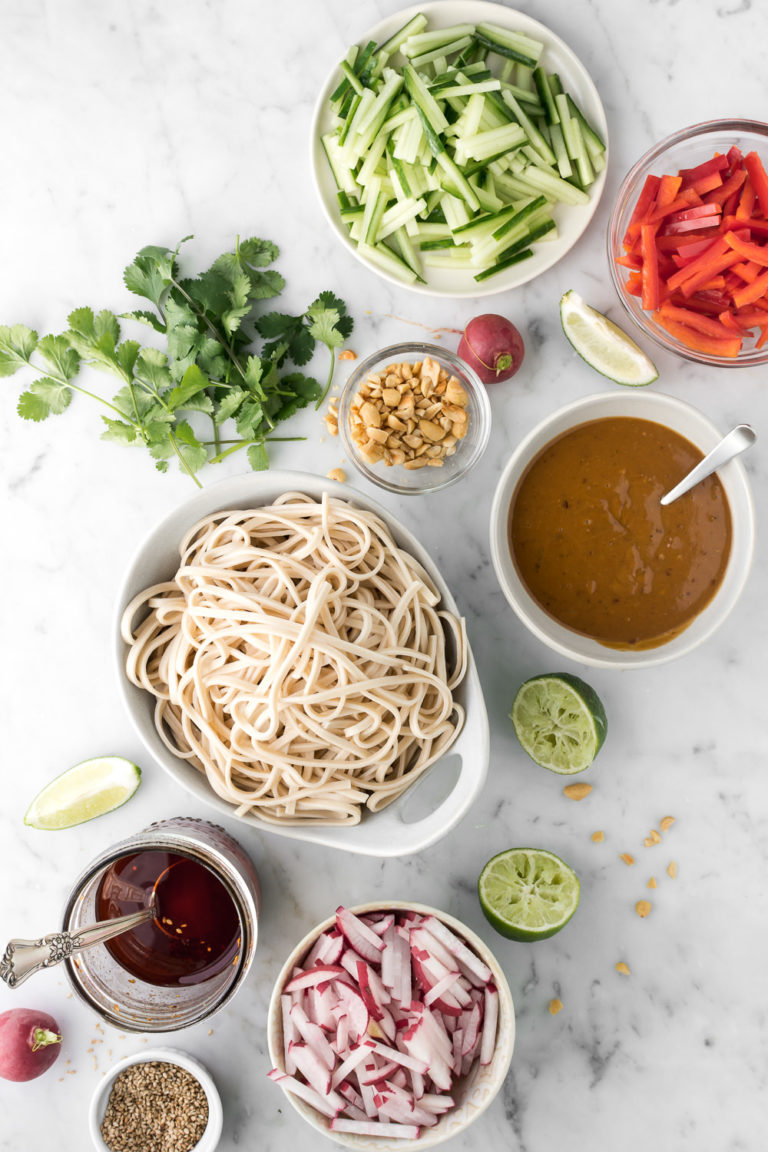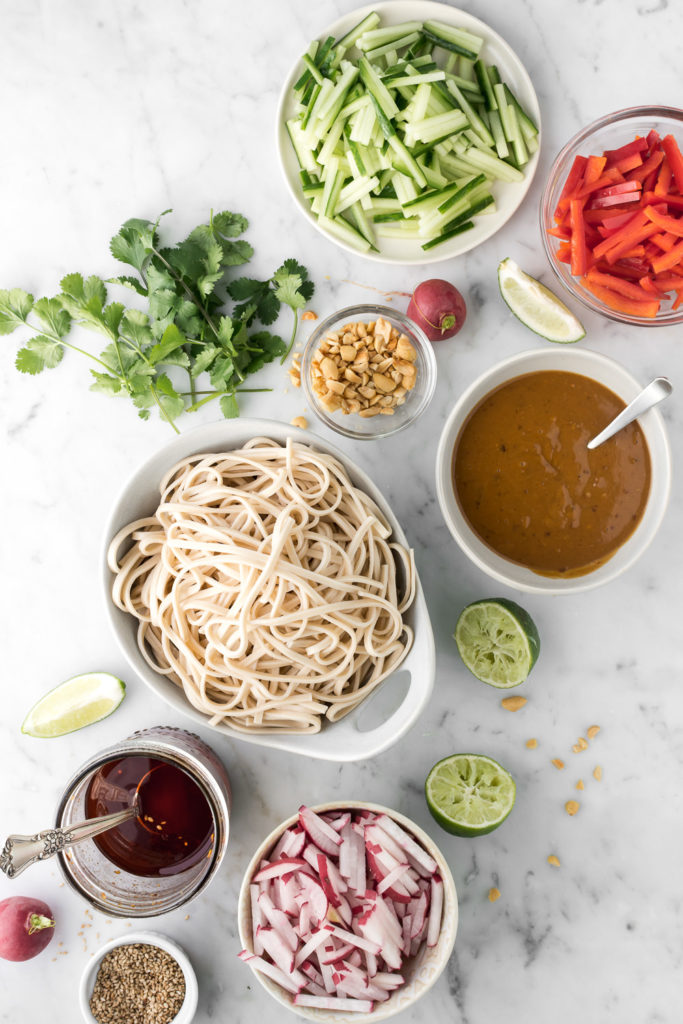 what's the difference between chinese sesame paste and tahini?
Chinese sesame paste is made from toasted sesame seeds that are ground into a paste. It has a roasted aroma, a dark brown color, and a nutty depth of flavor. On the other hand, tahini is made with untoasted (or lightly toasted) sesame seeds. The paste is lighter in color and flavor than Chinese sesame paste.
That being said, you can substitute tahini for Chinese sesame paste in a pinch. Just add 2 tsp toasted sesame oil for every ½ cup of tahini you use. This will add some of those toasty flavors that tahini is missing.
If the sauce breaks from the extra sesame oil, mix in a little more peanut butter to bring it back together.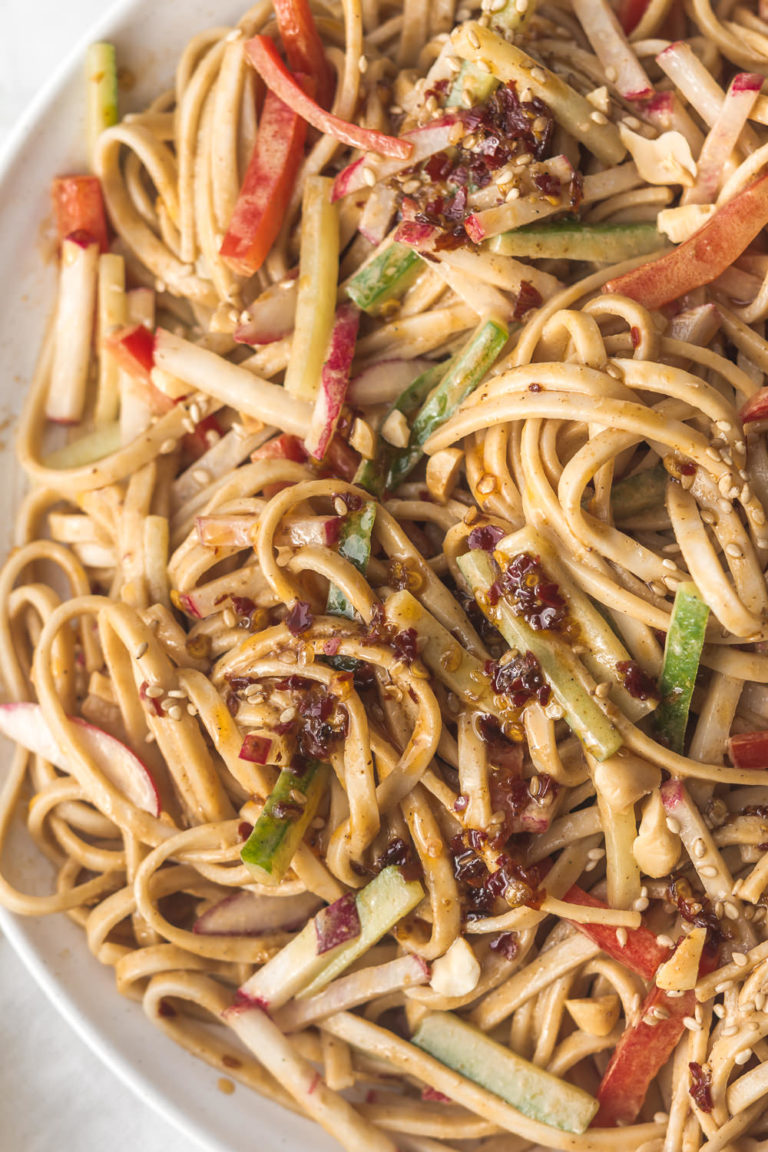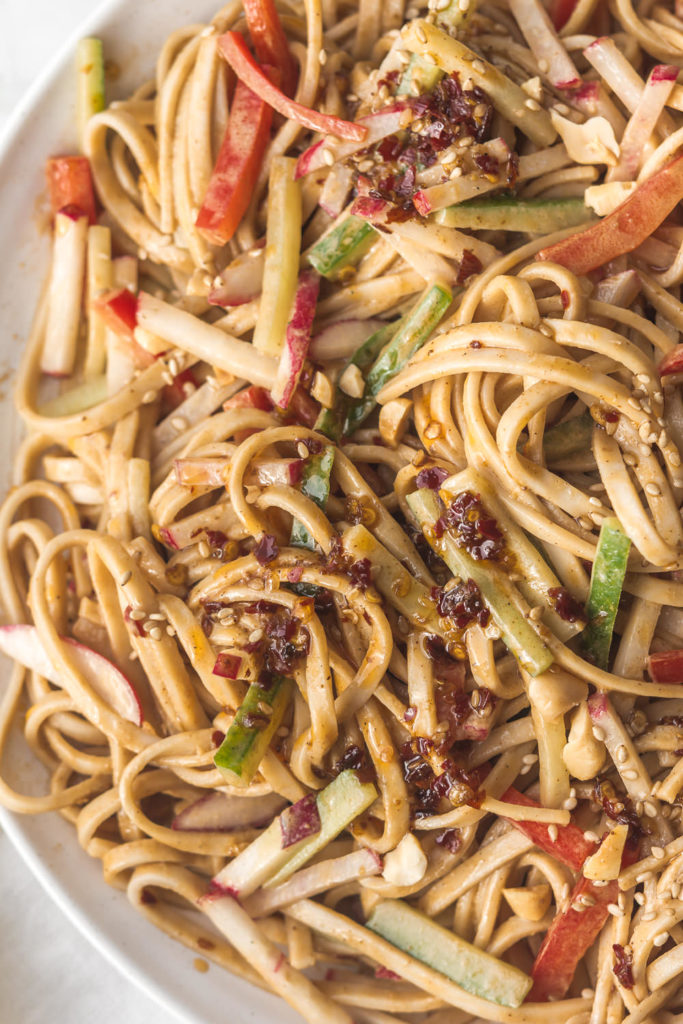 what's the difference between soba, udon and ramen noodles?
Soba noodles are made with buckwheat flour and water. They're tender, delicate and fairly thin. The darkest, nuttiest noodles are the highest in buckwheat flour. Soba noodles almost always have some whole wheat flour in them. This means they are not gluten-free, like many people may tell you.
Contrast this with udon noodles, which are made with wheat flour and water. The wheat flour makes them chewy. Udon noodles are generally much thicker than soba or ramen noodles.
Ramen noodles are also made with wheat flour, but sometimes they contain eggs. The noodles are thinner and firmer than udon, and if eggs are used, they are slightly golden from the yolk.
For these cold sesame noodles, I prefer to use either udon or ramen noodles. I like the chewy texture from the wheat flour, and feel these noodles really stand up to the spicy peanut sauce!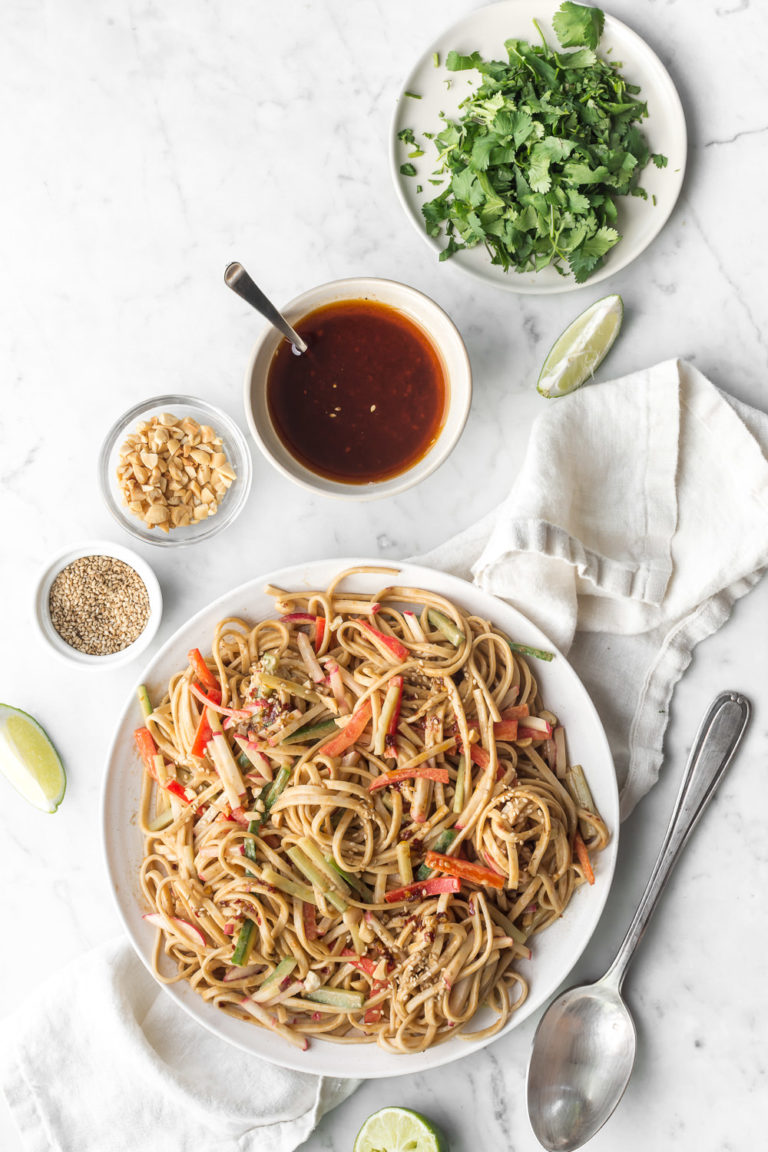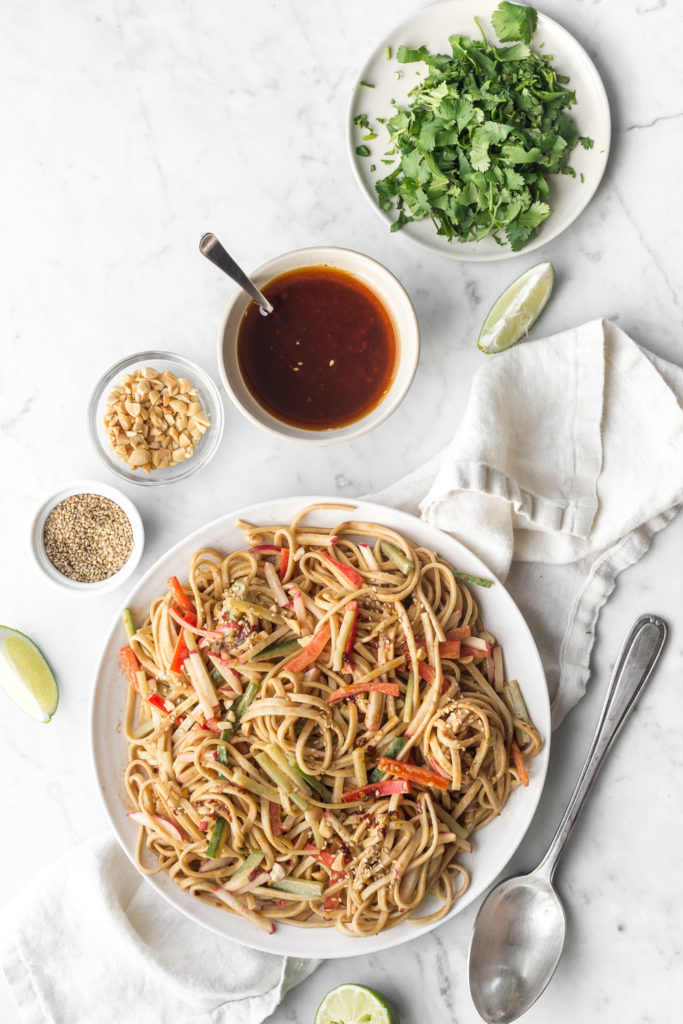 how long do cold sesame noodles last?
These spicy sesame noodles last up to 4 days in the refrigerator.
When I make these noodles ahead, I prefer to keep the vegetables separate until we're ready to eat. The vegetables stay crunchy and the cucumbers don't water down the noodles.
You can also store the spicy sesame peanut sauce separately for up to 1 week in the refrigerator.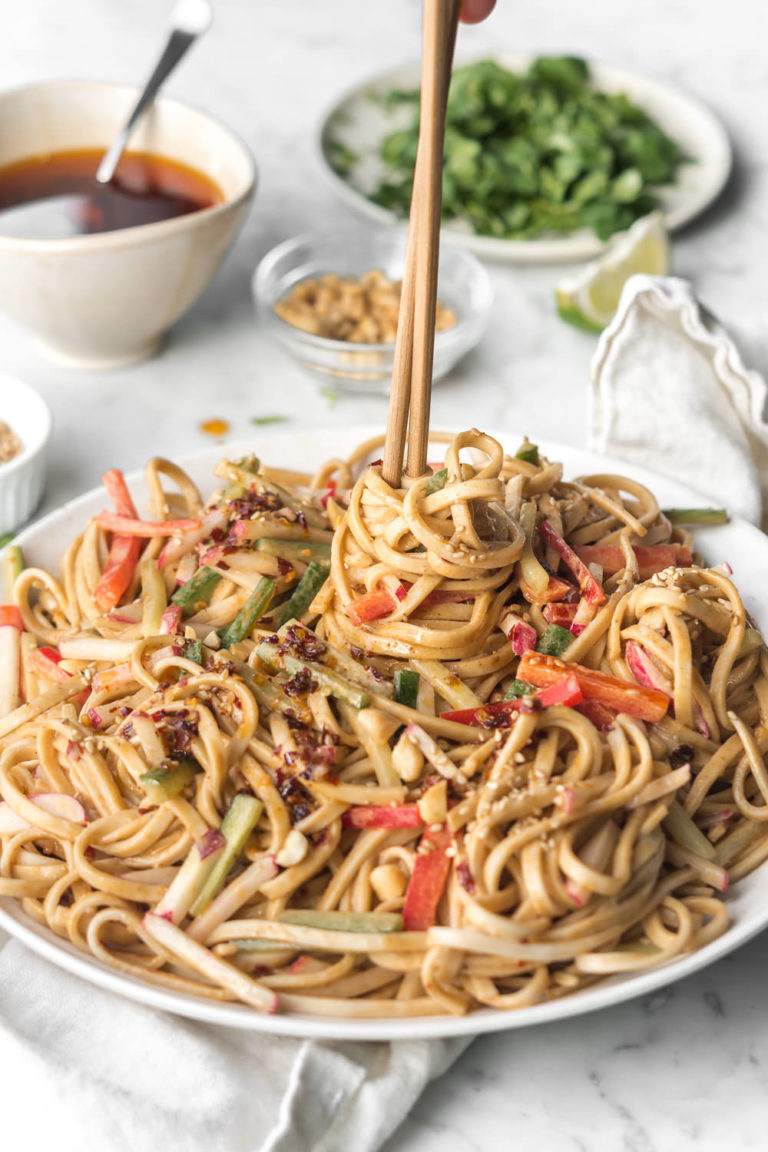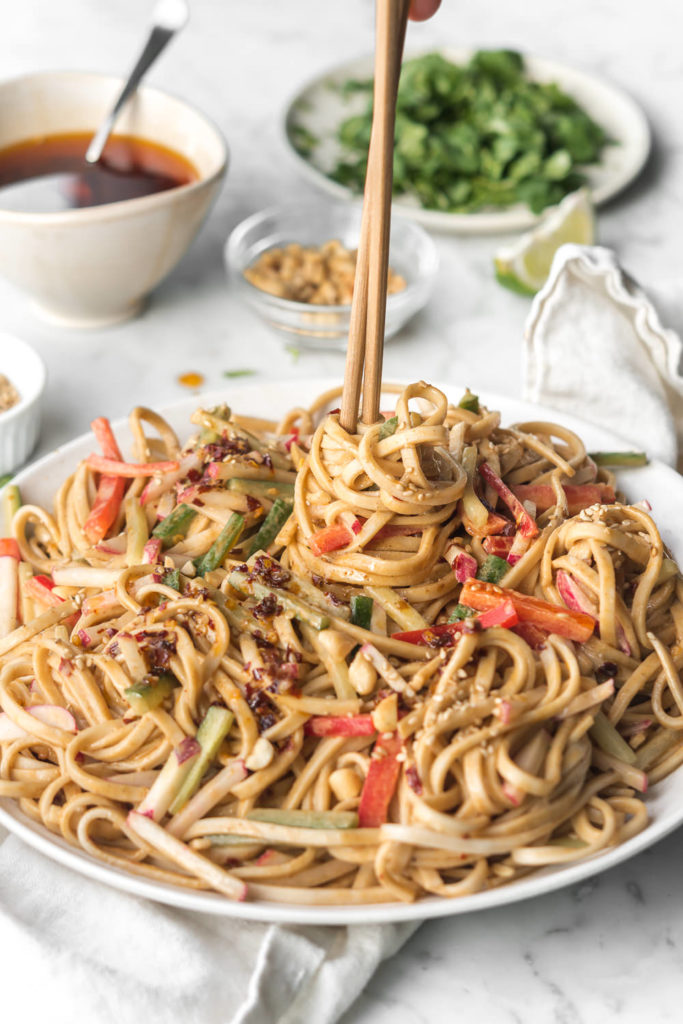 what is sesame sauce made of?
This sesame peanut sauce is made up 8 ingredients, most of which you already have in your pantry:
chinese sesame paste
peanut butter
sichuan chili oil
toasted sesame oil
soy sauce
fresh lime juice
sugar
kosher salt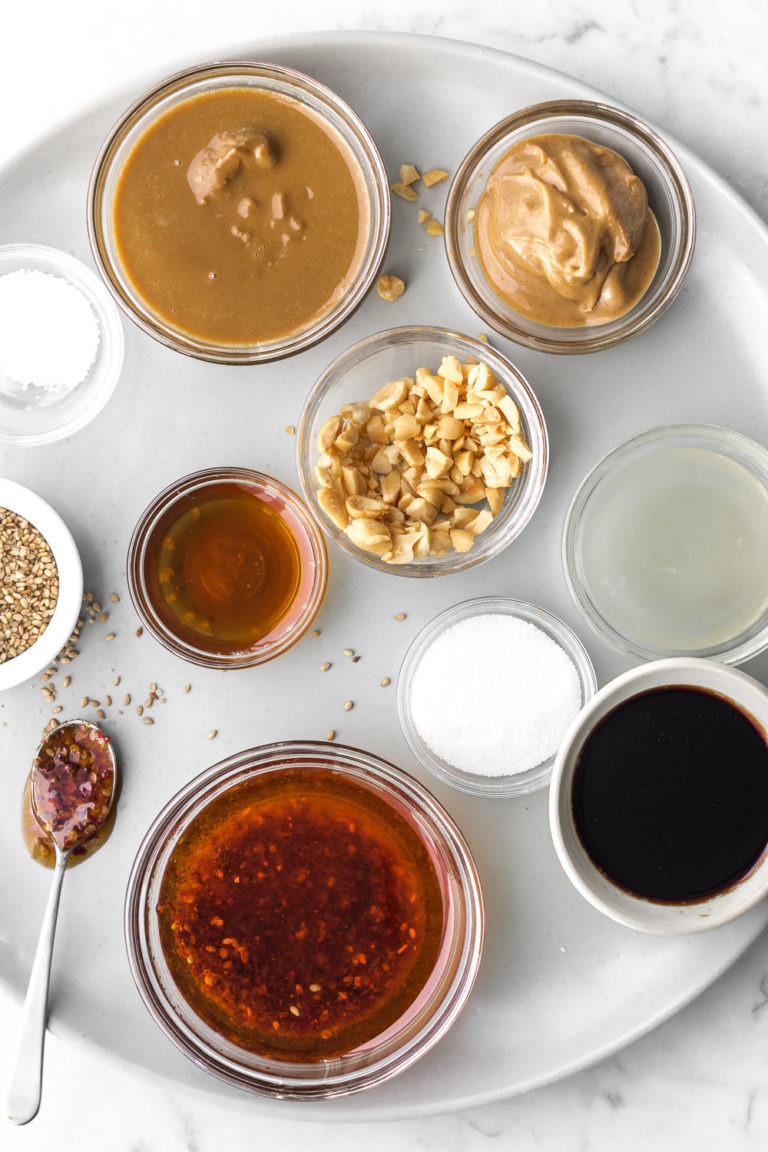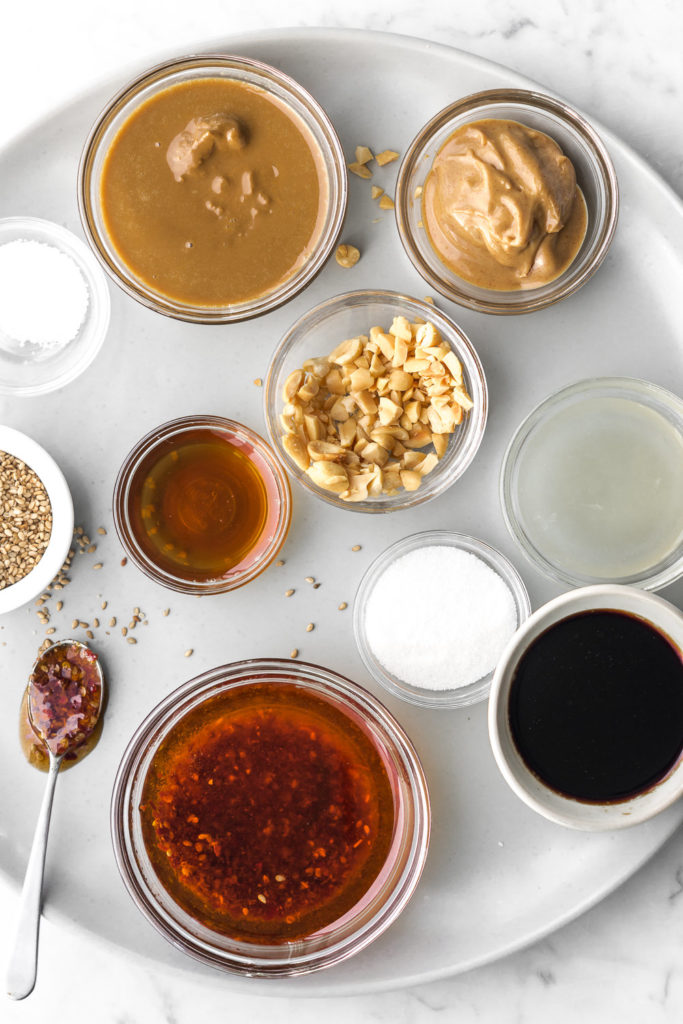 related recipes:
five spice grilled shrimp with sweet and sour sauce
grilled tamarind ginger chicken legs
spicy miso udon soup with vegetables
Print
cold spicy sesame peanut noodles
The cold sesame noodles are tossed with a spicy sesame peanut sauce, cucumbers, radishes and red bell peppers. Sichuan peppercorns give it a numbing spice and lime juice brightens the flavors.
Author:
Prep Time:

5 minutes

Cook Time:

10 minutes

Total Time:

15 minutes

Yield:

6

Category:

Side

Method:

Stovetop

Cuisine:

Asian
Ingredients
1

(9.5 oz) packet dried udon or ramen noodles

1 tbsp

plus 1 tsp toasted sesame oil, divided

¼ cup

Chinese sesame paste (can use tahini in a pinch, just add an extra teaspoon of toasted sesame oil)

2 tbsp

creamy peanut butter

¼ cup

sichuan chili oil, plus more for drizzling

1 tbsp

sugar

½ tsp

kosher salt

4 tbsp

low sodium soy sauce

2 tbsp

fresh lime juice

½

cucumber, sliced into matchsticks, seeds discarded

½

red bell pepper, sliced into matchsticks

3

radishes, cut into matchsticks

2 tbsp

toasted sesame seeds

¼ cup

chopped roasted peanuts
Instructions
Bring a large pot of water to a boil. Add noodles and cook according to package instructions. Noodles should be slightly chewy. Drain, rinse with cold water to stop the cooking, then toss with 1 tsp sesame oil.

Combine sesame paste, peanut butter, chili oil, remaining 1 tbsp toasted sesame oil, sugar, salt, soy sauce, and lime juice in a bowl or large measuring glass cup. Whisk to combine. Taste and add more chili oil or soy sauce if desired.

Place noodles, cucumber, bell pepper and radishes in a large bowl. Pour in sauce and toss to coat. Transfer to a serving bowl and top with sesame seeds, peanuts and a few drizzles of chili oil.
Nutrition
Serving Size:

⅙ of recipe

Calories:

372

Sugar:

4.6g

Sodium:

596mg

Fat:

27g

Saturated Fat:

4.8g

Unsaturated Fat:

20.7g

Trans Fat:

0g

Carbohydrates:

24g

Fiber:

3g

Protein:

11g

Cholesterol:

4.2mg
Keywords: spicy sesame noodles