Buttery smooth ahi tuna crudo is topped with charred corn, candied jalapeños and a cilantro lime dressing. Simple, fresh, and so good!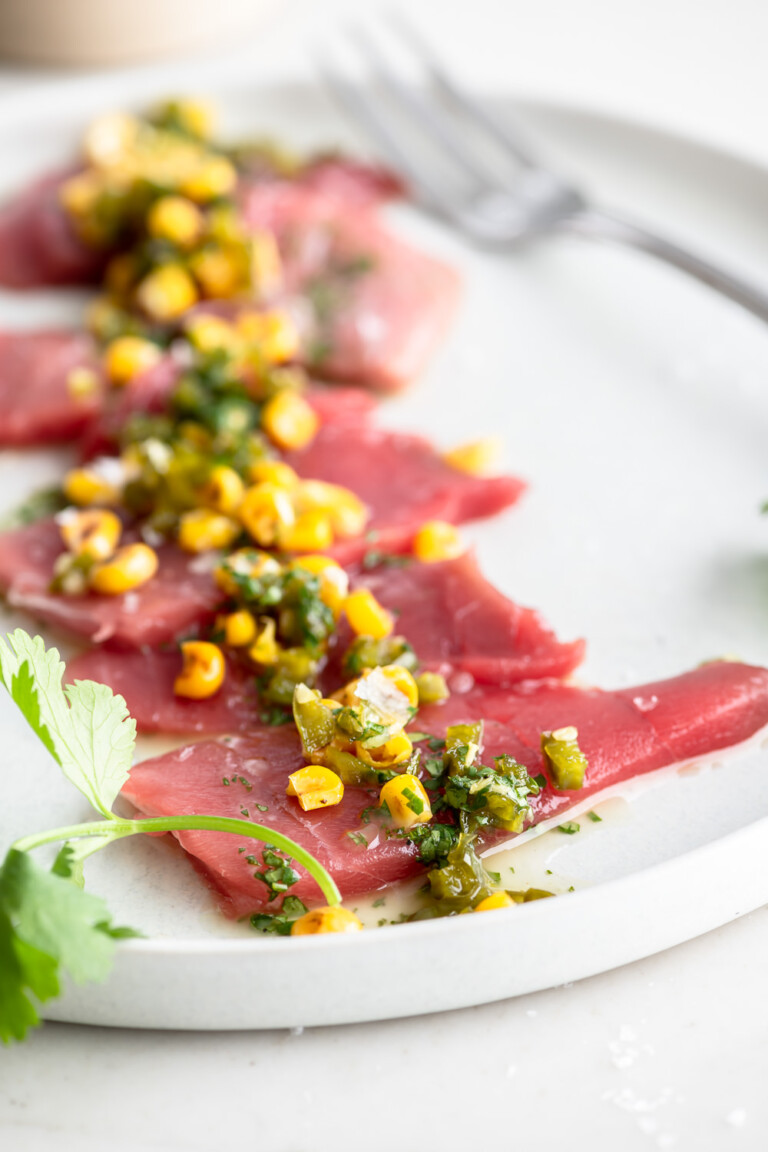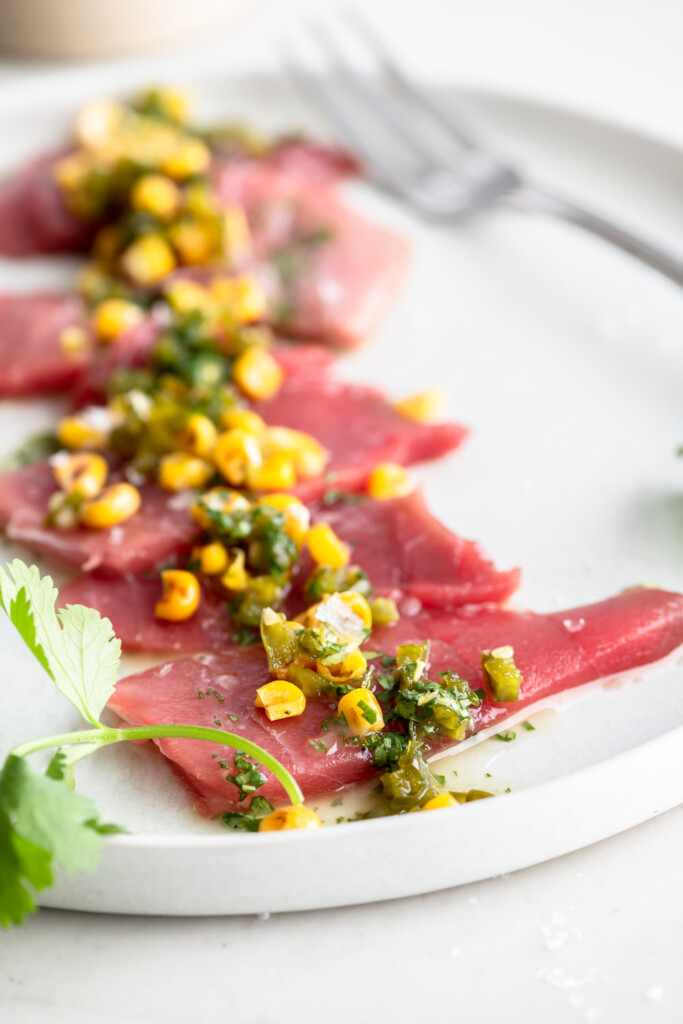 This ahi tuna crudo is an elegant and delicious appetizer! We take super fresh, sashimi-grade ahi tuna and slice it into thin strips. Then we top those tender slices with candied jalapeños and charred corn for a delicious sweet, spicy, smoky crunch. Finish it with a cilantro lime dressing and you've got a tuna crudo recipe to die for!
I love this tuna crudo so, so much. Striking the perfect balance in crudo can be tough. We want enough flavor and crunch to keep it interesting and delicious, without overpowering the delicacy of fresh fish. If you just want to really savor the fish, though, why not stick with sashimi?
Crudo is a way to explore flavors and textures outside of your everyday sushi world. And that gets me so excited.
I take this tuna crudo recipe on a southwest spin with jalapeños, cilantro, lime and charred corn. The toppings are light but impactful. There are a few steps to this recipe, but it can all be prepped ahead to make this crudo recipe super simple to toss together!
This post may contain affiliate links. As an Amazon Associate, I earn from qualifying purchases.
what is tuna crudo?
Tuna crudo is simply raw slices of tuna topped with anything! Crunchy vegetables, olives, nuts and citrus are common ingredients in crudo recipes.
The fun part of crudo is that your imagination is the limit. There are so many flavor directions to go! I'm a sucker for spice (who would've thought?) and love to use citrus to complement the raw fish, but literally, anything goes.
This is different from tuna sashimi, which is just raw tuna. The fish is savored for the quality and nuance of flavor and texture-- any additions are considered a distraction from the purity of the meat. Both have their place in this great big world of delicious food.
what you need for this tuna crudo recipe:
sushi-grade tuna
jalapeño
corn
cilantro
white vinegar
lime juice
olive oil
sugar
flaky salt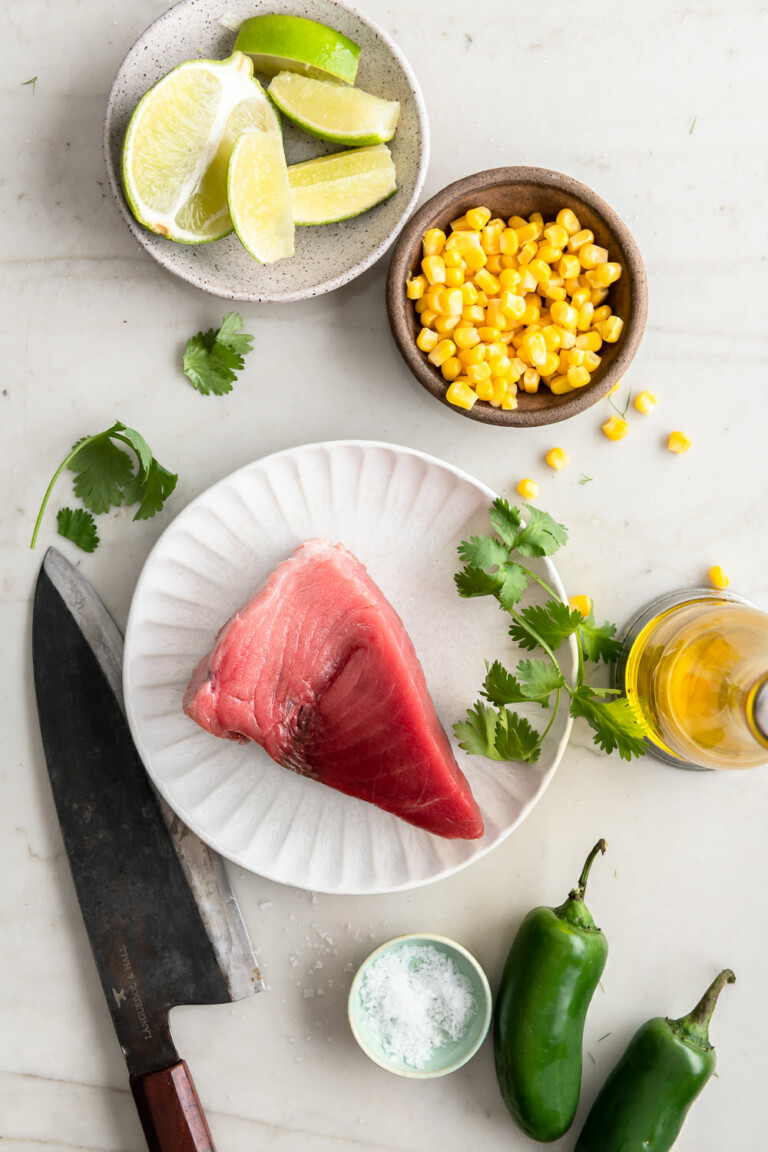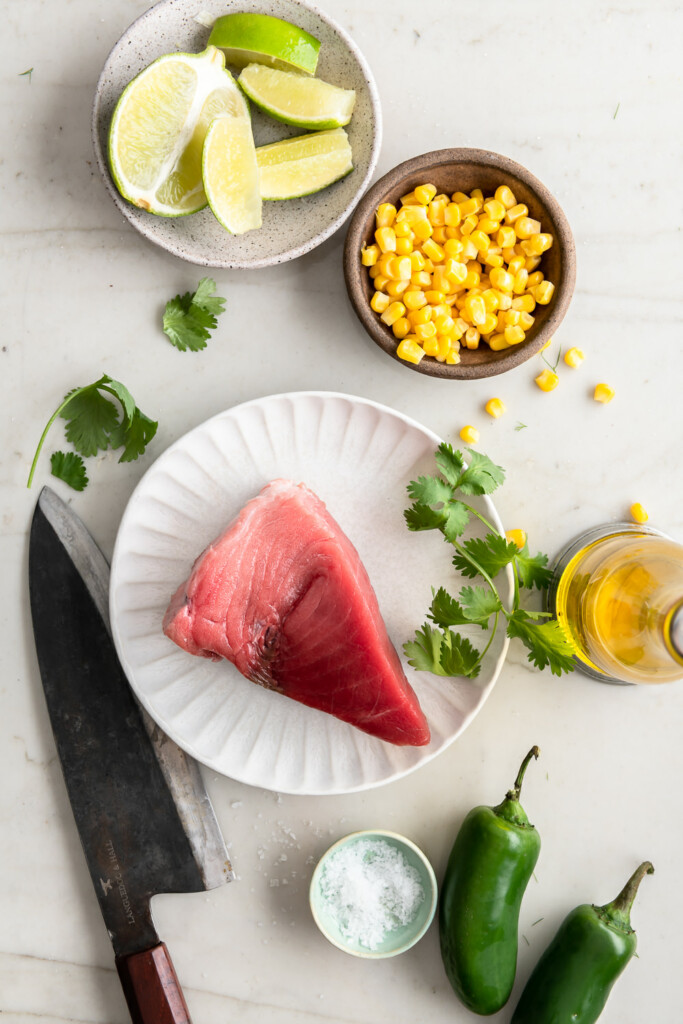 how to make tuna crudo:
Make candied jalapeños (leave the seeds in for extra heat); let cool.
Char the corn kernels.
Whisk together a quick dressing (lime juice, really good olive oil, cilantro).
Slice the fish, arrange on a platter (manipulate the tuna as little as possible. The more you move and mess with the fish, the more the texture will break down and be damaged).
Top with candied jalapenos and charred corn.
Drizzle with dressing and sprinkle wth flaky salt.
Enjoy immediately!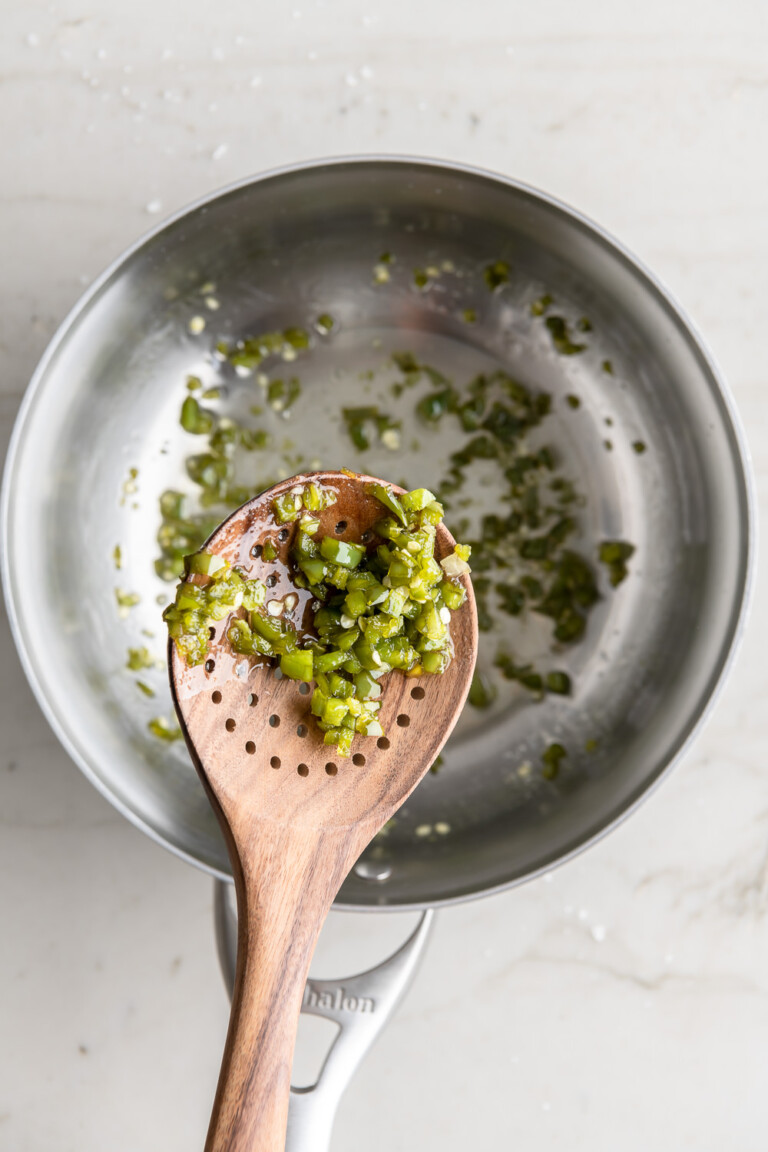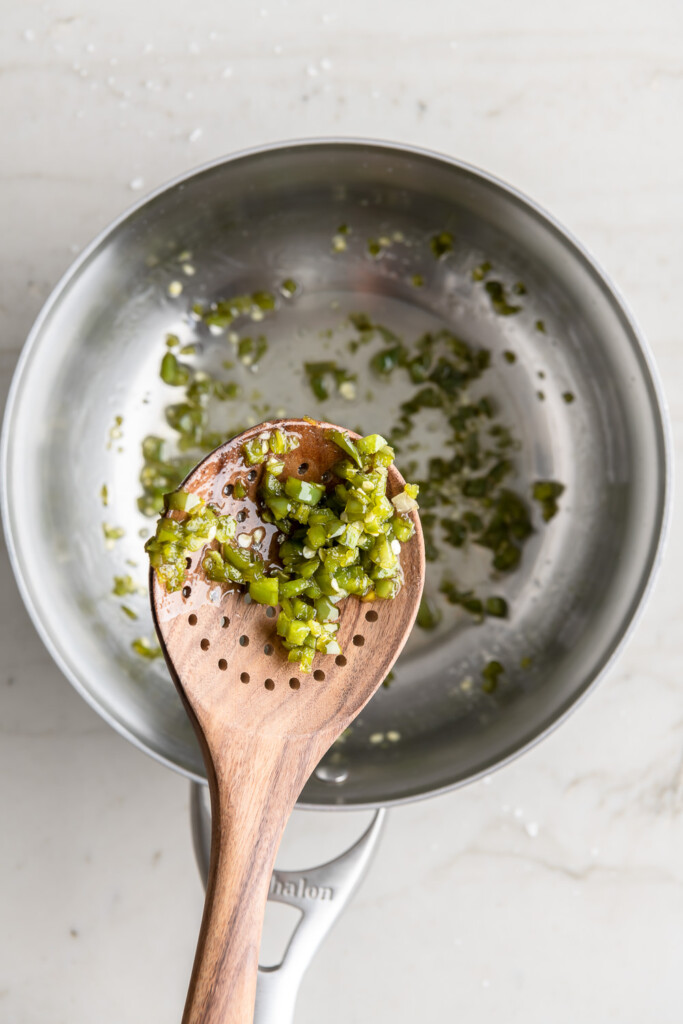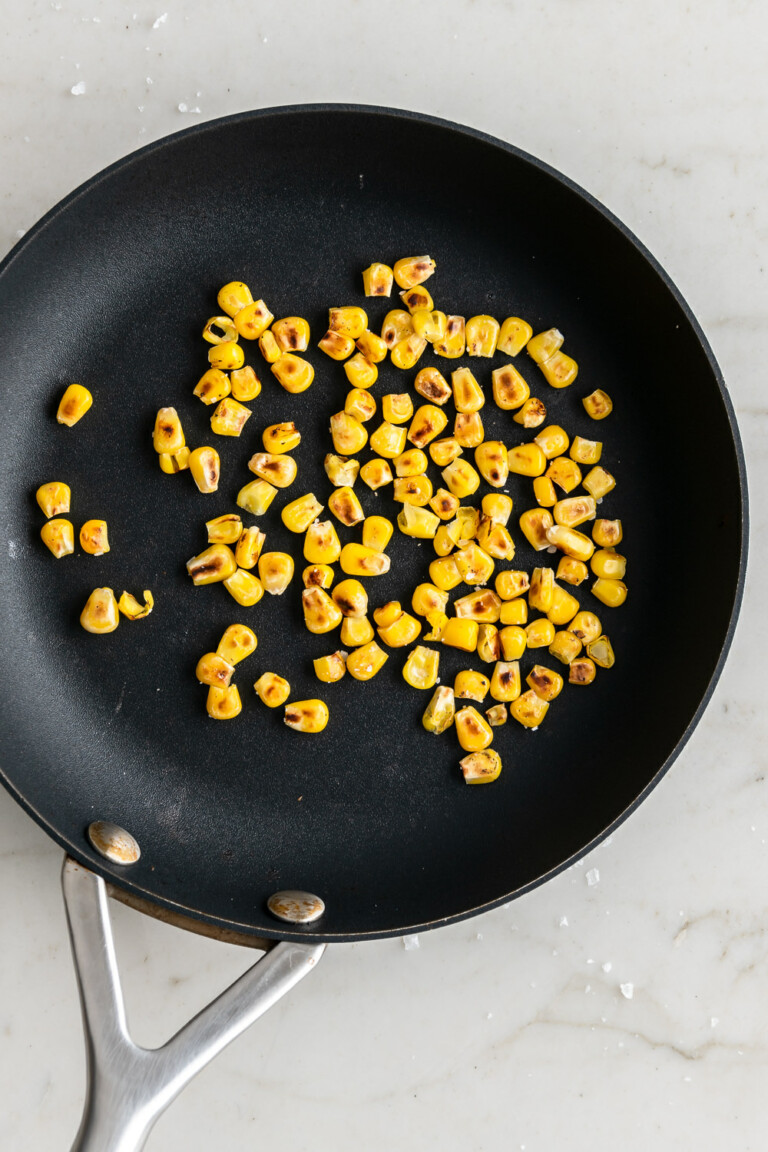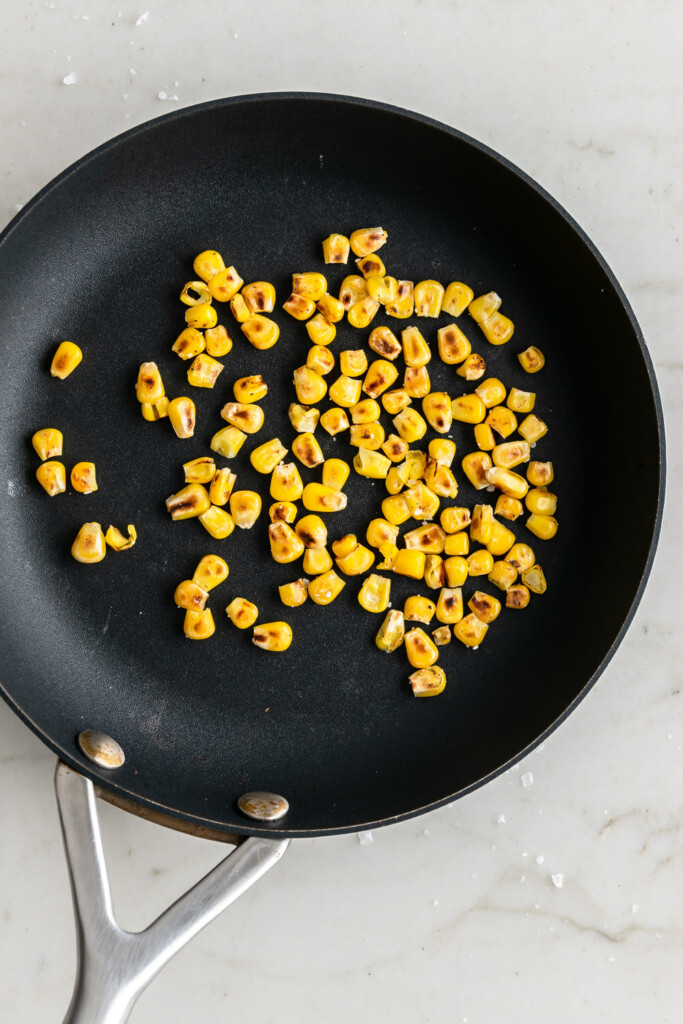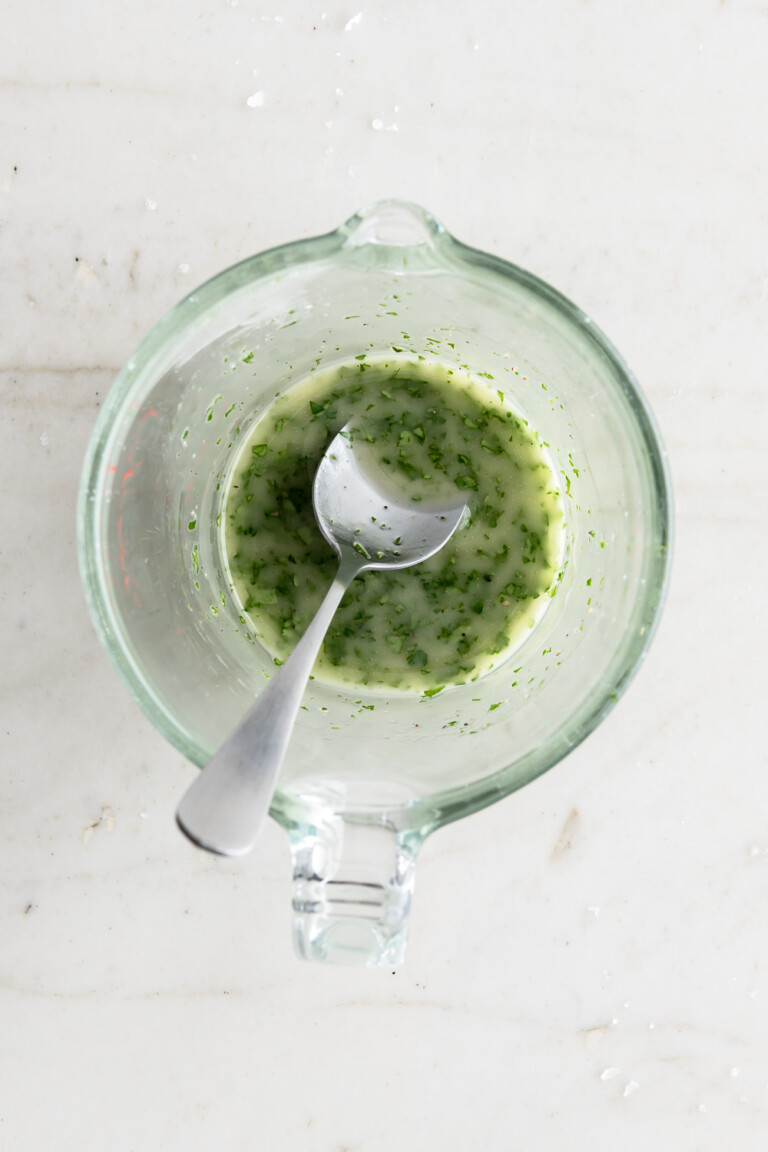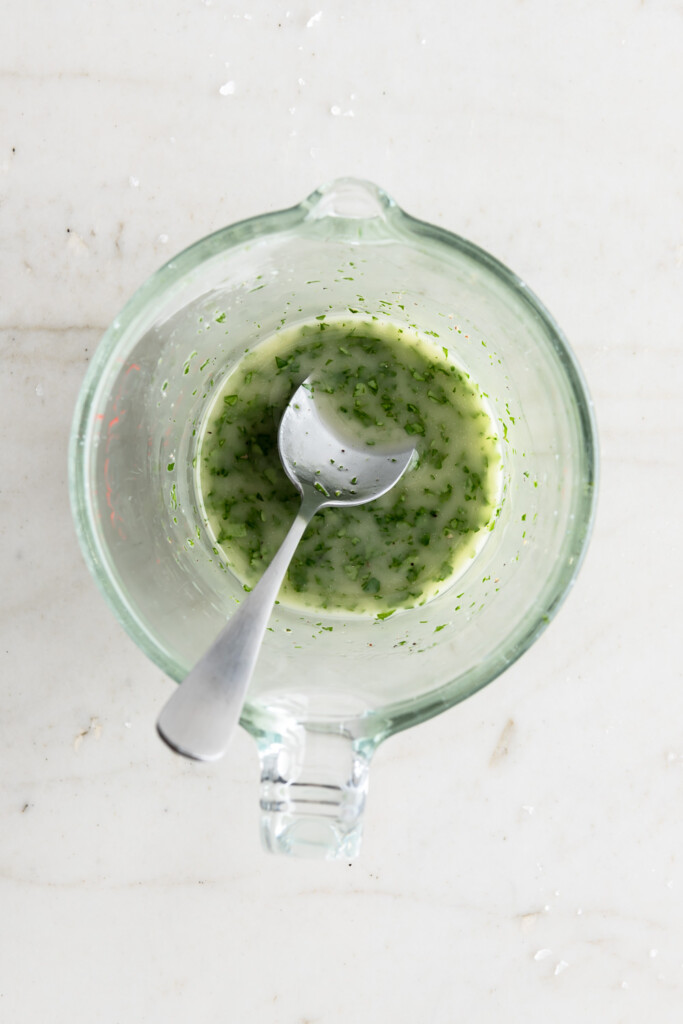 how to buy tuna for crudo:
Whenever you want to purchase seafood for raw consumption, always buy it from a reputable fish market with a high turnover.
Tell the fishmonger you're looking for tuna to consume raw and they'll give you their highest-quality fish. You can say sashimi-grade for clarity, but know that the term legally means nothing.
There are 4 species of tuna that are typically eaten raw: bluefin, bigeye, yellowfin (ahi), and albacore. They live in different oceans, in different water temperatures and thus vary in size, texture, flavor, and price! All will work great for tuna crudo.
Ask for a loin piece, not belly. The belly is the fattiest, most expensive part, and it's prized for savoring straight-up as sashimi.
Don't get caught up on color. Most deep red, fluorescent-colored tuna has been treated with carbon monoxide and the fish itself is not necessarily good.
The fish should smell clean, not fishy, and be firm, not spongy or sticky.
Frozen is not bad! Blast-frozen fish is rapidly frozen immediately after being caught, so it's super fresh AND the process kills off any potential parasites. Just thaw it in the fridge overnight and enjoy!
Transport the fish on ice to keep it as cold as possible.
Plan to eat it the day you bring it home.
If you have a compromised immune system (sick, pregnant, young or old), it's recommended to avoid consuming raw fish.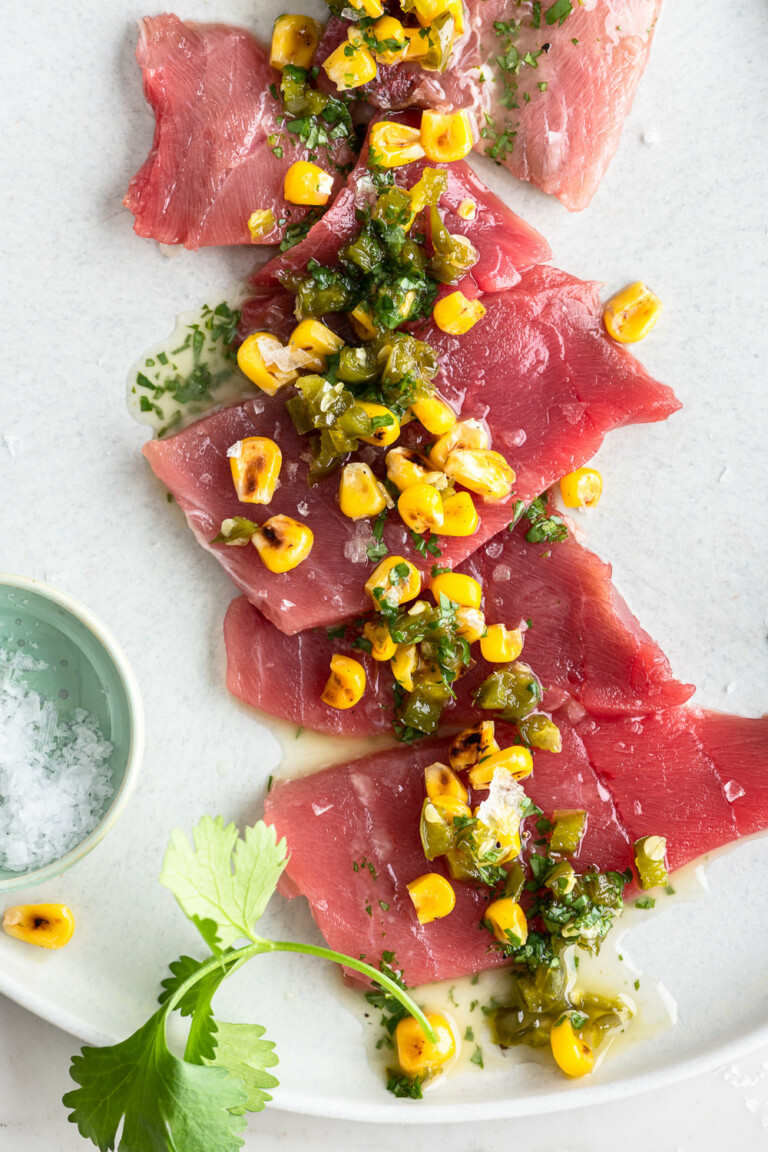 best ways to prep tuna for crudo:
Use the fish the day you buy it.
Use a super clean work surface and a sharp chef's knife. If you know how, sharpen your knife before you start!
Slice the tuna against the grain for the best texture.
Cut straight down, pulling the knife towards you (avoid a sawing motion). Let the whole blade of the knife do the work-- don't press down too hard or you'll just smoosh the fish.
Pop the fish in the freezer for 5- 10 minutes to firm up if you're struggling to get clean, even slices.
Wipe your knife down every few slices to clean off any build-up and gumminess.
Slice, transfer to the platter and leave it alone! The more you move it, the more the fragile structure will break down.
¼-inch thick is a great thickness for raw yellowfin tuna. The texture is tender, smooth and soft.
Keep it cold and eat it right away.
what to serve with tuna crudo:
Ahi tuna (also known as Yellowfin) is smooth, tender, and relatively mild flavored. The meaty consistency holds up well to fuller-bodied white wines. The charred corn, fresh lime, and candied jalapeños add intense flavors that need an equally intense wine!
Wine to try: Viognier from Northern Rhone (France), North Coast of California, or Eden Valley (South Australia): Oily, rich, full-bodied white wine with intense stone fruit, honey, and floral flavors.
I love to serve tuna crudo as an elegant appetizer. Round out the spread with some avocado salsa, whipped feta dip, and prosciutto bruschetta!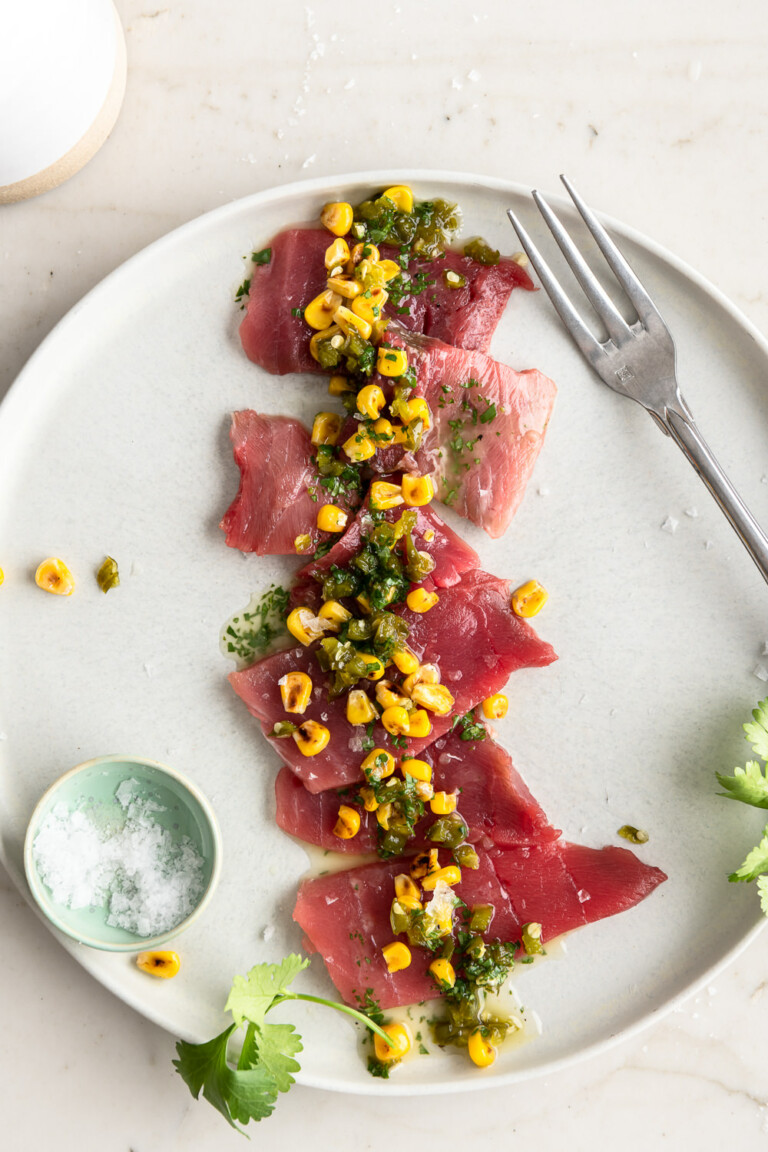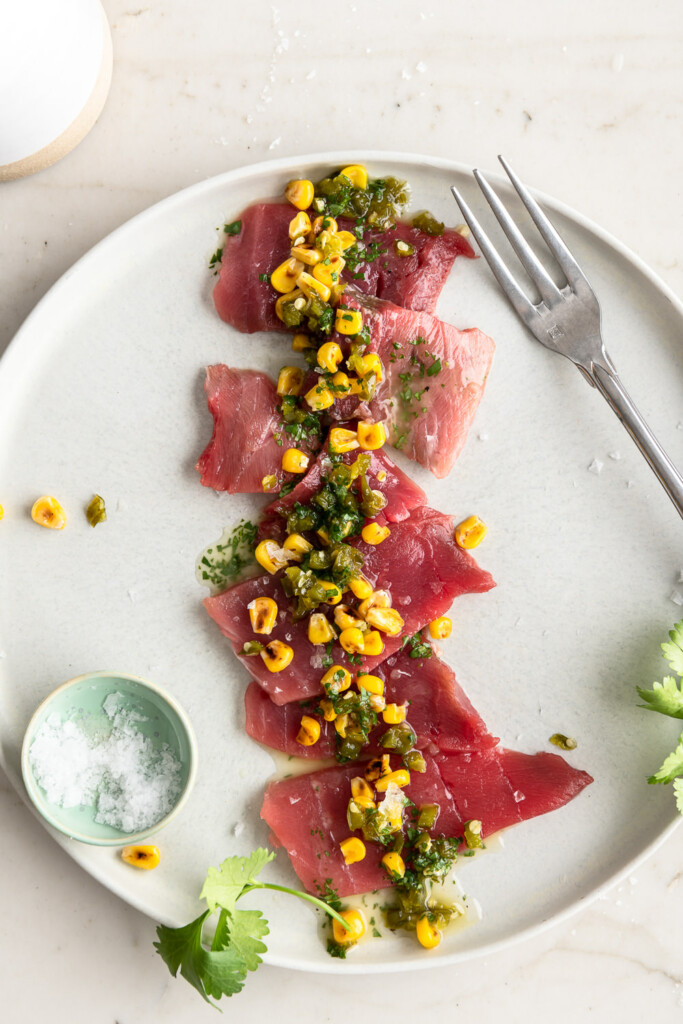 more raw fish and crudo recipes to try:
Print
tuna crudo (sweet and spicy!)
Buttery smooth ahi tuna crudo is topped with charred corn, candied jalapeños and a cilantro lime dressing. Simple, fresh, and so good!
Author:
Prep Time:

10 minutes

Cook Time:

10 minutes

Total Time:

20 minutes

Yield:

4

Category:

Appetizer

Method:

Cut

Cuisine:

American

Diet:

Gluten Free
Ingredients
2 tbsp

white vinegar

¼ cup

sugar

1

jalapeño, chopped (seeds removed, if desired)

¼ cup

corn kernels, fresh or frozen
Kosher salt, to taste
Freshly ground black pepper, to taste

8 oz

sushi-grade skinless, boneless ahi tuna

1 tbsp

fresh-squeezed lime juice

2 tbsp

extra-virgin olive oil, plus more for drizzling

1 tbsp

minced fresh cilantro
flaky salt
Instructions
Combine vinegar and sugar in a small saucepan over medium heat. Bring to a boil and cook, stirring constantly, until sugar is fully dissolved. Add jalapenos, return to a simmer, and cook for 2 minutes. Use a slotted spoon to transfer pepper slices to a plate to cool.
Place corn kernels into a small skillet over high heat; season with salt and pepper. Cook 1- 2 minutes undisturbed, until charred, then stir and cook another few minutes until roasted. Transfer to a plate to cool.
Using a very sharp knife, slice tuna against the grain into ¼-inch thick slices. Arrange on a platter in a decorative fashion. 
Combine lime juice, olive oil, cilantro, salt, and pepper in a small bowl. Whisk until combined. 
Top tuna with candied jalapeños and charred corn. Drizzle with dressing and sprinkle with flaky salt. Serve immediately.
Notes
Nutritional information is only an estimate. The accuracy of the nutritional information for any recipe on this site is not guaranteed.
Nutrition
Serving Size:

1

Calories:

194

Sugar:

13g

Sodium:

177mg

Fat:

7.2g

Saturated Fat:

1.1g

Unsaturated Fat:

5.9g

Trans Fat:

0g

Carbohydrates:

15g

Fiber:

0.3g

Protein:

17g

Cholesterol:

27mg