Homemade peanut brittle is a crunchy old-fashioned hard candy brimming with roasted peanuts, butter, and sweet vanilla. Baking soda produces a fine foam, which gives the peanut brittle a perfectly delicate crunch.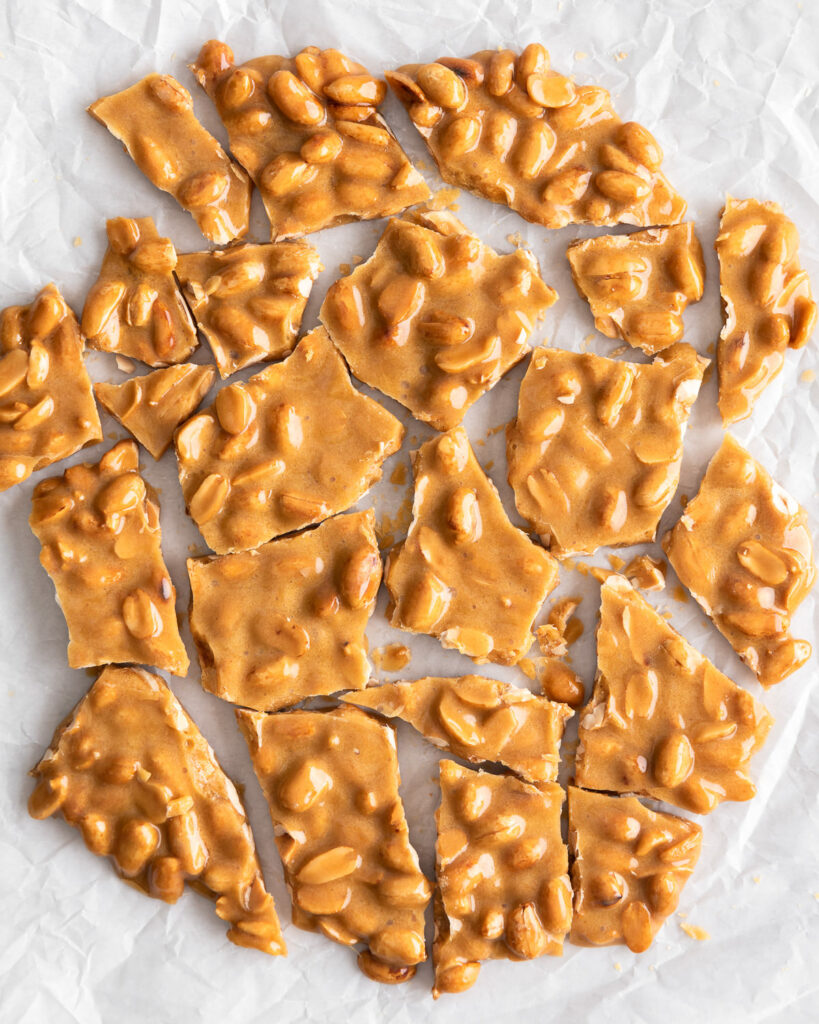 This post may contain affiliate links. As an Amazon Associate, I earn from qualifying purchases.
This sweet, crunchy homemade peanut brittle will be your go-to Christmas candy! It's an old-fashioned candy that everyone knows and loves, but this peanut brittle recipe is like no brittle I've had before.
The flavor is richer and more caramelized, the crunch is perfectly delicate. The smell is out of this world. It fills your house with notes of caramel, toffee, vanilla, butter.
Once you start eating the roasted peanut candy, with its sweet toffee-like coating and hint of salt, you'll need to get it OUT of the house and quickly. Or accept that you'll probably just eat the whole batch. And love every bite.
I'll break down why this is the best peanut brittle recipe below, but in the meantime I want you to know it couldn't be simpler. Go find some really good blanched peanuts and a reliable candy thermometer, and get to work making this old-fashioned peanut brittle!
what is peanut brittle?
Peanut brittle is an old-fashioned hard candy that is cooked with peanuts until nutty, brown, and caramelized. A touch of vanilla and butter round out the flavors, and baking soda adds a very light foam that adds a perfectly delicate crunch.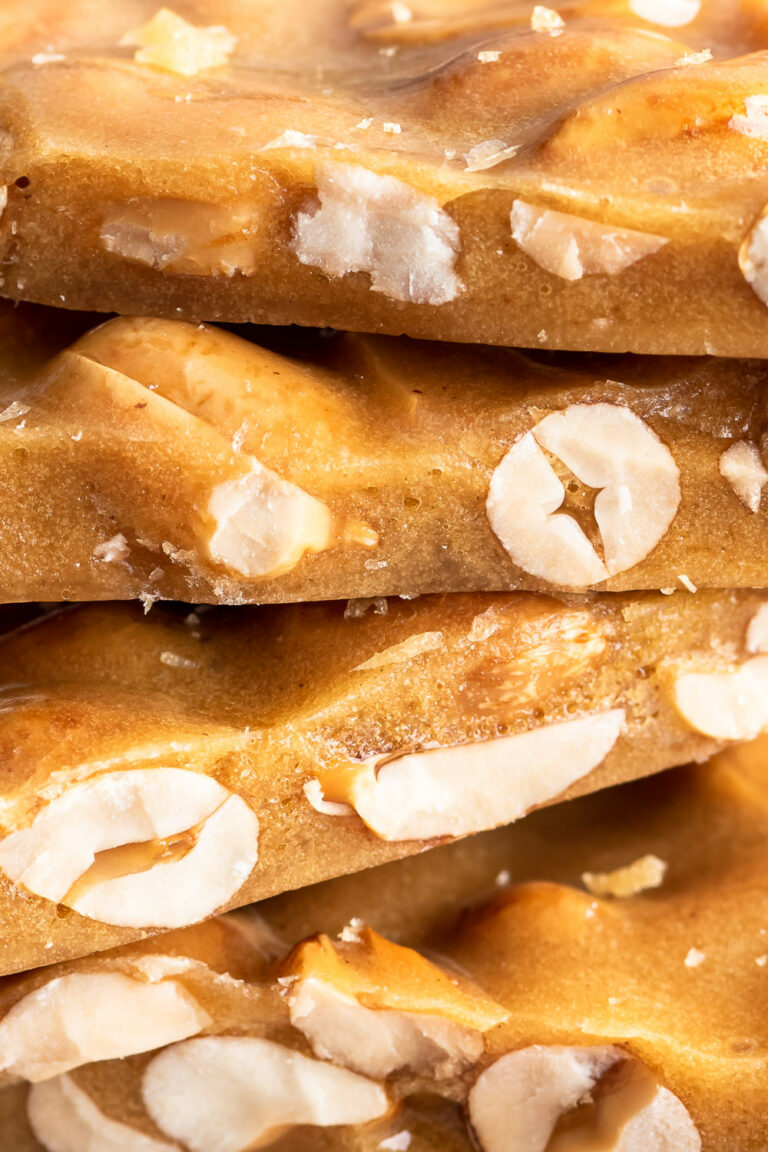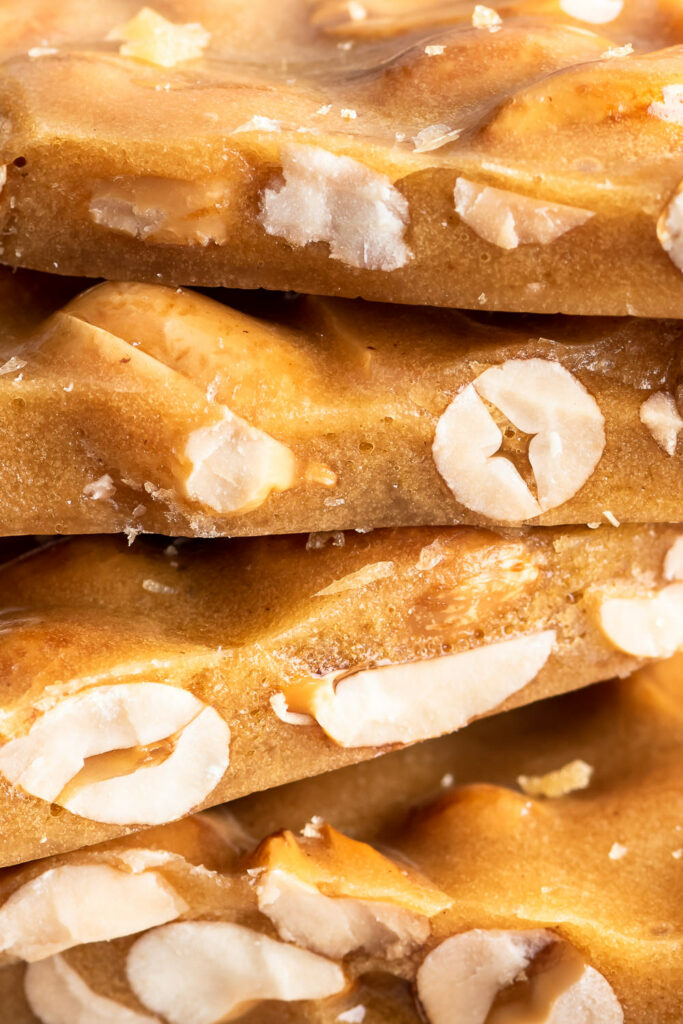 homemade peanut brittle is easy:
Growing up, my mom always made old-fashioned candy over the holidays. Usually it was clear-as-glass anise candy that we always loved to tint red for Christmas. What really sticks with me, though, was her old-school technique. She would calmly drop globs of hot syrup in ice water, then test the consistency to know what stage the candy was at. Literally: did the blob of syrup turn into a hard ball or not.
It takes a lot of experience to feel confident with that method and not freak out about how fast the molten-hot syrup is bubbling, if it's overcooking, if the ball is actually hard or is it sort of hard, and ultimately, will it pull out Papa's dentures? You get the point.
Thankfully, we've come a long way since the 60s and we can all have an accurate, fast, digital thermometer on our doorstep, in a day, for less than $20.
A good thermometer will change the way you think about making candy!
It's all very simple. Read and understand the process, prepare your ingredients and tools, then execute the plan.
Follow this post and hopefully you won't just make killer peanut brittle just like the candy shops, but you'll get the bug to make all kinds of amazing homemade candy at home!
what you need for this peanut brittle recipe:
Raw blanched peanuts
Sugar
Corn syrup
Baking soda
Butter
Vanilla extract
Salt
Water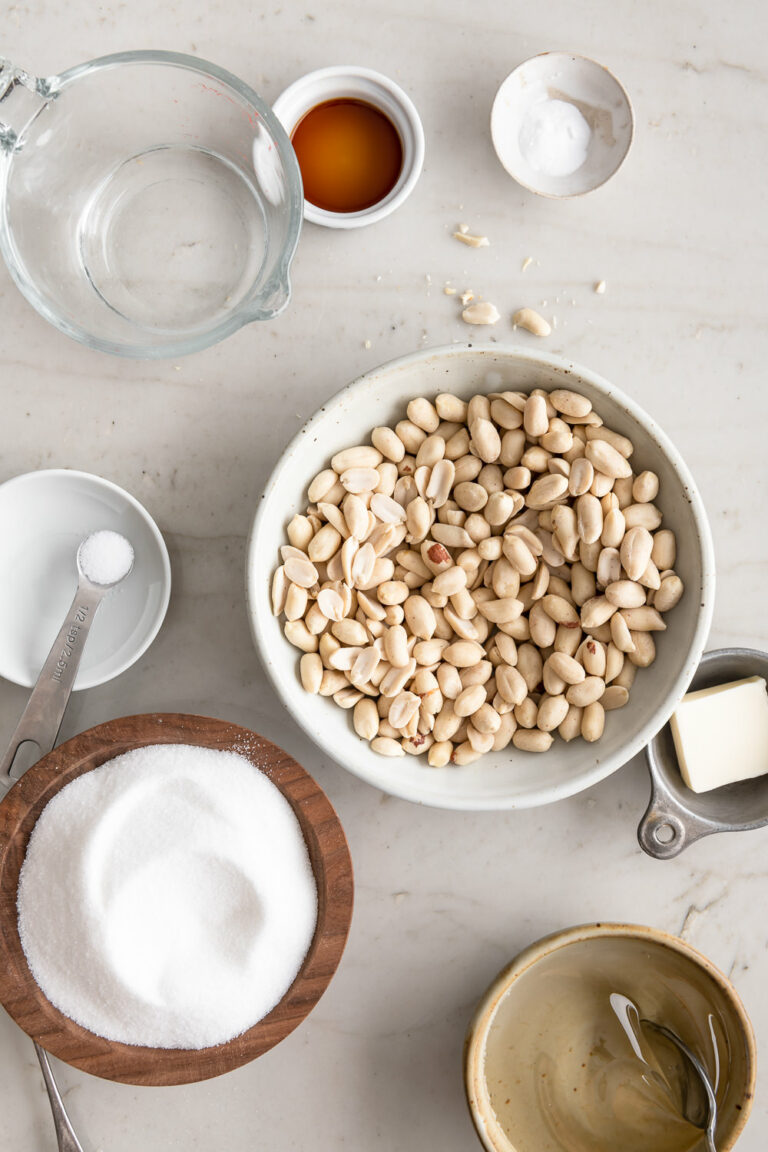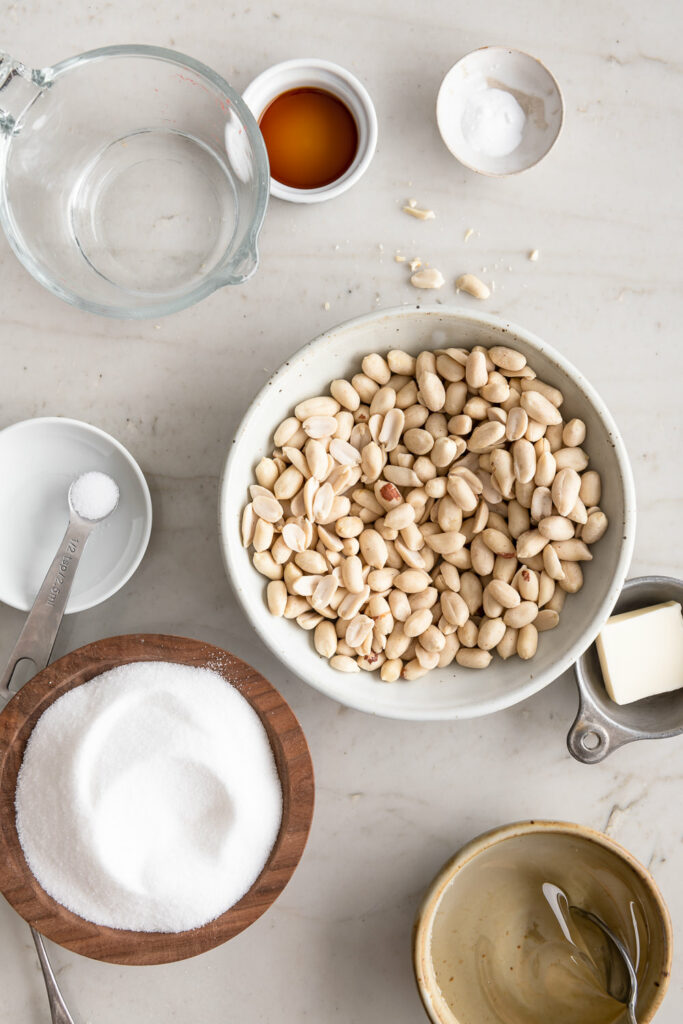 how to make peanut brittle:
Heat sugar and water until dissolved.
Add corn syrup and bring to a boil.
Cook syrup to the softball stage.
Add peanuts and cook, stirring, to the hard crack stage.
Stir in butter, vanilla, and salt.
Stir in baking soda.
Pour onto a buttered sheet pan and spread to ¼-inch thick.
Let cool completely; break into pieces.
Wrap tightly in plastic or store in an airtight container.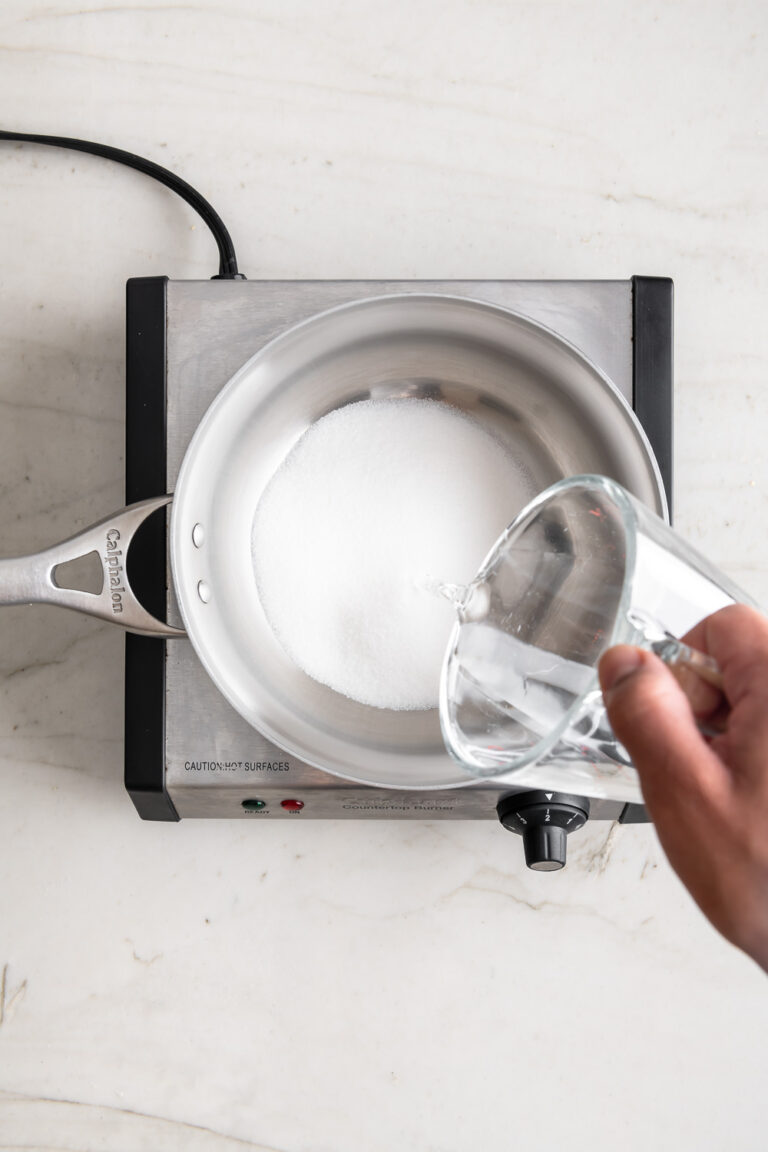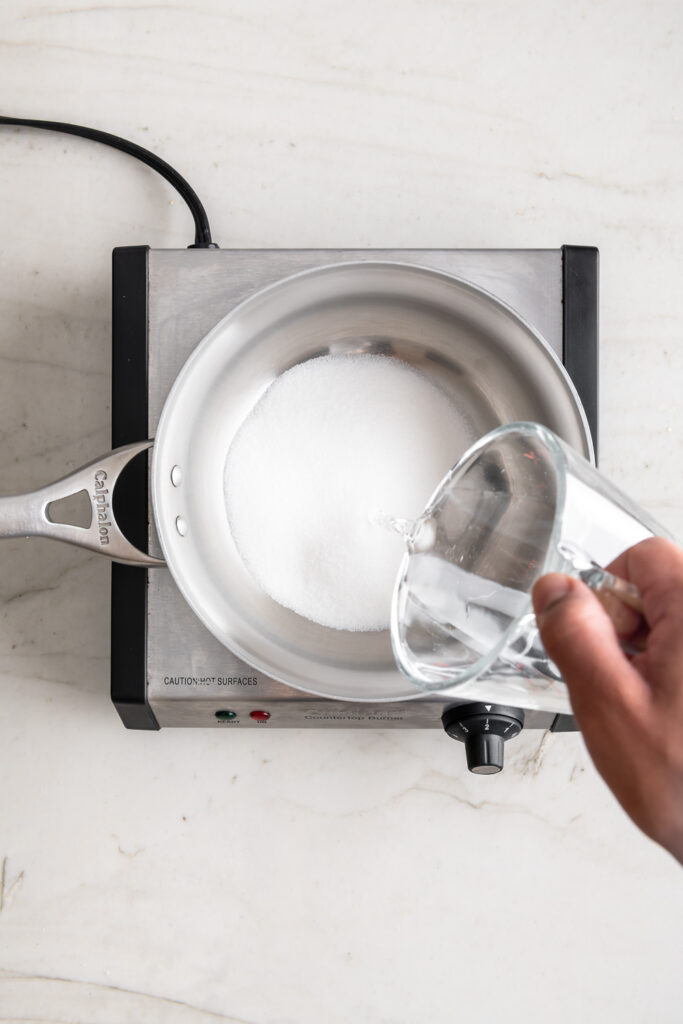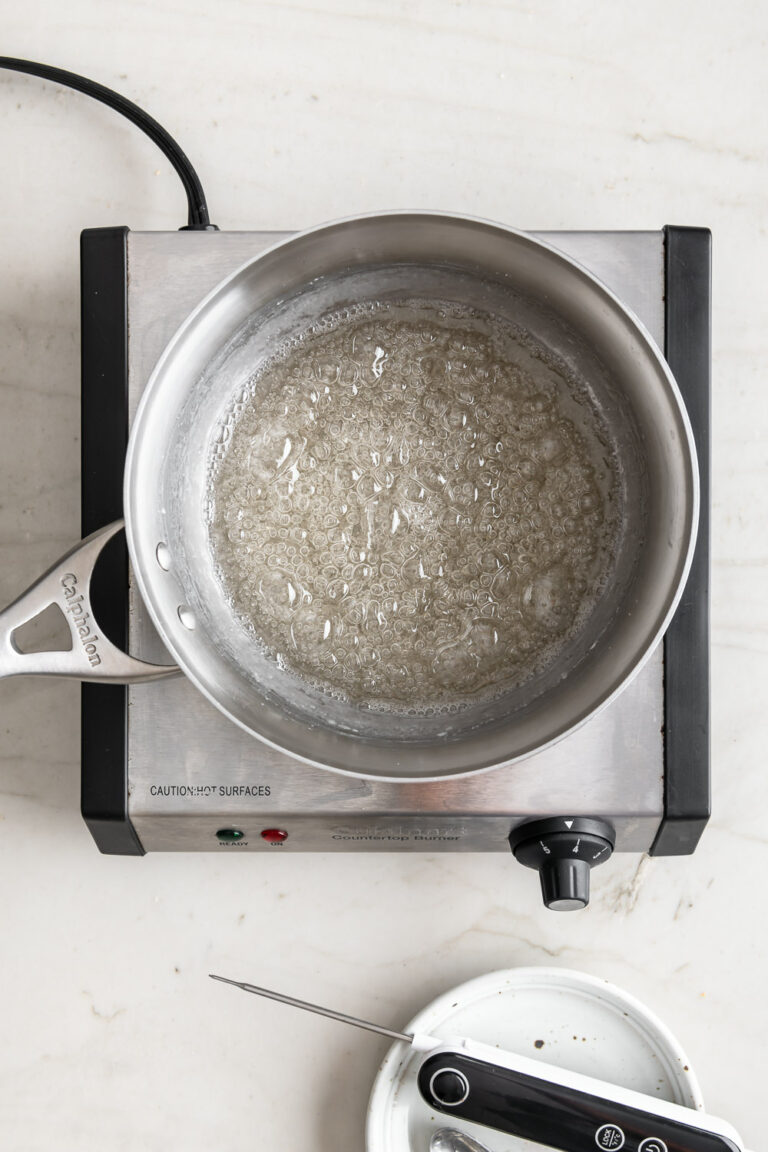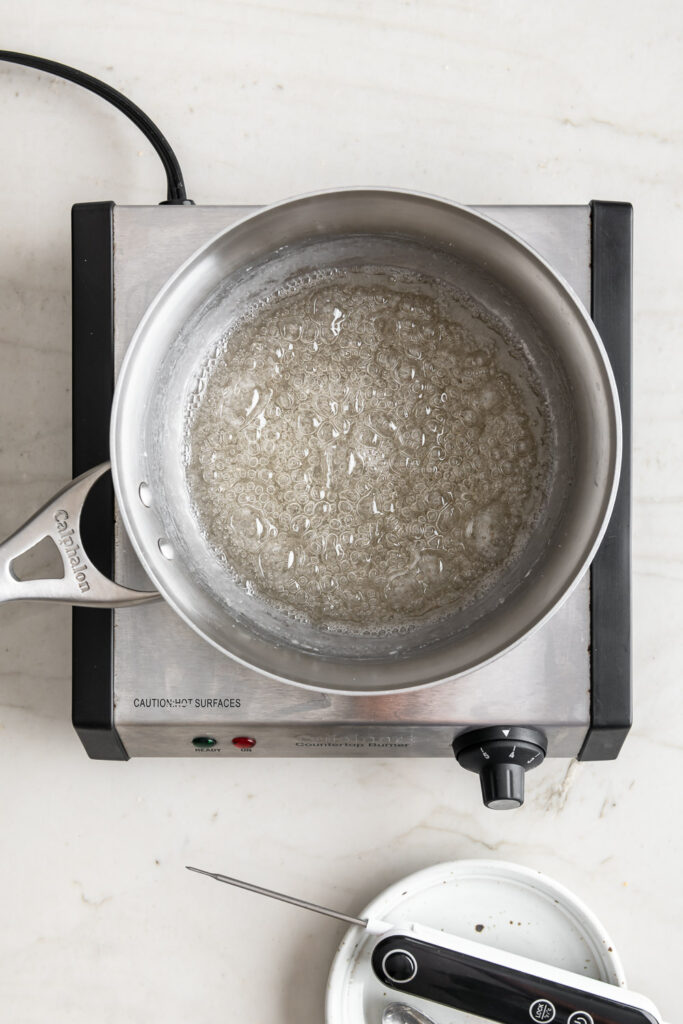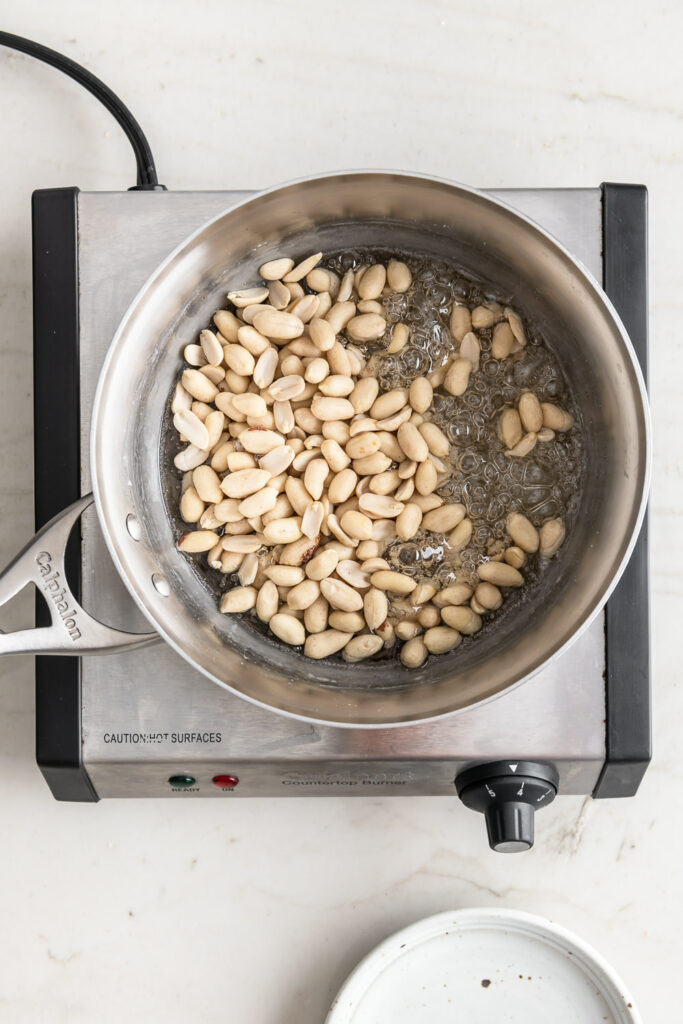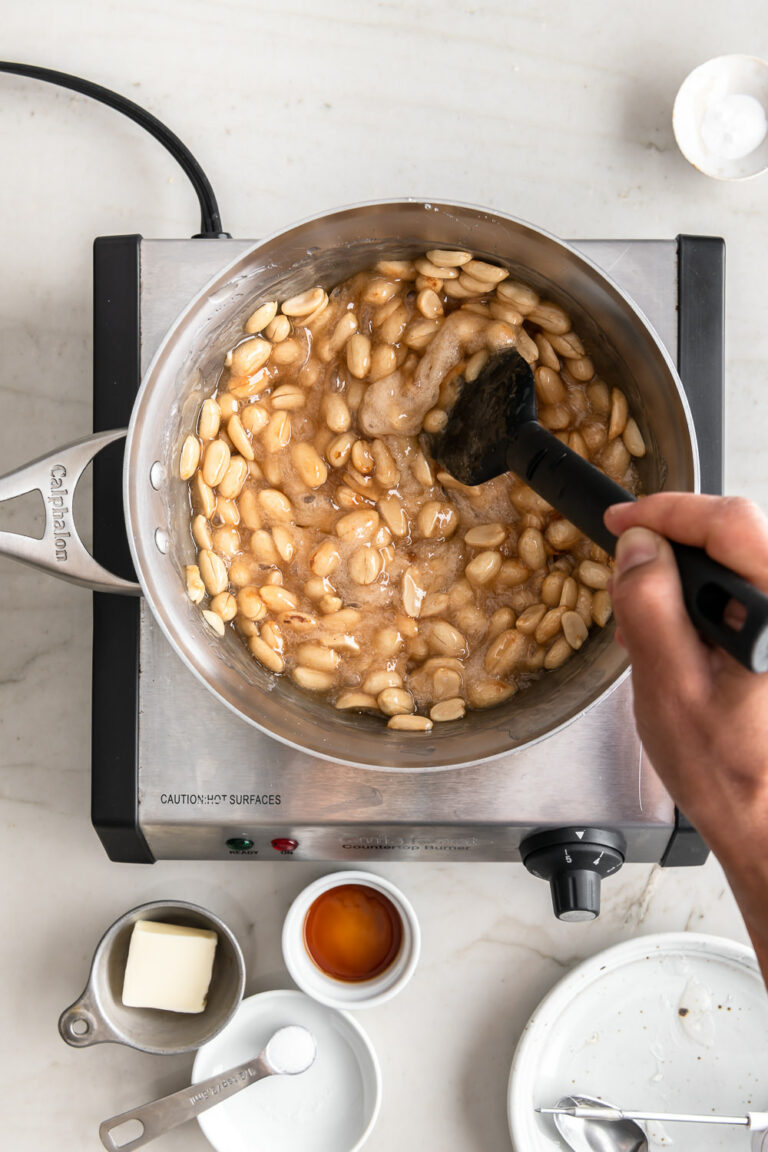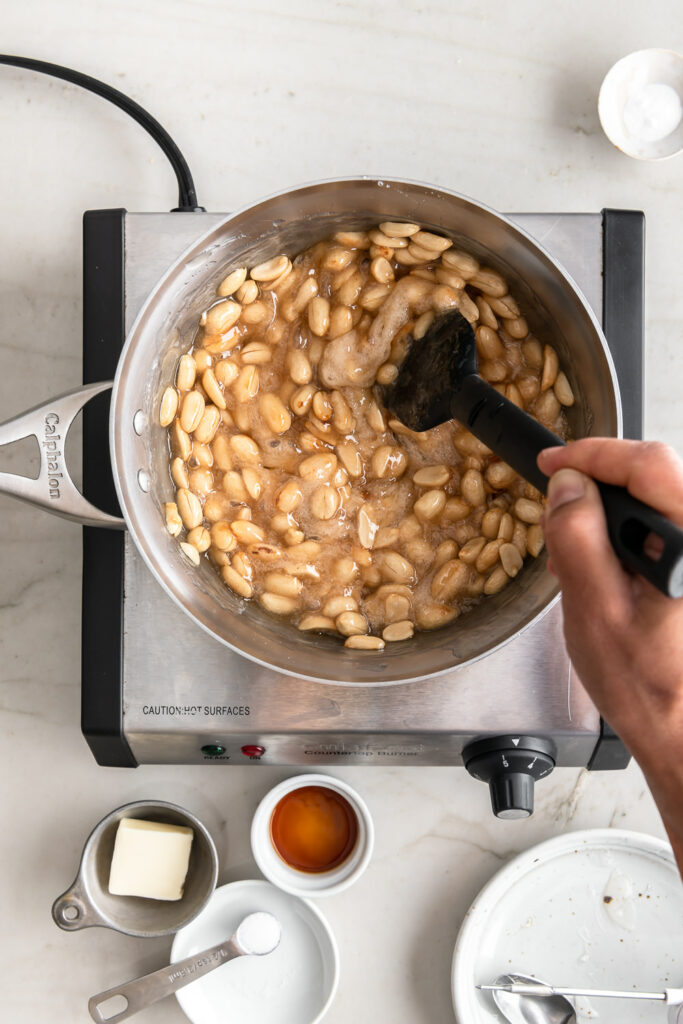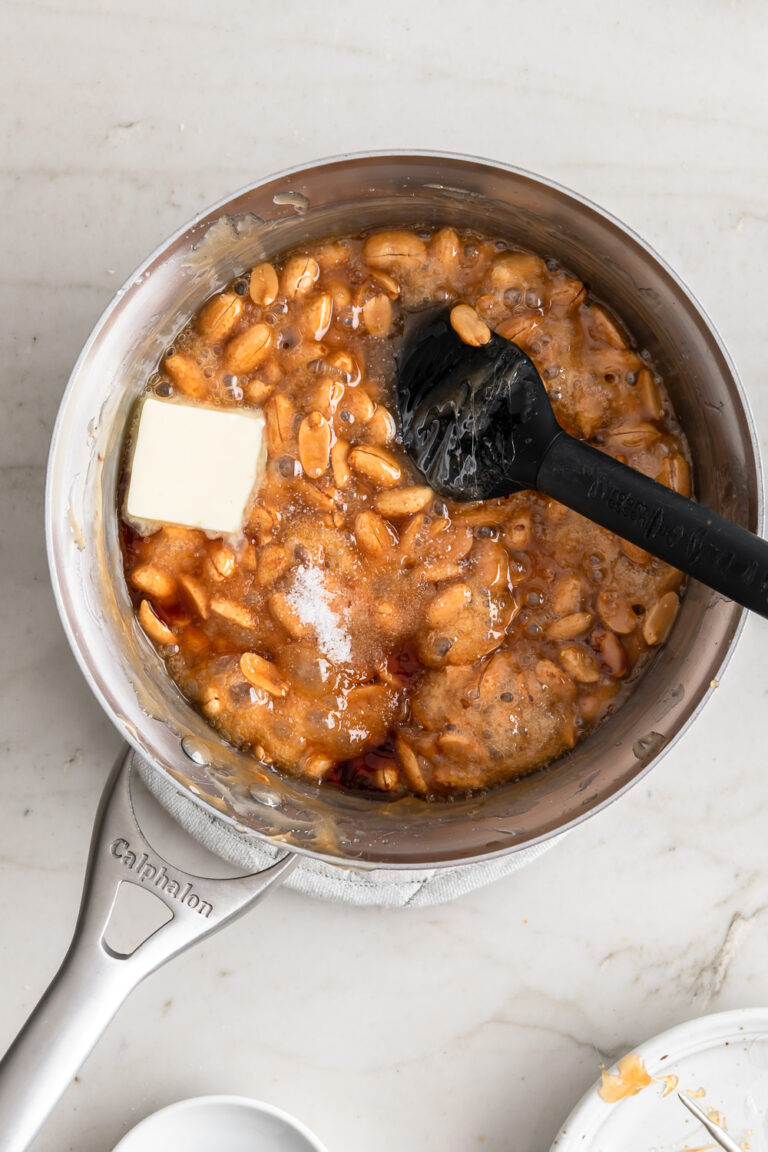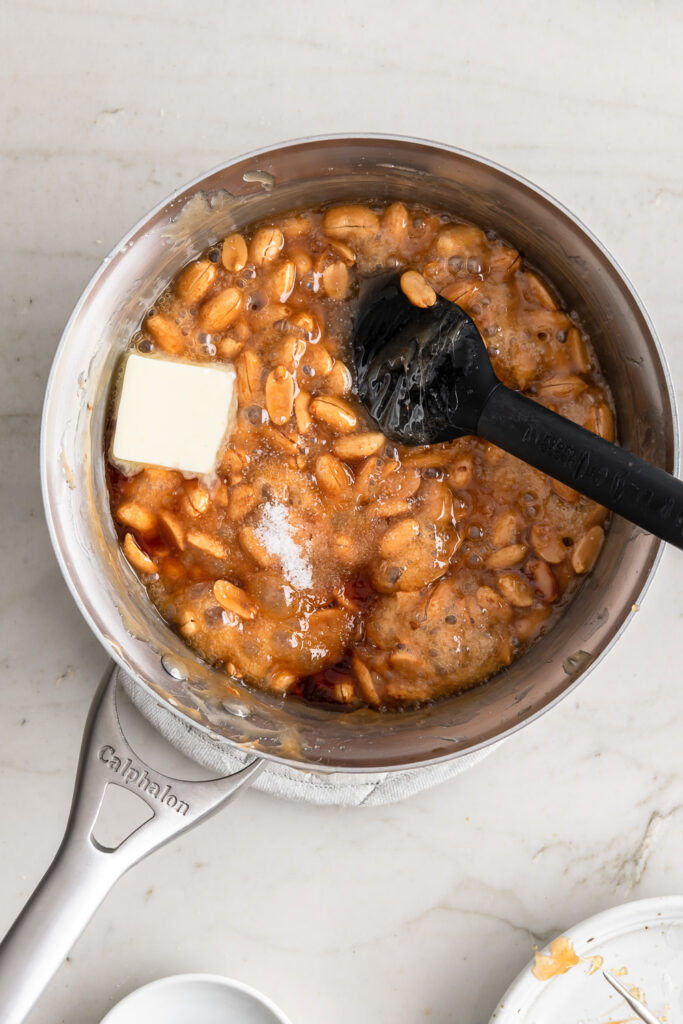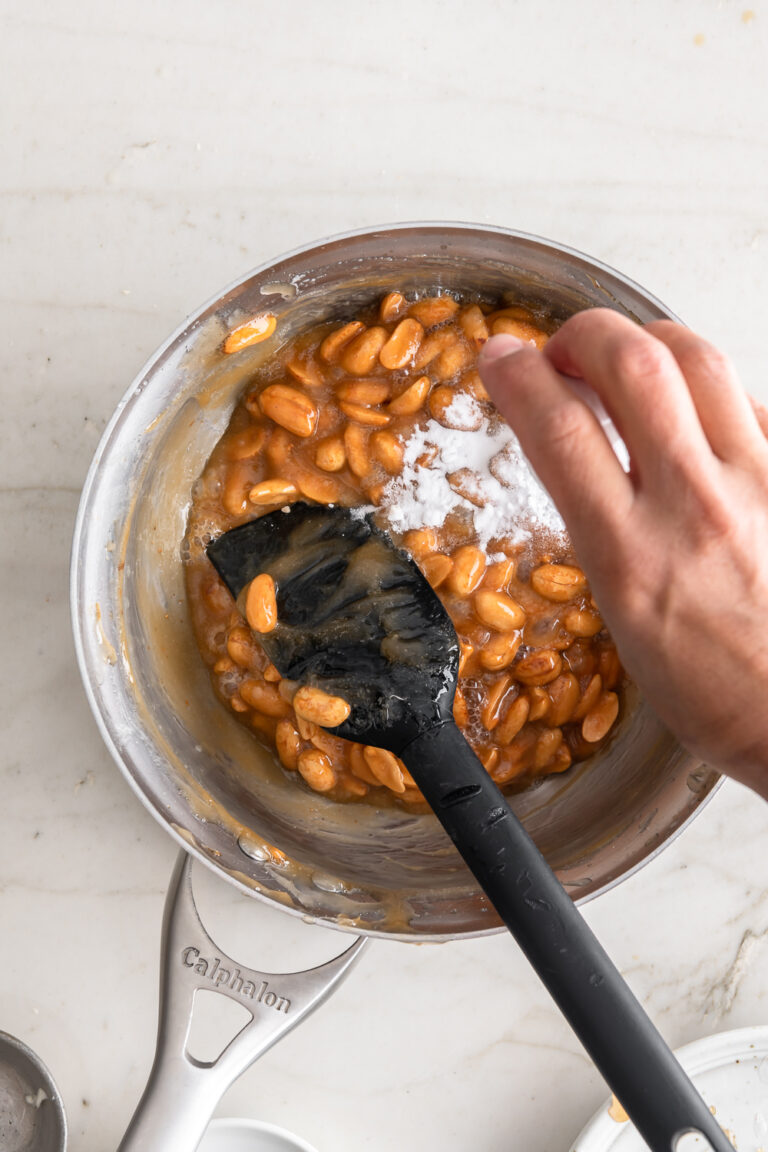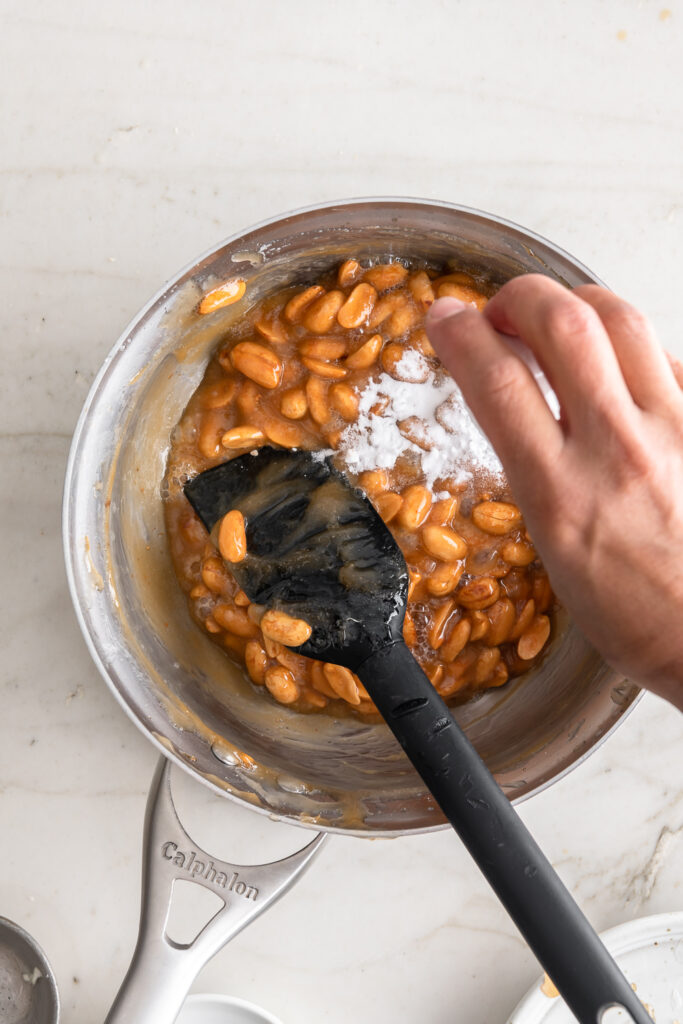 a little about the ingredients:
Sugar: The workhorse of homemade candy. Use regular granulated sugar here.
Water: Hard candies like peanut brittle require just enough water to dissolve the sugar. Nearly all of the water will evaporate during the cooking process.
Corn syrup: Crucial crystal-blocker or "doctoring agent". Without glucose syrup, the peanut brittle will recrystallize and develop a crumbly, gritty texture. Read more about corn syrup below.
Peanuts: Use the raw, blanched peanuts. They cook in the syrup and will develop plenty of roasted, nutty caramelized flavor from the candy making process itself. I love to get blanched peanuts from nuts.com. They're big, beautiful, fresh, and extra peanutty.
Baking soda: This is the key to great brittle. Baking soda aerates the candy. It reacts with the slightly acidic syrup to create a fine foam. When the candy hardens, these tiny bubbles give the candy a delicate "brittle" bite.
Butter: Buttery flavor and richness. Unlike a lot of peanut brittle recipes out there, this one only uses a pat of butter. There's no worrying about greasy brittle, or peanut brittle that separates. It's there for the delicious flavor and that's enough.
Vanilla extract: Sweet, warm, cozy vanilla flavor! Use real vanilla extract for the most complex and delicious aroma.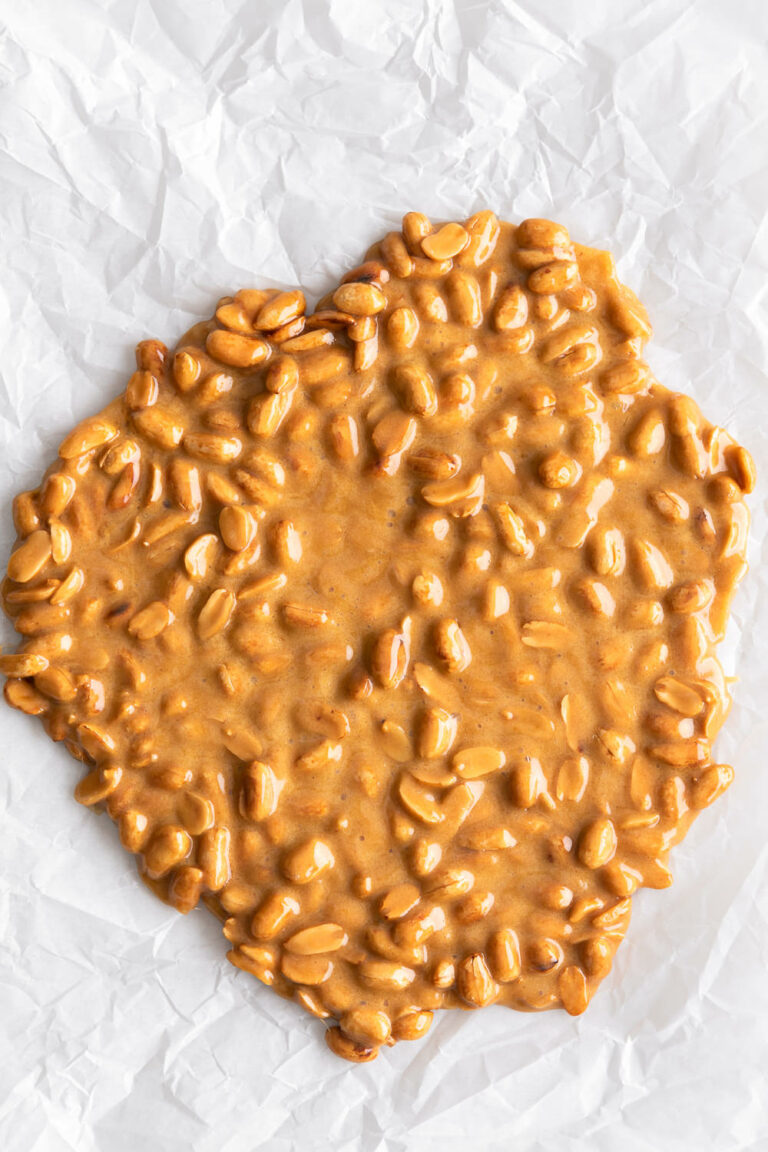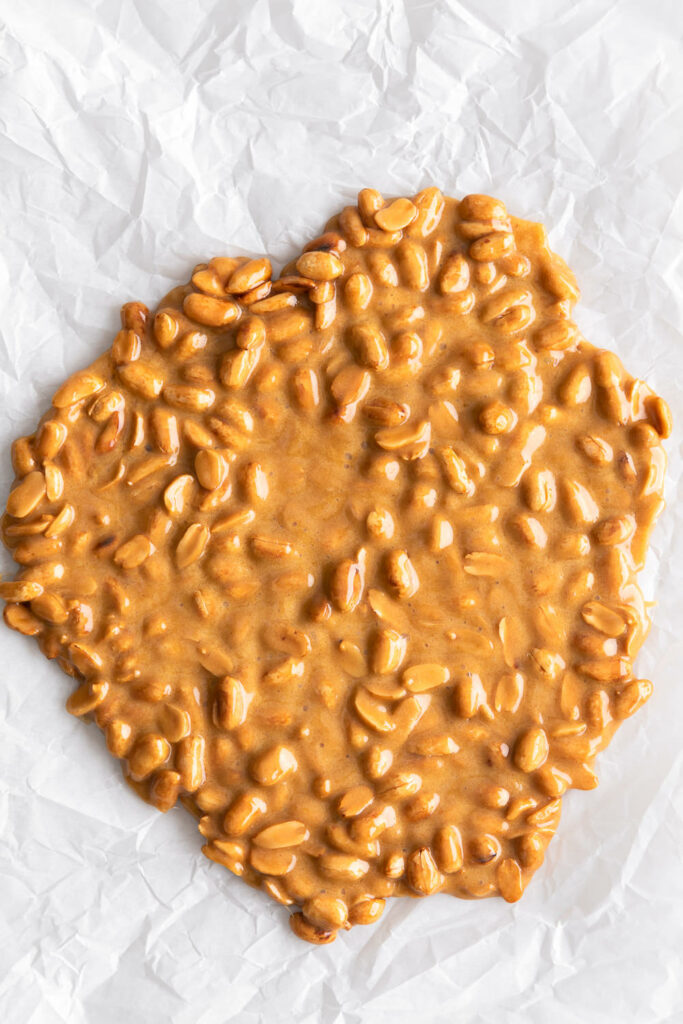 a note on corn syrup:
Corn syrup has a bad rap these days, but it's not exactly fair or accurate. When we talk about corn syrup for candy making or cooking, we're not referring to the dreaded high-fructose corn syrup (HFCS). Karo corn syrup, for example, is just glucose that is made from cornstarch. It hasn't undergone more treatment to convert the glucose to unnaturally high levels of fructose.
All candy producers use some form of glucose. Whether the initial source of starch is corn, wheat, potatoes, it doesn't really matter. The starch is hydrolyzed into small chains of glucose. And this glucose syrup (corn syrup is the easiest to find in the US), is critical in preventing crystallization in almost all candy.
tips to make the best peanut brittle:
Always prep your ingredients ahead of time: get everything measured out and ready. Candy moves fast!
Use raw, blanched peanuts. The nuts will roast as they cook in the hot sugar, spreading their flavor throughout the candy.
Corn syrup makes it harder for sugar to dissolve in water, which is why we add it after the sugar has dissolved.
Once you add the nuts, stir almost constantly so they don't burn on the bottom of the pan.
When you take the temperature, keep the thermometer submerged in the syrup but not touching the bottom of the pan. And move the thermometer all around the pot so you get a read on the average temperature rather than a hot spot in the syrup.
I always keep a clean, damp dish towel nearby to wipe off and clean the thermometer probe after sampling. No more hard candy build-up!
After you pour the peanut brittle into the pan, immediately soak your pot and tools in hot water! It will begin to loosen the hard candy and make clean-up infinitely easier.

If you've forgotten to soak your pot and you just can't chip away the last piece of hard candy on it, don't freak out. Just fill it with enough water to submerge the spot and return it to the stove. Heat until the candy redissolves, dump it out, and proceed with cleaning.

Let the brittle cool completely then wrap it in plastic to protect it from humidity. Peanut brittle is especially prone to absorbing water, and it will get sticky and crystallize if not wrapped tightly.

Even better? Dip it in tempered chocolate and you solve the humidity problem AND make it even more delicious.

Store it at room temperature or freeze it, but don't store it in the refrigerator (high humidity will cause stickiness and crystallization).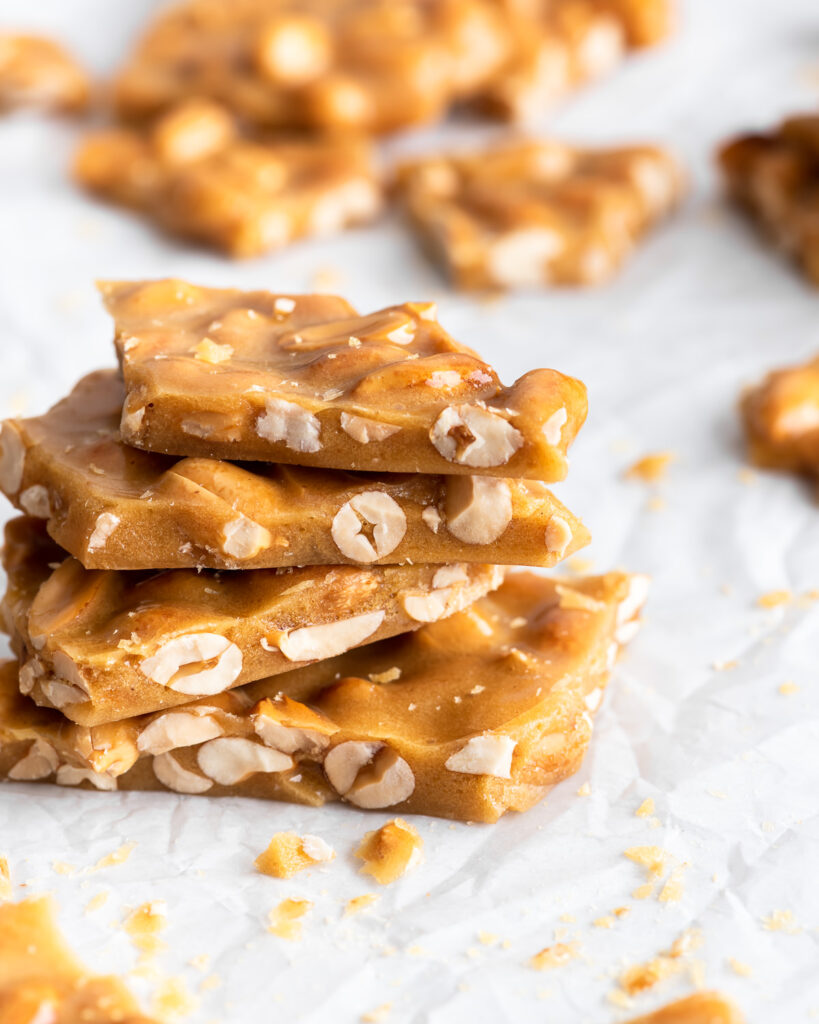 how long does peanut brittle last?
When carefully wrapped in plastic and stored in a dry, cool, dark environment, peanut brittle can last for several months.
If the environment is humid, it will eventually crystallize and/or moisture will form on the surface it will become sticky and soft.
If it's too warm or in direct sunlight, the nuts will go rancid.
To maximize shelf-life, you can vacuum pack the peanut brittle just after it's cooled completely. Then store it in a cold, dark place, or even freeze it. Vacuum packing will minimize oxygen and potentially extend the shelf life to 6 months or more.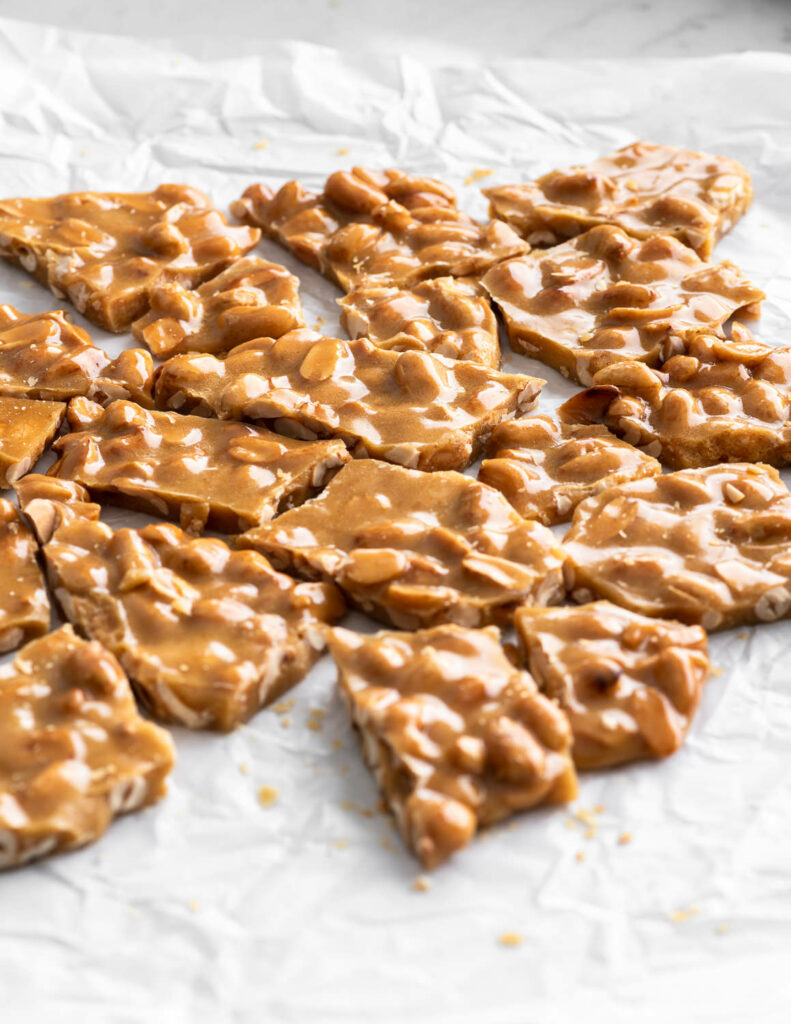 peanut brittle troubleshooting:
Candy-making requires precision. Use a good thermometer, measure your ingredients well (use a scale if possible!), and follow the directions. But candy making in small batches at home moves fast and there are a lot of variables. Sometimes, things go awry and it's hard to say what exactly happened.
Here are answers to some common problems with peanut brittle:
Why won't my peanut brittle get hard?
If your peanut brittle never sets up hard, it means you didn't cook it to a high enough temperature. Make sure you cook it to the "hard crack" stage, between 298°F- 313°F, and swirl your thermometer probe around in the syrup to get an accurate read of the temperature.
Why is my homemade peanut brittle chewy?
Make sure you cook the brittle all the way to 311°F. Undercooking the sugar will result in candy that is too soft or chewy. And it may pull out Grandma's teeth.
My peanut brittle is a little sticky:
There could be a number of reasons for this.
One, add salt at the end of cooking as described in the recipe.
Then, make sure you've cooked the candy to the correct temperature.
Finally, if it's raining outside or you live in a humid area, it's possible the candy is simply absorbing moisture from the environment. Sugar readily absorbs water. So there's not much you can do about this other than wait for drier weather or buy a dehumidifier!
Why isn't my peanut brittle darker brown?
If your peanut brittle reached 311°F but is a pale milky color, it's likely the candy cooked too quickly. It reached the correct temperature but didn't cook long enough to undergo sufficient Maillard reactions and develop the characteristic brown color and rich, roasted flavor. Next time, cook at a lower temperature.
Also, make sure to add your peanuts once the syrup reaches the soft ball stage (239°F). The nuts add proteins, which are a key component in the browning reactions that make brittle the rich caramelized brown color. If you stir the nuts in at the end, your homemade cashew brittle won't be nearly as browned as it could be.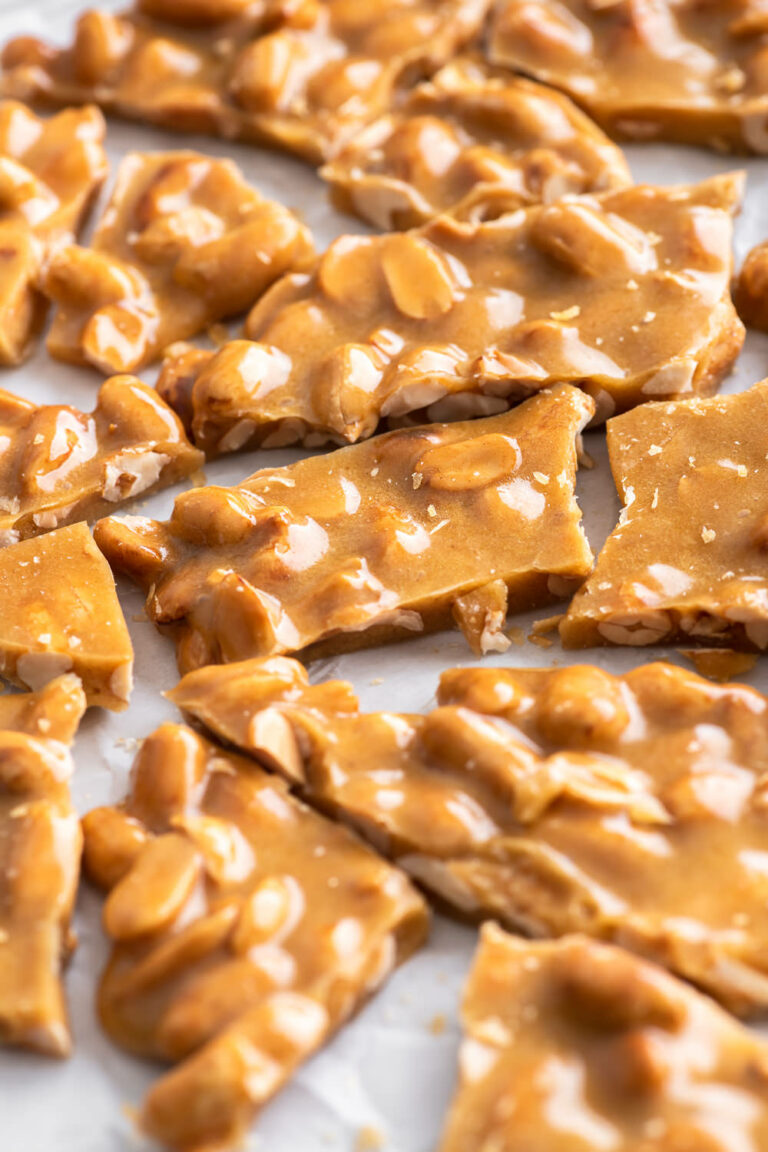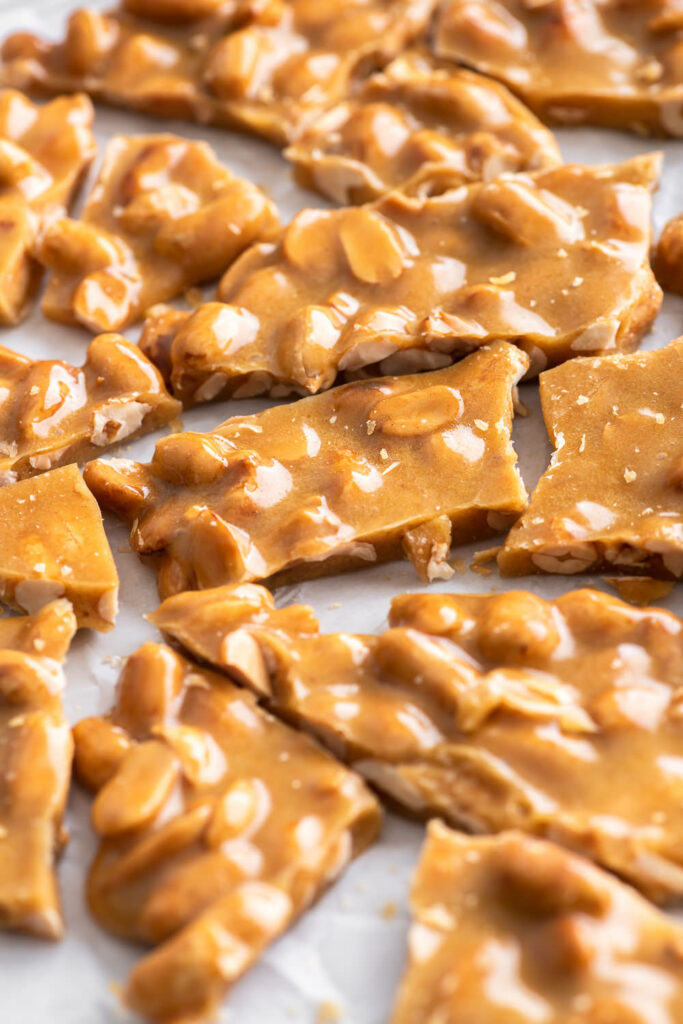 more homemade candy recipes to try:
dark chocolate covered almonds
sea salt caramels (soft and chewy!)
butter toffee recipe (buttercrunch)
Watch our Christmas candy web story here!
Print
homemade peanut brittle
Homemade peanut brittle is a crunchy old-fashioned hard candy brimming with roasted peanuts, butter, and sweet vanilla. Baking soda produces a fine foam, which gives the peanut brittle a perfectly delicate crunch.
Author:
Prep Time:

5 minutes

Cook Time:

25 minutes

Total Time:

30 minutes

Yield:

20 pieces

Category:

Candy

Method:

Stove

Cuisine:

American

Diet:

Gluten Free
Ingredients
1 tbsp

(

½ oz

) unsalted butter, plus more for pan

1 cup

(

200g

)  granulated sugar

¼ cup

(

2 oz

) water

½ cup

(

170g

) corn syrup

1 ¾ cups

(

8 oz

) raw blanched peanuts

1 tsp

vanilla extract

½ tsp

fine salt

½ tsp

baking soda
Instructions
Butter a rimmed baking sheet and offset spatula; set both aside.
Combine sugar and water in a heavy saucepan over medium-low heat. Cook, occasionally stirring, until sugar is dissolved.
Add corn syrup and increase heat to high. Continue to cook without stirring until the mixture reaches 239°F (115°C).
Add peanuts and cook, stirring constantly to prevent burning, until syrup reaches 311°F (155°F). Remove from heat and stir in butter, vanilla and salt. Sprinkle baking soda over top and stir until fully combined.
Pour mixture onto prepared sheet pan and, working quickly, use the buttered offset spatula to spread about ¼-inch thick. Let sit at room temperature to cool completely. Break into pieces and store in an airtight container or plastic ziptop bag.
Notes
Nutritional information is only an estimate. The accuracy of the nutritional information for any recipe on this site is not guaranteed.
Nutrition
Serving Size:

1

Calories:

135

Sugar:

17g

Sodium:

143mg

Fat:

6.2g

Saturated Fat:

1.2g

Unsaturated Fat:

4.2g

Trans Fat:

0g

Carbohydrates:

19g

Fiber:

1g

Protein:

2.8g

Cholesterol:

1.5mg