This dark chocolate holiday bark is studded with crunchy amaretti cookies, hazelnuts, dried tart cherries, roasted espresso beans and flaky salt. It's rich, roasty, sweet- tart and so perfect for Christmas.
The holidays are such a busy time. I always dream of baking up a gorgeous array of Christmas cookies, wrapping them in elegant twine and packaging them in a sweet little box to give to friends and family. But come the second week of December, the reality of my available time and energy dampens those dreams. If all goes well, I end up scraping together some kind of random pantry gift in the midst of hectic travel plans and errands (there's usually a cross country move thrown in there, too). It's less than ideal, and always more stressful than it needs to be.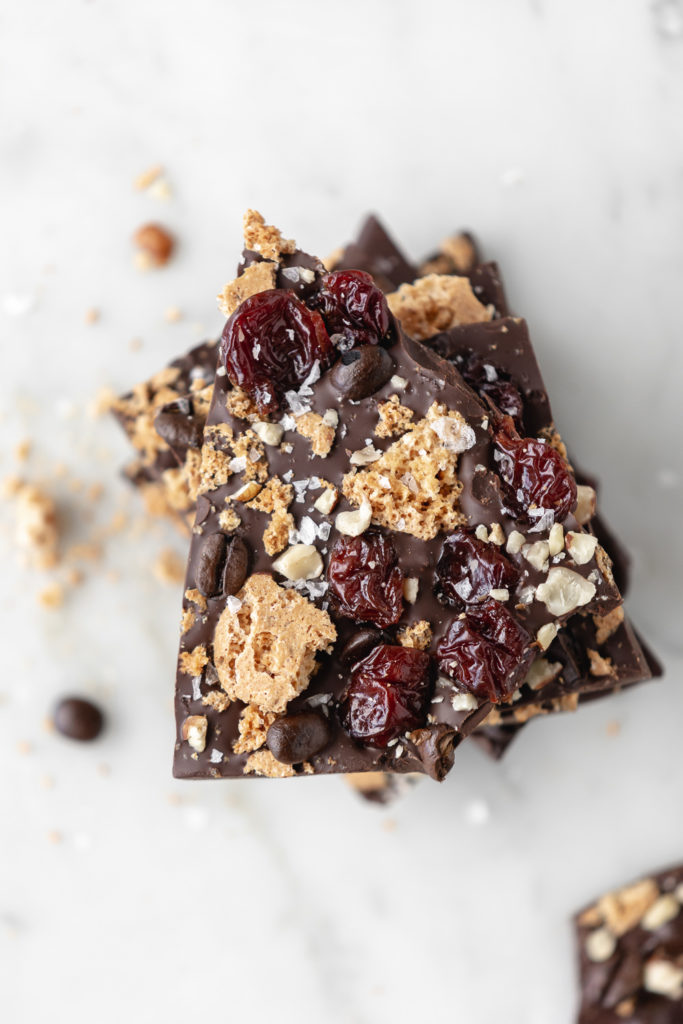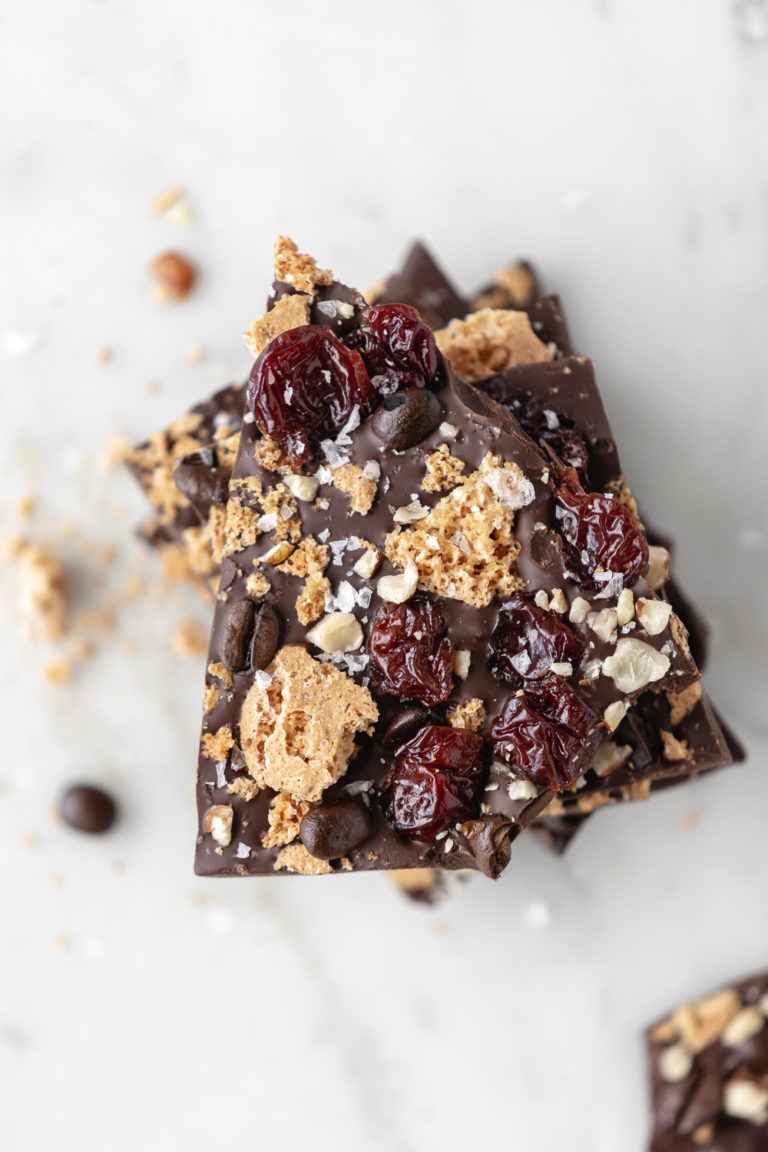 So in an effort to keep the homemade gift simple, yet still as stunning and memorable as those cookie boxes, I've been drawn to chocolate barks. They're incredibly easy to make: 1 bowl, a few items from your pantry, and less than 20 minutes of time. Yet the range of flavors, textures and colors is just as festive as a holiday cookie box.
The flavor combinations for chocolate bark are truly endless– especially when you start to involve crunchy cookie crumbles. I love the airy crunch, rich flavor and elegance of true amaretti cookies. Sometimes they can be tricky to hunt down, but the bark wouldn't be nearly as special without them.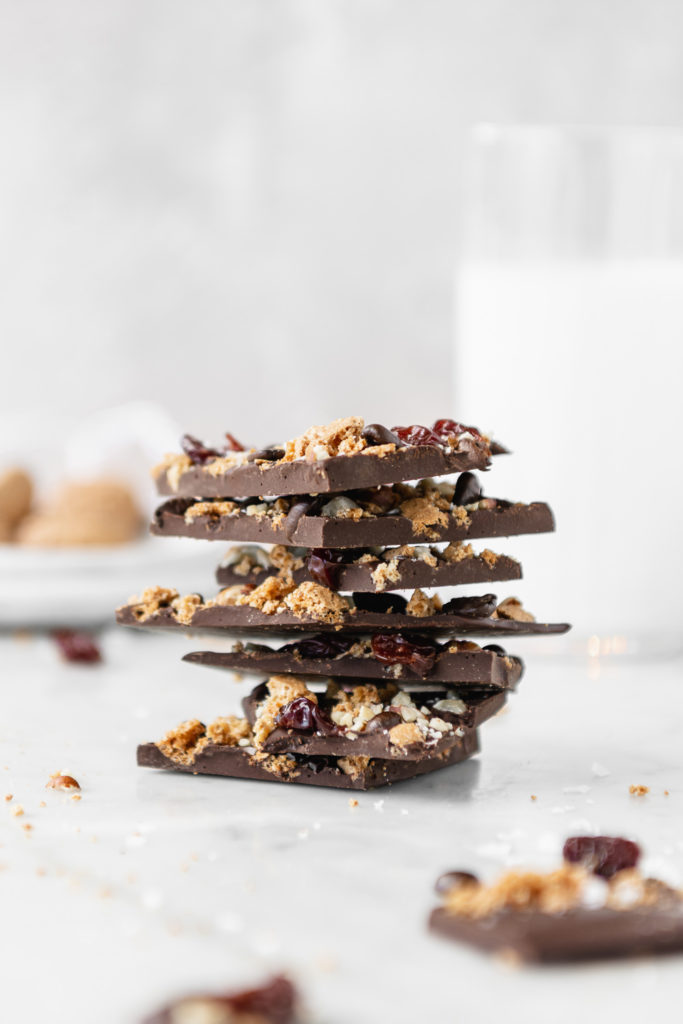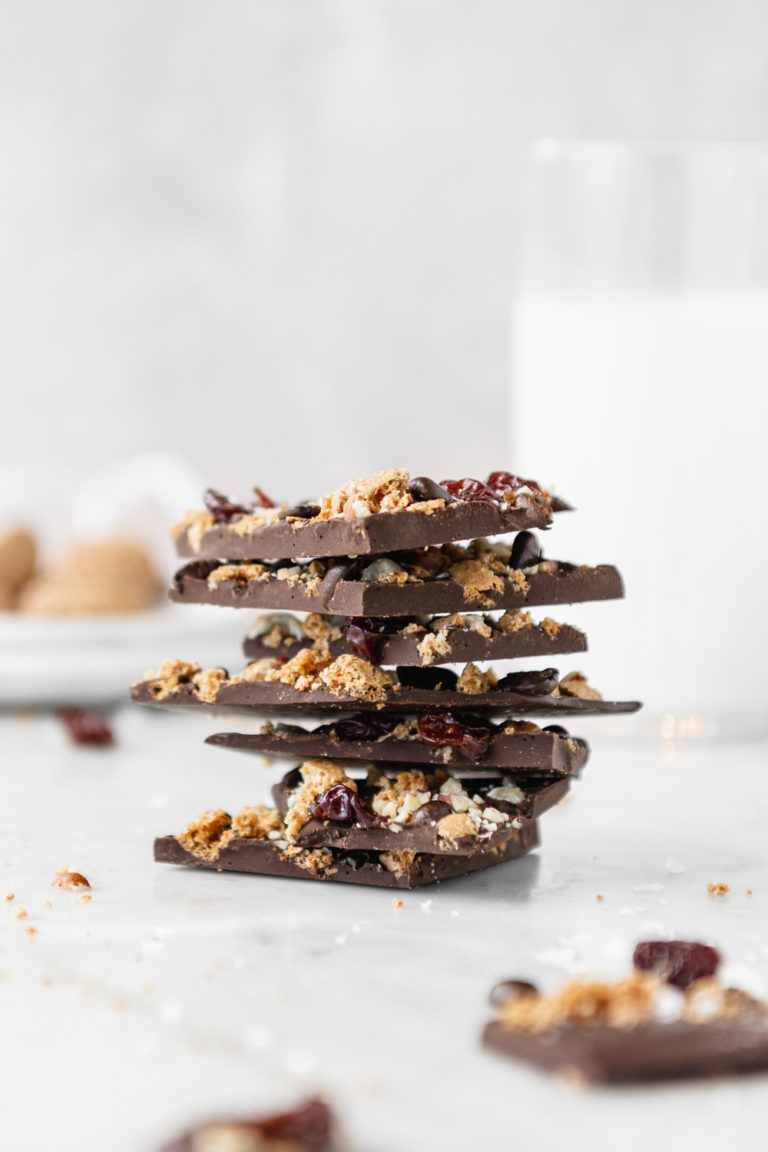 The combination of smooth dark chocolate, fragrant amaretti and crunchy espresso beans is just so perfect for the holiday season. I top the bark off with roasted hazelnuts, dried tart cherries and a generous sprinkling of flaky salt. The result is a creamy, crunchy dark chocolate holiday bark that you'll be so excited to share.
pantry substitutes for this holiday bark
The beauty of chocolate bark is that it's a quick holiday gift that you can throw together at the last minute. If you don't have the exact ingredients in your pantry, don't sweat it. Here are some substitutes you can use:
Dried tart cherries→ substitute dried cranberries, dried apricots, or dried sweet cherries
Hazelnuts→ substitute almonds, macadamia nuts, pine nuts or cashews
Amaretti cookies→ almond biscotti (or any crunchy almond cookie)
Coffee beans→ no real substitute here (though chocolate covered espresso beans would be delicious if you have them)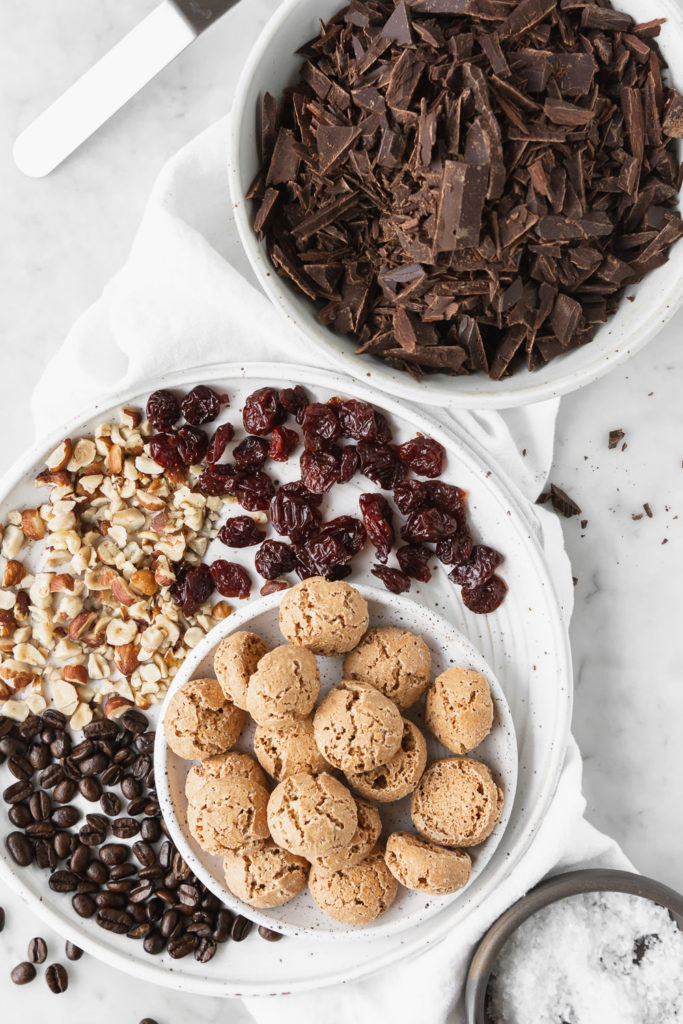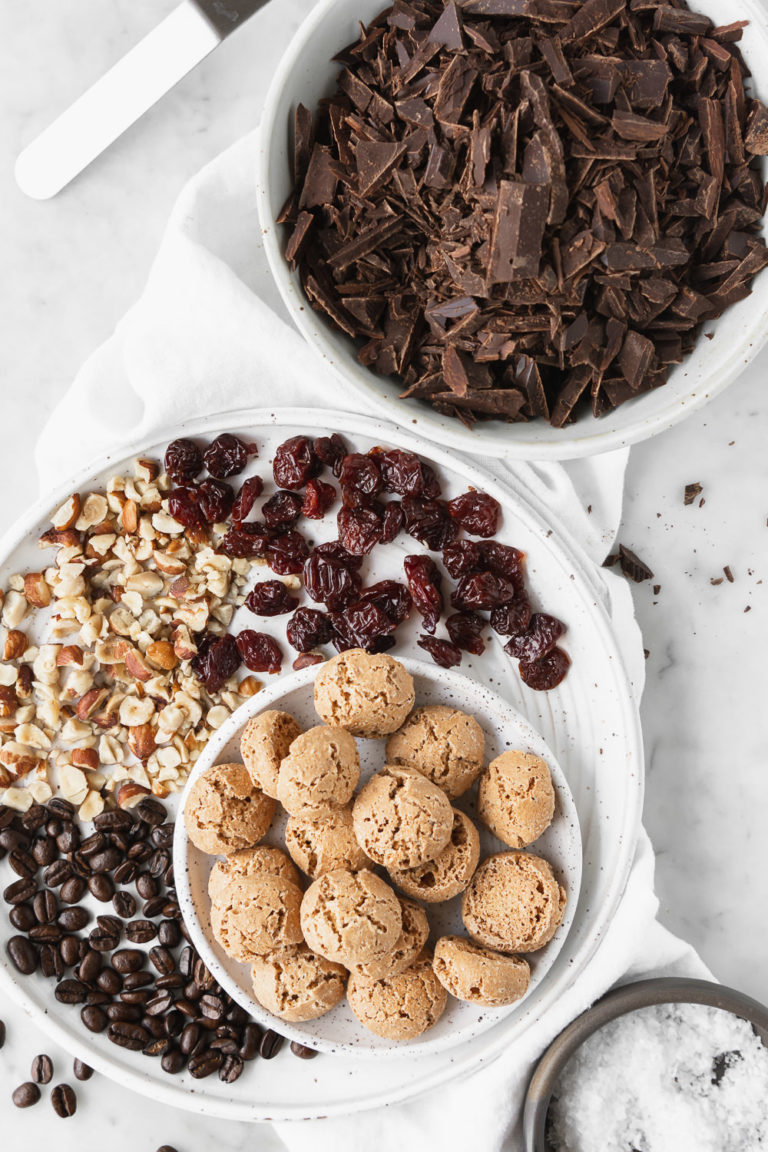 how to customize your own holiday bark:
The fun part of chocolate bark is mixing and matching different flavors and textures. For the best ratio, stick with about 1 cup of toppings for 12 oz of chocolate.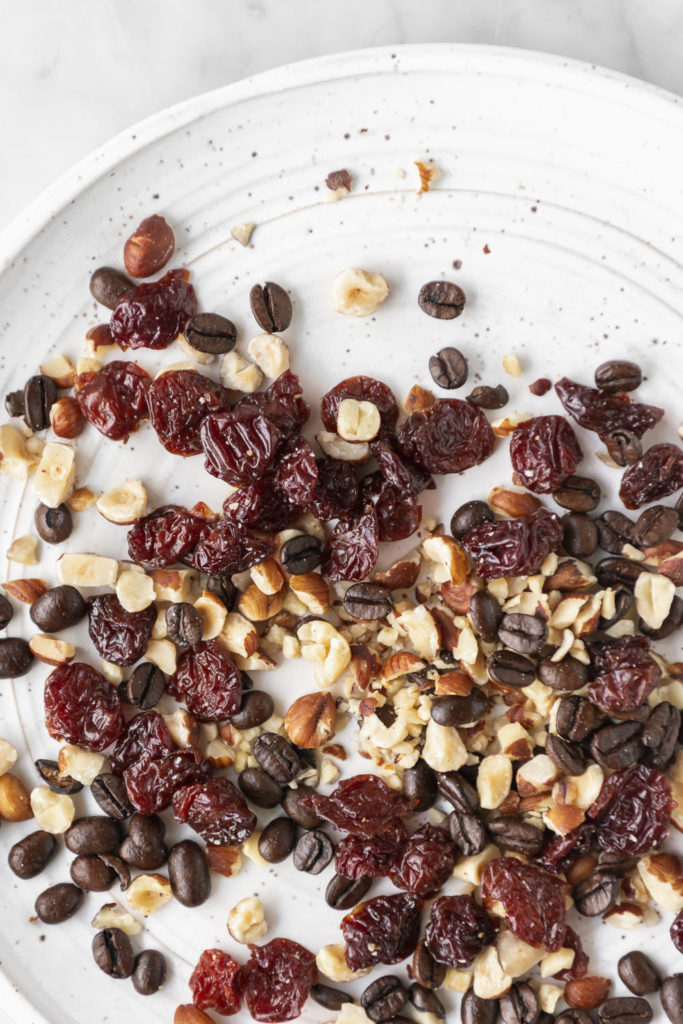 here is list of holiday bark toppings to get you thinking:
Dried fruit (cherries, cranberries, apricot, pear, figs)
Freeze dried fruit (strawberries, raspberries, bananas, mangoes)
Nuts (pecans, walnuts, almonds, macadamia nuts, hazelnuts, pine nuts, cashews, pistachios, peanuts, brazil nuts)
Seeds (pepitas, sesame seeds, sunflower seeds, quinoa, hemp seeds)
Cookies (shortbread, gingerbread, biscotti, speculaas, vanilla wafers, graham crackers)
Crystallized ginger
Coconut flakes
Candied orange peels
Marshmallows
Also, think about chocolate types: bittersweet, semisweet, milk, white, or caramelized white. Or a swirly combination!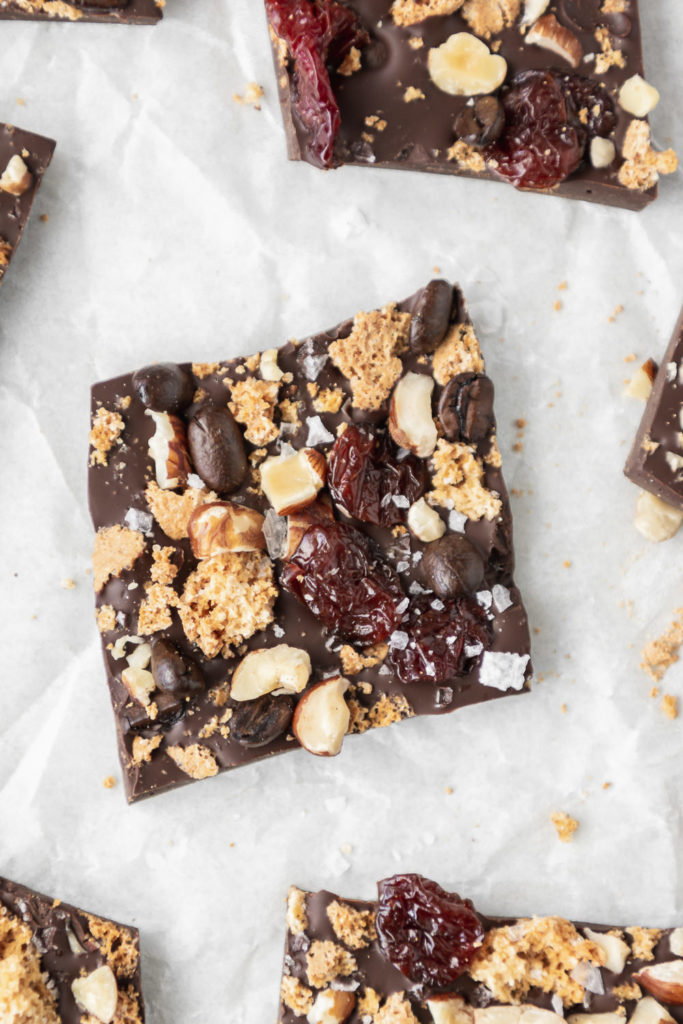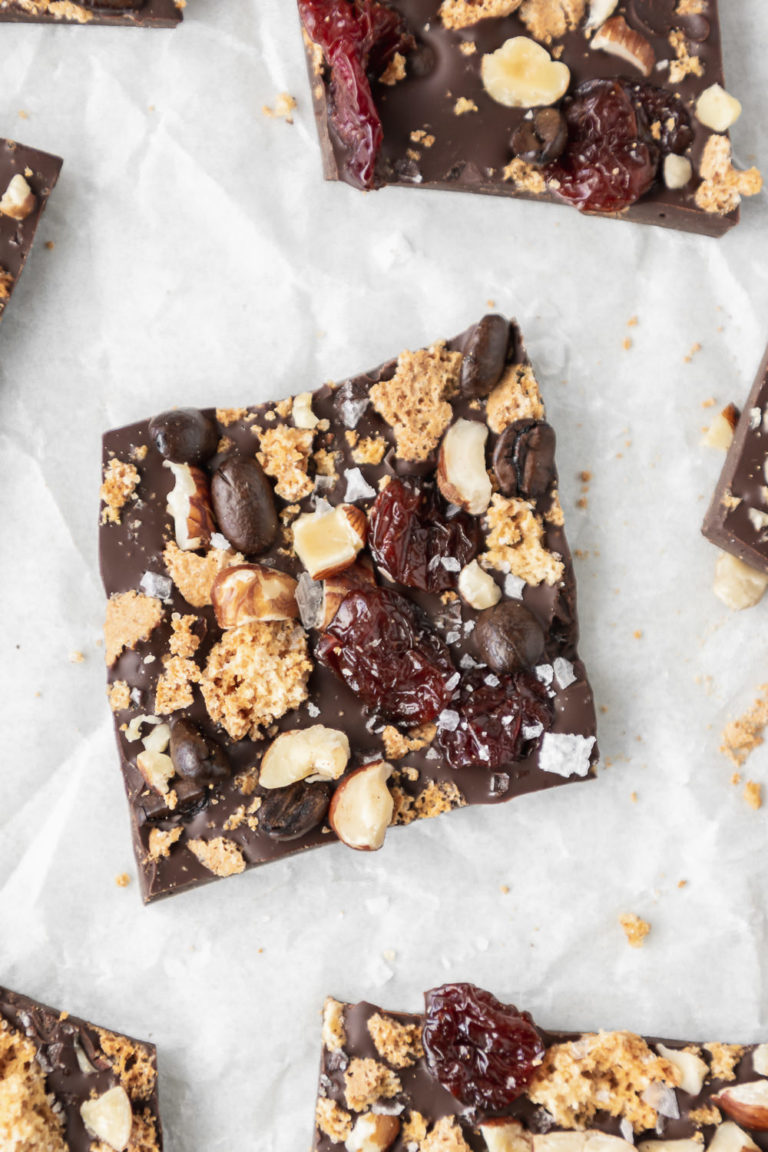 how to temper chocolate: shortcut method and full method
shortcut method
In the recipe, I give a quick shortcut method to gently melt the chocolate and keep it in temper. This requires starting with chocolate that is in temper (it should look smooth and shiny, not dull, streaked, blotchy or coated in a whitish bloom).
To do it successfully, you can't let the chocolate get too hot during melting and you must stir in a portion of unmelted chocolate to "seed" the crystal structure of the chocolate and encourage the temper.
In my opinion, it works well enough for a quick holiday chocolate bark recipe. And no thermometer or fussy melting and cooling is required.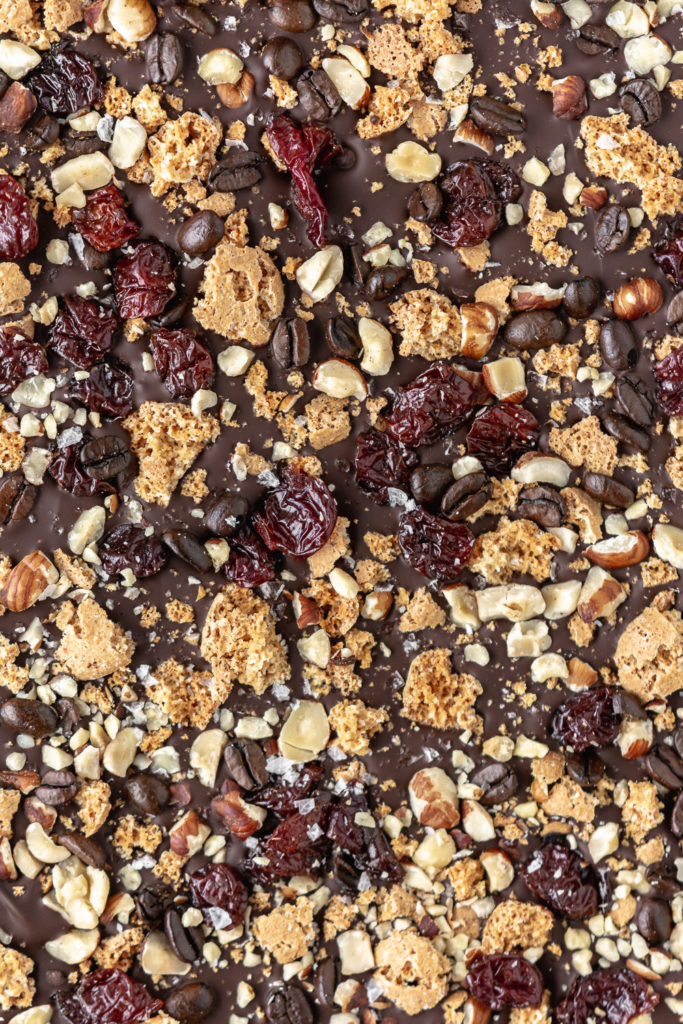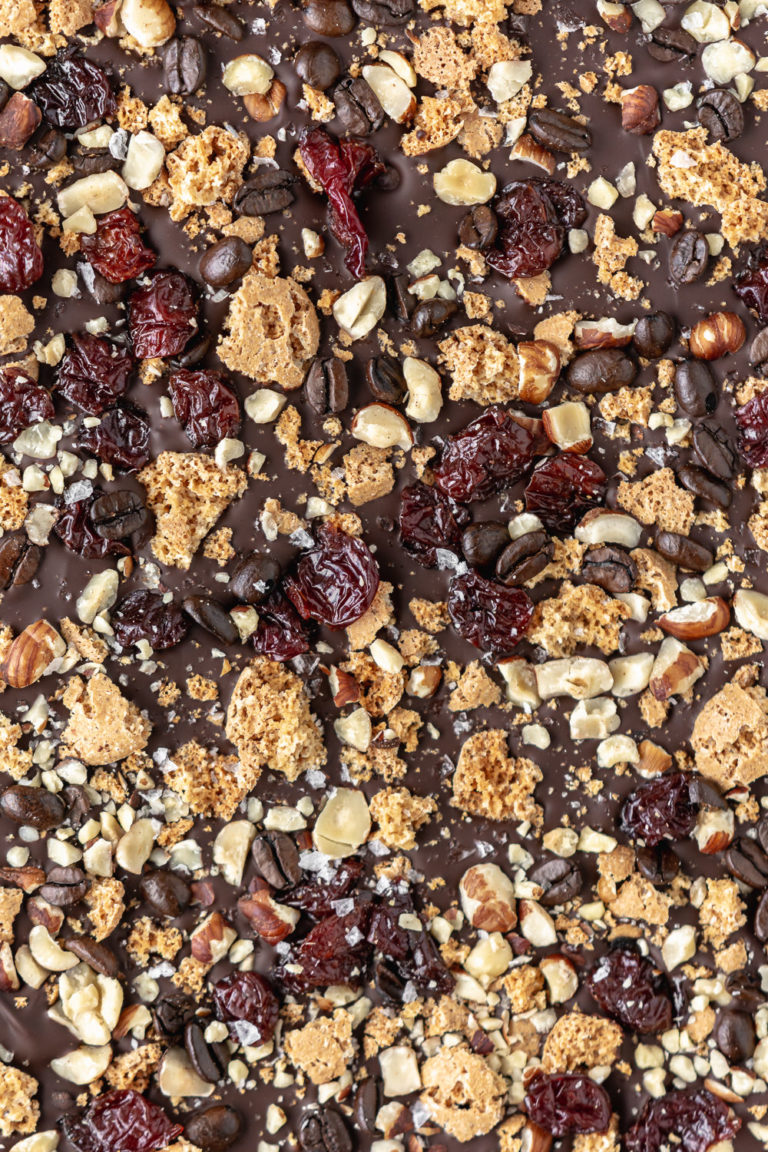 full method
If you want to make sure the chocolate is fully tempered, follow the guidelines below. Correctly tempered chocolate will be shiny, snappy, less likely to melt on your fingers and prone to maintaining all of these qualities for a long time.
Gently heat 2/3 of chocolate, stirring constantly, until it reaches 115°F

use a double boiler with hot, but not boiling, water or a microwave for 30 second intervals at 50% power
if using a double boiler, be careful not to get any water in the chocolate and thoroughly dry the bottom of the chocolate bowl when removing it from the heat

Remove from heat and add remaining 1/3 of chocolate in a few additions, stirring constantly and letting it melt before adding more
Cool chocolate to 82°F
Gently reheat to 88°F to 91°F
Test the temper: Pour a small amount on parchment paper, it should cool within 5 minutes.

The chocolate will be shiny, snappy and smooth if in temper.

Proceed with holiday bark recipe: pour onto prepared baking sheet and sprinkle with toppings.

The chocolate will be streaky, dull, pliable and will melt easily on your fingers if it's not in temper. Repeat the tempering process from the beginning.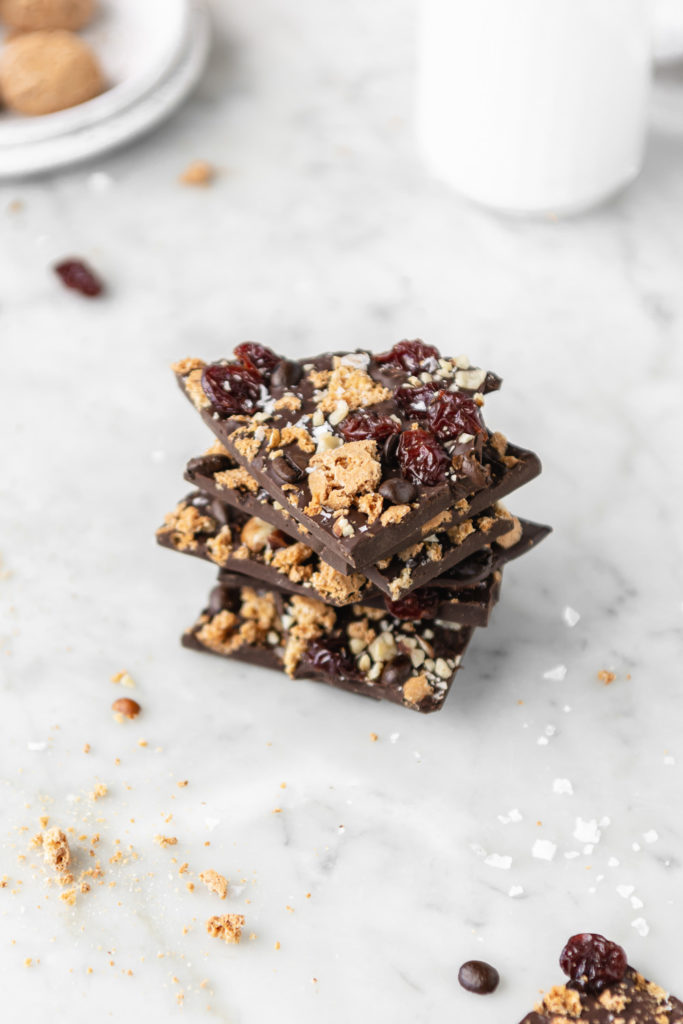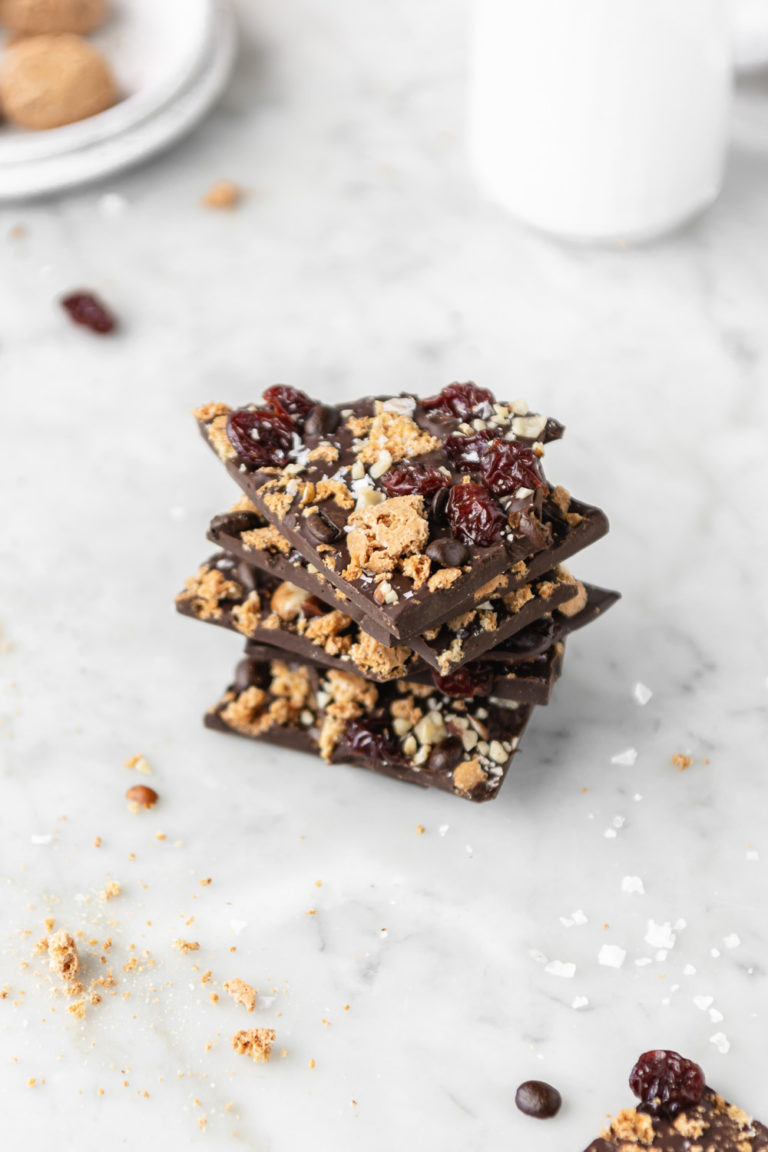 related recipes:
chocolate covered marshmallow speculoos cookies
chocolate dipped almond cookies (pain d'amande)
dark chocolate truffles with cocoa powder
Try this white chocolate peppermint chex by Paula at Call me PMc for another fun Christmas treat!
Print
chocolate holiday bark with amaretti cookies and espresso
This dark chocolate holiday bark is studded with crunchy amaretti cookies, hazelnuts, dried tart cherries, roasted espresso beans and flaky salt. It's rich, roasty, sweet- tart and so perfect for Christmas.
Author:
Prep Time:

10 minutes

Cook Time:

5 minutes

Total Time:

15 minutes

Yield:

18 pieces

Category:

Dessert

Method:

Stove

Cuisine:

American
1/4 cup

toasted hazelnuts, roughly chopped

1/4 cup

dried tart cherries

2 tbsp

roasted coffee beans

12 oz

bittersweet chocolate, finely chopped

8

amaretti cookies (a generous 1/2 cup)

flaky salt, such as Maldon
Instructions
Line a baking sheet with parchment paper and set aside. Combine hazelnuts, cherries and coffee beans in a small bowl and toss to combine. Set aside.

Put all but a third of the chopped chocolate in a heatproof bowl set over a saucepan of gently simmering water (don't let the water touch the bottom of the bowl). Heat until the chocolate is mostly (but not completely) melted, stirring often, then remove from heat. Add remaining chocolate and stir constantly until completely melted. Alternatively, microwave for 30 second intervals at half power, stirring in between until mostly (but not completely) melted, then add remaining chocolate and stir until fully melted.

Pour chocolate onto prepared baking sheet and use a spoon or offset spatula to spread into an even layer, about 1/4-inch thick. Break the cookies into 1/2-inch pieces and sprinkle over the chocolate. Sprinkle the nuts and fruit around the cookies. Gently press toppings into the chocolate, then sprinkle with flaky salt.

Let cool at room temperature until completely hardened. Break bark into about 18 pieces and store in a covered container at cool room temperature.
Nutrition
Serving Size:

1

Calories:

180

Sugar:

5.6g

Sodium:

55mg

Fat:

12g

Saturated Fat:

6.3g

Unsaturated Fat:

5.6g

Trans Fat:

0g

Carbohydrates:

14g

Fiber:

4.3g

Protein:

4.4g

Cholesterol:

0.4mg