These chocolate covered almonds are about to be your new obsession! They're crunchy, sweet, and so chocolatey. I coat the almonds in crunchy crystallized sugar with a pinch of salt, then toss them in 3 layers of dark chocolate. Finally, I give them a dusting in extra-rich cocoa powder for a simple and stunning treat.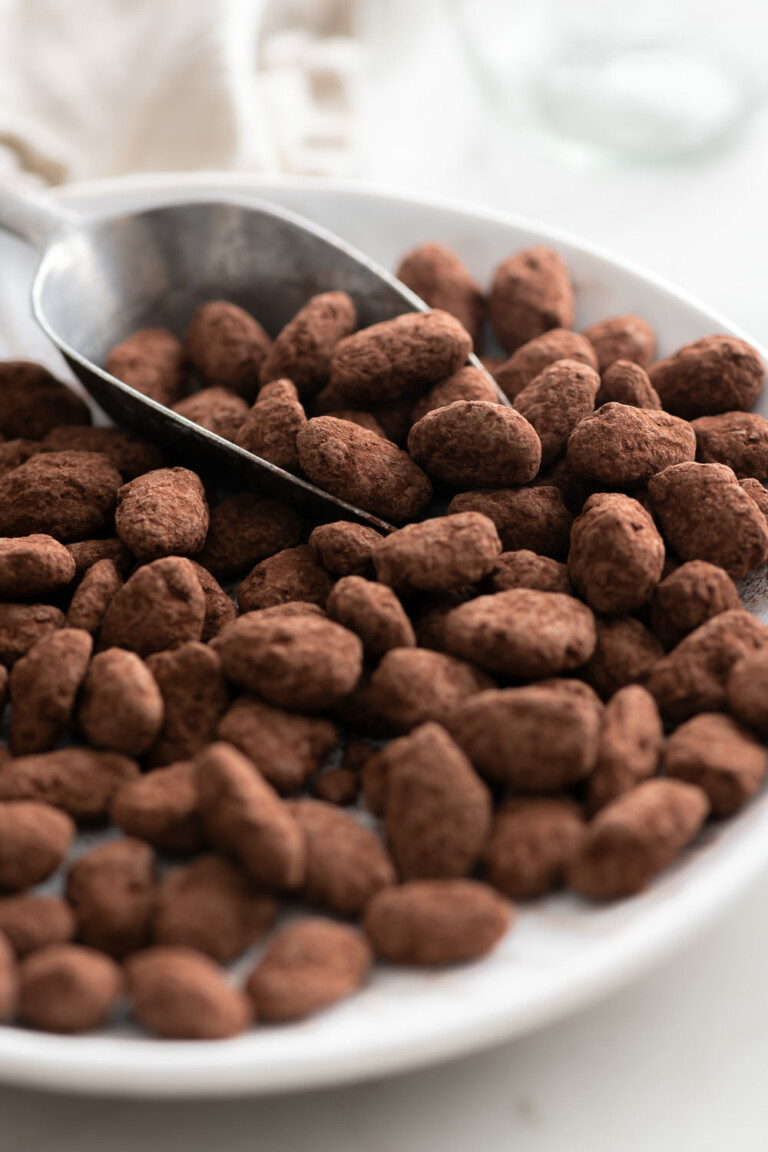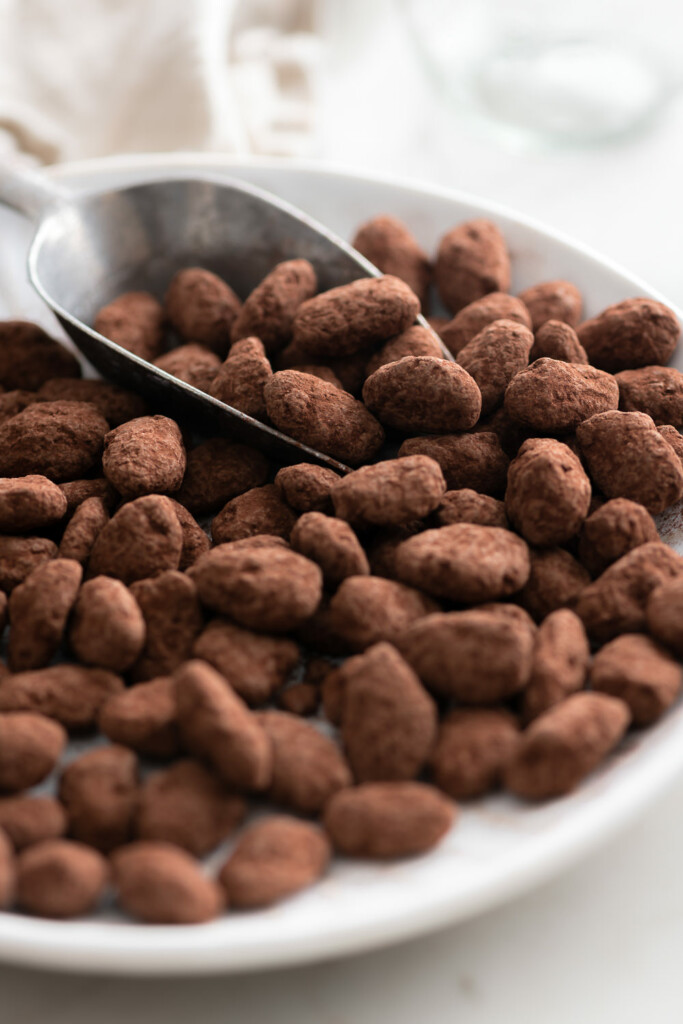 This post may contain affiliate links. As an Amazon Associate, I earn from qualifying purchases.
I was in college when I first discovered Trader Joe's. We didn't have it growing up, and I remember being totally obsessed from the minute I walked in. My favorite "splurge" item was always the dark chocolate sea salt almonds. An extra-thick coating of dark chocolate, perfectly balanced with the crunchy almond, sugar and sea salt. Those nuts got me through a lot of boring lectures.
I've since learned how to recreate chocolate covered almonds that, dare I say it, are even better than what I used to get at Trader Joe's.
They are the most delicious snack (I consider anything with nuts a health food) and they're a stunning gift for friends and family. How cool to make your own chocolate-covered nuts, right?!
Best of all, they aren't hard to make. You can make these chocolatier-level treats at home, with ingredients that are probably in your pantry, right now! Let's get started!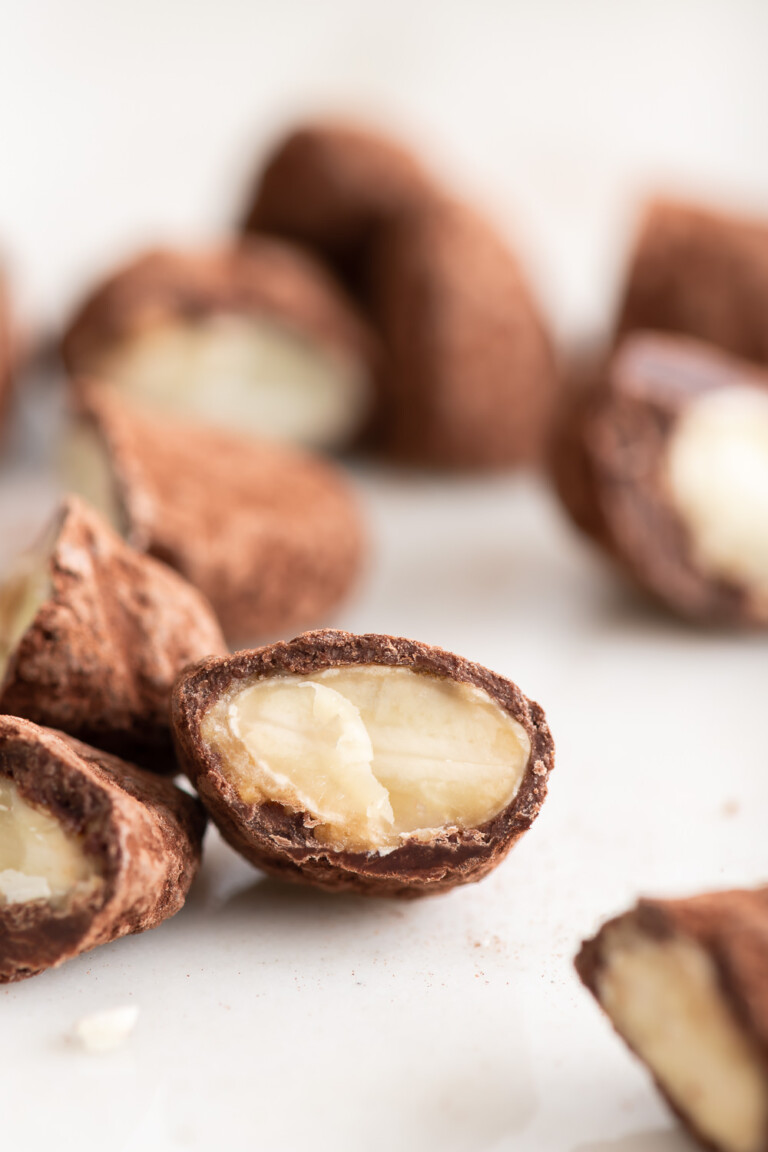 what makes these chocolate covered almonds the best?
Raw blanched almonds: I like the pure, sweet almond flavor that comes from raw almonds here. The nuts toast a little bit as we coat them in caramelized sugar, and that's enough. I also LOVE to use blanched almonds because they're just so smooth.
Crystallized coating: We melt sugar into a hot syrup, then toss in the almonds and stir until the sugar syrup re-crystallizes around the nuts. Then we cook the almonds to melt and caramelize that sugar layer so it creates a perfectly thin, crunchy coating. A tiny pat of butter adds richness.
Tempered chocolate: Snappy, hard, stable chocolate is crucial! No one wants chocolate-covered nuts that melt and smear when you hold them. Learn how to properly temper chocolate and you're all set.
Dutch-processed cocoa powder: Sometimes the type of cocoa you use doesn't matter. But in this case, we want cocoa powder that is rich and chocolatey because it's the final layer of our dark chocolate almonds. A high-quality, Dutch-process (alkalized) cocoa powder is dark, smooth, mellow and perfect for coating nuts and truffles. This is my favorite cocoa powder!
what you need for chocolate covered almonds:
blanched almonds
dark chocolate
cocoa powder
sugar
butter
salt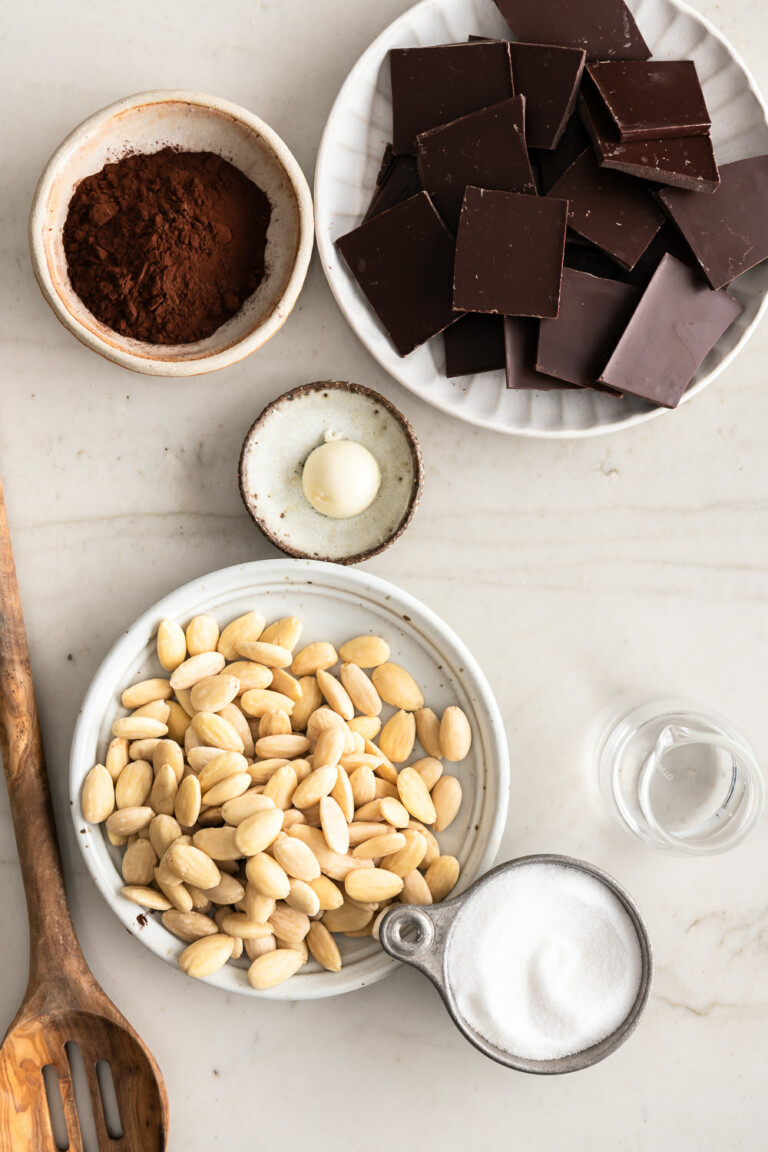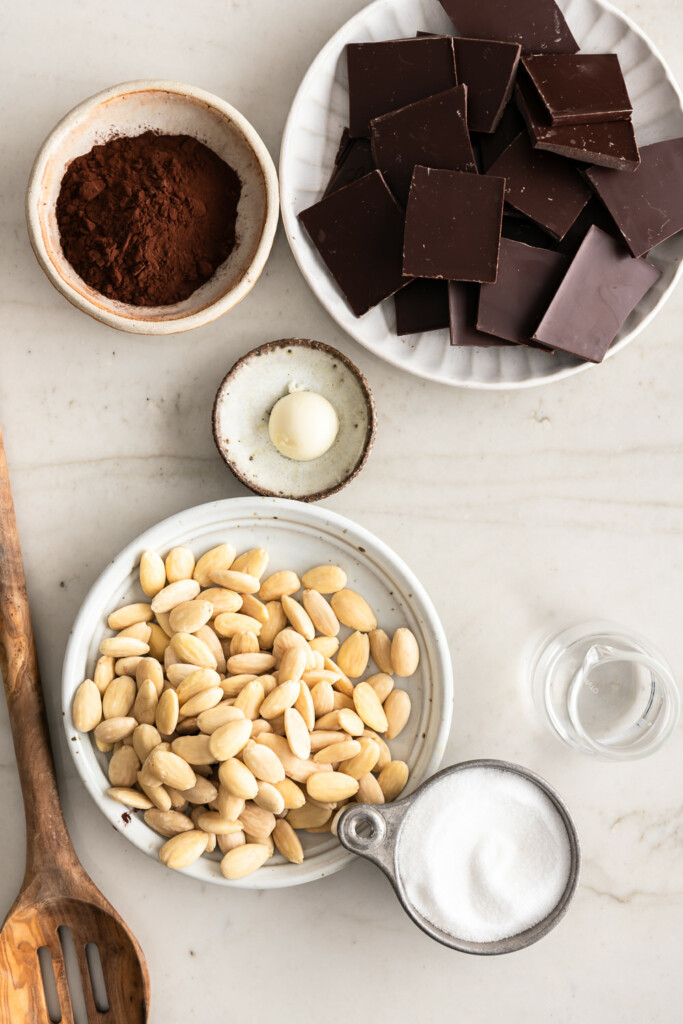 how to make chocolate covered almonds:
Dissolve sugar in a saucepan and heat to 230°F.
Remove from heat, add almonds and stir until sugar crystallizes.
Cook to re-melt and caramelize sugar.
Stir in butter and a pinch of salt, transfer to a sheet pan and let almonds cool.
Chill almonds for 5 minutes, then pour in a bowl with some melted and tempered chocolate.
Stir vigorously until each almond is coated, separated, and chocolate is set.
Repeat 2 more times.
After the final coat of chocolate has set, stir in cocoa powder.
Shake almonds in a sieve to let excess cocoa powder fall off.
Store in an airtight container so you don't eat them all!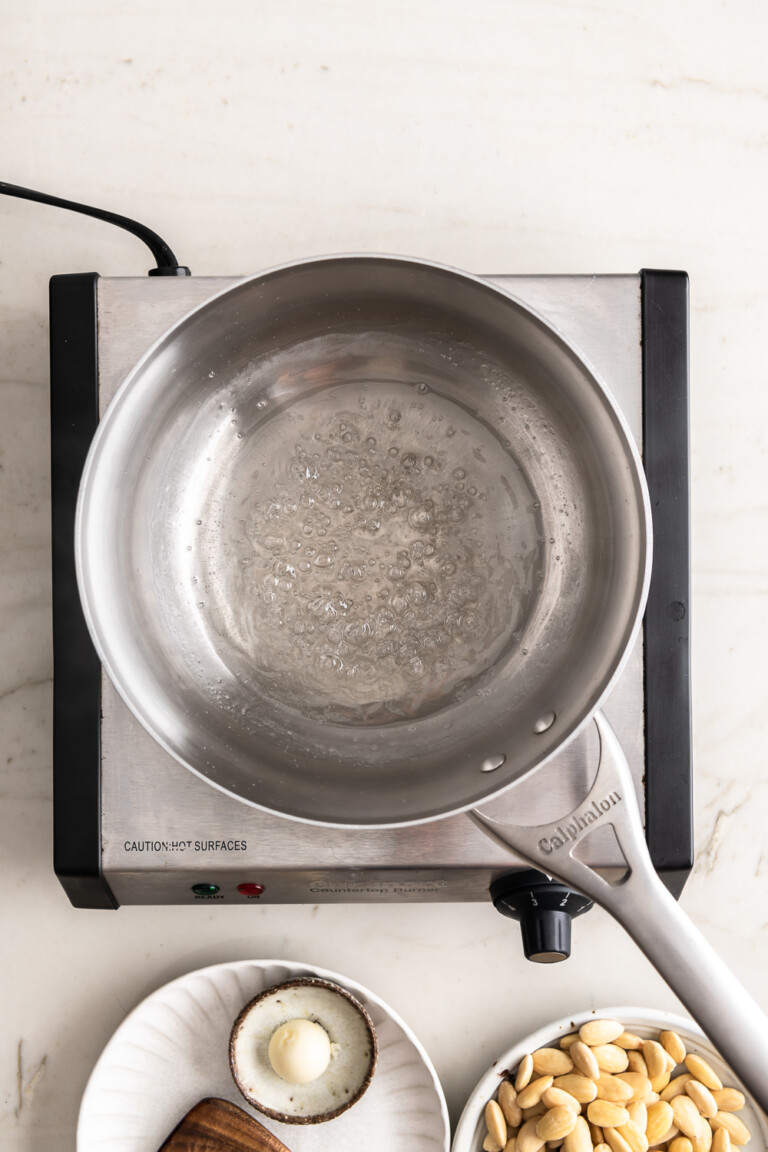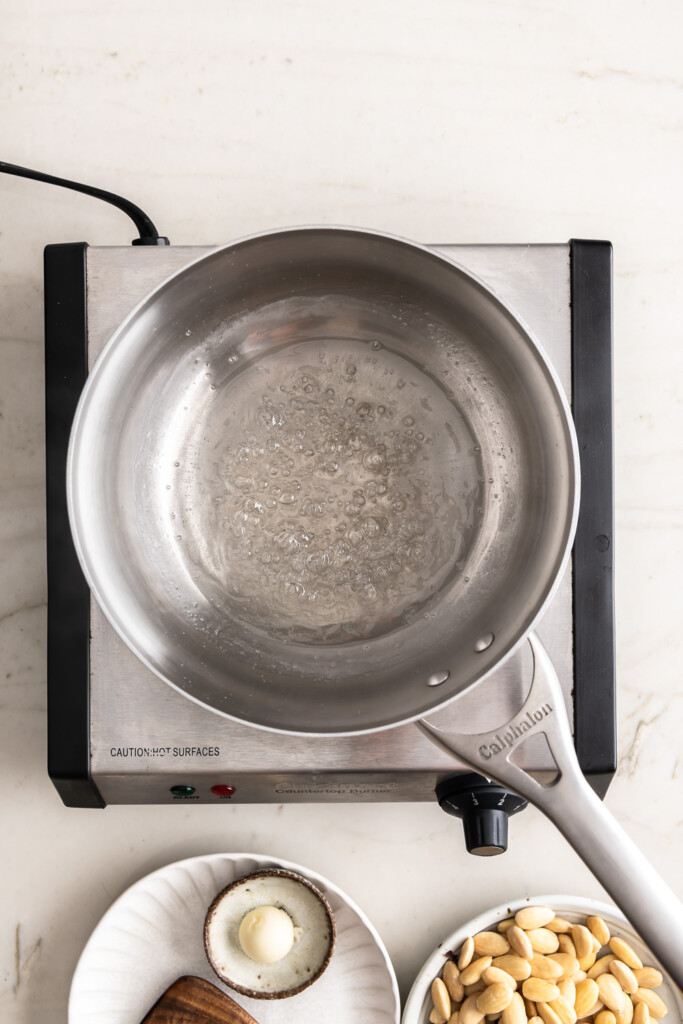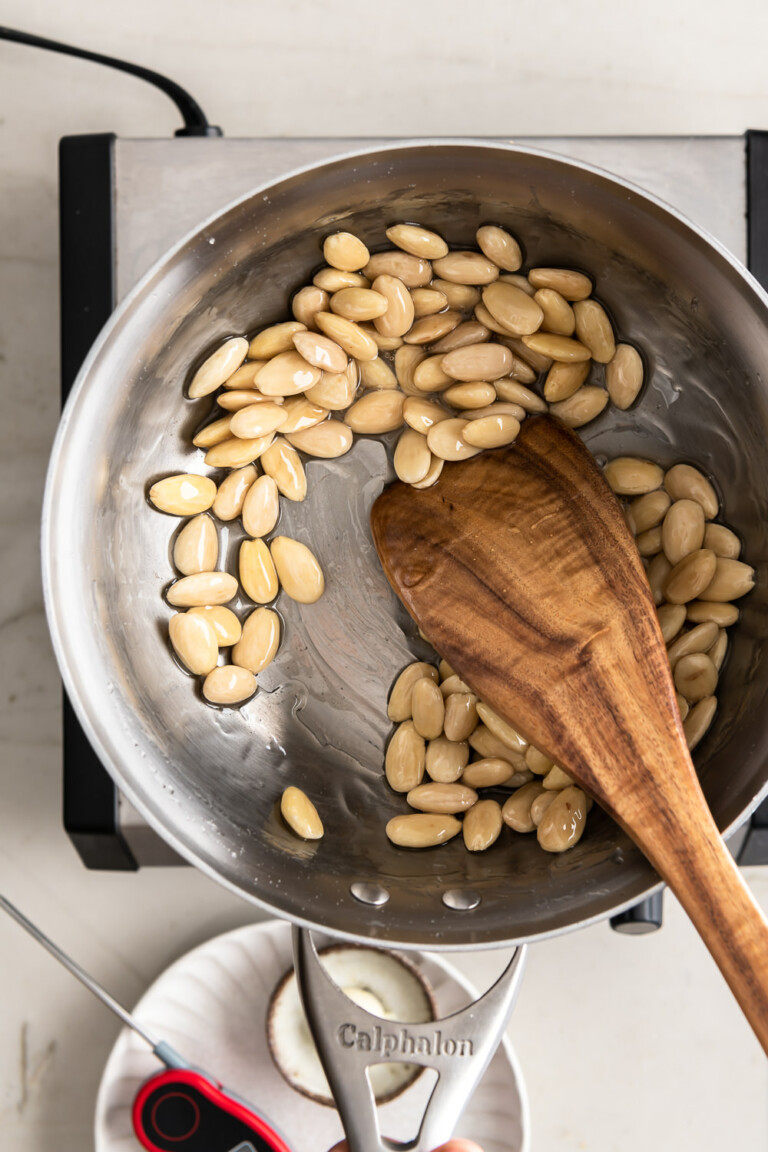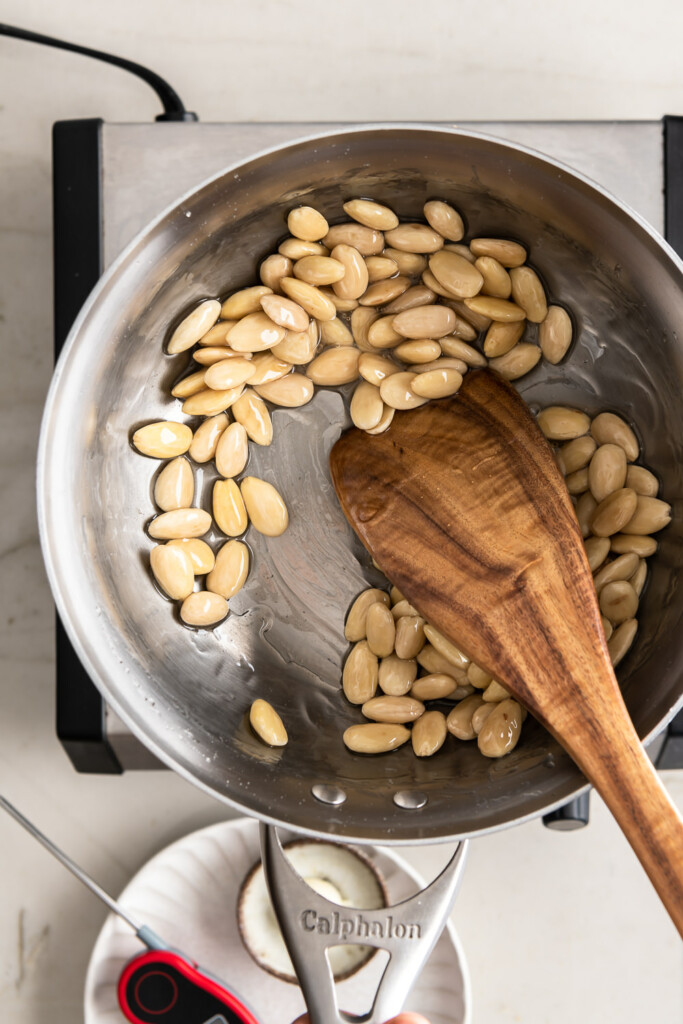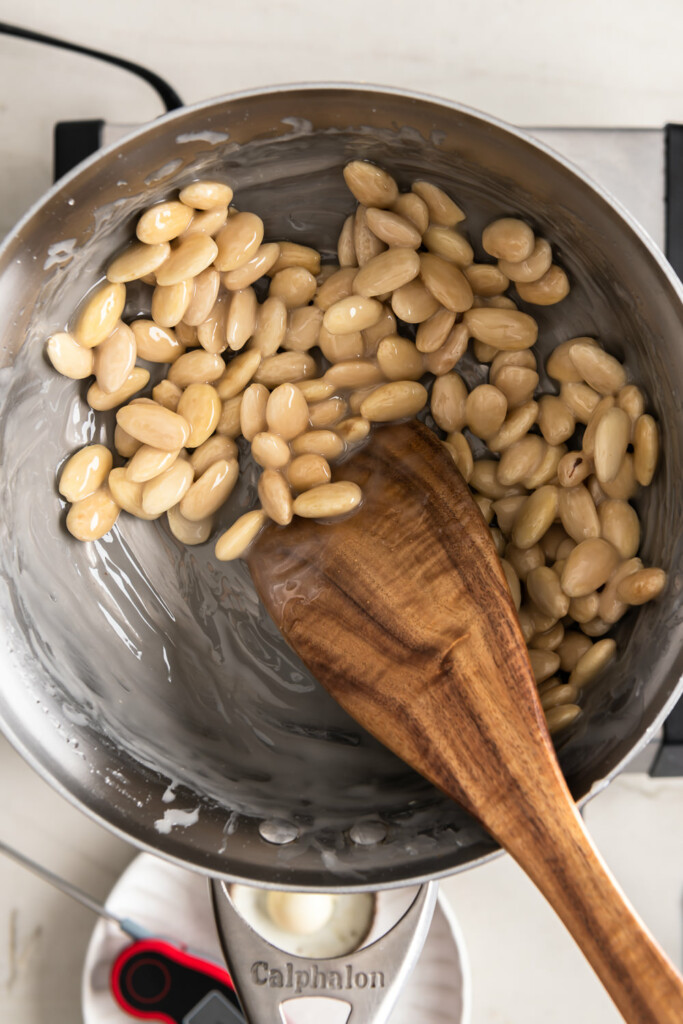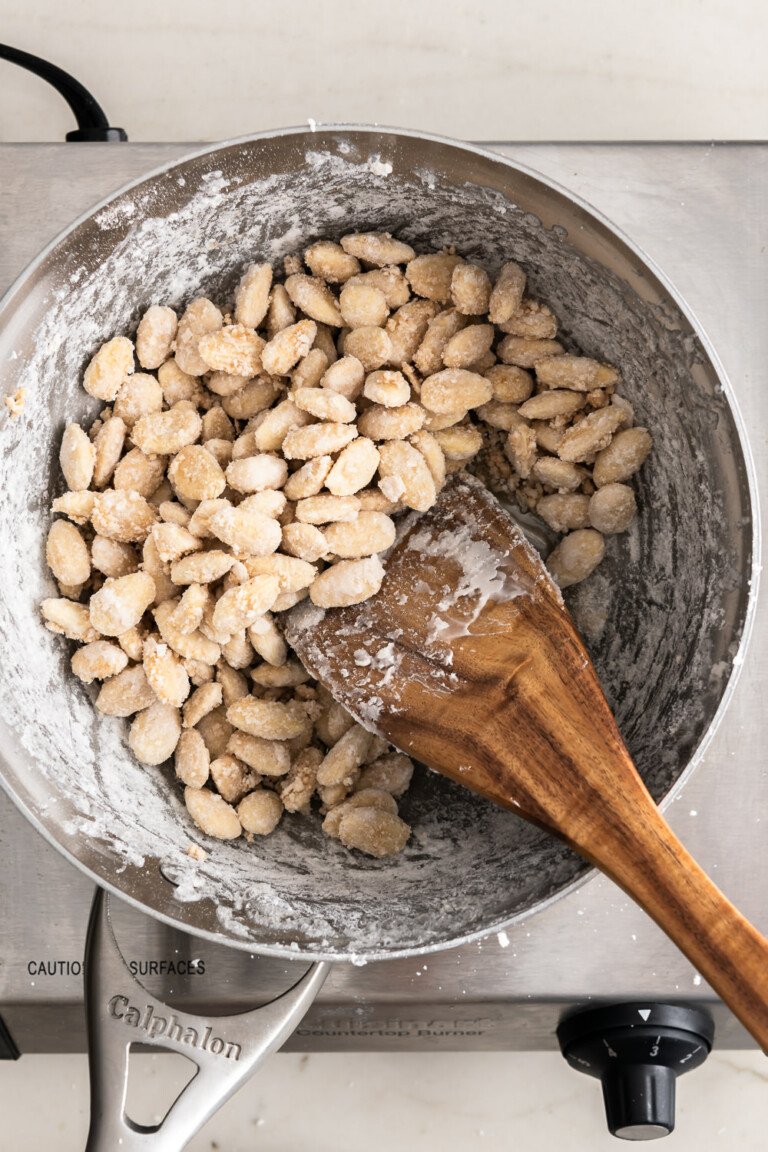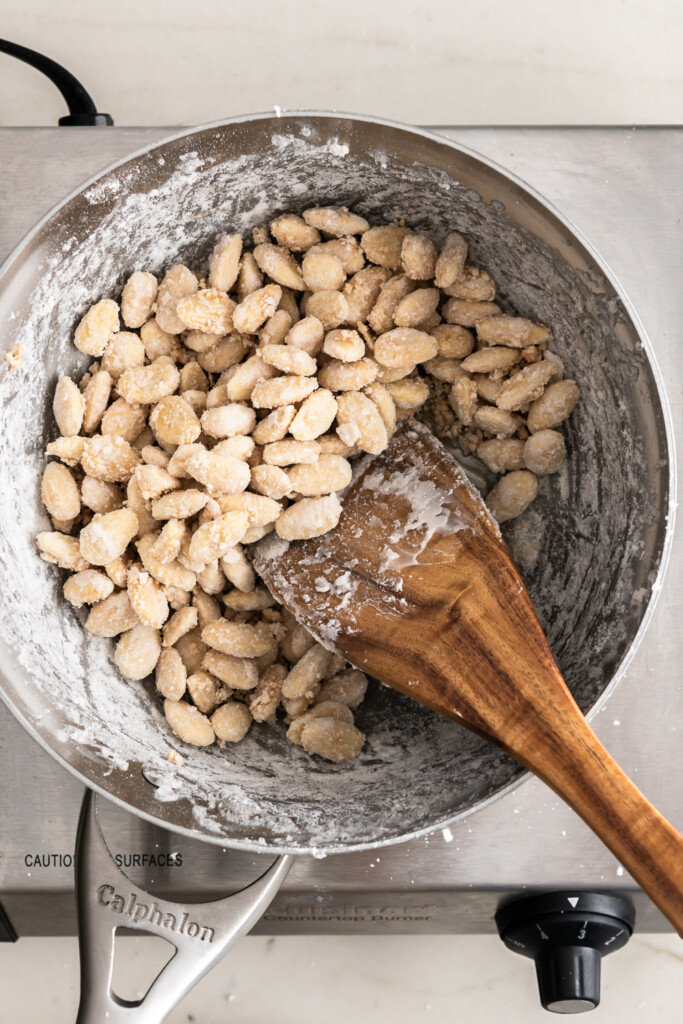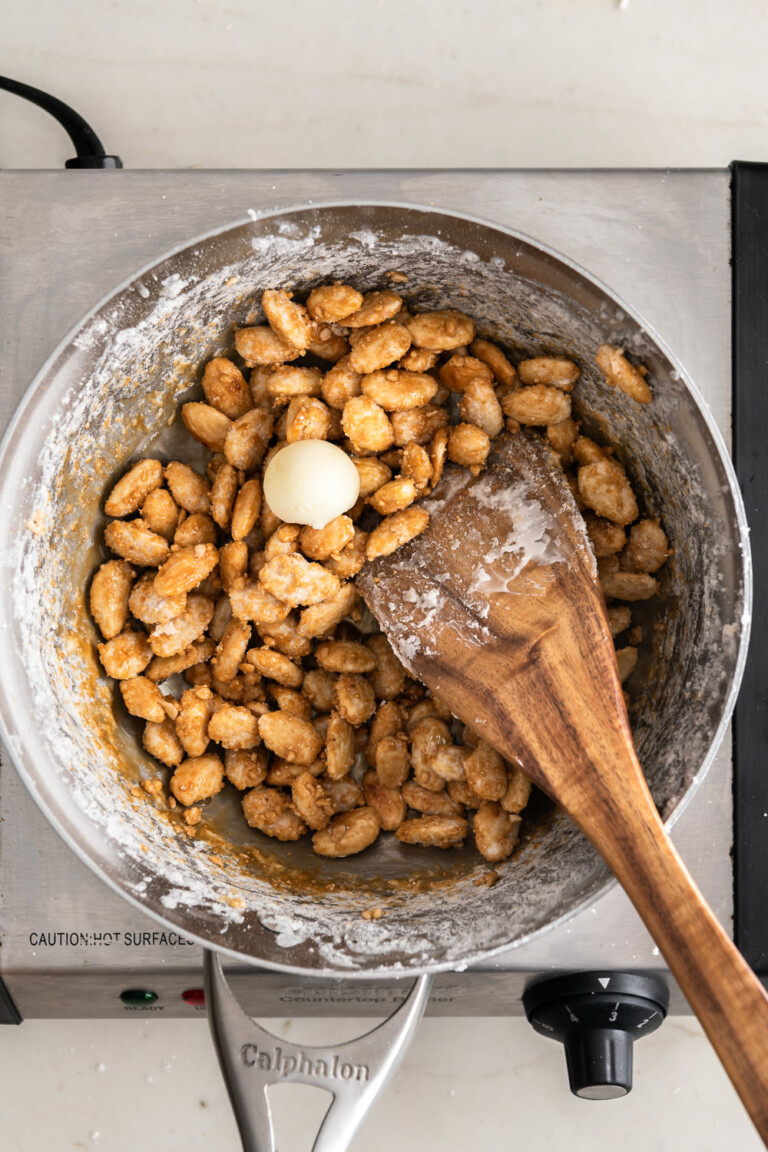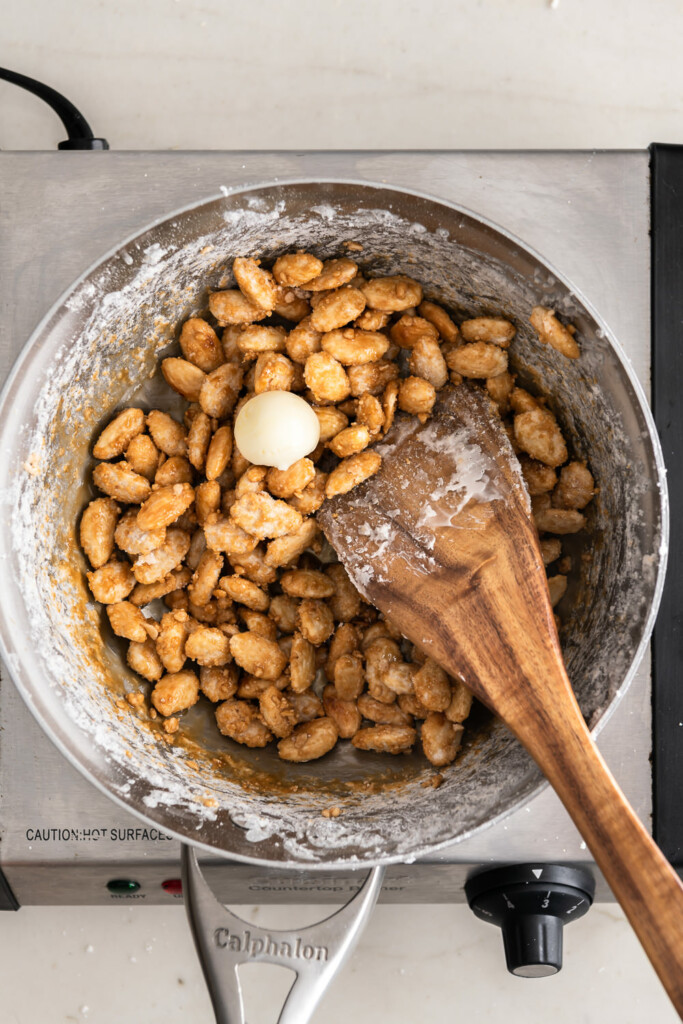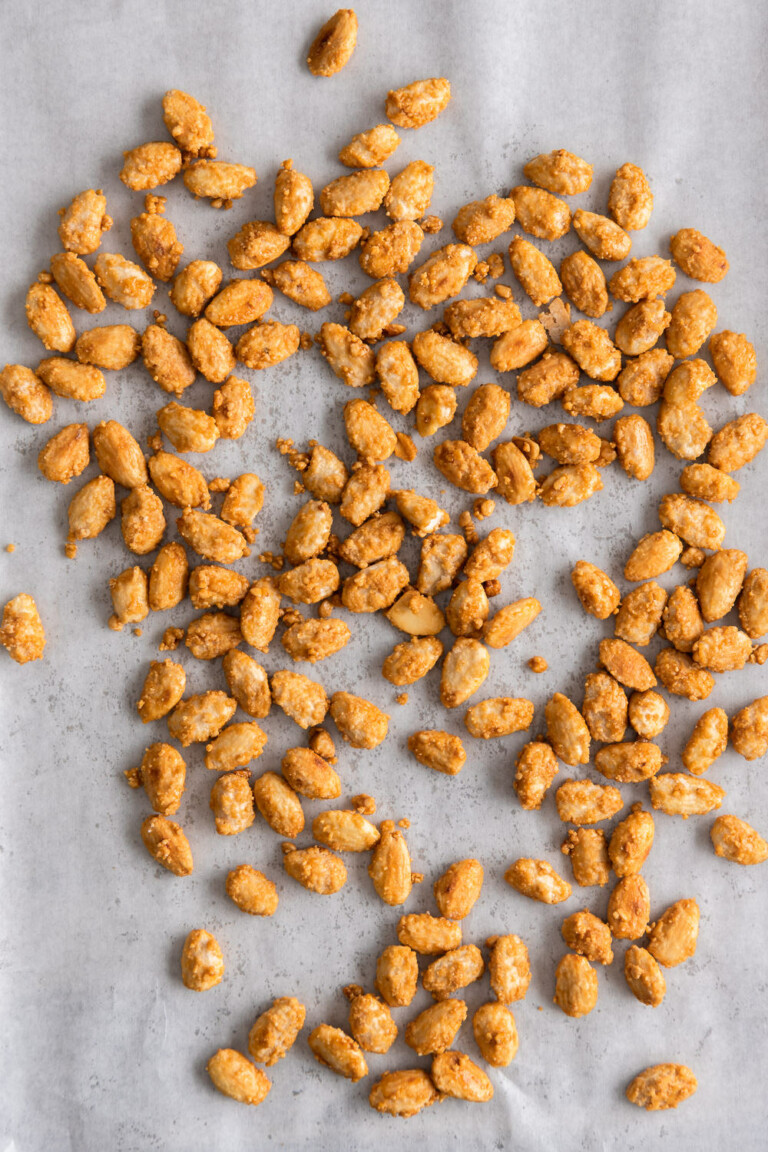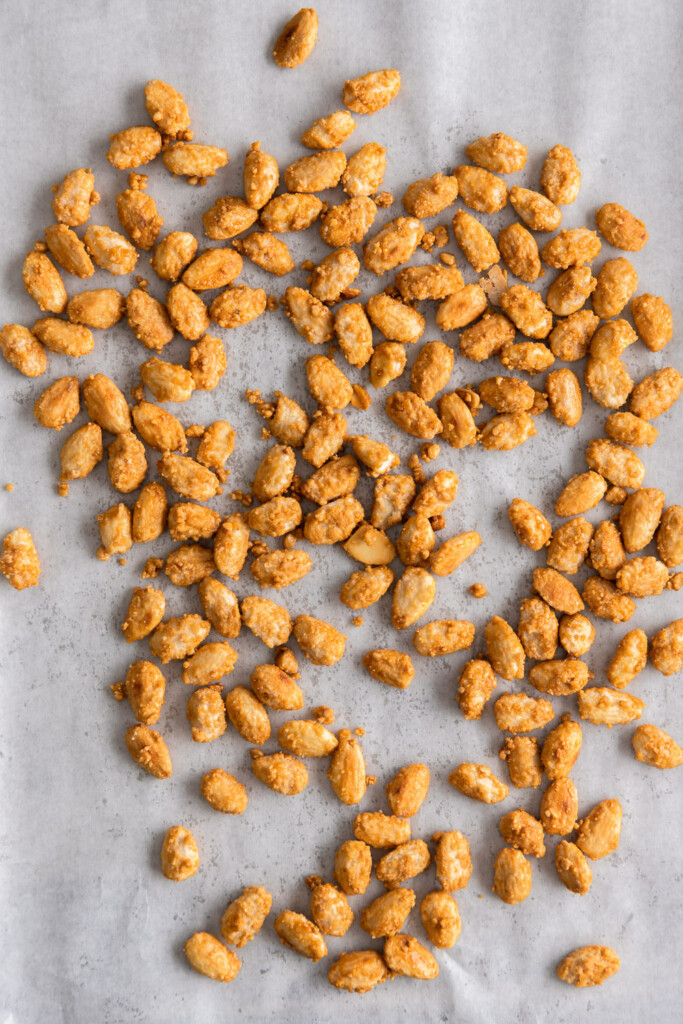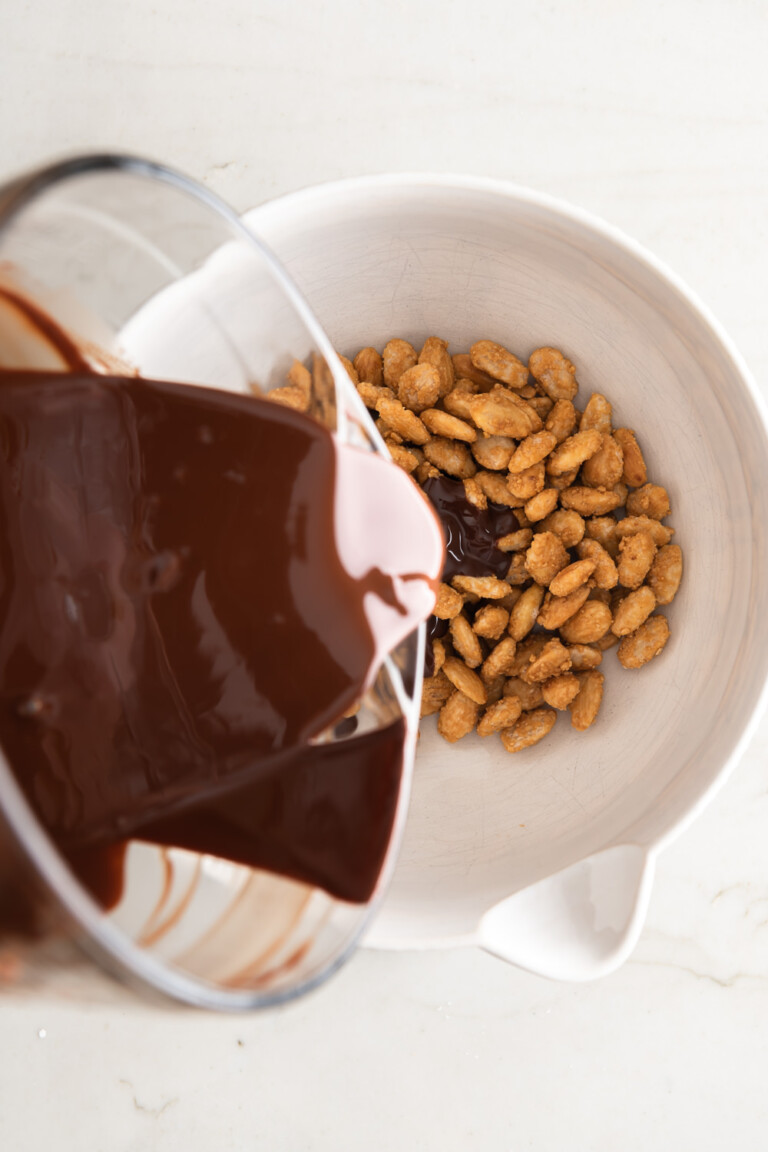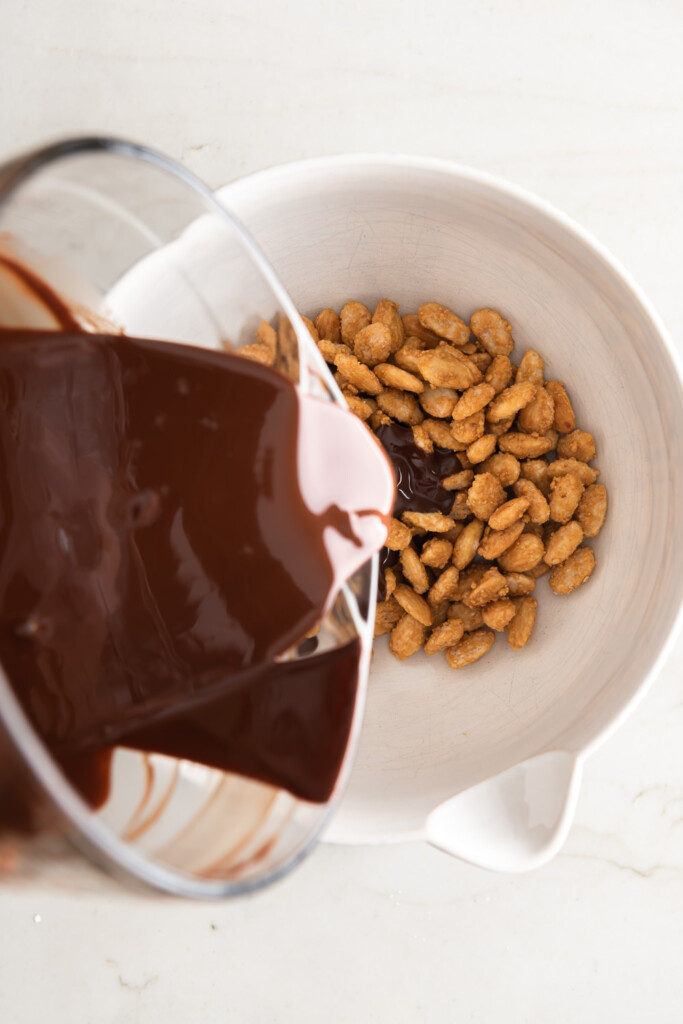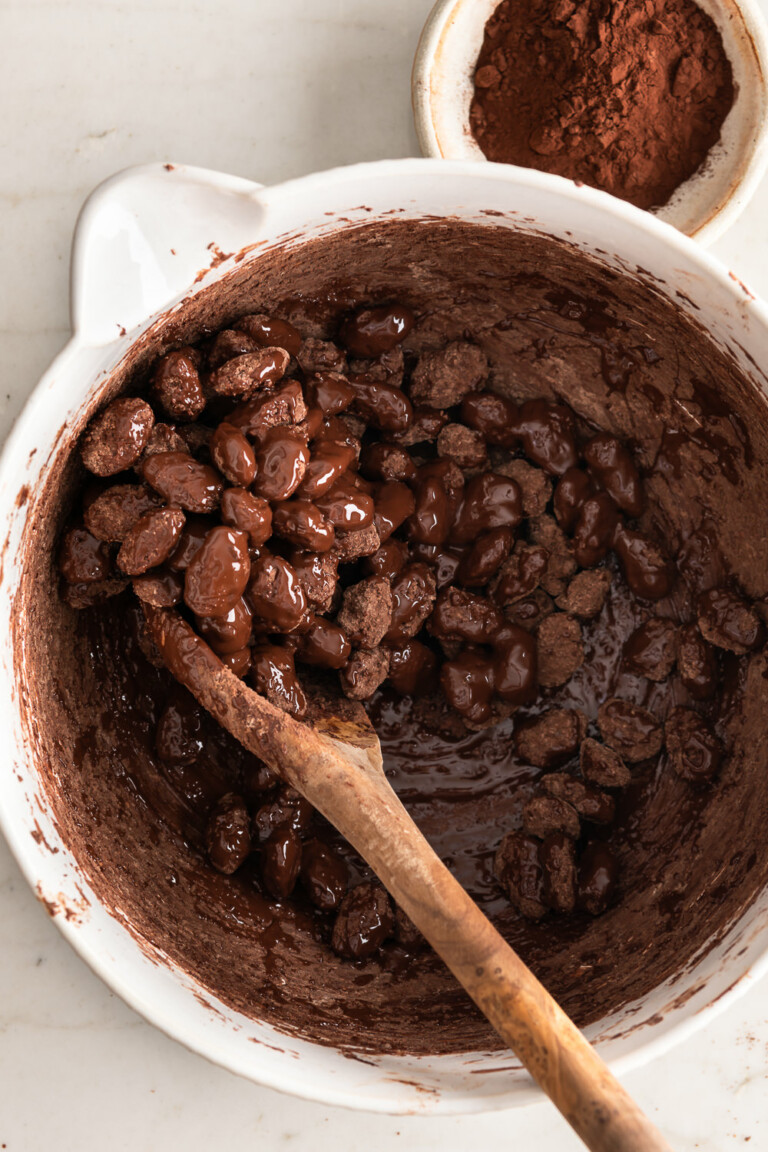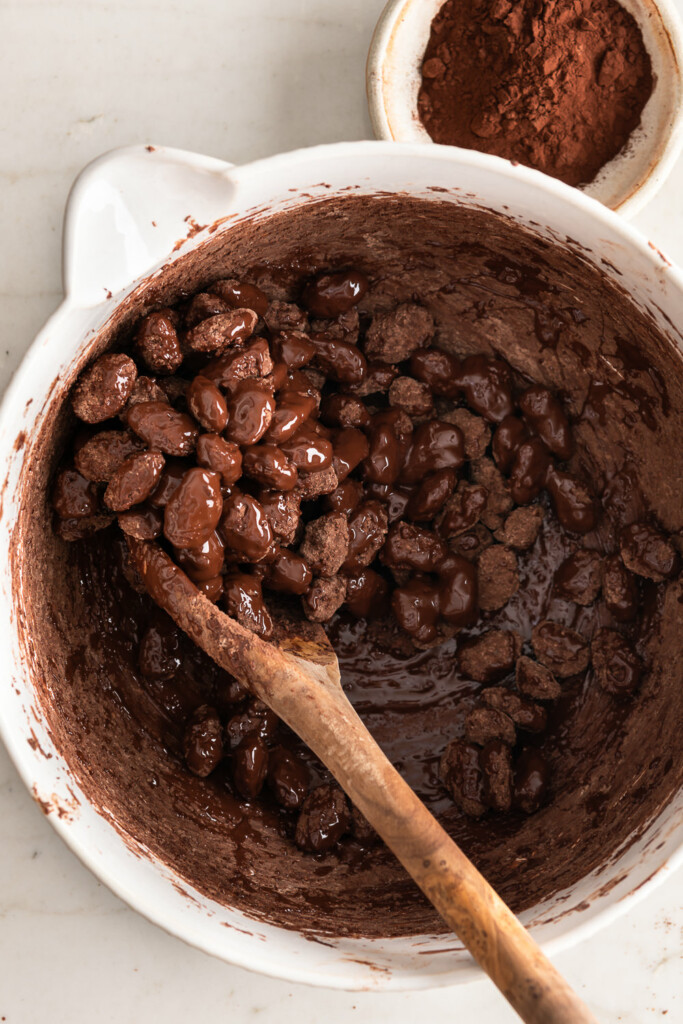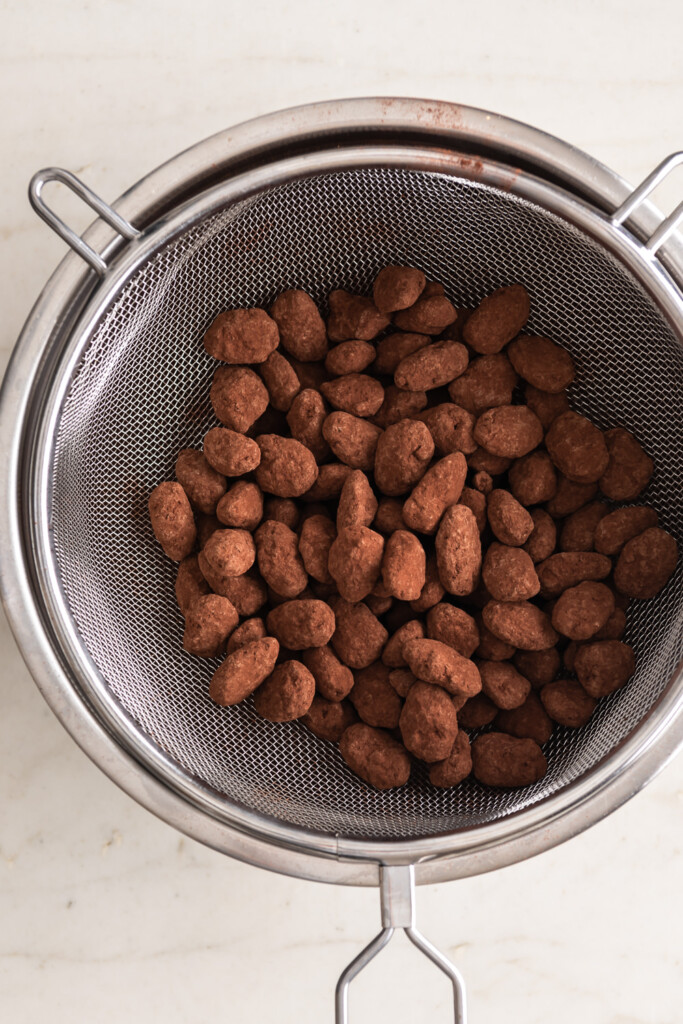 more tips on this chocolate covered almond recipe:
You can use any kind of chocolate you like here! I prefer dark chocolate covered almonds, but milk chocolate or even white chocolate will work all the same. Experiment and have fun!
If you want your almonds to be really smooth and glossy looking, you can dip them in tempered chocolate one by one. This is too tedious for me, even though the results are gorgeous. The bowl method lets you coat all the nuts so much more quickly, and dusting them in cocoa powder covers the imperfections!
Cacao Barry Extra Brute is my favorite Dutch cocoa powder for coating these nuts!
I love to purchase my blanched almonds from Nuts.com!
Thermapen makes the best instant-read thermometers for crystallizing the nuts and tempering the chocolate
To keep the chocolate in temper while I coat the nuts 3 times (and chill them in between), I love to use a sous-vide machine. I set up a water bath at 90°, maintained by the sous-vide, and then keep the tempered chocolate there. Read more details on how to temper chocolate here, but stir it periodically and don't let any water get in the melted chocolate (or it will seize and ruin the batch).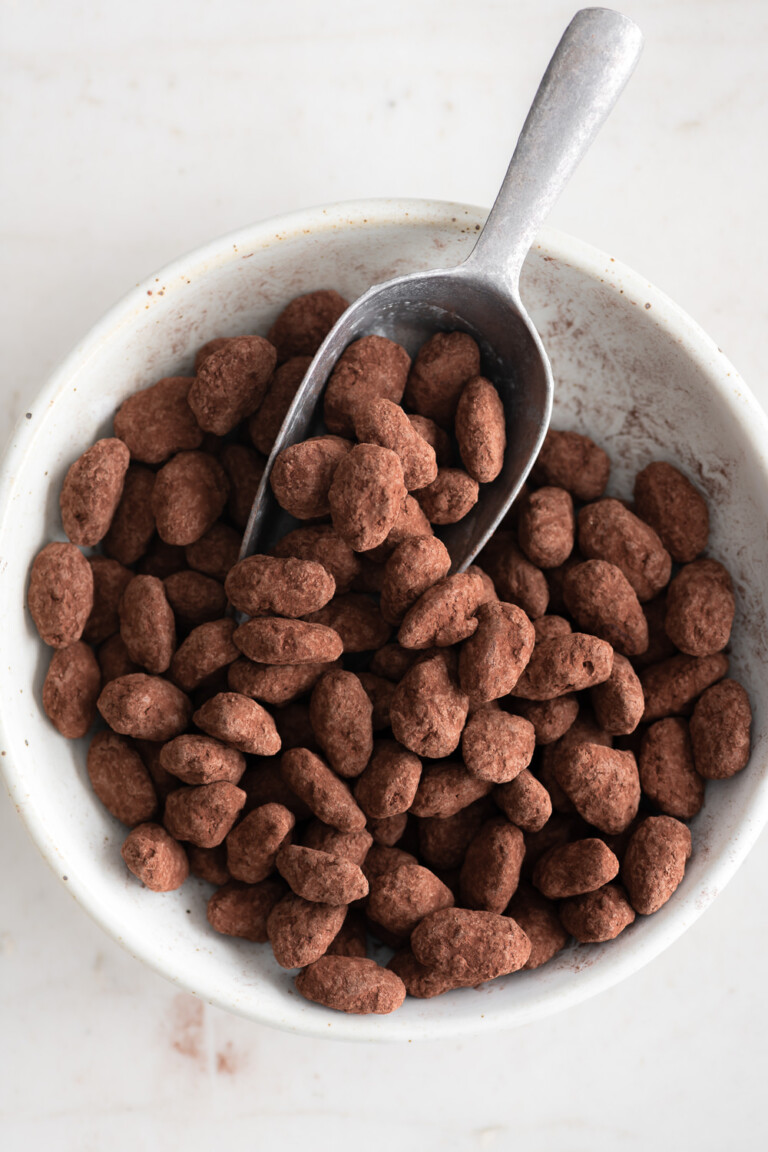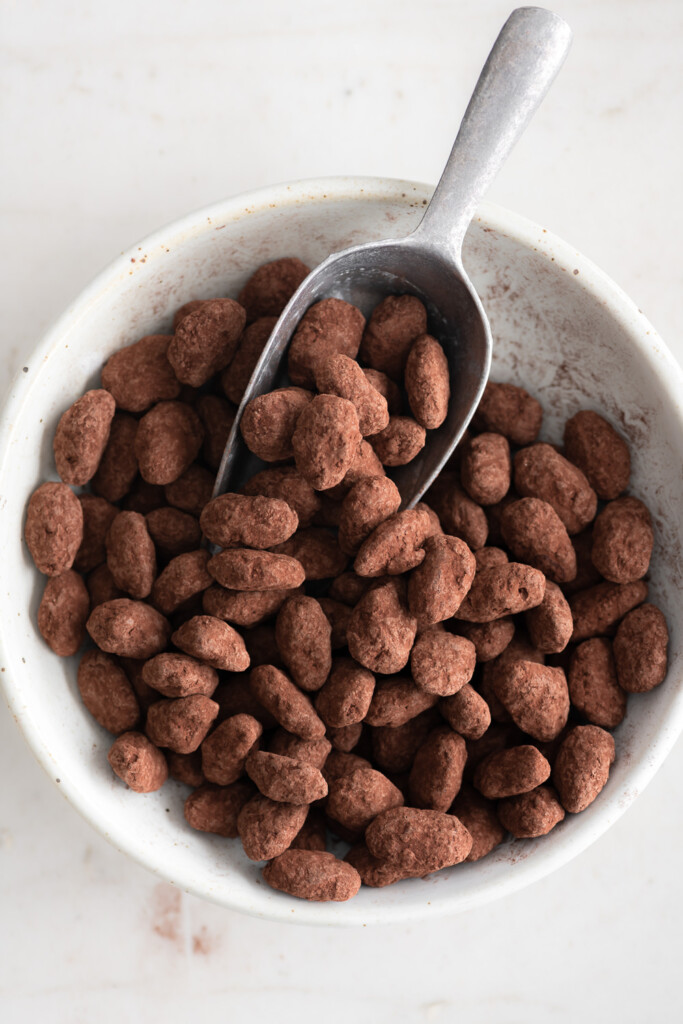 frequently asked questions about chocolate covered nuts:
Are chocolate covered almonds healthy?
I say I consider anything with a nut healthy, but I'm half joking. These are coated in sugar, butter, chocolate and cocoa powder. Almonds themselves are definitely healthy, but eat these in moderation! To make this recipe healthier, you could skip the caramelized sugar and just coat them in dark chocolate. It's pretty much just antioxidants at that point.
Why are chocolate-covered almonds from a store so smooth and shiny?
Professional chocolatiers and factories that mass produce chocolate-covered nuts use a panning machine (also called a chocolate dragee machine). It tumbles the nuts and melted chocolate around to get an even layer of chocolate all over the nut. It also polishes the nuts so they are perfectly smooth and shiny.
We use our arm, a wooden spoon, and a bowl to try to mimic that machine. And while our almonds are well coated in chocolate, we don't have a polisher to take them to the next level. But I think dusting them in cocoa powder adds charm and a homemade touch that can't be mass produced.
How to store chocolate covered nuts:
Store these chocolate covered almonds in a cool, dry place. A jar in the pantry, for example, is perfect. Humidity will cause the chocolate to bloom, so avoid the refrigerator. If you've properly tempered the chocolate, these nuts will keep up to 6 months!
How many calories are in dark chocolate covered almonds?
2 tablespoons of chocolate covered almonds have 258 calories, 20g of sugar and 16g of total fat. For more nutritional information, see bottom of the recipe.
Please keep in mind the nutritional information is only an estimate and the accuracy for any recipe on this site is not guaranteed.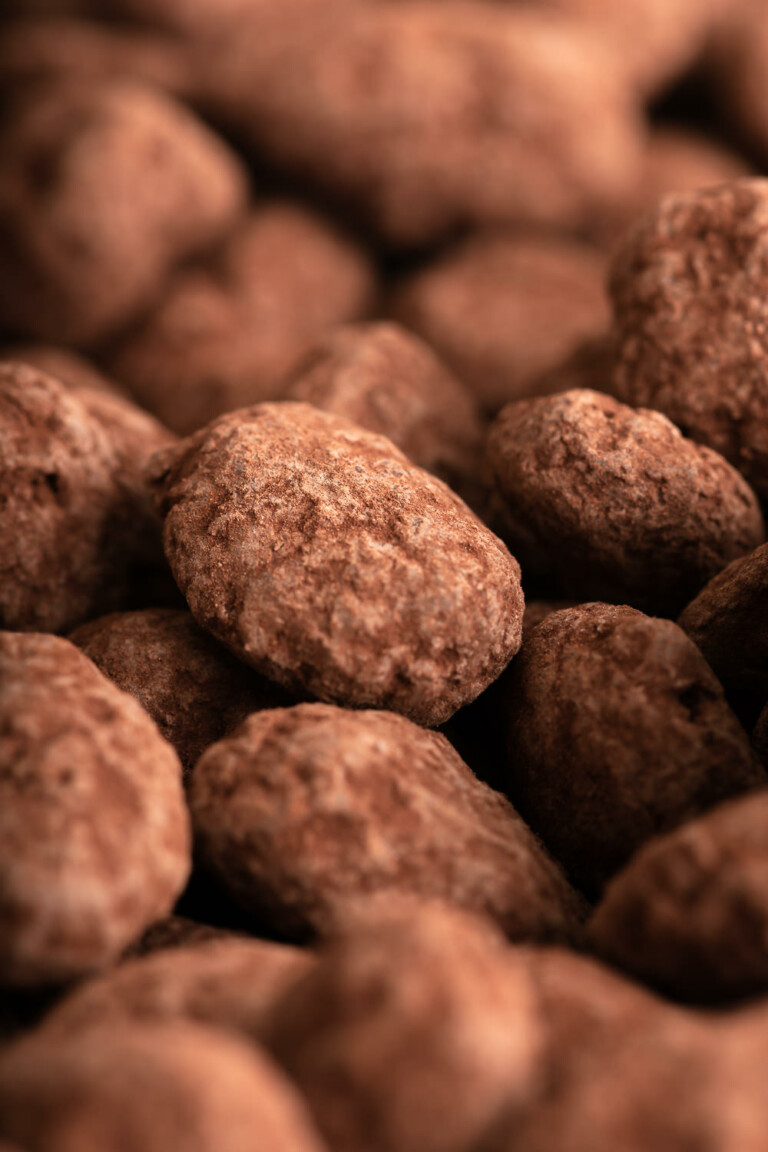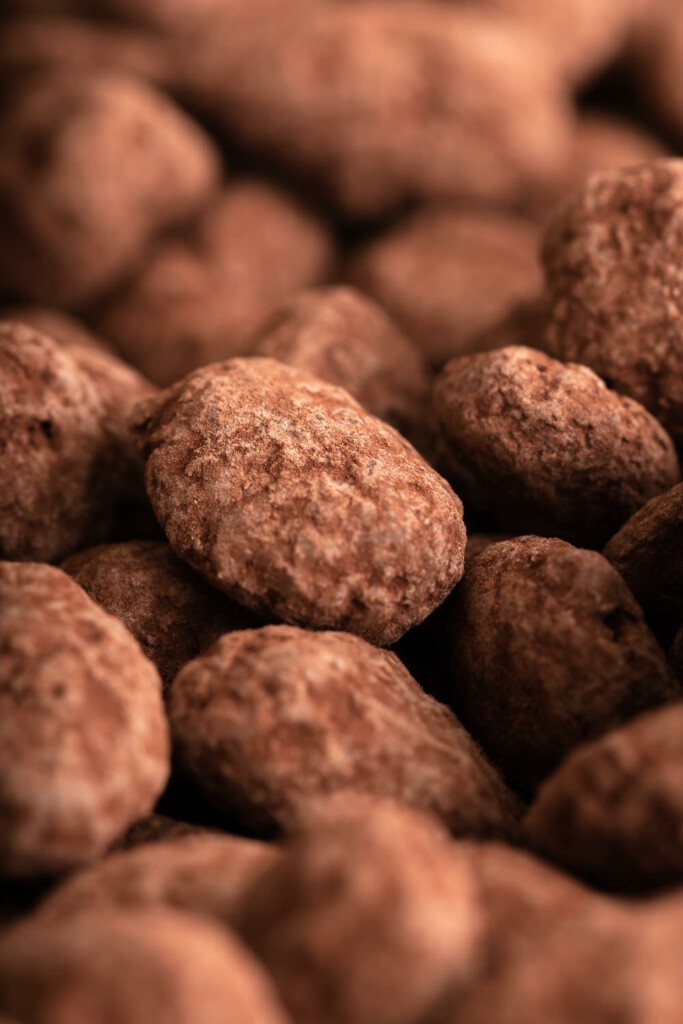 more homemade candy recipes to try!
sea salt caramels (soft and chewy!)
butter toffee recipe (buttercrunch)
Watch our Christmas candy web story here!
Print
dark chocolate covered almonds
Homemade chocolate covered almonds are coated in crystallized sugar, dark chocolate and a dusting of cocoa powder. Crunchy and so good!
Author:
Prep Time:

25 minutes

Cook Time:

20 minutes

Total Time:

45 minutes

Yield:

1 cup

Category:

Candy

Method:

Stove

Cuisine:

American
Ingredients
⅓ cup

granulated sugar

3 tbsp

water

1 cup

raw blanched almonds

1 tsp

butter
pinch of kosher salt

6 oz

tempered chocolate

2 tbsp

Dutch-process cocoa powder
Instructions
Line a baking sheet with parchment paper and set aside.
Combine sugar and water in a saucepan. Cook over medium heat, stirring as needed, until sugar dissolves. Increase heat to high and cook until syrup reaches 230°F, about 5 minutes. Remove from heat, add almonds and stir vigorously with a wooden spoon until sugar crystallizes and becomes powdery, 2- 3 minutes.
Return pan to medium heat and cook the almonds, stirring constantly, until sugar melts and caramelizes and nuts are toasted, about 10 minutes. 
Add butter and a pinch of salt; stir until butter is fully melted and nuts are coated. Pour almonds onto the prepared baking sheet and quickly but carefully spread them out into individual nuts. Let cool to room temperature.
Place nuts on a large plate and chill in the refrigerator for 5 minutes. Transfer to a mixing bowl and pour 2 oz (¼ cup) tempered chocolate over the nuts and stir vigorously until each nut is coated and separate from the bunch, and the chocolate is set, 2- 3 minutes. Return to plate and chill for another few minutes.
Repeat coating with ¼ cup tempered chocolate, vigorously stirring, and letting the chocolate set. After the third and final coat has set, add cocoa powder and stir until fully coated. Transfer nuts to a sieve and toss to shake off excess cocoa powder.
Notes
Nutritional information is only an estimate. The accuracy of the nutritional information for any recipe on this site is not guaranteed.
Chocolate covered almonds will keep for several months when stored in a cool, dry spot.
Nutrition
Serving Size:

2 tbsp

Calories:

258

Sugar:

20g

Sodium:

126mg

Fat:

16g

Saturated Fat:

4.9g

Unsaturated Fat:

9.9g

Trans Fat:

0g

Carbohydrates:

25g

Fiber:

2.9g

Protein:

5.5g

Cholesterol:

6.2mg
Keywords: chocolate covered nuts