These dark chocolate truffles are completely out of control. They are ultra-smooth and will melt-in-your mouth like no truffle has before. Use good chocolate bars for this recipe and the luscious chocolate flavor will be out of this world.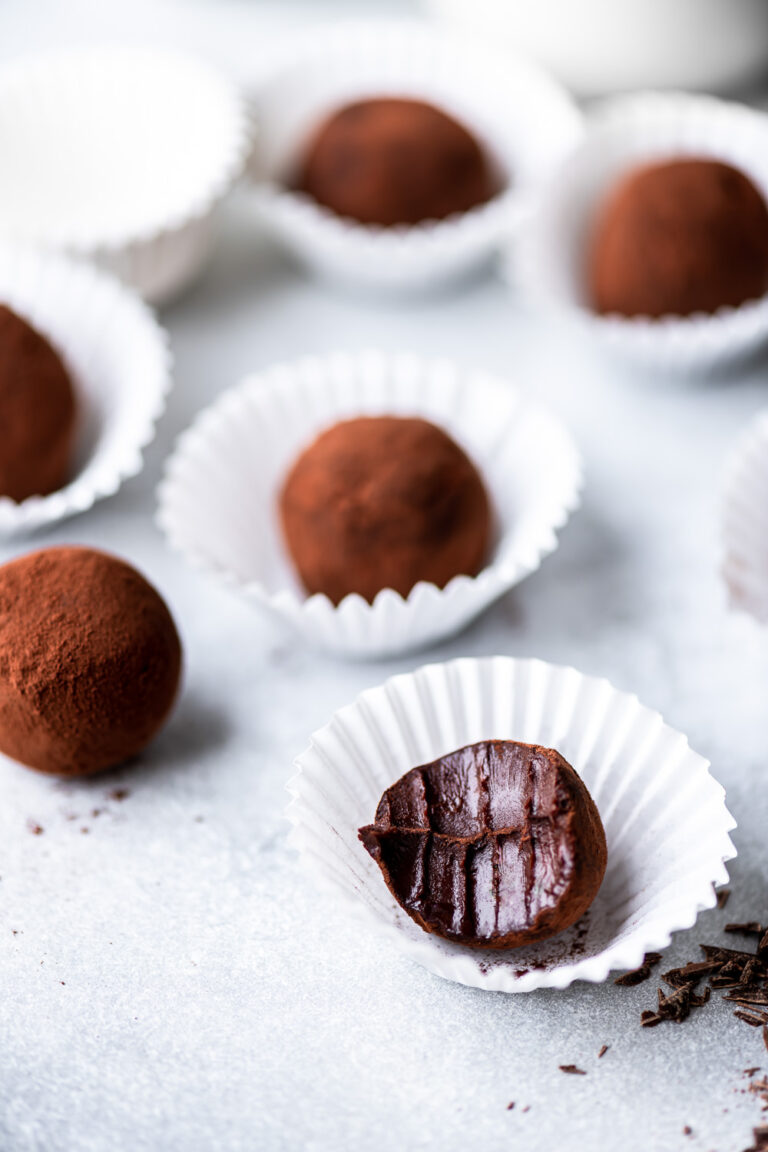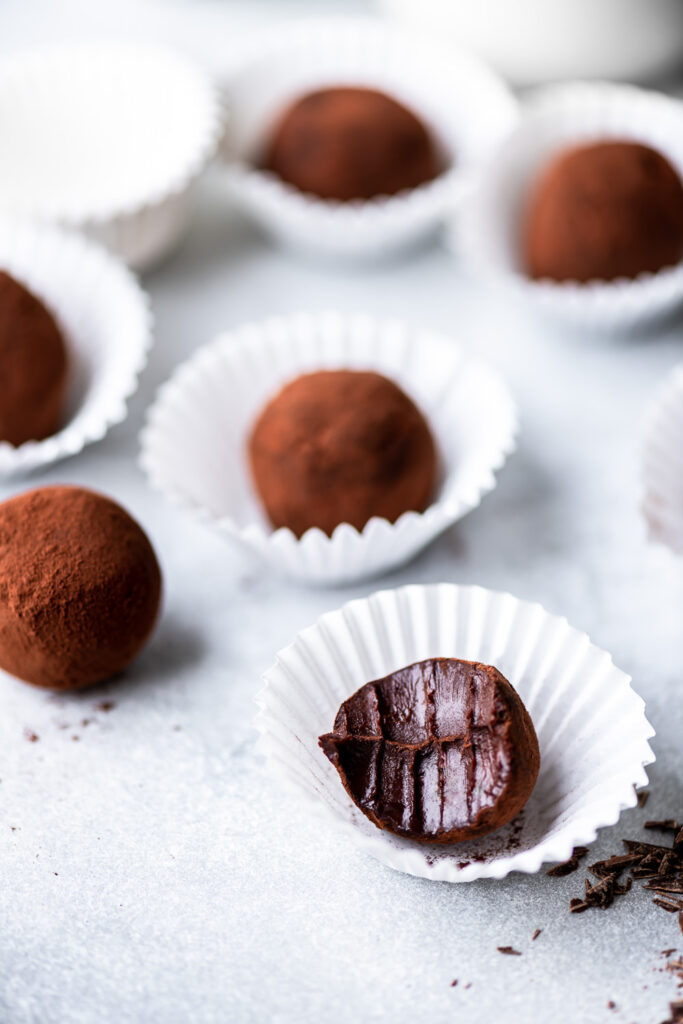 This post may contain affiliate links. As an Amazon Associate, I earn from qualifying purchases.
It turns out chocolate truffles are scary-easy to make at home. I've dipped them in melted chocolate, rolled them in cocoa powder, coated them in crushed peppermints. But I always come back to the cocoa truffles-- it's a texture thing.
The cocoa layer keeps the dense, velvety smooth truffle front and center. No crunchy interferences. When you coat them in a snappy layer of chocolate, it takes away from that incredible fudgy consistency. It's all a trade-off. Tempering and dipping truffles in chocolate is a hassle, but the chocolates are relatively clean. Cocoa truffles are quick to dip and roll (though also very messy), but they're also messier to store, hold and eat. I give instructions to make them both ways-- pick your poison, dive in and don't look back!
Read on for tips and details on how to make the most mind-blowingly rich dark chocolate truffles.
what are chocolate truffles?
Chocolate truffles are a rich chocolate candy. Chocolate is melted and mixed with cream, or in this case butter and egg yolks, so that it's soft and lusciously smooth at room temperature.
The truffles are typically shaped into balls and coated in cocoa powder, chopped nuts, or hard chocolate to keep the soft filling contained (and prevent them from sticking to every surface).
They're called "truffles" because the irregular, hand-rolled shape and coating in cocoa powder resembles the truffle mushroom-- which is dark brown, dusty from dirt, and beautifully bumpy. But I promise, that's where the similarities end!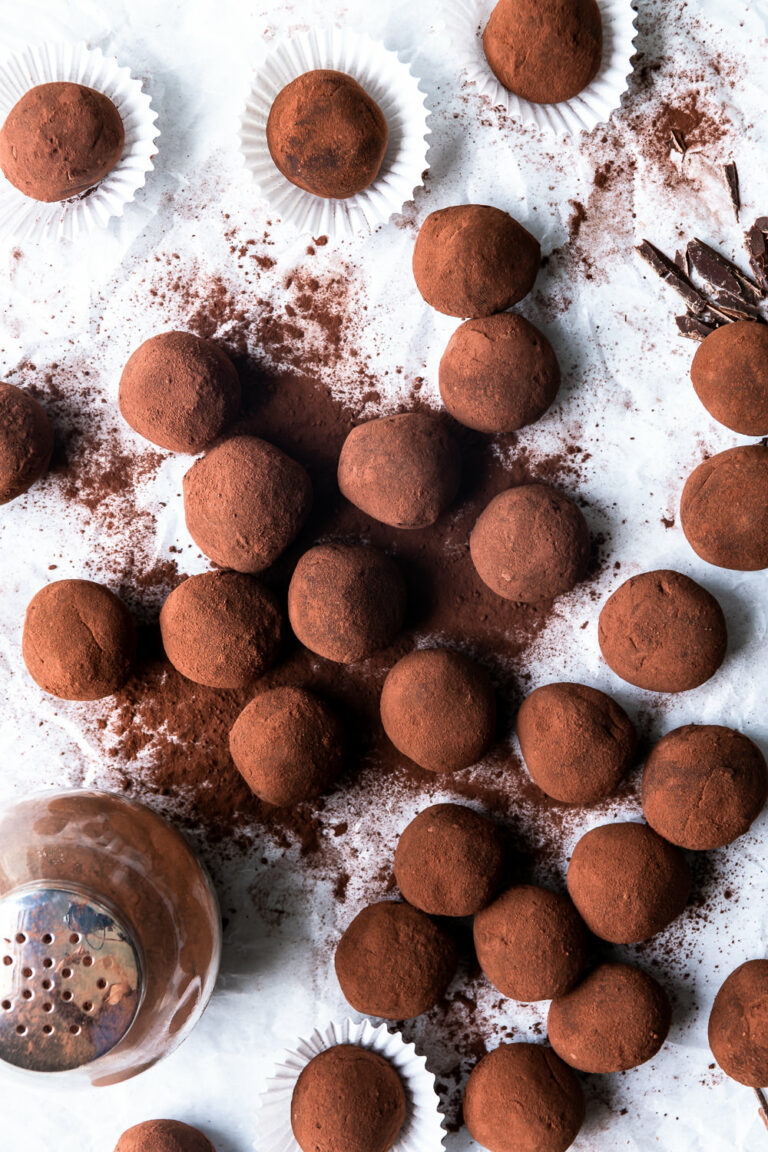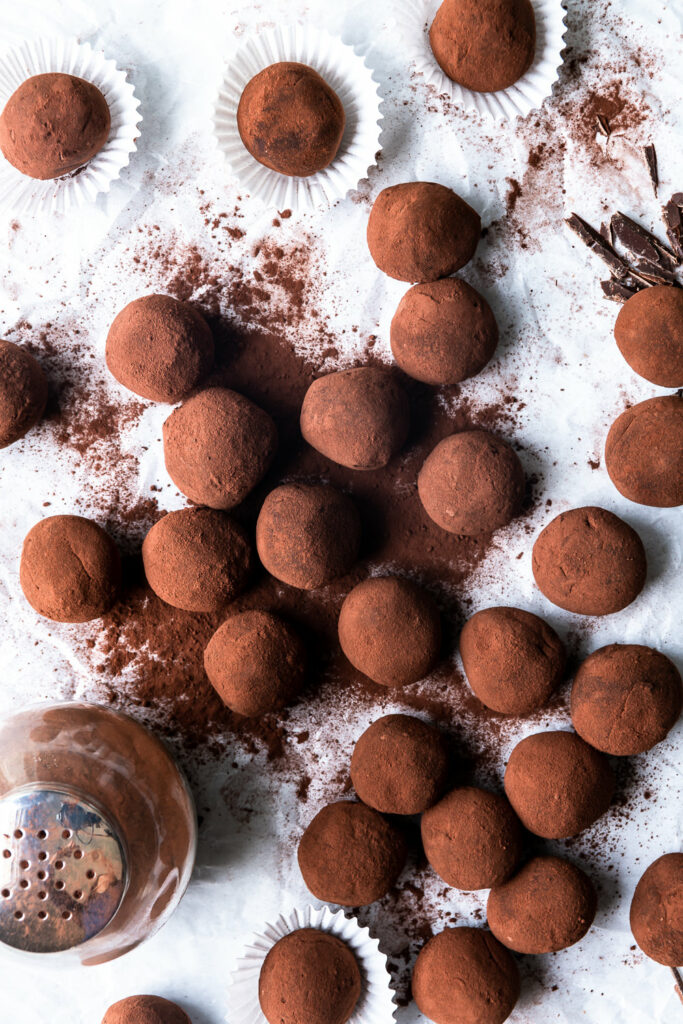 why these are the absolute best chocolate truffles:
High quality chocolate bars: Use dark chocolate between 50- 60% cacao. We don't add any extra sugar to these dark chocolate truffles, so it's important to keep the cacao levels below say 60%. Much higher and the truffles won't taste balanced.
Butter and egg yolks: Skip the cream ganache truffles and give these a try. The combination of butter and egg yolks add decadence, richness, and silky smooth texture that is arguably the best of the best. The process is slightly more involved, but if you're willing to make homemade chocolate truffles you should make the best!
Rolled in great cocoa: I'm obsessed with Cacao Barry Extra Brute cocoa powder, but any great alkalized (Dutch-processed) cocoa will be delicious. It's so important for a deep, rich, silky cocoa coating. You could use natural cocoa powder as well; it's all a matter of taste. But use the best you can get your hands on!
Easily modified: You can easily swap out a few tablespoons of hot water for liqueur, spirits or extracts to flavor these chocolate truffles. Roll them in a variety of different crushed candies or cookies. The recipe is simple and flexible-- it's the perfect canvas for whatever flavor truffle you crave! Read on for more flavor ideas.
what you need for chocolate truffles:
High quality chocolate
Butter
Eggs
Salt
Cocoa powder
how to make dark chocolate truffles:
Melt chocolate and butter
Whisk together yolks, then slowly add in boiling water to pasteurize them
Blend melted chocolate mixture and egg yolks in a food processor until thick and shiny
Transfer to a dish, cover and chill
Scoop and shape into tablespoon sized balls
Roll in cocoa powder and enjoy!
This recipe can be easily halved!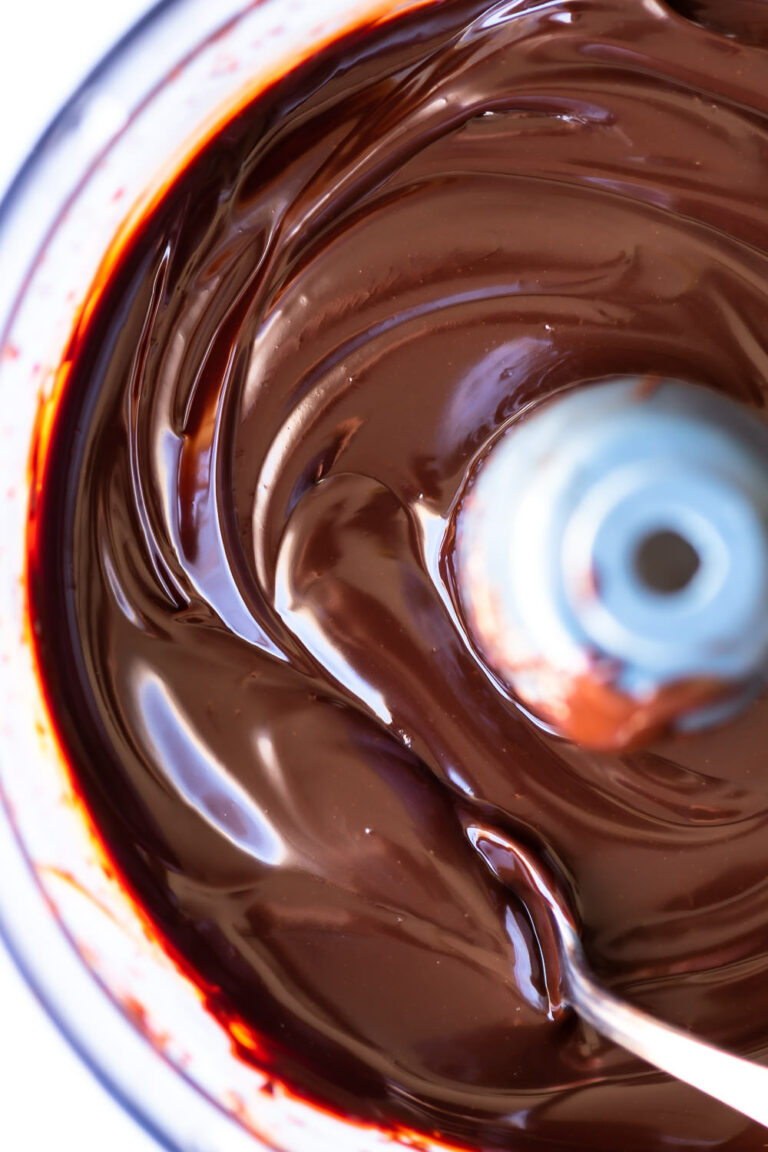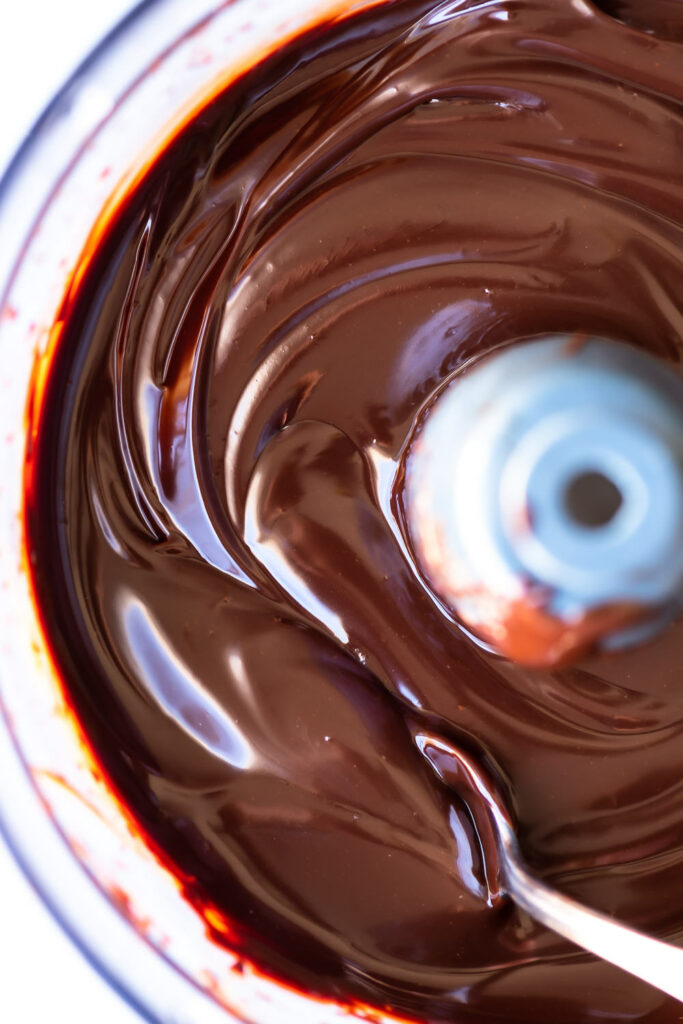 how to shape chocolate truffles:
I'll be straight with you: shaping truffles is messy. If you want them to be balls, just roll up your sleeves and dig in.
Cool room temperature. First, bring the truffle mix out of the fridge and let it soften a bit. It should be firm but malleable, about an hour or so. If it's too cold, it'll break into shards when you try to shape it into a ball. Too warm and it will smoosh all over your hands and feel impossible to deal with.
Scoop and roll. I prefer to scoop them out by the tablespoon and give one edge a very light dip in cocoa powder. This coats the chocolate a bit, prevents half the truffle from sticking to my hands, and gives it a little traction so that I can roll and shape the truffle into a ball without smashing and smearing.
Coat in cocoa. Once the ball has taken shape, fully coat them in cocoa powder. If you want a really round and smooth shape you could roll again, then end with a final coating of cocoa. This tends to pack in a layer of cocoa and gives them a more resilient shell. Otherwise, stop for a rustic homemade look.
truffle shaping tips:
As you go, you'll notice there's a sweet spot that occurs in the amount of cocoa on your hands that actually helps the shaping. It'll get faster and faster, and then it'll teeter over to too much build up and actually cause more sticking. Just wash your hands at this point. I like to wash my hands and scrape off the chocolate about every 8- 10 truffles.
I love to store them in mini-muffin liners if I'm giving them to friends-- it's a great way to contain the cocoa powder, which has a tendency to get everywhere.
Or-- DON'T shape them into balls! Alice has a great tip in her book: pour the truffle mix into a foil-lined loaf pan, chill it completely, then turn it out, peel off the foil and cut it into bite-sized squares.
coating ideas for chocolate truffles:
Shredded coconut
Chocolate sprinkles
Finely chopped nuts (pecans, peanuts, hazelnuts, pistachios, walnuts, macadamia nuts)
Crushed peppermint candies
Toffee bits
Crushed pretzels
Dipped in melted dark or white chocolate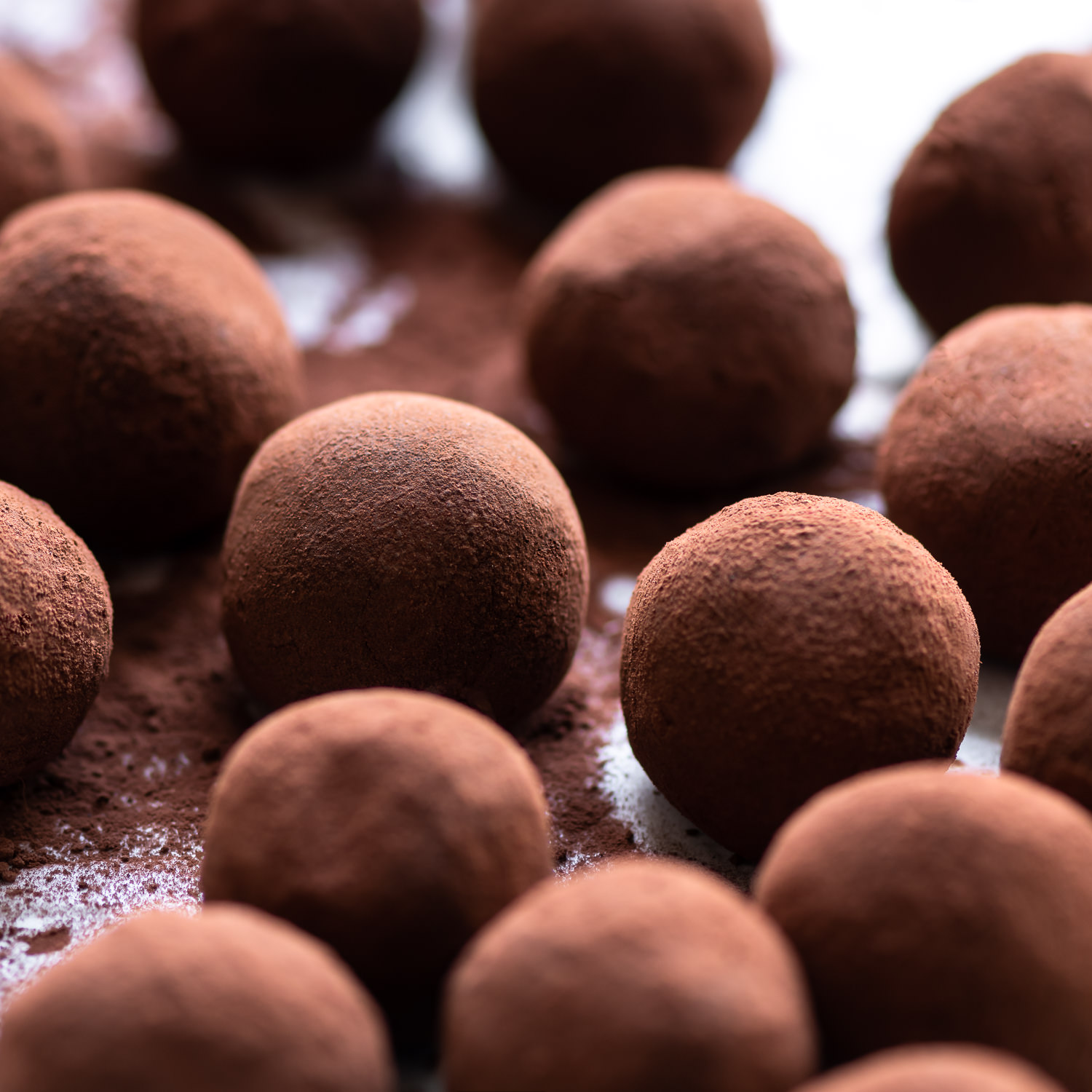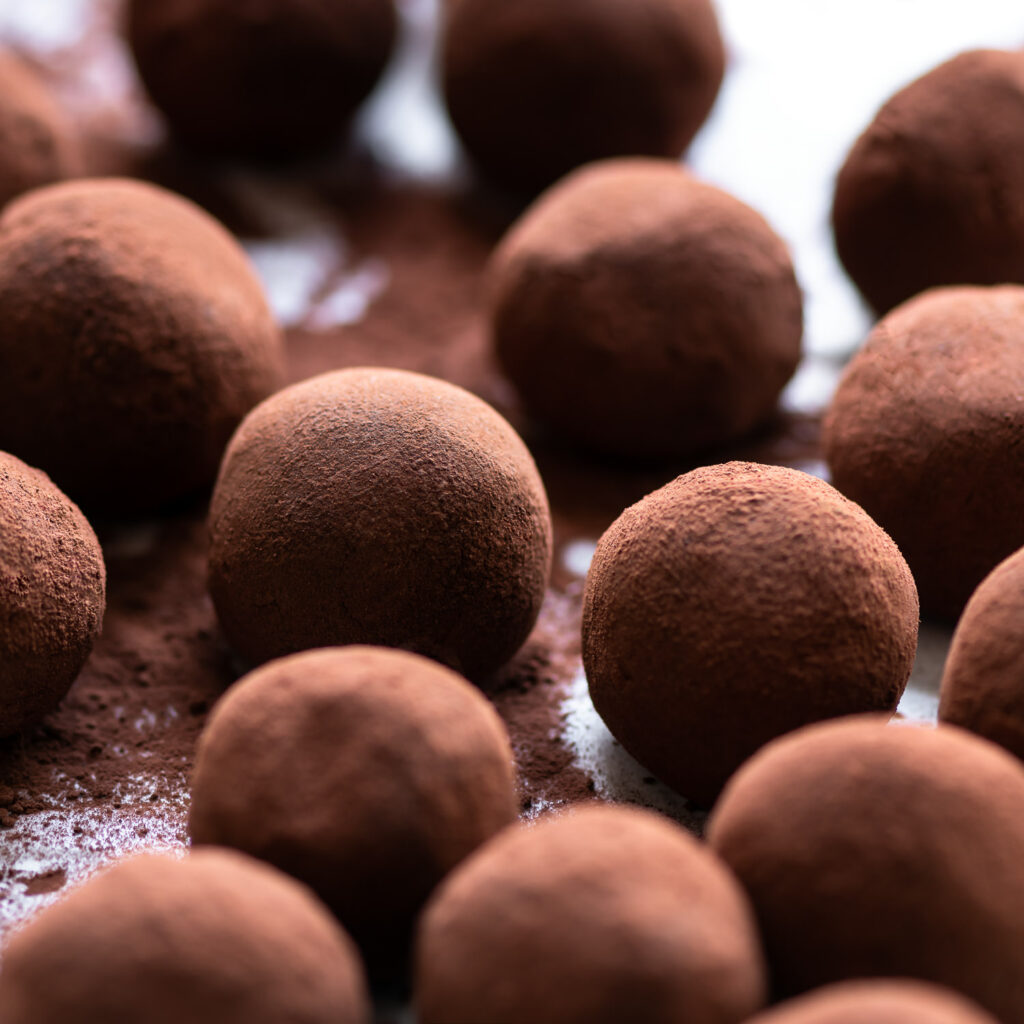 Chocolate truffle flavor ideas:
There are so many fun ways to add flavor to truffles. Add extracts and liqueur to the food processor with the egg mixture. Start with suggested amounts of extracts, which will vary with each type, and use about 2 tablespoons of alcohol.
Espresso (dissolve 2 teaspoons of espresso powder in the hot water)
Chile (½ tsp ground chile powder, chipotle or cayenne)
Cinnamon (½ teaspoon)
Vanilla extract (1 teaspoon)
Peppermint extract (½ teaspoon)
Almond (½ teaspoon)
Coconut (1 teaspoon)
Grand Marnier
Chambord
Irish cream
Kahula
Amaretto
Frangelico
Creme de Menthe
Creme de Cacao
How to dip truffles in chocolate:
If you prefer truffles coated in melted chocolate, here's what to do!
Shape them into balls (read details here): I prefer to still use a light dip in cocoa even if I'm dipping in melted chocolate. It makes the shaping much cleaner, believe it or not, gives them some traction to roll into a round ball.
Chill at least 30 minutes so the balls are extra firm and will hold their shape.
Temper the chocolate: this will keep the truffle coating glossy, snappy and less prone to melting in your fingers. My favorite method is using a sous vide machine. It keeps the process so clean, so hands-off, and so precise. Read details here!
Use two forks to hold the truffle and lower it into the tempered chocolate. Roll it to coat the entire surface, then gently shake to let excess chocolate drip off. Transfer to a parchment paper-lined baking sheet and let the chocolate set completely.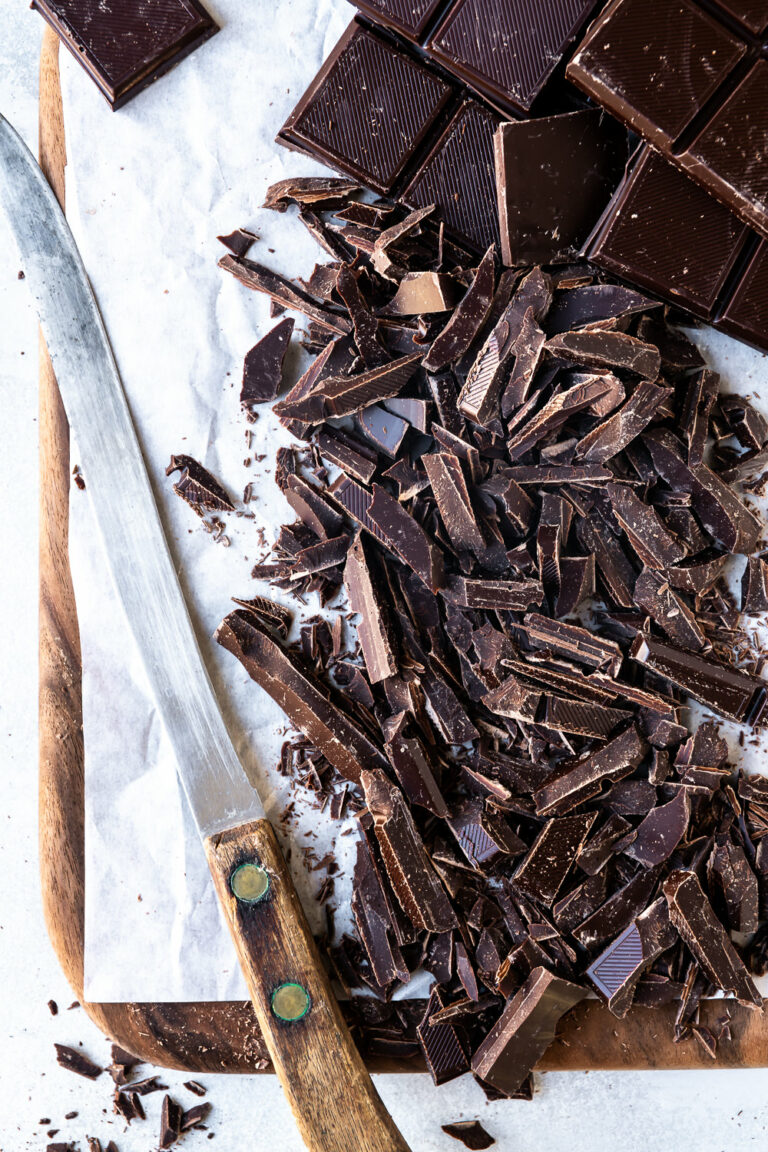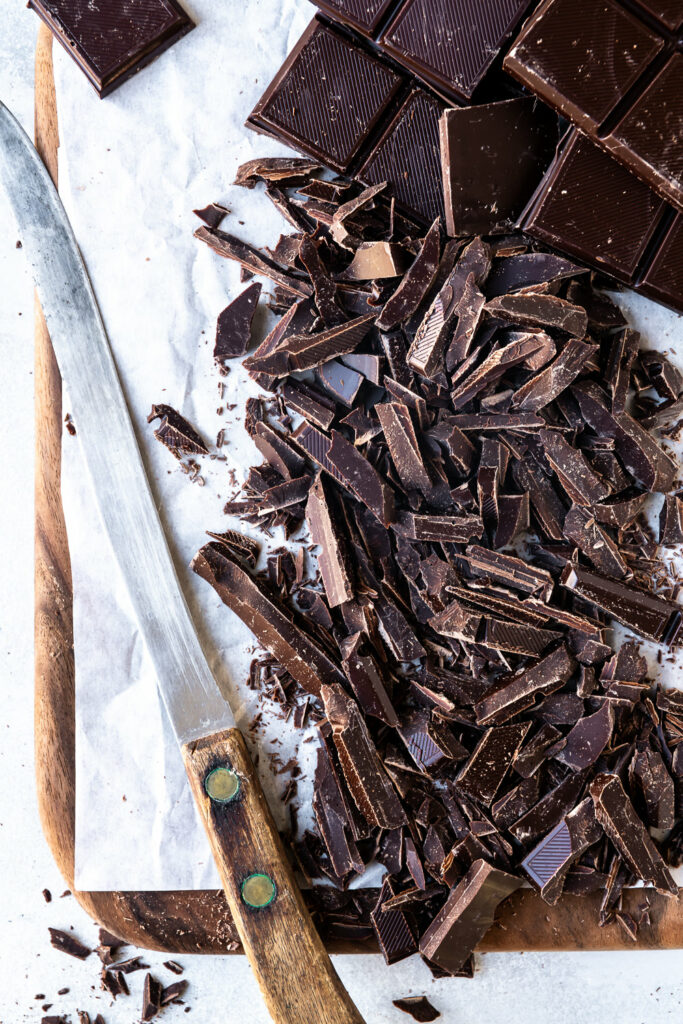 how long do truffles last?
These chocolate truffles will keep, refrigerated, for up to 2 weeks. Freeze, if desired, for up to 3 months.
notes on this chocolate truffle recipe:
This dark chocolate truffle recipe is from Alice Medrich-- the true queen of chocolate. She has found that butter and egg yolks actually make a more decadent dark chocolate truffle than using cream for chocolate ganache truffles. I haven't changed any of her proportions; I've just simplified the process a bit and added a few of my own tips.
If you're worried about salmonella, this chocolate truffle recipe could contain egg yolks that are not fully cooked to 160°F: it all depends on your technique. In theory, whisking in boiling water to the yolks should raise them to 160°F and make them completely safe. If you're concerned about potentially consuming raw eggs, use an instant read thermometer. If it doesn't reach 160°F, it's a simple fix of gently cooking the yolks in a pot over a double boiler until an instant read thermometer does register 160°F.
This is your best option if you plan on gifting these truffles to friends and family. And definitely don't skip the straining step afterwards-- it's crucial to catch the bits of hard cooked egg that always show up.
Personally, I don't bother with the cooking part. We eat plenty of runny eggs every day and go big with our hollandaise sauce. But either option will produce decadent and delicious chocolate truffles!
more homemade candy recipes to try:
butter toffee recipe (buttercrunch)
dark chocolate covered almonds
the best chocolate peanut clusters
sea salt caramels (soft and chewy!)
chocolate holiday bark with amaretti cookies and espresso
Watch our Christmas candy web story here!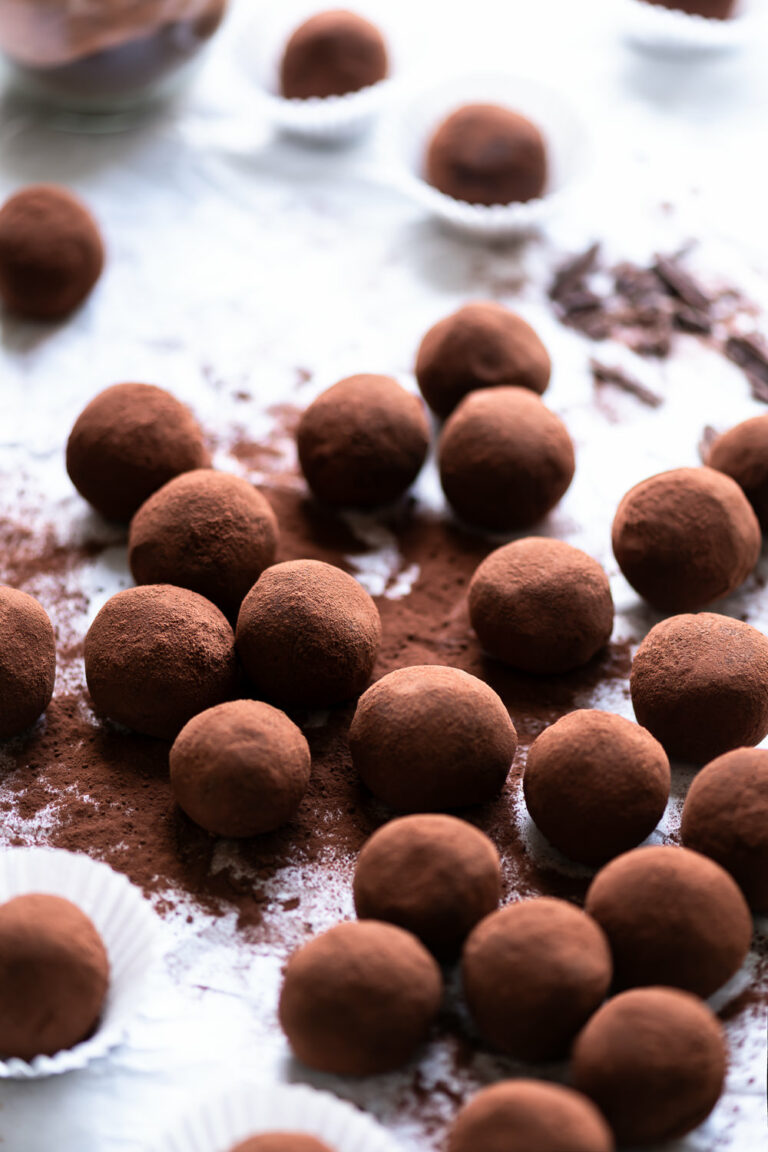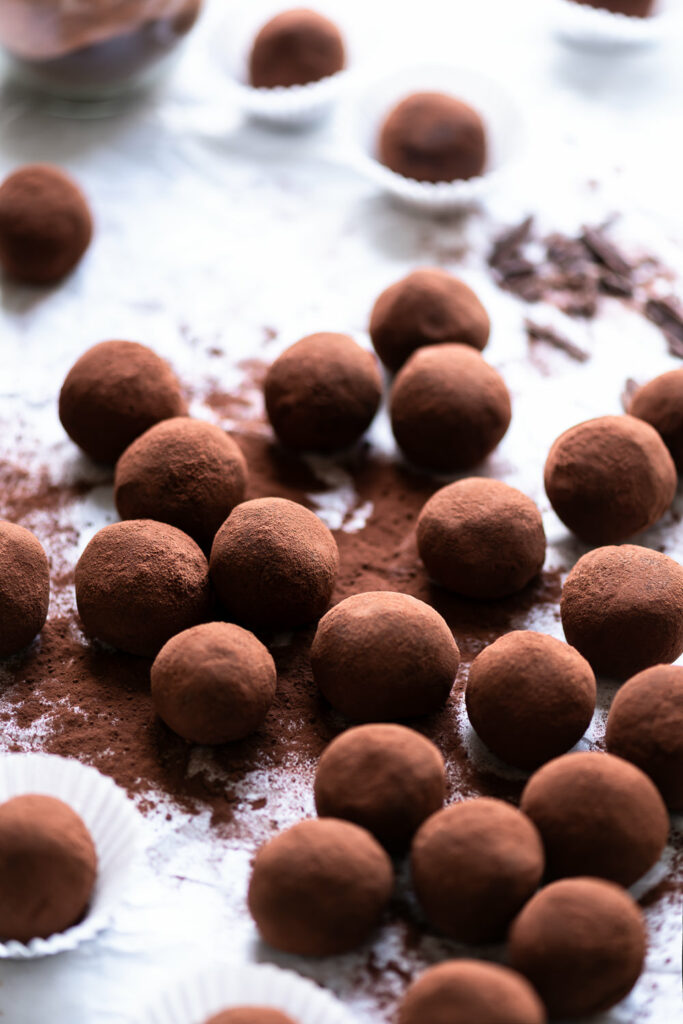 Print
dark chocolate truffles
These dark chocolate truffles are rich, fudgy, ultra-smooth and melt in your mouth like no truffle has before. A luscious bite of chocolate!
Author:
Prep Time:

15 minutes

Cook Time:

5 minutes

Total Time:

20 minutes

Yield:

30

Category:

Chocolate

Method:

Stove

Cuisine:

American

Diet:

Gluten Free
Ingredients
1

lb high-quality semisweet chocolate (50- 60% cacao), coarsely chopped

10 tbsp

unsalted butter, cubed

2

large egg yolks, at room temperature

⅛ tsp

fine sea salt

½ cup

unsweetened cocoa powder (Dutch-processed if possible), plus more if needed
Instructions
Place chocolate and butter in a heatproof bowl set over a saucepan of simmering water. Don't let the water touch the bottom of the bowl. Heat until melted and smooth, stirring occasionally, then transfer to a food processor. Save the water in the double boiler.
Place egg yolks and salt in a medium heatproof bowl and whisk smooth. Return pot of water to a boil, then gradually whisk in ½ cup of water, starting very slowly at first to prevent cooking the yolks. Strain yolks through a fine mesh sieve into the food processor.
Process for a few seconds, scrape the bowl, and process again for about 30 seconds or until mixture is smooth, shiny and pudding-like. Transfer mixture into a loaf pan or baking dish and smooth the surface. Alternatively, if you prefer to cut the truffles into squares, use an 8x8 baking dish and line it completely with foil before pouring in the chocolate mixture. Let cool 10 minutes, then cover and refrigerate until firm, at least 2 hours.
If scooping and rolling the truffles, let the truffle mix soften to cool room temperature, 30- 45 minutes. Use a tablespoon to scoop out a truffle-size portion of chocolate and place it on a parchment paper-lined baking sheet. Continue scooping out all the truffles; you should get about 30. To shape into balls, dip one edge in a bowl of cocoa powder. Roll the truffle in your hands until round and smooth. Dip and toss truffle in the cocoa cowl to coat completely. Repeat rolling and coating remaining truffles.
Alternatively, to cut into squares, use the foil lining to remove truffle block from pan. Invert it onto a cutting board and peel off foil. Cut into 1-inch squares and toss around in cocoa powder to coat.
Notes
Recipe from Alice Medrich
Nutritional information is only an estimate. The accuracy of the nutritional information for any recipe on this site is not guaranteed.
Keywords: chocolate truffles