Black truffle butter is the best way to preserve the flavor of fresh truffles. It couldn't be easier or more adaptable to make this gourmet condiment at home. Mince up the scraps of a black or white truffle, or use your favorite truffle pate, then mash it up with good butter.
Spread the black truffle butter on crusty bread, toss it with fresh pasta, or use it wherever you'd use good butter! The earthy, rich, savory truffle flavor will infuse your food and elevate it to a new level of deliciousness.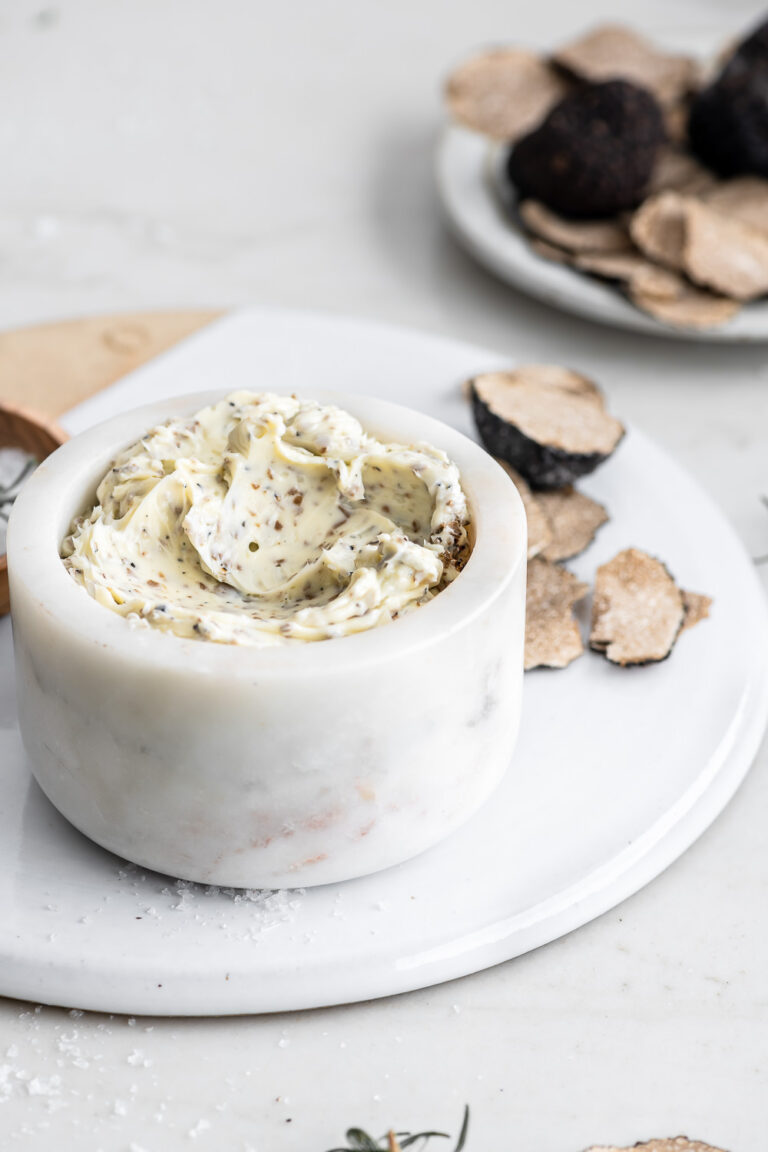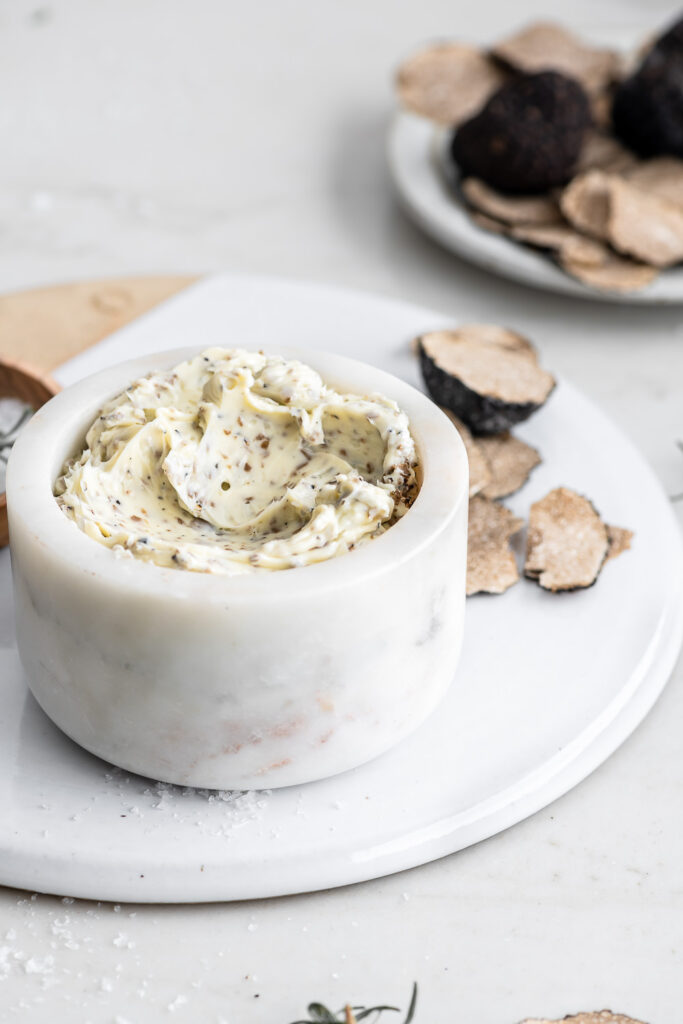 This post may contain affiliate links. As an Amazon Associate, I earn from qualifying purchases.
what is black truffle butter?
Black truffle butter is flavor packed compound butter. It's just finely minced or grated fresh truffles (can be black or white!) mixed up with really good butter and a pinch of salt and pepper.
why make truffle butter?
Well, you finally splurged and bought your first fresh truffle. You've made your truffle risotto, shaved it over pizza, even stirred some into your scrambled eggs in the morning. Now you're wondering how to get the most out of this rapidly decaying piece of black gold. As the flavor dissipates, it's like watching money evaporate. This is where truffle butter will be your new best friend.
It's my favorite way to save all of the tiny bits and leftover scraps of a fresh truffle. The fat in the butter absorbs the flavor compounds and preserves them for much longer than the truffle itself. You can also freeze the butter for up to a month, in an effort to extend the shelf life. Nothing lasts forever, but black truffle butter is a great place to start storing up the flavors of the decadent black truffle!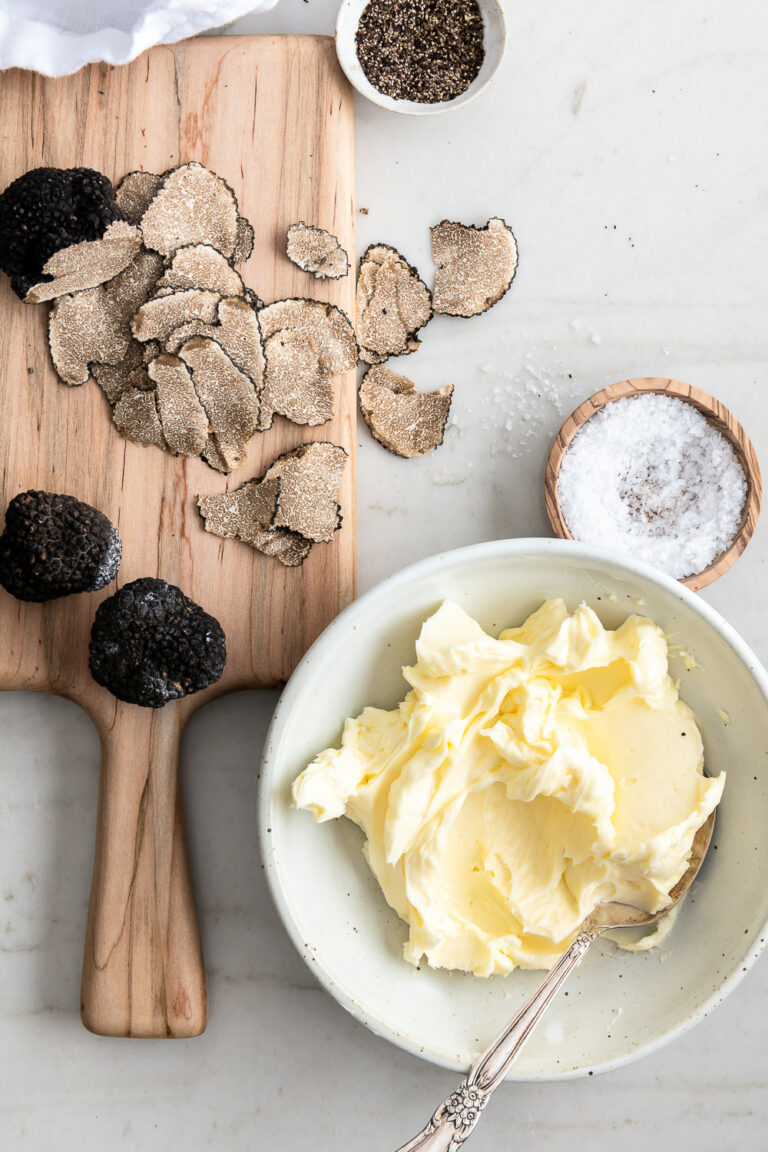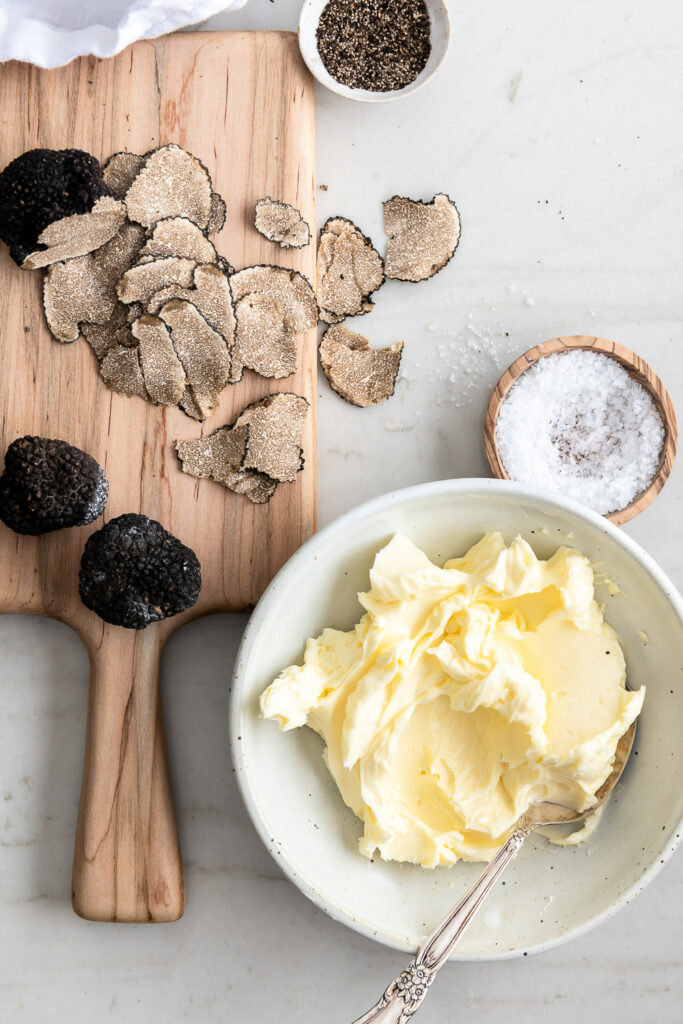 what you need for black truffle butter
unsalted butter
fresh black truffle (read about substitutes!)
kosher salt
freshly ground black pepper
how to make black truffle butter:
Thinly shave a fresh truffle, then use a knife to mince the shavings. You could also grate it with a microplane.
Mash together truffle, butter, salt and freshly ground pepper
Shaped into a parchment paper log and chill until firm, transfer to an airtight container, or use as is.
Enjoy!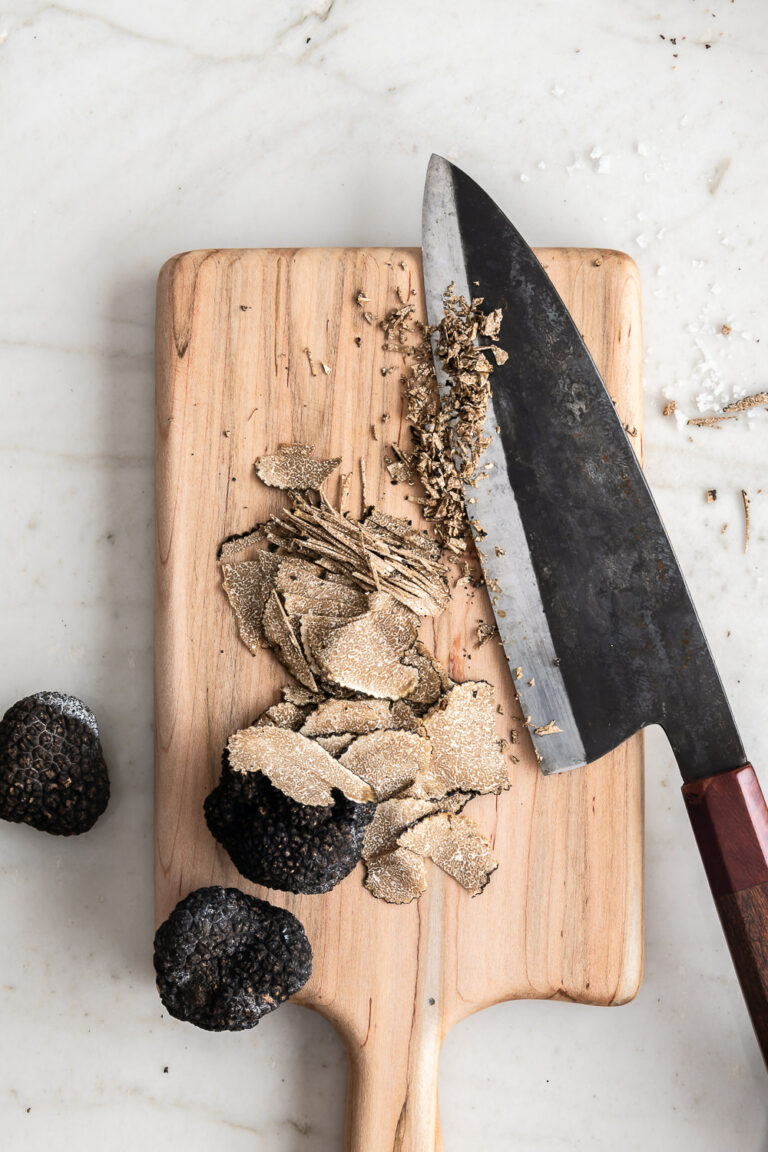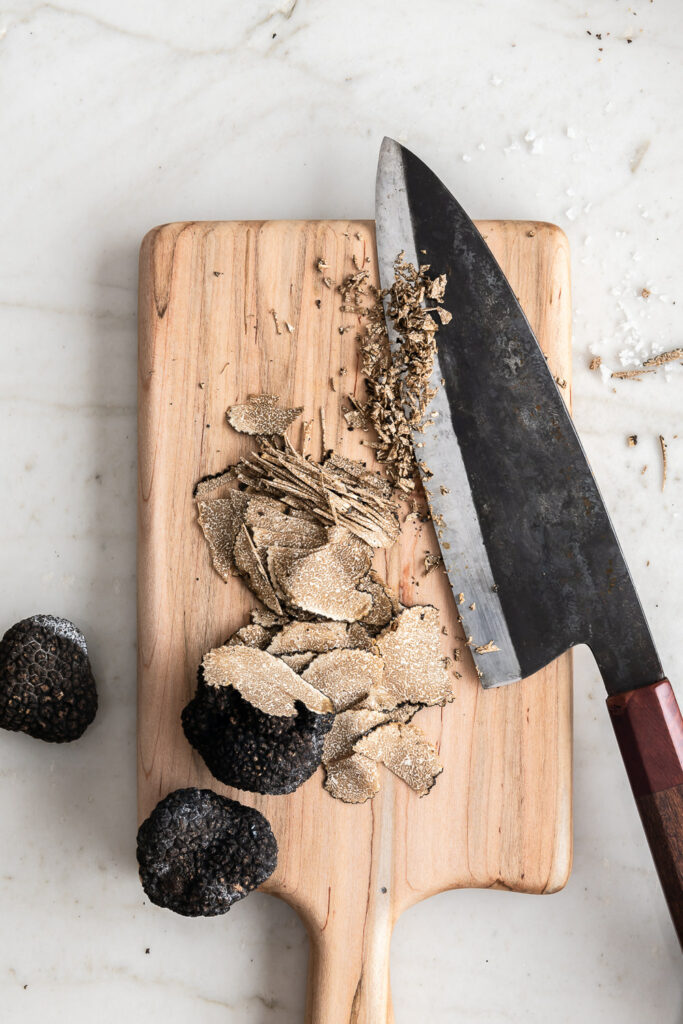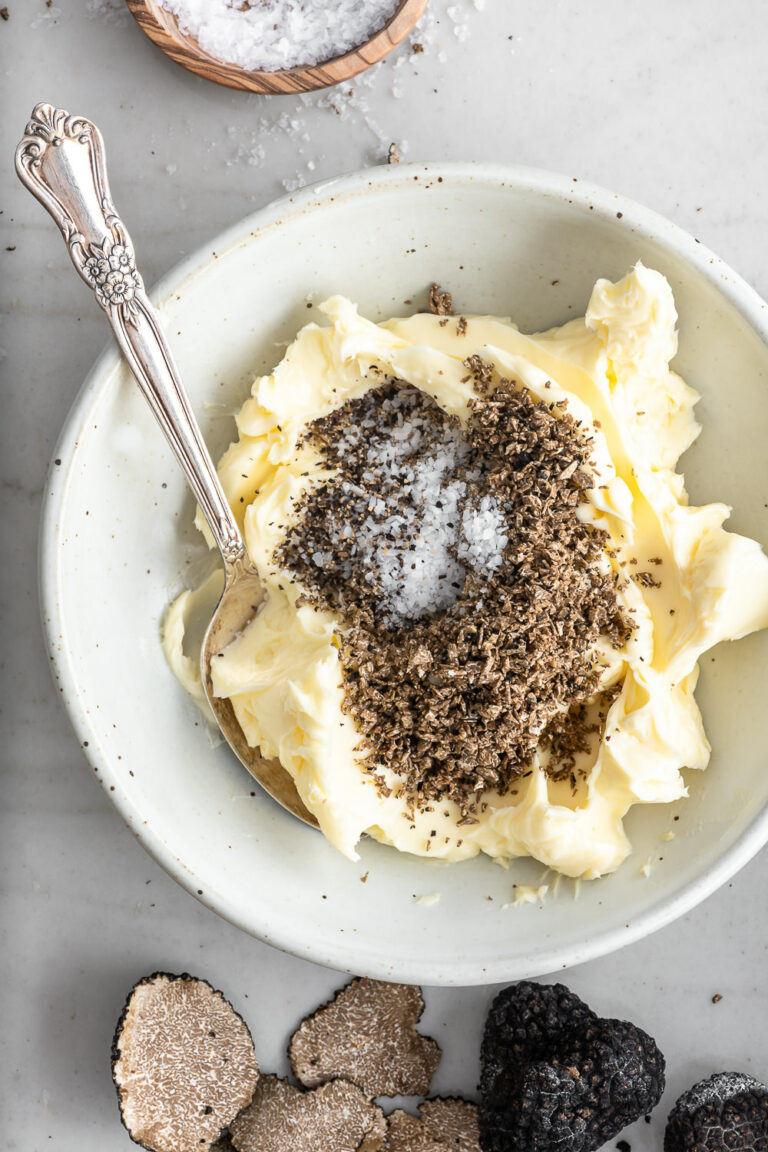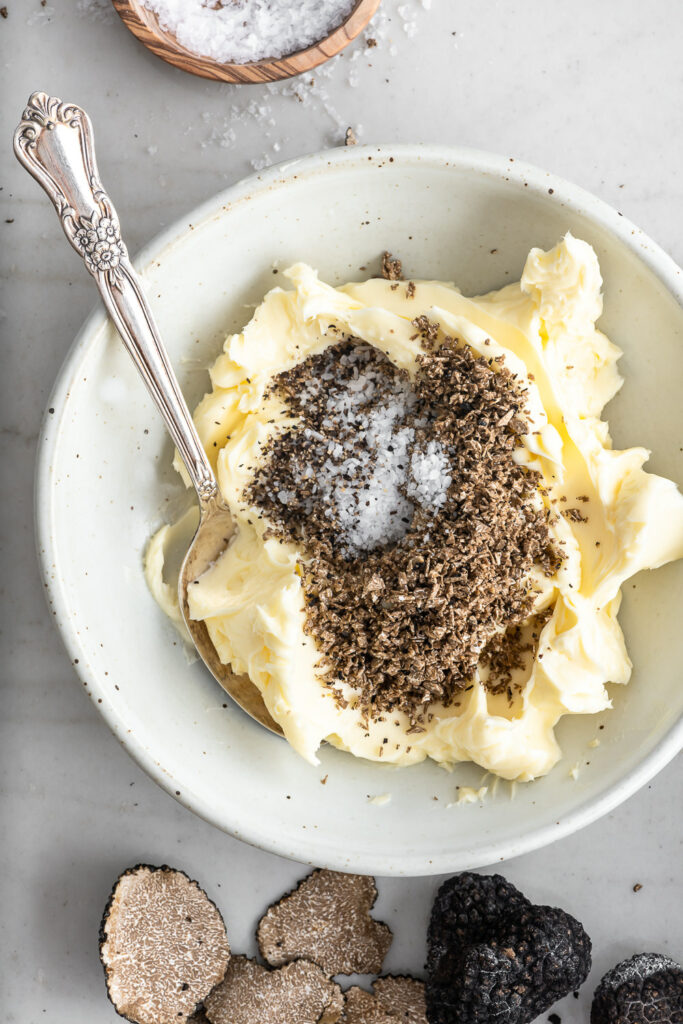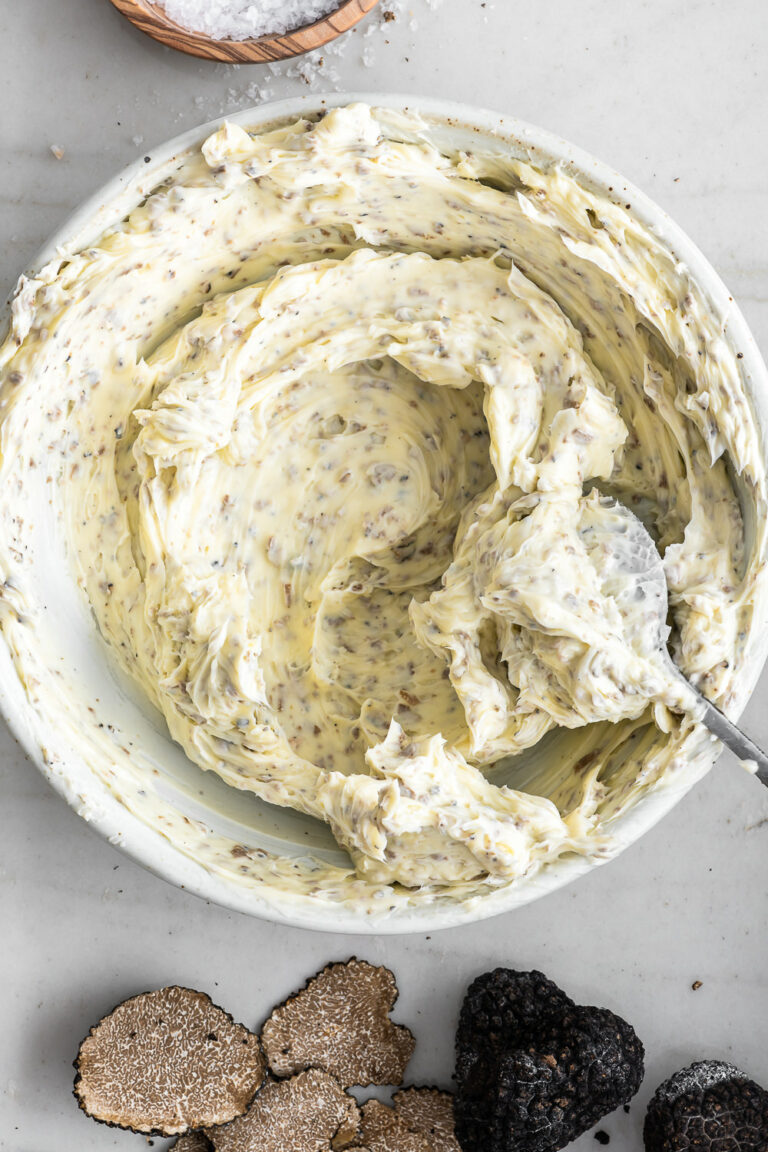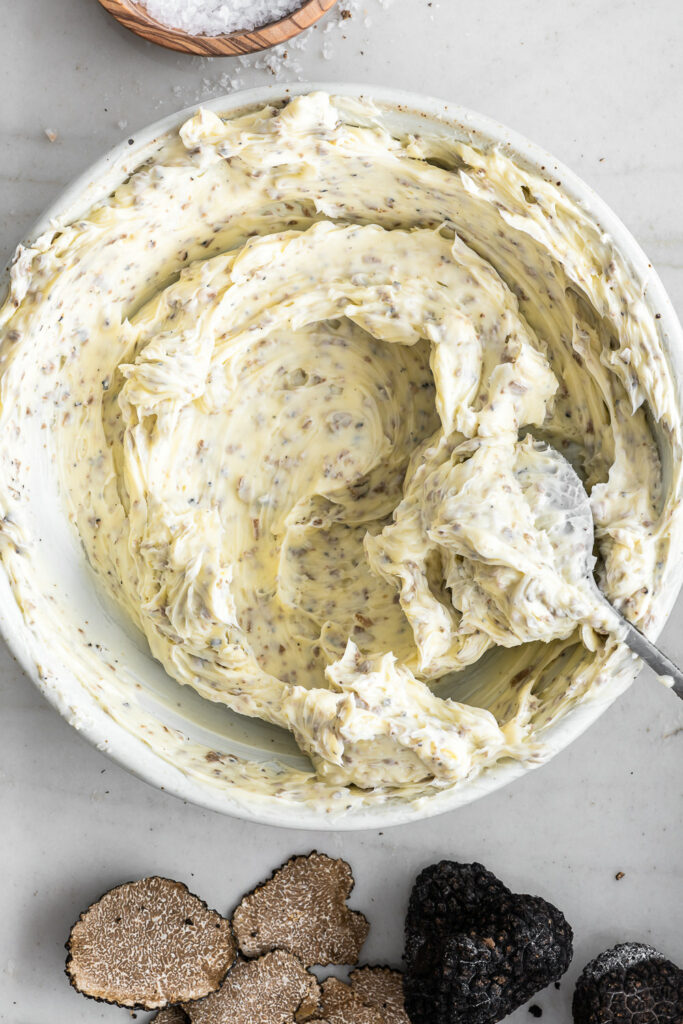 where to get fresh black truffles:
Buy truffles in person whenever possible. Not only can you see and smell what you're getting, but you can also save a lot of money on shipping. If you can't find them locally, make sure to find a reputable online site. I have had great experience with Urbani Truffles, and I have also heard positive things about Eataly.
Buying real, fresh truffles is such a rush. It's not often that we decide to splurge on such a tiny, precious ingredient. My advice? Once you have a fresh truffle in your kitchen, make sure to relax, enjoy yourself, and don't get too wrapped up in the cost. Food is meant to be shared and savored with people you love. Go make some delicious food with your fresh truffle, drink great wine and celebrate!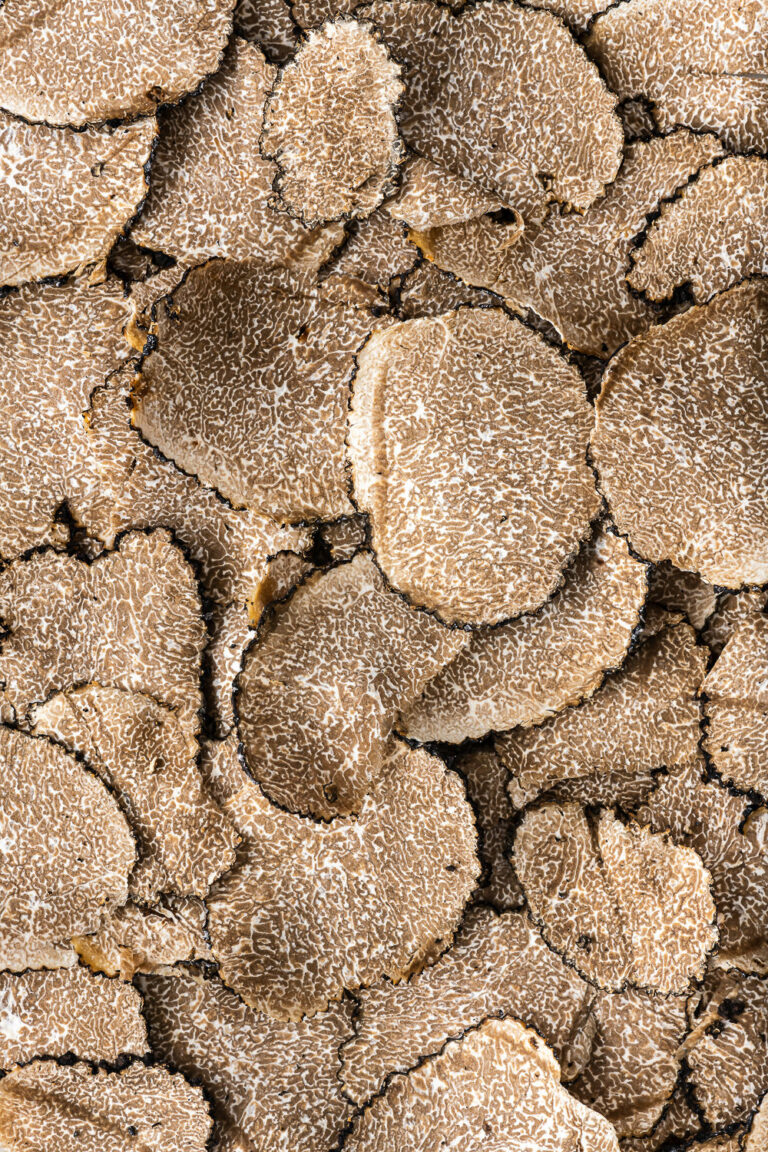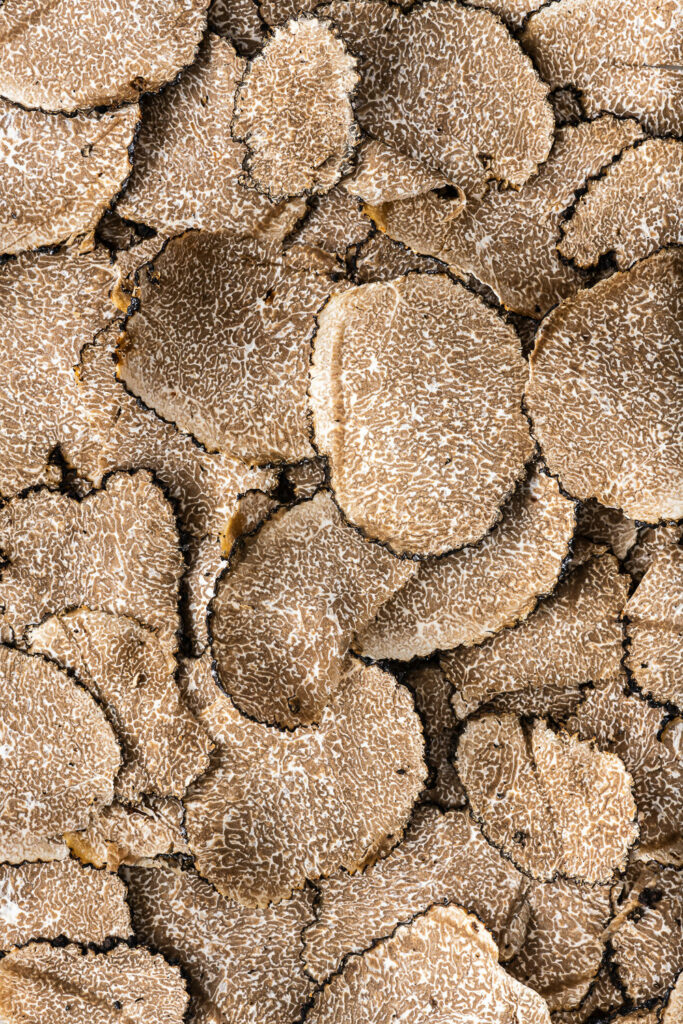 how to store fresh truffles:
The best way to store a fresh black truffle is wrapped in paper towels (to keep it dry) and then in an airtight container to minimize the loss of aromas.
I keep it really simple and just put the wrapped truffle in a plastic bag or glass storage container. Some people recommend storing them in a jar of rice, which is a great way to keep them dry and avoid mold issues.
The naysayers on rice storage claim it sucks all of the flavor out of your truffle. The rice will pick up truffle flavor (which is great!), but whether it pulls flavor out of the truffle or simply absorbs flavor in the air around the truffle is undetermined and honestly, probably insignificant. The best solution is to just eat your truffle when you get it and toss the leftovers into truffle butter, then you won't have to worry about expensive evaporating flavors!
how to use black truffle butter:
Melted and tossed with popcorn
Tossed with fresh pasta, starchy cooking water and grated parmesan
Spread onto a whole chicken or turkey and roasted
Swirled into mashed potatoes or purees (like this parsnip puree)
As a finishing butter for seared steak
Brushed over grilled seafood (lobster, shrimp, scallops)
Melted and basted on roast meats
For scrambled eggs
In hollandaise sauce (only substitute a portion of the butter to avoid a truffle overdose)
In scalloped potatoes
Spooned onto steamed mussels or clams
Melted for fresh oysters
As a base for rice pilaf
In burgers: (mix softened butter into ground beef before shaping into patties)
how to store truffle butter:
Refrigerator: If rolled into a log, store the parchment paper wrapped log in an airtight container (like a plastic bag or glass storage container) to contain the flavors. Or transfer the softened butter to an airtight glass storage container and chill. Butter will keep for a week or two in the refrigerator. With time, the truffle flavor will dissipate.
Freezer: Store in an airtight container for up to 1 month. Much longer, and the truffle flavor will slowly degrade and lose intensity.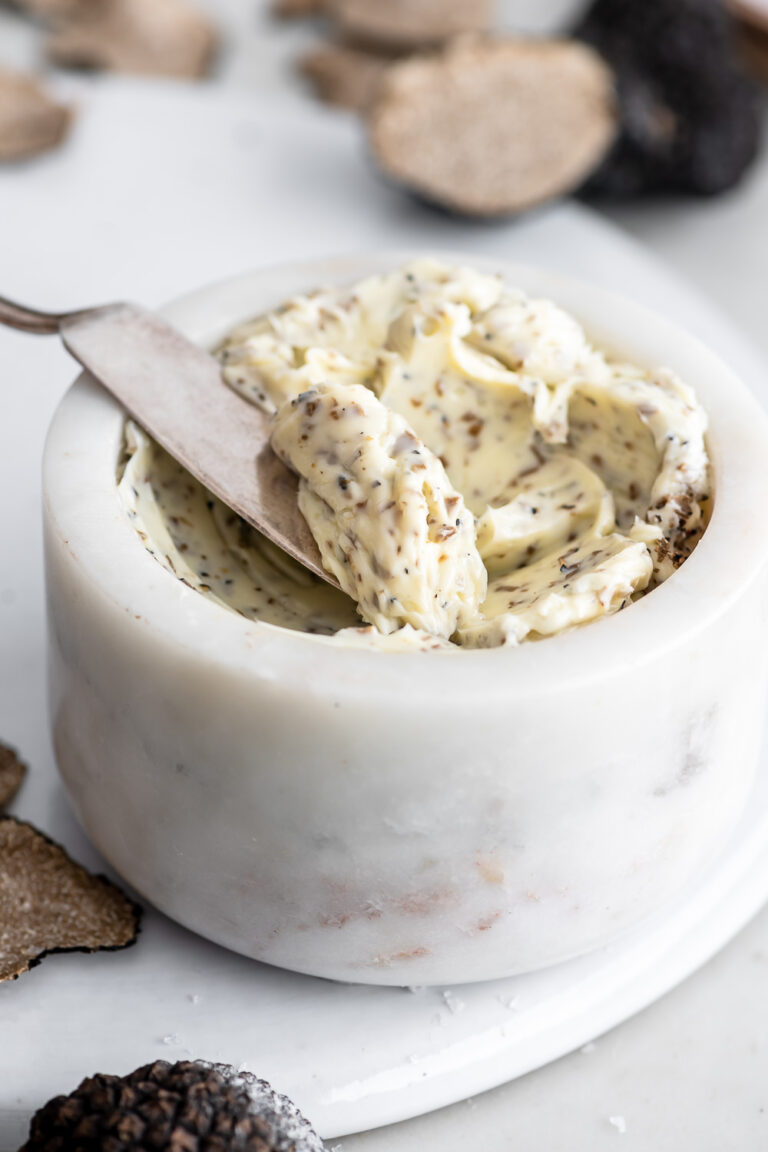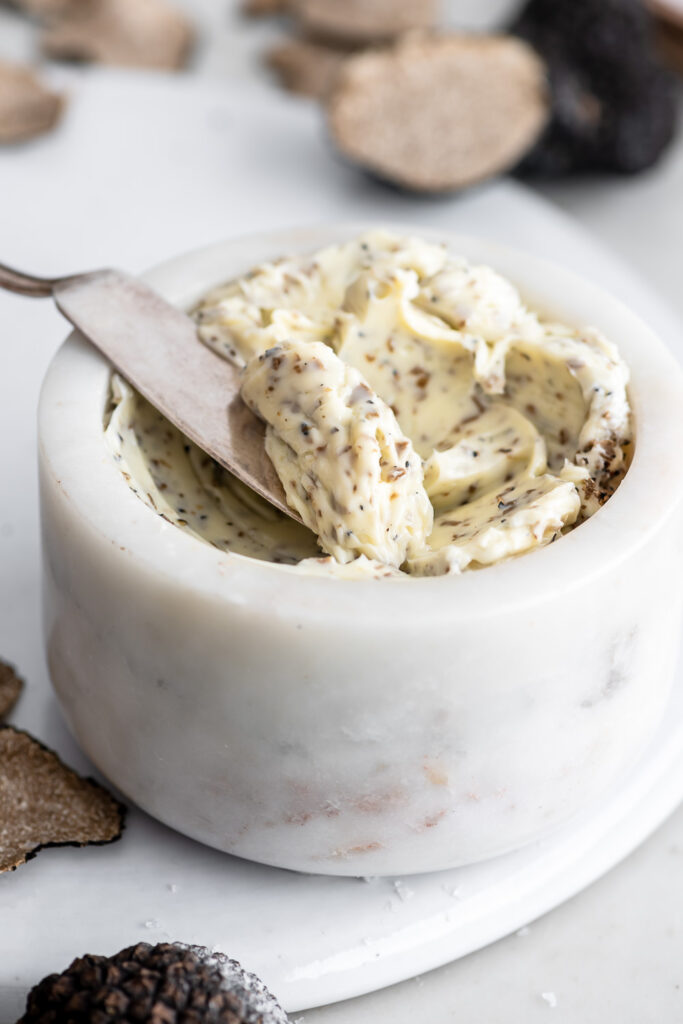 how to make black truffle butter without fresh truffles:
I especially love to make black truffle butter when I have a black truffle on hand. It's the best way to repurpose the ends and small bits of truffle that don't always have a use.
But don't let a lack of a fresh truffle stop you from making this flavorful butter! Here are other ways you can infuse butter with the earthy flavor of truffles and enjoy the flexibility truffle butter offers:
Truffle pate: start with 2 teaspoons for 2 sticks of butter and add more to taste
Truffle oil: mix 1 teaspoon truffle oil into softened butter, salt and pepper. Taste and add more if needed
Preserved truffles: mince 2 tablespoons and mix it up with 2 sticks of butter. Add more to taste
Truffle salt: use ¾ teaspoon for 2 sticks of butter and skip the kosher salt; taste and add more if needed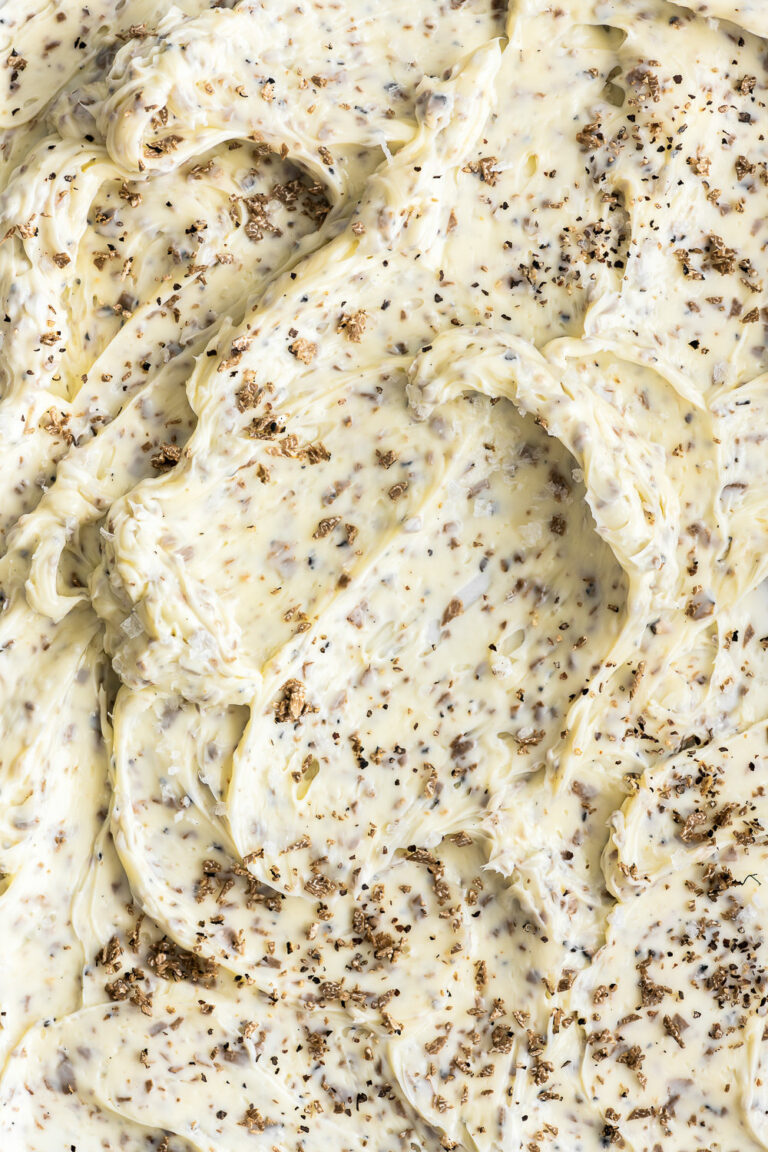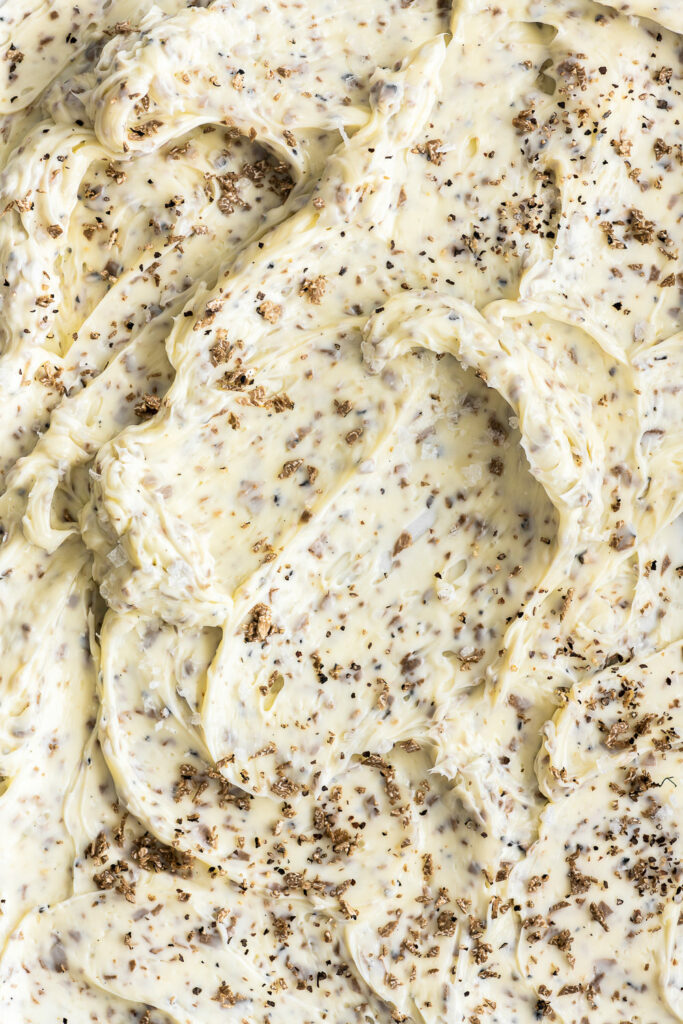 more truffle recipes to try:
truffle mashed potatoes (buttery and creamy!)
wild mushroom truffle frittata
more compound butter recipes to try:
Print
black truffle butter
Black truffle butter is the best way to preserve the flavor of fresh truffles. It couldn't be easier to make this gourmet condiment at home!
Author:
Prep Time:

5 minutes

Total Time:

5 minutes

Yield:

1 cup

Category:

Butter

Method:

Stirred

Cuisine:

American

Diet:

Gluten Free
Ingredients
1 cup

unsalted butter (

2

sticks), very soft

2 tbsp

minced or grated fresh black truffle (from about

½ oz

truffle), plus more if needed

¾ tsp

kosher salt, plus more to taste

¼ tsp

freshly ground black pepper
Instructions
Place butter, truffle, salt and black pepper in a bowl. Use a fork to mash and stir the butter until smooth and combined. Taste and add more truffle, salt or pepper if needed.
Scoop onto waxed or parchment paper, shape into a log, roll tightly and refrigerate or freeze until ready to use. Alternatively, transfer to a bowl and use while soft.
Notes
Nutritional information is only an estimate. The accuracy of the nutritional information for any recipe on this site is not guaranteed.
Nutrition
Serving Size:

1 tbsp

Calories:

106

Sugar:

0.3g

Sodium:

61mg

Fat:

12g

Saturated Fat:

7.3g

Unsaturated Fat:

3.8g

Trans Fat:

0g

Carbohydrates:

0.4g

Fiber:

0g

Protein:

0.2g

Cholesterol:

31mg
Keywords: black truffle butter