Learn how to make chocolate turtles from scratch. With a slow-cooked caramel, deeply toasted pecans, and a dip in perfectly tempered chocolate. Rich, gooey caramel, crunchy pecans and snappy chocolate. A thing of beauty!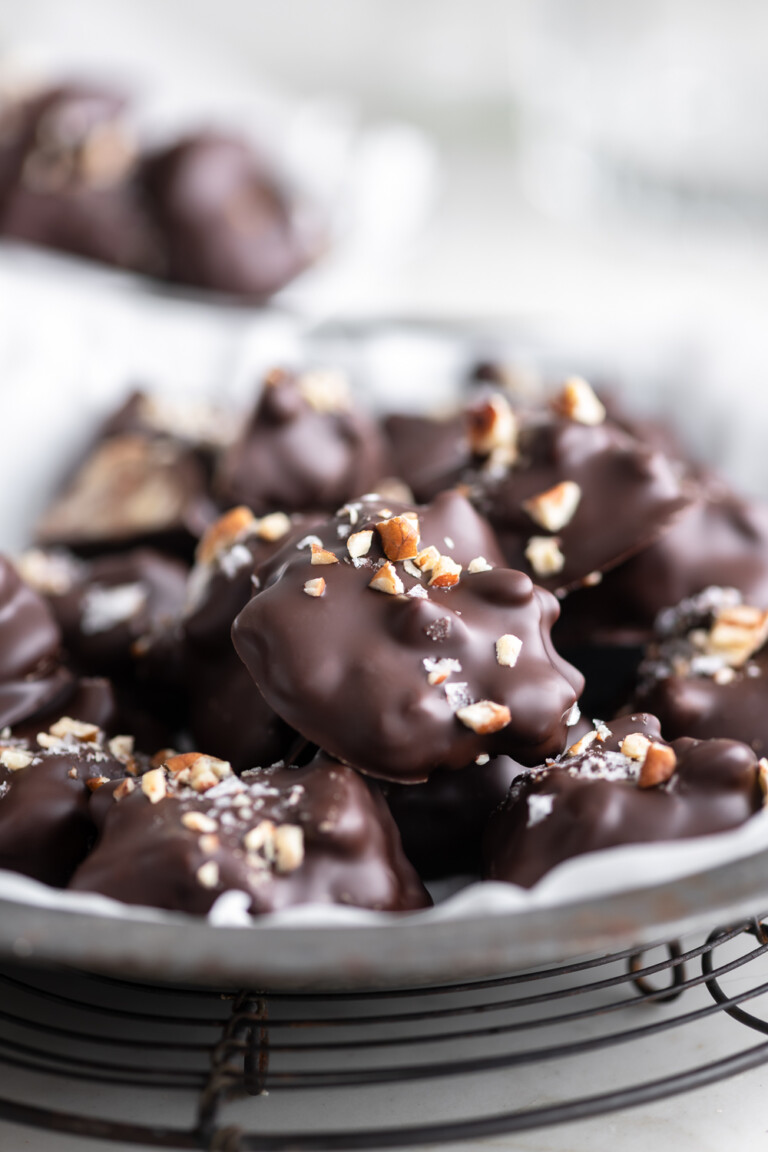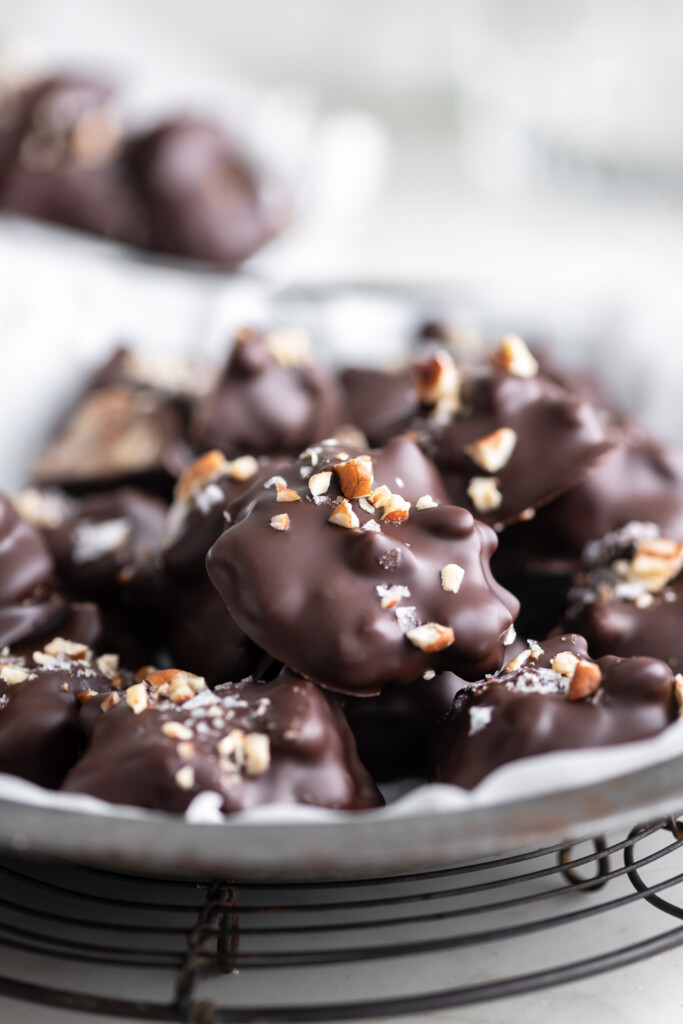 I'm on a mission to create homemade candy recipes that taste like those from a candy shop-- and look just as stunning.
Chocolate turtles can be made really quickly and taste just fine, or they can be made from scratch. You can melt caramel squares, plop them on a pile of pecans and spoon melted chocolate over it. You'll probably need to store them in the fridge, or they'll melt. The chocolate might look splotchy, but hey! They're homemade.
Or you can start from the beginning and make gourmet chocolate turtles. With a slow-cooked, buttery rich caramel and deeply toasted pecans. With properly tempered chocolate that snaps and looks shiny, and also can be stored at room temperature without melting or smudging.
True artisan chocolates are a thing of beauty, and the techniques aren't that hard. I much prefer to make chocolate candy from scratch. No paraffin wax, no store-bought caramel candies. Because I believe there really is a difference. And it's worth it.
This post may contain affiliate links. As an Amazon Associate, I earn from qualifying purchases.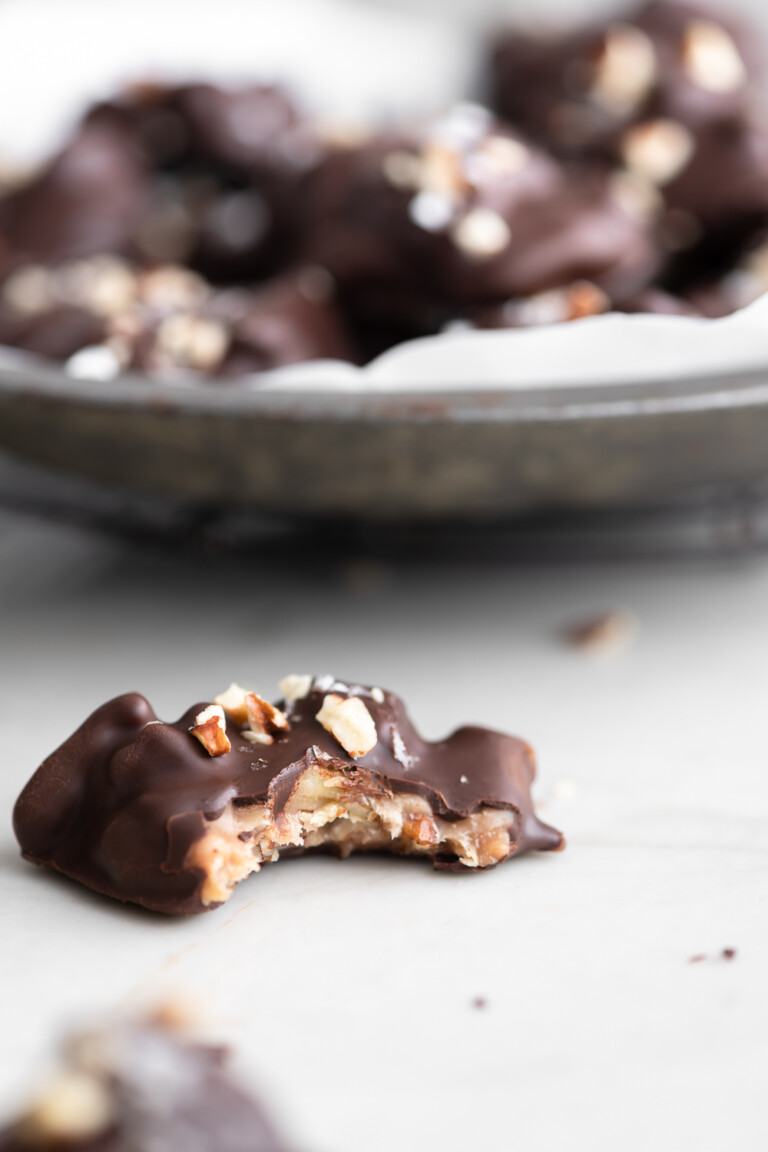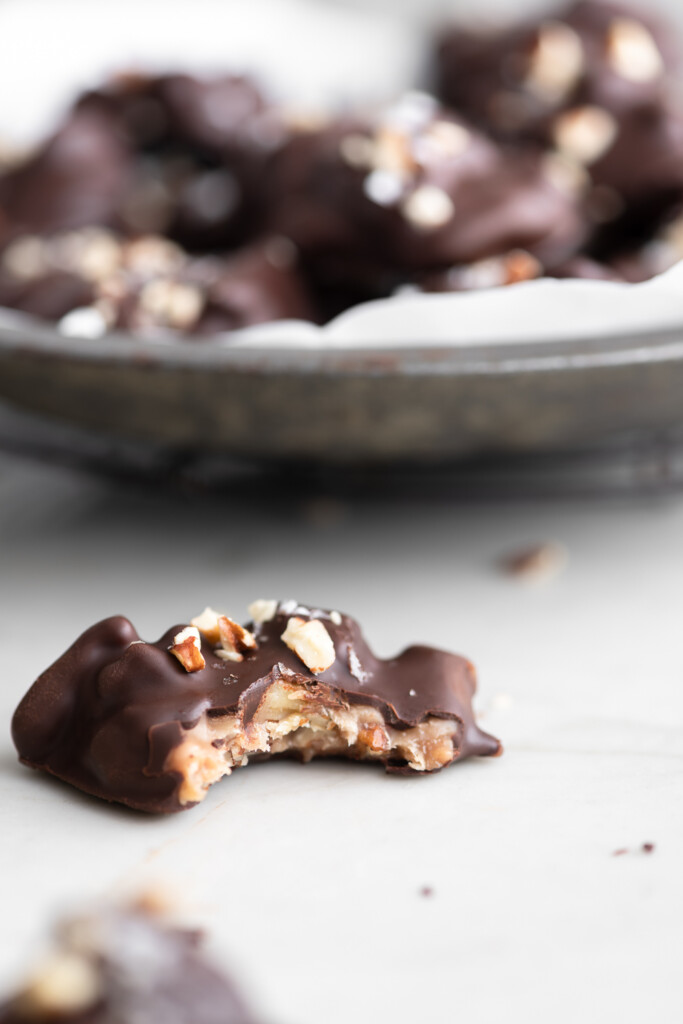 what are chocolate turtles?
Chocolate turtles are simply clusters of pecans and caramel that are dipped in chocolate.
Sometimes the pecans are arranged to look like turtle legs, sometimes the nuts are chopped and the treat is shaped into a disk. Sometimes the clusters are fully coated in chocolate, other times the chocolate is spooned on top.
The way I make chocolate turtles is the way you find them at a chocolate shop: the pecans are fully coated in caramel, and the spoonfuls of the caramel-pecan mixture are fully covered in chocolate.
It's the best way to make dark chocolate turtles that will last without needing refrigeration, and without getting sticky in humid conditions. It's also a really delicious and efficient way to make them!
chocolate turtle ingredients:
pecans
heavy cream
butter
Sugar
corn syrup
vanilla
flaky salt
dark chocolate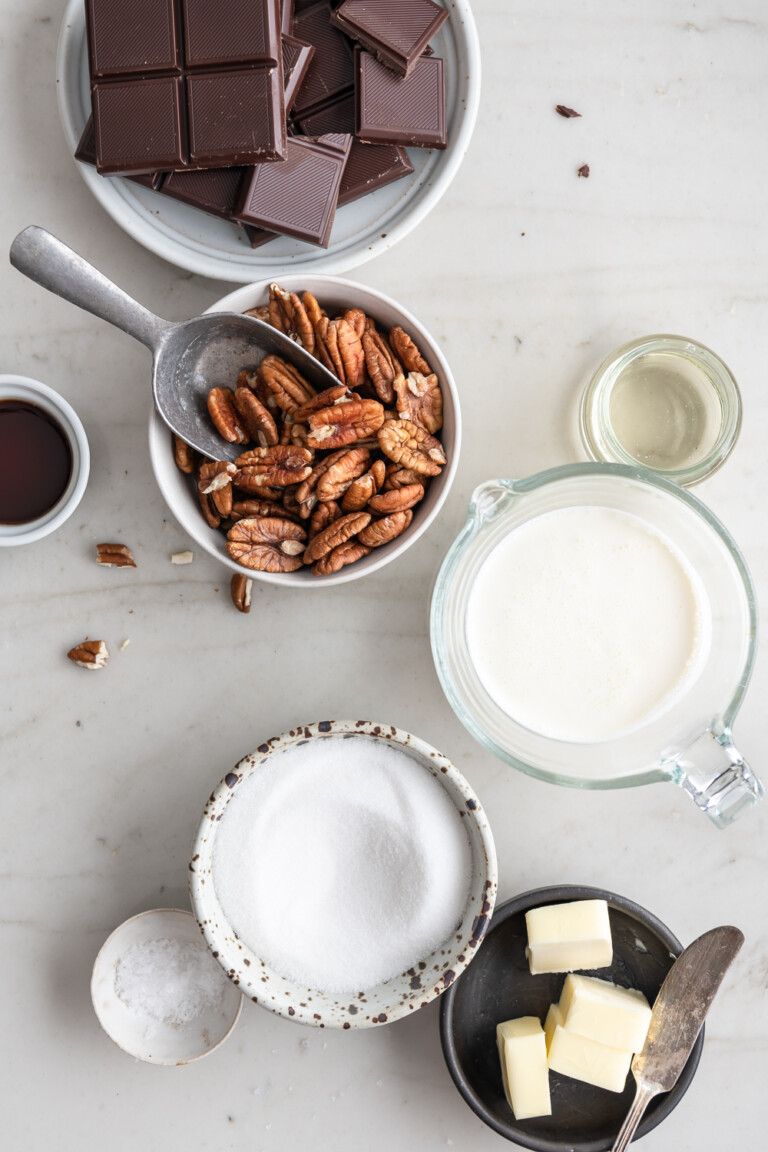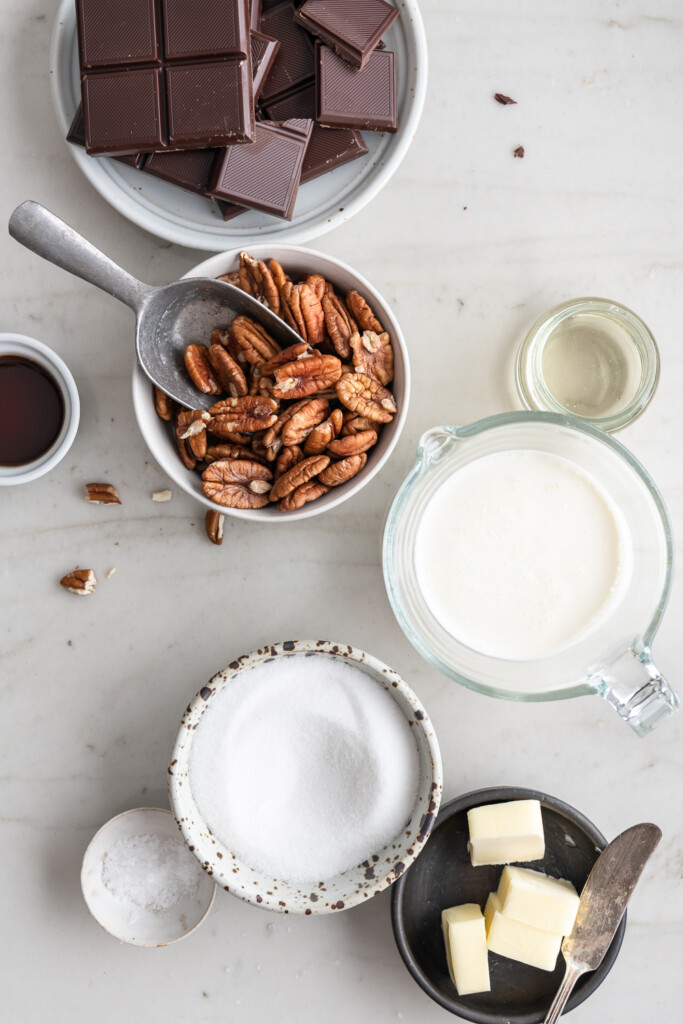 how to make chocolate turtles from scratch:
Heat cream, sugar, butter and corn syrup until dissolved.
Cook syrup to 220°F, then stir in the roasted pecans.
Continue to cook, stirring constantly, until mixture reaches 248°F.
Stir in vanilla and flaky salt.
Use a tablespoon ice cream scoop to quickly dollop hot caramel clusters onto a parchment-lined sheet pan.
Let clusters sit at least 1 hour to firm up.
Dip in tempered chocolate and sprinkle with a mixture of chopped pecans and flaky salt.
Enjoy!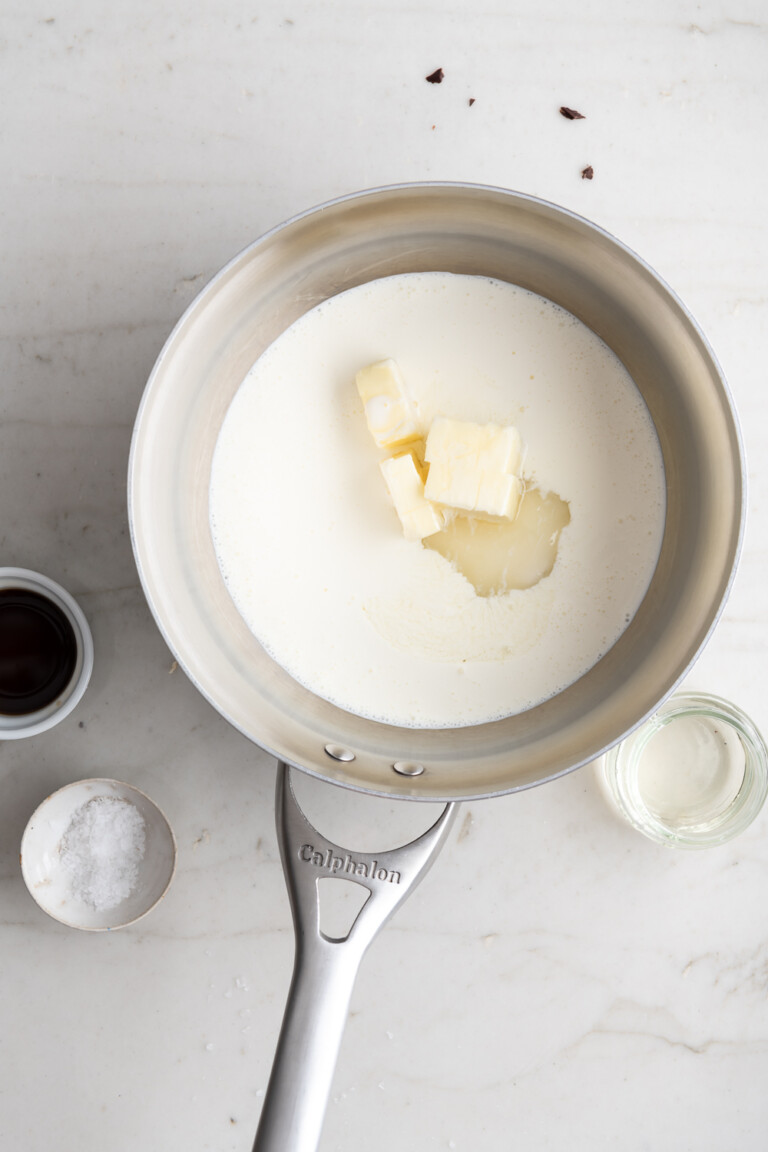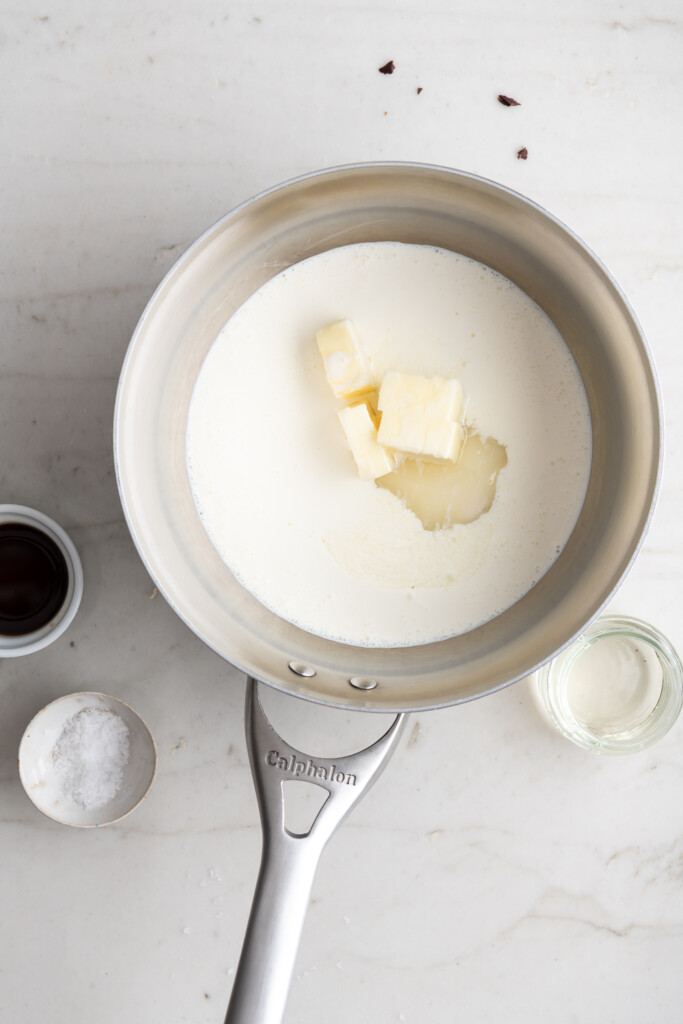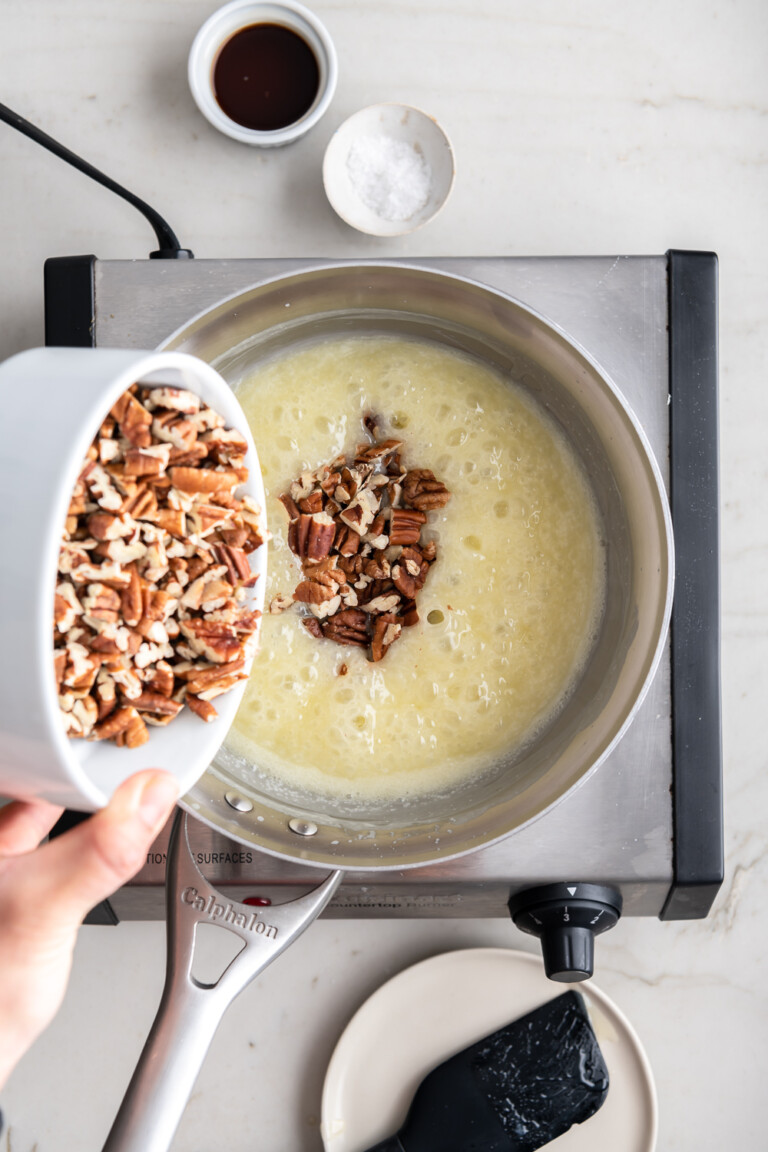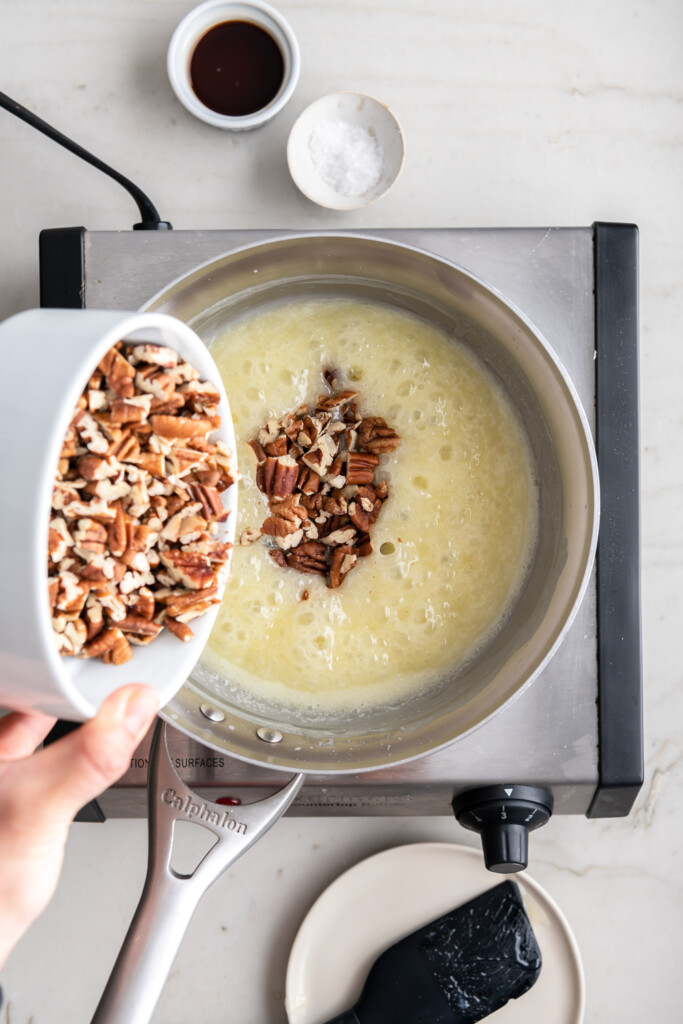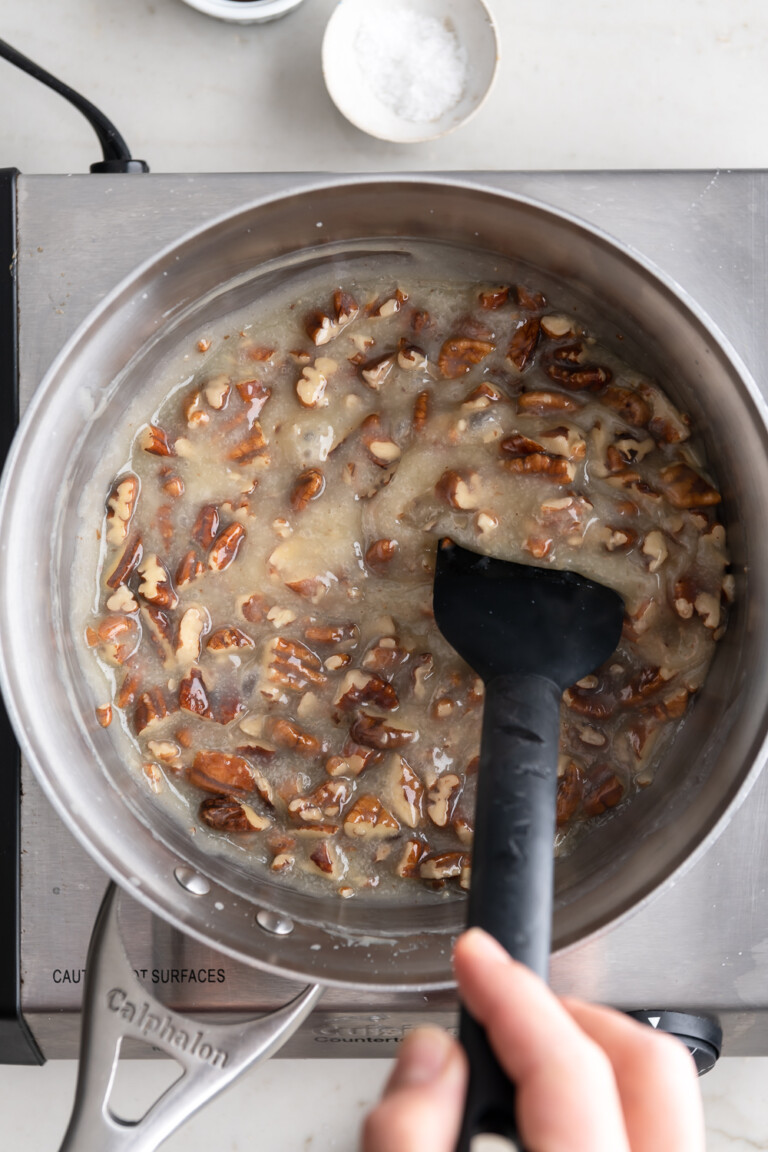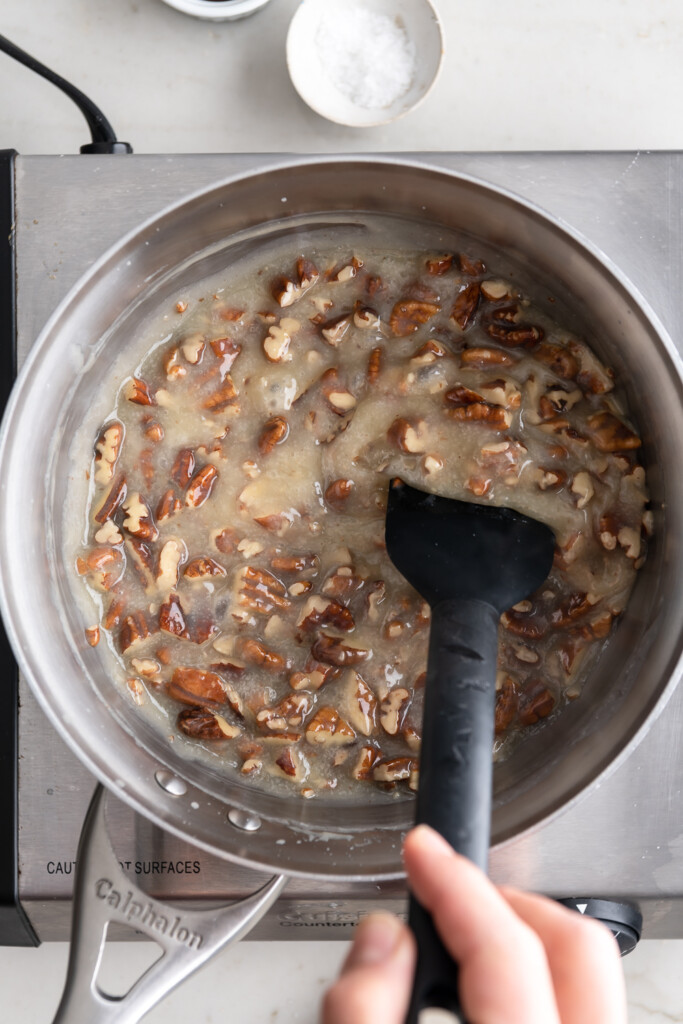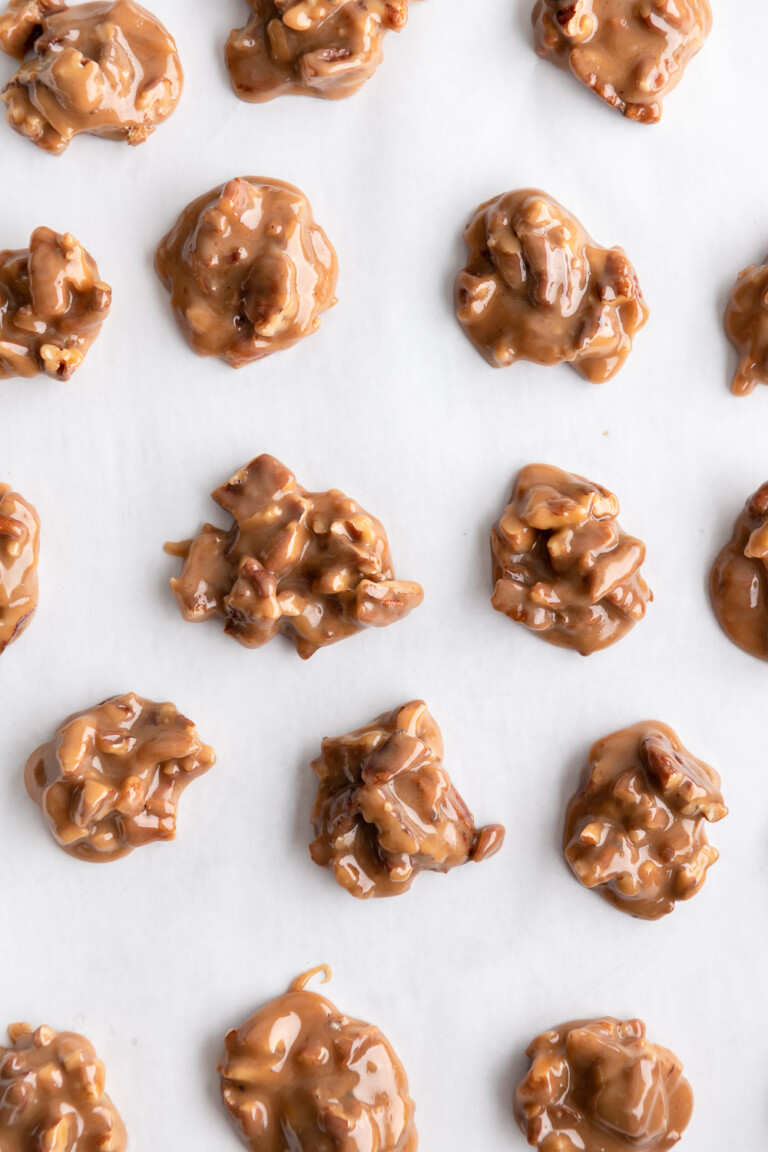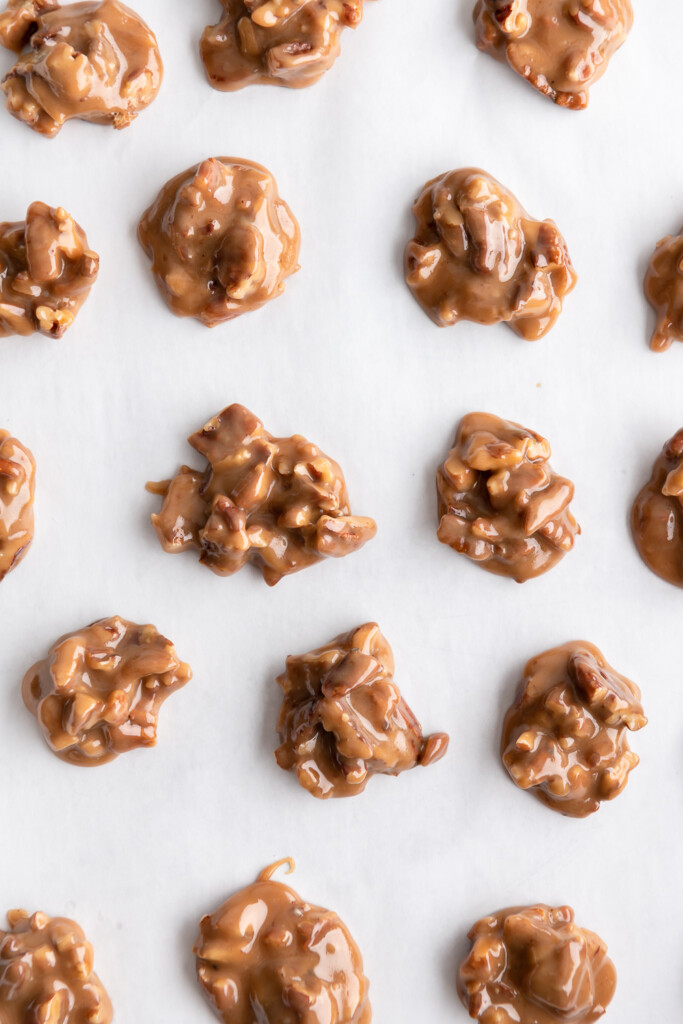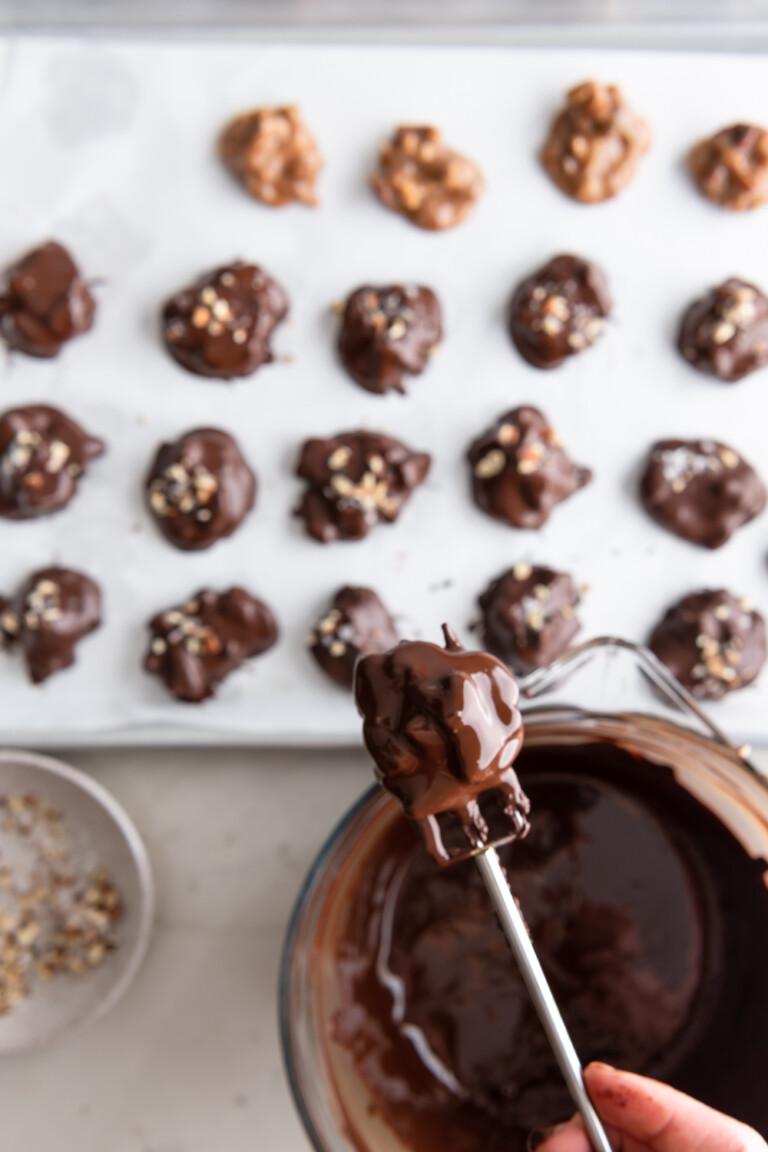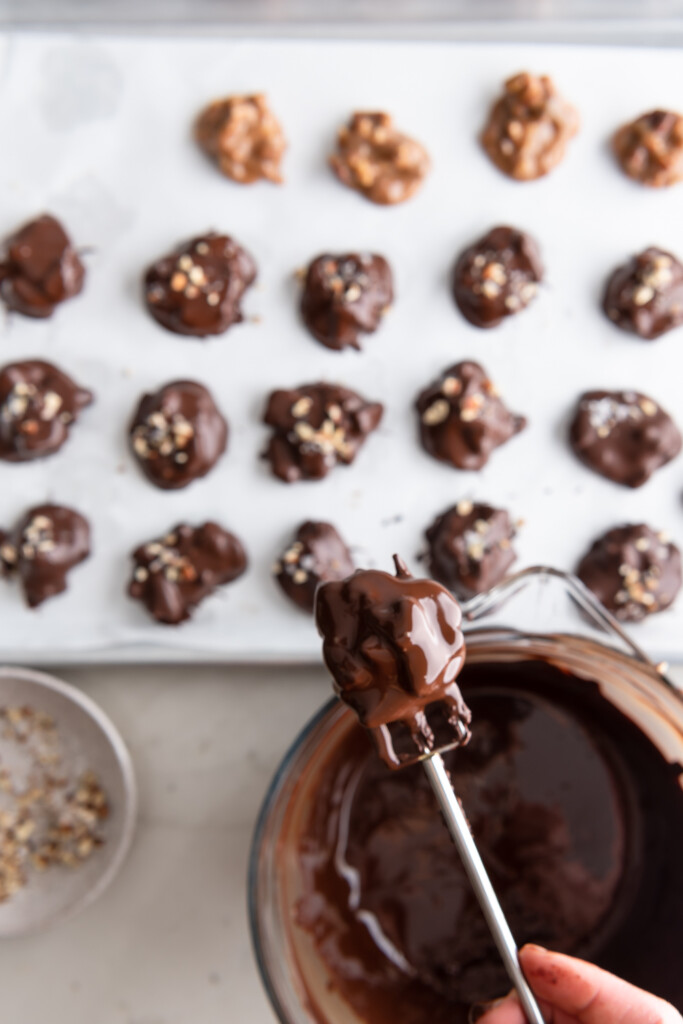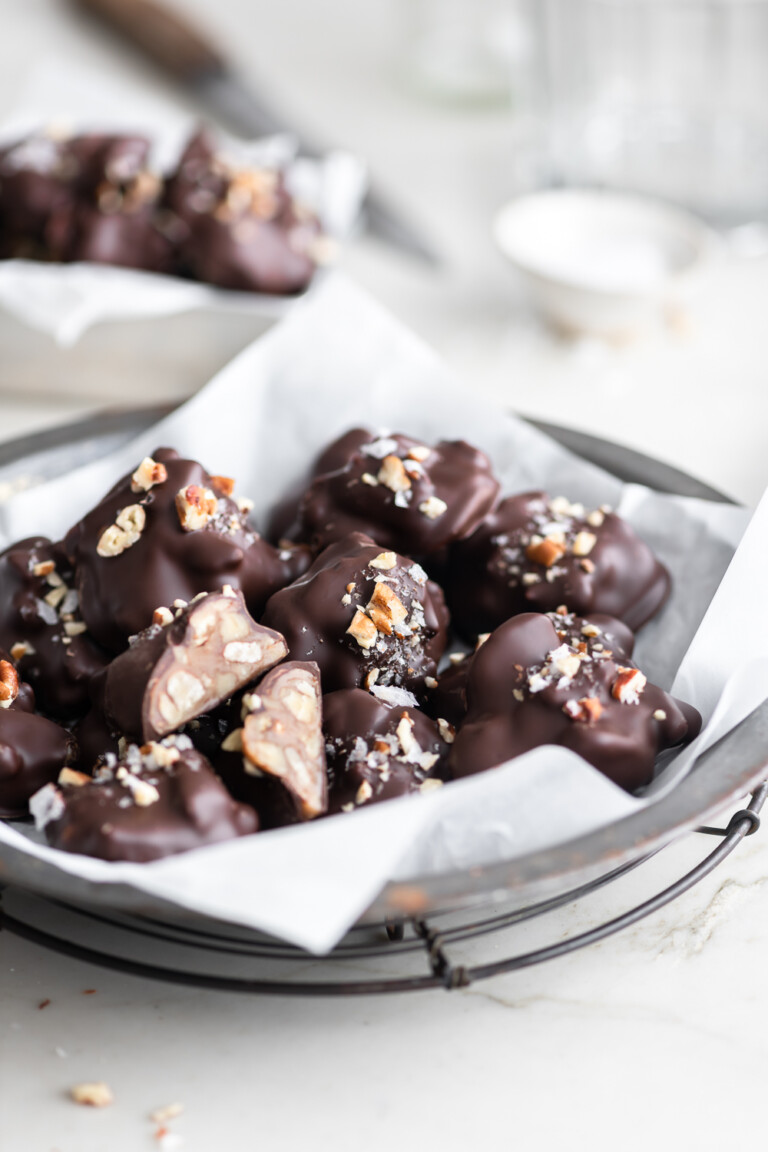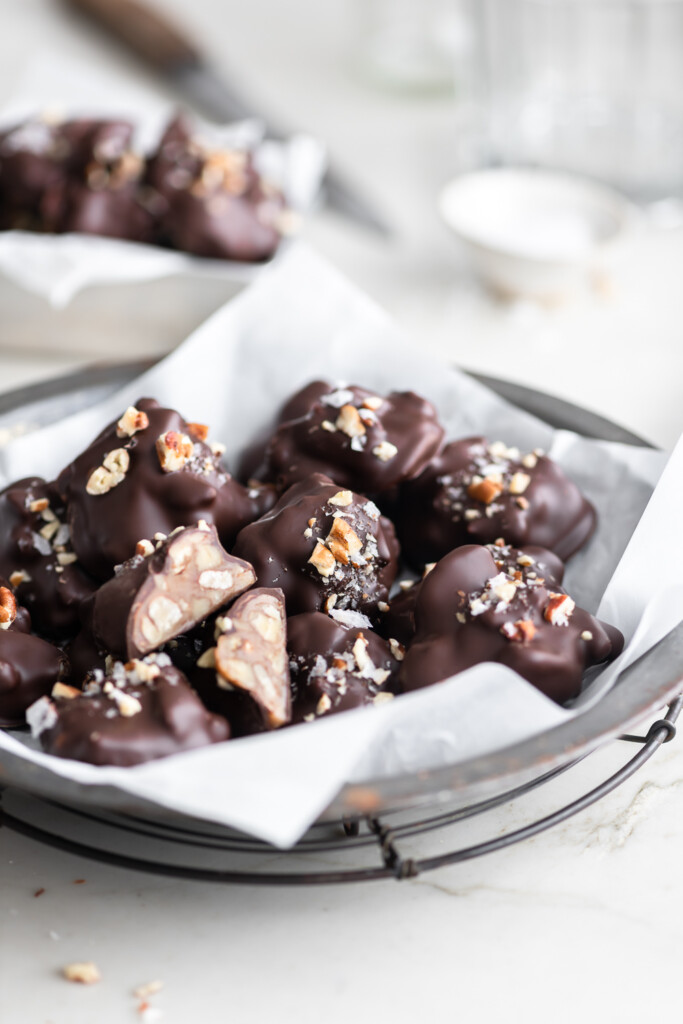 how long are chocolate turtles good for?
When you properly temper chocolate and fully coat the caramel pecan turtle cluster in chocolate, the candy will last for up to a month.
Chocolate seals the caramel and protects it from absorbing moisture. Store these chocolate caramel turtles in an airtight container in a cool, dry spot (not the refrigerator).
Refrigeration will cause the chocolate to bloom and develop a whitish film. It will lose its shiny, smooth, beautiful appearance.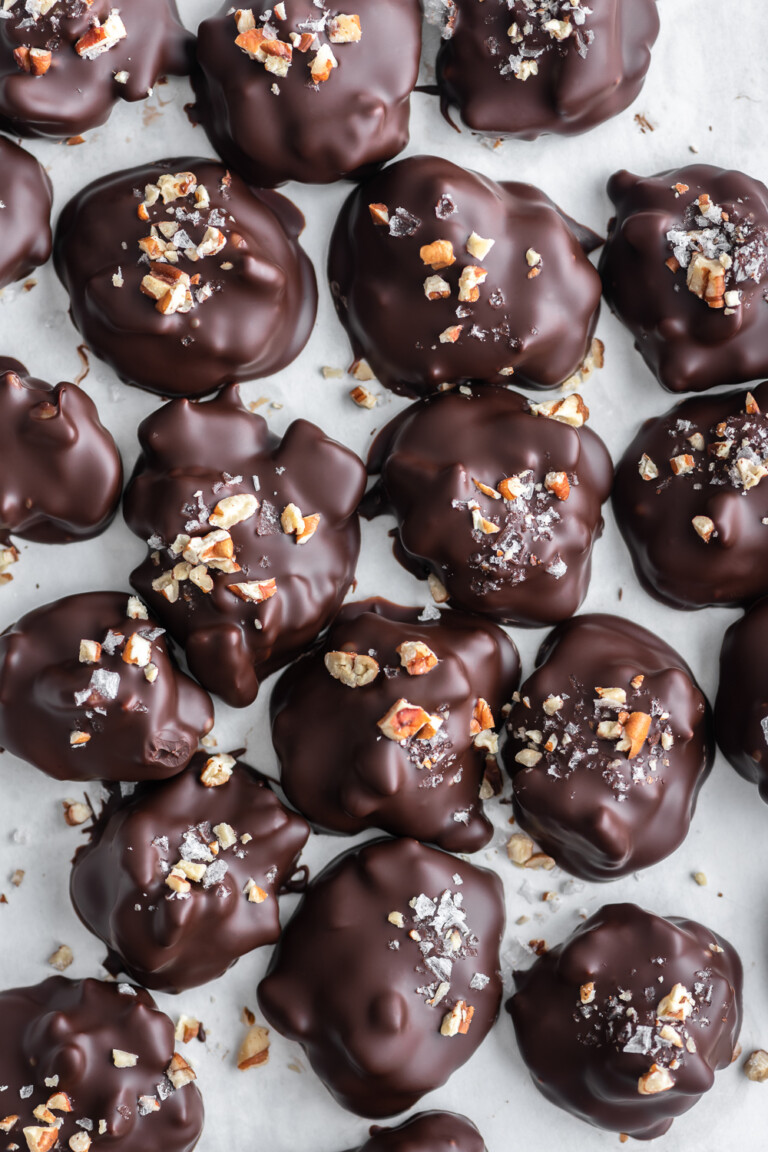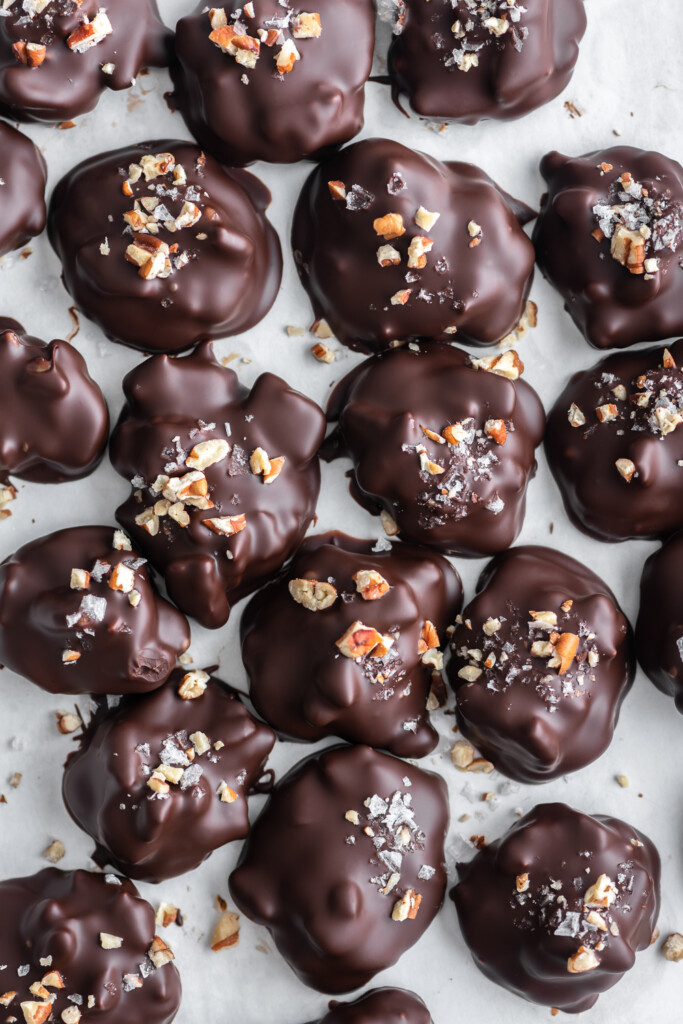 make this chocolate turtles recipe your own!
There are so many ways you can tweak this recipe in small ways to make big flavor differences. That's the fun part of homemade candy-- customize it to your own tastes. Here are some ideas to get you started!
Make mini chocolate turtles: Don't chop the pecan halves, then spoon out 1 caramel-covered pecan at a time to make mini clusters.
White chocolate turtles: dip in tempered white chocolate!
Coconut caramel turtles: mix in ½ cup toasted shredded coconut
Chocolate cashew turtles: sub in whole cashews in place of pecans
Milk chocolate turtles: dip in tempered milk chocolate!
Spicy chocolate turtles: add ⅛ tsp cayenne or chipotle powder to the caramel when you add the pecans
Christmas chocolate turtles: decorate with red and green sprinkles just before chocolate sets
Spoon with chocolate: Don't fully dip in chocolate, but simply spoon a little tempered chocolate over top. You can see the beautiful caramel this way. Note: They won't keep quite as well because caramel absorbs moisture from the air and eventually gets sticky.
Pretzel chocolate turtles: Mix in ½ cup crushed salted pretzels into the caramel, along with the vanilla and salt.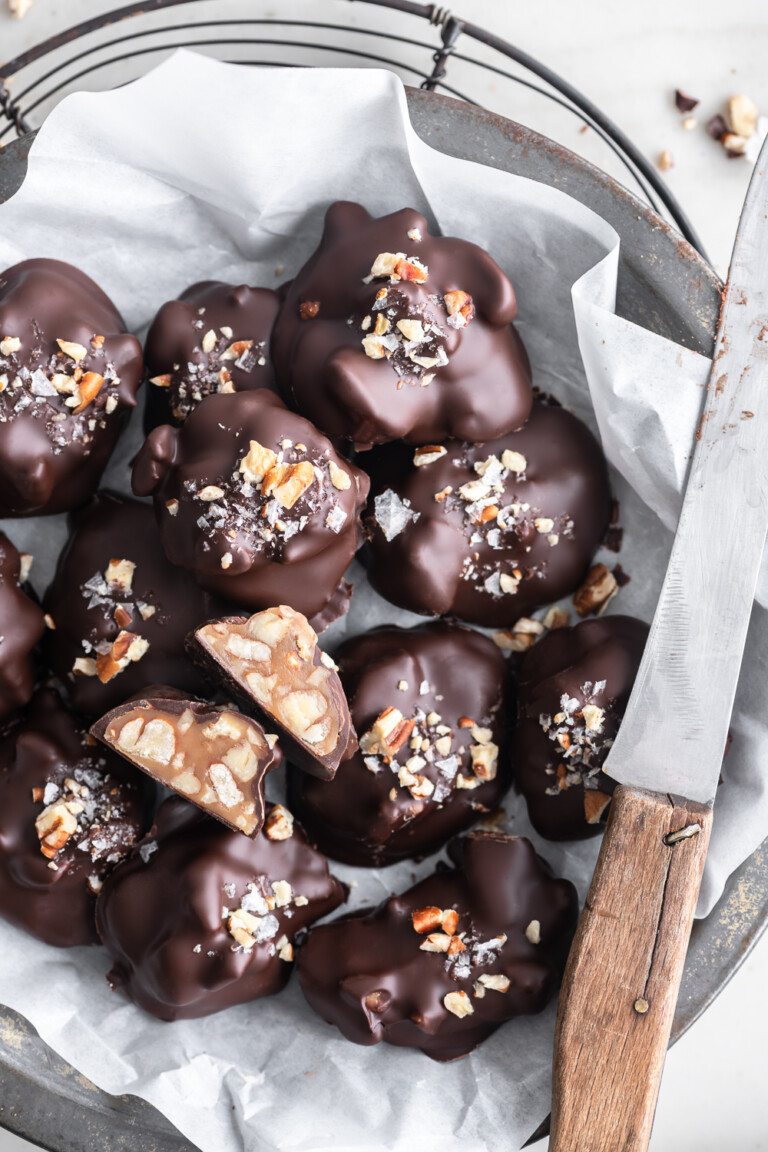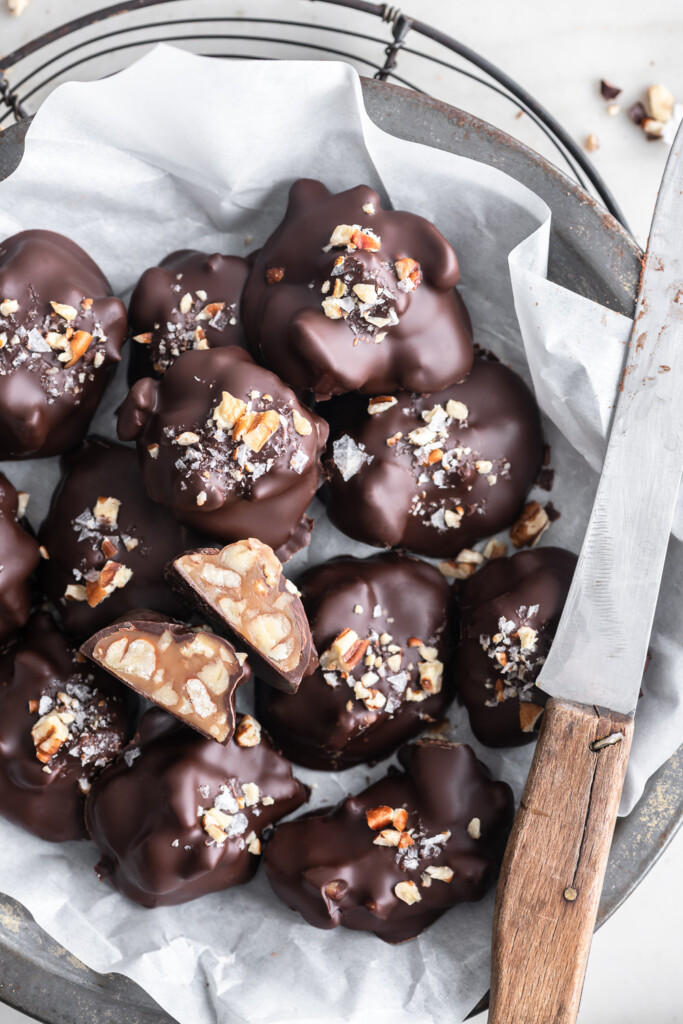 how much chocolate do I need for these pecan turtles?
This chocolate turtles recipe (about 22 pieces of candy) needs 6 oz of chocolate. I prefer to have at least twice that amount (12 ounces) of tempered chocolate so there is enough room to fully submerge the clusters and get an even coating.
Tempering more chocolate than you need doesn't waste the chocolate. Simply pour the extra into a ziplock bag and let it set. Store it just like you would any chocolate, then chop it up for cookies or melt it for cakes and brownies.
I don't recommend attempting to re-temper it for more dipping, simply because dipping the caramel turtles can introduce small pieces of nuts or caramel or sugar that will affect the ability to temper the chocolate again. But any other use of this chocolate is fair game!
Tempering large quantities of chocolate is easier than small quantities! The temperature is more stable and less prone to falling out of temper. It gives you more time to dip the caramel turtles without worrying about it cooling and setting before you're ready.
Learn more about how to temper chocolate!
more tips to make the best chocolate turtles:
I love this recipe with salted, roasted pecans. If you buy raw pecans, roast them in the oven at 350°F for 5- 10 minutes until fragrant and slightly darkened.
Watch the caramel closely in the beginning, as it can quickly bubble over the pot. Stir often to prevent this.
Once you add the pecans, stir frequently to prevent the nuts from scorching.
Tilt the pot and move the thermometer probe back and forth to get an accurate reading of the sugar temperature. The pecans, thick caramel and small pockets of air can make it tricky to get a good reading. Keep moving the thermometer until you see an average temperature, and go from there. Undercooking will give you softer, chewier caramels that will spread more. Overcooking will make caramels that are too hard.
more homemade candy recipes to try!
dark chocolate covered almonds
chocolate holiday bark with amaretti cookies
Print
the BEST chocolate turtles recipe
Gourmet chocolate turtles are a thing of beauty. Slow-cooked caramel, deeply toasted pecans, and a dip in perfectly tempered dark chocolate.
Author:
Prep Time:

25 minutes

Cook Time:

35 minutes

Total Time:

1 hour

Yield:

22

Category:

Candy

Method:

Stove

Cuisine:

American

Diet:

Gluten Free
Ingredients
¾ cup

heavy cream

½

granulated sugar

4 tbsp

(

½

stick) salted butter

¼ cup

corn syrup

5 oz

roasted salted pecans, chopped, plus more for garnish

2 tsp

vanilla extract

¼ tsp

flaky salt, plus more for garnish

12 oz

tempered chocolate, for dipping
Instructions
Line a baking sheet with parchment paper and set aside.
Combine heavy cream, sugar, butter and corn syrup in a medium saucepan over medium-low heat. Cook, stirring, until sugar is dissolved and butter is melted.
Bring to a boil, then reduce heat to medium and cook, stirring often and watching closely to prevent bubbling over, until syrup reaches 220°F, about 15 minutes.
Add pecans and continue to cook, stirring constantly to prevent scorching, until caramel reaches 248°F, about 15 more minutes. 
Remove from heat, stir in the vanilla and salt. Carefully scoop tablespoon-sized portions of caramel pecan mixture onto the prepared baking sheet, working quickly before caramel begins to set. You can keep it warm over low heat, if needed.
Let sit at least 6 hours to fully harden. Dip in tempered chocolate and sprinkle with finely chopped pecans and flaky salt. Chocolate will set within a few minutes and continue to harden and crystallize for the next 24 hours.
Notes
Nutritional information is only an estimate. The accuracy of the nutritional information for any recipe on this site is not guaranteed.
Nutrition
Serving Size:

1

Calories:

145

Sugar:

7.3g

Sodium:

50mg

Fat:

12g

Saturated Fat:

5g

Unsaturated Fat:

6.3g

Trans Fat:

0.2g

Carbohydrates:

8.9g

Fiber:

1.2g

Protein:

1.2g

Cholesterol:

15mg
Keywords: chocolate turtles