This butter toffee might be my number one most addicting candy. It starts with a perfectly crunchy, buttery, deeply caramelized toffee and gets a double coating of snappy dark chocolate and salted pecans. It tastes and looks like it's straight out of an artisan chocolate shop!
I've taken this toffee recipe through the wringer to troubleshoot all of the common issues with toffee and have landed on the most perfect buttercrunch recipe ever. Keep reading for all the tips, tricks and to learn why this butter toffee is just so good!
This post may contain affiliate links. As an Amazon Associate, I earn from qualifying purchases.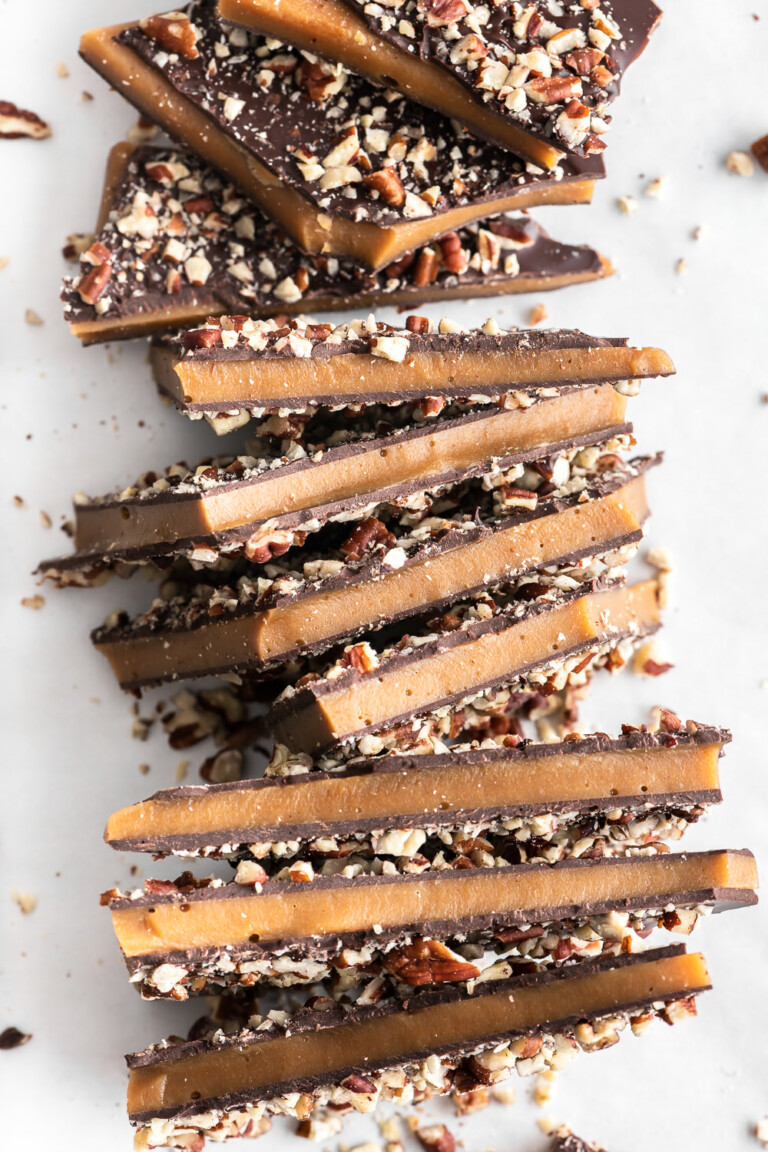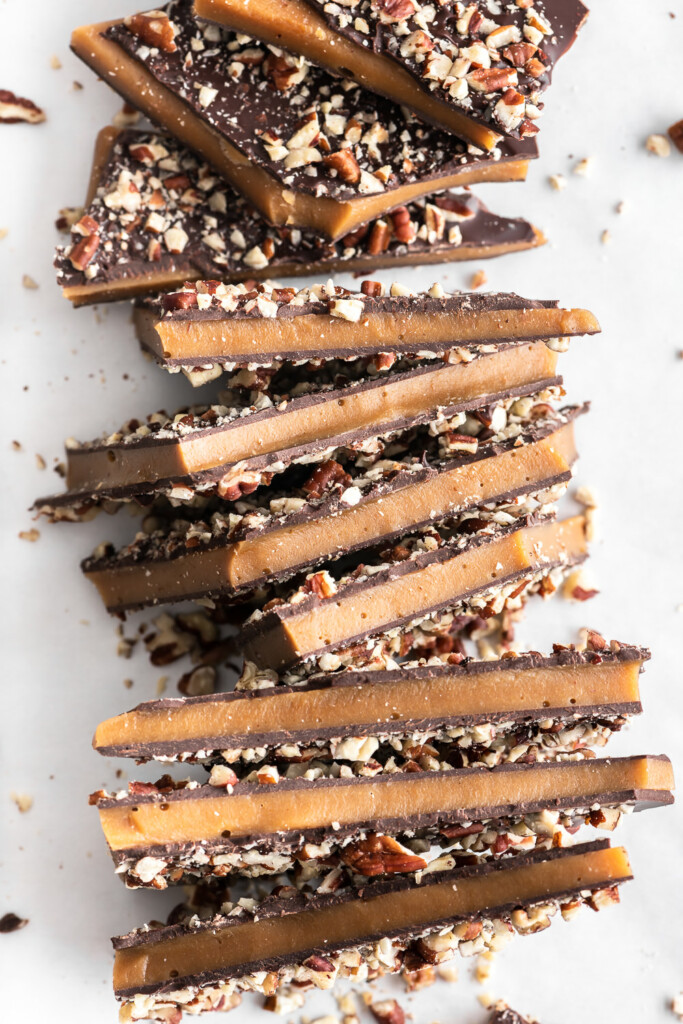 what makes this the best butter toffee?
Salted butter: Salted butter enhances all the flavors and makes this toffee extra delicious. We stir in a little salt, too, but there's just something about creamy salted butter and candy that I can't get enough of. Don't go crazy with European-style butters that have higher butterfat, though, or your toffee is much more likely to break.
Baking soda: This is a non-traditional toffee ingredient, but one I love to add. A tiny pinch of baking soda lightens the candy and gives it a more delicate, tender crunch.
Higher cooking temperature: Most toffee recipes cut the heat at 295°F. I prefer to add cook it a little further to 310°F, for a few reasons. One, the toffee won't stick to your teeth at all. Two, the longer cook time builds a richer, more caramelized flavor that is just so good. And finally, color. Toffees cooked to a lower temperature always seem a little pale to me, and I love the deeper color that a few more degrees gets us.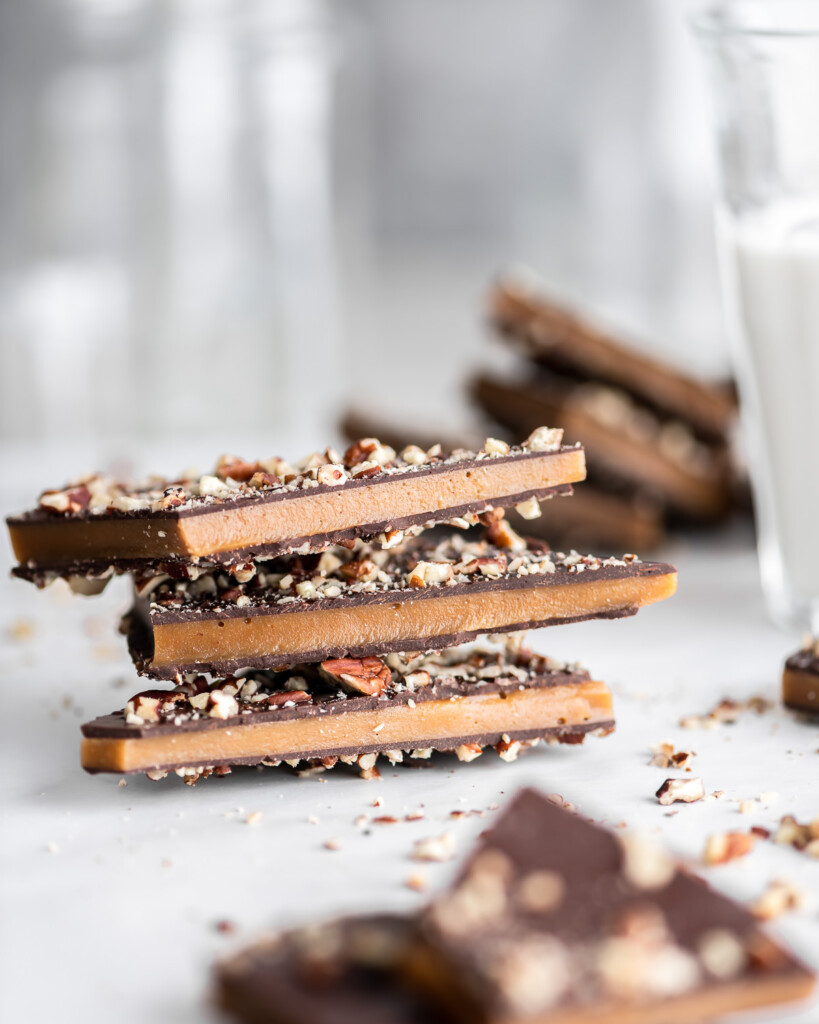 Corn syrup: I prefer to add a few tablespoons of corn syrup in my toffee recipe to reduce risk of re-crystallization. Some recipes have it, some don't. I've made toffee before that crystallized so much, it basically turned into a toffee-fudge baby. Stirring helps prevent burning, and corn syrup lets you stir without crystallization issues.
Double the chocolate: Go big here and coat both sides with chocolate. Not only does this make the buttercrunch taste like the best Heath bar ever, but it also protects the candy from humidity and prolongs the shelf life. Use your favorite bittersweet chocolate to balance the sweet toffee. And temper the chocolate for a hard, stable, snappy coating that won't melt in your fingers.
Pecans: I love the deep, nutty flavor of toasted pecans combined with the caramelized flavors of toffee. The soft crunch adds a delicious texture, too, that goes hand in hand with the tender crunch of this butter toffee. You can use any nut you like, though! Just make sure they're roasty toasty (preferably salted!) and not raw.
what you need for this butter toffee recipe:
butter
sugar
corn syrup
water
kosher salt
baking soda
chocolate
pecans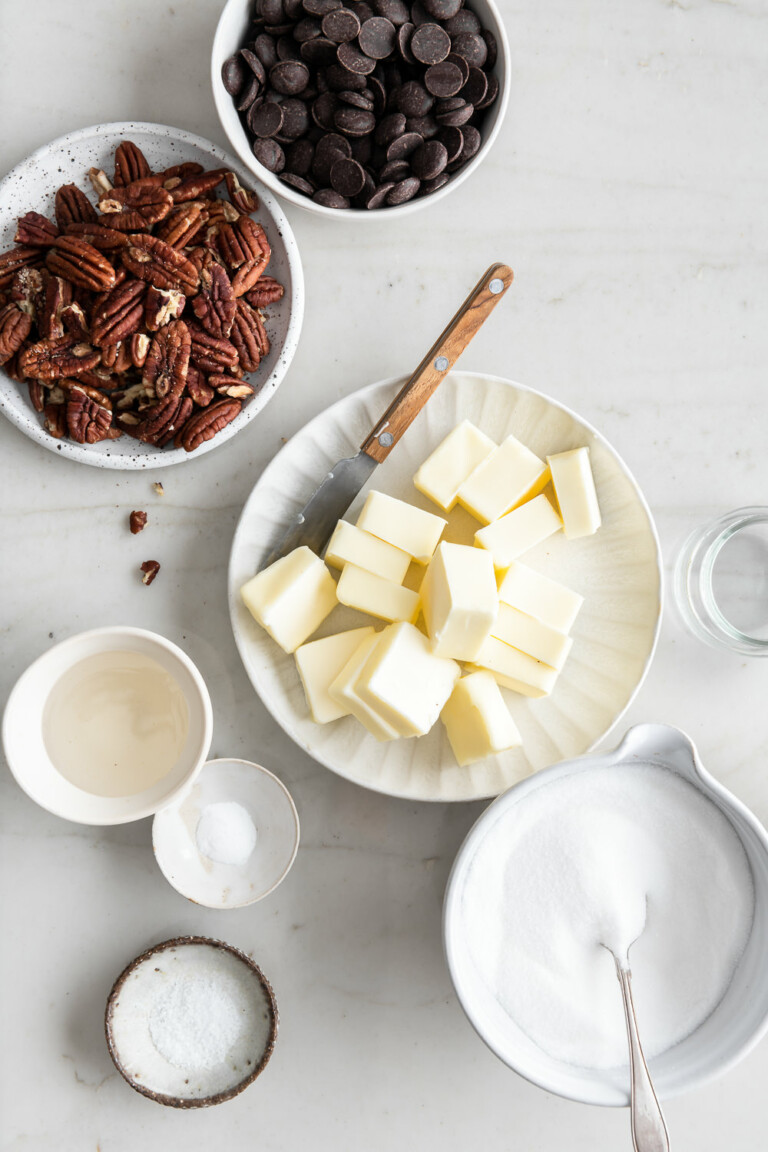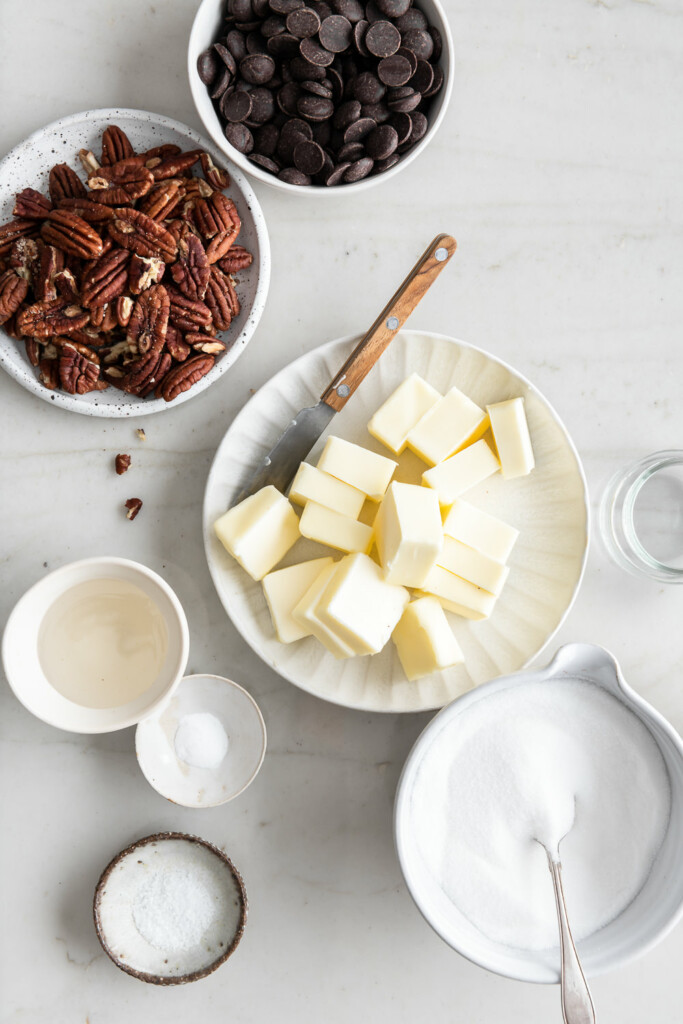 how to make butter toffee:
Melt butter in a large saucepan.
Add sugar, corn syrup, water and salt.
Cook, stirring, until mixture reaches 295°F.
Stir in baking soda and cook, stirring, until mixture reaches 310°F.
Pour onto parchment paper lined baking sheet and quickly spread into an even layer.
Let cool completely.
Spread one side with tempered chocolate and sprinkle with chopped pecans; wait 5 minutes to set.
Flip toffee and coat underside with tempered chocolate and pecans.
Let stand a few hours for chocolate to fully harden, then break into pieces and enjoy!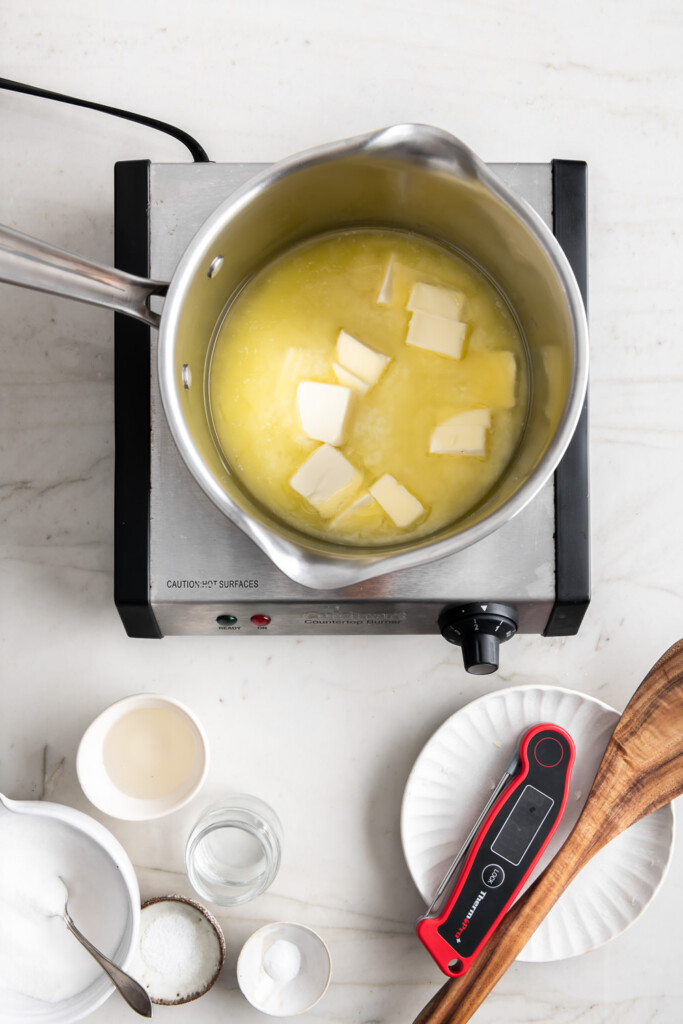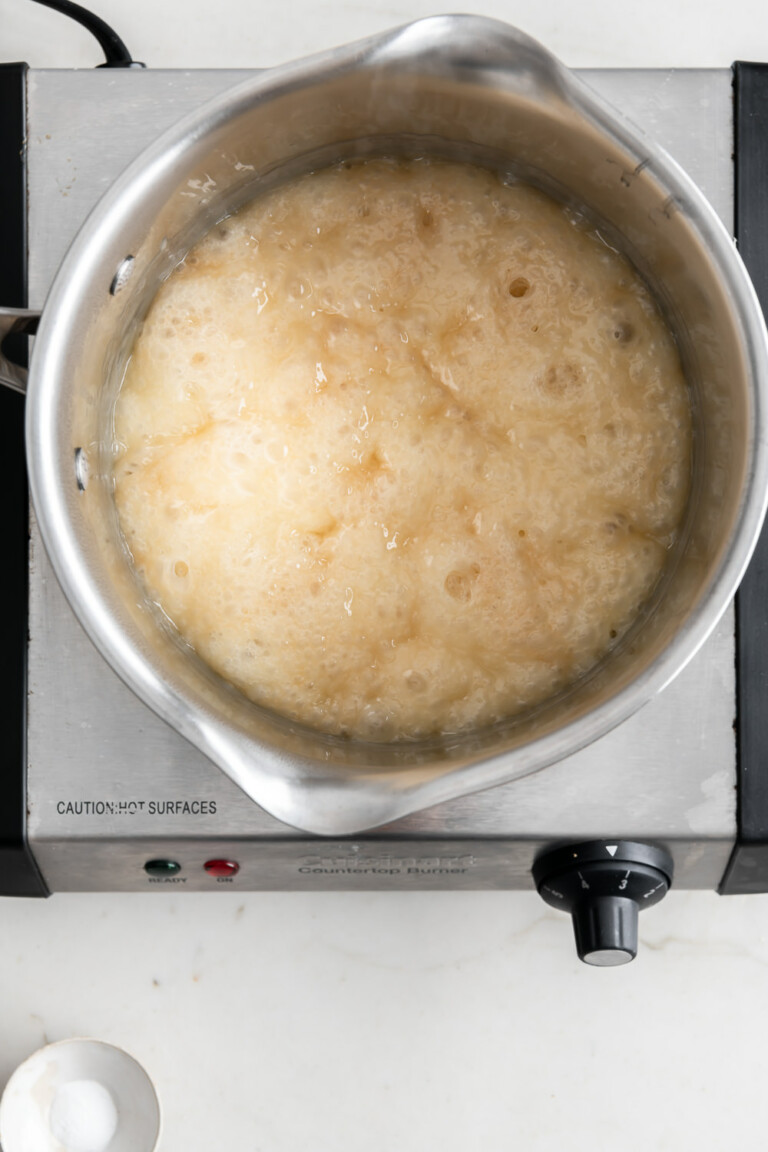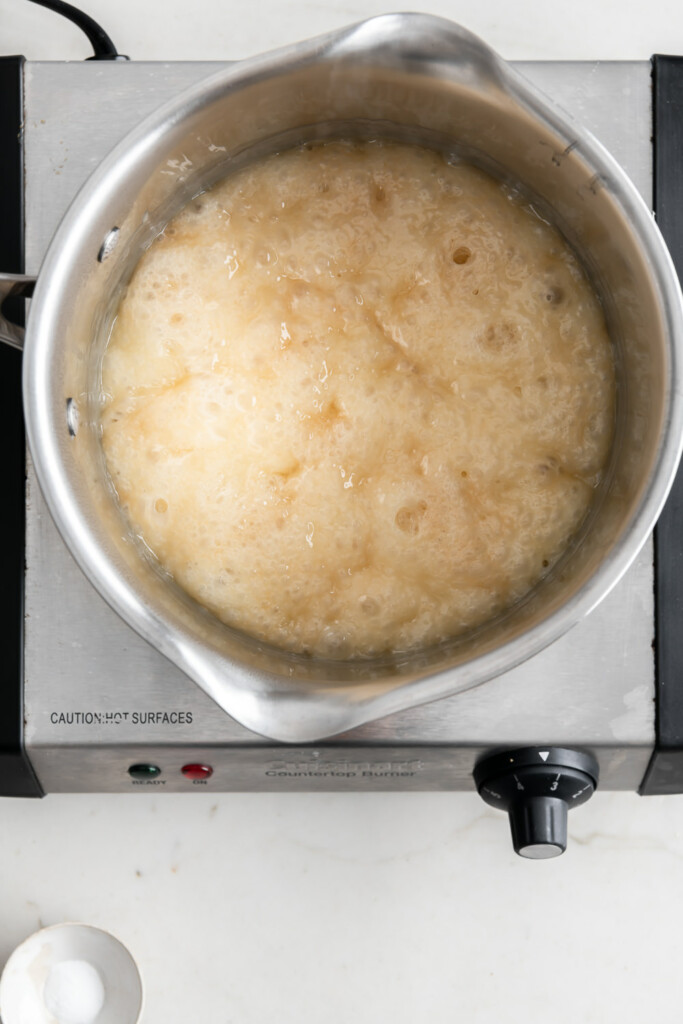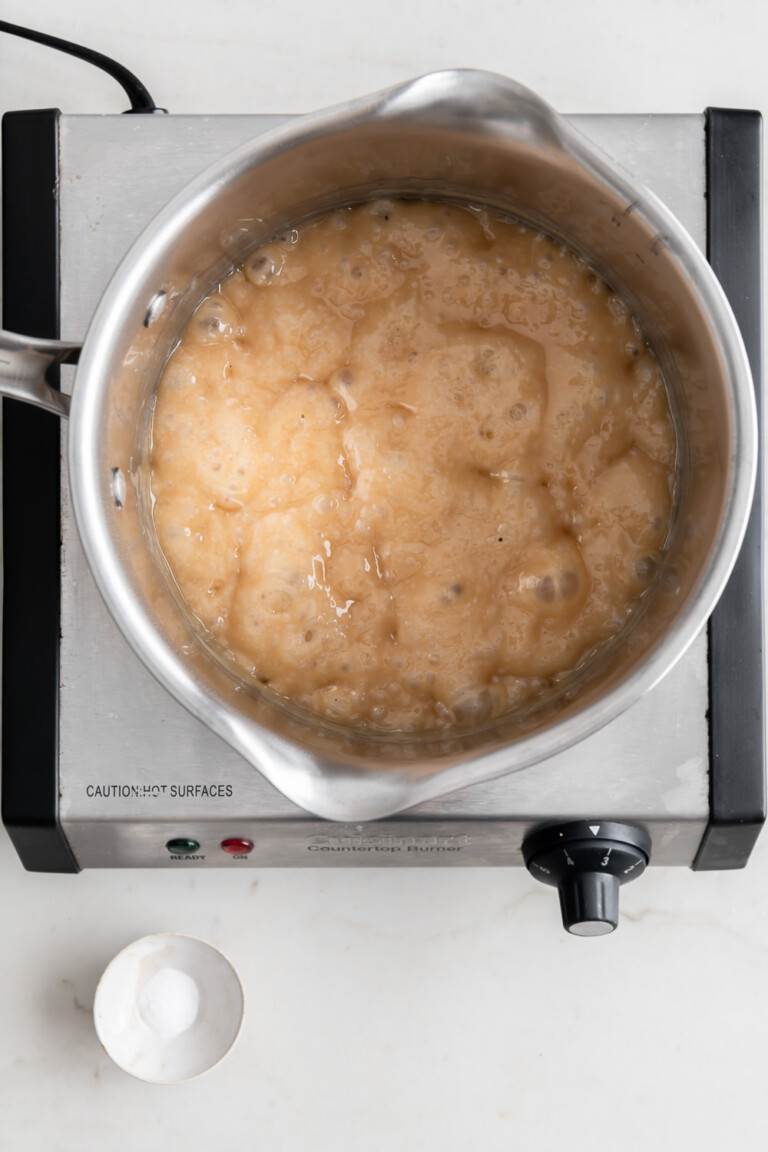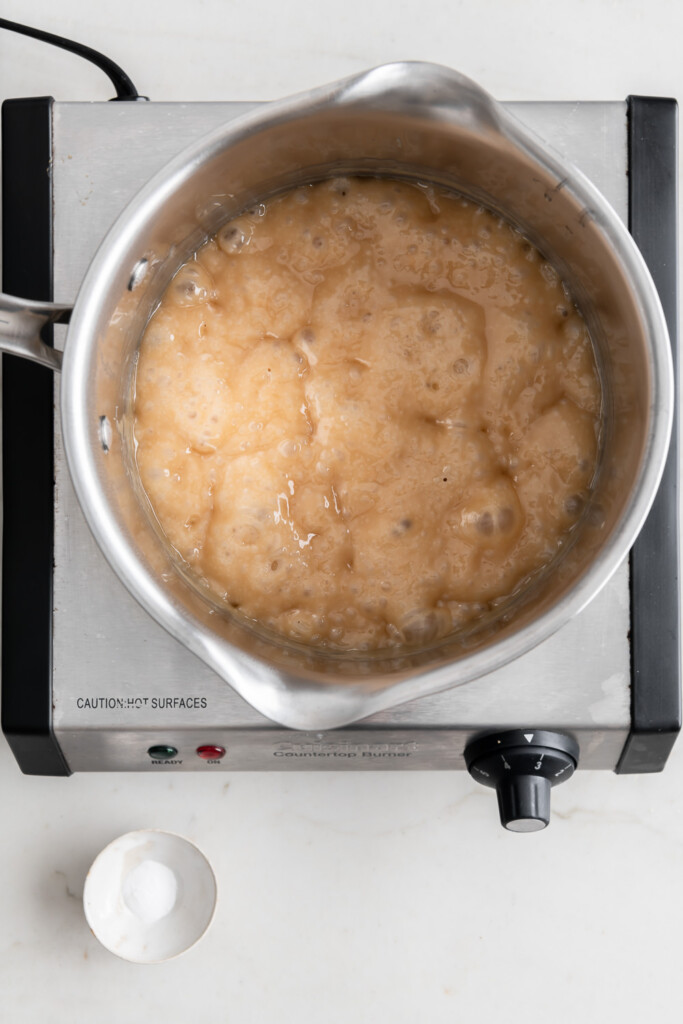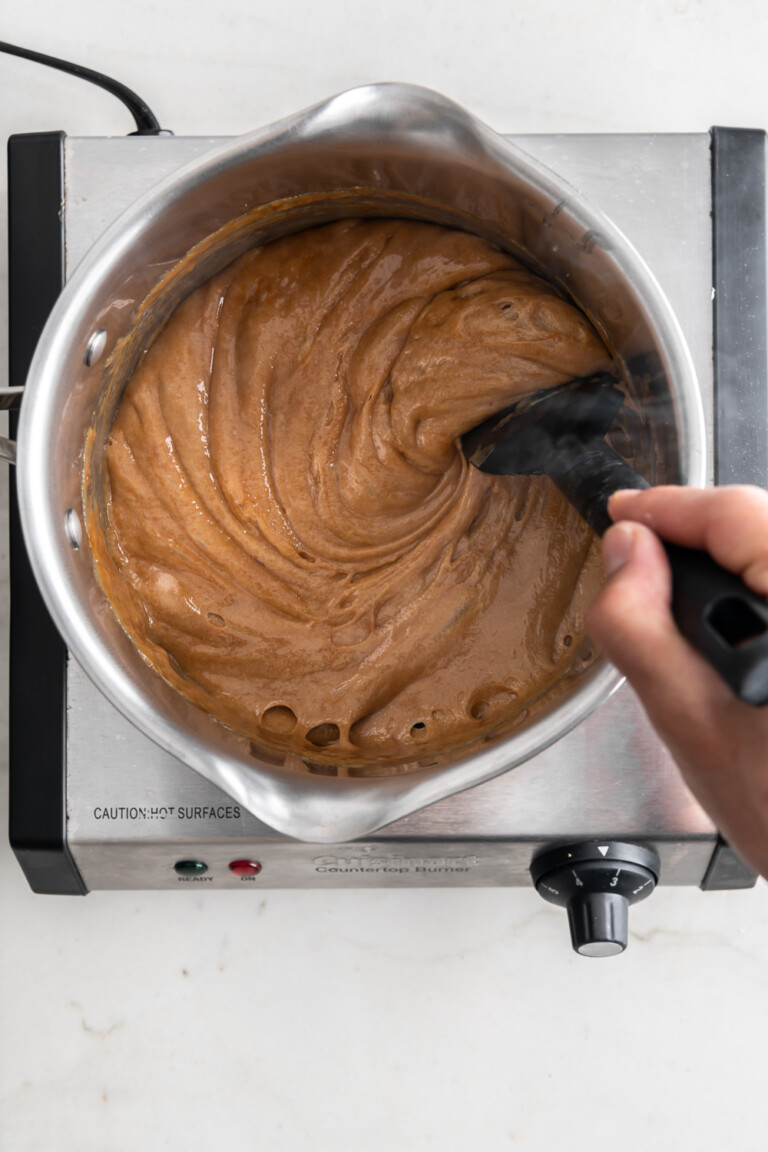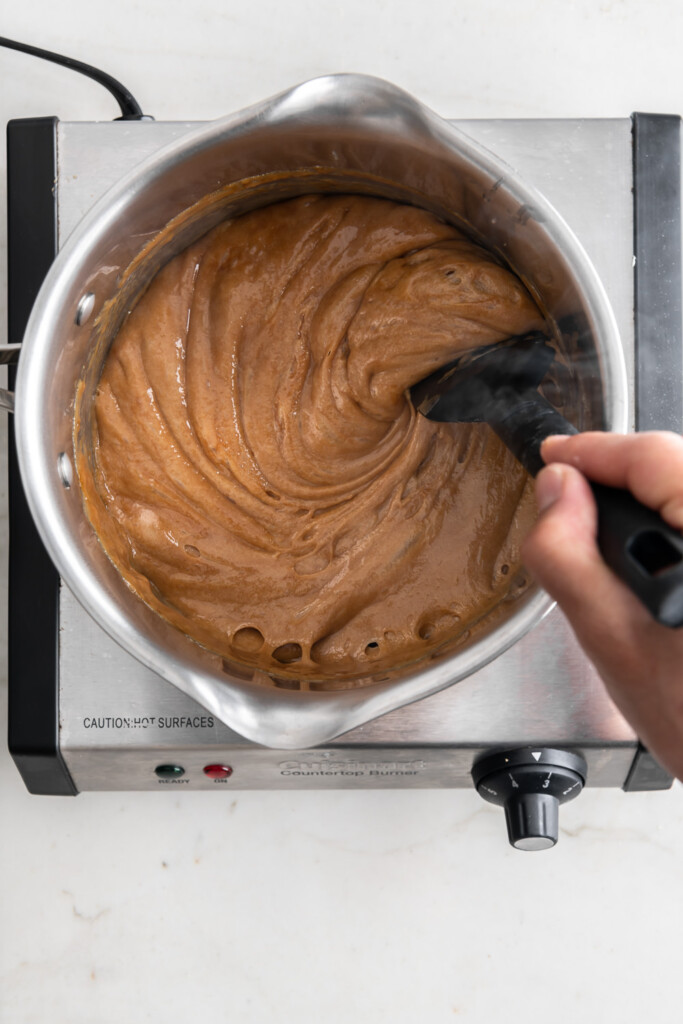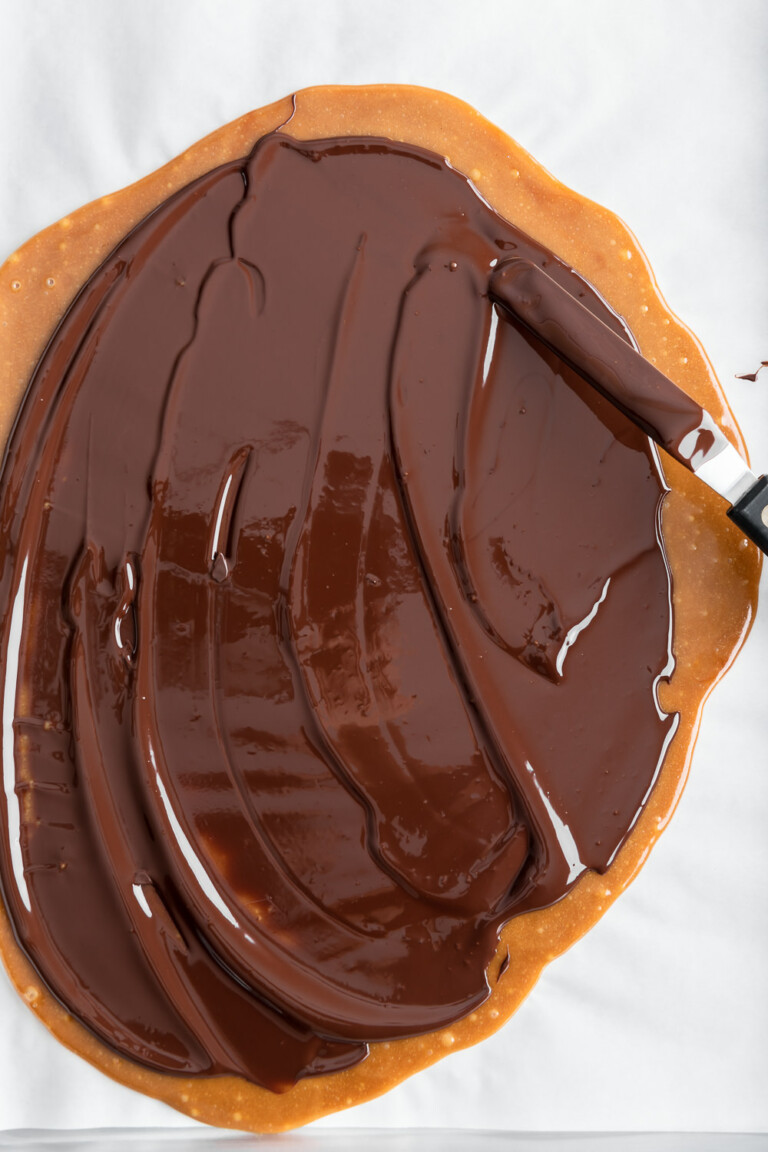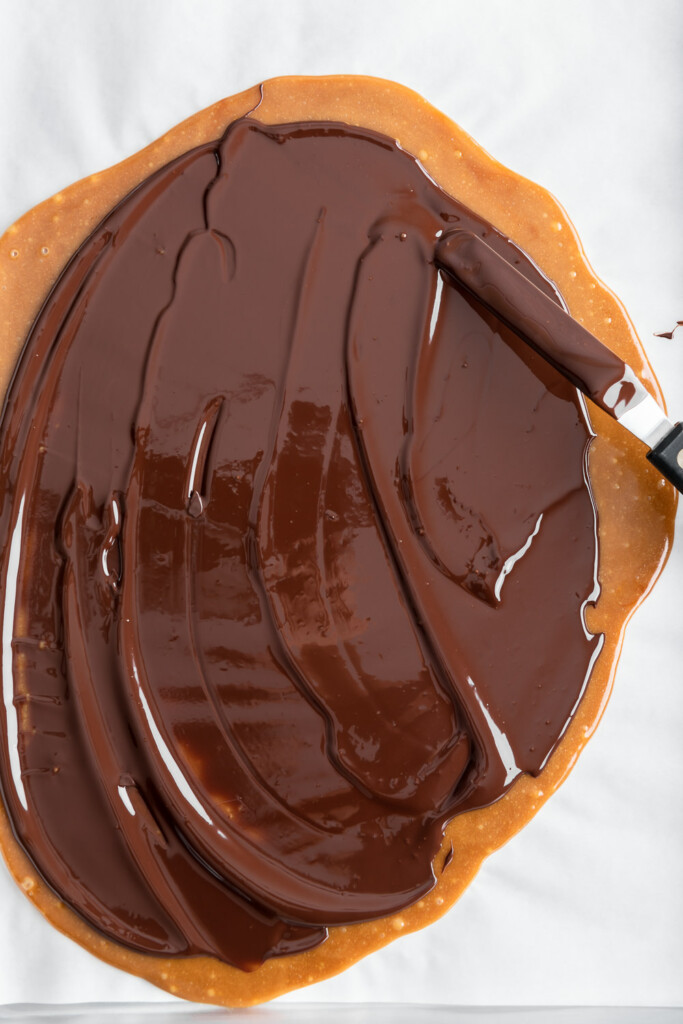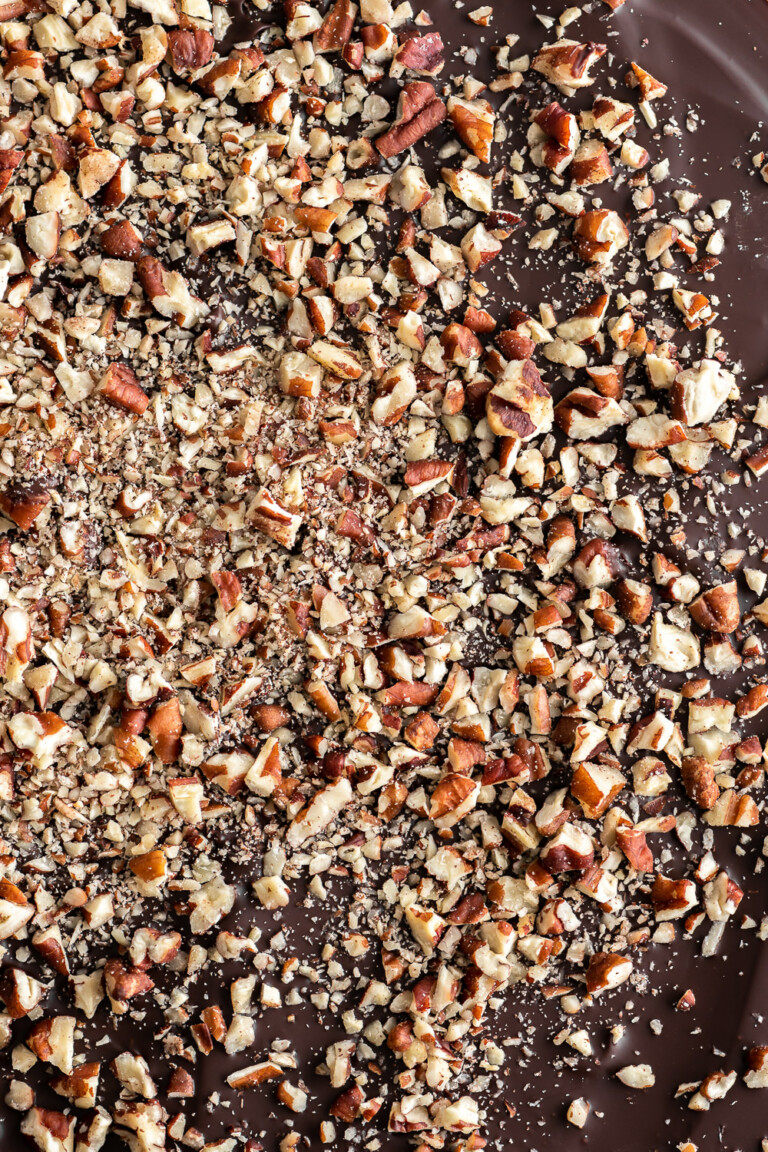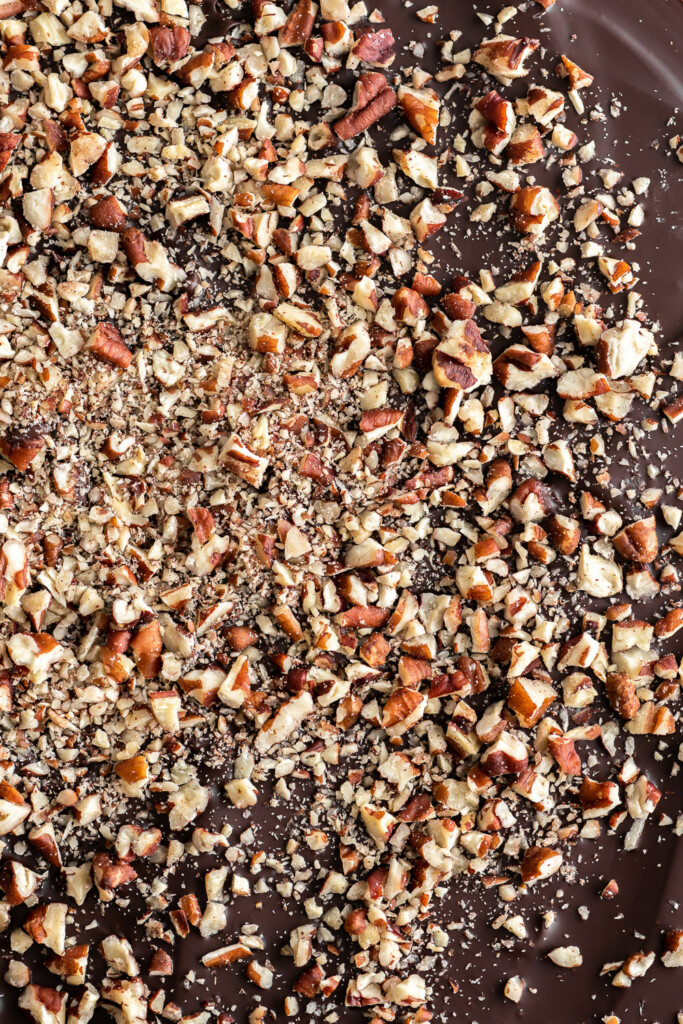 how to store toffee:
Toffee, like all candy, will absorb any and all moisture from the air. Eventually your beautifully crunchy toffee will get soft and sticky.
To extend the shelf life as much as possible, store it in an airtight container. I prefer to store them in a ziptop bag, but to be extra cautious you could also wrap them individually in plastic wrap.
If you really want them to last a long time, break the toffee into pieces (before the chocolate layers) and then dip the individual pieces in tempered chocolate. This will seal the toffee off from air and preserve the candy for months.
more tips for making the best buttercrunch toffee:
Lower the heat if the toffee starts to burn, and use a wooden spoon to scrape the bottom and corners of the pot as you stir.
Use regular, plain old American butter! Higher butterfat butters tend to cause the toffee to separate.
Soak your pot and tools in hot water right away. It will loosen the candy and make clean-up a breeze.
It's VERY common for small droplets of butter to form on the surface of toffee. Use a paper towel to gently blot it away before coating in chocolate.
Learn how to properly temper chocolate here! It's really simple once you understand the process, and it will TRANSFORM your homemade candy.
Use a reliable, high-quality instant read thermometer for the best results. I love Thermapen!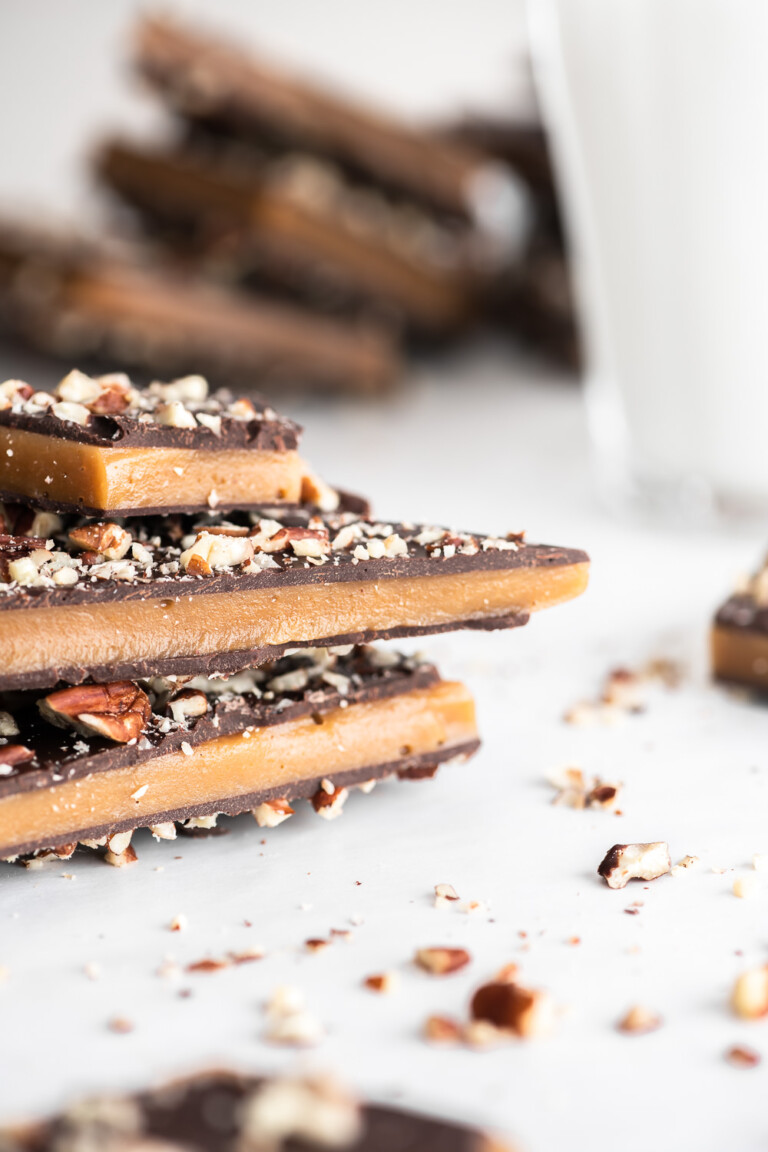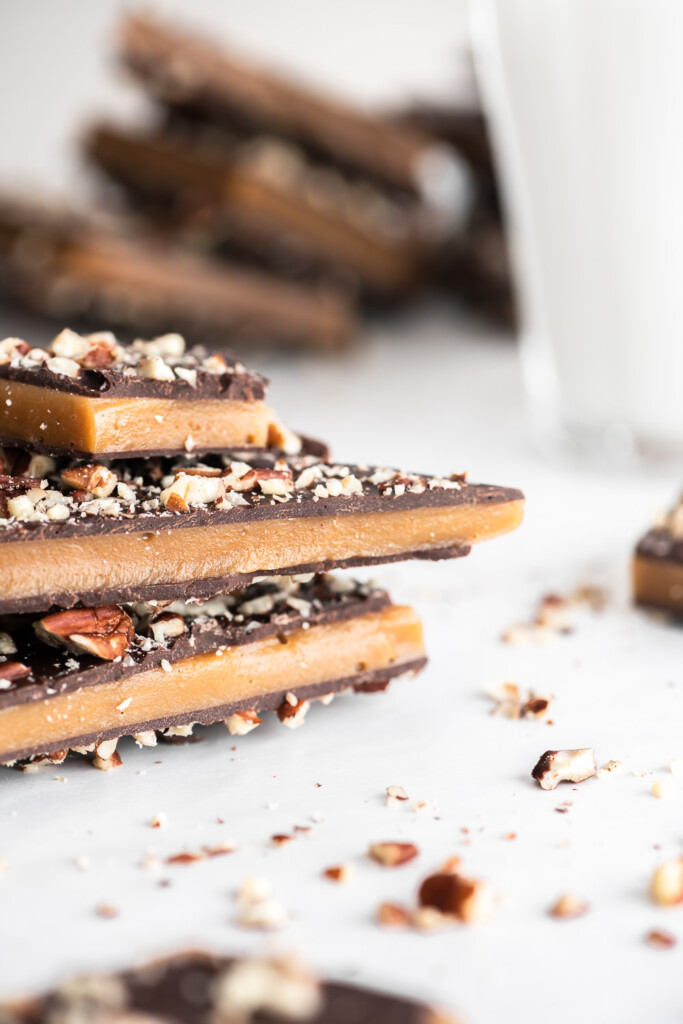 more homemade candy recipes to try:
Watch our Christmas candy web story here!
Print
the best butter toffee recipe (buttercrunch)
Butter toffee is perfectly crunchy, tender and deeply caramelized. It gets a double coating of snappy dark chocolate and salted pecans for the most stunning candy ever!
Author:
Prep Time:

20 minutes

Cook Time:

20 minutes

Total Time:

40 minutes

Yield:

24 pieces

Category:

Candy

Method:

Stove

Cuisine:

American
Ingredients
1 cup

salted butter, plus more for pan

1 cup

granulated sugar

2 tbsp

corn syrup

2 tbsp

water

¼ tsp

kosher salt

¼ tsp

baking soda

8 oz

tempered chocolate (about

2 cups

)

1 ½ cup

finely chopped salted pecans
Instructions
Line a baking sheet with parchment paper and set aside.
Melt butter in a medium saucepan over medium heat. Add sugar, corn syrup, water and salt and bring to a boil, stirring constantly. Continue to cook, stirring often, until the mixture reaches 295°F on an instant-read thermometer. Stir in baking soda and continue to cook, stirring, until candy reaches 310°F.
Remove from heat, pour onto prepared sheet and quickly spread toffee into an even layer. Let cool completely.
If the surface is oily, use a paper towel to blot it away. Spread one side with half the tempered chocolate and half the chopped pecans. Wait 10 minutes for the chocolate to set, then flip the toffee. Blot the surface with a paper towel, then repeat spreading it with remaining tempered chocolate and pecans.
Let sit a few hours for the chocolate to continue to crystallize and harden. Break into pieces and store in an airtight container.
Notes
Nutritional information is only an estimate. The accuracy of the nutritional information for any recipe on this site is not guaranteed.
Nutrition
Serving Size:

1

Calories:

201

Sugar:

15g

Sodium:

96mg

Fat:

15g

Saturated Fat:

7g

Unsaturated Fat:

7.1g

Trans Fat:

0.3g

Carbohydrates:

16g

Fiber:

1g

Protein:

1.4g

Cholesterol:

23mg