Learn how to make the best homemade honeycomb candy! It's light, crunchy, and filled with sweet honey flavor.
I love to dip it in tempered chocolate and decorate it with dried edible flowers for a gorgeous treat. The chocolate coating also protects the candy from humidity, extends the shelf life for months, and makes it super easy (clean!) to give as gifts.
Chocolate covered honeycomb is a stunning spring candy and one I especially love to make for bridal showers, weddings, baby showers, Easter-- any sweet and meaningful spring event! Your friends and family will LOVE it.
This post may contain affiliate links. As an Amazon Associate, I earn from qualifying purchases.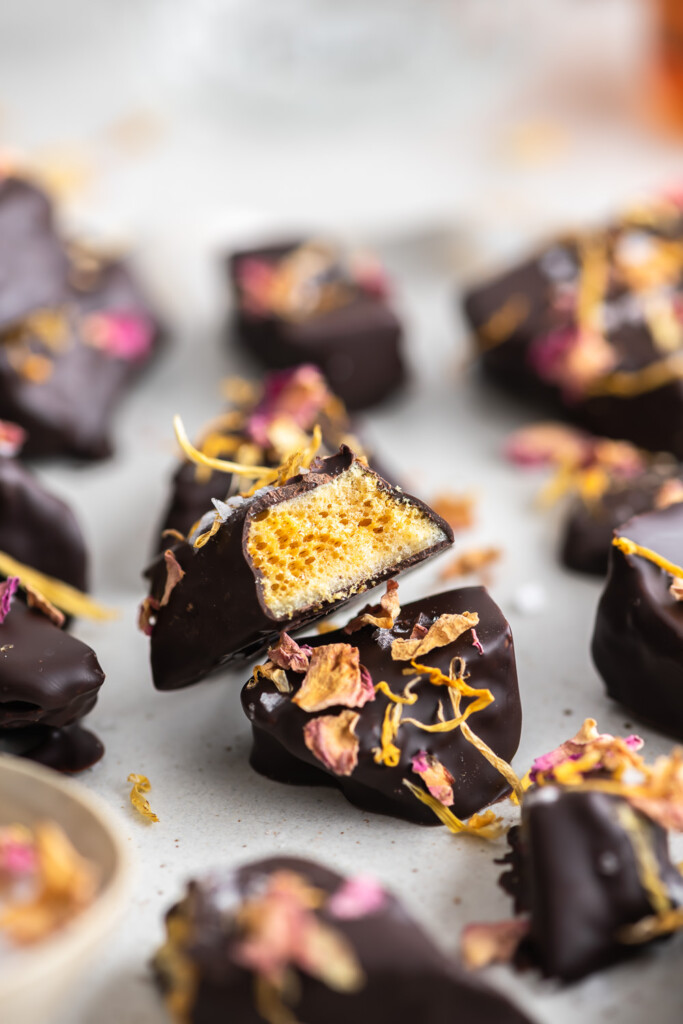 what is honeycomb candy?
Honeycomb candy is a hard honey-flavored candy, cooked to the hard crack stage like toffee, and aerated with baking soda. The baking soda reacts with acidic components in the sugar syrup to create big bubbles in the candy that resemble a honeycomb. It's crunchy, sweet, crisp and so unique!
It has a lot of different names: hokey pokey, puff candy (Scotland), yellowman (Ireland), fairy food candy (Wisconsin), sponge toffee.
Note: it is not the same as sponge candy, which has gelatin mixed in at the end. This keeps the bubbles extra small and uniform, for a sponge-like texture that melts in your mouth.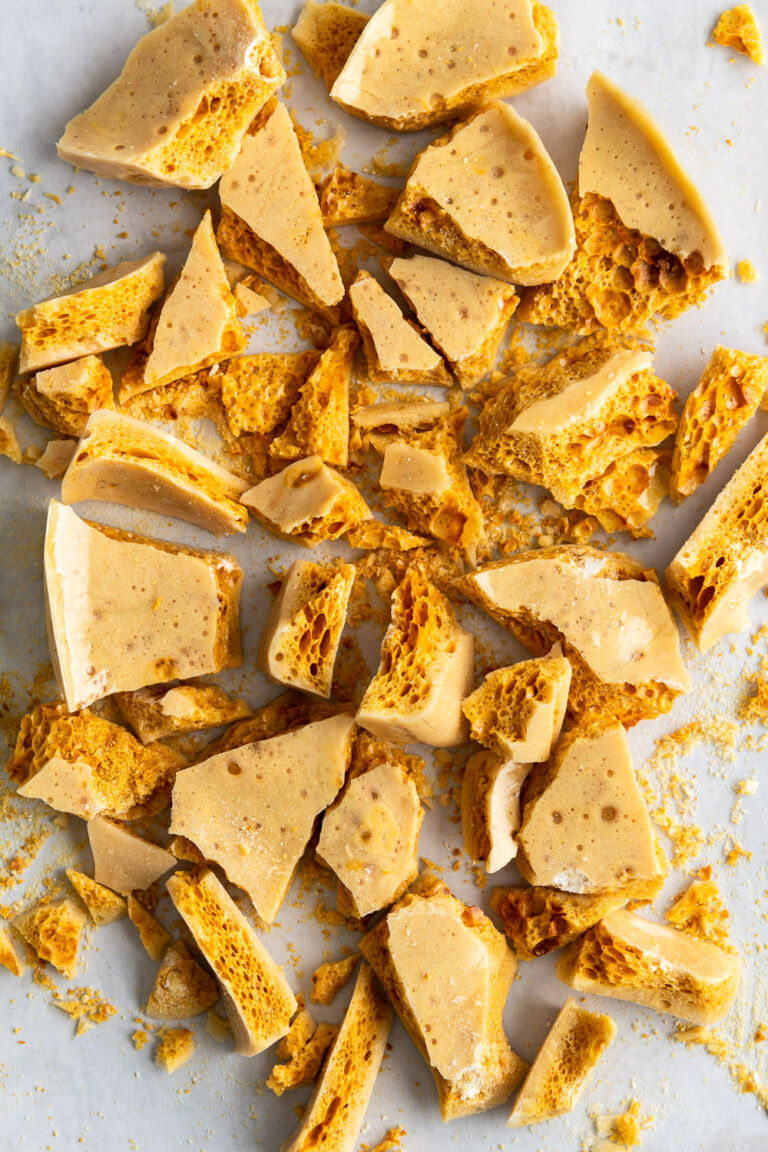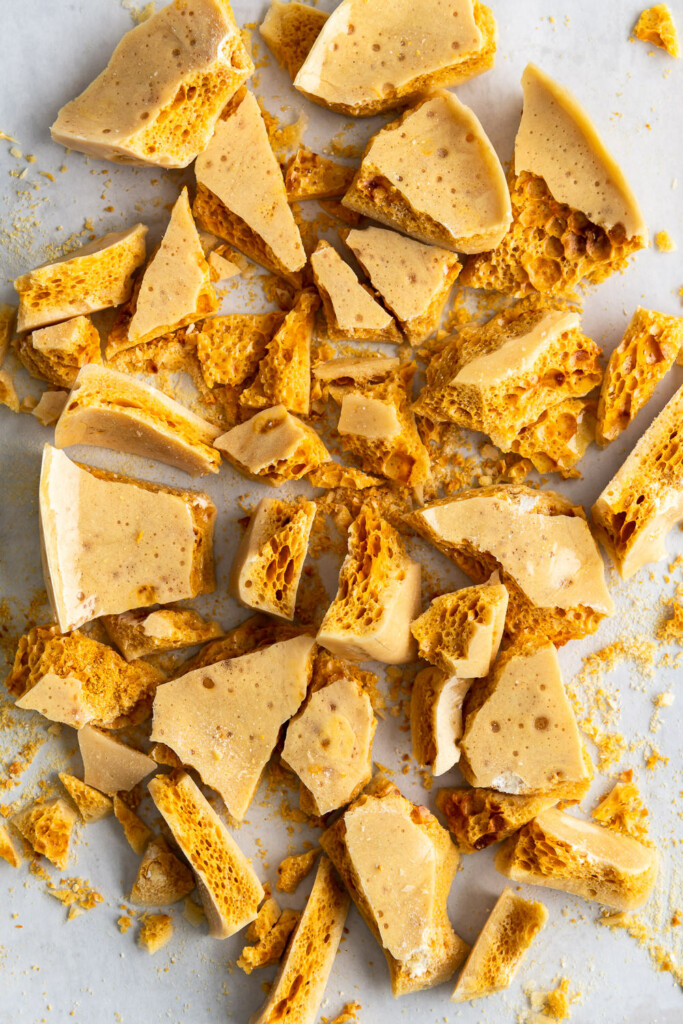 why this is the best honeycomb candy:
Perfect amount of baking soda: I tested this recipe about 17 times. No joke. And the amount of baking soda was the number one factor I kept coming back to. I wanted those big, gorgeous holes in the candy but did not want the metallic aftertaste from too much baking soda. It's always a trade-off, and while we eat with our eyes first-- the taste is what actually matters. Sadly, many of those stunning Pinterest images you see of big holes in honeycomb candy don't actually taste good. If that's what you want, increase the baking soda to 2 ¼ teaspoons!
Vanilla: All candy needs a little vanilla in it! It rounds out the flavor and really makes your house smell like a candy shop. Mix it in off the heat then add the baking soda (don't mix them in together).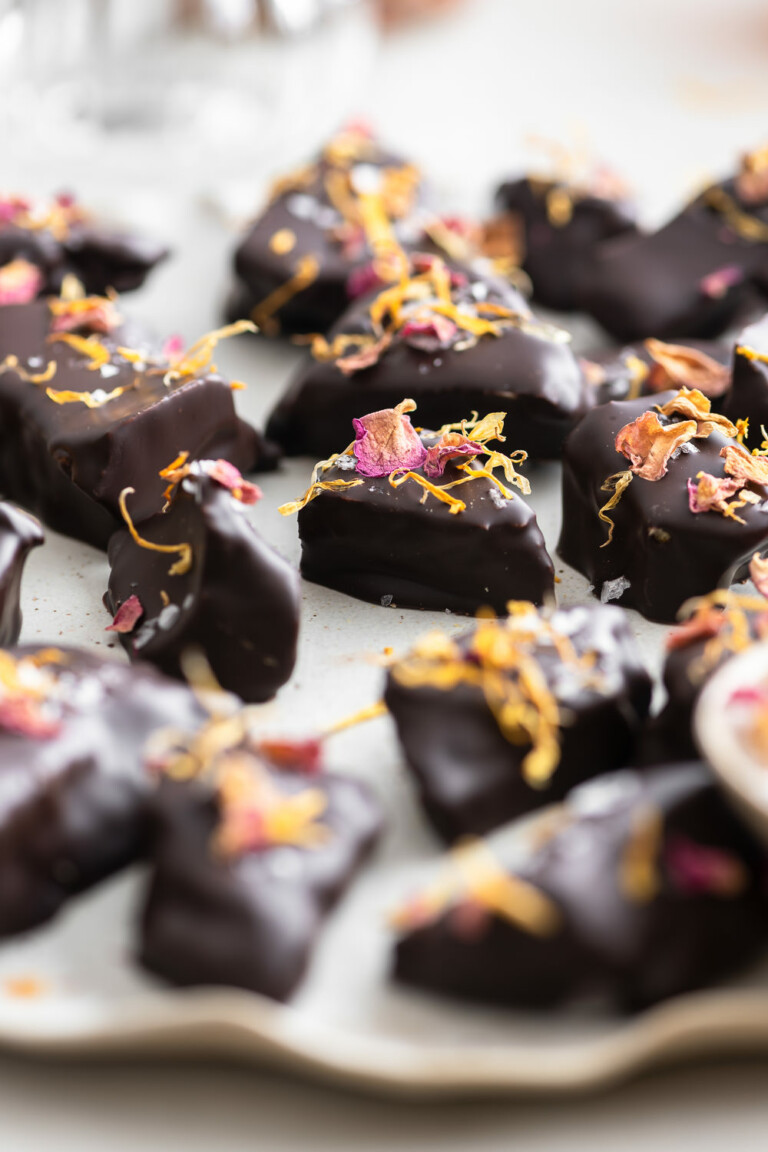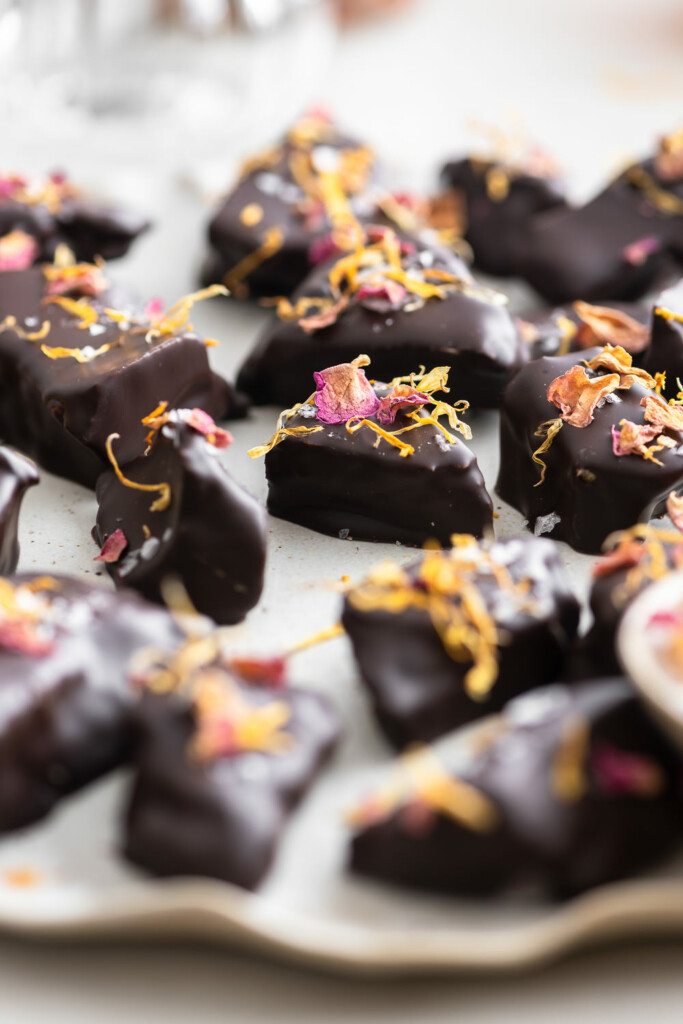 Cook to 310°F: I prefer to cook my honeycomb candy a little bit higher than other recipes. This has a two-fold effect: it adds a much richer, caramelized flavor and it cooks off more water for a perfectly light and crisp texture. Candies cooked to lower temperatures can sometimes be sticky-- in your hands AND teeth.
Just enough honey: You'll be shocked by the honey flavor in this candy that comes from just 1 tablespoon of honey. It's just enough to be noticeably honeyed, but not overpowering. Too much honey flavor is not better! It can actually take on a plastic, burnt rubber note that is NOT good.
Dipped in chocolate: This is the single best way to preserve honeycomb candy! The beautiful, airy texture is really just a lot of surface area that can absorb moisture from the air (even if you don't think it's humid out). The candy will quickly become sticky and soft. I prefer to dip the candy in tempered chocolate as soon as it's hard enough to break into pieces to preserve that light, crispy, crunchy texture.
Dried edible flowers: This is totally optional, but so gorgeous. There are a ton of Etsy shops that sell beautiful dried, edible flowers for candy and cake garnishes. They look beautiful, unique, and they mirror the floral honey note in the candy for an extra special touch. I got mine here!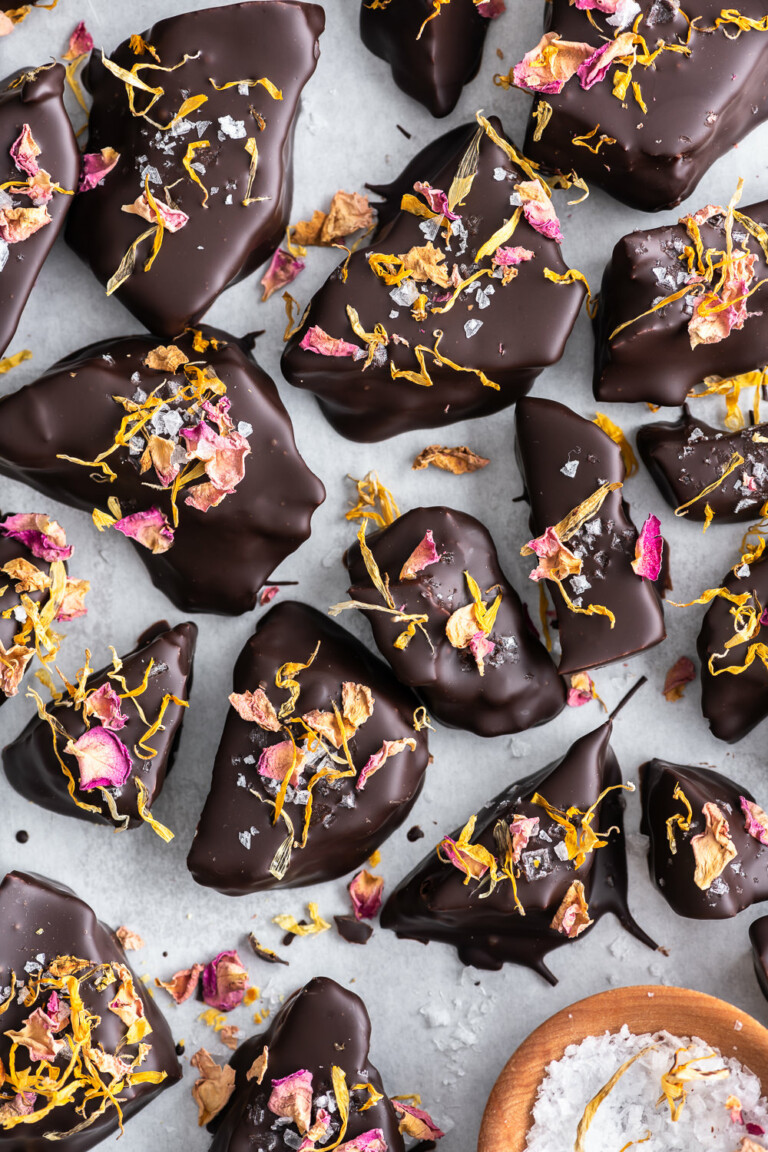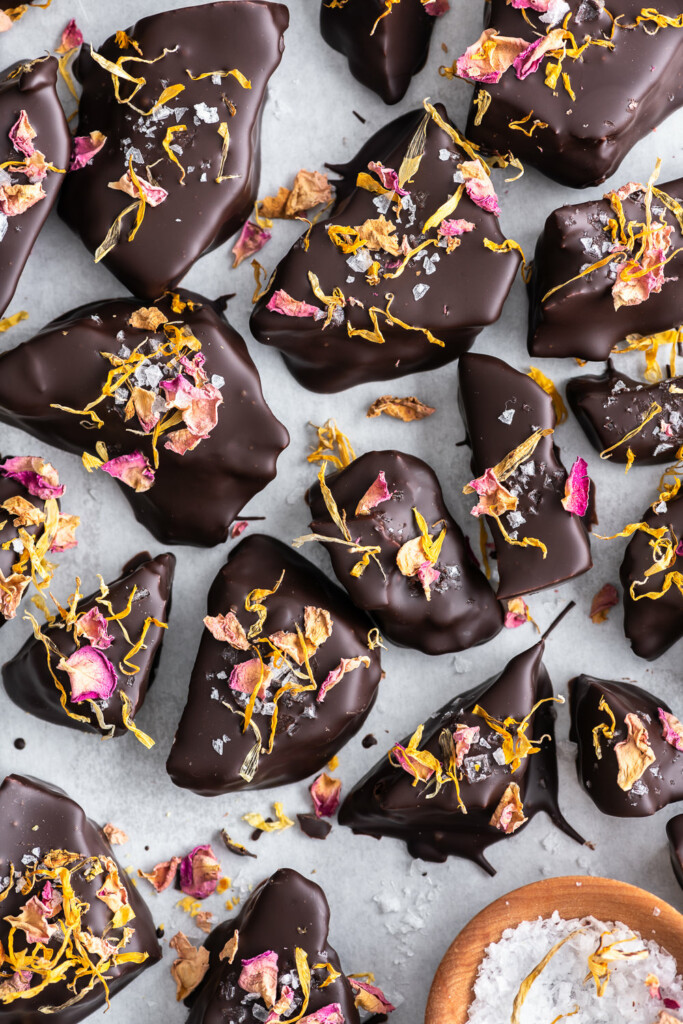 what you need for honeycomb candy
sugar
corn syrup
honey
water
vanilla
baking soda
flaky salt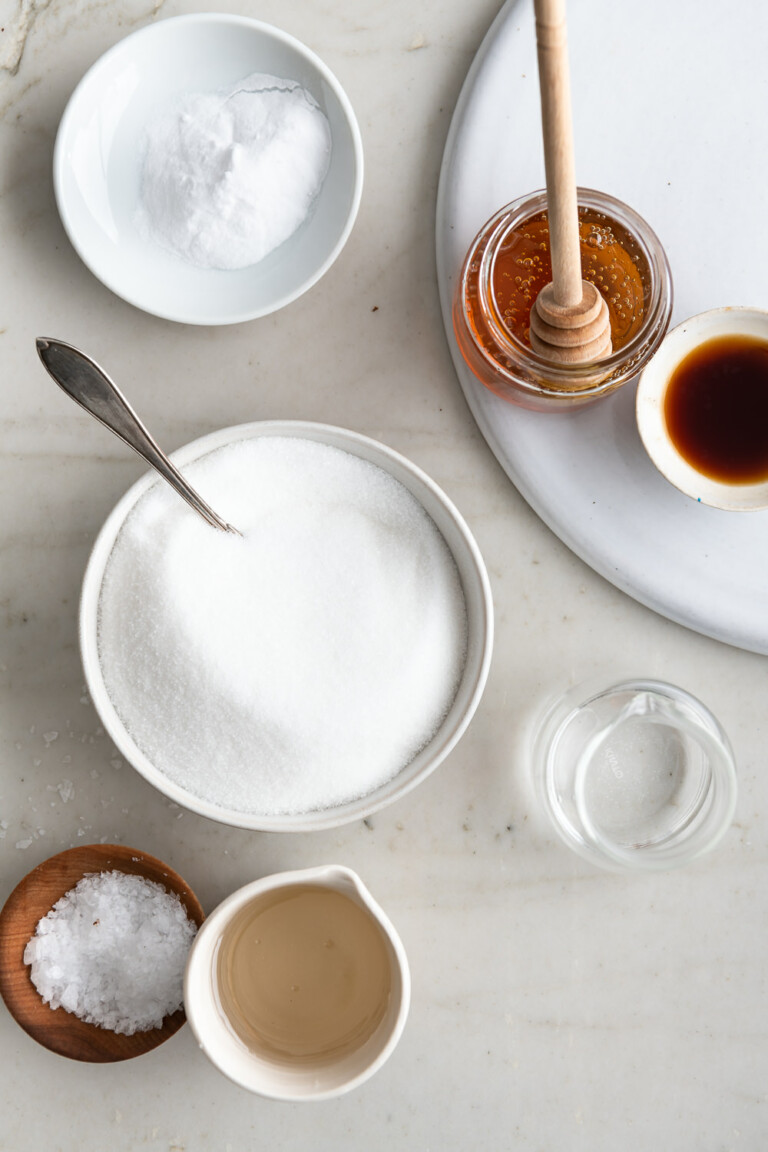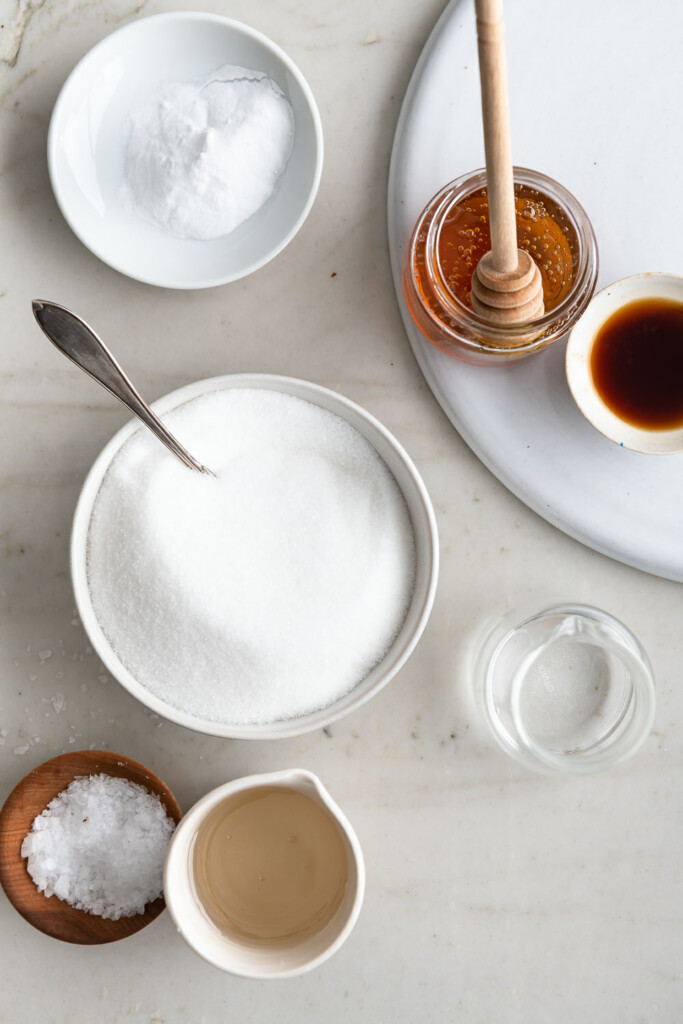 how to make honeycomb candy:
Prepare the pan and measure out all the ingredients.
Heat sugar, corn syrup, honey, and water until sugar is dissolved.
Cook without stirring until the mixture reaches 310°F.
Remove from heat and stir in vanilla.
Quickly mix in baking soda.
Pour candy into pan; don't level or touch the surface.
Cool completely.
Break into pieces, dip in tempered chocolate, and sprinkle with dried edible flowers and flaky salt.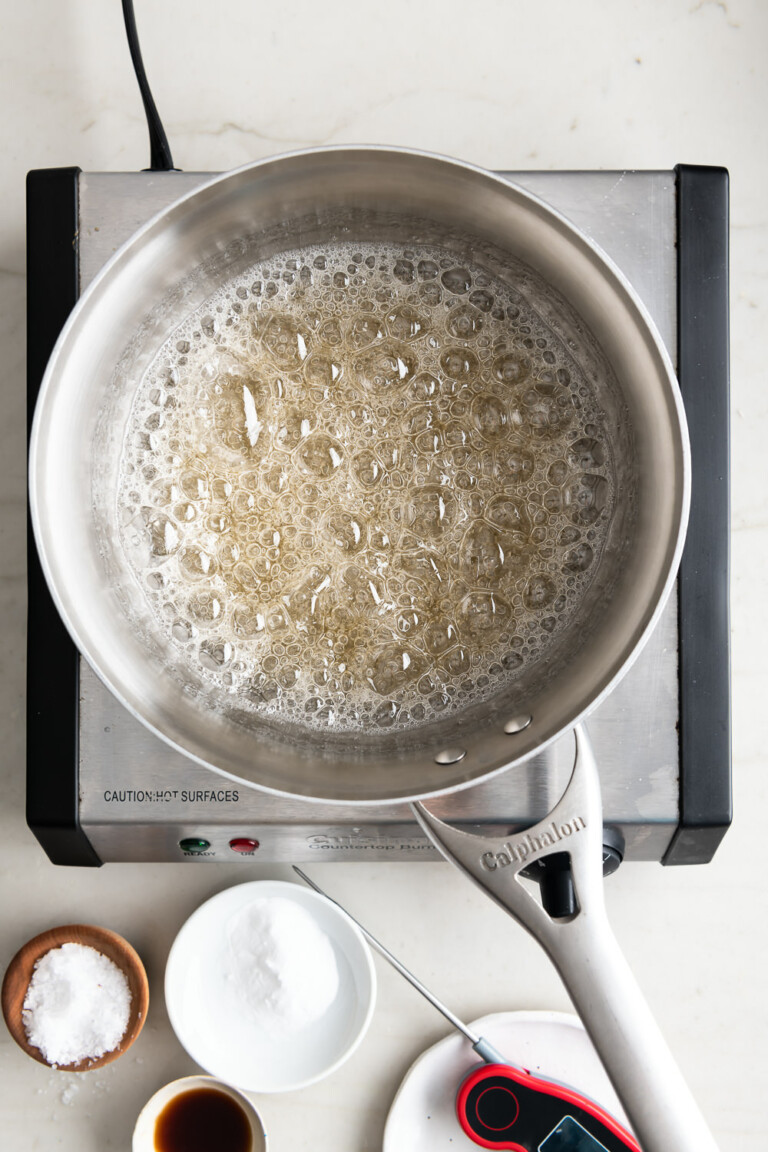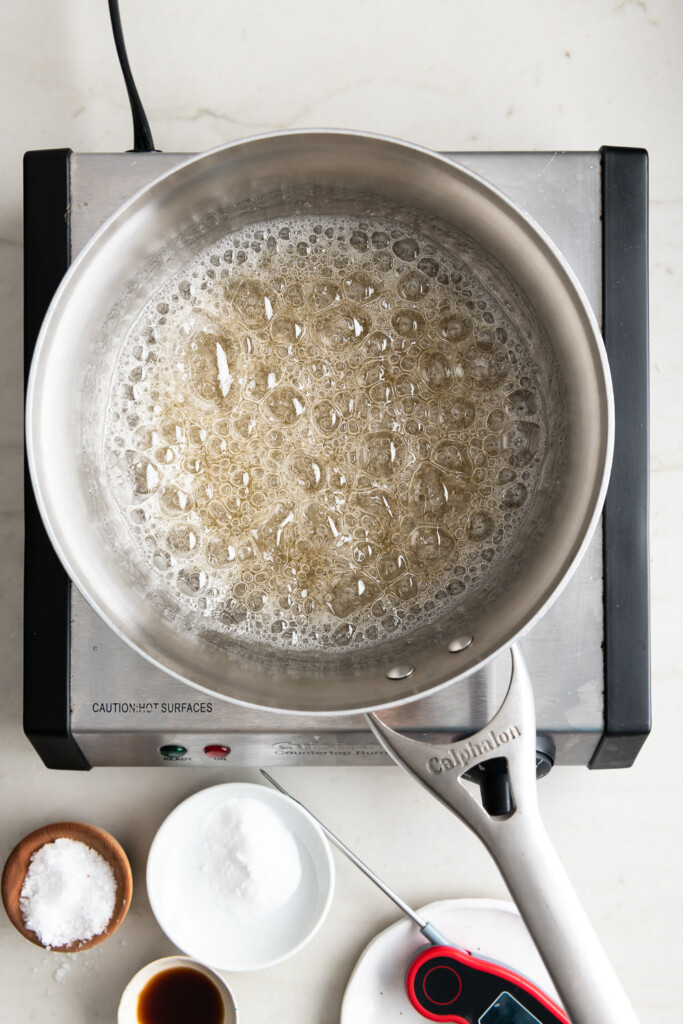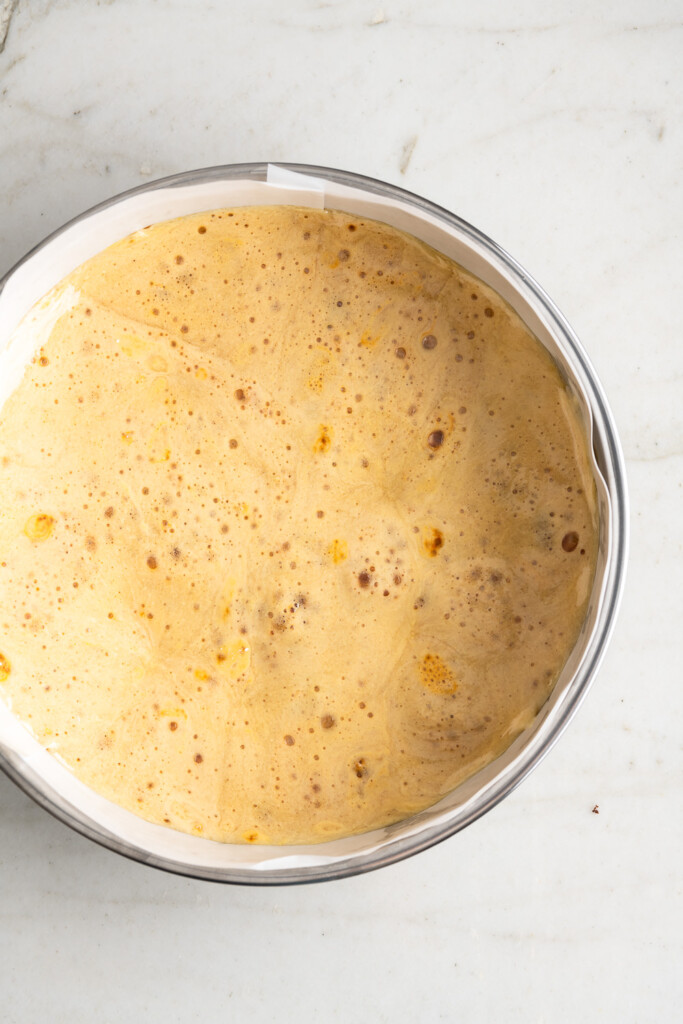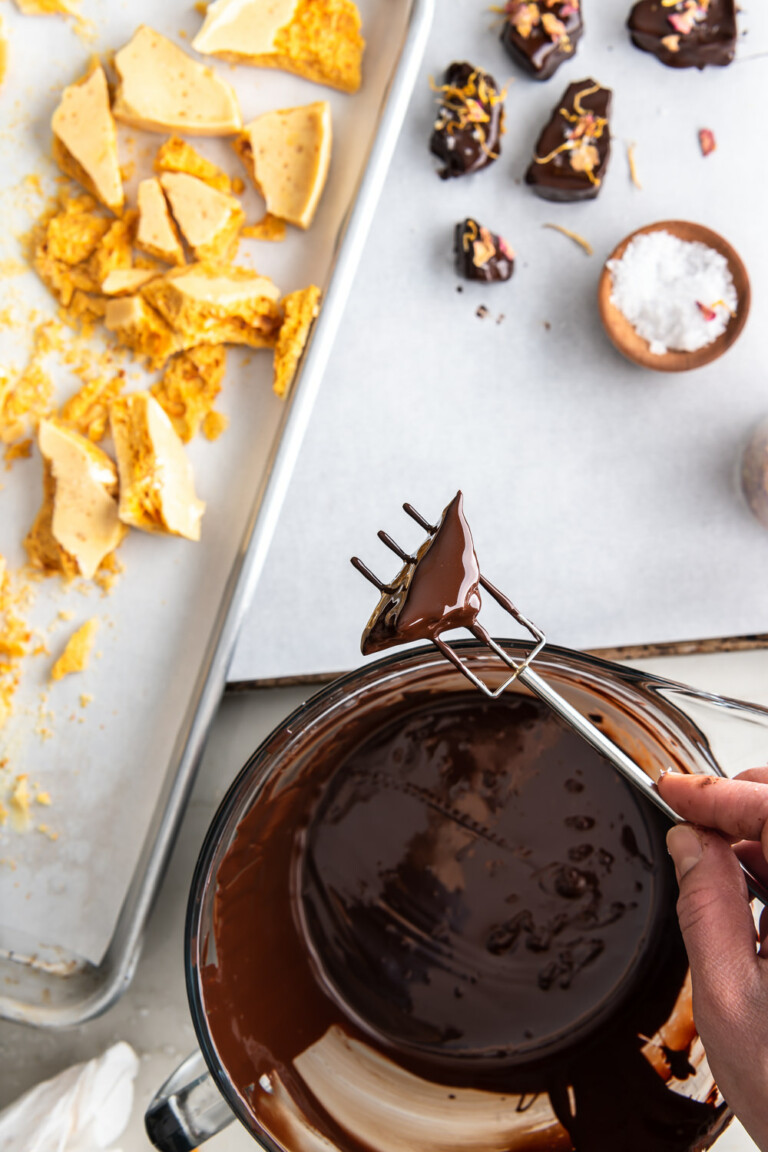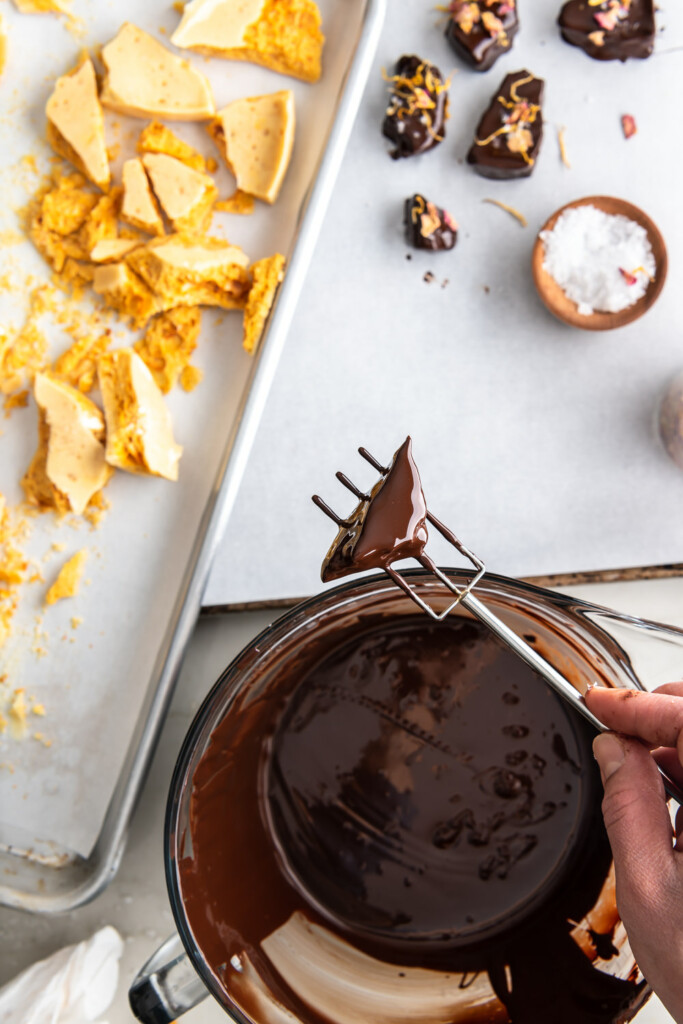 how is this honeycomb candy different from the Squid Game candy?
While I live under a rock, luckily my husband doesn't and you probably don't either: the show Squid game recently put honeycomb candy back on the map.
They featured an old Korean candy known as Dalgona candy, which is essentially the same as honeycomb candy. It's a hard, toffee-like candy that's lightened with baking soda.
The difference is they pour it into small molds and often add a stick, to make it look like a lollipop. They also stamp the surface with a pretty shape and use just sugar and baking soda. No honey, vanilla, chocolate, or beautiful garnishes of edible flowers.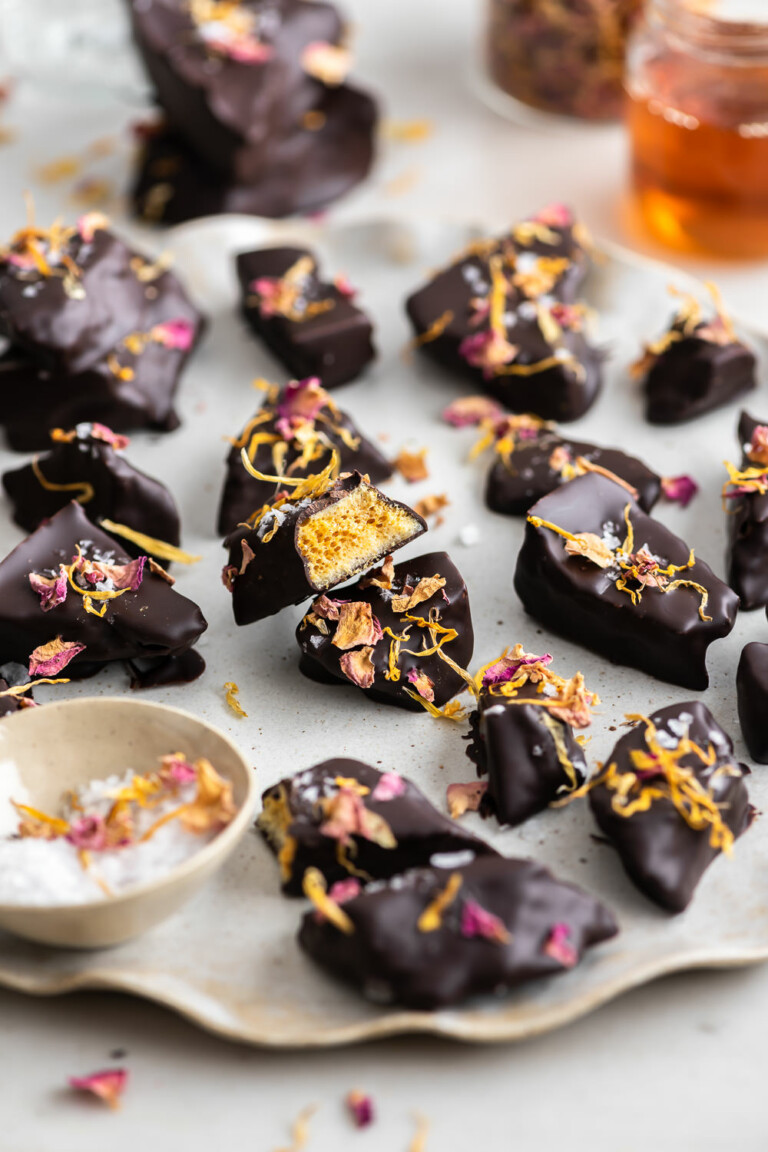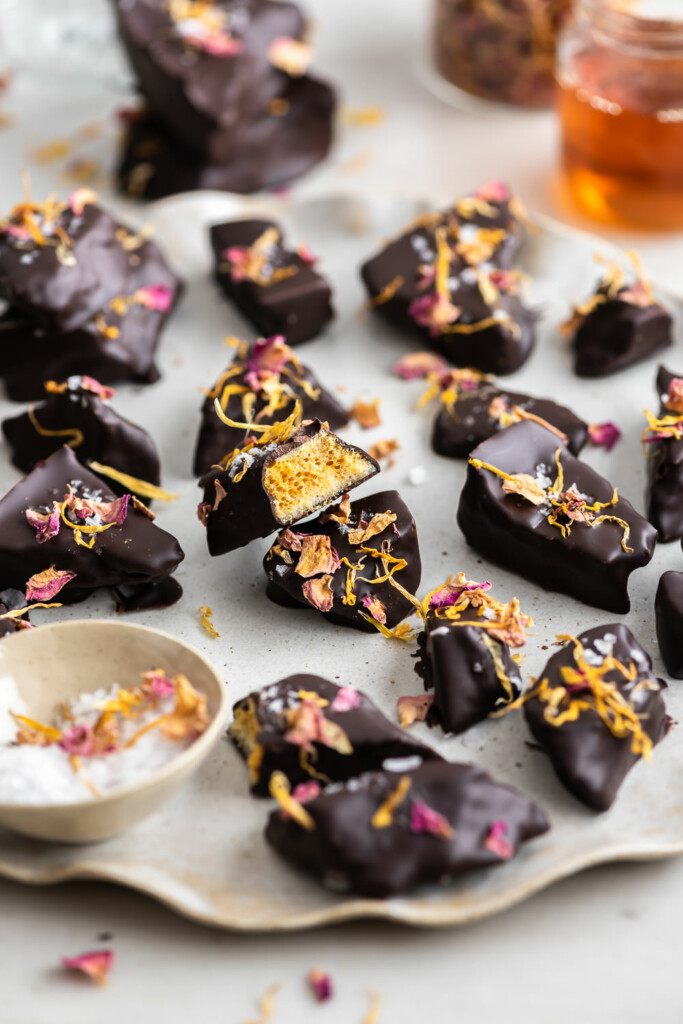 honeycomb candy tips:
Line pan with parchment paper: Cut out a circle for the bottom and a long 3-inch thick strip to form a "collar" around the sides of the pan. I butter the pan so the paper has something to stick to. There's no need to grease the paper-- the candy will pop right out and you can peel the paper off the bottom.
Measure all of your ingredients and prep your pan before you turn on the stove. Candy making moves quickly!
Mix in the baking soda as little as possible: the more you stir, the more the candy will deflate.
Use a good thermometer! Small batches of candy cook especially quickly, so it;s helpful to have an accurate instant-read thermometer that will tell you exactly what temperature the hot syrup is.
Don't spread the top of the candy to even it out or you can deflate the bubbles. Pour it quickly into the pan and leave it alone.
Soak your pan and tools in hot water ASAP. This will help the candy loosen and dissolve, dramatically improving clean-up time!
Learn how to properly temper chocolate so you can coat these in a hard, snappy, shiny coating that looks gorgeous for months.
Sprinkle any small pieces on top of your latte for a gorgeous accent and a delicate, flavorful sweetener.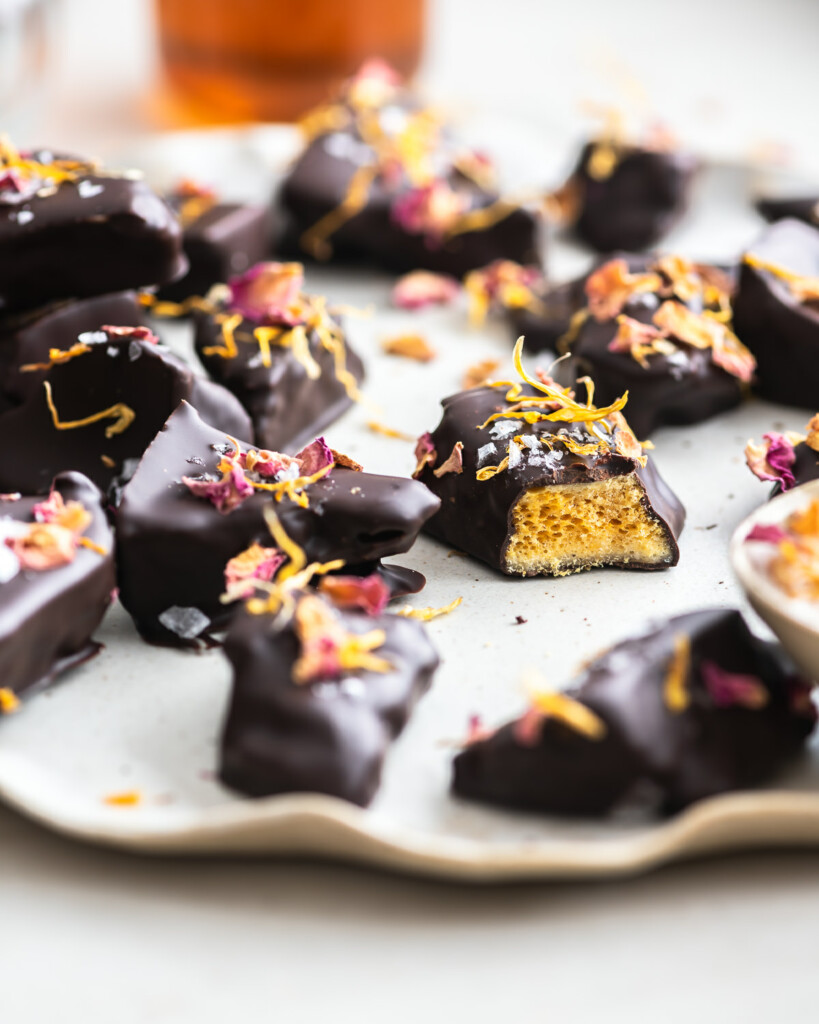 hore homemade candy recipes to try!
butter toffee recipe (buttercrunch)
dark chocolate covered almonds
Print
chocolate covered honeycomb candy
Learn how to make the best homemade honeycomb candy! It's light, crunchy, and filled with sweet honey flavor. 
Author:
Prep Time:

5 minutes

Cook Time:

15 minutes

Total Time:

20 minutes

Yield:

24

Category:

Candy

Method:

Stove

Cuisine:

American

Diet:

Gluten Free
Ingredients
1 cup

sugar

¼ cup

corn syrup

1 tbsp

honey

2 tbsp

water

1 ½ tsp

vanilla

1 ¾ tsp

baking soda
tempered chocolate, for coating
dried edible flowers, for garnish
flaky salt, for garnish

Instructions
Butter an 8-inch round cake pan, line it with parchment paper and set aside.
Combine sugar, corn syrup, honey, and water in a medium saucepan over medium heat. Cook, occasionally stirring, until sugar is dissolved. Brush down sides with a wet pastry brush, if needed.
Continue to cook without stirring until the mixture reaches 310°F (154°C), 10- 15 minutes.
Remove from heat and stir in vanilla. Sprinkle baking soda over top and use a rubber spatula to stir it in quickly, thoroughly but as little as possible (over-stirring will deflate the bubbles). Pour candy into pan; don't level or touch the surface. Candy will continue to expand and then will fall in the center. Let sit at room temperature to cool completely.
Pull it out of the pan and break into bite-sized pieces. Dip in tempered chocolate right after breaking and sprinkle with dried edible flowers and flaky salt. Store in an airtight container or plastic zip-top bag.
Notes
Nutritional information is only an estimate. The accuracy of the nutritional information for any recipe on this site is not guaranteed.
Nutrition
Serving Size:

1

Calories:

78

Sugar:

15g

Sodium:

96mg

Fat:

1.9g

Saturated Fat:

1.1g

Unsaturated Fat:

0.7g

Trans Fat:

0g

Carbohydrates:

15g

Fiber:

0.4g

Protein:

0.3g

Cholesterol:

0.5mg
Keywords: honeycomb candy