Granola butter is a decadent and healthful spread made from oats, coconut, olive oil and maple syrup. It's a nut-free, flavor-packed spread that's easy to make at home!
This granola butter is the nut-free, gluten-free spread you didn't know you needed in your life. When I first heard the term granola butter, I had no idea what to think. What is granola butter made of? Ground up granola? I'll pass. But as I looked further into it, the idea was captivating. It's just an oat butter with the warm, cozy flavors of granola folded into the mix.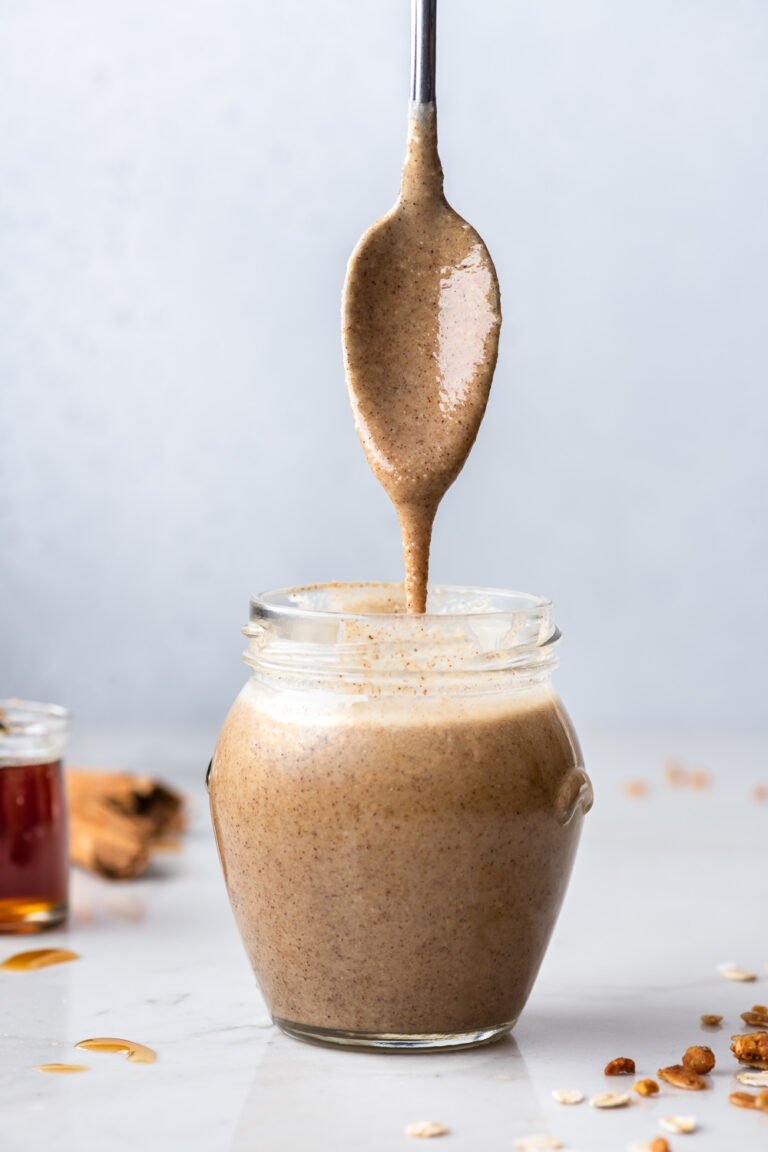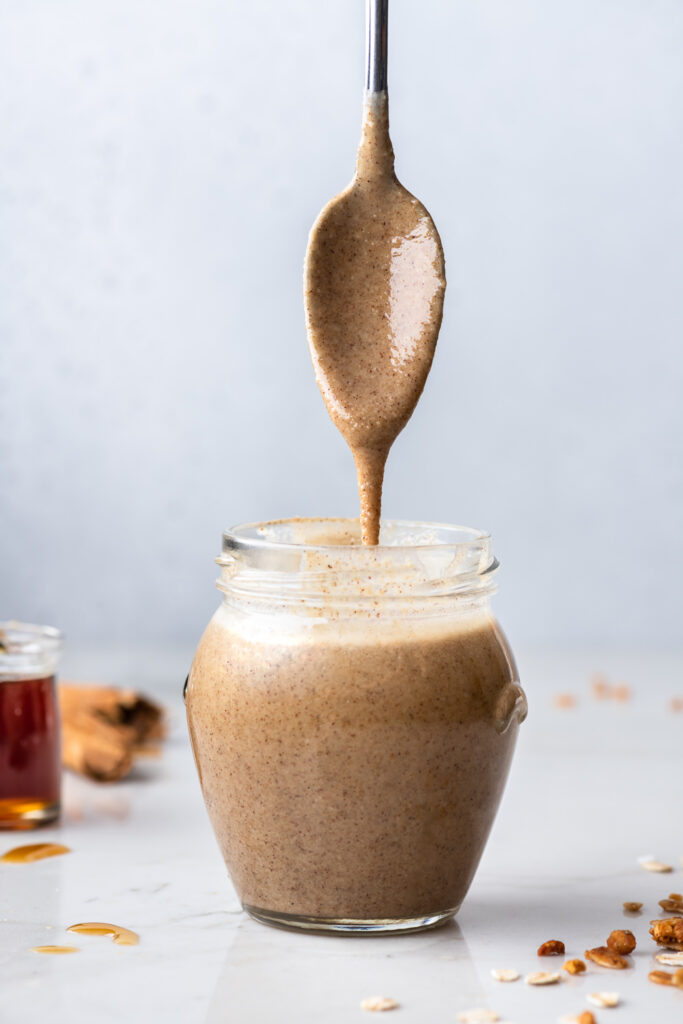 This post may contain affiliate links. As an Amazon Associate, I earn from qualifying purchases.
And then as I started to develop a recipe, I got even more sucked in-- because it was really tricky to get right. Oddly enough, this granola butter recipe might be my most thoroughly tested recipe. I came at it from all angles and finally found the ideal technique to get great granola flavor, a smooth almond butter texture, and a process that anyone can replicate at home.
What is granola butter?
Granola butter is a healthy but decadent alternative to cookie butter or other sugar-packed spreads-- it captures all the nutrition of whole grain oats, olive oil and coconut in a tasty little jar.
It's nut-free, gluten-free, vegan-- you name it. If you've got dietary restrictions, granola butter is the perfect way to treat yourself. It tastes like your favorite granola and spreads like almond butter. The perfect healthful snack!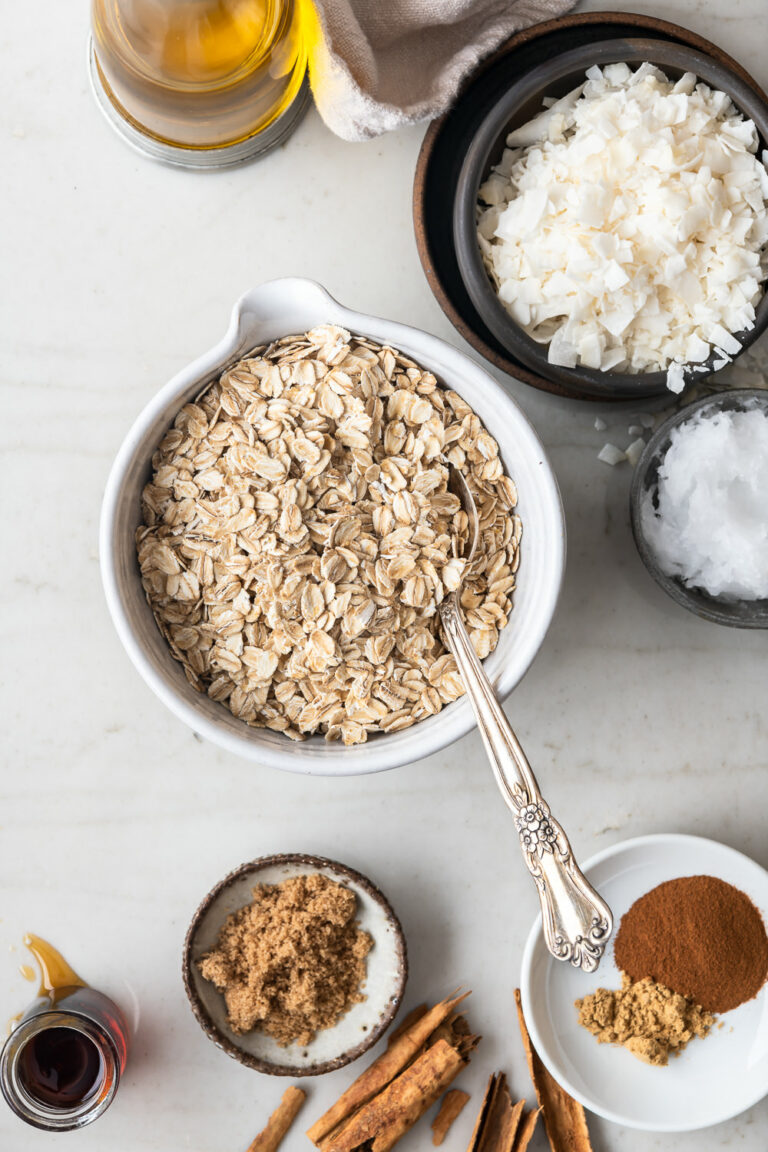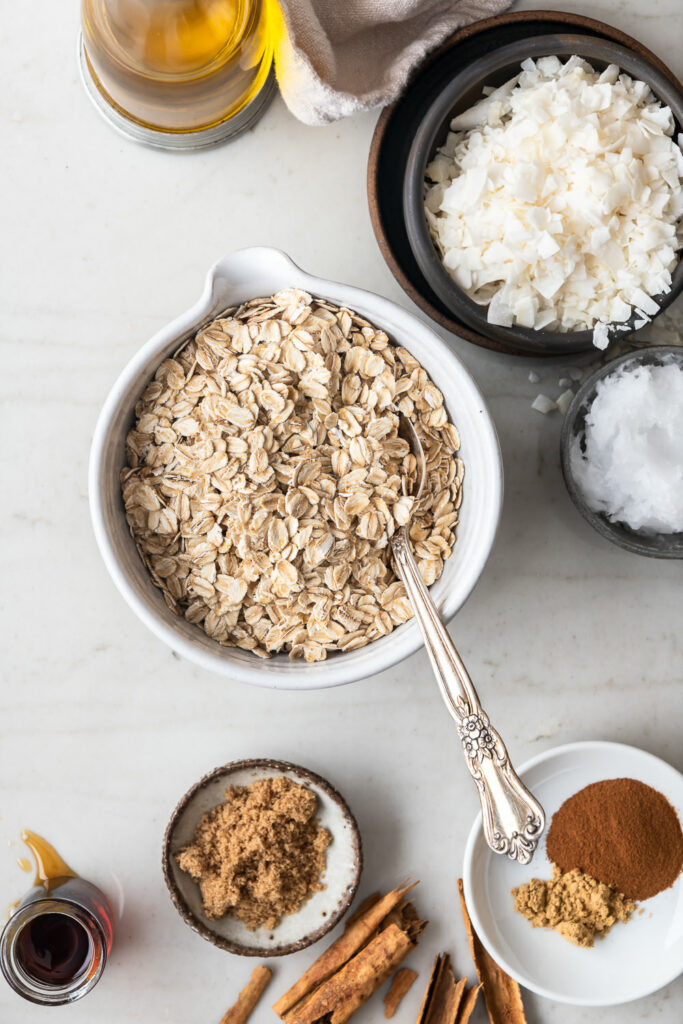 What you need to make homemade granola butter
whole rolled oats
unsweetened coconut flakes
extra virgin olive oil
unrefined coconut oil
brown sugar
maple syrup
cinnamon
ginger
salt
How to make granola butter
Toast oats
Blend oats into a fine flour
Add coconut flakes, blend until very smooth
Blend in olive oil, coconut oil, brown sugar, cinnamon, ginger and salt
Stir in maple syrup
Enjoy!
How to store it:
Granola butter can be stored at room temperature in a covered jar for up to 3 weeks. It can also be refrigerated for several months, but will need to be warmed up to reach the best consistency.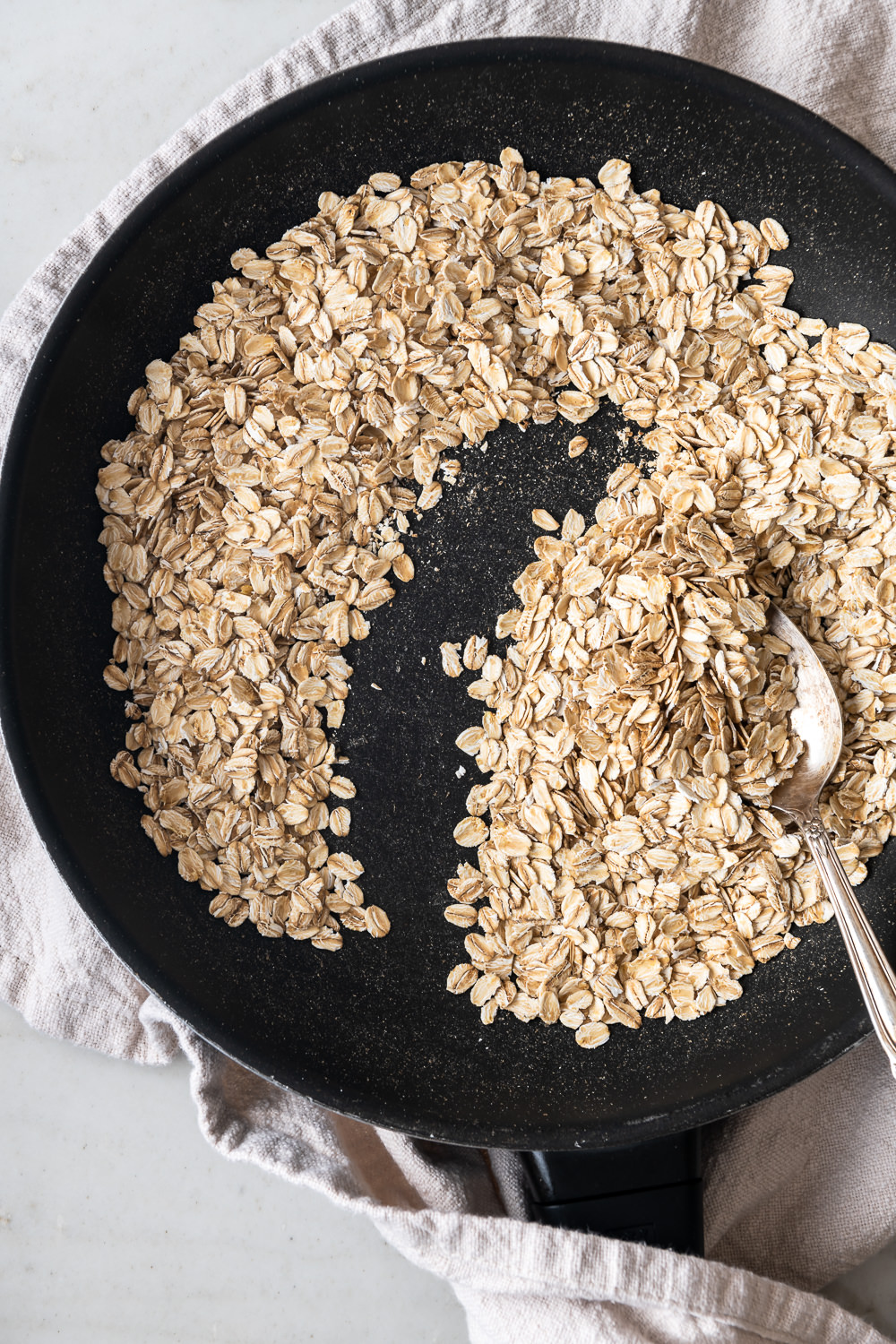 Why is granola butter so great?
Super smooth: I worked really hard to nail the consistency in this granola butter recipe. I wanted it as smooth as possible without blowing out your blender motor (full transparency: this did happen in testing). I also wanted it spreadable and not so thin that it drips off your toast, but not so thick that you have to chip it out of the jar. Obviously, your house temperature will impact the consistency quite a bit-- this will be liquidy on a hot summer day. But on average, this oat butter is thick and delightfully spoonable.
Allergen-friendly: Granola butter is a great alternative spread for those with dietary restrictions-- it meets all the quotas! It's gluten-free, nut-free, dairy-free, vegan, vegetarian, all the things. It's basically just oats, olive oil, coconut, spices and sugar.
Whole grain oats: Full of nutrition, flavor and texture. We toast the oats to bring out their nutty flavor, then whiz them up in the blender on high to make oat flour. With a powerful blender (like a Vitamix), this only takes a few minutes. Finely ground oats is the number one most important factor to making smooth oat butter-- don't skip it. And if you can't get it as fine as you'd like, just pass it through a fine mesh sieve and discard the coarse stuff.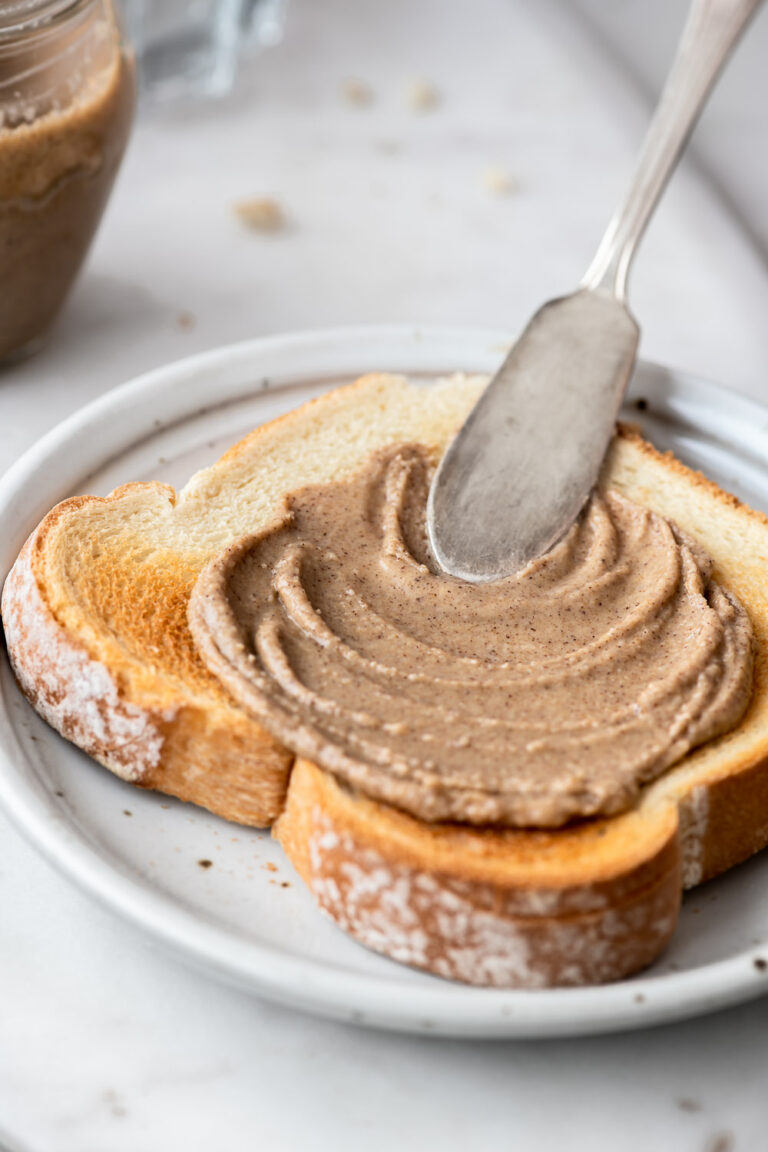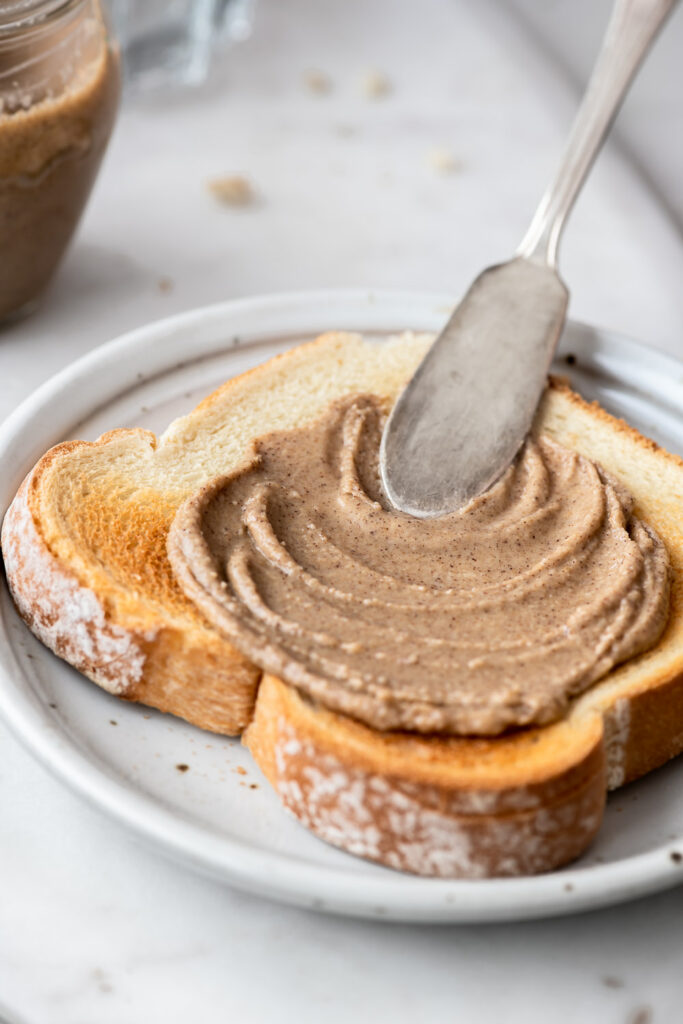 Cheap to make: Store-bought granola butter is great and all, but it's expensive. Why drop $10 a jar when you can make your own at home, quickly and easily.
Big granola flavor: I'm obsessed with maple syrup and olive oil as the main flavors in granola, so I led with those in this oat butter recipe. I mixed in coconut and a touch of cinnamon and ginger to round out the granola vibes and stopped there. The flavor is distinctly granola and so, so good.
Easy: Basically, throw ingredients in the blender and let the motor and sharp blades go to town. There's nothing hard or complicated about this oat butter recipe, so you can make it on a whim, whenever the craving strikes!
Healthful: I don't know if I'd call this healthy, per se, but it's absolutely a healthful spread. It's got all the nutrition of thick-cut whole grain oats, olive oil and coconut oil. Brown sugar and maple syrup sweeten the spread and make it a special treat, but you could always lower the sugar if you'd like. If it's a choice between cookie butter and granola butter-- go with the latter and indulge guilt-free!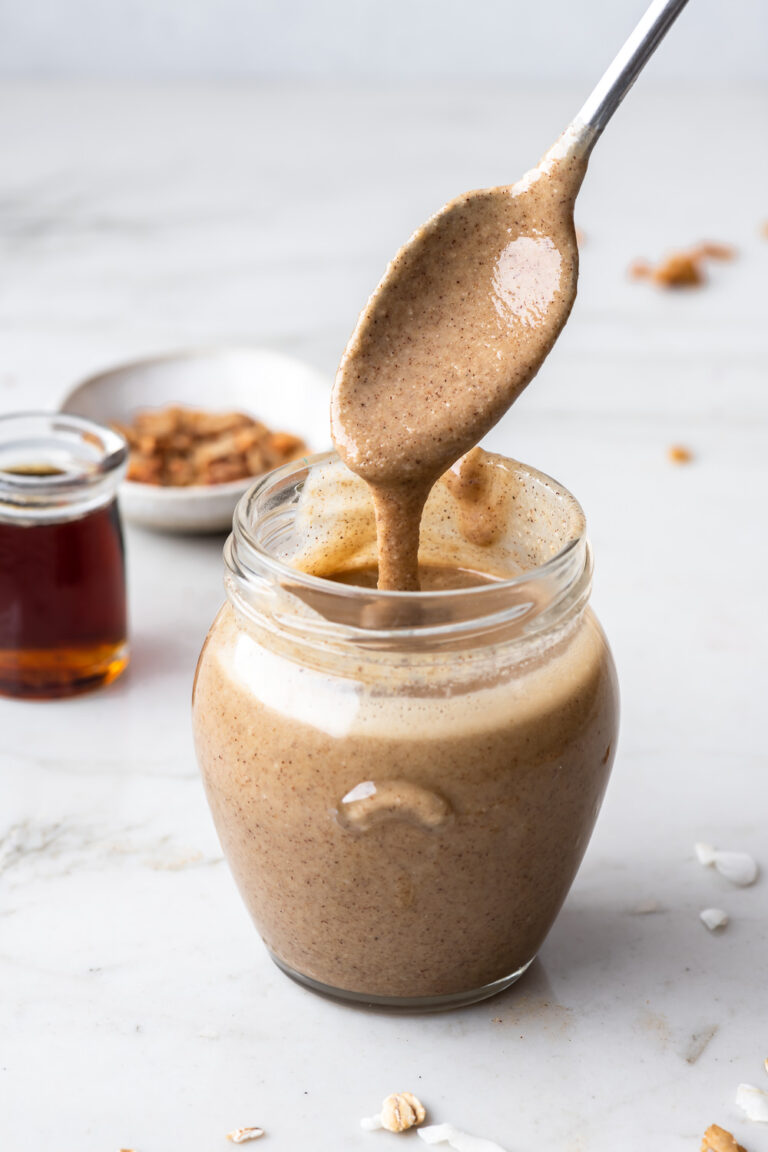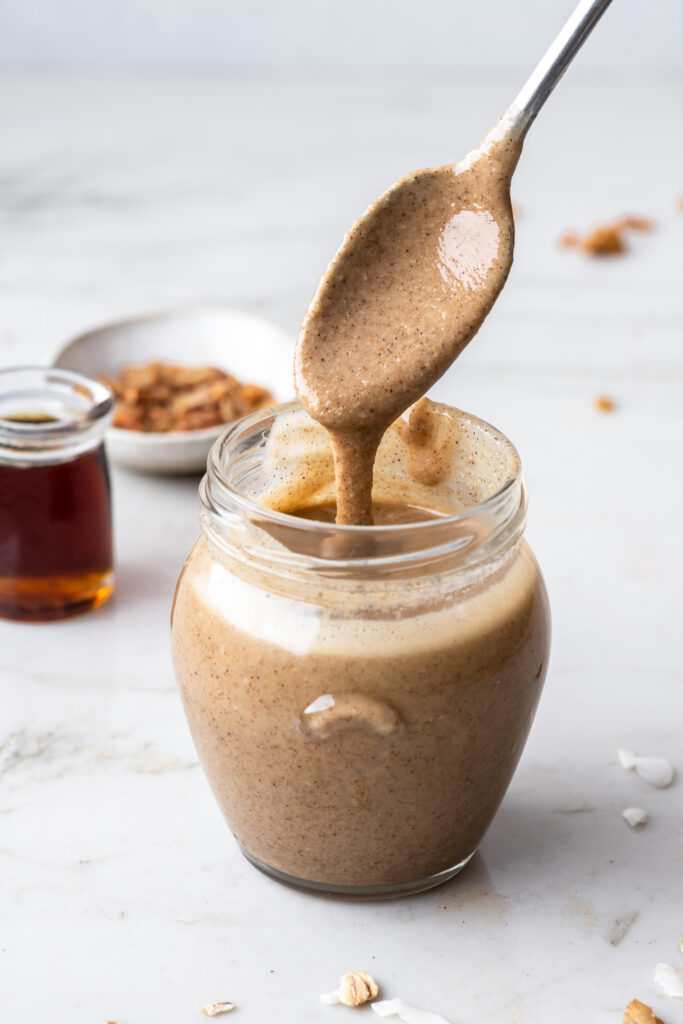 How to use granola butter:
When cool, granola butter is thick, spoonable and spreadable.
When warm (10- 15 seconds in the microwave; stir well), it's thin and perfect for drizzling.
Drizzled on oatmeal, overnight oats or chia pudding
Stirred into yogurt or cottage cheese
Mixed into smoothies
Spread on bananas
Dip for sliced apples
Drizzled on smoothie bowls or frozen yogurt
Spread on toast, pancakes or waffles
Drizzled on a bowl of fresh berries
Scooped with pretzels or spread on graham crackers
Spread on banana bread, pumpkin bread or apple bread
Made into a granola butter jam sandwich
Spread in crepes
Stuffed in cookies or cupcakes
Swirled into ice cream
Is granola butter good for you?
I include the nutrition information of granola butter at the bottom of the recipe, so you can decide for yourself. In general, though, it's made with whole ingredients, healthy fats and minimal sugar. It's a sweetish treat and great alternative to high sugar spreads and cookie butters!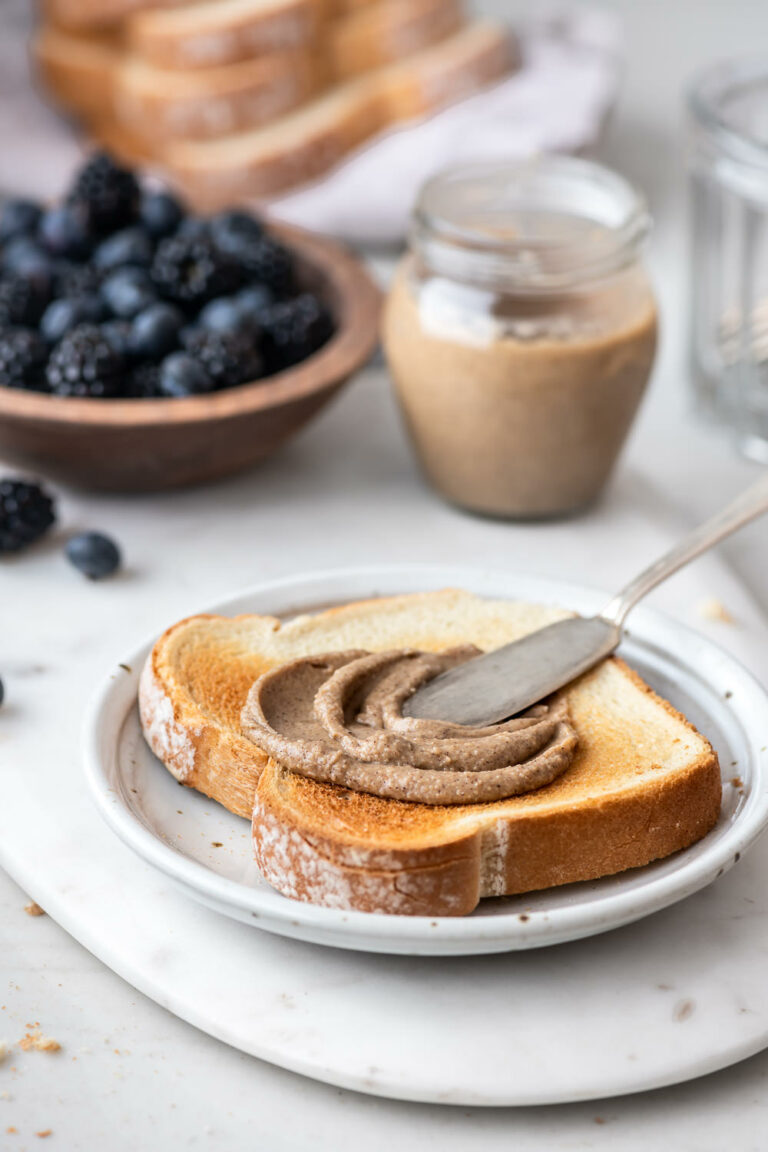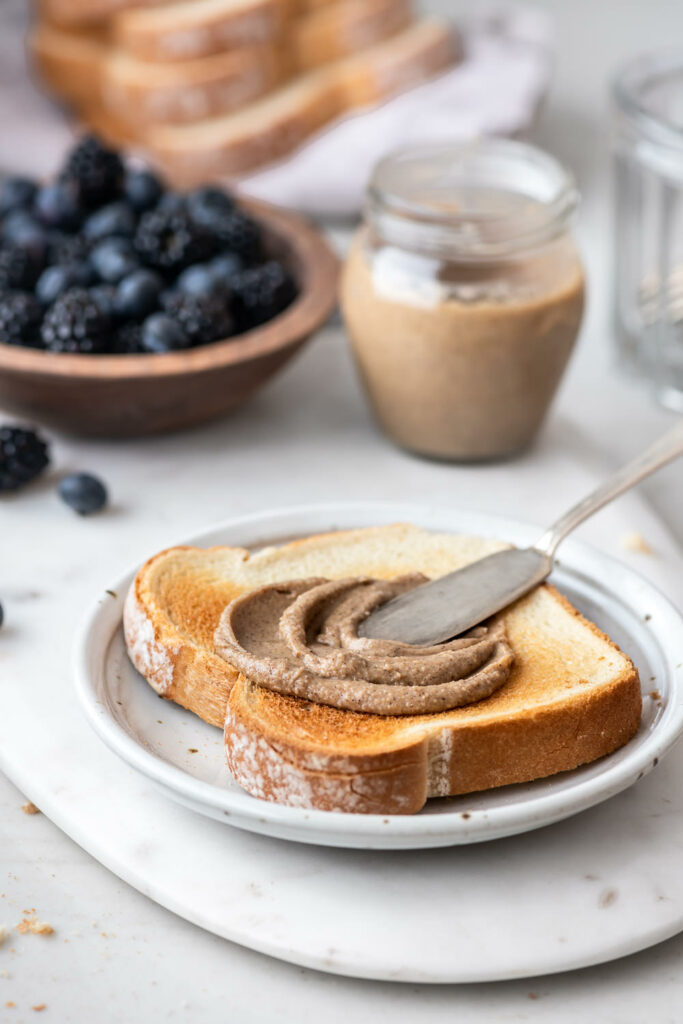 Tips for the best oat butter:
A high powered blender is the best way to make a super fine oat flour, which is the base of this recipe. You could use a food processor or less powerful blender if that's all you have: just blend is as fine as you can, then sift the toasted oat flour through a fine mesh sieve. You should have 1 cup of oat flour for this recipe.
Stir in the maple syrup and don't over-mix it. Maple syrup is a tricky ingredient here. I love the flavor and was determined to incorporate it, but if you add too much or agitate it too much, you'll get a gluey/ gummy consistency. Not great. Stir it in at the very end and don't over do it!
If you don't like the intense flavor of olive oil, feel free to substitute your favorite neutral oil in its place. Canola oil is the most neutral, but avocado oil or walnut oil would also be fun to try!
Unrefined coconut oil adds the best flavor! Save your refined stuff for cooking.
Depending on the temperature of your house, you may need to stir the jar a few times before using. You'll know this is necessary if you see different layers in the jar!
more sweet spreads to try!
Print
granola butter (nut-free oat butter spread)
Granola butter is a decadent and healthful spread made from oats, coconut, olive oil and maple syrup. It's a nut-free, flavor-packed spread that's easy to make at home!
Author:
Prep Time:

5 minutes

Cook Time:

5 minutes

Total Time:

10 minutes

Yield:

¾ cup plus 2 tablespoons

Category:

Pantry

Method:

Blender

Cuisine:

American

Diet:

Gluten Free
Ingredients
1 ¼ cup

whole rolled oats

½ cup

unsweetened coconut flakes

¼ cup

extra-virgin olive oil (can substitute canola oil for milder flavor)

¼ cup

coconut oil

1 tsp

cinnamon

¼ tsp

ginger

¼ tsp

fine salt

1 tbsp

brown sugar

1 tsp

maple syrup
Instructions
Place oats in a medium skillet over medium-low heat. Cook, stirring every so often, until lightly toasted and fragrant, 5- 7 minutes. 
Transfer to a blender and blend on high until a very fine flour forms, 2- 3 minutes. Add coconut flakes and blend until mixture is very fine and begins to clump, about 2 minutes.
Add olive oil, coconut oil, cinnamon, ginger, salt and brown sugar and blend until smooth, about 1 minute. Mix in maple syrup until just combined. Transfer to a jar, cover and store at room temperature for up to 3 weeks.
Notes
Nutritional information is only an estimate. The accuracy of the nutritional information for any recipe on this site is not guaranteed.
Nutrition
Serving Size:

1 tbsp

Calories:

121

Sugar:

1.4g

Sodium:

43mg

Fat:

10g

Saturated Fat:

5.6g

Unsaturated Fat:

4g

Trans Fat:

0g

Carbohydrates:

6.9g

Fiber:

1.3g

Protein:

1.2g

Cholesterol:

0mg