Chocolate peanut clusters are a delicious and crazy easy holiday candy to make at home. The key is to use the very best ingredients you can. They're basically just chocolate and peanuts, after all.
Great (tempered!) chocolate, really fresh and delicious peanuts, and your favorite sea salt will be the difference between average peanut clusters and chocolatier-status candies.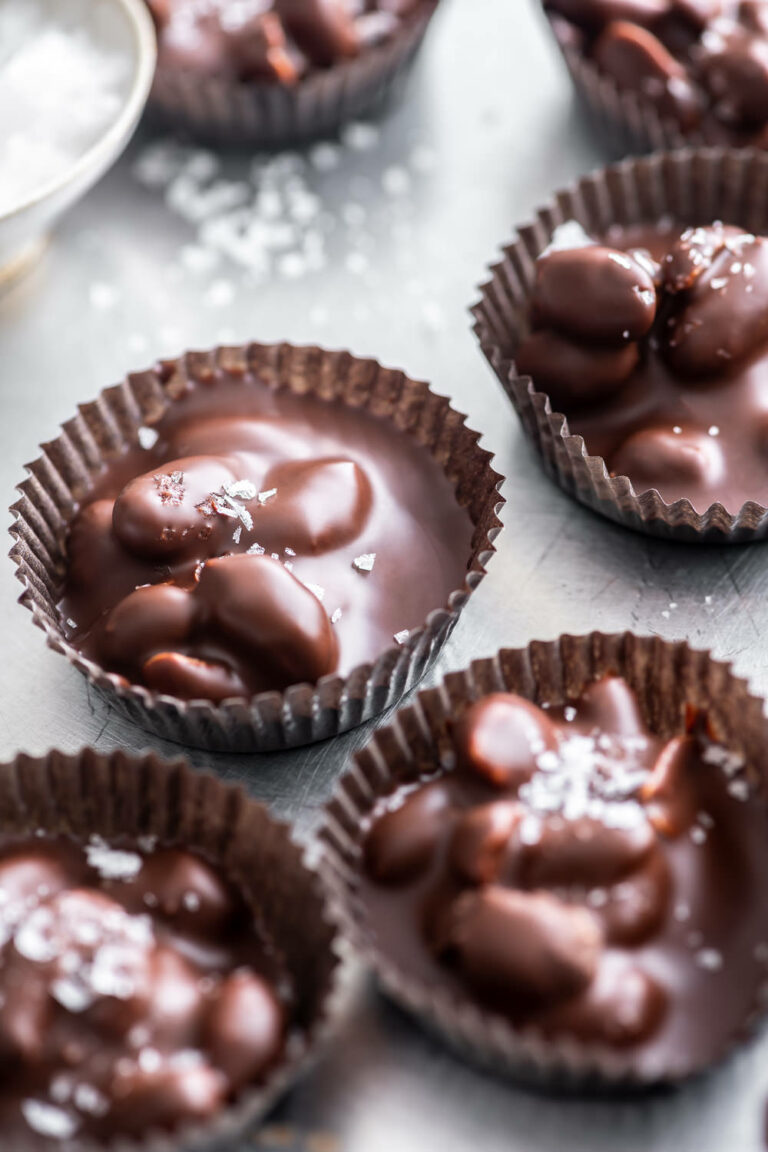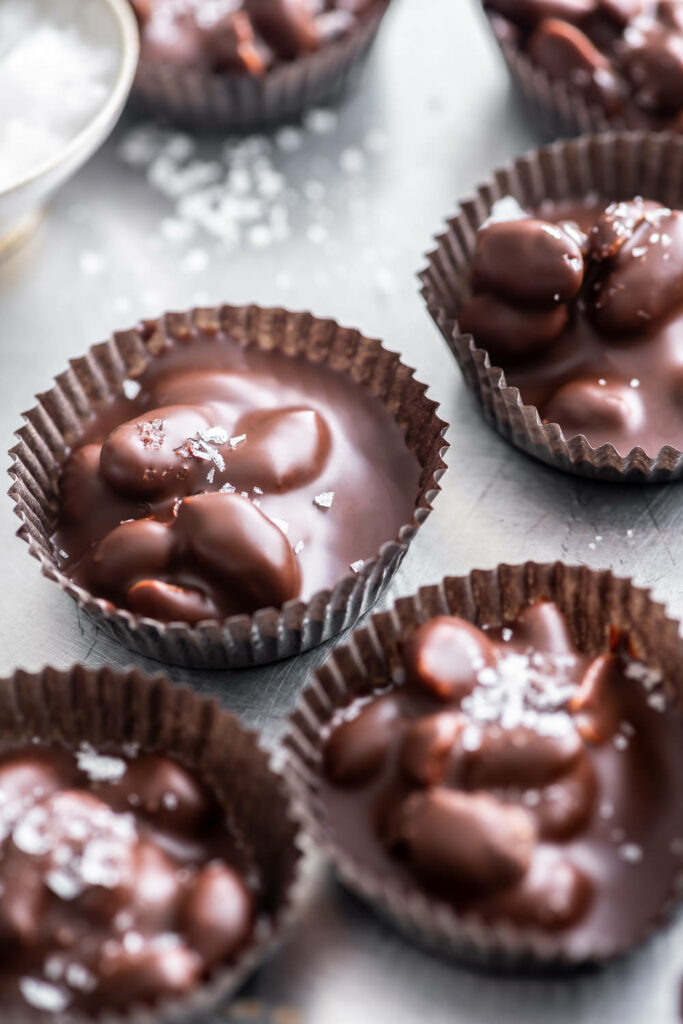 To take the peanut clusters to the next level, I start with blanched peanuts, toss them in a bit of rum and sugar, and roast them until they're crunchy, fragrant and extra peanutty.
Then I gently melt chocolate, stir it all together and drop spoonfuls of chocolate-covered peanuts into candy cups. This peanut cluster recipe is loaded with flavor and crunch! Use all bittersweet chocolate, all milk chocolate, or a combination of both, and put together a stunning plate of these easy Christmas treats!
Note: these are all-chocolate peanut clusters with no added candy melts or paraffin-- just like what you get at a chocolate shop!
what you need for chocolate peanut clusters: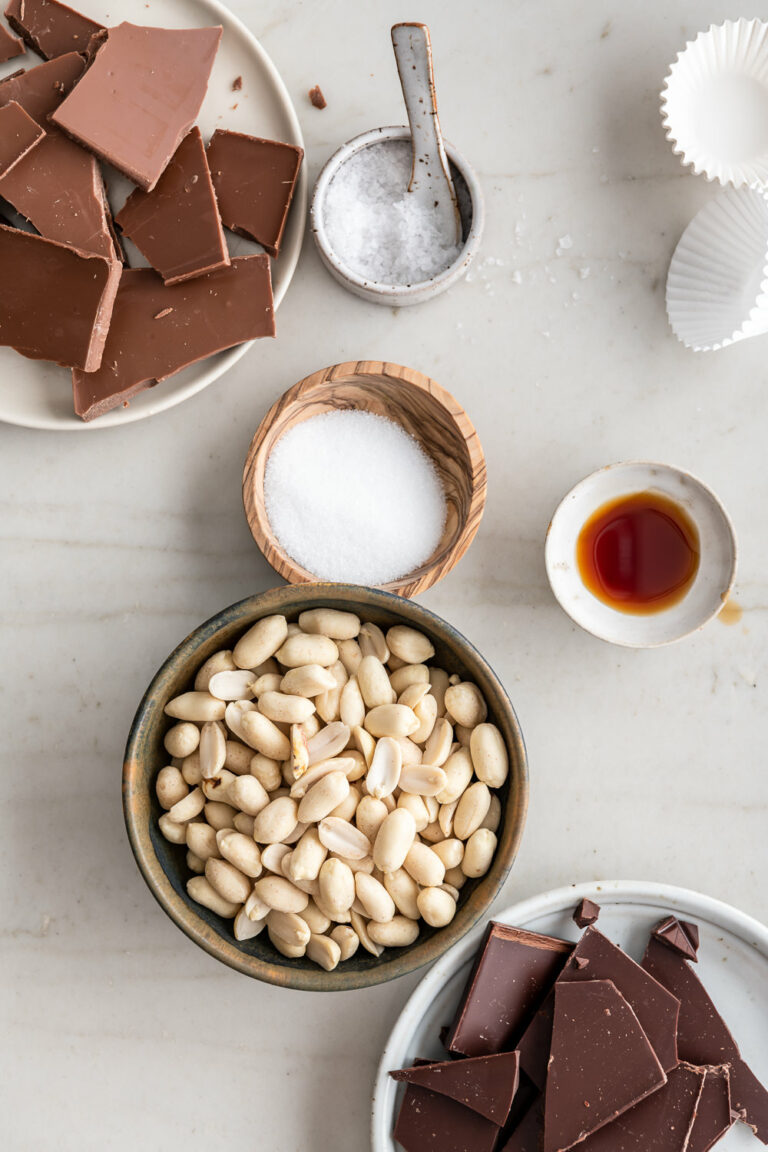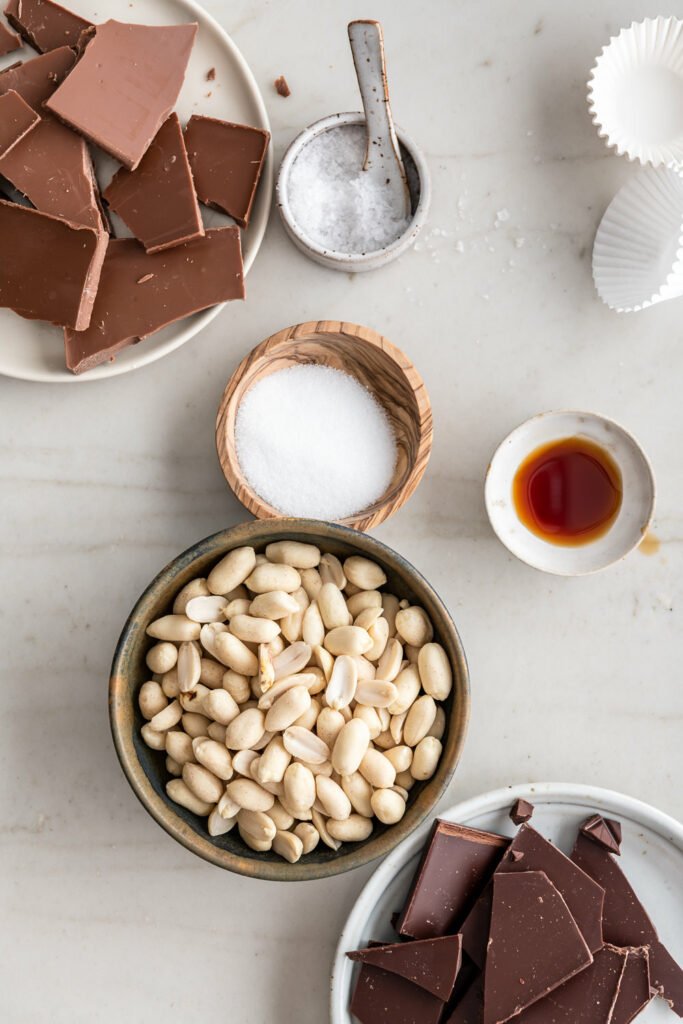 Blanched peanuts
Dark or milk chocolate (or both!)
Dark rum
Sugar
Sea salt
how to make chocolate peanut clusters
Toss blanched peanuts in dark rum, then granulated sugar
Roast for 30 minutes until golden and crunchy; let cool
Gently melt chocolate in the microwave, then seed to temper (use a good instant-read thermometer!)
Stir in roasted peanuts
Scoop 1 tablespoon into a candy cup, sprinkle with flaky salt
Let chocolate set; enjoy!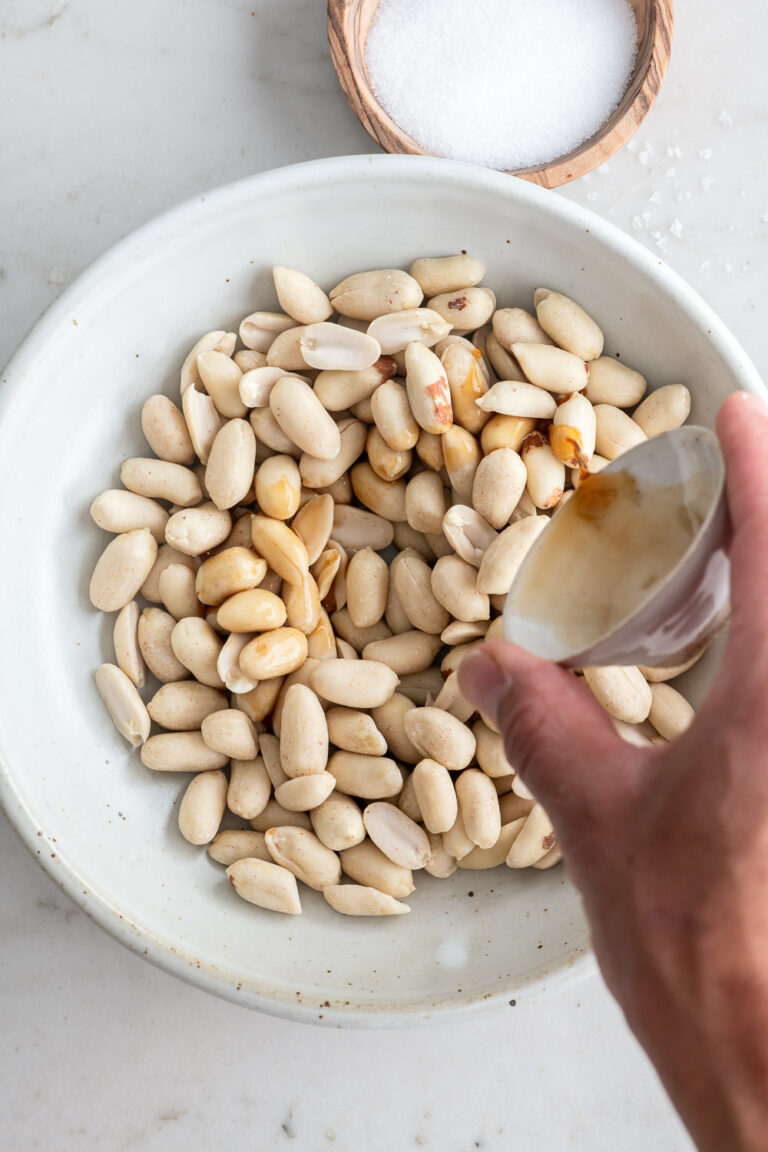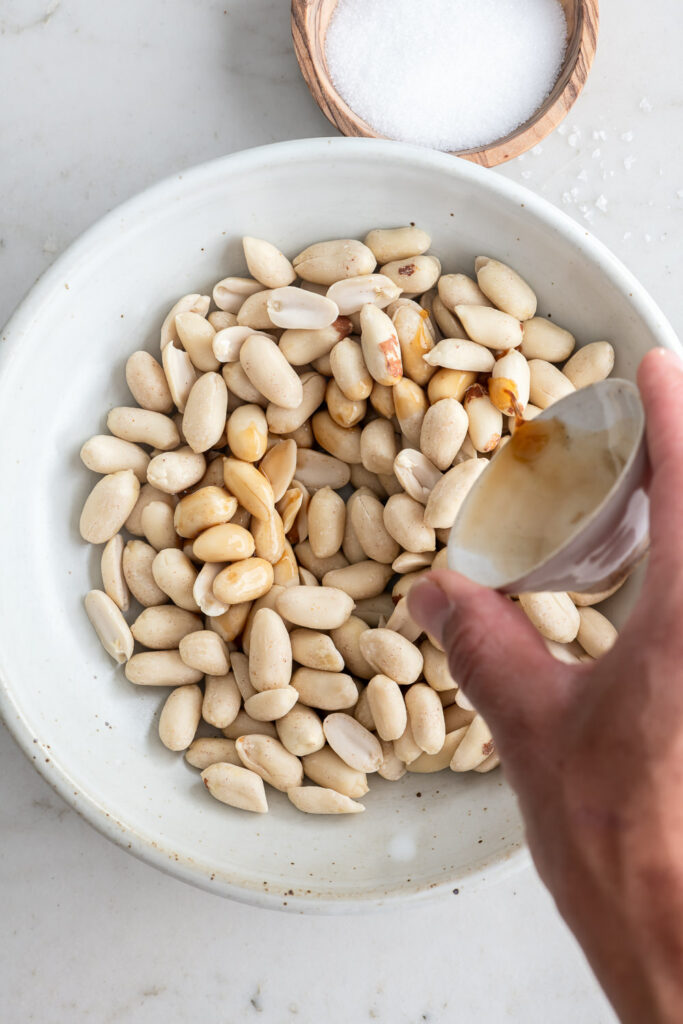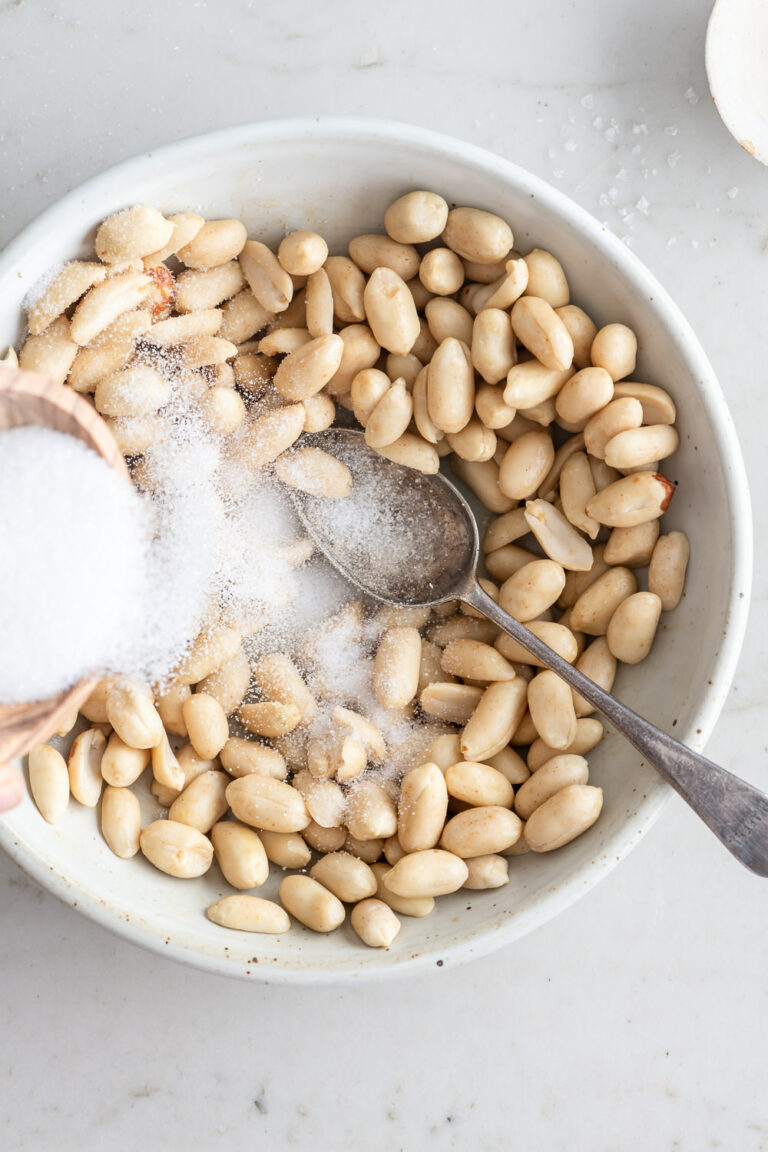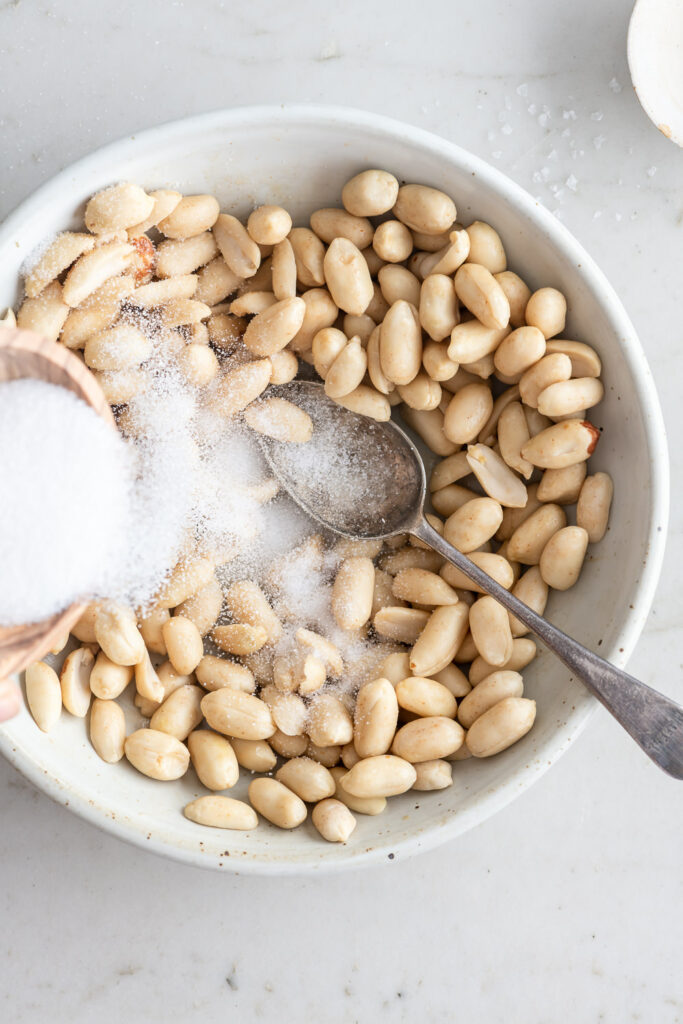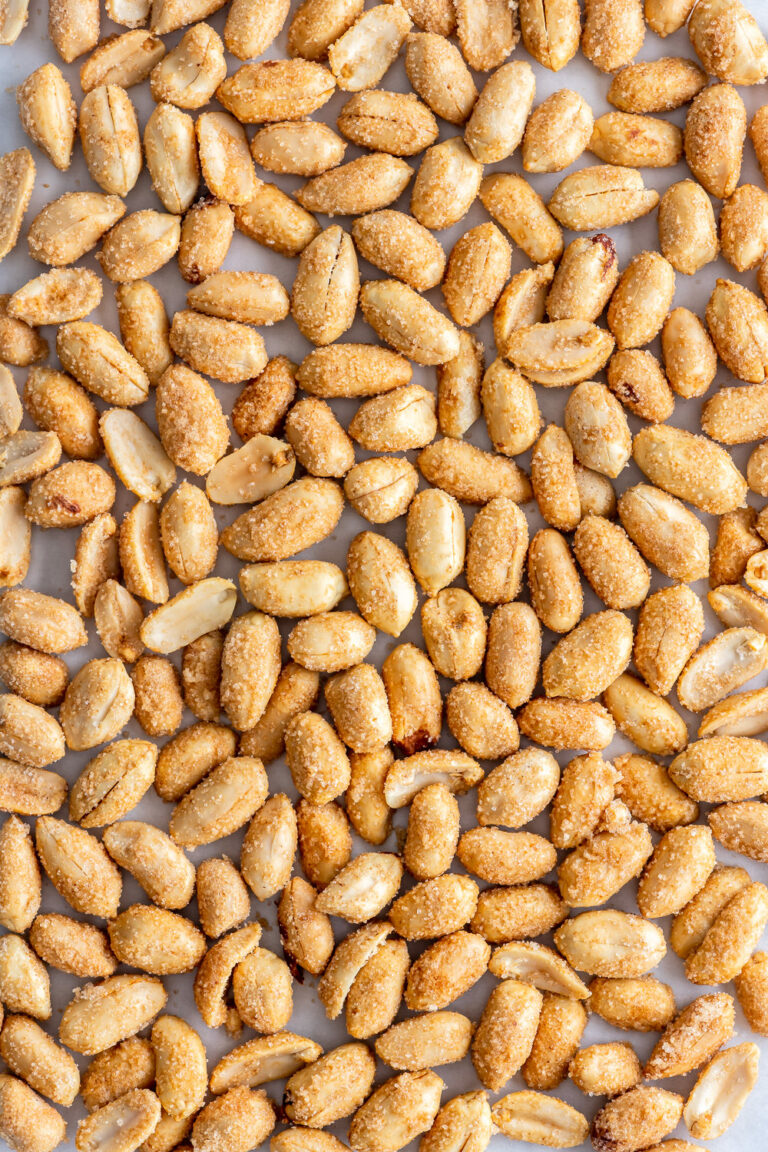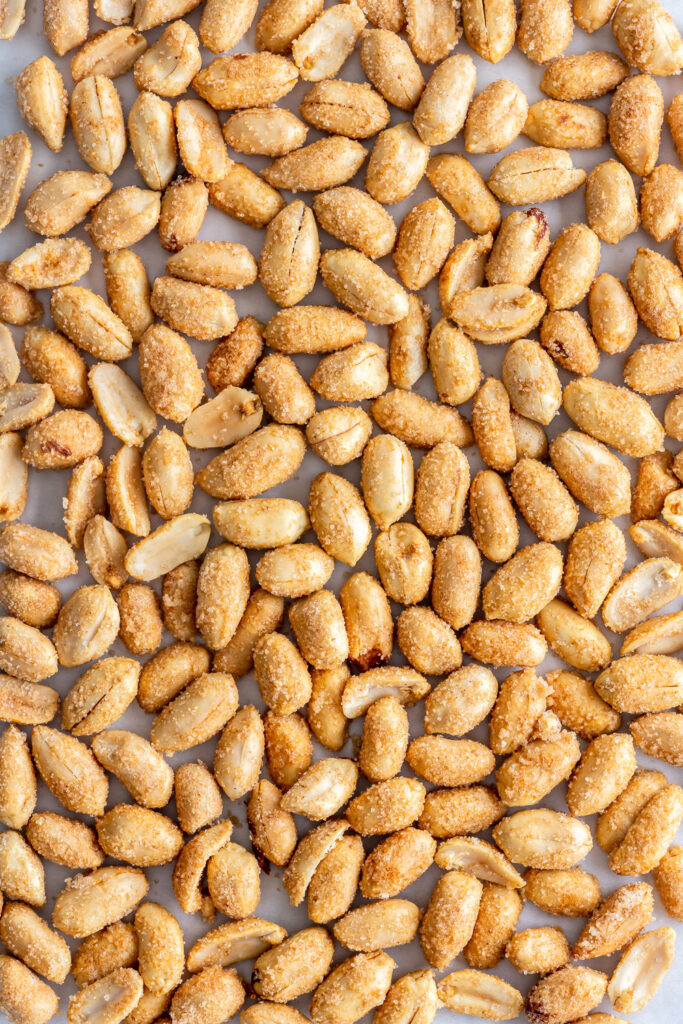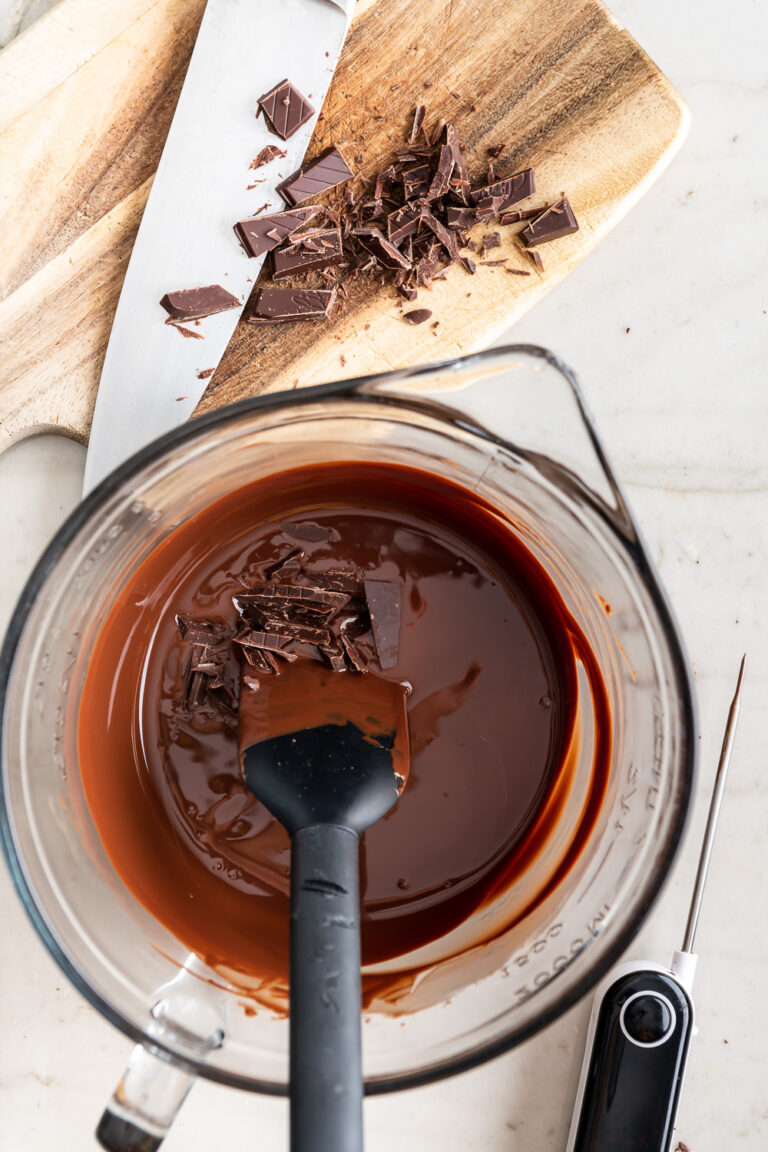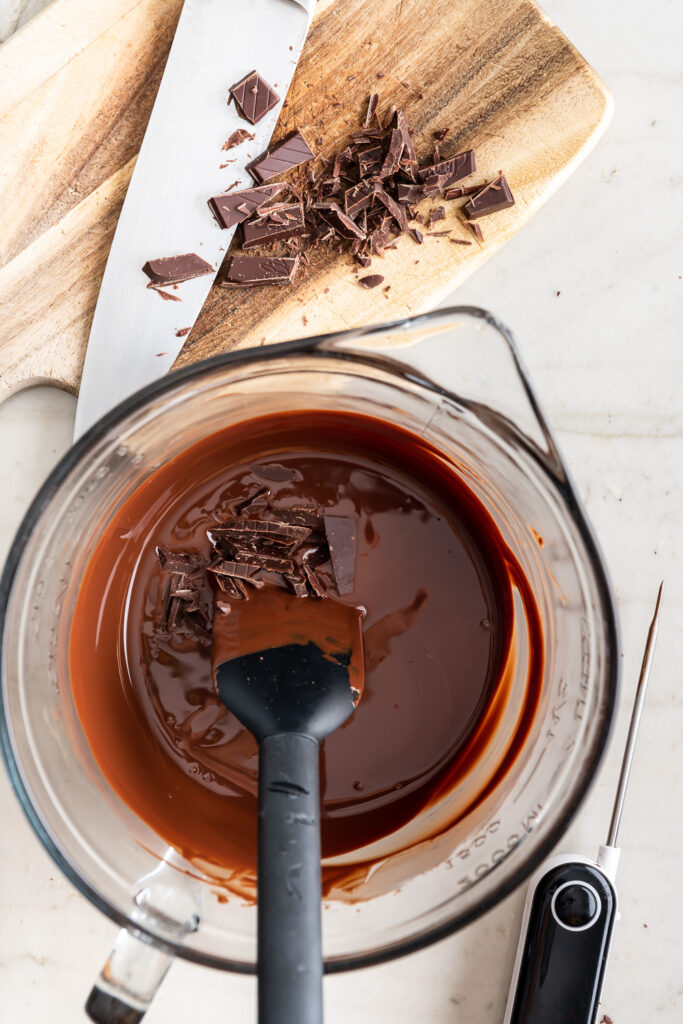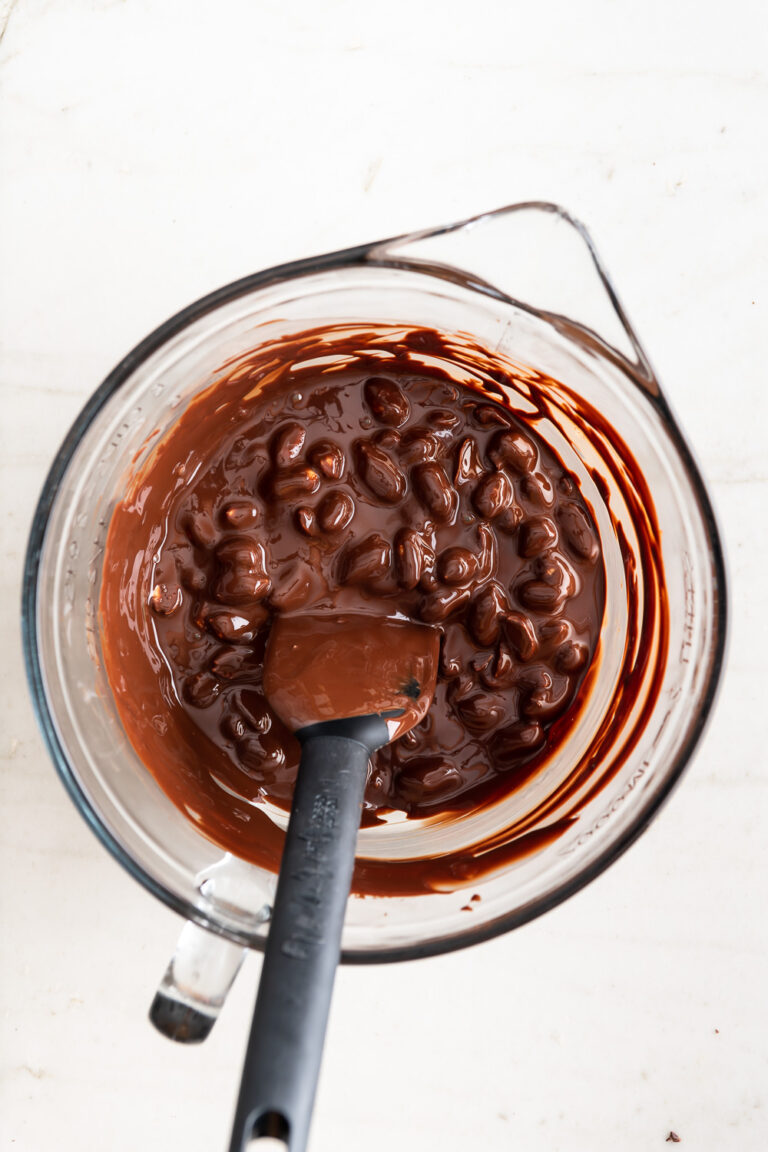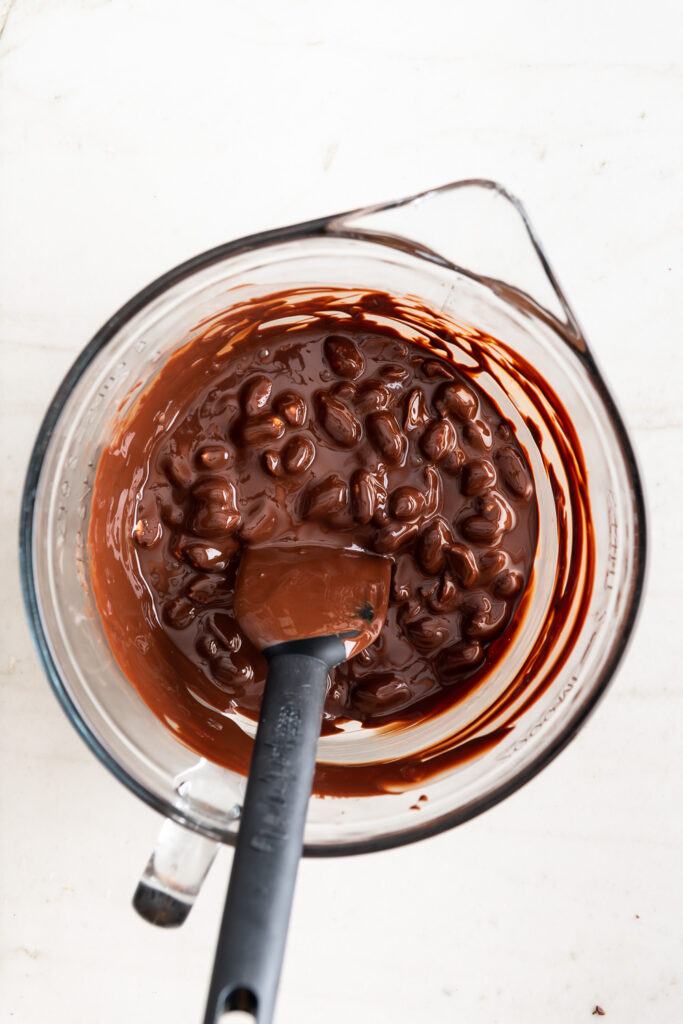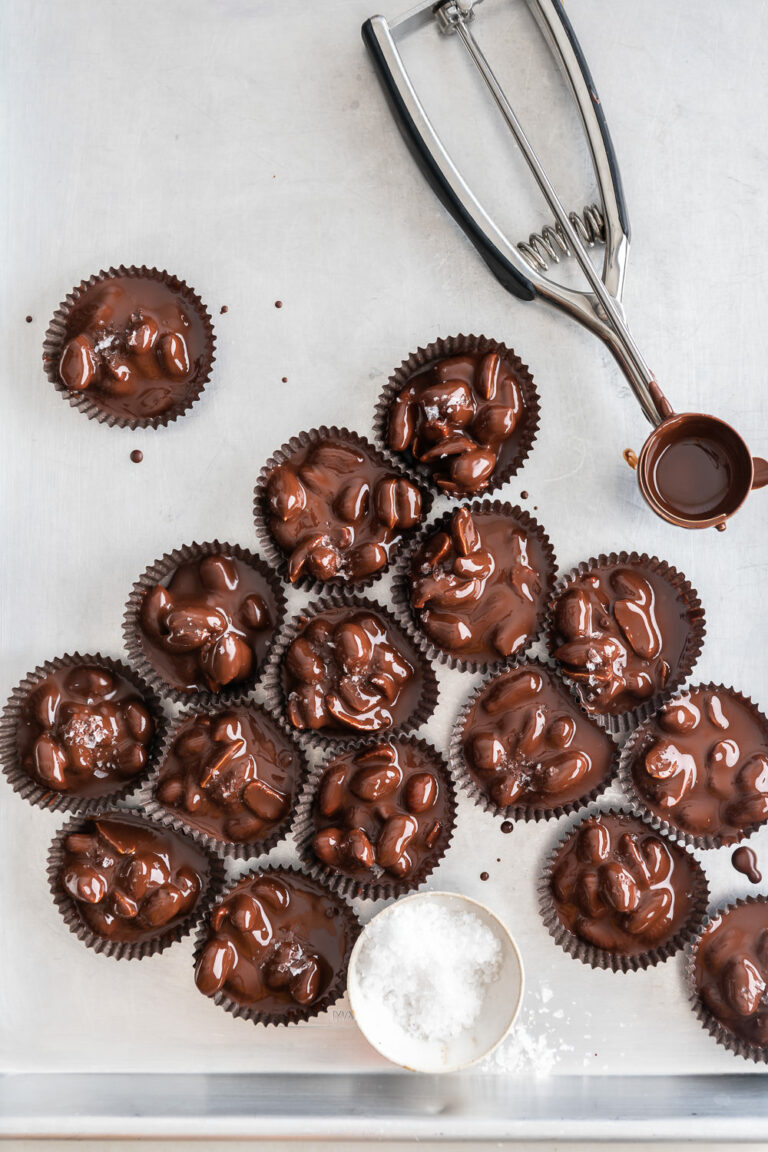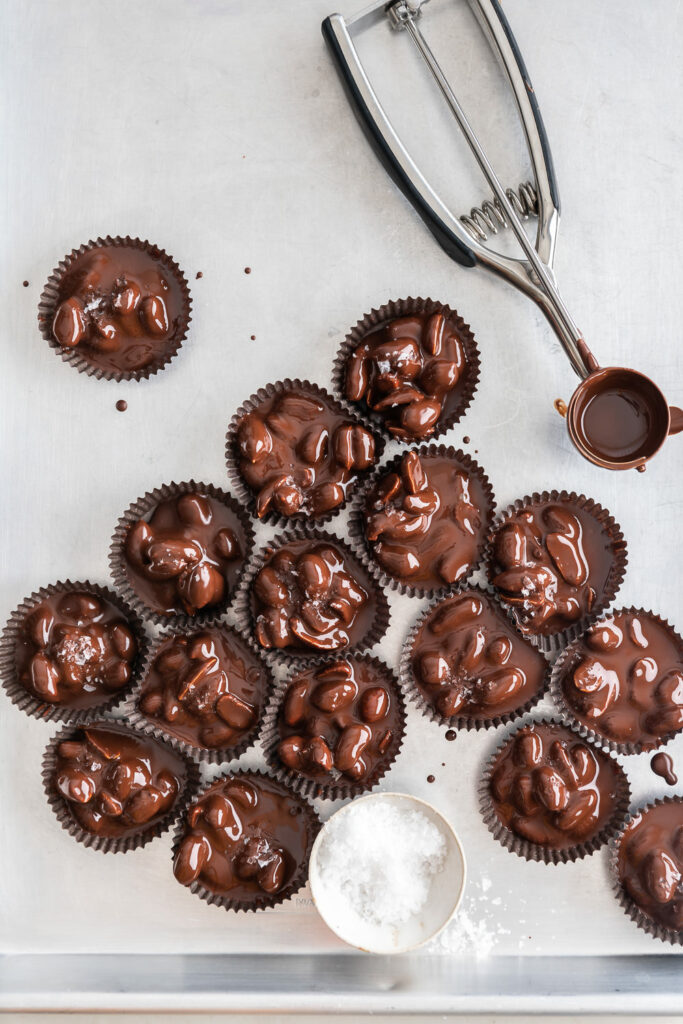 what makes these peanut clusters the best?
Quality blanched peanuts: Big, beautiful, fresh peanuts will make the very best peanut clusters! Skip those salty, sub-par jars of peanuts for the birds and track down the good stuff for these chocolate-covered peanuts. You won't regret it! Read below to learn how to blanch your own peanuts, if you can't find blanched (peanuts without the skin).
Sugar coating: We moisten the blanch peanuts in a tiny bit of dark rum, then toss them in a thin coating of sugar. The peanuts are roasted at a low temperature for about 30 minutes for a deep nutty flavor and crunchy exterior. This may seem tedious, but the extra texture is so good in the chocolate coating. Also, we don't add any salt when we roast them! I love the crunch of sea salt on top, and that is enough salt for these peanut clusters.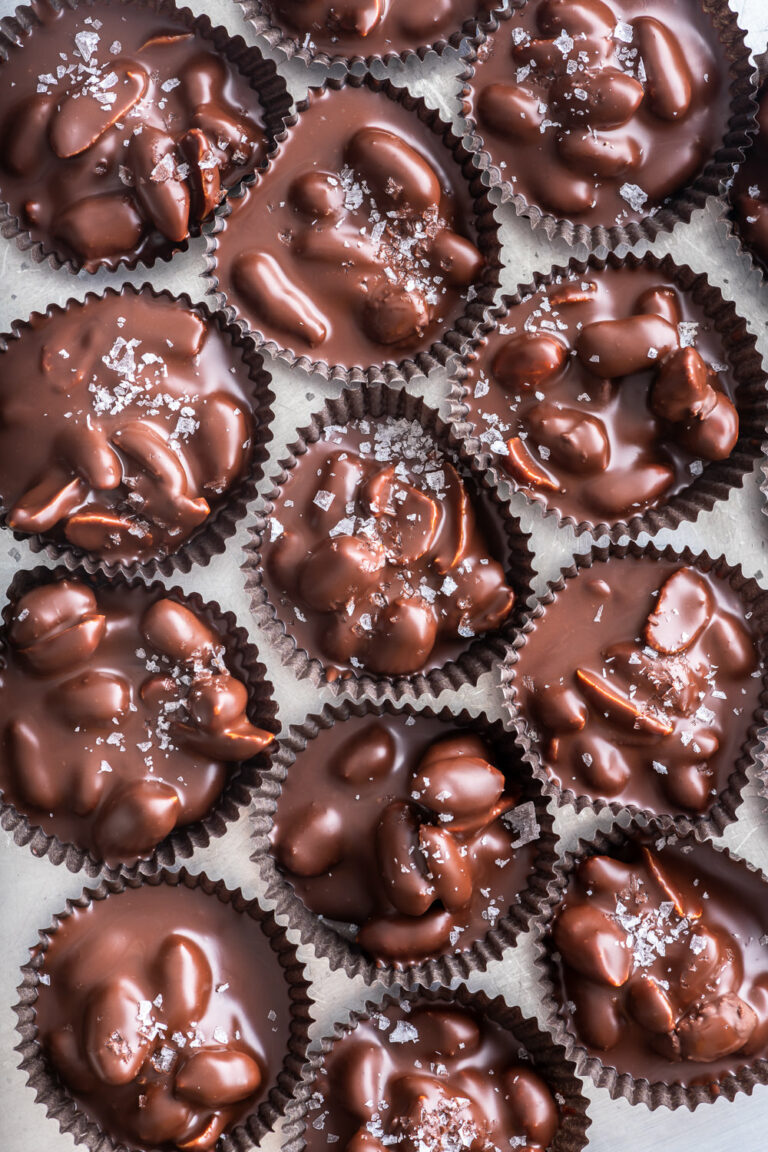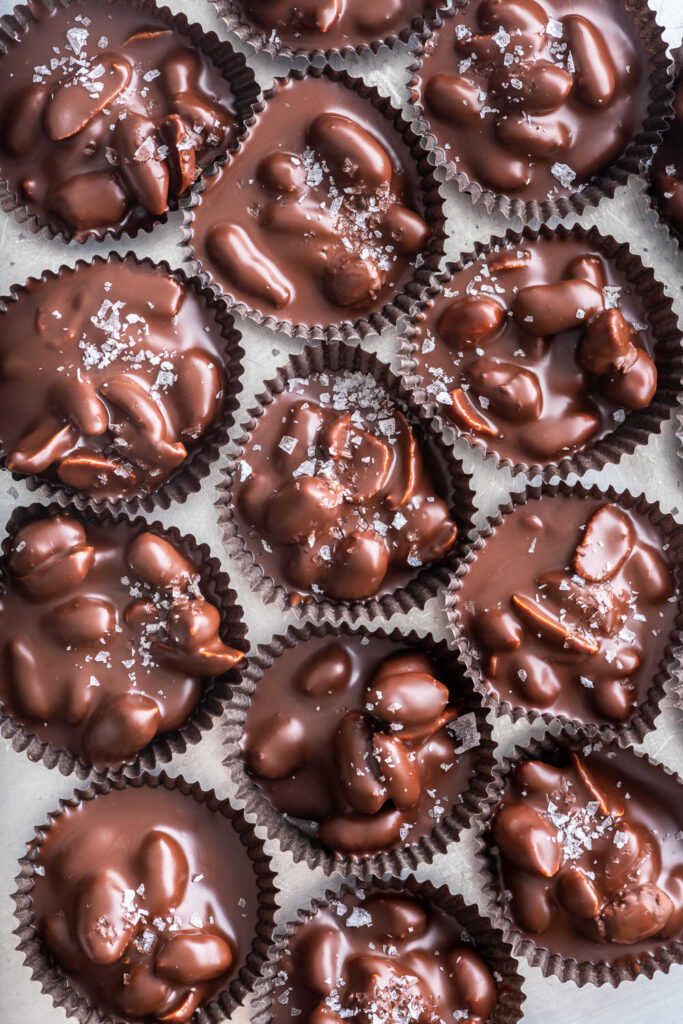 A mix of good chocolate: I love milk chocolate. I know, I know. No chocolate snob will ever be caught dead eating milk chocolate. But I just love the creamy ultra smooth milkiness to it, and it's time to own that. And I know I'm not alone! This recipe can be made with half milk chocolate and half dark chocolate to keep everyone happy. Plus, the mix just looks so pretty on a Christmas platter!
Tempered chocolate: This is so important for homemade chocolate candies and will dramatically set your treat apart from the rest. It's not crucial to success, and of course, you can just melt the chocolate, toss the peanuts in and move on with your life. But if you do get the bug to make perfect chocolatier-status chocolate peanut clusters, then this is where the rubber meets the road. Using tempered chocolate instantly elevates the quality. Your peanut clusters will be shiny, snappy, and won't melt in your fingers. They'll be gorgeous, professional, and deliciously smooth. Most importantly: they won't all melt together on the plate on the way to your friend's house. Learn how to properly temper chocolate here.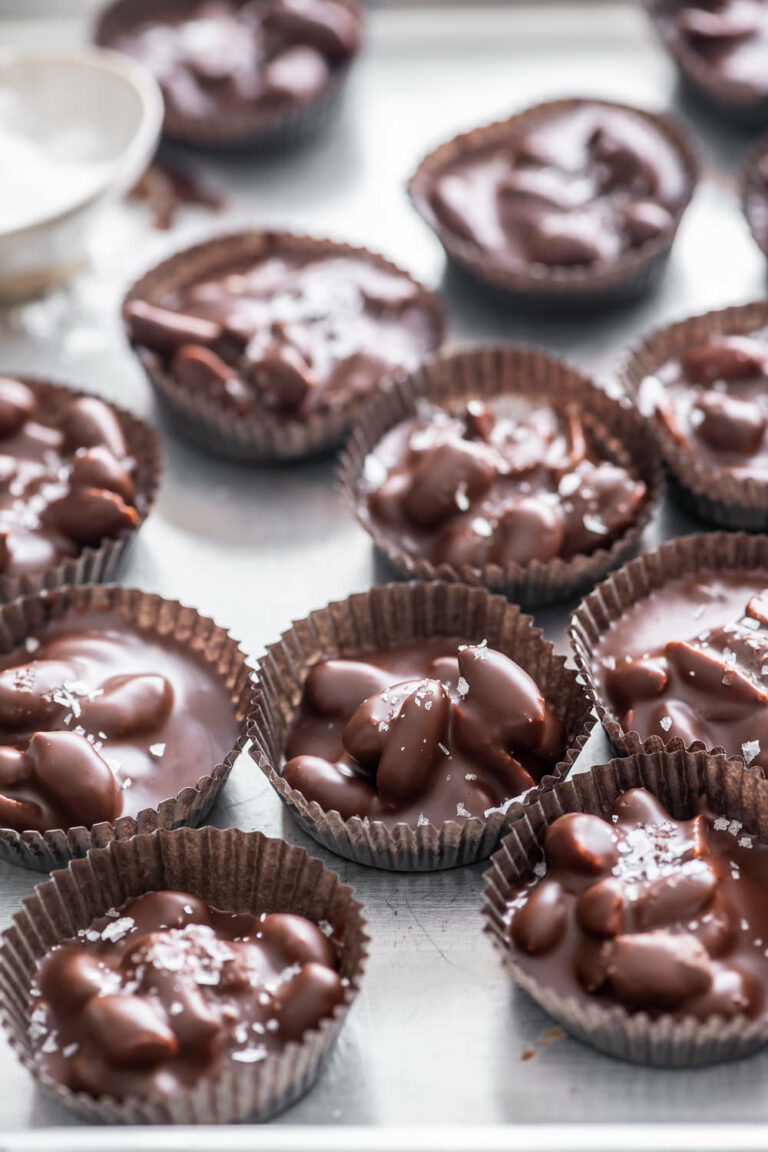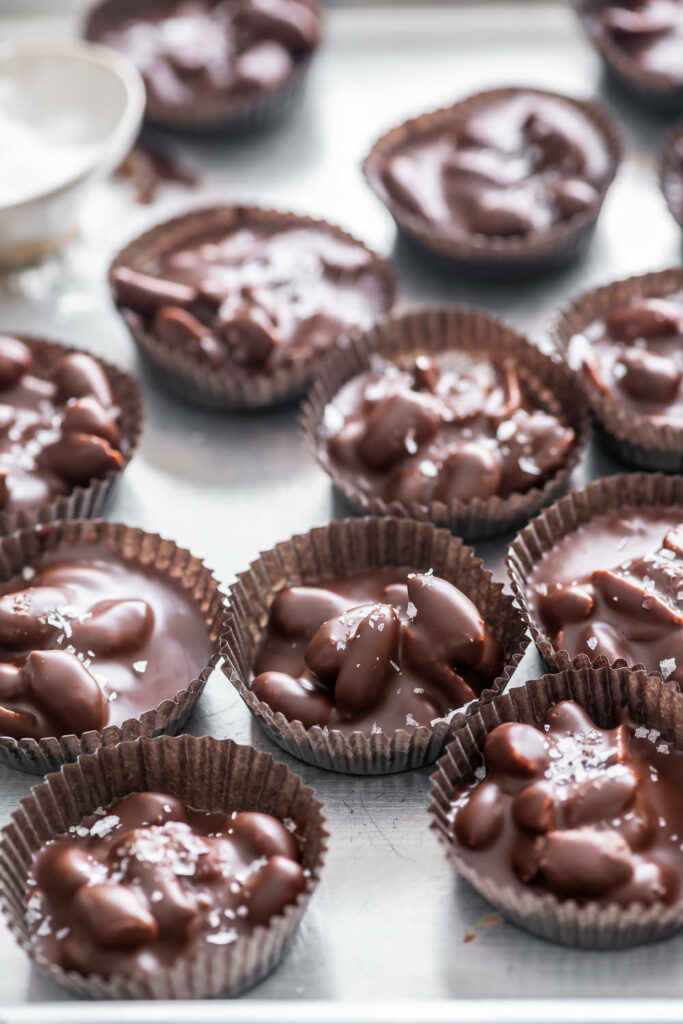 why blanched peanuts?
Using high-quality blanched peanuts gives us control over the degree of roasting, the salt content, and it lets us add a fine layer of sugar to the outside.
When we start with good peanuts (I especially love the blanched nuts from Nuts.com), the flavor is so fresh and so much more peanutty. The peanuts are large and beautiful. If you're going to spend the time making homemade Christmas candy, you may as well use the best nuts possible!
You can usually find blanched peanuts in the bulk section of health food stores. If you can't find them in person and don't want to order some online, you can buy raw peanuts and blanch them yourself.
how to blanch peanuts:
Bring a large pot of water to a boil.
Add peanuts, turn off the heat and let stand 3 minutes.
Transfer to an ice bath and shock.
Drain nuts, transfer to a clean kitchen towel and rub until the red skins come off.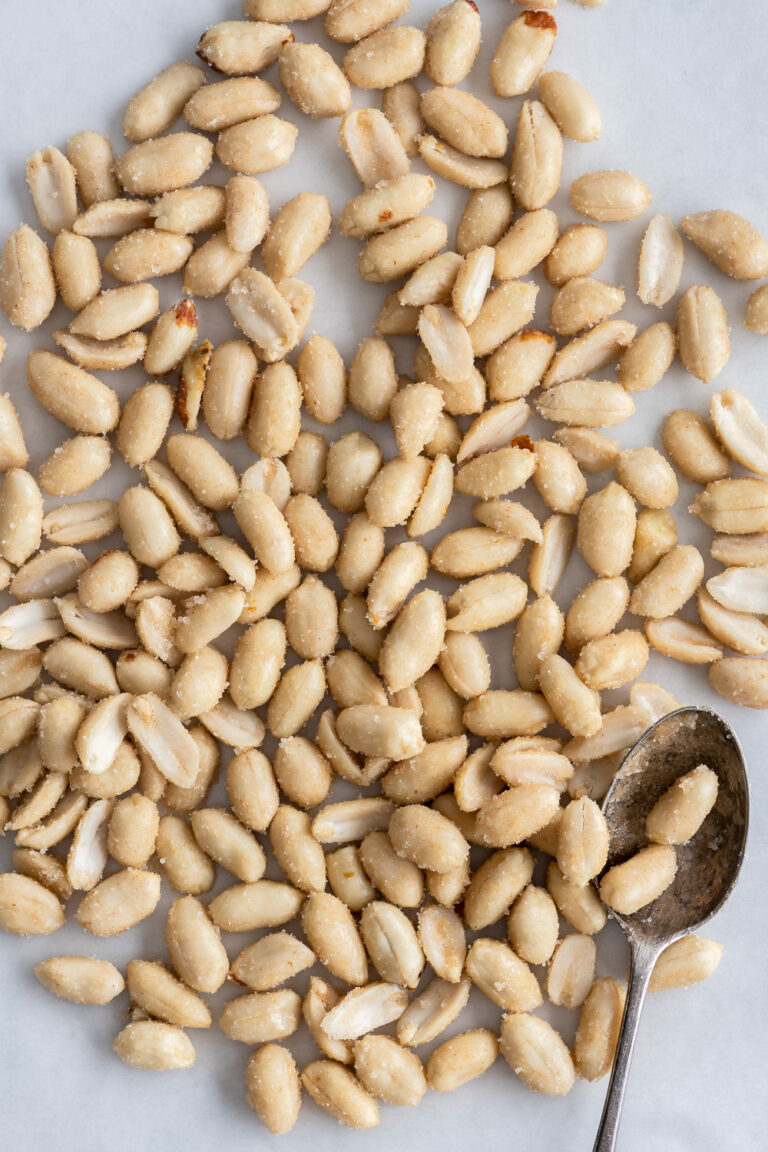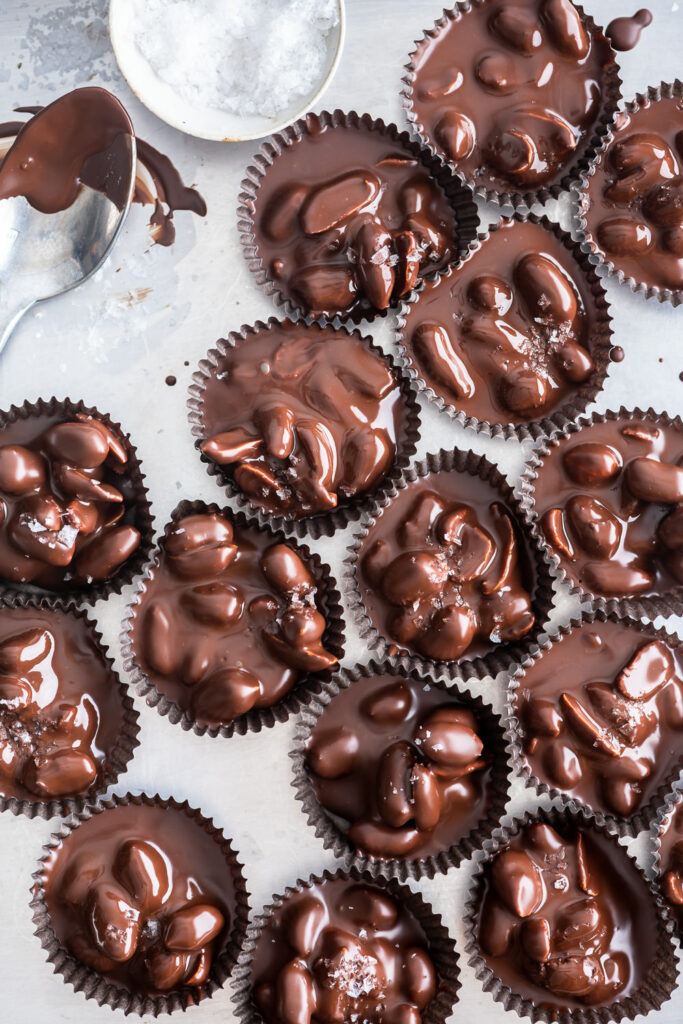 how to make crockpot peanut clusters:
A crockpot is a great way to gently heat chocolate and temper it.
Keep it set to low heat and use an instant read thermometer to monitor the temperature. Follow the temperature guidelines outlined here to fully melt the chocolate, then turn off the crockpot and cool it to 90°F (if using bittersweet). Stir in seed chocolate and proceed with the recipe!
can I put these peanut clusters in the fridge to set?
No! The humidity of the refrigerator will cause the chocolate to bloom, ruining the shiny tempered chocolate! It's best to let the chocolate set at a cool room temperature and out of direct sunlight.
If your chocolate is properly tempered, this shouldn't take more than a few minutes. As it continues to set, the chocolate will further crystallize and form a snappy, hard chocolate coating.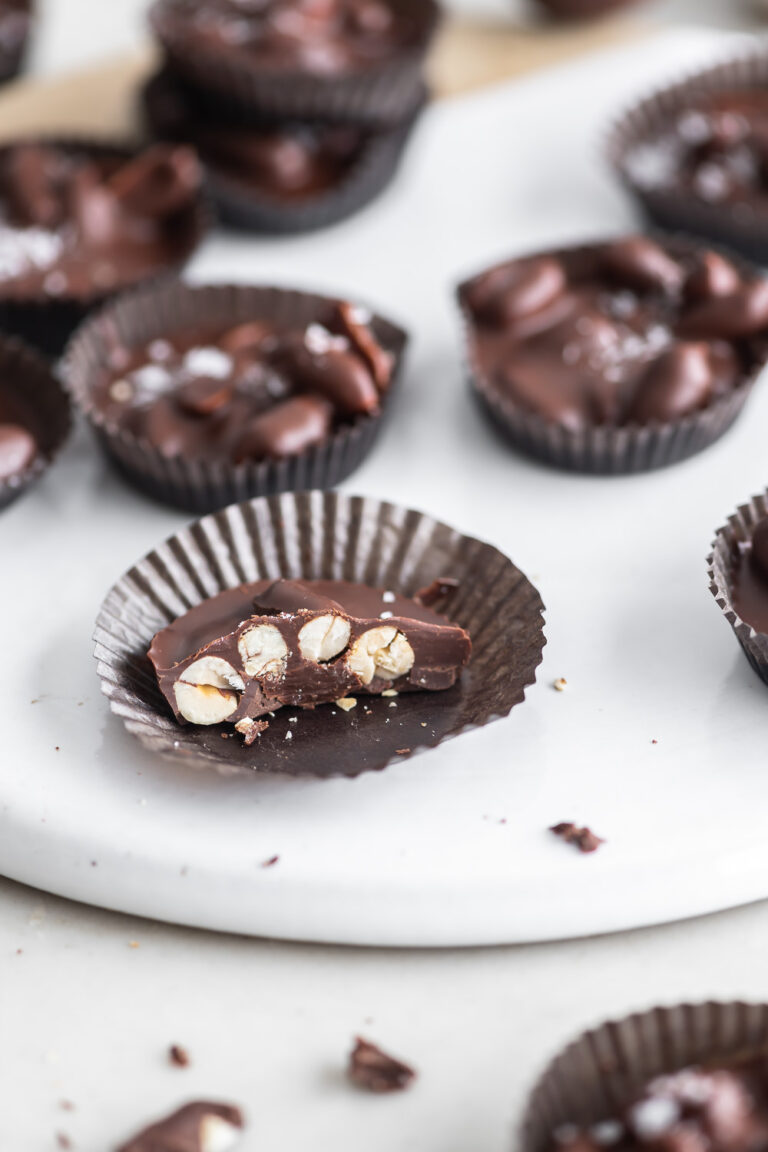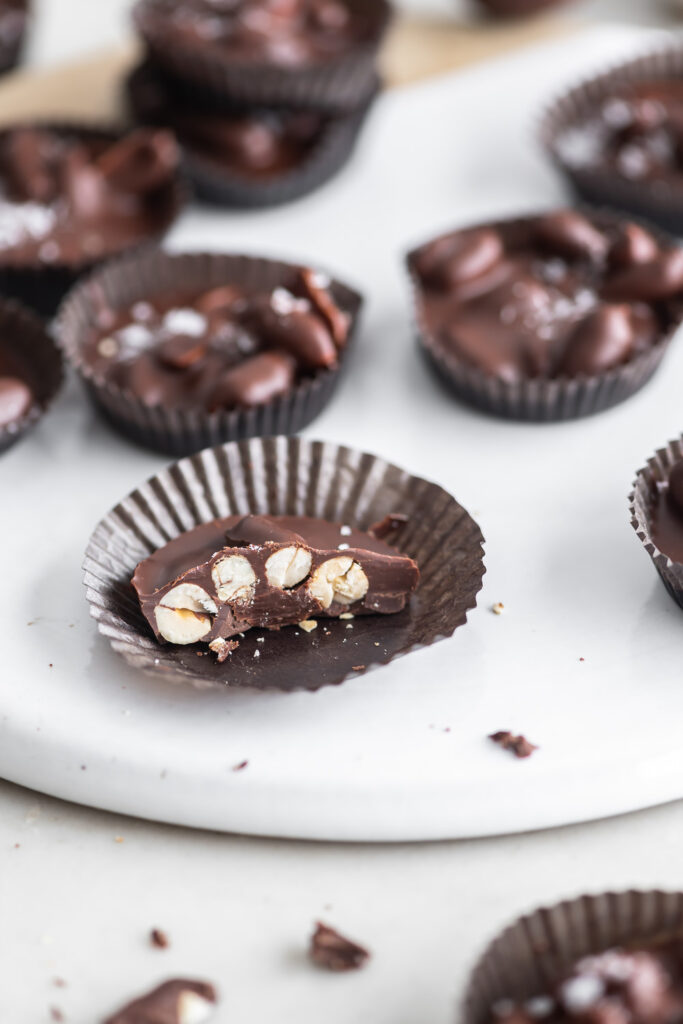 how to make peanut clusters with milk chocolate:
Repeat the whole process, but pay attention to the differences in tempering for bittersweet chocolate versus milk chocolate.
Melt milk chocolate to about 105°F, then cool to 86°F.
more peanut cluster recipe tips:
Let peanuts cool to room temperature before tossing in the melted chocolate. We worked hard to make sure the chocolate is at the perfect temperature to maintain its temper; hot nuts can throw the whole thing off!
Try this nut cluster recipe with any nuts! I especially love it with cashews or pecans, but a mixed nut blend is delicious too.
more candy recipes to make at home!
sea salt caramels (soft and chewy!)
chocolate holiday bark with amaretti cookies
how to temper chocolate (microwave, double boiler, sous vide!)
Watch our Christmas candy web story here!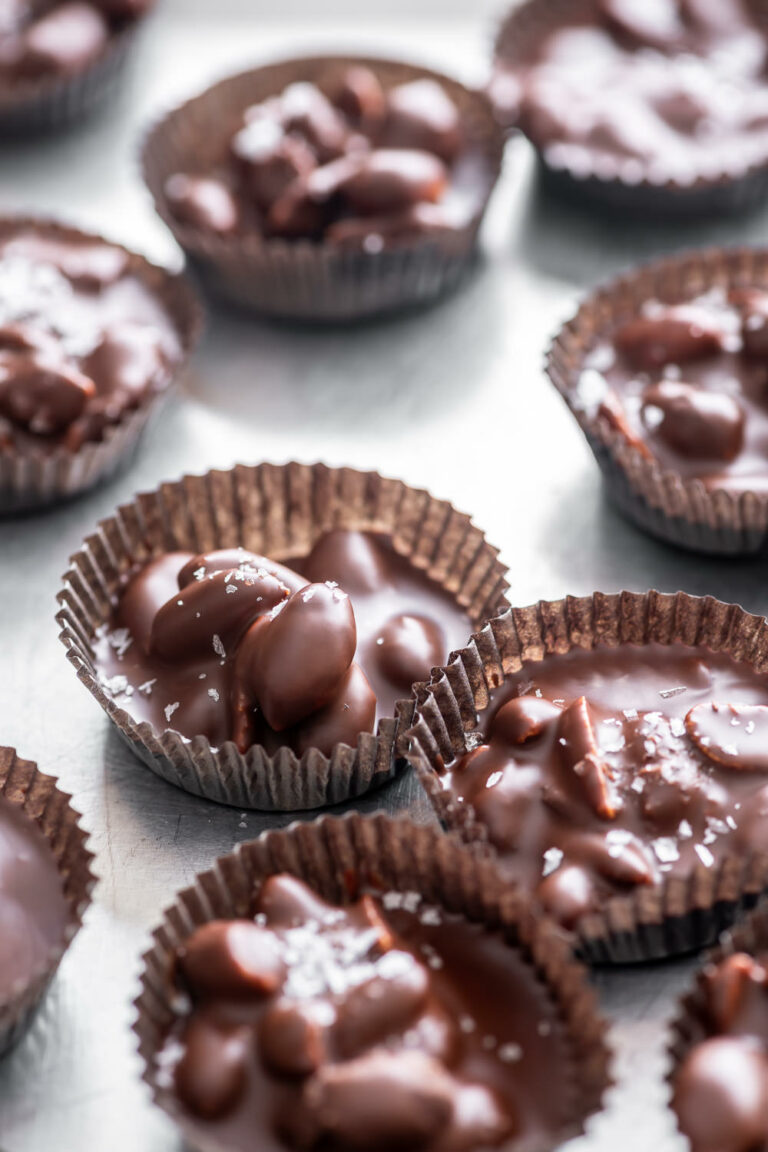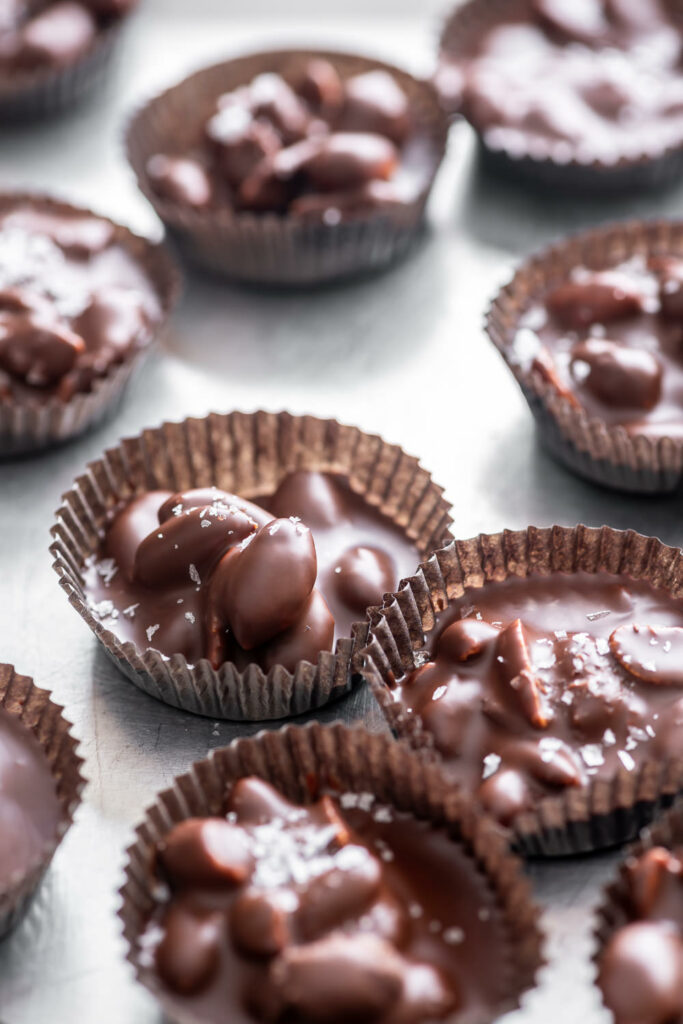 Print
chocolate peanut clusters
Chocolate peanut clusters are a crazy easy holiday candy to make at home. Crunchy sugar-roasted peanuts, snappy chocolate and sea salt make clusters that are better than those from a chocolatier!
Author:
Prep Time:

15 minutes

Cook Time:

40 minutes

Total Time:

55 minutes

Yield:

16

Category:

Candy

Method:

Microwave

Cuisine:

American

Diet:

Gluten Free
Ingredients
1 cup

blanched peanuts

1 tsp

dark rum (can substitute vanilla extract)

1 tbsp

granulated sugar

8 oz

good chocolate (milk, semisweet or bittersweet), chopped into

½

-inch pieces, plus more if needed
flaky sea salt (like Maldon)
Instructions
Preheat oven to 300°F. Line a baking sheet with parchment paper and set aside.
In a large bowl, toss peanuts with rum to moisten. Sprinkle with sugar and toss to mix. Spread nuts on prepared baking sheet in an even layer. Roast, stirring once or twice, until golden and fragrant, 25- 30 minutes. Transfer nuts to a bowl and cool to room temperature.
Meanwhile, arrange about 16 paper candy cups or mini muffin liners on a sheet pan.
Place 6 ½ oz of the bittersweet chocolate in a glass bowl and microwave for 30-second intervals at 50% power, stirring in between, until just melted (temperature should be   about 115°F). Add remaining 1 ½ oz bittersweet chocolate, stir until melted and temperature cools to 90°F. If warmer than 94°F when all of the chocolate is melted, add a few more small pieces and continue to stir until temperature reaches 90°F.
Add peanuts to chocolate and stir until well mixed. Spoon 1 tablespoon of nut mixture into a paper candy cup or mini muffin liner. Sprinkle with flaky salt before the chocolate begins to set. Repeat until all of the peanut mixture is used (you should have about 16 clusters). Allow to set at room temperature.
Notes
Nutritional information is only an estimate. The accuracy of the nutritional information for any recipe on this site is not guaranteed.
Store clusters in a covered container at room temperature, for up to 2 weeks.
Nutrition
Serving Size:

1 cluster

Calories:

148

Sugar:

1.4g

Sodium:

186mg

Fat:

12g

Saturated Fat:

5.3g

Unsaturated Fat:

5.8g

Trans Fat:

0g

Carbohydrates:

6.8g

Fiber:

3.1g

Protein:

4.3g

Cholesterol:

0.3mg
Keywords: peanut clusters