Rich, tender and flavorful sautéed kale is blanched, cooked in garlic oil and topped with crispy fried garlic chips. It's the best way to cook kale.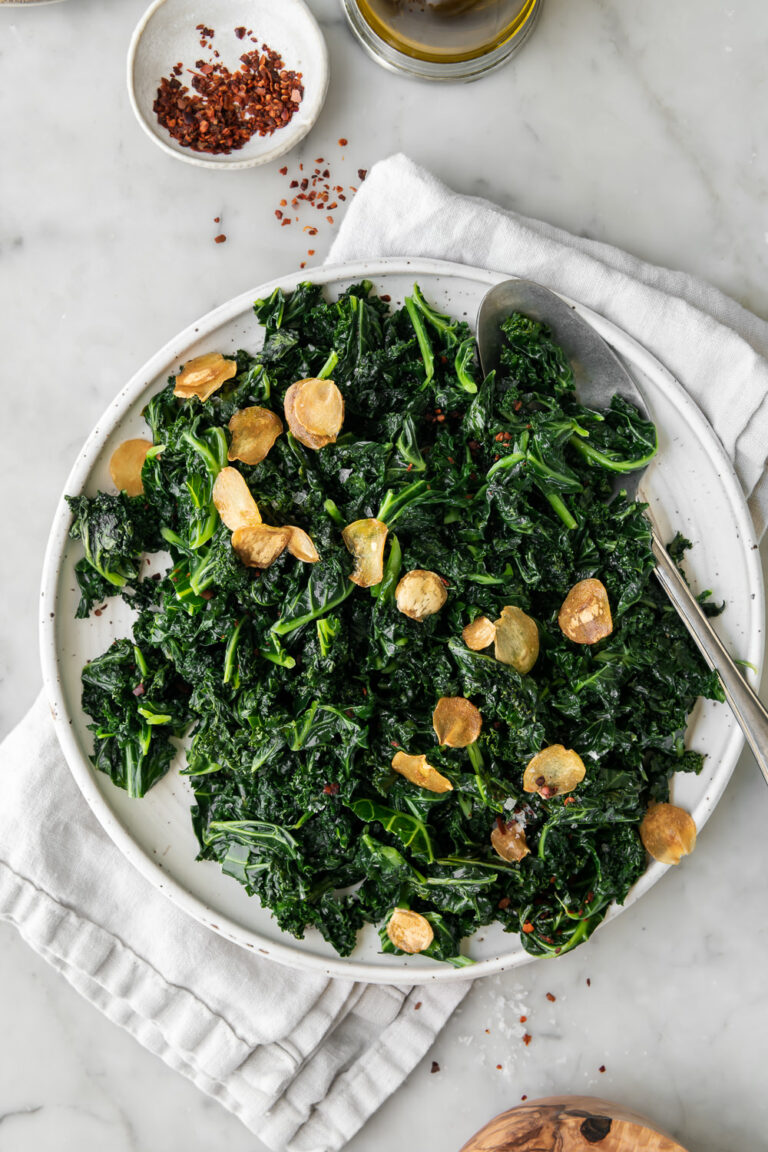 I love texture in my greens. There's nothing worse than soggy, mushy vegetables— which is why sautéed kale is such a winner. When it's cooked right, kale can be equally tender and toothsome, with just enough chew to satisfy my need for texture and flavor.
And boy does kale soak up flavor. While it's plenty assertive on its own, it truly sings with the right flavors. Garlic, spicy red chile flakes, peppery olive oil, parmesan, fresh squeezed lemon, soy sauce. These are some of my favorite add-ons to sautéed kale. Mix and match a few of these ingredients, and you can transform a bitter green into something rich and luxurious.
In this sautéed kale recipe, I keep it extra simple with good olive oil and crispy fried garlic chips. We just love the sweet, caramelized notes and added crunch from the garlic chips. The extra flavor and texture are wonderful additions to this easy sautéed kale recipe.
But the base recipe can be modified as you choose— a squeeze of lemon, a splash of soy sauce, a shaving of parm— use what you have and mold the sautéed kale into your meal.
The main learning here is in the technique. Make sure to blanch it, squeeze it really dry, and sauté it in a flavorful oil (garlic oil, spicy oil, lemon oil, sesame oil). You'll be on your way to the best sautéed kale!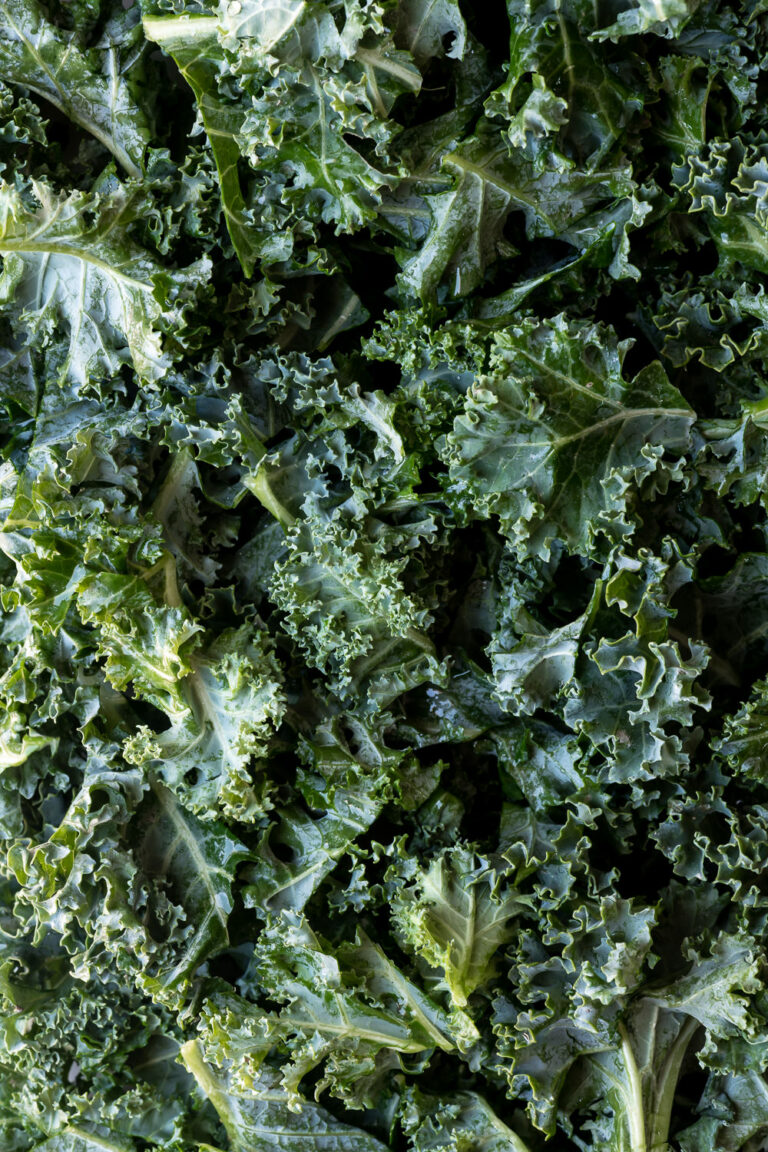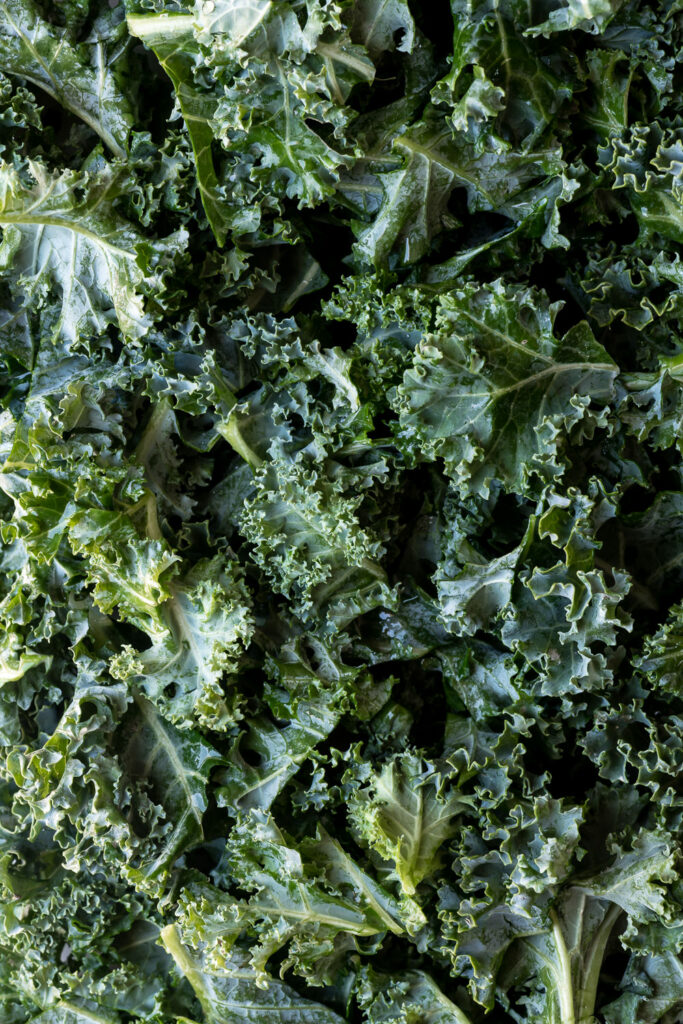 what you need to make sautéed kale:
kale
garlic
olive oil
salt and pepper
red pepper flakes
how to make sautéed kale with fried garlic chips:
Remove and discard the stems, then roughly chop the leaves
Rinse well
Blanch for 1 minute
Run under water to cool and squeeze dry
Fry garlic slices in olive oil, drain
Cook kale in garlic oil until tender, about 5 minutes
Serve with garlic chips and red pepper flakes (make it extra special with Aleppo peppers!)
tips for making fried garlic chips
Use a mandoline to get paper-thin slices of garlic.
The garlic can quickly burn (and get really bitter), so err on the side of lower heat and start to remove it just as it begins to turn golden brown. The residual heat of the oil will continue to cook the garlic, so work quickly!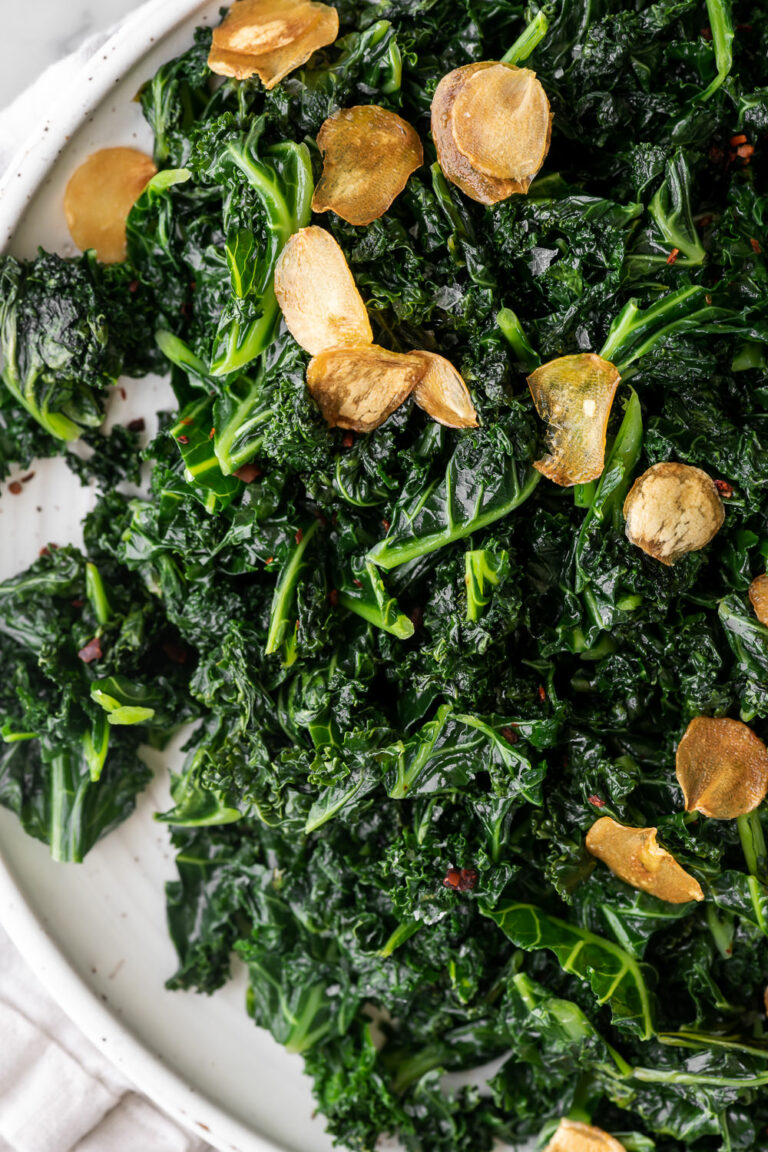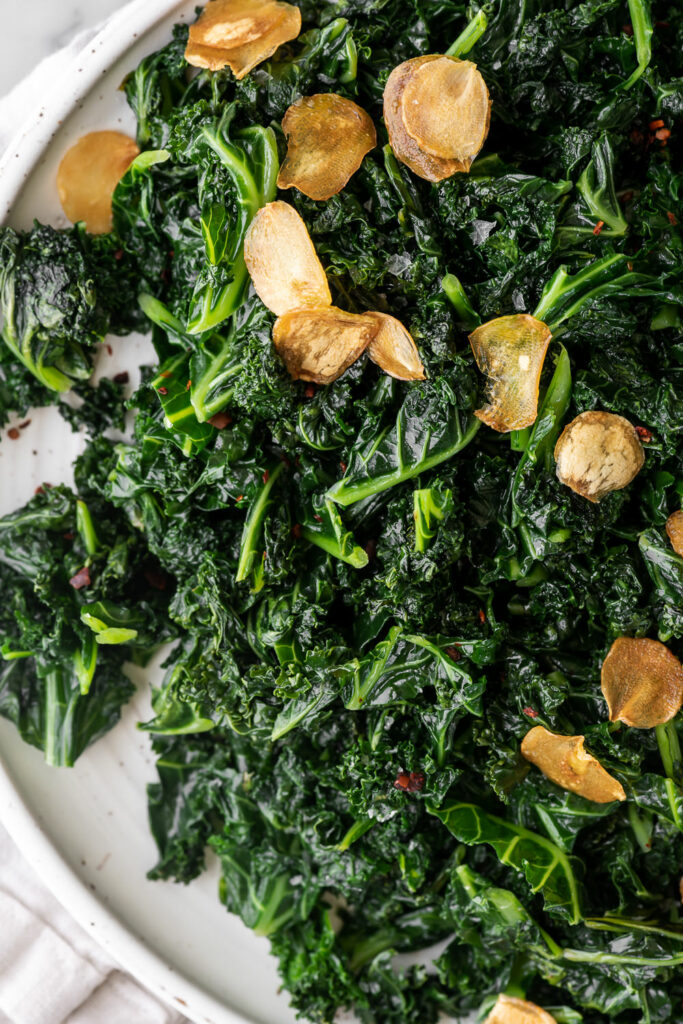 How to chop kale
Lay a leaf flat on a cutting board.
Use a chef's knife to slice down both sides of the stem to remove it. You could also you your hands to tear off the leaves.
If you're using curly kale, lay a few leaves on top of each other and roughly chop them into bite-sized pieces.

If you're using flat leaf kale (also known as lacinato kale), the chopping can be a little more orderly. I stack the leaves, roll them up lengthwise into a tight cigar, then slice them into ½-inch to 1-inch ribbons.
What about the stems? I typically discard the stems, though you could chop them and sauté them as well. Just make sure to add them to the pan first to give them a few extra minutes to soften.
why blanch kale before sautéing?
Blanching the kale has a two-fold effect:
For one, it reduces some of the bitterness which can be overpowering in a simple side dish of just kale. For two, it pre-cooks the kale and softens the texture. This way, sautéeing in garlic oil will add flavor and richness, but it won't take so long that the kale is at risk of burning.
If you really want to avoid blanching you could cook the kale this way: sauté the kale in oil for a minute or two to coat it, add a splash of water and cook it with the lid on to steam it a bit, then remove the lid to cook off the liquid.
This is reduces the cooking to one pan, but I find the kale is always a little too soggy and watery for me.
When you blanch the kale, you get the opportunity to squeeze out all of the cooking water. Then the kale can soak up the garlic oil and take on a luxuriously rich texture. It's also less bitter. Win win!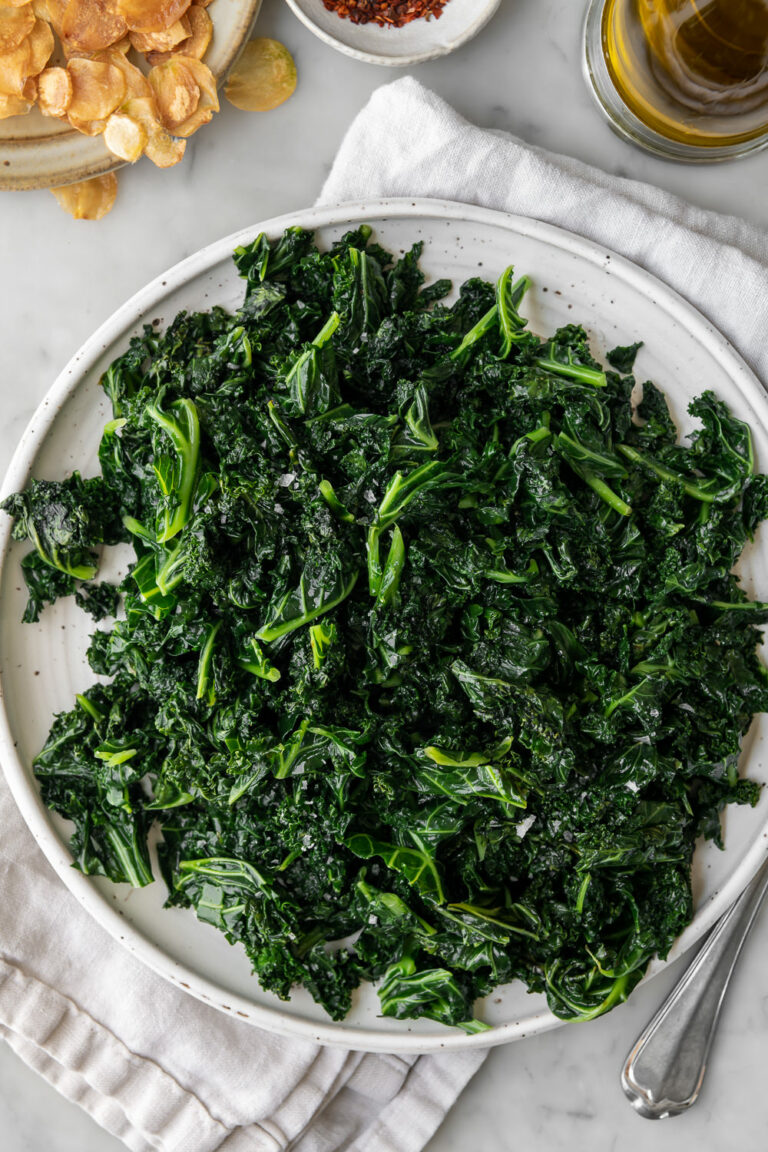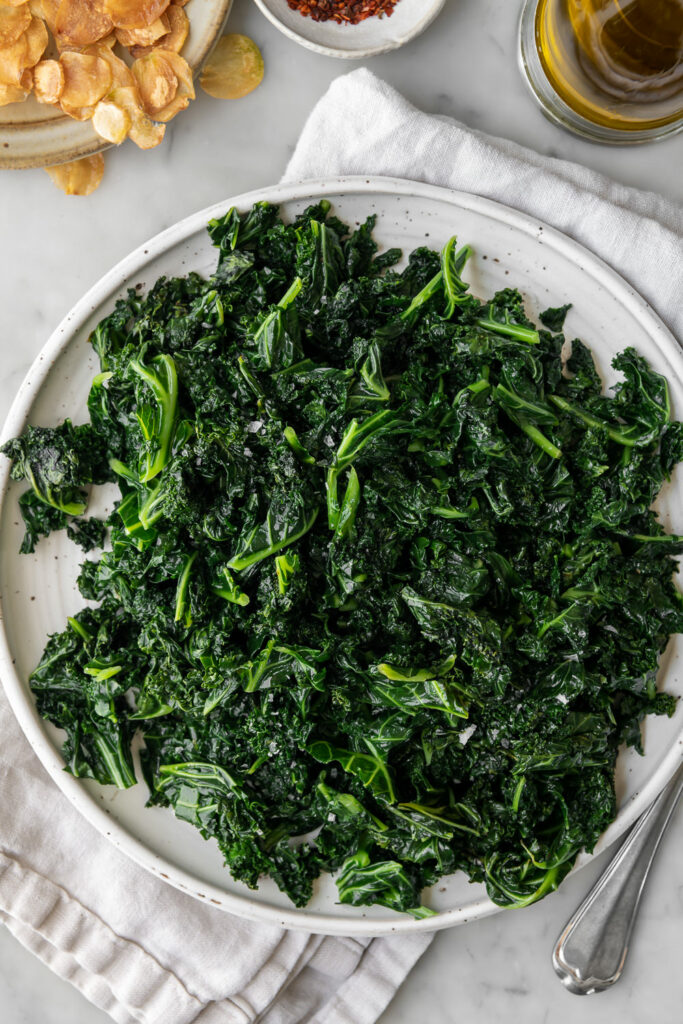 how to clean kale:
Curly kale is notorious for hanging onto grit and tiny bugs (and, by extension, getting people sick if it's eaten raw). It's got so many nooks and crannies, it's tricky to clean well.
For this sautéed kale recipe, I prefer to chop it first and then clean the pieces. And since we're using three bunches here, I have a streamlined approach that the easiest way to remove all the worms and all the dirt from this massive amount of kale.
Here's my set up: a cutting board with the chopped kale, a colander for the rinsing station, and a large bowl (or two) for the clean kale.
Fill the colander with a batch of the chopped kale and place it under running water.
Take a handful of kale and scrub it under the water until you're sure its clean. Transfer to the clean bowl. Pick up another handful of kale, rinse it under the running water, and place it in the clean bowl. Repeat until all of the kale in the colander is clean
Fill the colander with another batch of kale. Continue washing, in batches, until all of the kale is clean.
Since we're blanching the kale, there's no need to really worry about shaking off excess water from the clean kale. Just make sure you've really scrubbed the leaves together and rinsed off the dirt.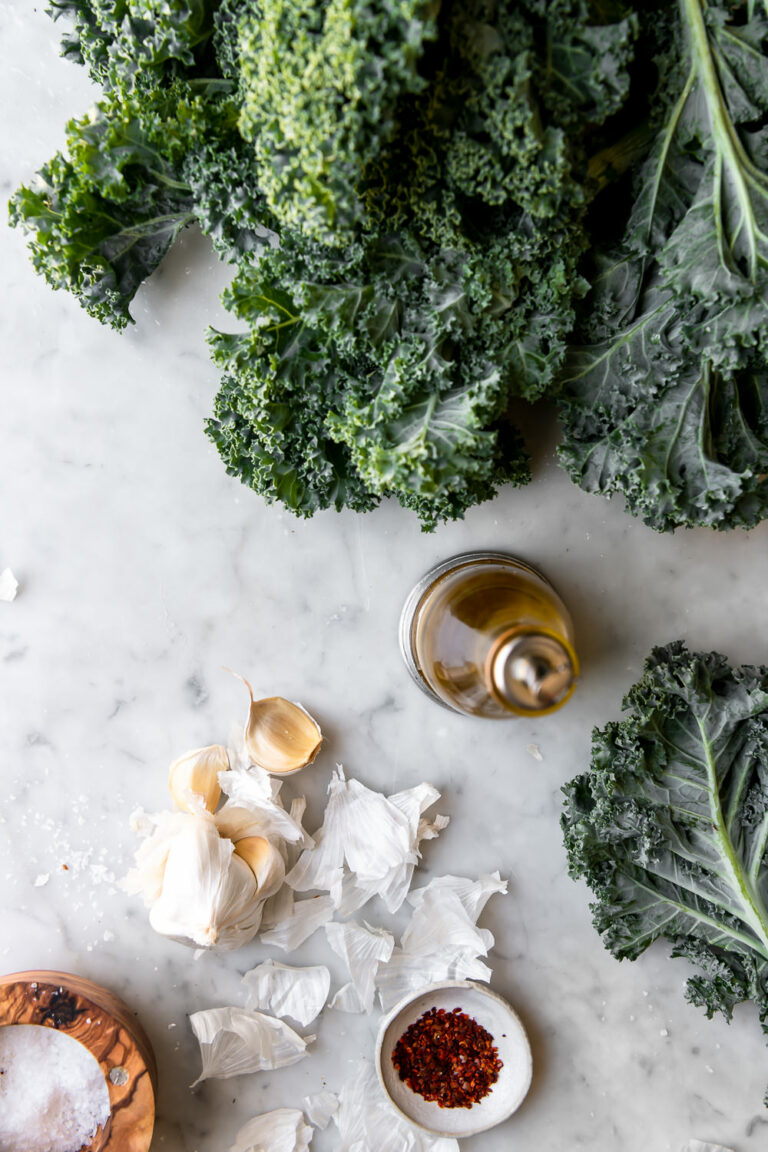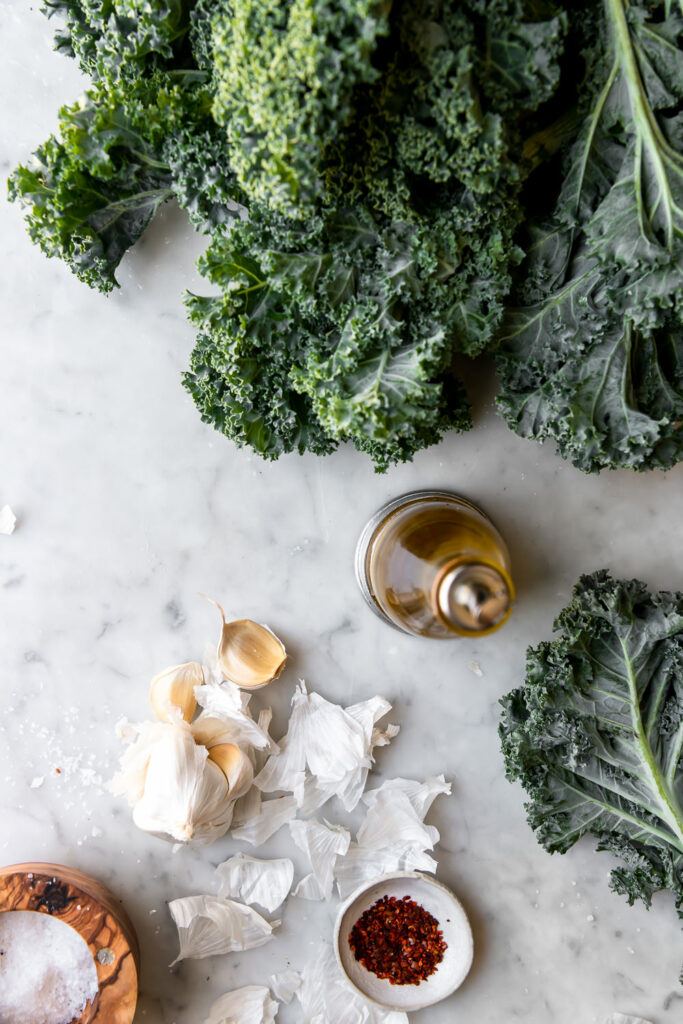 seasoning kale:
Be cautious as you season your sautéed kale— I find it's easy to over-salt it. The curly, textured leaves have a way of hiding the salt before they fully cook down. Before you know it, the kale goes from "mm, it might need more salt" to "shoot, that's way too salty".
Make sure to start small and keep tasting the leaves as you go. Toss and stir the kale as it cooks, to help disperse the salt, then add more at the end if you need.
easy sautéed kale variations:
Once you have this base sautéed kale recipe, you can easily add variations in flavor or in the type of kale you use.
Baby kale: skip the blanching! Simply sauté the baby kale until tender and flavorful.
Flat leaf kale (also known as lacinato kale, tuscan kale or dinosaur kale)— the only change is in how I chop the kale. I prefer to stack the leaves, then roll them lengthwise into a long cigar. I slice the cigar into ribbons (½ inch to 1 inch wide) and proceed with the recipe.
Red kale: no change!
Sautéed spinach and kale: Blanch the spinach along with the kale (add it for the last 20 seconds). Squeeze dry and proceed with the recipe.
Kale with lemon: Finish this sautéed kale recipe with a squeeze of lemon juice just before transferring to a serving dish.
Sautéed kale with onions: Sauté half an onion in the oil until soft and translucent, then add the kale
Kale with mushrooms: Sauté sliced mushrooms until browned and crispy. Transfer to a plate, add more olive oil and cook kale until tender. Return mushrooms to the pan and cook another minute or so to marry the flavors. Serve!
Kale with stems: You can always use pre-packaged, chopped kale that already has the stems attached. If this is the case, blanch for 3- 5 minutes, or until leaves are tender and stems are al dente. Then cool, squeeze dry and sauté.
Sautéed kale with parmesan: When kale is mostly finished, stir in ½ cup grated parmesan and cook until melted.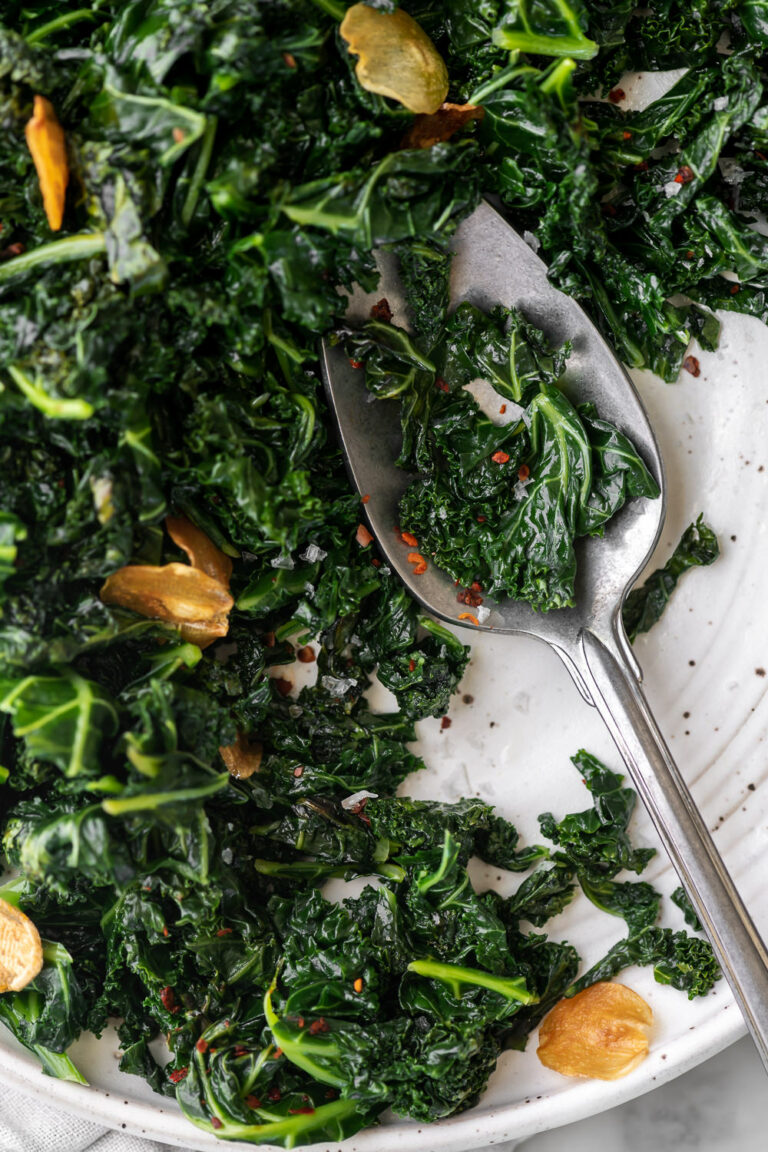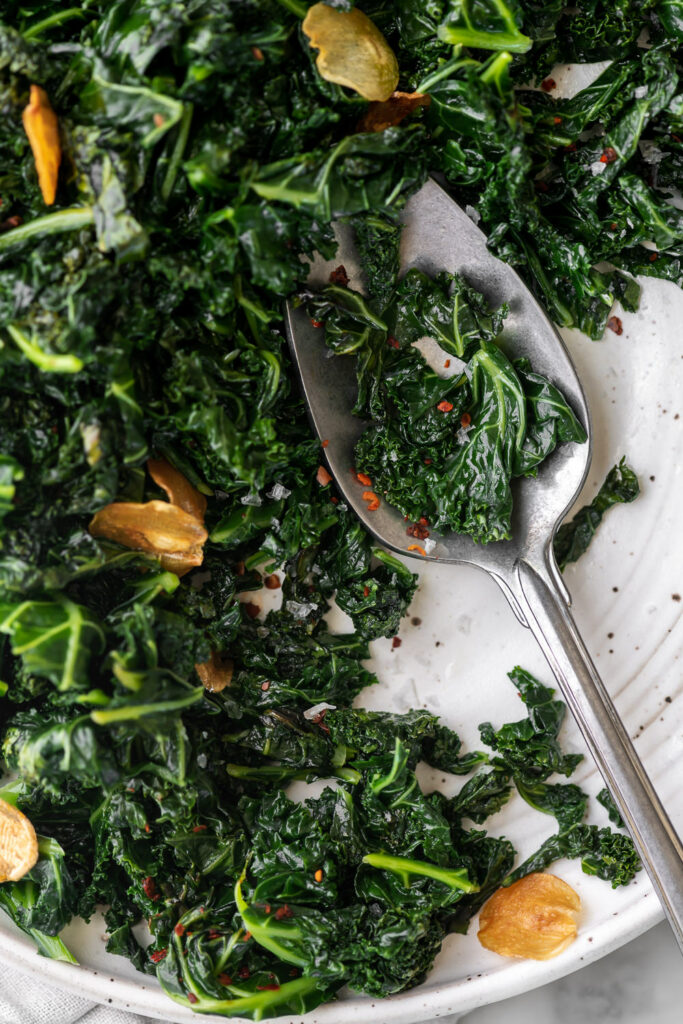 serving suggestions:
1 bunch of kale (leaves only) will yield 1 generous cup of sautéed kale.
This sautéed kale recipe, which uses 3 bunches, will serve about 4 people.
what goes well with sautéed kale?
I love the serve this easy sautéed kale as a side with grilled chicken, seafood or a really flavorful dish like these Spanish meatballs by Donna at Whole Food Bellies.
For an elevated dinner, it's a fabulous side to this roast beef tenderloin with red wine sauce.
You can also use it as a topping for pizza (use this pizza dough recipe!) or grilled flatbread, or fold it into a mushroom frittata!
Print
the best sautéed kale with fried garlic chips
Rich, tender and flavorful sautéed kale is blanched, cooked in garlic oil and topped with crispy fried garlic chips. It's the best way to cook kale!
Author:
Prep Time:

10 minutes

Cook Time:

10 minutes

Total Time:

20 minutes

Yield:

3 cups

Category:

Vegetable

Method:

Sauté

Cuisine:

American

Diet:

Vegetarian
Ingredients
kosher salt

3

bunches kale

3 tbsp

olive oil

2

cloves garlic, thinly sliced
freshly ground black pepper

½ tsp

red chili flakes
Instructions
Bring a large pot of salted water to a boil. Meanwhile, cut or tear kale leaves away from thick stems. Stack 3- 4 leaves at a time and roughly chop into bite-sized pieces. Transfer to a colander and rinse well.
Add kale to the boiling water and blanch for 1 minute. Drain and run under cold water until cool enough to handle. Squeeze dry and set aside. 
Pour olive oil in a large skillet and arrange garlic slices in an even layer. Heat over medium-low heat, flipping once with a rubber spatula, until garlic is just beginning to turn golden brown, about 2 minutes (watch it closely and remove from heat before you might think necessary-- it can quickly burn). Use a slotted spoon to transfer to a paper towel-lined plate and sprinkle with salt.
Increase heat to medium-high and add kale. Season with salt and pepper and cook, stirring often, until kale is tender, about 5 minutes. Taste and adjust seasoning. Transfer to a serving platter and top with fried garlic chips and red chile flakes.
Nutrition
Serving Size:

¾ cup

Calories:

136

Sugar:

2g

Sodium:

76mg

Fat:

11g

Saturated Fat:

1.5g

Unsaturated Fat:

8.8g

Trans Fat:

0g

Carbohydrates:

9.4g

Fiber:

3.2g

Protein:

3.1g

Cholesterol:

0mg