Saffron aioli is a rich, fragrant sauce that is perfect for sandwiches, fries, salads or as the main attraction of a grand aioli platter. Serve with your favorite vegetables, seafood, meat and crackers!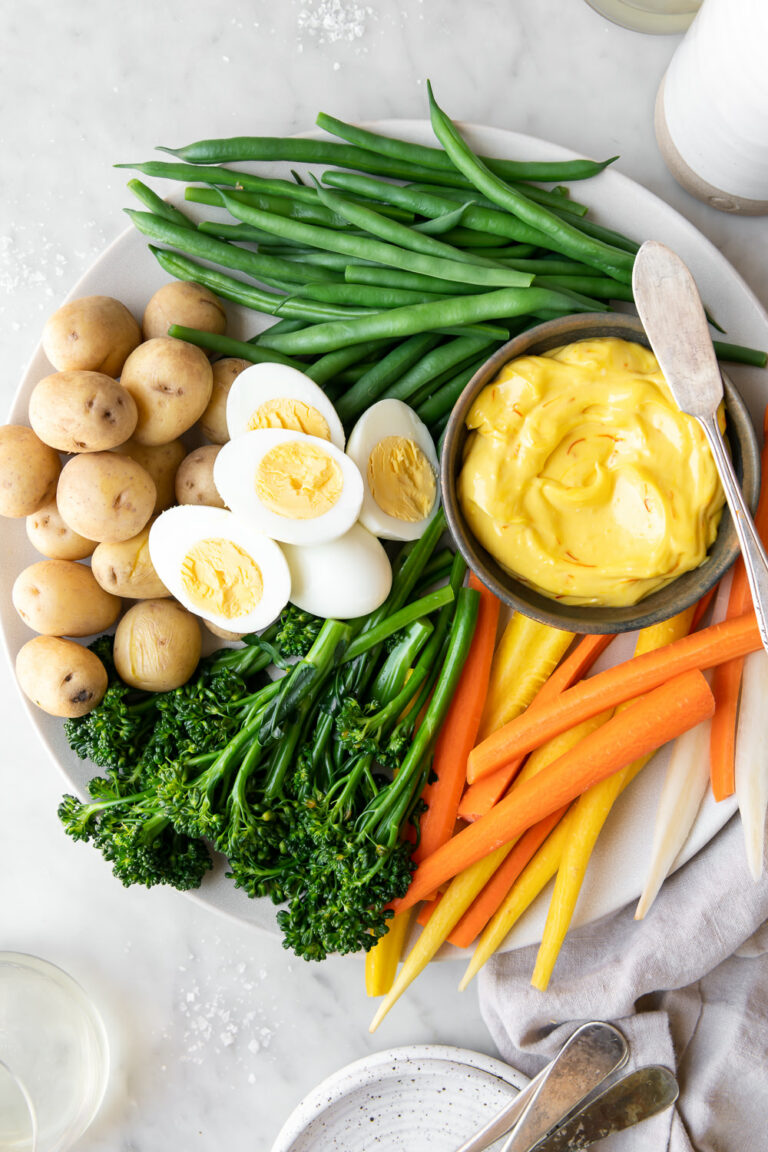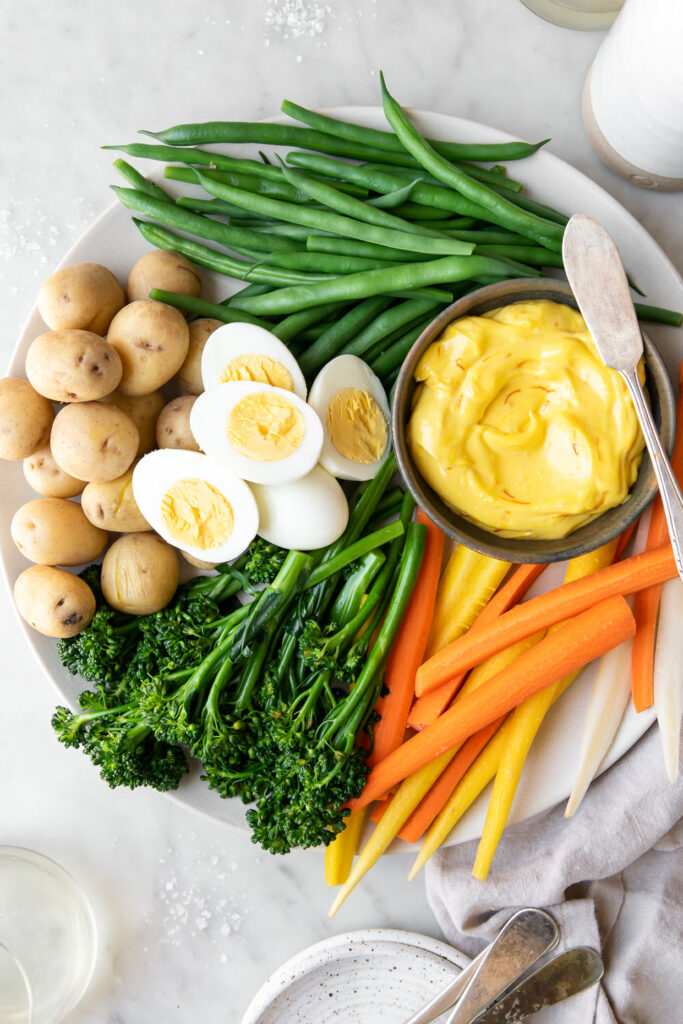 This saffron aioli is one of the best dips. It harnesses the power of an emulsion and the fragrance of saffron to transform a few ingredients into a something extravagant.
A tiny pinch of saffron adds a delicate floral note and golden hue to the spread, and a splash of olive oil adds touch of grassiness. I prefer to start very small with the raw garlic— you can't take it out if you go overboard, and we want to give the saffron room to shine.
I love how quick homemade aioli is to make— and how easily you can turn a few pantry staples into an impromptu (and impressive) spread for guests. That's what Le Grand Aioli platters are all about, after all. You take your favorite vegetables, meats and crackers and mold them into a fun, non-fussy meal. It's like fondue, but without the stress of burnt (or cold) cheese.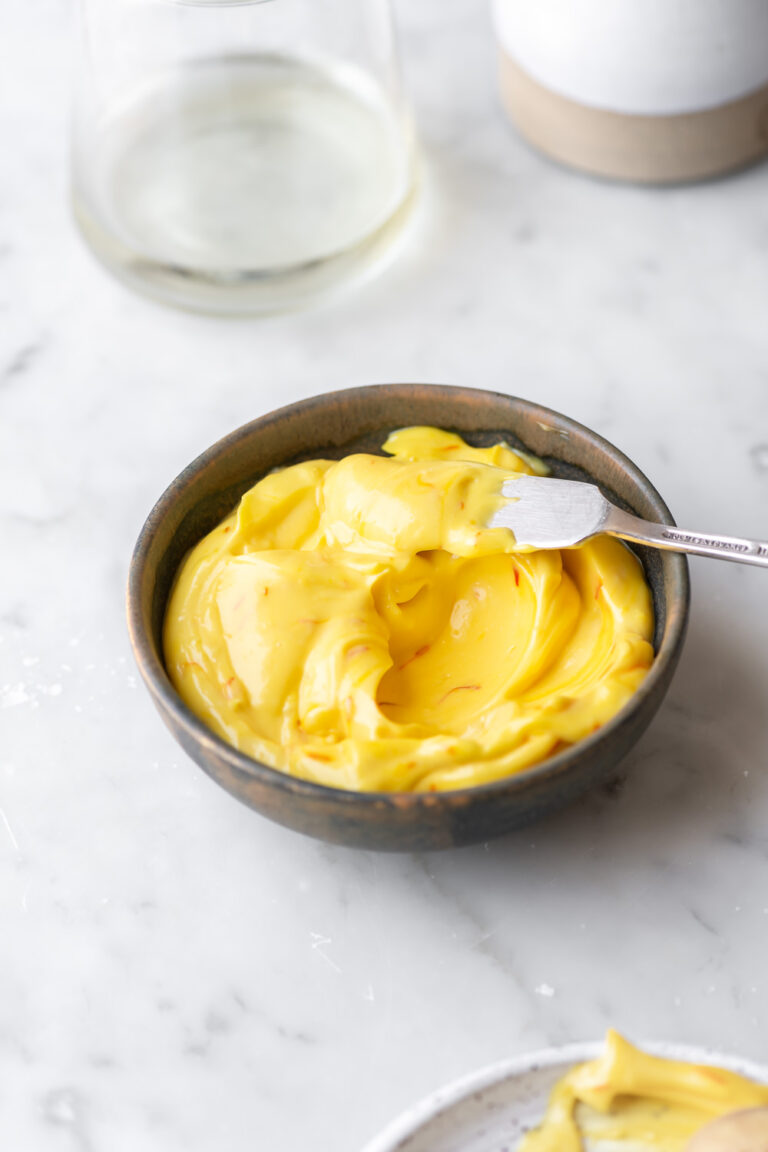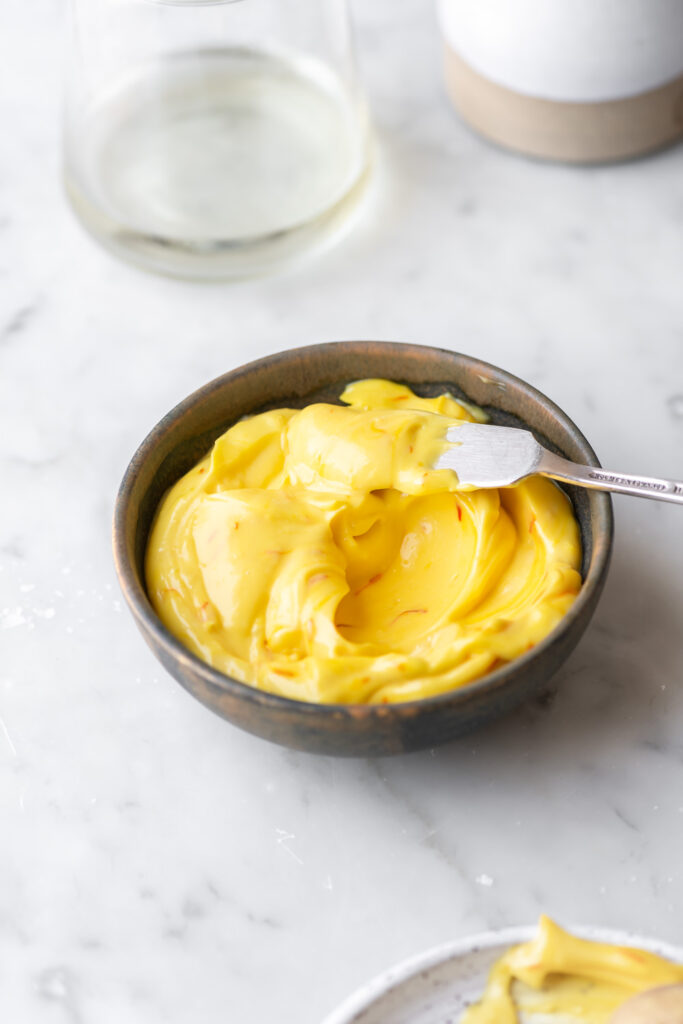 If the aioli is too thick after you've added all of the oil, you can stir in a teaspoon of water to loosen it. Homemade aioli is notorious for being a challenge. If you've never made an aioli or mayo, don't worry. It's easier than you'd think. And it can totally be salvaged if it breaks.
Read on below for all the tips and tricks to make the very best saffron aioli. Once you see and taste the magic of homemade aioli, it's going to be your go-to summer meal!
what is aioli?
Aioli is a thick emulsion of oil in a small amount of water. The watery base typically includes egg yolks, lemon juice, salt and mustard. Traditionally, aioli was an emulsion of just olive oil, water and garlic-- hold the egg yolk-- but the delicate nature of that sauce has led to more practical methods. Specifically, the use of eggs.
So at it's most basic level, modern aioli is mayonnaise flavored with garlic. And in this case, we add delicate floral notes and a gorgeous hue with a pinch of saffron.
Aioli and mayonnaise are the most oil-packed emulsions, so they can still separate into a greasy mess. But don't panic if that happens! There's a simple way to save a broken aioli.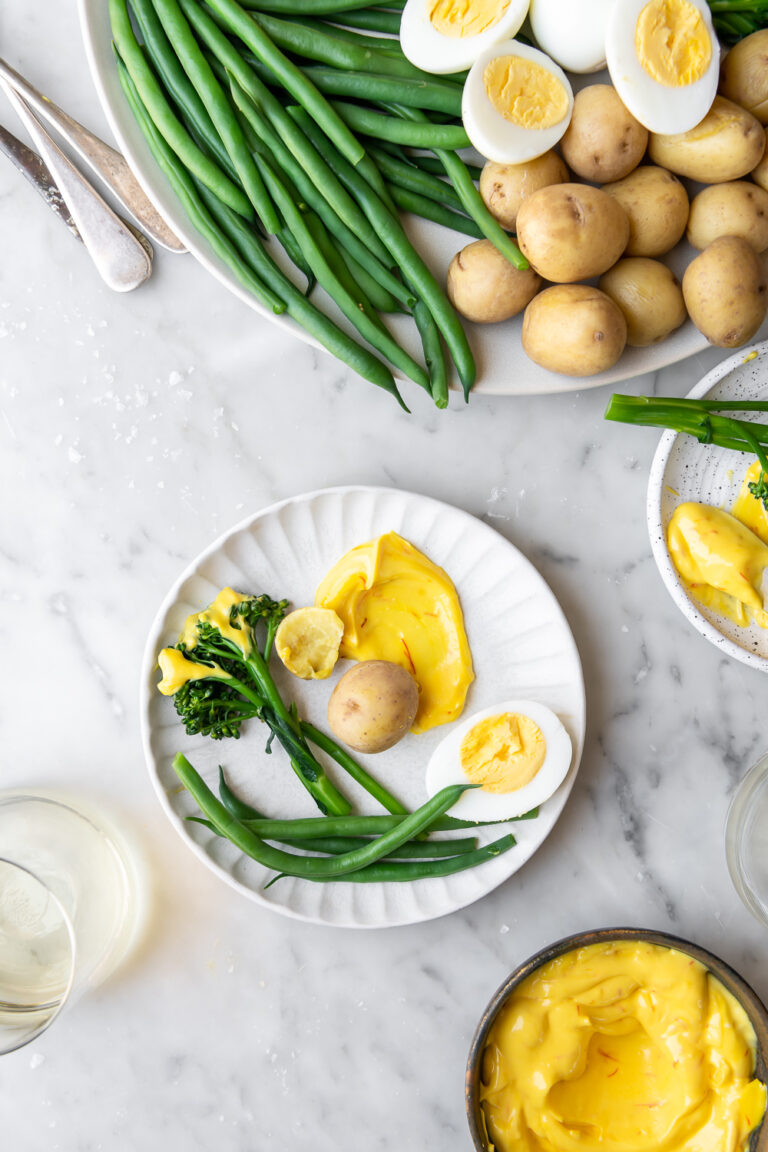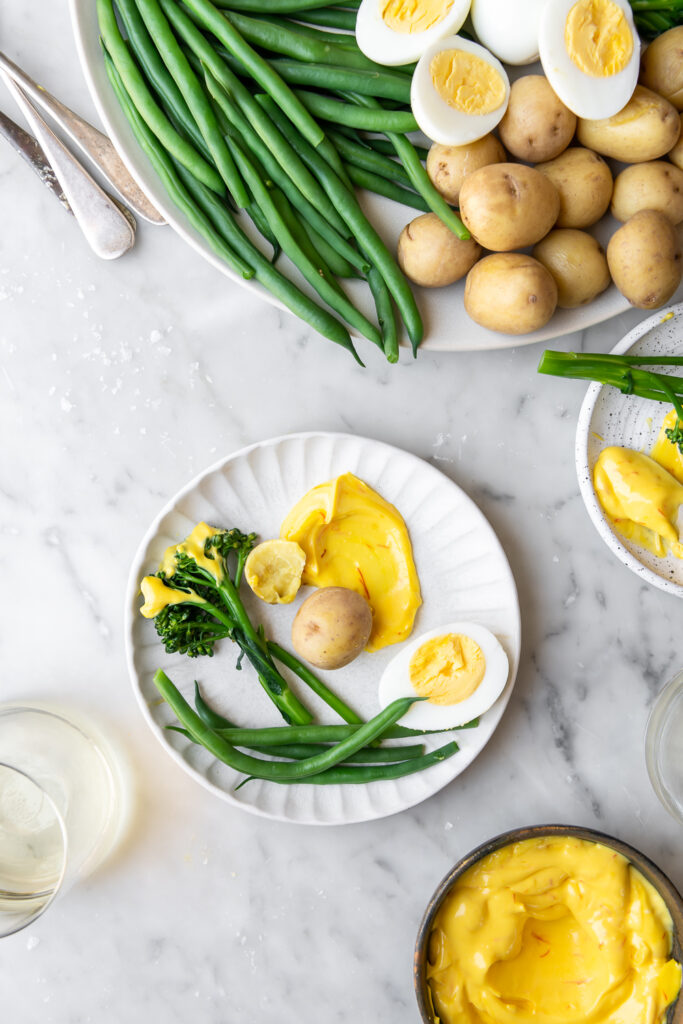 how to make the best homemade saffron aioli:
Start with coddled eggs: the process of very lightly cooking the egg has two benefits. First, the boiling water reduces the bacterial load on the outside of the egg, which is always a good idea when using raw eggs. Second, it warms up the egg yolk which maximizes its emulsifying properties— the crux of aioli! Coddled eggs give you the best possible start for a perfect homemade aioli. This is especially helpful if you're whisking it by hand.
Use mostly neutral oil: neutral oil (such as canola, grapeseed or vegetable oil), is the best flavor option for homemade aioli. I prefer to use about a fourth olive oil, which adds peppery complexity without dominating the flavor.
Use a whole egg: egg whites give a little extra security that your aioli won't break. It's also a lot easier to toss the whole egg in and not worry about repurposing (or wasting) the white!
Start small with the garlic: Raw garlic is strong. It doesn't take much to add flavor and impact the aioli— and if you add more than you like, there's not much you can do about it. I always start with about ¼ teaspoon of garlic paste and find it doesn't need more. Err on the side of caution here, unless you're a real garlic junkie!
Use power tools: You can totally make aioli and mayonnaise by hand, but it does take a lot of whisking. You also need to be much more careful with dribbling in the oil very slowly (especially in the beginning). A blender, food processor, or immersion blender (when a used in a tight container like a jar) will make homemade aioli nearly foolproof. It's fast, easy, and so rewarding! Just be careful not to over-blend it— overheating can also cause aioli to break!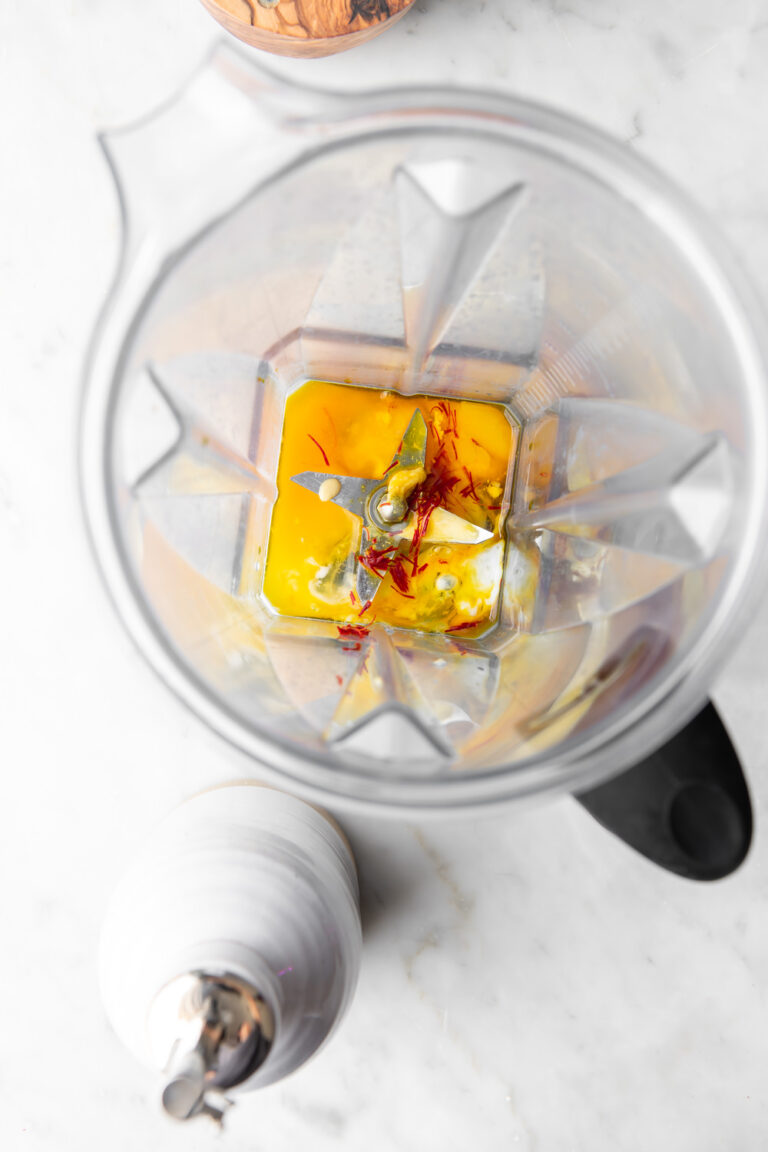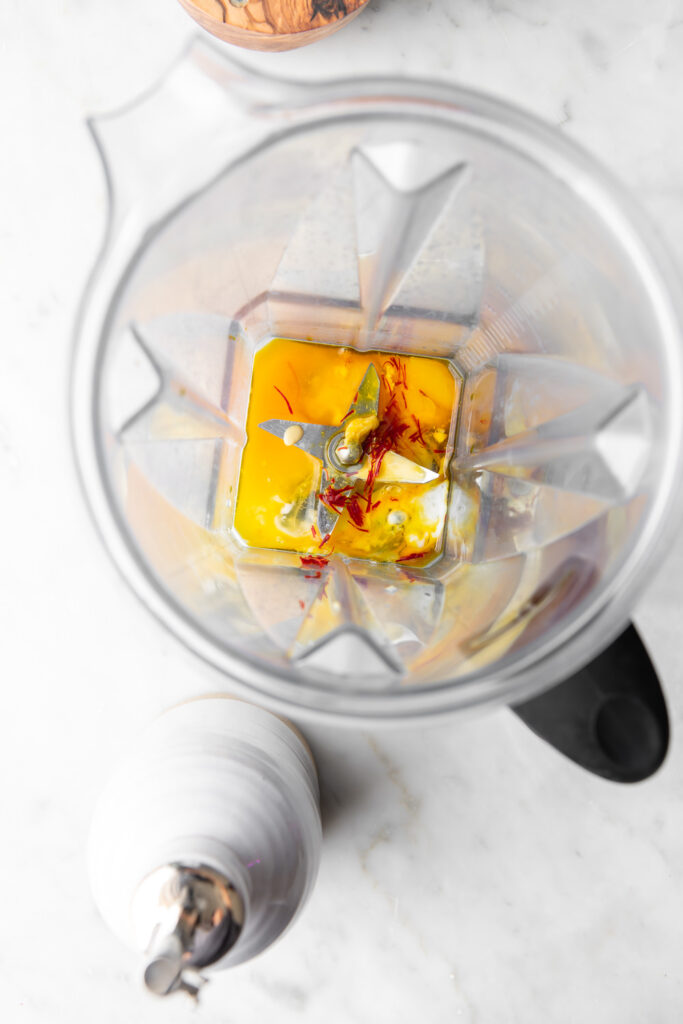 how to use saffron aioli:
spread on sandwiches or burgers
as a dressing for potato salad or pasta salad
mixed with buttermilk for a creamy salad dressing
in the filling of deviled eggs
a dressing for extra flavorful lobster rolls
a dip for artichokes
used in egg salad, chicken salad or tuna salad
as a dip for vegetables, meat and seafood (aka le grand aioli)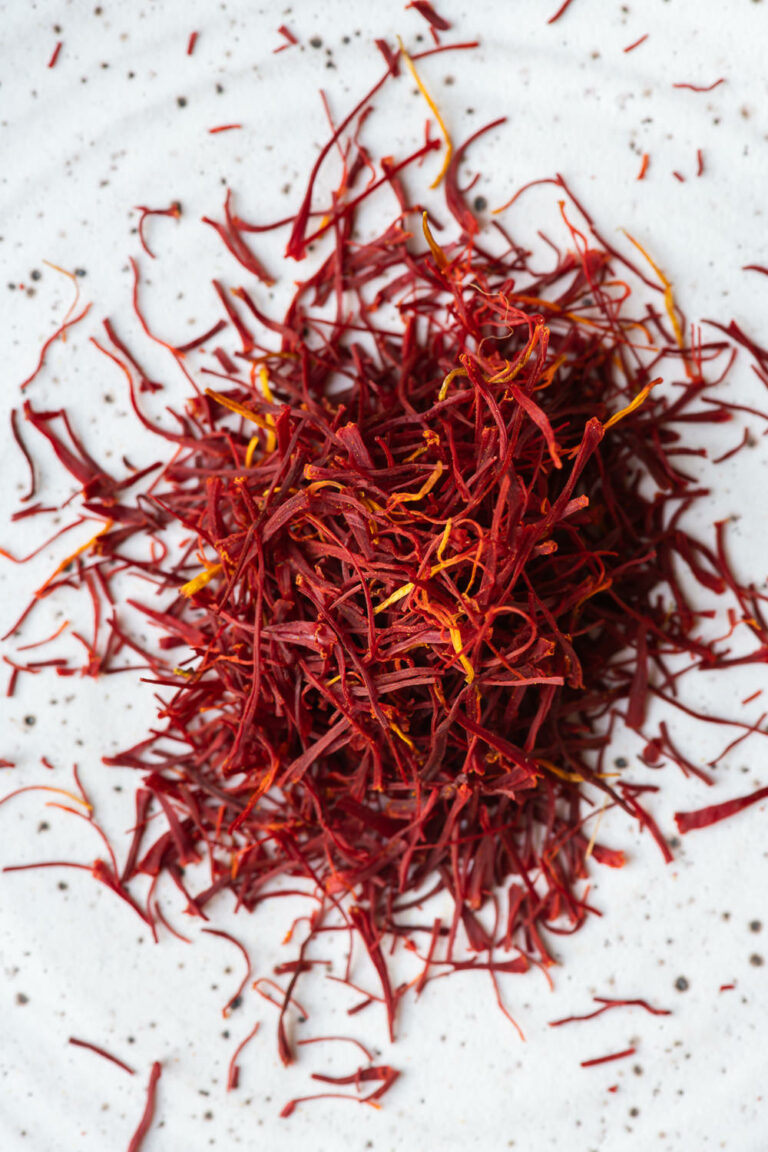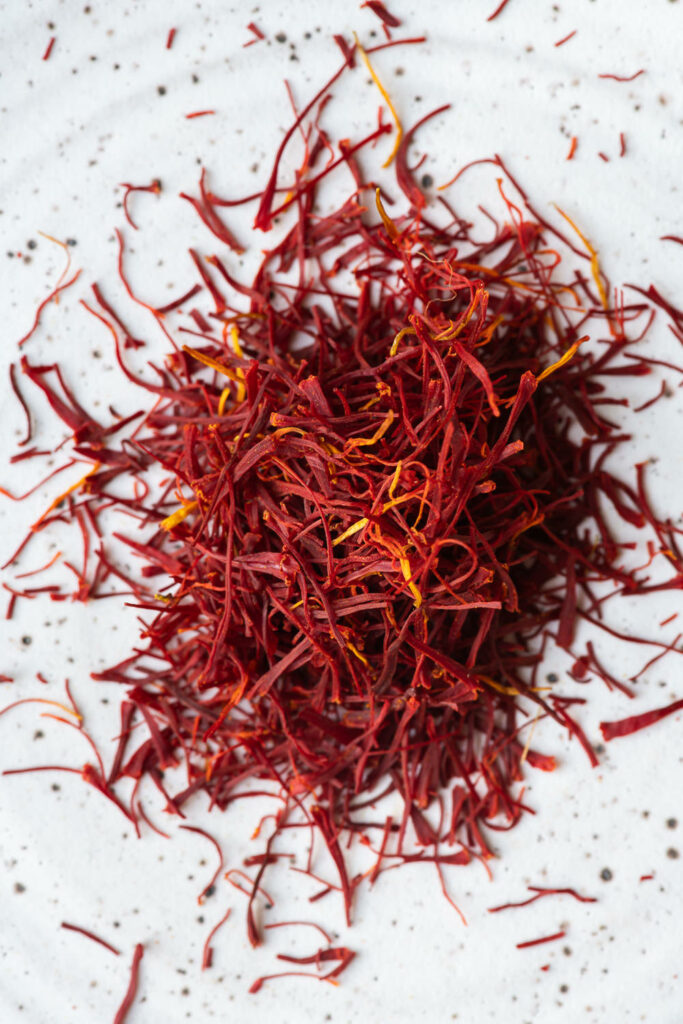 how to turn saffron aioli into a meal: le grand aioli
Grand aioli is essentially a grazing board. It's a feast of dippers, assembled around the main attraction: aioli. What's not to love? You can throw together a big spread of vegetables (fresh, blanched and roasted), hard boiled eggs, seafood, cured meat, crackers and bread. Pick your favorite items or whatever looks best at the store— if it can be dipped, it will be delicious. Grand aioli is a simple and fun summer dinner or a knockout party spread!
Here's a list of some of my favorite aioli dippers:
cucumbers, sliced
baby carrots
bell peppers, sliced
fennel, cut into wedges
cherry tomatoes
cauliflower, cut into florets
radishes, halved
endive leaves
green beans, blanched
asparagus, blanched
broccolini, roasted or blanched
baby potatoes, roasted or blanched
artichokes, roasted or steamed
beets, roasted, peeled and quartered
hard boiled eggs, quartered
spicy sausage, sliced
seafood (shrimp, crab, lobster, mussels, clams), steamed
chicken, roasted and shredded
baguette
crackers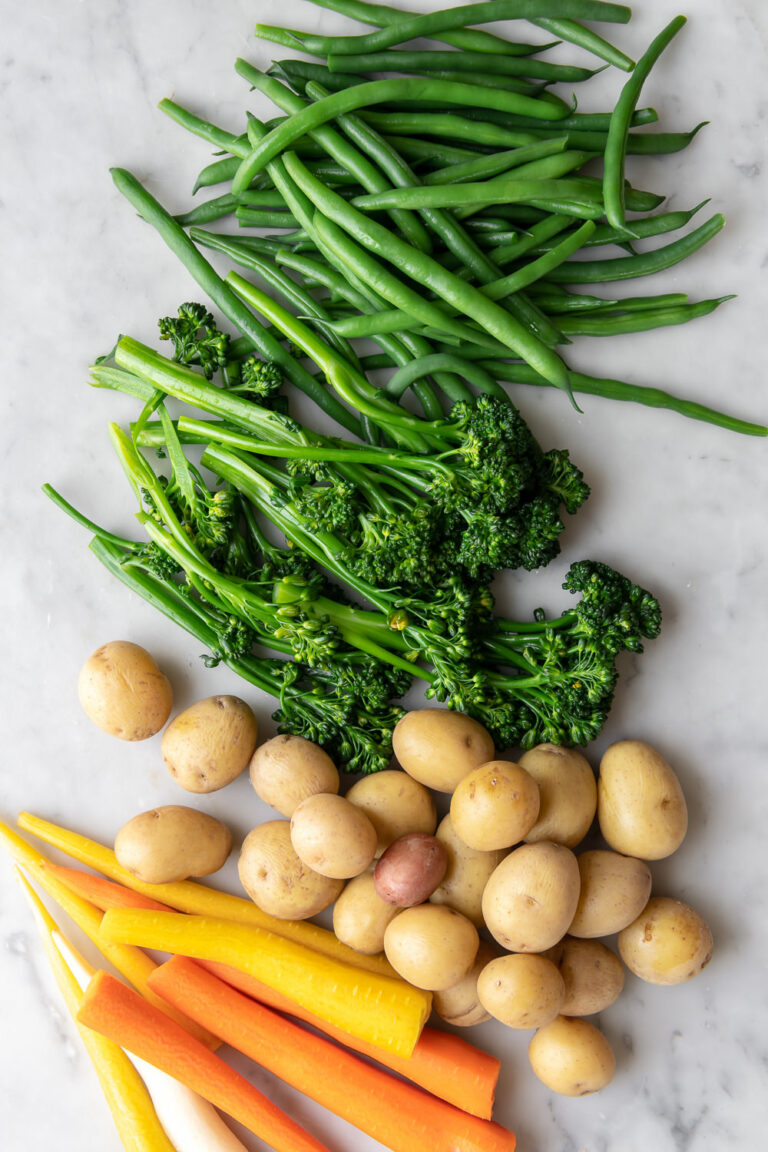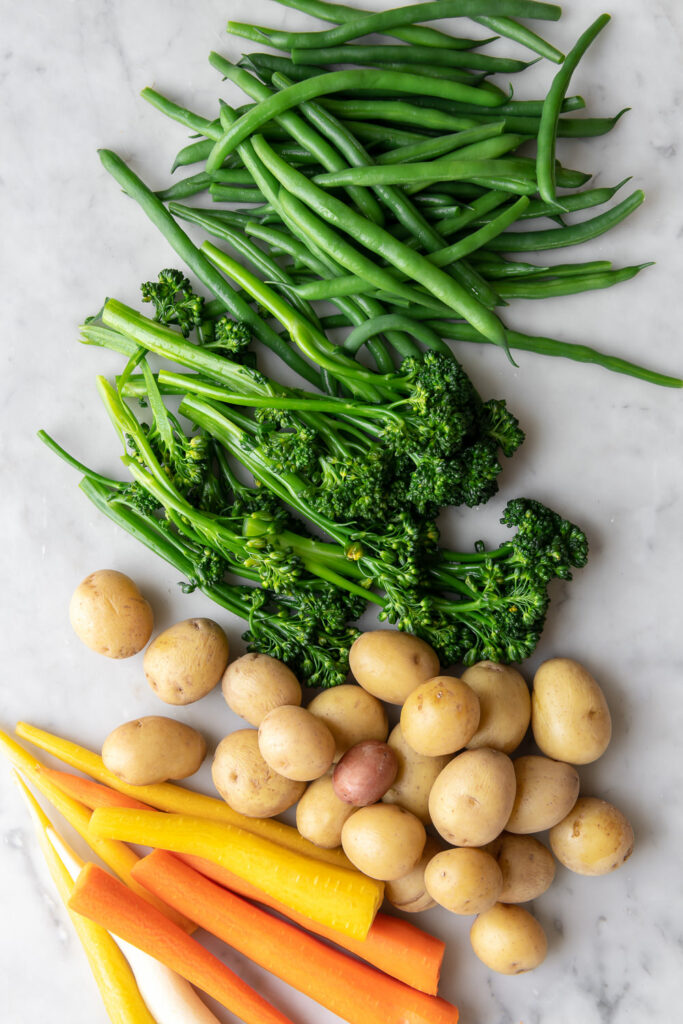 what is homemade aioli made of?
Eggs
Canola oil
Olive oil
Garlic
Salt
Lemon juice
Dijon mustard
Saffron (optional)
how do you make saffron aioli from scratch?
Steep saffron in hot water.
Coddle egg in boiling water for 1 minute.
Blend egg, saffron water, garlic, mustard, lemon juice and salt until frothy.
Slowly blend in olive oil and canola oil until thick.
Taste, adjust seasoning, and enjoy!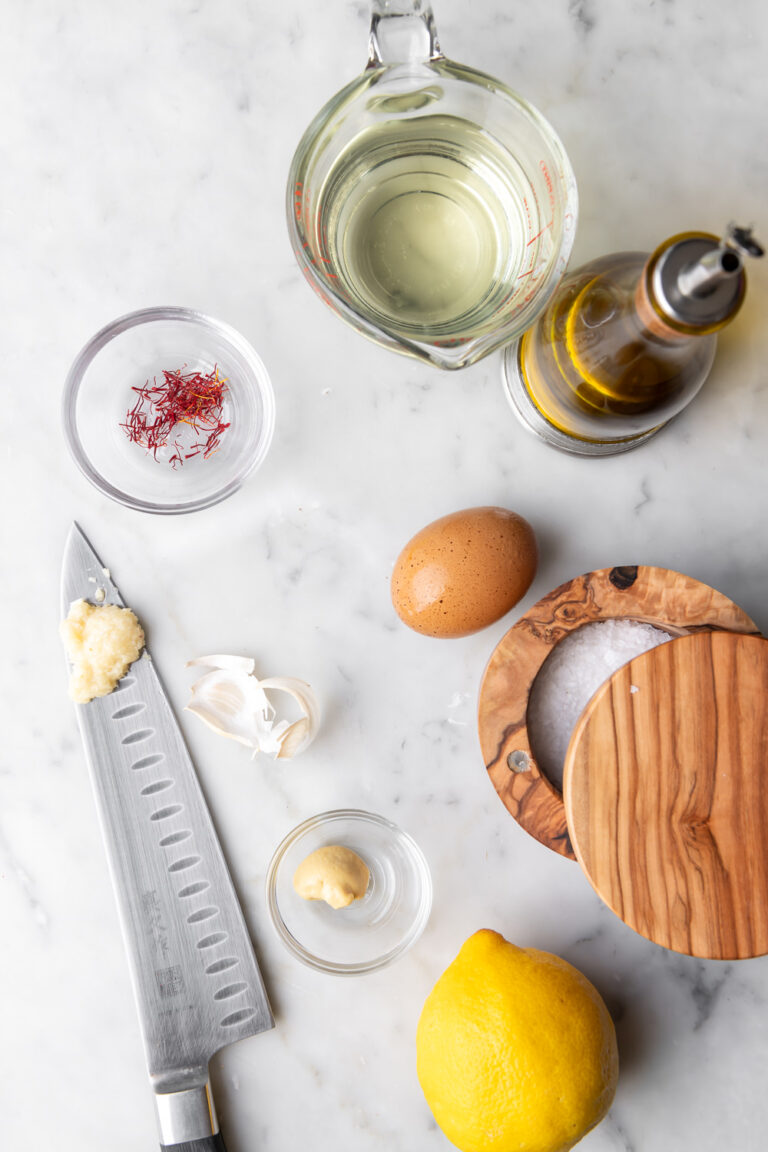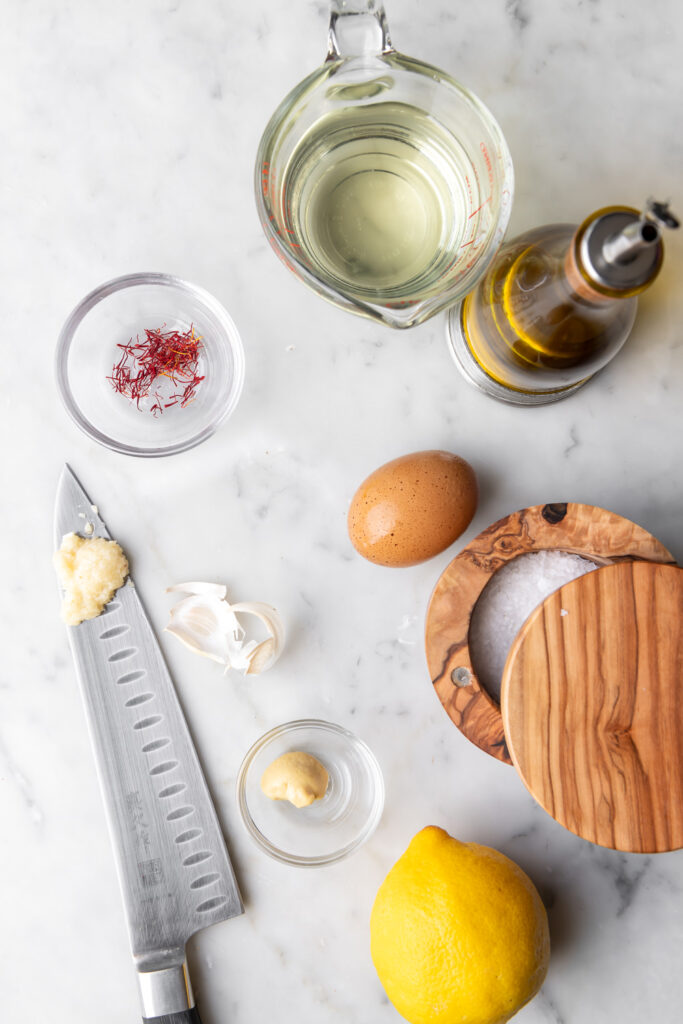 why did my aioli break?
When whisking by hand, adding too much oil too fast is most likely why your aioli broke. In a blender or food processor, though, your aioli probably broke from adding the oil too slowly and/ or over-processing it. Too much blending can cause the mixture to overheat and separate.
Aioli comes together really quickly and easily in a blender, so watch it closely and make sure to keep adding oil as it's blended in, then stop when it's thick.
how to fix a broken aioli
Take a deep breath-- broken aioli isn't so bad! Whisk up another fresh egg yolk. Slowly whisk the broken aioli into the new yolk, drip by drip, just as if you were starting from the beginning. The additional emulsifiers (lipoproteins) from the yolk will help keep the oil droplets suspended in the watery base and resuscitate your broken aioli.
can I eat raw egg in aioli?
If you're young (but not a baby) and healthy (but not pregnant), it's generally considered safe to eat raw eggs. It's thought that about one in 20,000 eggs are contaminated with salmonella. I'd say, your odds are pretty good— make the aioli and enjoy it! But if you're at all worried, just buy pasteurized eggs or pasteurize them yourself. Obviously, raw eggs are not recommended for infants, the elderly, pregnant women, and people with weakened immune systems.
how to store homemade aioli:
Store homemade aioli in an airtight, covered container in the refrigerator. It will last up to a week.
Unfortunately, you can't freeze aioli or the emulsion will break. Click here to read all the ways to use it up!
more homemade aioli tips:
Can discard the egg white, if desired. They add some body to the mayonnaise and have a small amount of stabilizing power, but it isn't necessary.
Skip the saffron, too, for a simple homemade aioli. Just make sure to include the water, or you could get a broken aioli.
more dip and spread recipes to try!:
the best sour cream and onion dip
Love spice? Try this recipe for sriracha aioli by Splash of Taste!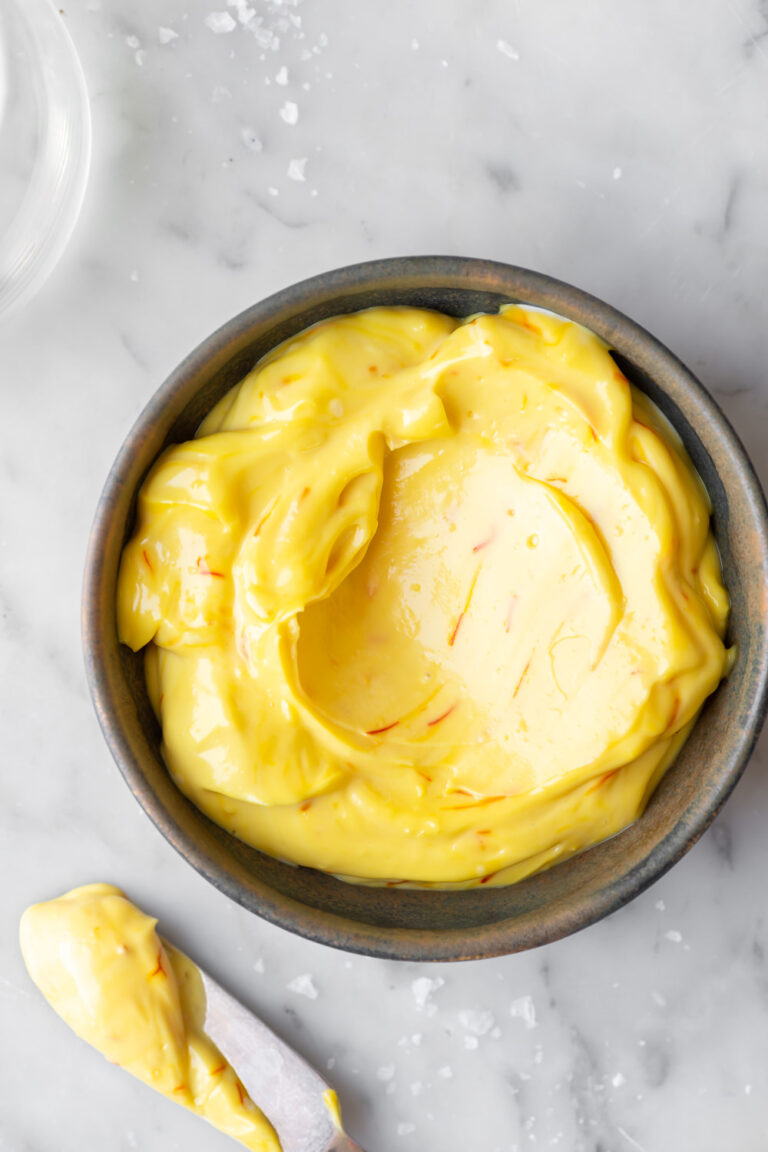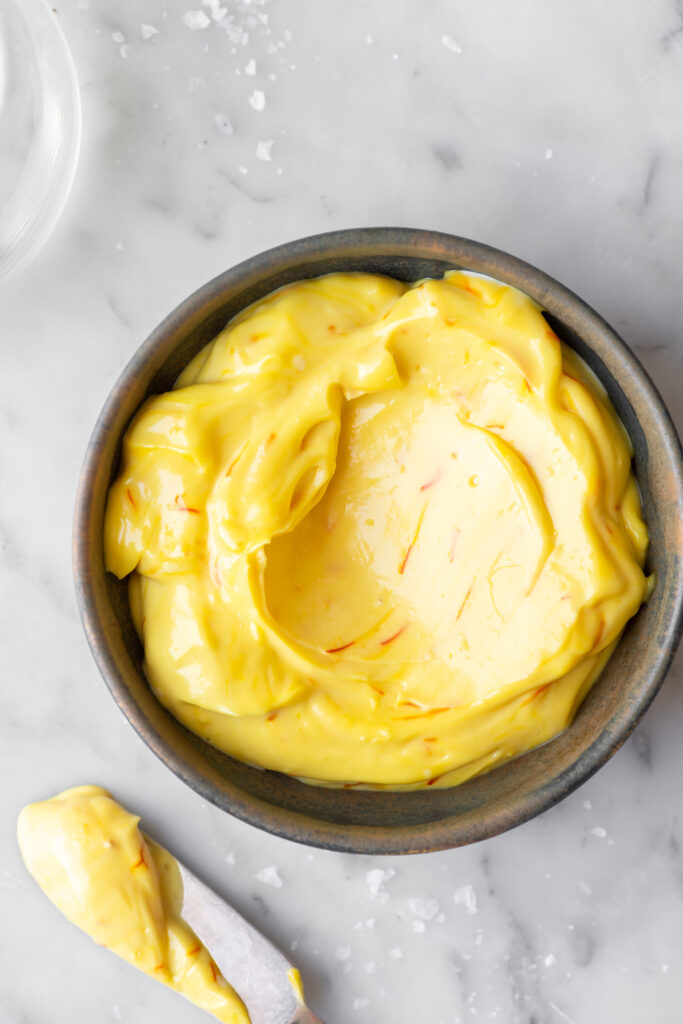 Print
saffron aioli
Saffron aioli is a rich, fragrant sauce that is perfect for sandwiches, fries, salads or as the main attraction of a grand aioli platter. Serve with your favorite vegetables, seafood, meat and crackers!
Author:
Prep Time:

5 minutes

Total Time:

5 minutes

Yield:

1 cup

Category:

Dip

Method:

Blender

Cuisine:

American

Diet:

Gluten Free
Ingredients
A pinch of saffron

1 ½ tsp

hot water

1

large egg

1

small garlic clove, mashed into a smooth paste, divided

½ tsp

Dijon mustard

2 ½ tsp

lemon juice

¼ tsp

kosher salt, plus more to taste

¾ cup

neutral oil (such as canola or grapeseed)

¼ cup

olive oil
Instructions
Place saffron in a small bowl and pour hot water over top. Let steep until water is orange, fragrant and cool, about 5 minutes.

Meanwhile, place the whole egg in a heat-proof bowl and pour boiling water over top. Let sit 1 minute. Pour off water and crack egg into a blender or small food processor. Add saffron water, ¼ tsp garlic paste, mustard, lemon juice and salt. Alternatively, combine it all in a bowl and whisk by hand. Blend until combined and frothy. 

With the blender on medium-low speed, add the neutral oil then the olive oil in a thin and slow stream until the aioli is thick (this should take about a minute). Taste, use a spoon to stir in more salt or garlic, if desired.
Notes
Nutritional information is only an estimate. The accuracy of the nutritional information for any recipe on this site is not guaranteed.
Nutrition
Serving Size:

1 tbsp

Calories:

100

Sugar:

0g

Sodium:

21mg

Fat:

11g

Saturated Fat:

1.1g

Unsaturated Fat:

9.8g

Trans Fat:

0g

Carbohydrates:

0.1g

Fiber:

0g

Protein:

0.3g

Cholesterol:

9.3mg
Keywords: saffron aioli, homemade aioli