Saffron risotto (risotto alla milanese) is a classic saffron-scented risotto with an intense golden hue, sweet buttery onions and the soft honeyed note of saffron.
I love the cozy elegance of good risotto. The smell of buttery onions, simmering white wine, and sharp nutty parmesan create so much comfort in the home. It sends me back to the simple comforts of my own childhood, and I hope it builds those warm memories for our kids.
When I talk about cozy elegance, though, saffron risotto is at the tippy top of the elegance spectrum (a lot like truffle risotto or lobster risotto). Pushing that boundary seems to be my thing!
Saffron's striking color and delicate perfume transform this bowl of rice into something you won't soon forget. Even more, it's lusciously creamy from the starchy rice, the butter, the gentle cooking, but it's also decisively toothsome.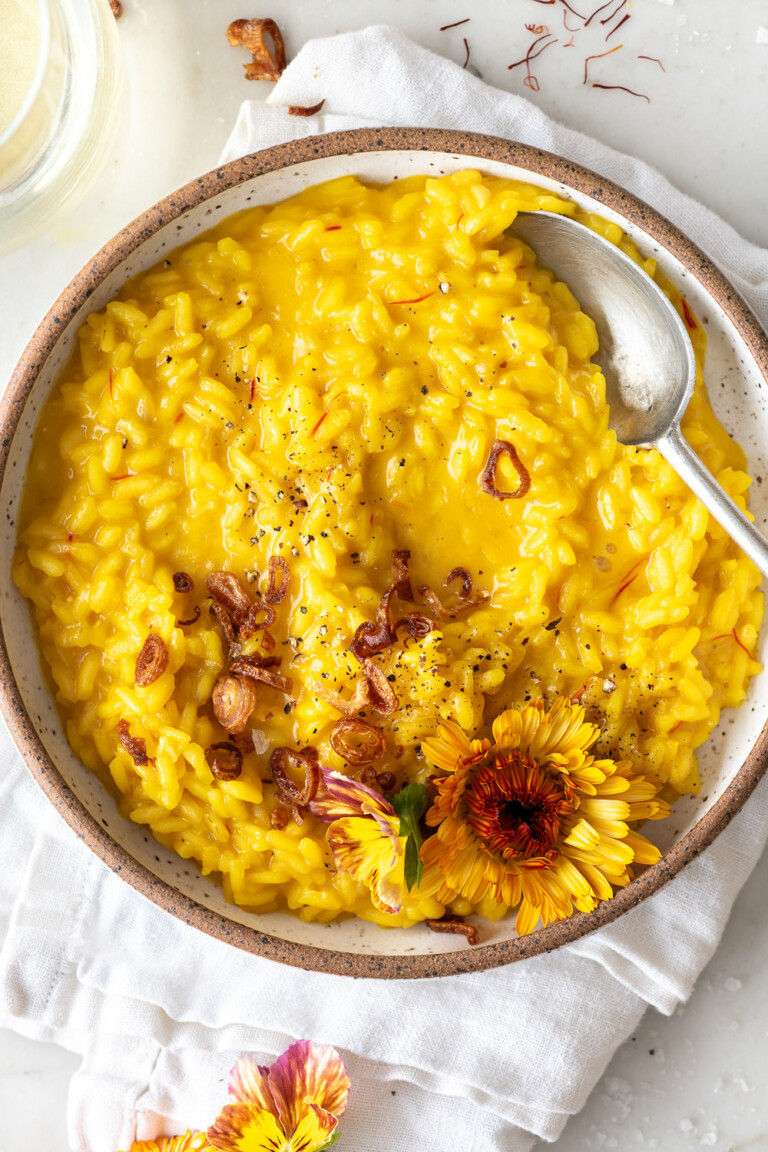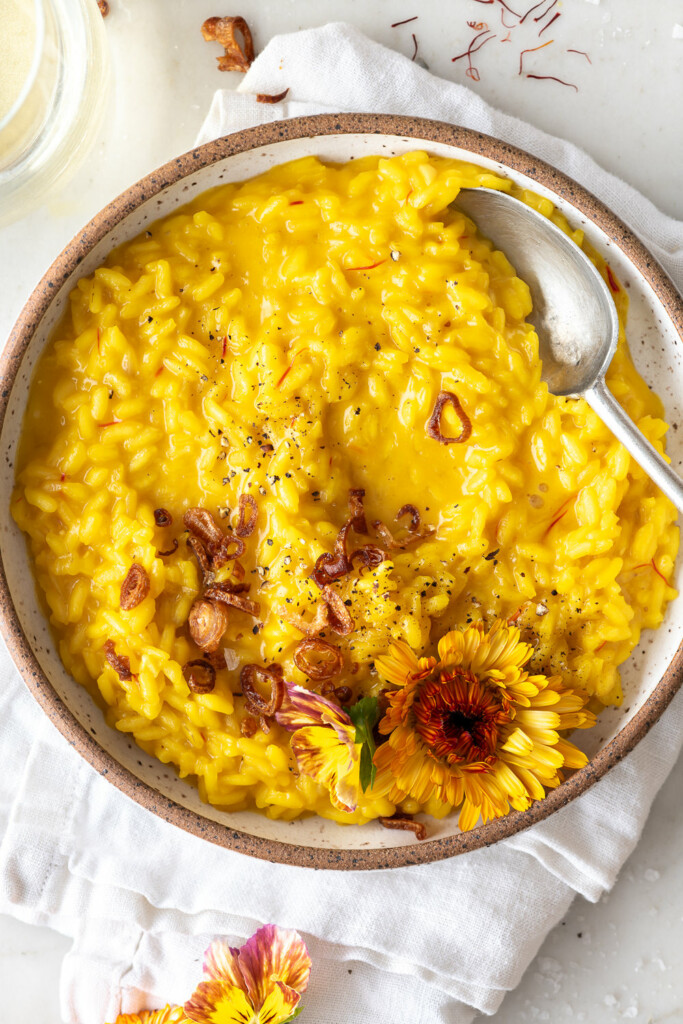 And that's the part that I just can't get enough of. That contrast of tenderness and perfect chew in each grain of silky, saucy rice.
I don't just stop there, though. I love to take this saffron risotto recipe to the next level with crispy fried shallots and a scattering of edible flowers. The former adds a sprinkling of salty, crispy flavor bombs (and the best cook's snack)!
And the edible flowers? Those just look so darn pretty, I can't help it. I also like to think they enhance the floral notes of the saffron that much more.
This post may contain affiliate links. As an Amazon Associate, I earn from qualifying purchases.
what is saffron risotto?
Saffron risotto, also known as risotto alla milanese, is a classic Italian risotto dish that's flavored with soft, sweet onions and saffron. The usual heavy pour of white wine, rich stock (I prefer chicken), butter and nutty parmesan tie the creamy rice together and make a stunning and memorable dish.
saffron risotto ingredients:
risotto rice (arborio, carnaroli, vialone nano)
saffron threads
shallot
onion
garlic
edible flowers (optional)
butter
parmesan
dry white wine
chicken stock
vegetable oil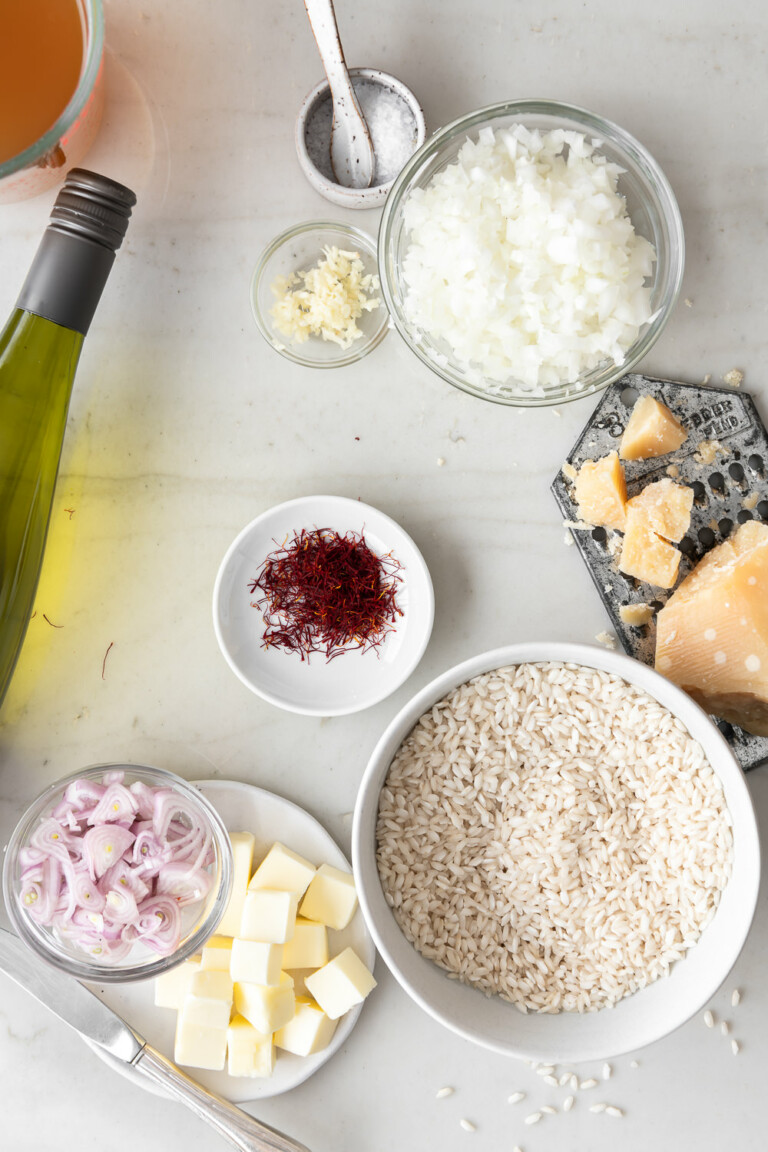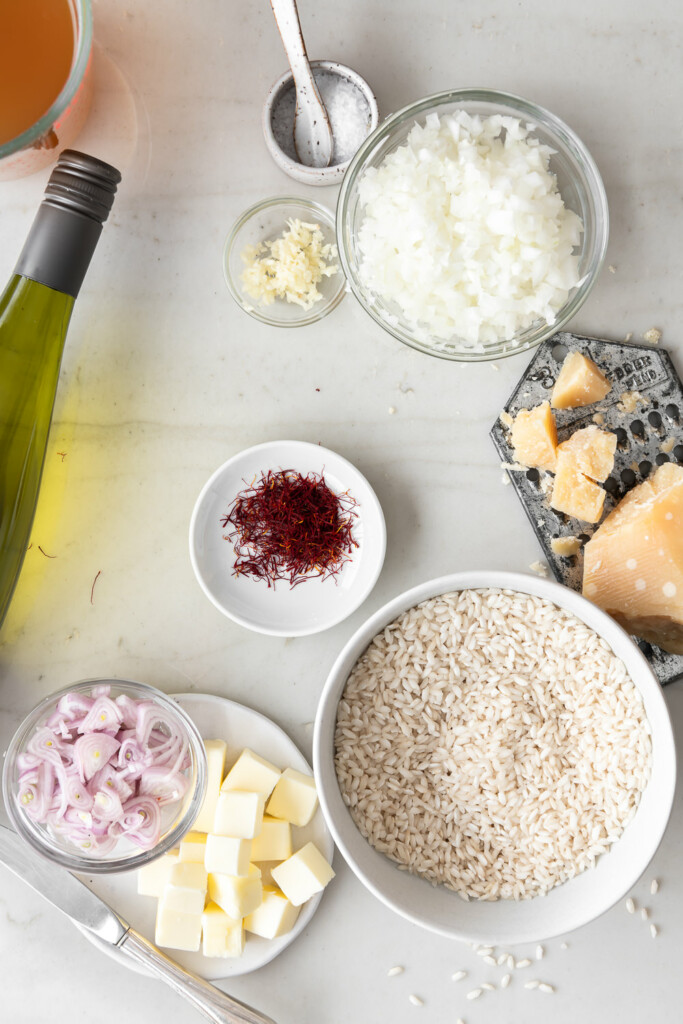 how to make saffron risotto:
Fry the shallots.
Heat chicken stock in a small saucepan and keep warm.
Gently cook onion and garlic until very soft, but not browned (add water to prevent caramelizing).
Stir in rice, cook until just translucent on the edges.
Add wine and cook until evaporated.
Add saffron and hot stock, little by little, until absorbed/ evaporated. Repeat process, stirring often, until rice is tender, toothsome and saucy, about 20 minutes.
Stir in a chunk of butter and grated parmesan.
Garnish with fried shallots and edible flowers; serve immediately.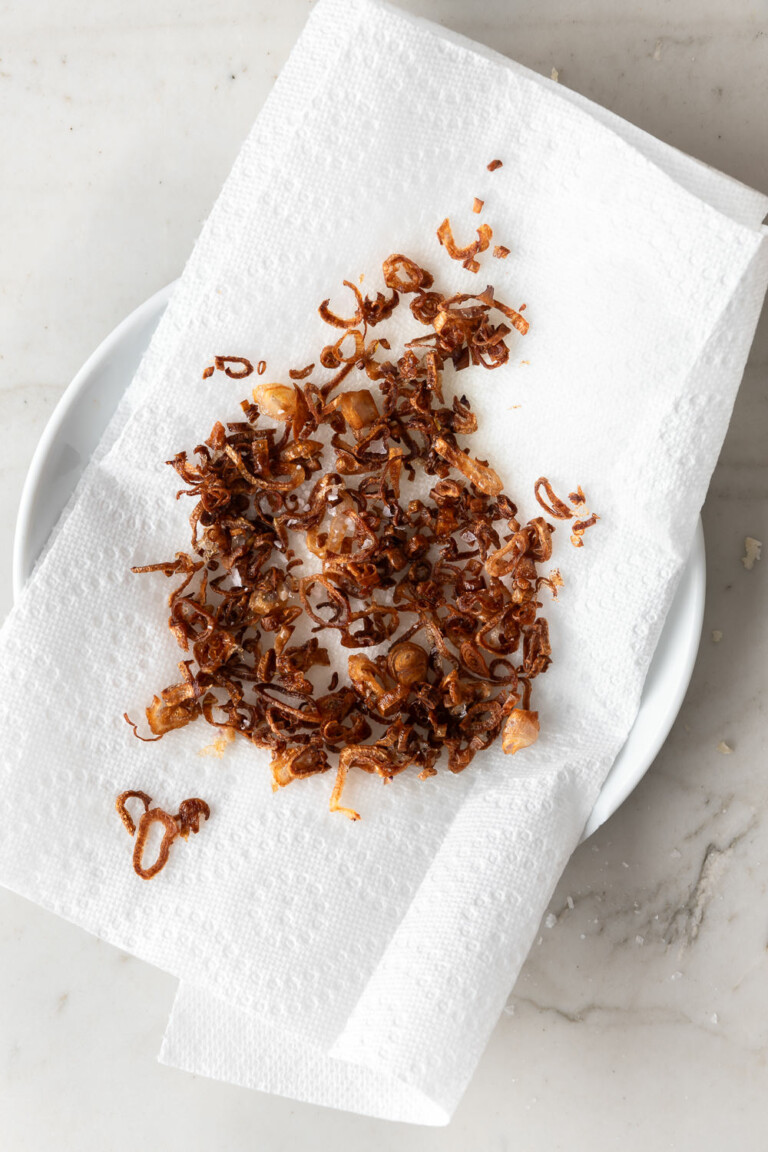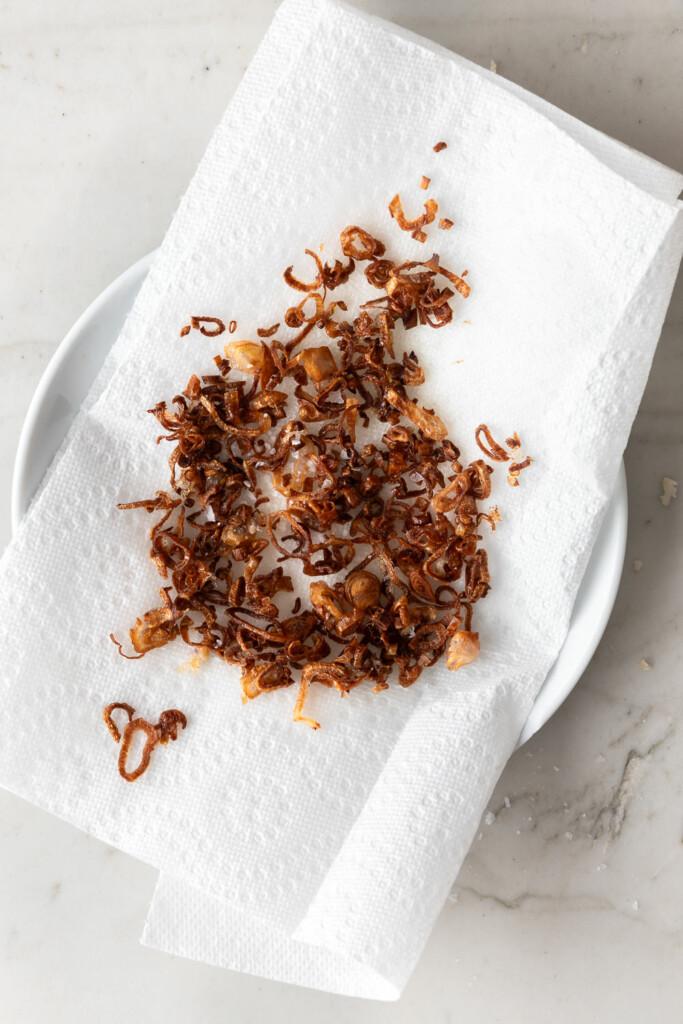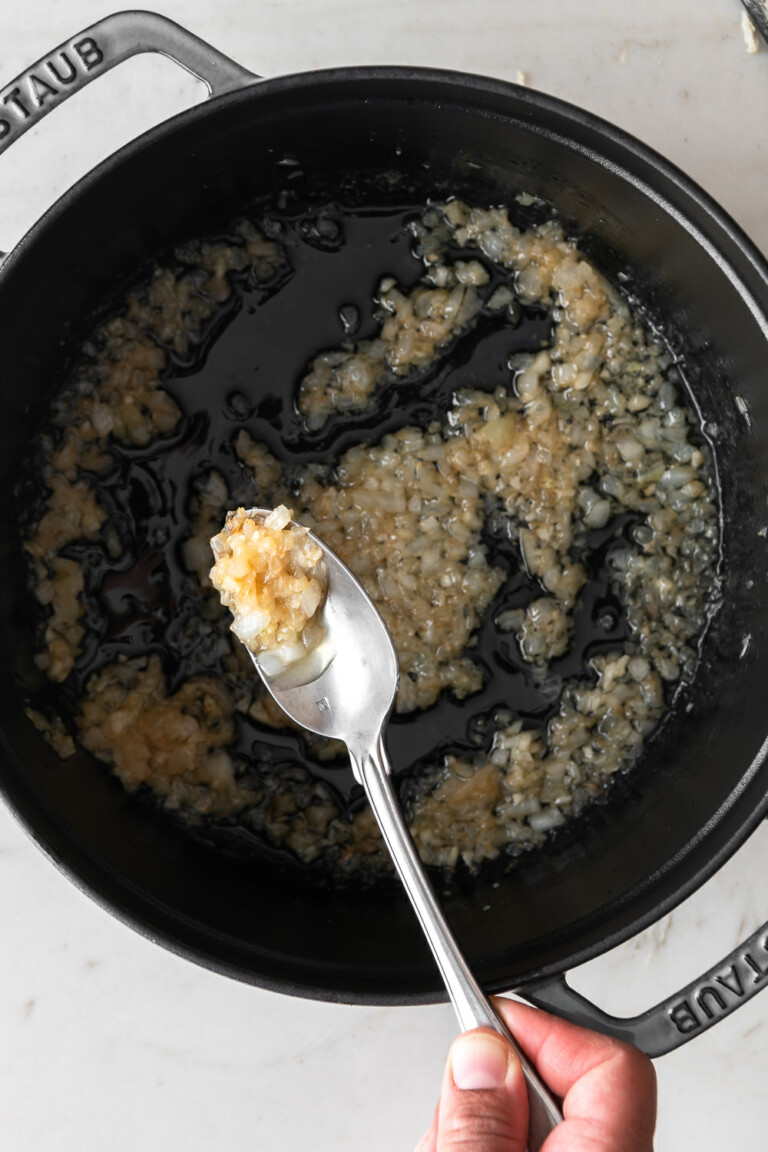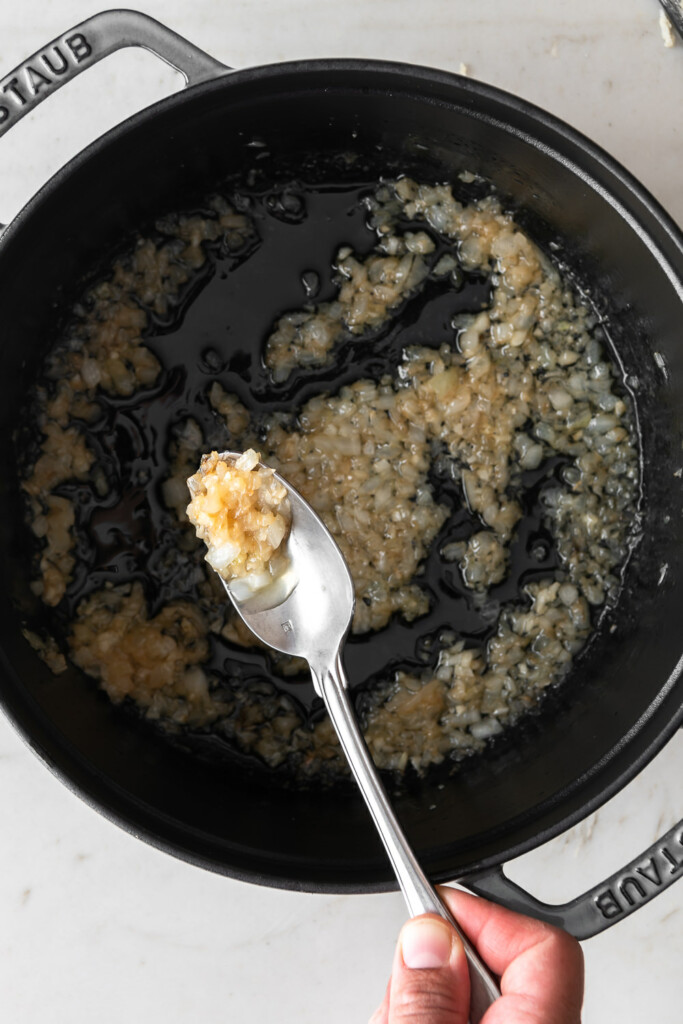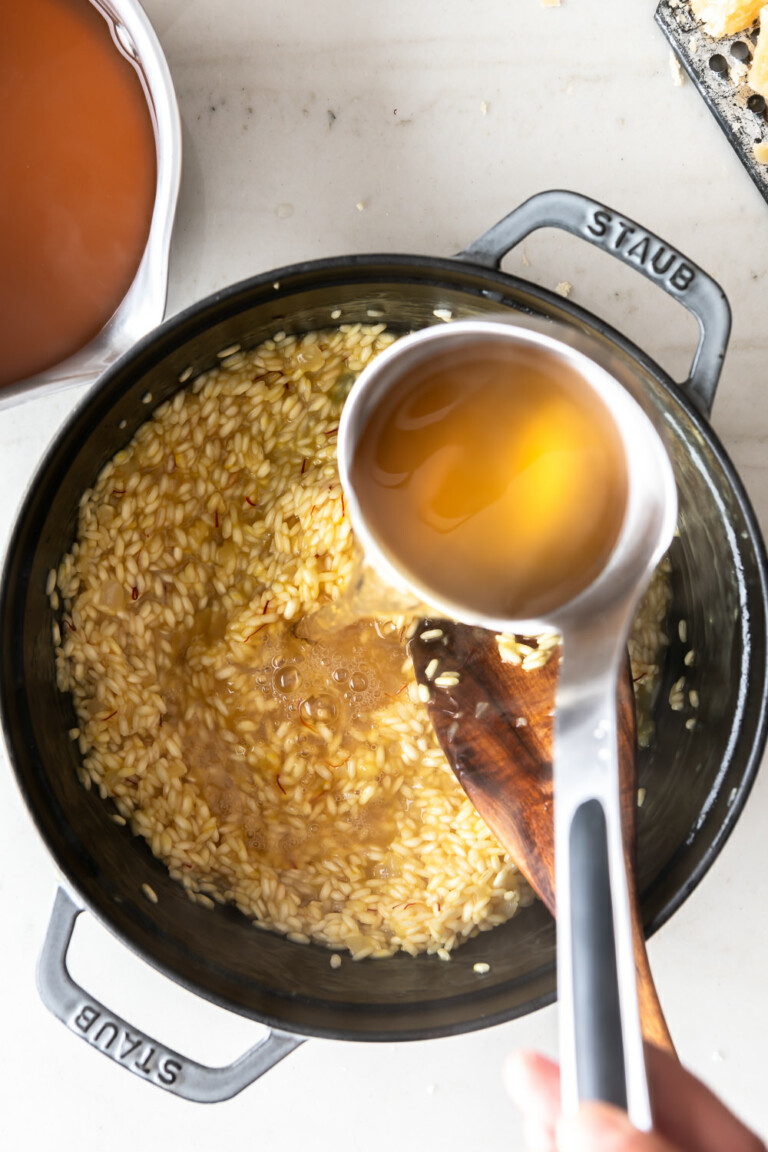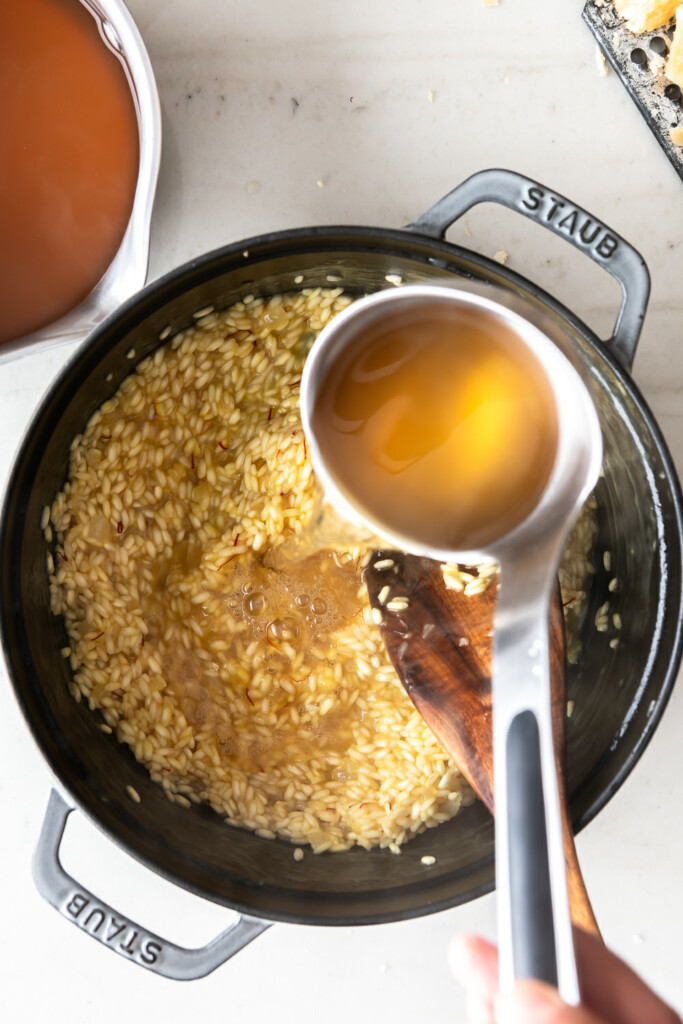 when to add saffron to risotto:
For the best flavor, add the saffron with the first ladle-full of hicken stock, just after the wine has cooked down.
Some recipes add saffron to the pot of hot chicken stock, but that can waste the saffron since we don't always add all of the stock. Make good use of those precious saffron strands and extract all the flavor directly into your rice!
what to serve with saffron risotto:
Top with garlicky sautéed shrimp or scallops
Serve with roast lobster tails
Serve with a filet of seared salmon
Stir in sautéed kale or wild mushrooms
Slice roast chicken and serve it over top
With crab cakes or a pile of buttery, lemony crab meat
Osso bucco!
A simple and fresh butter lettuce salad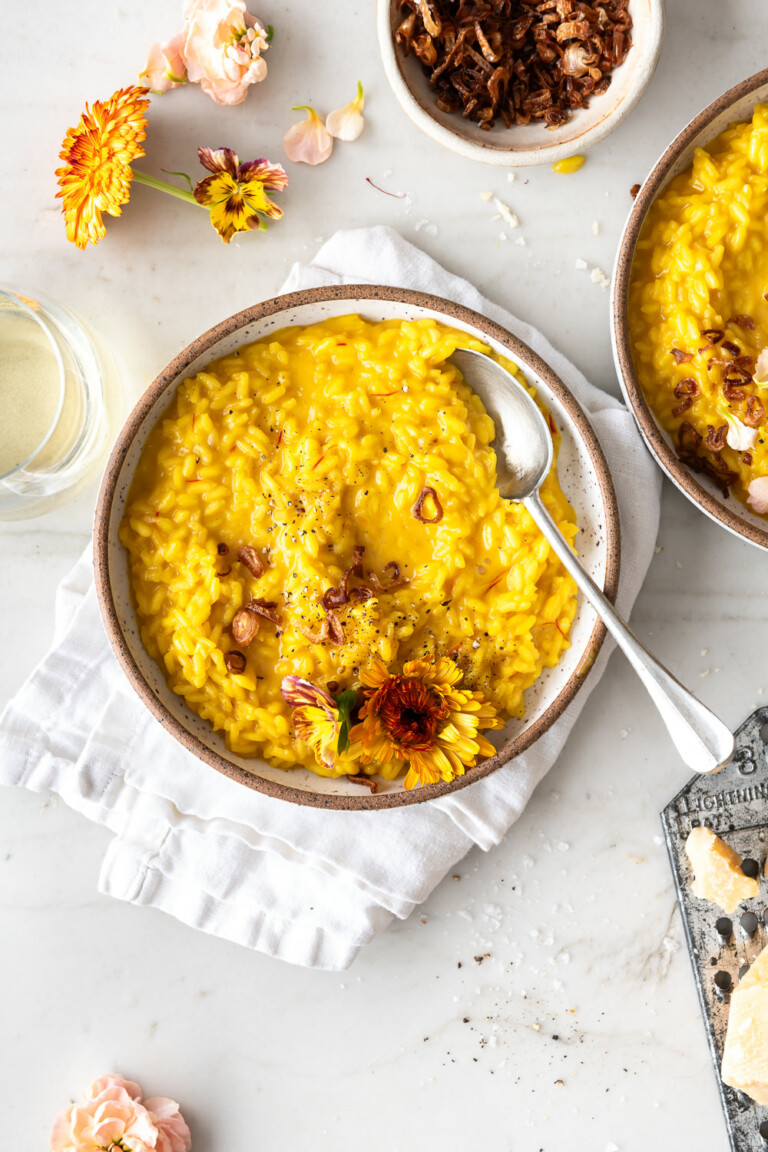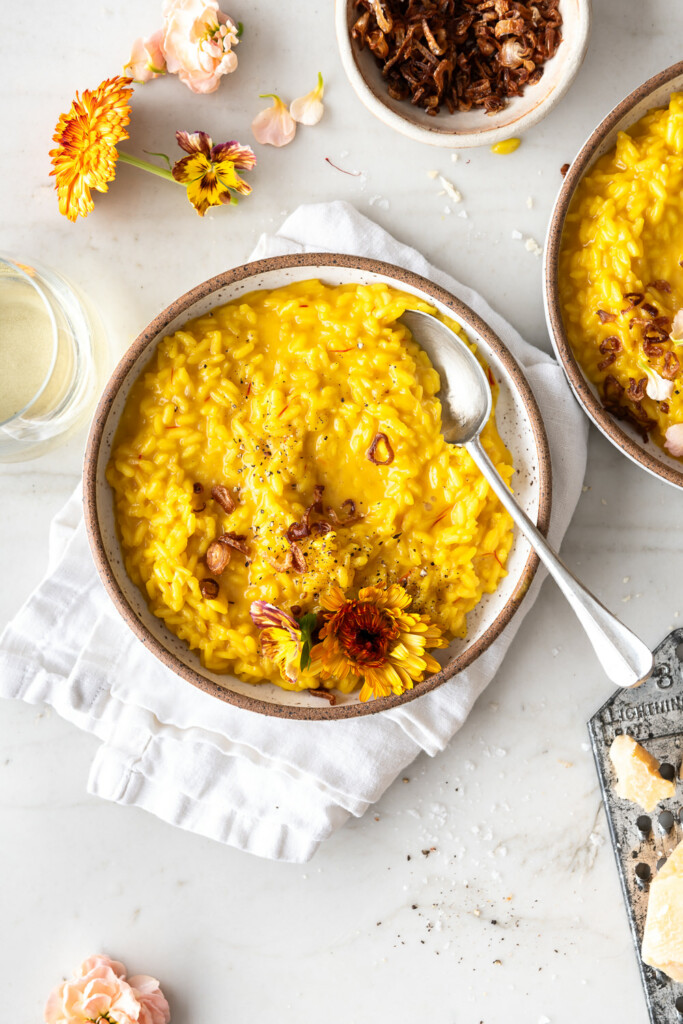 saffron risotto wine pairing:
Saffron risotto is floral and delicately flavored, but rich and lusciously textured. I prefer to pair the dish with white wines that have plenty of fresh acidity, floral notes, and rounded edges.
If the wine is too light, it'll be overpowered. But if it's too sweet or too oaky, it can overpower the subtle perfume of saffron.
Here are 3 varieties to look for, along with a few regions that will have the ideal style!
Pinot Gris: Make sure to pick a dry version, such as a full-bodied, spicy and complex wine from Alsace, France. 
Reisling: Look for a dry wine with structured acidity, ripe flavors and a creamy texture. Alsace, France and Niederosterrich, Austria are great regions for this style!
Chenin blanc: Incredibly floral wines with laser-acidity and honeyed richness. These also come in the full spectrum of sweetness, so make sure to find a dry version! Savennières, South Africa and California are most likely to produce these ripe, dry, creamy styles.
saffron risotto tips:
To get the perfect toothsome texture in your risotto (tender but firm in the center), don't feel like you need to add all the stock. Moisture levels can change a lot with the varietye of rice, pan type, heat intensity, and evaporation rate.

To get perfectly cooked risotto, simply taste the rice as you go. Keep it at a gentle simmer, stir often, and be patient. Pull it from the heat when you like the texture, stir in the butter and parmesan and enjoy immediately.

Use hot stock so the rice can maintain an even simmer.
You don't need to stir risotto constantly! Too much stirring can make the rice gluey. Stir just enough to prevent scorching on the bottom, and to help the rice cook evenly.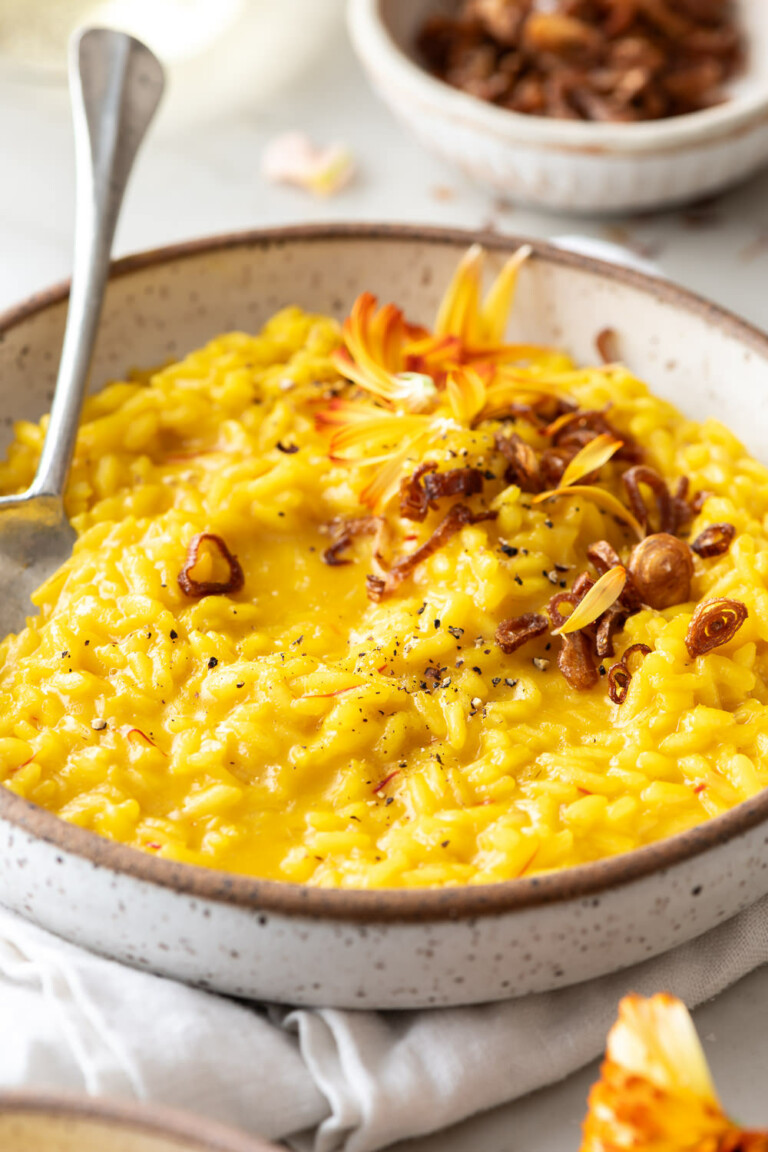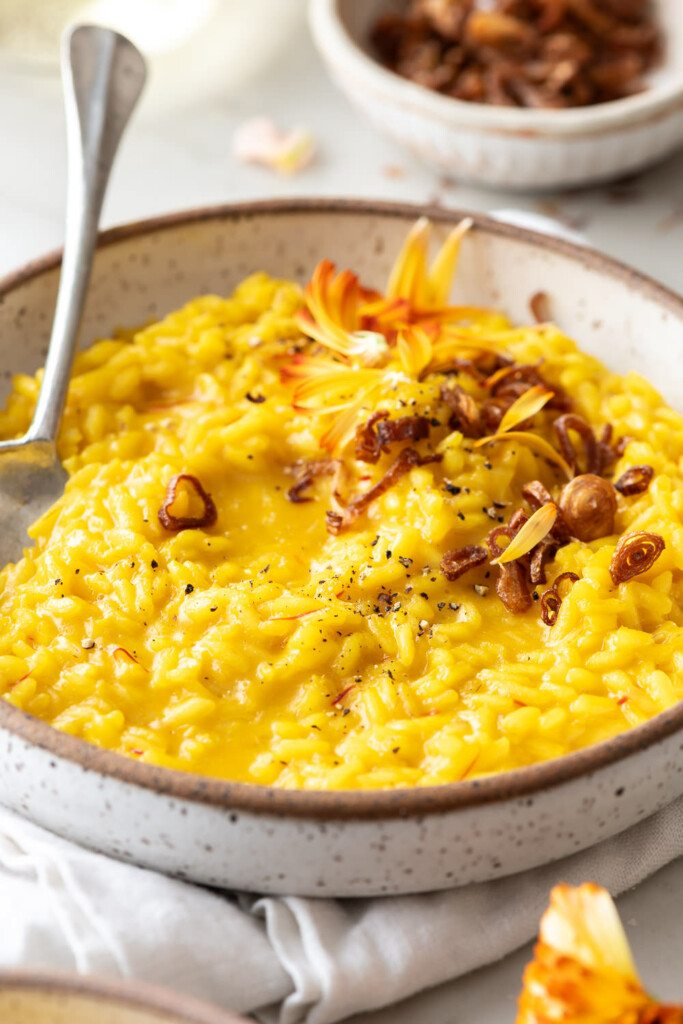 more risotto recipes to try!
If you love saffron, try our saffron aioli!
Print
saffron risotto (risotto milanese)
Saffron risotto (risotto alla milanese) is a classic risotto recipe with a golden hue, sweet buttery onions and soft honeyed scent of saffron.
Author:
Cook Time:

45 minutes

Total Time:

45 minutes

Yield:

4

Category:

Rice

Method:

Stovetop

Cuisine:

Italian

Diet:

Gluten Free
Ingredients
fried shallots:
2

shallots, thinly sliced into rings
vegetable oil, for frying (about ½ cup)
fine salt
saffron risotto:
6 cups

low-sodium chicken stock (you may not need all of it)

6 tbsp

cold butter, divided

1

small onion, finely diced

1

garlic clove, minced
kosher salt
freshly ground black pepper

1 ½ cups

risotto rice (arborio, carnaroli, vial

one

nano)

1 cup

dry white wine

1 tsp

saffron threads

1 ¼ cups

finely grated parmesan, plus more for serving
edible flower petals, such as calendula, for garnish (optional)
Instructions
fried shallots:
Place shallots in a small pot and cover with vegetable oil. Cook over medium heat, stirring occasionally to keep the rings separate, until golden brown, 15- 20 minutes. Lower the heat, if needed, to maintain a steady but gentle simmer.
Use a slotted spoon to transfer fried shallots to a paper towel-lined plate. Sprinkle with salt and let cool.
saffron risotto:
Heat chicken stock in a small saucepan over medium-low heat; keep it hot but not simmering.
Melt 4 tablespoons butter in a large pot over medium heat. Add onion, season with salt and pepper, and cook until soft and translucent, 8- 10 minutes. Add garlic and cook for about 30 seconds, then add ¼ cup water. Continue to cook until water has evaporated and onion is very soft, but not browned, about 5 more minutes.
Add rice and stir to coat in butter. Cook until rice turns slightly translucent but not toasted, 2- 3 minutes. Add wine and stir until liquid is fully absorbed and the rice is mostly dry.
Add saffron, a ladleful of hot stock and a big pinch of salt and black pepper. Reduce heat to a gentle simmer and stir every so often to incorporate the liquid and keep the rice from scorching (over-stirring can make it gluey). When the rice looks almost dry, add another cup of hot stock. Repeat the process, stirring often and maintaining a gentle simmer, until rice is tender but al dente and liquid is mostly absorbed (you may not need all of the stock), 15- 20 minutes.
Remove from heat and stir in the remaining 2 tablespoons cold butter and parmesan; season to taste with salt and black pepper.
Divide risotto into serving bowls and top with fried shallots and edible flower petals (if using). Serve immediately.
Notes
Nutritional information is only an estimate. The accuracy of the nutritional information for any recipe on this site is not guaranteed.
Nutrition
Serving Size:

¼th of recipe

Calories:

456

Sugar:

2.1g

Sodium:

704mg

Fat:

26g

Saturated Fat:

16g

Unsaturated Fat:

7.7g

Trans Fat:

1g

Carbohydrates:

28g

Fiber:

0.2g

Protein:

11g

Cholesterol:

73mg
Keywords: saffron risotto