Creamy lemon risotto is perfectly chewy, saucy, and fresh. Mascarpone and butter add a silky texture and mellow out the tart lemon, while parmesan gives a salty bite to the rice.
Lemon risotto is one of my favorite types of risotto. I just love combination of zesty lemon, perfectly cooked rice and a luxurious sauce. While I love making all different kinds of risotto, lately I've become kind of obsessed with making versions as silky and creamy as possible.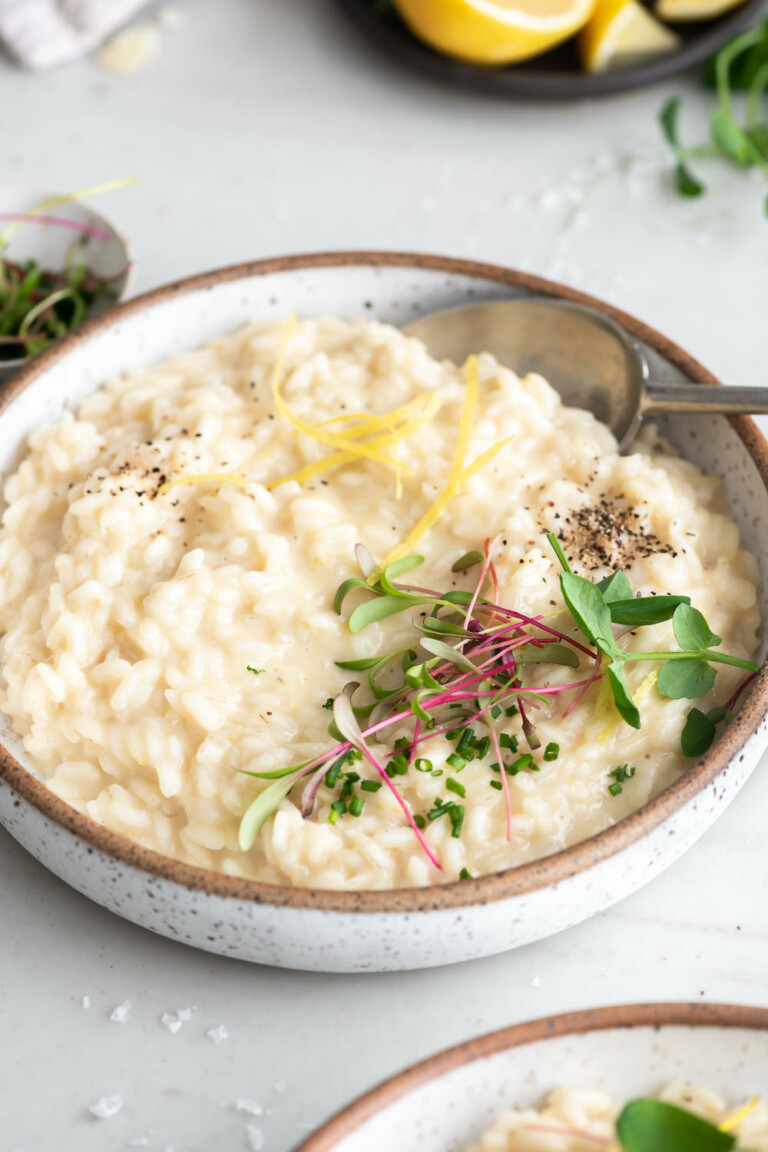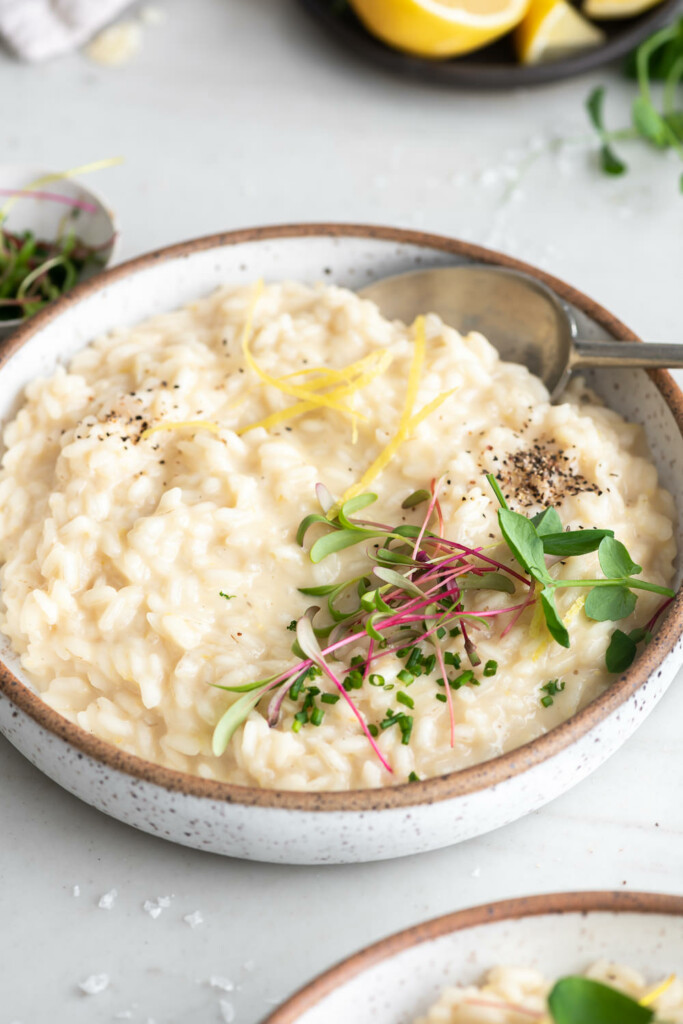 A lot of the silkiness comes from using the right rice, which I'll talk about. But in the case of this lemon risotto, I ramp up the luscious texture even more with mascarpone and a few cubes of butter.
The result is almost too good: perfectly cooked rice suspended in an ultra-silky sauce and brightened with a ton of fresh lemon zest and juice. And while this makes a stunning dish all on its own, click here for a list of ways you can add on to the recipe to make it your own!
This post may contain affiliate links. As an Amazon Associate, I earn from qualifying purchases.
what you need for this lemon risotto recipe:
chicken stock
butter
shallot
risotto rice
white wine
lemon
parmesan
mascarpone
soft herbs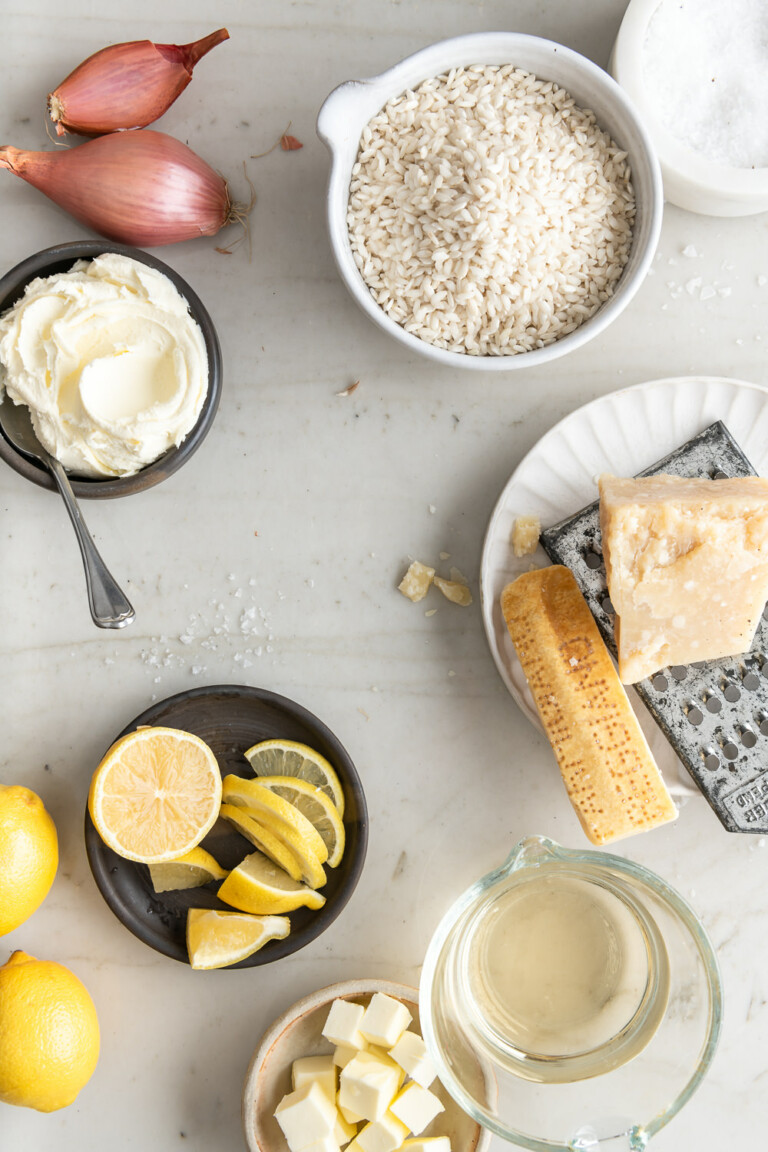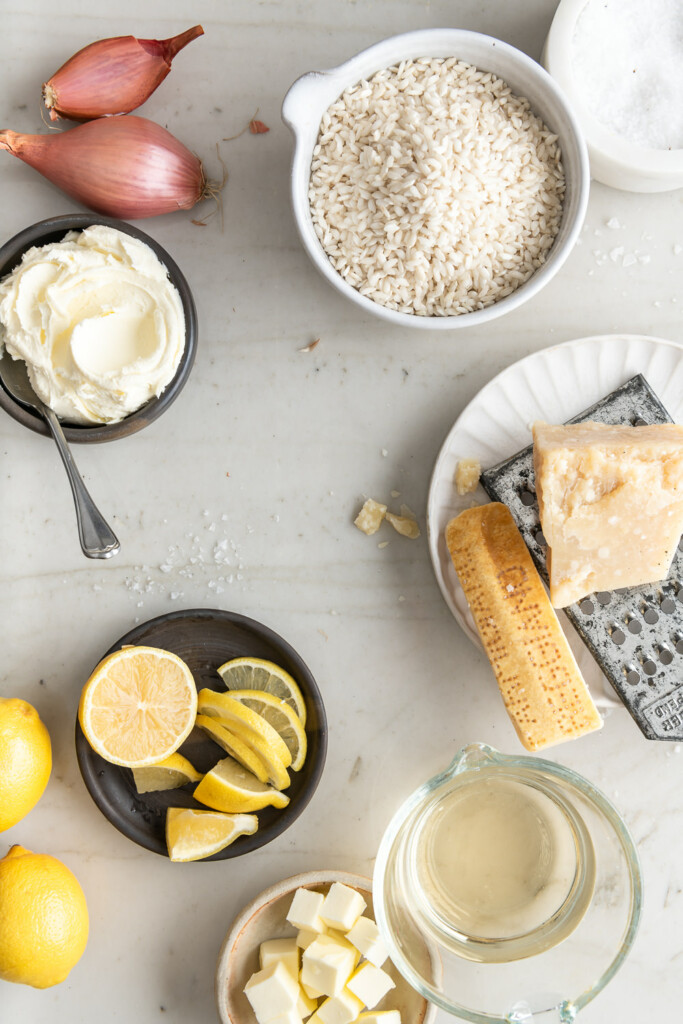 how to make lemon risotto:
Heat chicken stock in a small saucepan and keep warm.
Gently cook shallot until soft.
Stir in rice and cook until just translucent on the edges.
Add wine and cook until evaporated.
Add hot stock, little by little, until absorbed/ evaporated. Repeat process, stirring often, until rice is tender, toothsome and saucy, about 20 minutes.
Stir in butter, lemon zest, lemon juice, parmesan and mascarpone.
Divide into bowls and garnish with herbs.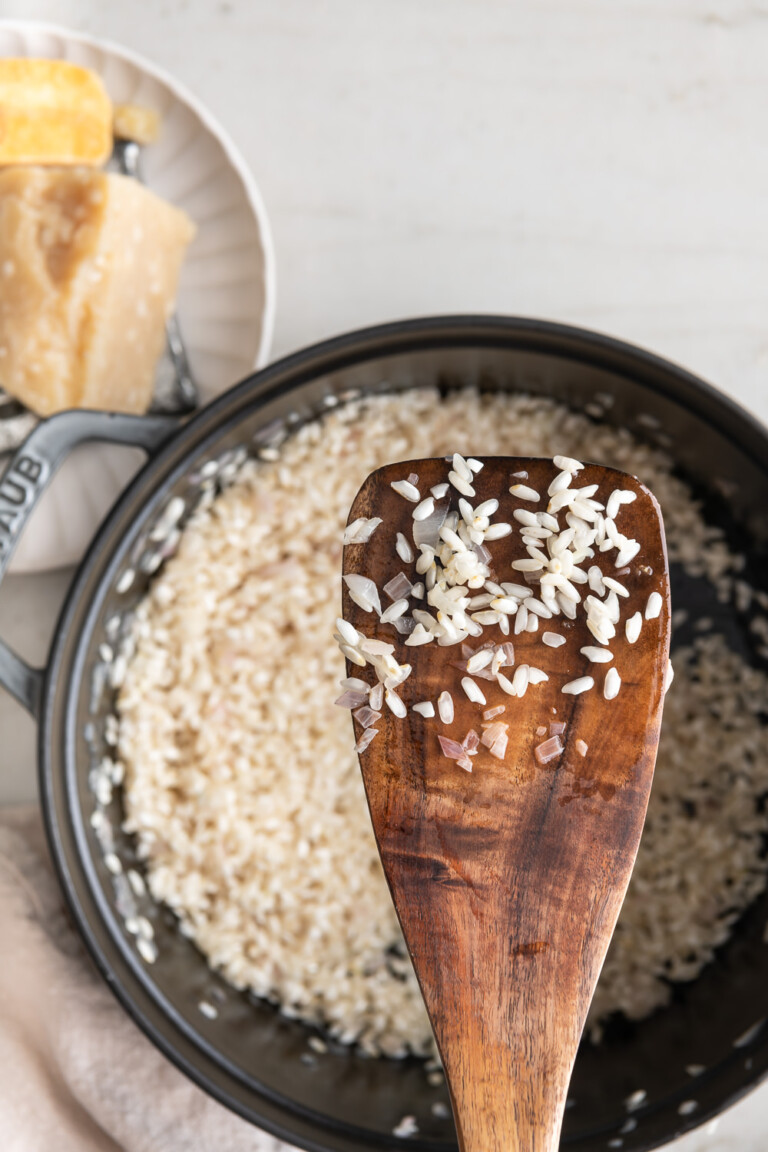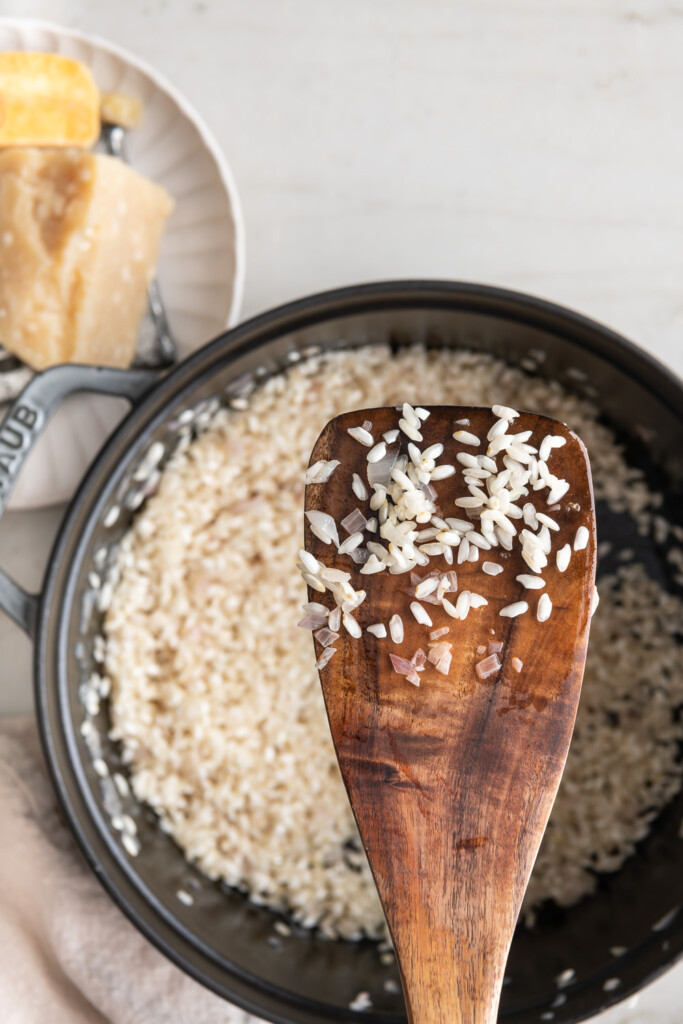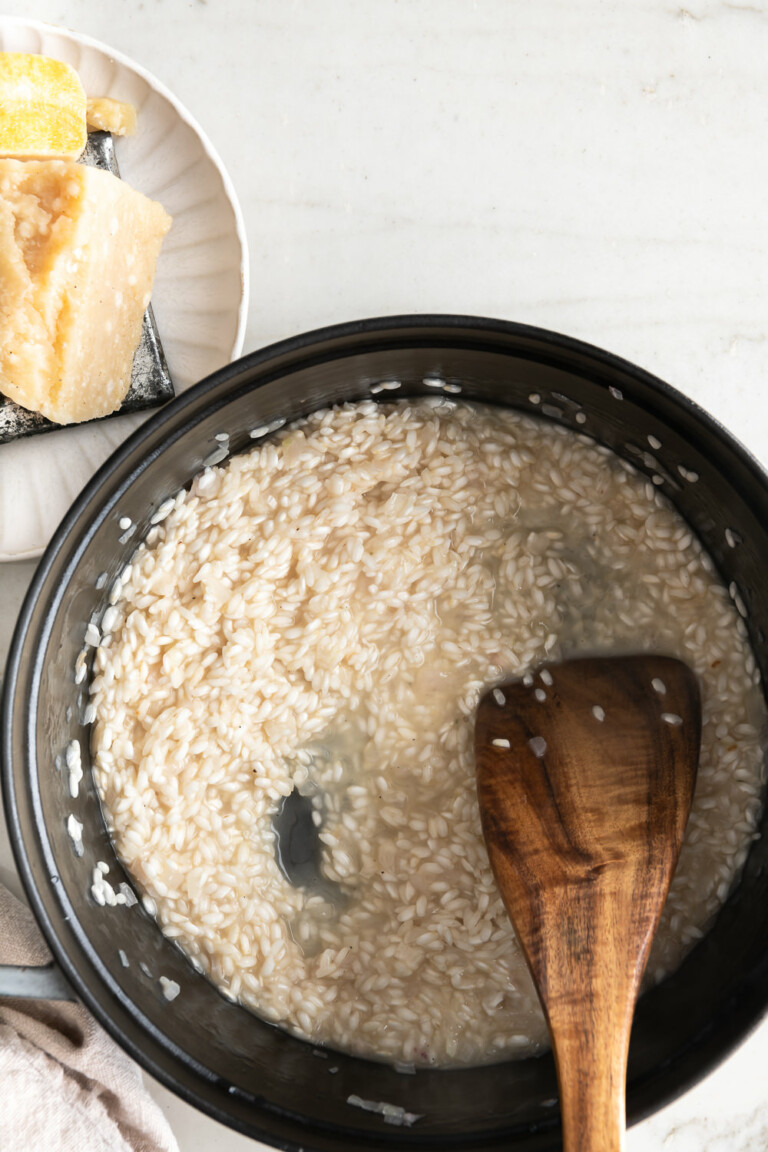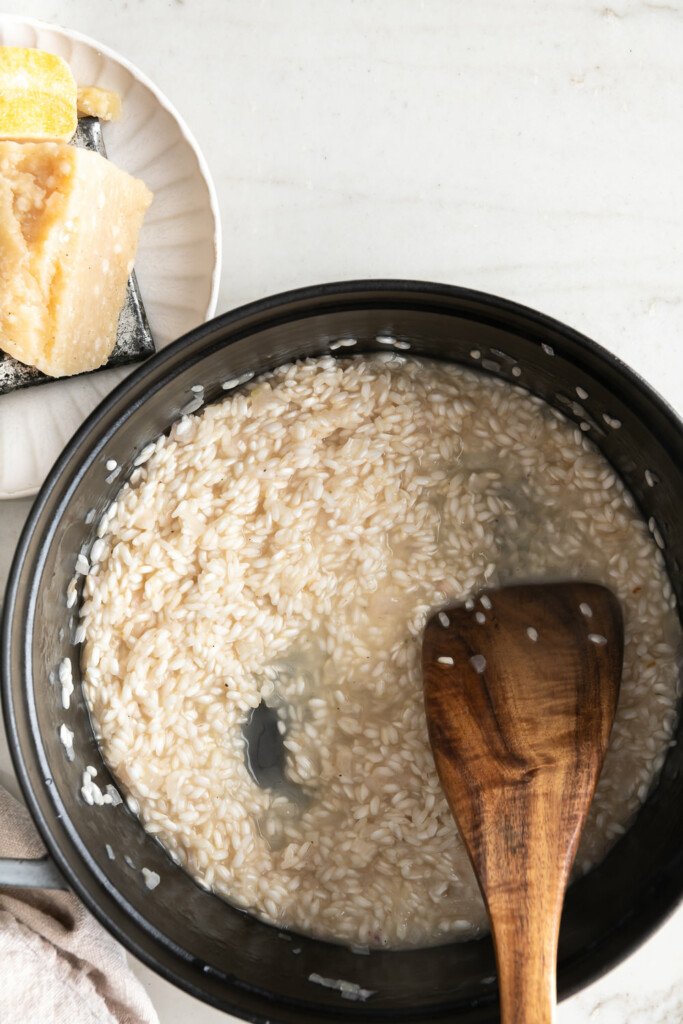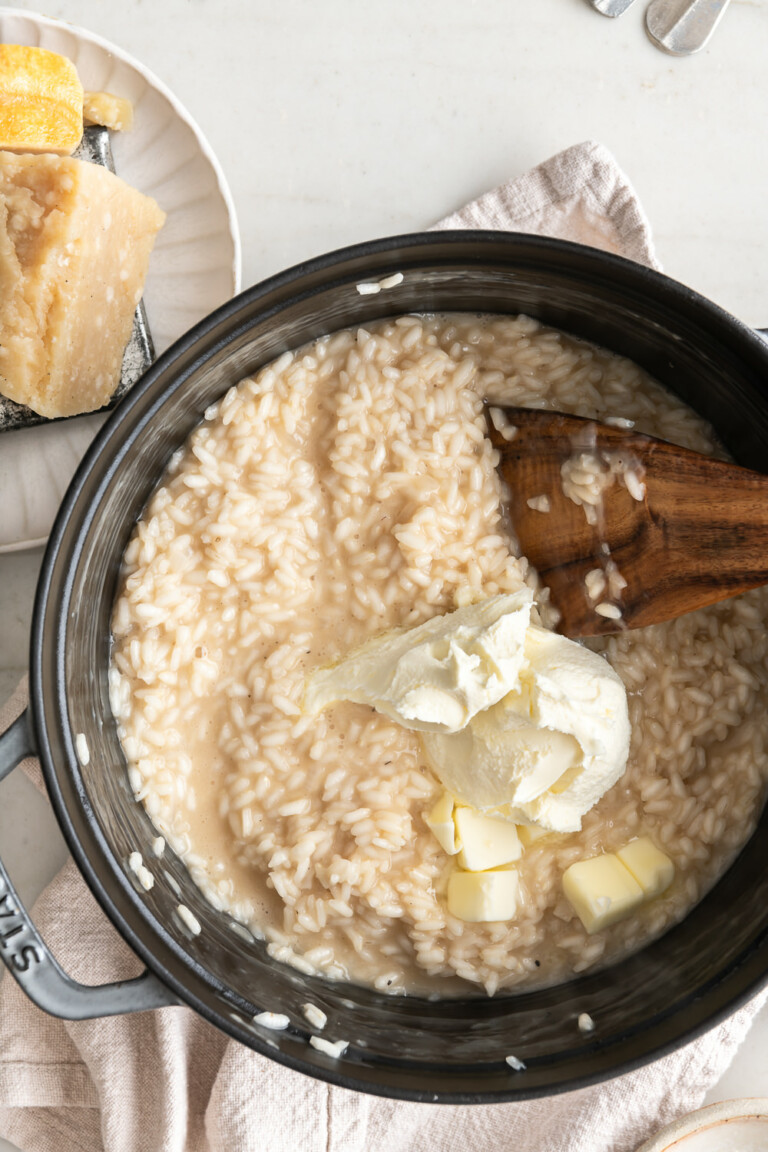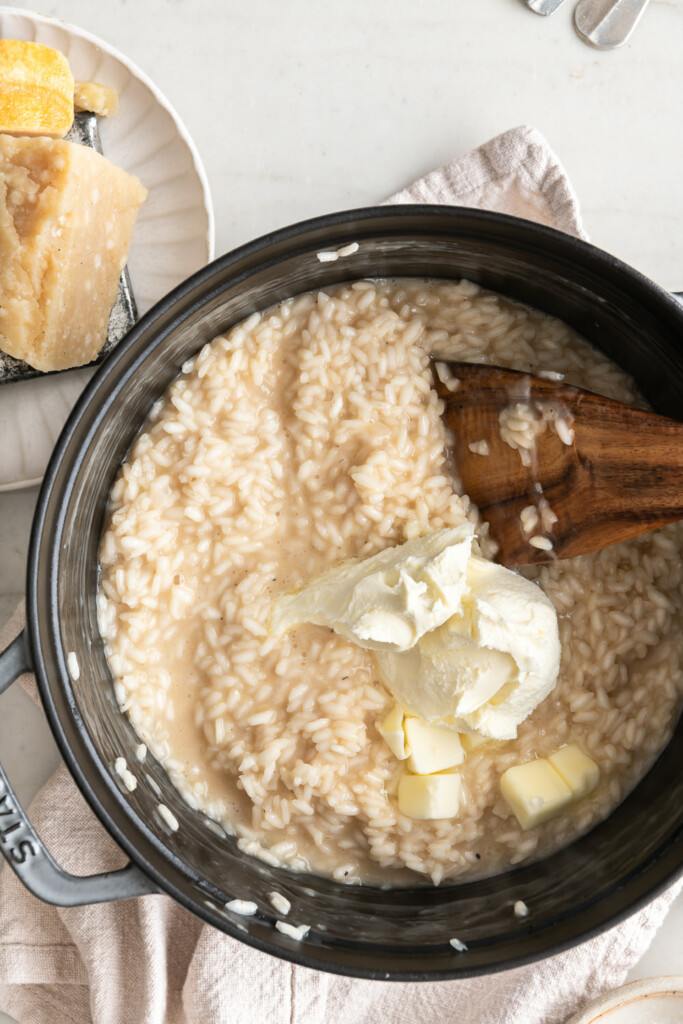 what wine goes with lemon risotto?
This lemon parmesan risotto is creamy, lusciously smooth, and filled with fresh lemon, herbs, and salty parmesan. It's vibrant, packed with flavor and texture, and surprisingly hearty.
A delicious wine pairing is Champagne or a high-quality traditional method sparkling wine (such as Cava or a French Crémant).
The high acid of these wines balance the rich risotto, and the delicate effervescence is a wonderful play on the tender, chewy rice.
Look for a young sparking wine that will still have fresh green apple and citrus flavors, rather than an older nutty wine. The former will highlight the lemony freshness of the risotto and together, both the dish and the wine will sing.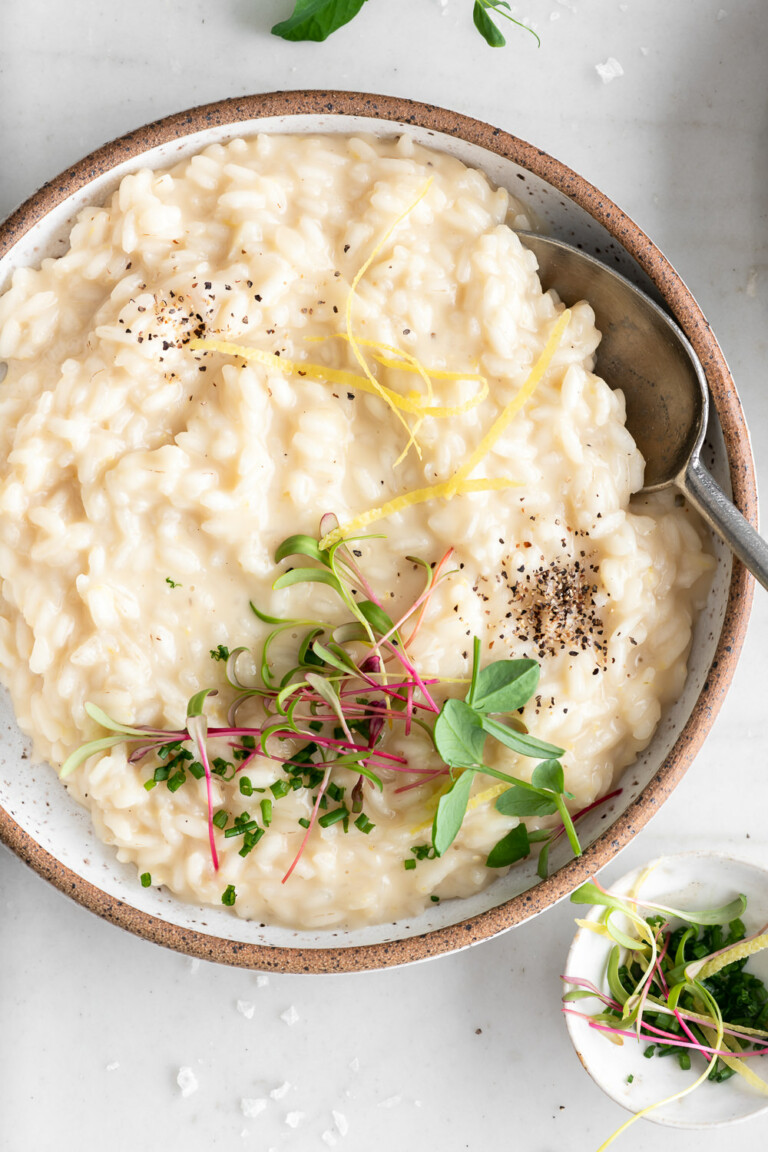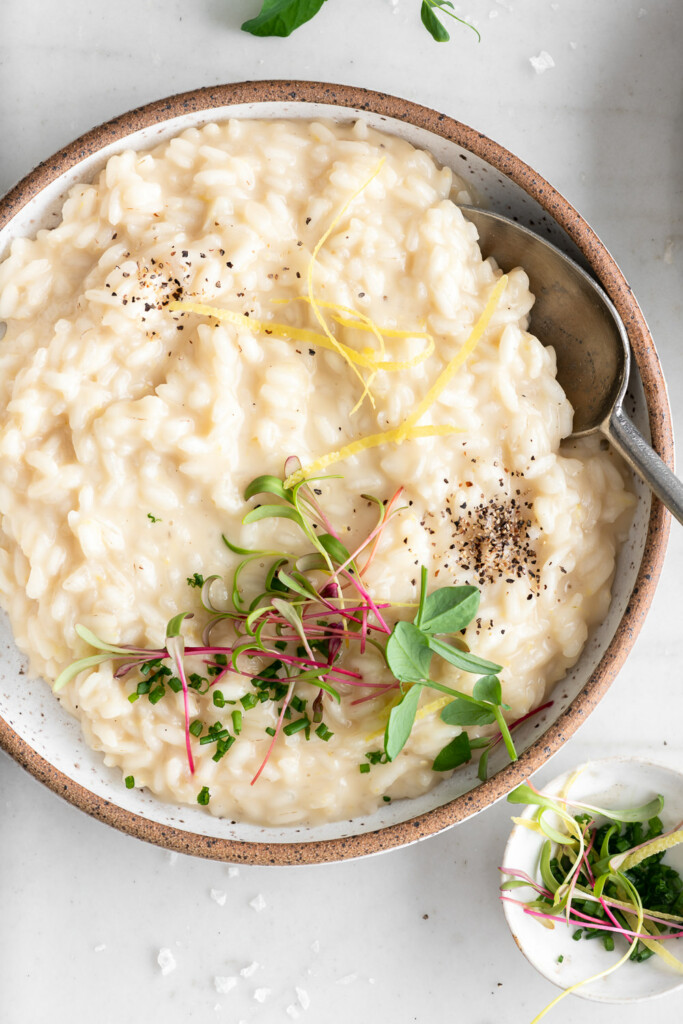 make this lemon risotto your own:
I love to serve this lemon risotto recipe as is, with a fresh butter lettuce salad and glass of white wine or Champagne. But if you're looking for ways to add more vegetables or toss in some protein, here's a list of ingredients that go super well with the bright lemon flavor:
buttery shrimp or scallops
fresh crab meat
steamed lobster
roast salmon, halibut or cod
fresh spinach or baby kale
sautéed asparagus
chopped fennel
fresh peas
sautéed summer squash or zucchini
sautéed mushroom
minced preserved lemon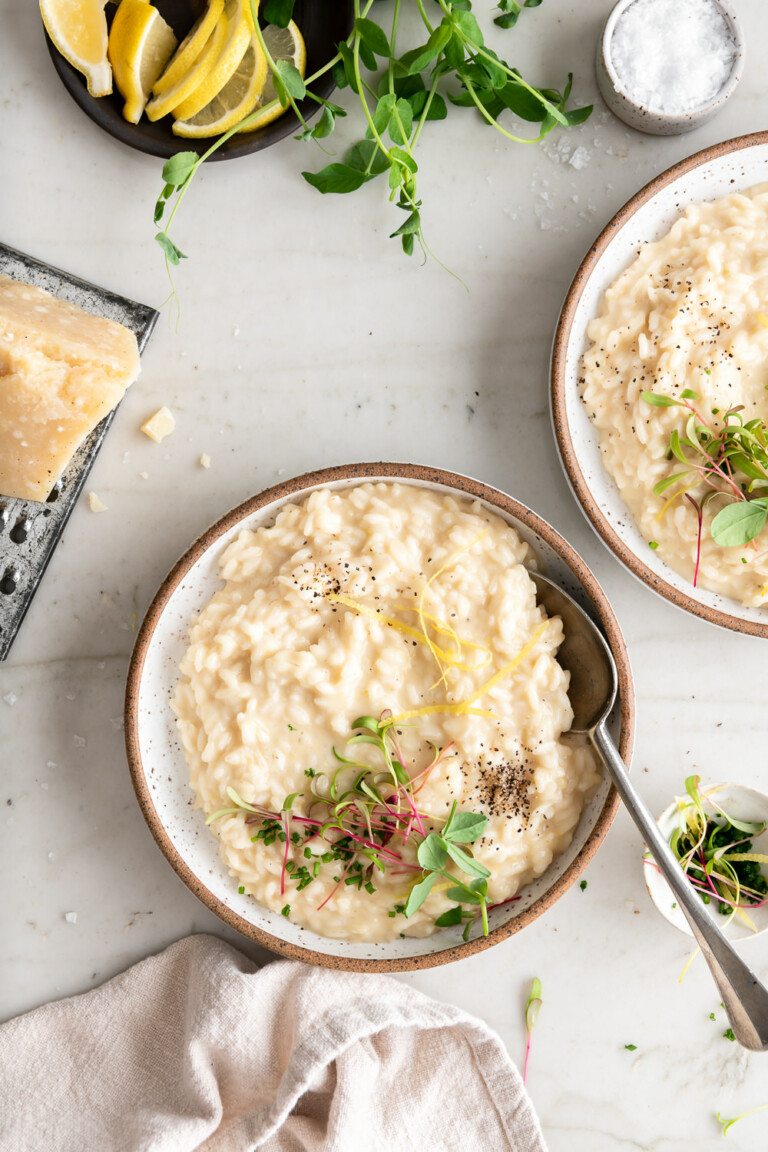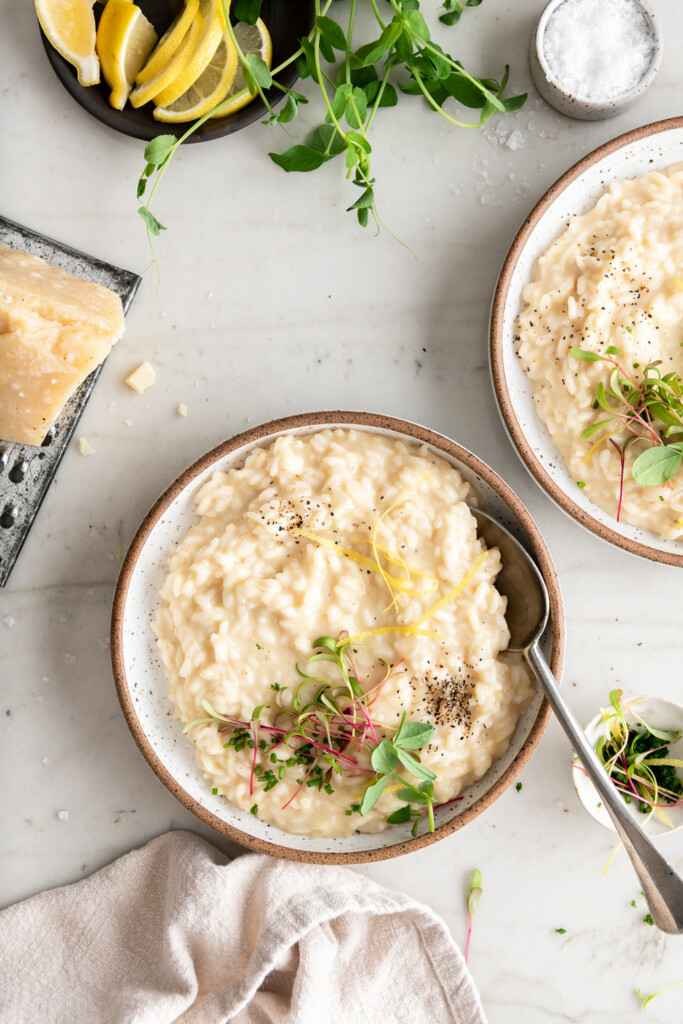 the best rice for making risotto:
There are a lot of risotto rice types out there today. The grains are short to medium in length. They also have an ideal ratio of starches to build a silky sauce and withstand long cooking times.
Arborio gets a lot of attention for risotto, but there are a few other varieties to explore if you're really after a silky, luxurious consistency.
Carnaroli is my favorite variety. It has the highest concentration of starch, so the risotto it makes is lusciously smooth.
Vialone Nano has almost as much starch as Carnaroli. It's the trickiest to find, but the risottos are ultra-creamy and the strong rice grains maintain their shape.
notes on lemon risotto:
The risotto is done when the rice is tender but still has a little bit of chewiness to it. The texture of that bite is often referred to as "toothsome". It's a lot like al dente pasta: it shouldn't be crunchy and it shouldn't be mushy. The toothsome texture is pleasantly chewy and so satisfying.
Risotto is at its best immediately after making it, when it's saucy and deliciously creamy. As it cools, it will set and start to thicken and the loose, silky consistency will be gone. The risotto will still be great-- but it won't be the same as right after it's finished. It doesn't reheat well and it doesn't freeze well. Prep everything else for dinner before you get started. and be prepared to enjoy the meal right after you stir in the butter, parmesan, mascarpone, and lemon.
The amount of stock is just an estimate. The amount of liquid you need will vary based on the absorption of the rice (different for different rice varieties and producers) and the evaporation rate (differs based on the pan you use and the intensity of your simmer). Add stock, a ladle-full at a time, until the rice is tender but firm in the center.
Parmesan will add a lot of salt to the risotto. Always taste and season as you go, be err on the side of less salt as you're cooking. Taste after you add the parmesan and then finalize your seasoning just before serving.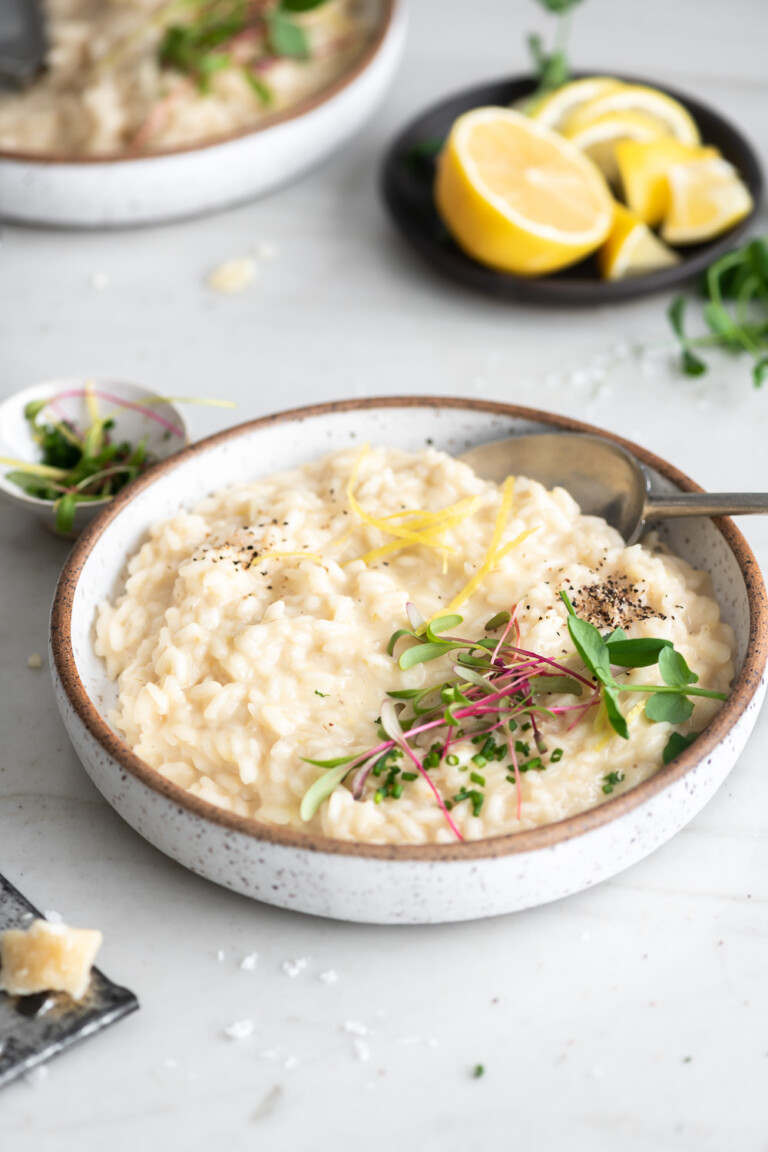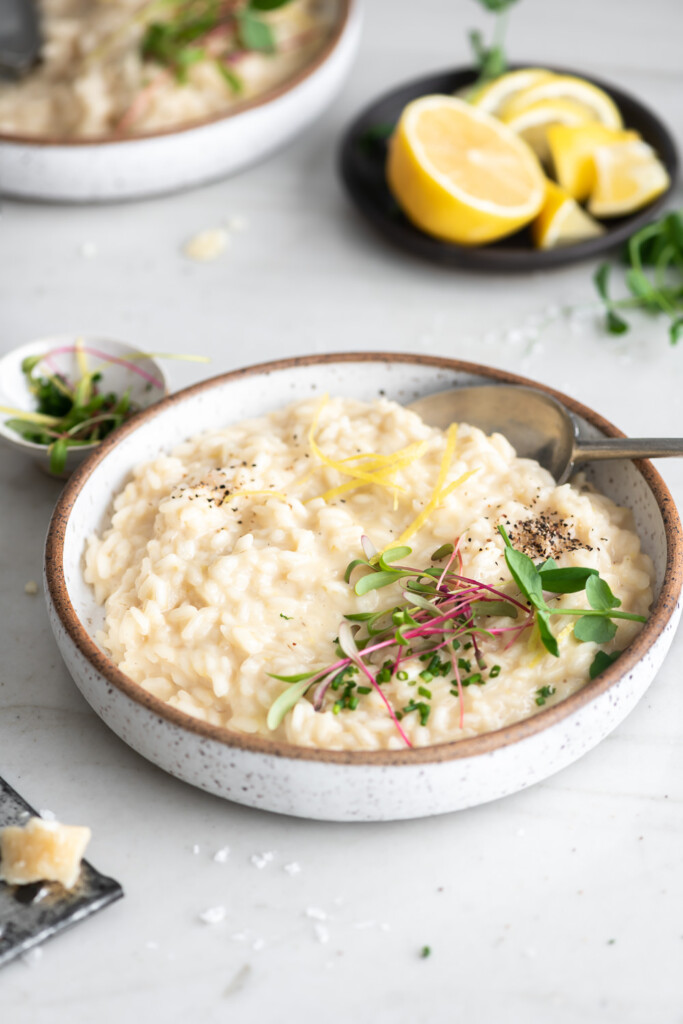 more risotto recipes to make!
Watch our lemon risotto web story!
Print
creamy lemon risotto
Creamy lemon risotto is perfectly chewy, saucy, and fresh. Mascarpone and butter add a silky texture and mellow out the tart lemon, while parmesan gives a salty bite to the rice.
Author:
Cook Time:

35 minutes

Total Time:

35 minutes

Yield:

4

Category:

Rice

Method:

Stove

Cuisine:

Italian

Diet:

Gluten Free
Ingredients
6 cups

low-sodium chicken stock

4 tbsp

cold butter, divided

1

large shallot, minced
kosher salt
freshly ground black pepper

1 ½ cup

risotto rice (arborio, carnaroli, vial

one

nano)

¾ cup

dry white wine

1 tbsp

finely grated lemon zest

2 tbsp

freshly squeezed lemon juice (from about

1

lemon)

¾ cup

finely grated parmesan, plus more for serving

4 oz

mascarpone

¼ cup

chopped fresh soft herbs (such as chives, thyme, parsley, basil, oregano)
Instructions
Heat chicken stock in a small saucepan over medium-low heat; keep it hot but not simmering.
Melt 2 tablespoons butter in a large pot over medium heat. Add shallot, season with salt and pepper, and cook until soft and translucent, about 5 minutes.
Add rice and stir to coat in butter. Cook rice until it turns slightly translucent but not toasted, about 2 minutes. Add wine and stir until liquid is absorbed and the rice is mostly dry.
Add a ladleful of hot stock and a big pinch of salt and black pepper. Reduce heat to a gentle simmer and stir every so often to incorporate the liquid and keep the rice from scorching (over-stirring can make it gluey). When the rice looks almost dry, add another cup of hot stock. Repeat the process, stirring often and maintaining a gentle simmer, until rice is tender but al dente and liquid is mostly absorbed (you may not need all of the stock), 15- 20 minutes.
Stir in remaining 2 tbsp cold butter, lemon zest and juice, parmesan, and mascarpone; season to taste with salt and black pepper.
Divide risotto into serving bowls and garnish with fresh herbs. Serve immediately, passing more cheese at the table.
Notes
Nutritional information is only an estimate. The accuracy of the nutritional information for any recipe on this site is not guaranteed.
Nutrition
Serving Size:

1

Calories:

467

Sugar:

3g

Sodium:

560mg

Fat:

30g

Saturated Fat:

18g

Unsaturated Fat:

9g

Trans Fat:

0.9g

Carbohydrates:

27g

Fiber:

0.7g

Protein:

8.9g

Cholesterol:

85mg