This butternut squash risotto is a gorgeous fall dish. It's a simple and classic recipe with creamy rice, sweet cubes of butternut squash, and salty fried sage leaves-- but we take small, intentional steps throughout the recipe make it the absolute best.
Keep reading for to learn why it's so good, how to make it, some fun variations to the recipe, and what to serve with this delicious butternut squash risotto!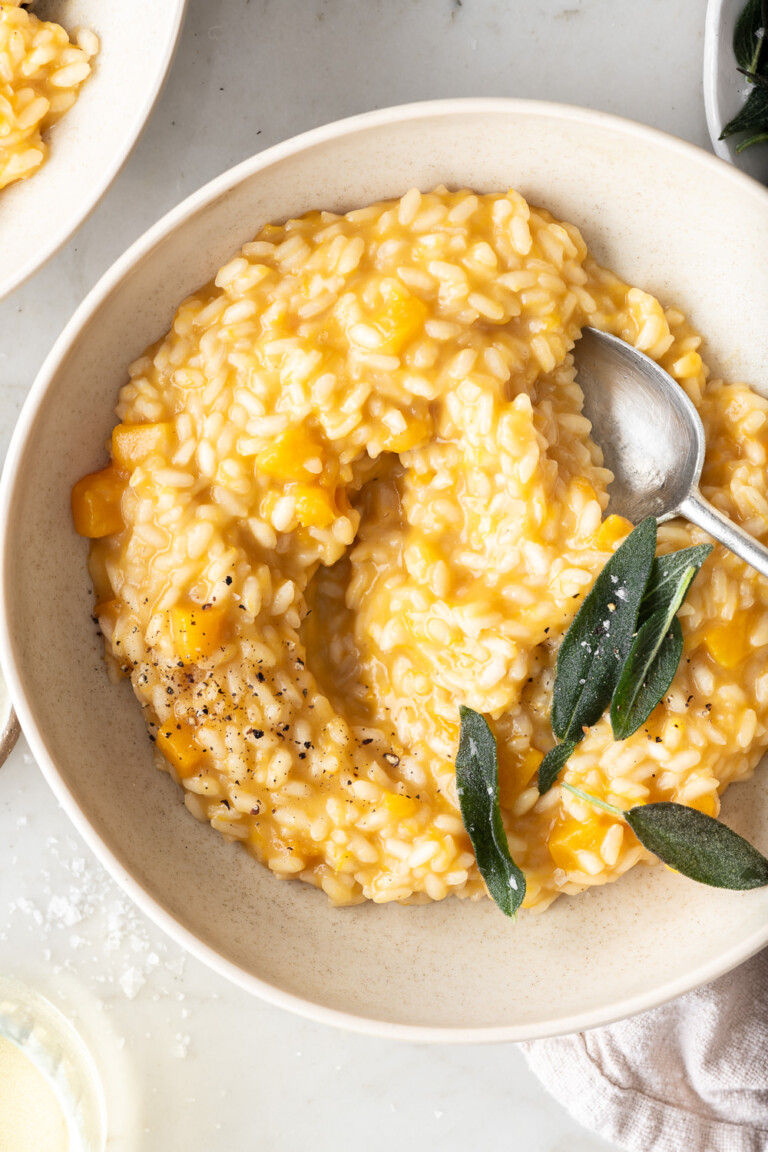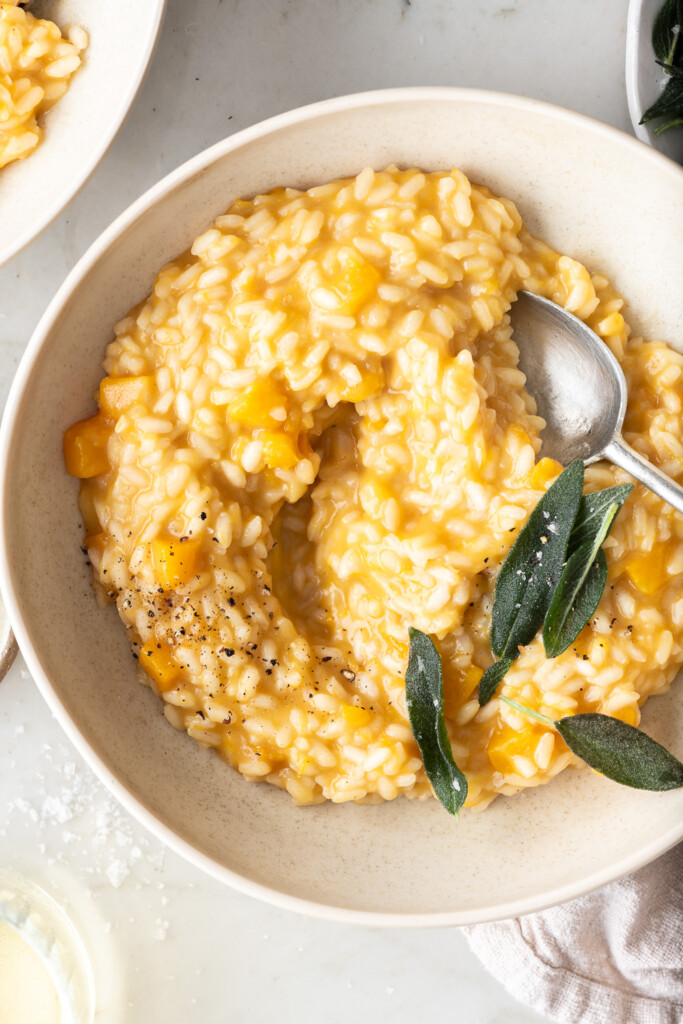 why this is the best butternut squash risotto:
Roasted squash: This is the most important part of the recipe: we roast the squash in the oven for a deeply caramelized and concentration flavor. Butternut squash tends to be watery, and steaming or boiling can make it worse.
Half now, half later: We cook half of this roasted squash with the risotto to infuse the dish with flavor and color. Then we stir in the remaining squash at the end for added texture. It's a winning combination to achieve rich flavor and the texture of intact squash.
The rice: You can't have true risotto with its glorious trifecta of creamy-saucy-chewiness without using the right rice. Risotto rice is a generic term for 3 main rice varieties that have all the qualities needed for perfect risotto. They have short to medium length grains, they're high in amyolopectin starch (creaminess!), and they're strong enough to stay firm throughout the long cooking. Look for arborio, carnaroli or vialone nano.
Fried sage: Sage and butternut squash are meant to be together. Take this risotto to the next level with crispy, salty fried sage leaves. They add an earthy flavor, a beautiful flash of color, and a crispy salty pop of texture. If you want this dish to be remembered, don't underestimate the small things!
ingredients:
butternut squash
risotto rice (arborio, carnaroli, vialone nano)
dry white wine
onion
garlic
sage
butter
parmesan
chicken stock
olive oil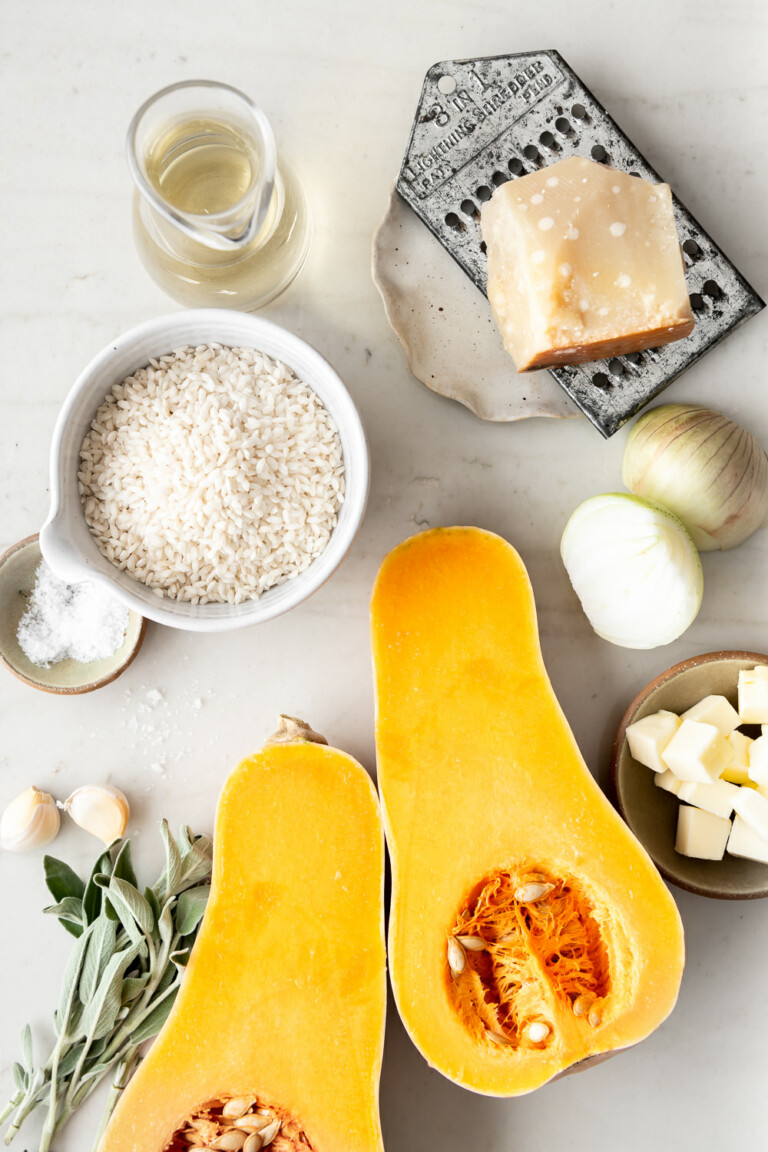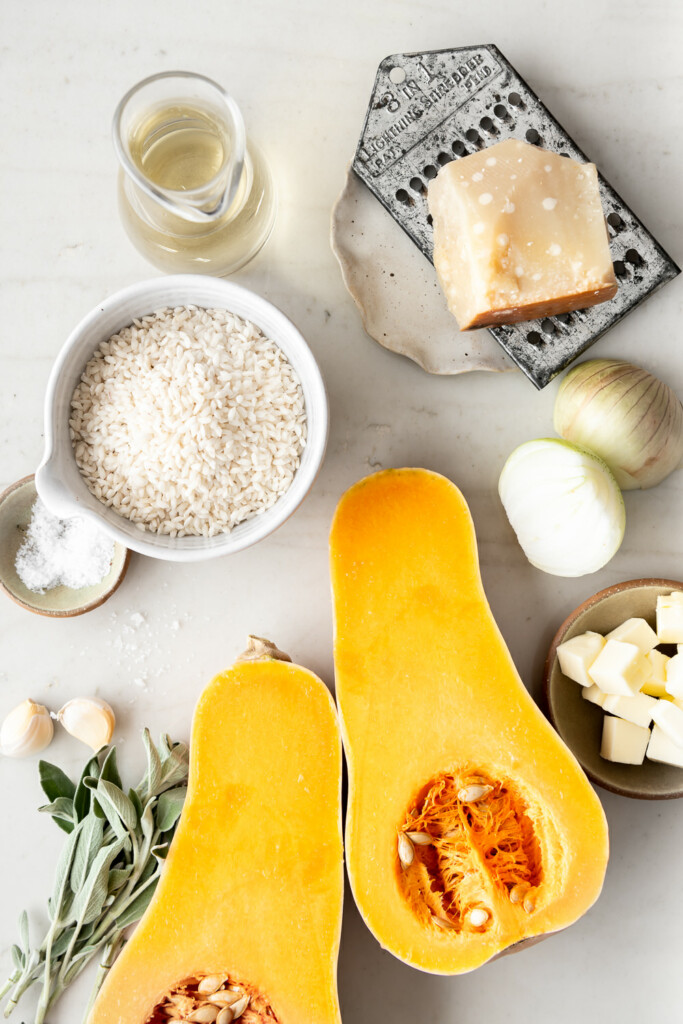 how to make butternut squash risotto:
Roast butternut squash until tender, about 40 minutes.
Fry sage leaves until crisp.
Heat chicken stock in a small saucepan and keep warm.
Lightly caramelize onions in butter. Add garlic, cook until fragrant.
Stir in rice, cook until edges are translucent.
Add half of squash and the wine, cook until evaporated.
Add hot stock, a cup at a time, until absorbed and evaporated. Stir often and add stock until rice is tender, toothsome and saucy, about 20 minutes.
Stir in a chunk of butter, grated parmesan, and remaining roasted squash.
Top with fried sage leaves and serve.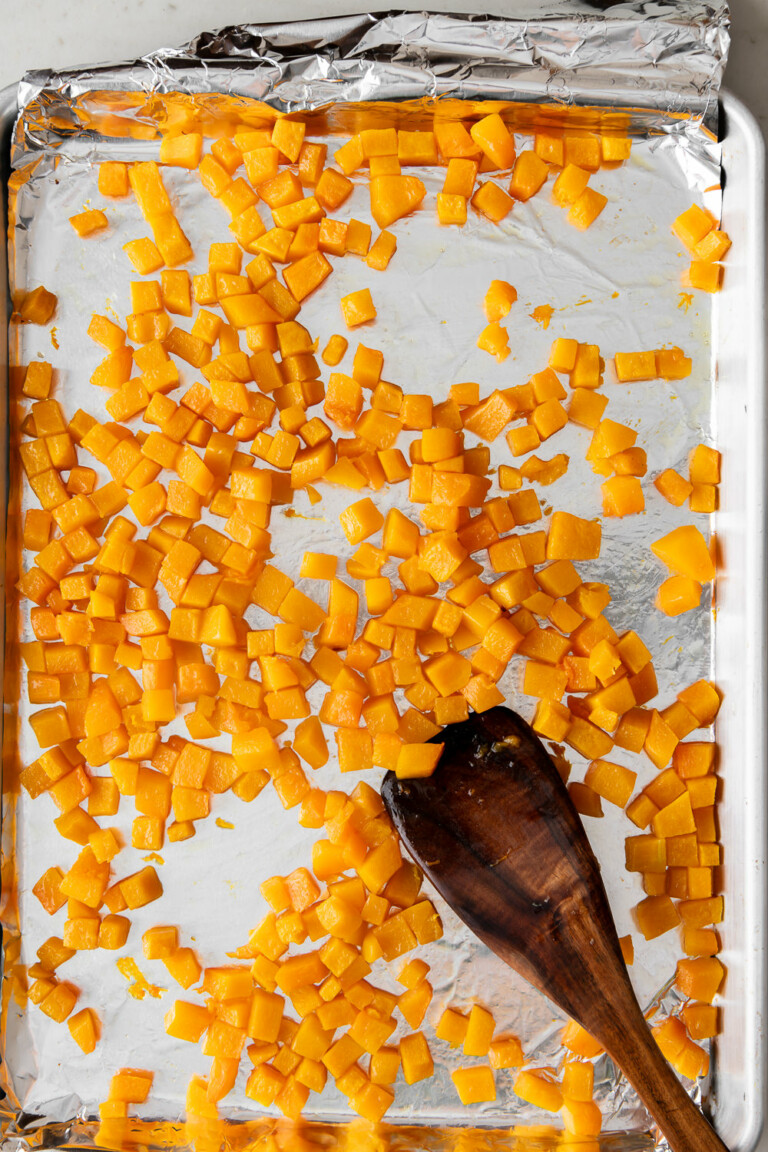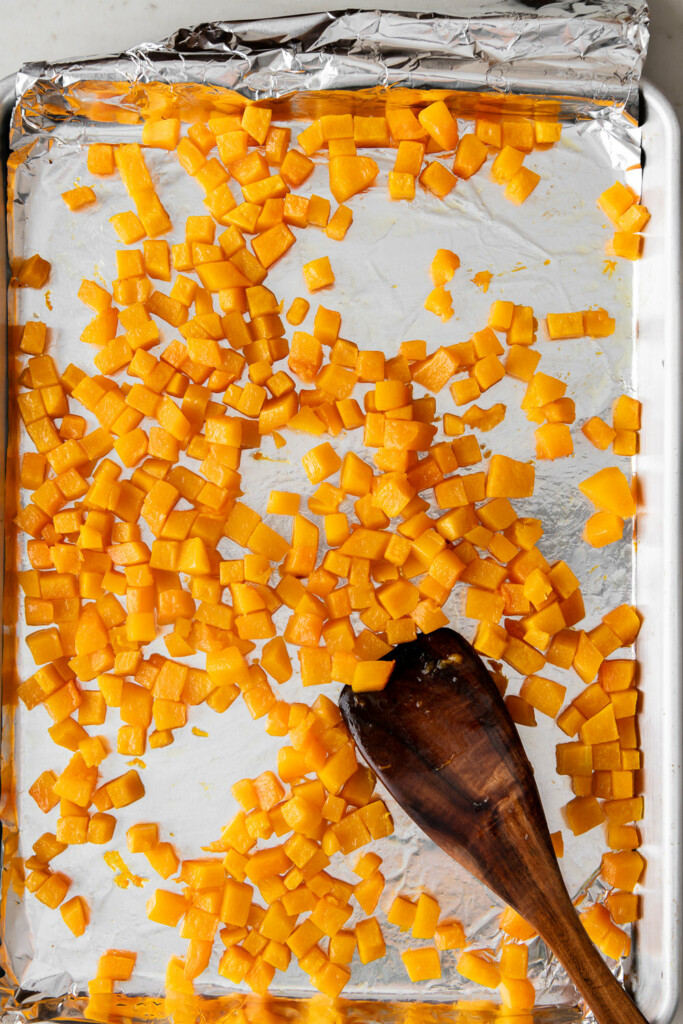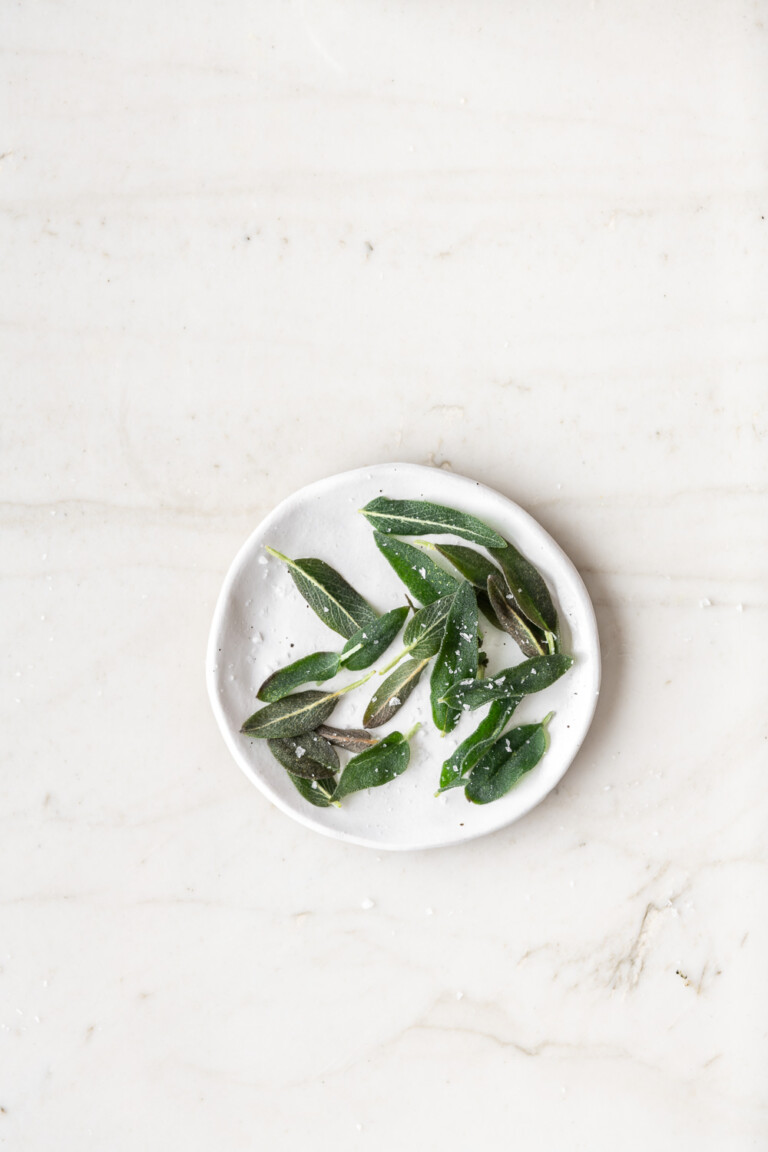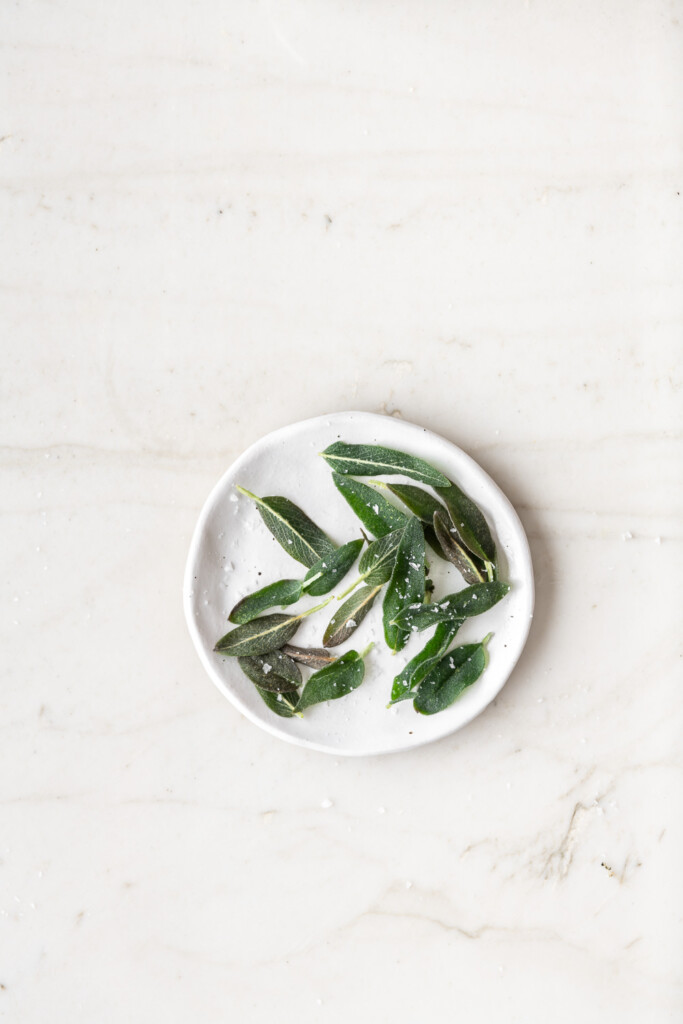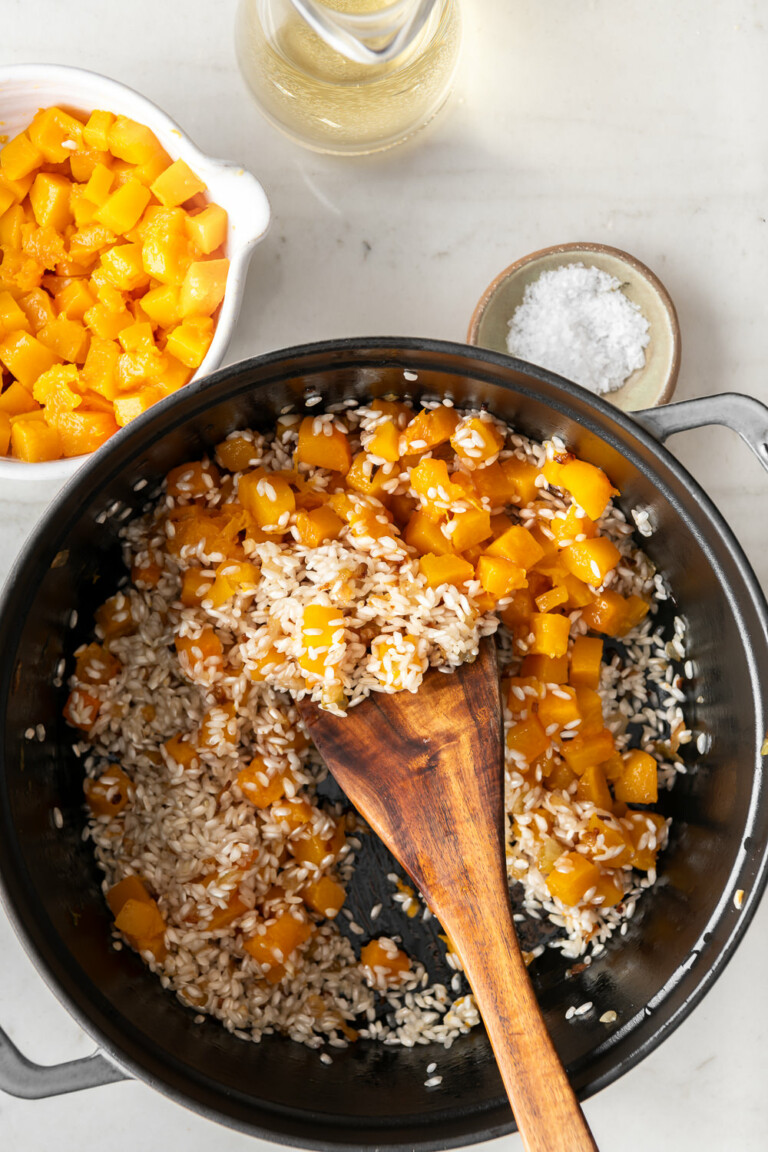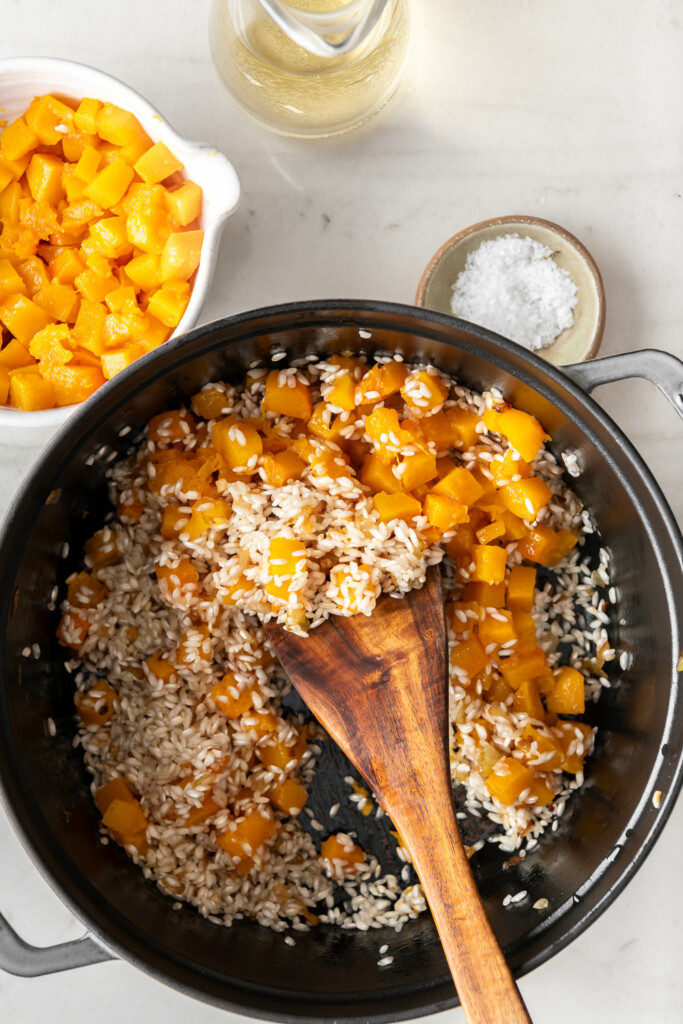 how to cook butternut squash for risotto:
Roast it in the oven! This is the best way to concentrate the flavor and pick up some rich, caramelized notes.
The next best option would be to sauté it over medium heat, for about 25 minutes. It's more involved, but you'll get better flavor.
You can also steam the squash, which won't cook off any water or add any flavor, but the squash won't get soggy.
Whatever you do, don't boil it-- the hot water will leach flavor and make it soggy.
variations to make this your own:
You can add-in or substitute all kinds of ingredients to make this your own! Here's a list of ideas to get you started:
roasted honey nut squash
buttery leeks
crispy sautéed mushrooms
blanched or sautéed kale
roasted chopped chicken
crispy pancetta or bacon
crumbled sausage or chorizo
seared scallops
crumbled blue cheese
fried shallots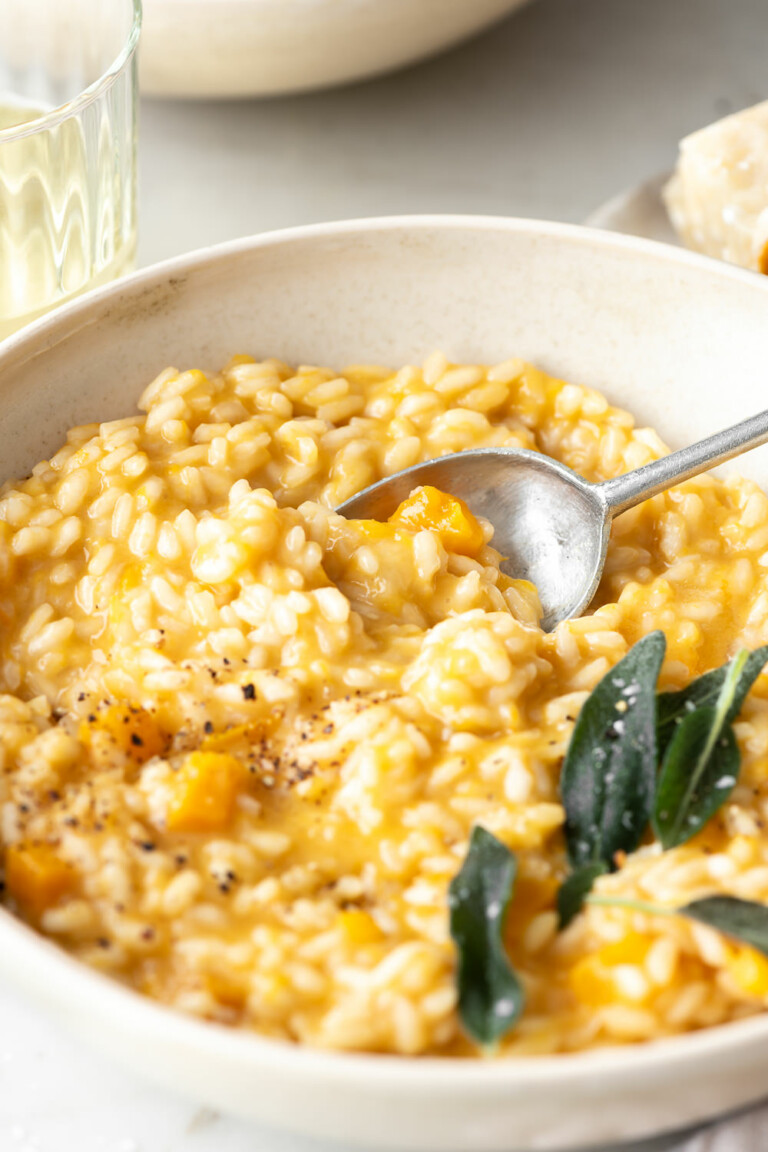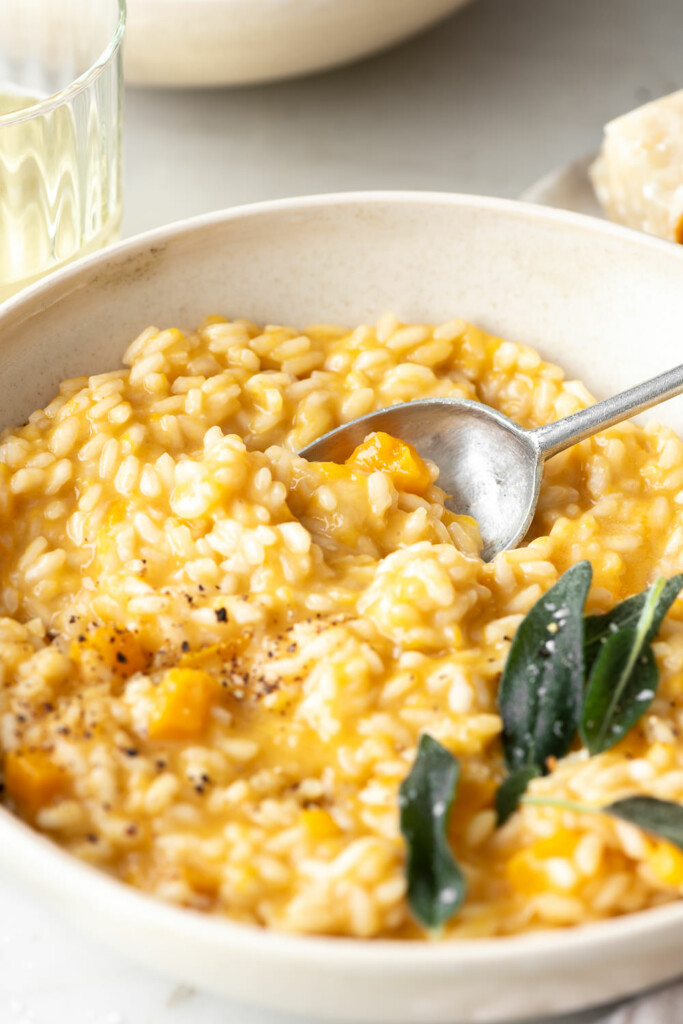 what to serve with butternut squash risotto:
We love to enjoy this risotto with cozy salads and rich braised meats. Here are some great fall-inspired recipes to serve alongside this creamy risotto!
appetizers
salads
meats: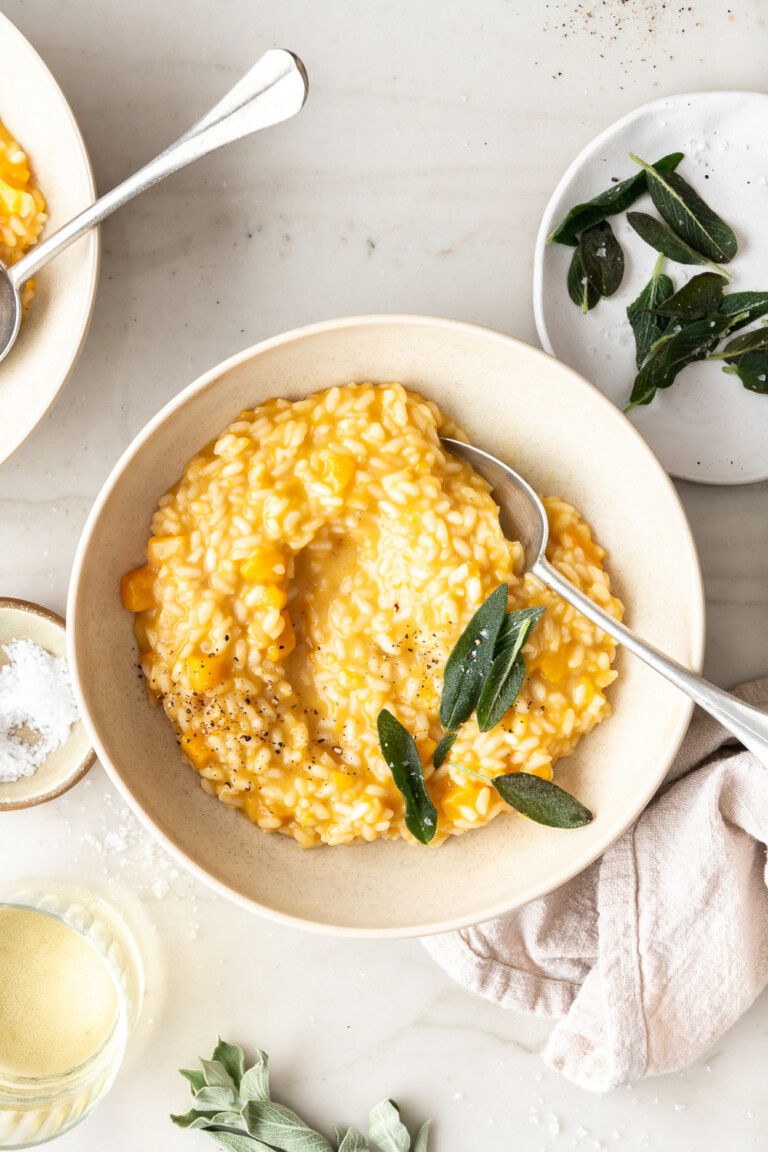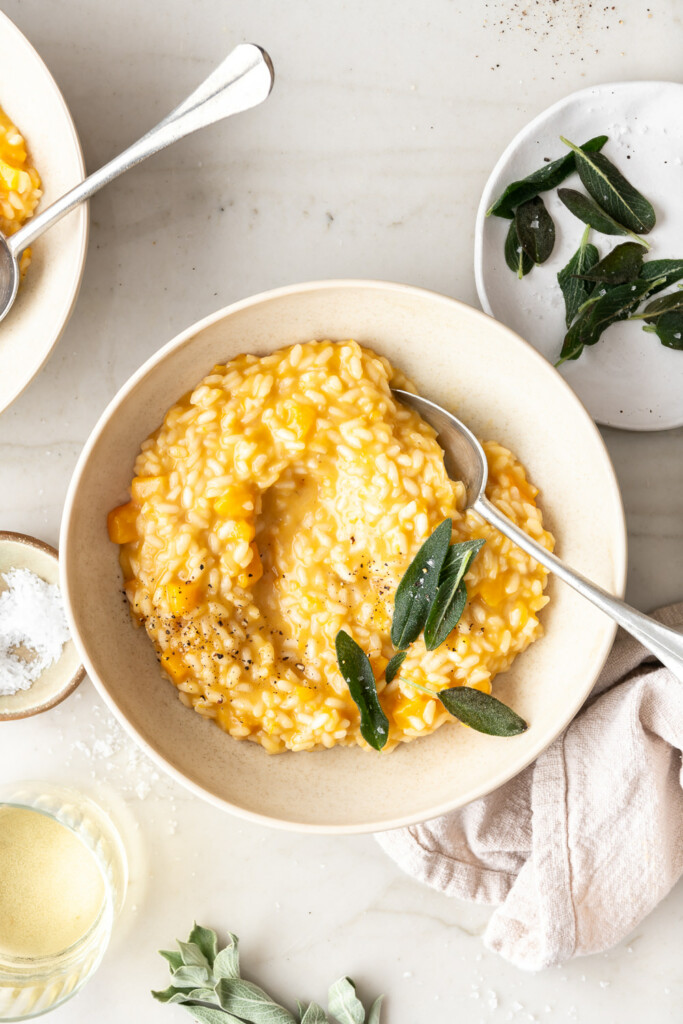 what wine goes with butternut squash risotto?
I love to serve this risotto with lush, rich white wines that have plenty of rounded texture and acidity. They need substance and smoothness to stand up to the creamy risotto and sweet roasted squash, which can come from full-bodied varieties as well as oak aging.
Northern Rhone white wines: blends of Marsanne, Roussane and Viognier that have a plush texture, fragrant notes of stone-fruit and citrus, and lively acidity. Try a Saint-Peray!
Fiano d'Avellino DOCG: Rich, waxy, floral white wines from the Campania, Italy (the shin of the boot!). These elegant wines have plenty of acidity to offset the rich risotto, yet barrel aged versions have sweet nutty aromas, structure and smoothness that complement the roasted squash.
For a red wine, try a cru Beaujolais: Elegant, medium-bodied red wines that are juciy, fleshy and ripe. The light tannins will add some structure to the rice dish and the juicy acidity will balance the richess. Look for a Chénas for a light, floral, delicate red.
how long does butternut squash risotto last?
Like all risotto, this roasted butternut squash risotto is best enjoyed immediately. The suspension of rice in a creamy starch-based sauce just doesn't last. As soon as it cools, the rice starches congeal and can't be returned to their saucy state. You can enjoy it for a few days after, reheated, but it will be more like a sticky rice side dish.
A great use of leftover risotto is arancini! These fried rice balls capitalize on the sticky, moldable nature of the rice starches and make an outstanding appetizer. Here's an arancini recipe to get you started!
more risotto recipes to try:
creamy parmesan risotto recipe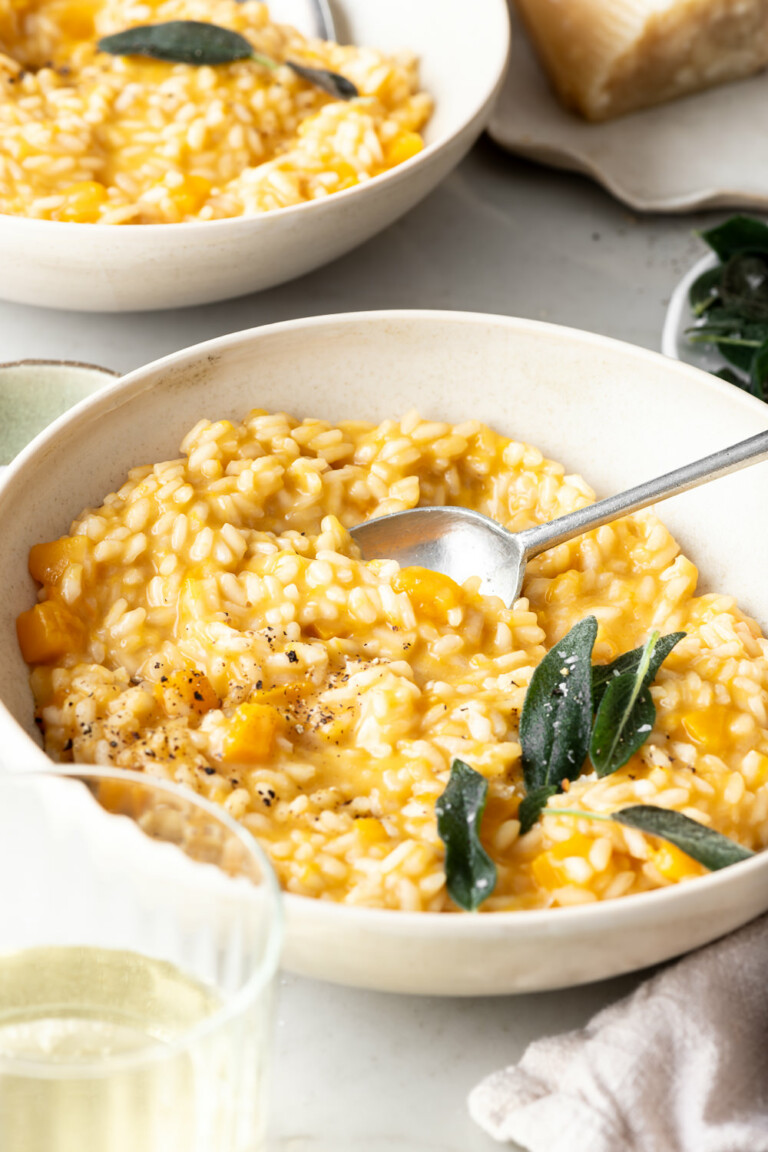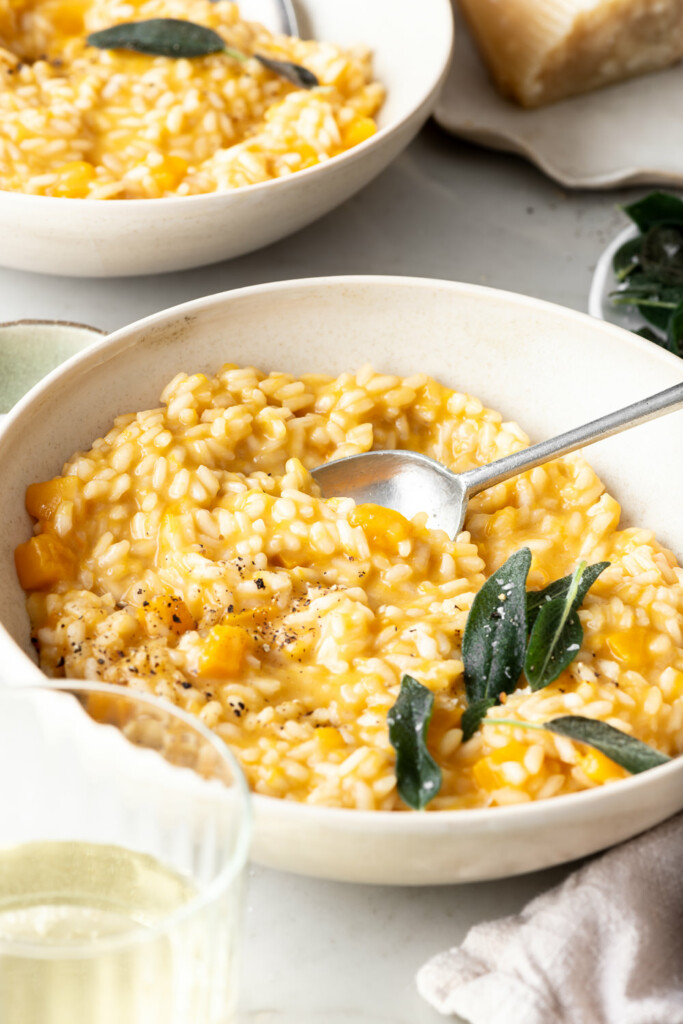 Print
butternut squash risotto
This roasted butternut squash is packed with flavor and texture: caramelized onions, roasted bits of squash, creamy rice, and crispy fried sage leaves. It's a silky, saucy, chewy dish that is perfect for fall!
Author:
Cook Time:

1 hour 15 minutes

Total Time:

1 hour 15 minutes

Yield:

4

Category:

Risotto

Method:

Stovetop

Cuisine:

Italian

Diet:

Gluten Free
Ingredients
butternut squash risotto
1

small butternut squash, peeled, seeded and cut in ½ inch dice (about

2 cups

)

1 tbsp

olive oil
kosher salt
freshly ground black pepper

6 cups

low-sodium chicken stock

6 tbsp

cold butter, divided

1

small onion, finely diced

1

garlic clove, minced

1 ½ cups

risotto rice (arborio, carnaroli, vial

one

nano)

1 cup

dry white wine

1 ¼ cups

finely grated parmesan, plus more for serving
fried sage leaves
2 tbsp

canola oil

1

bunch fresh sage
flaky salt
Instructions
butternut squash risotto:
Preheat the oven to 425ºF. Place butternut squash on a foil-lined baking sheet. Drizzle with olive oil, season with salt and pepper and toss to coast. Spread in an even layer and roast for 30 to 40 minutes, stirring every 10 minutes, until tender and caramelized. Set aside.
Heat chicken stock in a small saucepan over medium-low heat; keep it hot but not simmering.
Melt 4 tablespoons butter in a large pot over medium heat. Add onion, season with salt and pepper, and cook until lighty caramelized, about 15 minutes. Add garlic and cook for about 30 seconds, until fragrant.
Add rice and stir to coat in butter. Cook until rice turns slightly translucent but not toasted, 2- 3 minutes. Stir in half the butternut squash.
Add wine and stir until liquid is fully absorbed and the rice is mostly dry.
Add a ladleful of hot stock and a big pinch of salt and black pepper. Reduce heat to a gentle simmer and stir every so often to incorporate the liquid and keep the rice from scorching (over-stirring can make it gluey). When the rice looks almost dry, add another cup of hot stock. Repeat the process, stirring often and maintaining a gentle simmer, until rice is tender but al dente and liquid is mostly absorbed (you may not need all of the stock), 15- 20 minutes.
Stir in 2 tbsp cold butter and parmesan until creamy, then stir in remaining roasted butternut squash; season to taste with salt and black pepper.
Divide risotto into serving bowls and top with fried sage leaves and more black pepper. Serve immediately.
fried sage leaves:
Heat canola oil in a small skillet until shimmering. Add sage leaves in a single layer and cook until crisp, about 20 seconds.
Transfer to a paper towel-lined plate and sprinkle with salt. Repeat with remaining sage leaves.
Notes
Nutritional information is only an estimate. The accuracy of the nutritional information for any recipe on this site is not guaranteed.
Nutrition
Serving Size:

¼th of recipe

Calories:

527

Sugar:

4.1g

Sodium:

708mg

Fat:

30g

Saturated Fat:

16g

Unsaturated Fat:

10.7g

Trans Fat:

1g

Carbohydrates:

38g

Fiber:

3.5g

Protein:

12g

Cholesterol:

73mg
Keywords: butternut squash risotto