This butter lettuce salad is layered with crisp radishes, sliced avocado and craggily, cheesy, homemade breadcrumbs. It's tossed with a simple and flavorful honey mustard vinaigrette which, by the way, you'll want to use on all salads all summer long. It's a little sweet, a little punchy from the shallot and mustard, and extra flavorful from a swirl of fresh herbs.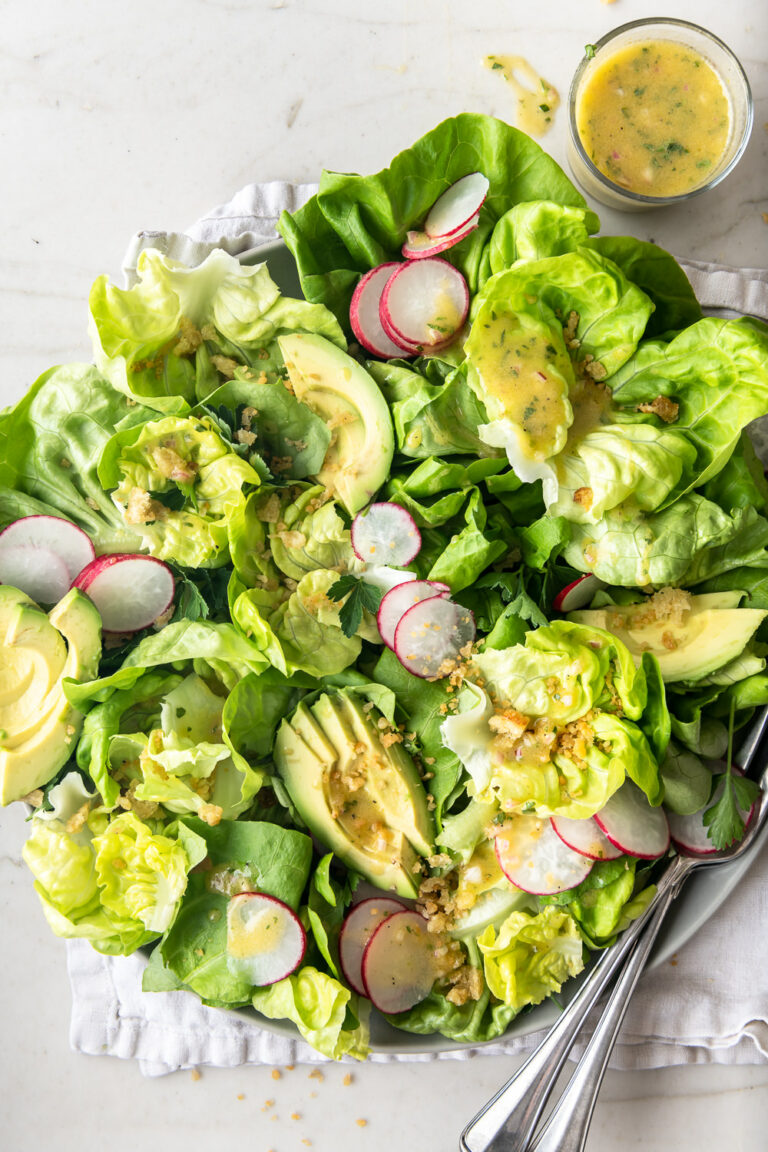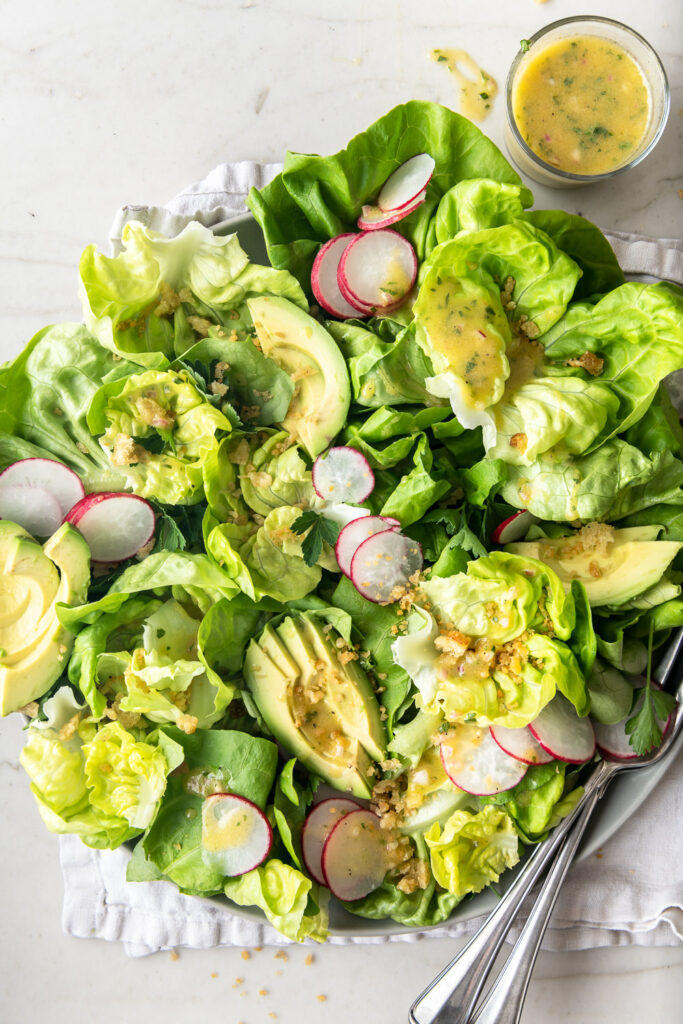 My favorite part of this butter lettuce salad is the texture. I just love the velvety lettuce, creamy chunks of avocado and perfectly scattered crunch of cheesy breadcrumbs. To be honest, I think a variety of texture is what's lacking in most salads, especially those with softer leaves. But the texture here isn't overpowering, either-- it simply adds a bit of interest to those velvety soft butter lettuce leaves.
what is butter lettuce?
Butter lettuce is a category of lettuces that have soft, velvety leaves and a mild floral flavor. The texture is soft, delicate, and buttery-- hence the name.
Bibb lettuce and Boston lettuce are the most common green varieties and they're most often grown hydroponically (so they can be found year round). They're generally sold with their roots attached to extend the freshness and longevity of this delicate lettuce.
There are also quite a few red varieties of butter lettuce that are absolutely gorgeous and can usually be found at your local farmers markets in the early spring and summer!
Because the leaves are so tender, it's best to gently wash them, pat them dry, and tear the leaves by hand rather than chop with a knife. This technique will minimize bruising and discoloration: the leaves tear along the lines of cells, whereas a knife will cut right through the cell membranes. Busted membranes is the cause of wilted, browned, bruised leaves.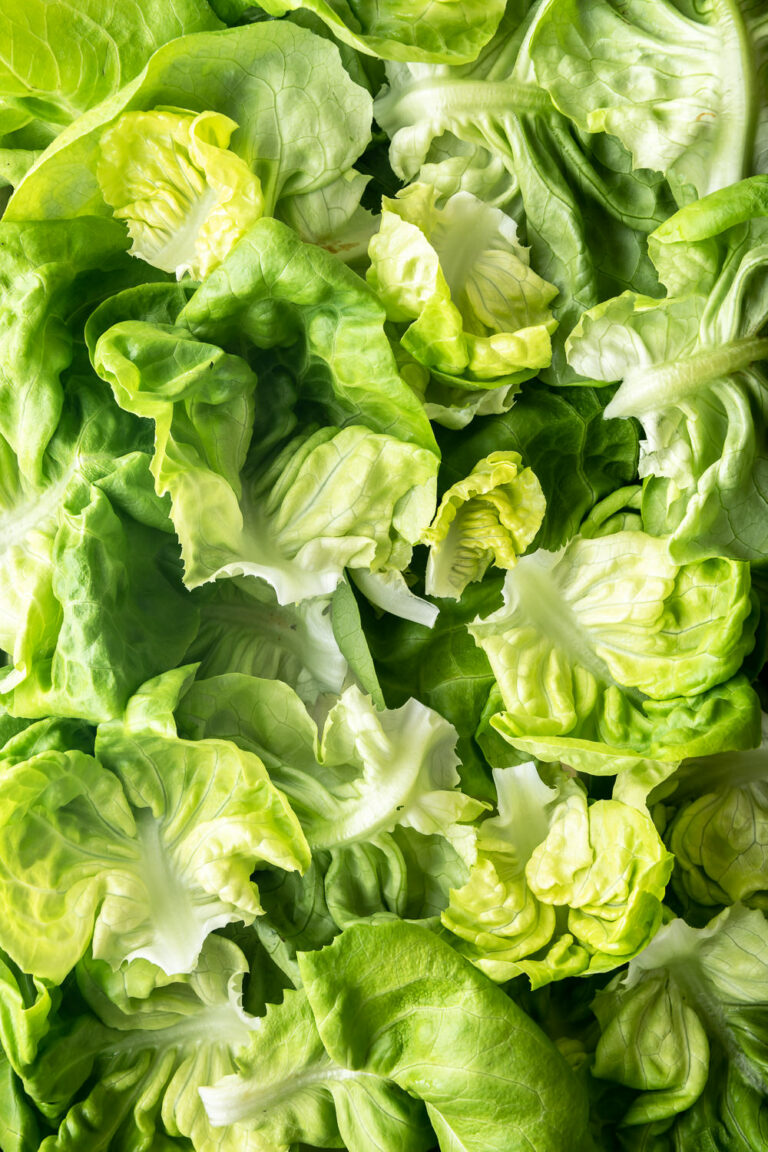 what you need for this butter lettuce salad
Butter lettuce
Radishes
Avocado
Fresh sourdough breadcrumbs
Pecorino romano
Olive oil
White wine vinegar
Honey mustard
Fresh herbs
Kosher salt
Freshly ground black pepper
how to make the butter lettuce salad
Make the honey mustard vinaigrette (shallot, white wine vinegar, honey mustard, olive oil, fresh herbs, salt and pepper)
Make the pecorino breadcrumbs (details below)
Tear the butter lettuce into bite sized pieces and toss with vinaigrette
Top with sliced radishes and avocado
Sprinkle with pecorino breadcrumbs
Serve, passing extra dressing on the side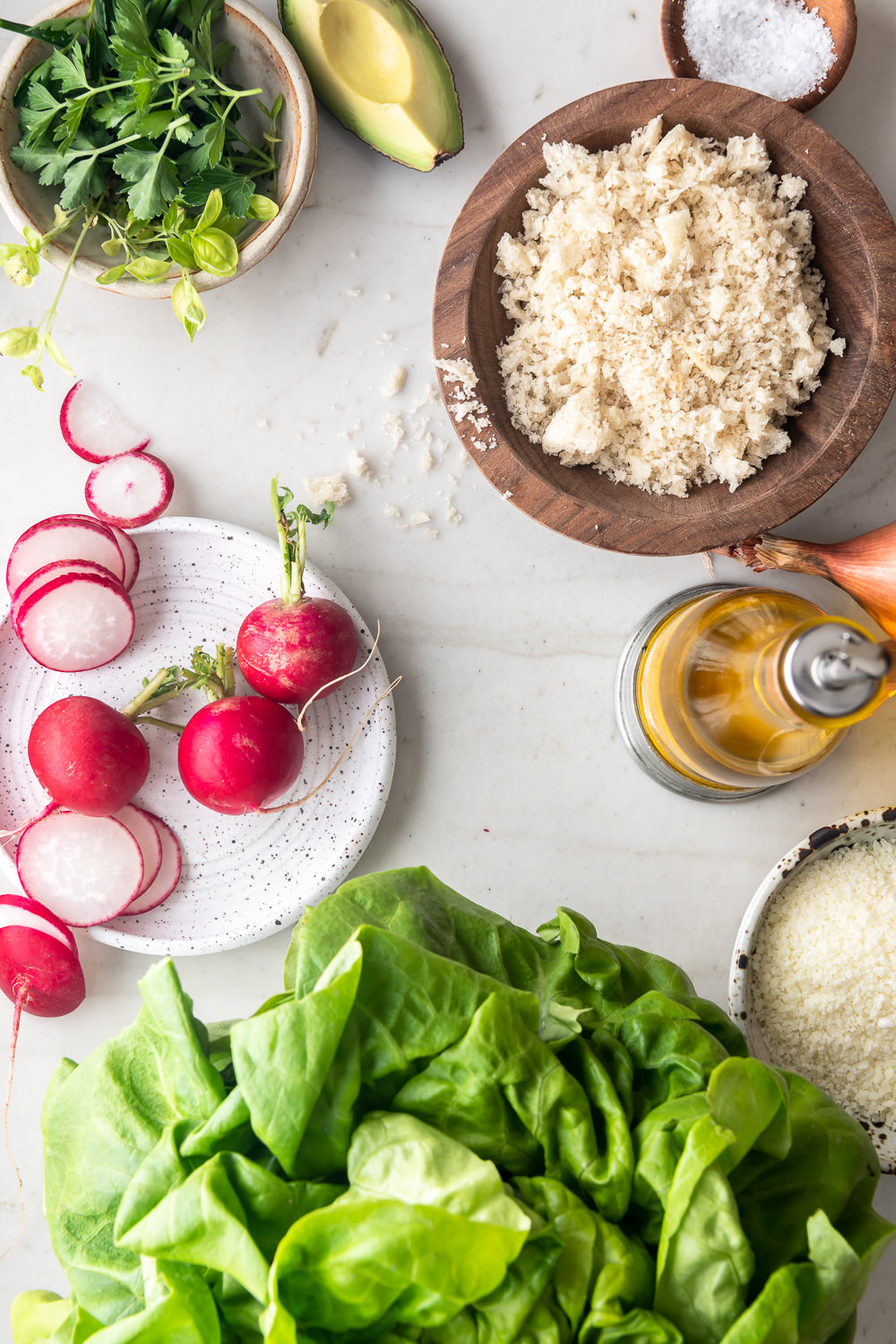 how to make the crispy pecorino breadcrumbs
The biggest revelation of this butter lettuce salad recipe is the breadcrumbs. I suggest you double them and keep them on hand for snacking and ad-lib cooking. They're crunchy, craggily and packed with melted, browned, salty cheese flavor. I want to put them in everything. Luckily, they couldn't be easier to make.
We start with fresh sourdough breadcrumbs and sauté them in olive oil until crispy and fragrant. Then we add finely grated pecorino romano to the skillet, but you could use parmesan too. The cheese sizzles and pops and then slowly melts into the crumbs and transforms the mixture into rubbly bits of golden brown heaven.
They'll be chewy and salty and so good straight from the pan, but let them cool and they'll crisp up into crunchy little flavor bombs. They're everything I've ever wanted in a crouton: a way to add crunchy texture and flavor to salads, in a tiny non-overwhelming package. Because let's be honest here, croutons are just too aggressive for butter lettuce.
Heat olive oil in a skillet
Add fresh breadcrumbs, season with salt and pepper, and cook until golden brown
Add grated pecorino and cook, stirring, until melted and browned
Transfer to a bowl and cool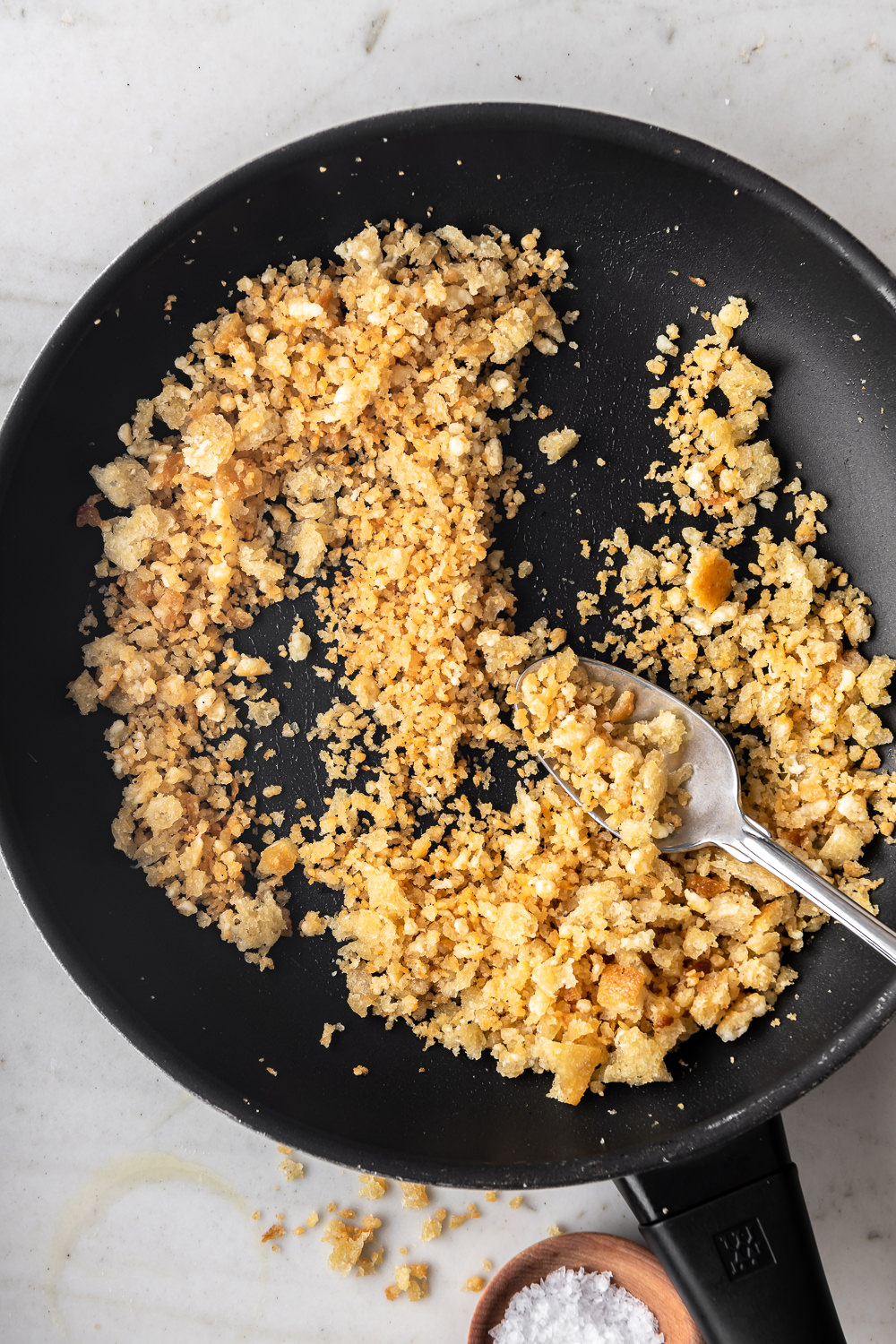 butter lettuce salad variations
I adore this simple butter lettuce salad as is, but I also understand a recipe for a salad is much looser than baked goods. Part of the beauty of salads is utilizing the freshest produce at the market in your area and season. It's also a great canvas for using up odds and ends in the fridge. All of the components can be tweaked to your liking-- just keep in mind a few principles to make the best butter lettuce salad.
Keep it simple. Don't go overboard with flavors, textures and add-ins. Butter lettuce is light, simple and delicate. The best salads honor the velvety texture of butter lettuce and only add a few contrasting elements to keep it fun.
Think in terms of texture. Add something crunchy (toasted nuts, breadcrumbs, thinly sliced vegetables) and something creamy (soft cheese, avocado) and you're golden!
Here are some crunchy and creamy ideas to get you started:
Sliced fennel
Sliced cucumber
Thinly sliced fresh brussels sprouts
Sliced apples
Toasted pine nuts
Sunflower seeds
Toasted sliced almonds
Toasted breadcrumbs
Chopped bacon
Fresh goat cheese
Torn burrata
Crumbled feta
Hard boiled eggs
Sliced avocado
Lightly smashed olives (castelvetrano are my favorite here!)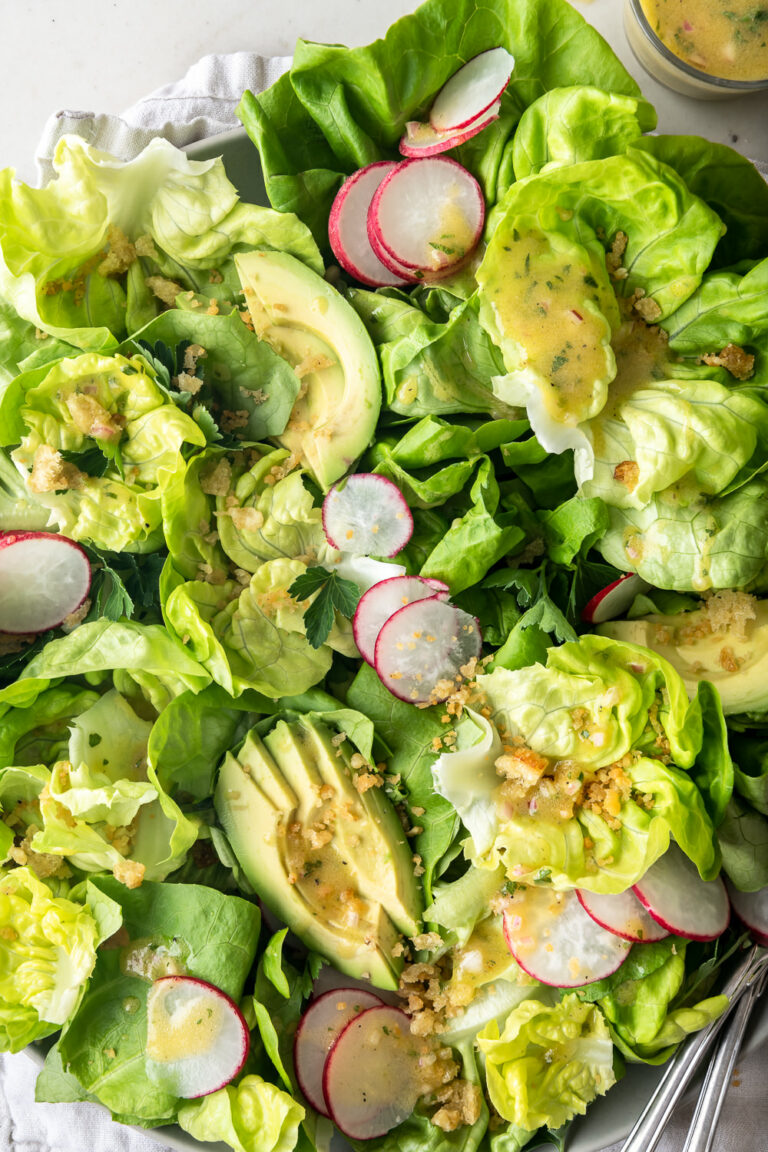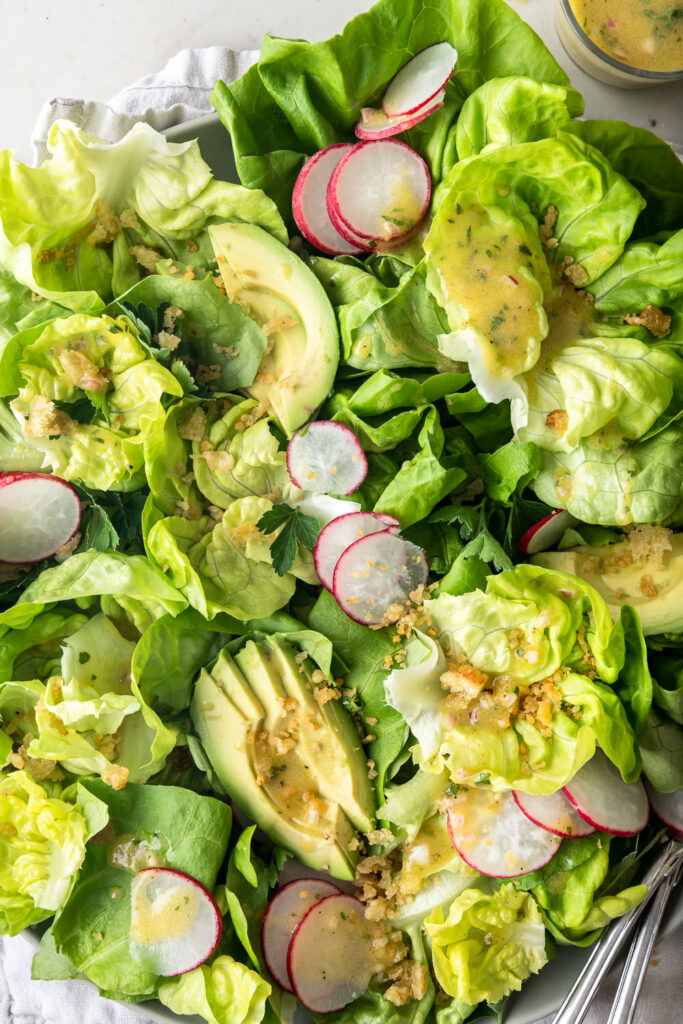 what to serve with this salad:
This butter lettuce salad is the perfect counterpoint to grilled meats (like this delicious smoked tomahawk steak) or your favorite seafood. I would love to serve it with a crisp glass of rosé and a flaky piece of sautéed halibut-- fresh, simple, and so elegant!
rosé wine pairing for butter lettuce salad
Rosé and butter lettuce salads are a delicious summer pairing. I love the simplicity of both-- the fresh acid and crisp red fruit flavors of a good rosé and the silky crunch of the butter lettuce leaves. The combination is so refreshing!
I especially love Pinot Noir rosés here. They're tart, light and delicate. Try some from Willamette Valley (Oregon), Pfalz (Germany), Central Otago (New Zealand) and the Loire Valley (France).
more salad recipes to try:
butter lettuce and creamy pistachio wedge salad
sugar snap pea salad with radishes, feta and arugula
roasted beet salad with goat cheese, strawberries and preserved lemon vinaigrette
raw beet salad with citrus vinaigrette
radicchio salad with oranges and pecorino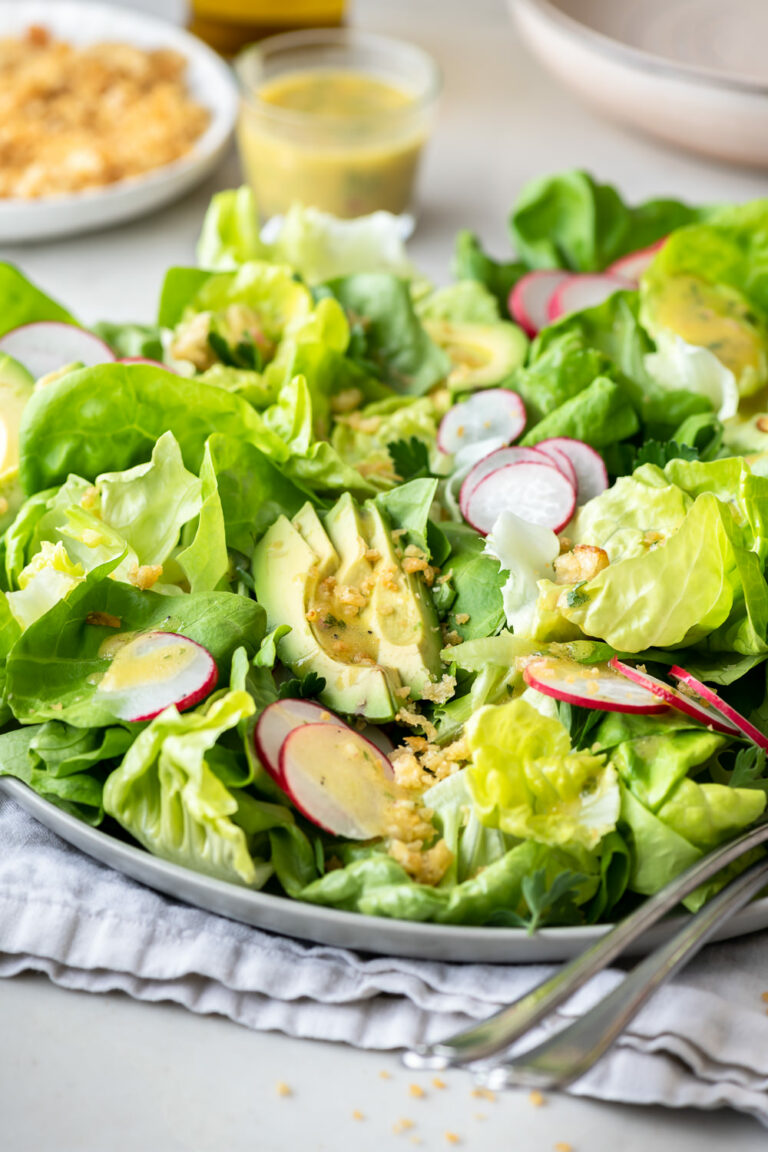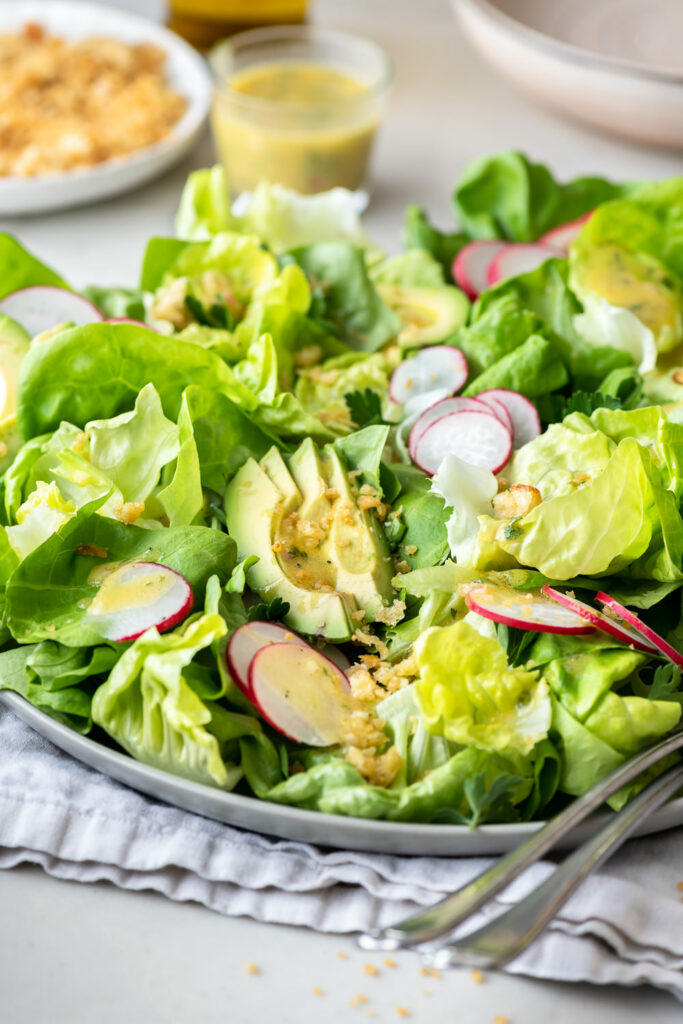 Print
butter lettuce salad
This butter lettuce salad is layered with crisp radishes, sliced avocado, craggily pecorino breadcrumbs and a simple honey mustard dressing.
Author:
Prep Time:

10 minutes

Cook Time:

15 minutes

Total Time:

25 minutes

Yield:

6

Category:

Salad

Method:

Tossed

Cuisine:

American

Diet:

Vegetarian
Ingredients
honey mustard vinaigrette
1 tbsp

minced shallot, minced

3 tbsp

white wine vinegar

1 tbsp

honey mustard 

½ tsp

kosher salt
freshly ground black pepper, to taste

⅓ cup

extra-virgin olive oil

1 tbsp

minced fresh soft herbs (such as chives, parsley, tarragon)
butter lettuce salad
2 tbsp

olive oil

1 cup

fresh sourdough bread crumbs (can substitute panko, if desired)
kosher salt
freshly ground black pepper

⅓ cup

finely grated Pecorino

2

heads butter lettuce, leaves separated, washed and patted dry

6

radishes, thinly sliced

1

avocado, sliced
Instructions
honey mustard vinaigrette
Combine shallot and white wine vinegar in a glass jar and let sit a few minutes.
Stir in honey mustard, salt and freshly ground black pepper. Add olive oil and shake the jar until thick and emulsified. Add herbs and shake to combine. Taste and adjust with more salt and pepper if needed.
butter lettuce salad
Heat olive oil in a medium skillet over medium heat. Add breadcrumbs and season with salt and pepper. Cook, stirring often, until starting to dry and turn golden brown, about 10 minutes.
Reduce heat to medium-low and stir in cheese. Cook, tossing and stirring as cheese sputters, melts into breadcrumbs and becomes crispy and deep golden brown, about 5 minutes. Transfer to a bowl to cool completely.
Cut or tear the lettuce into bite-size pieces and place in a large bowl. Toss with just enough dressing to lightly coat. Arrange radishes and avocado slices on top and sprinkle with breadcrumbs. Serve with any remaining dressing on the side.
Notes
Nutritional information is only an estimate. The accuracy of the nutritional information for any recipe on this site is not guaranteed.
Nutrition
Serving Size:

1

Calories:

309

Sugar:

2.5g

Sodium:

320mg

Fat:

25g

Saturated Fat:

4.1g

Unsaturated Fat:

19.4g

Trans Fat:

0g

Carbohydrates:

18g

Fiber:

3.9g

Protein:

5.4g

Cholesterol:

5.3mg
Keywords: butter lettuce salad