If you're looking to blur the lines between elegance and comfort food, this creamy parmesan risotto is for you. The tender rice is suspended in a lusciously smooth sauce that is filled with the flavors of butter, onion, garlic and good (real!) parmesan.
We cook onions in butter until they're meltingly soft, then we sauté the risotto rice until just translucent. We stir in the fresh zing of white wine and slowly cook the rice to the perfect balance of tenderness, bite, and parmesan-rich flavor.
It's a cheesy, saucy, rich dish that can go fancy or cozy-- you decide!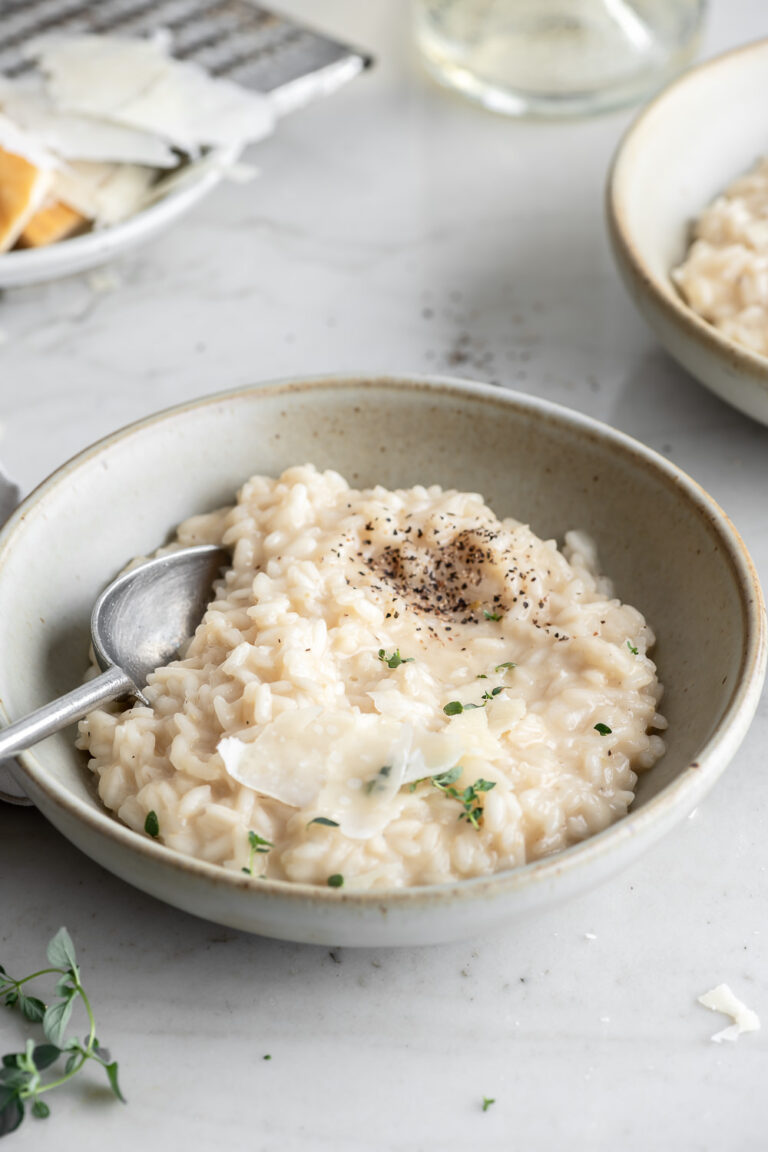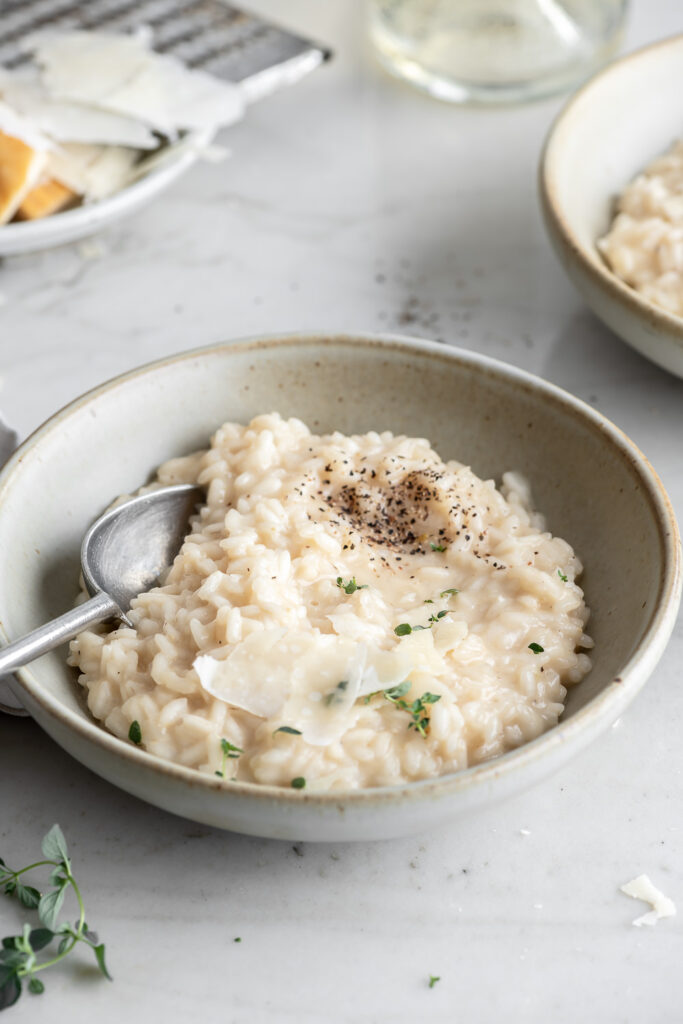 This post may contain affiliate links. As an Amazon Associate, I earn from qualifying purchases.
what is parmesan risotto?
Classic parmesan risotto is one of the most basic types of risotto. It's made from medium-grain varieties of rice and is flavored primarily with parmesan.
It's crucial to use real Parmigiano Reggiano here, not only for the richest flavor but also because real parmesan is guaranteed to melt into the risotto. The plasticky knock-offs in the store just won't cut it.
To build in more flavor, we also cook some onion and garlic in butter until they are meltingly soft but not browned. This adds complexity but keeps the flavor on buttery onions and parmesan, not the sweet caramelized flavor that can come if you cook the onions too long.
what you need for this parmesan risotto recipe:
risotto rice (arborio, carnaroli, vialone nano)
parmesan
butter
onion
garlic
dry white wine
chicken stock
kosher salt and black pepper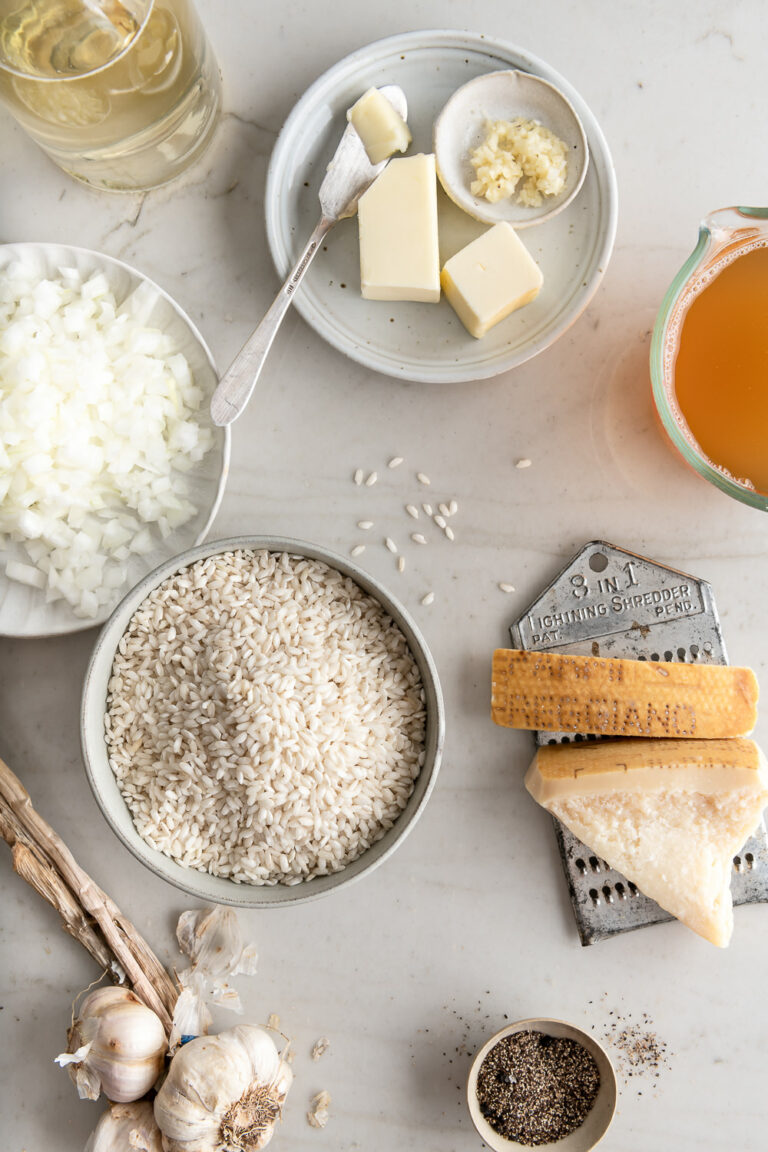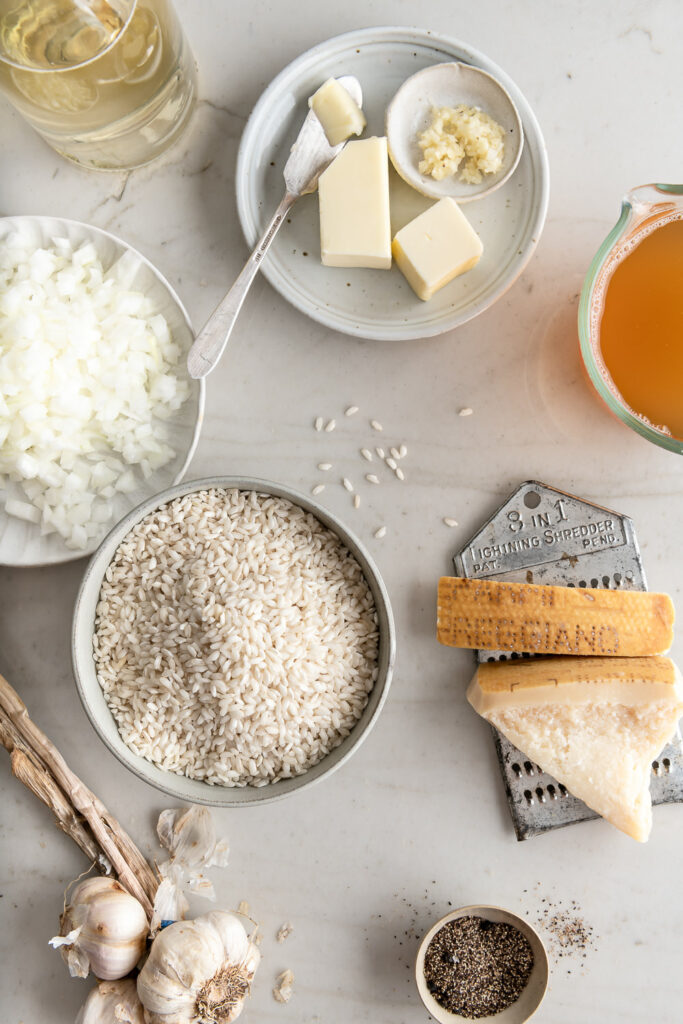 how to make easy parmesan risotto
Heat chicken stock in a small saucepan and keep warm.
Gently cook onion and garlic until very soft, but not browned (add water to prevent caramelizing).
Stir in rice, cook until just translucent on the edges.
Add wine and cook until evaporated.
Add hot stock, little by little, until absorbed/ evaporated. Repeat process, stirring often, until rice is tender, toothsome and saucy, about 20 minutes.
Stir in a chunk of butter and grated parmesan.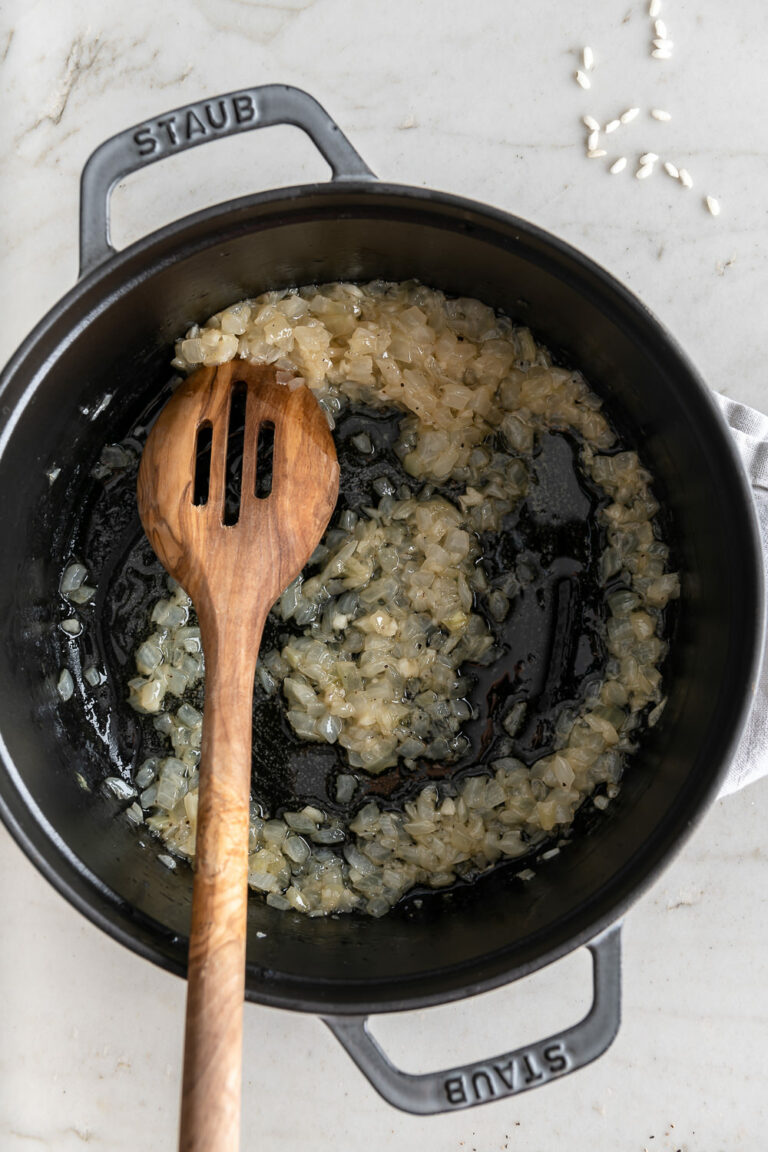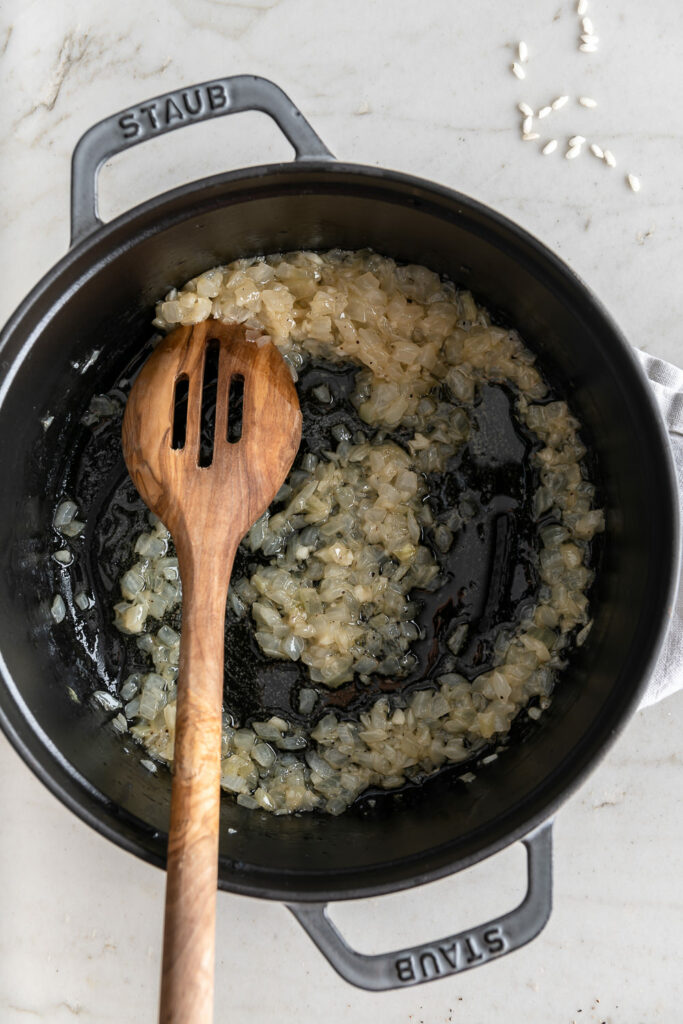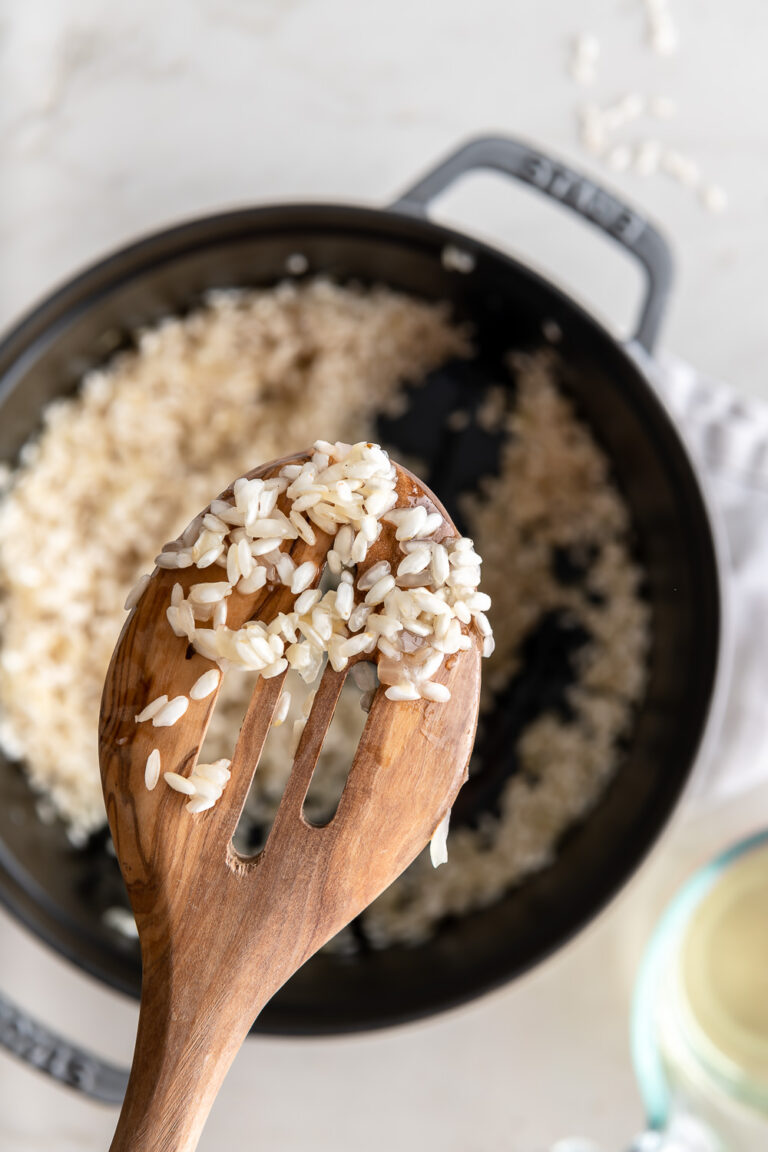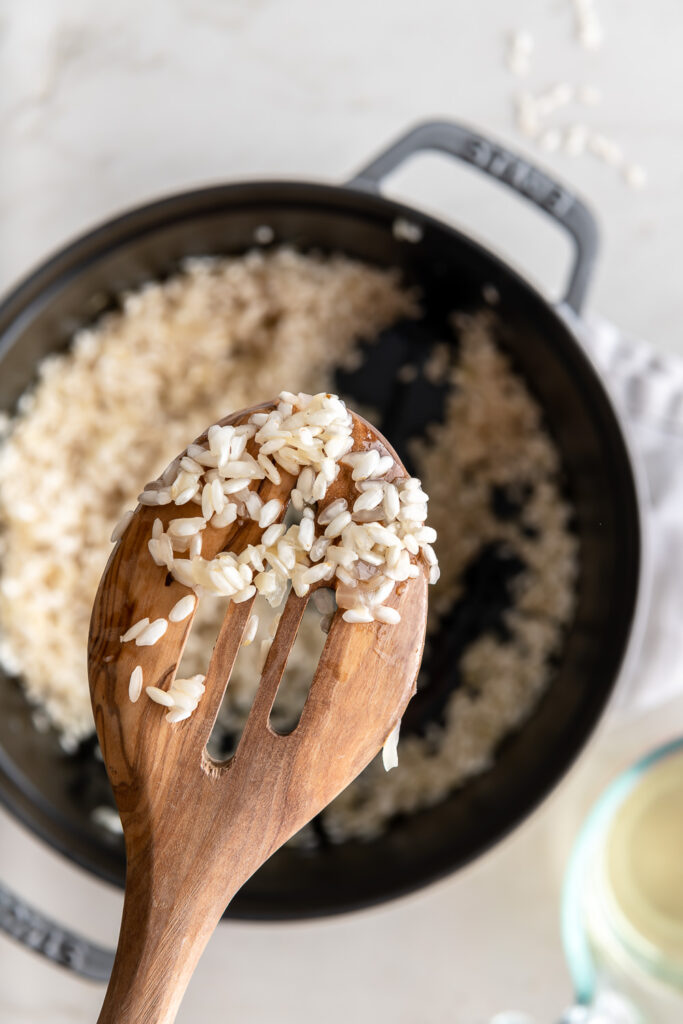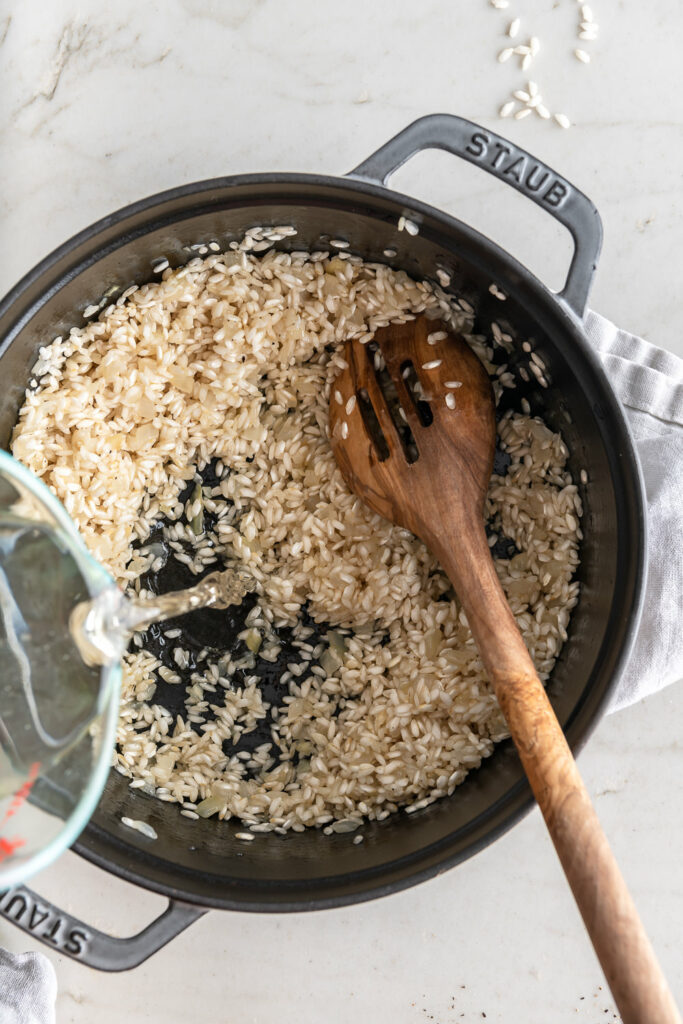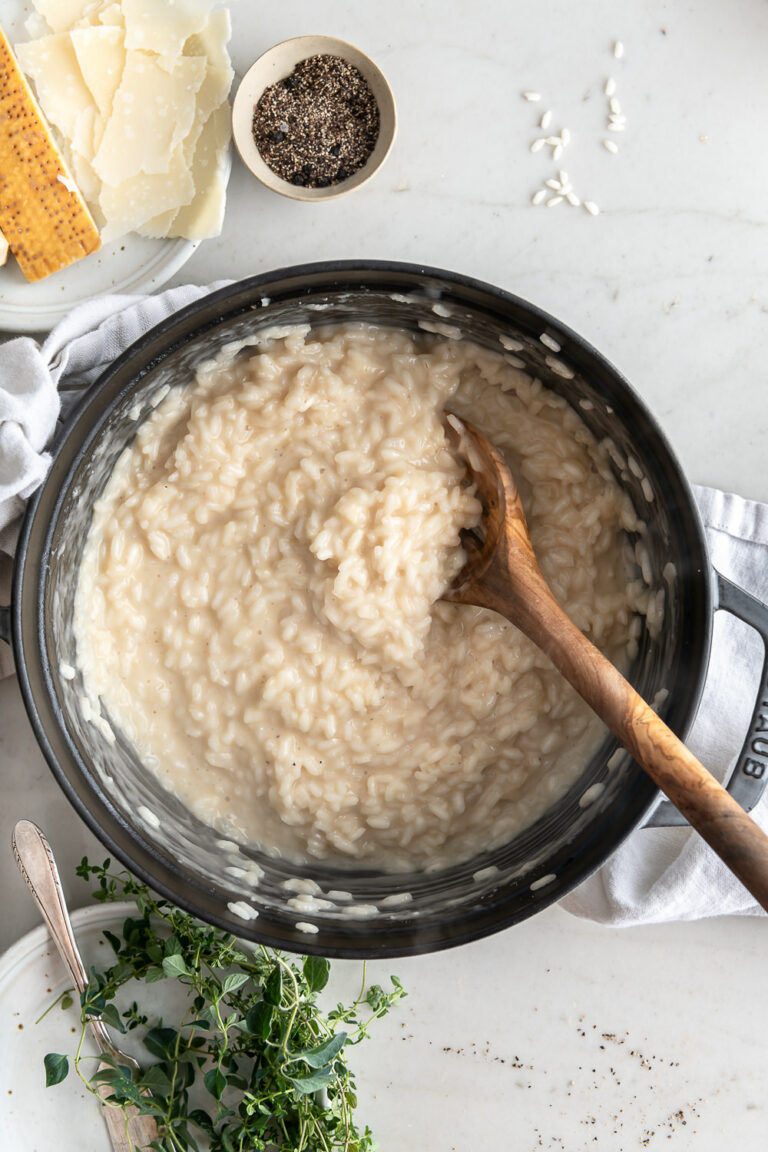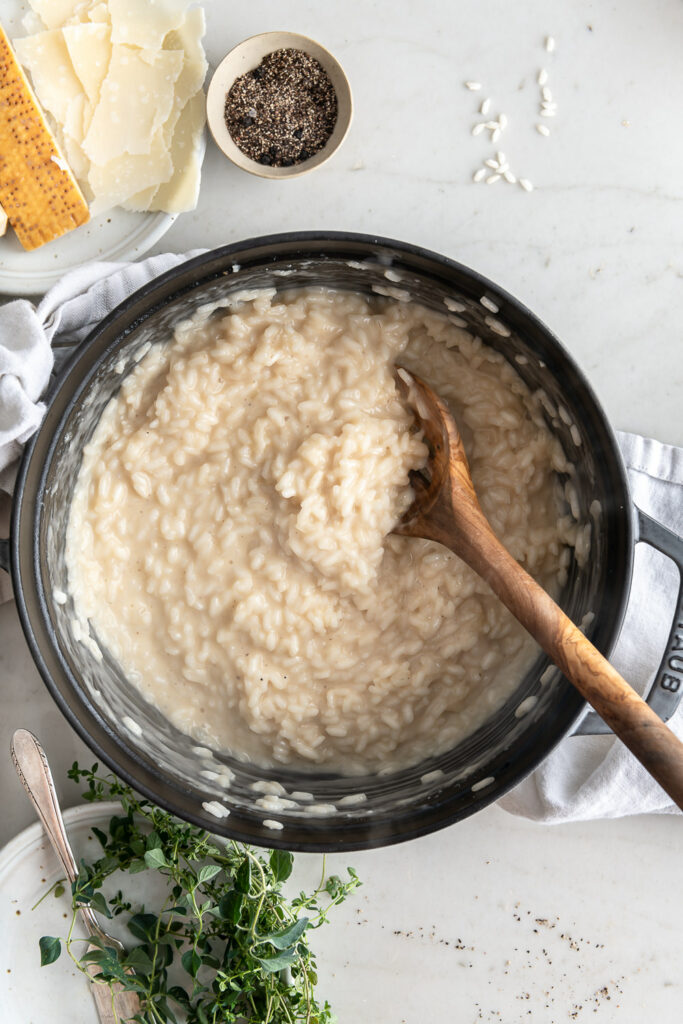 what rice to use for risotto?
Risotto has a reputation for being one of the fussier types of dishes out there. And while it does require some attention, it really boils down to following the right technique and using the right type of rice. Beyond that, don't freak out-- it's just creamy rice.
There are 3 main rice varieties that will produce saucy, luxurious risottos. They all have plump, short to medium-length grains, they're high in amyolopectin starch, and the grains are strong enough to stay firm throughout the long cooking times.
Arborio rice is the most readily available, well-known rice for risotto. It produces great risotto, though it is lower in starch than the next varieties. This means the risotto won't be as creamy.
Carnaroli rice is my personal favorite variety. It has the highest concentration of starch, so it makes a velvety risotto with the perfect bite. I've never seen it at stores, but it's easy to find online!
Vialone Nano has almost as much starch as Carnaroli and is the preferred rice in the Veneto region, where the looser "all'onda" style is preferred. The risottos are ultra-creamy and the rice grains maintain their shape.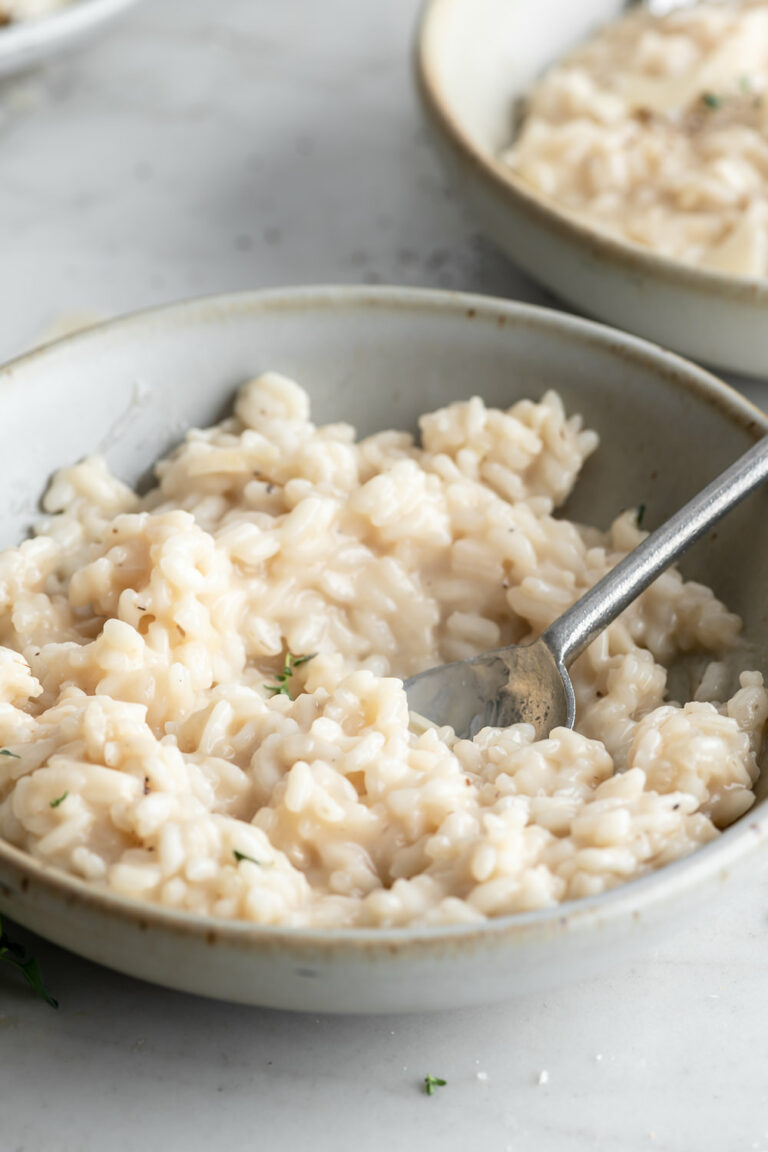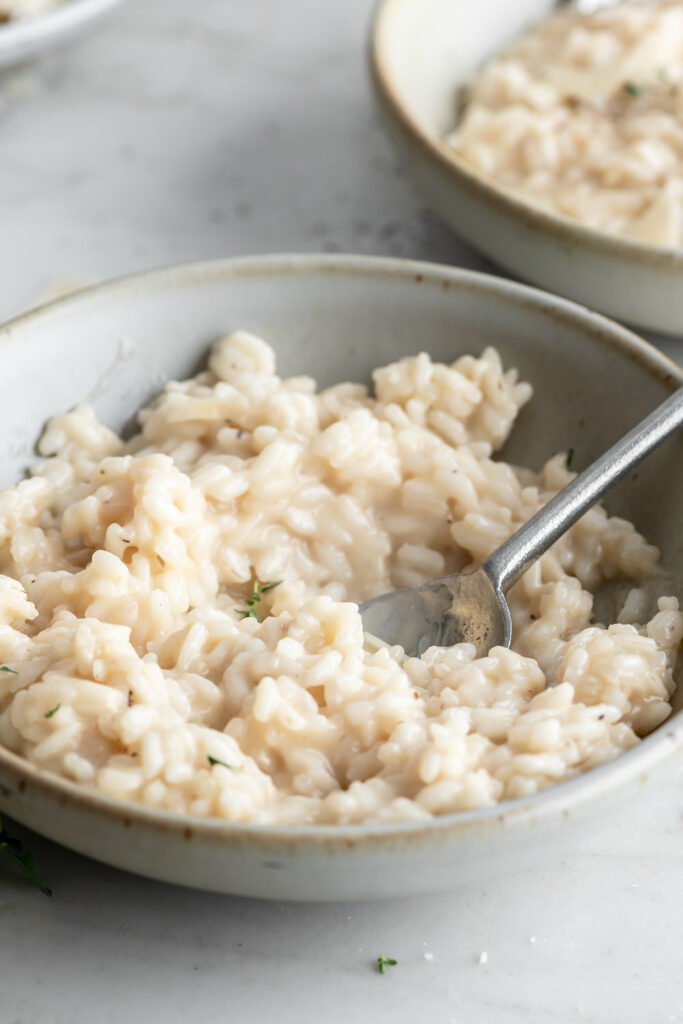 what to serve with parmesan risotto:
Crispy fried eggs on top
Butter poached lobster
Roasted shrimp
brown butter scallops
Butter roasted halibut
Shaved white truffles on top
Asparagus
English peas
Sauteéd mushrooms
wines to serve with creamy parmesan risotto:
Full-bodied white wines go really well with parmesan risotto. They complement the creamy sauce and aren't overpowered by the sharp, nutty parmesan flavor.
Rich Chardonnays, white Rhone blends, and Chenin blancs can all provide the needed flavor intensity, acidity, and texture to make this risotto shine.
what is the perfect risotto technique?
Risotto is notorious for being a finicky dish. The science is still undetermined on which part of the process, exactly, produces the silky, creamy, saucy dish.
But we do know certain techniques are still important.
Slowly cooking the rice is important. Stirring to prevent scorching is important. Whether the friction of stirring loosens starches and creates the creamy consistency or not, it does help the rice cook evenly. Using hot stock also helps maintain an even simmer, though you could be bold and skip that step if you'd like. Adding enough liquid to create a saucy consistency, without adding too much, may be the biggest benefit of adding stock in increments.
I prefer the old-school technique; it's soothing and reliable. But if you're interested in pushing the boundaries of cooking, check out this article on how to make the perfect risotto.
In this creamy parmesan risotto, we add small amounts of hot stock to the rice and stir it often until it the liquid absorbed and evaporated. Occasional stirring will prevent scorching and help the rice cook evenly, but too much agitation can make it gluey. When the rice is done, it will be tender but firm at the center and it will be suspended in a silky, creamy sauce. Serve it immediately and savor it-- reheating doesn't go well.
a few more tips:
The amount of stock in risotto recipes is just an estimate. The amount of liquid you need will vary based on the absorption of the rice (different for different rice varieties and producers) and the evaporation rate (differs based on the pan you use and the intensity of your simmer). Add stock, a ladle-full at a time, until the rice is tender but firm in the center. Don't worry about using all of it!
Remember, the parmesan will add a lot of salt to the risotto. While I do recommend tasting and salting as you go, be sure to err on the side of less salt than necessary. Taste after you add the parmesan and then finalize your seasoning just before serving.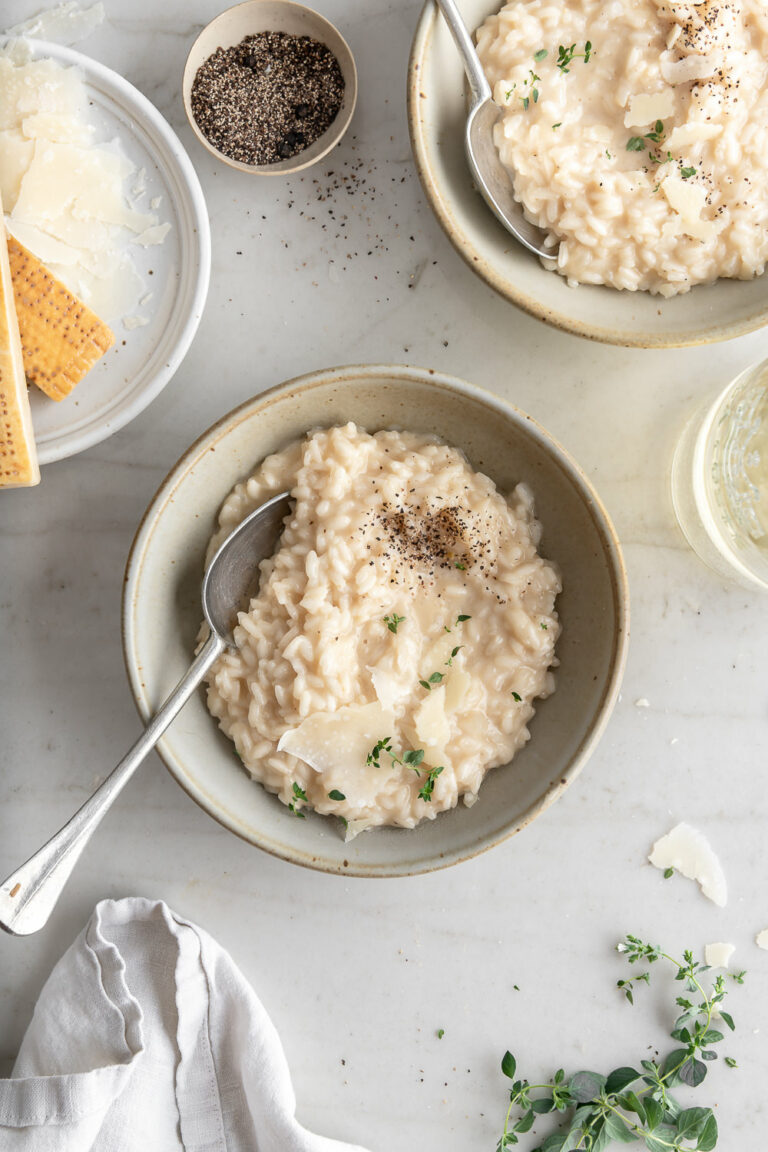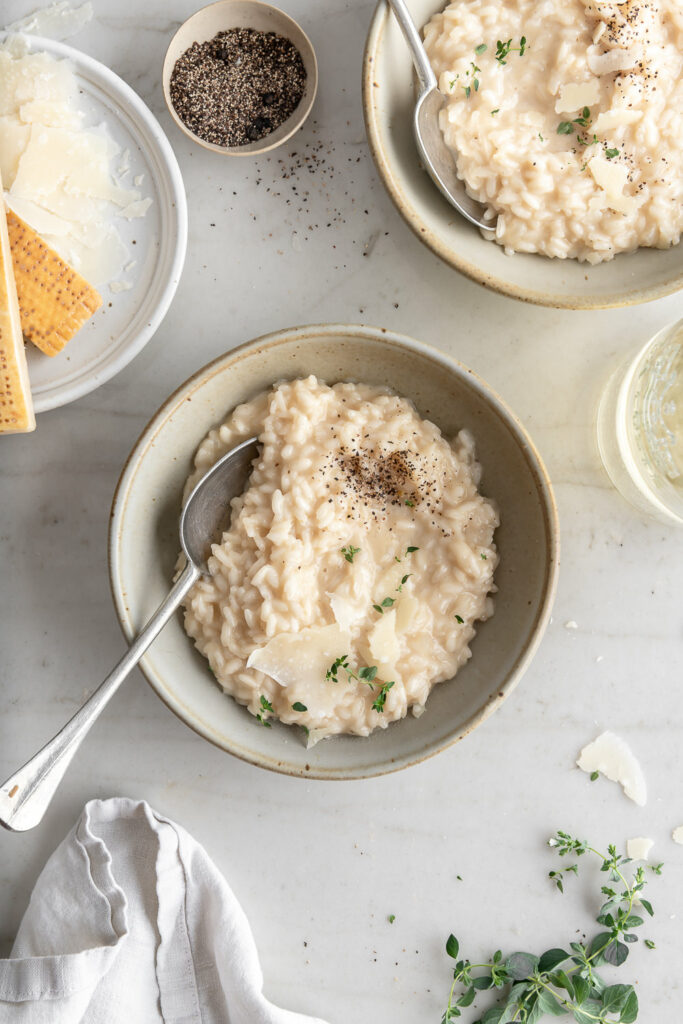 Frequently asked questions about parmesan risotto:
what does parmesan risotto taste like?
Parmesan risotto is a creamy rice dish that's filled with the sharp, rich flavor of parmesan cheese. We add soft, sweet onions and a tiny amount of garlic to fill out the aromatics of the dish, and a heavy splash of white wine to lighten the flavor.
what meat to put in parmesan risotto:
I love this creamy parmesan risotto with seafood. Sauteed and chopped seafood, such as shrimp, lobster, fish all go wonderfully with the simple backdrop of parmesan. You could also go with poached chicken, pancetta or even crumbled sausage.
Be sure the meat is cooked and chopped into small, bite-sized pieces, then fold it in at the very end of cooking.
when to add parmesan to risotto:
The best time to add parmesan to risotto is at the very end, with an extra pat of butter. We stir them both in until completely melted and suspended in the starchy liquid. This creates a silky, parmesan-rich sauce that coats the rice grains and amplifies the creaminess.
what to replace parmesan with in risotto:
Other sharp, aged cheeses will work in place of parmesan here. Pecorino romano, grana padado and manchego are 3 different hard cheeses that are complex in flavor and easy to grate. They'll all melt into the risotto and give a rich flavor to the final dish.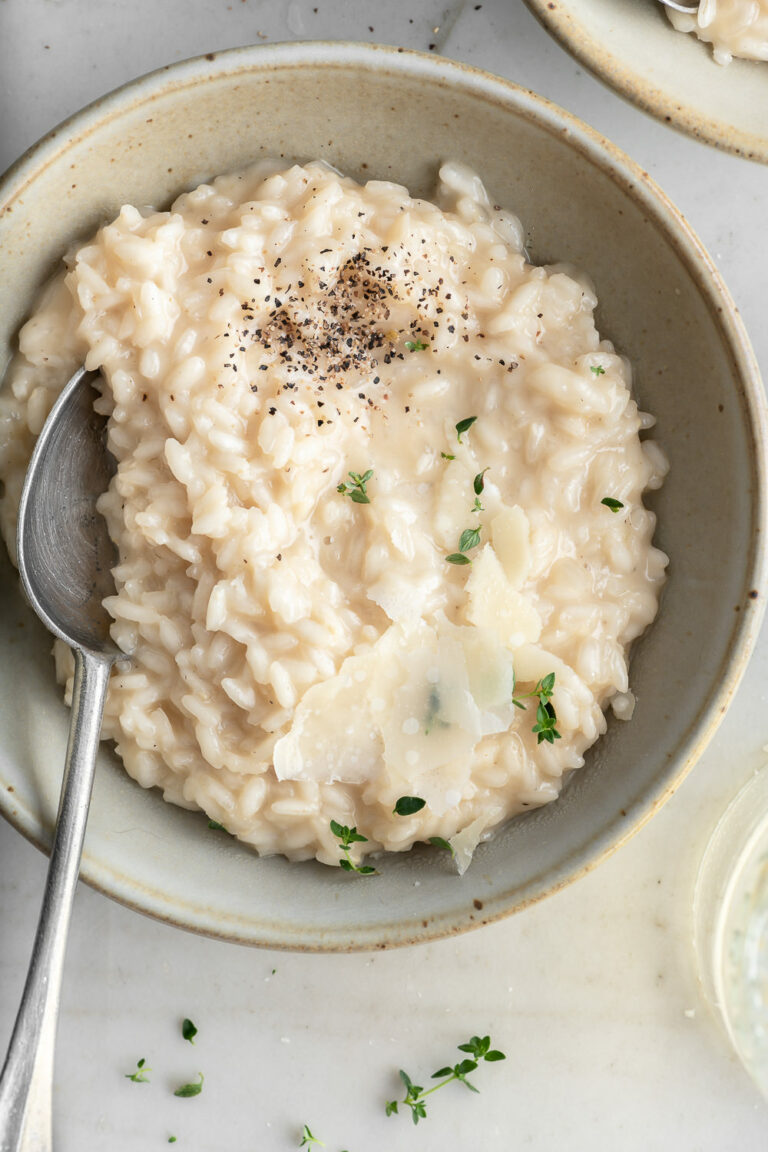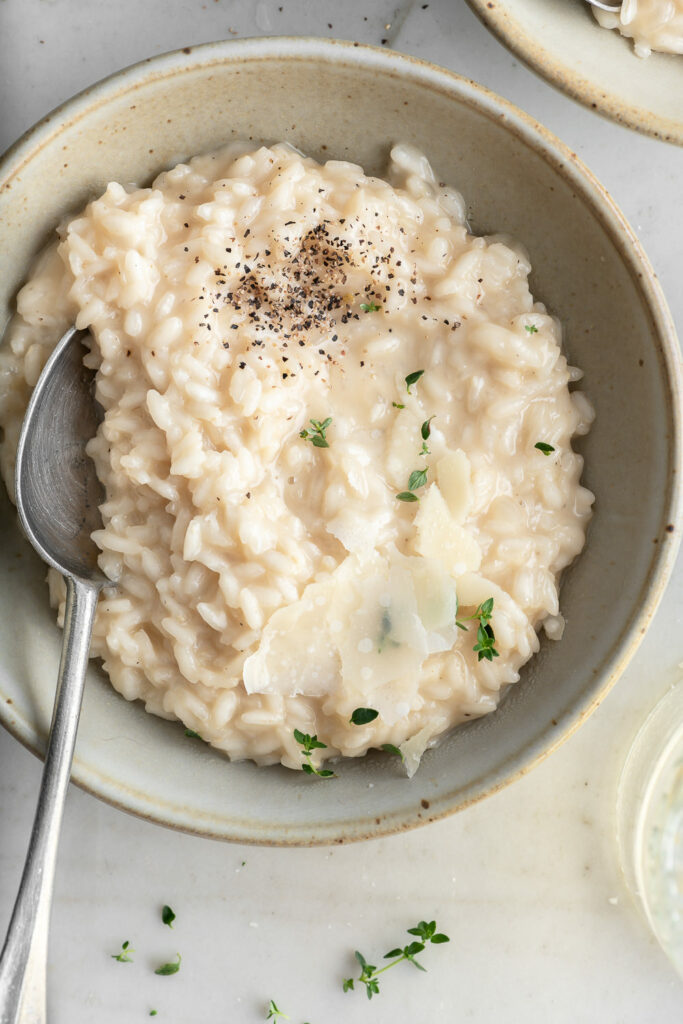 how many calories in parmesan risotto?
One serving of this garlic parmesan risotto is 431 calories. For more nutritional information, scroll down to the end of the recipe! Remember though-- it's just an estimate and I can't guarantee its accuracy.
how many carbs in parmesan risotto?
One serving of this creamy parmesan risotto has 28g of carbohydrates. It is a rice dish-- so don't be surprised! Balance it out with some seafood protein and you're all good.
more risotto recipes to try!
Print
creamy parmesan risotto recipe
Creamy parmesan risotto is a silky rice dish with meltingly soft onions, garlic, and rich parmesan. Use high-starch rice for the most luxurious consistency.
Author:
Cook Time:

35 minutes

Total Time:

35 minutes

Yield:

4

Category:

Rice

Method:

Stirring

Cuisine:

Italian

Diet:

Gluten Free
Ingredients
6 cups

low-sodium chicken stock

6 tbsp

cold butter, divided

1

small onion, finely diced

1

garlic clove, minced
kosher salt
freshly ground black pepper

1 ½ cup

risotto rice (arborio, carnaroli, vial

one

nano)

1 cup

dry white wine

1 ¼ cup

finely grated parmesan, plus more for serving
Instructions
Heat chicken stock in a small saucepan over medium-low heat; keep it hot but not simmering.
Melt 4 tablespoons butter in a large pot over medium heat. Add onion, season with salt and pepper, and cook until soft and translucent, 8- 10 minutes. Add garlic and cook for about 30 seconds, then add ¼ cup water. Continue to cook until water has evaporated and onion is very soft, but not browned, about 5 more minutes.
Add rice and stir to coat in butter. Cook until rice turns slightly translucent but not toasted, 2- 3 minutes. Add wine and stir until liquid is fully absorbed and the rice is mostly dry.
Add a ladleful of hot stock and a big pinch of salt and black pepper. Reduce heat to a gentle simmer and stir every so often to incorporate the liquid and keep the rice from scorching (over stirring can make it gluey). When the rice looks almost dry, add another cup of hot stock. Repeat the process, stirring often and maintaining a gentle simmer, until rice is tender but al dente and liquid is mostly absorbed (you may not need all of the stock), 15- 20 minutes.
Stir in remaining 2 tbsp cold butter and parmesan; season to taste with salt and black pepper.
Divide risotto into serving bowls and top with thick shavings of parmesan and more black pepper. Serve immediately.
Notes
Nutritional information is only an estimate. The accuracy of the nutritional information for any recipe on this site is not guaranteed.
Nutrition
Serving Size:

¼th of recipe

Calories:

431

Sugar:

1.3g

Sodium:

783mg

Fat:

26g

Saturated Fat:

16g

Unsaturated Fat:

7.9g

Trans Fat:

1g

Carbohydrates:

28g

Fiber:

0.2g

Protein:

11g

Cholesterol:

73mg
Keywords: parmesan risotto