Roast lobster tail is an elegant seafood dinner that is perfect for holiday entertaining. Seafood is an exciting change from the heavy roasts of winter and if you're cooking for a crowd, these roast lobster tails are surprisingly low maintenance.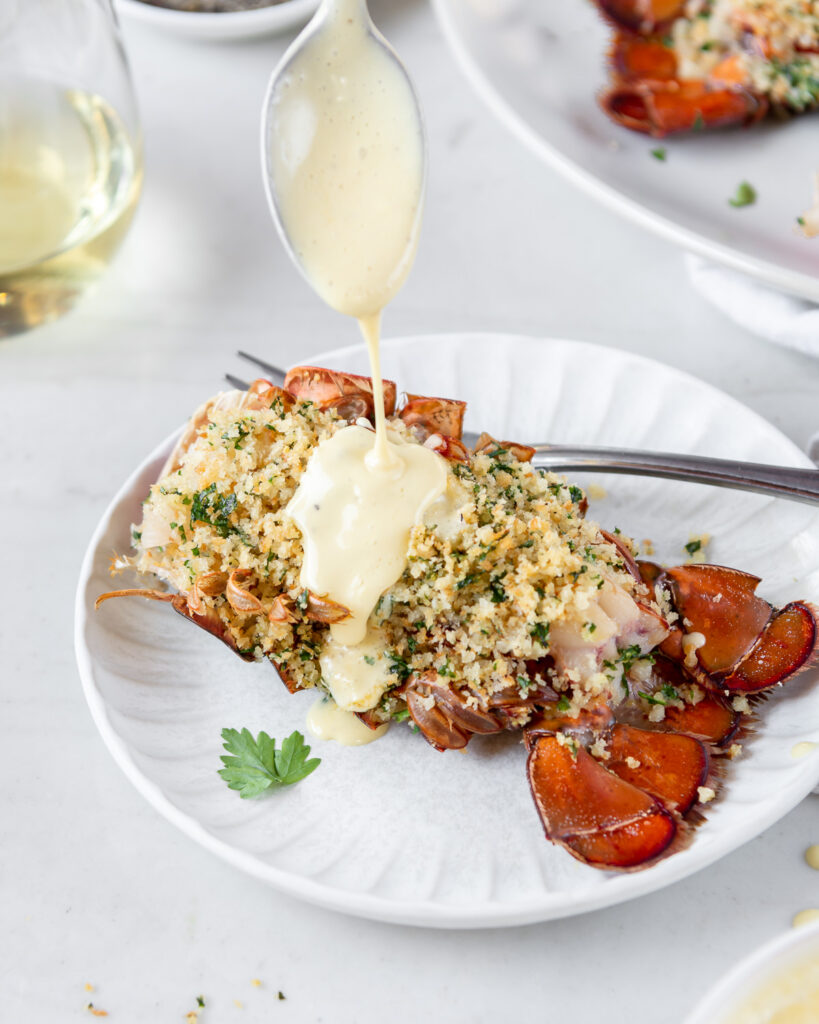 The meat is roasted in the shell to add depth of flavor and juiciness. It also happens to look beautiful and impressive when plated— something both you and your guests will love. The crispy panko crumbs add a crunchy texture and a ton of flavor (lemon zest, grassy parsley, butter!)
And don't forget about the brown butter hollandaise. This sauce takes the roast lobster tail to the next level. It's a thick, lemony, buttery, complex. Serve with a fresh salad and your favorite rice pilaf for an extra special winter meal.
where can I find lobster tails?
You can find lobster tails at seafood markets and high quality grocers— just make sure to look in the frozen section. Whole lobsters are sold live to keep the meat as fresh as possible for the consumer. Once the lobster is killed, bacteria rapidly grow and produce toxins that cause severe food poisoning. We cook them live to reduce that risk.
Lobster tails, on the other hand, are almost always frozen. The tail is removed from the body (referred to as the "head", which spoils much more quickly) and immediately frozen. This lessens the risk of bacterial growth and provides fresh, high quality, safe lobster meat.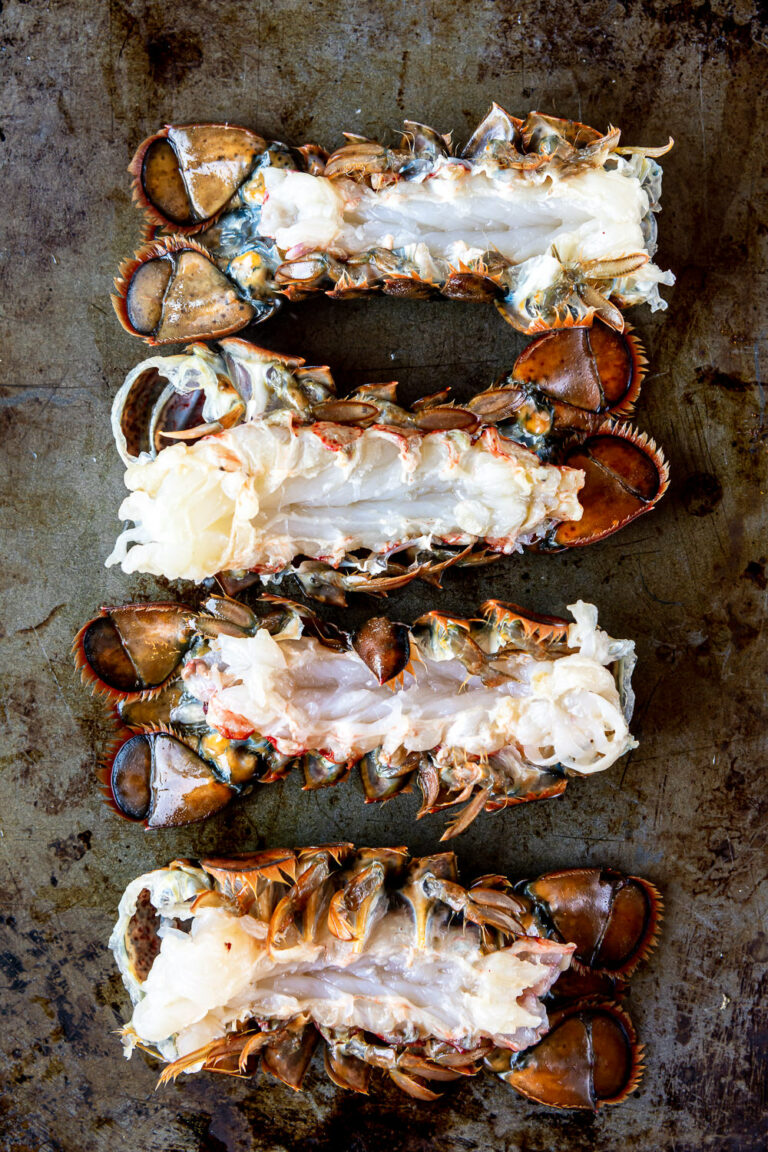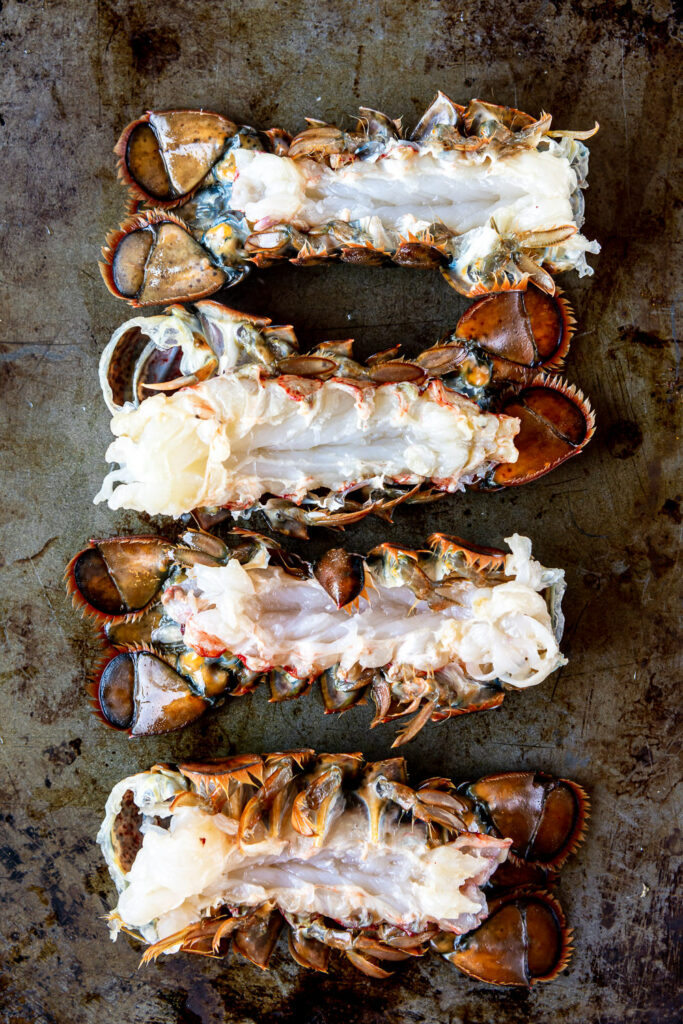 how to thaw frozen lobster tails
There are two ways to thaw frozen lobster tails. The easiest way is to place them on a covered plate in the refrigerator and let them slowly defrost fo 24 hours. If you forget, or if you are having an impromptu lobster tail dinner, don't worry!
Place the frozen lobster tails in a ziplock bag, squeeze out the extra air, and submerge it in cold water. Let sit for 30- 45 minutes, or until lobster tails are fully thawed (they'll be soft and pliable). Change the water as needed to keep it very cold, and cook the lobster tails right away to avoid spoilage.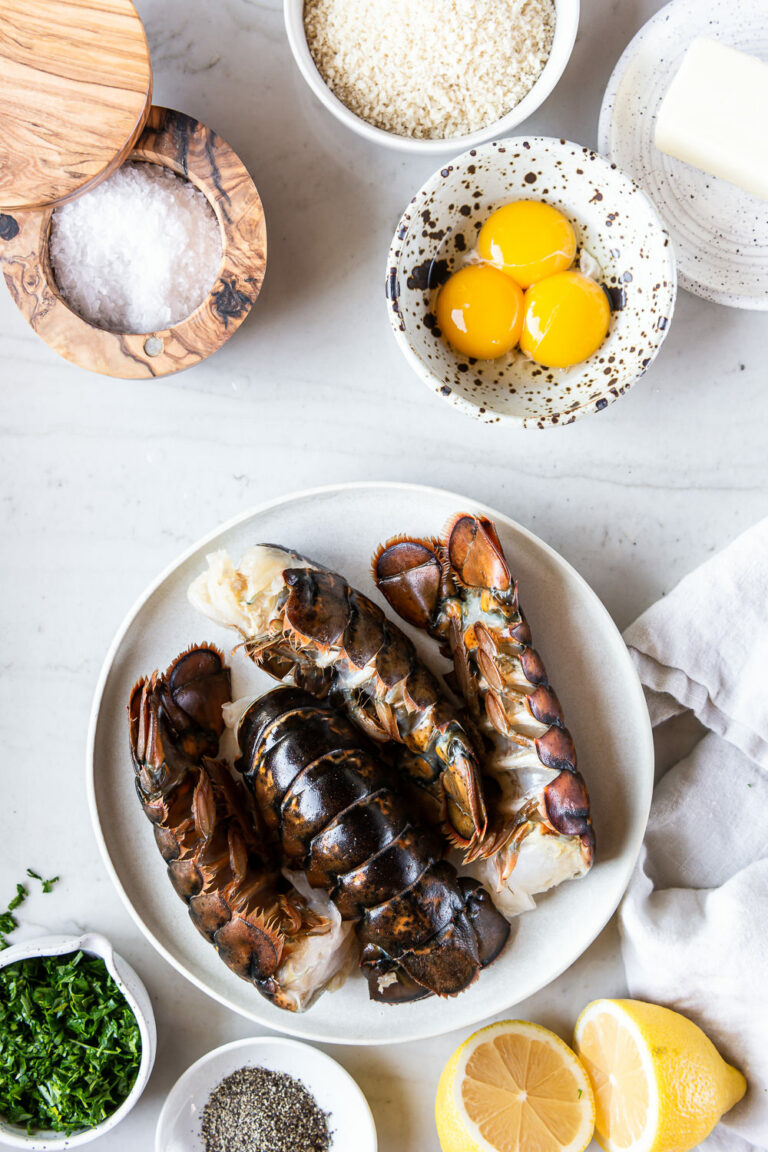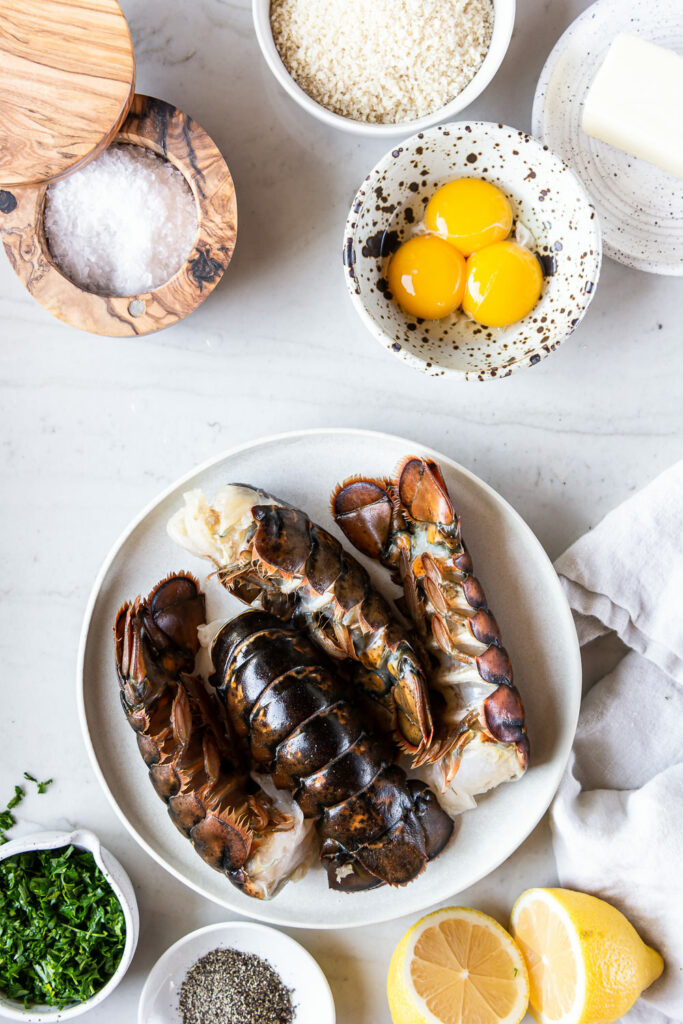 what's the best way to cook a lobster tail?
The best way to cook lobster tail is roasted in the oven, with the meat still in the shell. The shell insulates the meat and prevents it from drying out. It also infuses the meat with extra flavor. Best of all, the shell also adds a beautiful presentation (especially with crispy panko mounded on top).
The oven gives you an elegant, succulent, deeply flavorful lobster tail that basically cooks itself.
how to make roast lobster tails:
Thaw the frozen meat.
Use kitchen shears to cut through the underside of the shell.
Carefully crack open the shell, run your finger along the sides of the shell to loosen the meat, and gently pull out the tail meat.
Clean the meat, pat dry, return to the shell.
Top with crispy herbed panko crumbs.
Bake for 20- 25 minutes, or until meat is 140°F.
Serve with brown butter hollandaise and a crisp white wine (Sancerre! Chablis!).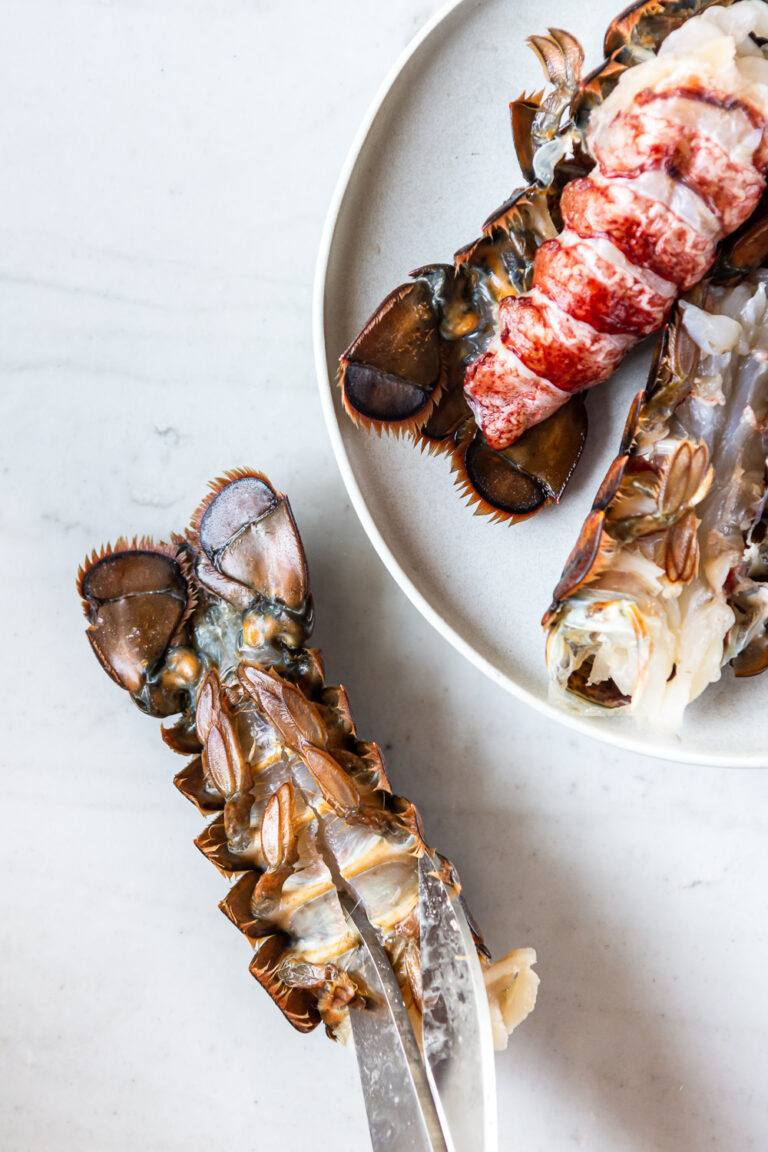 what to serve with roast lobster tails:
These roasted lobster tails would be delicious served alongside this radicchio salad with oranges and pecorino, sautéed kale, and extra crispy air fryer baked potatoes. They're perfectly fluffy (ideal for soaking up all that brown butter hollandaise) and this recipe keeps your oven reserved for the main attraction: lobster tails.
Serve with a bubbly, light and delicious Champagne cocktail to take this meal to the next level of indulgent!
related recipes
five spice grilled shrimp with sweet and sour sauce
creamy lobster chowder with bacon and chives
porcini crusted roasted beef tenderloin with red wine sauce
spicy tuna tartare with cucumber, avocado and cilantro
Print
roast lobster tail
Succulent roast lobster tail is topped with crispy herbed panko crumbs and drizzled with a thick brown butter hollandaise sauce. Juicy, flavorful and surprisingly simple!
Author:
Prep Time:

15 minutes

Cook Time:

30 minutes

Total Time:

45 minutes

Yield:

4

Category:

Seafood

Method:

Roast

Cuisine:

American
Ingredients
roast lobster tail
2 tbsp

unsalted butter

½ cup

panko bread crumbs

kosher salt

black pepper

¼ cup

chopped parsley
zest of

1

lemon

4

lobster tails, thawed

lemon wedges, for serving
brown butter hollandaise 
1

stick unsalted butter

3

egg yolks

2 tbsp

fresh lemon juice

kosher salt

black pepper
Instructions
roast lobster tail
Preheat oven to 350°F. 

Melt butter in a small pan over medium heat. Add panko and season with salt and pepper. Cook, stirring often, until golden and toasty, about 3 minutes. Transfer to a bowl, let cool, then mix in parsley and lemon zest.

To prepare lobster tails, use kitchen shears to cut lengthwise through the underside of the lobster tail. Carefully crack open the shell to expose the meat. Run your finger along the sides of the shell to gently loosen the meat, then pull it out of the shell. If the digestive tract is present, remove it. Rinse tail with cool water, pat dry, and tuck back into shell.

Arrange lobster tails on a foil lined baking sheet, alternating tails to help prop them up. Divide panko mixture over top. Roast until panko is golden brown and meat registers 140°F with an instant read thermometer, 20- 25 minutes. Start hollandaise sauce when lobsters have 10 minutes left to cook (recipe below). Serve roast lobster tails with lemon wedges and brown butter hollandaise.
brown butter hollandaise 
Melt butter in a small saucepan over medium-low heat. Cook, stirring frequently, until

butter begins to brown and smell nutty, about 5 minutes. Remove from heat.

In a 2-cup glass measuring cup, combine egg yolks, lemon juice, 1 tablespoon water, ½ tsp kosher salt and black pepper. Use an immersion blender to blend until thick and frothy, about 30 seconds. Alternatively, use a blender. With immersion blender running, slowly drizzle in hot browned butter and blend until the sauce is very thick. Taste and add more salt or pepper if needed.
Notes
Nutritional information is only an estimate. The accuracy of the nutritional information for any recipe on this site is not guaranteed.
Nutrition
Serving Size:

1 lobster tail and ¼ of sauce

Calories:

472

Sugar:

1.2g

Sodium:

595mg

Fat:

34g

Saturated Fat:

19g

Unsaturated Fat:

12.5g

Trans Fat:

0g

Carbohydrates:

14g

Fiber:

0.8g

Protein:

27g

Cholesterol:

291mg
Keywords: roast lobster tail