This extra soothing hot toddy recipe is made with 4 layers of citrus, honey, and good Cognac. It's smooth, fresh and so comforting!
I've always loved the idea of a hot toddy. A hot drink that warms you to the core-- cozy, fragrant, perfectly delicious. One that takes the edge off the cold and gives you a warm glow. One that you want to keep sipping all night long.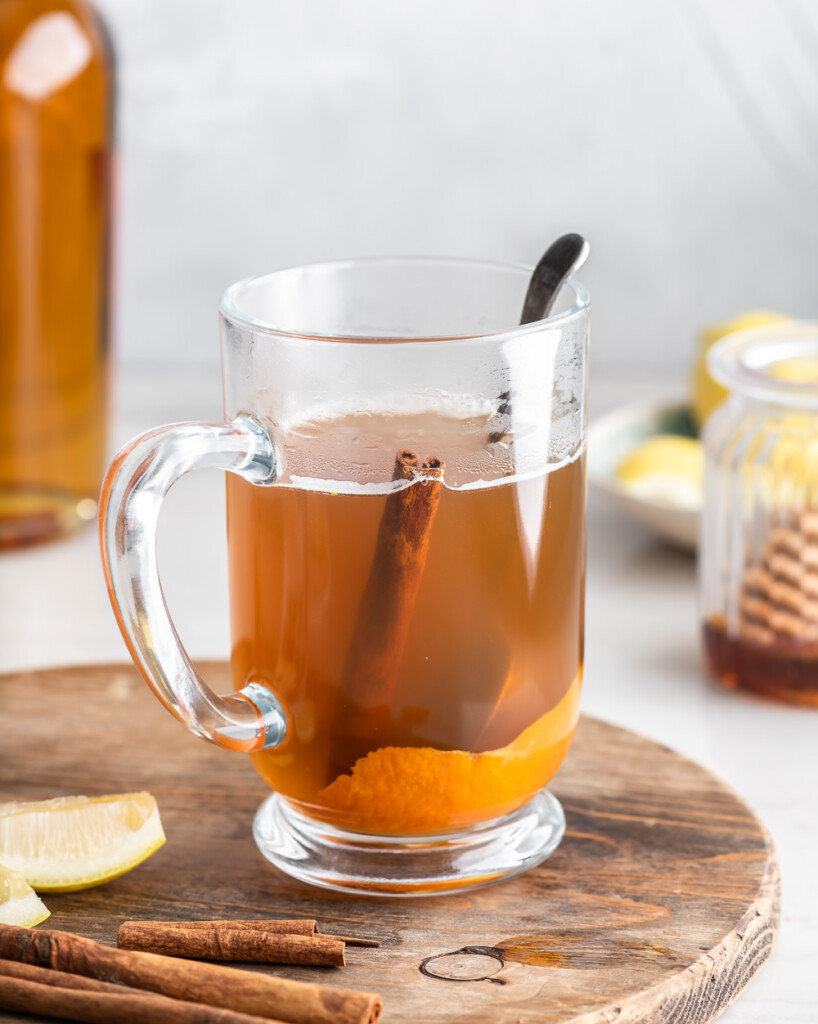 My journey to the perfect toddy hasn't been filled with these hopes, though. Too many recipes come off a little watery, a little harsh, and honestly, a little bit bland.
The combination of hot water, lemon and booze isn't necessarily a recipe for success.
The balance of sweet and sour, alcohol and flavor really matter in hot drinks. They don't have the luxury of ice cubes to soften the harsh edges (which actually get amplified by heat!).
Read on to learn how we optimized the hot toddy to make it deliciously smooth, flavorful and soothing. A drink you simply can't get enough of!
This post may contain affiliate links. As an Amazon Associate, I earn from qualifying purchases.
what is a hot toddy?
A hot toddy is a very broad category of drinks. Usually, it's some combination of lemon, honey, hot water, and alcohol.
The spirit most often used is whiskey. And while we LOVE whiskey, we've come to prefer Cognac here for the extra fruity notes and seamless blend with Grand Marnier.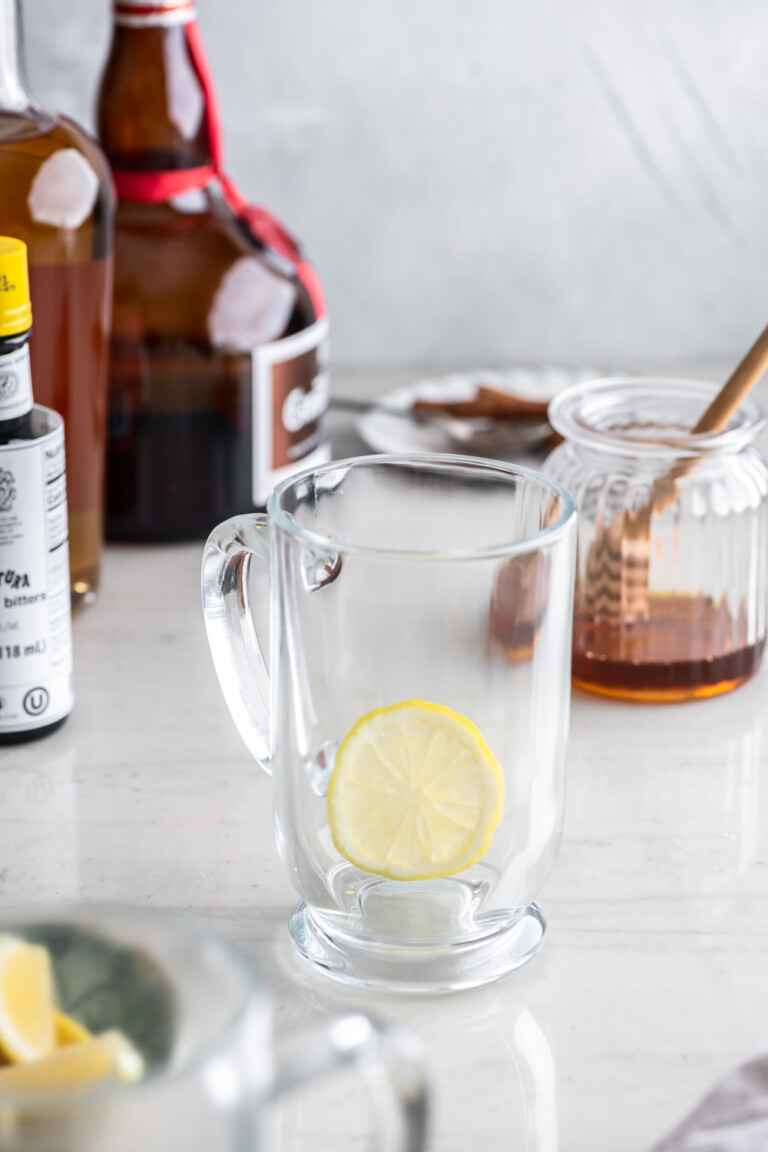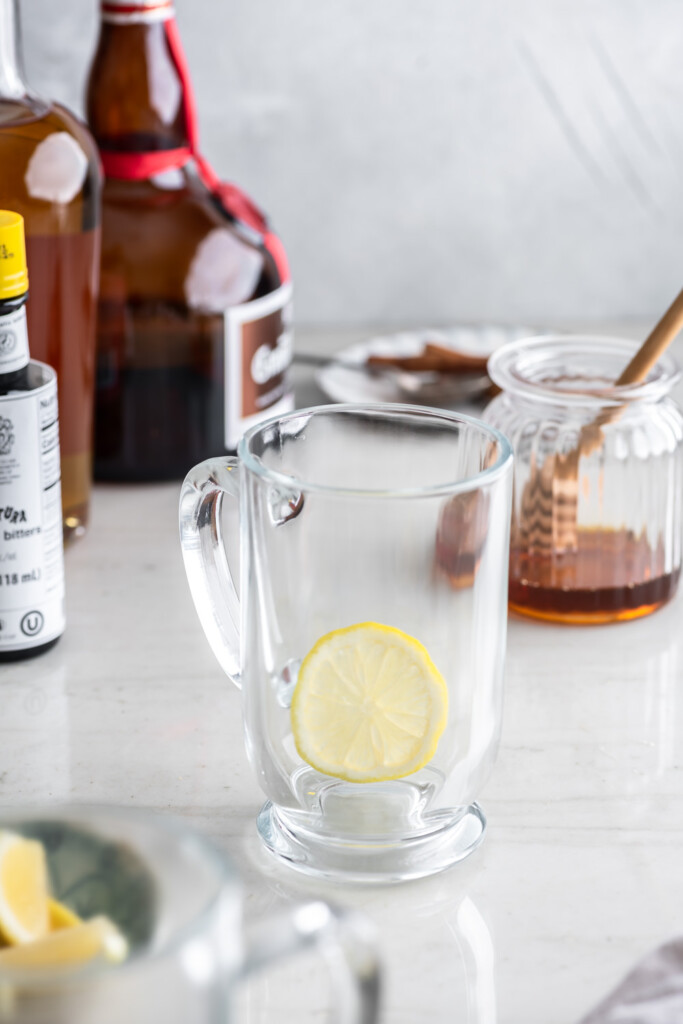 hot toddy ingredients:
Cognac
Grand Marnier
honey
lemon
orange bitters
cinnamon stick, orange zest or lemon slice, for garnish
why is this the best hot toddy recipe?
Part of what makes this the best hot toddy recipe is the flavor and richness. It's calming, fragrant, and extra citrusy.
Good Cognac: We love to use high-quality aged grape brandy, preferably Cognac VSOP or above. The fruity notes and smooth texture play so well with the sweet orange and lemon.
Grand Marnier: This is totally non-traditional, but it really elevates the drink and makes it absolutely delicious. The orange liqueur adds a lushness to the texture along with bitter orange and vanilla notes. It's ambrosia. If you don't have it, feel free to substitute Contrieau or your favorite orange liqueur-- it won't be as smooth, but it will still be great!
Layers of citrus: We play up the citrus notes 4 ways: orange bitters, fresh squeezed lemon juice, orange zest and orange liqueur. The layers of citrus add so much freshness to this warm cocktail. Feel free to substitute Angostura bitters if that's all you have on hand-- the warm spice notes are also great.
Simple technique: This recipe couldn't be easier. Mix everything but the water in a heatproof mug, then pour boiling water over the top. Stir to combine and you're done!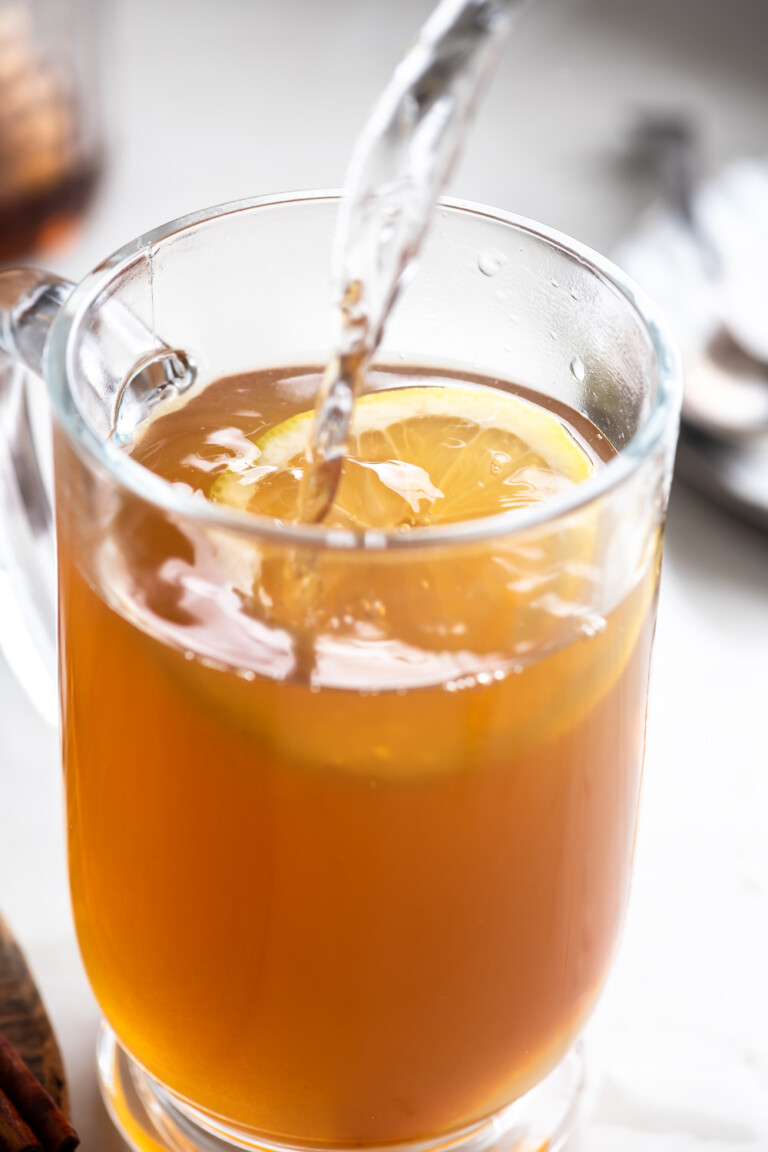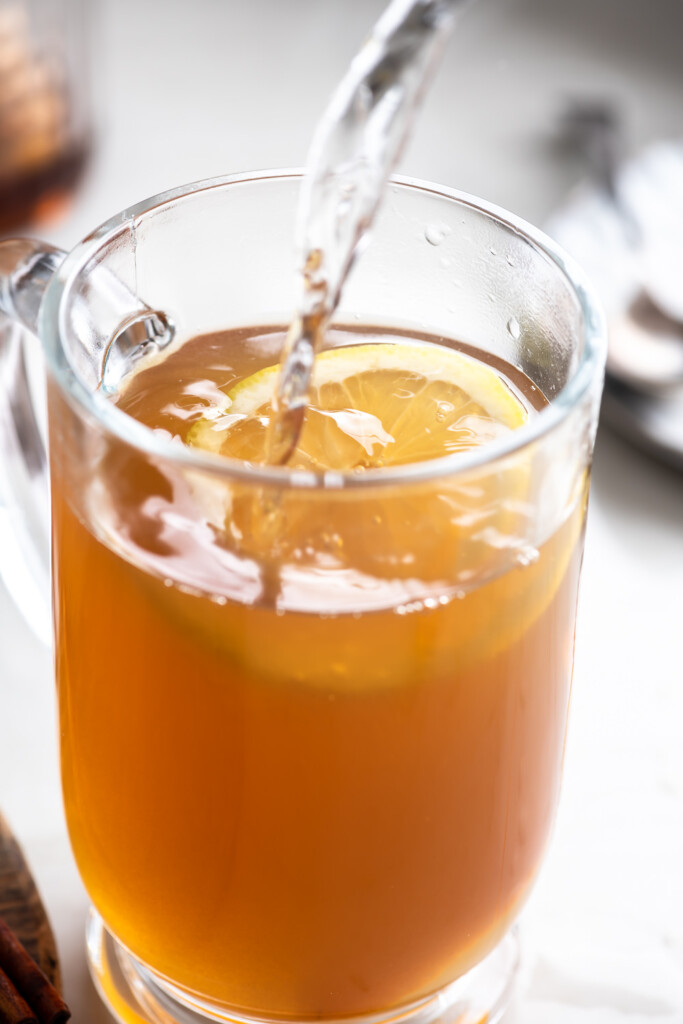 how to make this hot toddy recipe:
Heat water in a tea kettle.
Combine honey, Cognac, Grand Marnier, lemon juice and bitters in a mug.
Pour hot water over top.
Stir to combine.
Pick your garnish: cinnamon stick, lemon wheel and/or orange zest, and enjoy!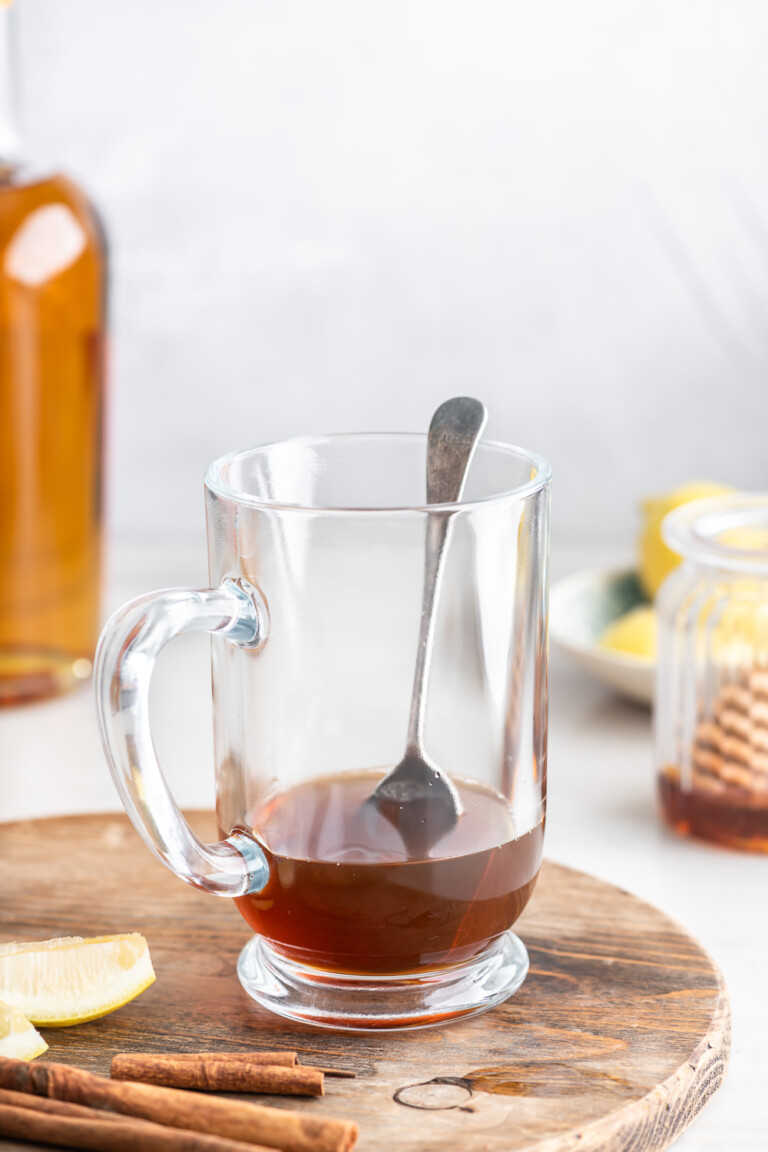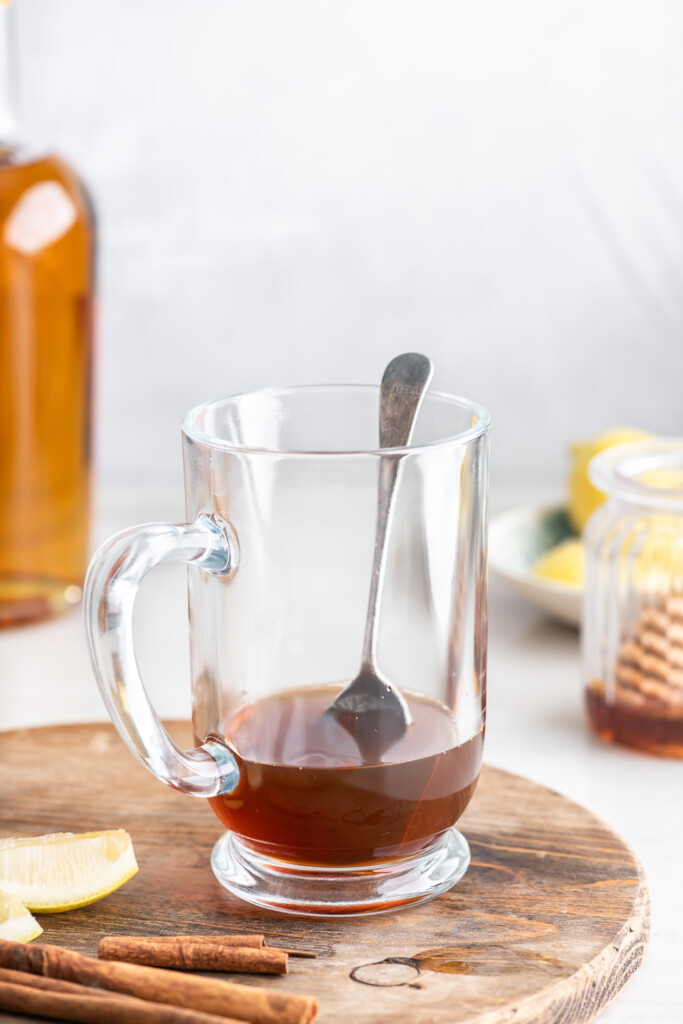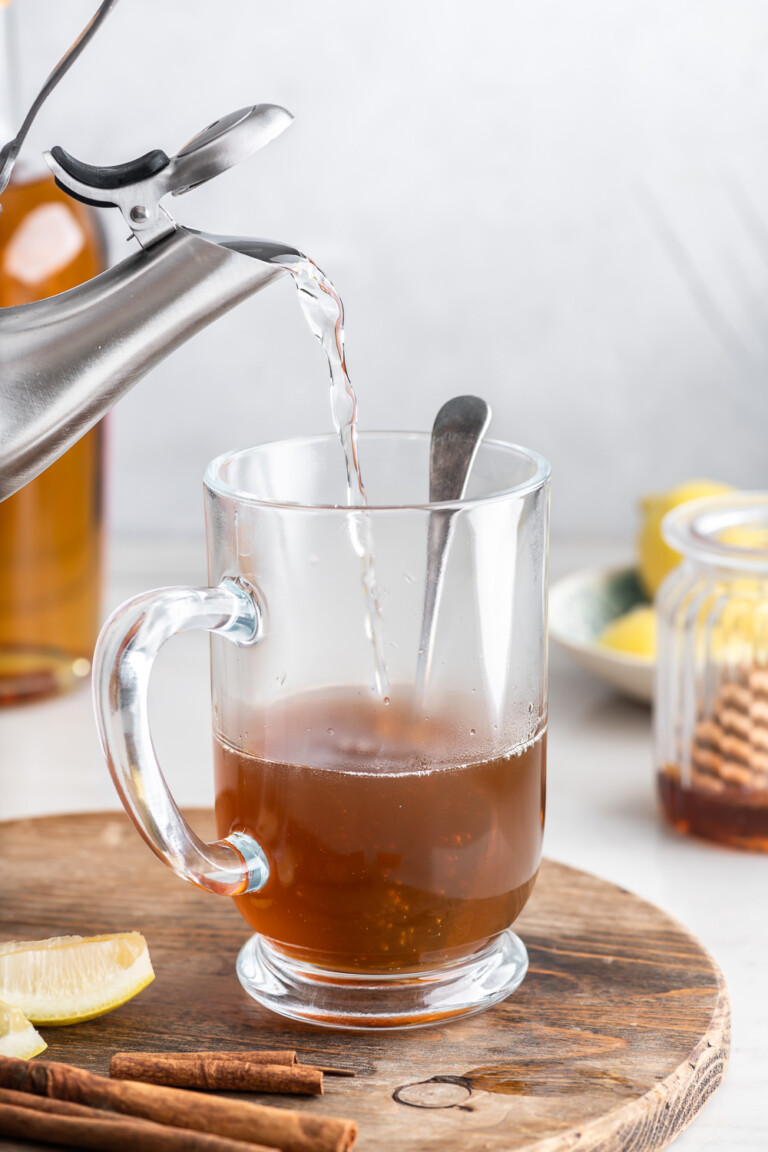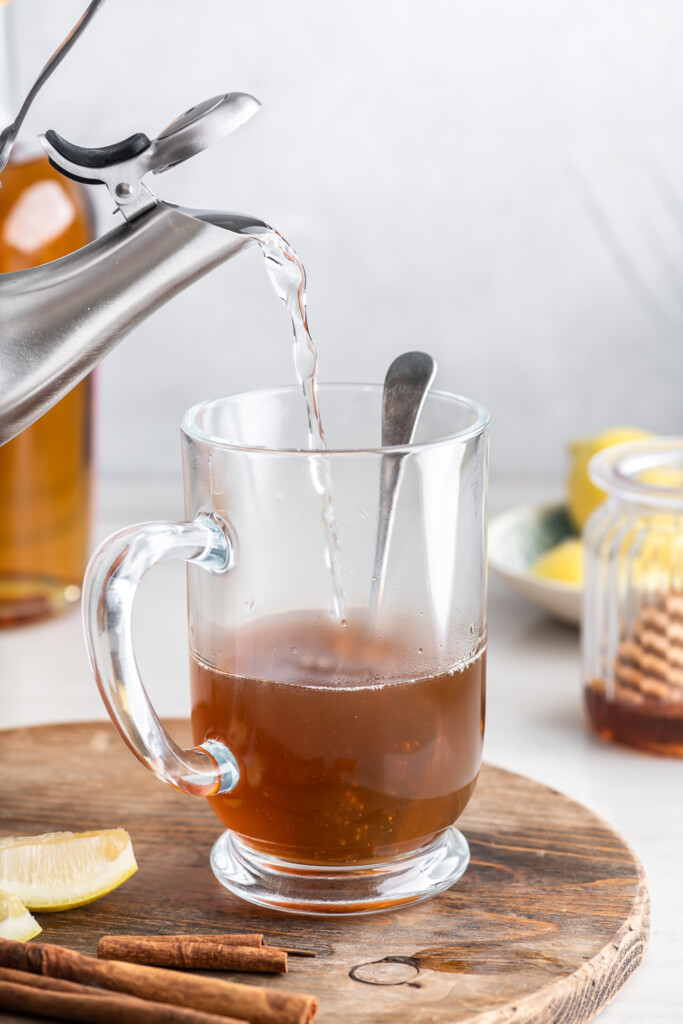 will a hot toddy cure a cough, cold, or pneumonia?
No, I don't think it will. I'm not a medical professional, but in all fairness, neither were the 16th-century British.
I'm of the school of thought that if you're sick, drinking alcohol will just weaken your immune system even more and delay your recovery. Drink water and sleep if you have pneumonia-- don't make this cocktail!
That being said, honey is a cough suppressant. And the cinnamon and lemon in a hot mug are very soothing. It's also possible that hot brandy fumes can act as a decongestant!
If you're looking for a hot toddy for a cough, I suggest making this recipe without alcohol. I'm willing to prescribe myself one and test it.
Bottom line: don't wait until you're sick for a hot toddy! They're a soothing and delicious hot cocktail for any winter night.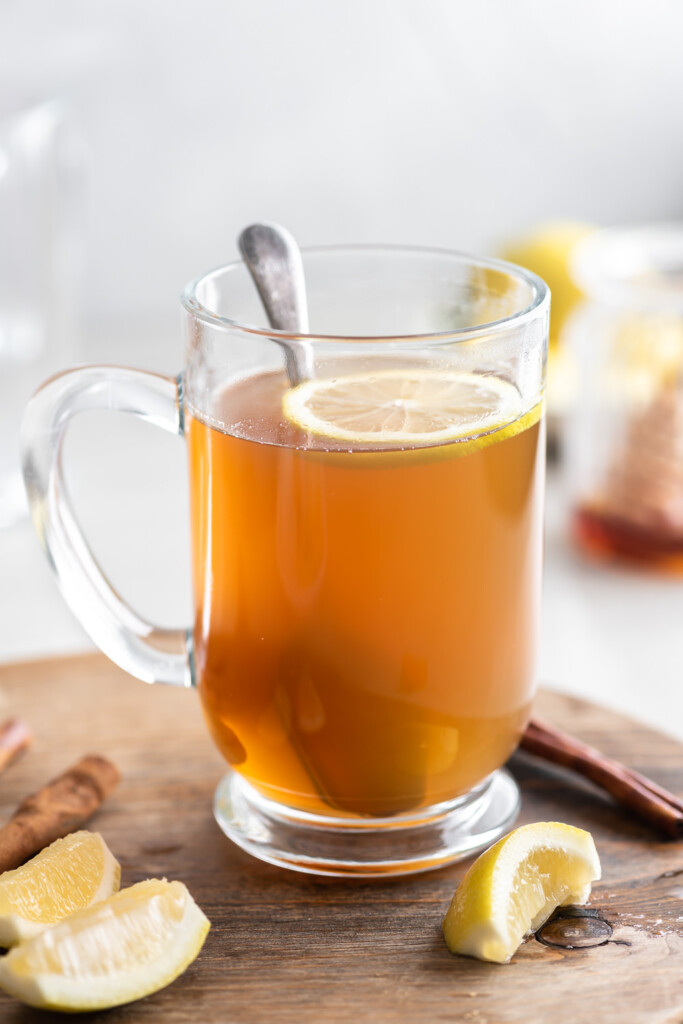 best liquor for hot toddy:
We love Cognac here. It's a high-quality grape brandy that gets at least 2 years in oak. The sweet spice and fruity notes are perfect complements to the citrusy warm cocktail.
I prefer VSOP Cognac which has to be at least 4 years old.
Higher tiers of Cognac are best enjoyed by themselves. Lower tiers, like Fine Champagne Cognac or VS Cognac, will work just fine but they can be a little harsh.
If you don't want to make a brandy hot toddy, the next best substitutes would be bourbon or aged rum. Both of these spirits have been aged in oak and will have a similar softness, along with classic oak-derived flavors (vanilla, toffee, caramel).
Those oak flavors are just so good with the cinnamon, honey, and aromatic bitters in the drink!
more warm alcoholic drinks to try:
ginger hot toddy with applejack
hot mulled cider with pear, ginger and whiskey
rich and boozy hot chocolate with coconut milk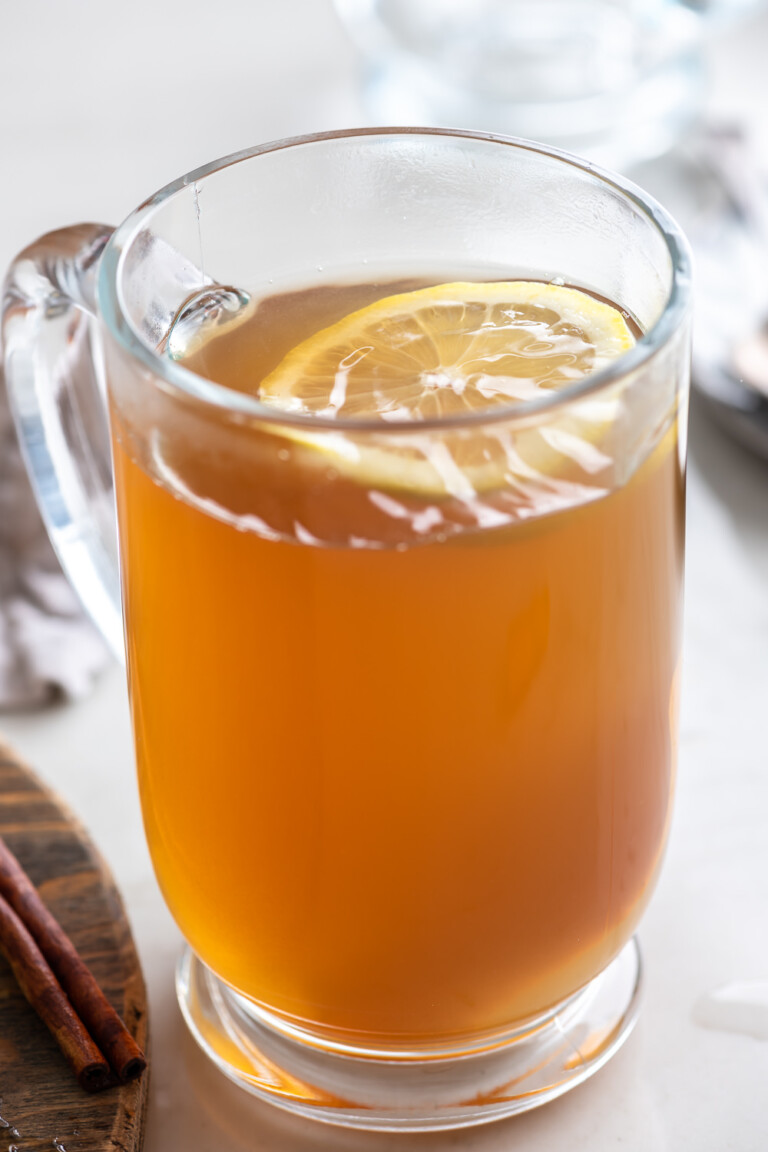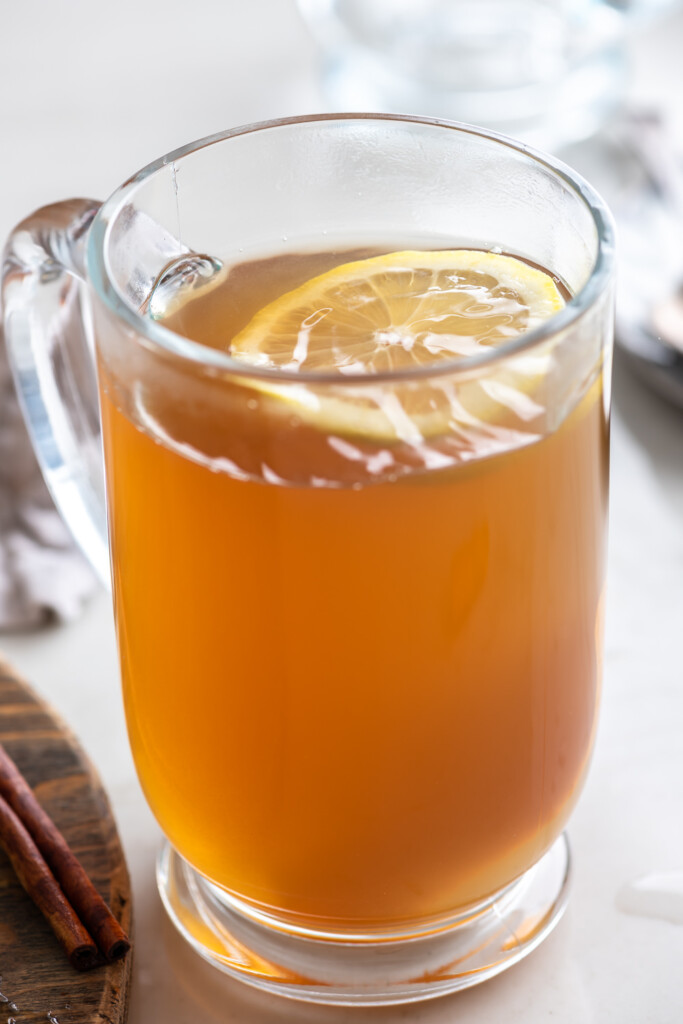 Print
the BEST hot toddy recipe
This extra soothing hot toddy recipe is made with 4 layers of citrus, honey, and good Cognac. It's smooth, fresh and so comforting!
Author:
Prep Time:

1 minute

Cook Time:

3 minutes

Total Time:

4 minutes

Yield:

1

Category:

Drinks

Method:

Stovetop

Cuisine:

American
Ingredients
1 oz

honey

1 ½ oz

Cognac

¾ oz

Grand Marnier (can substitute Cointreau)

1 ¼ oz

lemon juice

2

dashes orange bitters
Cinnamon stick, orange zest or lemon slice, for garnish
Instructions
Fill a tea kettle with water and bring to a boil.
Meanwhile, combine honey, Cognac, Grand Marnier, lemon juice and bitters in a mug or heat proof glass.
Pour 1 cup hot water into the mug and stir to combine. Garnish with a cinnamon stick, a spritz of orange zest, or a slice of lemon, as desired. Serve hot.
Notes
Nutritional information is only an estimate. The accuracy of the nutritional information for any recipe on this site is not guaranteed.
Nutrition
Serving Size:

1

Calories:

268

Sugar:

26g

Sodium:

11mg

Fat:

0g

Saturated Fat:

0g

Unsaturated Fat:

0g

Trans Fat:

0g

Carbohydrates:

28g

Fiber:

0.3g

Protein:

0.3g

Cholesterol:

0mg
Keywords: hot toddy recipe